This post may contain affiliate or sponsored links. Please read our disclosure policy.
An 80-year-old family apple butter recipe adapted for the slow cooker. With just a few simple ingredients, this Crockpot apple butter recipe will have your home smelling like a slice of autumn heaven!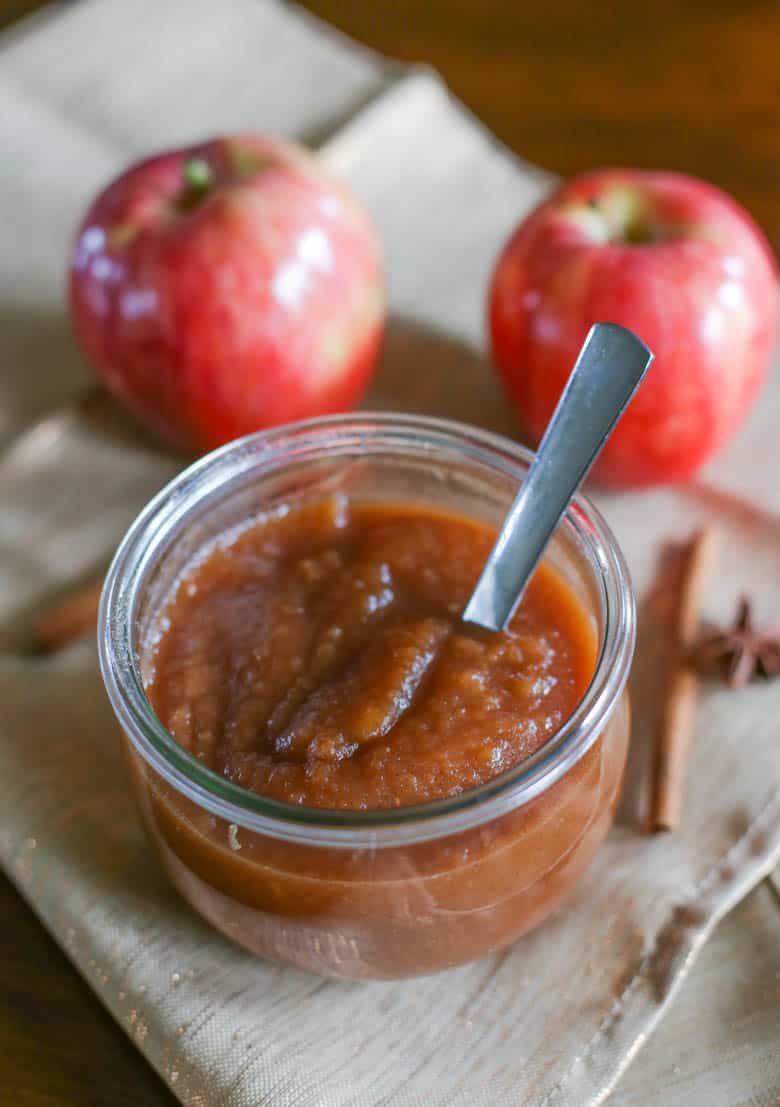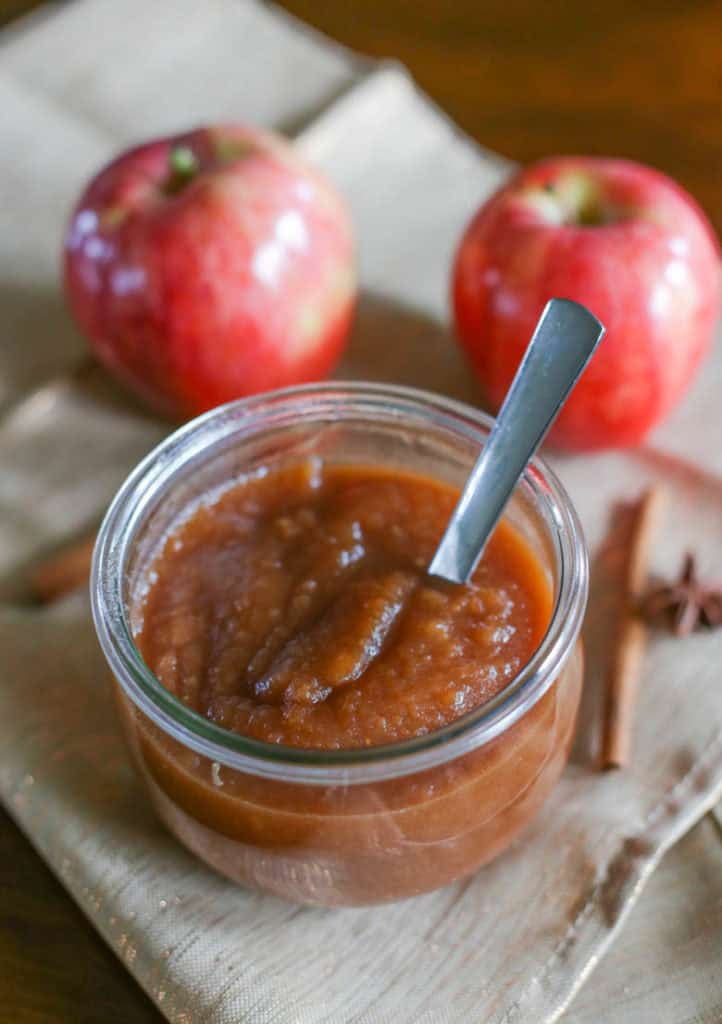 About My Family's Apple Butter Recipe
Growing up, everyone around me knew what I meant when I told them it was, "Apple Butter Weekend." For over 80 years, my family has gathered together to peel, chop and cook apples in a mongo copper pot over an open fire. Some of my most nostalgic childhood memories reside in this tradition.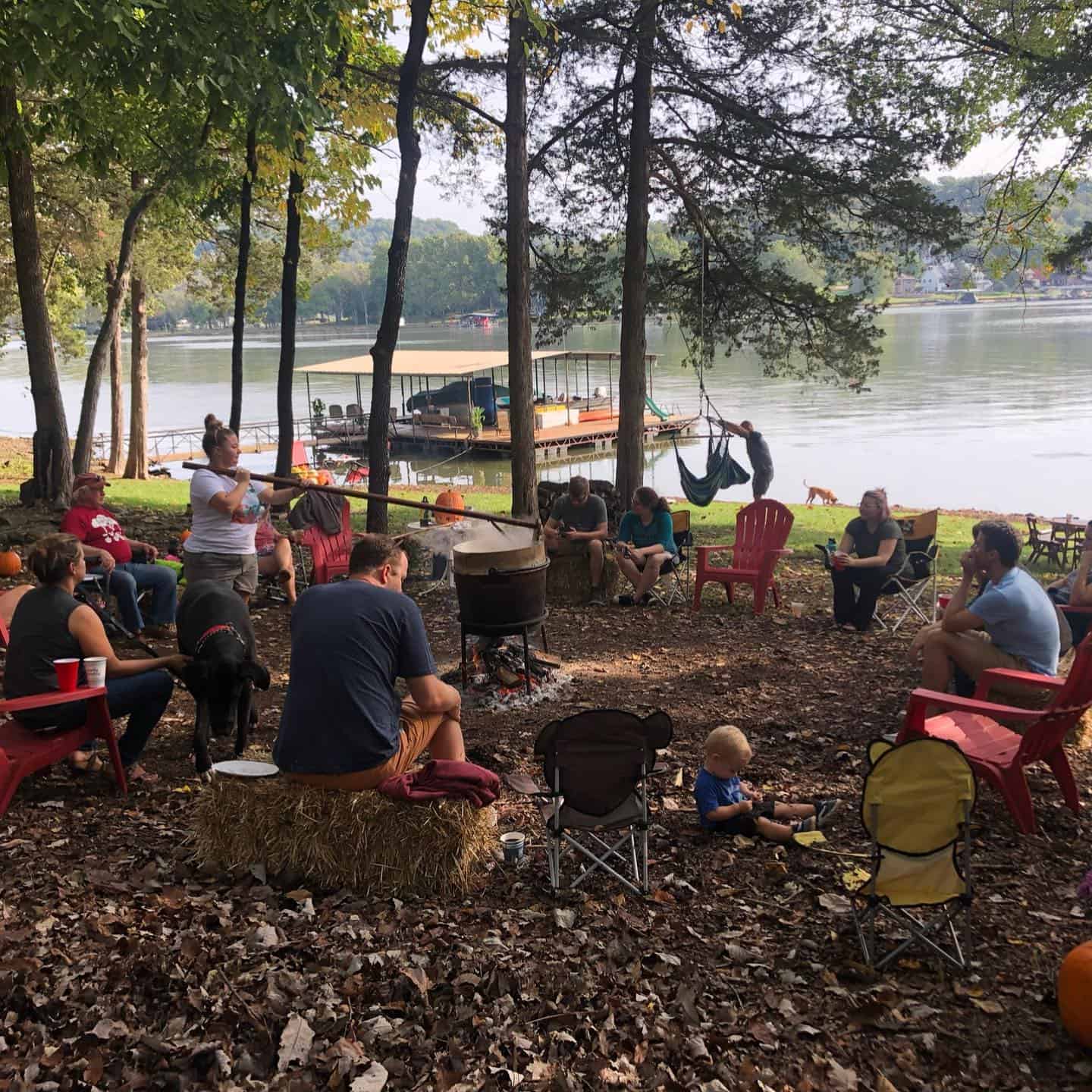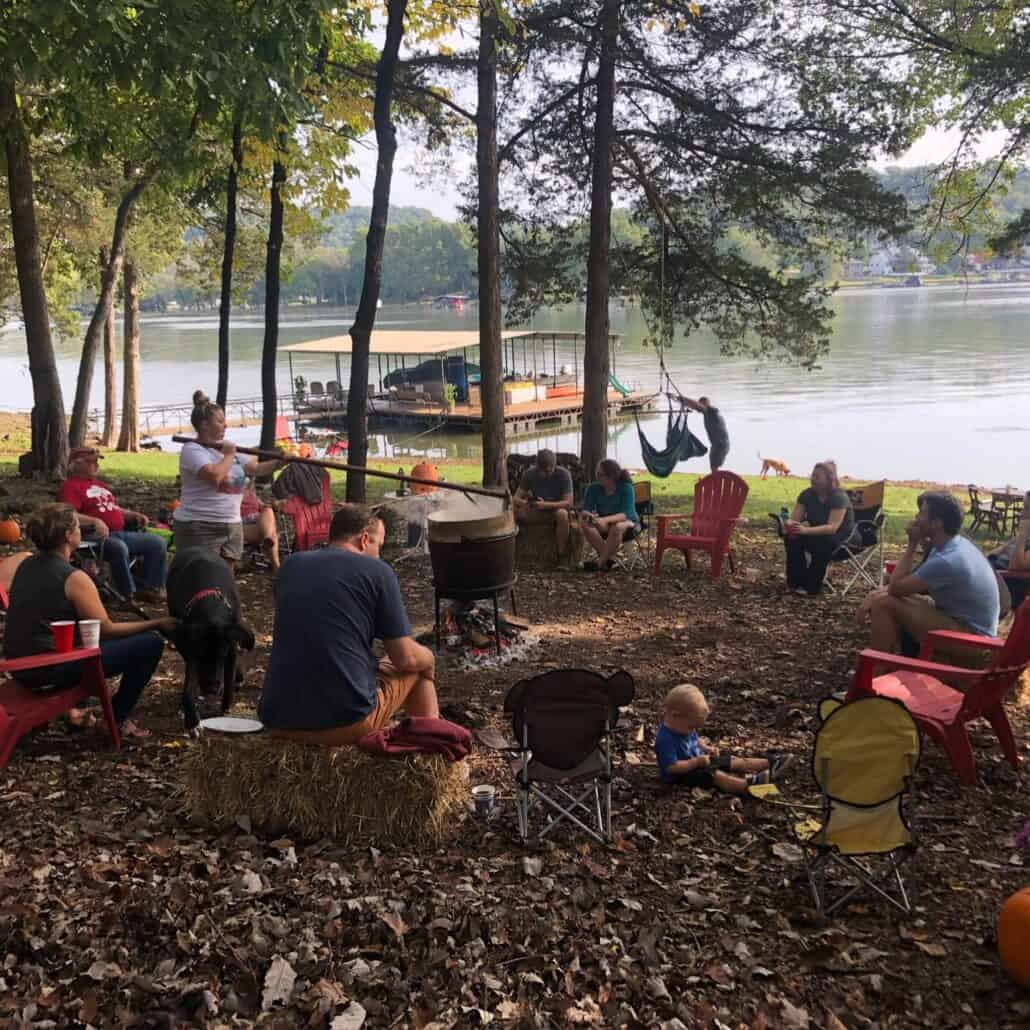 With the passing of my grandparents, the tradition has evolved and looks a little different every year. We had a rare year that the big copper pot didn't make an appearance, leaving us all in a bit of an apple butter withdrawal.
Making Apple Butter in the Crockpot
After snagging the family recipe (which was in the family safe, buried in a secret location.) I kid, I joke… we share it freely. As if anyone is actually going to knock off the recipe and make 200 pints on their own. Good luck with that. I digress.
I took the family recipe (which calls for 10 bushels of apples and 40 pounds of sugar, mind you) and reworked it to be made in the slow cooker.
Now, I will say, I had pretty low expectations. I mean, can you really replicate apples slow-cooked over an open fire surrounded by love and tradition?
Promambly. I had fully accepted that my brand would be a knockoff. When I sent a picture of it in progress to my family, my brother's response was, "fraud."
When I mentioned possibly making it in the Instant Pot, my sister told me that was sacrilegious. I'm telling you. My family takes this tradition very seriously.
Despite the family criticism, I prevailed. And you guys, it was good. Like, REALLY good.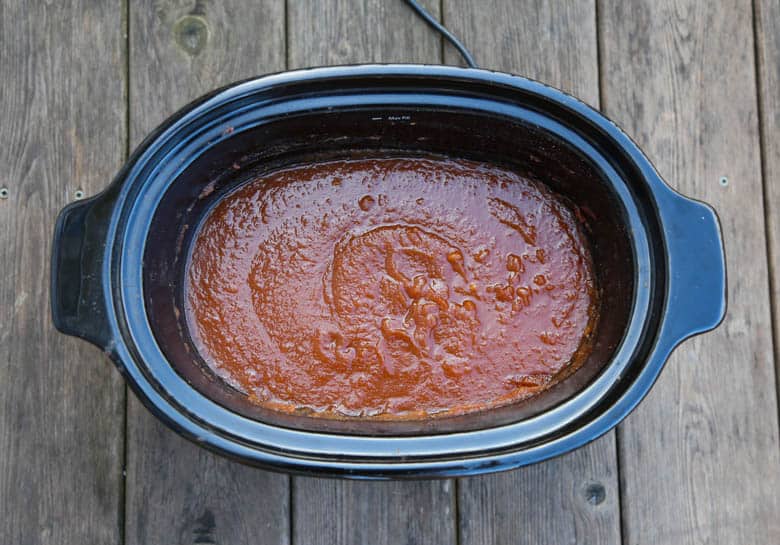 I only made a few tiny adjustments to the recipe after my first round and I think I have it pretty darn near perfect.
Ingredients for Crockpot Apple Butter
Here is what you'll need if you want to give this traditional recipe a whirl:
Jonathan apples (you can sub Braeburn)
Sugar
Apple cider
Ground cinnamon
Cinnamon sticks
Whole star anise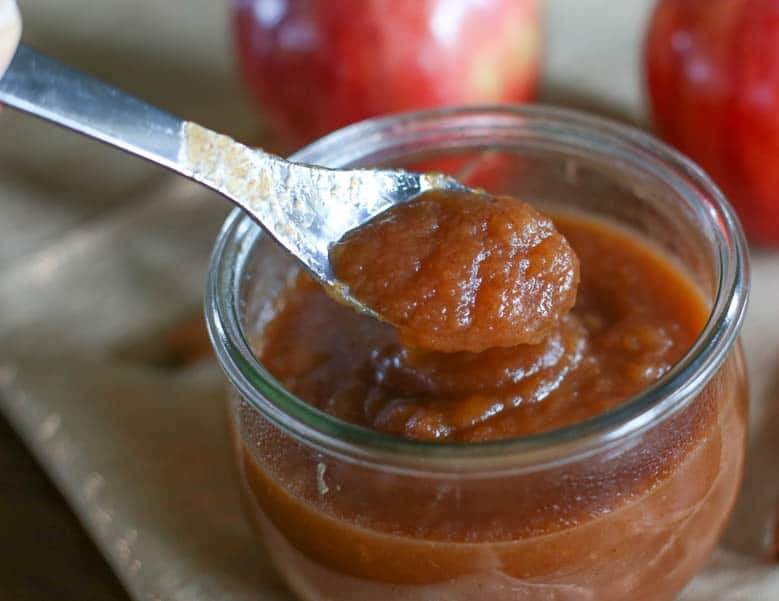 How to Make Crockpot Apple Butter
The first step to the apple butter process is to peel and chop your apples. Our family recipe calls for Jonathan apples but I couldn't find those at the store.
A quick google search told me that Braeburn were a good alternative so I went with that variety. Peeling and chopping 6 pounds of apples is quite the task. If you're open to buying a little kitchen gadget, I'd recommend getting this apple peeler.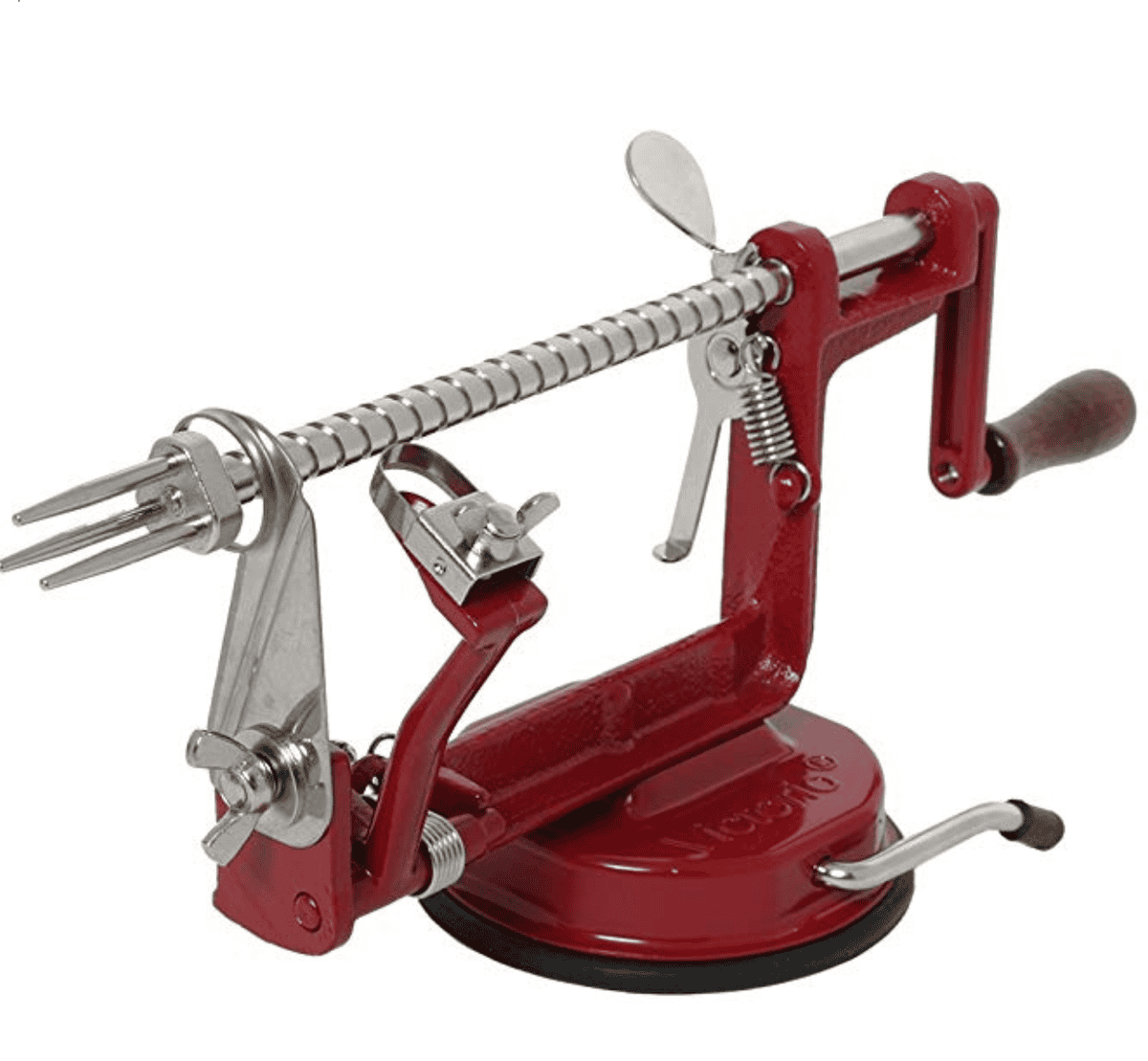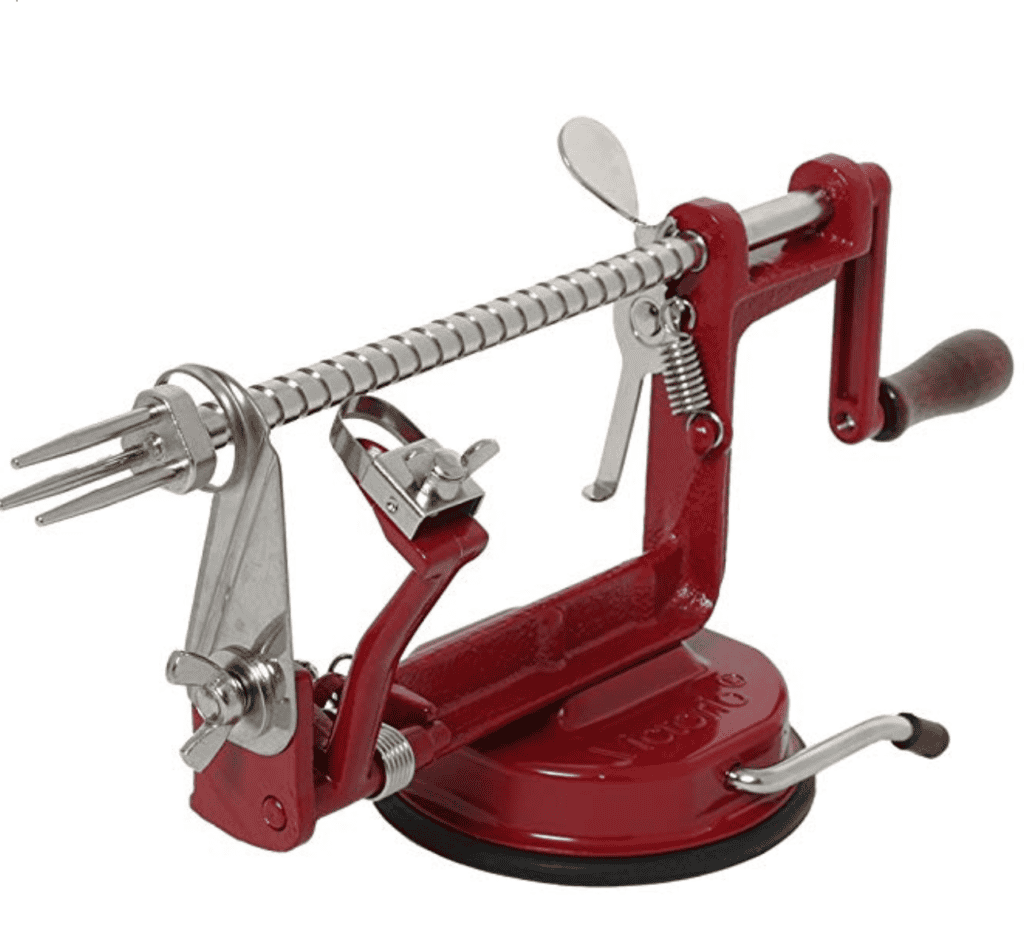 I know that it looks like some sort of torture device, but hear me out. You pop the apple on there, give it a crank and the device not only peels the outside but slices it and cores it as well.
Here is my two-year-old peeling an apple.
Place Apple Butter Ingredients in Slow Cooker
So after apples are peeled and chopped, they go into the slow cooker with all of the rest of the ingredients.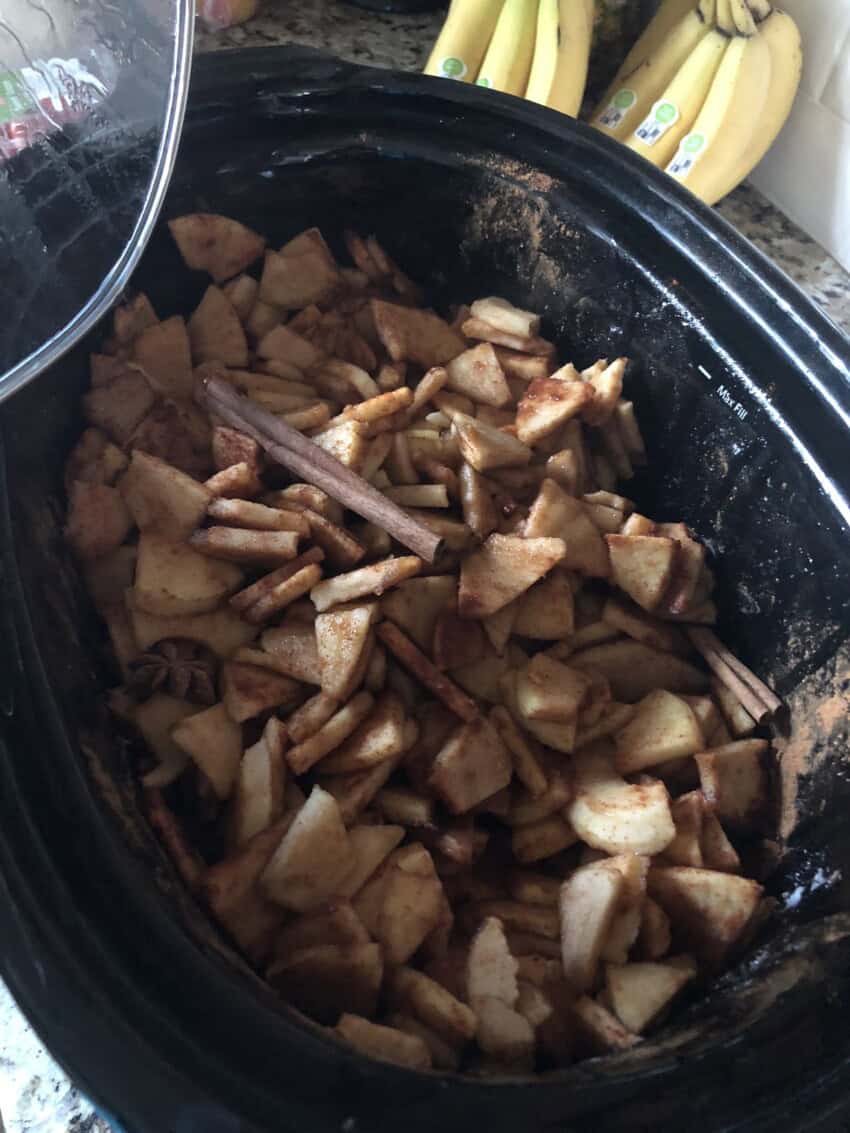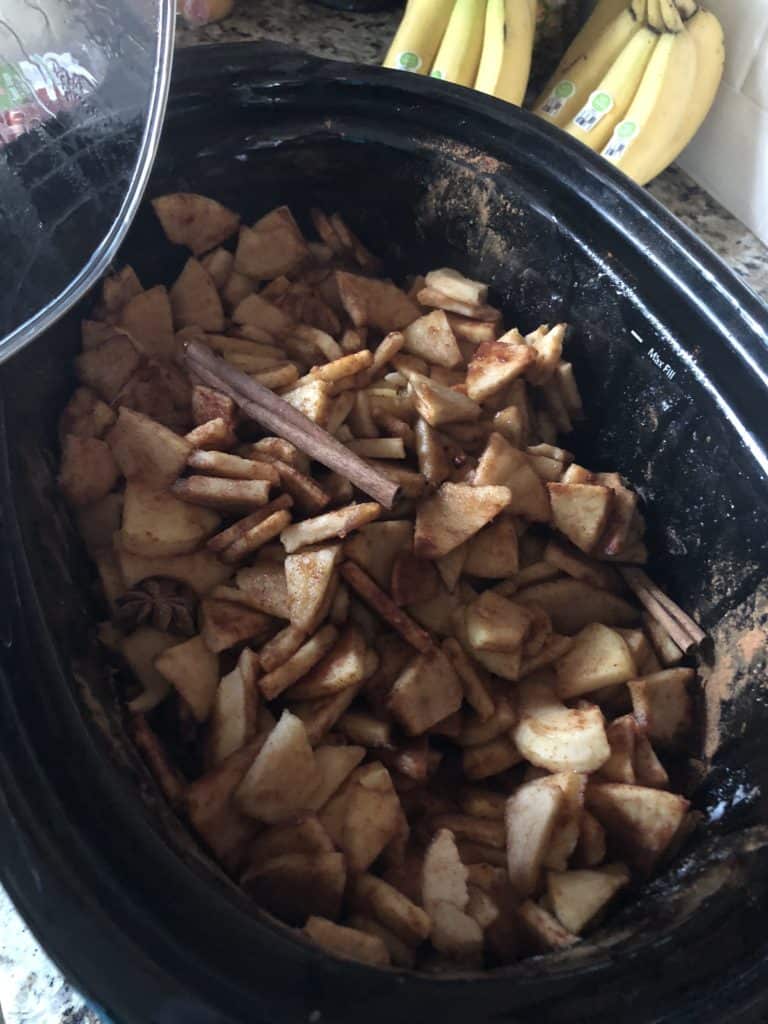 It will make your home smell like a slice of autumn heaven all day long.
Let these apples do their thang for about 4 hours or so and then pull out the big guns…the immersion blender! If you don't have an immersion blender, you can work in batches and use a food processor or blender to work the texture down to a choppy puree.
Cook for 5 more hours (or so) and guess what? You've just made slow cooker apple butter! I'm so proud of you!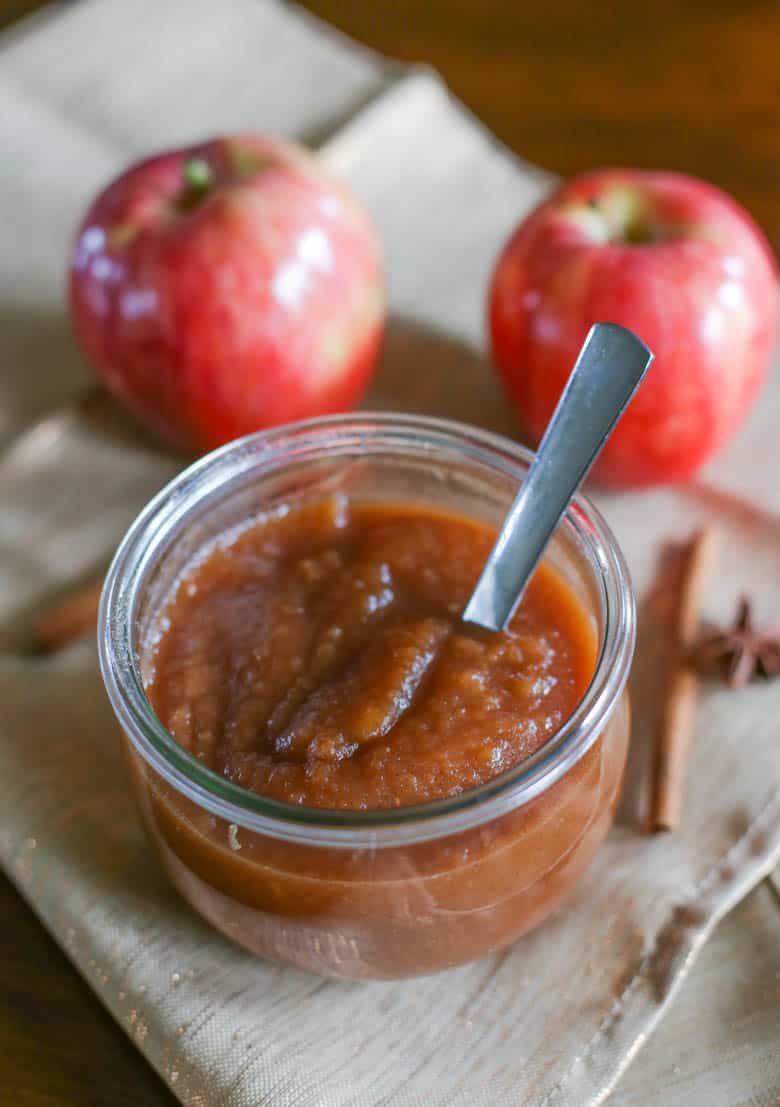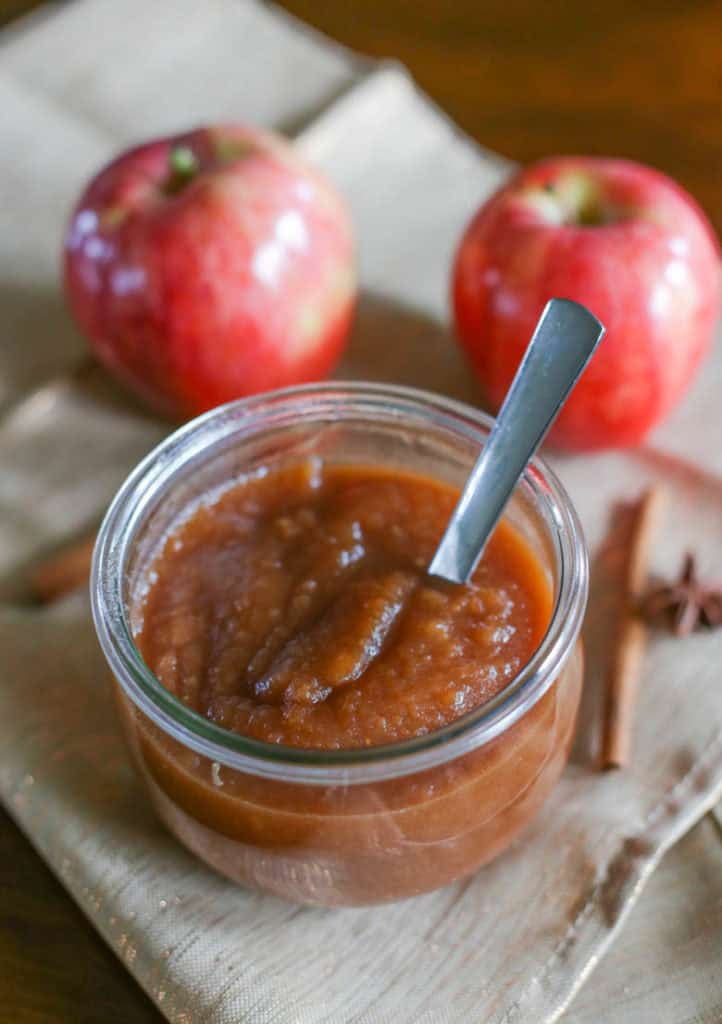 How to Serve Apple Butter
Here are some ideas on how apple butter is best used:
Serve it on toast or rolls. This is my favorite way to use it.
Use it as a jelly replacement. It's delicious with peanut butter.
Swirl it into oatmeal. It would be a great addition to our Apple Cinnamon Steel Cut Oatmeal.
Dollop it on to pancakes or waffles. I used to do this for my kids instead of syrup.
Add it on a cheese plate or Charcuterie Board. It works with both nutty soft cheeses like brie and harder types like sharp cheddar or aged gouda.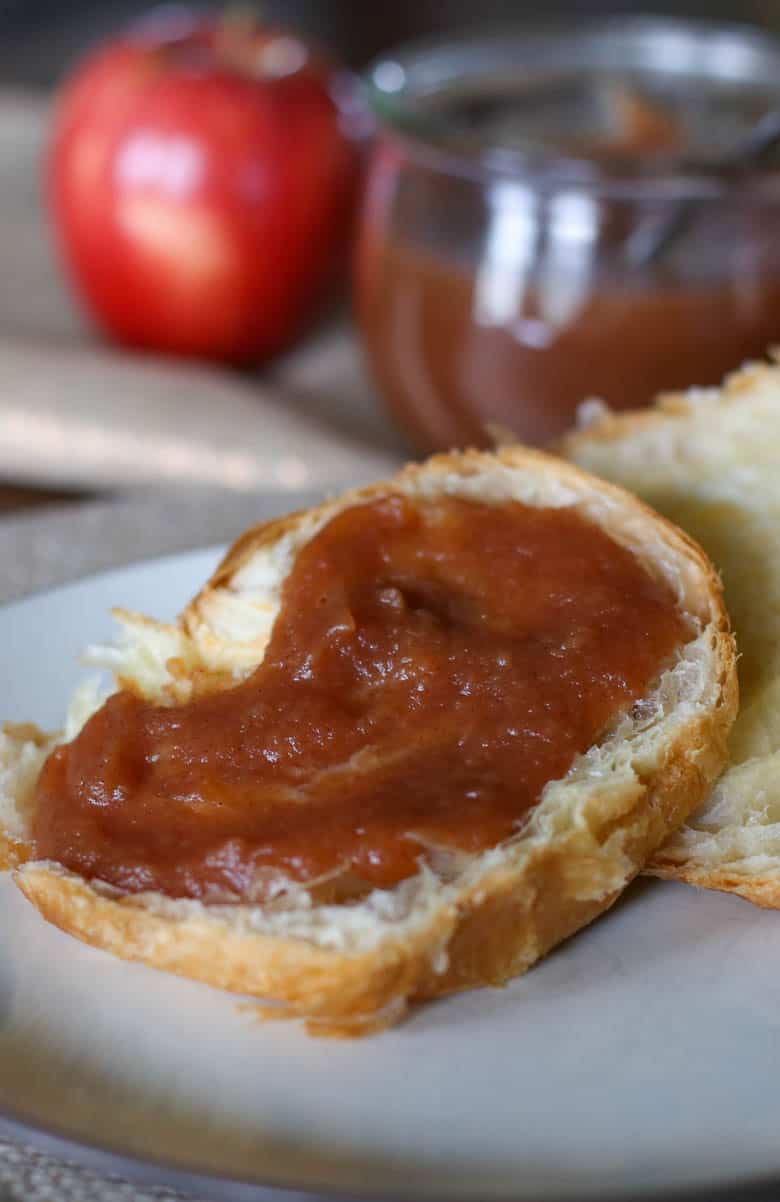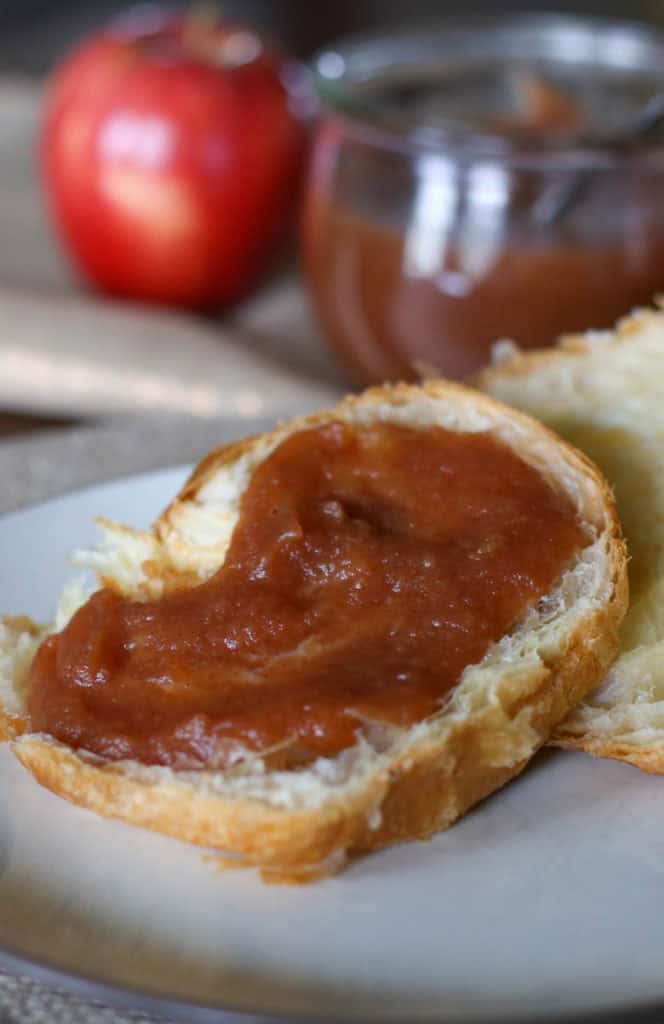 How to Store Apple Butter
There are a few ways you can safely store apple butter:
Store it in the refrigerator. It will last around 7 days before the quality starts to diminish.
Store in the freezer. You can place the apple butter in mason jars and freeze it. Just be sure to use a wide mouthed mason jar and leave about 1 inch of headspace for the apple butter to expand.
Use mason jars to can the apple butter. This is my preferred way to store apple butter. If you choose to can the apple butter, be sure to follow accurate instructions.
Did you make this? Snap a photo and tag us on Instagram at @thrivinghome so we can see your creations and cheer you on!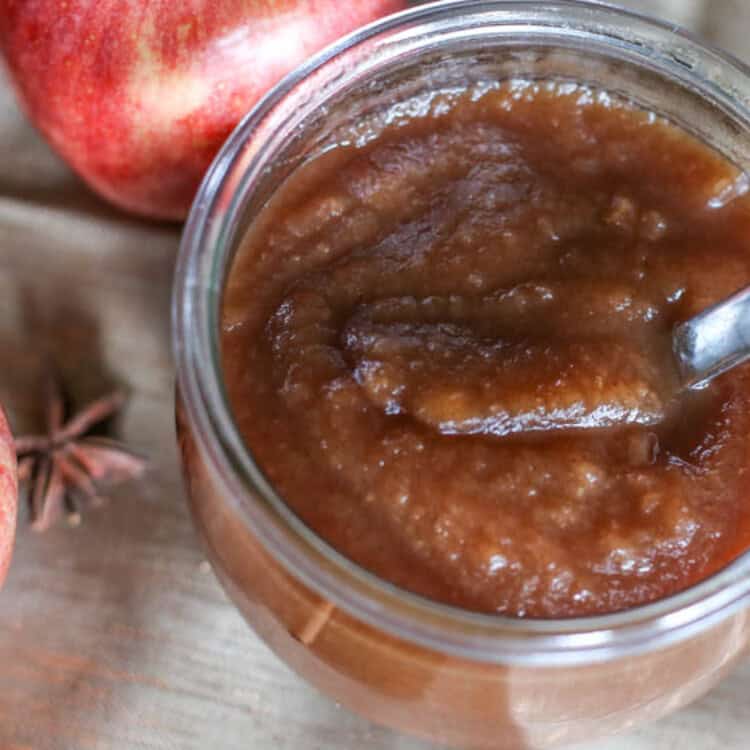 Crockpot Apple Butter
A long-time family apple butter recipe adapted for the slow cooker. Simple ingredients, simple to make!
Prep:
15 minutes
Cook:
4 hours
Total:
9 hours 15 minutes
Ingredients
6

pounds

Jonathan apples (I used Brae burn)

1.5

cups

white sugar

1

cup

apple cider

1 tbsp

ground Cinnamon

2

Cinnamon sticks

1

whole star anise
Before You Begin! If you make this, please leave a review and rating letting us know how you liked this recipe! This helps our business thrive & continue providing free recipes.
Peel and chop the apples into small pieces. (Use this apple peeler to speed up the process.)
Add apples, sugar, apple cider, ground cinnamon, cinnamon sticks and whole star anise to the slow cooker. Stir until apples are coated in the ingredients.
Cook for 4 hours on low.
Remove the cinnamon sticks and star of anise
Use an immersion blender to process the apples and smooth out the texture.
Add the cinnamon sticks and whole star anise back in and cook for 5 more hours.
Let cool, remove cinnamon sticks and star of anise.
Store in mason jars.
---
Notes/Tips
You could easily freeze the apple butter in mason jars or in a freezer bag.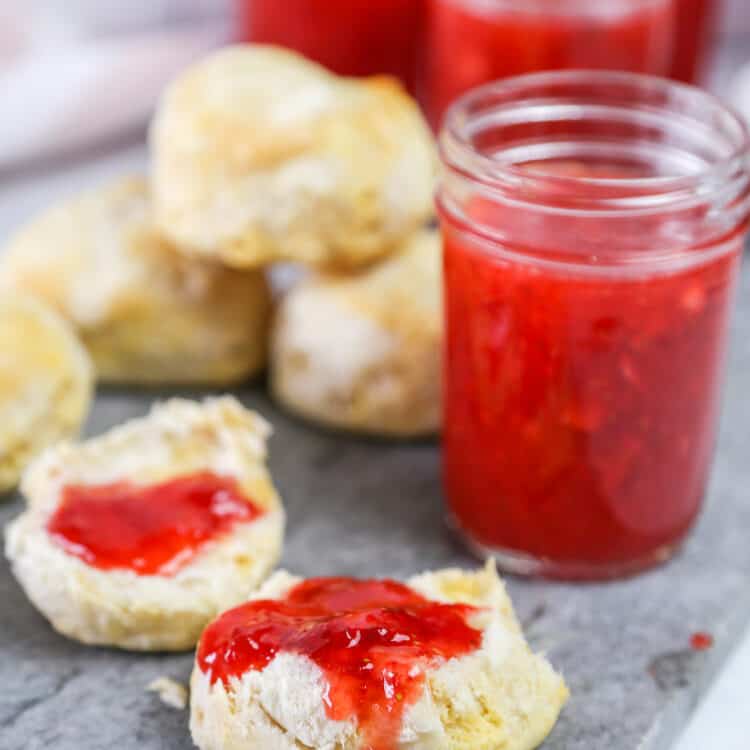 Try Our Strawberry Freezer Jam
If you like this apple butter recipe, you will love our Strawberry Freezer Jam. Give it a try!
Strawberry Freezer Jam