This post may contain affiliate or sponsored links. Please read our disclosure policy.
Making Strawberry Freezer Jam is a quick and easy way to enjoy the taste of summer all year round. Made with fresh, ripe strawberries and just a few simple ingredients, this jam is bursting with a sweet, fruity flavor. Store the jam in your fridge or freezer and enjoy ripe berries all year long.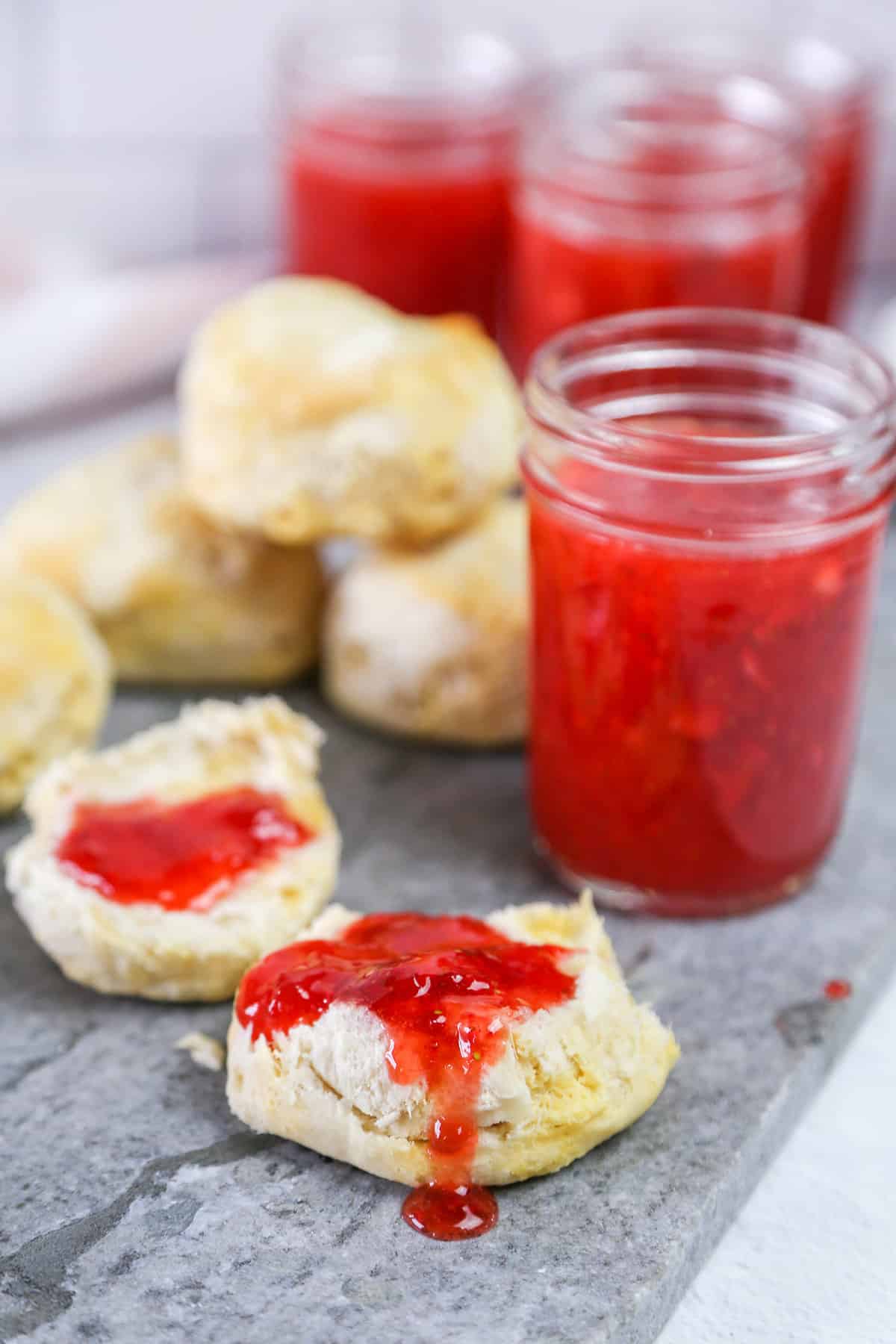 5 Reasons Freezer Jam Is the Bomb!
Freezer jam is so quick and easy to make.
It's a great option for those who want to preserve fresh fruit without the hassle of canning.
It's a great way to utilize fresh, ripe berries.
It tastes SO good and retains more nutrition from the fruit. Because it's not cooked, it has a fresher and more vibrant taste compared to cooked jam.
It also tends to have a softer texture and a brighter color.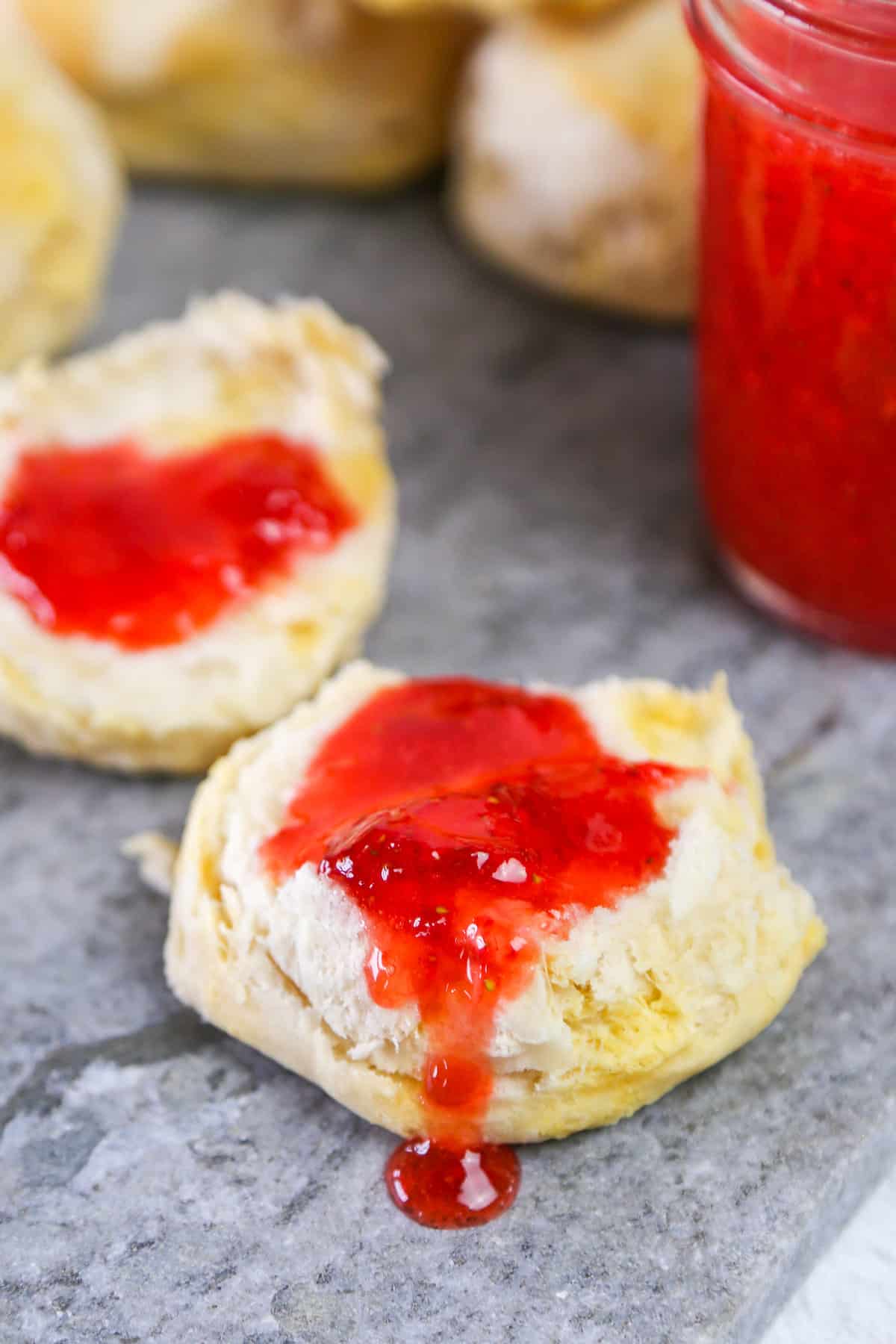 What is the difference between regular jam and freezer jam?
The main difference between jam and freezer jam is the way they are preserved.
Traditional jam is made by cooking fruit with sugar and pectin to create a spreadable texture. The jam is then typically canned and processed in a water bath to extend its shelf life.
Freezer jam, on the other hand, is not cooked and is preserved by freezing. The fruit is crushed or pureed and combined with sugar and pectin, then left to sit for a short period to allow the pectin to thicken the mixture. The jam is then transferred to freezer-safe containers and stored in the freezer until ready to use.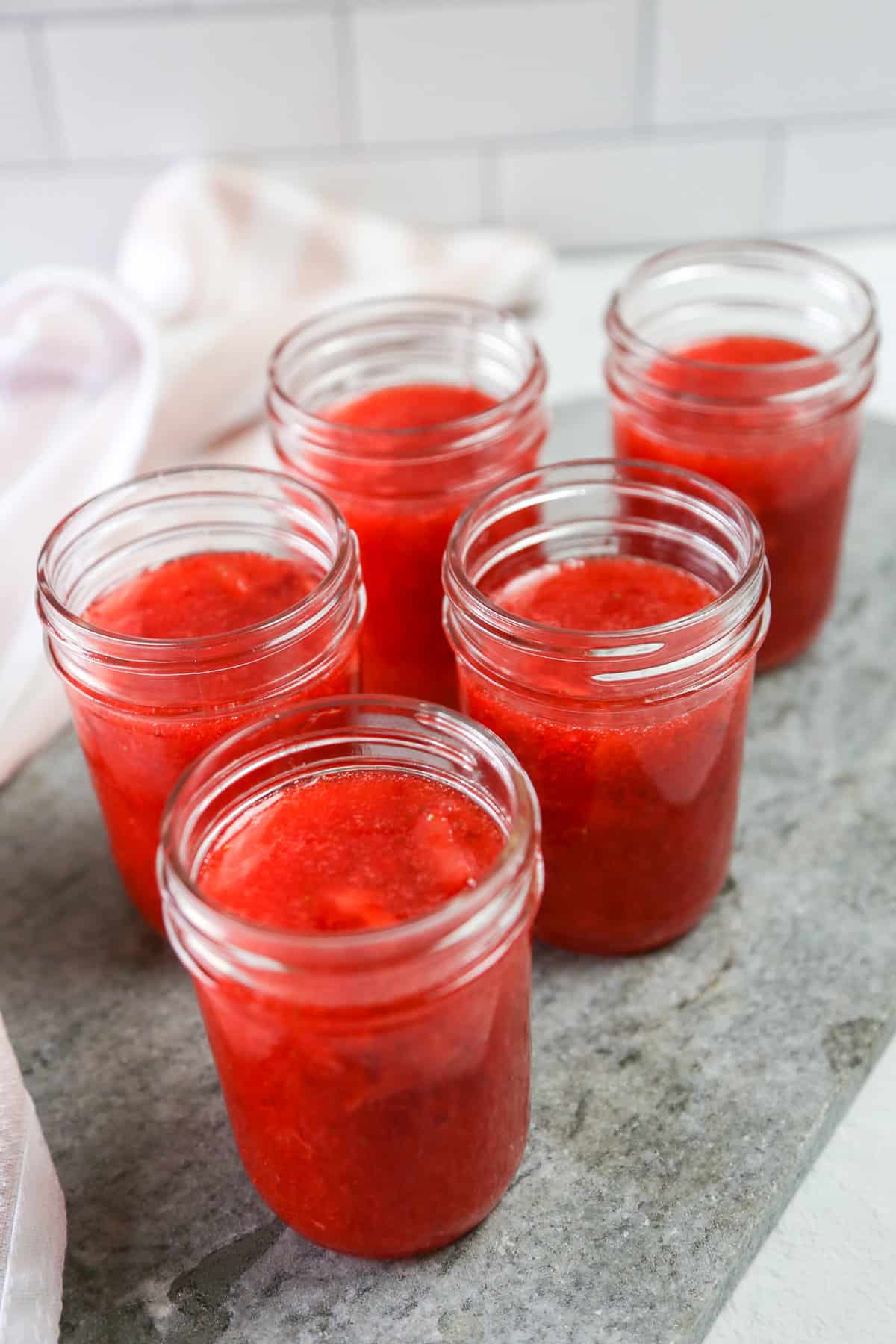 Tips for Success
Firm, ripe fruit is the best. This is one of the many ways to squeeze the most out of fruit when it's in its peak season.
Always thoroughly wash and sanitize jars before use. A simple run through the dishwasher is sufficient.
This recipe was created using SURE-JELL Pectin. If you use another product, be sure to read the instructions on the box to make sure they are the same.
Do not reduce the sugar. I know it's tempting but this will result in the jam not "setting" correctly. Making jam is science, not art.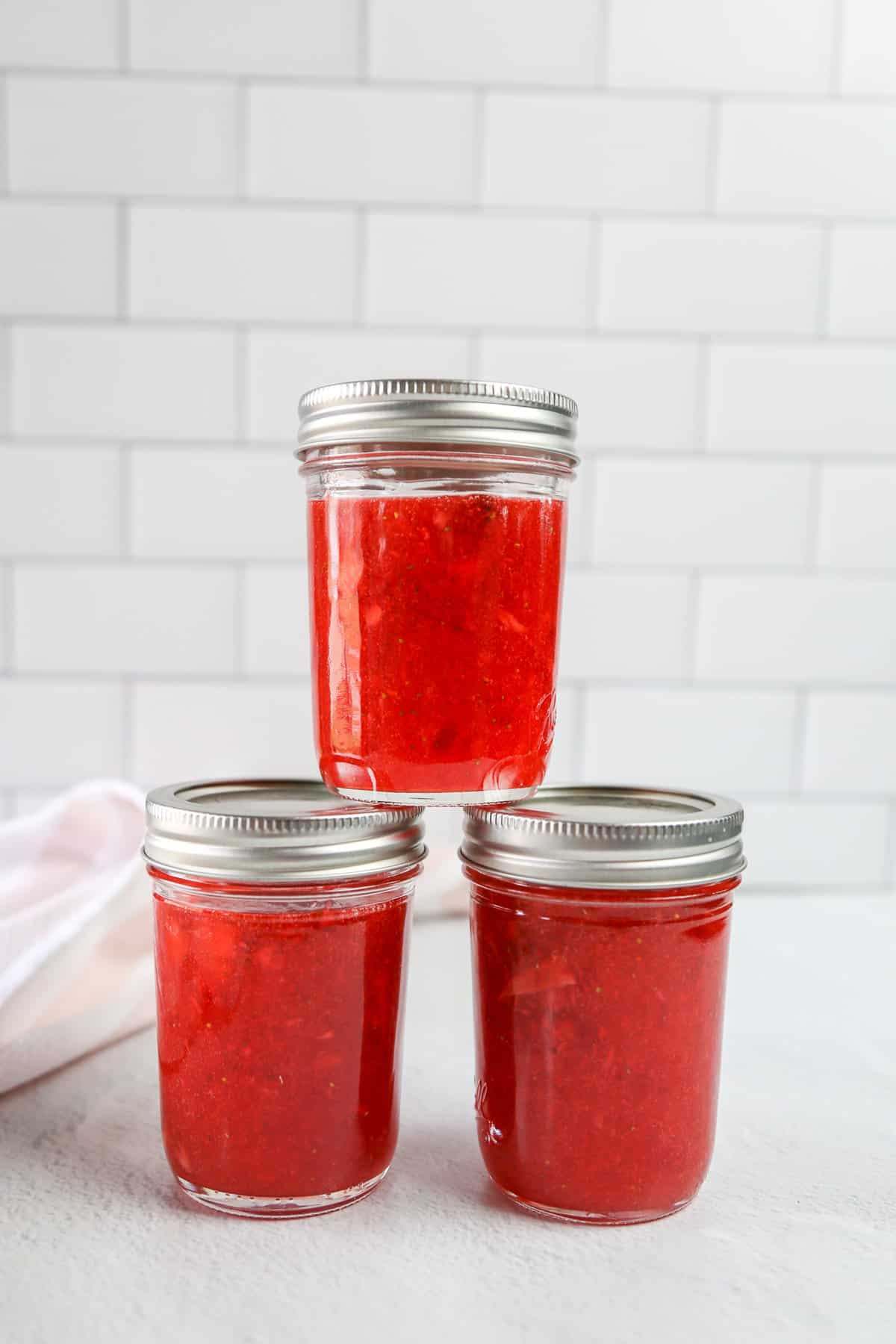 The ingredients for freezer jam are incredibly simple. For this strawberry freezer jam recipe, all you need are:
Fresh strawberries
Sugar
Pectin
You will also need six (8-ounce) mason jars or three (16-ounce) mason jars.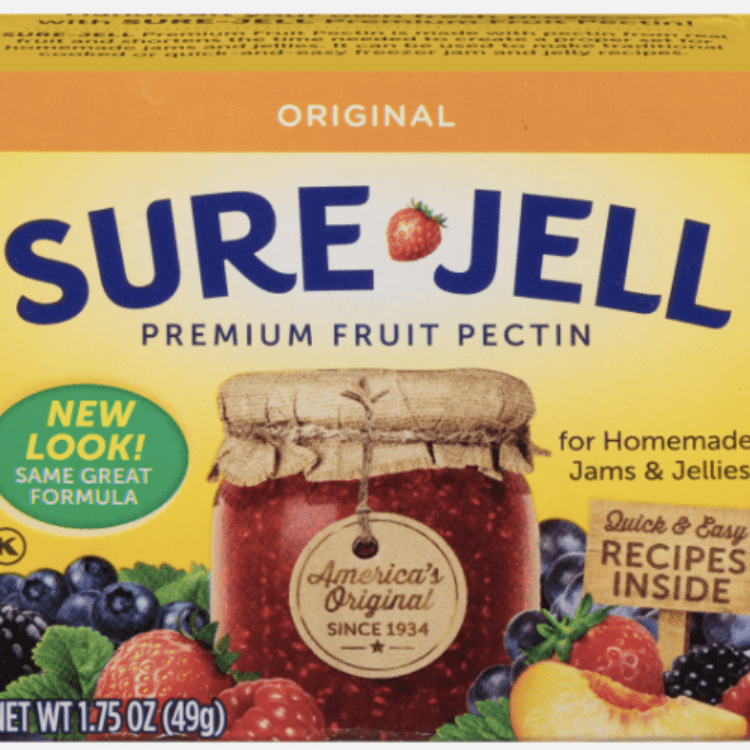 What is Pectin?
Pectin is a naturally occurring substance found in many fruits. It is a complex carbohydrate that acts as a thickening agent and helps to give structure. Pectin is commonly used in cooking and baking to thicken jams, jellies, and other spreads. It works by forming a gel-like substance when combined with sugar and acid, such as the natural fruit juices.
Let's Make Some Freezer Jam!
The first step is to get those strawberries whipped into shape. After removing the stems, you will want to crush the berries.
I found the best way to do this was a combination of using a potato masher and a stand mixer. You could let the mixer do all the work but I found that some of the strawberries didn't want to cooperate, so had to finish the berries off with a masher.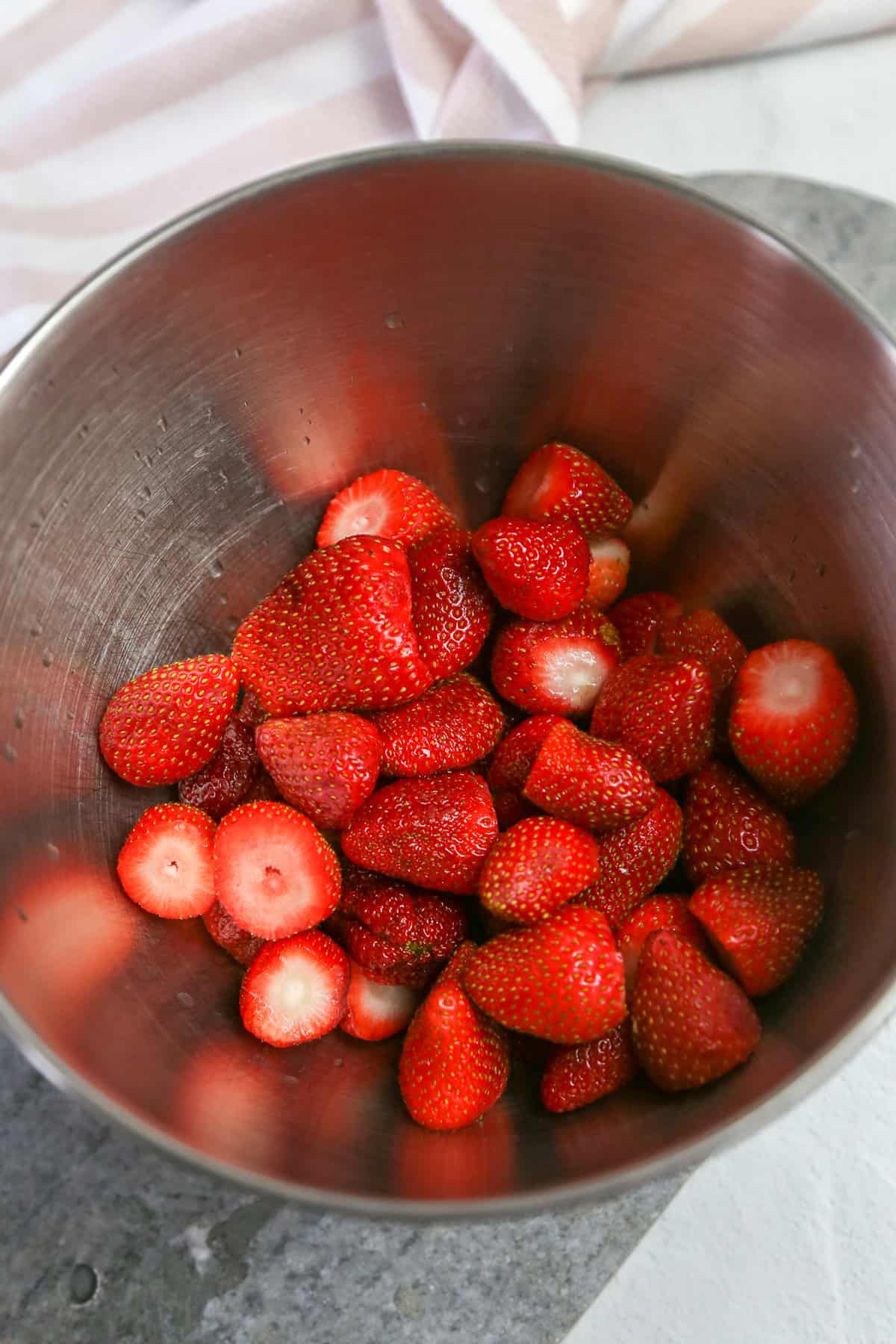 Can I use a food processor for this step?
Yes, you could employ the help of a food processor. But, the consistency of your jam will be much more even and smooth in the end. Some like it this way, though!
After the strawberries are crushed to your liking, stir in the sugar and let them sit for 10 minutes.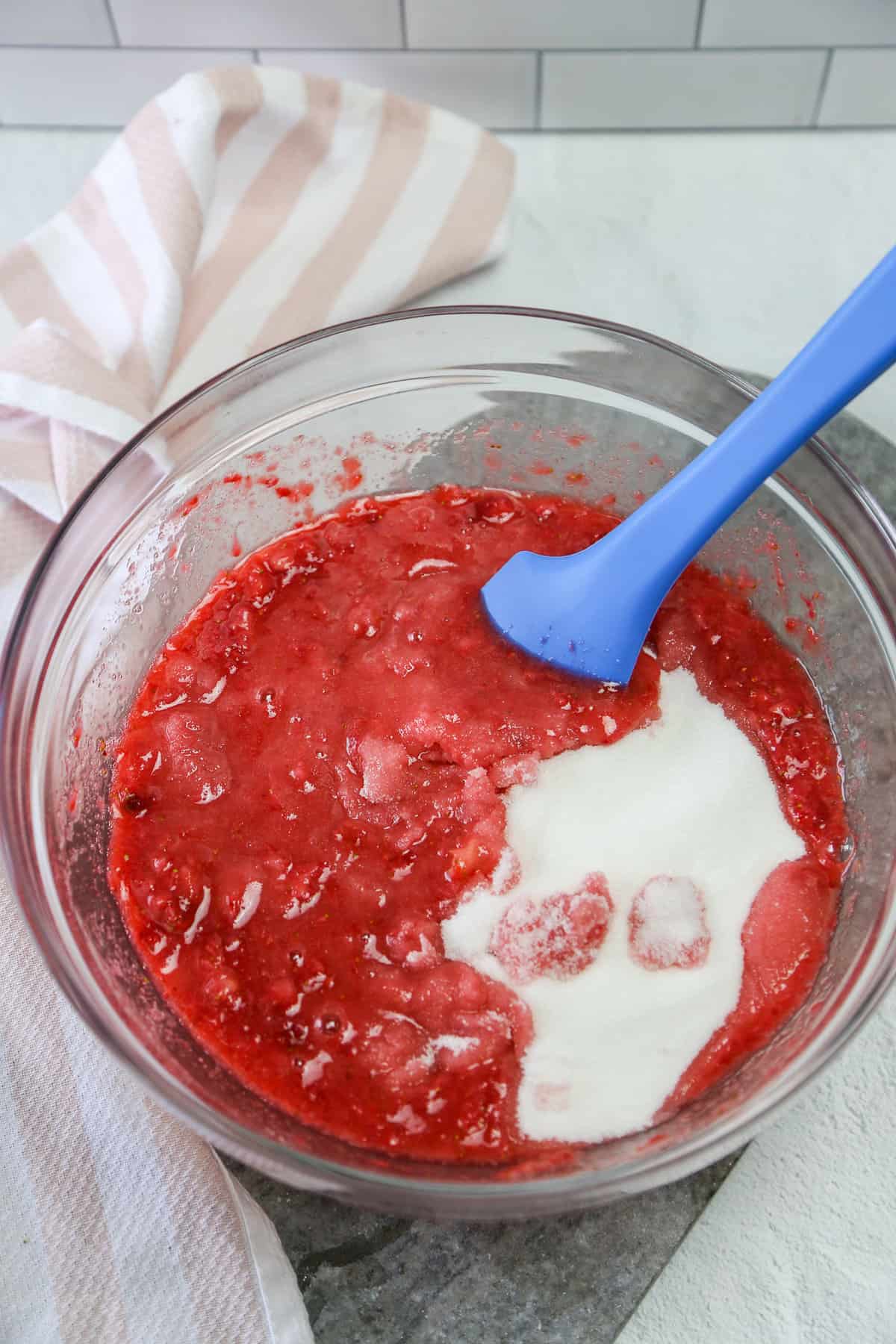 To prep the pectin, add it to 3/4 cup of water and bring it to a boil. Let it boil for about 1 minute and then remove it from the heat.
You will then stir the pectin into the strawberry mix.
IMPORTANT: Stir this combination together for 3 minutes! Don't cheat!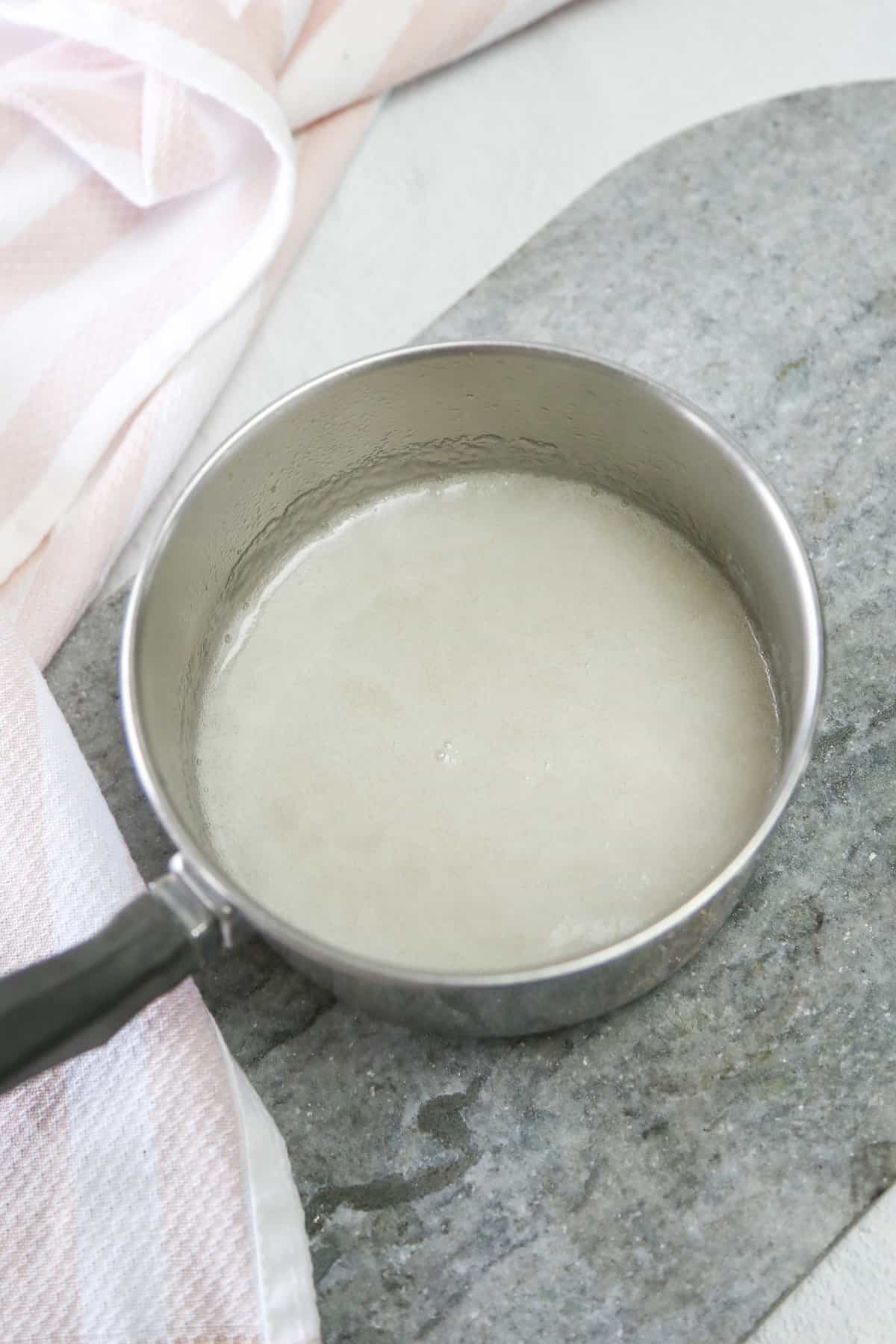 Time to add your jam to the clean jars. Do this immediately after adding the pectin because the jam will want to start to set.
Don't panic–it doesn't happen super fast. But, you just don't want to leave it in the bowl while you go run an errand.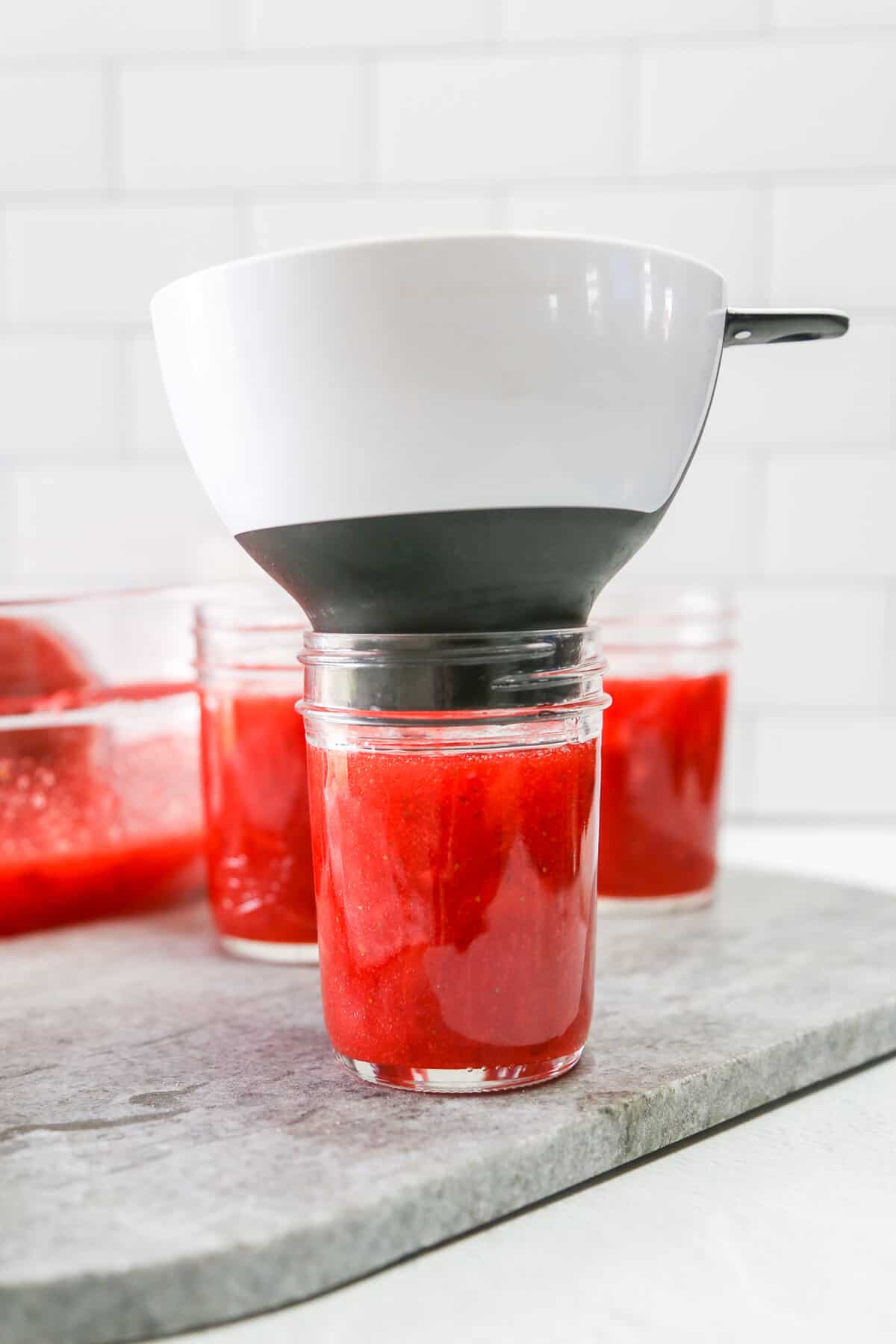 How to Store Fresh Jam
Once your jam is set, you can store it two ways:
Refrigerate the jam. It will last up to 3 weeks in the fridge.
Freeze the jam. Make sure to leave about an inch of headspace so the jam has room to expand as it freezes. It will last 6-12 months in the freezer.
To Prepare from Frozen: Let the jam thaw in the refrigerator and serve.
Recipe FAQS
Let's address some more basic questions you may have before moving on to the method of making it.
Do I need canning supplies or to sterilize anything?
Making freezer jam requires no sterilizing or sealing of jars. Just clean your jars with hot, soapy water or run through the dishwasher.
How long does freezer jam last in the freezer and refrigerator?
Jam keeps well in the freezer up to a year or more. Once it's thawed in the fridge, it will last about 3 weeks.
Yes…and no. This recipe was written specifically for strawberries. There are tons of other types of freezer jam recipes but each will require a different amount of produce to yield good results.
You can find more recipe ideas on the SURE-JELL website.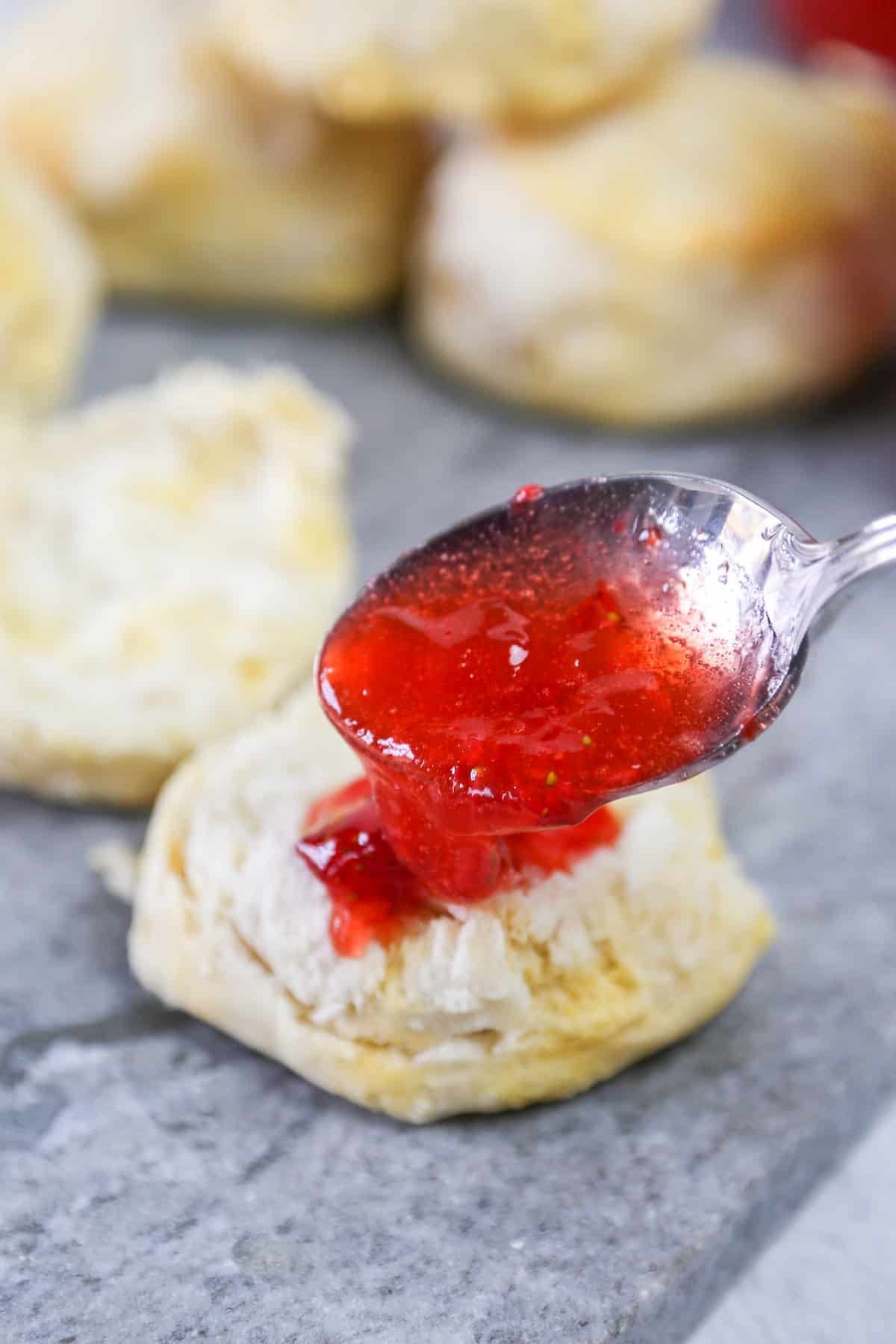 Ways to Serve Freezer Jam
There are many ways to enjoy freezer jam. Here are some ideas to get you started.
On Toast: Spread some strawberry freezer jam on your favorite toast or bagel.
In Yogurt: Add a spoonful of freezer jam to your morning yogurt for a fruity and sweet twist.
In Smoothies: Mix some jam into your smoothie for a burst of flavor and sweetness.
With Cheese: Pair strawberry freezer jam with a soft cheese like brie or cream cheese for a delicious appetizer or snack.
In Oatmeal: Add a spoonful to your Steel Cut Oatmeal or to Overnight Oats for a delicious flavor bomb.
On Ice Cream: Drizzle some jam over vanilla ice cream for a sweet and refreshing dessert.
With Pancakes or Waffles: Top your pancakes or waffles with a spoonful of jam for a delicious breakfast treat.
More Made-From-Scratch Recipes
Did you make this? Snap a photo and tag us on Instagram at @thrivinghome so we can see your creations and cheer you on!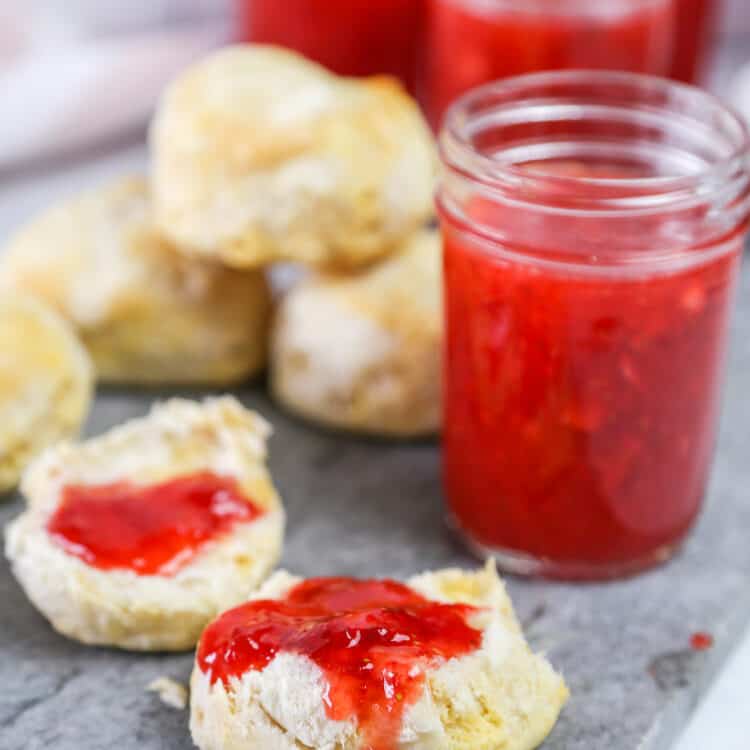 Strawberry Freezer Jam
Homemade freezer jam is a delicious treat that is easy to make! The batch makes a lot, so you can save some for your family and gives others away as gifts!
Yield:
6

(8-ounce) jars

1

x
Prep:
25 minutes
Cook:
0 minutes
Total:
25 minutes
Ingredients
1

quart

fresh strawberries (2 cups of crushed strawberries)

4

cups

sugar

1

(1.75-ounce) package of pectin (I used SURE-JELL Pectin brand)
You will also need 6 (8-ounce) mason jars with lids.
Before You Begin! If you make this, please leave a review and rating letting us know how you liked this recipe! This helps our business thrive & continue providing free recipes.
Instructions
Cut the stems off all of the strawberries. Crush the strawberries until only small chunks are left. You can use a stand mixer with the paddle attachment or by hand with a potato masher (or a combination of these) to do this. 
Measure out 2 cups of crushed strawberries and add them to a large mixing bowl. 
Add all of the sugar to the strawberries and let it sit for 10 minutes, stirring occasionally.
Stir together the pectin and 3/4 cup water in small sauce pan. Bring to a boil for 1 minute, stirring constantly. Remove from heat. 
Add the pectin mixture to the strawberries in the bowl and stir for 3 minutes. (This is a very important step to follow exactly!)
Using a ladle (and a funnel would be helpful too), fill your containers immediately as the jam will begin to set. Make sure to leave 1/2 – 1 inch head space for expansion during freezing. 
Cover with lids and let jam stand at room temperature for a few hours until set. If freezing, jam must be completely cool first.
Refrigerate up to 3 weeks or freeze up to 1 year. Thaw in the refrigerator before using. When you're ready to use it, let the jam thaw in the refrigerator for about 24 hours.
---
Notes/Tips
You can use a food processor to crush the strawberries but the consistency of the jam will be very smooth.
You cannot reduce the amount of sugar or use a sugar substitute since this will result in a failure to "set" properly.