How to Make Homemade Freezer Jam
This post may contain affiliate or sponsored links. Please read our disclosure policy.
Freezer jam is an easy way to use up fresh berries and then enjoy a healthier, delicious spread for toast later! Here's everything you need to know about how to make homemade freezer jam…
By Jessica Ellingsworth, Contributing Writer
Summer is arguably the best time for savoring seasonal foods, especially perfectly ripened fresh berries. As a child, the berries our family didn't eat right away either got frozen for the long winter or made into freezer jam. If you've made freezer jam, you probably know what I mean when I say it is the gift that keeps on giving. Nothing on any grocery store shelf will even compare to homemade freezer jam.
I skipped making freezer jam on our move from Missouri to Texas about a year ago, and my children acted like I deprived them of an essential nutrient when our freezer was jam-less all winter. Well, I am back in the saddle this summer and I am sharing jam tips after getting my hands on these gorgeous raspberries this week.
Can You Freeze Jam?
Perhaps the most obvious question to get out of the way is this one. Yes, you can freeze jam and it's really quite delicious after freezing! This recipe shows you how.
F.A.Q.s About Freezer Jam
Let's begin with some basic questions you may have before moving onto the method of making it.
What is freezer jam?
Freezer jam is not cooked, so the flavor is like ripe fruit and the texture is chunky. Plus, no standing over a hot stove in the summer! Expect a softer set than canned jam with a fresh fruit taste.
Do I need canning supplies or to sterilize anything?
Making freezer jam requires no sterilizing or sealing of jars. Just clean your jars with hot, soapy water or run through the dishwasher.
How long does freezer jam last in the freezer and refrigerator?
Jam keeps well in the freezer up to a year or more. Once it's thawed in the fridge, it will last 4-6 weeks.
What kind of pectin do you recommend?
My favorite pectin is Sure Jell. They offer low sugar or no sugar options, as well as their classic recipe. Ball brand also makes a no-cook pectin that some jam folks prefer.
Any tips on what kinds of berries to use?
I know this seems obvious, but I'll say it: perfectly ripe fruits make the best jams. Don't be afraid of combining two of your favorite fruits into one jam. Peach-Raspberry, anyone?!
How long does it take to make freezer jam?
Perhaps my favorite part of homemade freezer jam is you can have a batch of freezer jam done in 30 minutes.
Any other freezer jam bonuses?
Why yes! It is a lovely, heart-felt gift for a teacher, neighbor, or friend. Kids also love helping with the basic measuring, stirring and simplicity of freezer jam. My two-year-old son and I had a wonderful time making this together.
How to Make Freezer Jam
Here are the steps, complete with photographs, for the best jam every time:
1. Wash and measure out the fruit. The pectin comes with a guideline; follow it exactly so the jam will set well. I used 3 pints of raspberries for 7 cups of jam.
2. Get out a good ole potato masher and crush the berries. Sieve/strain out 1/2 cup pulp to remove some seeds, if you prefer. I skip this and go for full pulp.

3. Measure exact amounts (according to the recipe on the pectin) of crushed berries into a bowl.
4. Add sugar (again, according to the recipe on the pectin) and let it sit for about 10 minutes. Sugar helps set the pectin and preserves the fruit.
5. Now's the time to add the pectin according to package directions. If using Sure Jell, bring the package and 3/4 c. water to a boil for 1 minute. Pour into the fruit and stir for 3 minutes, making sure everything is incorporated. The two year-old stepped in and stirred for me.
6. Fill jars. Using a basic funnel makes it really easy.
Now your homemade freezer jam is ready for the freezer or the first piece of warm Homemade Wheat Bread!
Did you make this? Snap a photo and tag us on Instagram at @thrivinghome so we can see your creations and cheer you on!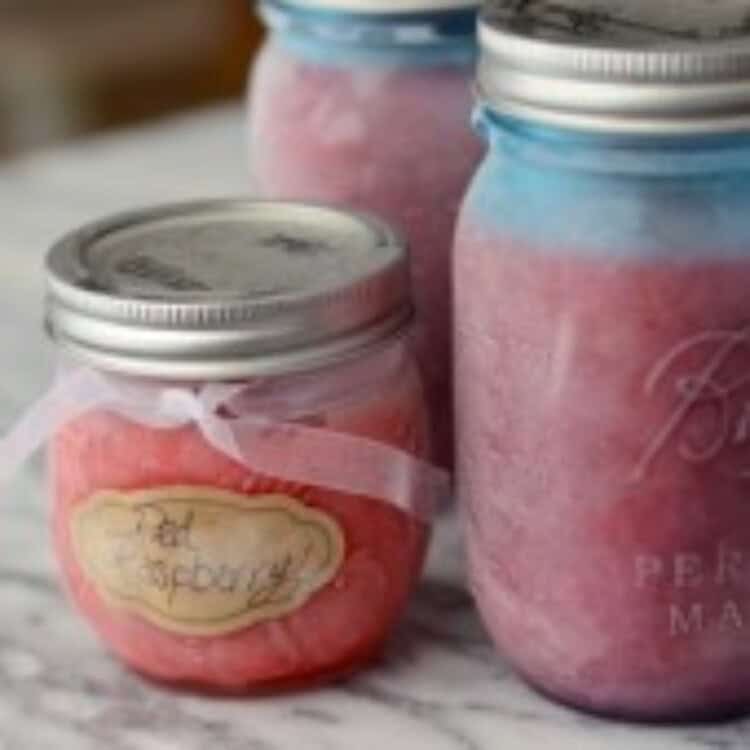 How to Make Freezer Jam
Homemade freezer jam is a delicious treat that is easy to make! The batch makes a lot, so you can save some for your family and gives others away as gifts!
Prep:
20 minutes
Cook:
15 minutes
Total:
35 minutes
Ingredients
Fresh berries (I used raspberries)
Sugar
Pectin
Before You Begin! If you make this, please leave a review and rating letting us know how you liked this recipe! This helps our business thrive & continue providing free recipes.
Make It Now:
Wash and measure the fruit. The pectin has a guideline; follow it exactly so your jam will set up.
Crush the berries with a potato masher.
Sieve out 1/2 cup pulp to remove some of the seeds. *You can also skip this step and have full pulp.
Measure exact amounts of crushed berries in to a bowl (according to the directions on the pectin).
Add sugar (according to pectin directions) and let it sit for about 10 minutes.
Now add pectin according to the package directions. If you use Sure-Jell, bring the package and 3/4 cup water to a boil for one minute.
Pour into the fruit and stir for 3 minutes, making sure everything is fully incorporated.
Fill jars using a basic funnel.
Freeze For Later: Prepare jam as directions state above. Fill mason jars with the jam, leaving about 1 inch of head room at the top. Let jam cool completely. Store in freezer for up to one year.
Prepare From Frozen: Thaw jar of jam in refrigerator overnight. Use on toast or in your favorite recipes. Store jam in refrigerator. Use within 7-10 days of opening.
About the Author
Jessica Ellingsworth is the editor and curator of Mayvn.com. Mayvn serves as a lifestyle spot for stylish, yet simple homemaking. Jessica is the wife of a musician/composer, mother to two beautiful daughters and one dashing son. When she isn't running around with the children, she can be found honing her photography skills in her city of Austin, Texas, experimenting with makeup artistry, and romancing her handsome husband with culinary treats.