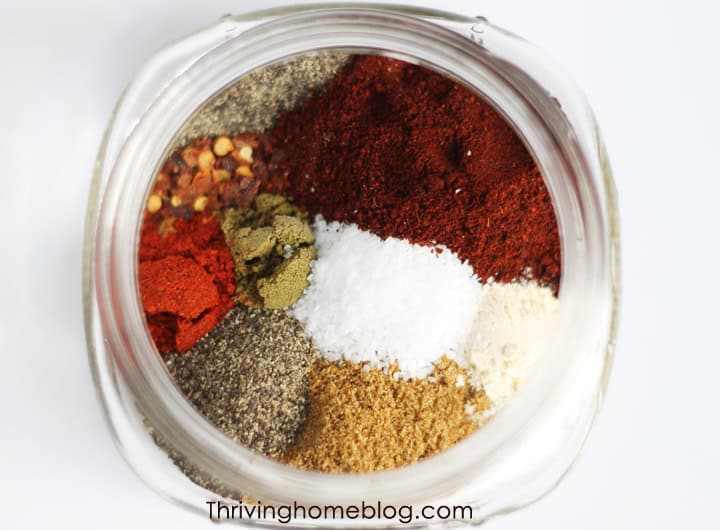 This house LOVES mexican food. Even my two year old will scarf down a whole bowl of spicy mexican soup without any protest. When I sit down to menu plan for the week, it seems like there is almost always something with a mexican flare on it. Most of the recipes I make call for some type of taco seasoning. Up until this point, I simply bought the expensive little packets of taco seasoning without batting an eye. However, as I am growing increasingly aware of what is actually in pre-packaged foods, I realized that my little bundles of taco-joy were filled with some questionable ingredients.
Check out the ingredients in the packet that I usually buy: Maltodextrin, salt, chili pepper, onion powder, spice, monosodium glutamate, corn starch, yellow corn flour, partially hydrogenated soybean oil, silicon dioxide (anticaking agent), natural flavor, ethoxyquin (preservative).
I also hated that I was paying $1-$2 for a single serving of taco seasoning.
I used taco seasoning so much that I finally realized it'd be worth it to make my own batch and triple it for future use.
Turns out I had every ingredient I needed in order to make a big batch of this yummy taco seasoning mix! Isn't it pretty?!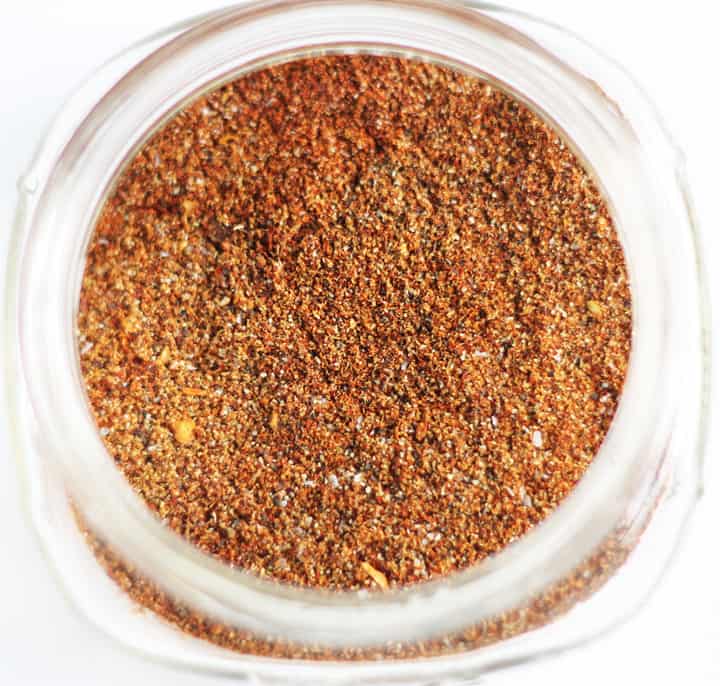 This homemade taco seasoning mix can be used in recipes like, Chessey Chicken and Black Bean Enchiladas, Mexican Soup, Quesadillas, 7 Layer Taco Dip, Easy Taco Salad, Anything Goes Tortilla Soup, and many other recipes in our recipe index.
Taco Seasoning Mix
Combine the following ingredients and store in an airtight container. Double, triple, or even quadruple the recipe!
1 1/2 teaspoon chili powder
1/4 teaspoon garlic powder
1/4 teaspoon onion powder
1/4 teaspoon crushed red pepper flakes
1/4 teaspoon dried oregano
1/4 teaspoon paprika
1 teaspoon ground cumin
1/2 teaspoon sea salt
1/2 teaspoon black pepper
Happy taco making! (Or if you are our family, you'll be making even more enchiladas!)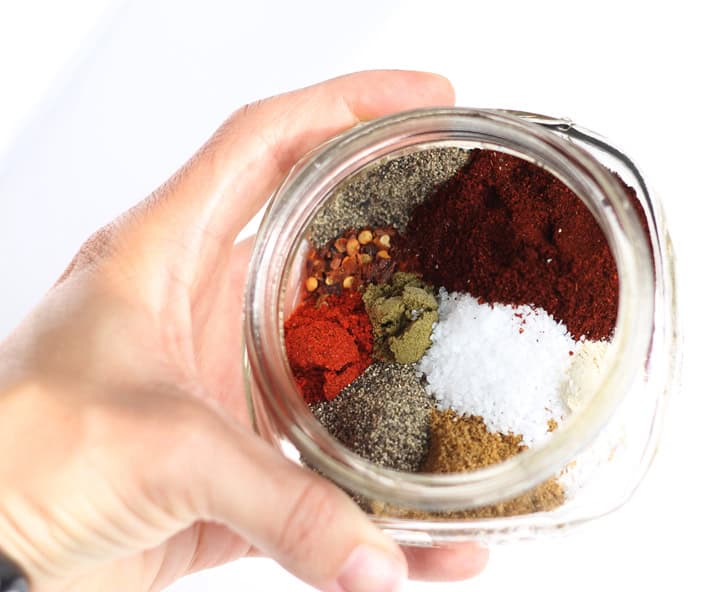 Print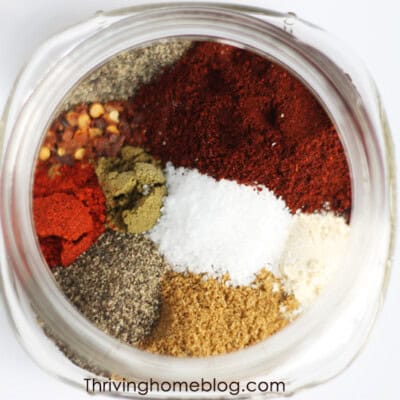 Taco Seasoning Mix
Author:

Prep Time:

5 mins

Total Time:

5 mins
---
Description
Homemade taco seasoning mix. Skip the additives and artificial ingredients and whip up a big batch of this FABULOUS natural taco seasoning mix. I'll never go back to buying those expensive little packets again!
---
Ingredients
1 1/2 teaspoon

s chili powder

1/4 teaspoon

garlic powder

1/4 teaspoon

onion powder

1/4 teaspoon

crushed red pepper flakes

1/4 teaspoon

dried oregano

1/4 teaspoon

paprika

1 teaspoon

ground cumin

1/2 teaspoon

sea salt

1/2 teaspoon

black pepper
---
Instructions
Combine all ingredients and store in an airtight container. We use about 2 tablespoons of the mix per pound of meat, but feel free to add more or less depending on your preference.
Double or even triple this recipe to have on hand for all of your favorite Mexican meals!