This post may contain affiliate or sponsored links. Please read our disclosure policy.
Layered Taco Dip is the ideal party appetizer. The ingredients are simple and cheap, it's easy to make ahead of time, and the flavor is amazing! The layers make it look like a complex recipe when, in reality, it takes only a few minutes to throw together!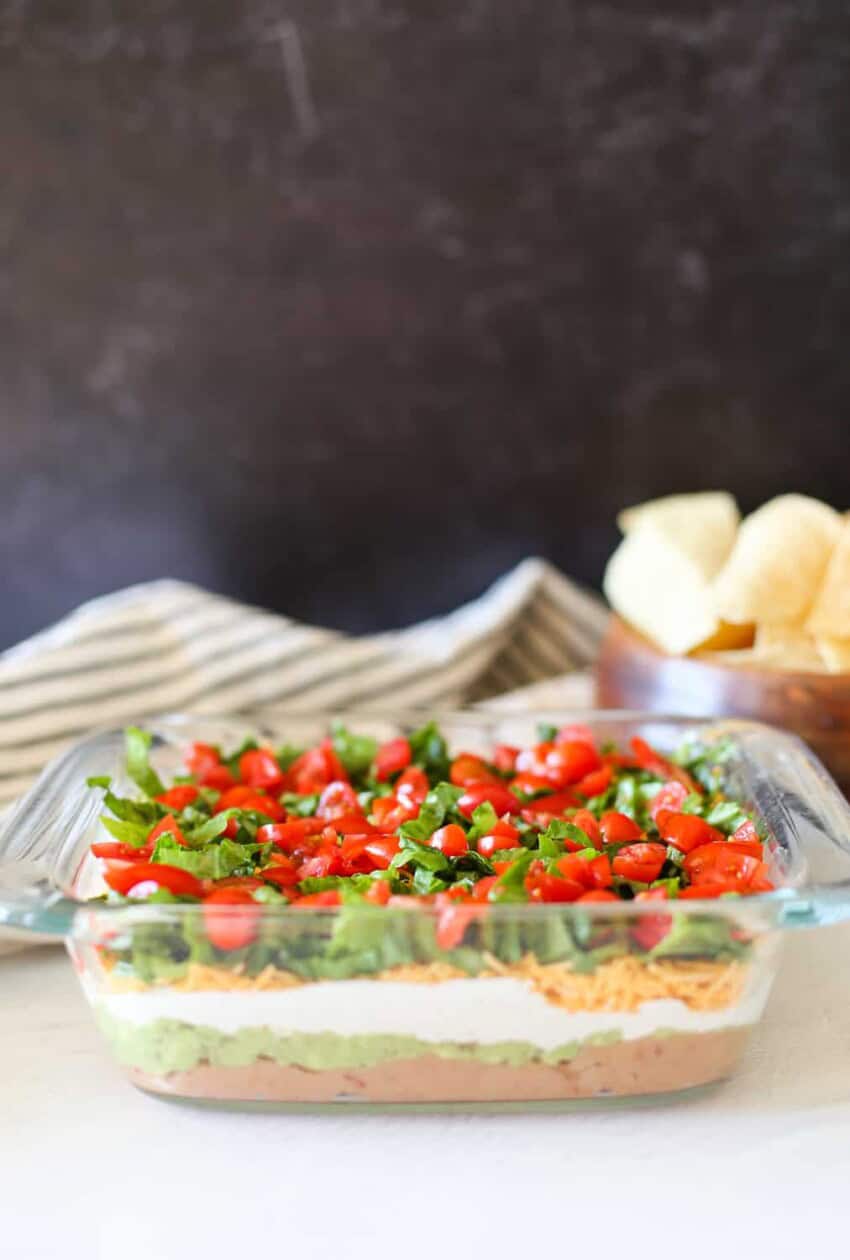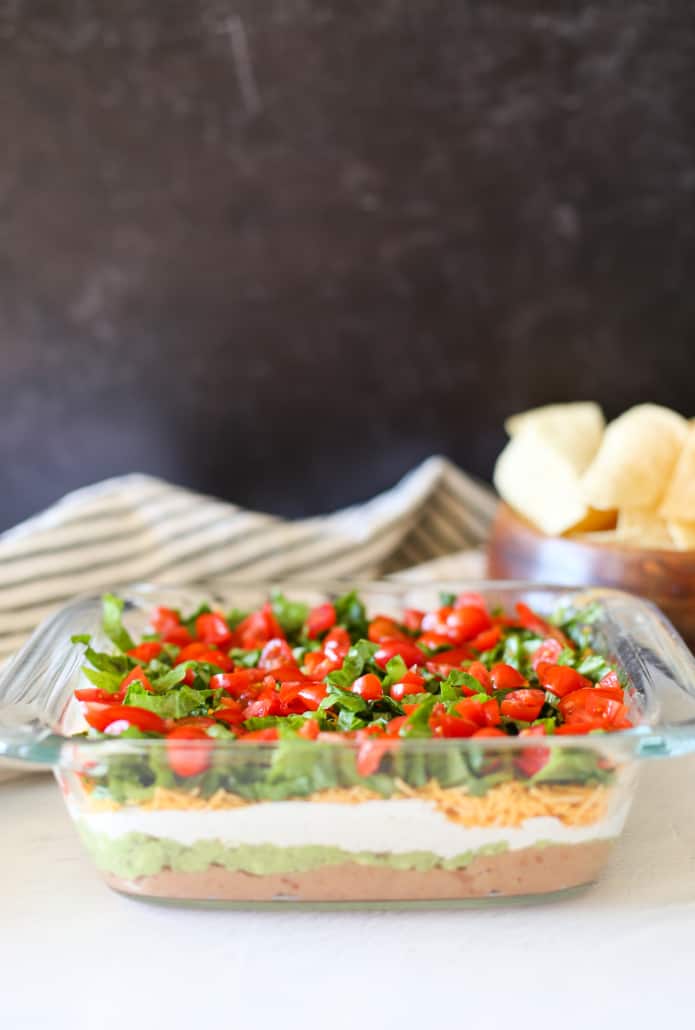 "Layered Taco Dip is one of my staples to bring to parties. The best part is if there is any left, I get to eat it for lunch!" ⭐️⭐️⭐️⭐️⭐️ – Carla
Why You'll Love This Recipe
Eat on it all week. I left this in the fridge, and we ate on it for lunch, snacks, and dinner throughout the week. Not only can you dip tortilla chips but carrot sticks, as well. Seriously one of my favorite meals.
It's a perfect recipe for groups of people. You can throw this Layered Taco Dip together in about 15 minutes and there's no cooking required. Plus, who doesn't love this dip? It's sure to be a party favorite.
This version of the Layered Taco Dip is actually healthy! Just look at all of the real food ingredients in it.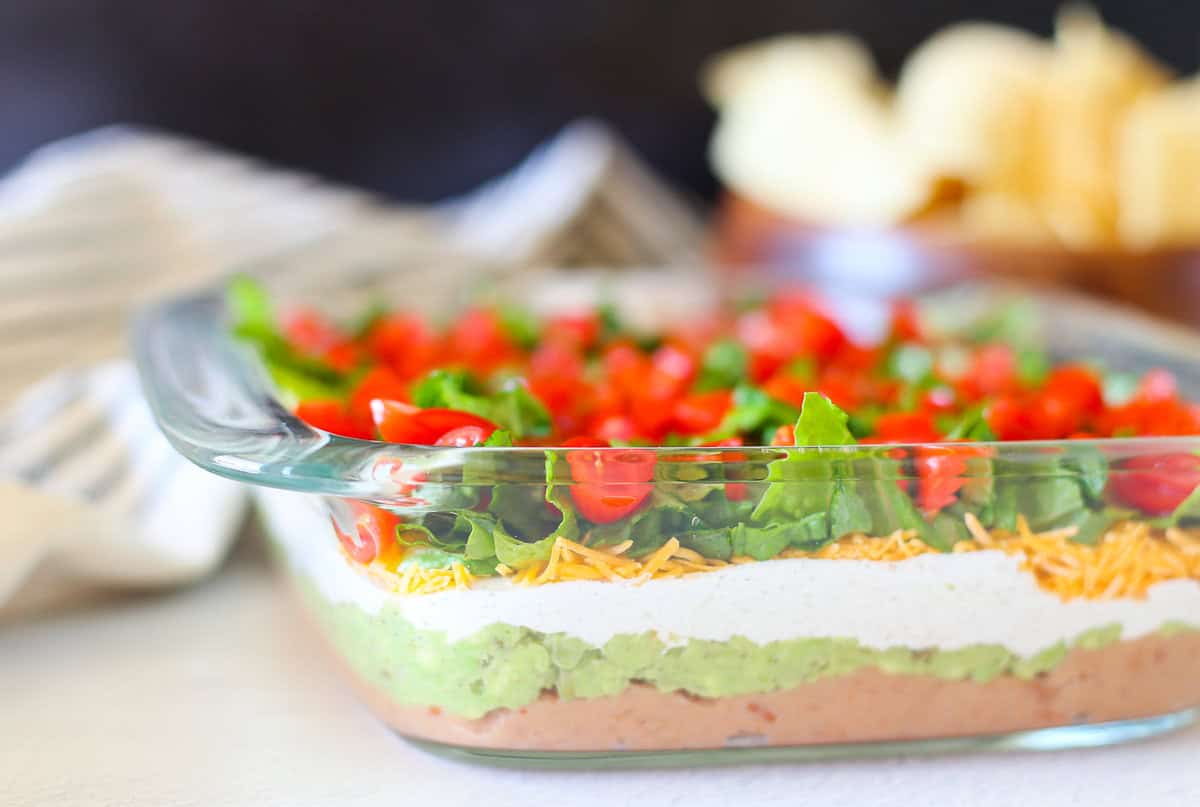 Step-by-Step Instructions
Refried beans are full of fiber and protein, and low in fat and calories. Make sure you either make your own refried beans or buy organic to avoid strange ingredients. I've found that the Vegetarian Refried Beans in my store had the least amount of ingredients and were the lowest in fat, as well.
The base of your Layered Taco Dip will start by spreading out refried beans in the dish.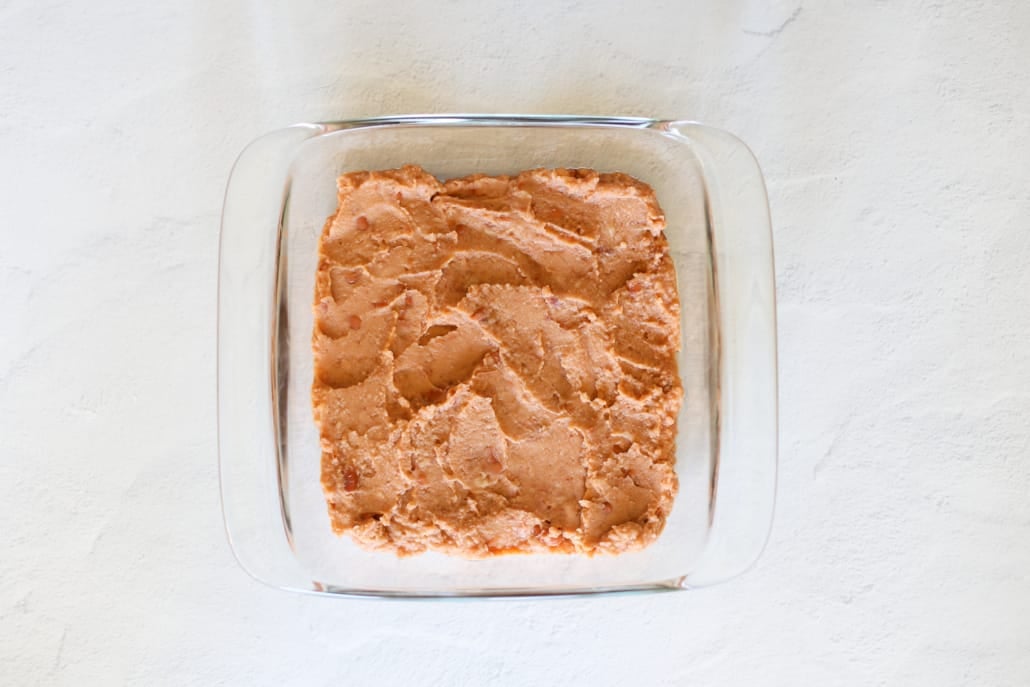 The next layer is some avocado goodness. You'll mix together some ripe avocados and lime juice (or use our Guacamole recipe) and then spread it out over the bean layer. This is a great way to use up some frozen avocado. Yes, you can freeze avocado! I do it all the time to add to smoothies like our Green Machine Smoothie.
Adding a good amount of avocados brings some great nutrition to the Layered Taco Dip too! Avocados = good fat, vitamins, and minerals.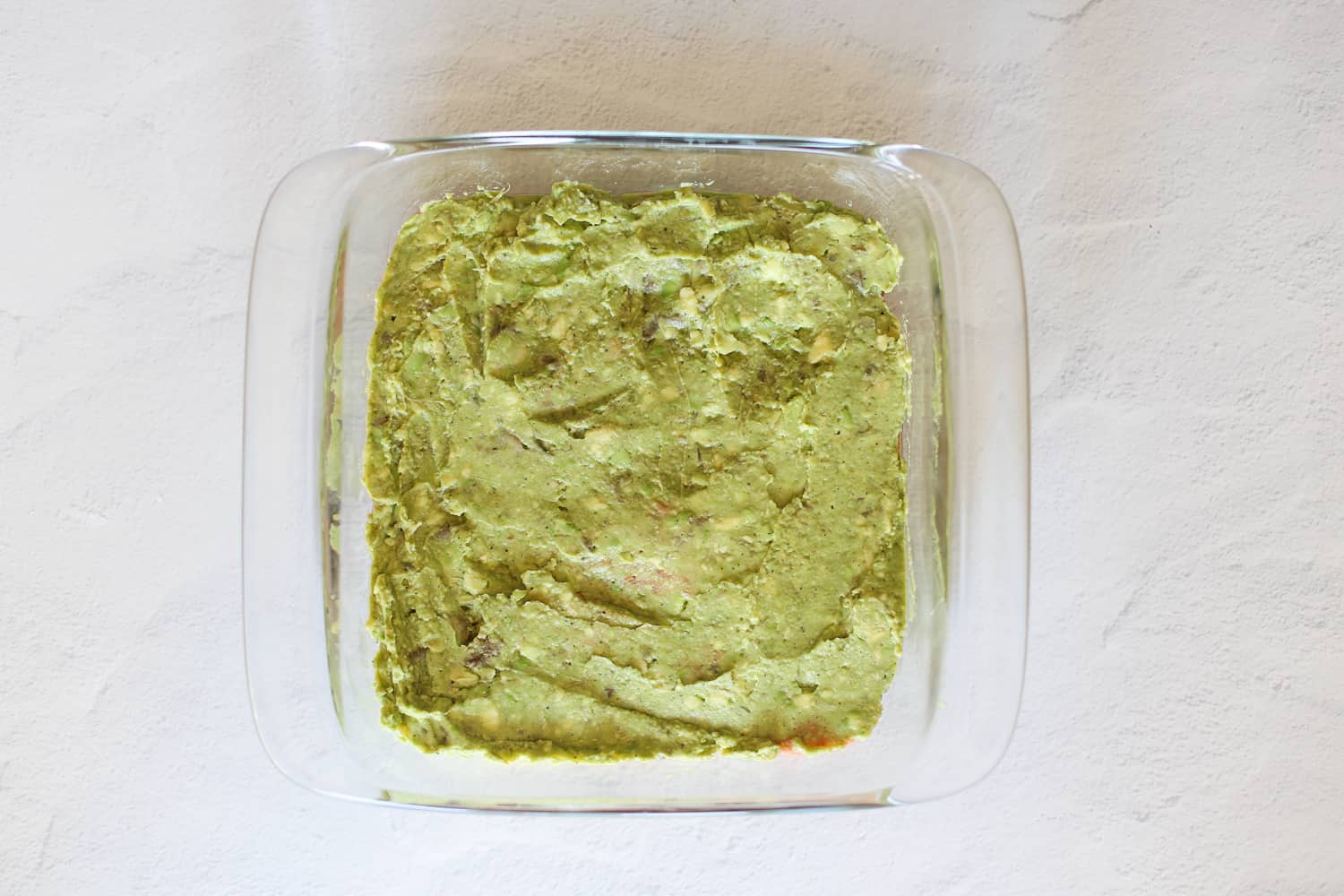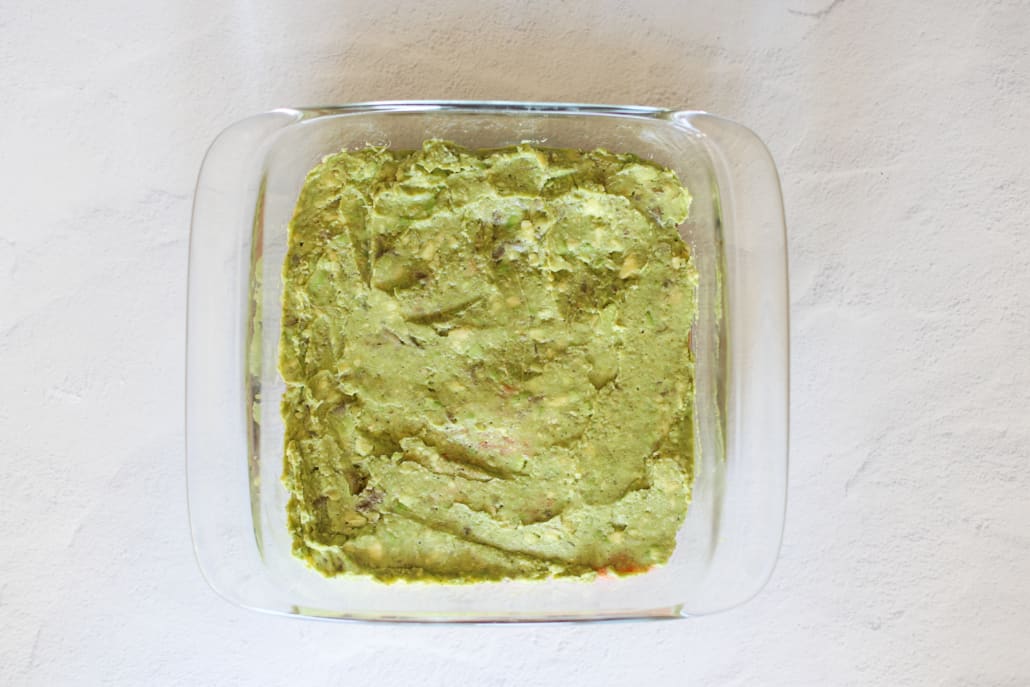 Sour Cream & Taco Seasoning
In this step, you'll mix together sour cream and taco seasoning before spreading it over the avocado layer. While you can use store-bought taco seasoning, we recommend just making your own homemade taco seasoning. I always have a jar of this in my pantry since I use it so frequently on recipes like our Chicken Taco Soup, Taco Bar, and Mexican Soup.
Another healthy substitution is using plain Greek Yogurt instead of sour cream. Using Greek Yogurt is a near-perfect substitution for sour cream. It adds some awesome probiotics and calcium.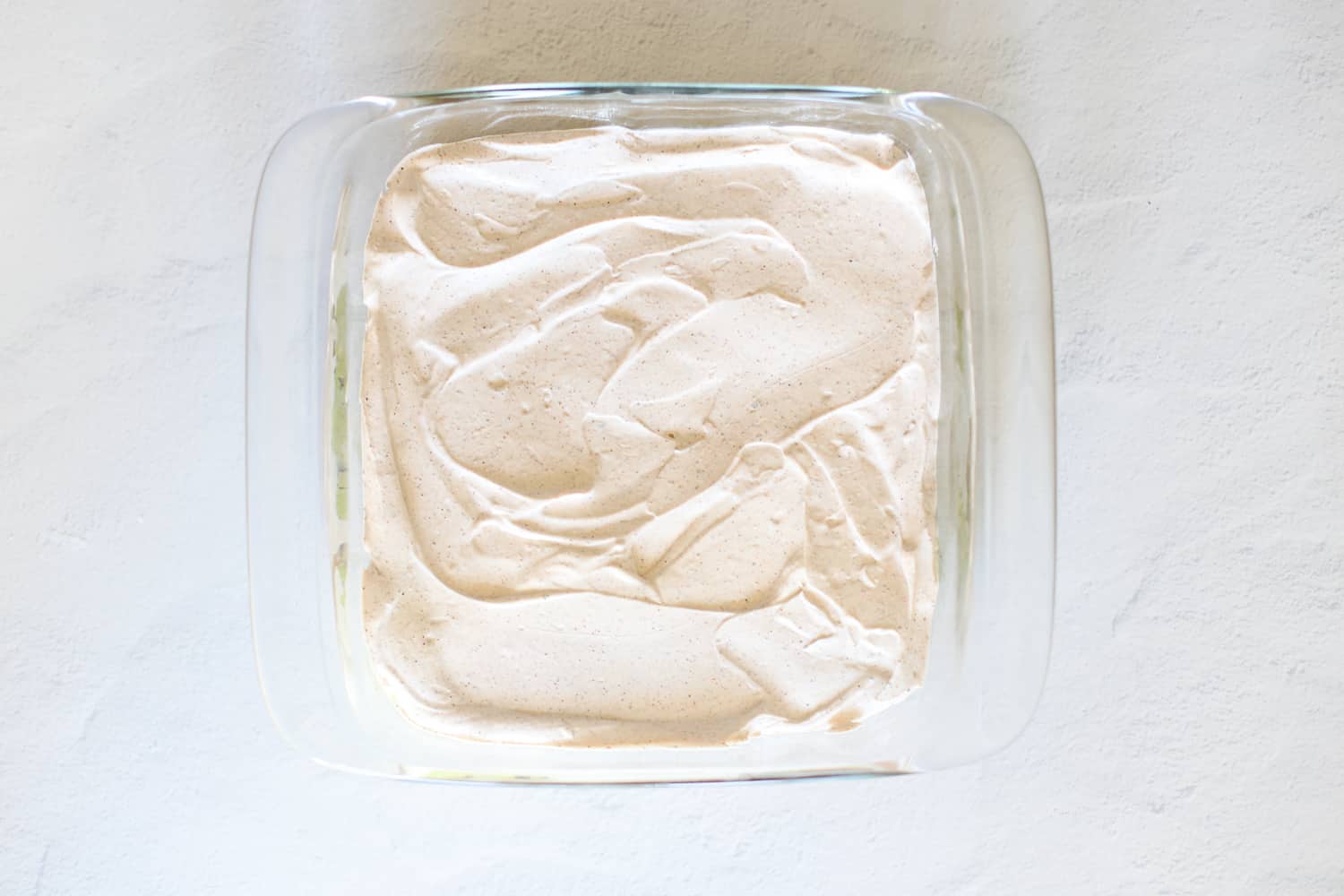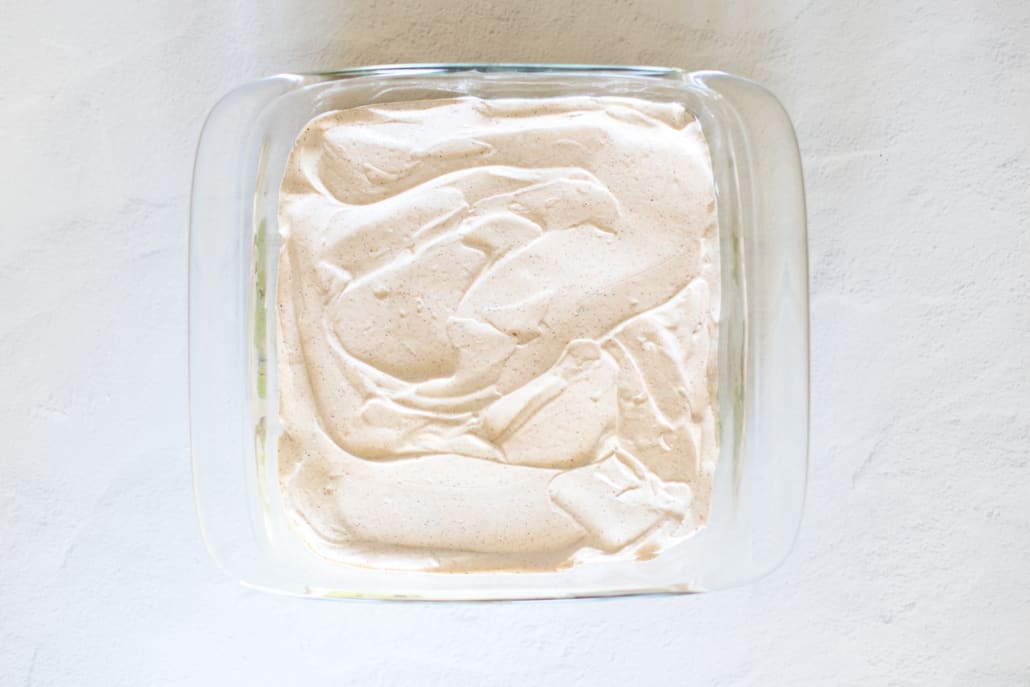 You can't have a Layered Taco Dip without cheese, right? If you have some leftover cheese that you have frozen (yes, you can freeze cheese), this is a great way to use it up.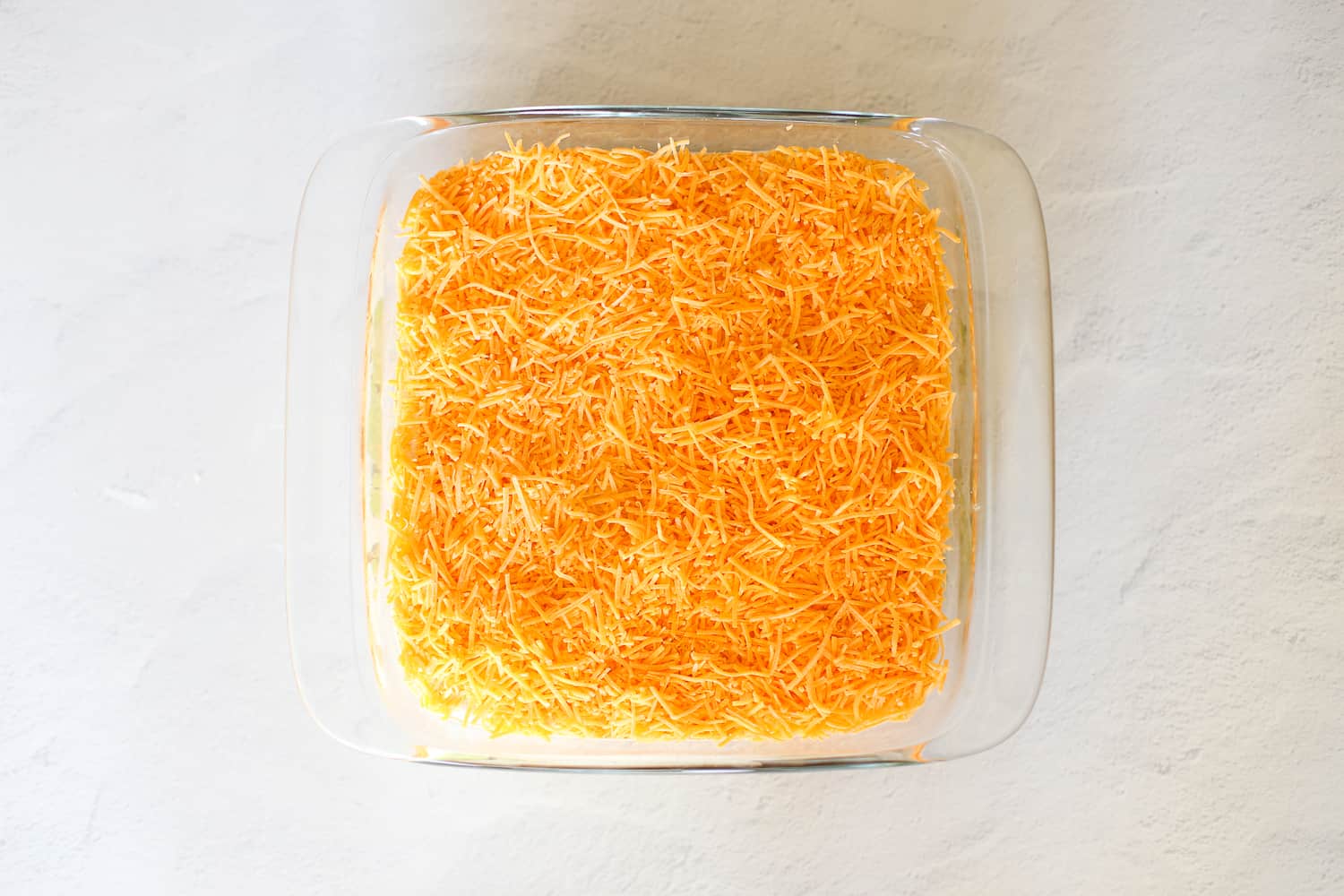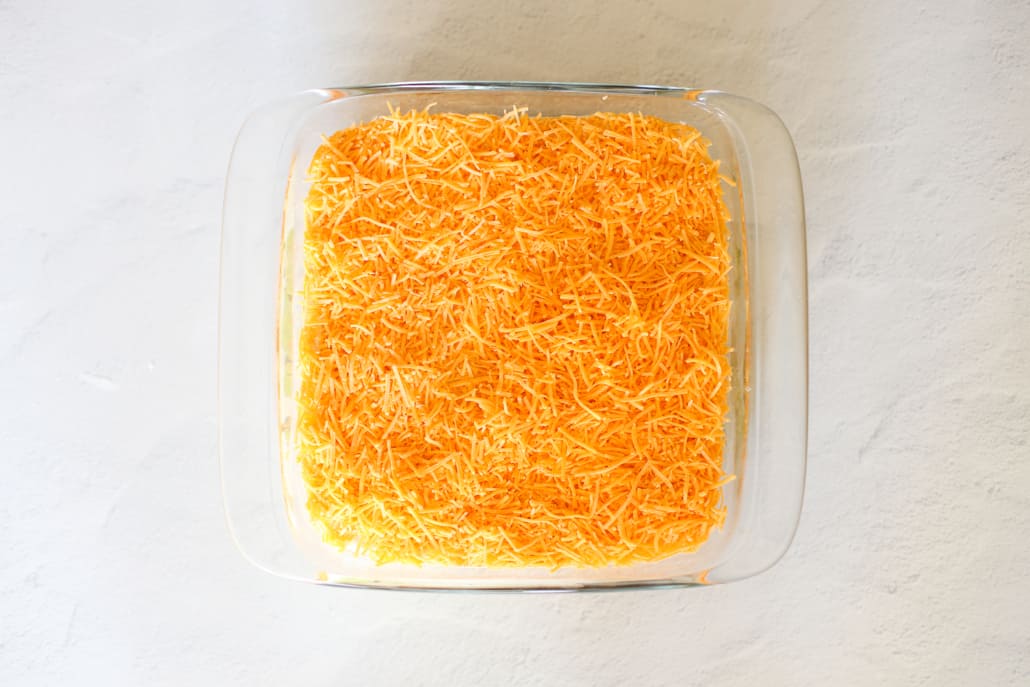 Top your Taco Dip off with the veggies of your choice. I used some chopped-up lettuce and diced cherry tomatoes. Next time I plan to add some diced red onion. I'm not a black olive person, but many like to add those to their dip as well.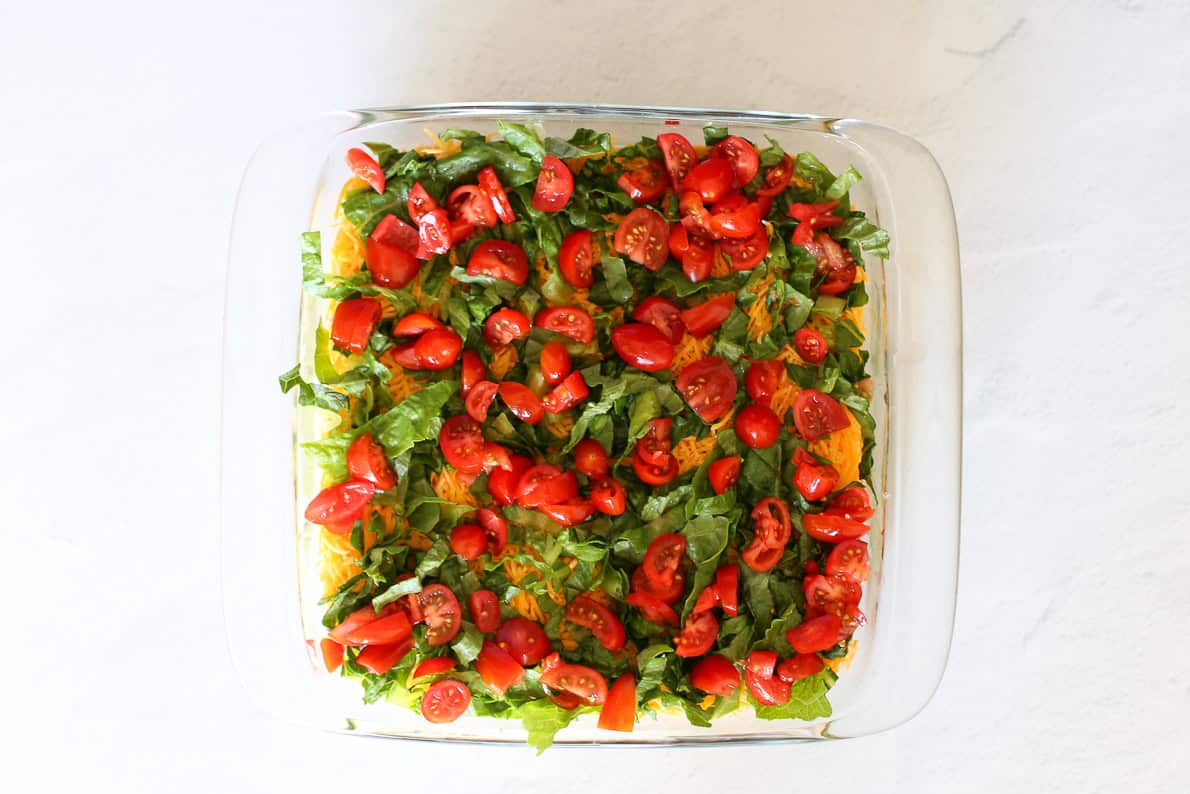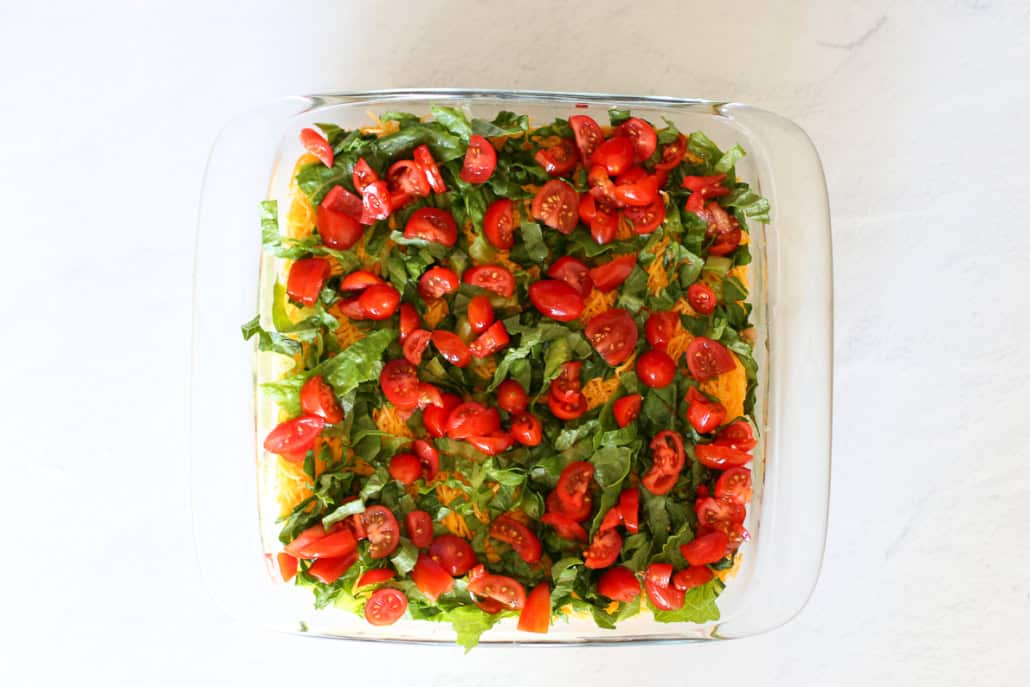 What to Serve with Layered Taco Dip
The main team player with Taco Dip is tortilla chips. They are simply a must!
More Ideas:
Load up a crunchy tostada. Add some taco meat if you want or just spread it on a tostada shell!
Wrap it into a burrito. You have everything you need for a tasty bean burrito with this dip. Wrap it in a flour tortilla.
Top quesadillas. Turn a boring quesadilla into a gourmet delight by topping it off with this dip.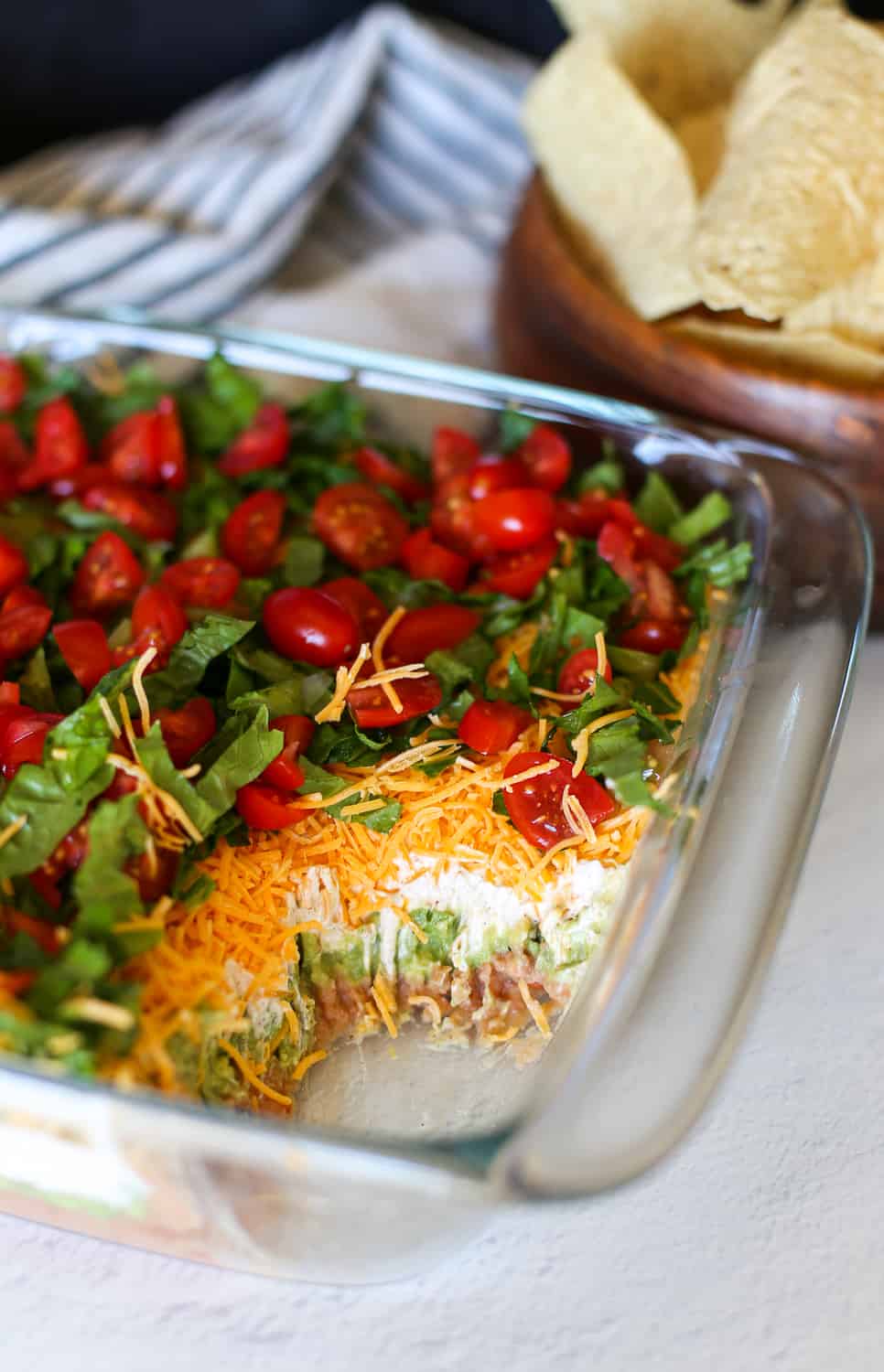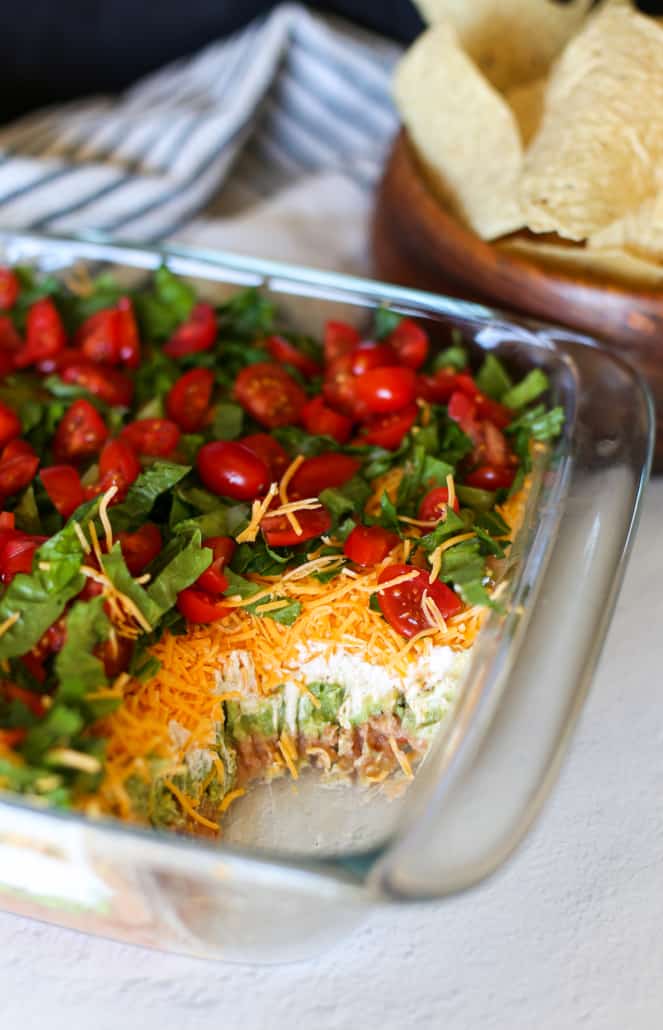 Storing Taco Dip
Layered Taco Dip is a GREAT recipe to make ahead of time. In fact, it tastes even better if prepped and chilled in the fridge for at least an hour.
Keep any leftover dip covered tightly in the refrigerator. We have started using these glass baking dishes with lids. It's perfect for recipes like Layered Taco Dip or freezer meals.
Layered Taco Dip will keep for 3-4 days, but the longer it's kept, the more the layers will "bleed" together and it can start to get a bit watery. If it gets watery, just drain it off, or use a paper towel to absorb the liquid.  It will still taste amazing, just may not look picture-perfect.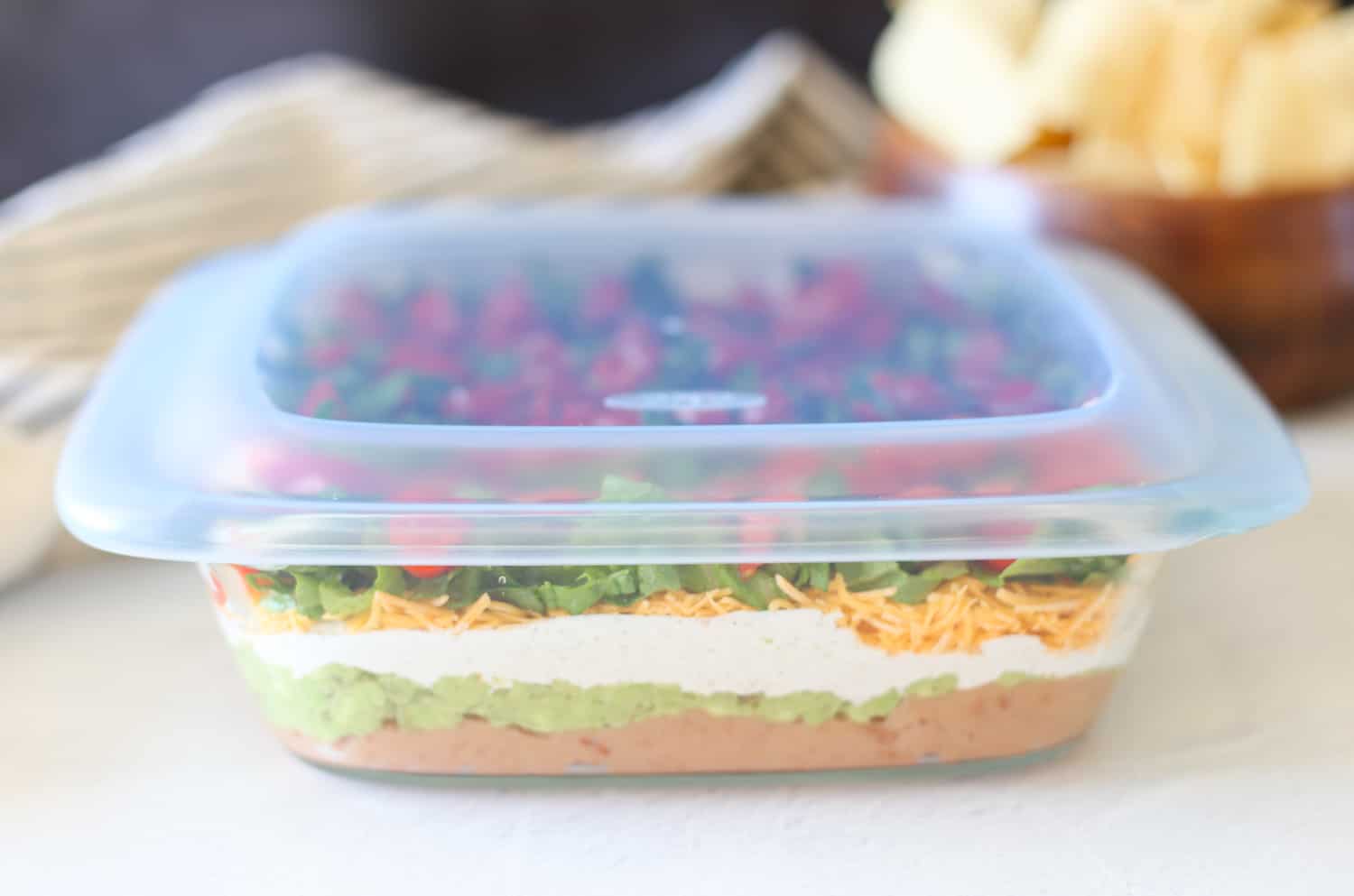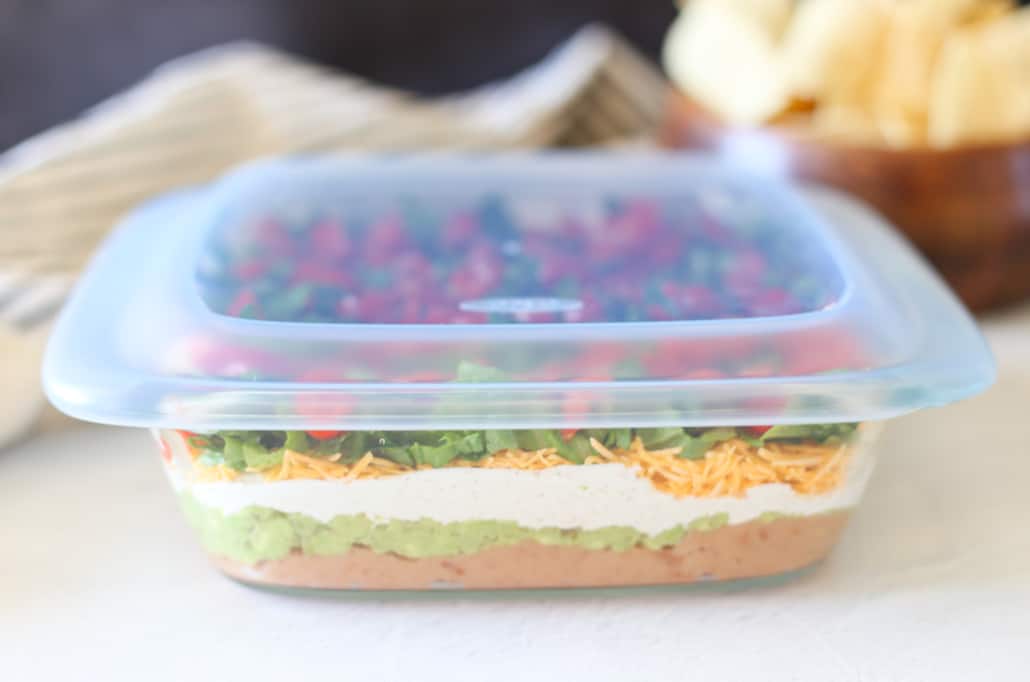 Additions & Substitutions
Use plain greek yogurt in place of the sour cream
Add pickled red onions
Add olives
Use store-bought guacamole to save time
Did you make this? Snap a photo and tag us on Instagram at @thrivinghome so we can see your creations and cheer you on!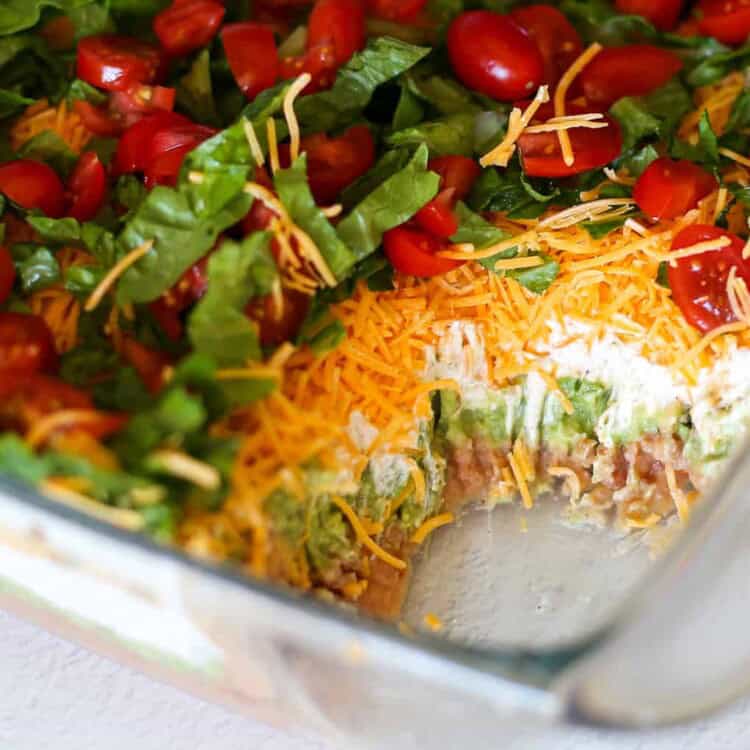 Layered Taco Dip
Layered Taco Dip is an easy appetizer that is a total crowd-pleaser. Seeing the layers makes the dish feel extra scrumptious!
Prep:
15 minutes
Total:
15 minutes
Ingredients
1

can refried beans

2

–

3

ripe avocados, smashed

2 tablespoons

freshly squeezed lime juice (

1

lime)

2

garlic cloves, minced

1/2 teaspoon

salt

1/4 teaspoon

pepper

2

cups

sour cream (sub: plain organic Greek yogurt)

1

–

2

tablespoons taco seasoning, according to your taste

1 1/2

cups

shredded cheddar cheese

1

cup

loosely packed shredded Romaine or Green Leaf lettuce

1

cup

grape or cherry tomatoes, chopped
Optional Additions:
Diced red onion
Black olives
Salsa
Before You Begin! If you make this, please leave a review and rating letting us know how you liked this recipe! This helps our business thrive & continue providing free recipes.
Instructions
Spread refried beans in large glass bowl or pan.
In a small bowl, smash avocado. Stir in lime juice, garlic, salt, and pepper. Spread avocado mixture over dip.
Combine taco seasoning with the sour cream. Spread over the avocado layer.
Sprinkle a layer of cheddar cheese on top.
Top with shredded lettuce and chopped tomatoes (or your toppings of choice).
Serve with tortilla chips.