This post may contain affiliate or sponsored links. Please read our disclosure policy.
If you are serving a Mexican recipe, Chips & Guacamole are an essential side dish. The fresh ingredients and seasoning blend in this guacamole will have you coming back for more and more. The recipe was created to serve the masses but my guess is leftovers won't be much of a problem.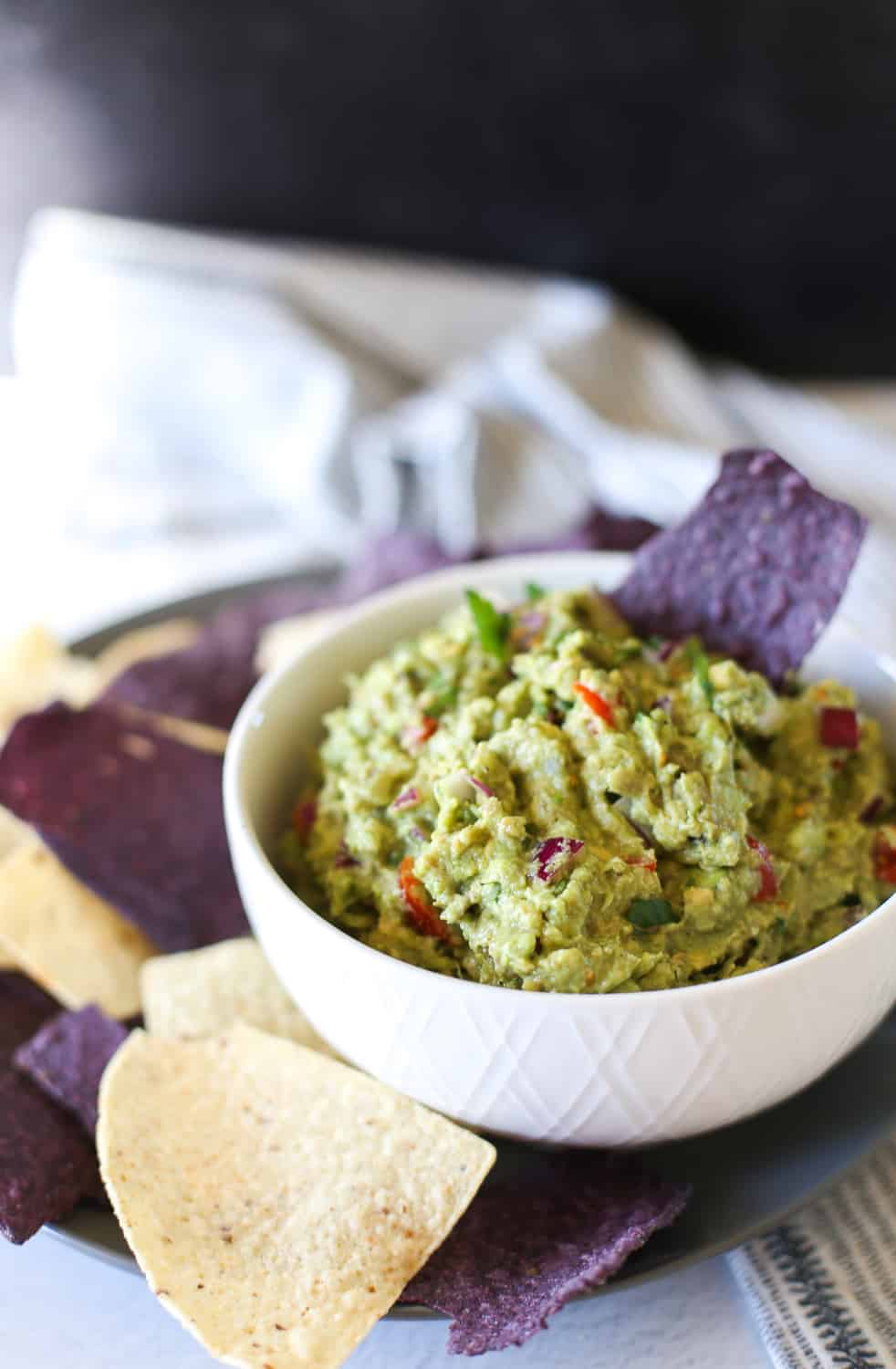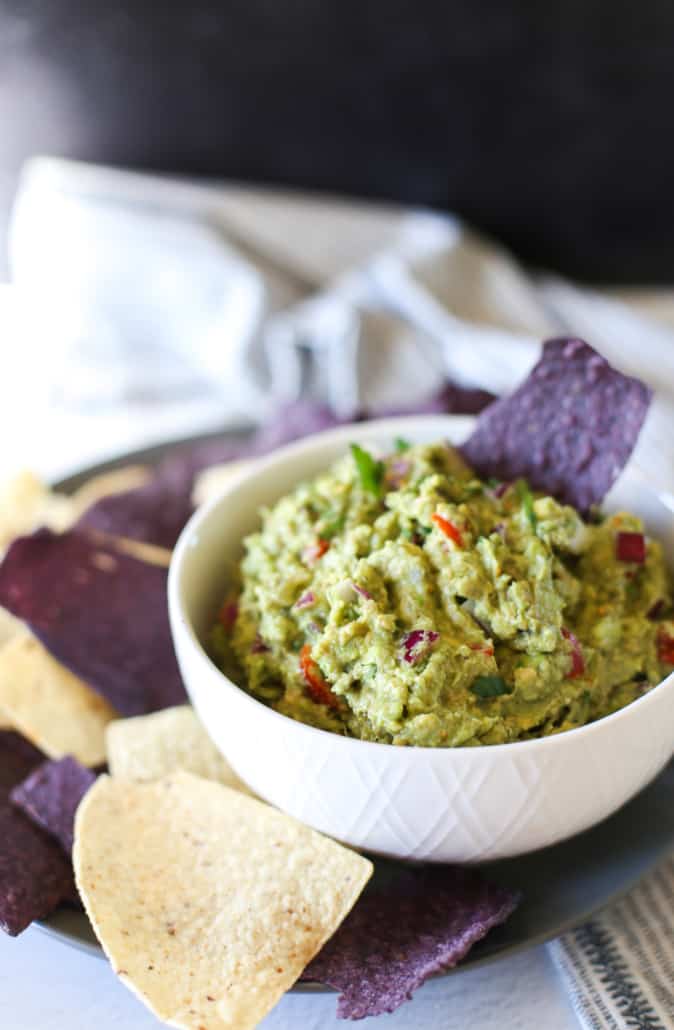 Guacamole is so good for you! Make it irresistible by using our recipe and serving it with chips, and your family will be scarfing down powerhouse ingredients like it's their job.
The Ingredients
Every guac recipe is a little different but, after testing many variations, this ingredient combo was our favorite.
Jalapeño – Don't worry, it's seeded and finely minced. I omit this when I know my kids will be eating the guac though.
Red onion
Minced garlic
Cilantro – could sub parsley but cilantro is much better in my opinion
Avocados
Lime Juice
Salt, Pepper, and Cumin
Cherry tomatoes
And, for crying out loud, don't forget the chips. Try to find tortilla chips that are MSG-free, additive-free, and trans-fat-free (buying organic takes care of all this). I have been loving blue corn chips lately!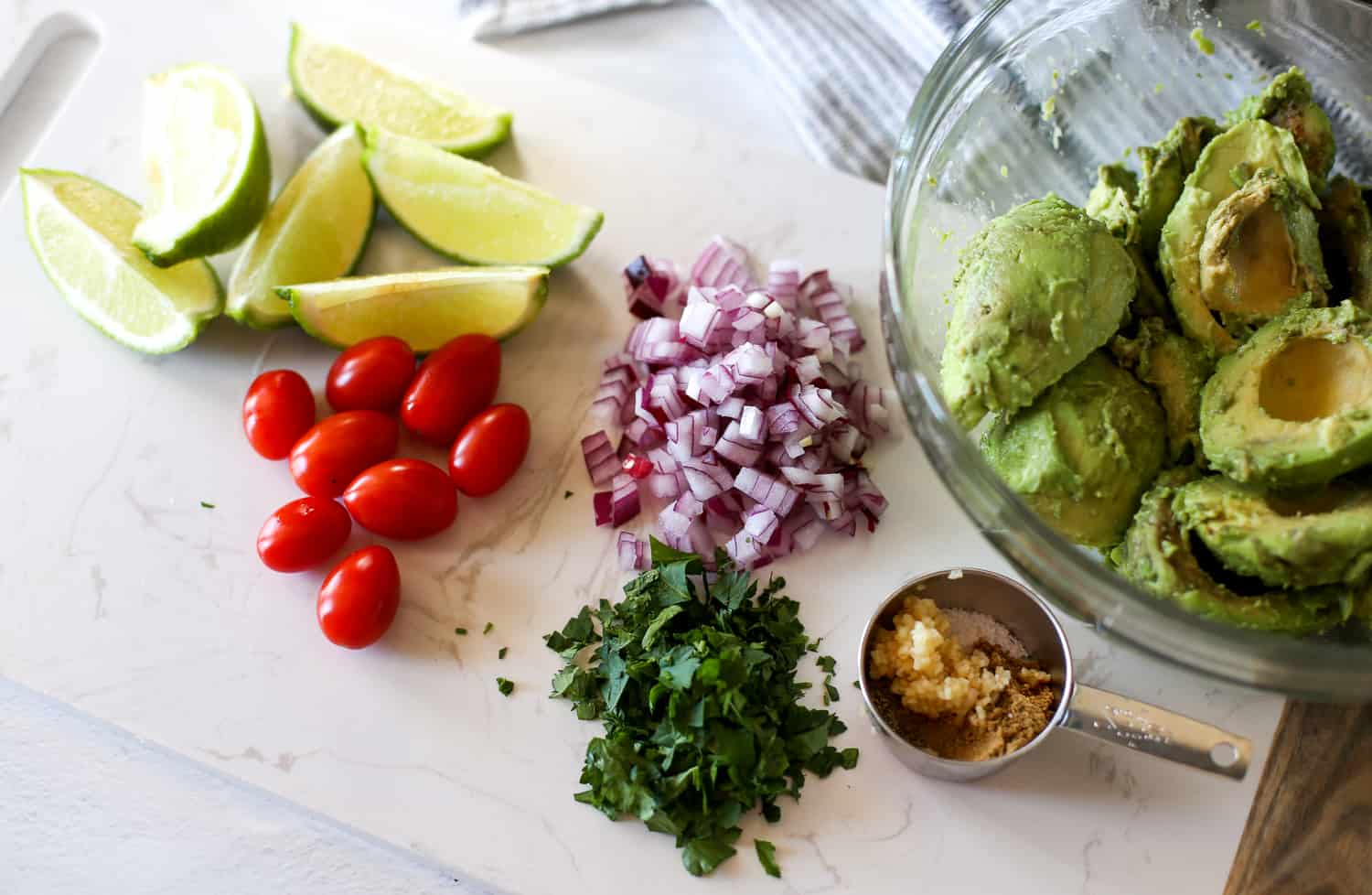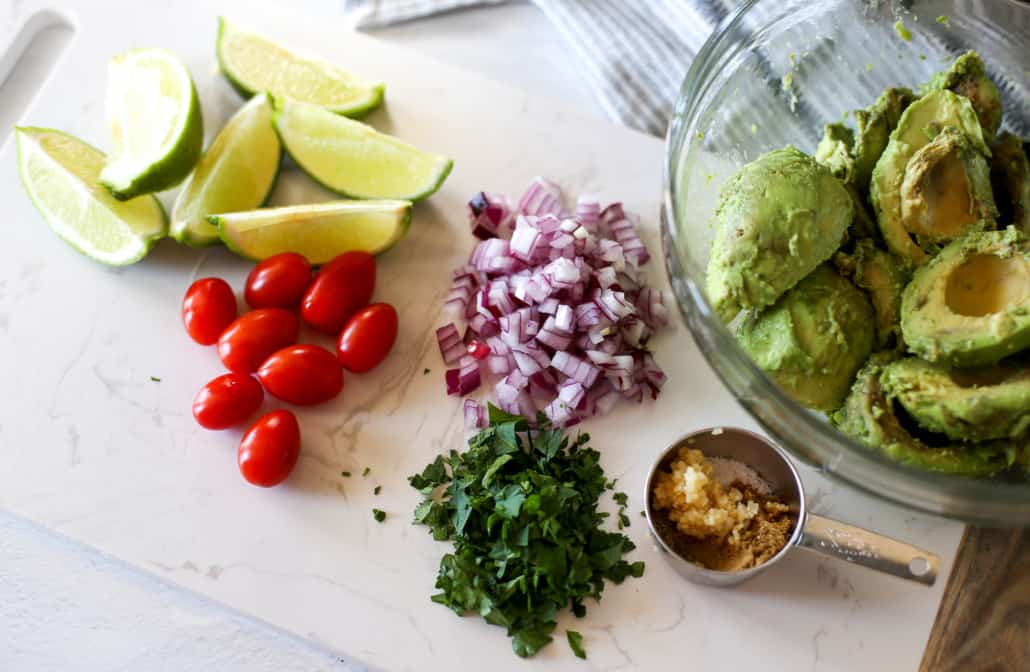 Chips and Guacamole: Perfect for Groups!
As mentioned above, this recipe is a bit larger than most you'll find on the internet. Yes, it calls for 8 avocados. I have found this to be the perfect amount to take to gatherings or when I feed groups of people.
It's an appetizer most people are familiar with and almost all ages enjoy. You can also set out some fresh veggies to serve alongside the chips and guacamole if you want.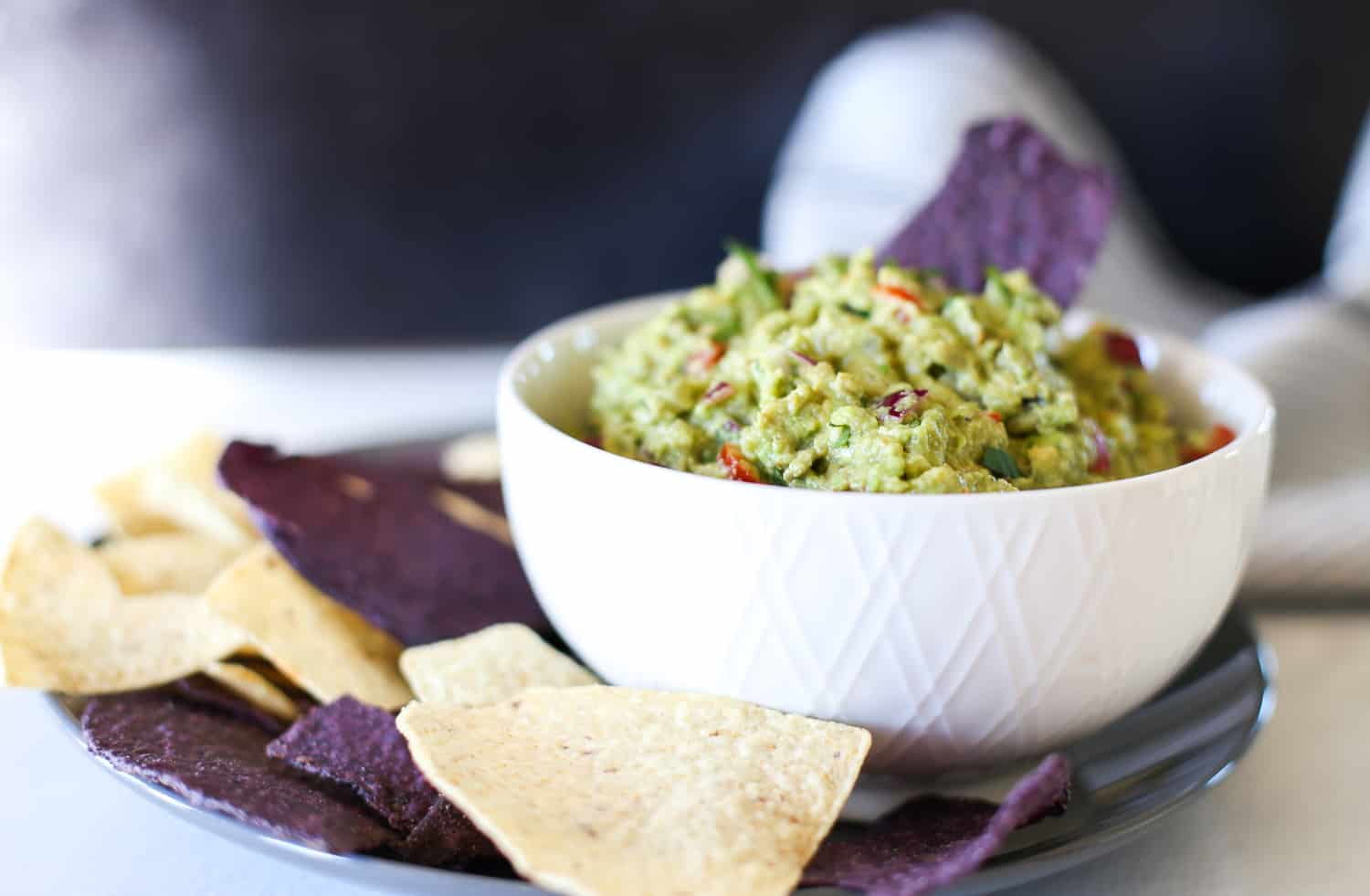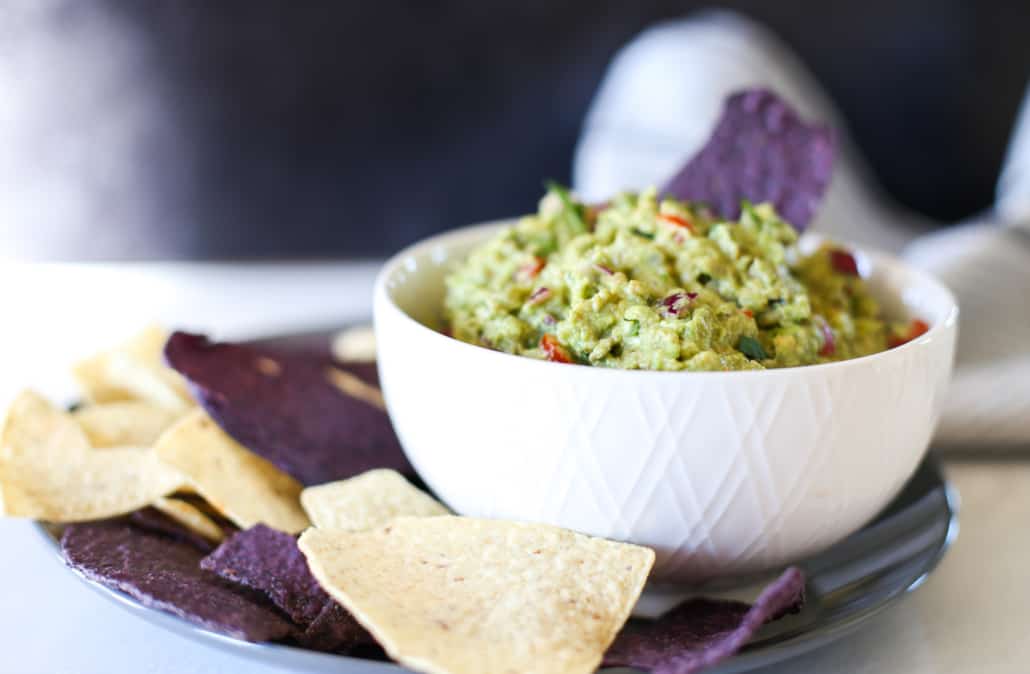 What Goes Well with Chips and Guacamole?
It feels silly to state the obvious but serve chips and guac with Mexican dishes! Here are a few ideas to get you started:
You could also use this Guacamole in our Layered Taco Dip. Mmmmm!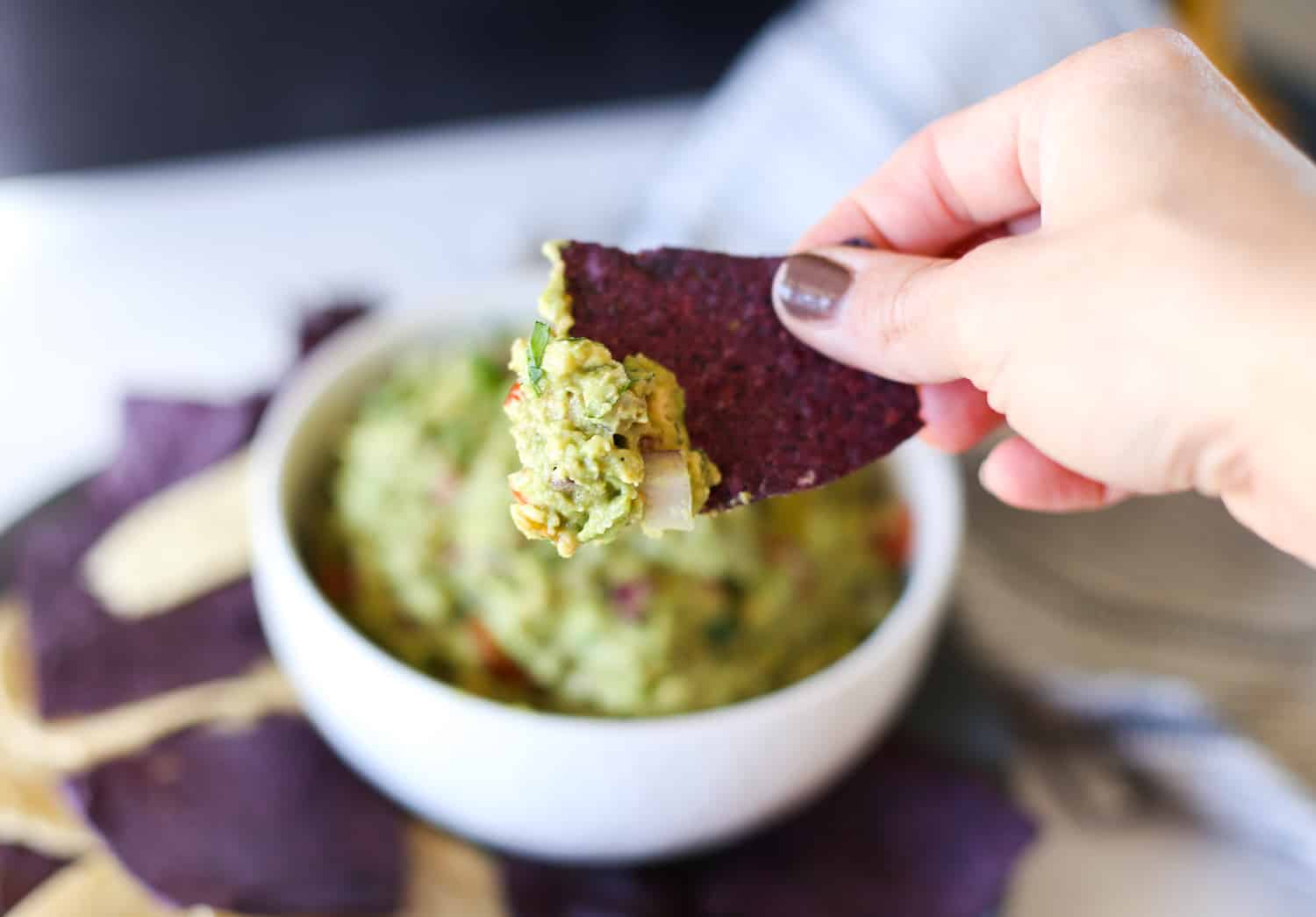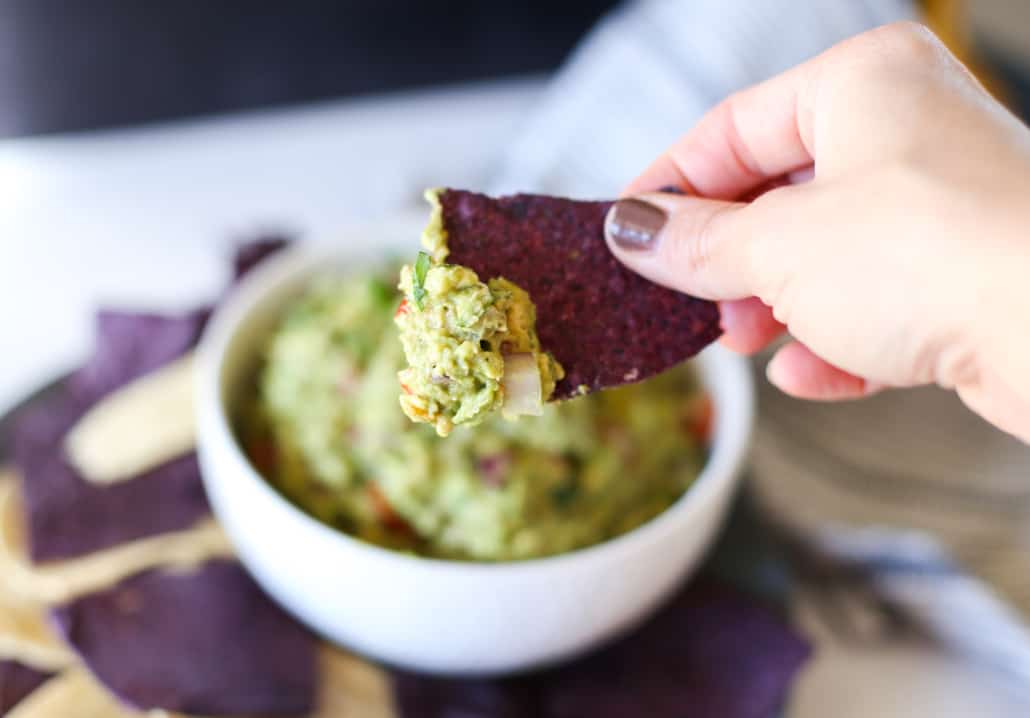 Can You Freeze Guacamole?
It's no secret we are big fans of freezer meals around here. In fact, we have 2 freezer meal cookbooks, 1 Hour Freezer Prep Sessions, and even a round-up with 70+ freezer meal recipes that you will love!
We have tested all sorts of recipes in the freezer, Guacamole included.
Can you freeze guacamole? Yes, but we don't recommend it. Through the freezing and thawing process, the ingredients release a lot of liquid. The texture changes quite a bit. It will also turn brown as it oxidizes.
That being said, it technically will work if you're really wanting to freeze it. The flavor will still be good! Just know it won't return to its original state. And, squeeze some lemon or lime juice over the top to reduce some of the browning.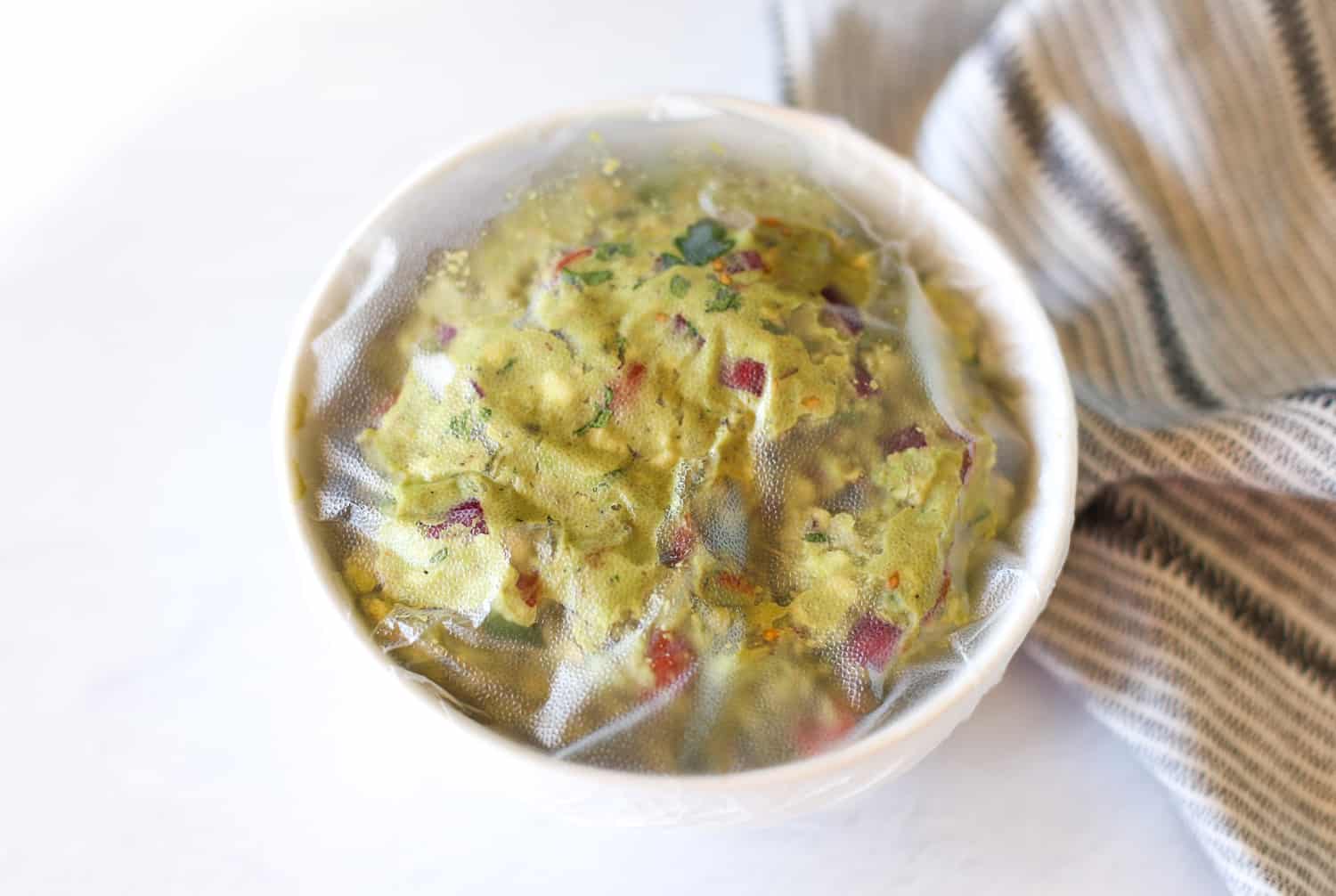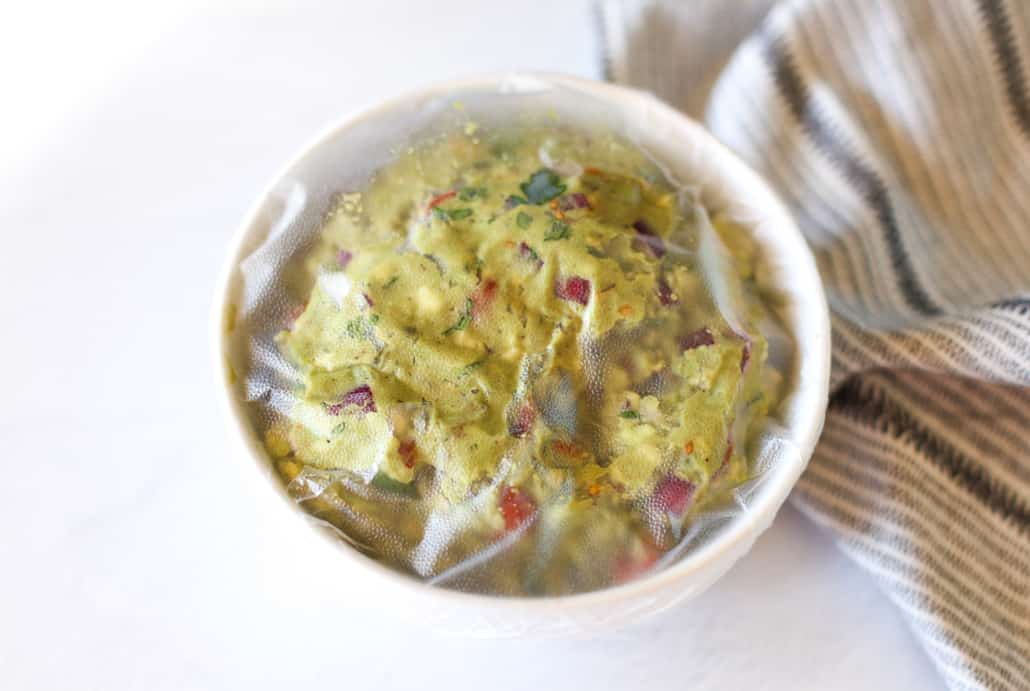 Get ready for a fiesta–it's Chips and Guac time!
Did you make this? Snap a photo and tag us on Instagram at @thrivinghome so we can see your creations and cheer you on!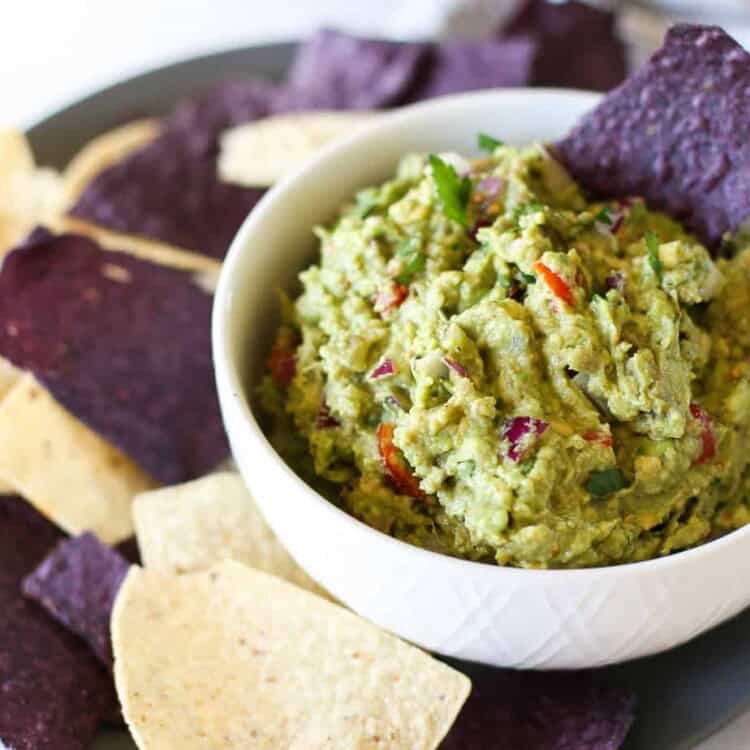 Chips and Guacamole
Want to impress your guests at your next gathering? Serve this guacamole with all natural ingredients and you'll have some really happy friends and family.
Prep:
20 minutes
Cook:
0 minutes
Total:
20 minutes
Ingredients
1

jalapeño, seeded and finely minced

1/2

cup

diced red onion

3

garlic cloves, finely minced

1/4

cup

fresh cilantro, finely chopped (sub: parsley)

8

large ripe avocados
Juice of

3

limes

1 1/2 teaspoons

sea salt (or to taste)

1/2 teaspoon

black pepper (or to taste)

1 1/2 teaspoons

cumin

1/2

cup

cherry tomatoes, diced
Before You Begin! If you make this, please leave a review and rating letting us know how you liked this recipe! This helps our business thrive & continue providing free recipes.
Instructions
In a large bowl, add jalapeño, onion, garlic cloves, and cilantro.
Cut avocados lengthwise, remove pits, and dig out flesh with a spoon. Add to bowl.
Squeeze lime juice over the top of avocados.
Add salt, pepper, and cumin to bowl.
Use a potato masher (or fork) to mash avocados to desired consistency, making sure to combine the ingredients well as you do.
Test seasoning and add more salt or pepper as needed.
Stir in the tomatoes until well combined. Serve immediately.
COOKING NOTES:
If not eating right away, here are a few tips to prevent browning and make it last longer:
Place the avocado pit in the guacamole (yes, this slows browning!)
Squeeze lemon or lime juice over the top
Place plastic wrap on top of the surface of the guacamole (try not to let any air get to it) and put it in the fridge