This post may contain affiliate or sponsored links. Please read our disclosure policy.
With a few simple seasonings and a zesty marinade, Dutch Oven Carnitas will blow you away. Making pork carnitas in the oven will become a way of life once you try this recipe.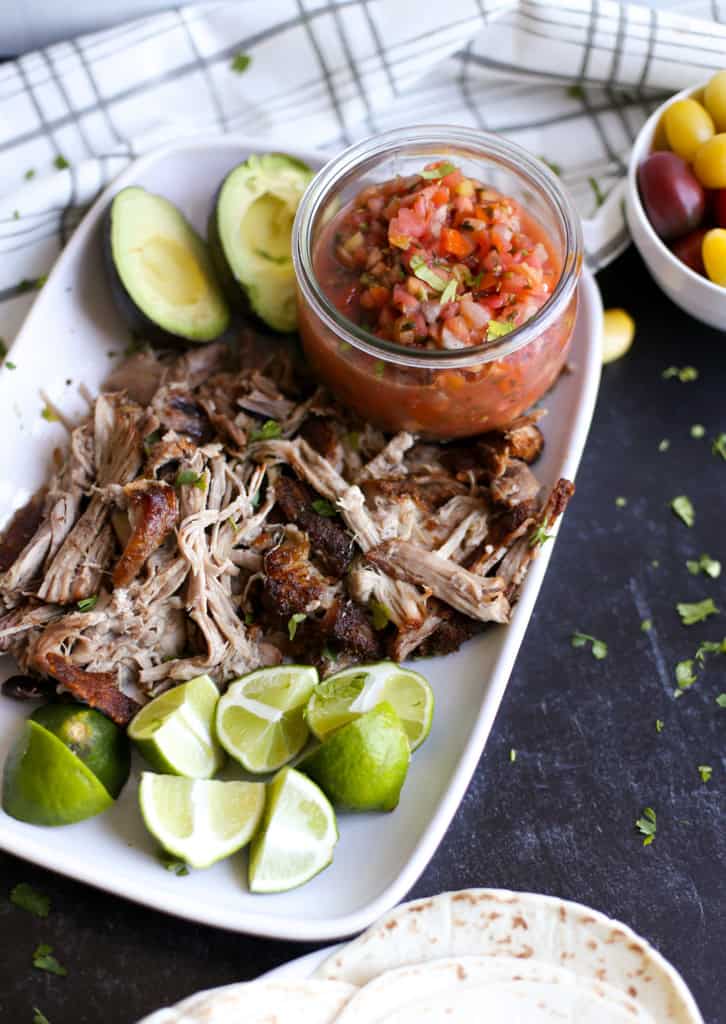 What Are Carnitas?
Carnitas is a Mexican cuisine dish that's made by seasoning and braising pork shoulder for several hours until tender. It's typically cooked in lard with lots of seasoning. It's then pulled apart and oven-roasted until slightly crisp. In Mexico, they are traditionally cooked outside in huge copper or stainless steel pots over an open fire. Carnitas meat can be eaten on its own or as a filling for tacos, burritos, enchiladas, and much more.
Our version is a bit lighter (no lard), more flavorful (fresh citrus juice and lots of seasoning), and requires no open fire (darn). You're going to love it!
3 Ways to Make Pork Carnitas
We have multiple ways to cook carnitas on our site. Here are a few that have been really popular on our site over the years.
Slow Cooker Carnitas – Cooks all day and makes great leftovers!
Instant Pot Carnitas – One of my favorite things to make in the Instant Pot.
Despite the ease of making pork carnitas in the slow cooker or Instant Pot, my favorite way to make them is in the Dutch oven. A Dutch oven is a thick-walled cooking pot with a tight-fitting lid, typically made of cast iron. They range in size and price, but here is an affordable (and cute!) Dutch Oven that we like.
When using a Dutch oven, the pork gets a crispy, charred edge on the outside while the inside remains incredibly moist and practically shreds just by looking at it. It's just so dang good when made this way.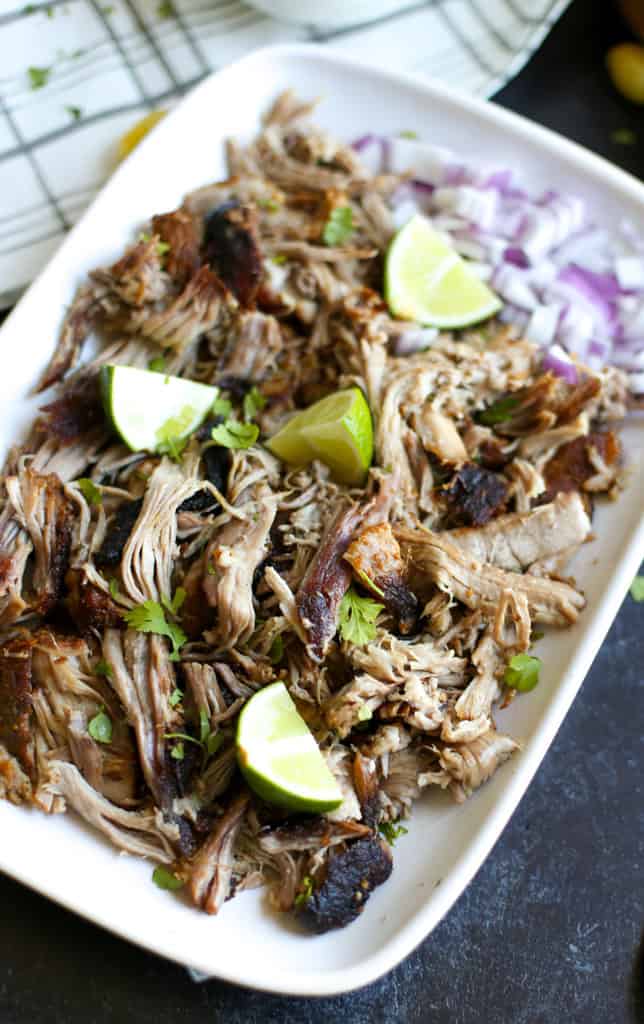 Ingredients Needed
Like most of our recipes, the ingredients are fairly simple. To make Dutch Oven Carnitas, you'll need…
White or yellow onion

Garlic cloves
Lime juice
Orange juice
Hot Sauce
1 (3-4 pound) boneless pork shoulder (also known as pork butt or Boston butt), trimmed of excess fat
Seasonings: oregano, cumin, chili powder, salt, and pepper
You'll also need a Dutch Oven and a food processor or blender, too.
How to Cook Pork Carnitas in the Dutch Oven
STEP 1: Make the zesty marinade.
You are going to need a food processor or blender to create the marinade the pork shoulder will cook in. It's actually a huge time saver to throw in all of the ingredients and just process or blend (instead of chopping up all the veggies!).
In the food processor or blender, toss in your onion (cut into large chunks), garlic cloves, lime juice, orange juice, and hot sauce. Pulse it a few times until it resembles a thick liquid. Set it aside for now.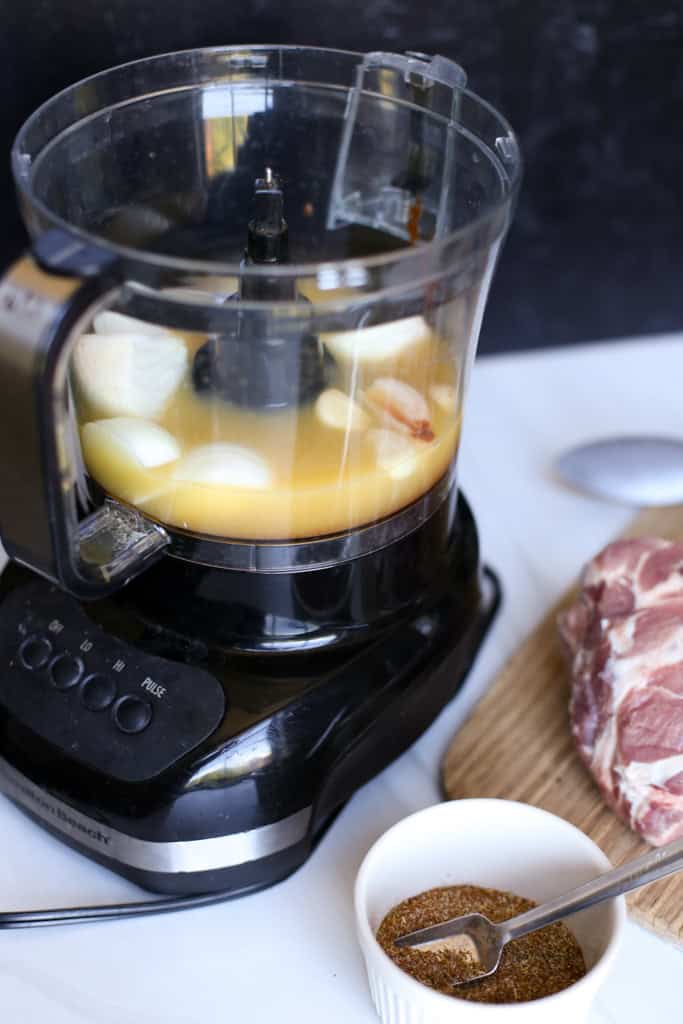 Step 2: Season the pork shoulder.
In a small bowl, mix together the seasonings: oregano, cumin, chili powder, salt, and pepper. Place the pork shoulder into a Dutch Oven and spread the seasoning all over the pork. By seasoning it IN the Dutch Oven, you're saving a dish and catching any runaway spices!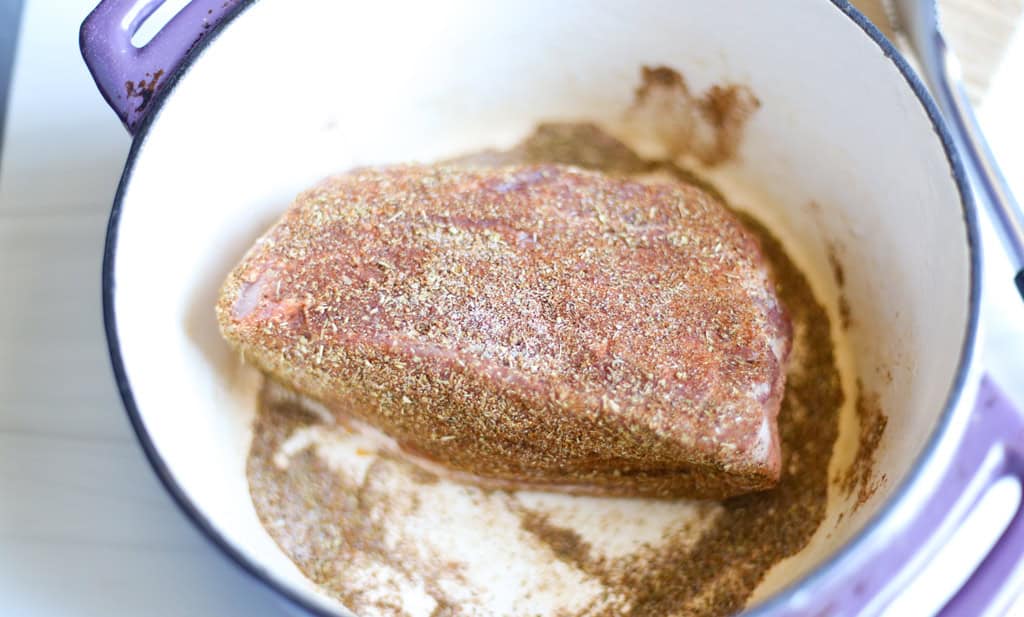 Step 3: Add the marinade, cover, and bake.
Pour the marinade over the top of the pork shoulder. Cover the Dutch Oven with its lid and bake. No need to flip it or even touch it during it's baking process!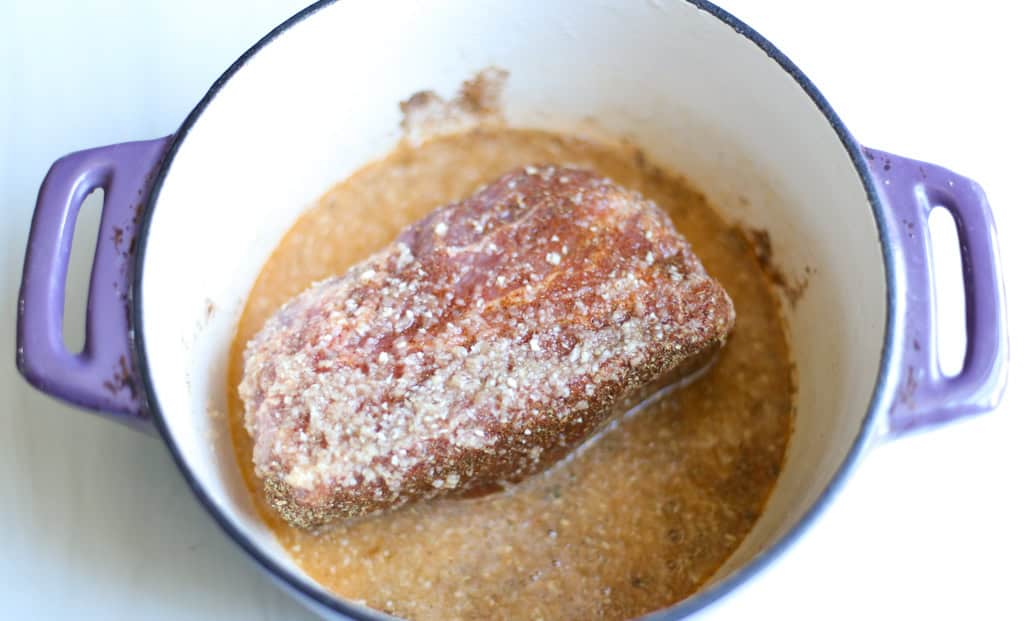 Make Carnitas Into a Freezer Meal
As if our Dutch Oven Carnitas weren't good enough, I have even better news. They work really well as a make-ahead freezer meal.
Simply double the recipe and freeze an uncooked batch. This won't take much more time at all and will set you up for an incredibly easy dinner down the road! When you're ready to prepare the frozen meal, thaw it using one of these safe methods. Then cook it as directed.
Another freezer meal option for this recipe is to fully cook and shred the meat and freeze it in its juices. When you're ready to serve, thaw and rewarm the meat in the microwave, slow cooker, or over low heat on stove. This works really well if you want to make freezer meals for 1-2 people or freeze them in small portions.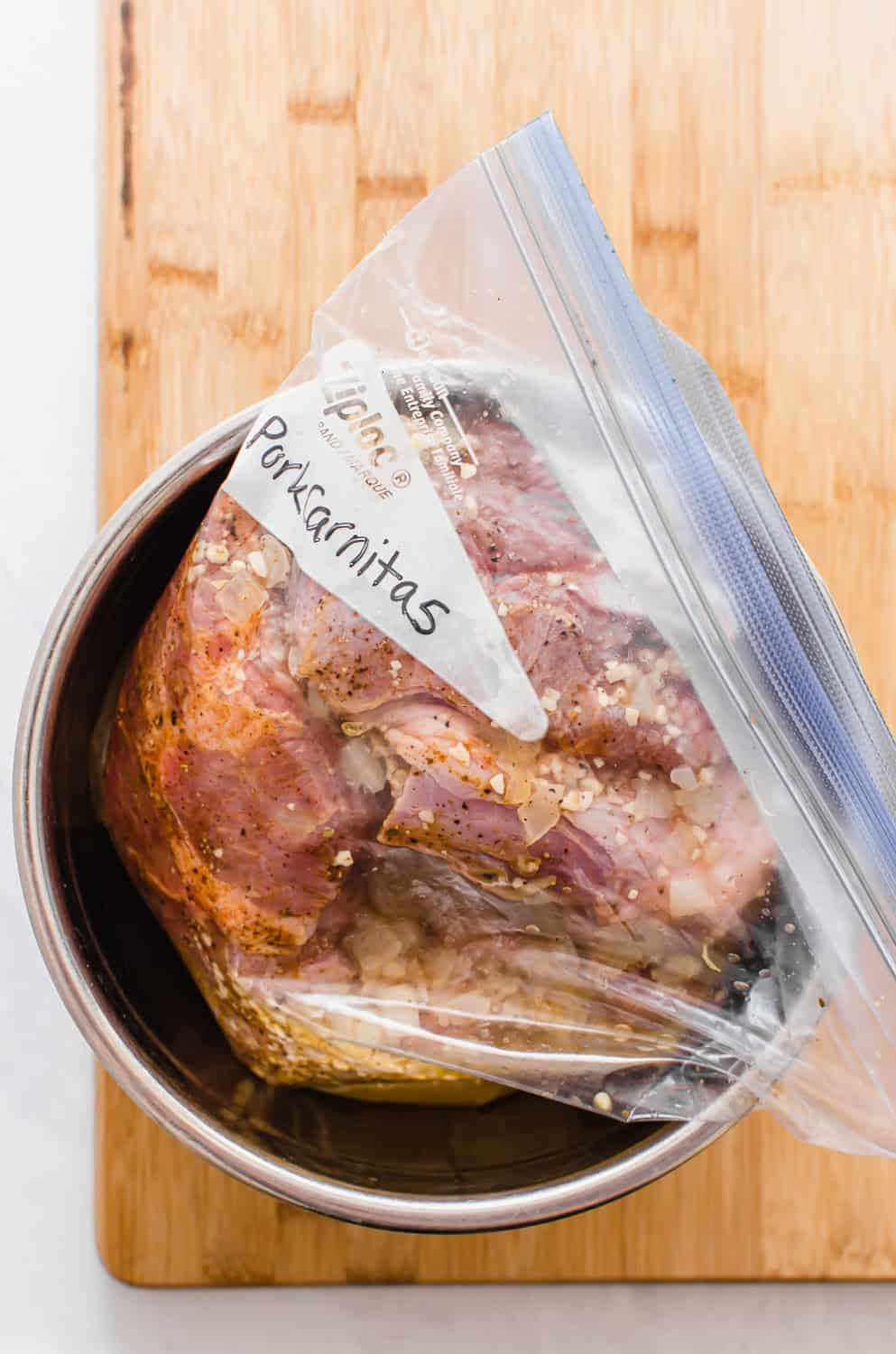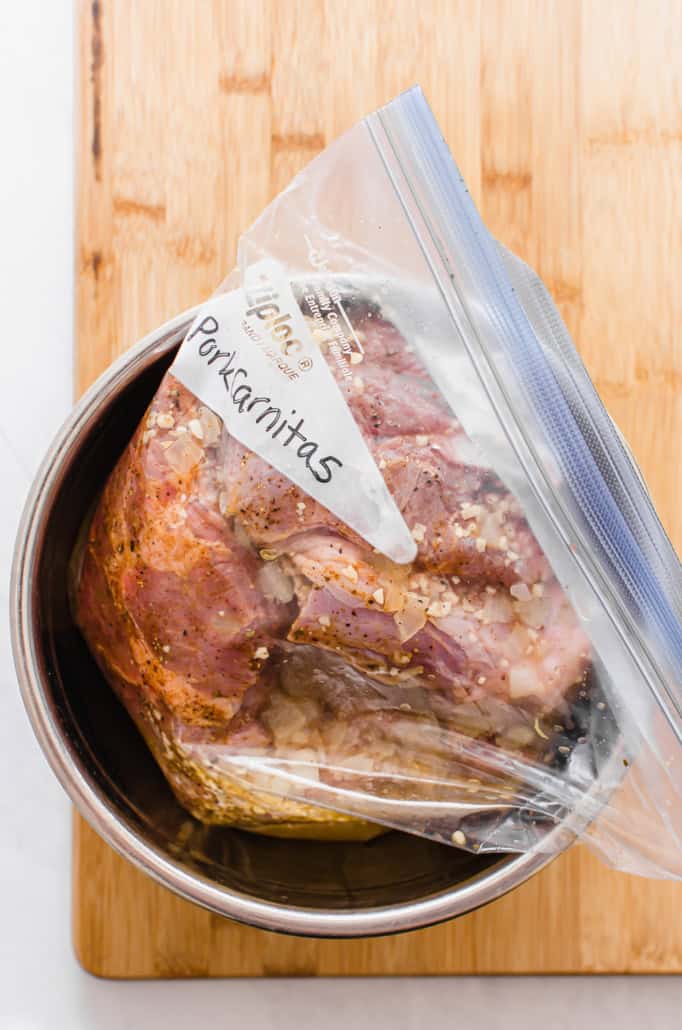 How to Serve Carnitas
One of the beauties of this meal is that it can be customized and served in so many different ways. That's why I love making carnitas as a recipe for large groups. Here are some ideas of how to serve them:
Change up taco night by using this filling instead of ground beef. If serving in a warm corn tortilla, we suggest topping with shredded cabbage, diced avocado, pico de gallo, Cojita or Queso Fresco cheese crumbles, chopped cilantro, and lime wedges. To take these OVER THE TOP, make our Cilantro Lime Aioli and Easy Pickled Red Onions to serve as a garnish–YUM! 
Top a leafy green salad with it and other toppings like roasted fresh corn shaved off the cob, diced bell peppers, red onion, and crunched-up tortilla chips.
Throw this shredded pork in a quesadilla or on top of a "burrito bowl" with brown rice, beans, and your favorite Mexican toppings.
So many options! I personally almost always serve it with our Avocado Lime Salsa.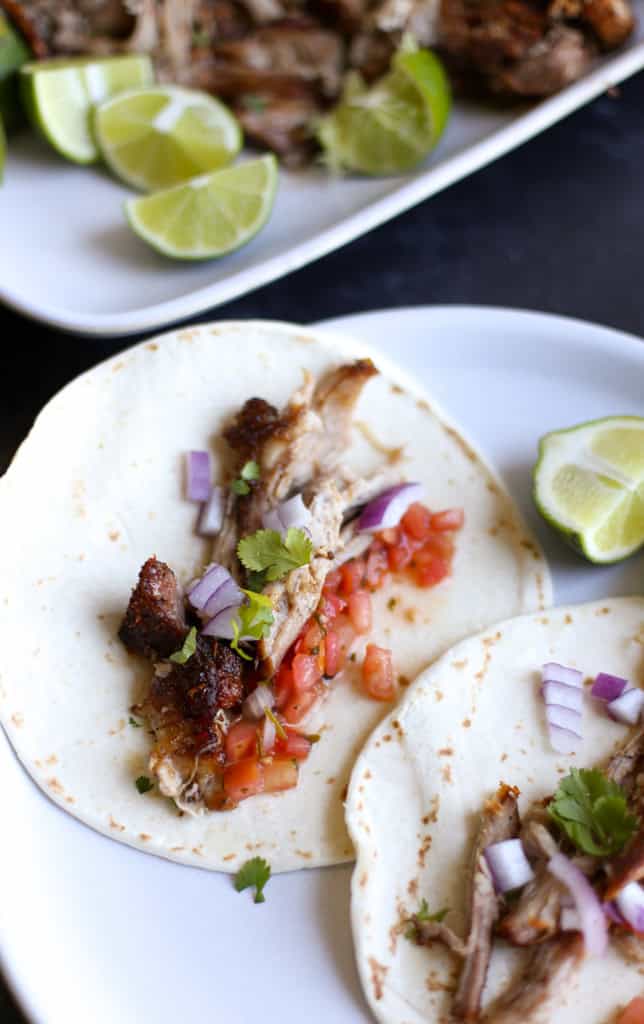 Did you make this? Snap a photo and tag us on Instagram at @thrivinghome so we can see your creations and cheer you on!
Dutch Oven Carnitas
With a few simple seasonings and a zesty marinade, Dutch Oven Carnitas will blow you away. The outside of the pork gets a crispy, charred edge that is bursting with flavor while the inside remains incredibly moist and practically shreds just by looking at it. 
Prep:
15 minutes
Cook:
4 hours 30 minutes
Total:
4 hours 45 minutes
Want more easy meal ideas?
If you liked the simplicity of this Carnitas recipe, you'll love this…
Try our SUPER POPULAR 1 Hour Freezer Prep sessions. We give you everything you need to throw together 6 delicious, family-sized freezer meals in just 1 hour! Anyone can do it with our simple instructions, organized shopping list, and pre-filled out freezer labels.