Italian Baked Chicken Thighs
This post may contain affiliate or sponsored links. Please read our disclosure policy.
Italian Baked Chicken Thighs are the most amazing, flavorful, juicy chicken thigh recipe you'll find!
With just a handful of simple seasonings, these chicken thighs turn out crispy on the outside and amazingly tender and juicy on the inside.
⭐️⭐️⭐️⭐️⭐️
"Super easy recipe that is a flavor bomb! Will definitely be a regular recipe I make." – Jennifer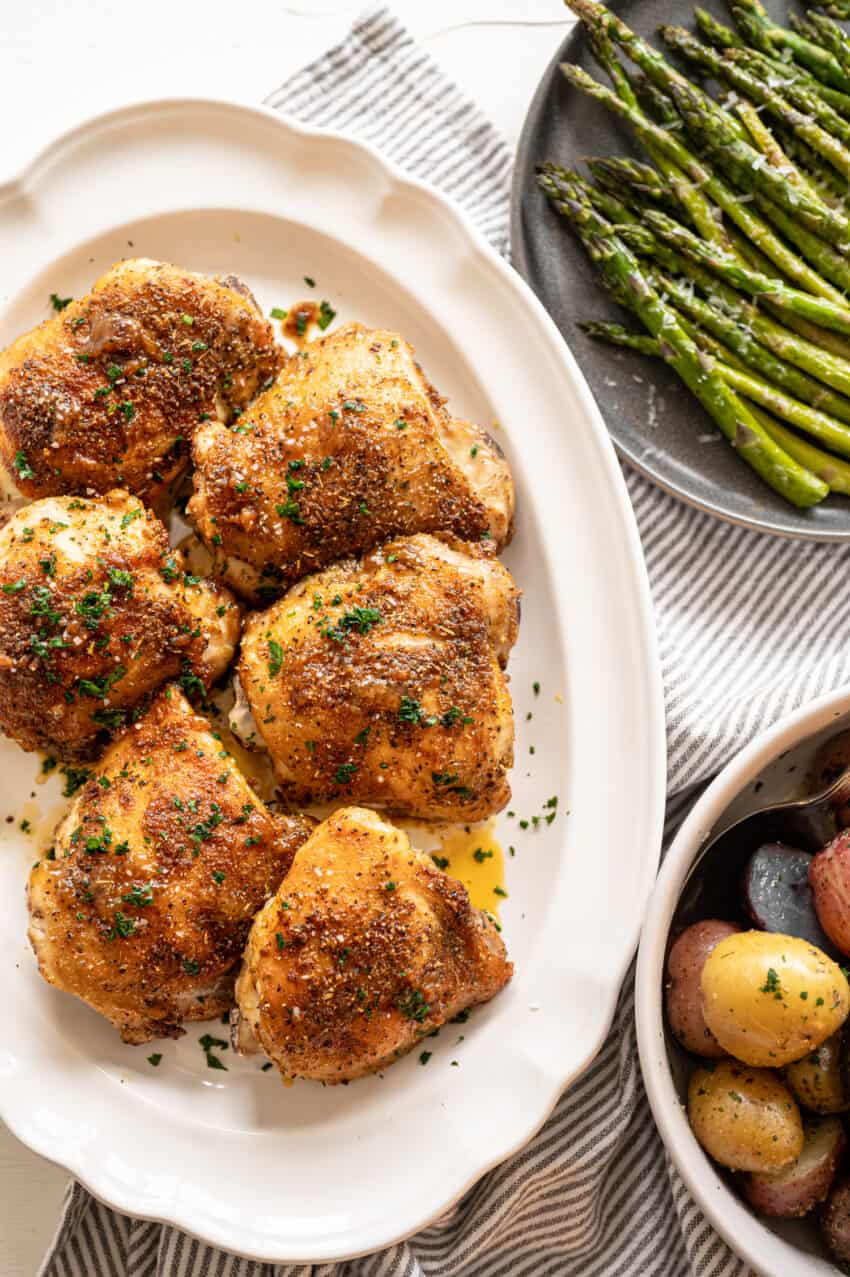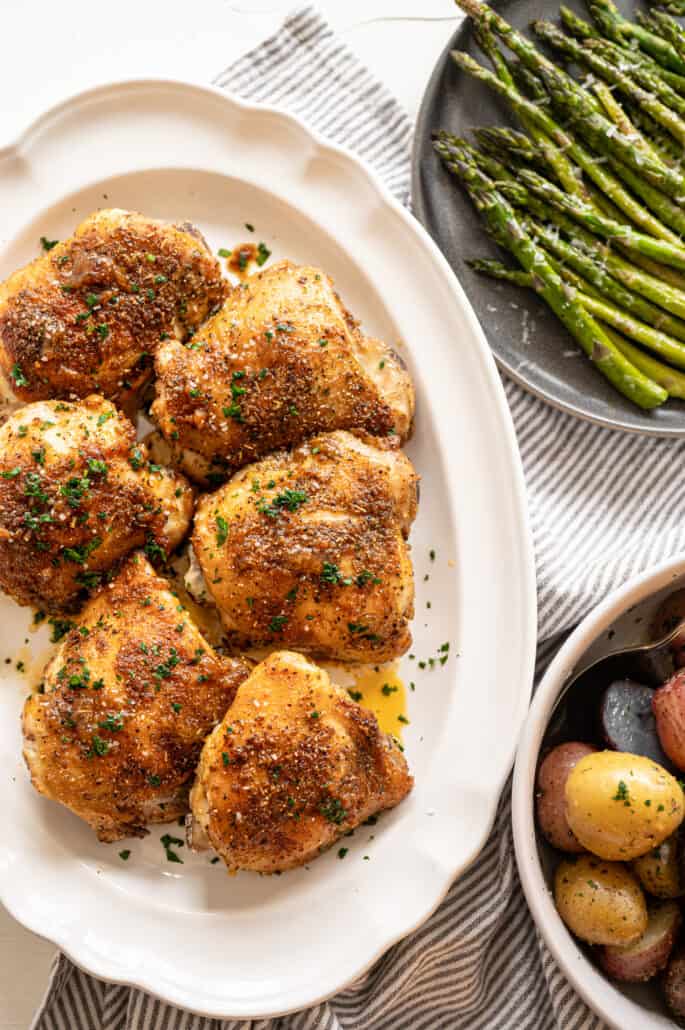 Disclaimer: This post was created in partnership with Hy-Vee (Columbia).
Reader, beware. You are about to encounter one of the most amazing chicken thigh recipes on the Internet.
It's not only amazing in flavor and texture, but it's amazingly simple. This is one of those recipes that will become part of your regular meal rotation.
Serve it with one of our easiest side dishes, Garlic Green Beans, for a delicious well-rounded meal.
They are just SO. DANG. GOOD.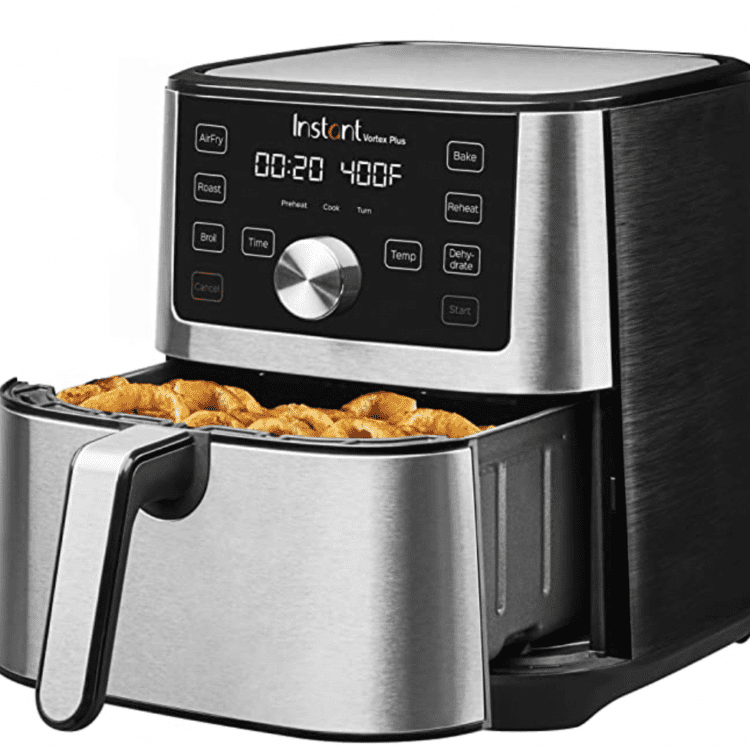 Want to make these in the air fryer?
If you have an air fryer, this recipe is a must! We give you all the details on how to make air fryer chicken thighs in this post.
Air Fryer Chicken Thighs
As promised, the ingredients in this recipe are simple. Here is what you'll need on hand: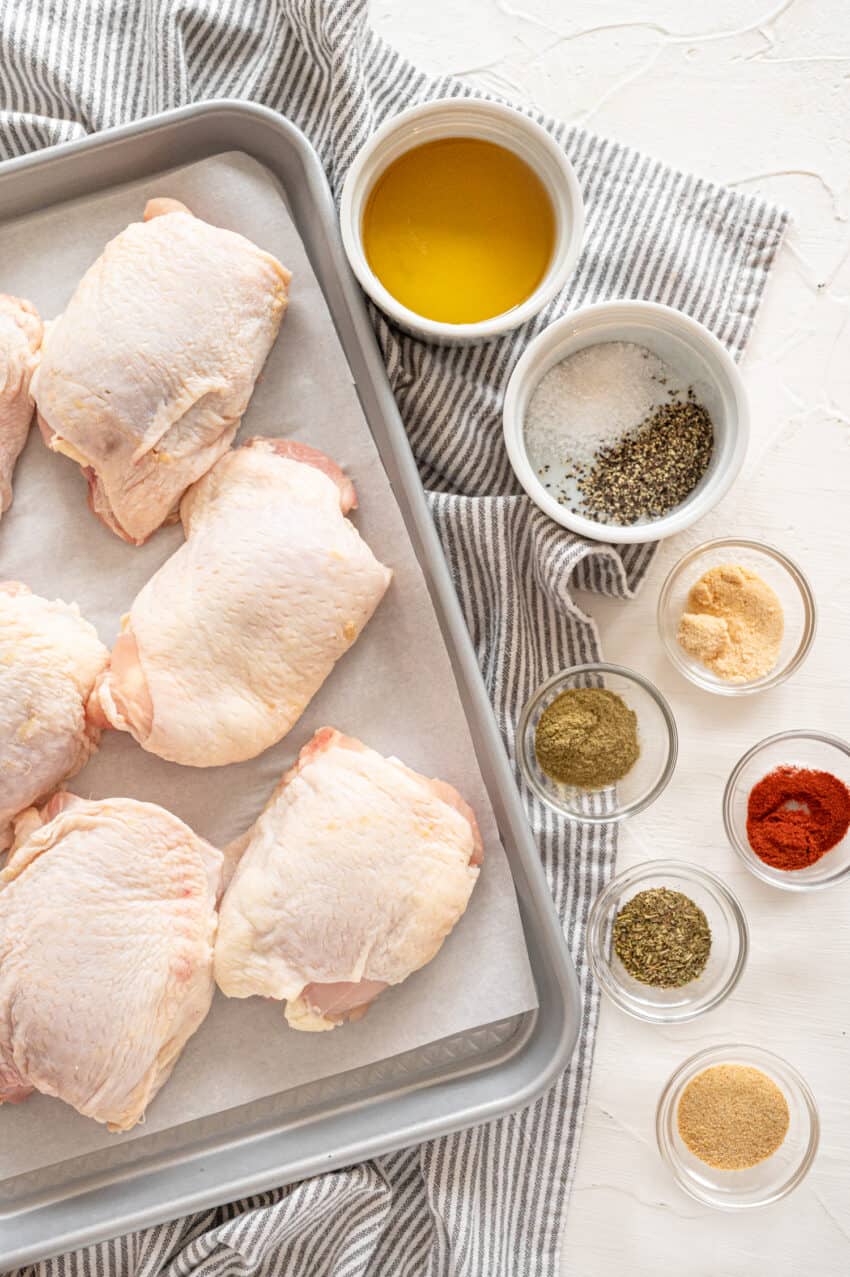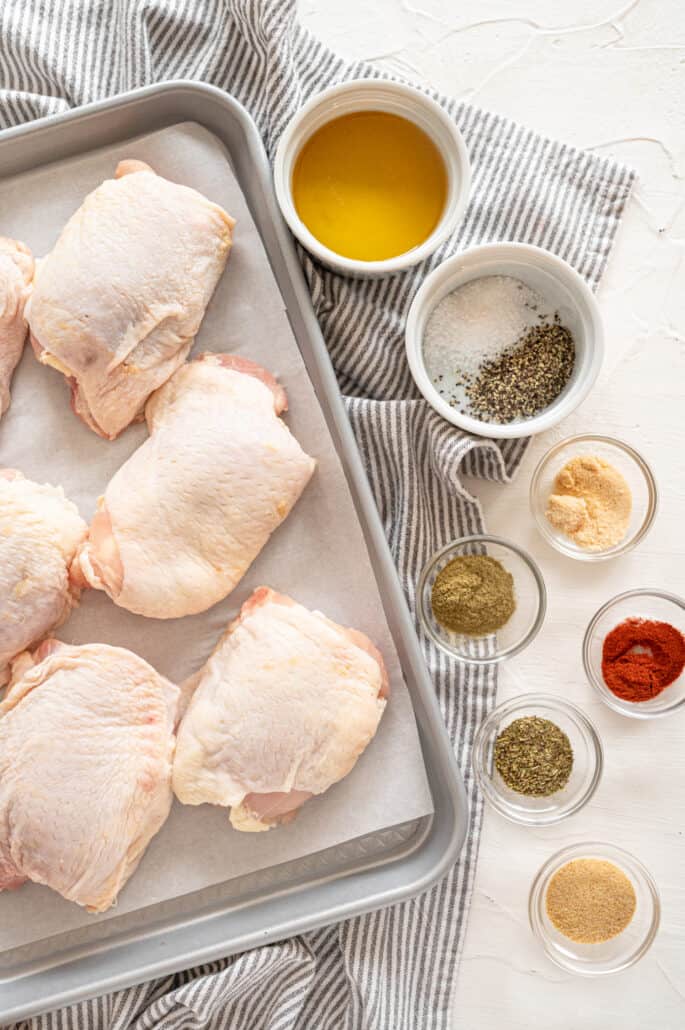 Bone-in, skin-on chicken thighs (Bone-in thighs turn out much more juicy than boneless.)
Olive oil or avocado oil
Garlic powder
Onion powder
Italian seasoning
Poultry seasoning
Paprika
Salt & Pepper
Now that you know what you need, let's look at a quick video on how to make this recipe.
Where to Get Your Ingredients
We suggest grabbing these ingredients at your local Hy-Vee, since they are well-stocked year-round. The employees at the meat counter are so helpful, if you have any questions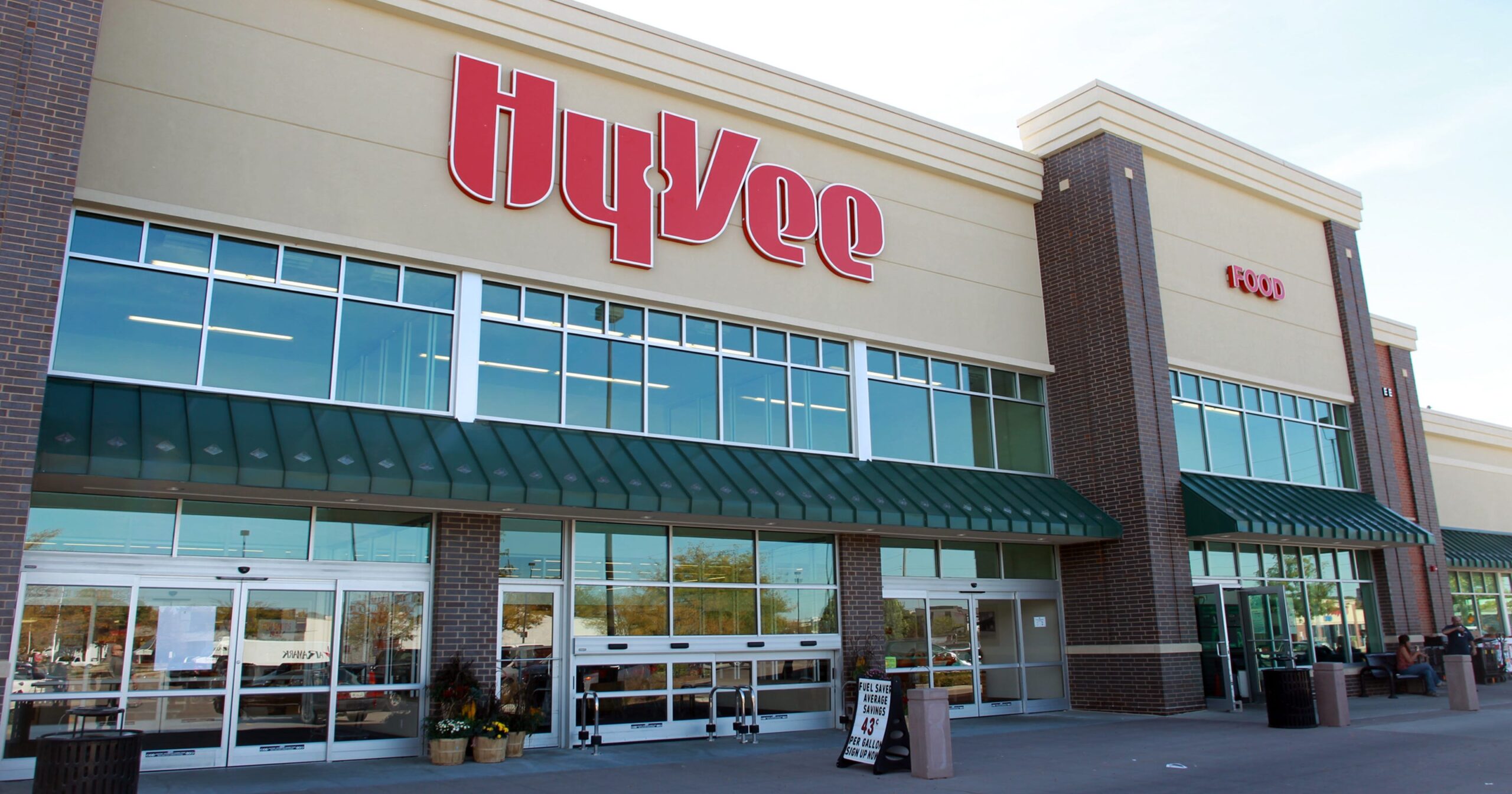 Let's Make Oven Baked Chicken Thighs!
In a small bowl, mix together the garlic powder, onion powder, salt, pepper, Italian seasoning, poultry seasoning, and paprika.
If you think you'll be making this recipe frequently, scale the seasonings up 3-4x and save the mix in a mason jar in your spice cabinet. I do this often with our Taco Seasoning Mix.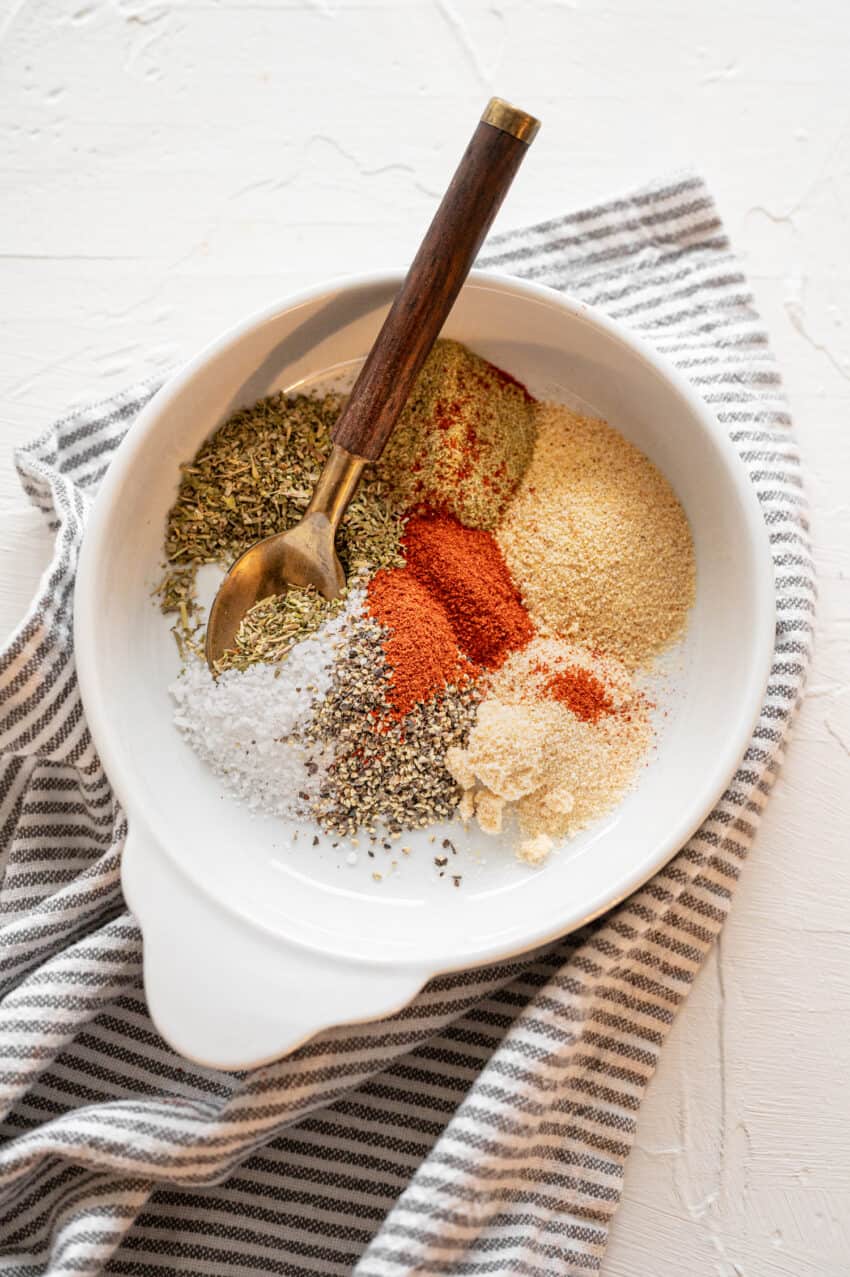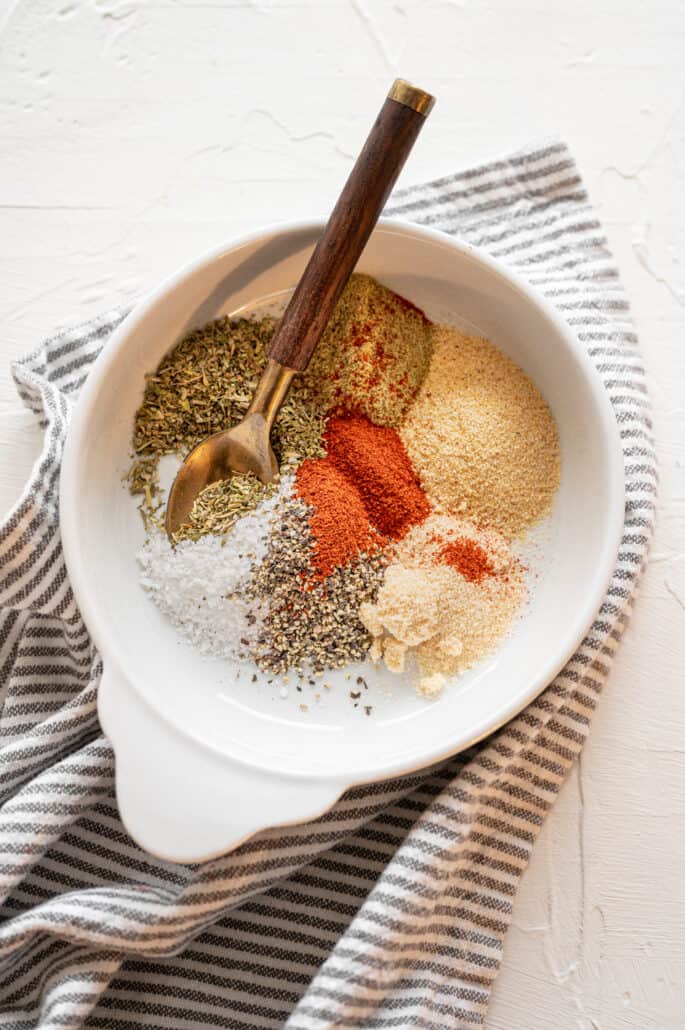 Season the Chicken Thighs
Arrange the chicken on the baking sheet. Pat dry with paper towels and trim off any excess skin/fat.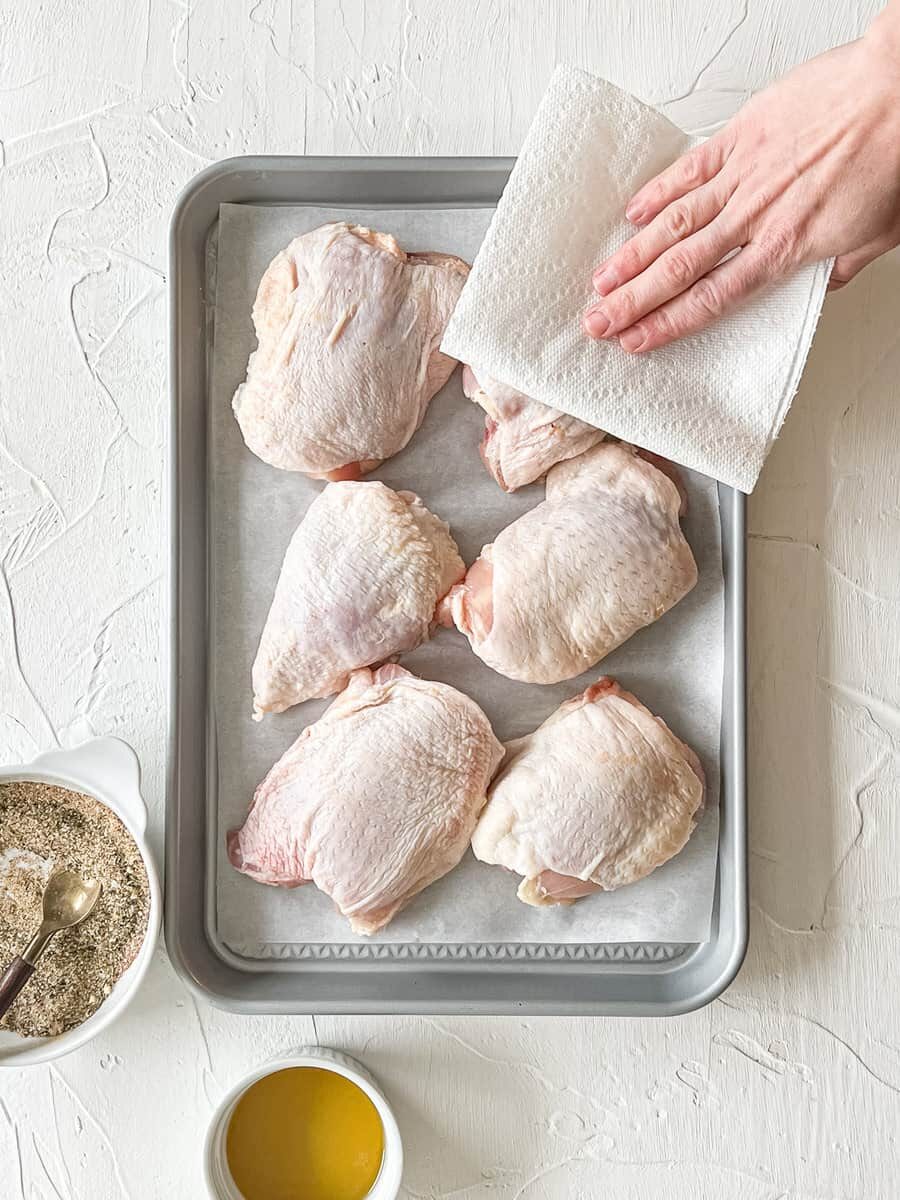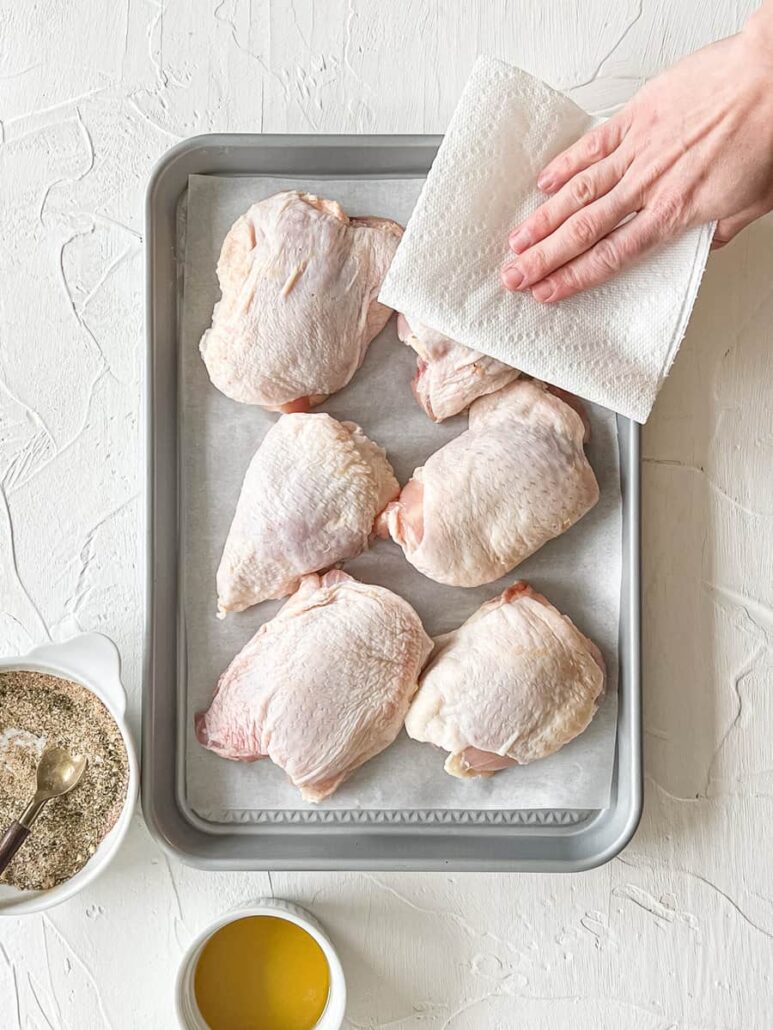 Drizzle the oil evenly over the chicken and rub in on all sides. Sprinkle the seasoning evenly over the chicken and rub in on all sides.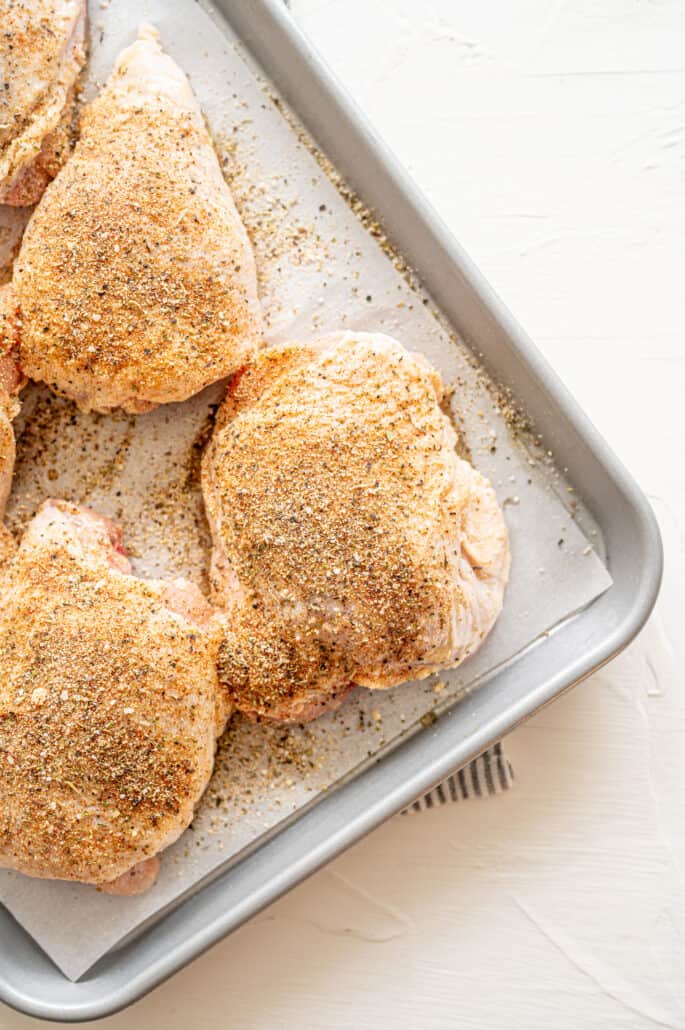 Bake the chicken, skin side up, for 40-45 minutes, until done. Chicken should reach an internal temperature of 165°F (source) and/or have no more pink inside.
Baking Tip
You can turn on the broiler and broil the chicken for a few minutes to get the skin even crispier, if desired.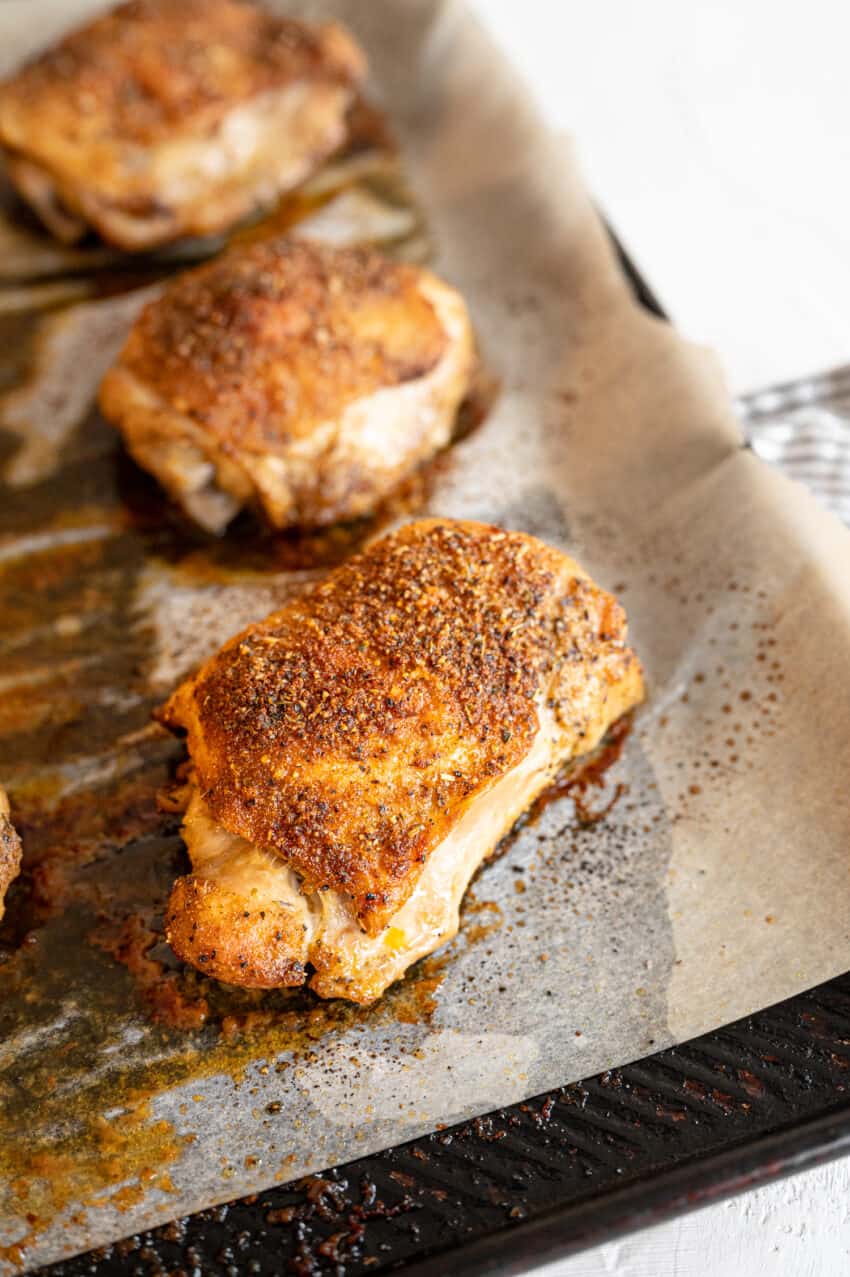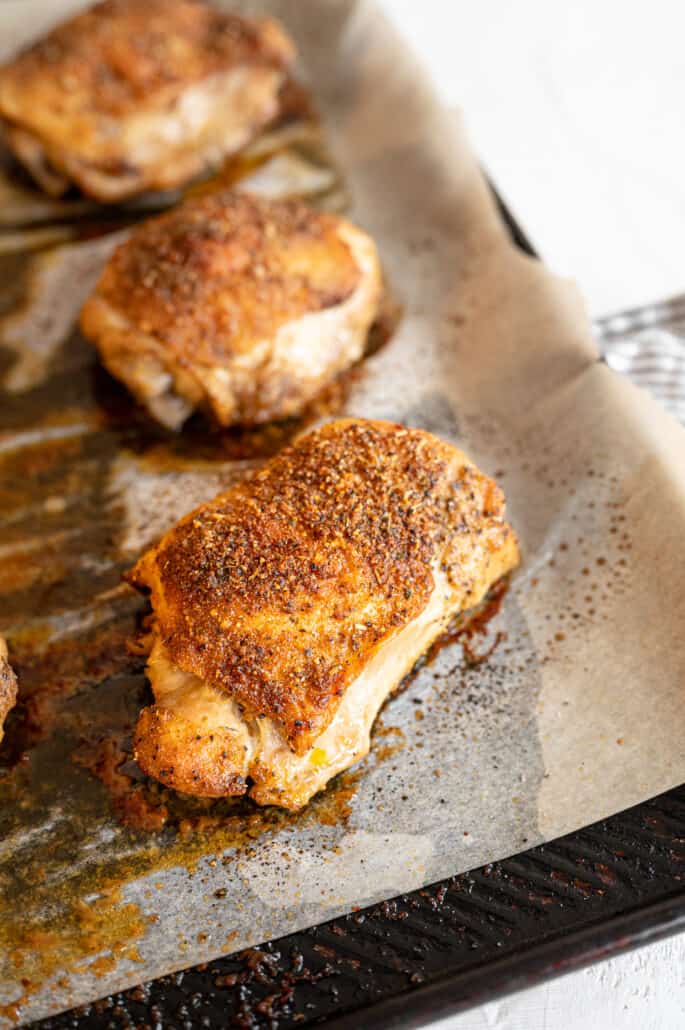 How to Freeze Chicken Thighs
As self-proclaimed freezer cooking evangelists, we can't help ourselves from sharing how to turn these chicken thighs into a freezer meal. Again, it's SO easy.
Freeze For Later: Place the seasoned, raw chicken thighs into a gallon-sized freezer bag in a single layer. Seal and freeze flat.
Prepare From Frozen: Thaw using one of these safe methods for thawing chicken and then cook as directed.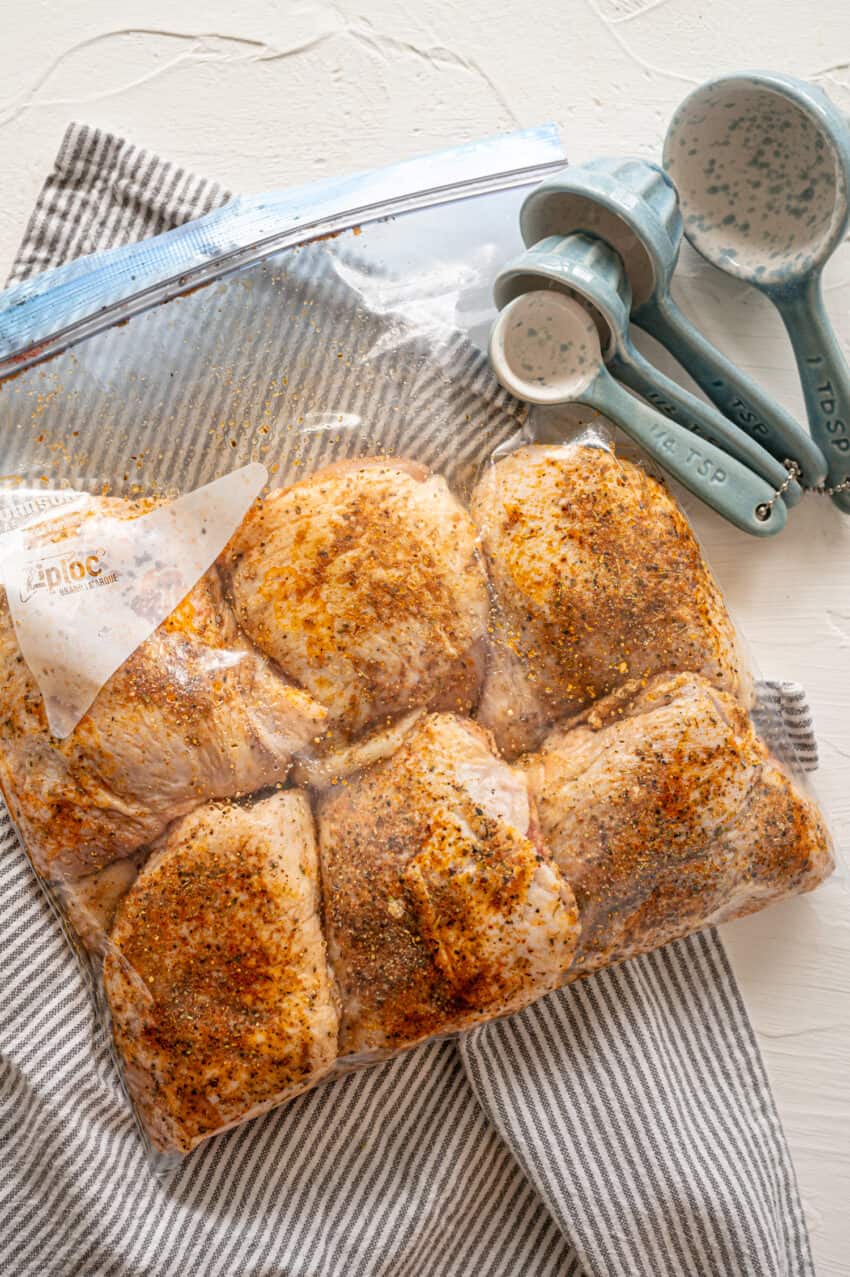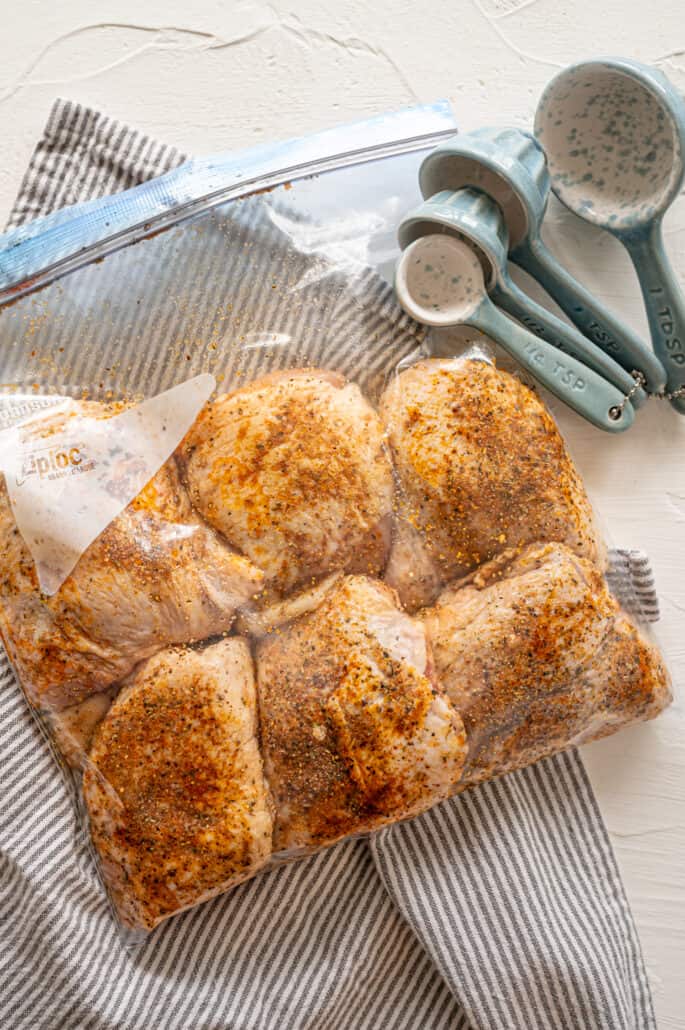 Pro Tip: Cook them straight from frozen!
FAQs About Baking Chicken Thighs
Can I use boneless chicken thighs?
You totally can, but just decrease the baking time to 25-30 minutes. Check the internal temperature to make sure it gets to 165°F.
While boneless chicken thighs are an option, having a skin-on, bone-in thigh really helps keep the chicken be moist and juicy. It's also hard to get that desired crisp if you don't have a skin on it.
How do you store baked chicken thighs?
Baked chicken thighs can be refrigerated for four to five days. If you won't be eating them during that time, you can freeze the leftovers for future use.
Can I make these in the slow cooker?
Yes… but they may not be as good.
It's hard (actually impossible) to get that crispy skin if they are cooked in the slow cooker. One solution would be to broil the slow cooked thighs at the end but it's hard to replicate roasting in the oven.
When it comes to chicken thighs in the Crock Pot, we have found it's always best to cook them on Low and only for 3-4 hours at the very most. While chicken thighs can cook a bit longer than chicken breasts in the Crock Pot, they will definitely start to dry out after that amount of time cooking.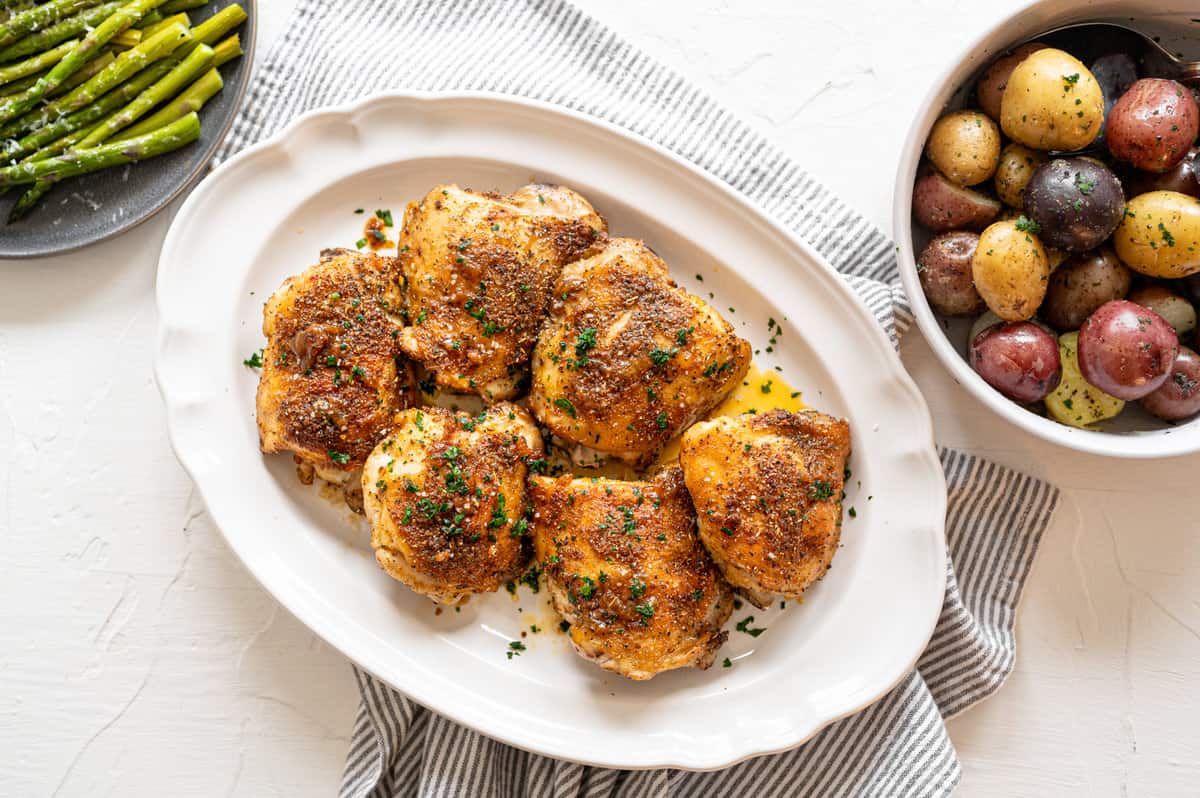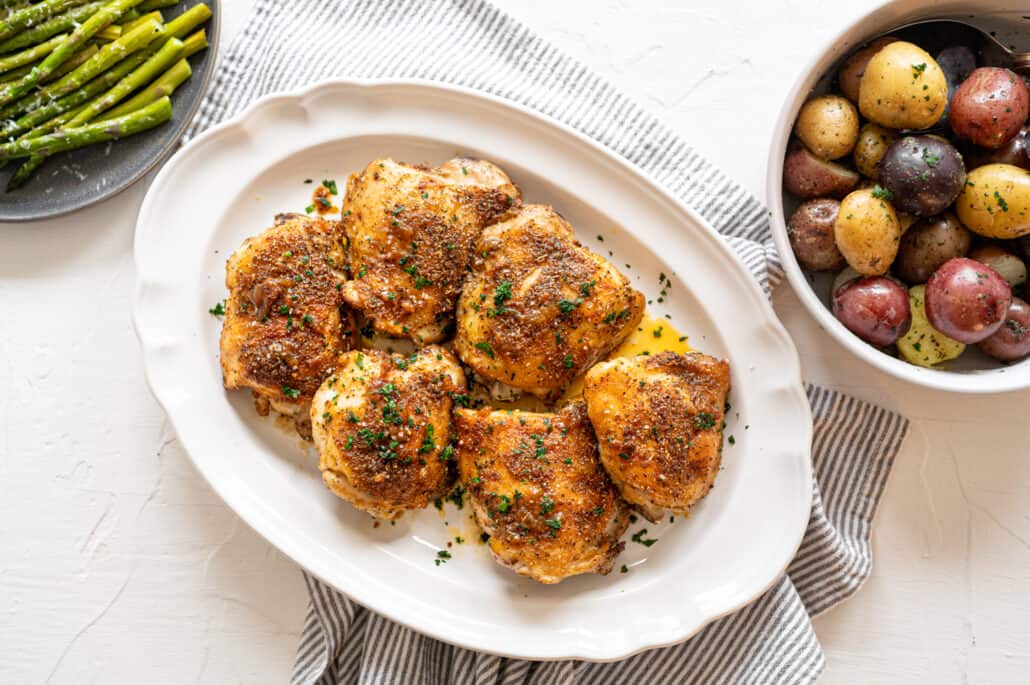 Recipes That Go Well With Baked Chicken Thighs
Here are some recipes that would pair well with Italian Baked Chicken Thighs
Did you make this? Snap a photo and tag us on Instagram at @thrivinghome so we can see your creations and cheer you on!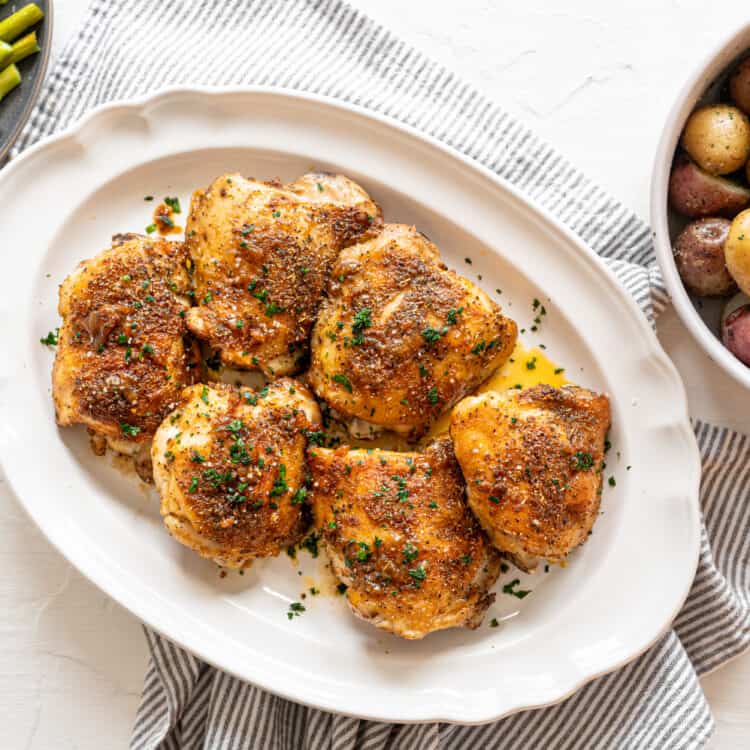 Italian Baked Chicken Thighs
With just a handful of simple seasonings, these chicken thighs come out crispy on the outside and amazingly tender and juicy on the inside. Baked chicken thighs are so easy to make and we show you how to turn them into a make ahead freezer meal too!
Prep:
5 min
Cook:
40
Total:
45 minutes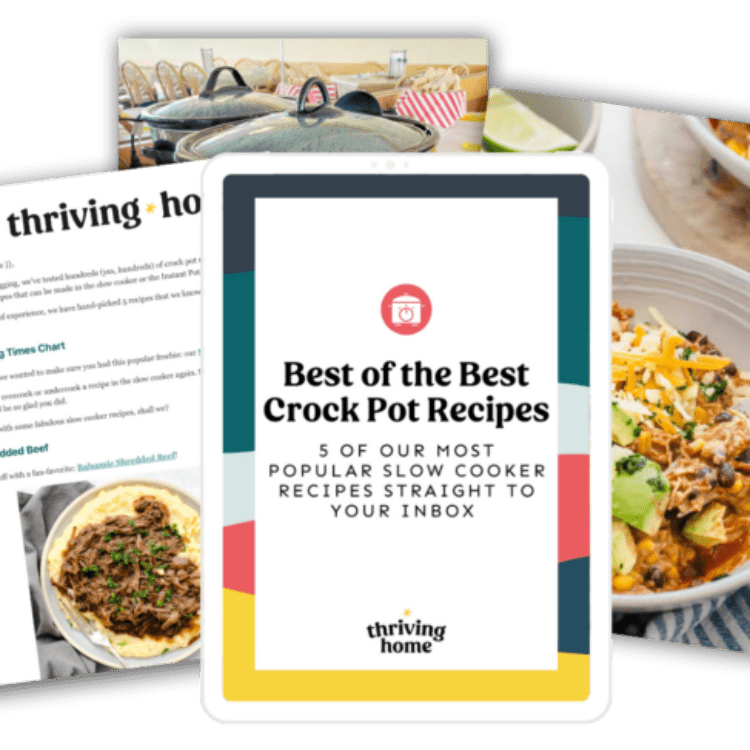 Get Our Top 5 Crock Pot Recipes!
Sign up and get 5 days of our

most popular

 slow cooker recipes sent straight to your inbox.
Send Them My way!