Roasted Brussels Sprouts with Bacon
This post may contain affiliate or sponsored links. Please read our disclosure policy.
This Roasted Brussels Sprouts with Bacon recipe is the ultimate side dish for busy families. The ingredients are super simple, and it's done in a flash. Not only that but it's packed with flavor and texture.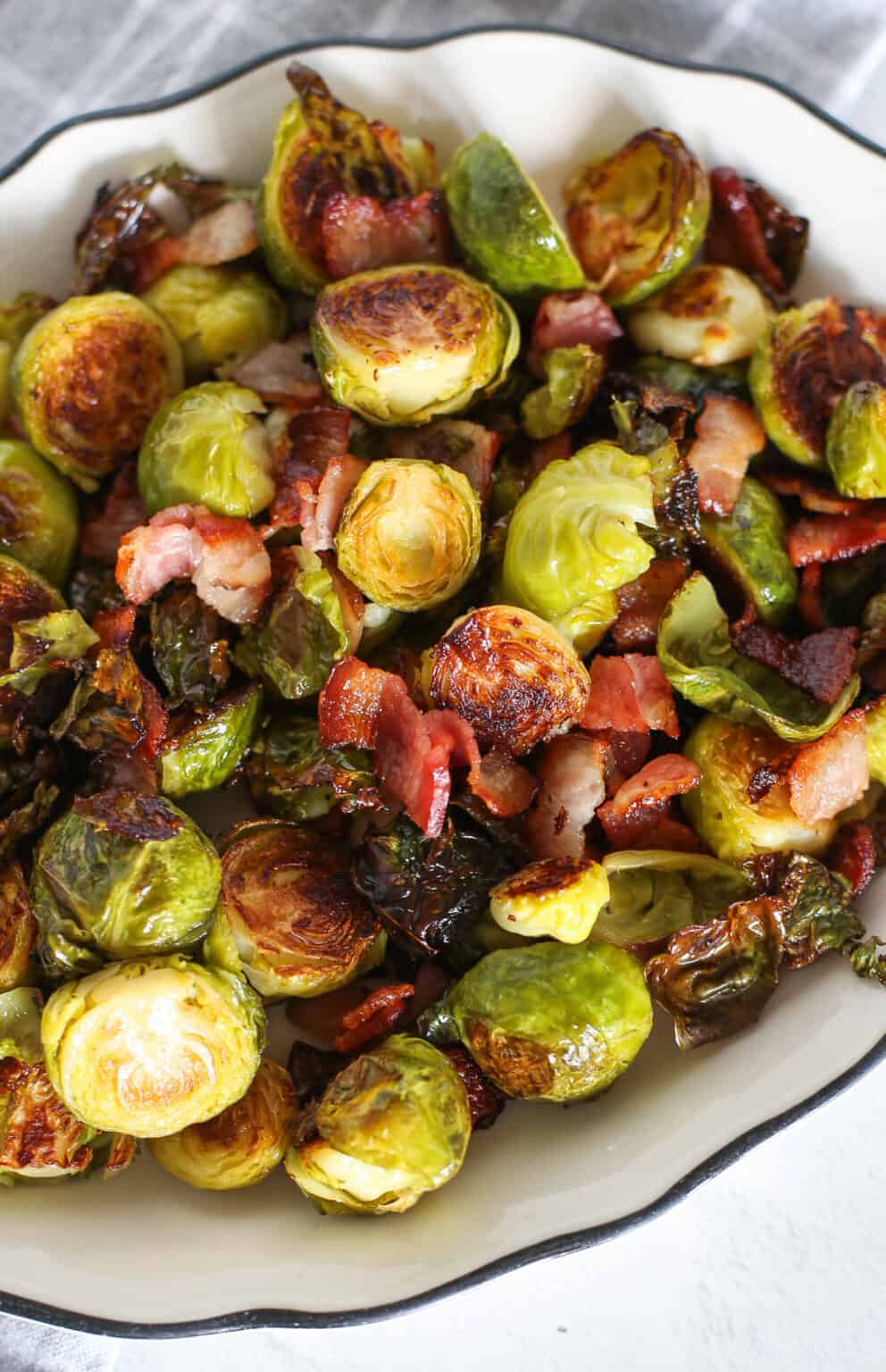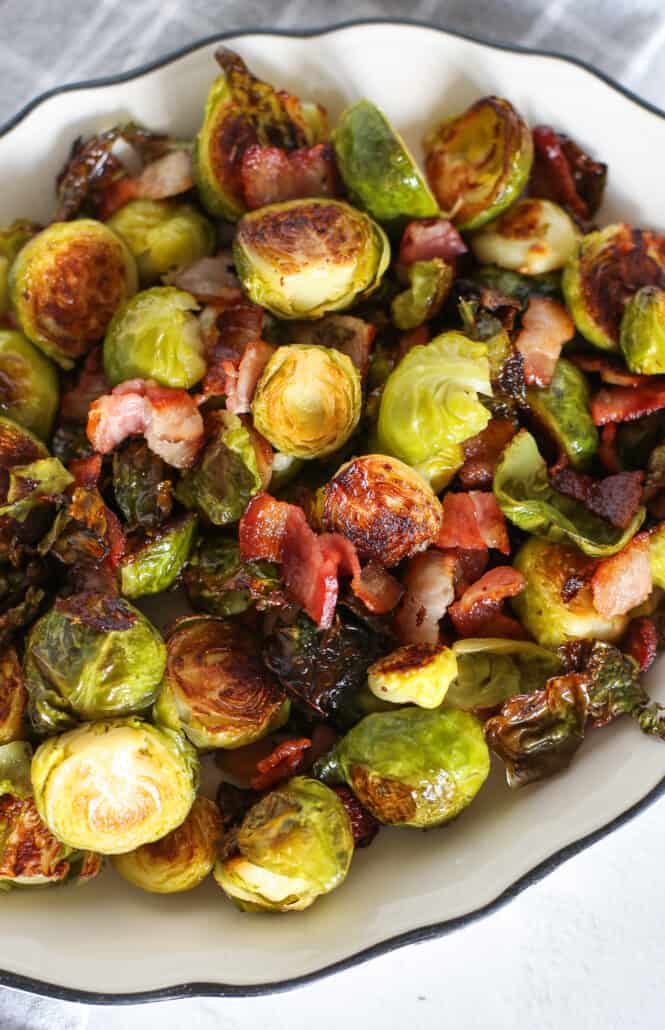 Simple is always better in our opinion. Here are the ingredients you'll need:
Fresh Brussels sprouts – Don't toss the leaves that fall off when you are slicing them. Those are my favorite part.
Olive oil or avocado oil – Even though the bacon grease adds a little fat, the Brussels still need to be tossed in the oil before roasting.
Salt and freshly ground pepper
Bacon – We try to find uncured bacon with no added sugar. That's because of what this site explains.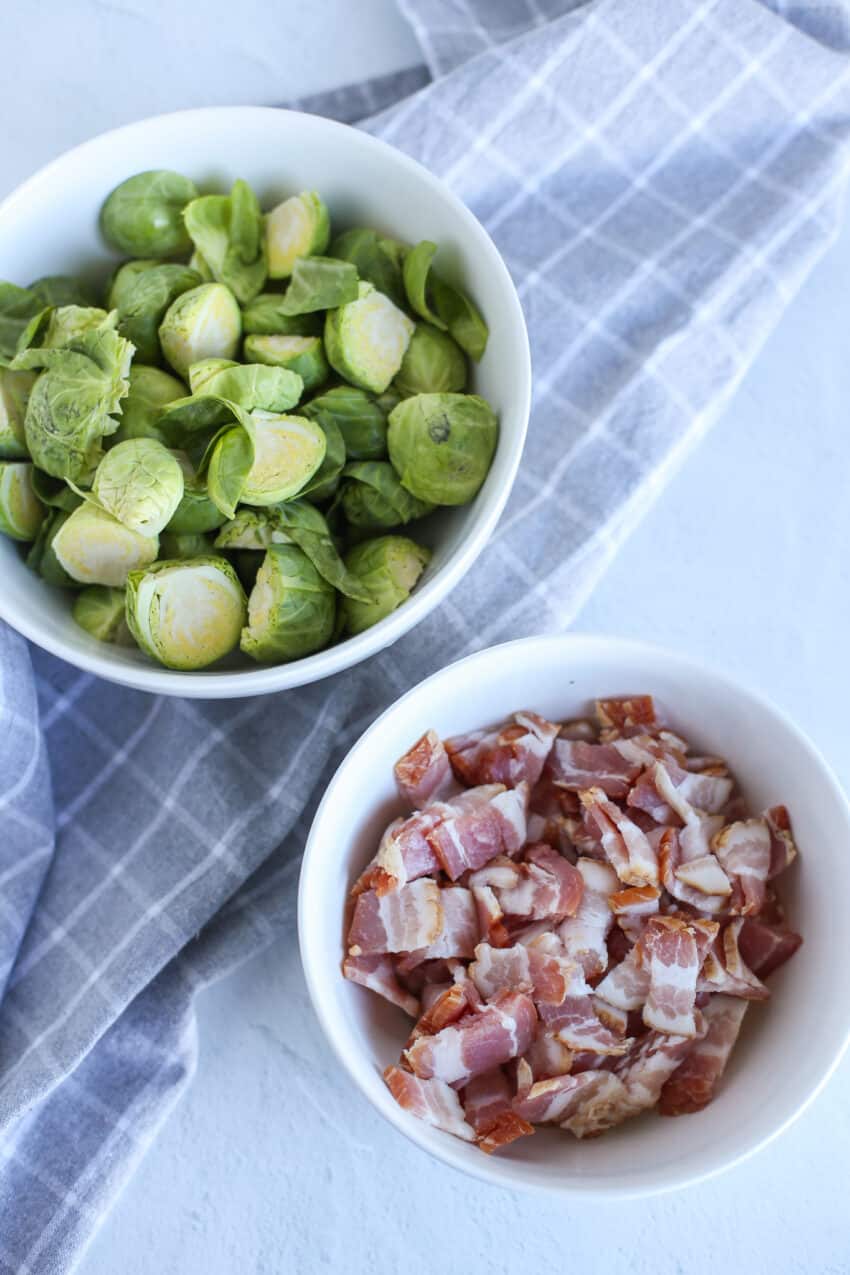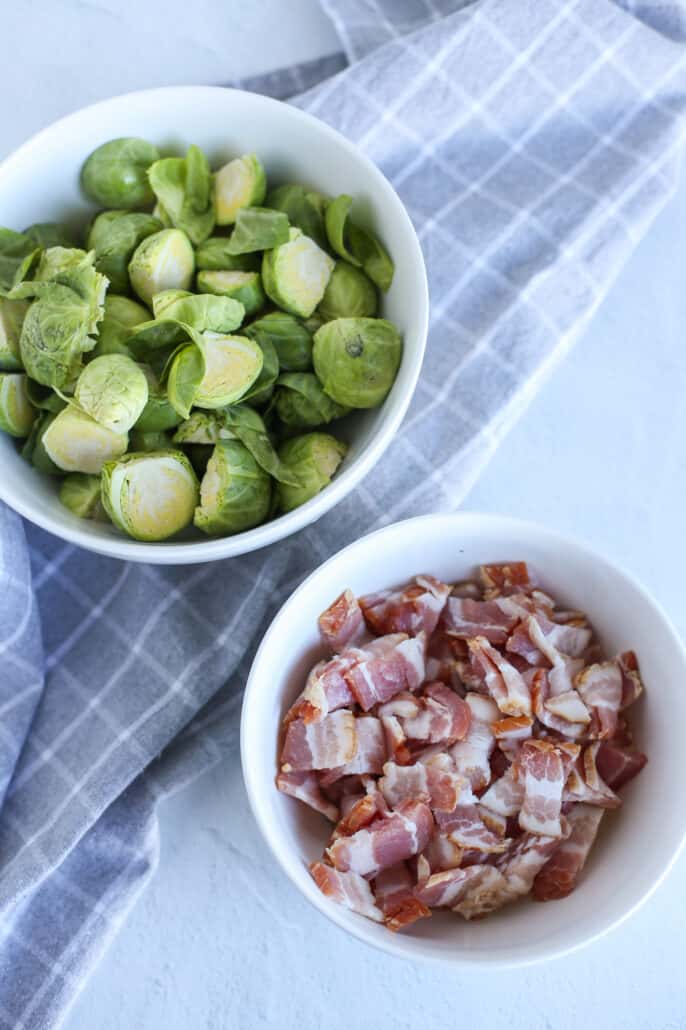 How to Make Roasted Brussels Sprouts and Bacon
Prepare the Brussels and Bacon
Slice the root end off of the Brussels and then cut in half. Place them in a bowl. Toss with a little olive oil, salt and pepper.
Chop the uncooked bacon into small pieces and toss those with the sprouts. Some people prefer to do this by tossing the ingredients on the baking sheet itself, but I've found it easiest to do in a mixing bowl.
Bacon Tip
Remove the bacon from the packet but don't separate it. Use kitchen shears to cut the bacon into small pieces all at once (rather than one piece at a time).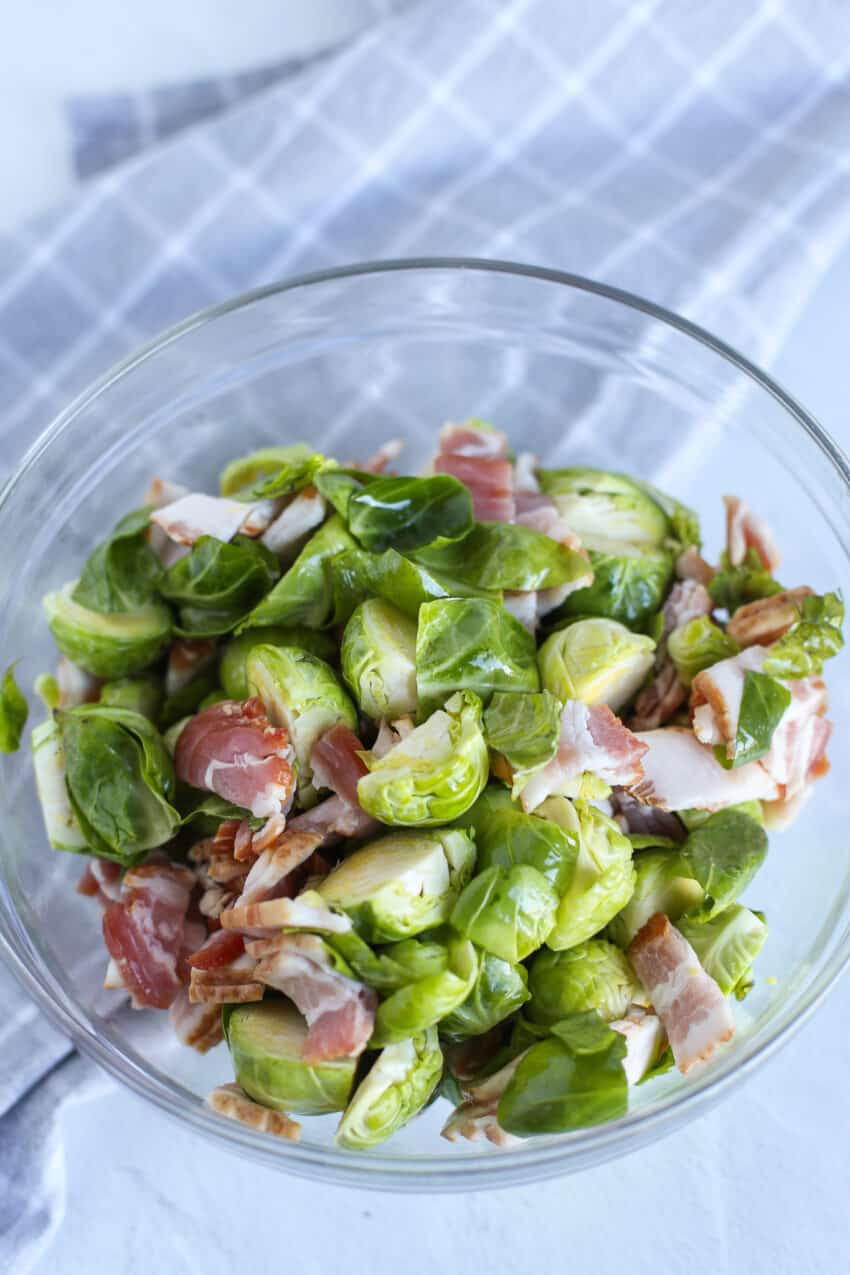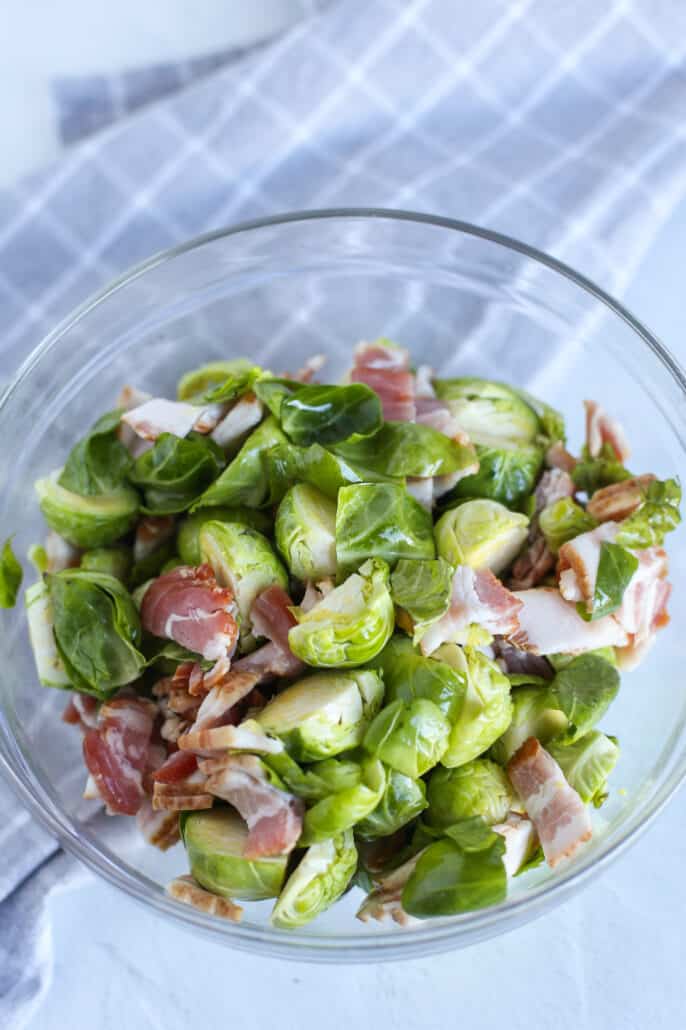 Spread out in a single layer on a rimmed sheet pan, making sure the flat side of the Brussels sprouts are face down.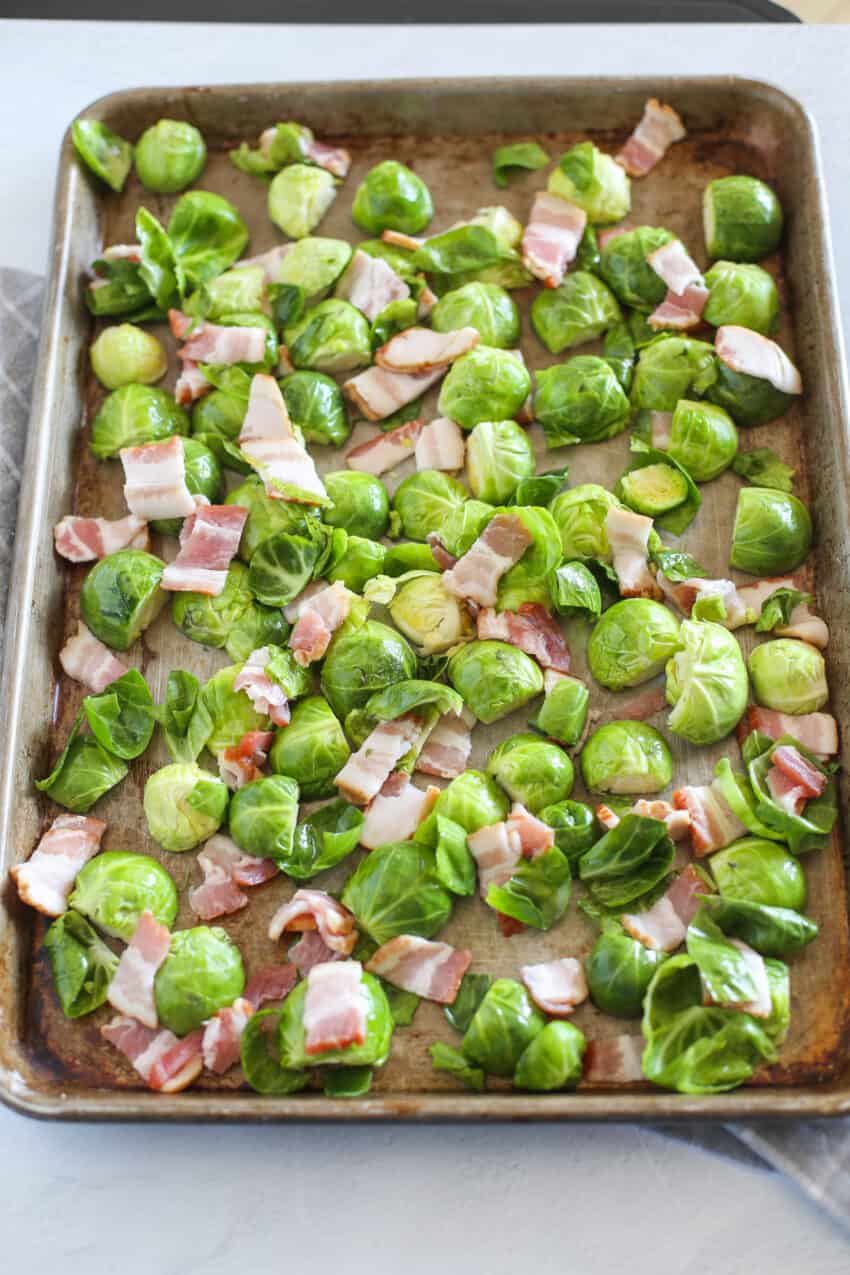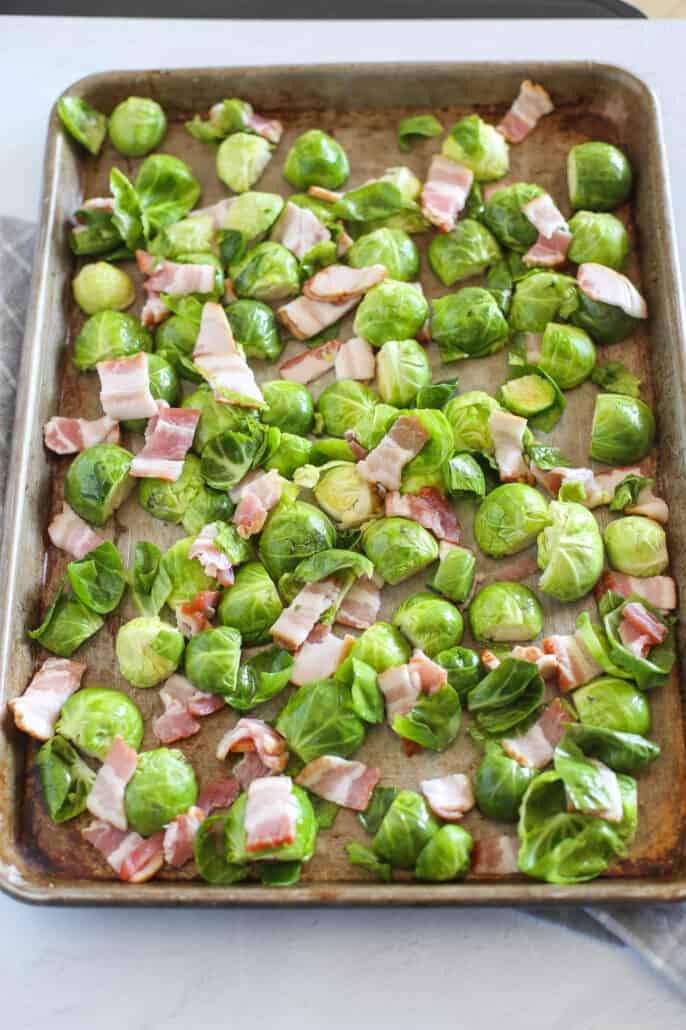 Roast the Brussels Sprouts and Bacon in the Oven
In a preheated oven, roast the Brussels sprouts for about 20 minutes, until they start to brown and the bacon is crispy.
This cooking time may vary depending on how thick your bacon is. Shake or stir the pan after about 15 minutes to help with even cooking.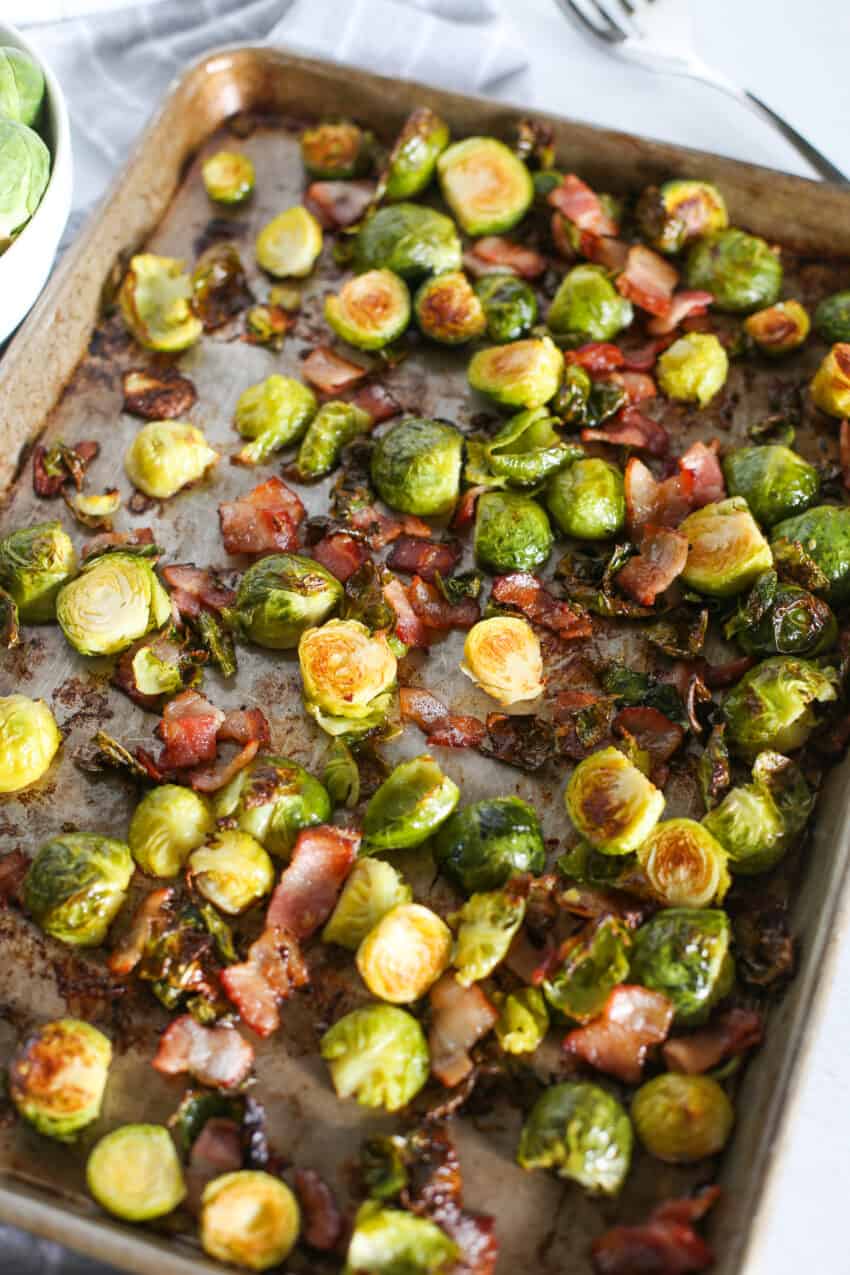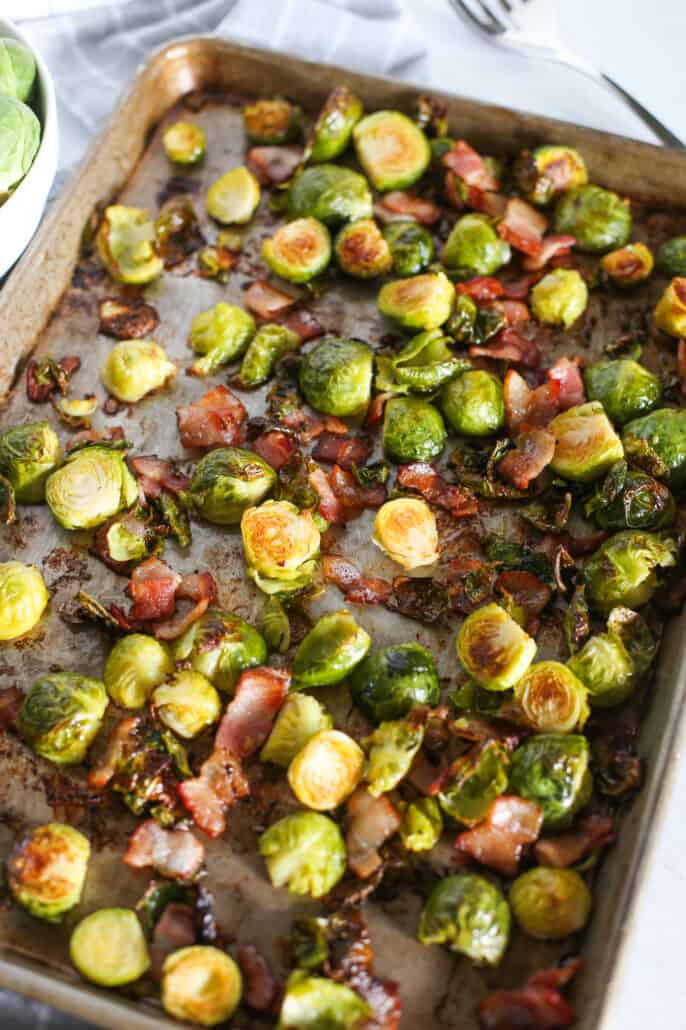 Use a large spatula to lift them off the baking sheet and into a serving dish. Taste and add additional salt and pepper if necessary. We recommend eating them right away, while they are hot.
How to Kick This Recipe Up a Notch
While this recipe is super simple, you can add in some additional ingredients to jazz up the Brussels Sprouts and Bacon after they have roasted. Here are some ideas:
Parmesan cheese
Goat cheese
Toasted pecans
Squeeze of fresh lemon juice or lemon zest

Dijon Mustard

A drizzle of honey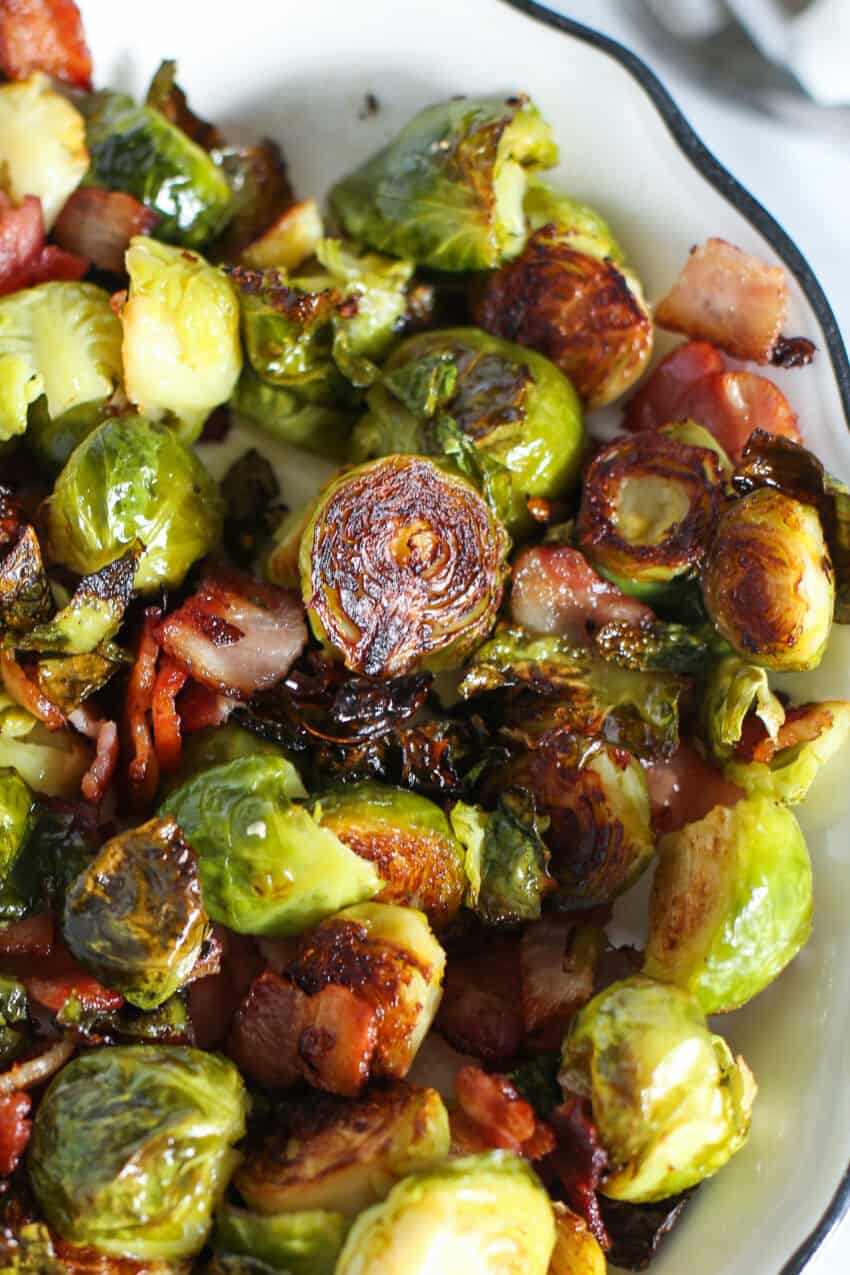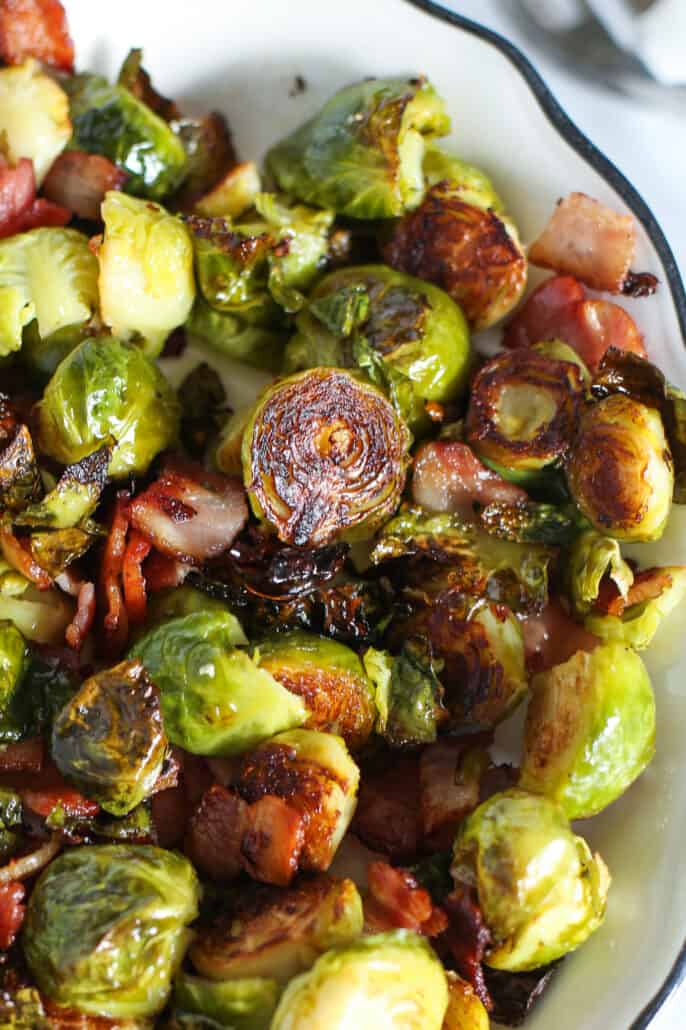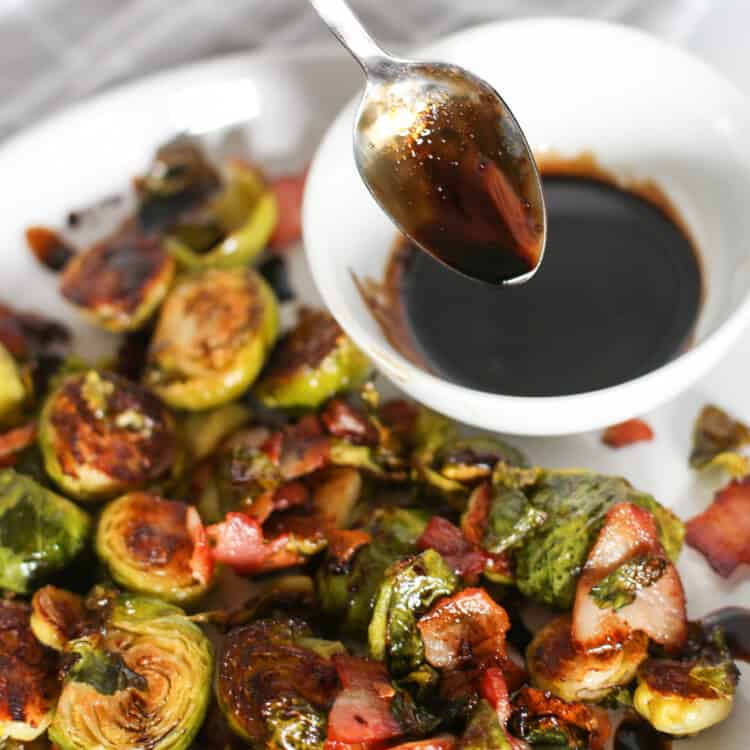 Can I Reheat Roasted Brussels Sprouts?
While Brussels are at their best right out of the oven, this recipe can be reheated fairly well with a toaster oven or air fryer.
Microwaving will soften the Brussels while overcooking the bacon.
How Do I Make My Brussels Sprouts Extra Crispy?
Roast them at a high temperature in a hot oven. This is why we do 450°F.
Peel lots of outer leaves off and let them get charred. These are my favorite part!
Make sure the Brussels are turned face down and bake them on the lowest rack.
Cut the sprouts in similar size because the smaller sprouts will cook faster.
Make sure there is a lot of room on the baking sheet. Overcrowding will steam them instead of roasting–preventing them from getting crispy.
Eat the Brussels right away. They don't keep that desired crisp for too long. This is not a great make ahead side dish.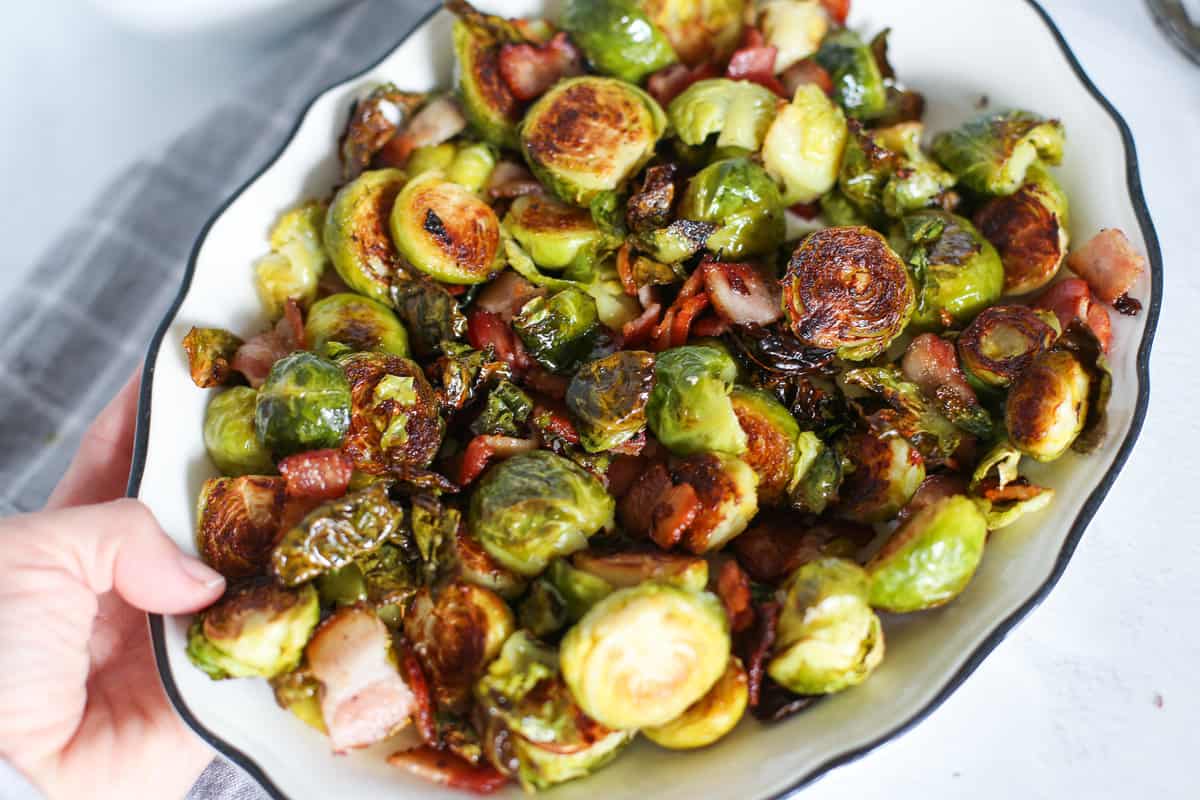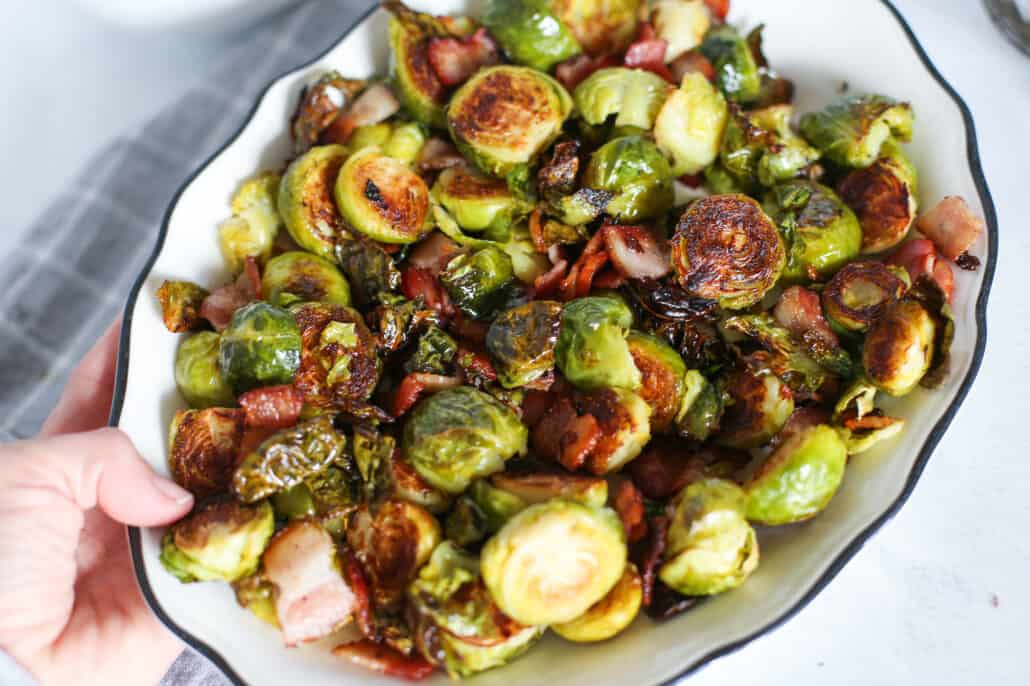 What to Serve with Brussels Sprouts and Bacon
This roasted veggie goes well with a variety of main dishes! Try some of these Thriving Home favorites.
Did you make this? Snap a photo and tag us on Instagram at @thrivinghome so we can see your creations and cheer you on!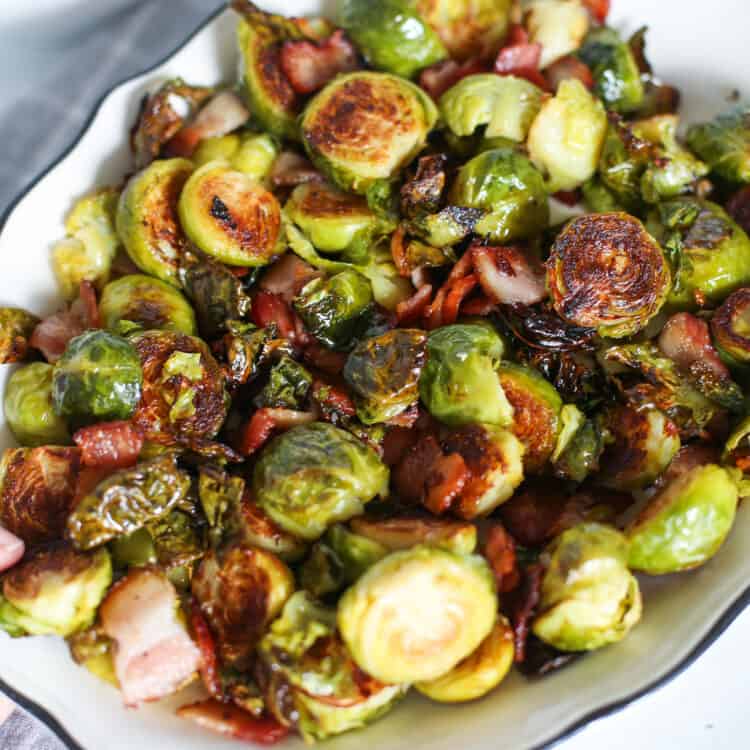 Roasted Brussels Sprouts with Bacon
This combination of Brussels Sprouts and Bacon is the perfect side dish. It's easy to make, packed with flavor, and a crowd-pleaser.
Prep:
5 minutes
Cook:
20 minutes
Total:
25 minutes