This post may contain affiliate or sponsored links. Please read our disclosure policy.
Spinach Lasagna Rolls are so EASY one of our favorite vegetarian freezer meal recipes. You can put cooked chicken in the spinach lasagna rolls if you want to add in more protein. Either way, they make a nutritious and delicious family dinner.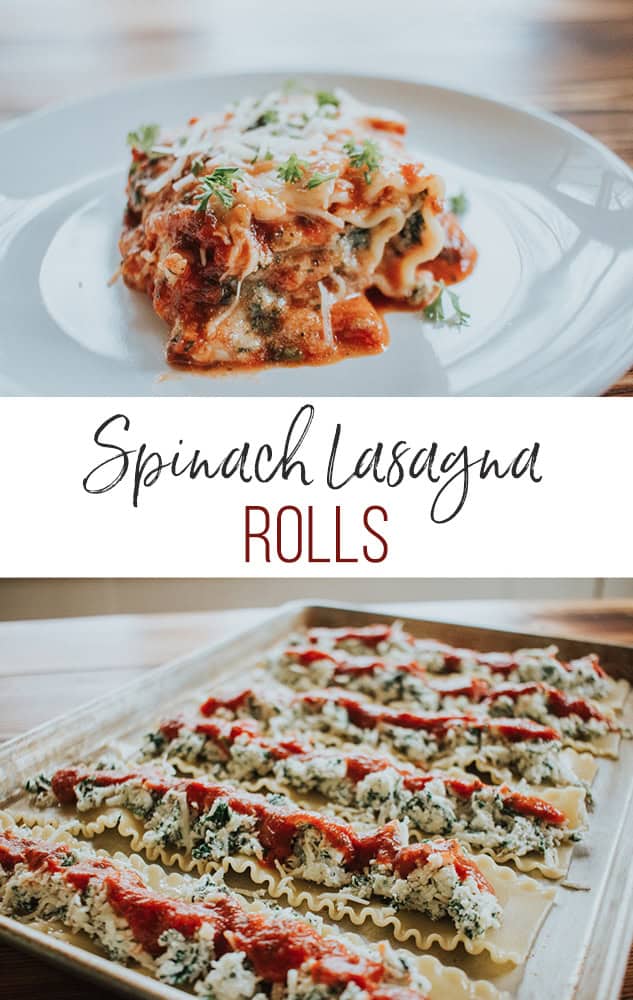 My youngest child was and still is (at times) one of the pickiest human beings alive. You can imagine my elation years ago when he took one bite of his Spinach Lasagna Roll-Up and said, "Mommy, you said I was going to like these and you are right!"
They are basically individual vegetarian lasagnas filled with a mix of cheeses, marinara, and spinach. They are family-friendly, satisfying and perfect for portion control. It's also a great way to get your kids to eat spinach (if they aren't offended by green in their meal) and no one will miss the meat!
Lastly, they freeze and thaw beautifully making them a delicious vegetarian freezer meal.
Video Tutorial: How to Make Spinach Lasagna Rolls
Now check out how simple it is to throw these together…
Not only are these Spinach Lasagna Roll-Ups a kid fave, but it's easy to divide the recipe in half or double it to make into a freezer meal for another dinner another time. We've included the freezing instructions in the recipe below. This recipe also makes great leftovers for lunch the next day.
Step-by-Step Instructions:
Step 1: Cook your whole wheat lasagna noodles until they are al dente, toss with a little olive oil to prevent sticking, and lay them out on a cooking sheet.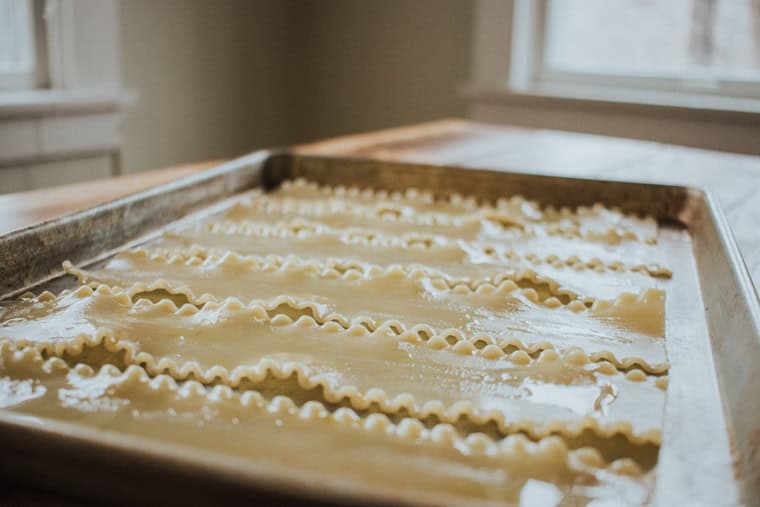 Step 2: Spread the cheesy spinach mixture evenly over the noodles.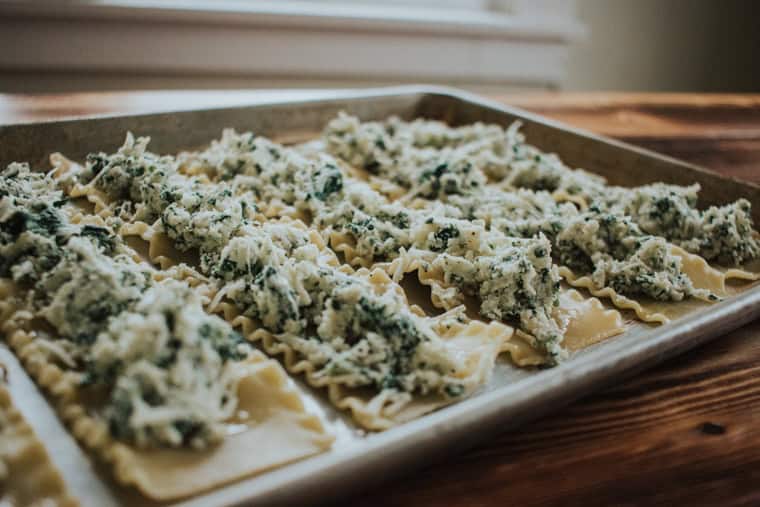 Step 3: Now spread some of that saucy goodness over the cheesy goodness. A lot of goodness happening right now.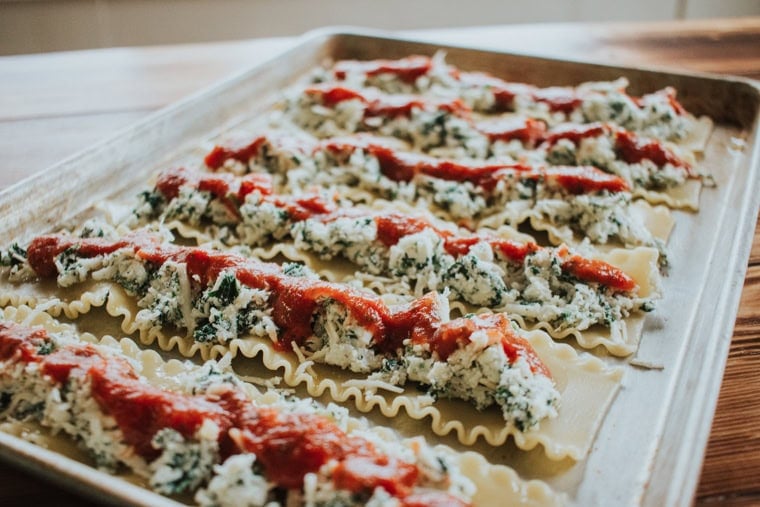 Step 4: Roll the noodles up, and place seam side down in a greased pan that has a little of the marinara sauce in the bottom of it.
Step 5: Top entire casserole with remaining sauce, remaining mozzarella, and remaining Parmesan cheese. Oh yes…this is gonna be GOOD.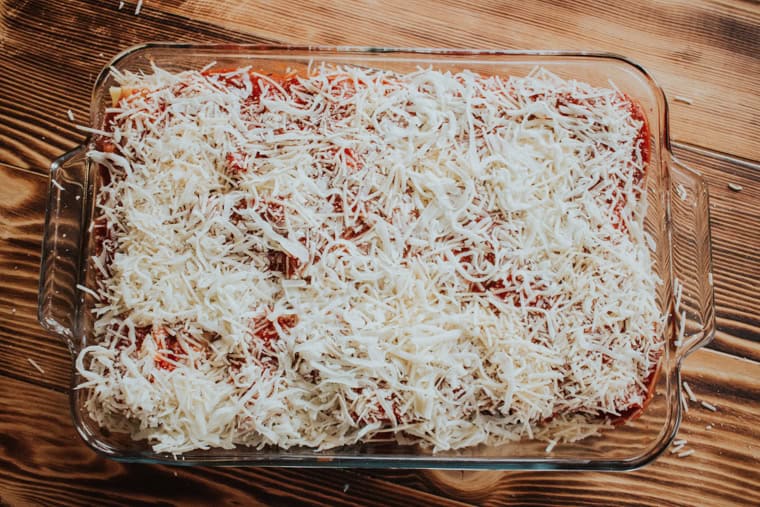 Step 6: Bake at 350°F for 30 minutes, or until hot and bubbly.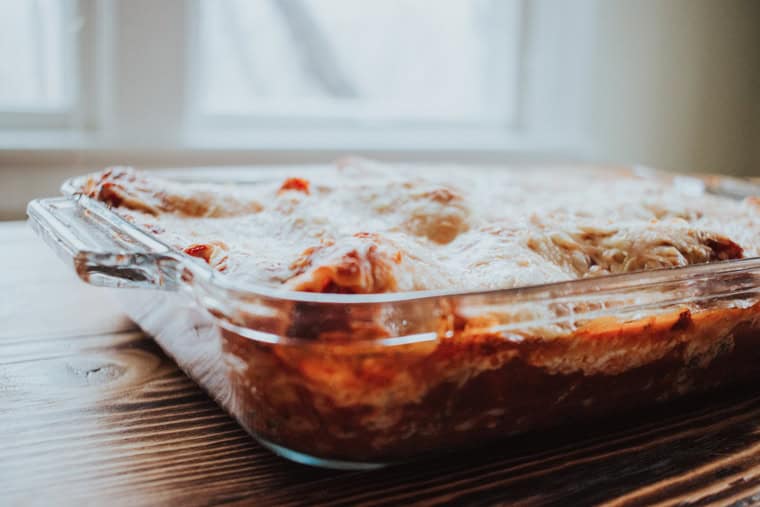 Finally, serve hot and enjoy!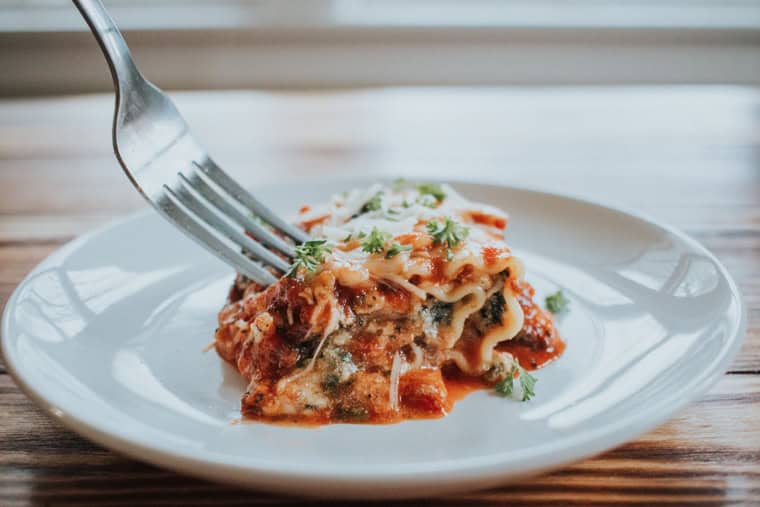 So to sum it up, here is a quick at-a-glance image on how to assemble Spinach Lasagna Rolls:

How to Freeze & Thaw Spinach Lasagna Rolls
As I mentioned before, Spinach Lasagna Roll-Ups freeze beautifully and can be a great meal to take to a new mom! Just tell them to thaw them out and bake as directed below.
TO FREEZE: Assemble the lasagna rolls completely, but do not bake. Wrap the dish tightly in several layers of plastic wrap and 1 or 2 layers of foil, squeeze out excess air, and freeze.
TO PREPARE FROM FROZEN: Thaw in the refrigerator for 24 hours. Set out on the counter for 30 minutes to bring to room temperature and then bake as directed.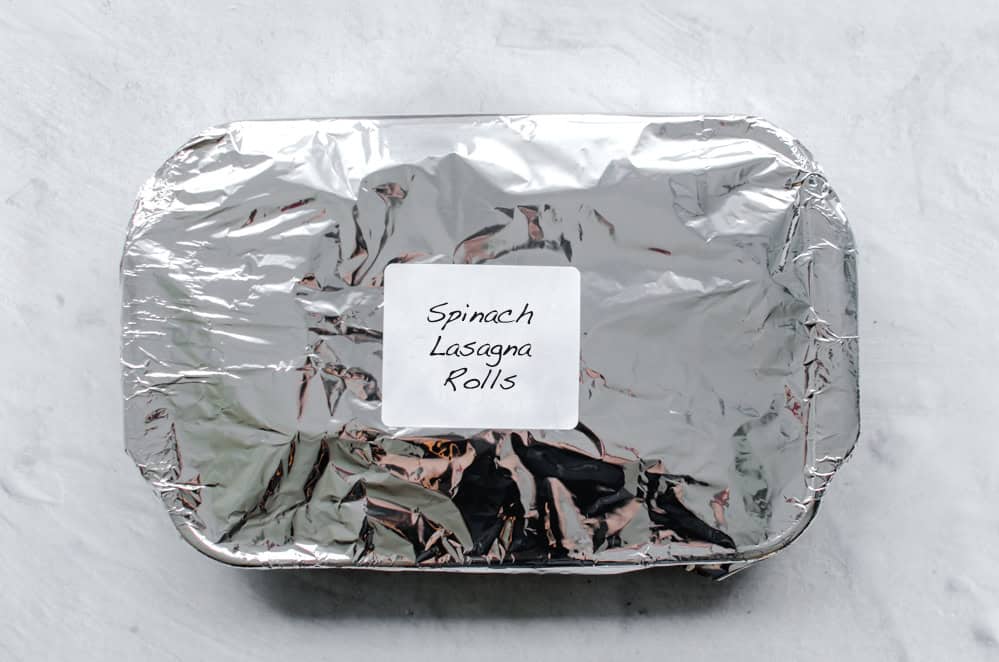 What Freezer Containers Should I Use?
Note: Affiliate links are used below. We are a participant in the Amazon Services LLC Associates Program, an affiliate advertising program designed to provide a means for us to earn fees by linking to Amazon.com and affiliated sites.
We recommend freezing Spinach Lasagna Roll-Ups in a glass or ceramic freezer-safe, oven-safe dish. We've learned that using foil pans actually can create a reaction with the acid in the marinara sauce, leaving a strange taste behind, so we don't recommend those.
It makes sense to stock up on some quality, safe freezer dishes that you can bake AND store in. After searching long and hard, we highly recommend and use these freezer containers below. We both have collected a huge stash of them over the years!
8 inch Square Glass Baking Dish with TrueFit Lid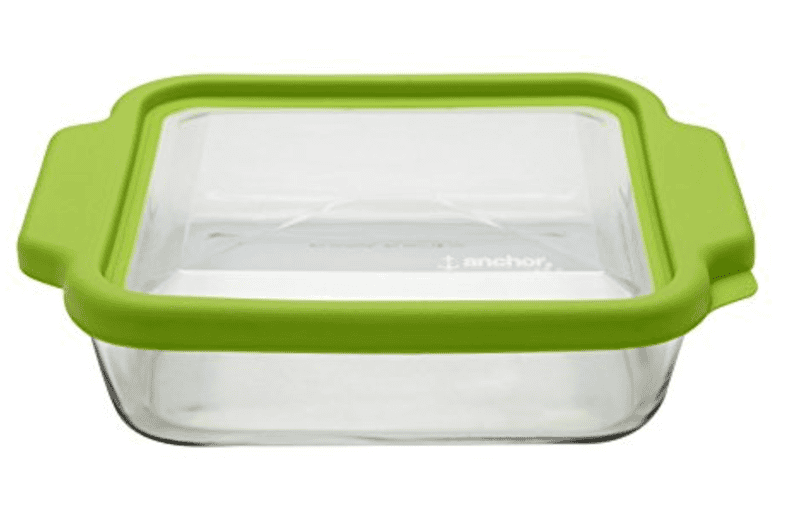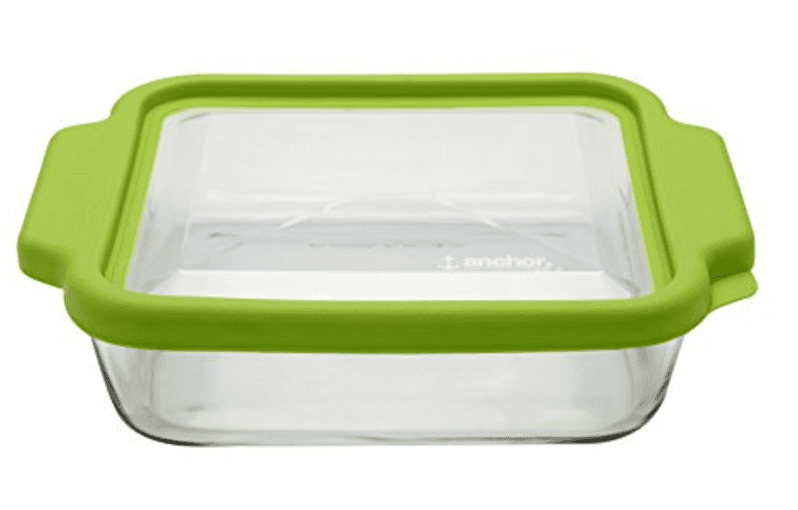 3 Quart Glass Baking Dish with Lid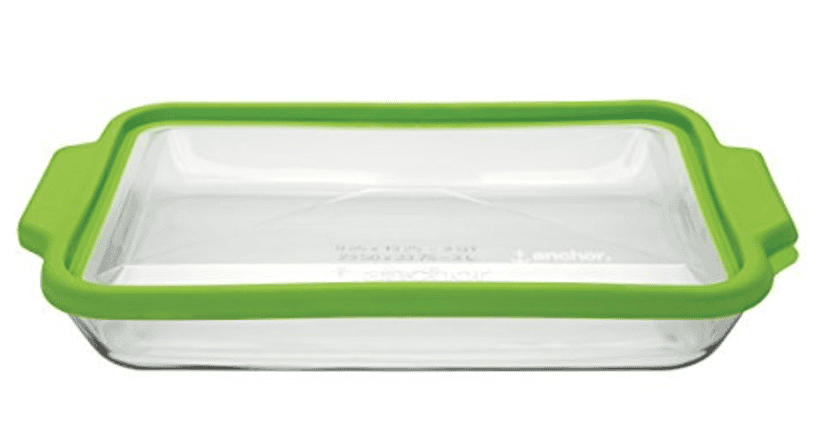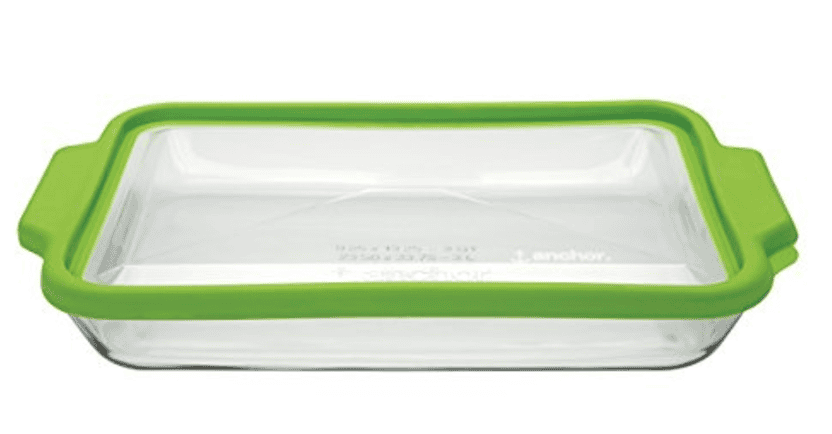 What Goes Well with Spinach Lasagna Rolls?
Here are some side dish ideas that would go well with this recipe:
More Vegetarian Recipes You'll Love
Did you make this? Snap a photo and tag us on Instagram at @thrivinghome so we can see your creations and cheer you on!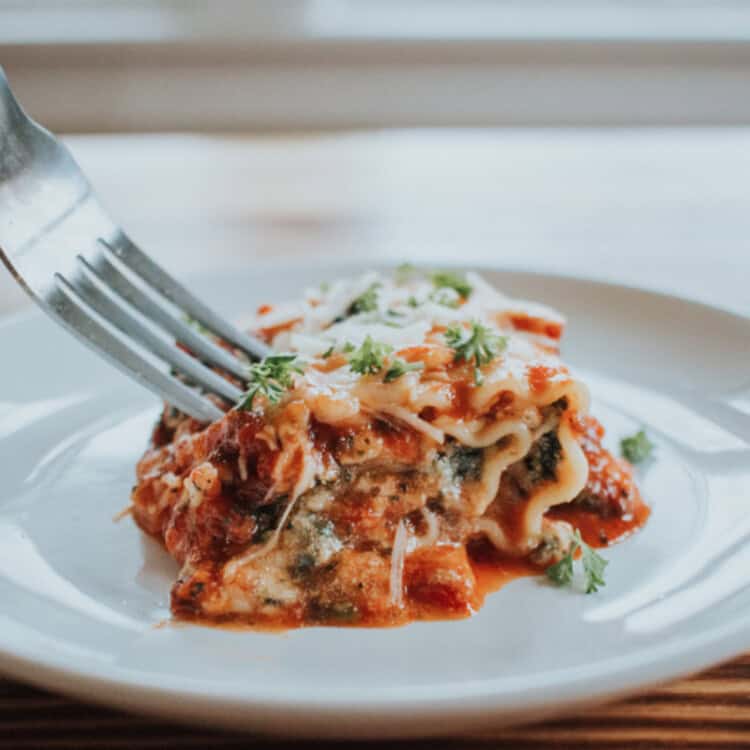 Spinach Lasagna Rolls
A family favorite packed with spinach, marinara sauce, and yummy cheese! Kids and adults alike love this comfort meal. Freezer instructions included.
Yield:
8

servings (2 rolls per serving)

1

x
Prep:
25 minutes
Cook:
30 minutes
Total:
55 minutes
Ingredients
1

(16 ounce) package uncooked whole wheat lasagna noodles (about

16

noodles)
Extra virgin olive oil

2 cups

(

8 ounce

bag) shredded mozzarella cheese, divided

1

(15 ounce) container ricotta cheese

2

large eggs, beaten

2

garlic cloves, minced

2 tablespoons

dried parsley flakes, or

1/4 cup

finely chopped fresh parsley leaves

1 tablespoon

dried basil, or

2 tablespoons

finely chopped fresh basil leaves

¼ teaspoon

pepper

½ teaspoon

salt

1

(10 ounce) package frozen chopped spinach, thawed, drained, and squeezed very dry

2 cups

freshly grated Parmesan cheese, divided
Cooking spray

2

(25-28 ounces) jars marinara sauce, divided (or use

6

–

7

cups Homemade Marinara Sauce)
Before You Begin! If you make this, please leave a review and rating letting us know how you liked this recipe! This helps our business thrive & continue providing free recipes.
Make It Now:
Bring a large pot of salted water to a boil. Cook lasagna noodles until al dente (i.e. slightly undercooked), about 6 to 8 minutes. Drain in a colander. Coat them with a bit of olive oil, lay noodles out flat on a cookie sheet, and set aside.
Preheat the oven to 350°F. Spray a 9×13 inch baking dish (or two 8×8 inch dishes) with cooking spray. Spread 1/2 cup of marinara sauce on the bottom of the 9×13 dish (or 1/4 cup in each 8×8 dish) in a thin layer.
In a large mixing bowl, stir together 1 cup mozzarella cheese, ricotta cheese, egg, garlic, parsley, basil, pepper, salt, spinach, and 1 cup Parmesan cheese.
On each noodle, spread a generous 1/4 cup of the cheese mixture and then 2.5-3 tablespoons of sauce. Note: You should have used up all the cheese mixture and one entire jar of sauce (3-3.5 cups) by this point, dividing them evenly among the noodles.
Roll the noodles up, and place seam side down in the prepared pan(s). Squeeze them in however they fit best.
Top entire casserole with the remaining jar of sauce (3-3.5 cups), remaining 1 cup mozzarella, and remaining 1 cup Parmesan cheese. (Freezing instructions begin here.)
Bake for about 30 minutes, or until hot and bubbly. Cover with foil if it starts to get too brown on top. If desired, sprinkle the top with freshly chopped parsley and/or basil. Serve warm.
Freeze For Later: Follow steps 1-6. (Do not bake). Wrap the casserole tightly in a few layers of plastic wrap and foil, squeezing out any excess air. Freeze for 3-6 months.
Prepare From Frozen: Thaw the casserole using one of these safe methods. Cook as directed in step 7.
Nutrition Information
Serving Size:

2 roll-ups per person
Before You Begin! If you make this, please leave a review and rating letting us know how you liked this recipe! This helps our business thrive & continue providing free recipes.