Freezer Meals for New Moms
This post may contain affiliate or sponsored links. Please read our disclosure policy.
We know how helpful having a stocked freezer can be when you're a new mom. Whether you're hoping to stock up on meals before the baby arrives or looking for recipe ideas to take to others, you're sure to find great ideas in this ultimate list of freezer meals for new moms. We've used our 10+ years of freezer meal expertise to put this list together. We hope it can be used to bless others!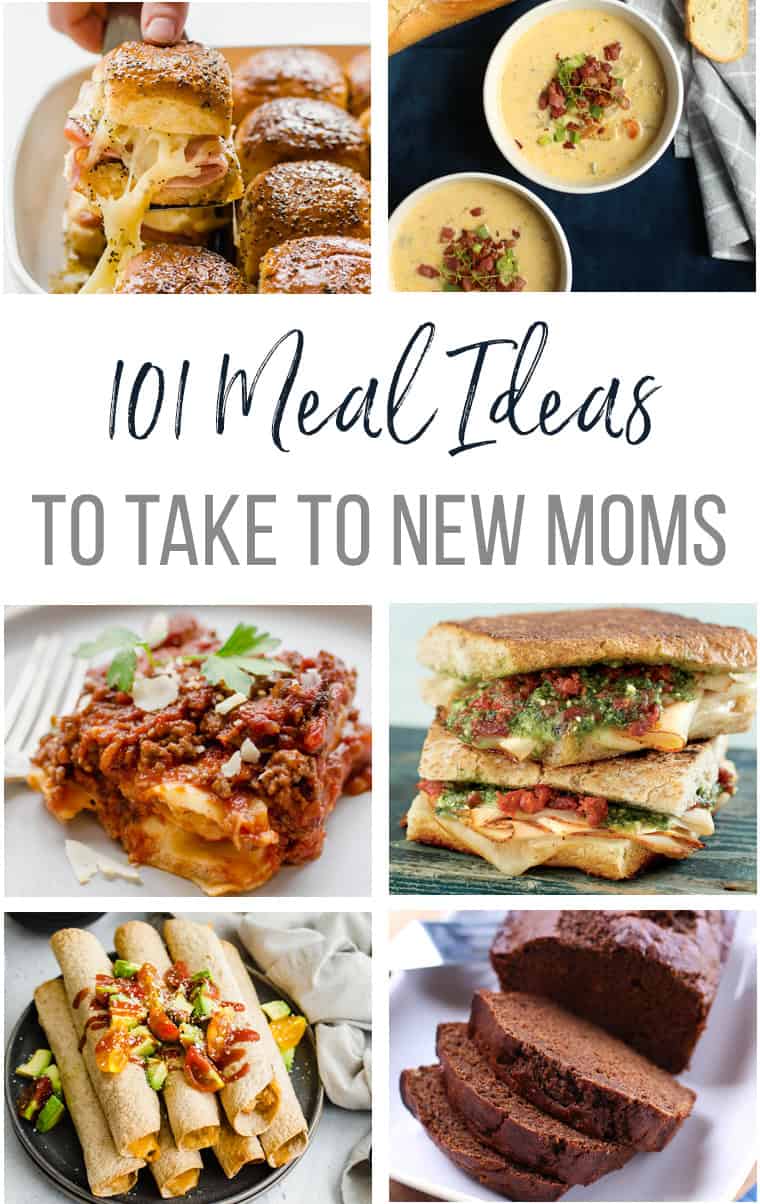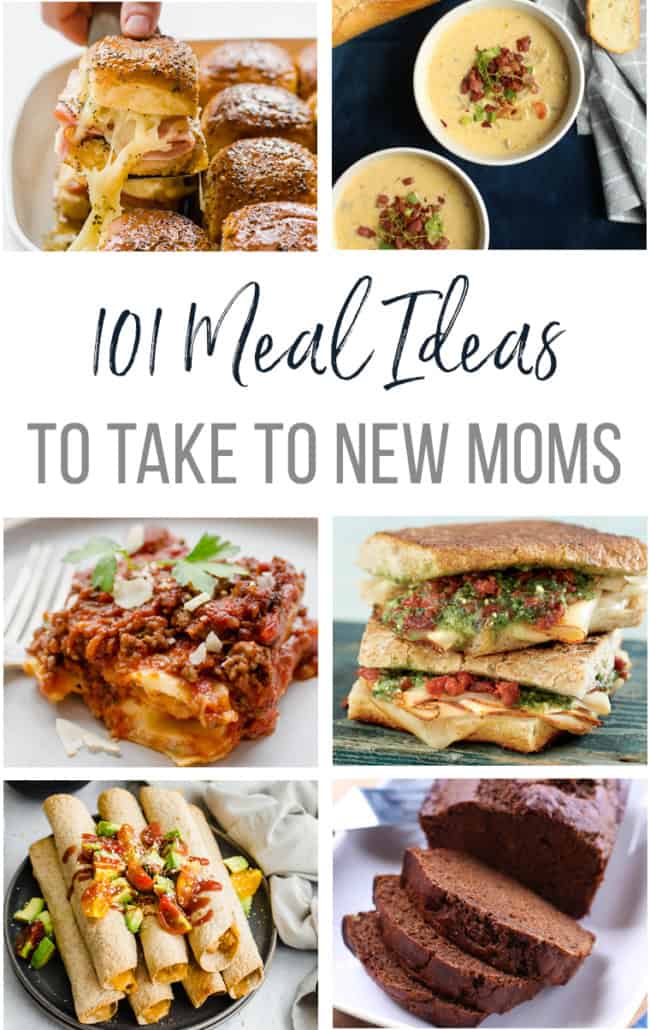 Freezer Meals for New Moms are a Life Saver
Gosh. I look back at these pictures and I remember. I remember how exhilarating it is to hold your baby for the first time. How that first week is a whirlwind of very high highs and very low lows. How your body hurts but is healing so fast. Navigating the struggles and beauty of nursing.
The foggy-brained feeling of sleep deprivation but the amazement that you can endure so much more than you ever thought you could. The hormones…THE HORMONES!
Those first few weeks with a newborn are so good but so hard.
Having a meal delivered to our house was a lifeline on some of those hard days. With each delivery, I remember being so humbled that someone would go to the effort of making extra food, drive all the way over to my house, and deliver it. It was such a gesture of love that I will never forget.
Having freezer meals delivered was also a huge help! Freezer meals could be dropped off anytime (not just when they are warm) and it gave me the flexibility to make the meal on nights we needed it most.
Because of the impact of having fresh meals and freezer meals delivered, I am constantly on the lookout for ideas to take to others.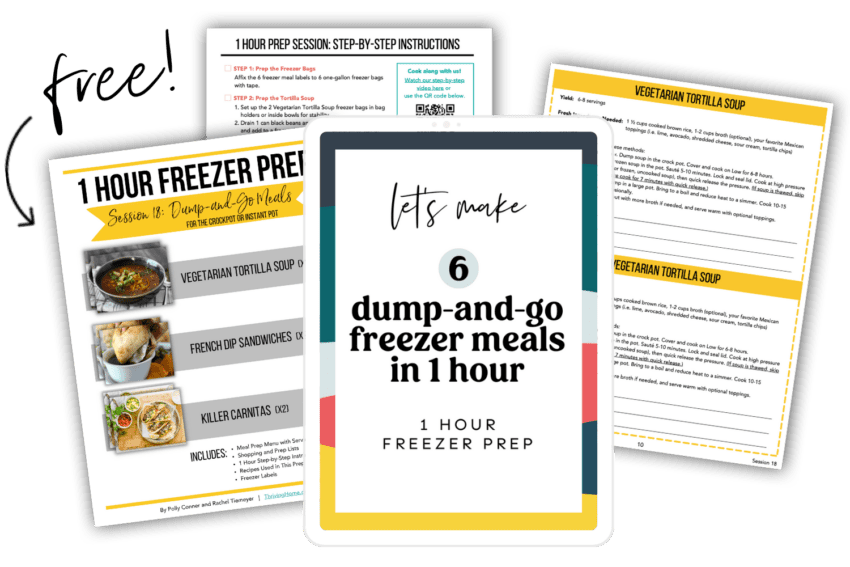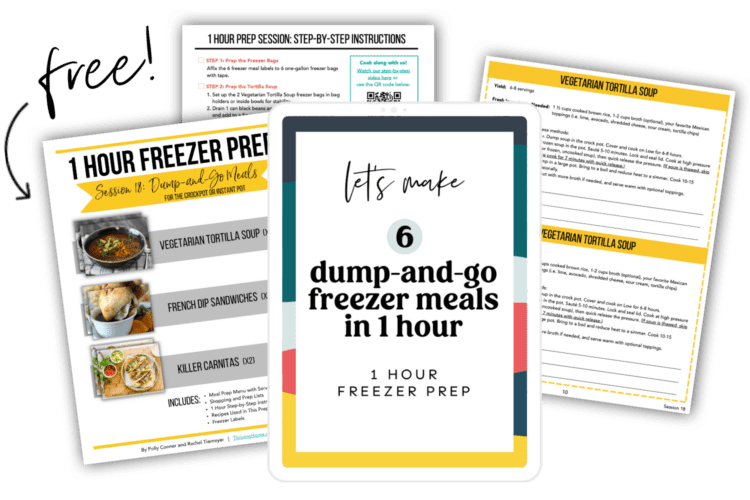 Make 6 Dump-and-Go Freezer Meals in 1 Hour!
Try a 1 Hour Freezer Prep Session ($6.99 value) for FREE!
Includes:
Shopping & equipment lists
Step-by-Step instructions & video tutorial
Serving suggestions & dietary substitutions & more
Tips on Taking Food to Others
Here are some general tips to keep in mind when taking food to others – whether it's frozen or not!
Select a recipe that transports easily – No one wants spilled spaghetti sauce or soup in the back of their car. When selecting a recipe from the list below, make sure you have the right container or way to transport it easily!
Take a "dry" meal – This is a meal where you take some of the ingredients uncooked, and it's another great way to take a meal ahead of time. This is also an easy way to take a meal when you hear of a sudden need.
Drop off or send a restaurant gift card – If you are short on time or you would prefer not to cook, sending a restaurant gift card is a great option! Who doesn't like to open a greeting card from a friend and receive the surprise of being treated to dinner?
Order their favorite carry out or pizza delivery – This is different from giving a restaurant gift card because you find out what restaurants are nearby, order the meal, and have it delivered to your friend's house.
Offer to go to the grocery store – Send a quick text when you're headed to the store to see if you can pick up some groceries for your friend. Sometimes the most challenging part of cooking for your family during a difficult time is having the food on hand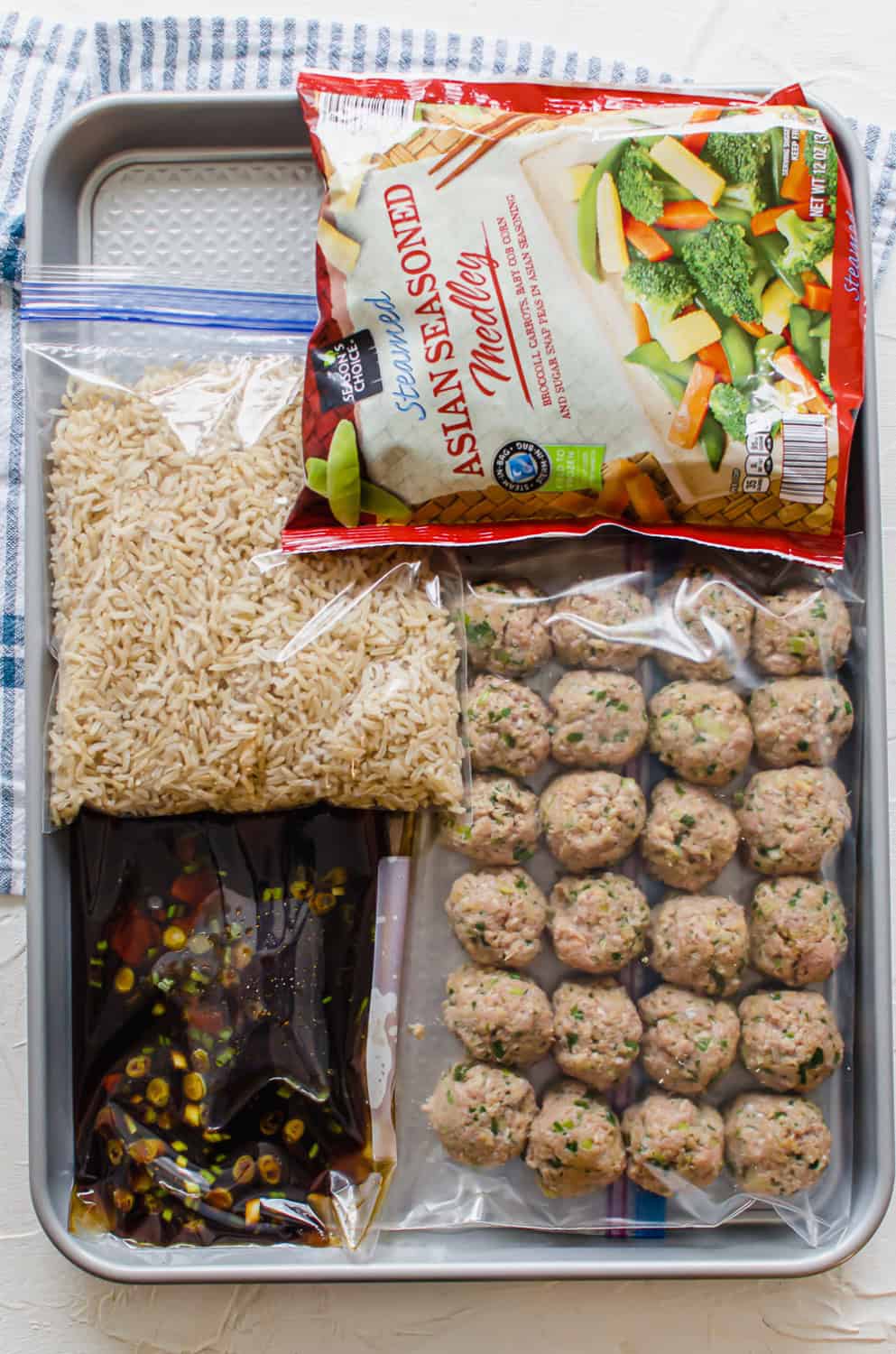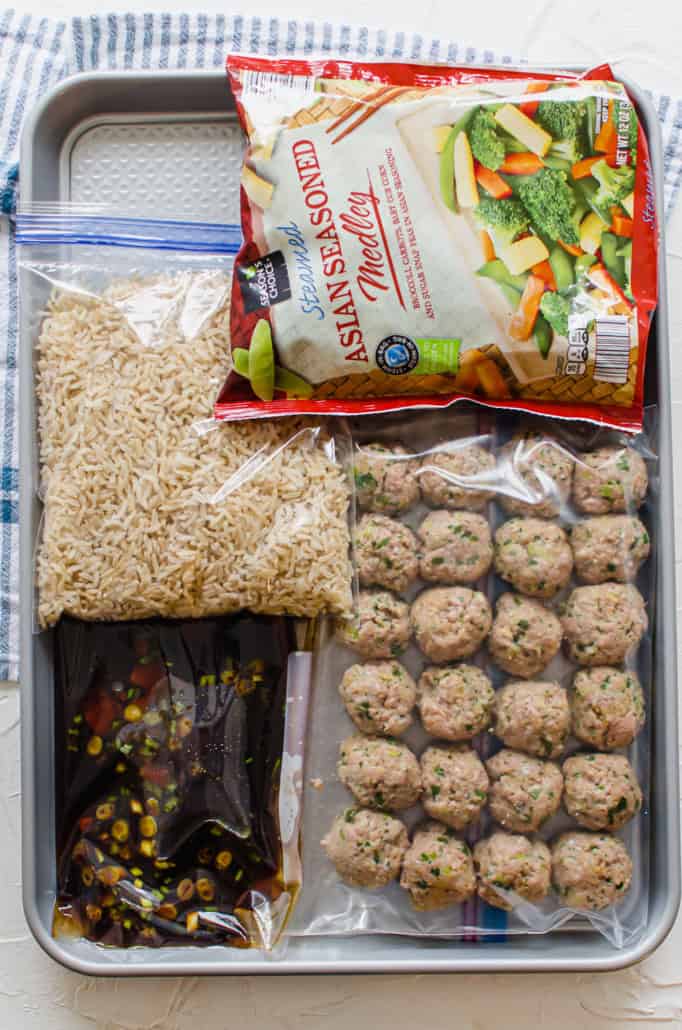 Freezer Meals for New Moms
BREAKFAST IDEAS
Don't overlook the idea of bringing a new parent breakfast. Sometimes that can be the hardest meal to get on the table. Here are some great breakfast ideas for new parents!
1. Freezer Breakfast Burritos – Can be frozen and thawed individually.
2. Whole Wheat Banana Chocolate Chip Muffins – I LOVED having a stash of muffins in the freezer. Blueberry Oatmeal Muffins are another great option.
3. Freezer Smoothie Packs – Having a stash of smoothie packs is such a fun, unique idea for new parents! Use our printable labels to help keep them organized too.
4. Chocolate Banana Muffins – packed with great ingredients.
5. Blueberry Baked Oatmeal – Baked oatmeals are an easy meal to bake and transport to a new parent!
6. Whole Wheat Pumpkin Pancakes – Great to make a bunch ahead and freeze. They make a quick, healthy breakfast for a new parent.
7. Banana Breakfast Cookies – Jam-packed with nutrition and flavor, All ages love them, and they make a great grab-and-go breakfast.
More Ideas:
Slow Cooker Recipes
Prepping some meals to go into the slow cooker is LIFE for a new mom. In fact, we have a whole cookbook with recipes that all work in the slow cooker because we know moms love these types of recipes. Here are some slow cooker recipes that would be great to take to new parents.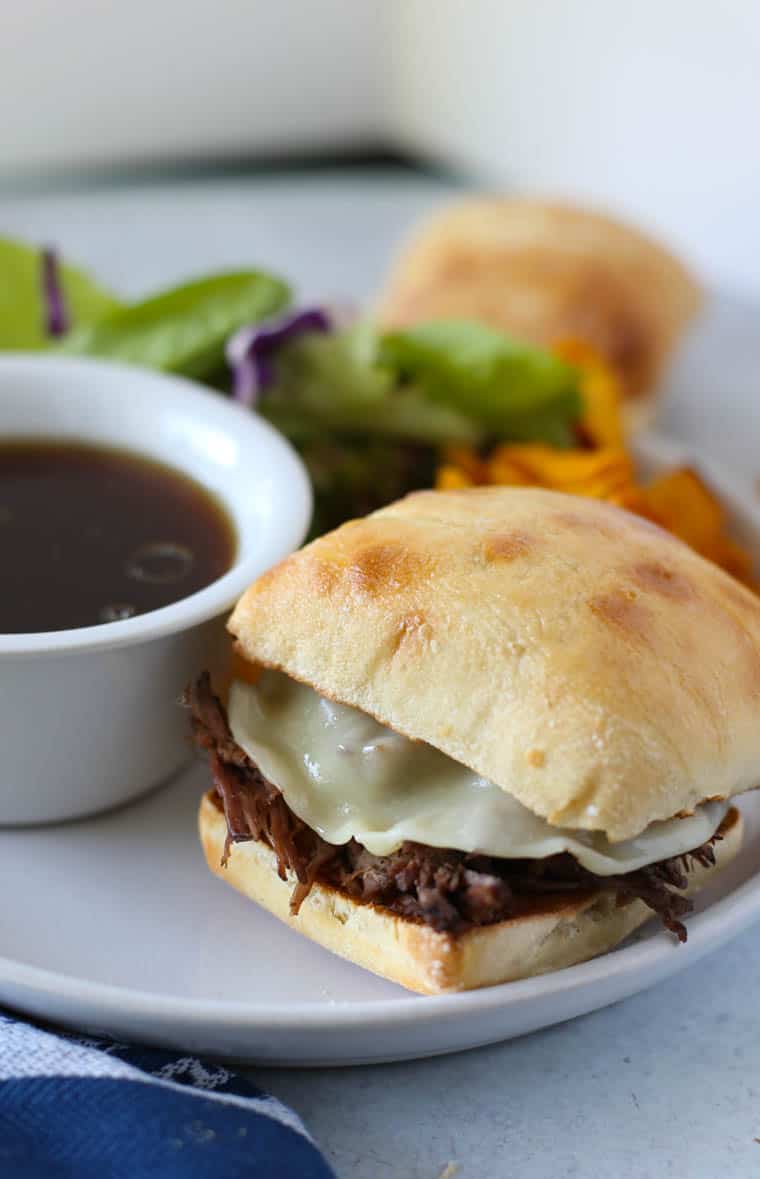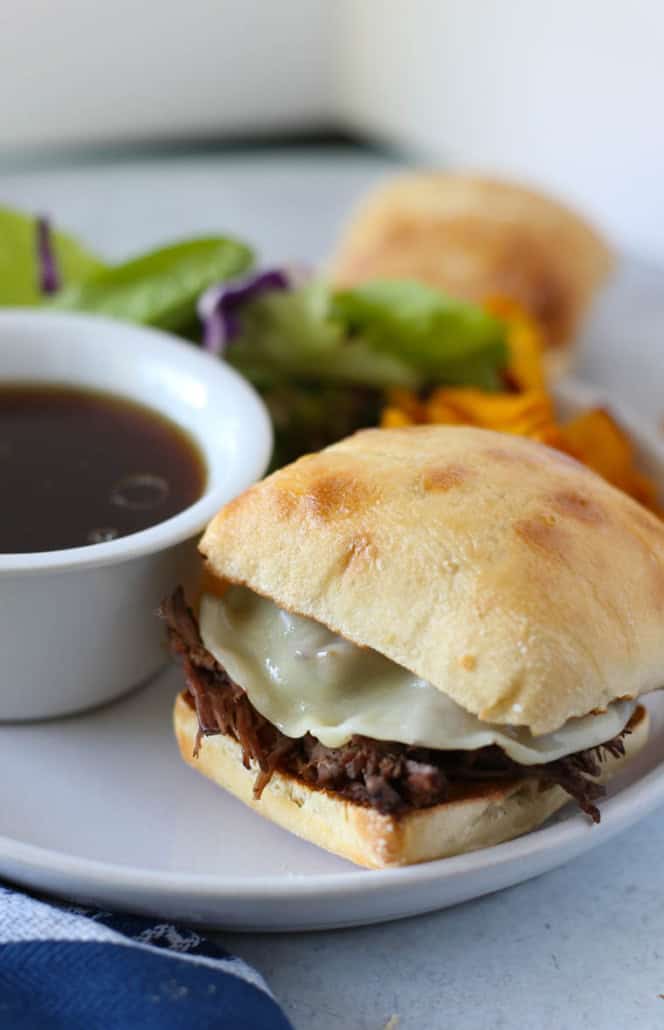 1. French Dip Sandwiches – These can be made in the slow cooker or the Instant Pot! I love to take them as a meal kit.
2. Balsamic Shredded Beef – A great drop-and-go meal that is super easy to prep.
3. Crispy Carnitas – A personal family favorite. Slow cooks all day and makes a ton!
4. Chicken Parmesan Sliders – Another super simple recipe that can easily be prepped ahead of time and ready to throw into the slow cooker.
5. Chicken and Cheese Taquitos – These are a family favorite. I'd recommend preparing them all the way up until they go into the oven. Deliver them like that with baking instructions.
6. Cuban Paninis – Can't go wrong with pork in the slow cooker! Deliver the sandwich parts along with the meat to freeze as a kit.
More Ideas:
Soups & Stews
One of the easiest types of recipes to take to new parents is a delicious soup. Not only can soups be easily frozen, they can also make great lunches for the next few days! Consider making a few of these soup ideas for those new mamas!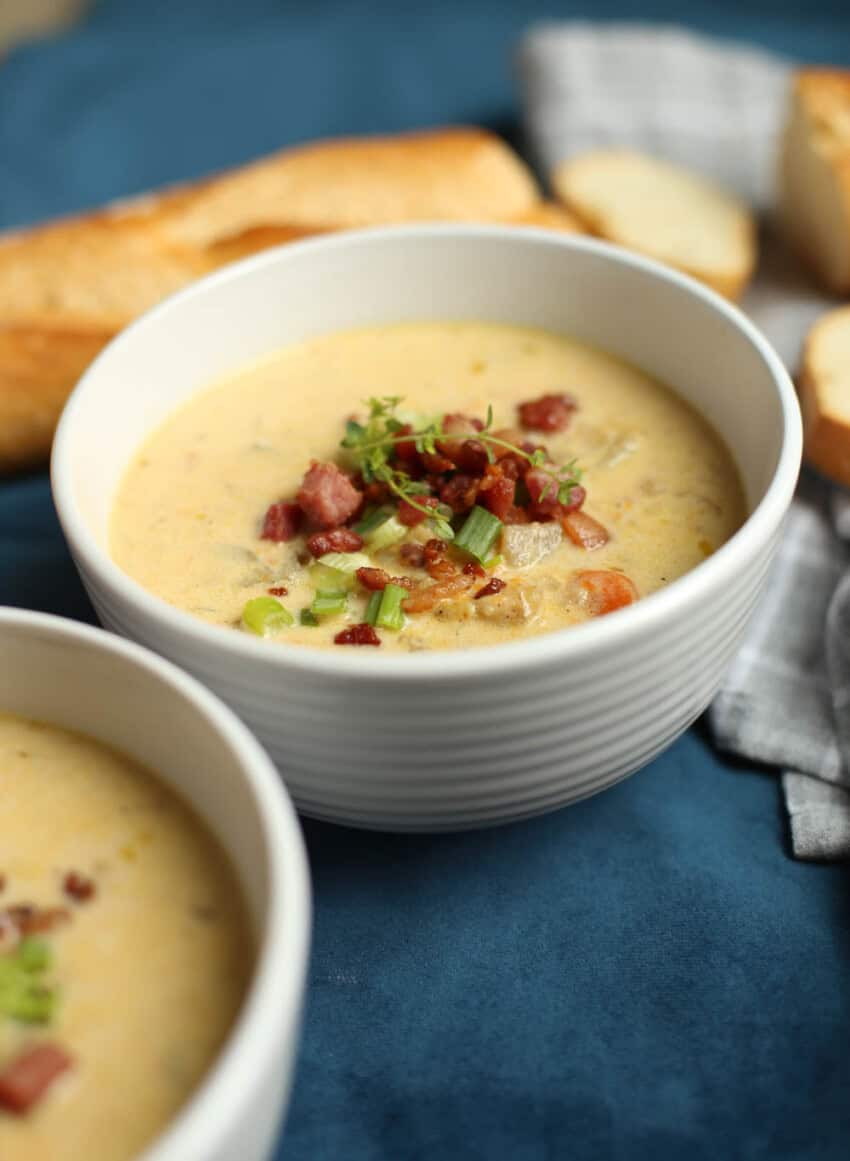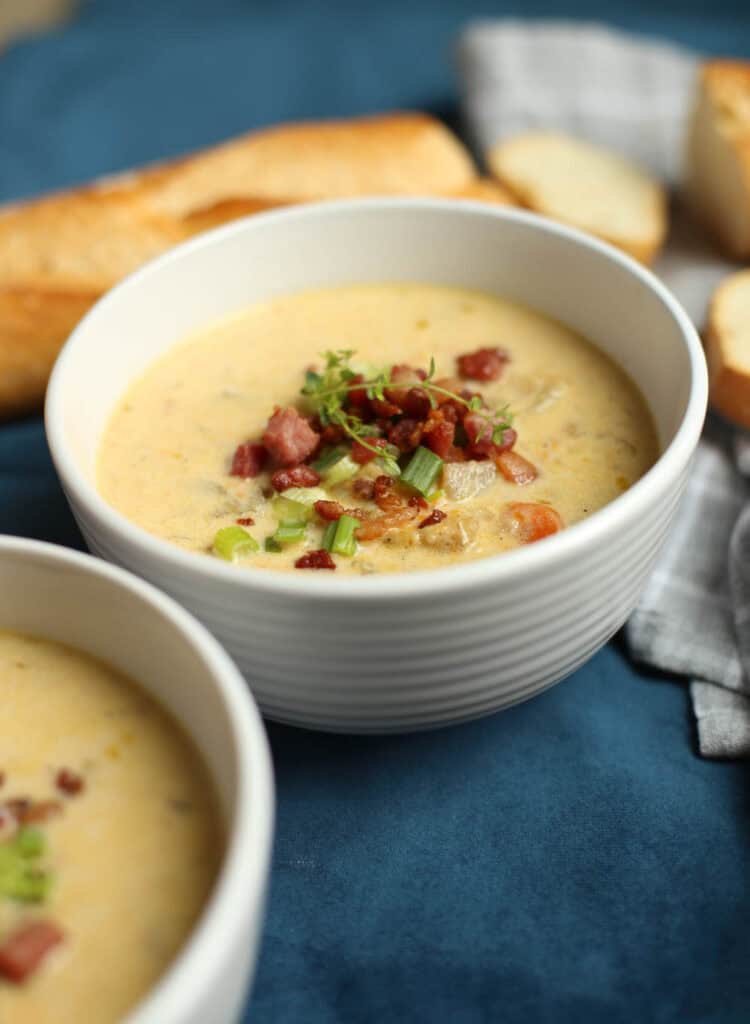 1. Slow Cooker Cheddar & Bacon Potato Soup – This recipe is SO good. Make sure to package the bacon separately so the new parents can add it right when they are going to eat the soup.
2. Chicken Taco Soup – One of my FAVES! Deliver this soup to a new mom along with some tortilla chips, shredded cheese, avocado, and sour cream for a DIVINE dinner.
3. Slow Cooker Turkey Chili with Sweet Potatoes and Black Beans – Packed with great ingredients to keep those new parents healthy!
4. Easy No-Peek Stew – This has SO much flavor. Deliver this stew to new parents with some soft, buttery rolls for a great meal!
5. Mexican Soup – This recipe is SO filling. Deliver to a new parent with a bag of tortilla chips and shredded cheese. Yum!
6. Tomato Bisque – Any new parent is going to love having a stash of this tomato bisque in their freezer or fridge.
More Ideas:
Casserole Recipes
Most casserole recipes can be prepped and frozen. They are a great way to stock the freezer of a new mom! Here are some great casserole recipes to take to new parents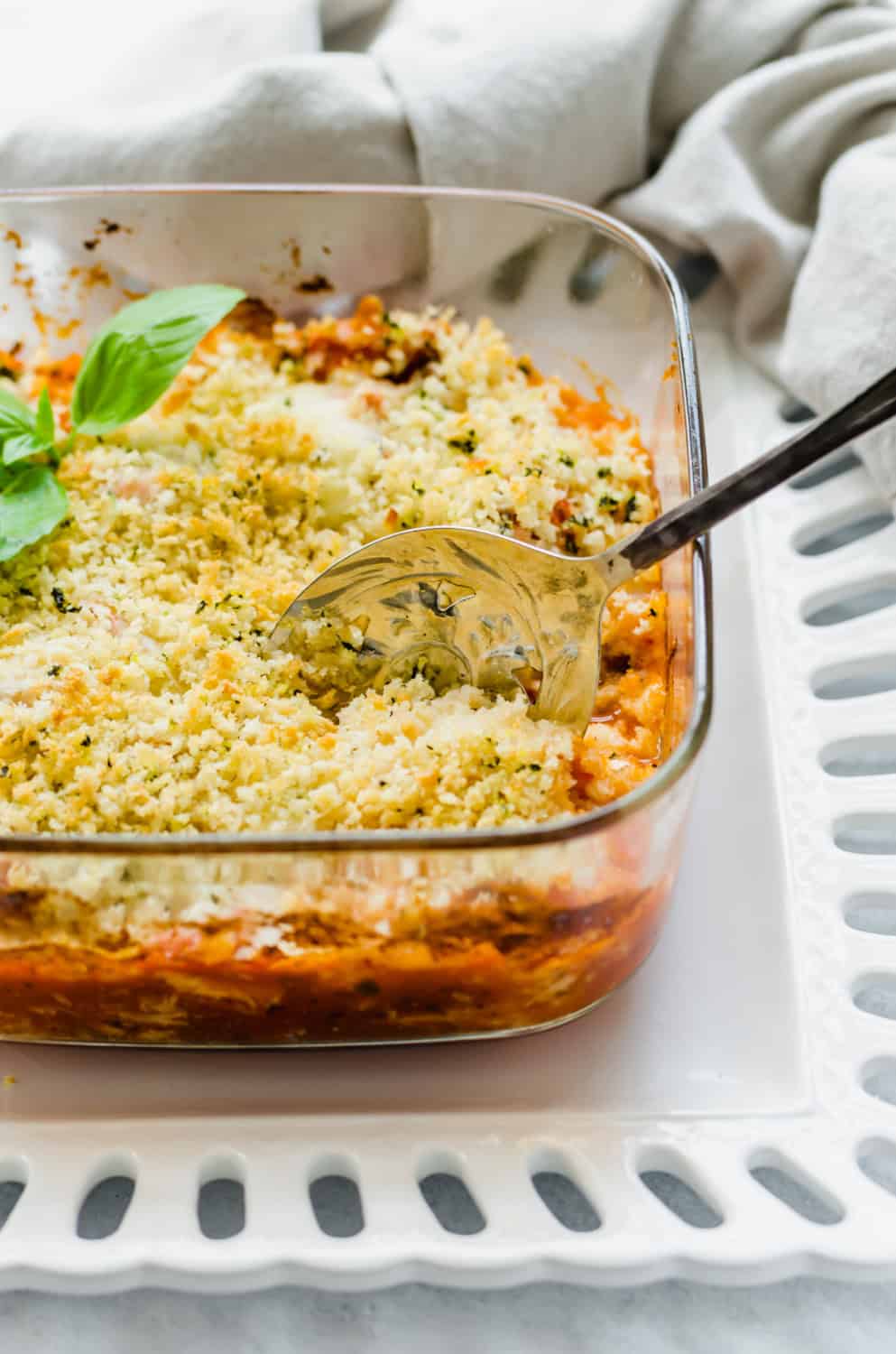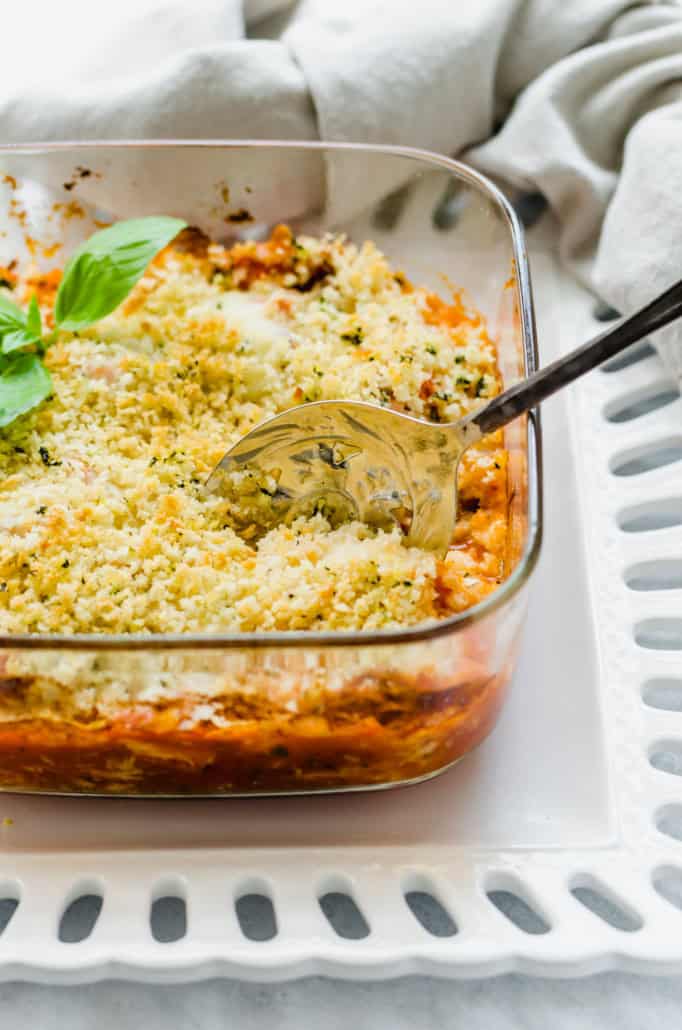 1. Chicken Parmesan Casserole – This recipe is great to assemble right up until baking. Take it to the new parents with baking instructions for a wonderful fresh meal.
2. Blueberry French Toast Casserole – Breakfast for dinner anyone? All ages love this.
3. Beefy Baked Ravioli – So hearty and delicious!
4. Breakfast Casserole with Hash Browns – Another great breakfast casserole that works as a filling dinner.
5. Baked Penne Pasta – This recipe makes a TON! Tip: Split it between 2, 8×8 dishes and freeze one for later!
6. Chicken Spaghetti – Another great down-the-pipe chicken recipe to take to new parents. Makes great leftovers too.
More Recipe Ideas
We're not even close to done! Here are some more favorite meal ideas for new parents from Thriving Home.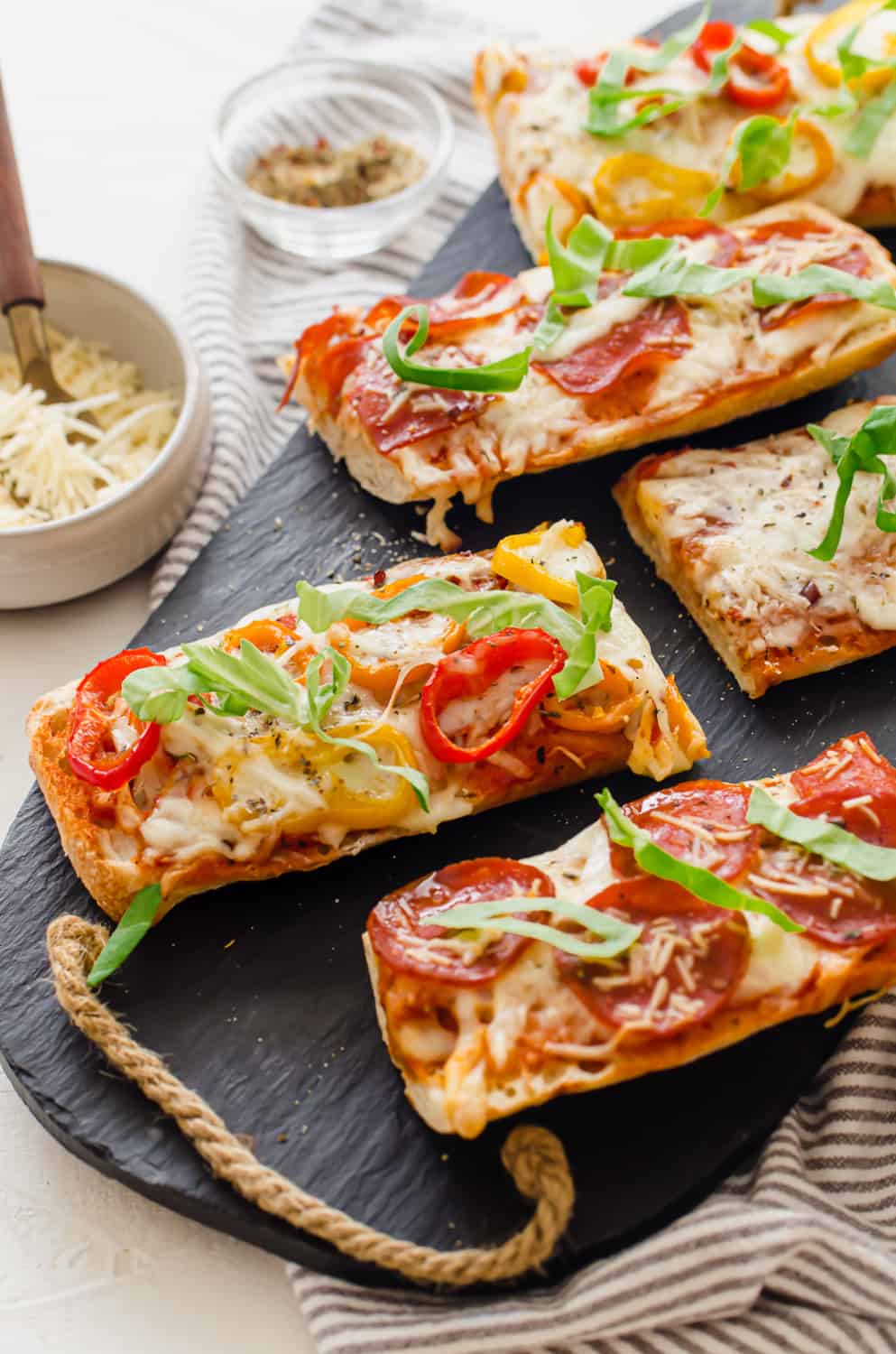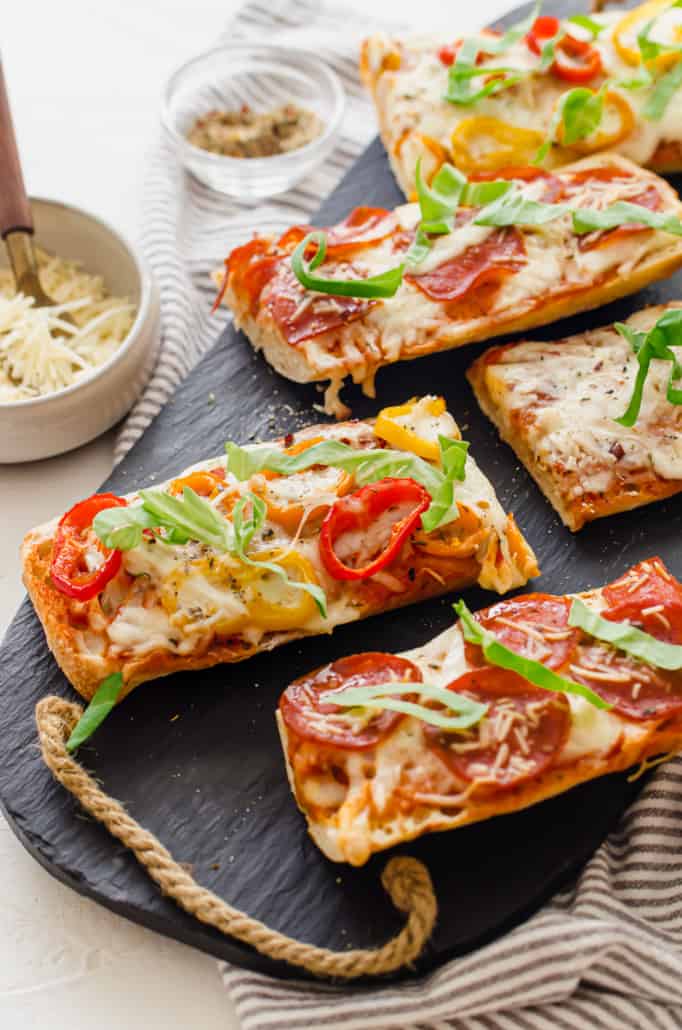 1. Pizza Bread – A great one for families that have kiddos.
2. Italian Baked Chicken Thighs – SO easy and so delicious. Totally family-friendly too.
3. Southwest Chicken & Bacon Wraps – These would be such a fun treat to have as a new mom. Cook the chicken all the way and deliver the meal with all the fixings (tortillas, bacon, cheese, etc.)
4. Baked Italian Meatballs – Giving meatballs to a new parent is a GREAT meal. They can put them over pasta or turn them into sub sandwiches. Just prep them up until baking and deliver them with the baking instructions.
5. Turkey Pesto Paninis – These can be assembled and wrapped individually for a great lunch!
6. Simple Granola – One of my go-to snack ideas to take a new mom!
7. Taco Meat – Such a great freezer staple that can be used in taco shells, on baked nachos, or wrapped in tortillas.
More Ideas:
MORE RECIPE IDEAS FOR NEW MOMS FROM OTHER SOURCES
While we hope you can find something above that a new mom would like, here are other recipe ideas from various food blogs.