This post may contain affiliate or sponsored links. Please read our disclosure policy.
Friends, making beef stew gets NO EASIER than this recipe. My mother-in-law taught me this one when I first got married, and I've been serving it up to big crowds ever since. Make ahead and freeze to have on hand for busy nights or when hosting a big group.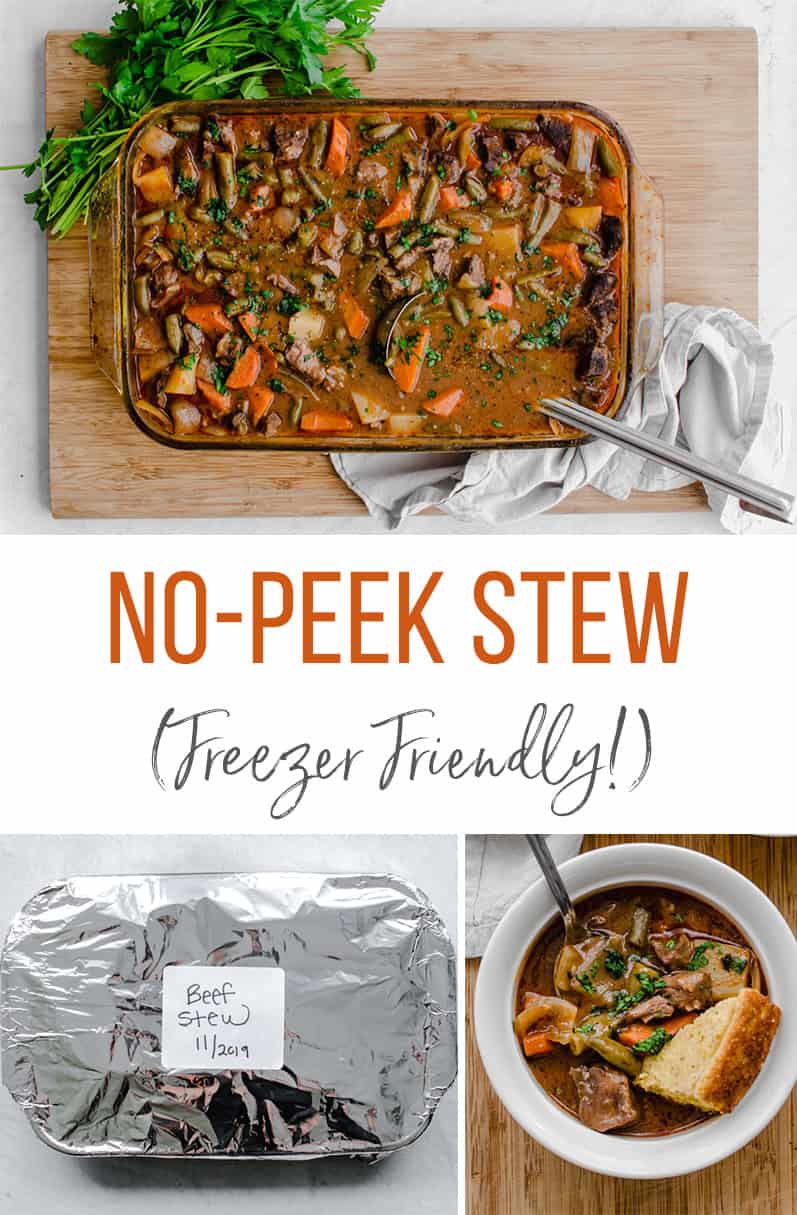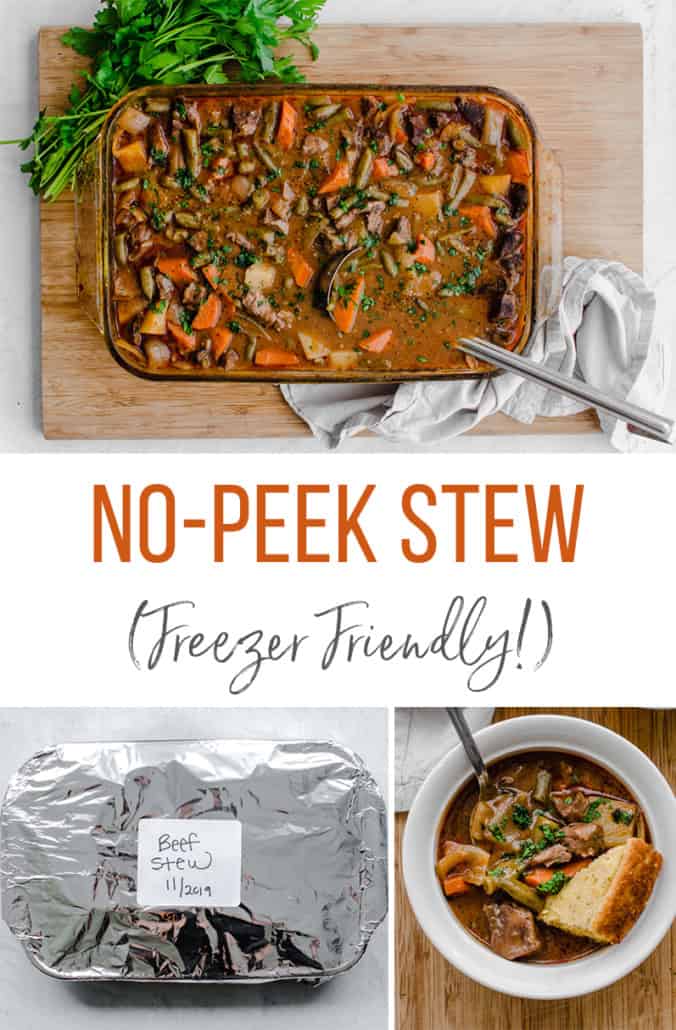 What Ingredients are in an Easy Beef Stew?
We took some shortcuts in this recipe so you can get dinner on the table with very little effort. If you'd like to make a whole foods version, try our Instant Pot Beef Stew recipe that's still pretty darn simple to put together.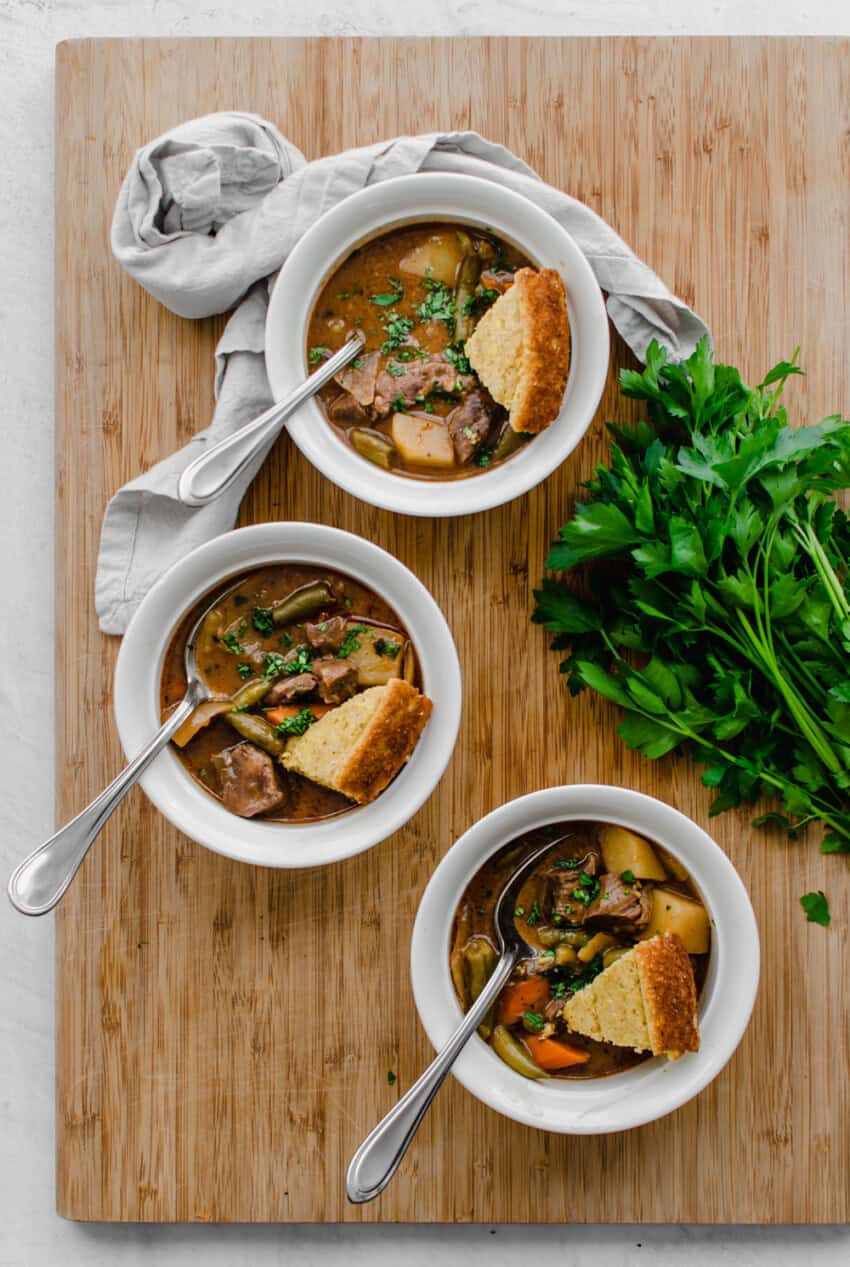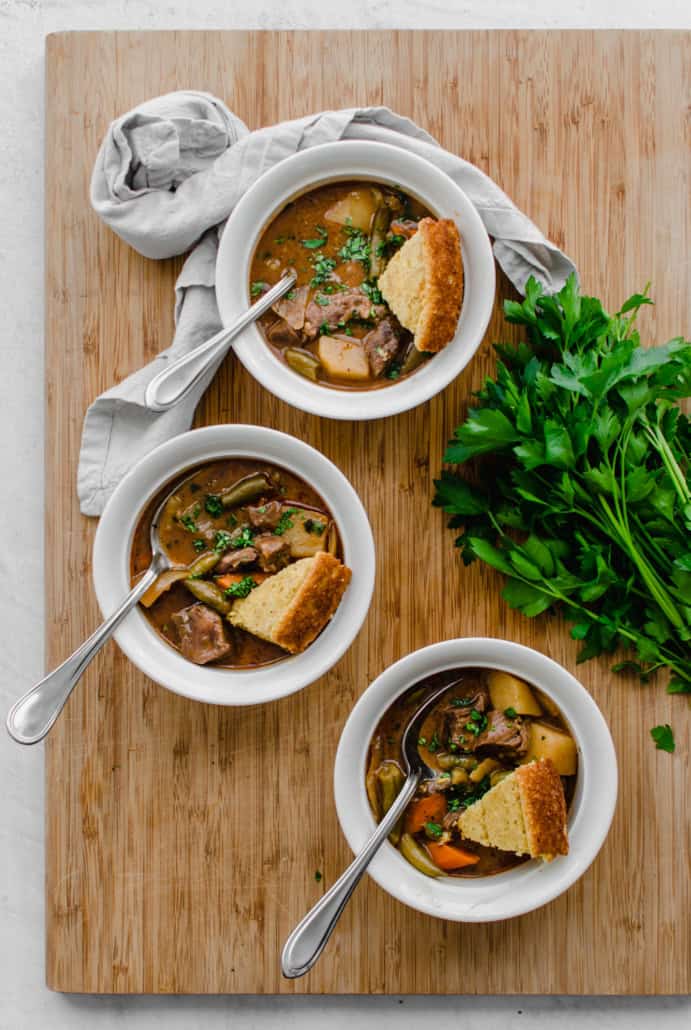 For this version, you'll start with some chopped onions, carrots, and potatoes. Then, throw in some beef stew meat. I use grass-fed beef (here's a round-up of our favorite grass-fed beef recipes and where we get our meat from), as it will get nice and tender during the long baking time. The final three ingredients just require a can opener: a can of green beans, a can of organic tomato soup, and a can of organic cream of mushroom soup.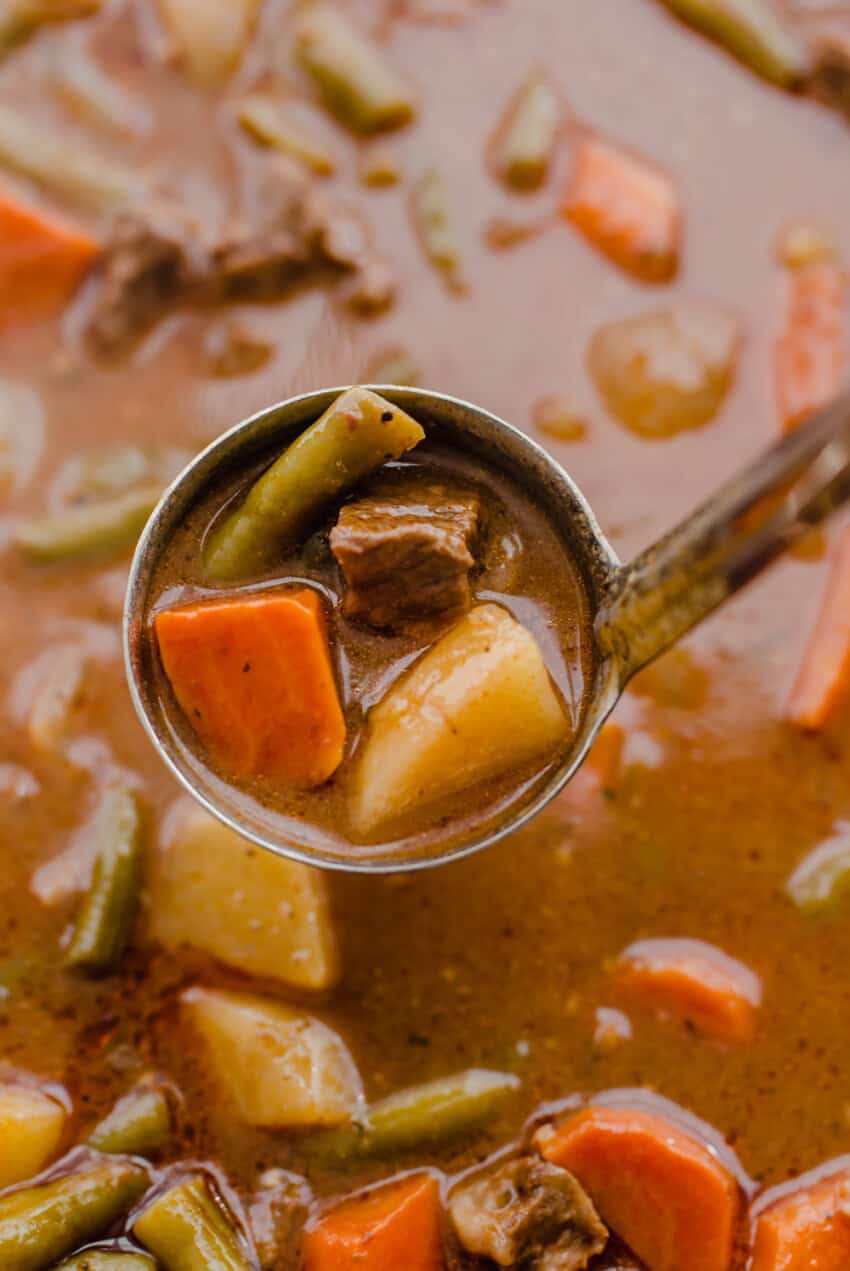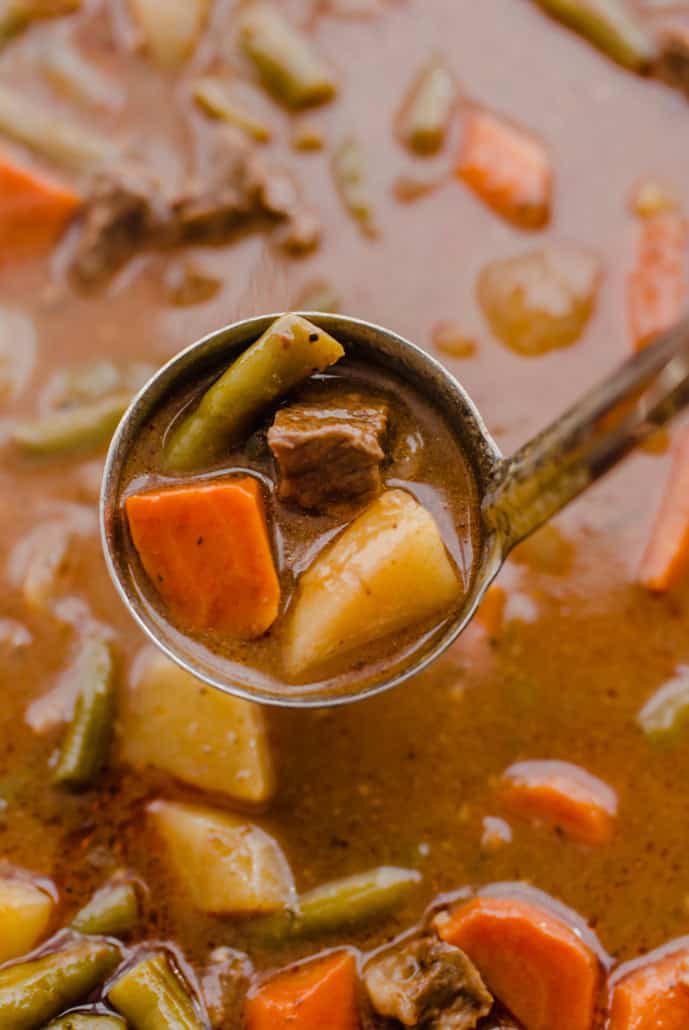 Now, you'll notice this recipe does include some canned, pre-made items, which I normally avoid. But, sometimes it's nice to take some help from the store. So, I just do my best to find organic, BPA-free options. Definitely read labels and find the canned items with the most recognizable and fewest ingredients.
How Do You Make an Easy Beef Stew?
The beauty of this stew recipe is that you simply dump everything in the casserole dish that it bakes in, stir it up, and bake. You'll end up with a tasty meal at the end of the day and only ONE dirty dish. Nice.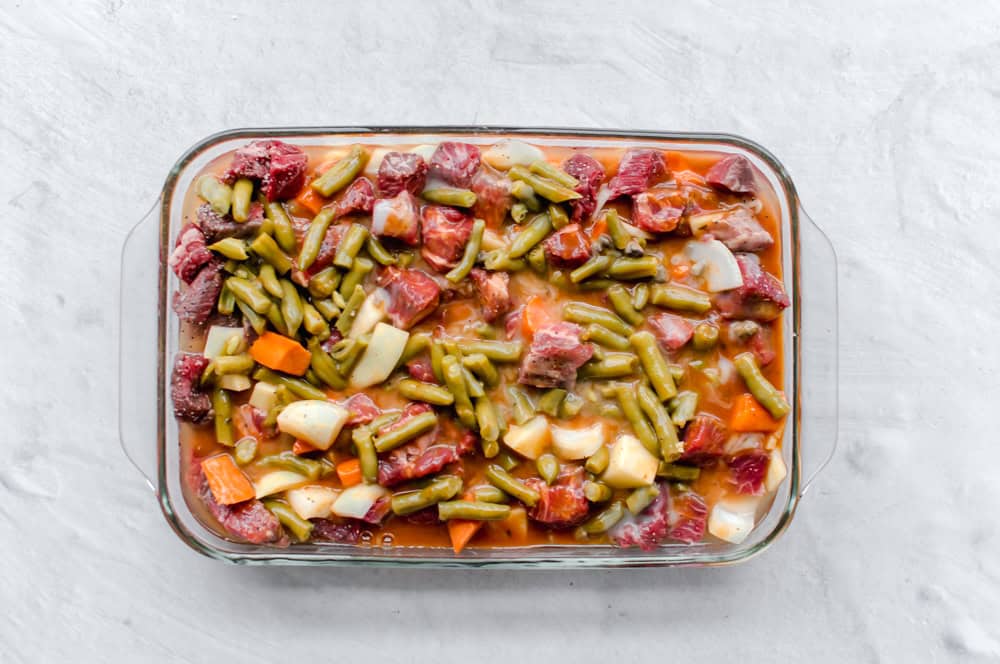 Throw all the ingredients in the oven around lunchtime (or in the slow cooker in the morning), DO NOT PEEK, and you've got a hearty and tasty dinner ready later in the day!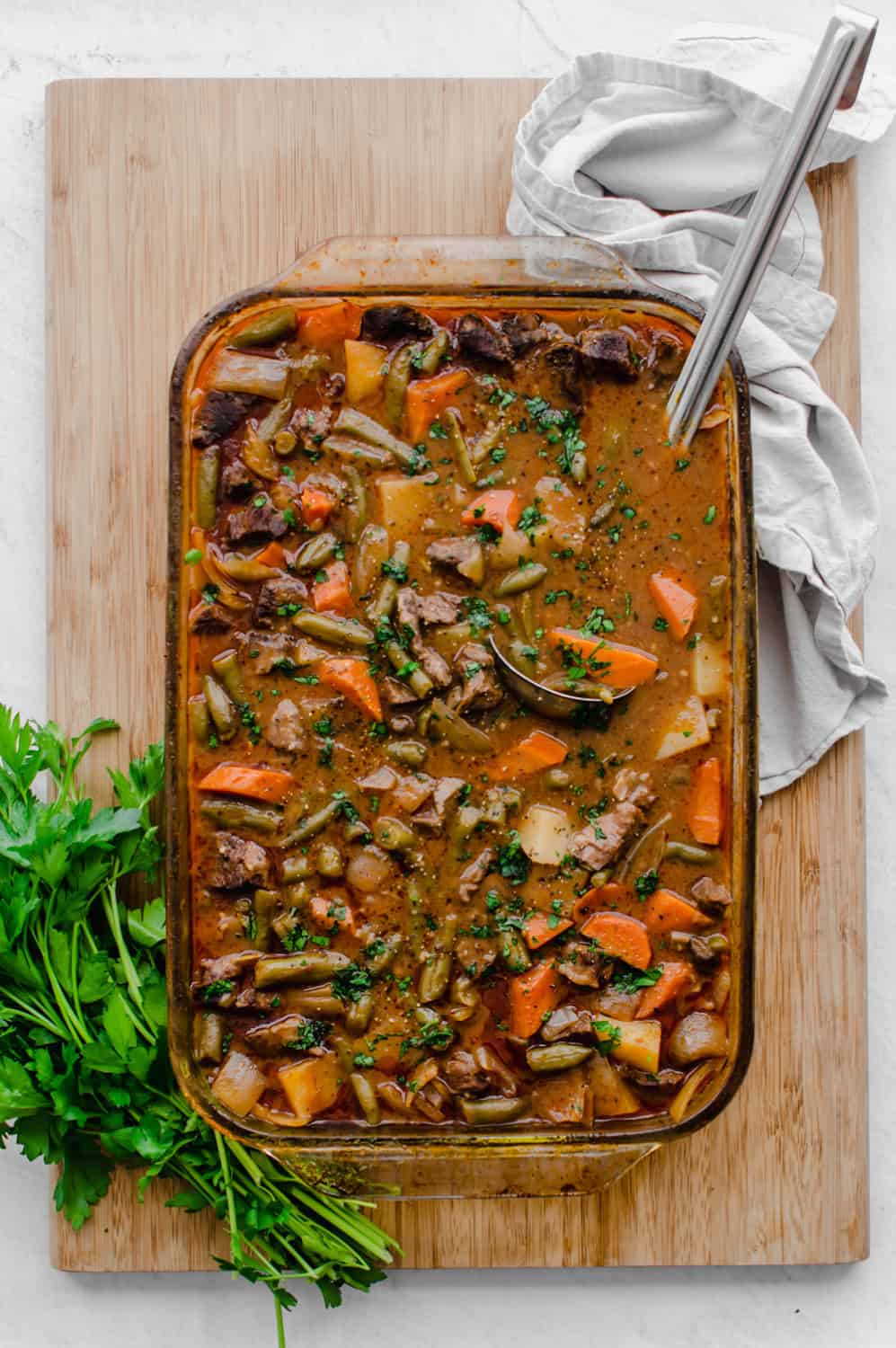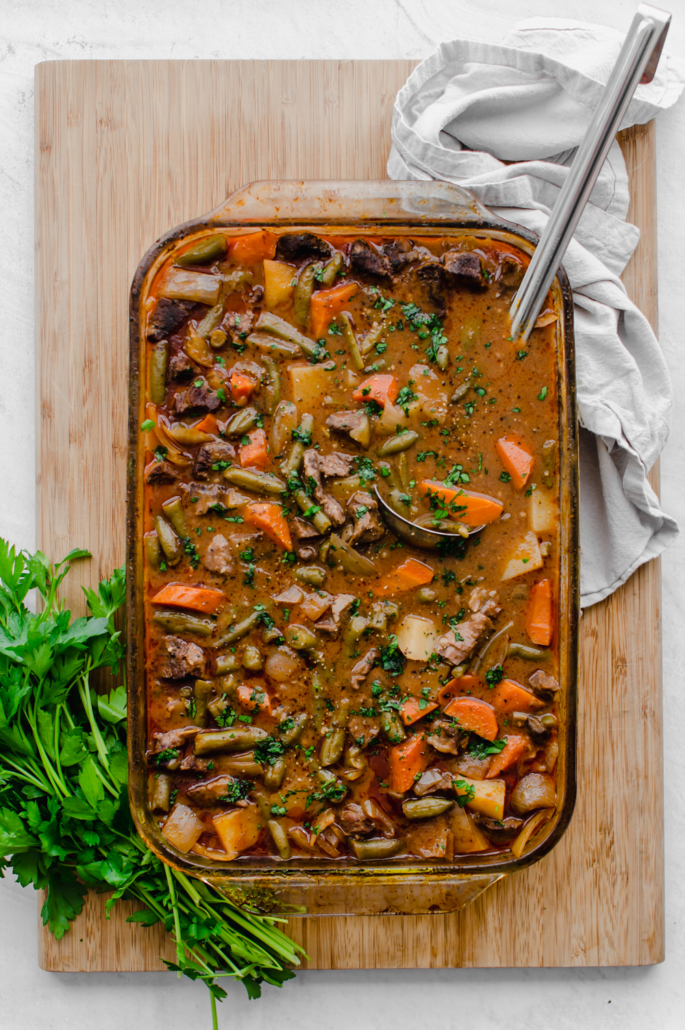 This recipe makes 6-8 servings easily, so it's great for a large family or for serving a crowd. Be sure to pin this image for later, so you can make it for your family anytime.


How to Make Ahead and Freeze Beef Stew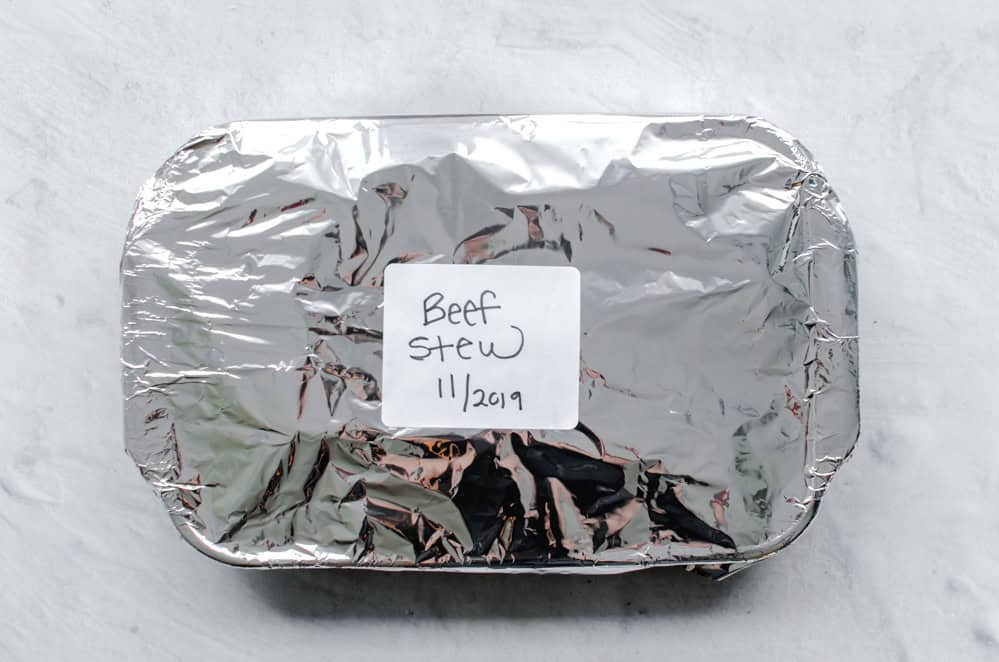 Our easy No-Peek Stew can easily be made ahead of time and frozen for later. We've included freezer meal instructions for preparing it uncooked or fully cooked in the recipe below. Pro Tip: If you're making one No-Peek Stew for tonight, go ahead and double the recipe and freeze one for later.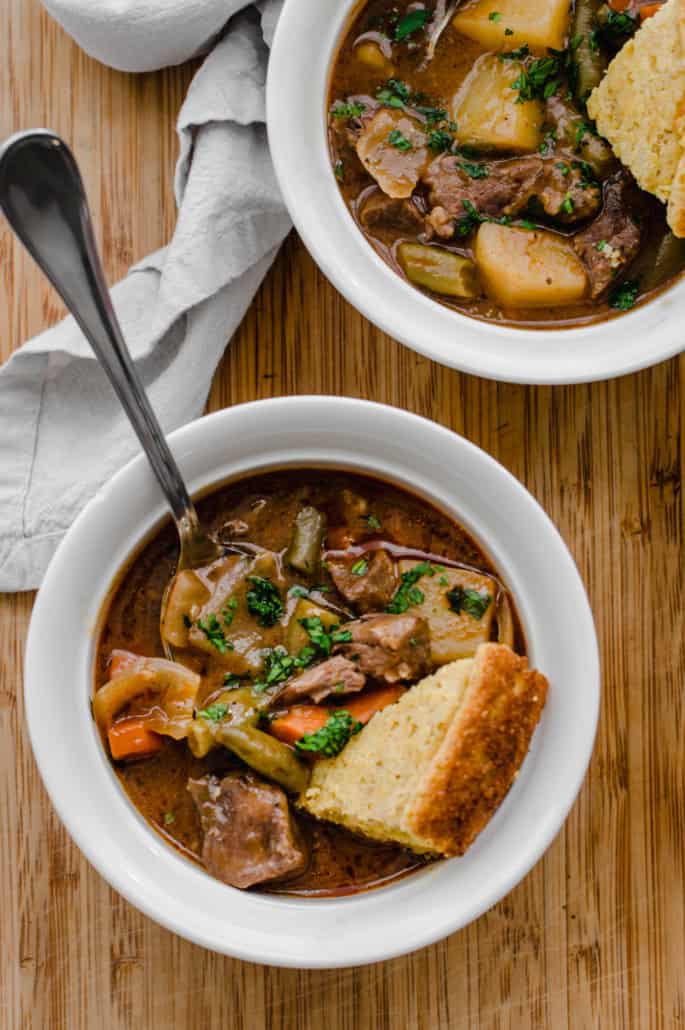 When it comes to packaging and storing any Beef Stew as a freezer meal, selecting the right container can make all the difference. Packaging and storing it the right way in the freezer means your make-ahead meal will taste fresh on the other end of its stay in the freezer! Yes, it's true.
Read our article about the 5 Best Ways to Package and Store Freezer Meals here and stock up on some great freezer storage containers.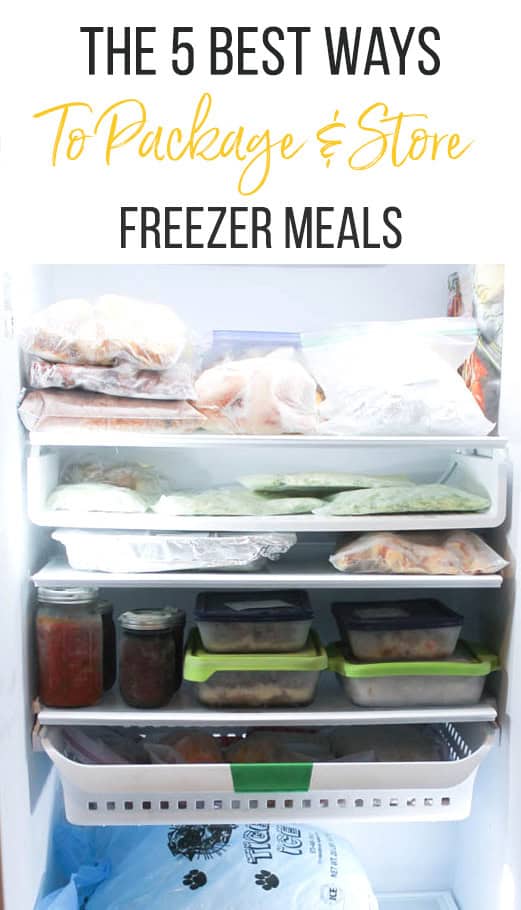 I think you're going to love my mother-in-law's No-Peek Stew recipe. It's nearly impossible to mess up and makes your whole home smell amazing! Whether you're serving a group or want dinner plus leftovers, this delicious dump-and-go meal is a winner dinner.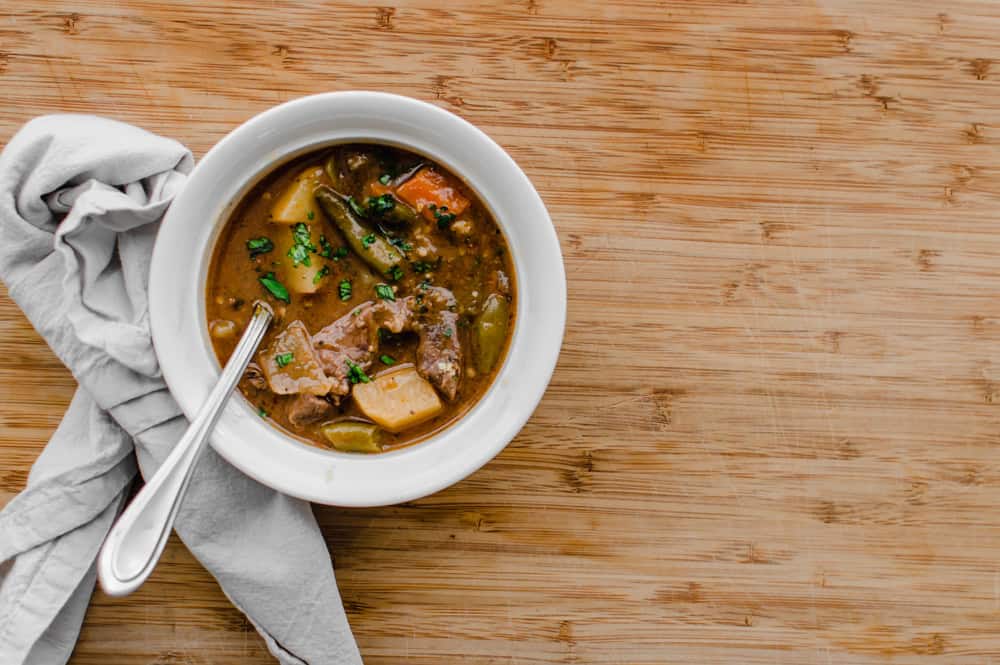 We've rounded up 15+ amazing dump and go slow cooker recipes. Bonus: You can make them ahead and freeze these meals for later, too. Freezing instructions included!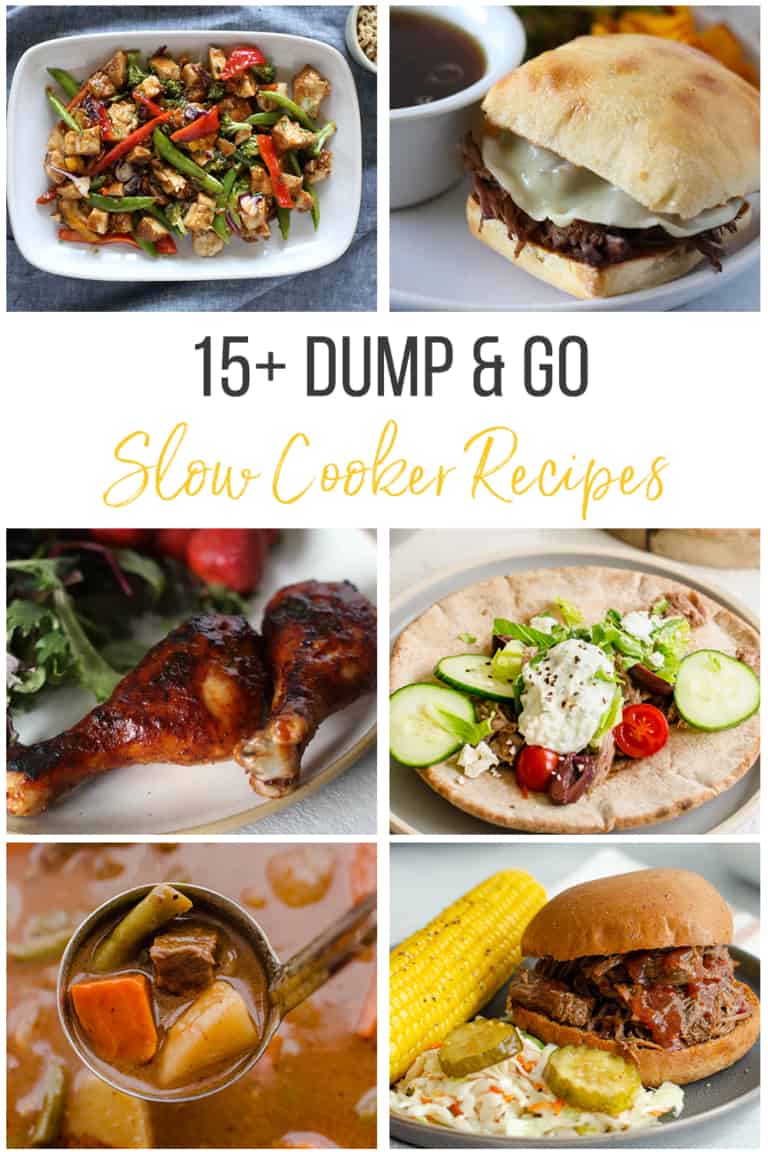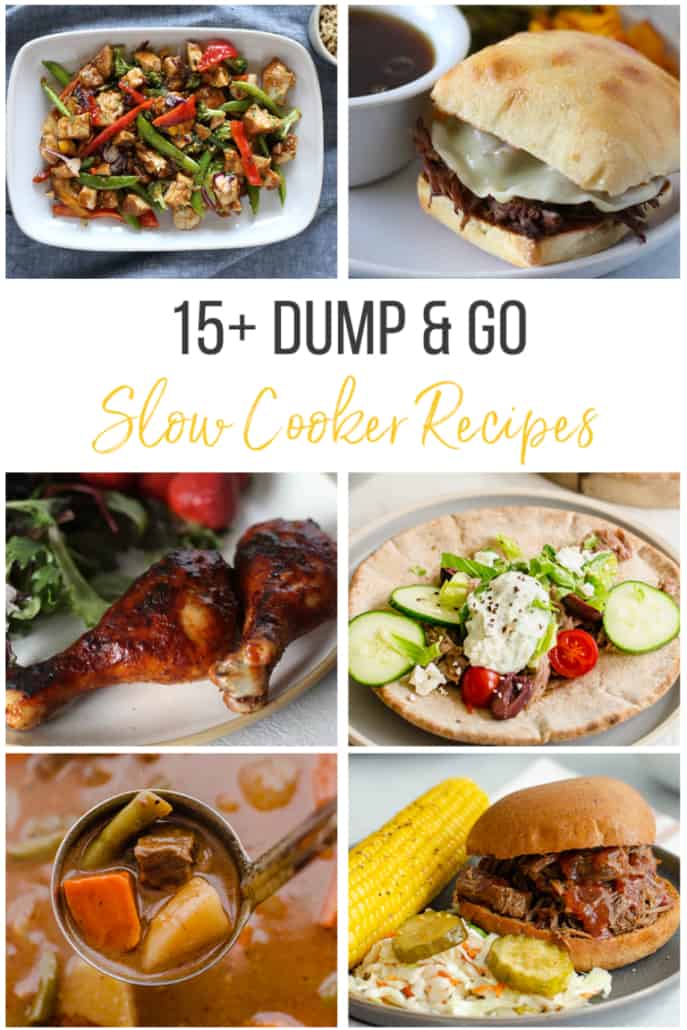 Did you make this? Snap a photo and tag us on Instagram at @thrivinghome so we can see your creations and cheer you on!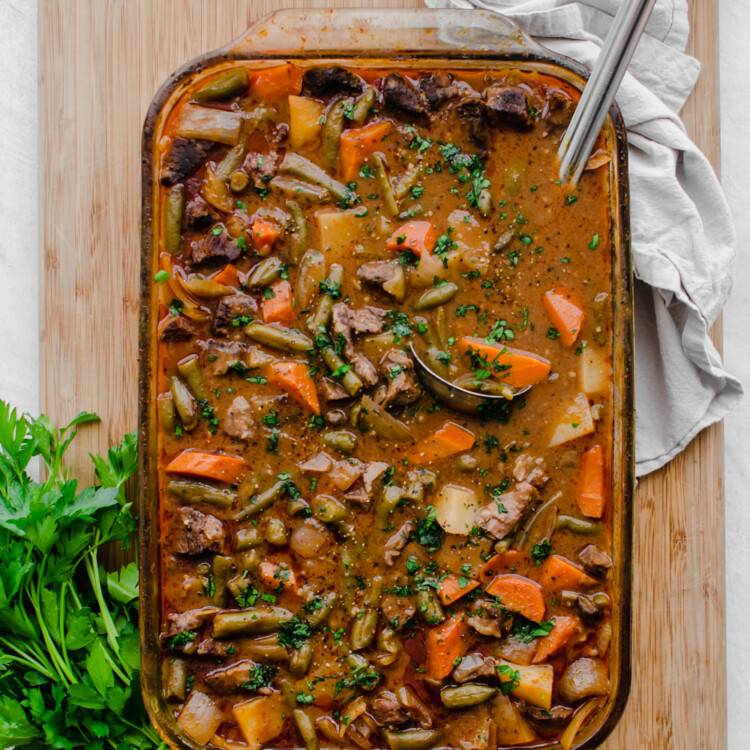 No-Peek Stew Recipe
Making beef stew doesn't get easier than this recipe! Throw all the ingredients in the slow cooker in the morning or in oven around lunch time, DO NOT PEEK, and you'll end up with a hearty and tasty dinner for a crowd.
Prep:
15 minutes
Cook:
5 hours
Total:
5 hours 15 minutes
Ingredients
2

lbs of beef stew meat (or chuck roast, trimmed and cut-up in about 1-inch chunks)

2

–

3

baking potatoes, peeled and cut up into about

1

-inch chunks

3

large carrots, peeled and cut up into about

1

-inch chunks

1

large onion, cut up into about

1

-inch chunks

1/2 teaspoon

black pepper, or more to your preference

1

(15 ounces) can of green beans, liquid and all

1

(15 ounces) can of tomato soup (preferably organic)

1

(15 ounces) can of cream of mushroom soup (preferably organic)
Before You Begin! If you make this, please leave a review and rating letting us know how you liked this recipe! This helps our business thrive & continue providing free recipes.
Instructions
Make It Now:
Oven Method:
Preheat oven to 275° F.
Spray a 9×13 inch casserole dish with cooking spray. Add stew meat, potatoes, carrots, and onions to the casserole dish. Season with the pepper and gently stir together.
Dump the can of green beans, liquid and all, over the top of meat and vegetables. Then, pour the tomato soup and cream of mushroom soup over the top. Gently combine with a spoon if you want, but not necessary. Tightly cover with foil.
Place casserole dish on a cookie sheet with sides, in case of overflow. Bake for 5 hours. Don't peek!
Slow Cooker Method: Stir together all the ingredients in a 6 quart slow cooker. Place the lid on and set to LOW for 8-10 hours. (Do not peek!)
Freeze For Later:
Option 1 (Uncooked): Follow Steps 2-3, except cover tightly with a few layers of plastic wrap and foil, squeezing out any excess air. Freeze.
Option 2 (Fully Cooked): Fully cook and cool the stew (do not leave outside of refrigerator or freezer more than 2 hours!). Place in a freezer bag or freezer-safe container. Try to remove as much air as possible and seal and/or wrap it well before placing in the freezer.
Prepare From Frozen:
Option 1 (Uncooked): Thaw the casserole in the refrigerator for 24-48 hours. Remove the plastic wrap and cover tightly with one layer of foil. Bake as directed in Step 4 (or use the slow cooker method).
Option 2 (Fully Cooked): To reheat, thaw for 24-48 hours in the refrigerator (preferred method) or in the microwave using the defrost setting. Then, warm over low heat on the stove or in the slow cooker, gently stirring occasionally until warmed through.
---
Notes/Tips
Where We Get Our Beef: We get our beef from ButcherBox. The beef is grass-fed and curated from trusted farms. We highly recommend this service to source healthy meat–like uncured bacon, chicken, and wild salmon–and have used it for years ourselves.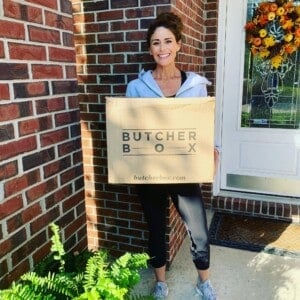 Try our Instant Pot Beef Stew for another quick meal the whole family will love.