Slow Cooker Cheddar and Bacon Potato Soup
This post may contain affiliate or sponsored links. Please read our disclosure policy.
When the air turns crisp and the leaves start to change, making a comforting batch of Cheddar and Bacon Potato Soup is mandatory. Using the slow cooker means your home will smell cozy and delicious, too!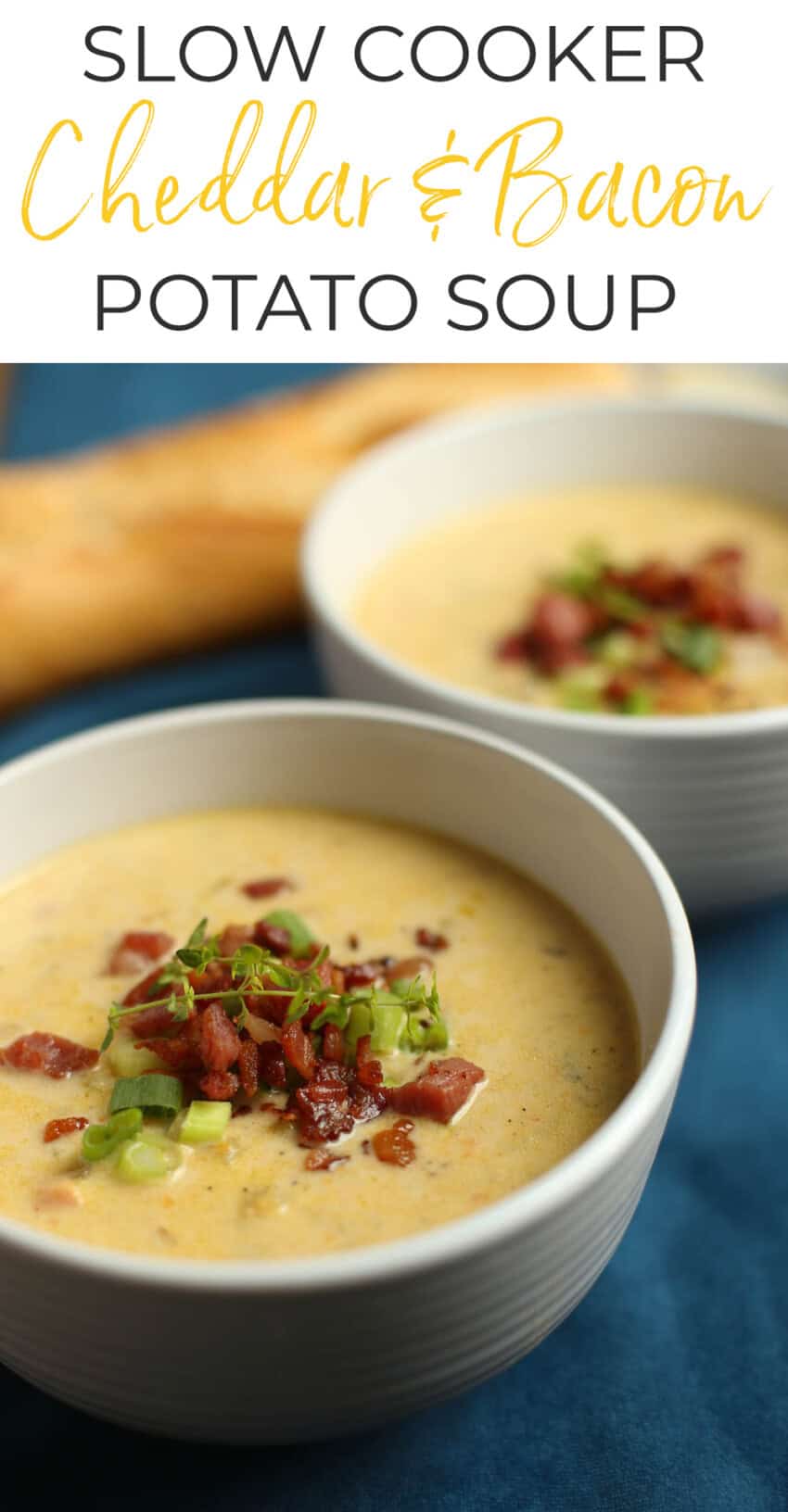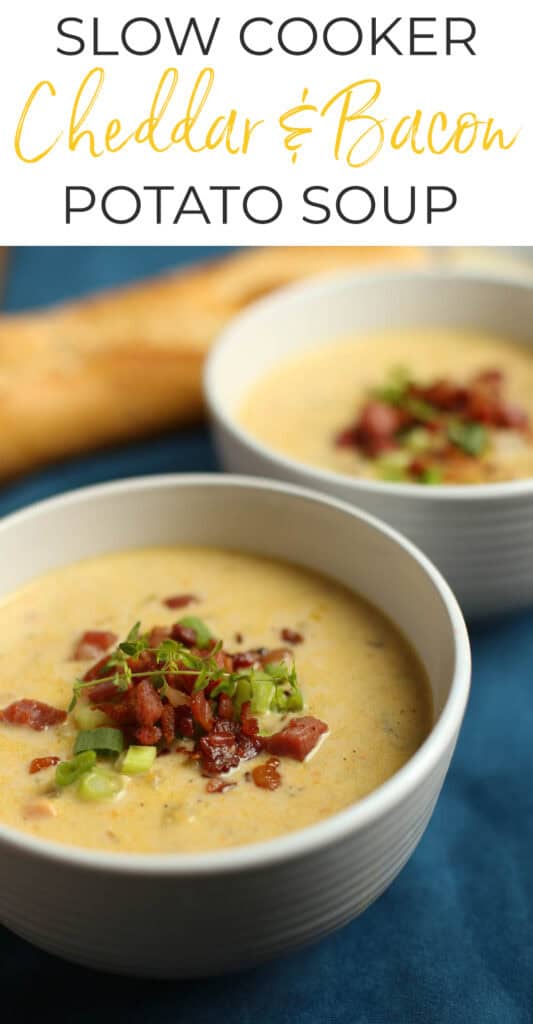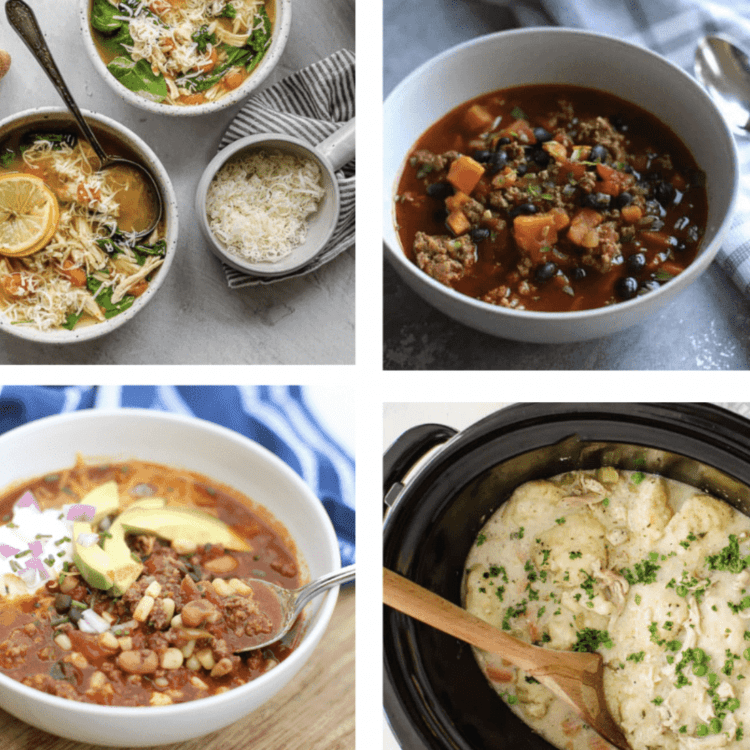 10+ Amazing Crock Pot Soups
If you like slow cooker soups, you will love this round up we have put together with our best of the best recipes.
See 10+ Crock Pot Soup Recipes
How to Make Cheddar and Bacon Potato Soup in the Slow Cooker
You'll start by sauteing the bacon in a pan until crisp, removing it for topping the soup at the end, and then…wait for it…sauteing your aromatics in the bacon fat. Cooking the onions, carrots, celery, and garlic in bacon grease, my friends, is pure soup-making magic. Your entire pot of soup will be infused with the three "S"es of all good bacon: Savoriness, Saltiness, and Smokiness.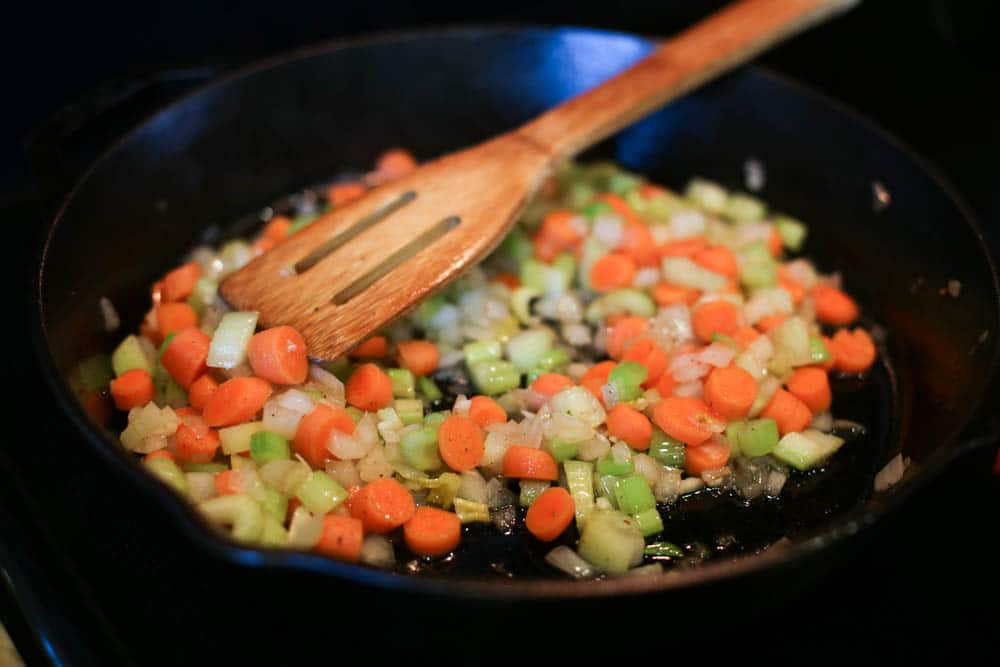 You'll add your deeply flavored aromatics to your slow cooker, along with the potatoes. To save time, we used baby Yukon gold potatoes in this recipe. This creamy variety of potatoes don't require peeling, saving you on prep time. Stir in some high quality chicken stock (or broth), fresh thyme sprigs, bay leaves, and salt and pepper.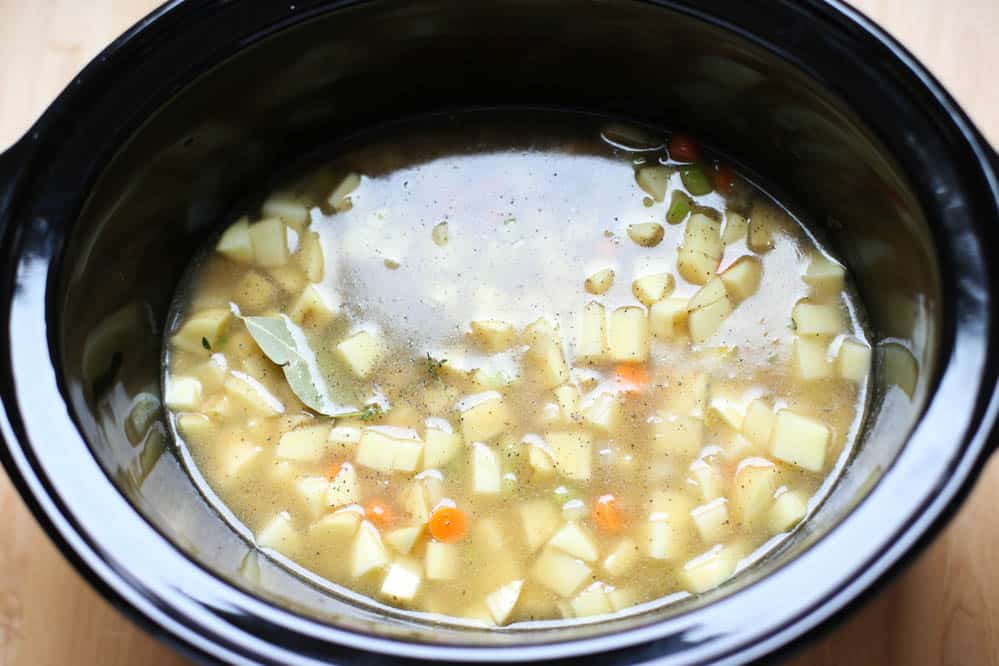 Pop on the lid, set it on LOW for 6-8 hours (depending on how hot your cooker runs), and forget about it. After it's done, you'll stir in some half and half, sour cream, shredded cheddar cheese, and then give it a little mash-up with a potato masher. We will go on record saying that the half and half makes this soup what it is. It just wasn't the same when we tested it with milk. Note: it may seem thin at first, but the soup will thicken up significantly as it sits. Trust us.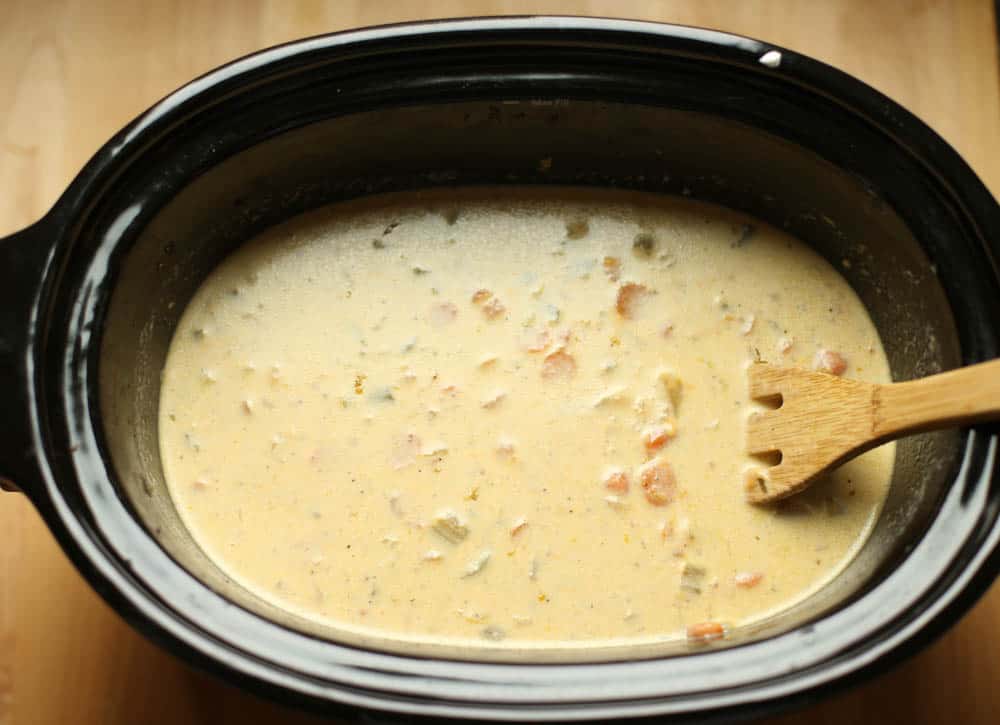 Now, we know it's hard to resist eating the soup straight out of the slow cooker, but restrain yourself because there's more goodness to come. That's because our star of the show returns at the end…mmm, bacon.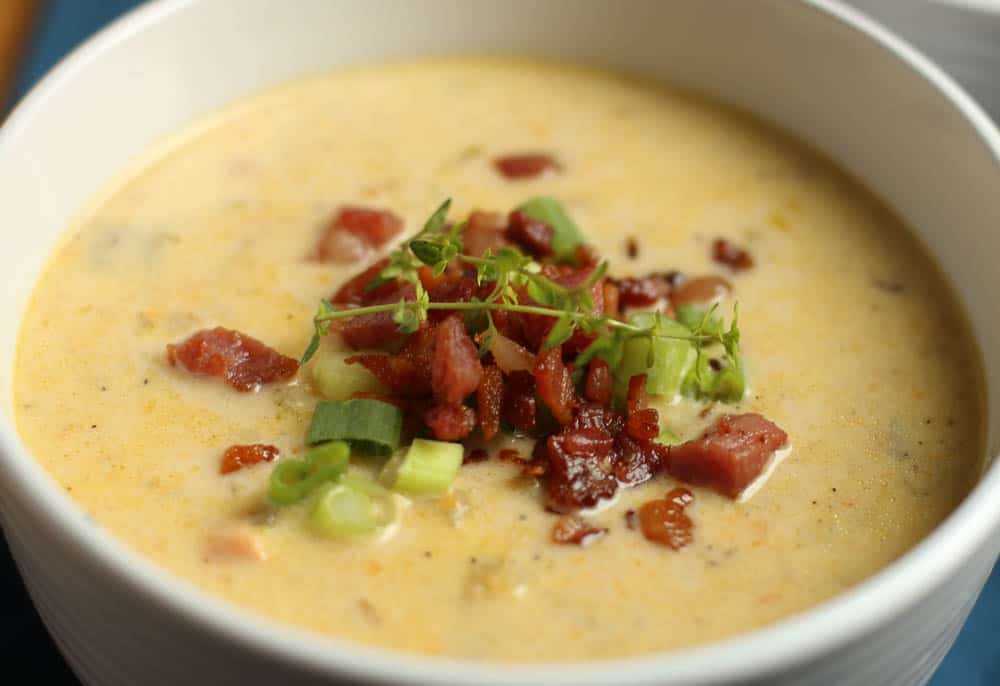 Generously top each bowl of piping hot soup with some sliced green onions and the bacon bits you cooked up earlier. If you want to get fancy-schmancy, place a sprig or two of thyme on top, as well.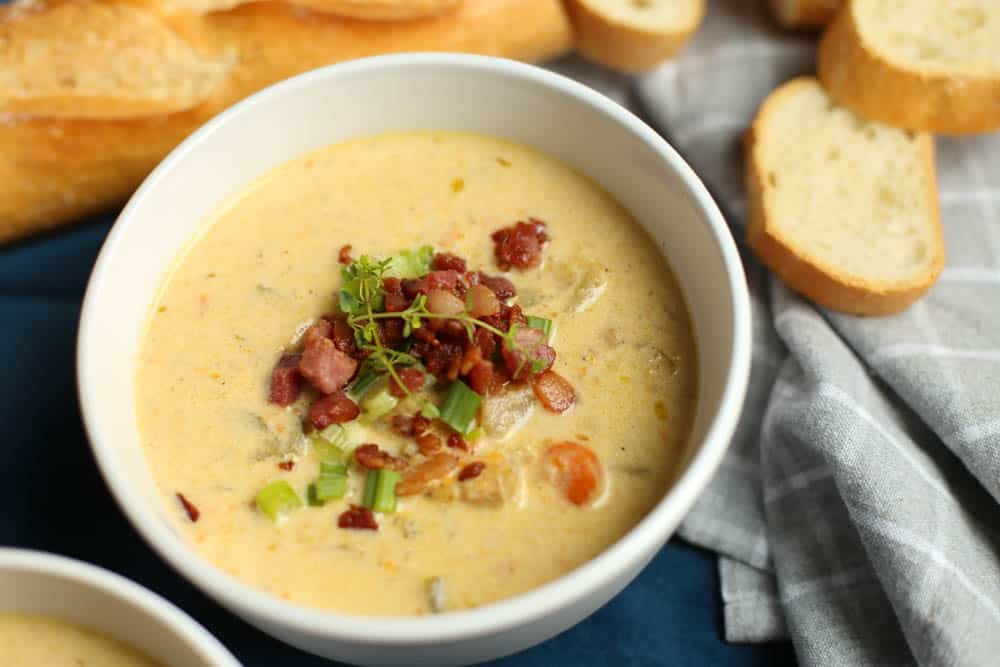 All you need to complete this veggie-rich soup is a good loaf of bread and a cool fall evening or cold winter's night. And friends and family. Lots of friends and family.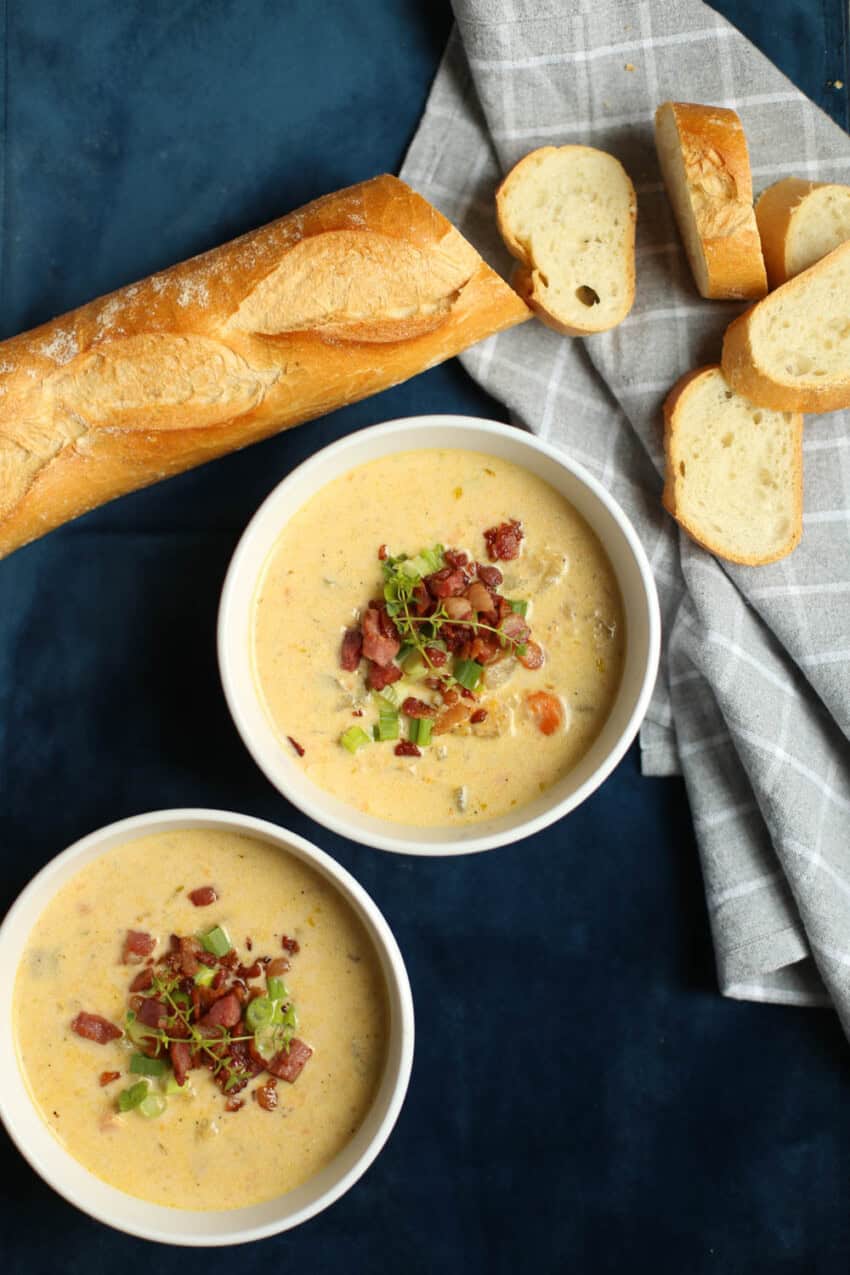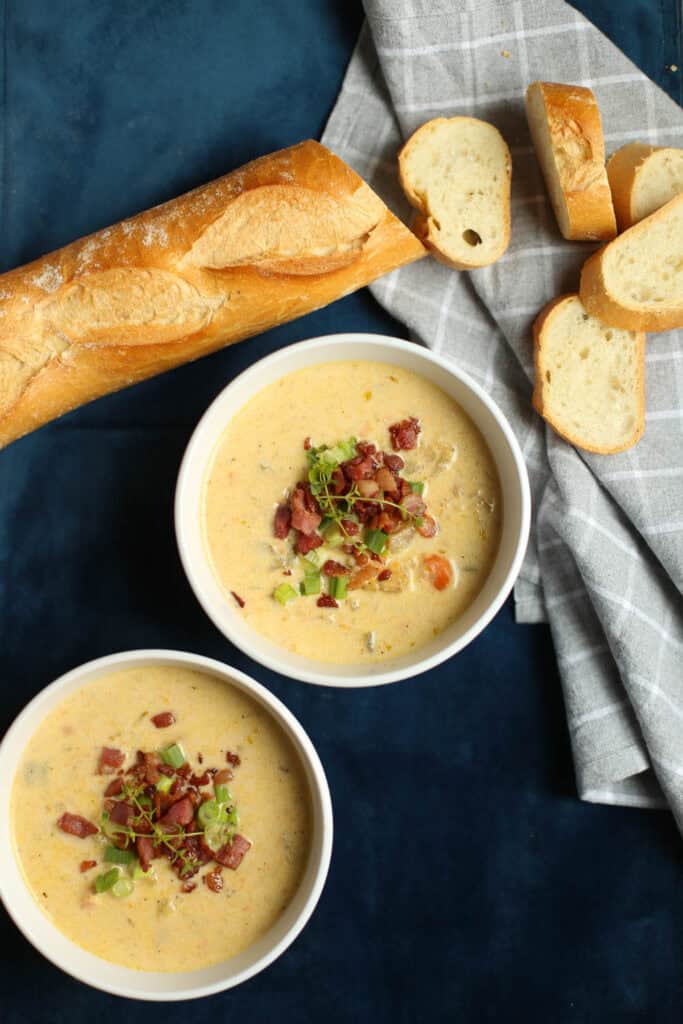 Can I Make This Soup Dairy-Free?
We know many of our readers have dietary restrictions. This soup is already gluten-free, but if you're trying avoid dairy, we have a simple tip. All you have to do is skip the step of adding half and half, sour cream, and cheddar cheese at the end. I tested this dairy-free version during development and can highly recommend it! Because the broth is so flavorful thanks to the aromatics and bacon, this Potato Soup can really stand on it's own without the dairy. It's that simple! Be sure to top with green onions and bacon like the recipe calls for.
Can I Freeze Cheddar and Bacon Potato Soup?
This soup is absolutely freezer-friendly! We've given you instructions for making it ahead of time and freezing it, so you can have Potato Soup on hand any night of the week or for a special gathering in the future. You can either fully cook it and freeze it; or prep the ingredients, freeze, and cook it fresh later. Feel free to double the batch, since doubling is a great use of your time and the bigger batch will cook at the same rate as the recipe indicates.
Want more freezer-friendly Crockpot meals?
We have SO many to choose from in this roundup of 20+ Crockpot Freezer Meals. Make sure to hop over and browse around.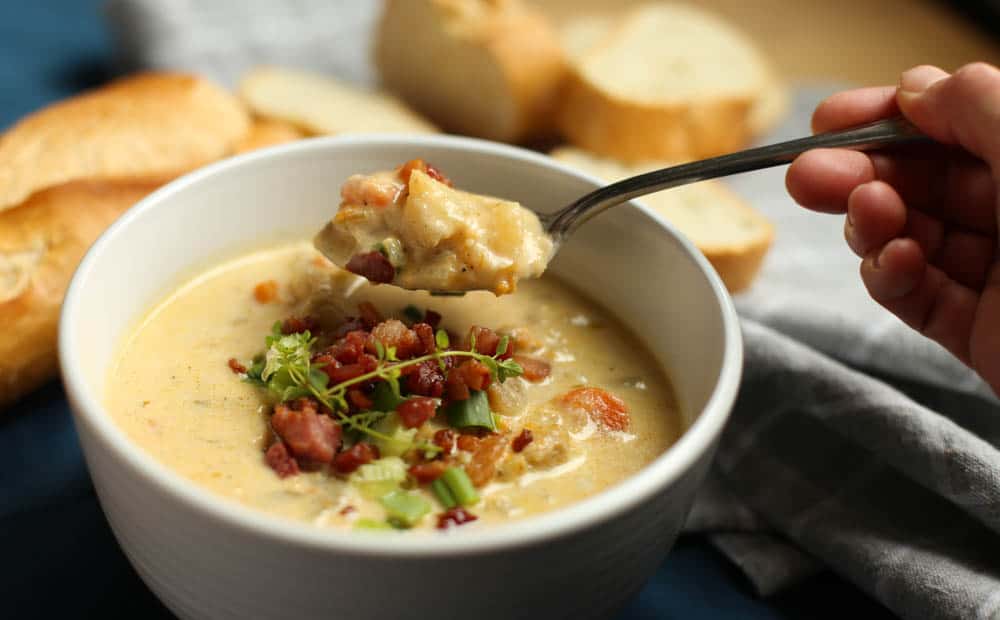 Extra Benefit: Sneaky Nutrition for Picky Kids
We have to mention one more surprising advantage of this delicious soup. It's actually laden with vegetables–onions, carrots, celery, potatoes, green onions, and garlic. My often picky children gobble this soup up and ask for more. So, I've found it to be a secret weapon for adding in more nutrition. It really is a kid-favorite and adult-favorite meal.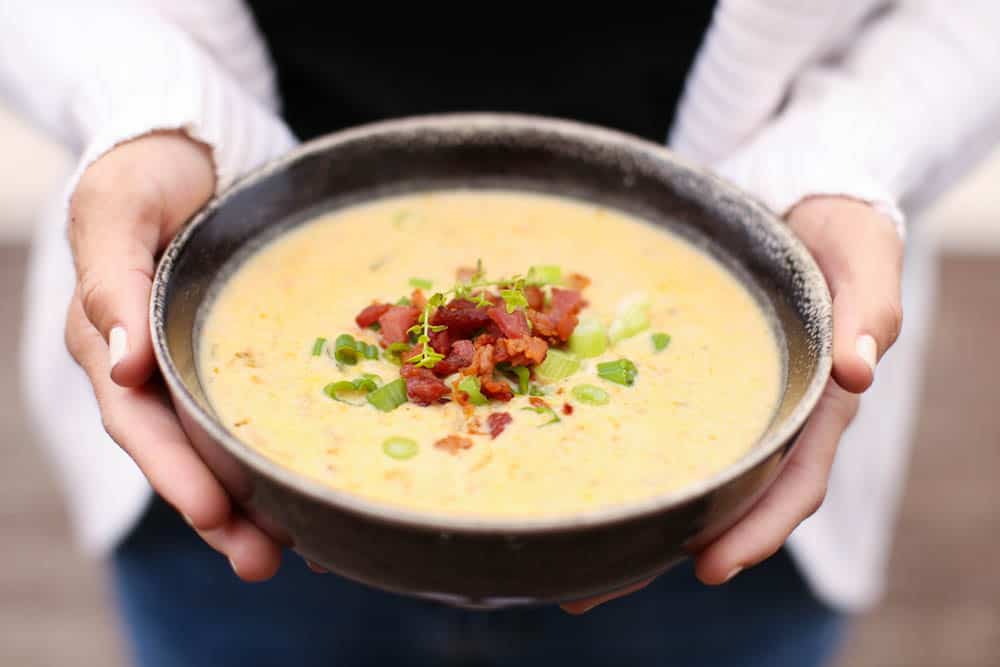 We hope you can set aside some time this week to whip up a batch (or two) of Slow Cooker Cheddar and Bacon Potato Soup and enjoy a bowl on the next cold evening. Stay cozy and long live bacon!
Did you make this? Snap a photo and tag us on Instagram at @thrivinghome so we can see your creations and cheer you on!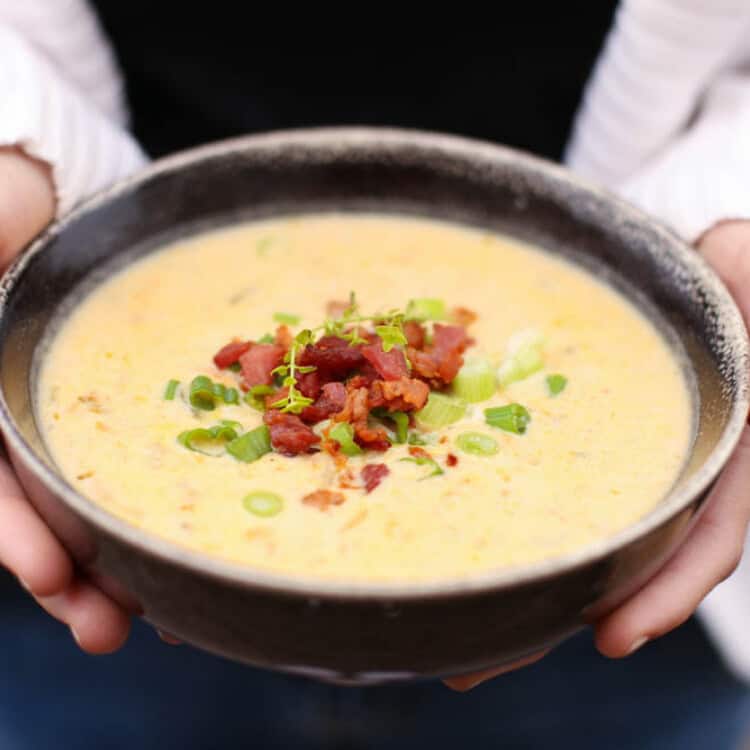 Slow Cooker Cheddar and Bacon Potato Soup
This decadent, comforting potato soup makes your home smell amazing after it slow cooks all day. Serve with a warm loaf of bakery bread for a cozy fall or winter dinner!
Prep:
30 minutes
Cook:
8 hours
Total:
8 hours 30 minutes
Ingredients
1/2

pound bacon, diced

1 1/4

cups

diced onions (about 1 medium onion)

1

cup

diced carrots (2-3 carrots)

1

cup

diced celery (2-3 ribs celery)
Salt and ground black pepper

2

cloves garlic, minced

3

cups

1/2-inch diced Yukon gold potatoes (about 1.5-2 pounds; no need to peel)

3

cups

chicken stock (or broth)

2

fresh thyme sprigs

1

bay leaf

1/2

cup

sour cream

1/2

cup

half and half

2

cups

shredded cheddar cheese (it's best if you

grate your own

)
Chopped green onions or chives, for serving
Before You Begin! If you make this, please leave a review and rating letting us know how you liked this recipe! This helps our business thrive & continue providing free recipes.
Instructions
Make It Now:
Place bacon in a large skillet, then turn on medium-high heat. Fry the diced bacon until crisp. Remove to a paper towel-lined plate, leaving 1-2 tablespoons of bacon grease in the pan. Set aside in the refrigerator.
Saute the onions, celery, and carrots in the bacon grease until tender, about 5 minutes. Lightly season the vegetables with salt and pepper while they cook. Add garlic and cook for about 30-60 seconds more, making sure it doesn't burn. (Freezing instructions begin here.)
Place cooked veggies in a 6 quart slow cooker and add the potatoes, broth, thyme sprigs, bay leaf, 1 teaspoon salt, and ½ teaspoon pepper. Stir to combine.
Cover and cook on low for 6-8 hours, until potatoes are very tender.
Remove the thyme sprigs and bay leaf. If you want, use a potato masher to mash until it is your preferred texture. Doing this will help the soup thicken up.
Stir in the sour cream and half and half. Slowly stir in the cheese a little at a time until it's melted and well combined. Taste and add more salt and pepper, to your preference.
Serve bowls of soup with the cooked, crumbled bacon and green onions or chives on top.
Freeze for Later:
Method 1 (Uncooked): Place cooked bacon in a quart-sized freezer bag and seal. Place cooked and cooled veggies, broth, thyme, bay leaf, 1 teaspoon salt, ½ teaspoon pepper, and potatoes in a gallon-sized freezer bag or container. Seal and freeze. (Note: Make sure the potatoes are completely submerged in the liquid to avoid browning.) Package up the cheese in a quart-sized freezer bag and freeze along with the soup. Do not freeze the half and half, as you will add this as a fresh ingredients at the end.
Method 2 (Fully Cooked): Fully cook the soup through step 6 and let it cool. Place the soup in 1 or 2 gallon-sized freezer bags or containers and seal. Place cooked bacon in a quart-sized freezer bag and seal. Freeze together as a kit.
Prepare From Frozen:
Method 1 (Uncooked): (Note: You will need sour cream, half and half, and green onions to make this recipe.) Thaw. Follow instructions beginning with Step 3.
Method 2 (Fully Cooked): (Note: You will need the sliced green onions on hand.) Thaw using one of these safe methods. Warm over low heat in the slow cooker or on the stove top, stirring occasionally, until warmed through. Follow step 7 for serving.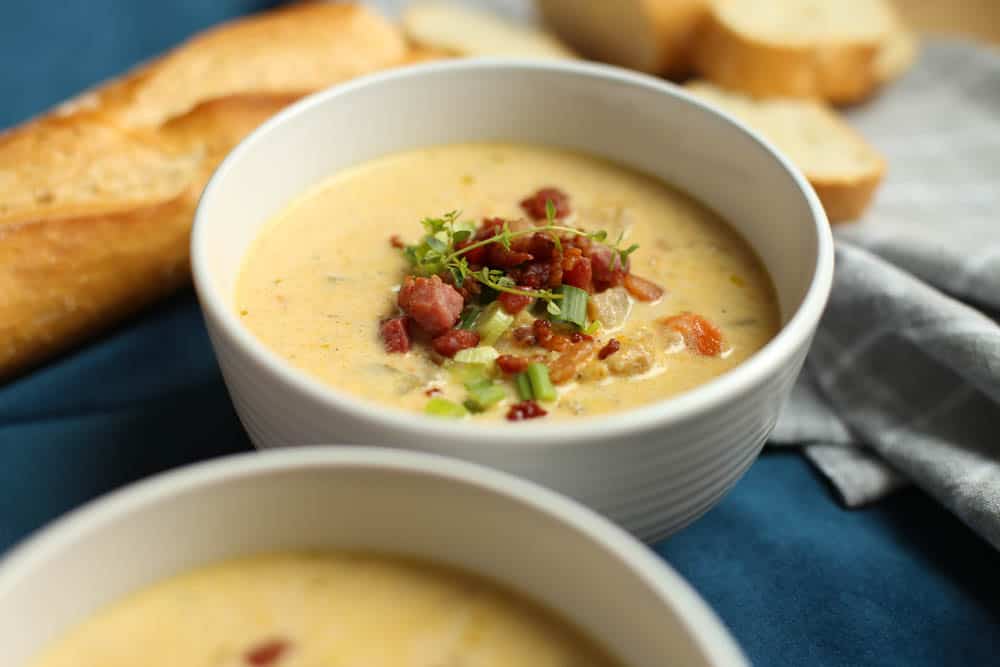 Want more slow cooker recipes?
Visit our 25+ Slow Cooker Recipes for Groups of People!