ButcherBox Review: My Honest Thoughts (2023)
This post may contain affiliate or sponsored links. Please read our disclosure policy.
I've had a ButcherBox subscription for years now and people ask me all the time: Do you like it? What are the advantages? How much does it cost? What are your favorite cuts of meat? So, I put together this comprehensive, honest ButcherBox review to help you decide if it's right for you. I'll also share how to get the best deal when ordering.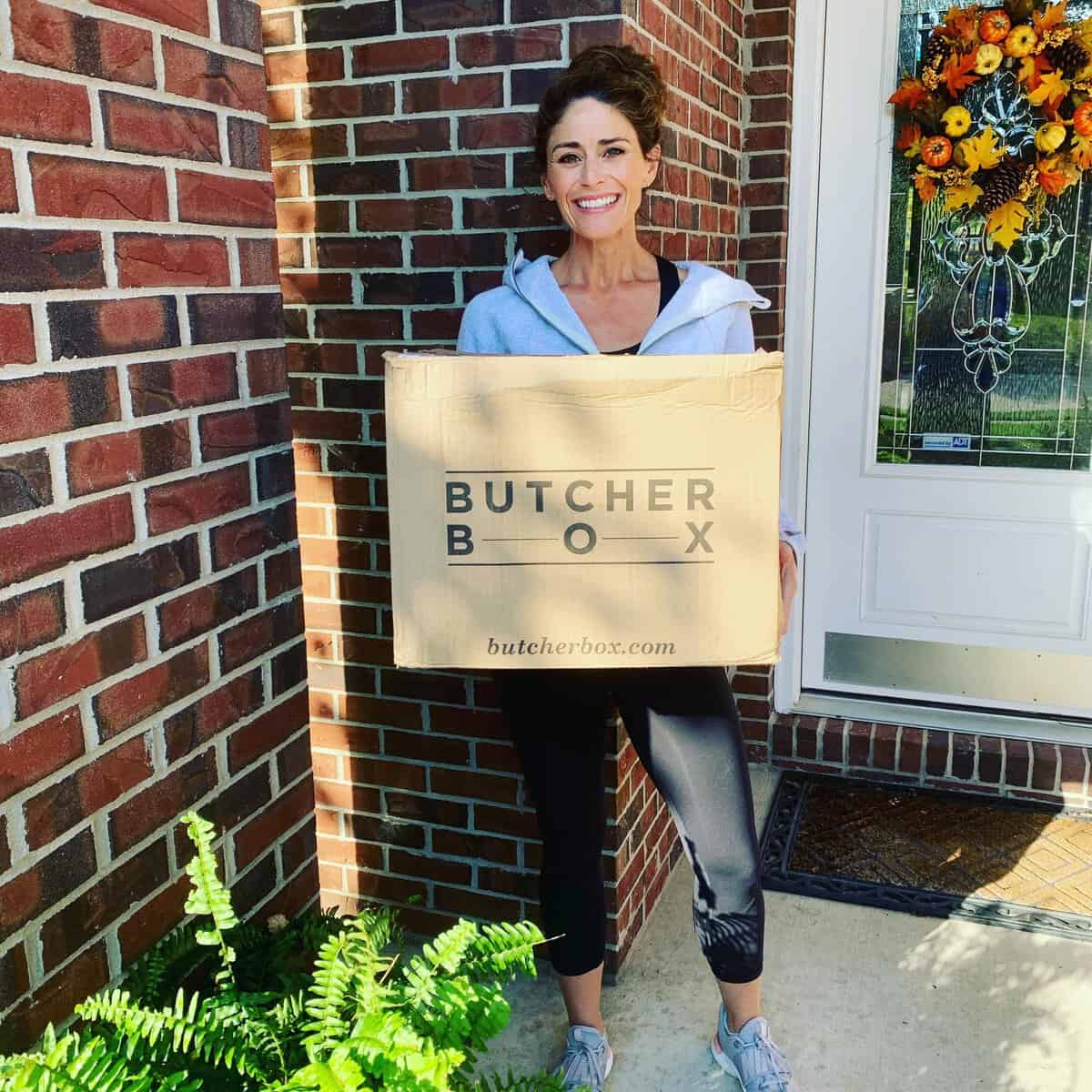 Deal Alert: Free Steak for a Year
Before I get started, I just wanted to make sure you know about an incredible deal ButcherBox is offering right now. New customers will get to choose the 100% grass-fed and finished steaks you'd like to get for free in every order for a year.! Grab this deal now!
What is ButcherBox?
If you're unfamiliar with ButcherBox, it's a subscription service that sends a box of high quality meat to your door every month (or every 6 or 8 weeks…it's flexible).
How Does it Work?
Their site is super easy to navigate. Here's how it will work…
1. Enter your email to take advantage the latest and greatest deal.
ButcherBox runs specials for new customers regularly. To get started, you can enter email to have the latest and greatest discount or deal applied to your order. (Find the most current special through this link.) Or you can skip this part!
2. Choose your plan.
Next, you can choose what kind of plan you'd like.
Custom Plan – Your choice of 9-14 lbs of grass-fed beef, organic chicken, heritage-breed pork, or wild caught seafood. Flexibility to change up what comes in your box each time. 20% more meat than the curated boxes below. This costs a little more, but you get exactly what you want.
Curated Plan – 8.5-11 lbs of meat (seafood is not an option). Choose what type of meat (i.e. beef, pork, chicken, pork, or a mix) but they select the exact cuts you will get. This option is a little cheaper.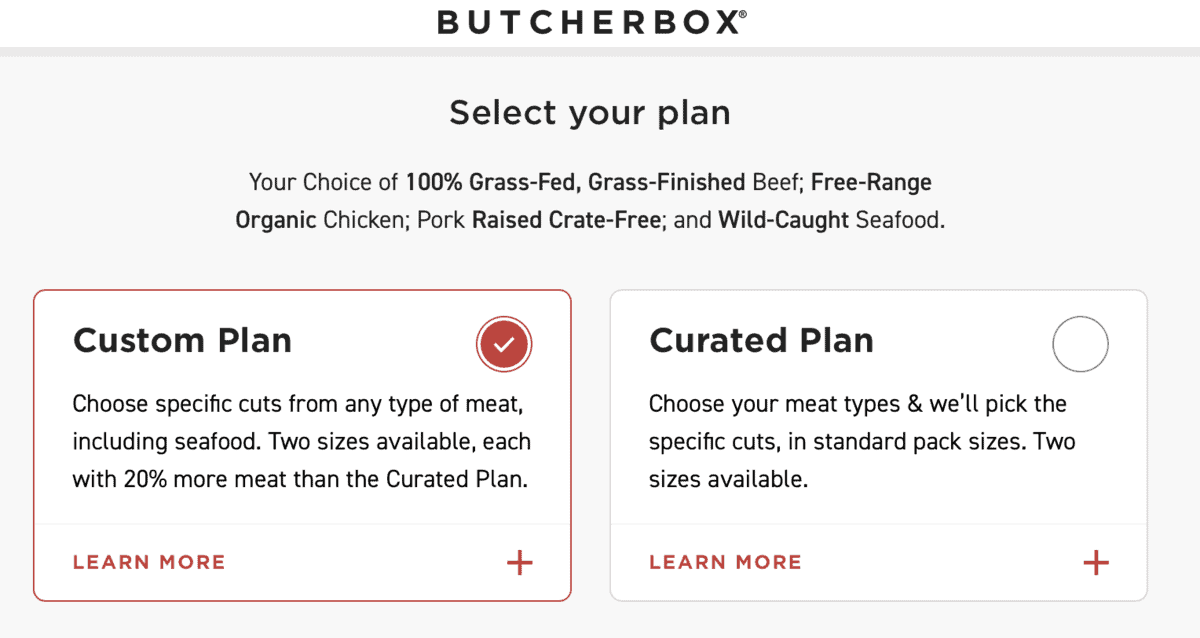 I have tried both and definitely prefer the Custom Plan, although you will pay a little more. I like selecting exactly what I want from month to month. However, the Curated Plan is a fun way to try a lot of different cuts and see what your family likes best for a discounted cost.
3. Choose the size of box you want.
Once you choose which plan you'd like, then you'll pick what size of box (how much meat) you want.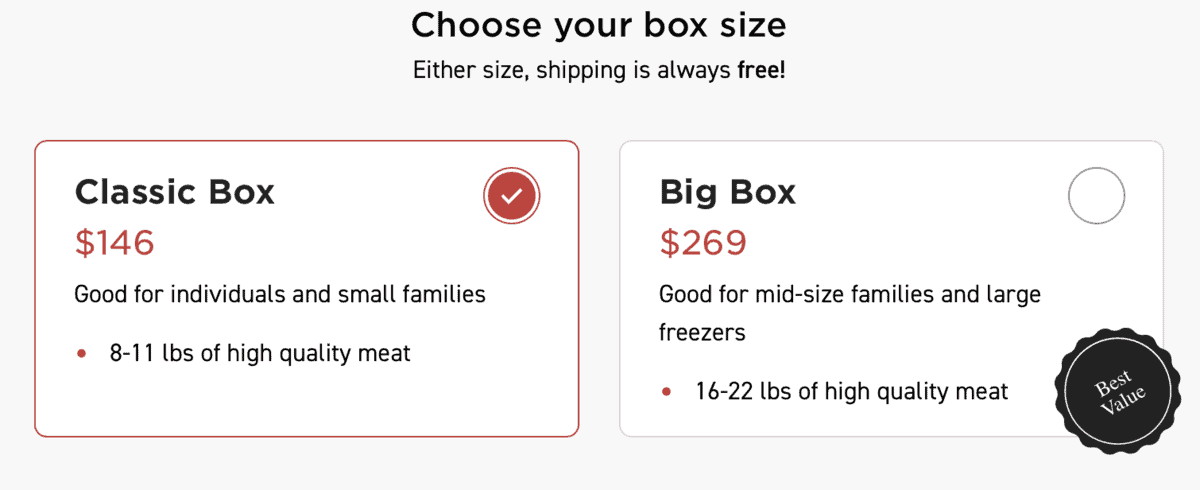 You can choose between:
Classic Box – 9-14 lbs for smaller families. This is priced at $146 for a Curated Plan or $169 for the Custom Plan.
Big Box – 18-26 lbs for larger families or big freezers. This is priced at $269 for a Curated Plan or $306 for the Custom Plan.
You can change your box size from month to month. You can also change the frequency of delivery…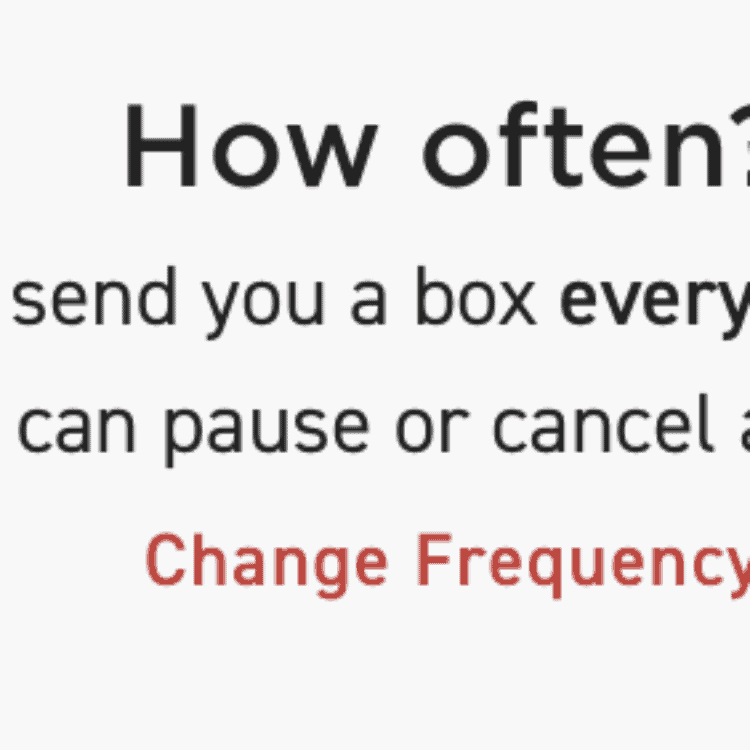 How to Change Frequency of Delivery
This is important! During this step, you can change the frequency a box will ship.
You do NOT have to receive a box every month, which is the default setting. You determine the frequency it will regularly ship (4 weeks, 8 weeks, etc).
AND, you can always change that around. For instance, I set mine to arrive every 4 weeks. I get an email before it ships and often change the shipping date so it works for our family.
Lastly, you can pause or cancel at anytime.
4. Pick your cuts of meat.
If you selected Curated Box, then you'll choose between these options:
Beef, Pork & Chicken
Beef & Pork
Beef & Chicken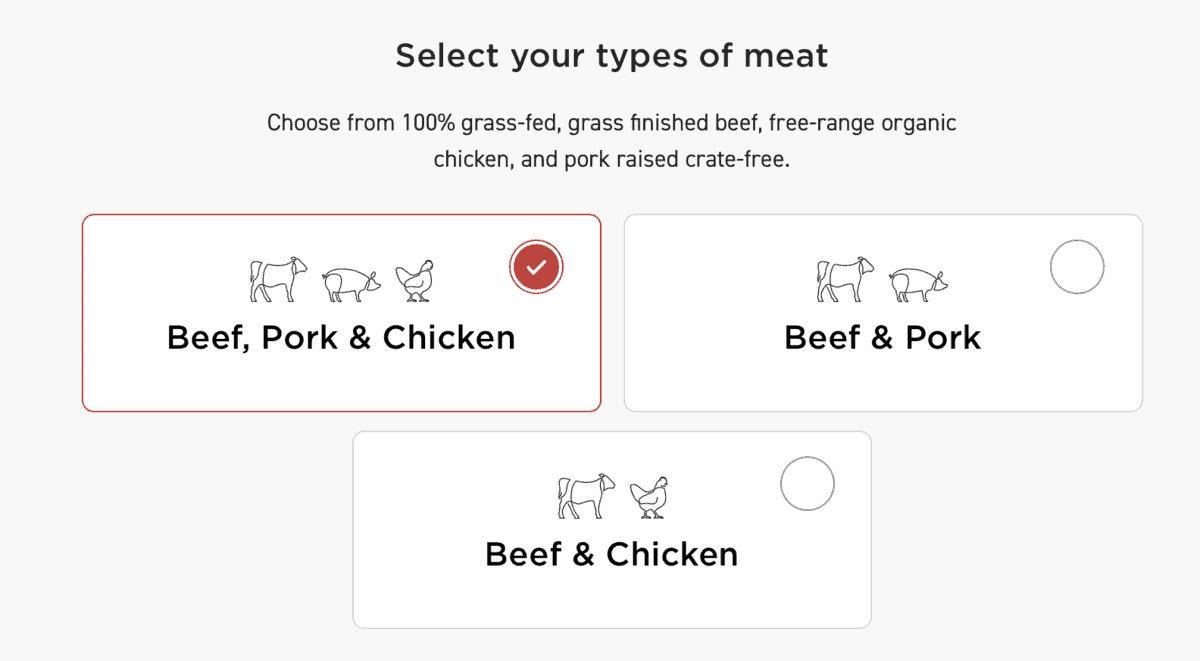 If you selected the Custom Box, you'll then select what cuts of meat you want. This part is fun! You'll get to choose from 14 beef options, 8 chicken options, 11 pork options, 6 seafood options, and 7 more member favorites. Keep reading to find out my (and Polly's) favorites.
5. Select Add-Ons
If you selected any of the boxes, you'll also have a chance to add on other cuts of meat or products if you'd like. They even offer special deals for you, as a member, from time to time.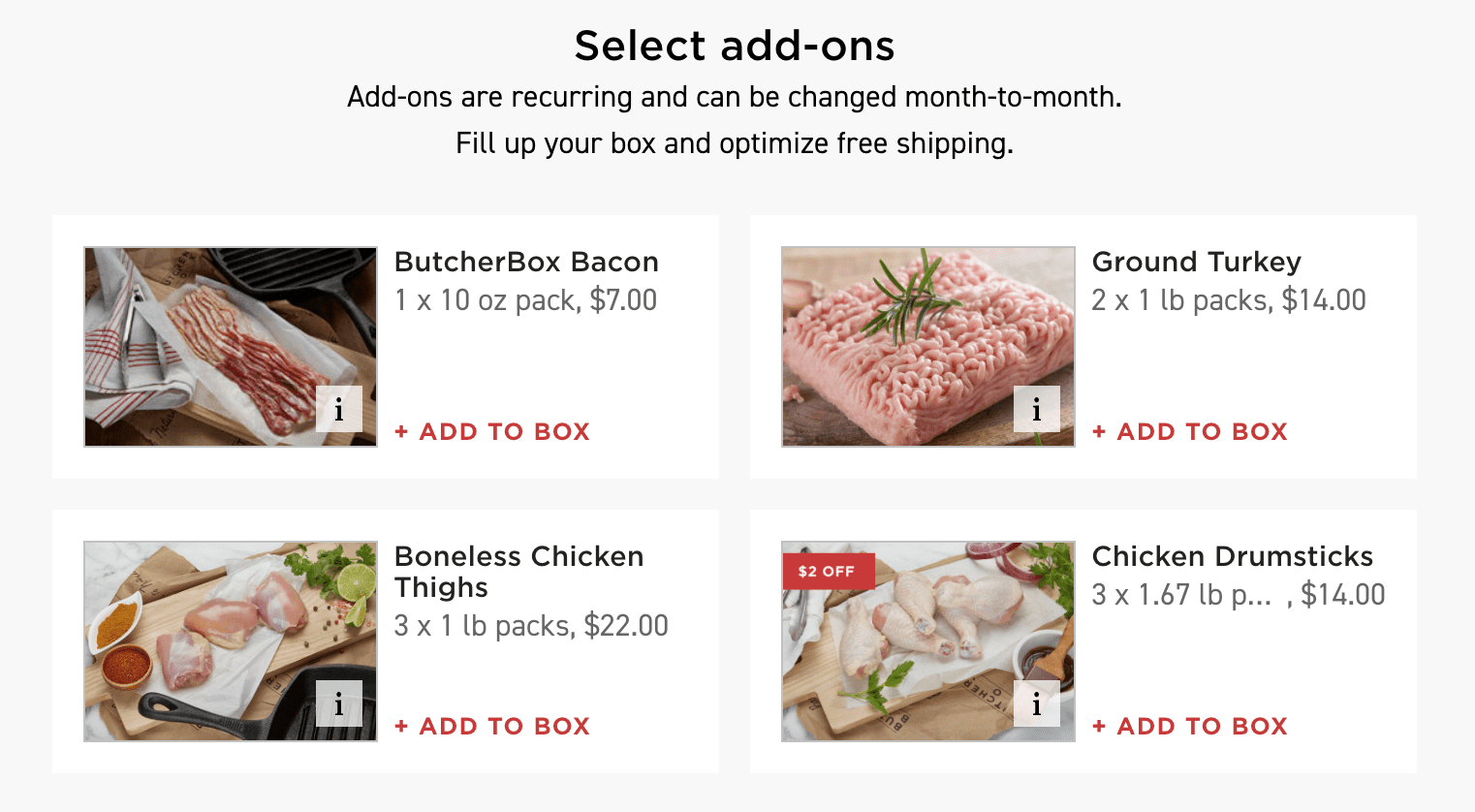 6. Enter payment information and you're done.
Lastly, input your payment information and you're done.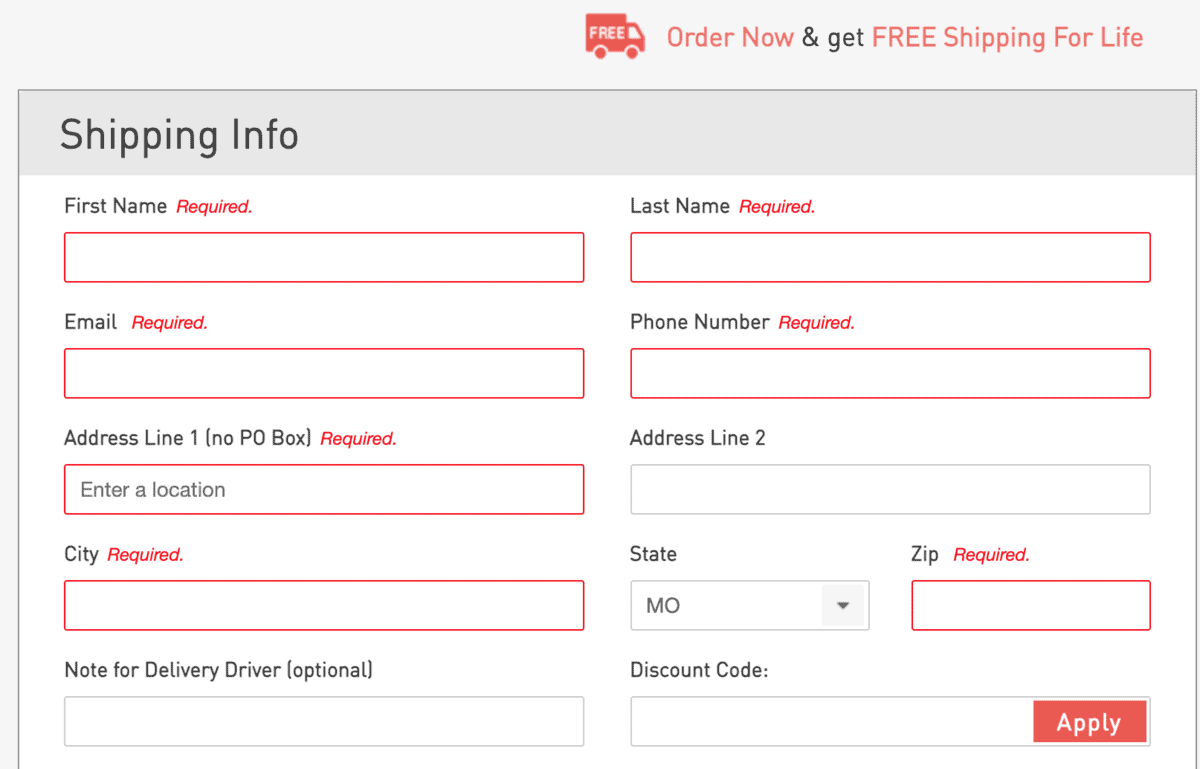 IMPORTANT TIP: Wait a minute on the payment page (or move your mouse like you're going to exit), because an offer should pop up to add free bacon to your first box if you do! Like this…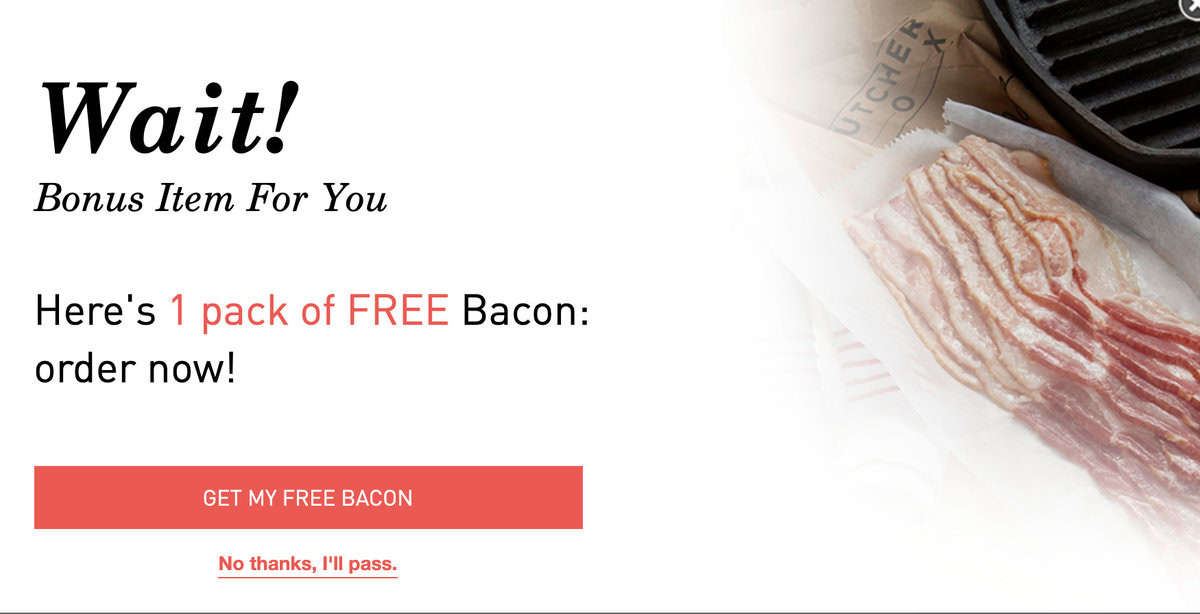 Get started with ButcherBox now that you know how it works.
What Plan and Cuts of Meat Do You Recommend (or Not Recommend)?
I personally do a Custom Plan because it allows me to select the meat that I want, so nothing goes to waste. When I had the Curated Plan, I sometimes ended up with cuts of meat that I didn't really know how to use off the top of my head, like top sirloin cap or beef eye round roast.
With the Custom Plan, I like that you can see exactly what your options are and you can figure out how to get the best bang for your buck!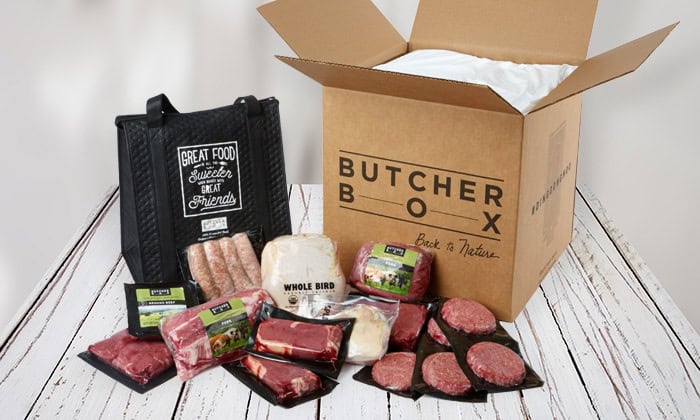 My absolute favorite cuts of meat from Butcher Box are wild salmon, ground sausage, pork tenderloin (they are small, so I order two), pork chops, and ribs. All of those are hard to find a healthy version of where I live.
We also really like their grass-fed ground beef, uncured bacon, uncured hotdogs, and chicken breasts. Delicious! I like their chuck roasts, too, but they are usually too small for our family of 5.
Polly's favorite cuts are the ground beef, pork shoulder, uncured bacon, chicken drumsticks, and chicken breasts.
The only product I haven't loved from ButcherBox–and I've tried almost everything over the years–have been their hamburger patties and the chicken sausages. The hamburger patties were too dense and flavorless for my taste. I prefer to make my own with their grass-fed ground beef, because they are more flavorful and juicy that way. The sausages just didn't taste good.
7 Advantages of ButcherBox (In My Humble Opinion)
If you're trying to decide if ButcherBox is right for you, take a few minutes to read through what I personally feel like are the advantages.
Where you source your meat from really matters. Are the animals healthy (so your meat is healthy)? Are they treated humanely? Are the workers treated right? ButcherBox is committed to working with farmers and companies who are "dedicated to doing the right thing—never cutting corners, and always looking for ways to improve". Here's more:
Their cattle are humanely raised, 100% grass-fed, and free to roam on grassy pastures throughout their entire lives.
Their hogs are raised on pastures or in hoop barns, with their natural tendencies, safety, and comfort in mind. These hogs are fed an all-vegetarian diet and raised with traditional, sustainable farming methods.
Their free-range chickens have access to the outdoors seasonally, have windows within non-overcrowded barns, are fed an organic diet, and are NEVER given antibiotics or hormones.
All the seafood they offer–wild salmon, scallops, lobster, cod, and halibut–is sustainably harvested to keep the ecosystem healthy for future generations. They "partner with people who uphold strict fishing and handling practices to guarantee an unprecedented level of quality and sustainability."
Fair labor practices – They pledge on their site, "In line with our family and community values, we seek partners who treat their employees as part of a team—and we're ever thankful for that team."
I love that they are serious about caring for the animals, the laborers, the earth, and their customers.
High quality, healthy meat
Of all the foods that I'm willing to spend more on, meat is at the top of my list. That's because conventional meat can be filled with antibiotics and hormones, and the animals can be treated inhumanely and/or fed foods that aren't natural to their environment (i.e. corn, non-organic foods, etc). Enter: ButcherBox meat. Here's the healthy meat they offer:
100% Grass-Fed, Grass-Finished Beef – Humanely raised, never given antibiotics or added hormones ever, pasture-raised, and a good source of omega-3s, vitamins, and minerals.
Pork Raised Crate Free – Humanely raised, never given antibiotics or added hormones ever. The uncured bacon, hotdogs, ground sausage, ham, and brats are gluten-free and have no nitrates, nitrites, or added sugar. That is hard to find!!
Free-Range Organic Chicken – Free-range, USDA certified organic (with certified organic feed), humanely raised, never given antibiotics or added hormones ever.
Wild-Caught Seafood – Wild-caught, sustainably harvested, no artificial coloring, no additives, never given antibiotics or added hormones ever.
Here's the thing I tell people who ask me if ButcherBox is worth it. If you live in a semi-urban area, you can probably find the same quality of meat in various places throughout town. If you're a deal hunter, you might even find it cheaper sometimes. I used to do that when I stayed home with my young kids (the farmer's market, a local meat market, and a few different store stops throughout the month provided much needed outings!). But, I just don't have time for that anymore.
In my opinion, the real value with ButcherBox is the convenience. I select meat I feel good about in just a few minutes online, and it shows up at my door when I want it. It really couldn't be easier.
Flexible and customizable
Each time, before my next box ships, I get an email notifying me and asking if I want to make any changes. I really appreciate this feature, so I'm never caught off guard. Then, you can click on your account and do these things:
You can skip a month, if you need to.
You can choose when it will arrive (so you can work around when you're out of town).
You can change up what size of box you get each time.
If you opted for the Custom Plan, you are given the option to change up what cuts of meat you get each time.
You are offered deals on additional products, if you want to add something to your next box.
Free shipping & cancel anytime
The price you see is the price you pay. No added shipping fees.
It's easy to cancel, too. You can do it right from your account (no calling or emailing someone).
I've never had a problem with any of my products or shipments…ever. But, I've emailed to ask questions in the past, and they responded quickly and courteously.
All packaging is recyclable
I hate when I get a package that's stuffed full of huge styrofoam pieces. Not only is it filling the landfill, but it's also filling up my trash can. So annoying! I absolutely love the minimalist, recyclable packaging that my ButcherBox arrives in.
Order ButcherBox here (and get a freebie).
Is the meat fresh tasting?
Every cut of meat we've gotten has tasted fresh and delicious once it's thawed and cooked properly. The only exception was the hamburger patties and chicken sausages, which I mentioned above. Nothing was inherently wrong with the product. I just didn't care for the texture and taste personally.
Is the meat fully frozen when it arrives?
The meat is packed on dry ice in very solid (recyclable) packaging. As long as you get it off your porch and into the freezer the day it arrives, the meat will stay frozen solid.

I've never had problems with the packaging of the meat itself. I throw it all in the freezer immediately. Or, I thaw it and either make it into a fresh meal or make it into one of our freezer meals. (Yes, it's safe to thaw meat, prepare it for a freezer meal, and then refreeze it. Just don't leave it thawed for long if you plan to do that.)
How much does ButcherBox cost?
You can choose between a Classic Box for smaller families ($146-169/month) or a Big Box for larger families or big freezers ($269-$306/month).

The price varies depending on if you selected a Curated Plan or a Custom Plan.
Free shipping and no hidden fees. You also will get some free products if you take advantage of the latest ButcherBox deal here.
Is it easy to cancel ButcherBox?
If you want to cancel your subscription or pause it, you can easily do so at any time. No need to call or email them. You can just go into your account and cancel (or pause for a time being).
Is the meat organic and sustainably sourced?
Yes, ButcherBox is all about delivering meat that is humanely raised, free from antibiotics and hormones, and sourced from sustainable farms. The chicken is organic and free range, beef is grass-fed and grass-finished, seafood is wild-caught, and bacon is uncured and sugar-free.
Can I skip a delivery or change the frequency of delivery?
Yes, it's very easy to adjust the deliver date for your delivery. They will send you an email before the next box going to deliver, so you won't forget it coming. I often adjust the delivery date when I get that reminder email. You can also pause your subscription for a time, if you don't want to cancel and lose a bonus you may have gotten when you signed up.
Is ButcherBox Worth It?
I've really enjoyed getting this meat subscription box over the years. My blogging partner, Polly, and I get a box to split every month and use it to fill our freezers with the healthy meats that we have a harder time finding in our area. It feels like Christmas when it arrives!
Although it could be cheaper to deal hunt and hit up several places around town for the same quality of meat, I think the real value of ButcherBox is the convenience and that I trust them to source high quality meat that's good for my family!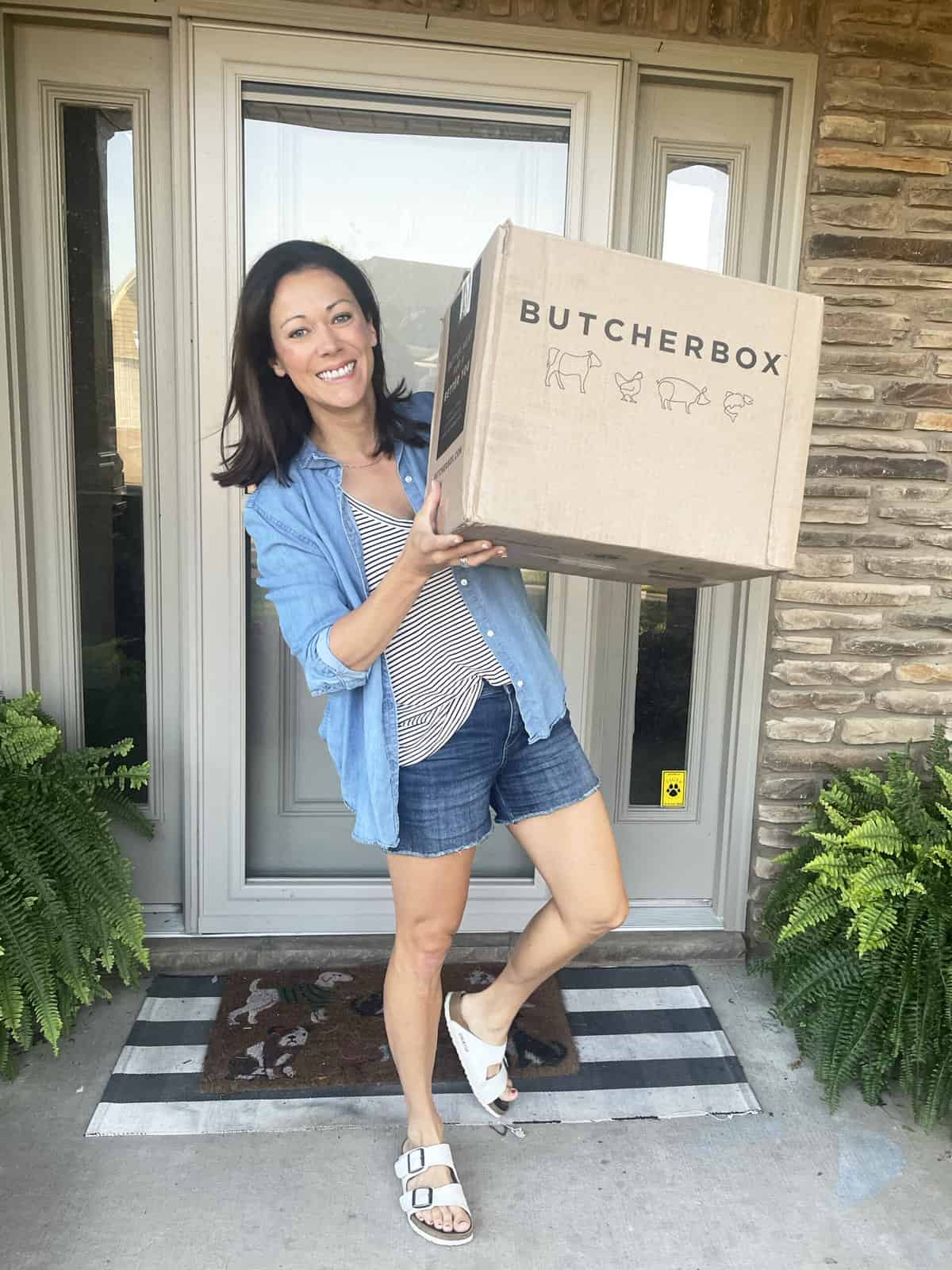 Is it right for you? I can't answer that. But, I do think it's easy to to try out one time and then cancel if you don't like it.
Be sure to use our Thriving Home link to receive a bonus when you sign up.
Looking for a ButcherBox Discount Code or Bonus?
If you're looking for a ButcherBox promo code or bonus, be sure to head here to see the latest and greatest deal!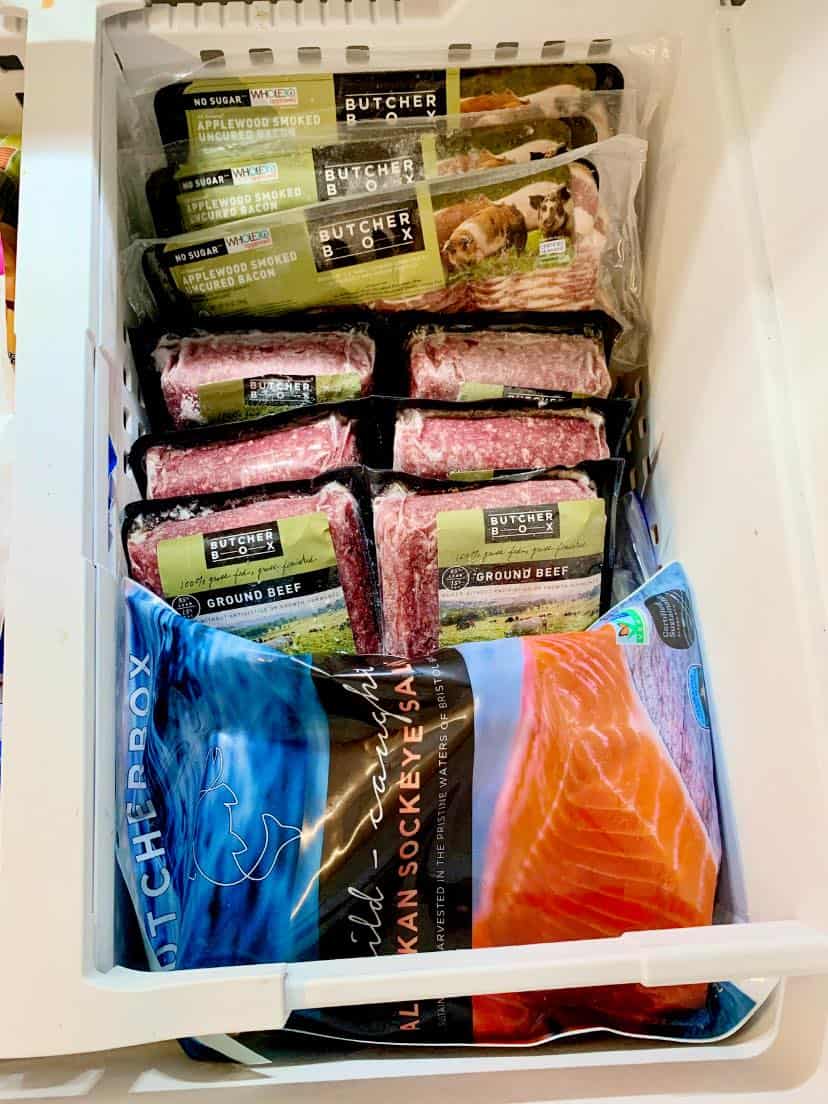 More Honest Reviews You Might Like
If you liked our honest ButcherBox review, check out these other reviews of some of our favorite products.
SmoothieBox Review – Frozen smoothie packs delivered to your door.
Wildgrain Review – Bake-from-frozen, artisan pastries, breads, pastas, and more.
Nutr Review – A cool little machine that I use to make fresh almond milk.
Bombas Socks Review – Pretty much the only socks I wear.