Salmon and Sweet Potato Cakes
This post may contain affiliate or sponsored links. Please read our disclosure policy.
These salmon and sweet potato cakes are packed with nutrition and flavor! Enjoy them as a sandwich or a la carte. Freezing instructions included!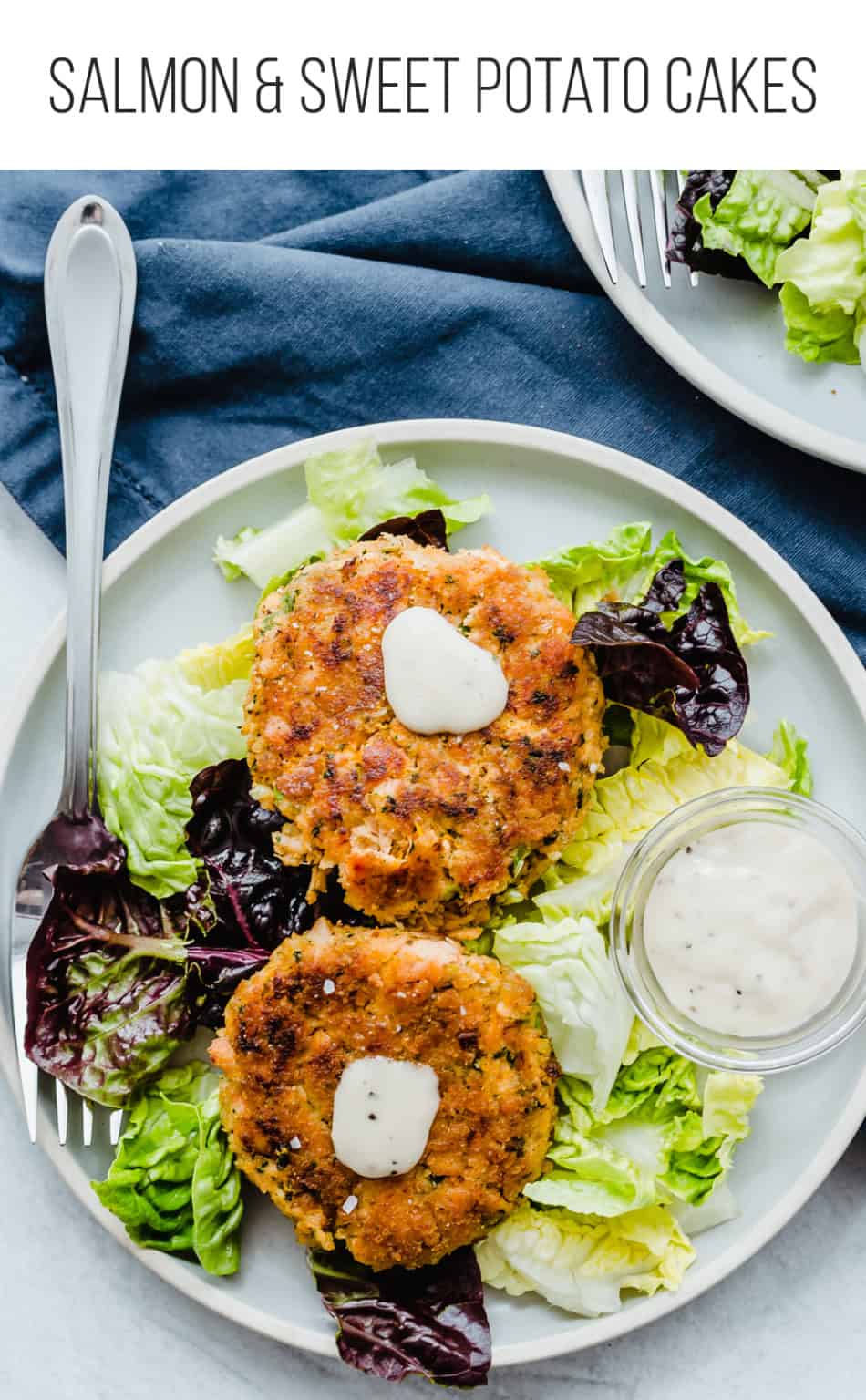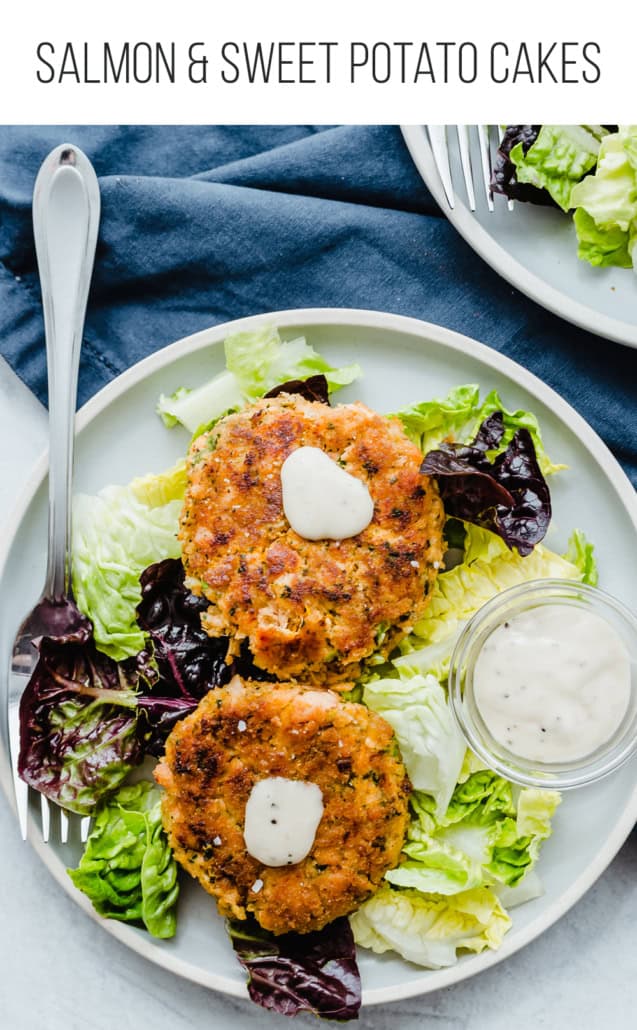 About This Recipe
I love cooking shows. And, there's one Food Network star who will always have a special place in my heart. Can you guess who?
Rach, of course! I watched 30 Minute Meals pretty consistently for over 10 years. Honestly, a large majority of what I know in the kitchen, from tips to ingredients to techniques, I learned directly from her.
I saw Rachael Ray make a similar version of these Salmon and Sweet Potato Cakes on her show and knew I had to try them. Over the years, I've made these few times and tweaked the recipe to make it a little more user-friendly.
Why I Love These Salmon Cakes
I love them because they are super nutritious, my kids will actually eat them(!), and they freeze nicely so I can make a big batch for later. Don't worry, there's no fishy-ness in these cakes. All the different flavors and textures make them absolutely great, in my opinion.
Ingredients Needed
This delicious recipe uses two of the best superfoods on the planet!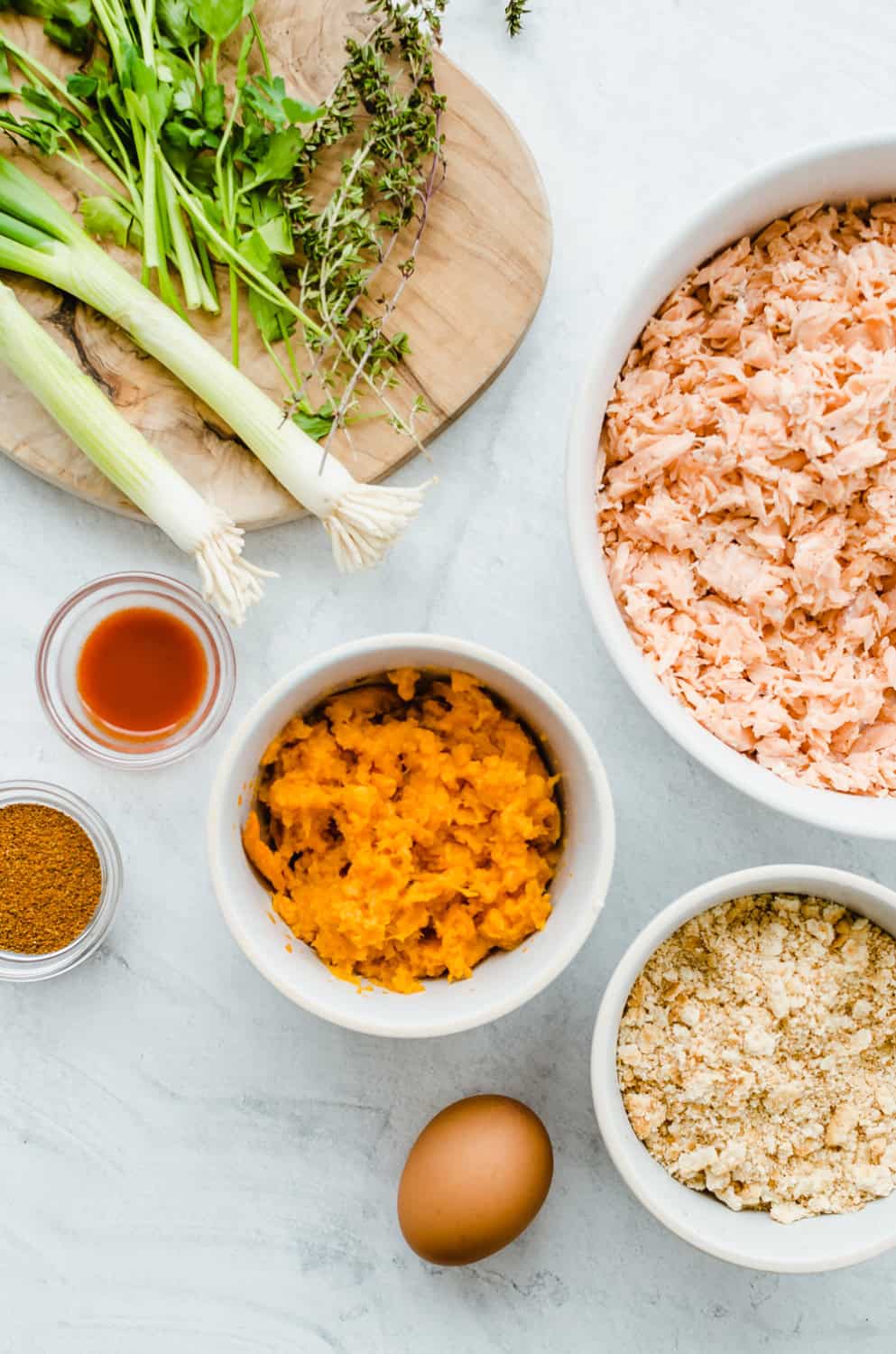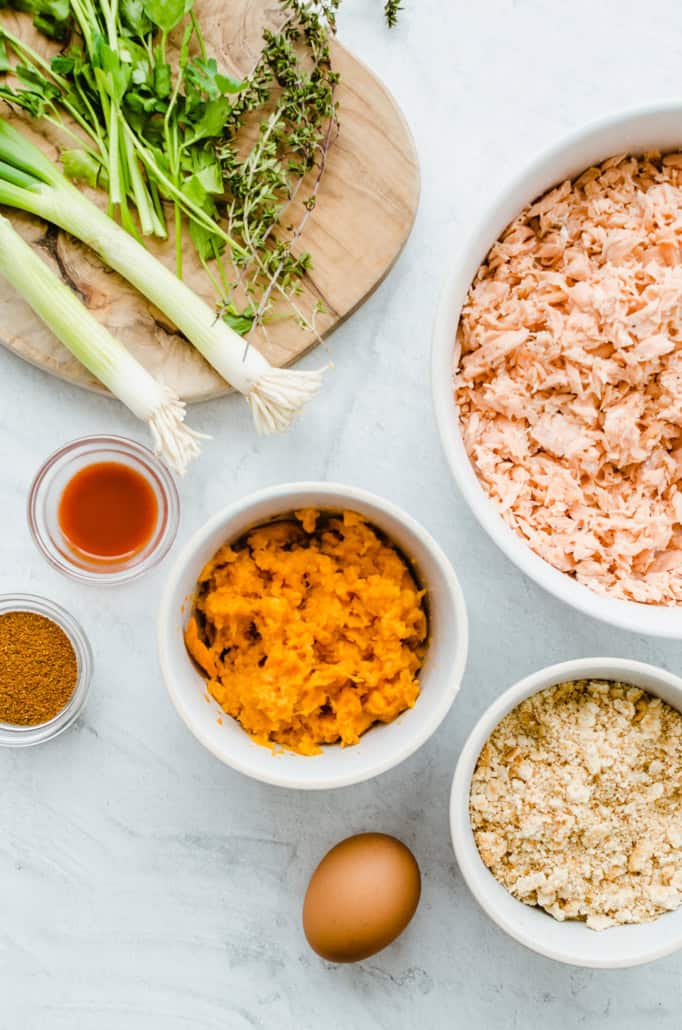 Wild Salmon Filets – The big gun ingredient is the Omega 3-rich wild salmon which the American diet is sorely lacking in. The salmon provides heart-healthy fat and lots of protein.
Note: Be sure to buy WILD salmon, NOT farm-raised salmon. That's because many studies have shown there are 10 times as many PCBs in farmed fish. Dr. Sanjay Gupta in an article here says,
Basically, that's a reflection of how much pesticides, antibiotics, other contaminants are used in raising these farmed fish. There's higher pesticide levels in the farmed fish….They actually raise these farmed fish (with large numbers in pens) … You actually have to give them antibiotics. And a lot of the PCBs and toxins are all part of the farming process that are used to try and keep these fish free of disease….sometimes even inject fish like salmon with red dye or pink dye to make them look more pink, more like their wild counterparts.

– Dr. Sanjay Gupta
Wild Salmon is readily available and affordable in most grocery stores now, but the tastiest Wild salmon I've had is from ButcherBox. It's where I get all of my meat, because they offer affordable, healthy (and delicious!) meat from small farmers that is delivered to my doorstep on my schedule. (Cancel any time.)
Sweet Potato Puree – One of the top superfoods in the world, packed with plenty of minerals, fiber, vitamins, and phytonutrients that help both your body and mind. The sweet potato helps as a binder (instead of mayo!) and lends a slightly sweet taste.
You can find sweet potato puree in a can or you can easily make your own. Simply poke some holes in a few sweet potatoes using a knife. Place them in the microwave and cook in 2-minute increments. Turn the potatoes between increments and cook until soft and tender all the way through. Use a knife to check. Mine usually take about 5 minutes.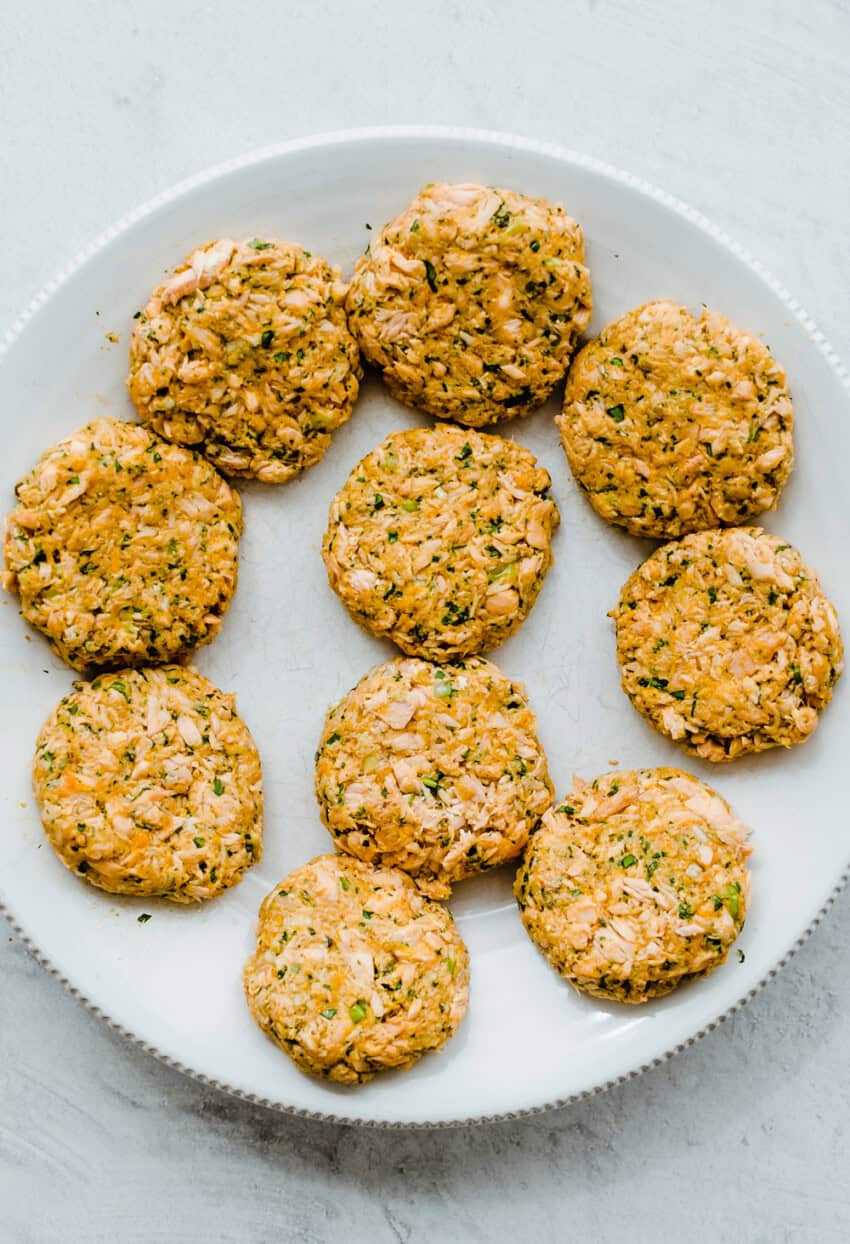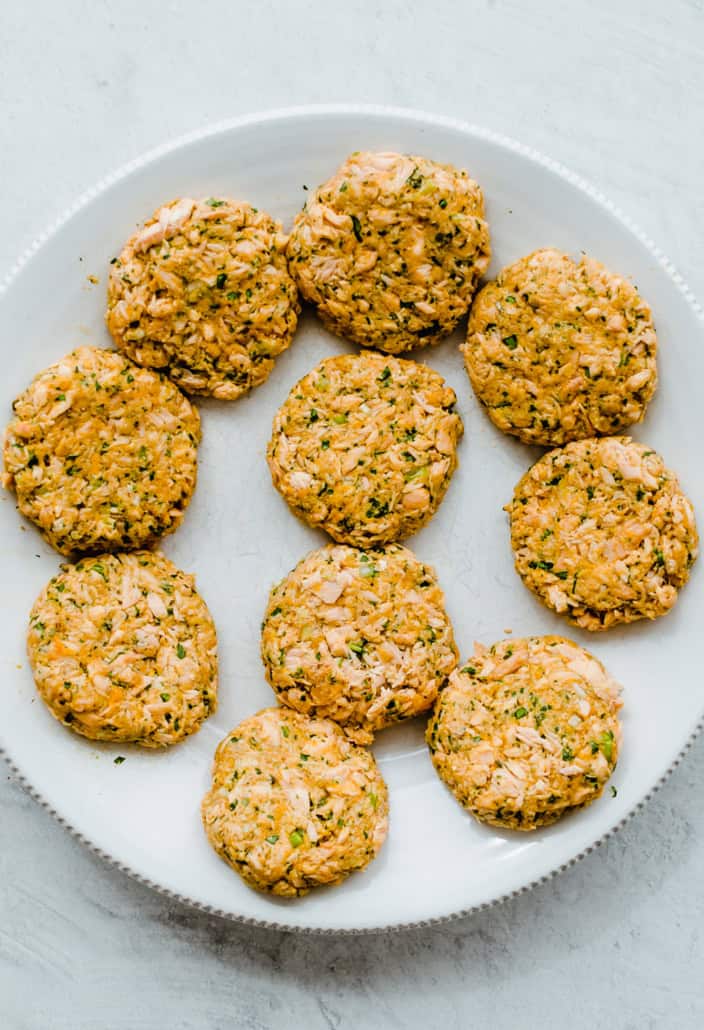 Other Ingredients:
How to Serve Salmon Cakes
First of all, I'd highly recommend making our Avocado Aioli sauce to top these cakes. The creaminess and beautiful color of the sauce contrasts well with the warm, crispy salmon patties. You can also use an all-natural Tartar Sauce for serving, if you want.
My kids liked them on mini buns with a slice of cheese on top, like a burger. I ate these Salmon and Sweet Potato Cakes a la carte with some of the Avocado Aioli sauce on top. Delicious!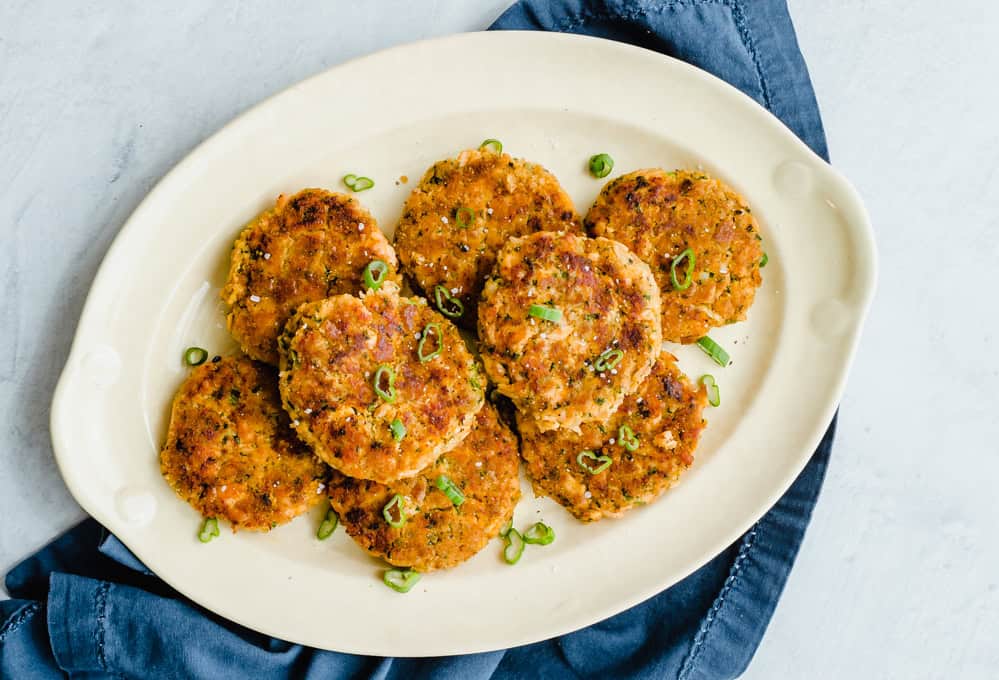 With these salmon cakes as the centerpiece of your meal, all you need are a few simple, healthy sides. Here are a few ideas: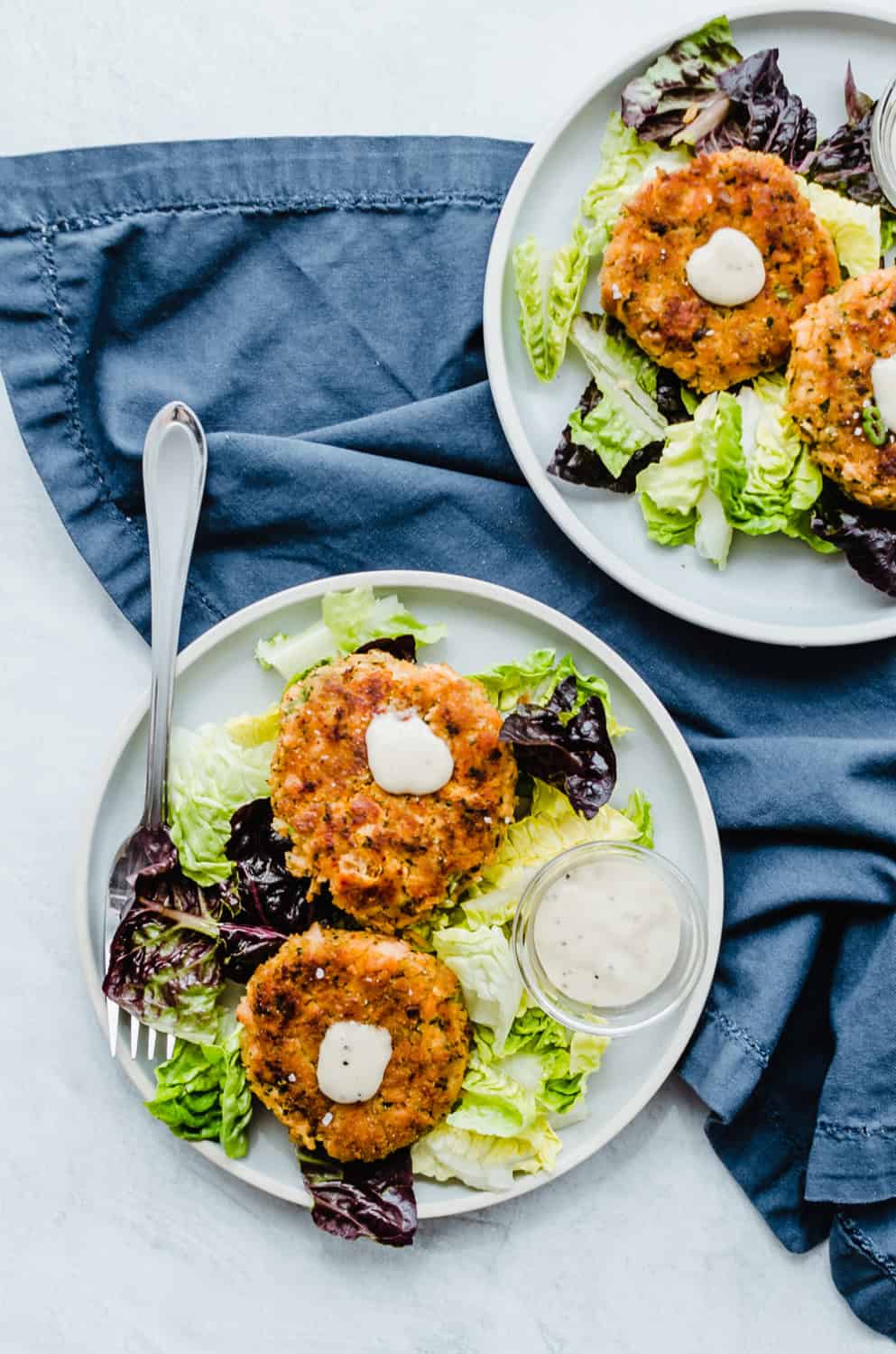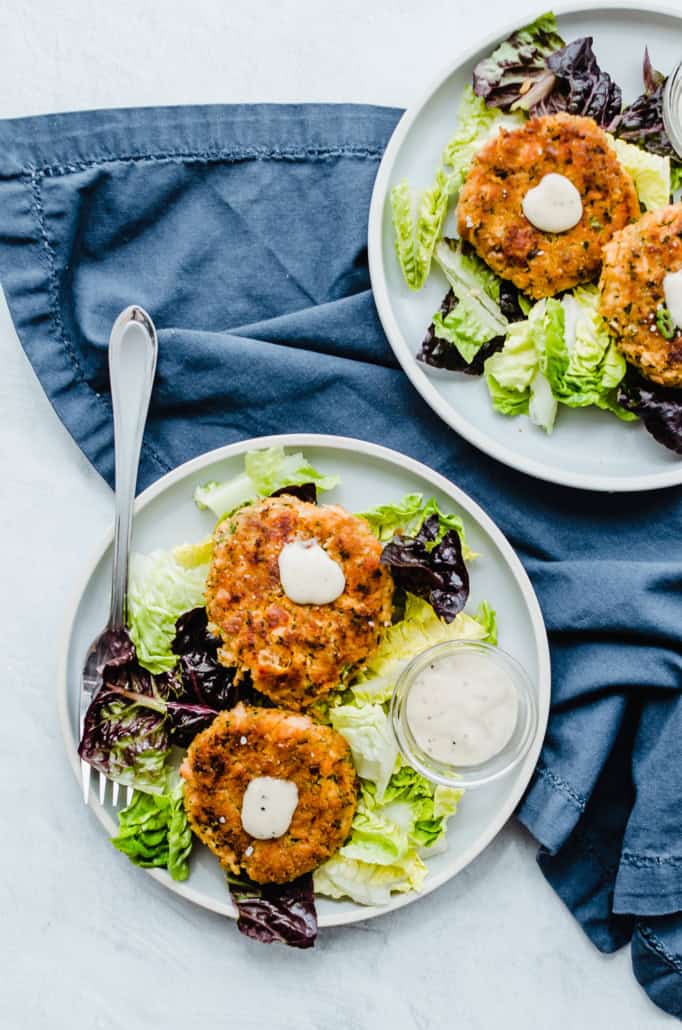 How to Freeze Salmon Cakes
It's easy to freeze salmon cakes. They turn out tasting just like you made them fresh, if you freeze them this way:
Freeze For Later: Put the salmon cakes together, but do not cook them. Freeze in a freezer bag or container in a single layer. If stacking patties, divide single layers with parchment paper.
Prepare From Frozen: Thaw completely in the refrigerator for 24-48 hours. Then cook according to the directions.
More Salmon Recipes:
Here are few more salmon recipes from our collection you might enjoy…
Did you make this? Snap a photo and tag us on Instagram at @thrivinghome so we can see your creations and cheer you on!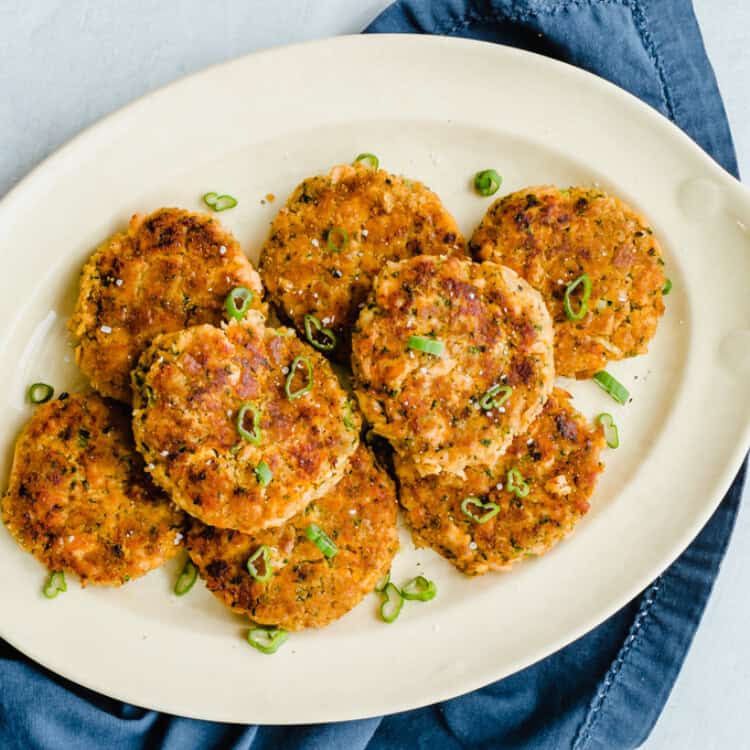 Salmon and Sweet Potato Cakes
These salmon and sweet potato cakes are packed with nutrition and flavor! Enjoy them as a sandwich or a la carte. With a small amount of effort, you'll make a meal your family is sure to love.
Prep:
24 mins
Cook:
6 mins
Total:
30 minutes
Ingredients
1

large sweet potato, cooked and mashed* (about

1 cup

)

3

(6-ounce) skinless salmon fillets

1

quart

(4 cups) chicken broth (sub: water)
Salt and ground black pepper, to taste

1 tablespoon

seafood seasoning (recommended: Old Bay)

1 1/2

cups

whole wheat crackers, crushed into crumbs

1

large egg, lightly beaten

1 tablespoon

finely chopped fresh thyme leaves

1 teaspoon

hot sauce

2

scallions or green onions, finely chopped

1/4

cup

finely chopped fresh parsley

3 tablespoons

extra-virgin olive oil
Before You Begin! If you make this, please leave a review and rating letting us know how you liked this recipe! This helps our business thrive & continue providing free recipes.
Instructions
Make It Now:
Bring the broth to a boil in a large skillet or pot over high heat, then reduce to a simmer. 
Season salmon fillets lightly on both sides with salt and pepper. Carefully lower them down into the liquid, making sure they are submerged. (Note: If the broth doesn't cover the top of the filets, add just enough water to make sure they are covered.) Poach until the salmon is opaque, about 8 to 10 minutes.
Using a slotted spoon, transfer the salmon to a mixing bowl and flake the fish with a fork. Add in the mashed sweet potatoes, seafood seasoning, half of the cracker crumbs, the egg, thyme, hot sauce, scallions, and parsley. Using your hands or a fork, combine until the mixture is firm enough to mold into cakes. (If it's too wet, add a few more cracker crumbs.)
Add the remaining cracker crumbs to a plate. Form the salmon mixture into four (4-inch) patties or eight (2-inch) patties and coat in the cracker crumbs on both sides. (Freezing instructions begin here.)
Discard the liquid from the skillet and wipe it clean. In that same skillet, heat the oil over medium heat until shimmery.
Cook the fish cakes until light golden, about 2 to 3 minutes on each side.
Serving suggestion: Serve with tartar sauce for dipping or serve on buns with cheese on top, like a burger.
Freeze For Later: Follow Steps 1-4. Freeze in a freezer bag or container in a single layer. If stacking patties, divide single layers with parchment paper.
Prepare From Frozen: Thaw completely. Heat the oil in a large skillet over medium heat. Follow Steps 5-7.
---
Notes/Tips
*To cook and mash the sweet potato: Wash and dry it. Poke several holes around it using a knife, so steam can release while it cooks. Microwave it for 2 minutes. Flip it over and microwave another 2-3 minutes, until soft all the way through. Test doneness by inserting a knife into the middle. It should give easily.