The BEST Boiled Baby Potatoes
This post may contain affiliate or sponsored links. Please read our disclosure policy.
Our delicious boiled baby potatoes recipe is a simple side dish for a weeknight meal or a special occasion. Read this post to see how long to boil baby potatoes (or red potatoes) and then use our tantalizing recipe next time you make them!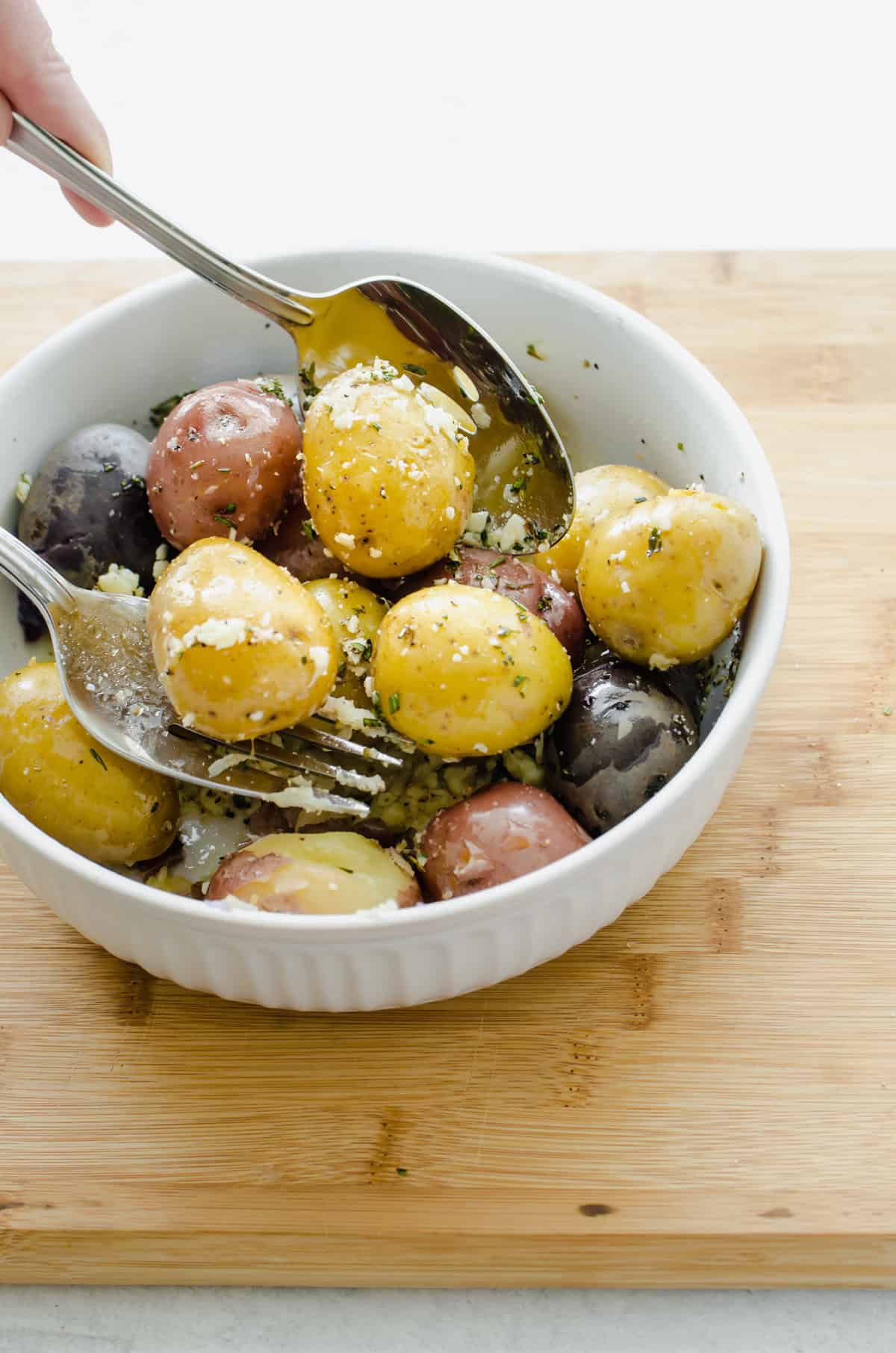 "Until now, I never really cared for potatoes, because to me they taste like potatoes. But this recipe is downright delicious, full of flavor, and easy to make. I will make these again and again and will also recommend them to anyone and everyone." ⭐️⭐️⭐️⭐️⭐️
– Julie B.
Tips for Making Boiled Baby Potatoes
You won't believe how easy and delicious these Boiled Baby Potatoes are! With the addition of a little butter, pantry seasonings, and grated Parmesan cheese (optional) at the end, bland boiled potatoes will be a thing of the past.
It's hard to mess these up, but follow these tips for best results when selecting and cooking baby or red potatoes.
Buy fresh potatoes. That means avoiding ones that are shriveled, soft to the touch, or that have a lot of "eyes" (tiny sprouts) on them.
Select the smallest potatoes you can find. If they are not bite-sized, you may want to cut them in half. Make sure they are all roughly the same size so that they boil at the same rate.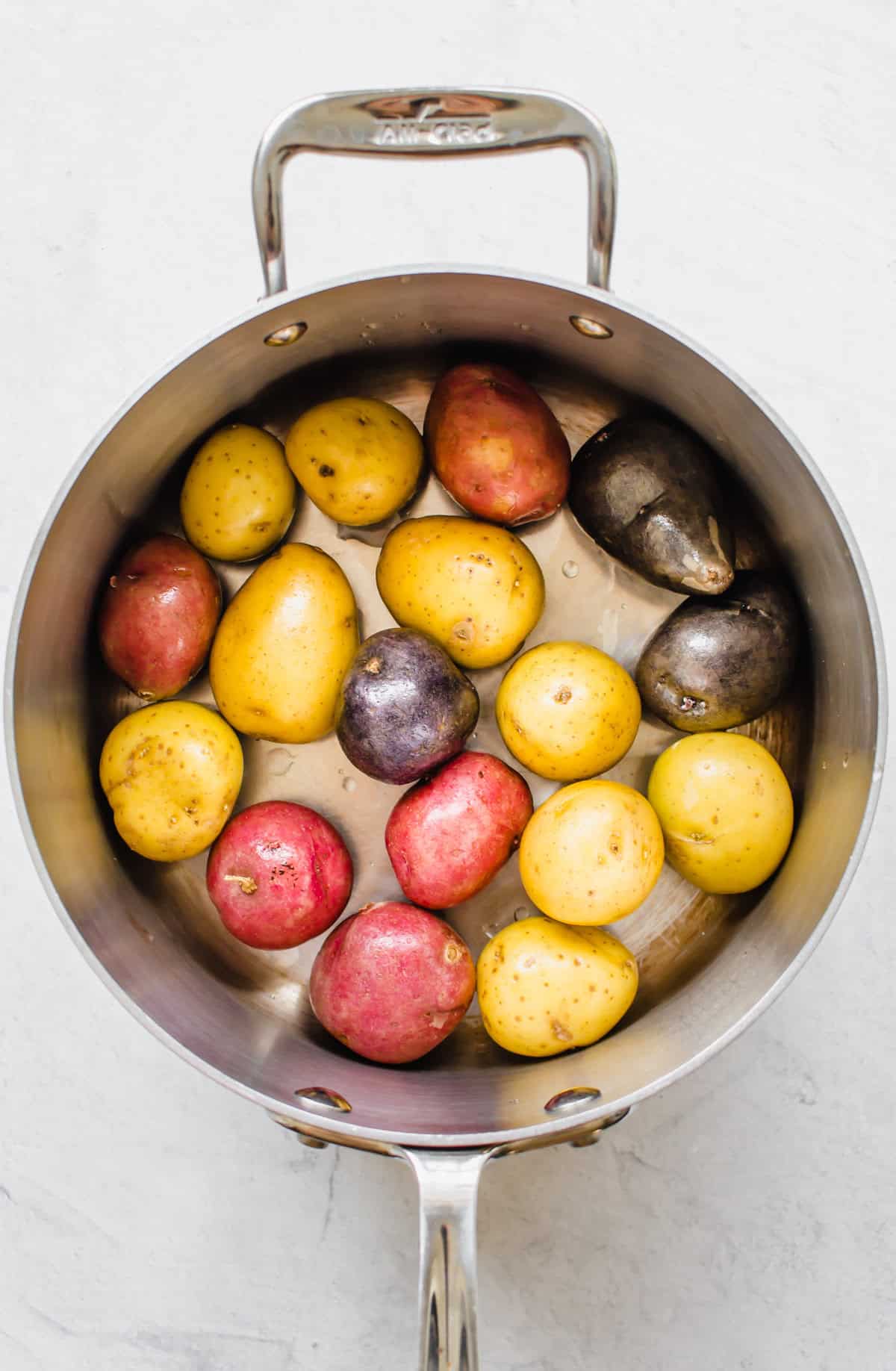 The key to making this baby potato recipe look appetizing and festive is finding an assortment of blue, red, and yellow baby potatoes. I see these all over the place now, even at Aldi and Walmart. The fresh or dried parsley flakes you'll add at the end lend a little pop of color that adds to the holiday feel.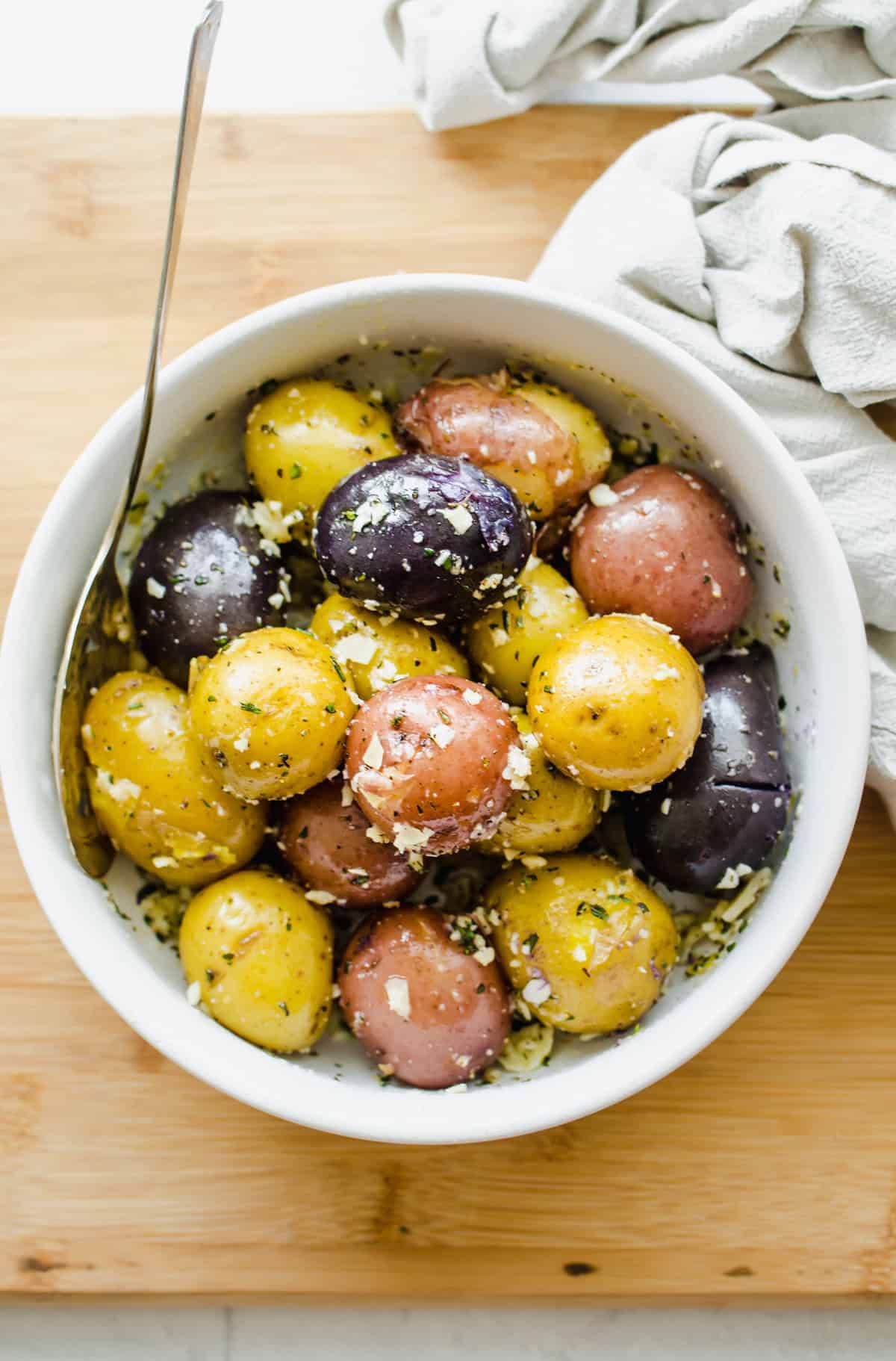 In the recipe below, I've given a range on the seasonings, so you'll have to taste and adjust to your liking. Our family really enjoys a sprinkling of grated Parmesan on the potatoes at the end, but it's totally optional.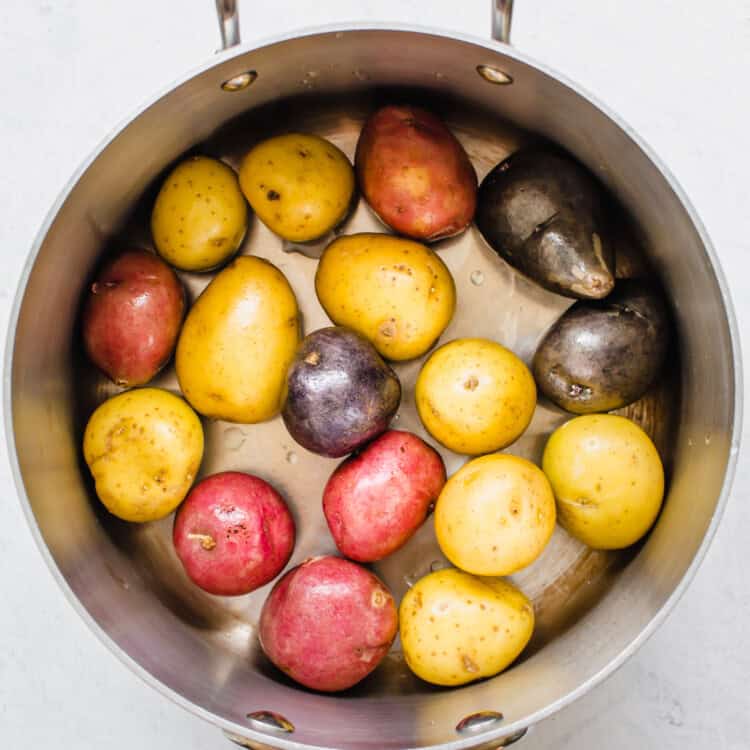 How Long to Boil Baby Potatoes
Small potatoes cook up fast on the stove top. Here's the basic method:
Add enough water to your pot to cover your baby potatoes by at least 1 inch of water.
Bring the water to a boil and salt the water liberally.
Boil the baby (or small) potatoes until they are fork tender, about 10 minutes depending on the size of your potatoes.
Drain in a colander. Use our delicious recipe to jazz them up!
Main Dishes to Serve with Baby Potatoes
To pull together an amazing yet simple dinner, serve your baby potatoes along side one of these popular main dishes.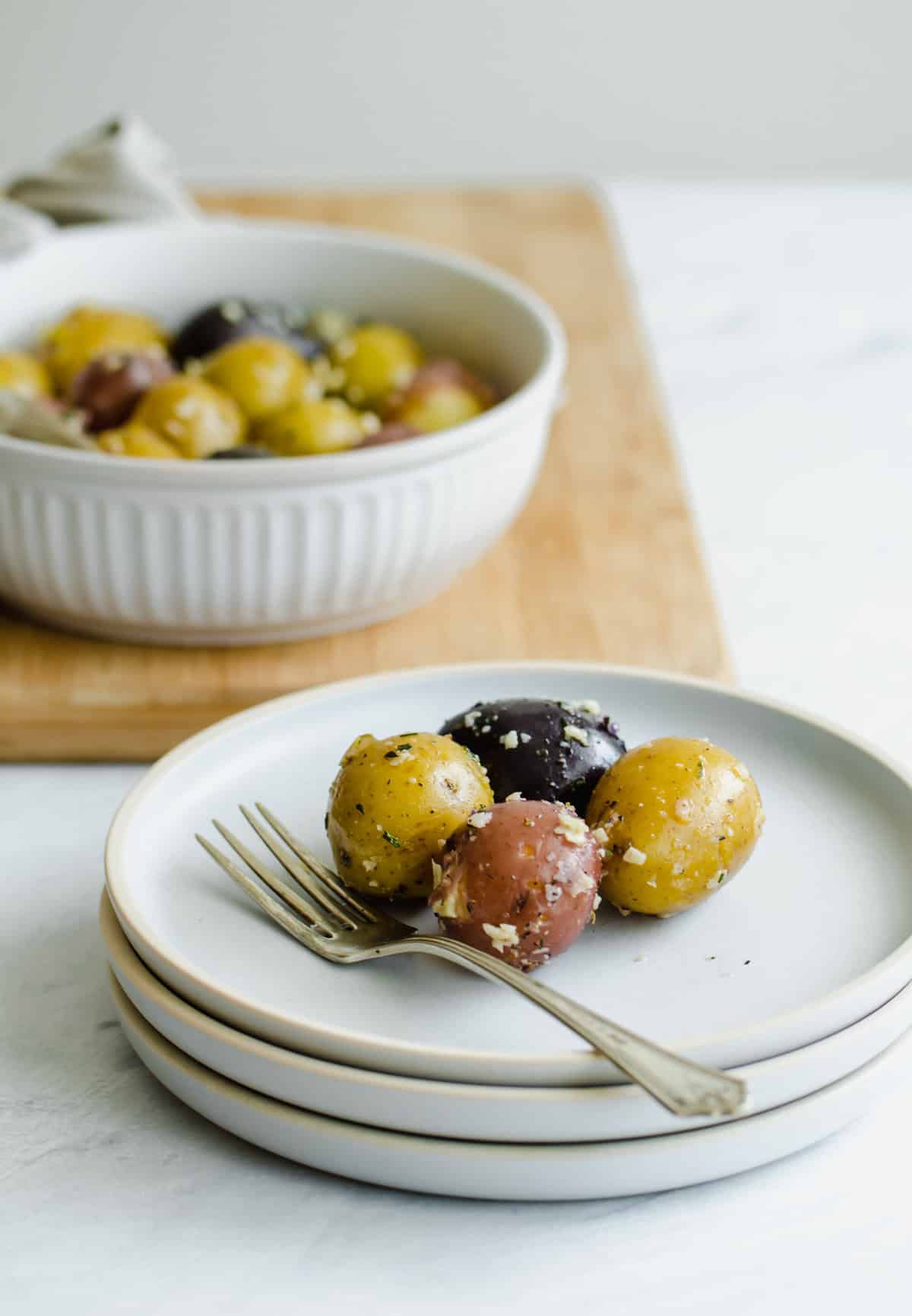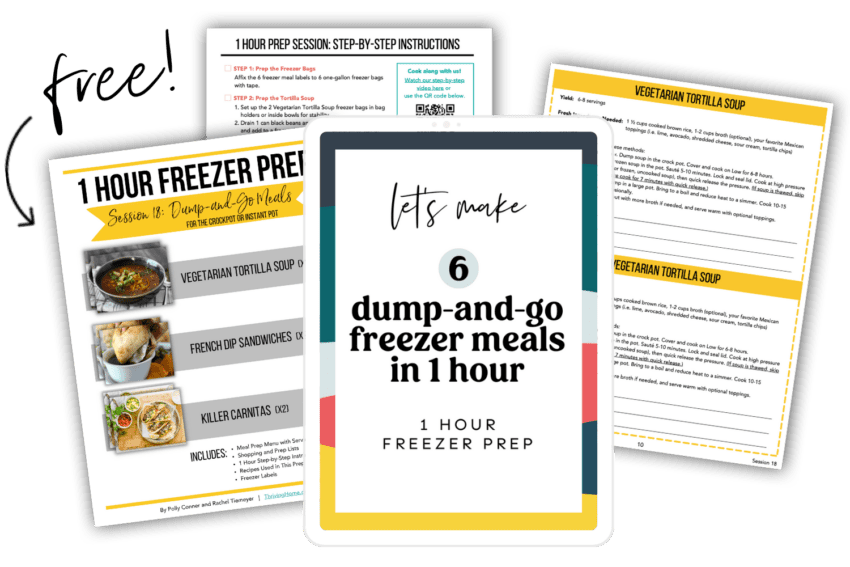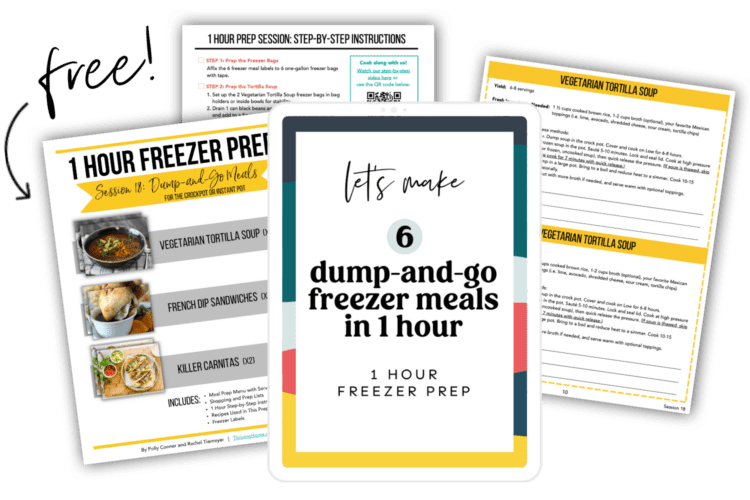 Try 1 Hour Freezer Prep Today!
Make 6 Dump-and-Go Freezer Meals in 1 Hour
Shopping & equipment lists
Step-by-Step instructions & video tutorial
Serving suggestions & dietary substitutions & more
Try Session 18 (a $6.99 value) for free!
Did you make this? Snap a photo and tag us on Instagram at @thrivinghome so we can see your creations and cheer you on!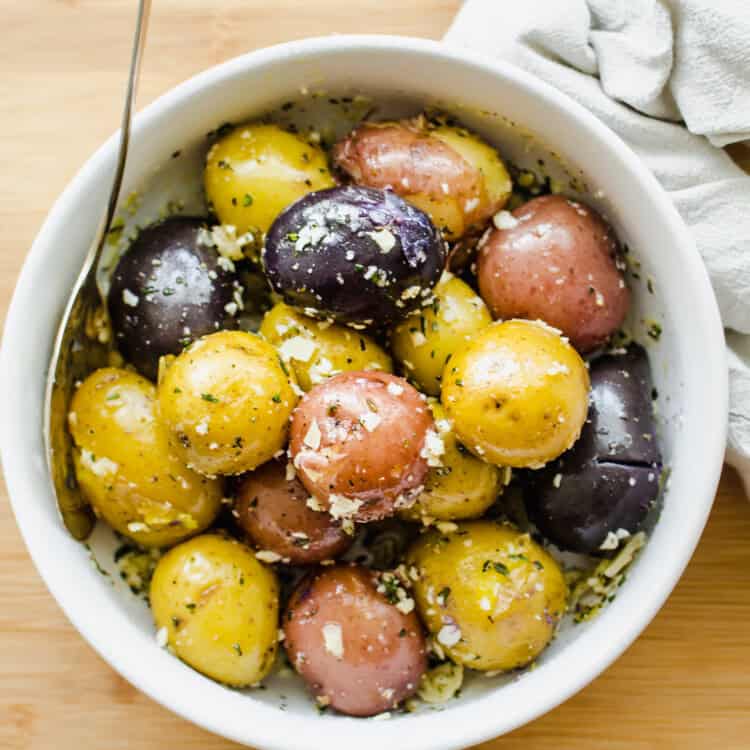 The BEST Boiled Baby Potatoes Recipe
With a little added butter and pantry seasonings, this boiled baby potatoes recipe looks stunning and will please everyone at the table!
Prep:
5 minutes
Cook:
10 minutes
Total:
15 minutes
Ingredients
1 1/2

pounds

small baby potatoes (preferably an assortment of red, blue, and yellow)

2 tablespoons

butter, plus more as needed
Kosher salt

1/4 teaspoon

ground black pepper, plus more to taste

1/2 teaspoon

garlic powder, plus more to taste

1 tablespoon

minced fresh parsley, or

1/2 teaspoon

dried parsley flakes
Optional:

1/4

cup

grated Parmesan cheese
Before You Begin! If you make this, please leave a review and rating letting us know how you liked this recipe! This helps our business thrive & continue providing free recipes.
Instructions
If your potatoes are not bite-sized, then cut them in half.
In a large pot, add enough water to cover your baby potatoes by at least 1 inch of water. Bring to a boil over high heat (put on the lid to help it boil faster). Then, salt the water liberally once it's boiling.
Boil the baby (or small) potatoes until they are fork tender, about 10 minutes depending on the size of your potatoes. 
Drain the potatoes in a colander over the sink and then return them to the pot.
Gently toss the potatoes with the butter, 1 teaspoon Kosher salt, the pepper, the garlic powder, and the parsley. Taste and add more salt, pepper, or garlic powder, as desired. Stir in Parmesan, if desired.
Serve warm or at room temperature.
---
Notes/Tips
Dairy-Free Option: Use ghee (lactose-free clarified butter) or olive oil instead of butter. Leave out the Parmesan cheese.
Kosher Salt Substitute: If subbing table salt for the Kosher salt in this recipe, use about half as much.