This post may contain affiliate or sponsored links. Please read our disclosure policy.
Say hello to the easiest way to make perfectly fluffy and delicious baked potatoes. Crock Pot Baked Potatoes require minimal effort. Set it and forget it for a comforting side dish or hassle-free main dish like Baked Potato Bar.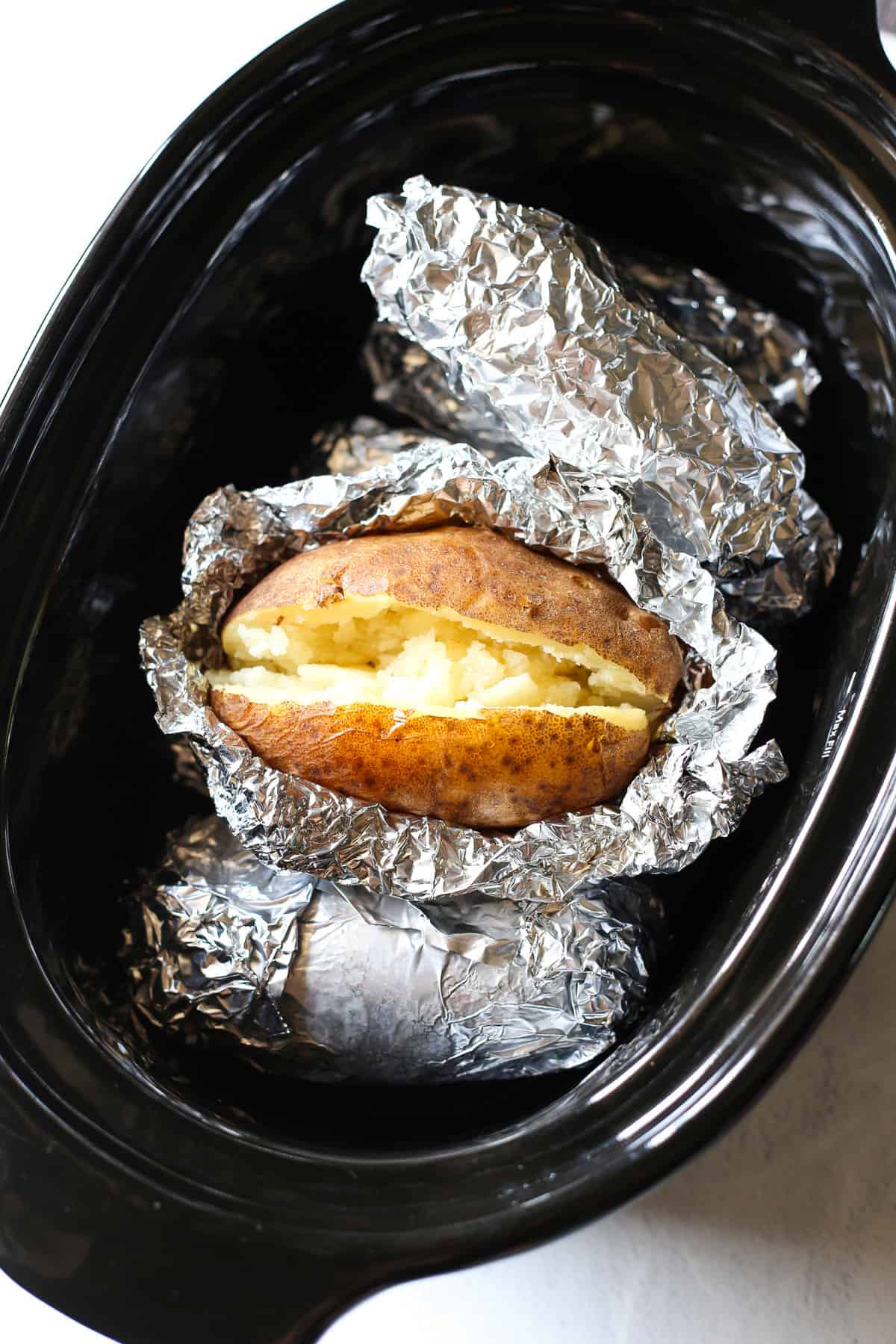 Reasons to Cook Potatoes in the Crock Pot
There are many reasons we love crock pot recipes like this one so much.
It leaves the oven open for other dishes. This is ideal for potatoes when it comes to holiday meals.
You can prevent having a hot oven running for over an hour in the middle of summer.
Cooking potatoes in the crock pot is perfect if you're not going to be around the hour before dinner.
Whether you cook on low or high, they come out moist, fluffy, and delicious.
They work perfectly for a Baked Potato Bar, especially when topped with Homemade Cheese Sauce and Oven Baked Bacon.
Potatoes are ready to be customized. They are cooked with only salt and pepper so you can add whatever toppings you want.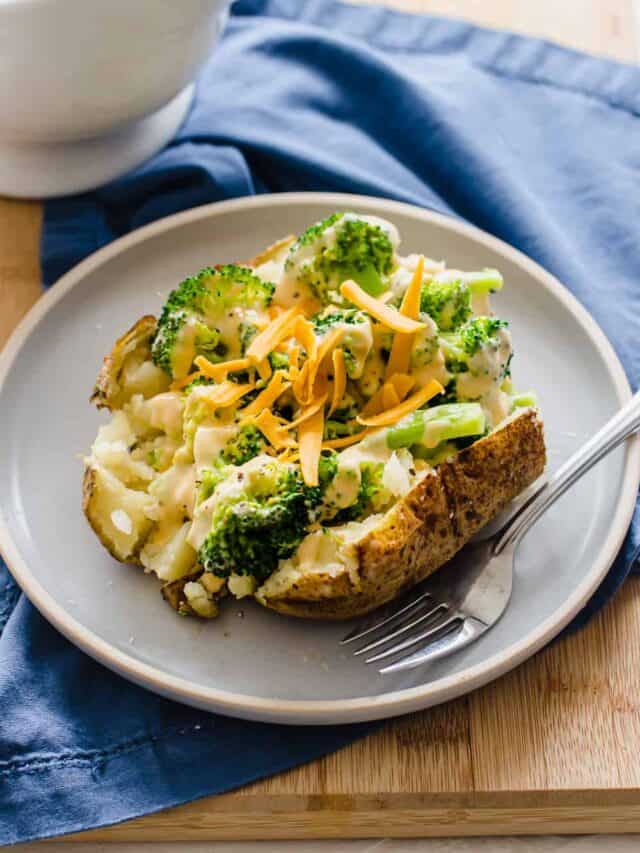 Ingredients
Russet Potatoes – Russet potatoes have a high starch content and low moisture content. This results in a dry, fluffy texture when cooked. This is why we use them in recipes like our Bacon and Cheddar Twice Baked Potatoes and Baked Potato Bar.
Oil – I used an avocado oil spray but really any oil will work.
Salt and Pepper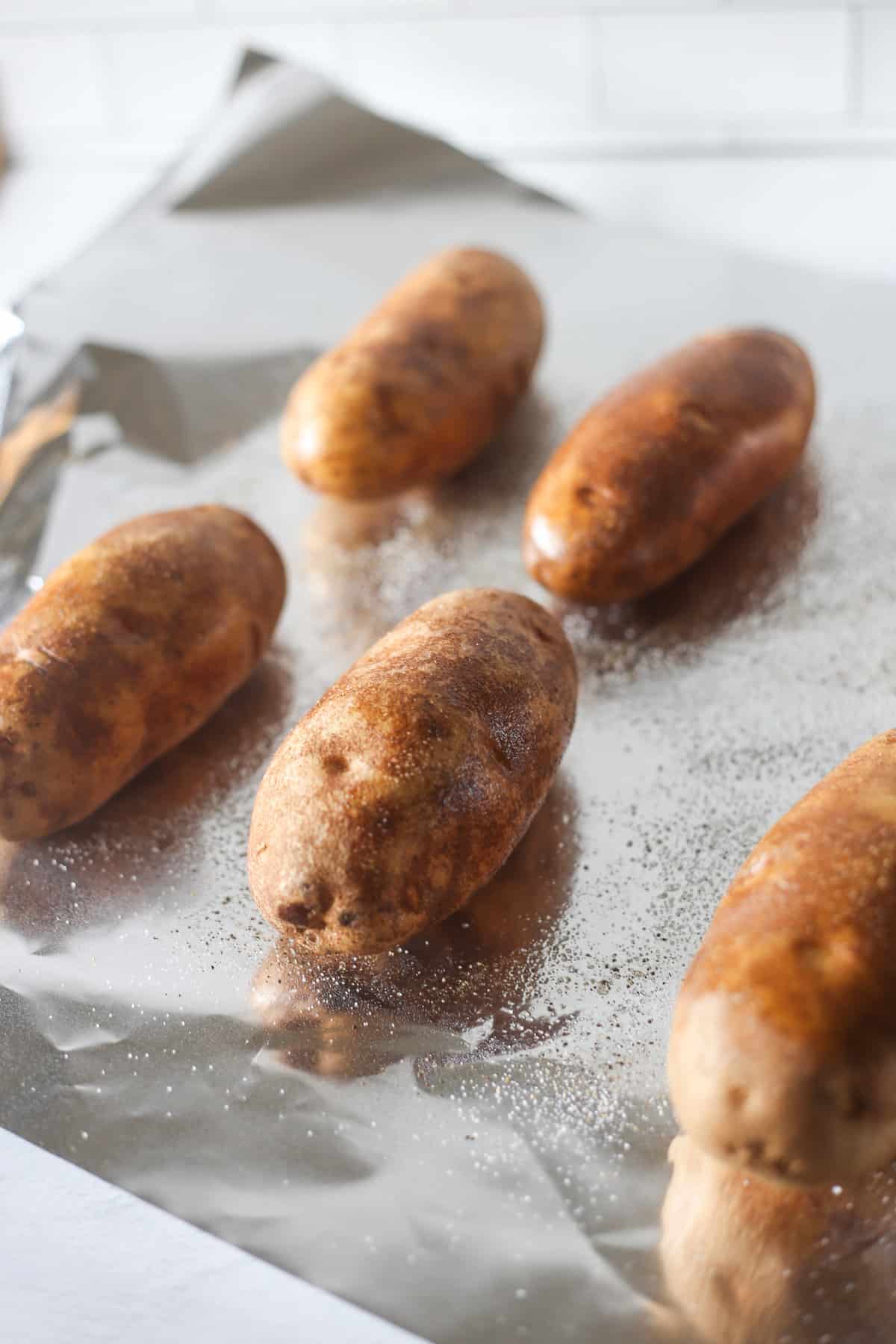 How to Make Baked Potatoes in the Crock Pot
Give the potatoes a scrub and dry them off. Coat them with a little oil and season with salt and pepper on all sides. Prick the potato a few times with a fork or paring knife on all sides.
Wrap the Potatoes in Foil
Wrap the potatoes up in foil. Doing this and including a little water in the bottom of the slow cooker helps them cook more evenly and retain moisture.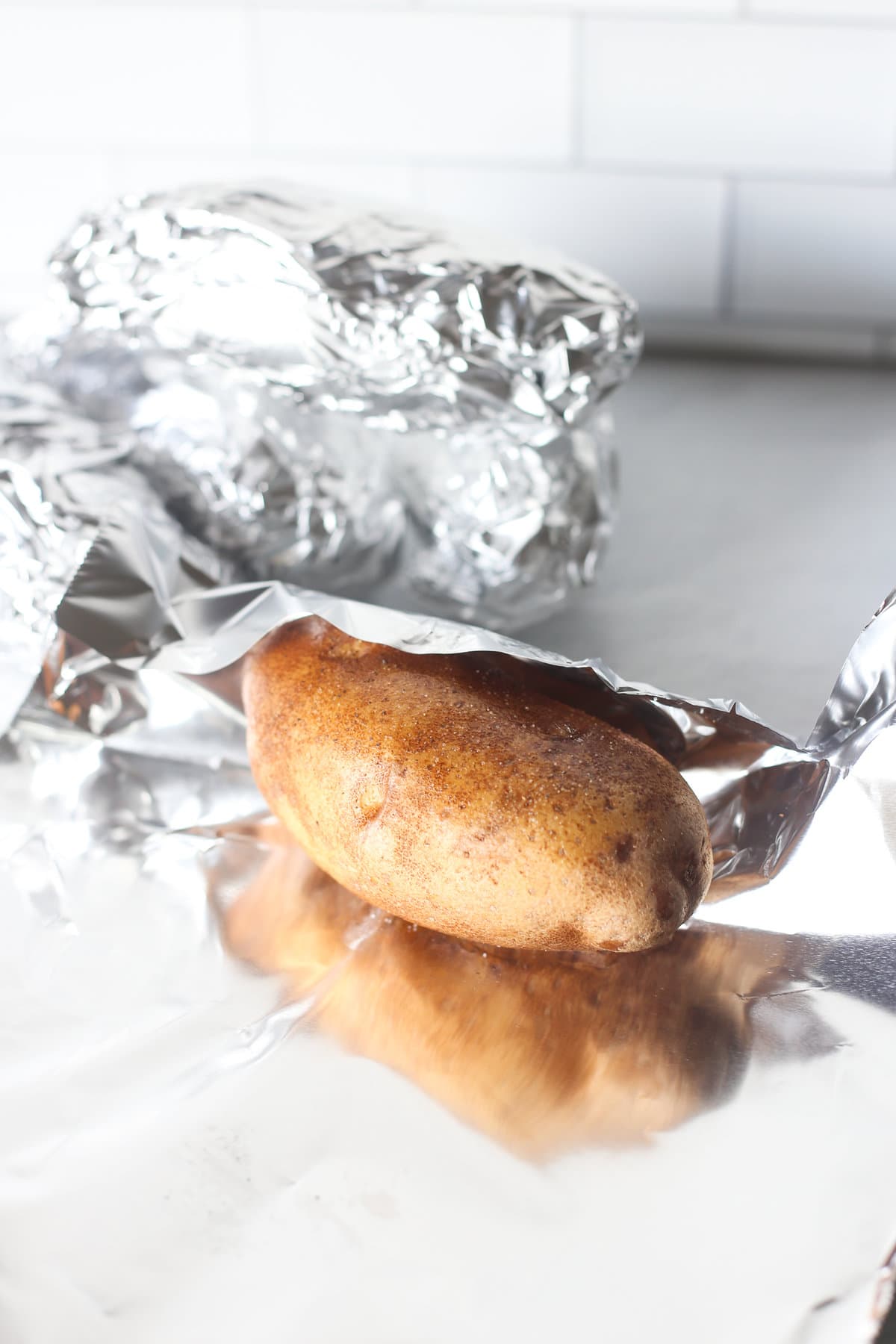 After adding a little water to the slow cooker, add the foil wrapped potatoes and cover with the lid.
For large potatoes, cook on low for 6-7 hours or on high for 4-5 hours.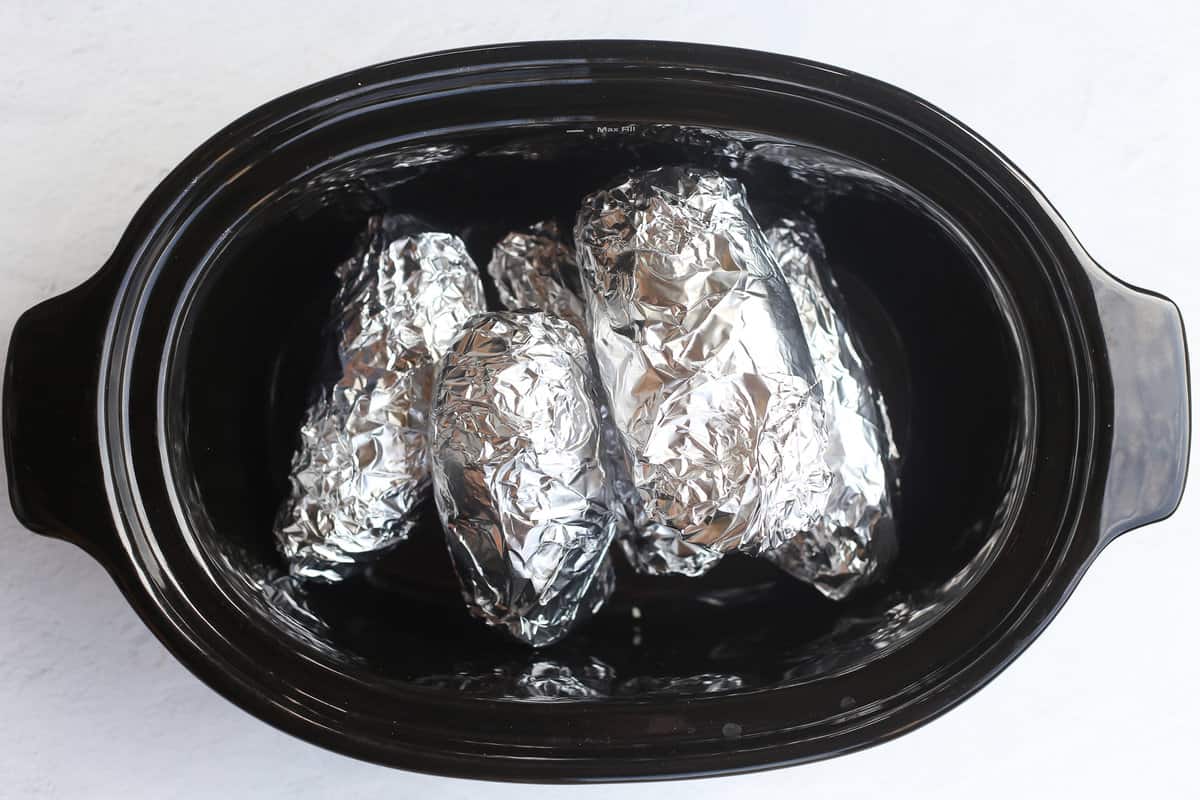 Note on Cooking Time
Keep in mind, you will need to adjust the cook time based on potato size. To test them, give them a little squeeze. If they give under the pressure, they are likely done! Unwrap and test with a fork to double check.
This recipe was made with large potatoes in mind. Here is a handy way to know what size potato you're working with.
Potato Size Chart
Smaller Russet Potatoes (5 oz each)
Medium Russet Potatoes (6-7 oz each)
Large Russet Potatoes (8-9 oz each)
Extra Large Russet Potatoes (10+ oz each)
Can I leave them on the warm setting once they are done cooking?
Yes, leaving them on warm is totally fine. They should be fine for a few hours at that setting. You may want to add a little water to the bottom of the crock pot to make sure they stay moist.
Do I have to wrap them in foil?
While some recipes don't have you wrap the potatoes in foil, I do because it helps keep the potatoes from drying out and helps them cook more evenly.
How many can I add to the slow cooker?
As many that will fit! Quantity won't affect cooking time as long as the lid fits securely.
My water evaporated. Is that ok?
When cooking on high, your water might evaporate. Don't worry, the potatoes will be fine.
Did you make this? Snap a photo and tag us on Instagram at @thrivinghome so we can see your creations and cheer you on!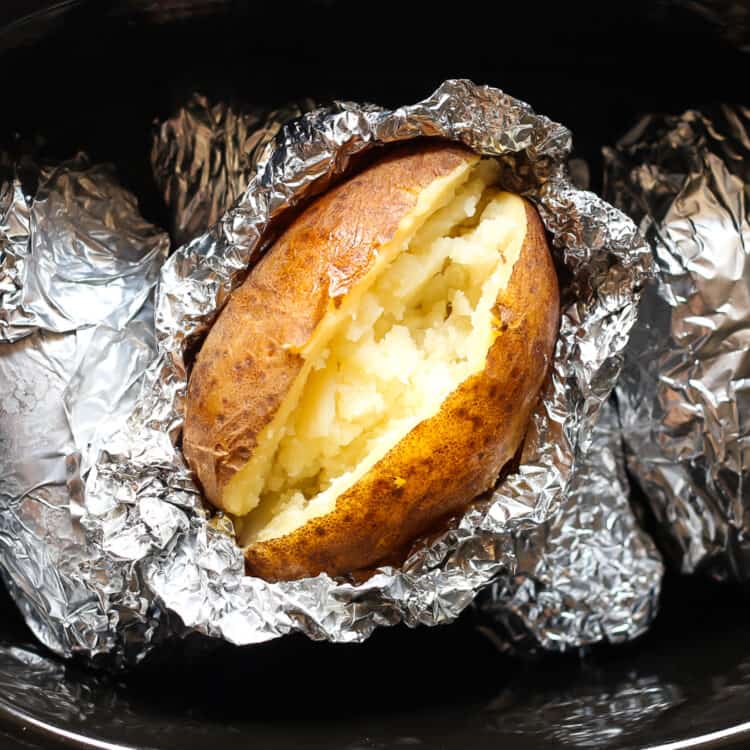 Crock Pot Baked Potatoes
Crock Pot potatoes are a great alternative to heating up your house with the oven. 
Prep:
10 minutes
Cook:
6 hours
Total:
6 hours 10 minutes
Ingredients
4

–

6

large Russet potatoes, unpeeled
Salt and pepper
Cooking spray or oil of choice (i.e. avocado oil, olive oil, vegetable oil)
Before You Begin! If you make this, please leave a review and rating letting us know how you liked this recipe! This helps our business thrive & continue providing free recipes.
Instructions
Spray potatoes with oil spray and season with salt and pepper on all sides. Prick the potato a few times with a fork or paring knife on all sides.
Wrap potatoes individually in aluminum foil and place in slow cooker. Add ½ cup water to the bottom, cover, and cook until potatoes are tender, 6 to 7 hours on low or 4 to 5 hours on high. You'll know they are done when a fork easily pierces the potato and it gives when you squeeze it.
Transfer potatoes to a serving dish and carefully remove foil (watch for steam). Serve with desired toppings like our Baked Potato Bar. 
---
Notes/Tips
Potatoes can be broiled or grilled for a few minutes at the end if you'd prefer crispier skin.
Not all slow cookers are created equally. Test for doneness before removing from slow cooker by giving them a squeeze or piercing with a fork. They should give easily. 
These can be left on the warm setting for a few hours once they are done cooking.
This recipe was tested with large potatoes. Adjust timing accordingly.