This post may contain affiliate or sponsored links. Please read our disclosure policy.
Crockpot Baked Apples are a fall favorite! Core your apples, add the crumble filling, and bake until tender. Your home will smell delicious. Use the recipe as a side dish or even a dessert. Enjoy!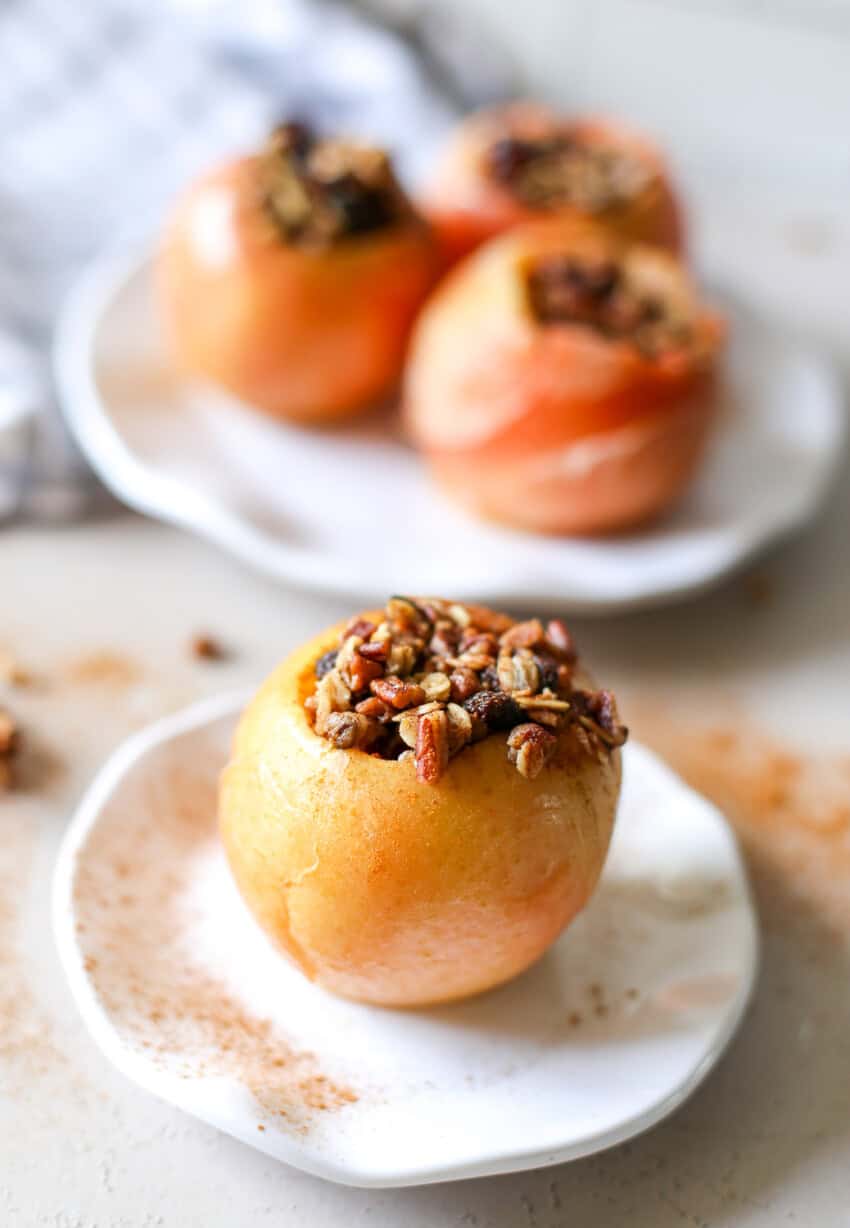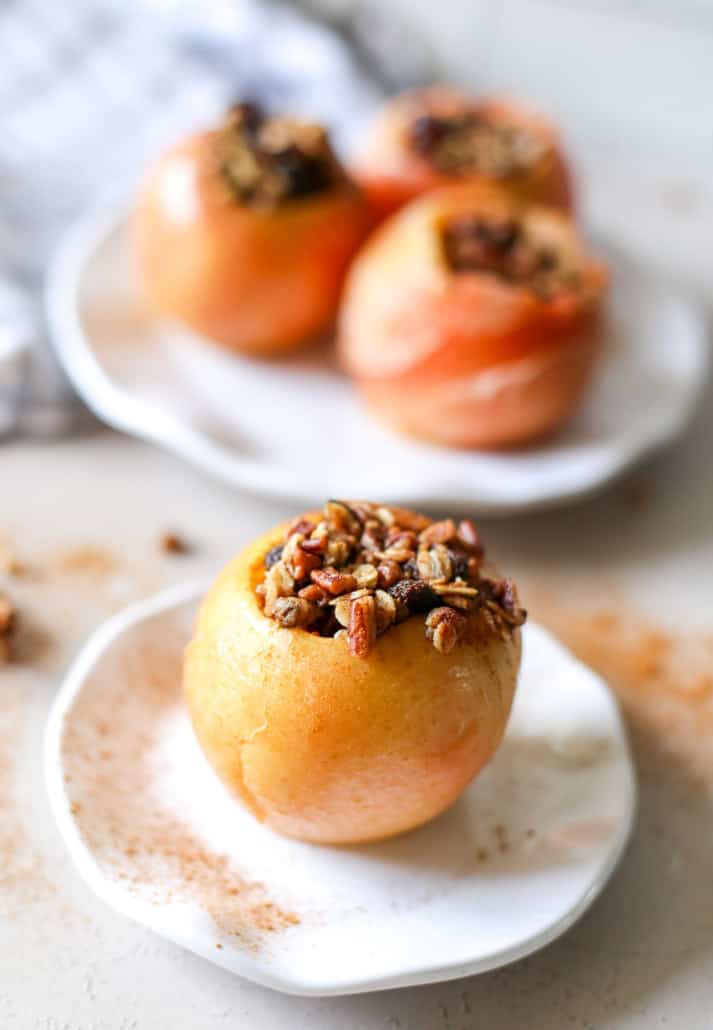 What Are Baked Apples?
The term baked apples can refer to sliced, chopped, or whole apples that are baked until slightly softened and juicy. They come in all different forms! In fact, we have another baked apple recipe, called Crockpot Cinnamon Apples, that uses very similar ingredients but results in a homestyle applesauce. Overall, baked apples usually include sugar, butter, and/or cinnamon.
This recipe is for whole-baked apples that are made in the crockpot. They are a fun side dish, especially in the fall! P.S. if you like baked apple recipes, you should check out our Pie in a Jar.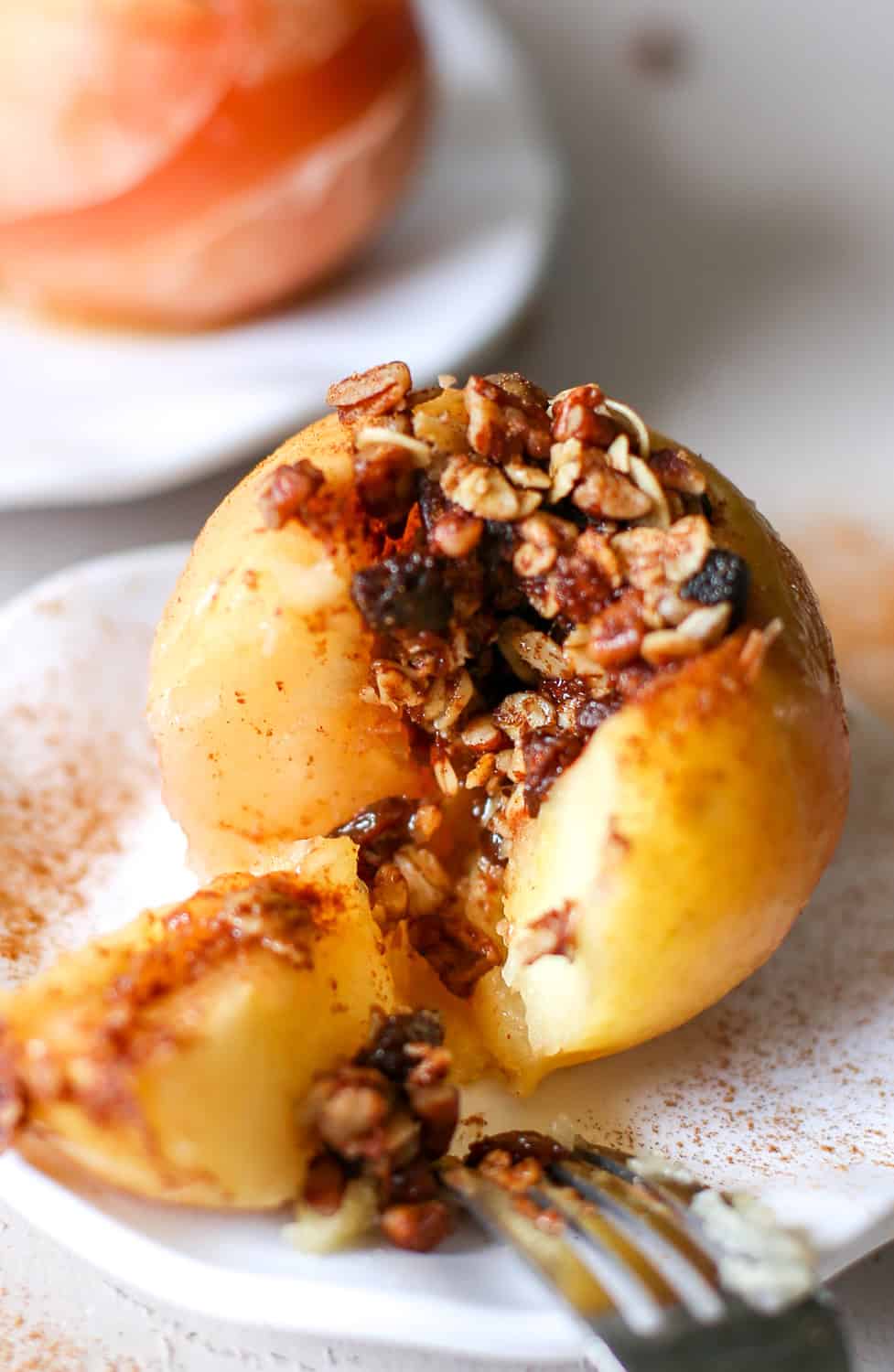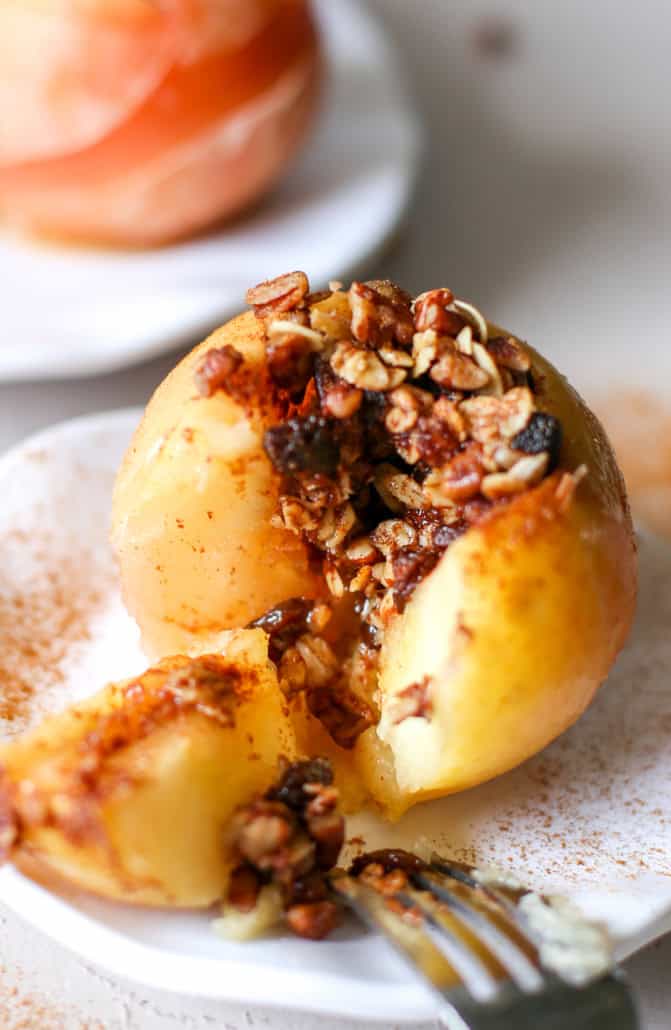 How to Make Baked Apples in the Crockpot
There are three simple steps to making whole apples in the slow cooker. Let's do this!
Step 1: Core the apples.
This is the time-consuming part of this recipe. You need to create a gap for that delicious filling to sit in. I found the best method was to cut out the shape with a sharp pairing knife and then scoop out any extra core with a spoon. Try not to cut too deep, you don't want there to be a hole in the bottom of your apple. (Good news, though! An easier option is to use an Apple Corer tool like this one.)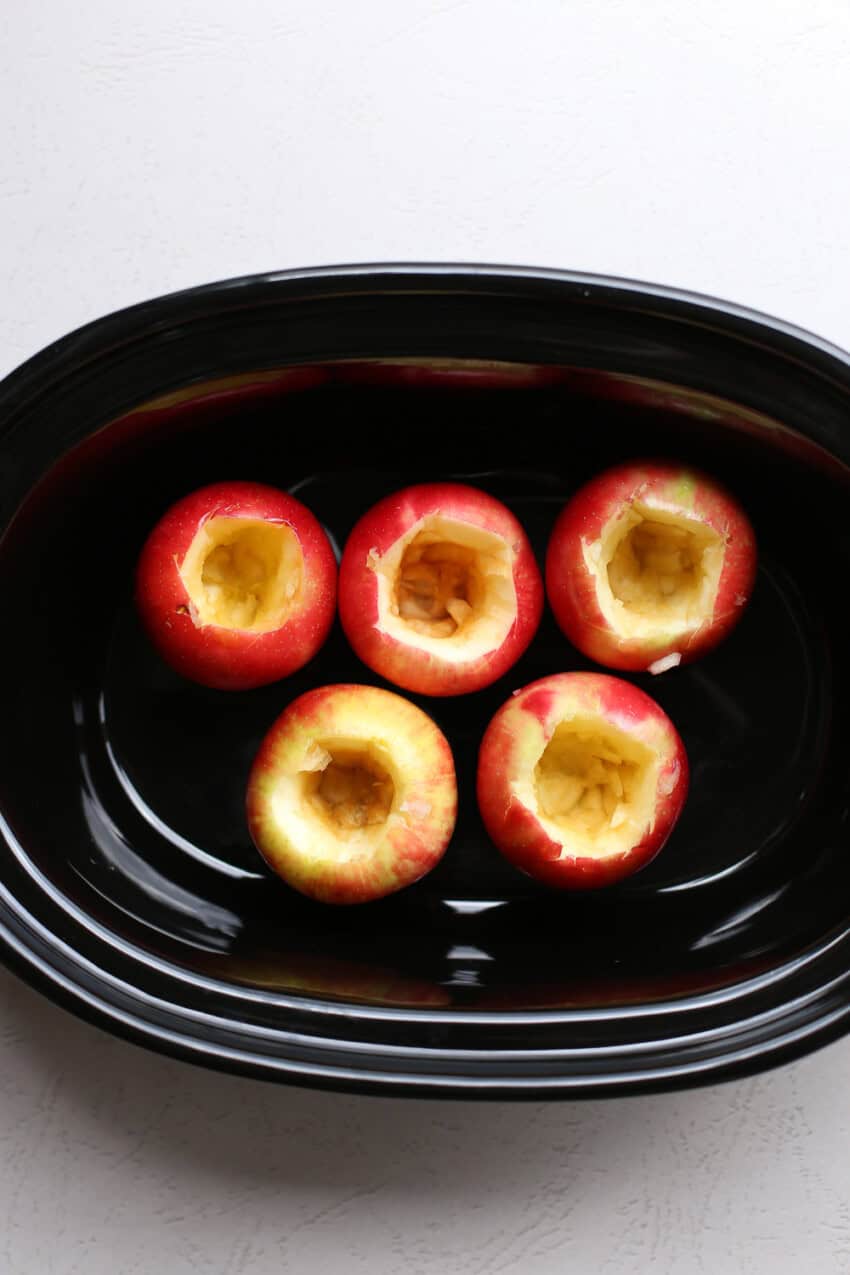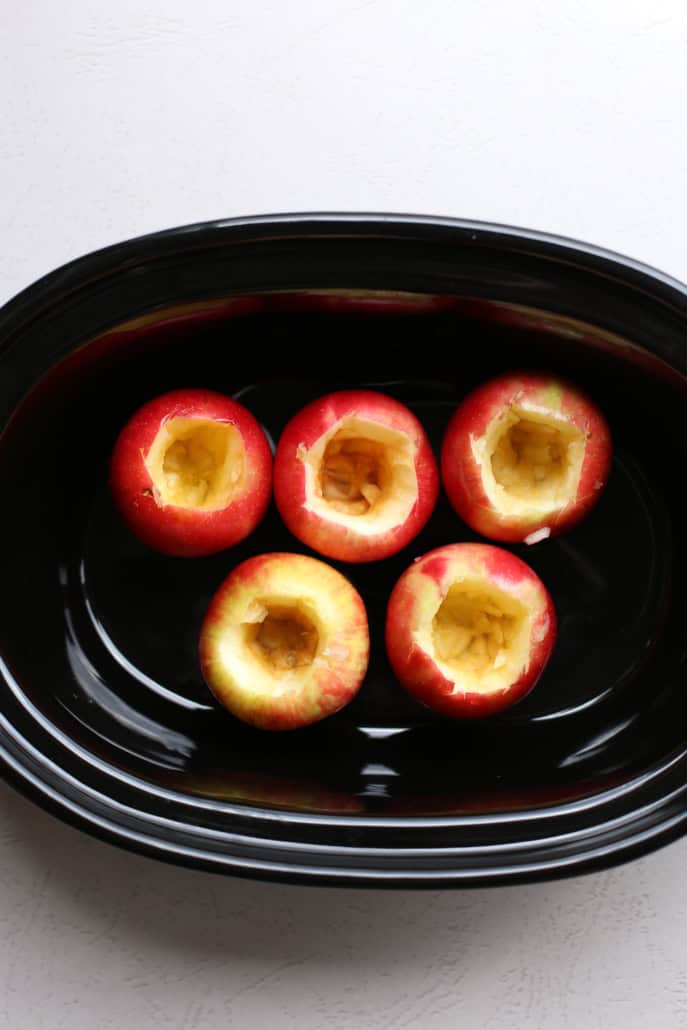 Step 2: Make the filling and fill the apples.
Now for the fun part! Mix together the filling ingredients and try not to eat it with a spoon in the process! The filling can easily be customized with what you have on hand or what you prefer. I oftentimes leave out the raisins or swap the pecans for almonds.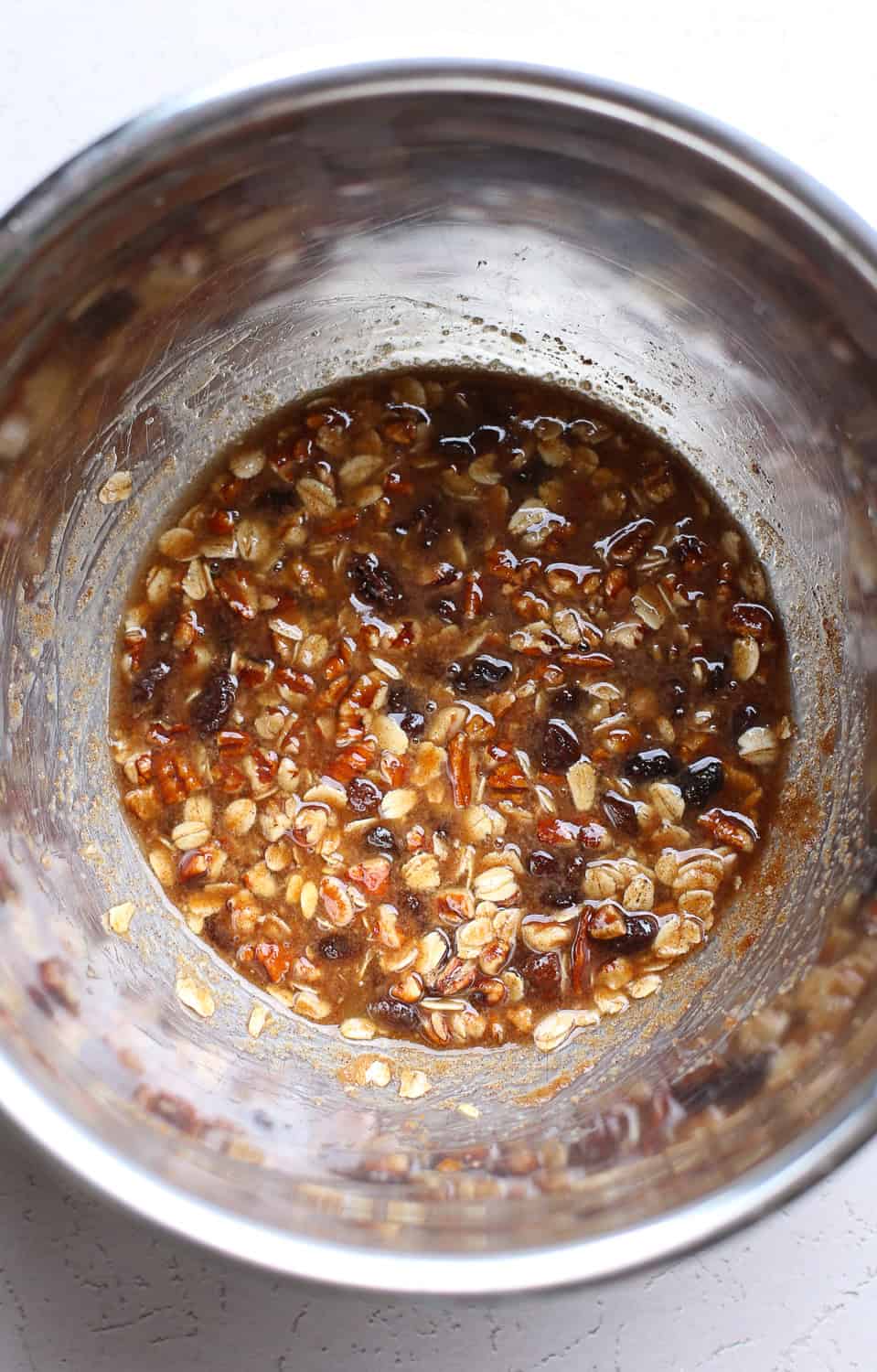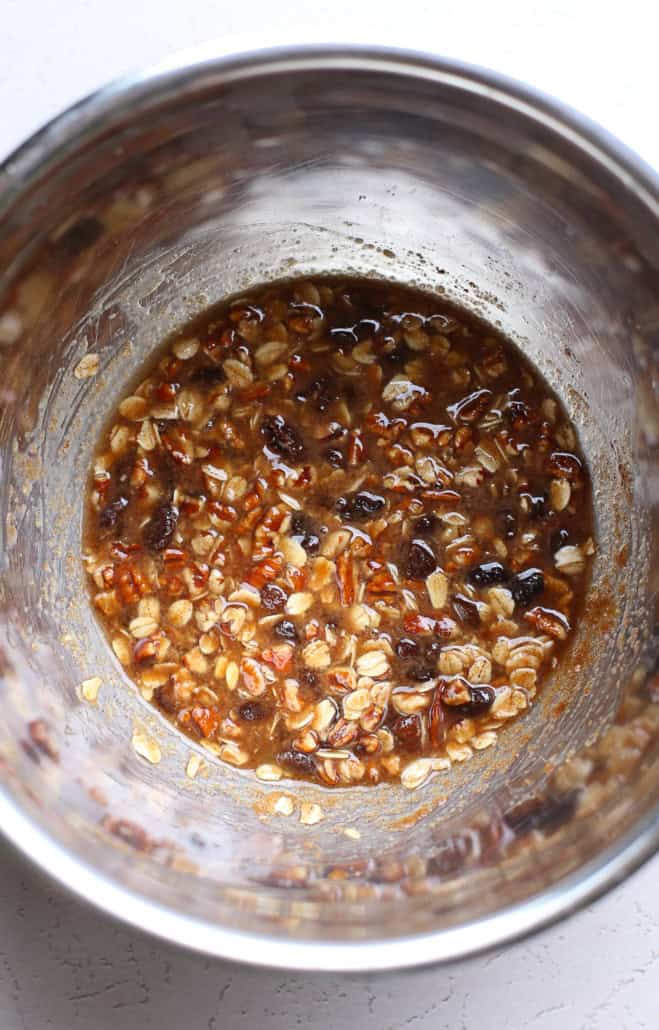 Now use a spoon and scoop that delicious filling into the apples you've prepared. It is easiest to do this in the crockpot because if you make a mess, no worries!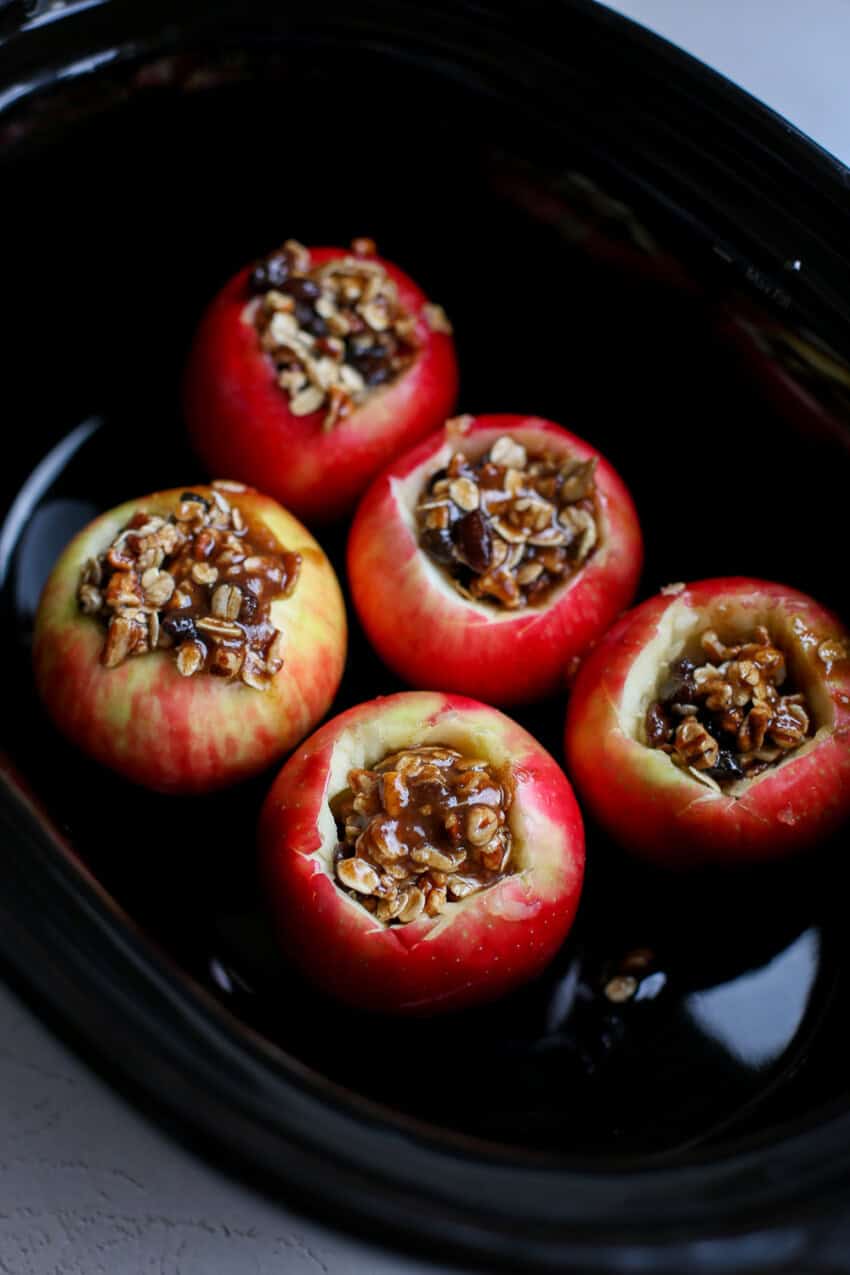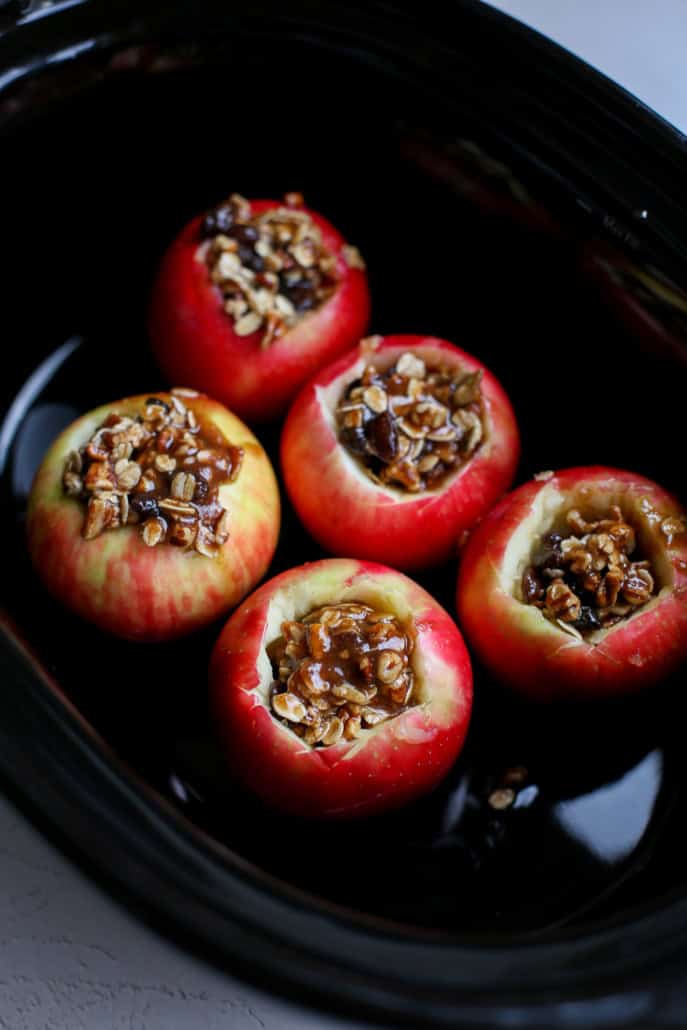 Step 3: Bake (aka slow cook) the apples!
And when I say "bake" you know I mean slow cook, right? If you want to bake them in the oven, here is a great recipe for that.
Add a little water (or apple cider!) to the bottom of the crockpot and cook them on low for 4 hours. This was the perfect timing. The apples were done enough to be softened–not mushy–yet still firm enough to slice through.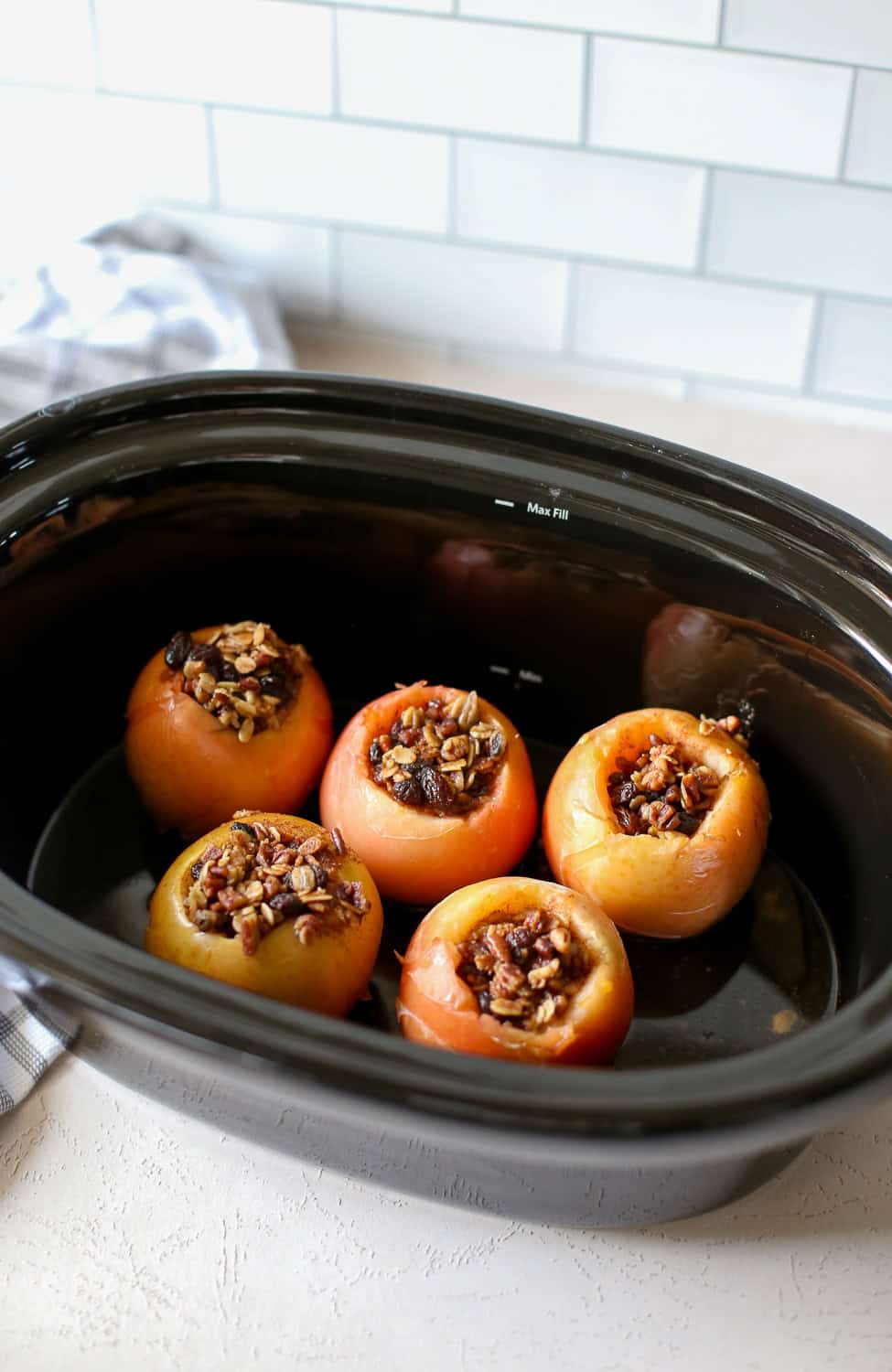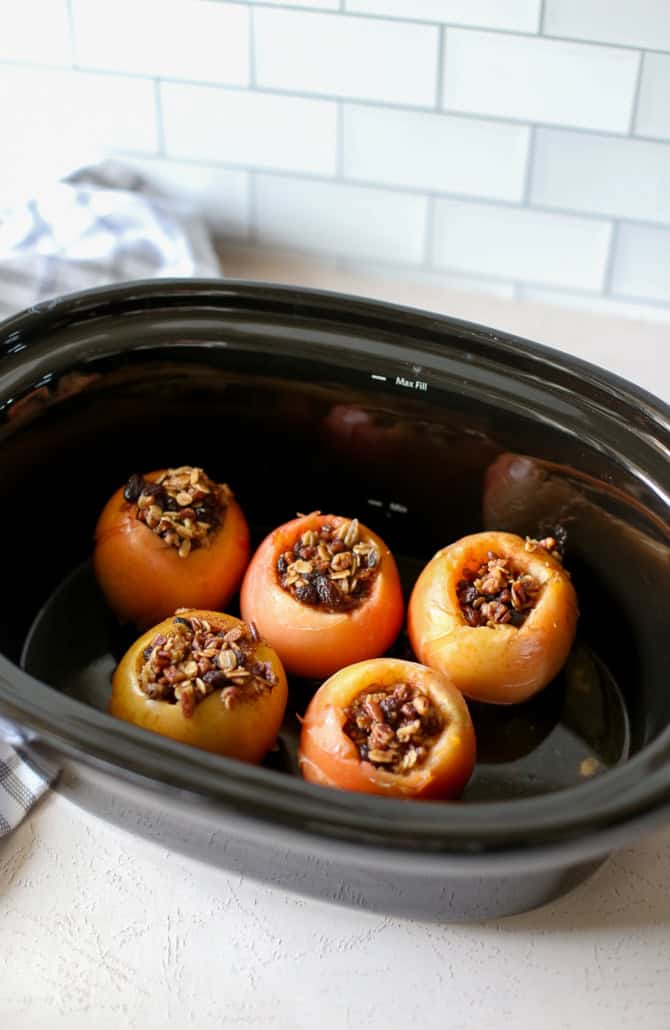 How to Serve Baked Apples
I'm kicking myself for not getting pictures of this but drizzling honey over the top of these would be divine! A lot of this will also depend on the sweetness of your apples. Some may not prefer to add any more sweetness while others may want caramel or even a scoop of ice cream on top!
These would be absolutely delicious as a side or dessert with one of these main dishes: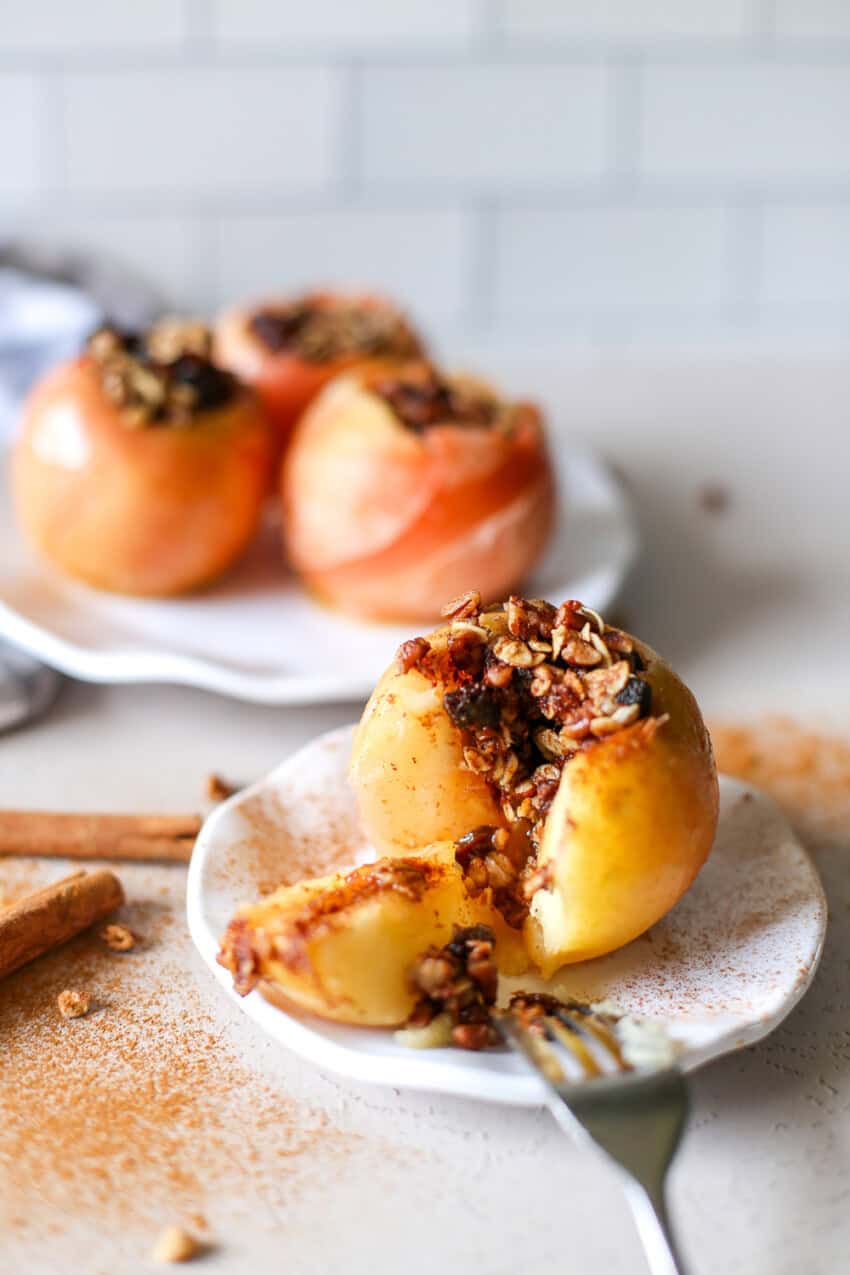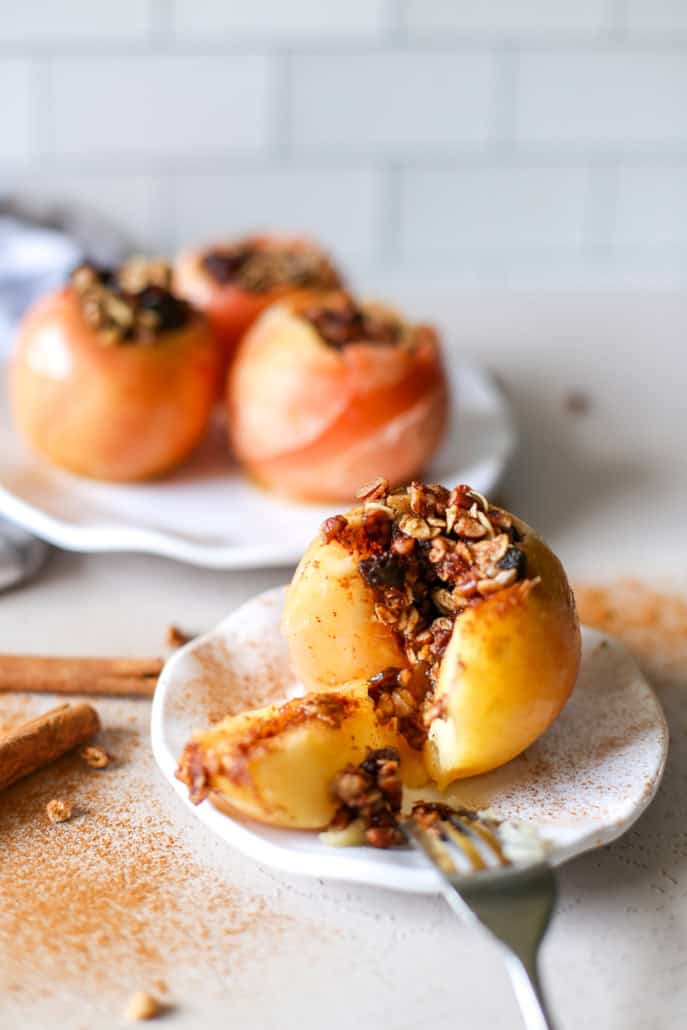 Did you make this? Snap a photo and tag us on Instagram at @thrivinghome so we can see your creations and cheer you on!
Crockpot Baked Apples
This recipe for crockpot baked apples is packed with healthy, natural ingredients that makes a delicious side dish. It could easily be served as a dessert, as well.
Prep:
15 minutes
Cook:
4 hours
Total:
4 hours 15 minutes
Ingredients
5

–

6

medium to large apples (see Notes below for recommendations)

1/4

cup

raisins

1/4

cup

brown sugar (sub: 100% pure maple syrup)

1/4

cup

old-fashioned rolled oats

1/4

walnuts or pecans, chopped

1 teaspoon

cinnamon

6 tablespoons

melted butter
Optional toppings: honey or vanilla ice cream!
Before You Begin! If you make this, please leave a review and rating letting us know how you liked this recipe! This helps our business thrive & continue providing free recipes.
Using an apple corer or paring knife, cut around the core, leaving about half an inch at the bottom. Remove as much of the core and seeds as possible.
In a small bowl, stir together the raisins, brown sugar, oats, nuts, cinnamon, and butter.
Place the apples right side up in the crockpot. Spoon the mixture evenly into the apples. Add 1/2 cup of water (or apple cider) to the bottom of the crock pot.
Cover and slow cook on LOW for 4 hours, or until apples are soft all the way through but not mushy.
Serve warm. Optional: Drizzle honey over the cooked apples or add a scoop of ice cream on the top of each one!
---
Notes/Tips
The best apples to use for whole baked apples are firm and perfectly round ones. I usually use ones that are crisp and just a little tart, like Granny Smith, Fuji, Pink Lady, or Honey Crisp.
While oats are naturally gluten-free, oftentimes they're processed in a factory where cross-contamination can happen. Look for a "certified gluten-free" label on your oats, if avoiding all gluten is important to you.