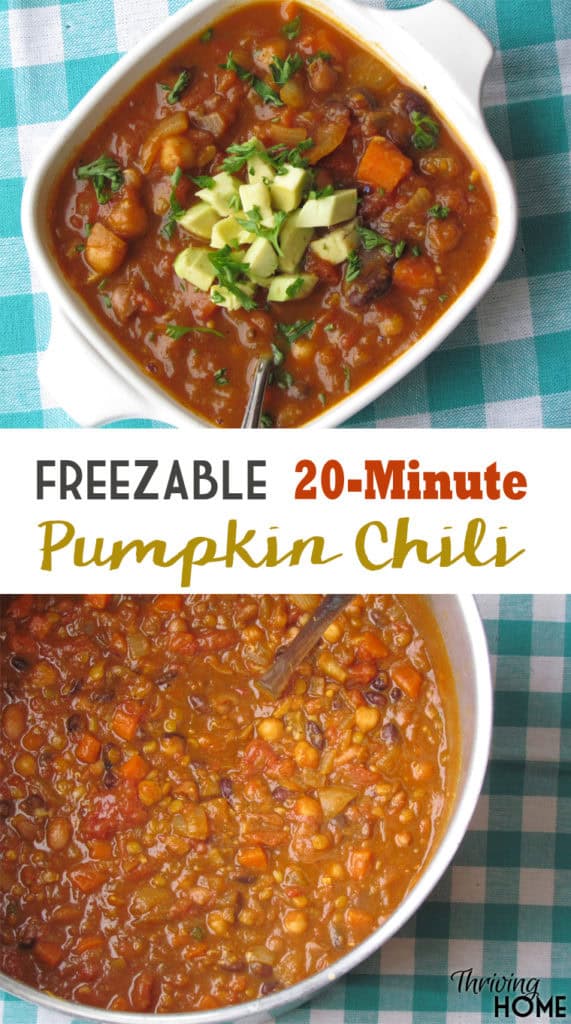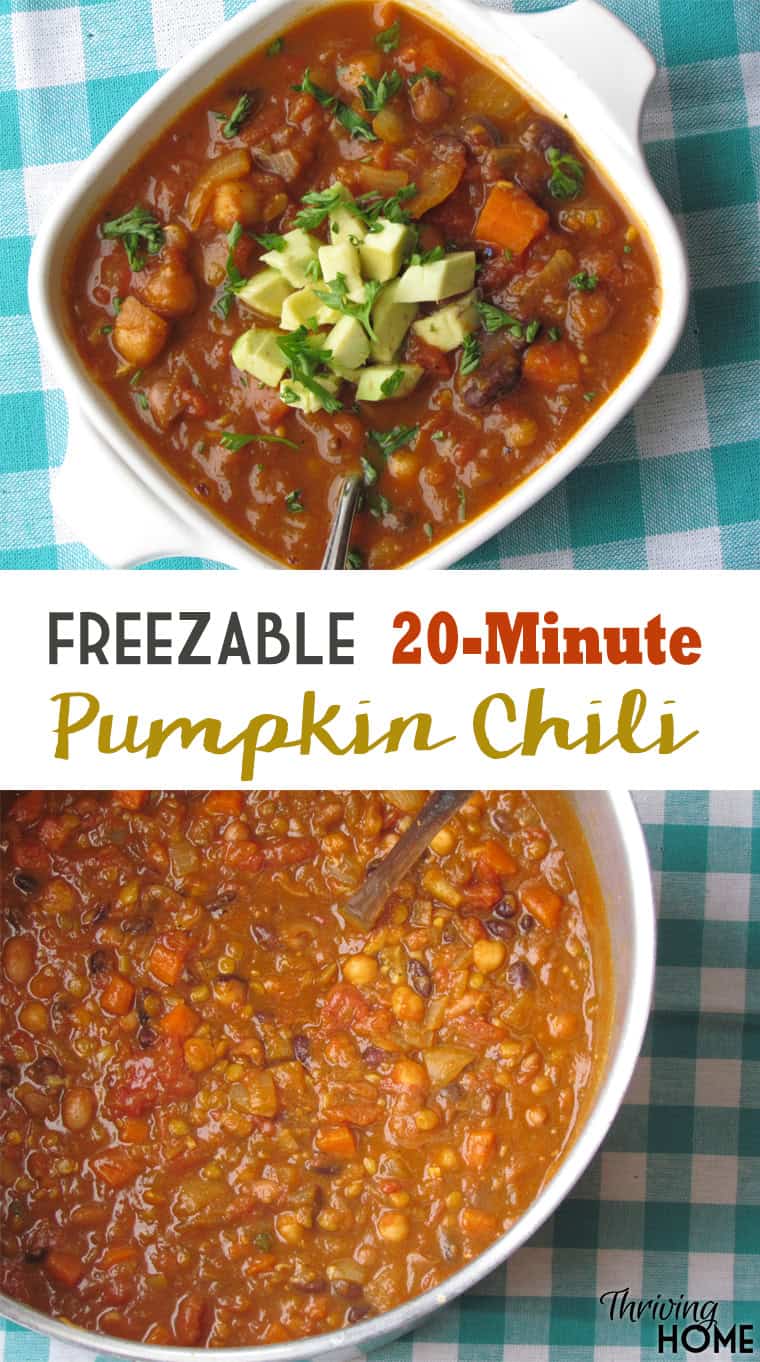 Want a super nutritious, flavorful recipe that can feed a crowd, won't break the bank, or doesn't take much time? This 20 Minute Freezable Pumpkin Chili gets the job done.
It makes a HUGE amount of chili for a crowd, a freezer club, or for your own future freezer meals. Plus, if you or others you know have special dietary needs, this recipe is dairy-free, gluten-free, and vegetarian. And it's packed full of good-for-you vegetables, beans, and legumes. Most importantly, perhaps, is that it passed the taste test with my carnivorous "foodie" husband who declared, "This is really good!"
This is not a hard recipe at all. Don't be dissuaded by the long list of ingredients. You probably have most of these in your pantry and the variety really does add so much depth of flavor to the Pumpkin Chili. Keep in mind that it's easy to adjust this recipe to what you have on hand. Add the kinds of beans you like or already have. Leave out the carrots if you don't have any. It's up to you. The only thing I would suggest not tweaking much are the seasonings. That's where the chili flavor resides.
Wondering if this is kid-friendly? Well, you can certainly go light on the red pepper flakes to decrease the heat. But, my 8-year-old son loved it as it is.
Stay warm and enjoy!
Print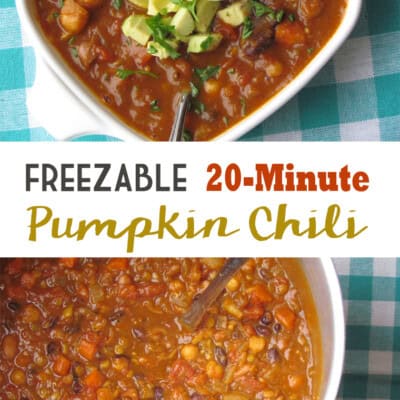 20 Minute Freezable Pumpkin Chili
Author:

Prep Time:

25 mins

Cook Time:

20 mins

Total Time:

45 mins

Yield:

about 12
---
Description
Want a super nutritious, flavorful recipe that can feed a crowd, won't break the bank, or doesn't take much time? Your family will enjoy this healthy pumpkin chili.
---
Ingredients
2 tablespoons olive oil
2 large onions, diced
3 large carrots, diced
4 garlic cloves, minced
1 (15 oz) can pumpkin puree
1 (28 oz) can diced tomatoes (do not drain)
4 cups (1 carton) vegetable stock/broth (Note: add more if chili gets too thick)
1 can (15 oz) black beans, drained and rinsed
1 can (15 oz) pinto beans, drained and rinsed
1 can (15 oz) garbanzo beans, drained and rinsed
1/2 cup dried lentils (any kind; rinse first) or another can of beans (your choice)
2 tablespoons tomato paste
1 bay leaf
2 tablespoons chili powder
1 tablespoon ground cumin
1/2 teaspoon crushed red pepper flakes
1/2 teaspoon dried oregano
1/2 teaspoon paprika
1/2 teaspoon onion powder
1/2 teaspoon garlic powder
1-2 teaspoons sea salt (to taste; start with least amount)
1/2-1 teaspoon black pepper (to taste; start with least amount)
---
Instructions
In a large pot or dutch oven over medium heat, saute onions, carrots, and garlic in olive oil until tender, about 4-5 minutes. Season lightly with salt and pepper as they cook.
Add all other ingredients into the same pot with veggies. Season sparingly with salt and pepper at this point. Bring to a boil, stirring almost constantly, and then reduce to a low simmer. Simmer for about 20 minutes, stirring regularly to avoid scorching the bottom.
Taste and adjust salt and pepper amounts. Remove the bay leaf. Serve topped with your favorite chili toppings (sour cream or plain Greek yogurt, shredded cheddar, onions, crackers, etc.).
---
Notes
Freezer Meal Instructions:
To Freeze:
Cook according to directions. Let fully cool. Freeze in air tight, freezable container or zip top bag for up to 3 months.
To Prepare:
Thaw overnight in the refrigerator and warm at a low temperature on the stove top. Or, add frozen soup to a large stock pot, add a cup or two of water or broth, and warm over low to medium-low heat. Stir occasionally, making sure the bottom doesn't scorch.