This post may contain affiliate or sponsored links. Please read our disclosure policy.
Cancer-Fighting Soup (aka Immune-Boosting Soup) is chock full of vegetables, lentils, and black beans that science has shown helps fight inflammation in the body. Whether you're wanting to help someone with a diagnosis or just eat as healthy as possible yourself, this comforting soup fits the bill.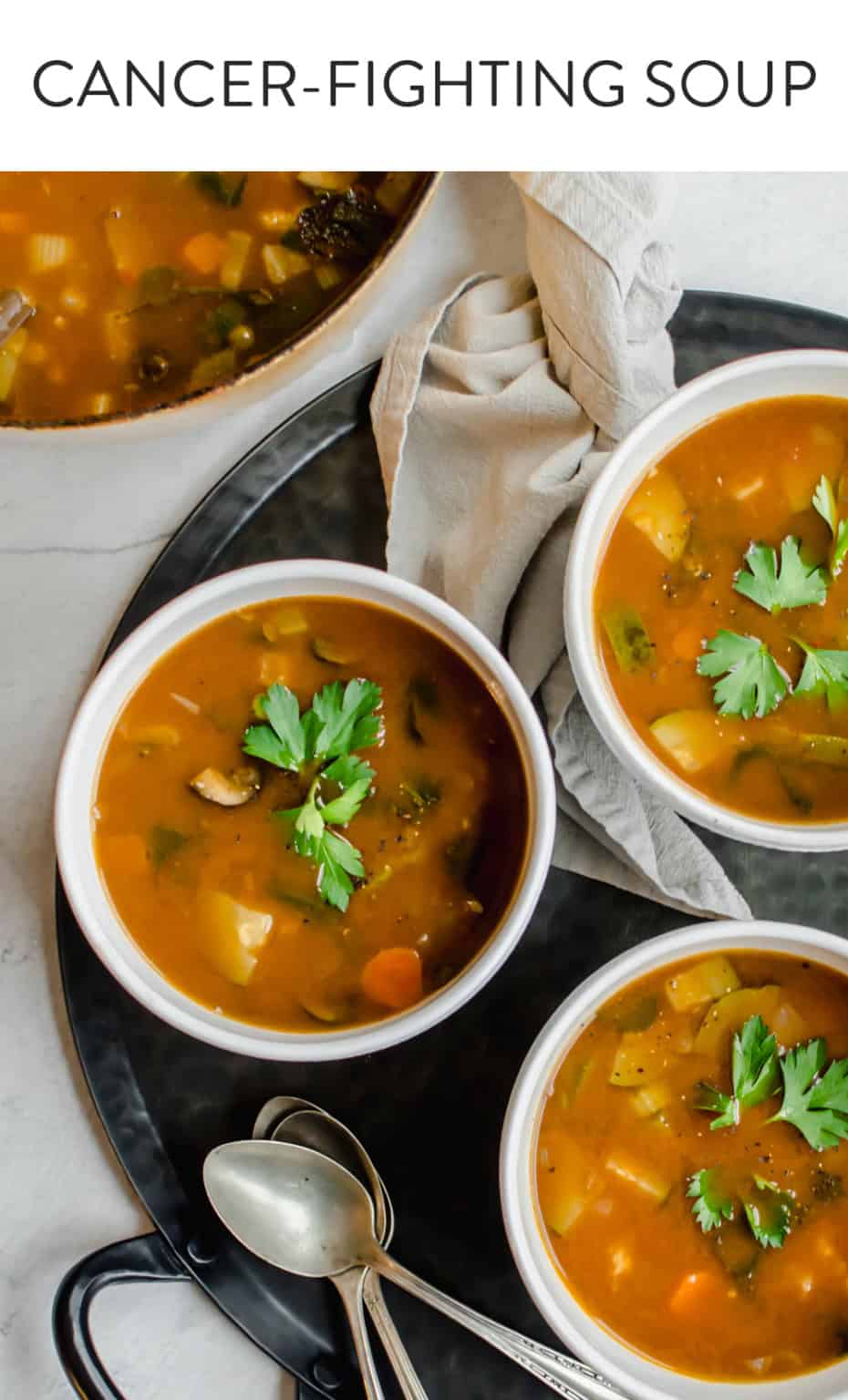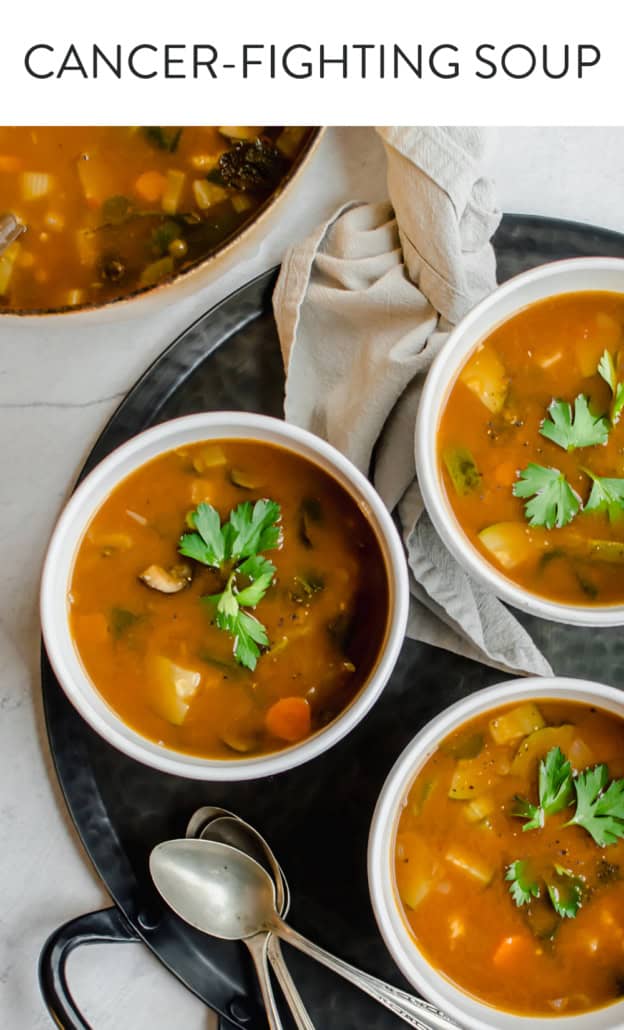 Darcie's Cancer Story
Cancer. No one expects to hear that diagnosis from their doctor, even though one in three Americans will get cancer at some point. You especially don't expect it when you're a 38-year-old seemingly healthy mom of four children.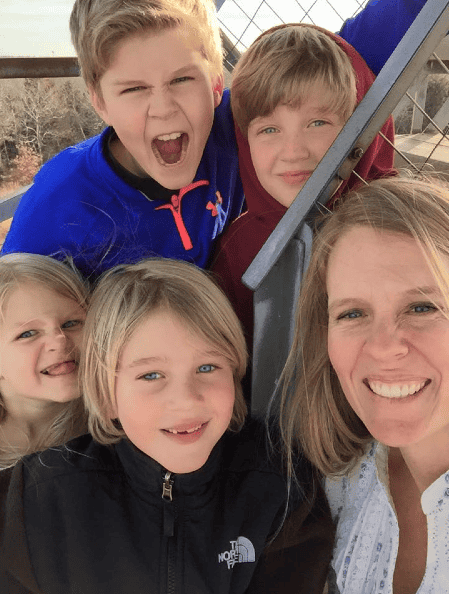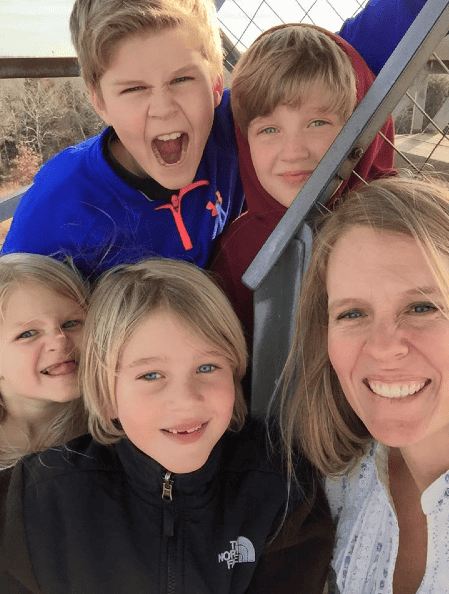 My long-time and dear friend Darcie received that diagnosis in Fall 2014, after finding a lump in her breast. It was a shock to all of her friends, family and church family to say the least.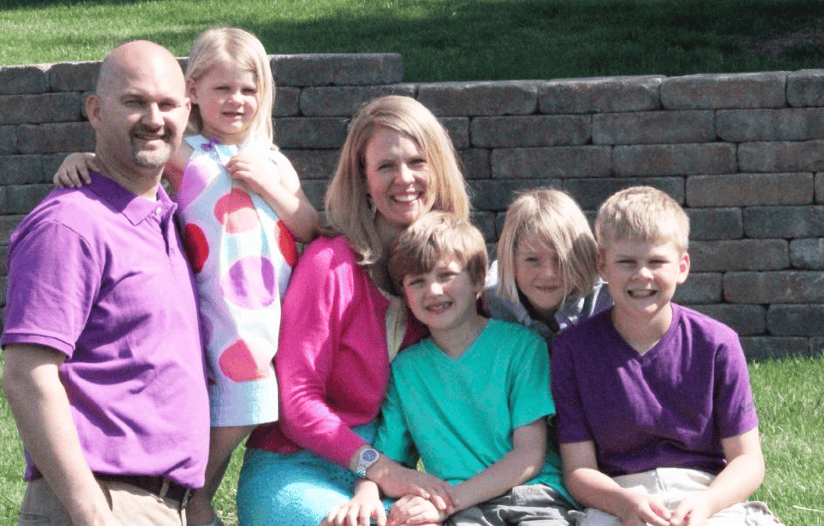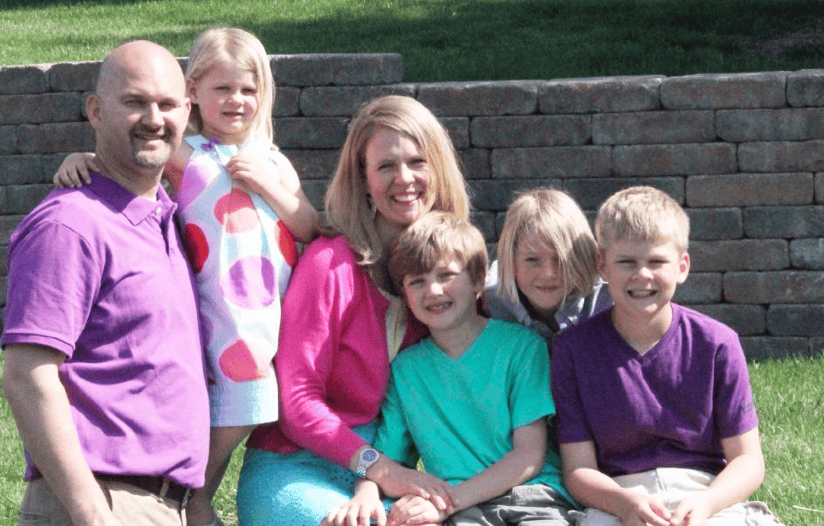 Her friends and family quickly gathered like a small army around her and her family. You see Darcie is widely known as one of the most generous, thoughtful, bleeding-heart people around our area. Many lives have been touched by her and her family in some way. Everyone loves Darcie.
A small group of her closest friends gathered a few days after her diagnosis to pray and plan for her. I was awed as I saw each friend in our group using her own particular gifting to serve and encourage her. It's humbling to watch Christ's church at work as the hands and feet of Jesus during a time of crisis like this.
One friend brought Darcie a "Battle Bag" full of encouraging Bible verses to read any time of day or night. Others were already working on coordinating house cleaning, meals for the family, rides for the kids, starting a fundraiser site. One friend in the medical field sat through the initial consult appointment with her and her husband to be another listening ear. My decorator friend announced she would embark on a quick bedroom make-over, so Darcie can feel at peace in her space while undergoing treatment. The list goes on.
(Below: Living it up 80's style with Darcie (on right), me (center) and our friend (Kelley). Can you handle all that blue eye shadow and crimping?)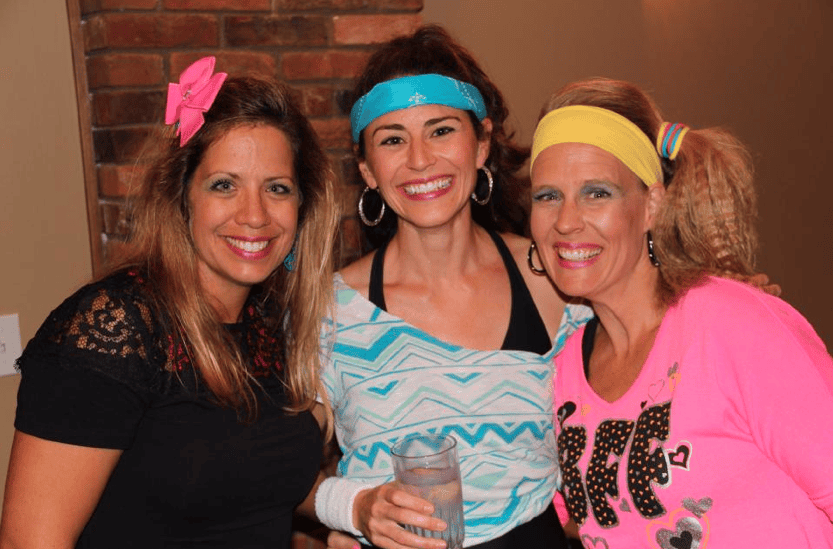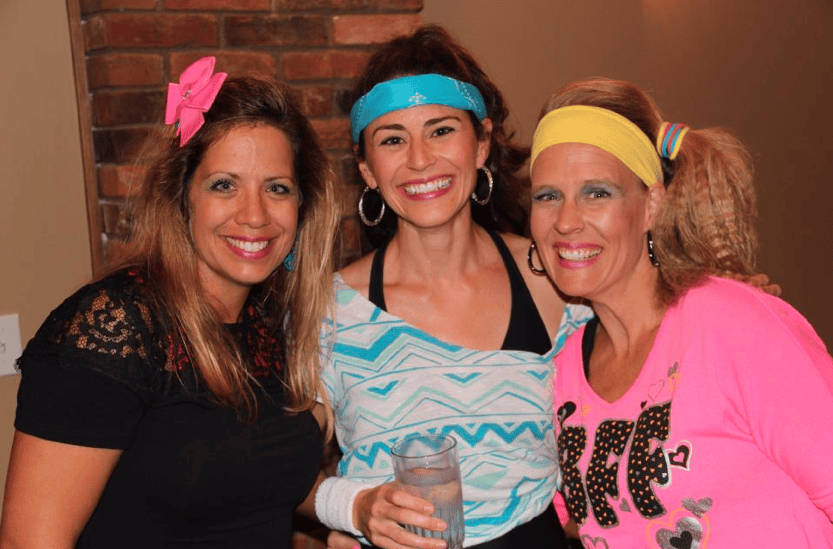 And what do you think was my first inclination when I heard the news about my friend? To cook!
My mission in the days to follow her diagnosis: How can I make my friend the most nutritious, delicious, cancer-fighting soup possible? How can I equip her with the foods and nutrition information she'll need to give her body the best fighting chance?
My role–surprise-surprise–was quickly dubbed by my team of friends as "Darcie's nutrition helper"…which let me just say I feel completely inadequate for! Because of my under qualified status, I've been desperately researching and talking to friends who actually are nutrition experts. I've been learning all about the BEST foods for fighting breast cancer and inflammation in the body.
The Best Foods for Fighting Breast Cancer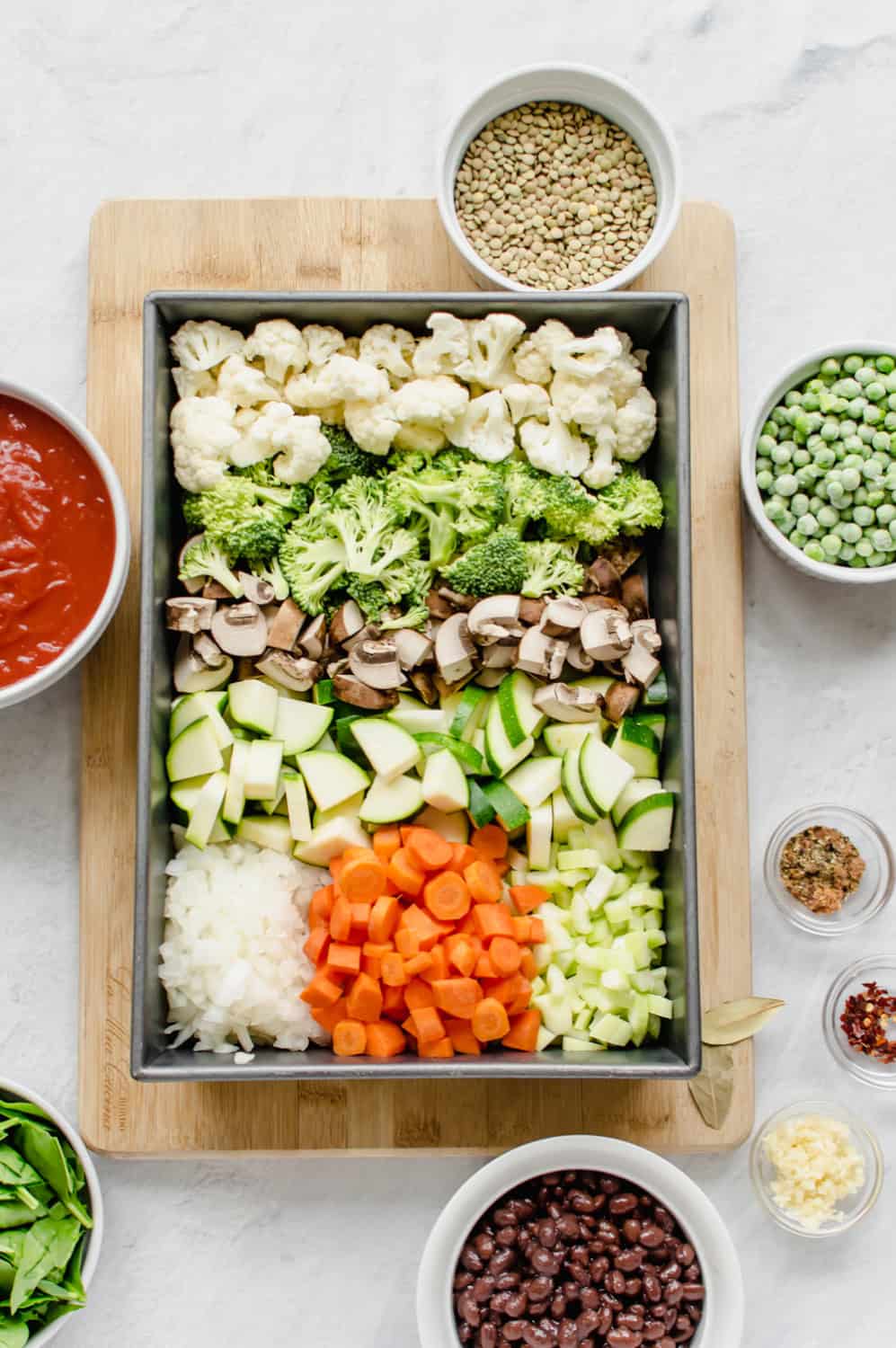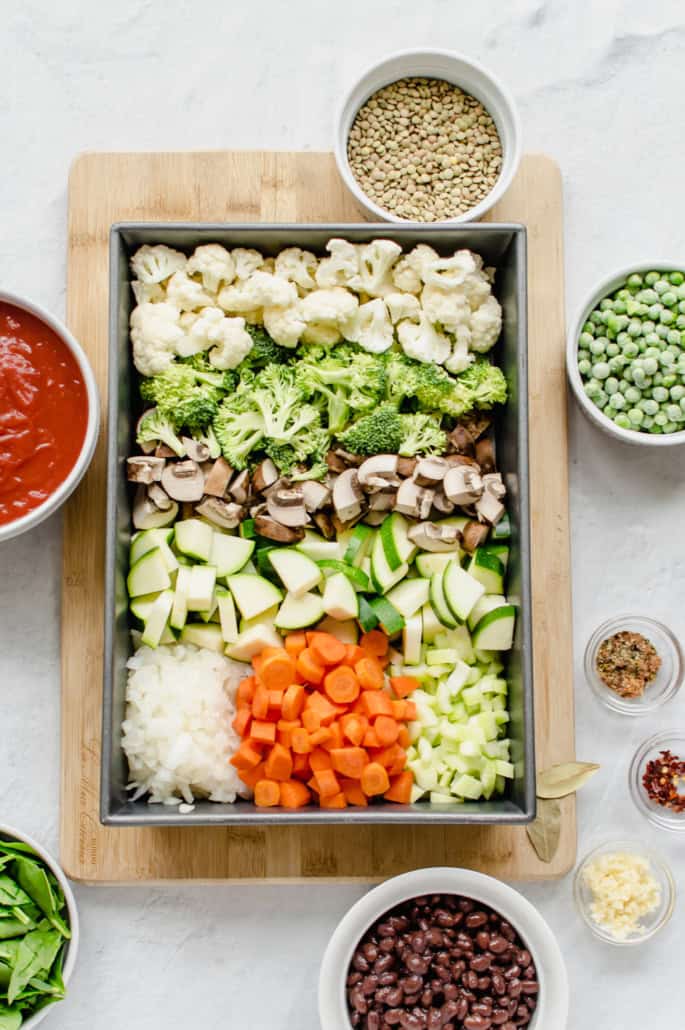 Through my research and her doctor's guidance, she decided to focus on a plant-rich diet full of a variety of vegetables, lentils, beans, fruit, nuts, eggs, and Omega 3-rich fish to provide fiber, vitamins, minerals, antioxidants, and healthy fats to aid healing and boost immunity.
We learned that foods like mushrooms, broccoli and cauliflower, lentils, black beans, and spinach are some of the best for fighting breast cancer. And, that's exactly the kinds of foods I included in this big batch of Cancer-Fighting Soup for my friend.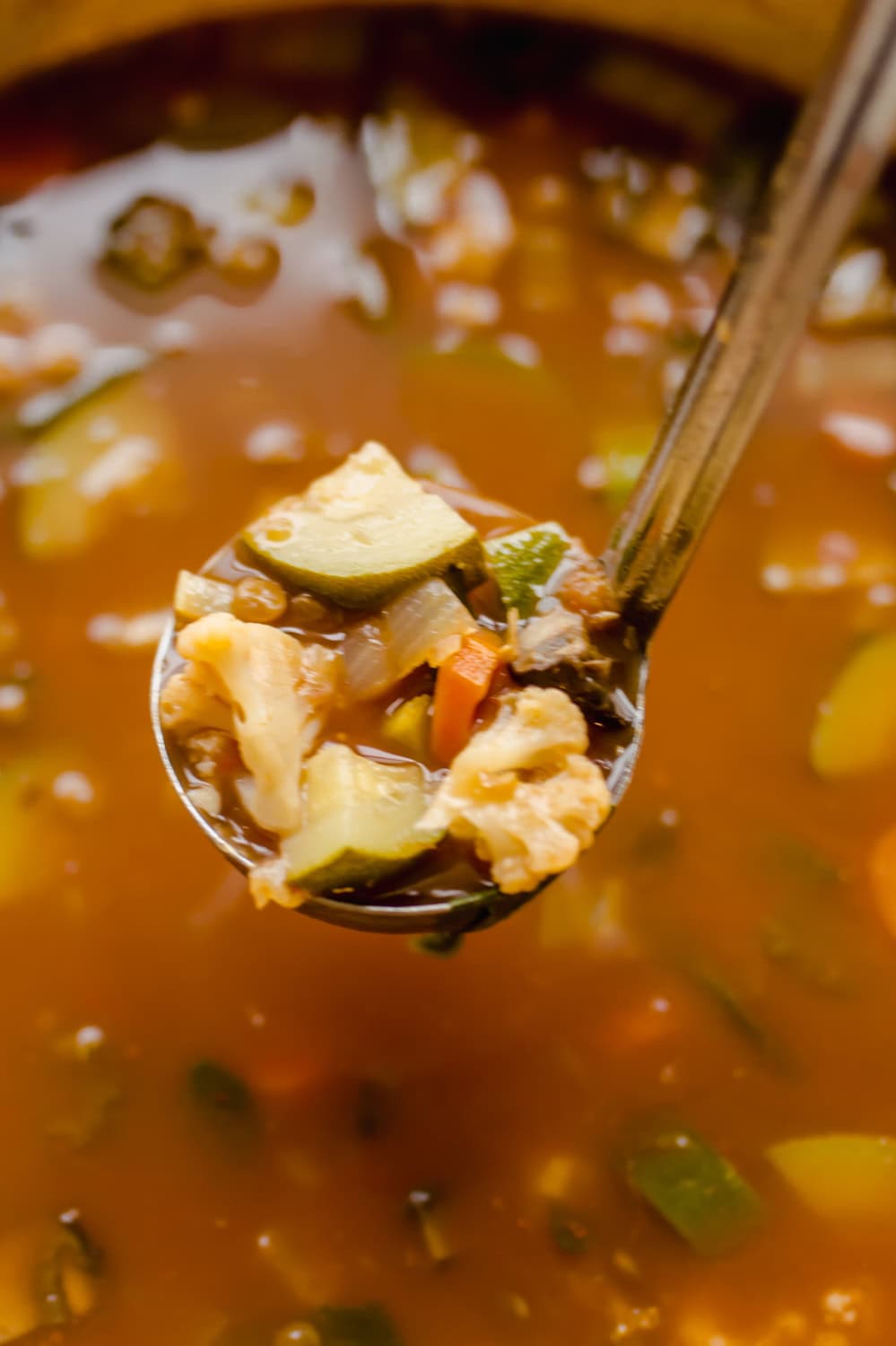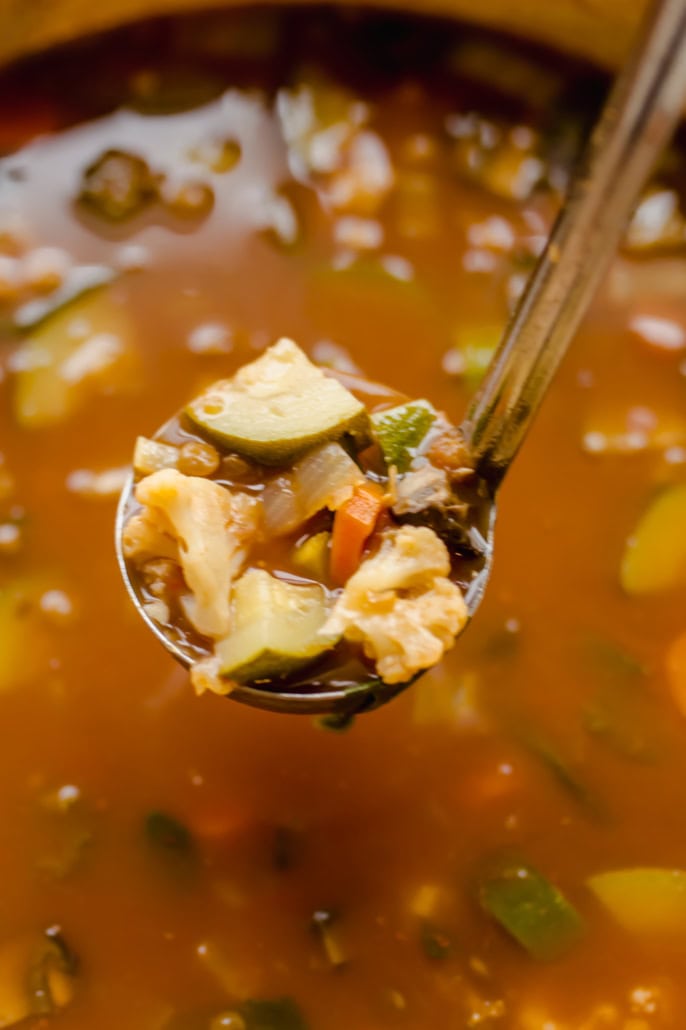 IMPORTANT! Please keep in mind that I am not a dietician or licensed medical practitioner, so please ask your doctor if the ingredients included in this soup are ok for you if you've been diagnosed with cancer and/or are receiving treatment. I've heard that some foods like grapefruit and even garlic can interfere with certain medications.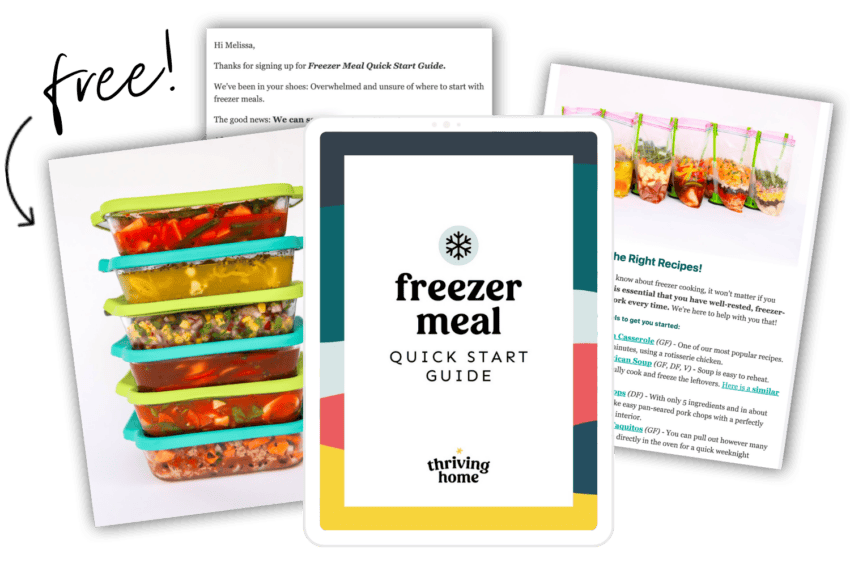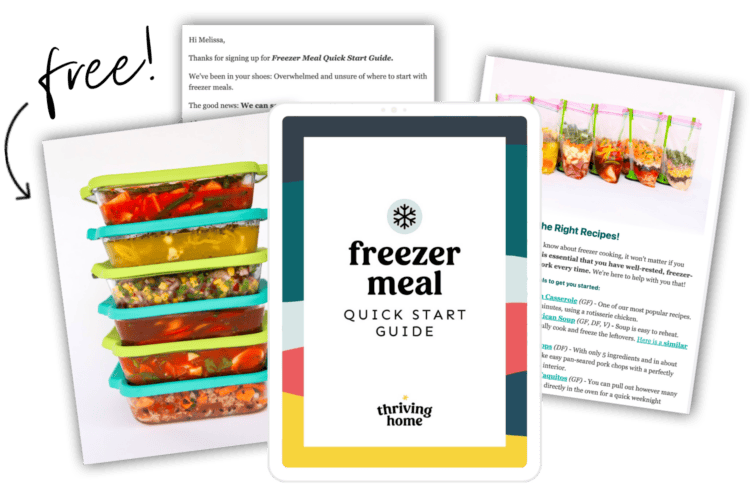 Start Here!
Freezer Meal Quick Start Guide
Get the best of the best recipes, tutorials, and freezer meal expertise straight to your inbox. A $9.99 value for free!
I've made three huge pots of Cancer-Fighting Soup now for Darcie and for our family. Let me tell you, it's absolutely PACKED with flavor thanks to all the seasoning and veggies just as much as it's PACKED with nutrition.
The key to the complex flavor is to saute the aromatics (onions, celery, carrots, and garlic) to kick-start their flavor and then to season every step of the way.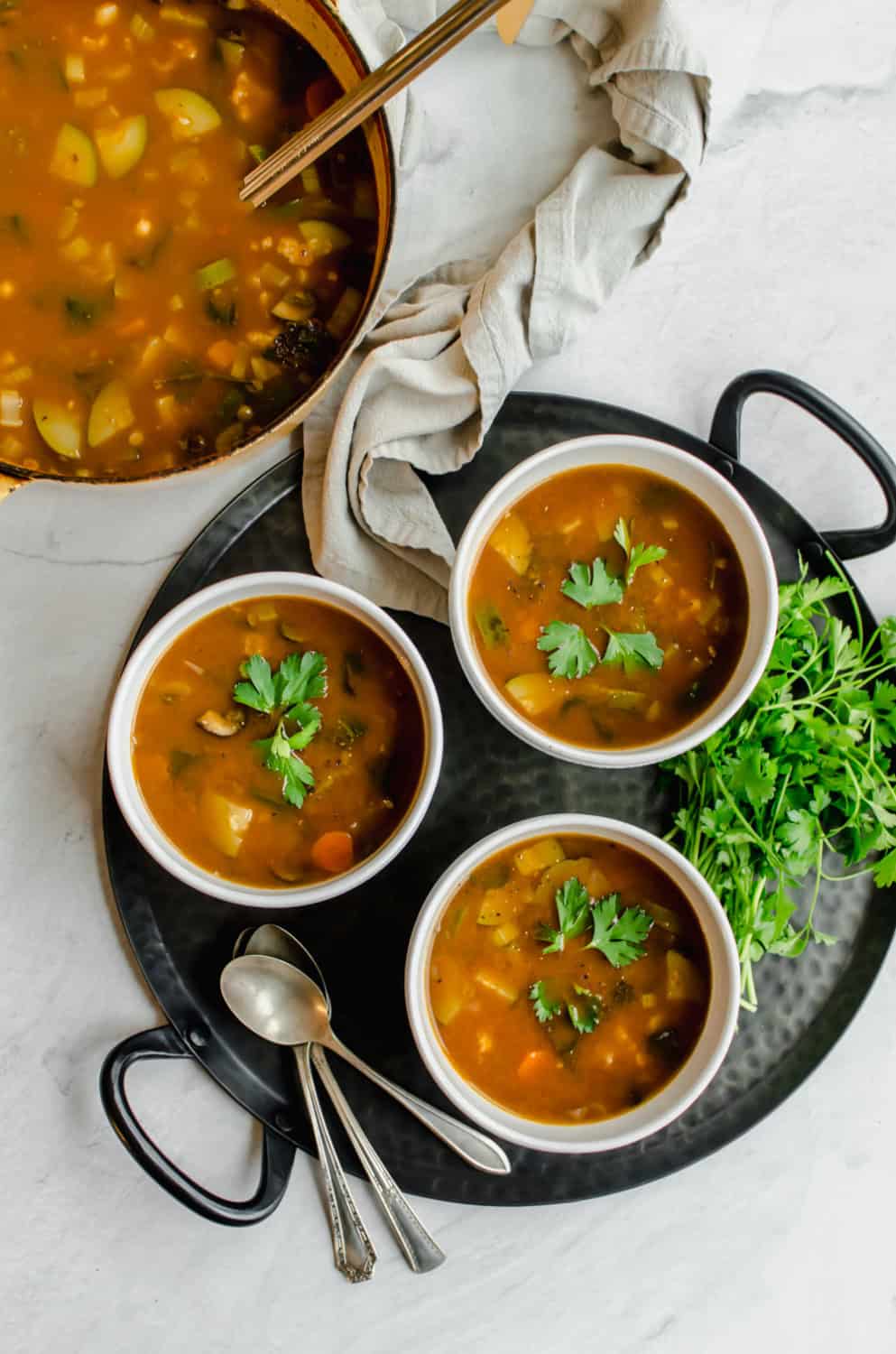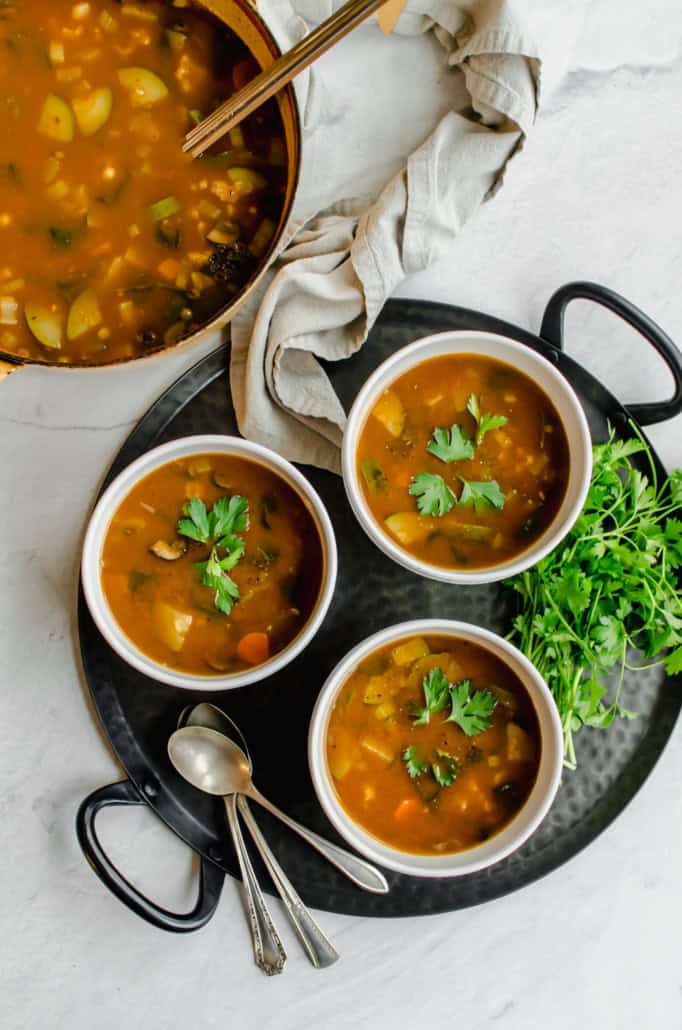 Another tip is to chop all of the vegetables about the same size so they cook evenly and are bite-sized. It's actually a pet peeve of mine when vegetable soup contains pieces that are too big to enjoy in one bite. It's worth taking the time to chop them perfectly. 🙂 My recipe will guide you to the perfect soup, so don't worry!
How to Make Ahead and Freeze Cancer-Fighting Soup
This soup is perfect for making ahead and taking to a friend. If you want, just change the name to "Immune-Boosting Soup" if your friend has a cold. 🙂 It has now been tested from fresh, reheated from the fridge as leftovers, and reheated after being frozen. It is delicious and works great in all these situations!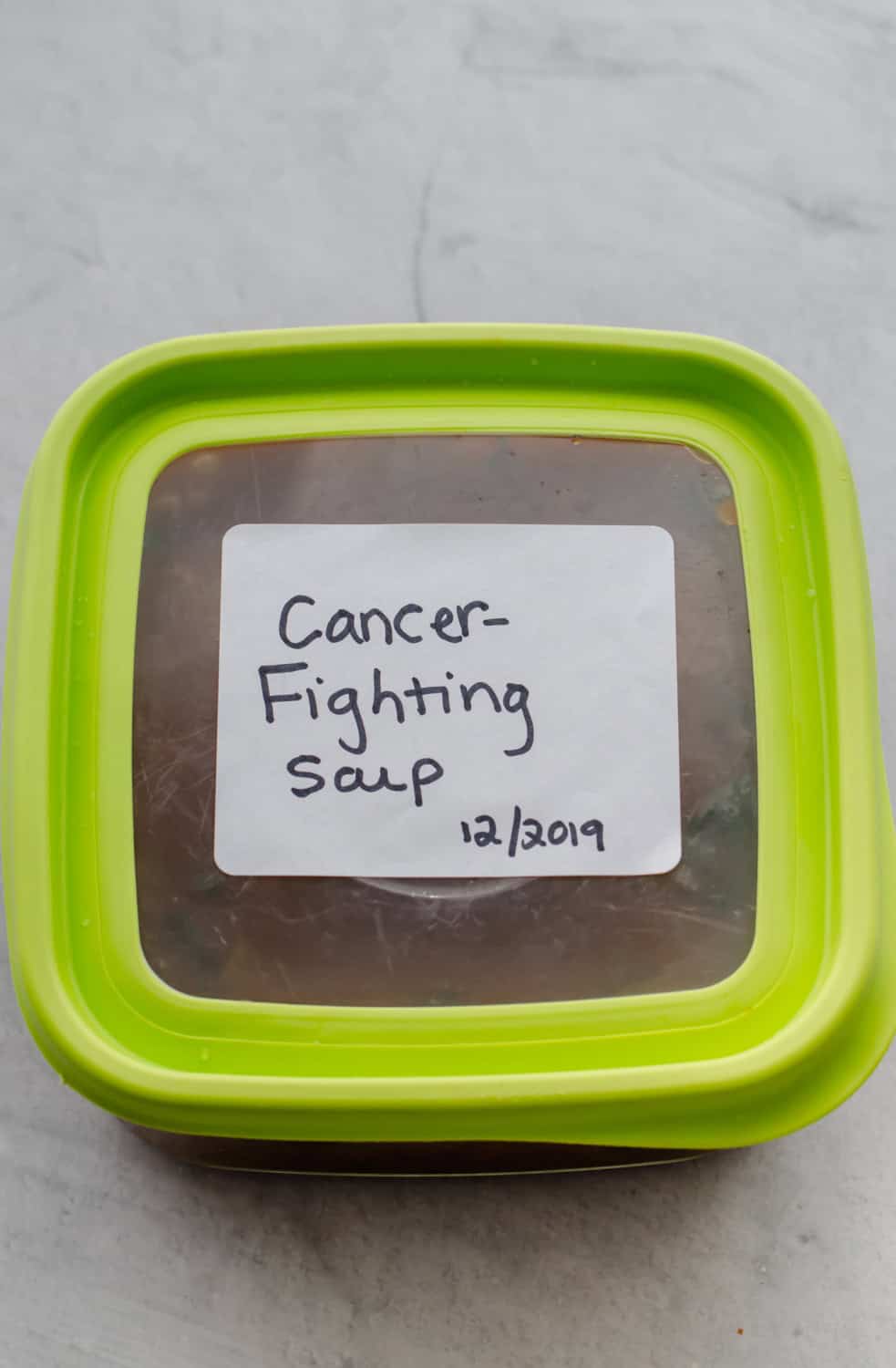 If you want to deliver it to a friend as a fresh meal or freezer meal, you can deliver it in one of these freezer containers, including a freezer container with lid (see above image) or mason jars (see below image). I love using mason jars, since the soup can be divided into single servings. Just be sure to leave at least 1 inch of headspace at the top if freezing.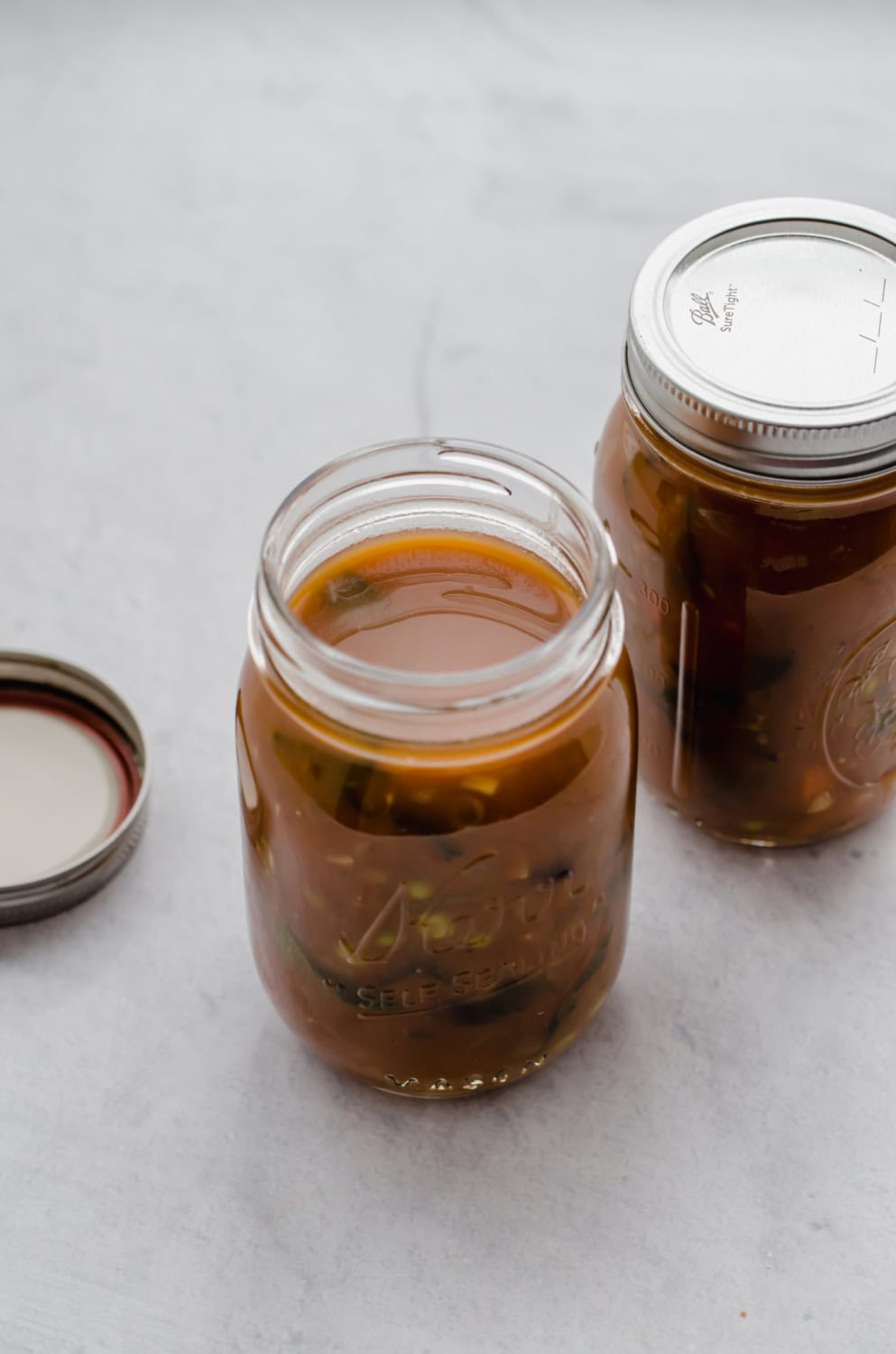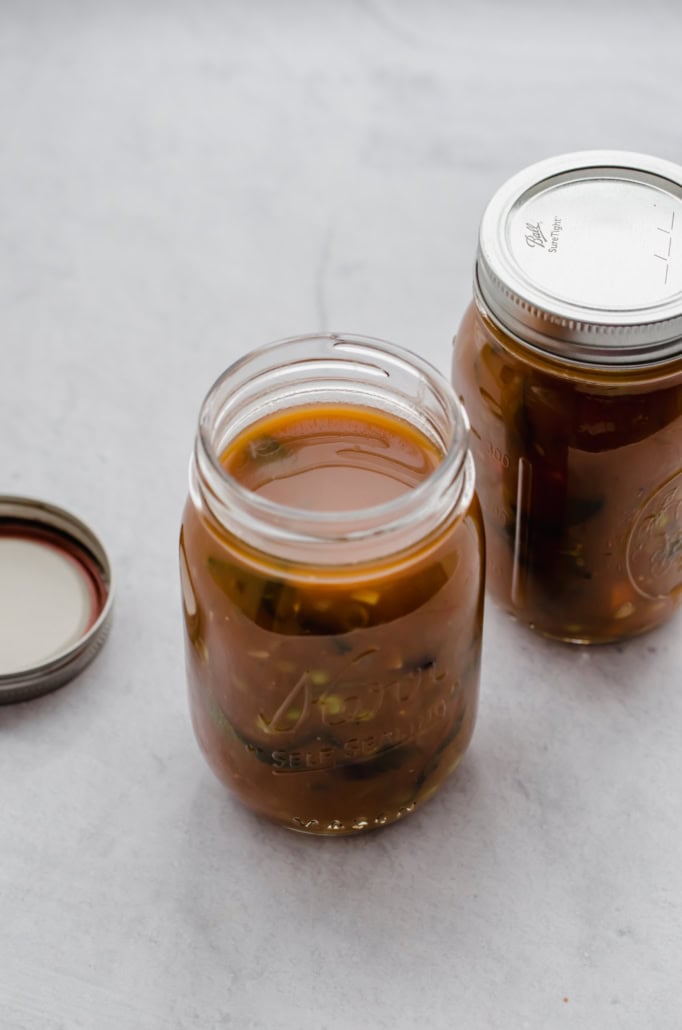 My hope is that you can make this recipe for yourself and/or take it to anyone else who is battling cancer or an illness. This Cancer-Fighting Soup fights inflammation in the body and provides warmth and comfort when healing.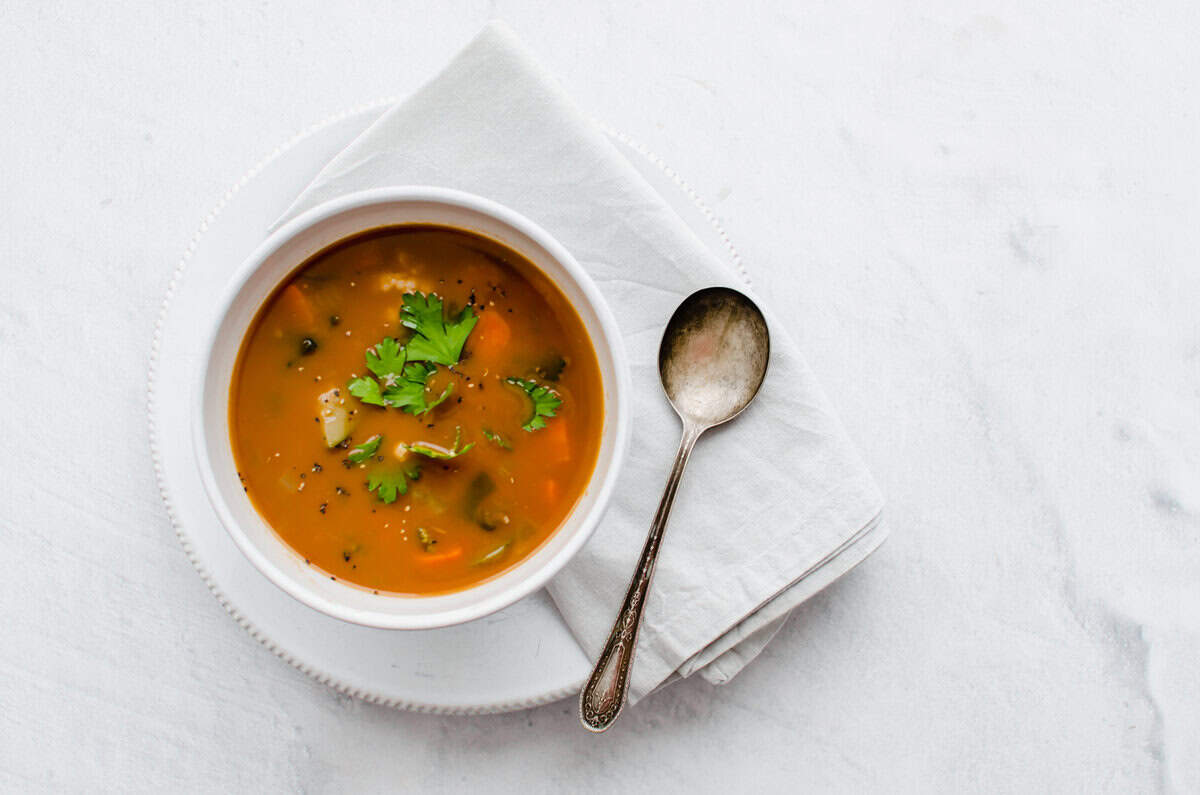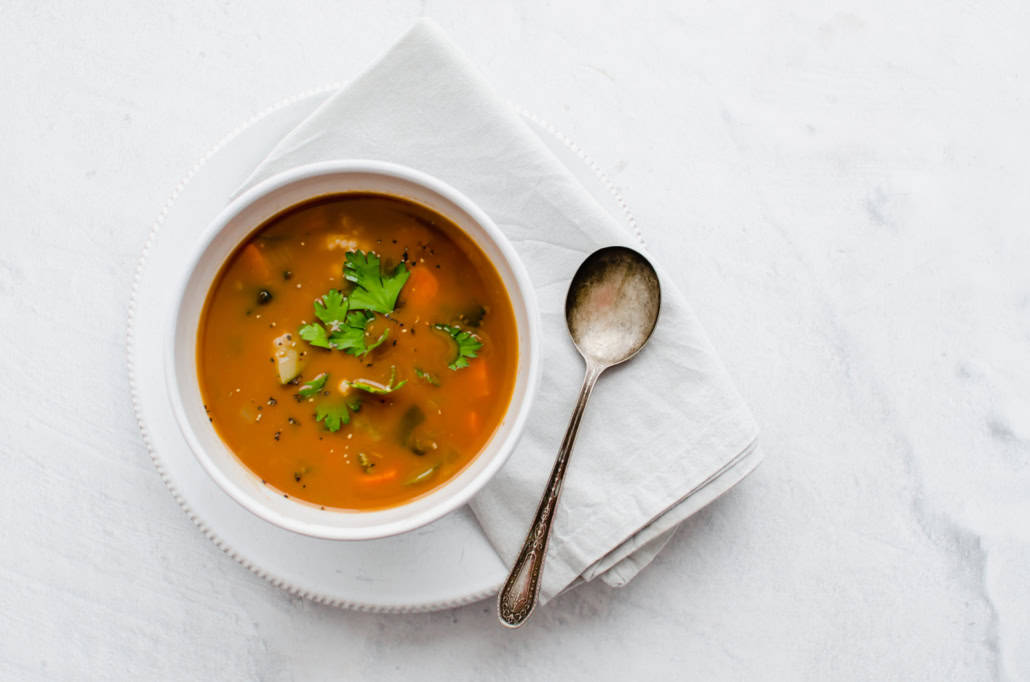 You may even want to add a word of encouragement to the container you deliver it in, too. I quickly scribbled out a few favorite encouraging Bible verses in sharpie on the freezer containers of the soup for Darcie.
Or you may want to include a set of our printable Truth for Trials verse cards.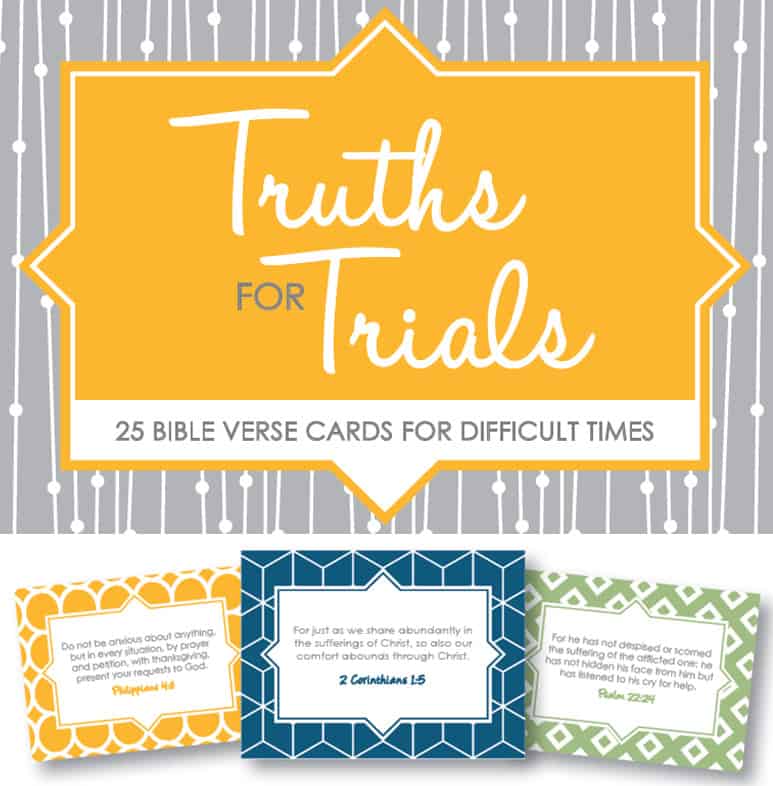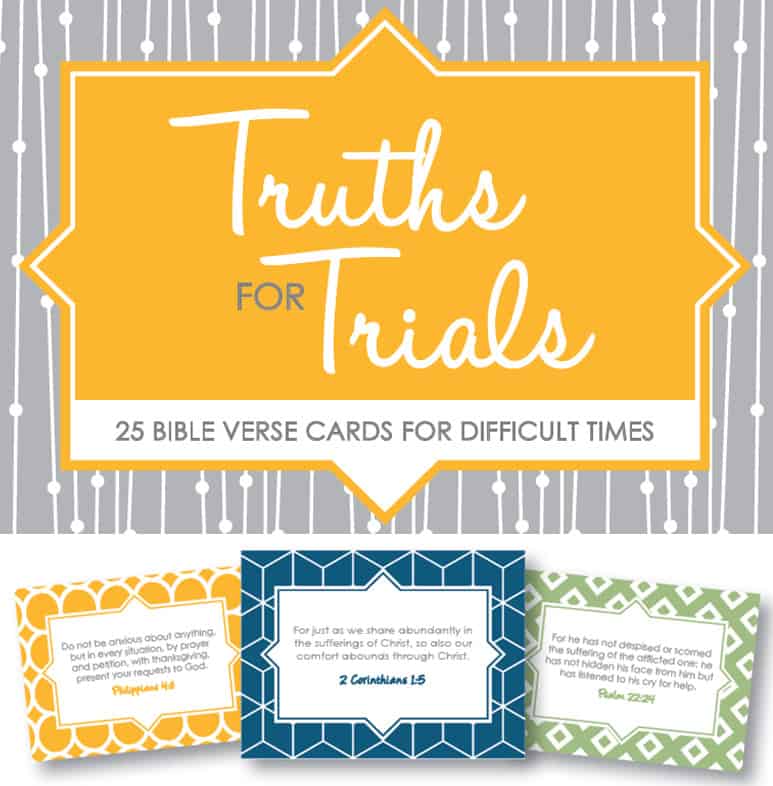 To make your meal a little more fancy-schmancy than mine with these Printable Freezer Meal labels to go on top.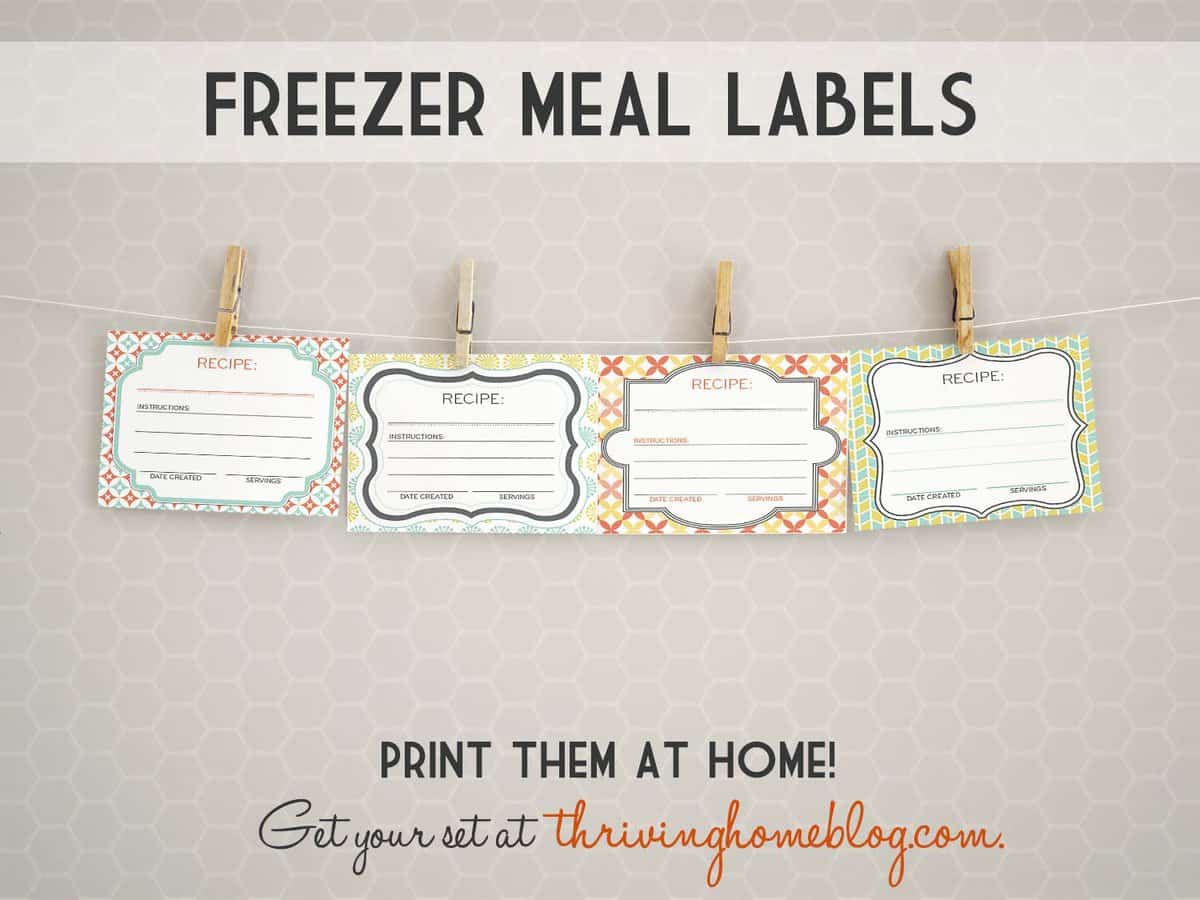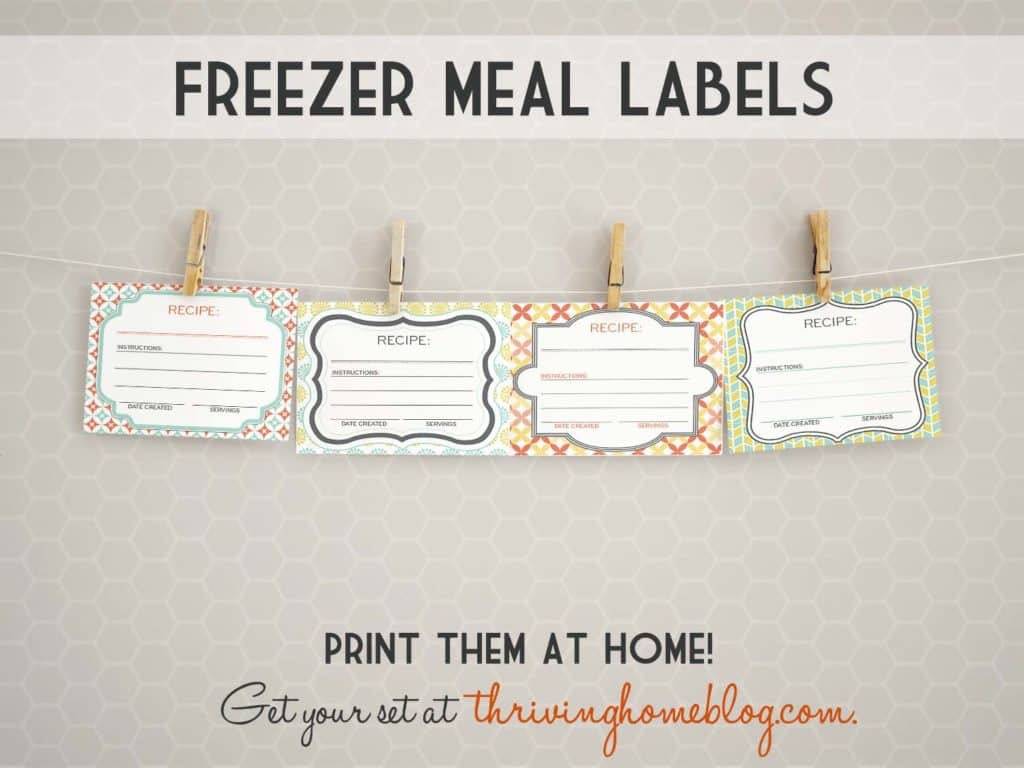 I hope this recipe is a blessing to you or someone else. Please leave a comment for me, and I'd love to pray for you or a loved one who is battling cancer.
P.S. Thanks to Darcie for letting me share some of her story. She said to me, "Share on, sister. Hoping it makes a difference, inspiring someone to change one small thing about their lifestyle."
P.P.S. In case you're wondering, here is the story of Darcie's Head-Shaving Party and more about how she's doing. It's so encouraging!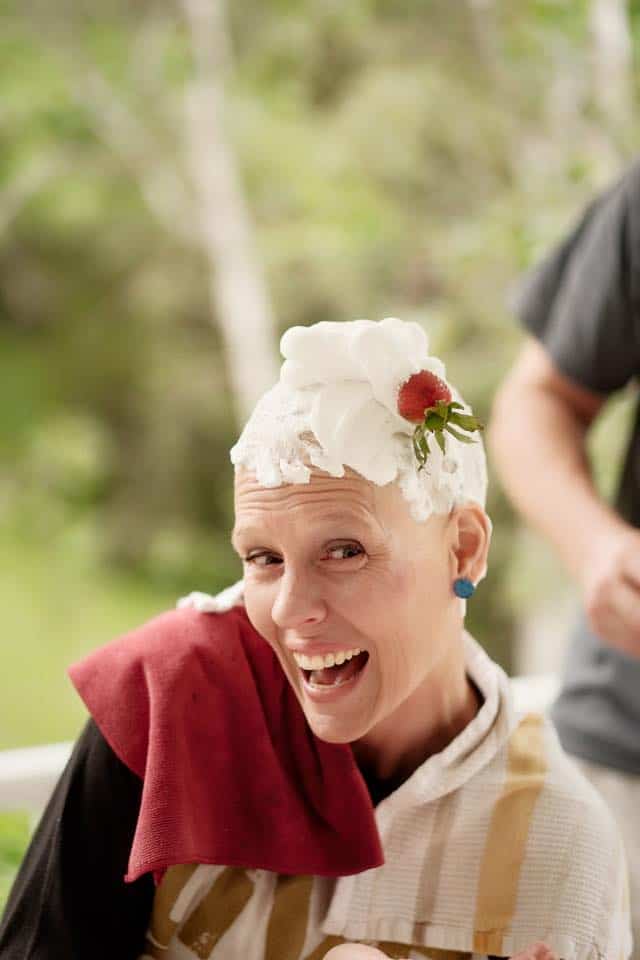 P.P.P.S. This post was originally shared February 2015. It has since been updated and reposted. At the time of updating this post on 8/8/23, Darcie is now 8 years cancer-free ("no evidence of disease") and doing great!
More Vegetarian Recipes You'll Love
Did you make this? Snap a photo and tag us on Instagram at @thrivinghome so we can see your creations and cheer you on!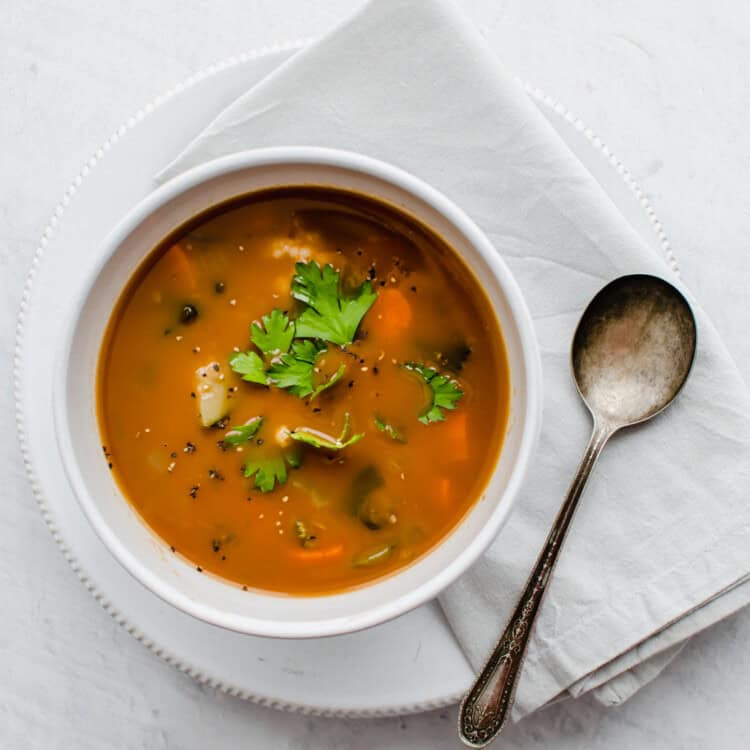 Cancer Fighting Soup
This hearty soup brings a healthy and tasty dose of vegetables to the table to boost the immune system. Make ahead and freeze for later using our freezing instructions.
Yield:
12

–

16

servings (about

2 cups

per serving)

1

x
Prep:
10 minutes
Cook:
30 minutes
Total:
40 minutes
Ingredients
1

–

2

tablespoons olive oil

1

onion, diced

2

–

3

celery stalks, sliced

2

cups

carrots, diced

3

garlic cloves
Salt and pepper, to taste

1/4

–

1/2

teaspoon red pepper flakes (use less if you don't like heat)

1 teaspoon

dried Italian seasoning

12

cups

(or three 32-ounce cartons) of chicken or vegetable broth
1

28

–

ounce

can of crushed tomatoes (look for BPA-free cans)

2 tablespoons

tomato paste

1

(15 ounce) can cooked black beans, drained and rinsed

1/2

cup

lentils* (any kind will work; rinse first)

2

bay leaves

1

zucchini, diced

1

cup

mushrooms, diced

1

cup

cauliflower, chopped finely

1

cup

broccoli, chopped finely

2

–

3

cups

spinach, chopped

1

–

2

cups

frozen green peas
*these should not be pre-cooked
Before You Begin! If you make this, please leave a review and rating letting us know how you liked this recipe! This helps our business thrive & continue providing free recipes.
Instructions
Make It Now:
Heat 1-2 tablespoons olive oil in a large stock pot over medium-high heat.
Saute the onions, carrots, and celery for about 4-5 minutes, until tender. Add in the garlic and stir for 1 more minute. Season with salt, pepper, red pepper flakes (to your preferred heat level), and Italian seasoning.
Stir in the chicken or vegetable broth, crushed tomatoes, tomato paste, black beans, lentils, and bay leaves. Bring to a boil and reduce to a simmer (slight bubbling), stirring occasionally. Season again lightly with salt and pepper. Let simmer for about 10-15 minutes.
Stir in the zucchini, mushrooms, cauliflower, and broccoli and simmer another 5-10 minutes.
Stir in the spinach and frozen peas and turn off the heat (or turn to low), so they don't overcook. Remove bay leaves. Taste and adjust seasonings. (Freezing instructions begin here.)
If you like, serve with freshly shredded Parmesan cheese and/or whole grain crackers or crusty bread.
Freeze For Later: Follow steps 1-5. Let the soup cool completely. Suggestion: divide soup into some shallow pans to put in the refrigerator to cool it more quickly. Divide soup into gallon-sized freezer bags or containers, squeeze out excess air, seal, and freeze.
Prepare From Frozen: Thaw using one of these safe thawing methods. Then reheat gently over low heat on the stove or in a crock pot. Another option is to put the frozen soup block over low to medium-low heat on the stove top or in a crock pot. Add about 1-2 cups of water or broth over the top. Gently warm over low to medium-low heat, stirring occasionally. Follow step 6 for serving.
---
Notes/Tips
It's a good idea to chop your veggies all about the same size, so they cook evenly and they are bite-sized.
These sturdy reusable freezer bags

work well for freezing and gifting the soup in.