Reusable Freezer Bags: Our Top Pick
This post may contain affiliate or sponsored links. Please read our disclosure policy.
After making thousands of freezer meals over the years, we have finally landed on some of the best reusable freezer bags on the market. Read our thorough review plus our tips and tricks for how to best use them!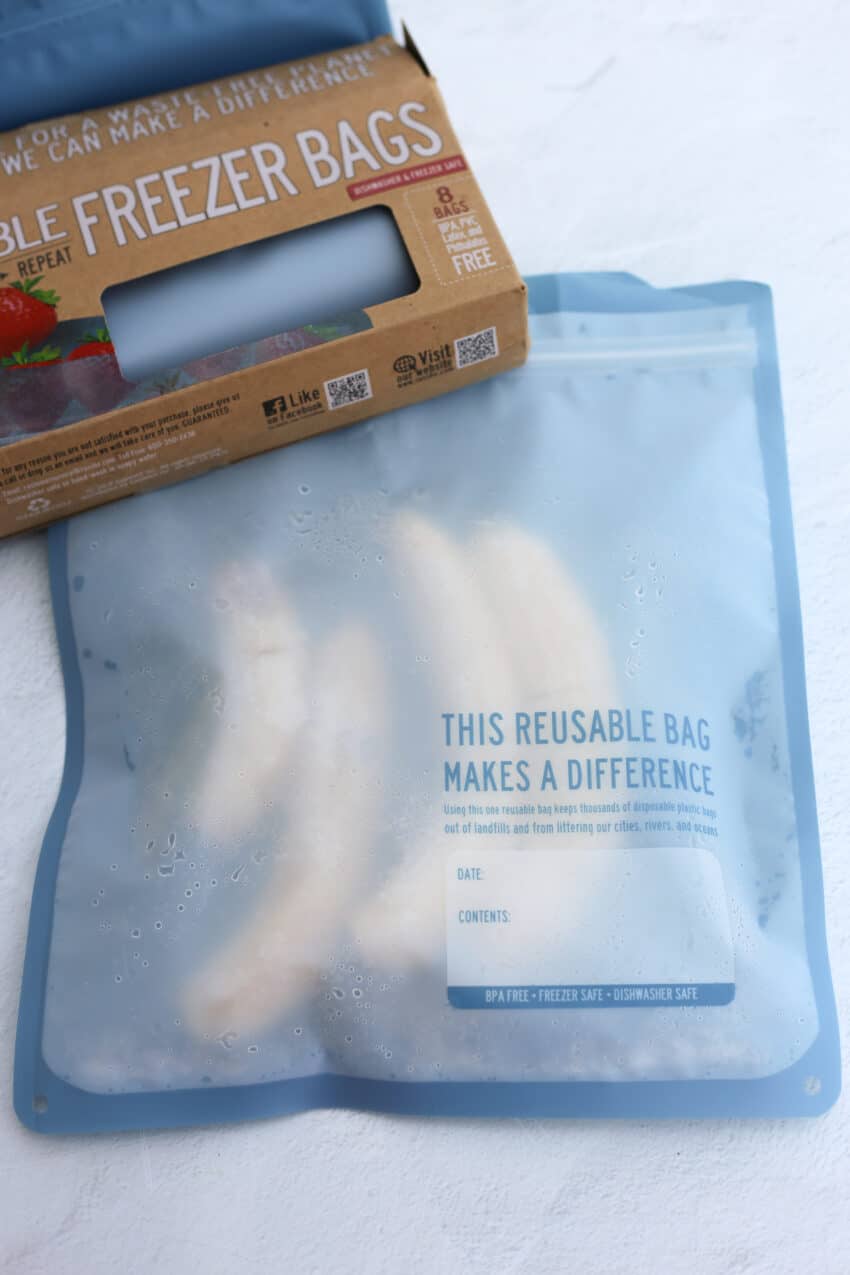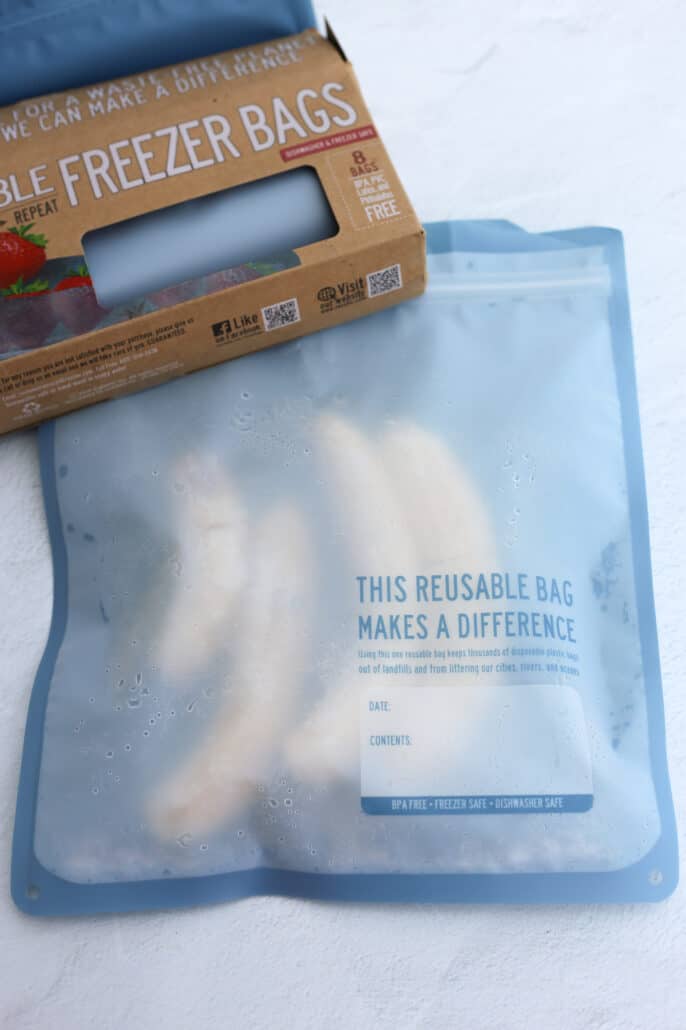 Finally – A Reusable Bag We Love!
As tongue-and-cheek freezer cooking evangelists, we regularly share about the time-saving, money-saving, sanity-saving benefits of freezer meals.
One question we get asked frequently is: "What reusable freezer bags do you recommend?"
Until recently, we didn't have a great option. Many reusable bags felt cheap and quickly fell apart. The silicone bags we tried were too bulky and expensive.
However, we recently found a winner that we're excited to endorse: Russbe
Why Reusable Bags?
They are eco-friendly! The bags are made of durable, recyclable plastic free of PVC, latex and phthalates.
They are affordable. For the quality they offer, they are by far the cheapest option I have found.
They are safe–both BPA free and phthalate free.
They last a long time! I've had some for over a year and they still seal well!
They stack easily in the freezer and take up very little space.
They're aesthetically pleasing and don't stain as easily as silicone bags.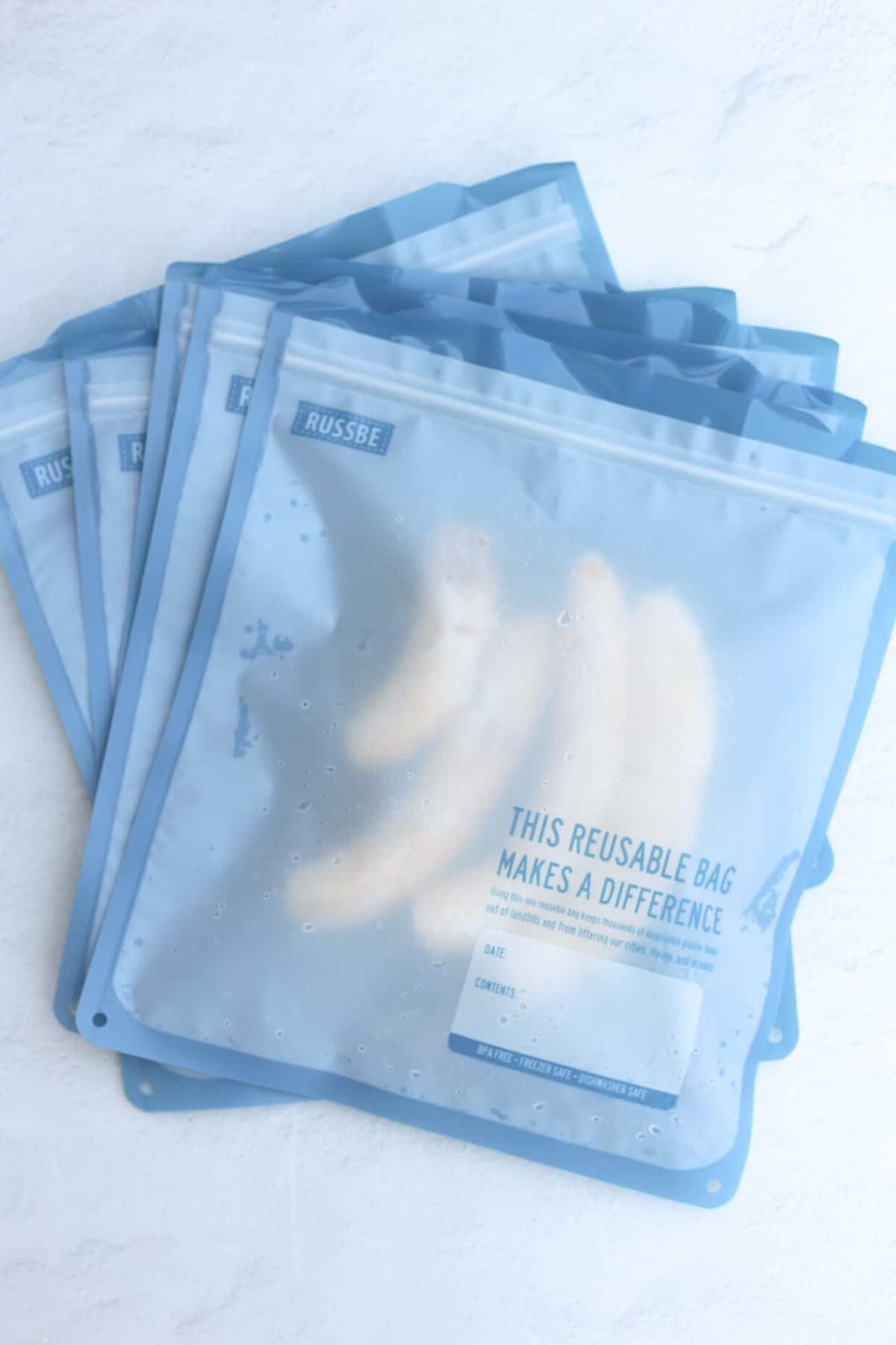 What Material Are They Made From?
These are made of durable, recyclable plastic free of PVC, latex and phthalates
These bags are safe for use at room temp, in the fridge, or in the freezer. However, they are not intended for use in the microwave, sous vide, or for high heat. Similar to disposable plastic bags, hot foods need to cool before using them.
How Do I Wash and Dry Them?
While they are dishwasher friendly, hand washing is recommended. Fill the bags halfway with warm water and add a small amount of dish soap. Gently swirl bag to make sure all internal surfaces are cleaned, using a bottle brush if necessary. Rinse thoroughly.
Drape the bags over something that will prop them open to dry. We love using our freezer bag stands for this! I also place mine over a tall glass. You can also just put a dishrag in them and lay them flat.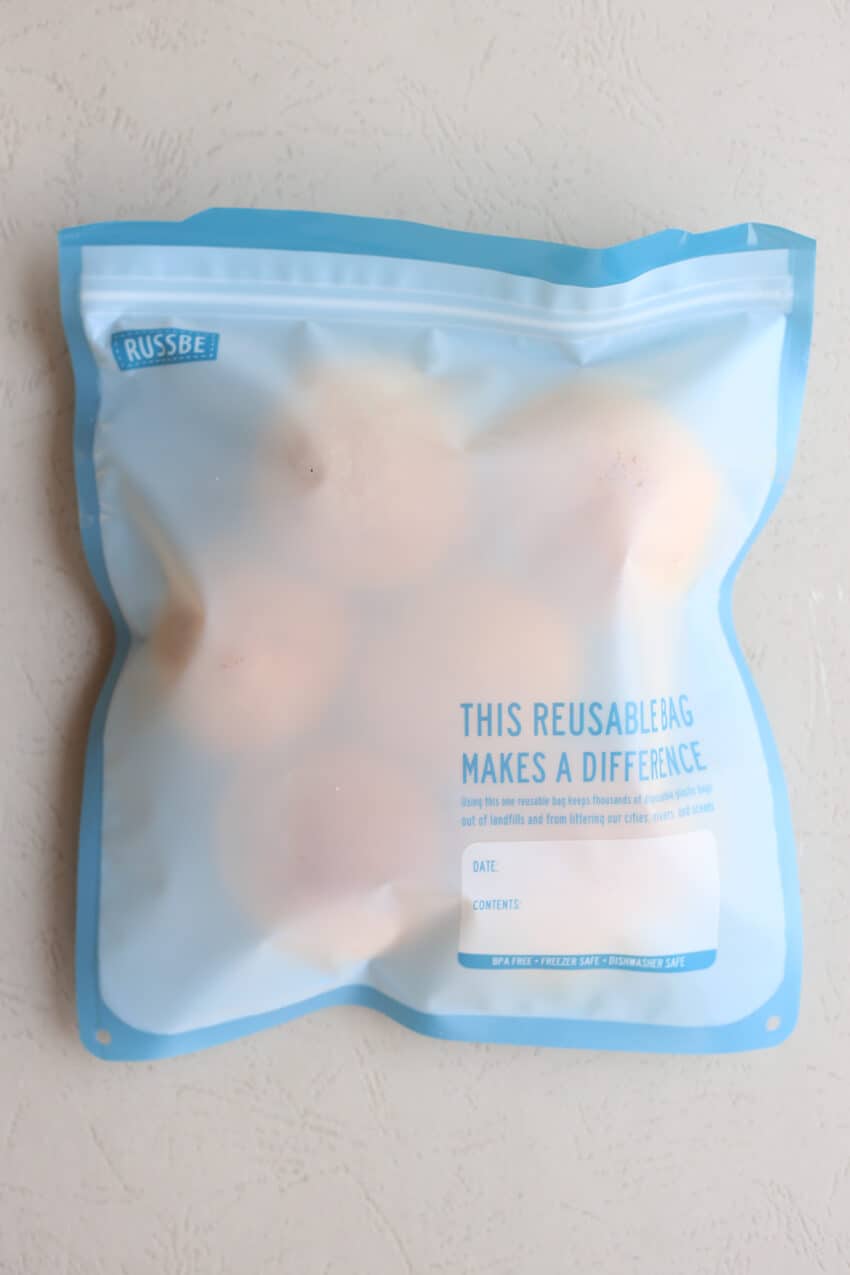 Can I Write On or Label Them?
Yes, you can write on the bags with a dry-erase marker. These work really well. Do this before adding in any food, though.
We also have freezer meal labels that you can print out and use as much as you want. Simply attach these labels with tape to your freezer bag before filling with food.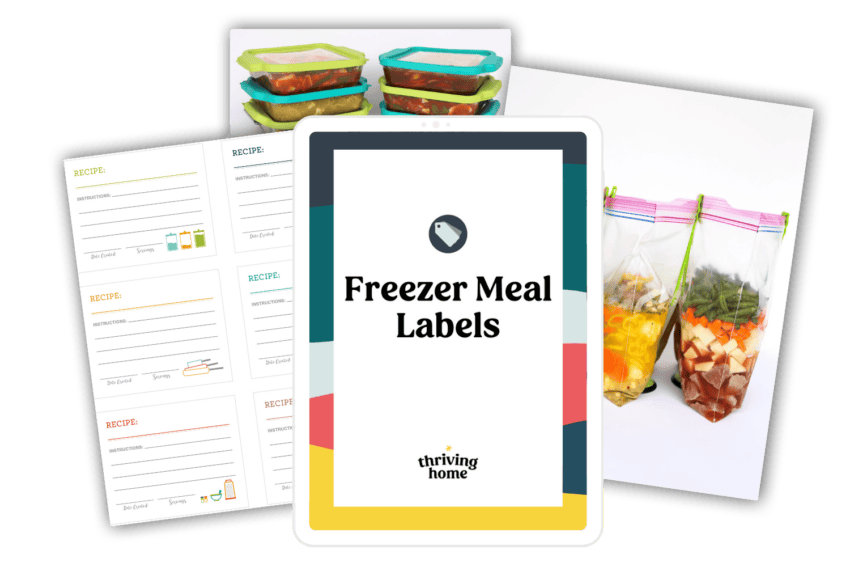 Free Download:
Freezer Meal Labels
Never lose track of what's in your freezer!
Tips for Making the Most of Your Freezer Bags
Chill cooked dishes before freezing.
Putting foods that are still warm in the freezer can raise the temperature inside it. In addition to that, placing hot food in a reusable freezer bag can result in the plastic releasing chemicals into the food. Third, warm food freezes so slowly that ice crystals form on top, which can also alter the texture of the freezer meal.
Squeeze out as much air as possible.
The goal is to prevent the food being exposed to air, which can result in freezer burn. Freezer burn occurs when the moisture in the outer layers evaporates, leaving behind "dry" pockets. While it isn't harmful to eat freezer burned food, it can adversely affect texture and flavor.
Follow recommended storage times for freezing meals.
From a safety standpoint, food that is properly packaged and safely frozen (kept at a constant temperature of 0°F or lower) can be frozen indefinitely. Yes, indefinitely! However, even though something may be safe to eat that doesn't mean it will taste its best after a long time in the freezer. Our general recommendation is that most freezer meals are best eaten within 3 months for optimal flavor and texture.
Thaw freezer meals in the refrigerator.
The best and safest way to thaw a freezer meal is to put it in the refrigerator for 24-48 hours. Thawing time will depend on the size of the meal but plan on roughly 5 hours per pound.
Here is more information about 4 safe ways to thaw food.
Ready to Stock Up on Some Reusable Freezer Bags?
You (and the environment) will be so glad you did. Stock up today!