This post may contain affiliate or sponsored links. Please read our disclosure policy.
Want a high protein, low carb, on-the-go breakfast option that will keep you satisfied all morning? Cheddar Chive Egg Bites are the perfect solution for a healthy breakfast on busy weekdays.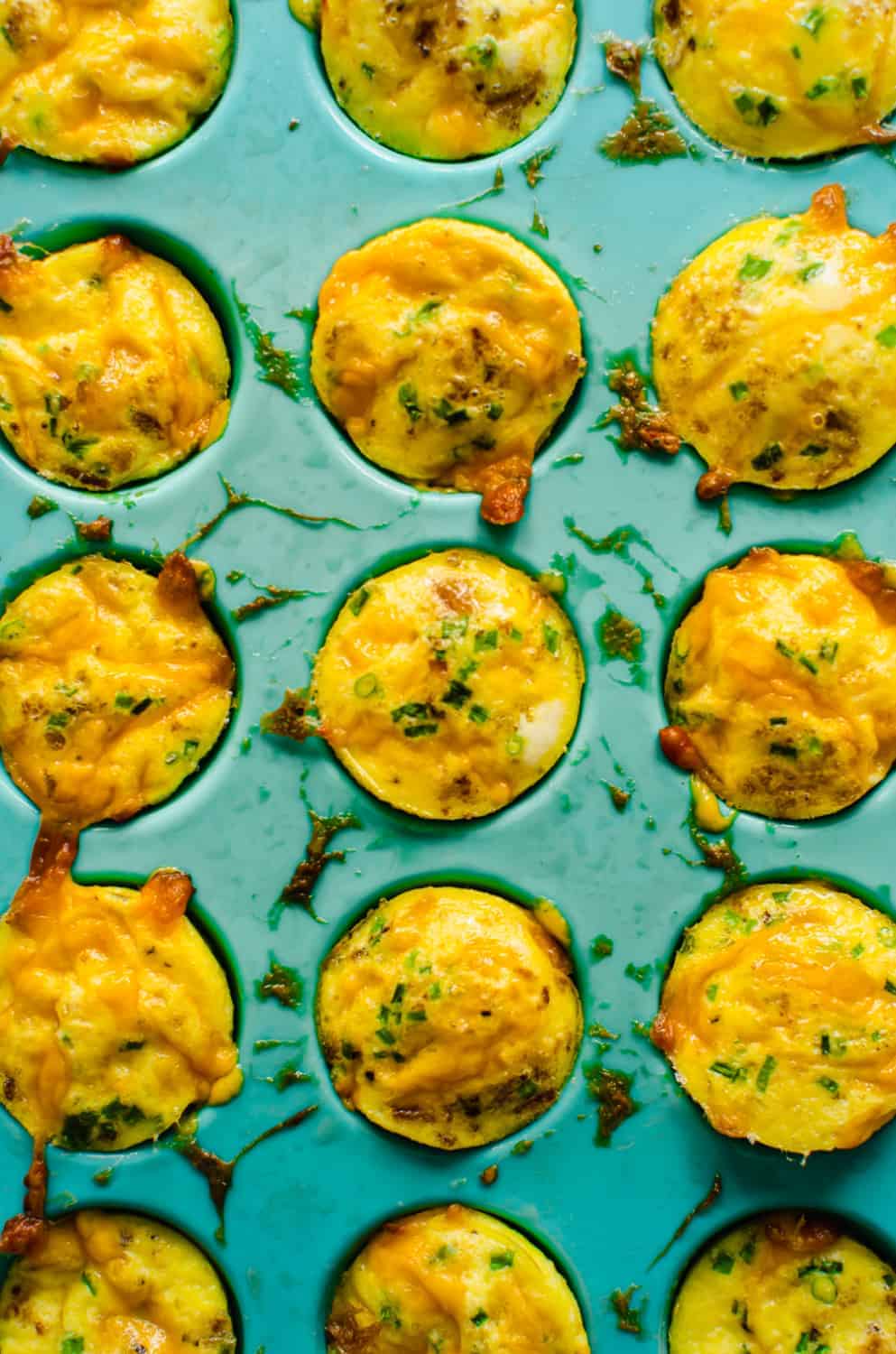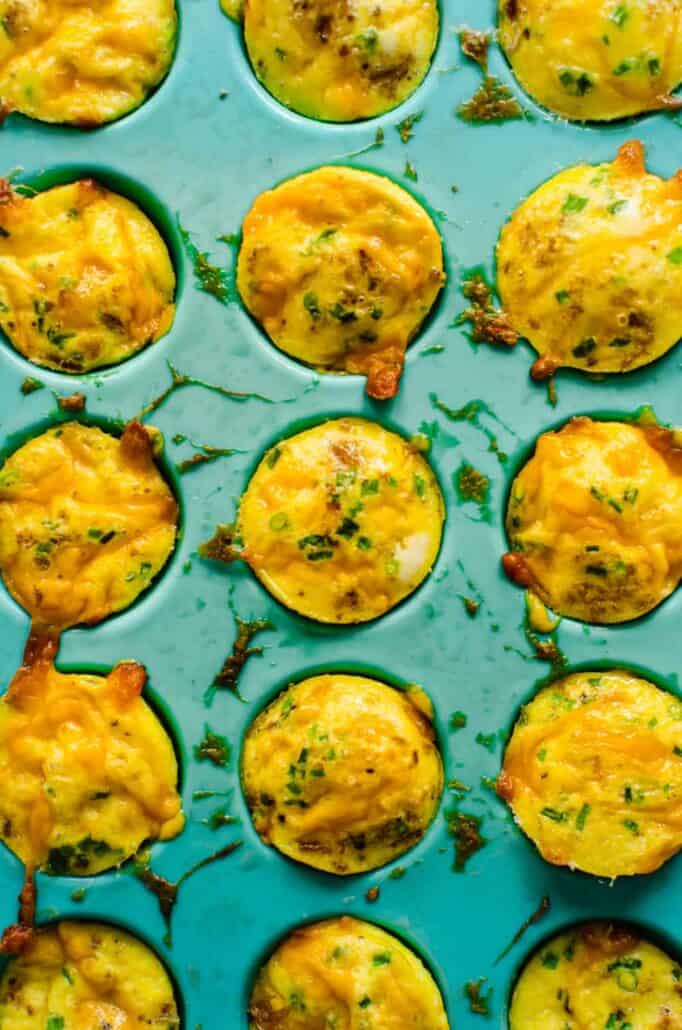 Disclaimer: This post was created in partnership with Hy-Vee (Columbia).
Why I Love This Egg Bites Recipe
We all know that breakfast is the most important meal of the day. But, boy, it's hard on those chaotic weekday mornings to eat a nutritious breakfast that will keep you running for hours, isn't it?
These Cheddar Chive Egg Bites are the answer! They are:
Made with only 5 whole food ingredients
Take minutes to whip up
Full of protein to keep you satisfied all morning
Gluten-free and low carb
An easy grab-and-go breakfast
Freezer-friendly, too.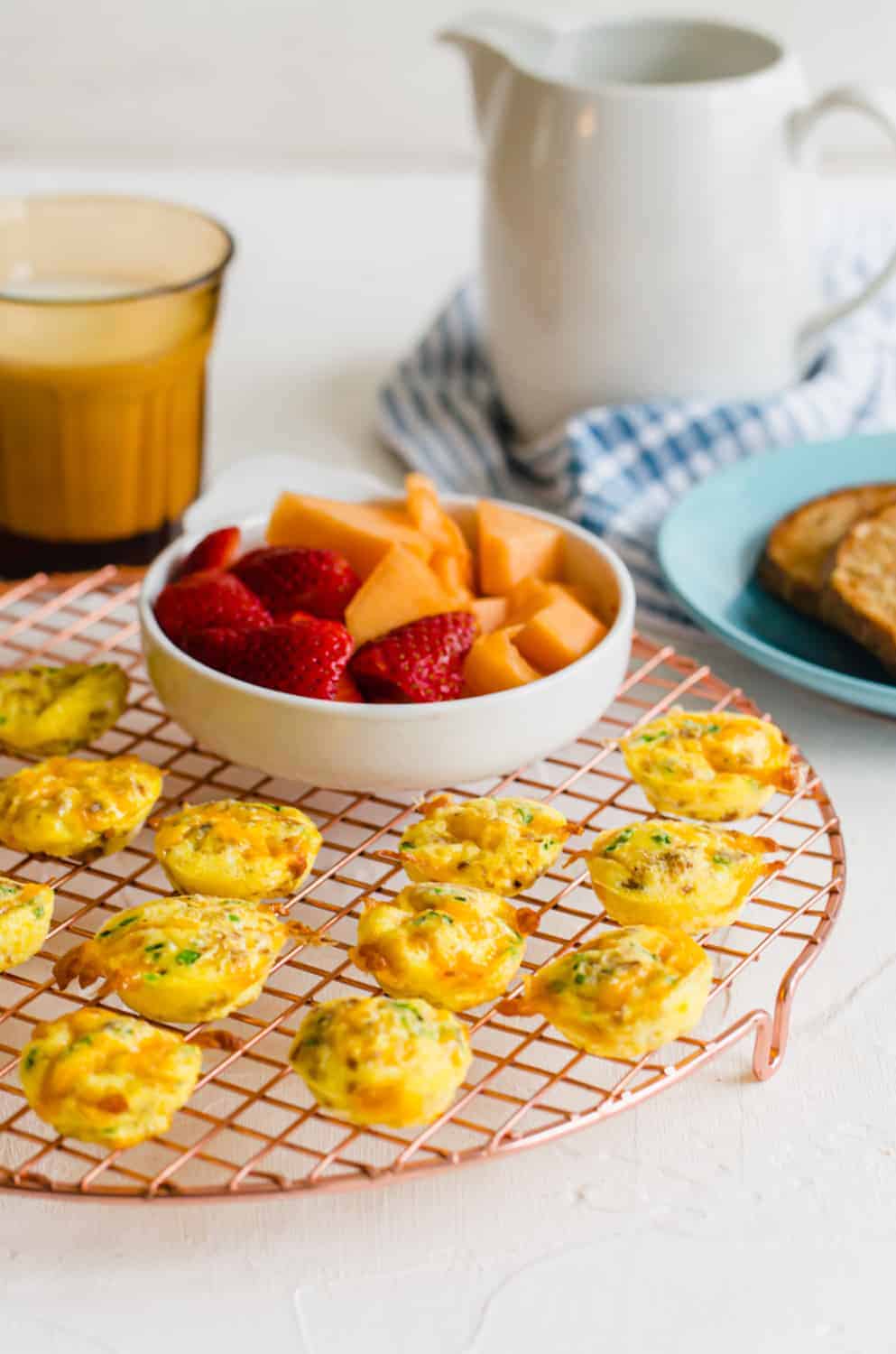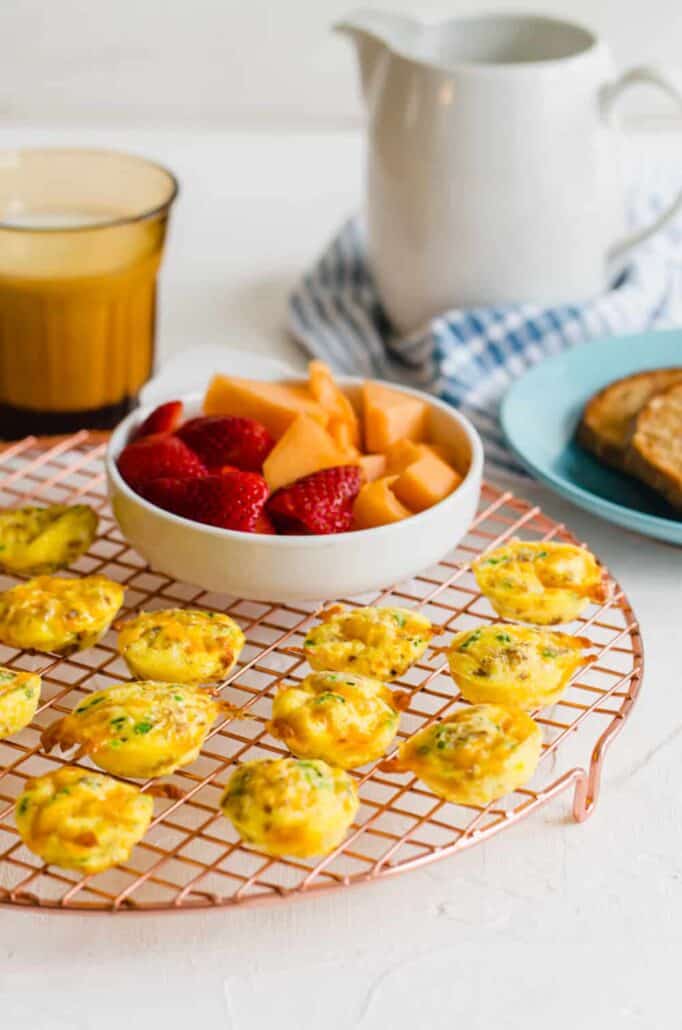 Ingredients Needed & Where to Get Them
Only 5 ingredients are needed to make this high-protein, grab-and-go breakfast! We suggest grabbing these at your local Hy-Vee.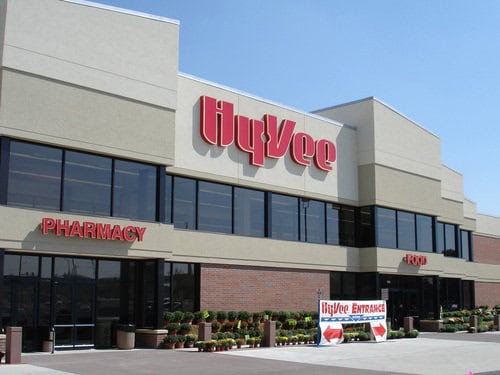 If you have this store nearby, you know what a gem you have under your nose–especially if you're a parent who knows all of these hacks!
My in-laws from a smaller town look forward to a trip to our Hy-Vee each time they visit just to look at the wide selection of: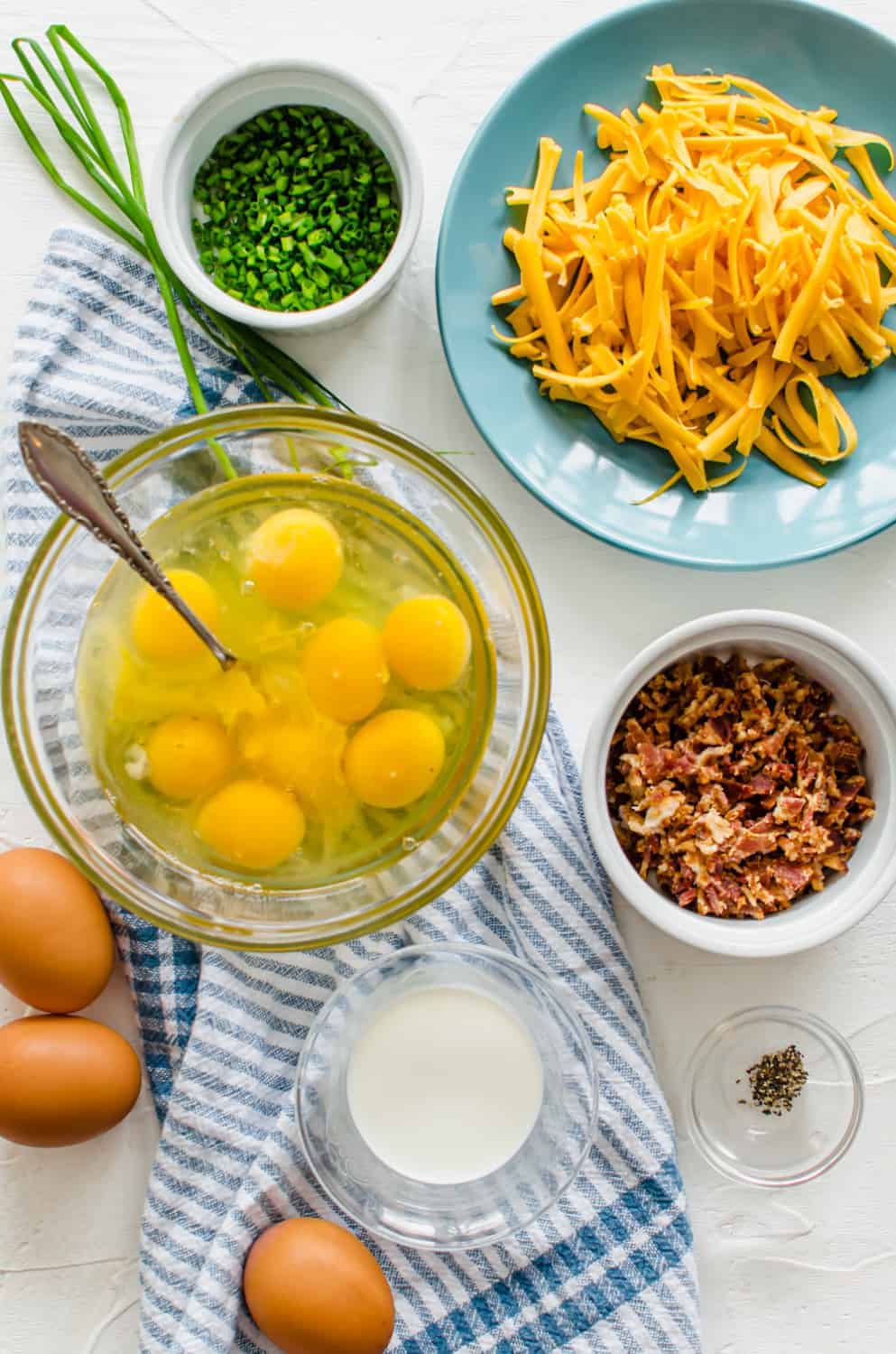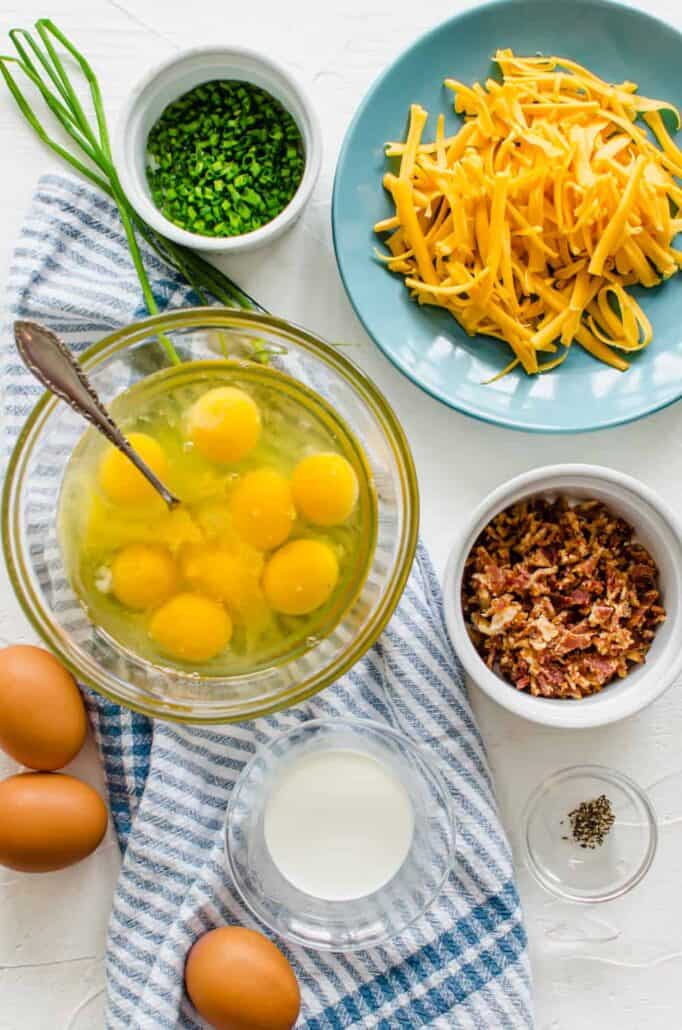 Ingredients You'll Need From Hy-Vee:
Milk – Your choice!
Cooked bacon, crumbled (try our oven method)
Shredded cheddar cheese
Chives, minced
Eggs
Ingredients You'll Need From Your Pantry:
Step by Step Instructions
With a mini muffin pan and a few simple ingredients in hand, you're ready to get started…
Step 1: Preheat the oven and grease the mini muffin pan.
Step 2: Whisk together the eggs, milk, chives, salt, and pepper.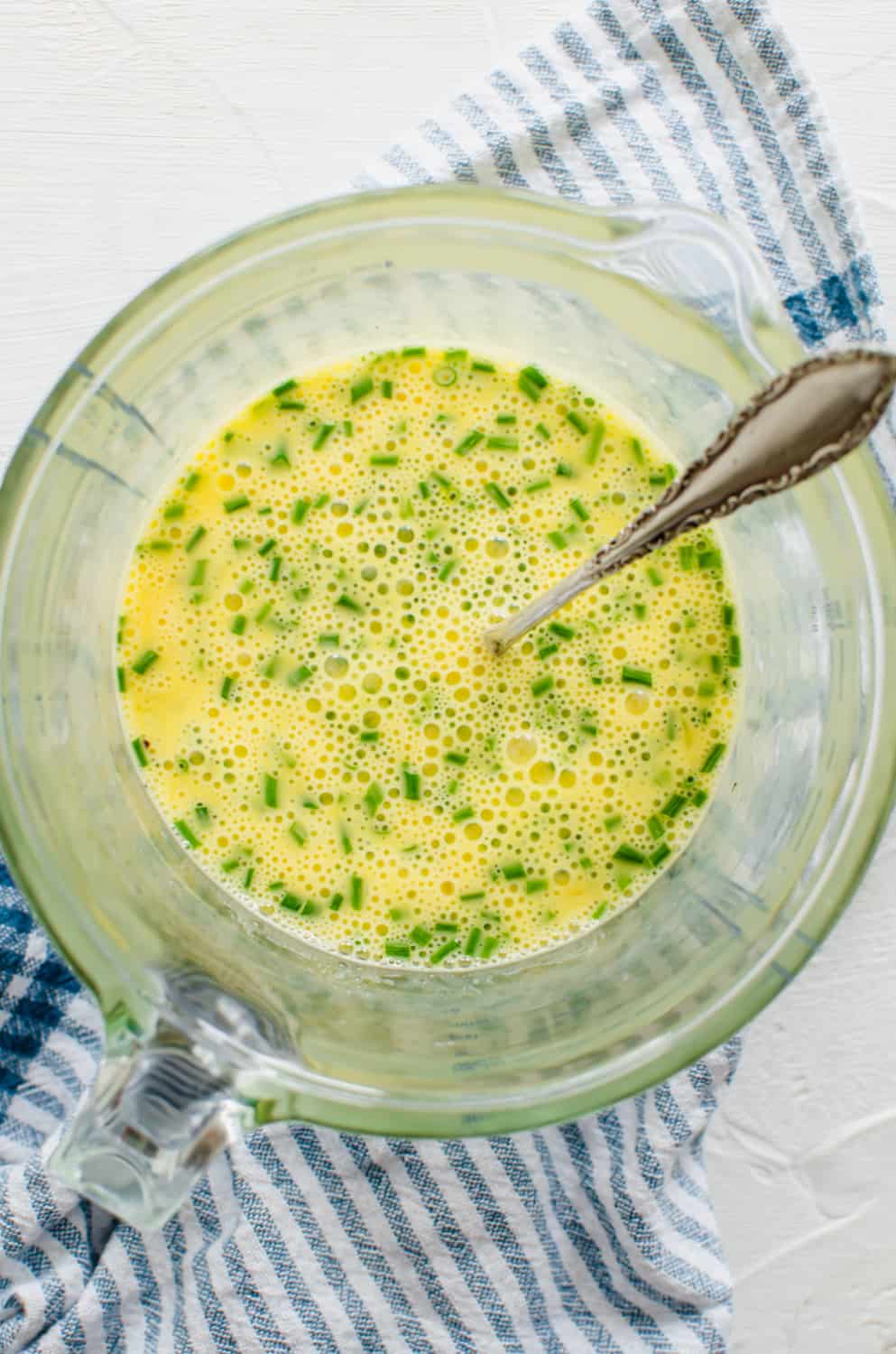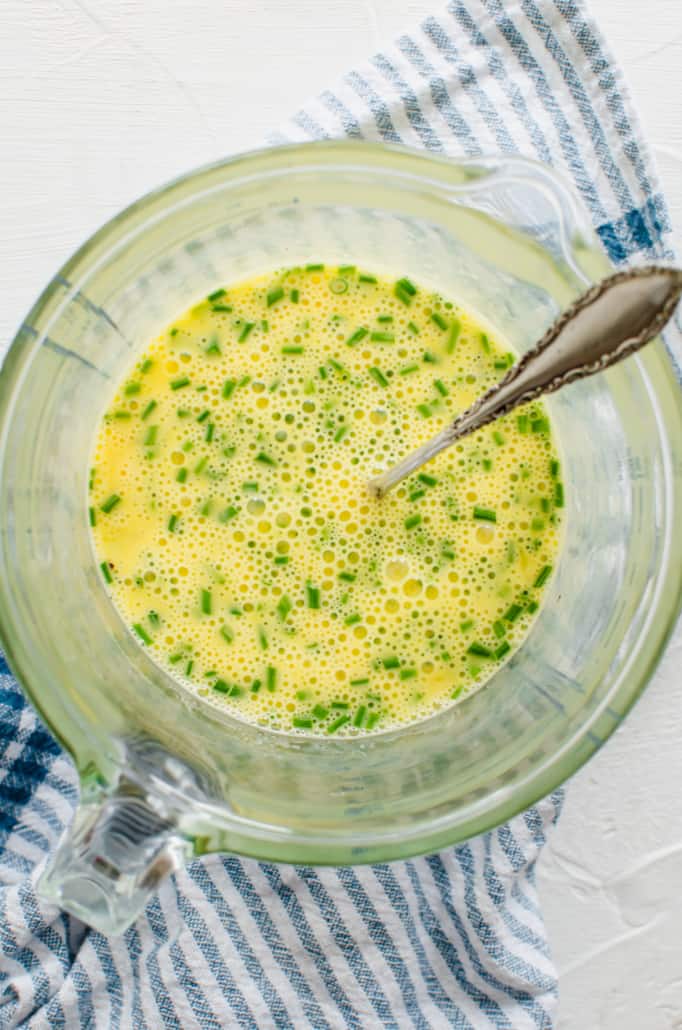 Step 3: Pour or ladle the egg mixture into the mini muffin pan. If using a silicone pan, we recommend setting the pan on a baking sheet.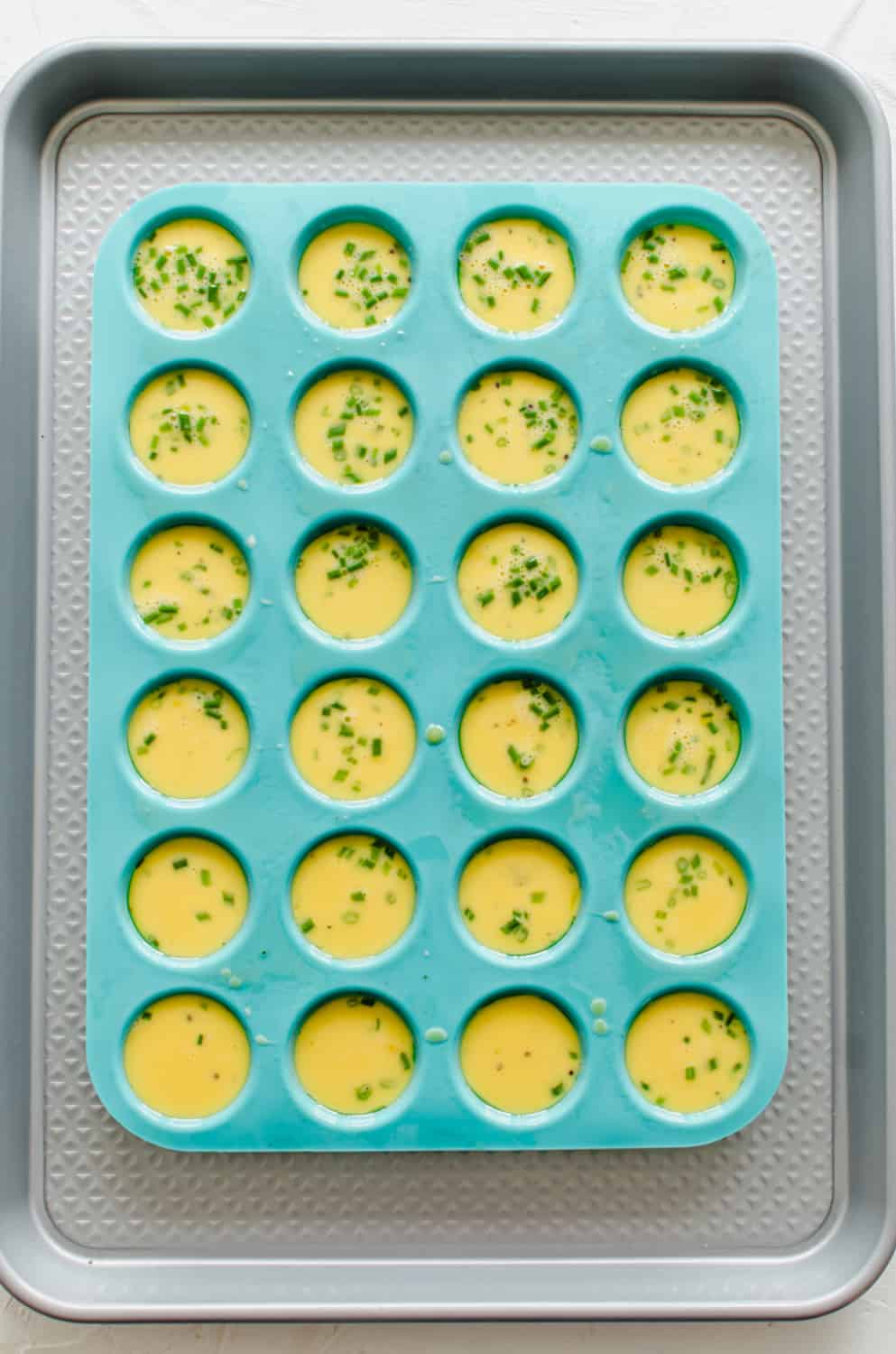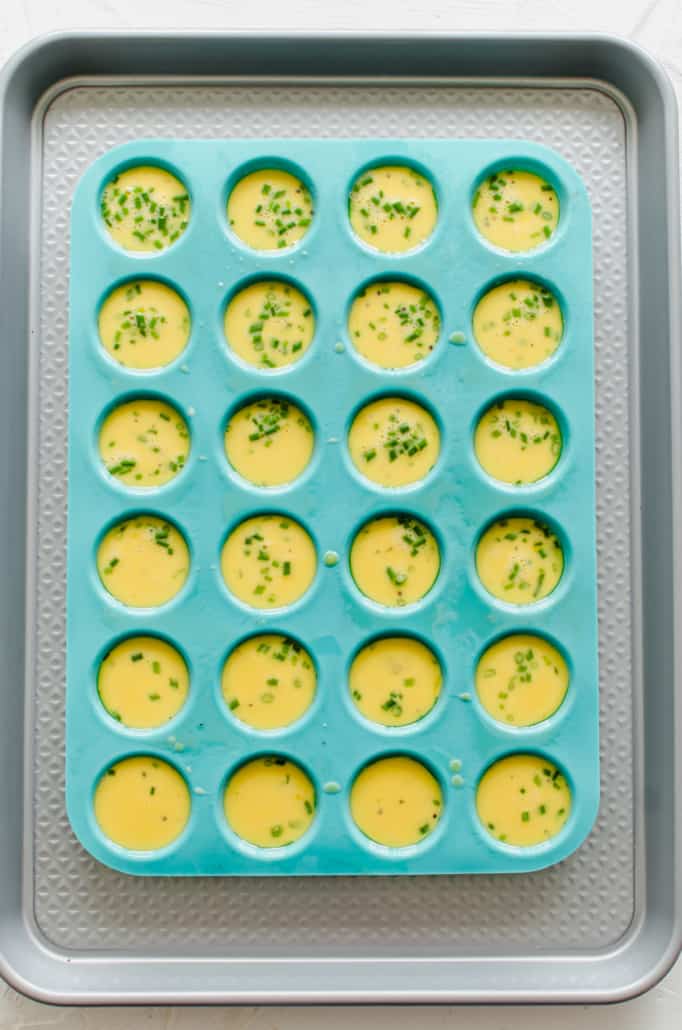 Step 4: Evenly distribute cooked bacon bits over the top of each one.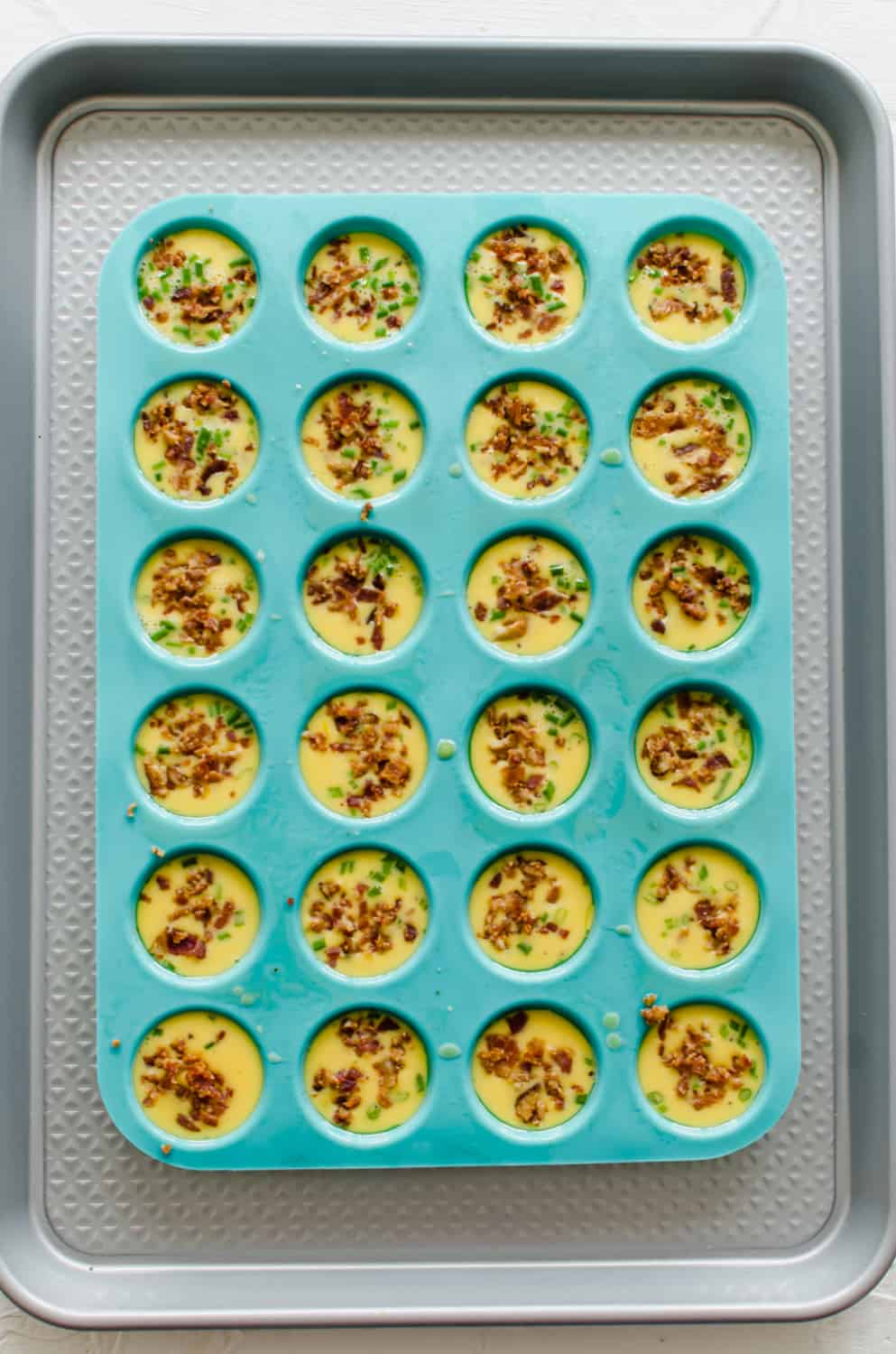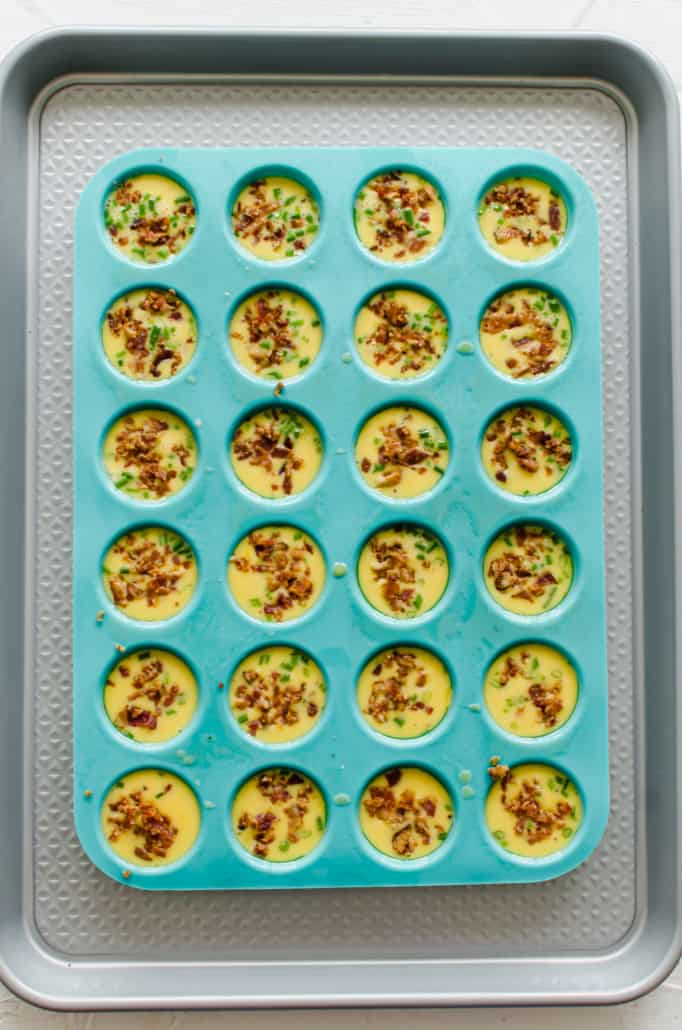 Step 5: Sprinkle cheese over the top of each one.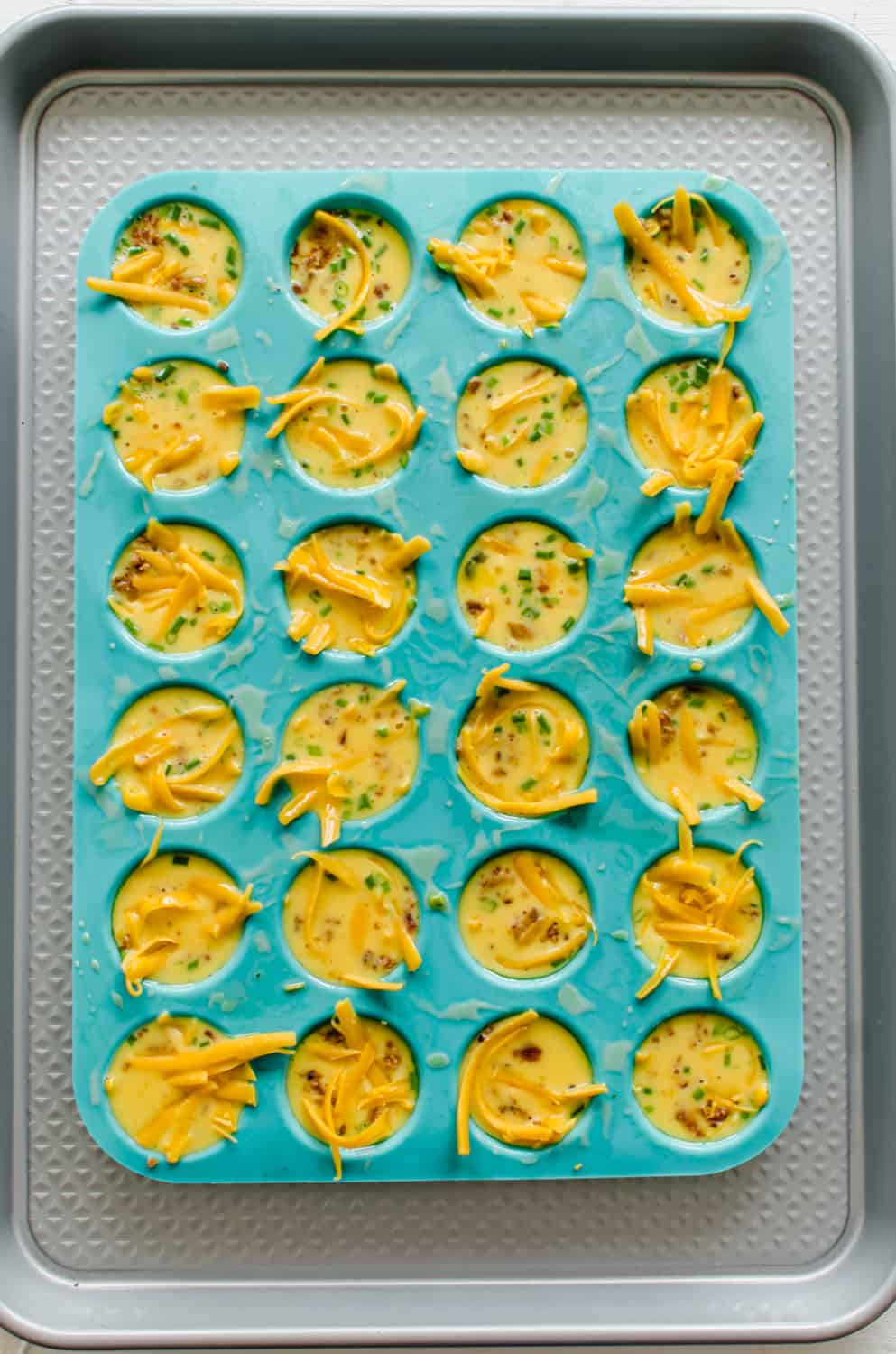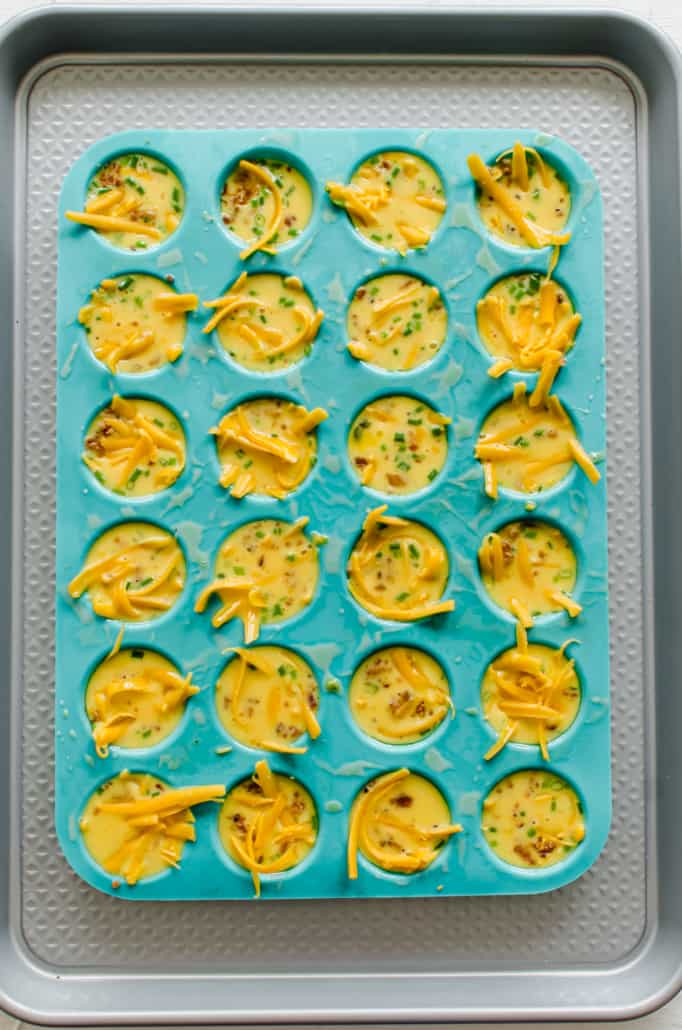 Step 6: Bake the egg bites until set, then let them cool in the pan. Don't worry, they will deflate a little bit after they cool. This is normal!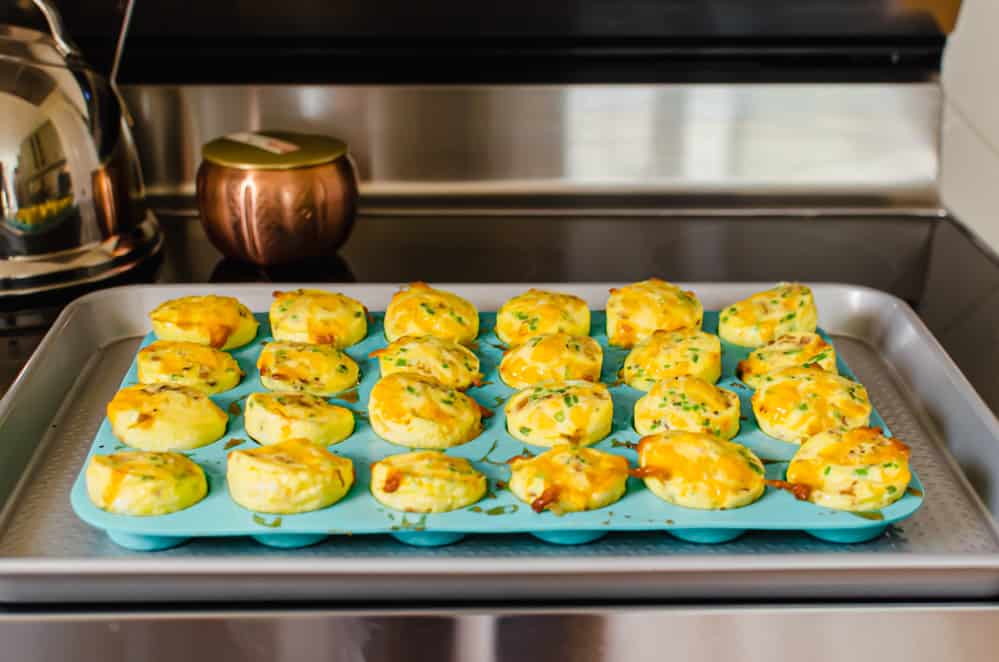 Best Mini Muffin Pan: Our Tests Show…
When making mini egg bites, you'll want a mini muffin pan. Our tests showed that not all mini muffin pans are created equal, however! In our trials of both a metal non-stick pan and a silicone pan, we found a clear winner between the two.
Metal Pan Test Results
First, even when greased really well, we found that the egg bites (and any overflow) stuck terribly to the non-stick metal pan. That wasn't the case with the silicone pan.
Silicone Pan Test Results
Second, in our baking tests, we found that the egg bites baked in the silicone muffin cups retained their shape after cooling. The egg bites from the metal pan lost their form quickly. Just look at the difference between the two!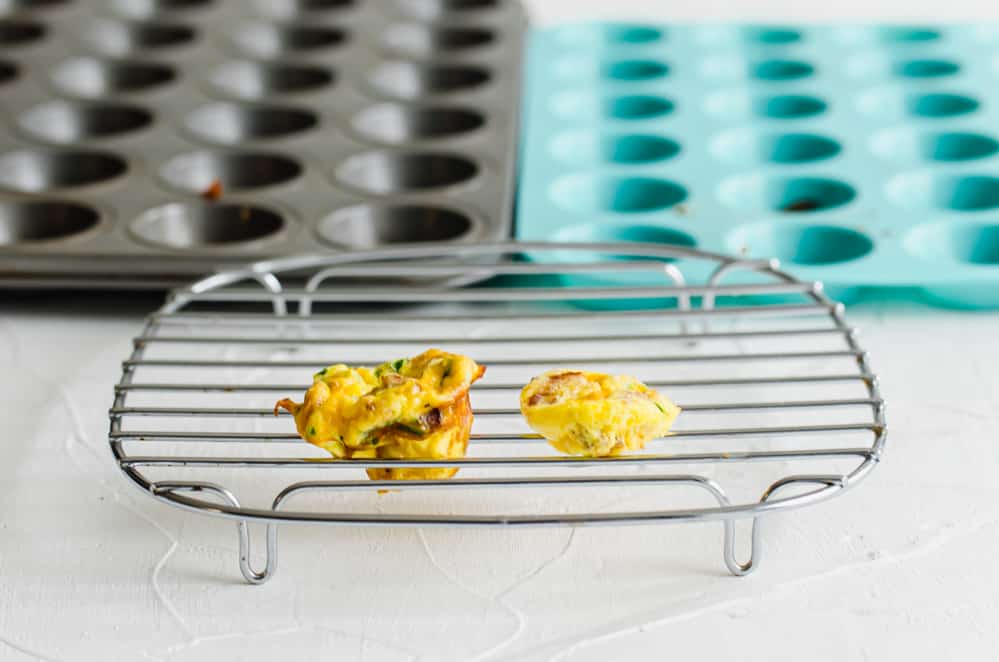 Taste-wise and texture-wise, there really wasn't a huge difference at all. However, if you want less hassle when it comes to cleaning your pan and a prettier result, opt for this silicone mini muffin pan.
Variations of This Egg Bites Recipe
I'm thinking there are all kinds of ways to change up the flavors, once you get the hang of this. What do you think about some of these ideas in place of bacon, cheddar, and chives?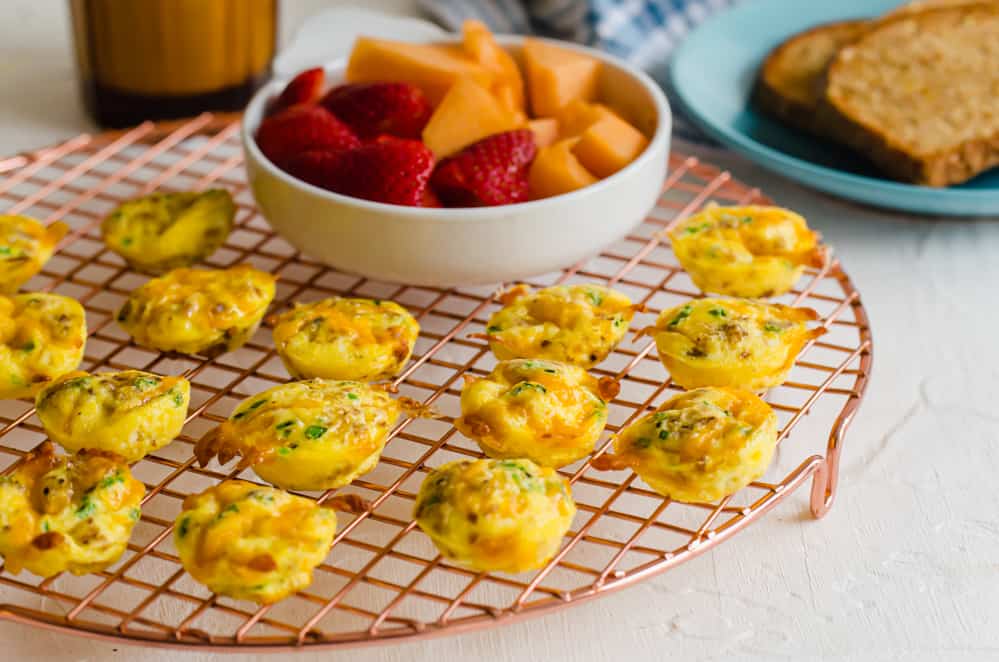 Idea #1: Turkey sausage, feta, and roasted red peppers (We have a DELICIOUS crustless quiche with similar ingredients in our first cookbook that I can't get enough of.)
Idea #2: Pancetta, crumbled goat cheese, and fresh basil
Idea #3: Ham, Swiss cheese, and baby spinach
Idea #4: Sautéed chopped onions, bell peppers, jalapeño pepper with your favorite shredded cheese
The possibilities seem endless!
Can You Freeze Egg Bites?
Yes! You can easily double or triple the batch to have extras on hand for weeks in the freezer, but for best results keep these important tips to keep in mind when freezing, thawing and rewarming them.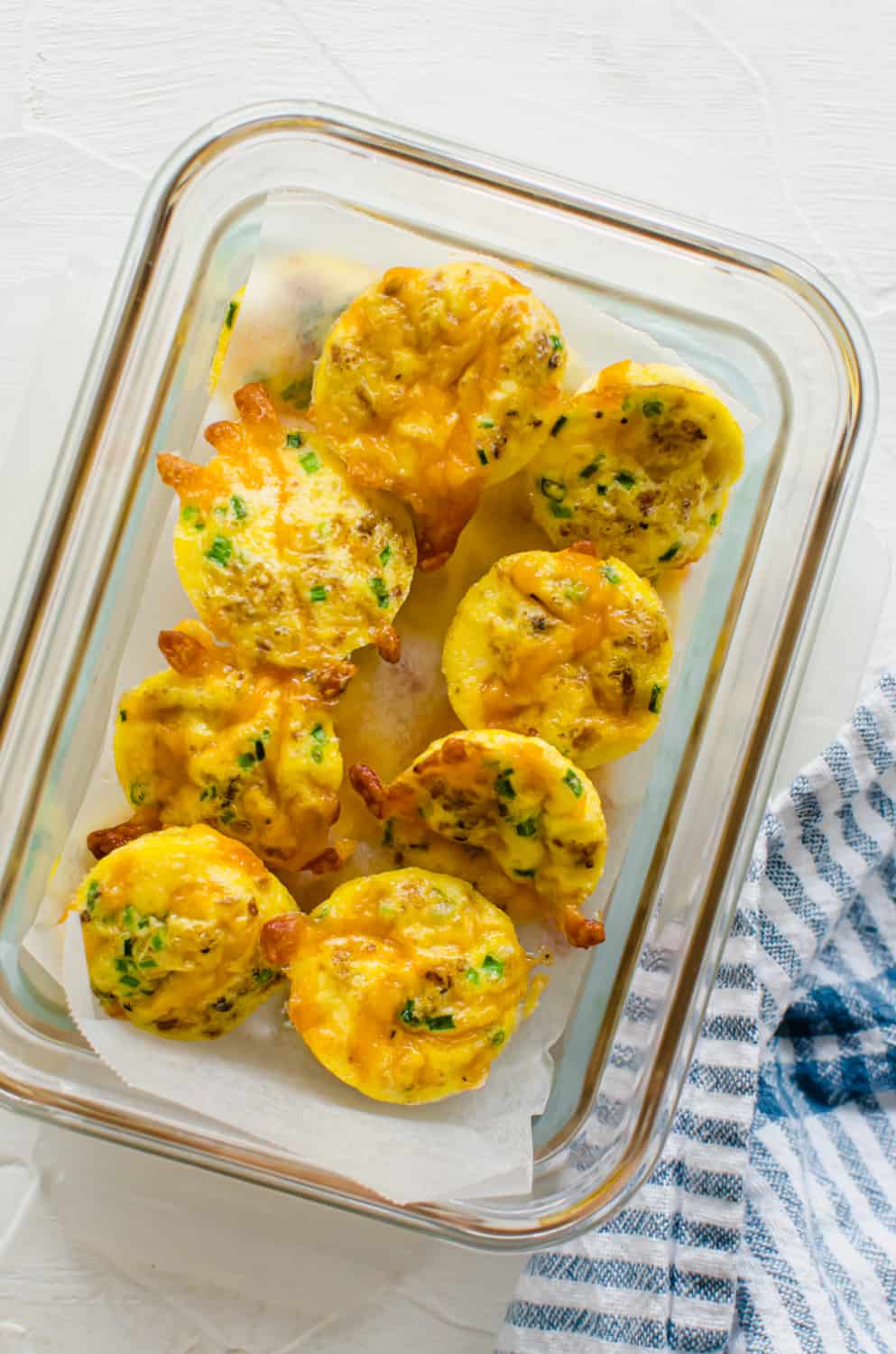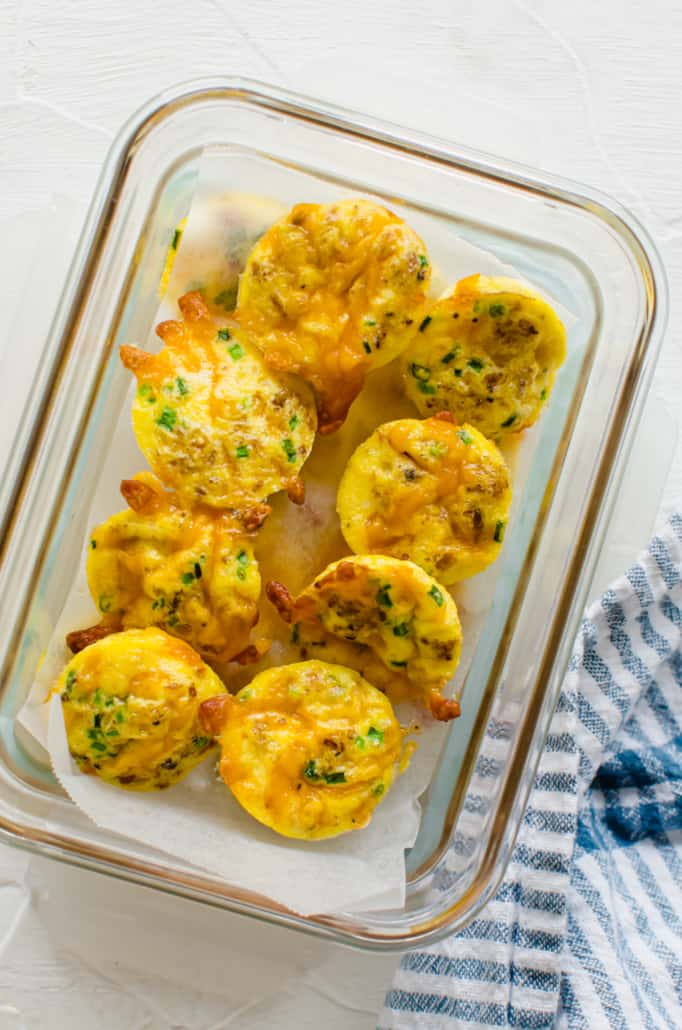 Let the egg bites cool completely before freezing. If they are still warm when freezing, they will release liquid in the container and cause icicles to form on them which can adversely affect the text.
Package tightly and reduce the air exposure to the dish as much as possible in the freezer. I would recommend packaging them in a single layer in a freezer bag and try to remove as much air as possible from the bag. Here are two ways to remove air from a bag without a vacuum sealer. Or, you can freeze them in an air-tight container, dividing layers with parchment paper. I'd recommend placing a layer of plastic wrap or foil over them inside the container.
When thawing frozen egg bites, the best policy is to thaw in the fridge for a few hours. Slow thawing like this results in the best texture. However, if you don't have time, you can thaw briefly using the defrost setting on the microwave.
To rewarm, wrap egg bites in a moist paper towel and microwave is very short increments until warmed through. Don't overcook them while reheating!
Side Dish Ideas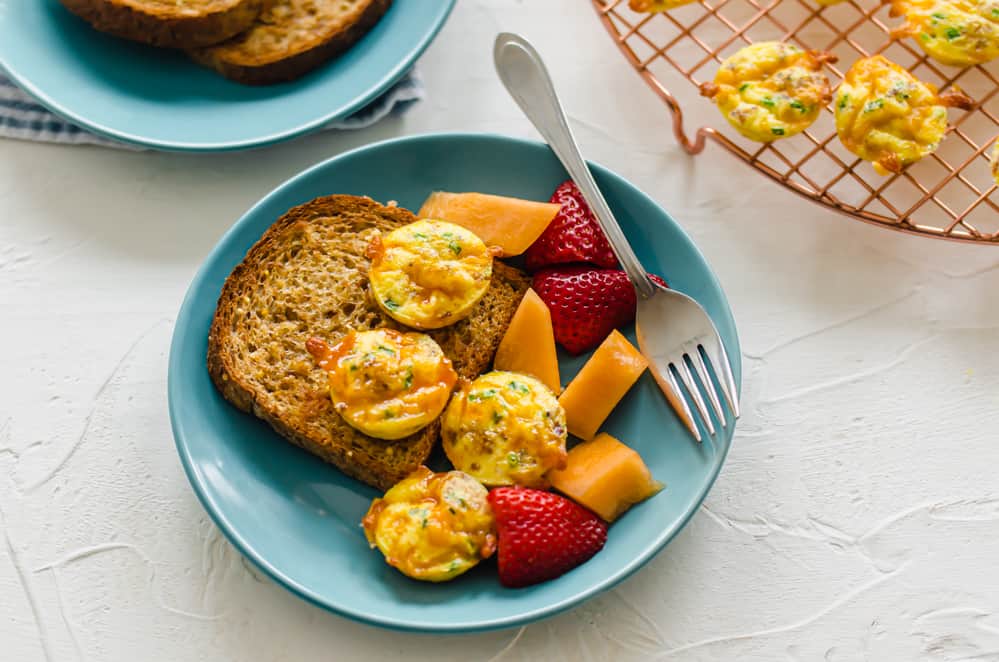 Keep it simple and healthy when serving these little egg muffins by adding some whole grain toast and Fruit Salad on the side. Or you can serve them with one of our 7 Smoothie Recipes for an easy on-the-go breakfast.
More Popular Egg Recipes
If you like this high protein recipe, I think you'll enjoy these other egg recipes on our site.
Did you make this? Snap a photo and tag us on Instagram at @thrivinghome so we can see your creations and cheer you on!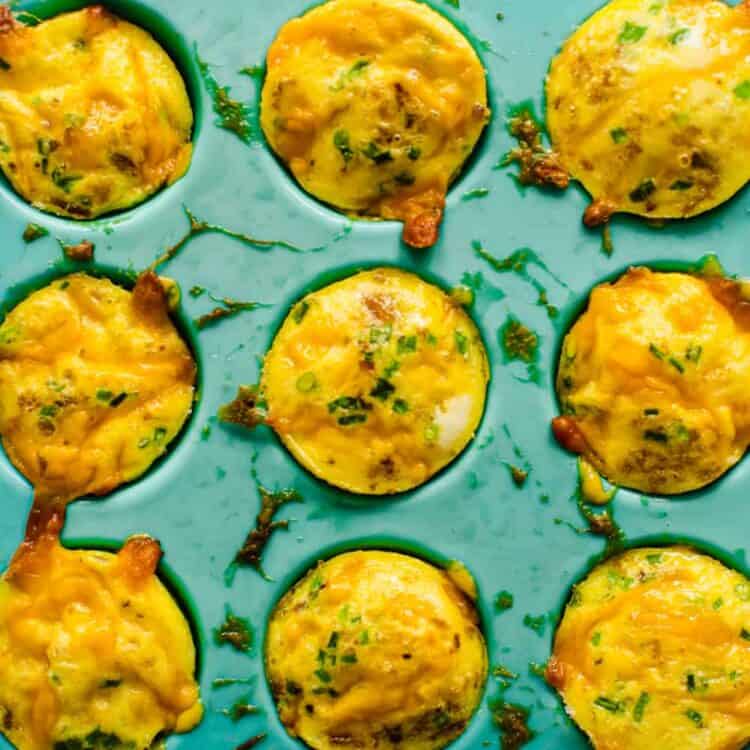 Cheddar Chive Egg Bites
These low carb, high protein, kid-friendly egg bites are a great grab-and-go breakfast. Make ahead for the week and warm them in the microwave each morning.
Prep:
10 minutes
Cook:
13 minutes
Total:
23 minutes