This post may contain affiliate or sponsored links. Please read our disclosure policy.
Ham and Egg Cups might just blow your mind. They did mine. With only three main ingredients, this high-protein dish could be one of the easiest breakfast, lunch, or dinner recipes ever.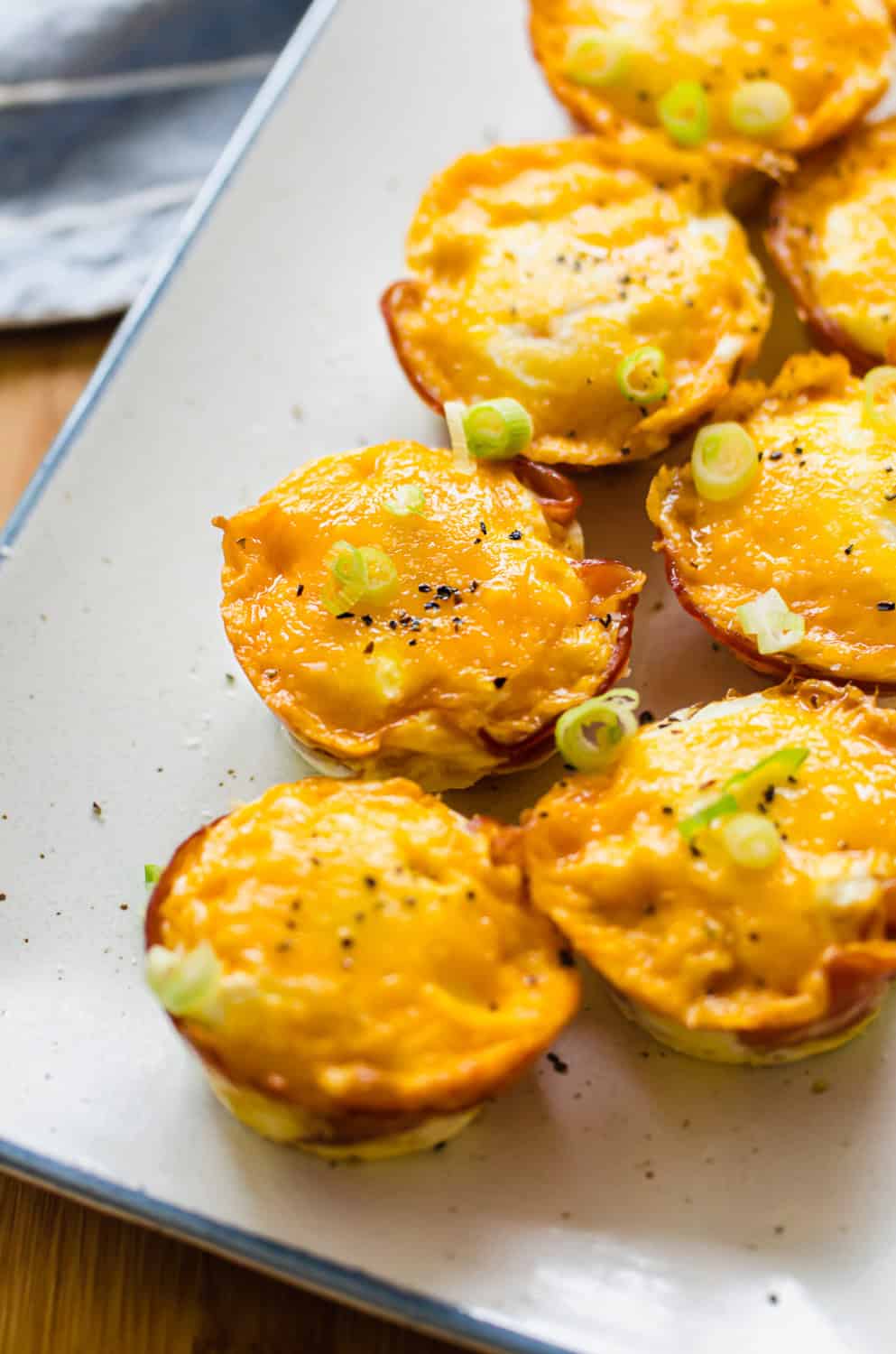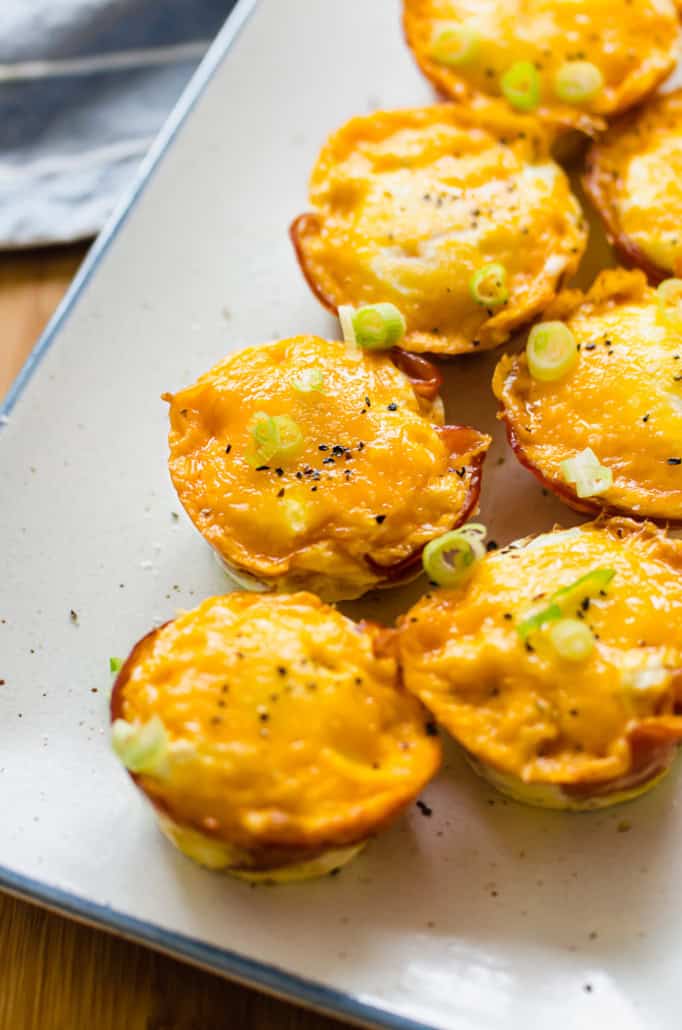 Why You'll Love this Recipe
I'll be honest. When I first tested this Ham and Egg Cups recipe, I thought for sure it'd be a flop. I mean…just 3 ingredients? That's gonna be boring. And, would they freeze for later? Ah, heck nah.
Well, I was dead wrong. I repent of my arrogant, foodie ways. Ham and Egg Cups proved to be a true winner around our Thriving Home team's homes. Whitney Reist, our food photographer, said her husband loved them. Context is important here: Whitney is a trained chef, so her husband is used to really good food.
With that being said, I hereby introduce you to one of our favorite 3-ingredient recipes ever…Baked Ham and Egg Cups.
Ingredients Needed
Here are all the ingredients you need to make Baked Egg Cups:
Cooking spray
Deli sliced ham (I look for uncured ham. I don't recommend using honey ham for this one.)
Eggs
Shredded cheddar cheese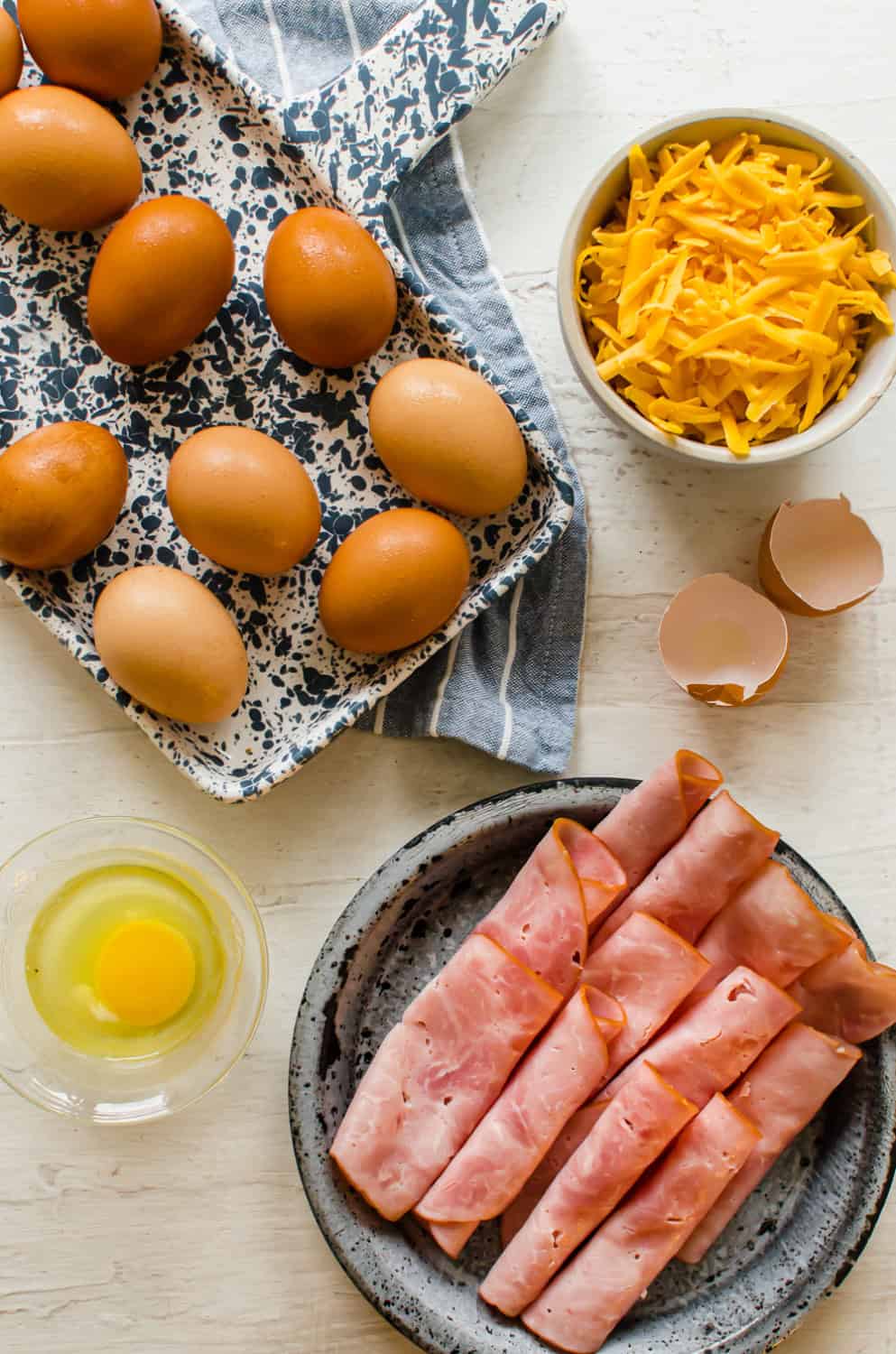 Although similar to our Easy Breakfast Casserole Muffins, these were faster and required fewer ingredients.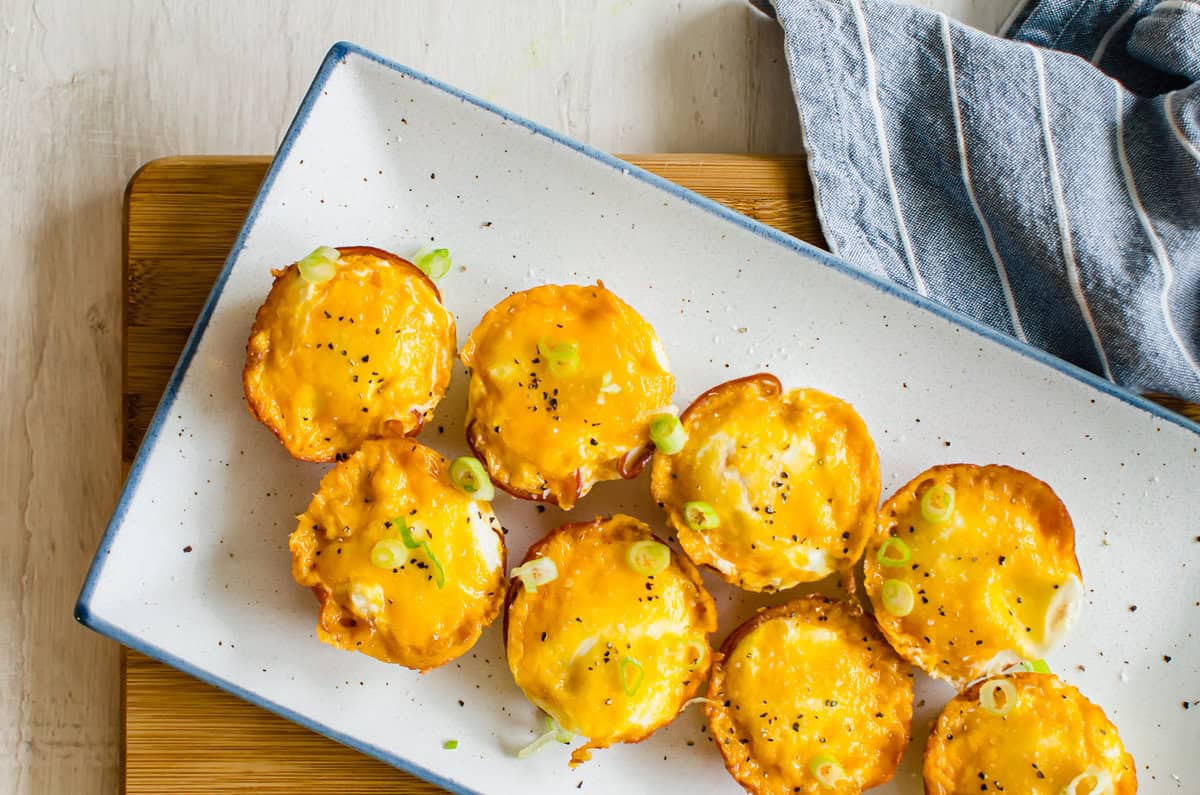 Step-by-Step Instructions
1) Preheat oven to 375°F. Spray a muffin tin generously with cooking spray. Line each muffin cup with a slice of ham (or two slices, if they are small) to form the cup that the egg will rest in.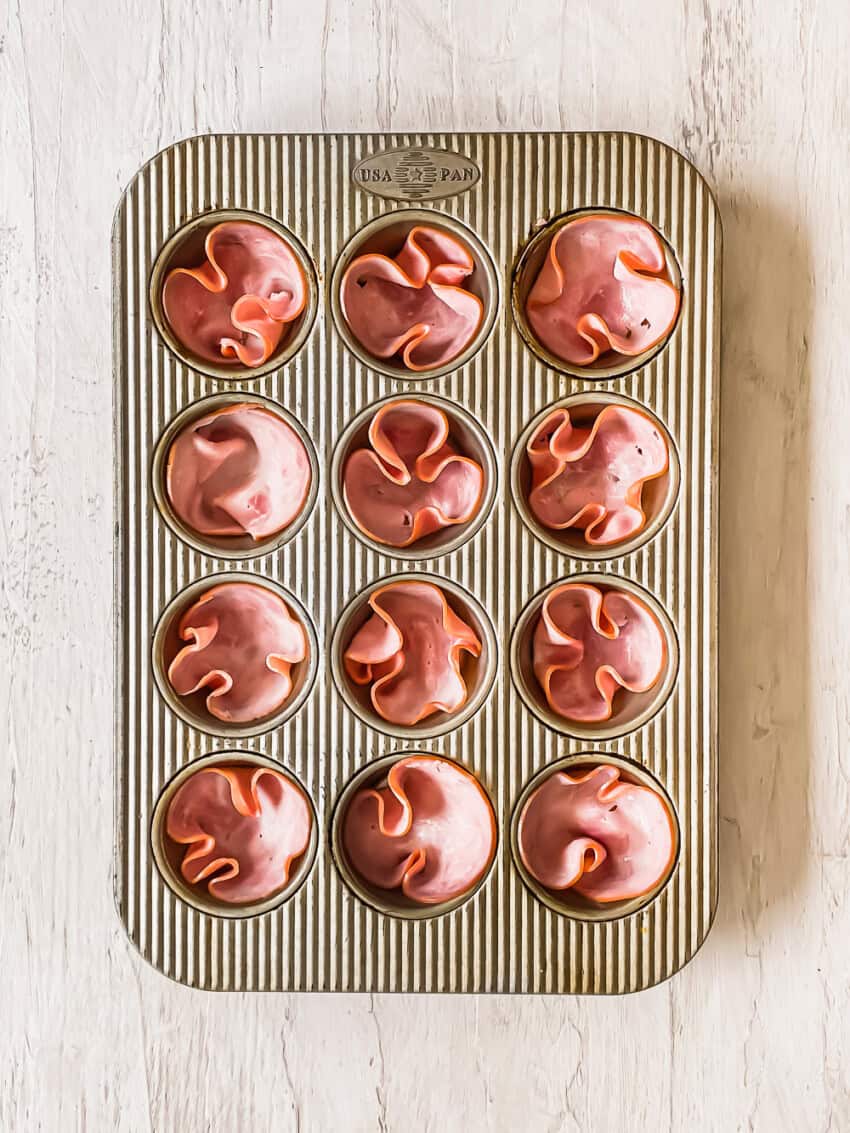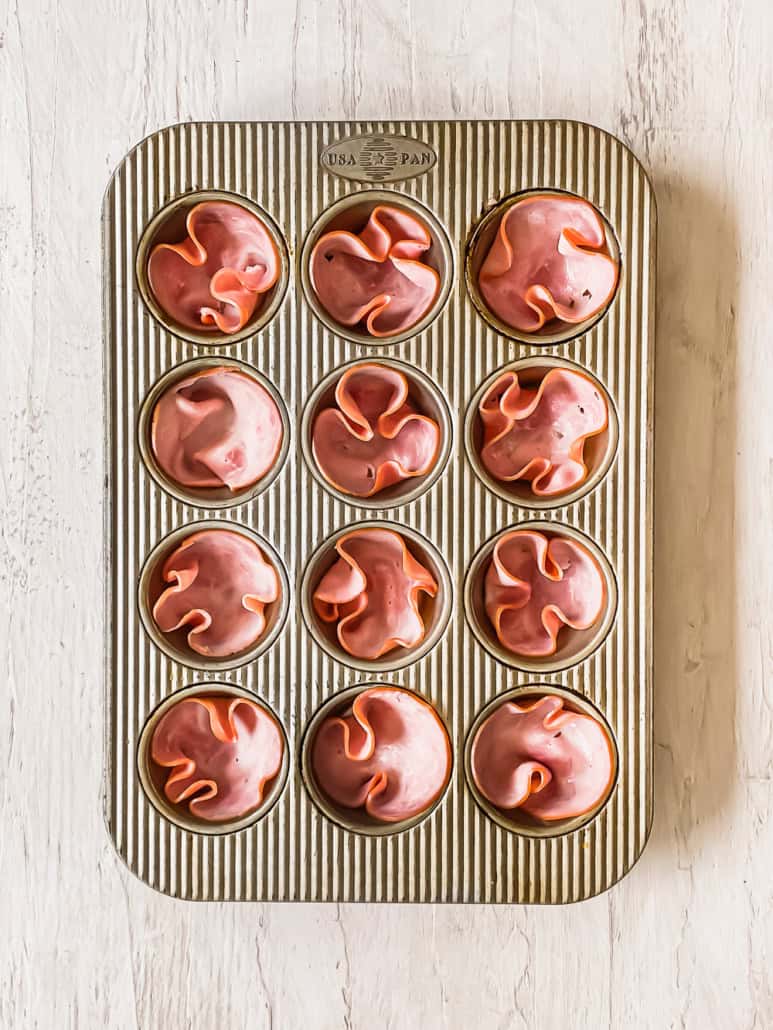 3) Crack and add one egg to each slice of ham. (Note: If you prefer scrambled eggs, you can whisk the eggs with a little milk in a glass measuring cup with spout and then pour the mixture evenly into the muffin cups.)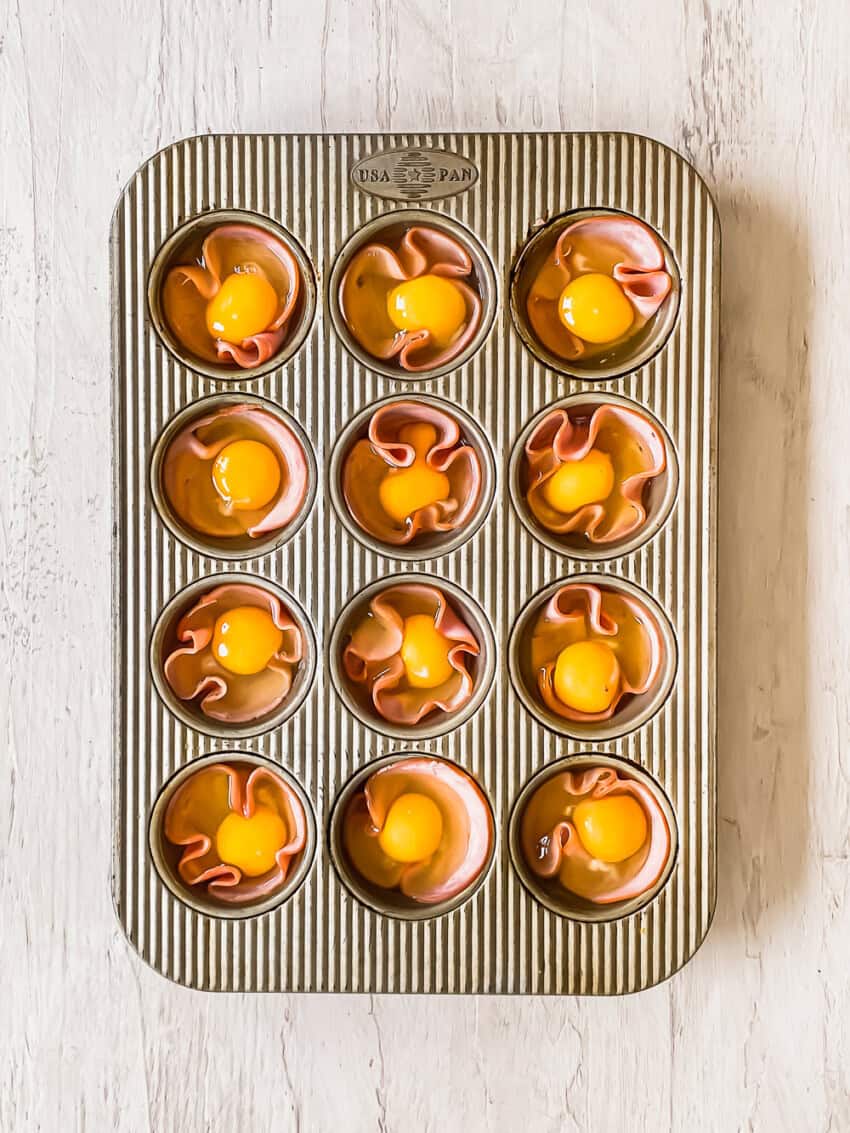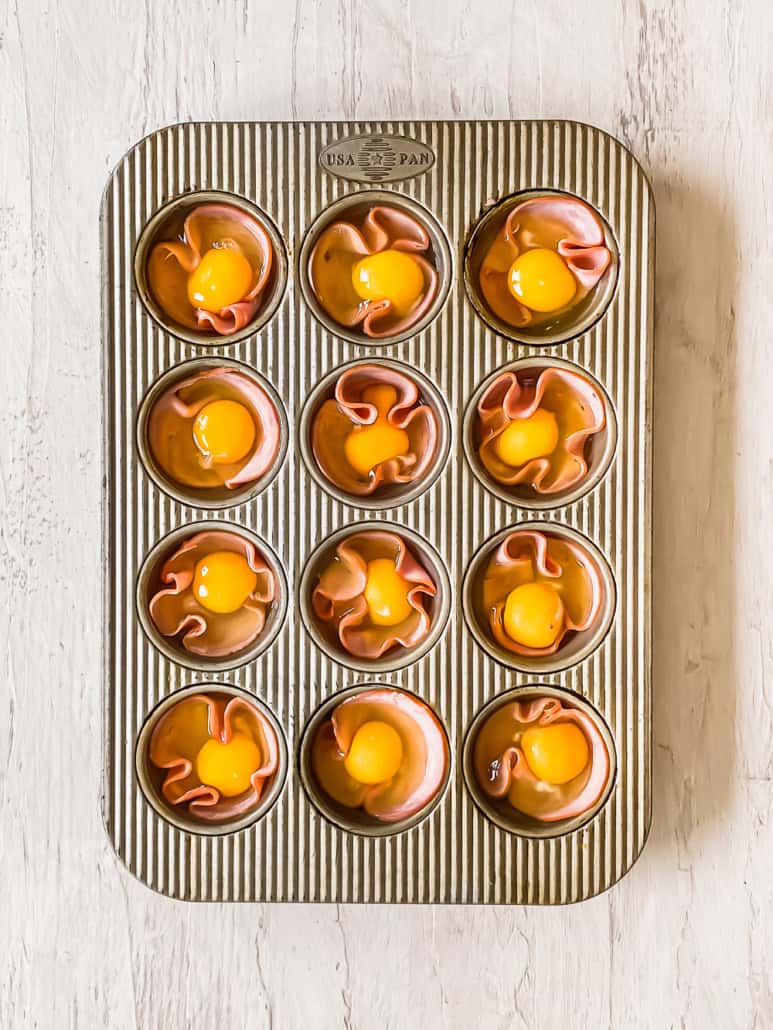 4) Then top each egg with a little bit of shredded cheddar cheese.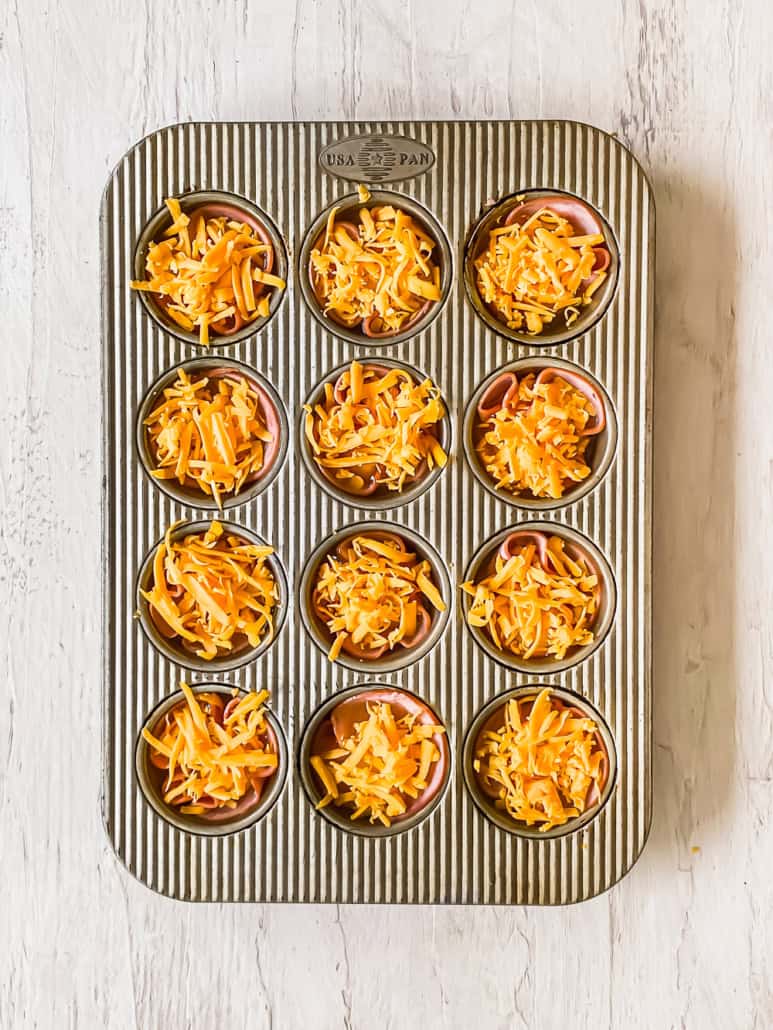 Btw, this is a great recipe for a kid to help with. My daughter used to love helping me make these when she was little. Awww, I miss those preschool years!
5) Lastly, bake for 15-17 minutes. If you use a metal muffin tin, it will take about 15 minutes. If you use a silicone muffin tin, it will take a little longer.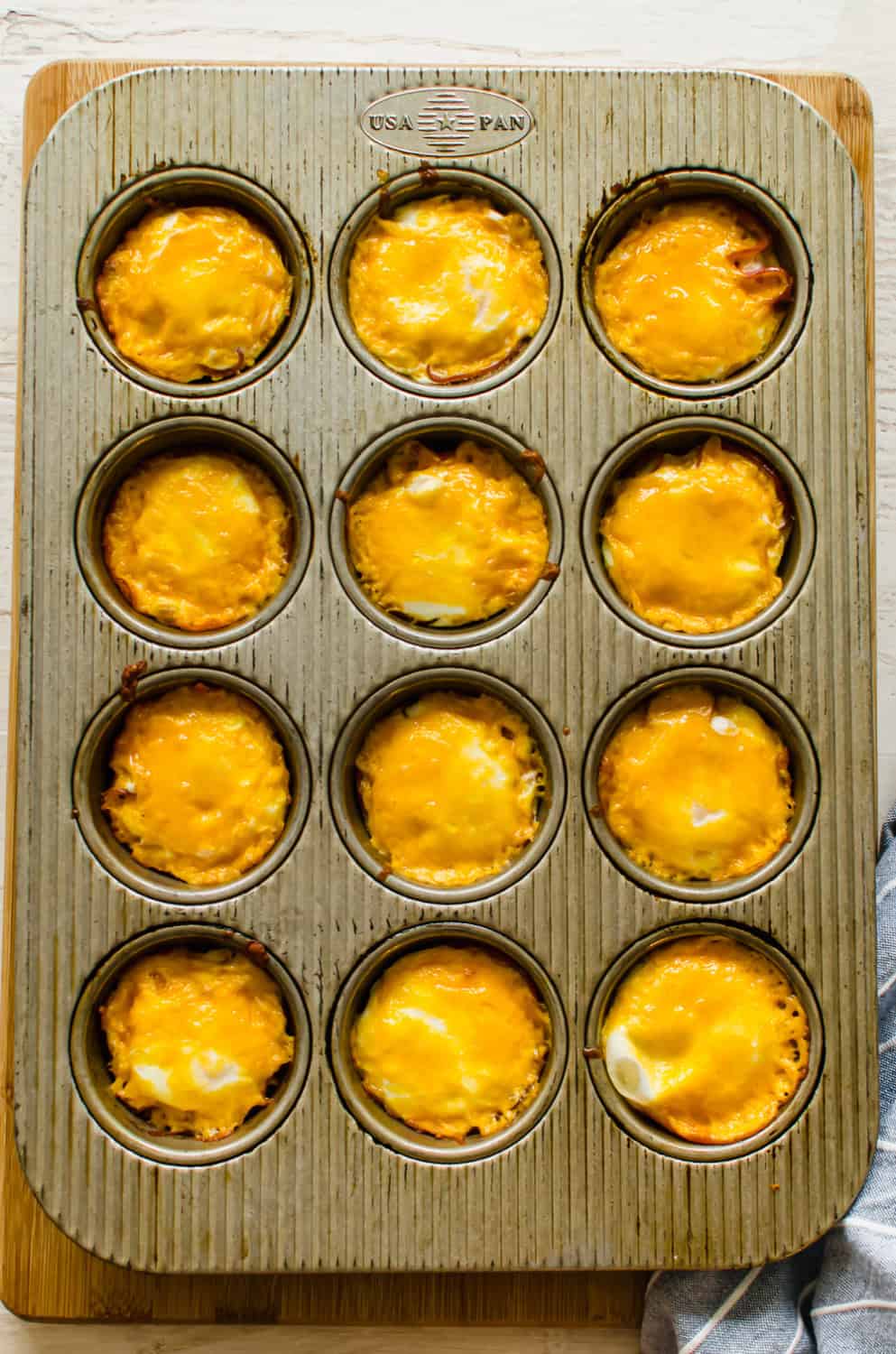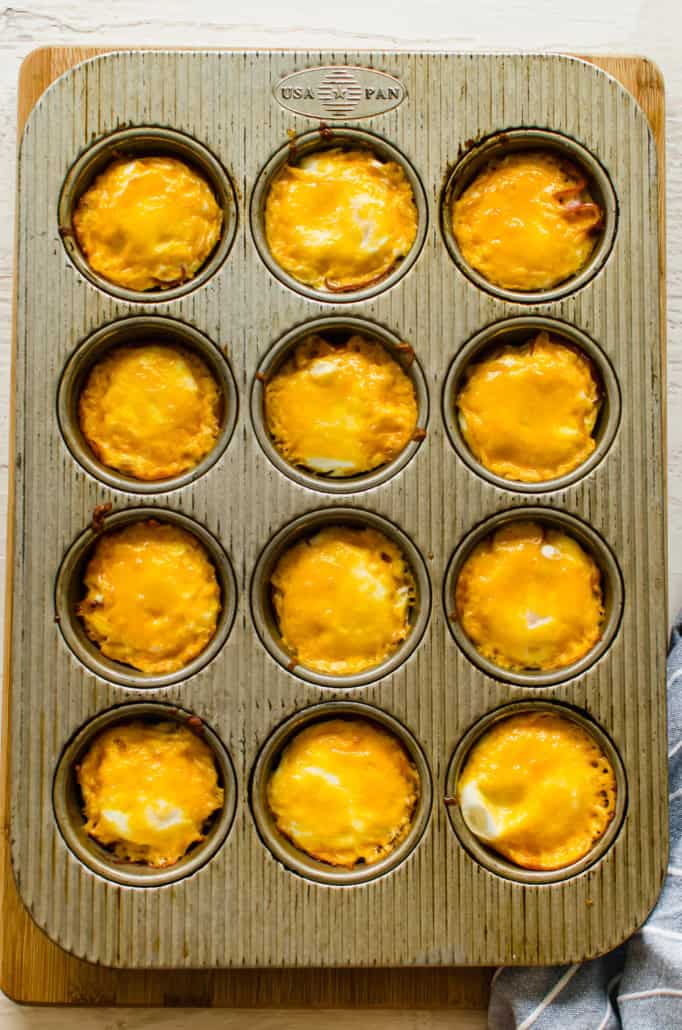 Can You Freeze Egg Cups?
Similar to our Spinach and Bacon Quiche recipe, this egg recipe actually freeze better than we thought they would! I froze a whole batch of fully cooked and cooled ones and ate on them for a few weeks. The texture wasn't altered much, if any at all.
To freeze the egg cups, place them in a freezer bag in a single layer, squeeze out as much air as possible and seal, and then freeze flat.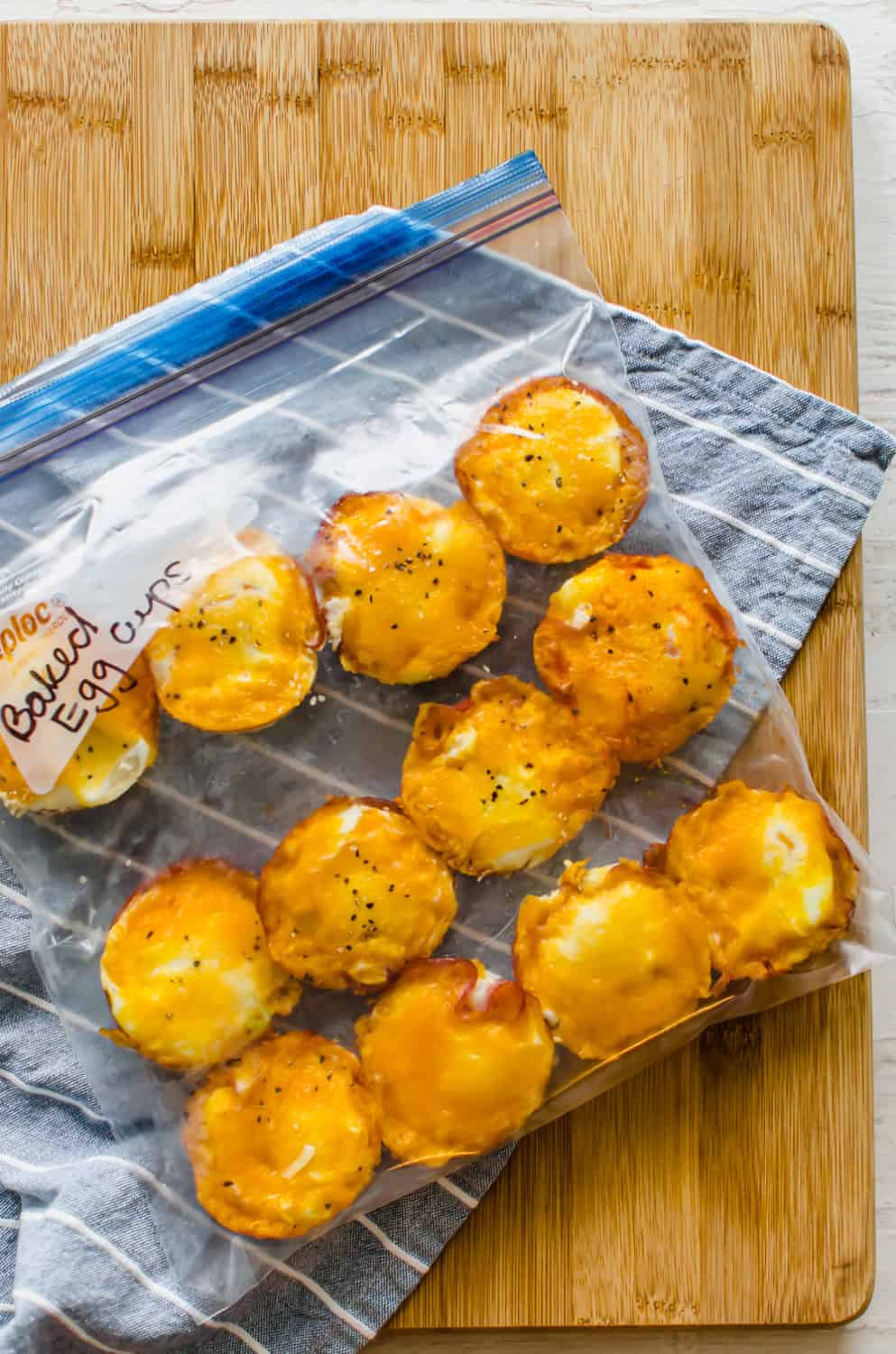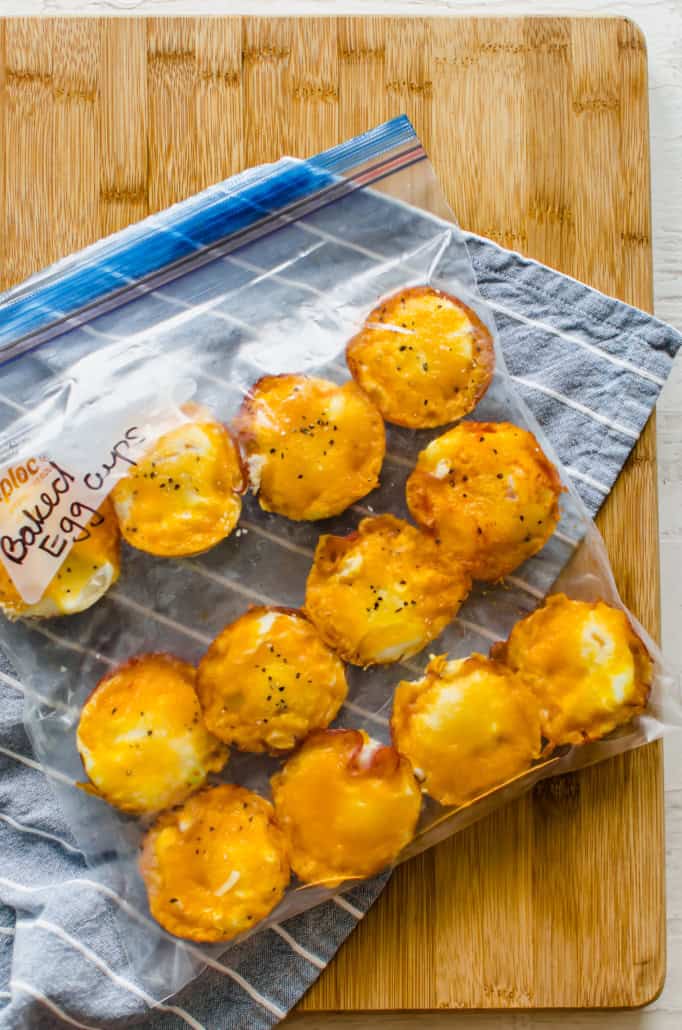 When you're ready to eat them, it's best to defrost them in the refrigerator overnight, if you have time. If not, use the defrost setting on the microwave. Then, warm them up in 20-second increments in the microwave. Don't overcook them!
Other Ingredient Add-In Ideas
While our team really enjoyed this 3-ingredient recipe "as is", you can definitely add other ingredients for more nutrition or flavor. Here are a few ideas of ingredients to sprinkle on top of the egg before adding the cheese:
Baby spinach, finely chopped
Bacon, fully cooked and crumbled
Bell pepper and onions, diced and sautéed (or you can cook these in the microwave with a little oil until softened, 4-5 minutes)
Chives, finely chopped
Fresh herbs like parsley, basil, thyme, or oregano, finely chopped
How to Serve Baked Ham and Egg Cups
While these are tasty warm (or even cold) on their own, you can also serve them on a toasted English muffin perhaps with some hot sauce on top. Or, if you're my daughter, you'll add ketchup on top. 😉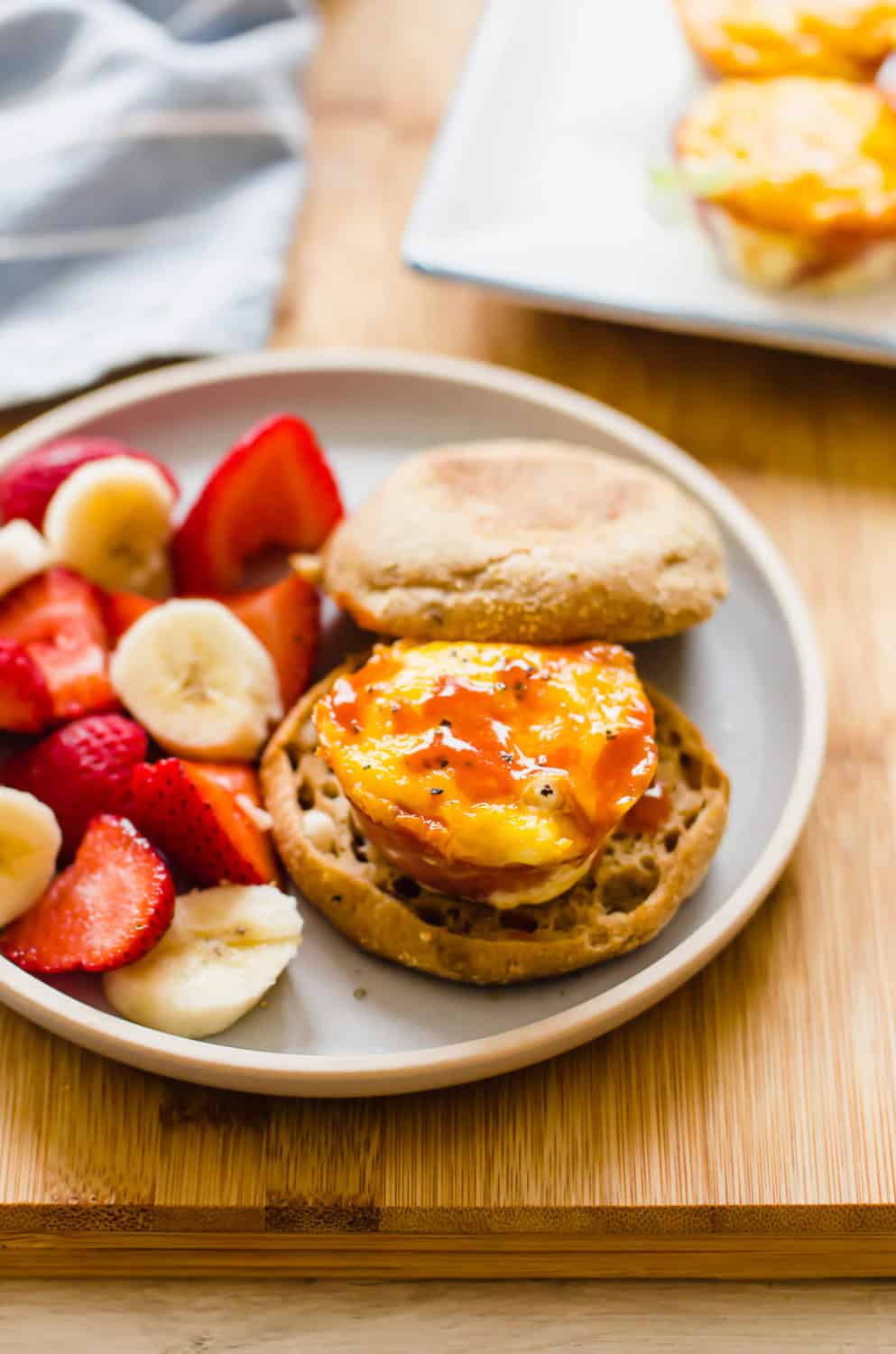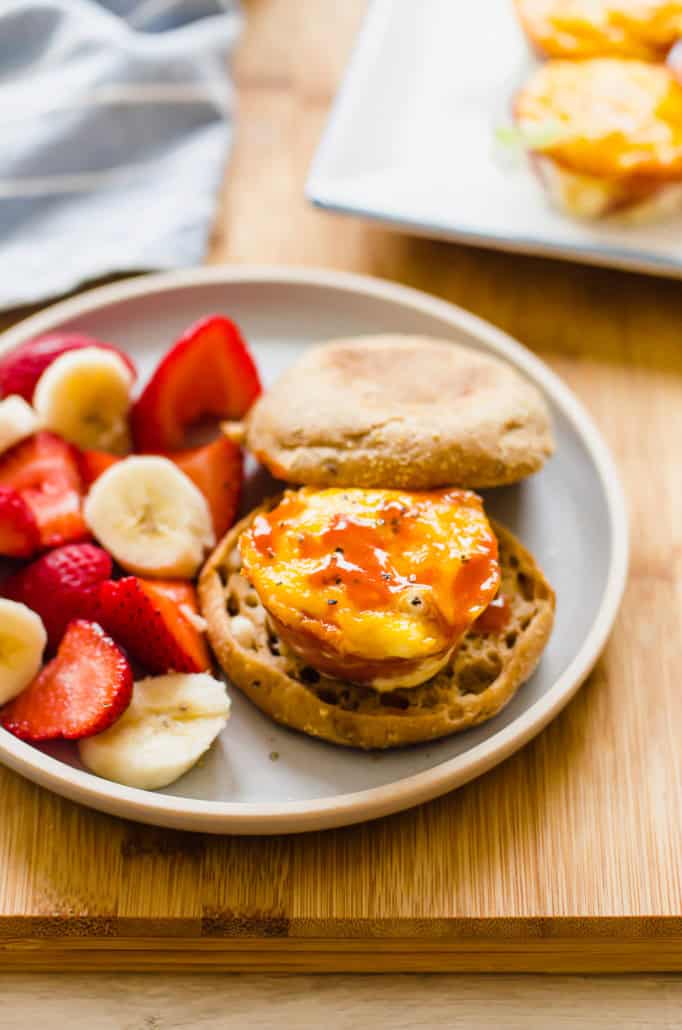 Some side dishes that go well with these Eggs Cups include:
Load up on eggs, ham, and cheese and pop these puppies in the oven soon. You'll be so happy to have them on hand for busy mornings or quick lunches.
Did you make this? Snap a photo and tag us on Instagram at @thrivinghome so we can see your creations and cheer you on!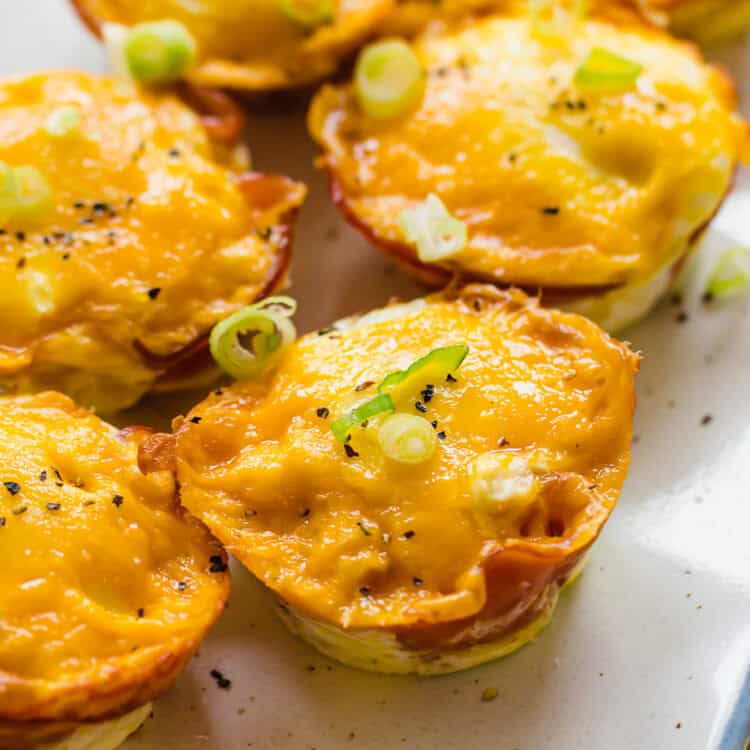 Baked Ham and Egg Cups
With only three main ingredients, Ham and Egg Cups are one of the simplest breakfast recipes you can find. They are like perfect, mini, individual egg casseroles. 
Prep:
10 minutes
Cook:
15 minutes
Total:
25 minutes
Ingredients
Cooking spray

12

large slices (or

24

small slices) deli ham (look for uncured, all-natural ham; avoid the honey ham for this recipe)

12

large eggs

1 1/2

cups

shredded cheddar cheese
Before You Begin! If you make this, please leave a review and rating letting us know how you liked this recipe! This helps our business thrive & continue providing free recipes.
Instructions
Make It Now:
Preheat oven to 375°F. Spray a muffin tin with cooking spray.
Line each muffin cup with 1-2 slices of ham.
Crack one egg into each muffin cup. (Optional: You can also scramble the eggs with a splash of milk in a  separate bowl before adding to the muffin tins, if you prefer scrambled eggs.)
Top each egg with 2 tablespoons of cheese.
Bake for 15-17 minutes, until the egg is set in the middle. Let cool slightly and enjoy!
Freeze For Later: Bake the Ham and Egg Cups as directed in recipe and let cool completely. Then, place them in a gallon-sized freezer bag or container in a single layer, squeeze out any air, seal, and freeze flat.
Prepare From Frozen: Thaw overnight in the refrigerator or pop in the microwave for a quick defrost. Then, warm in the microwave in 20-second increments until warmed through.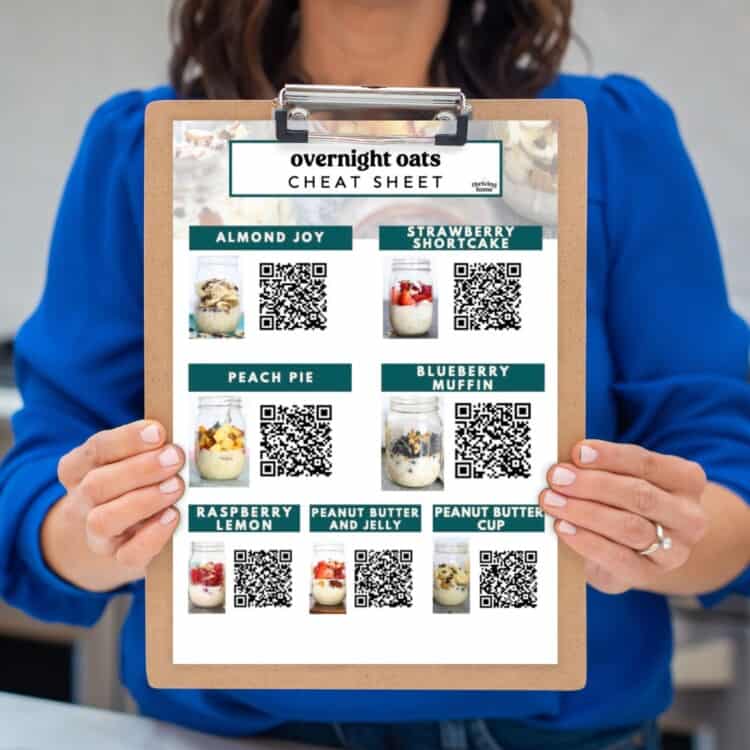 7 Overnight Oats Cheat Sheet
We'll send you all 7 of our popular overnight oats recipes, so you can have them in one place. Download and print it for free!
Download the Cheat Sheet