This post may contain affiliate or sponsored links. Please read our disclosure policy.
We're taking fruit salad to the next level with the perfect combination of fresh fruit and our simple fruit salad dressing. Make this classic side dish at your next gathering or simply munch on it throughout the week.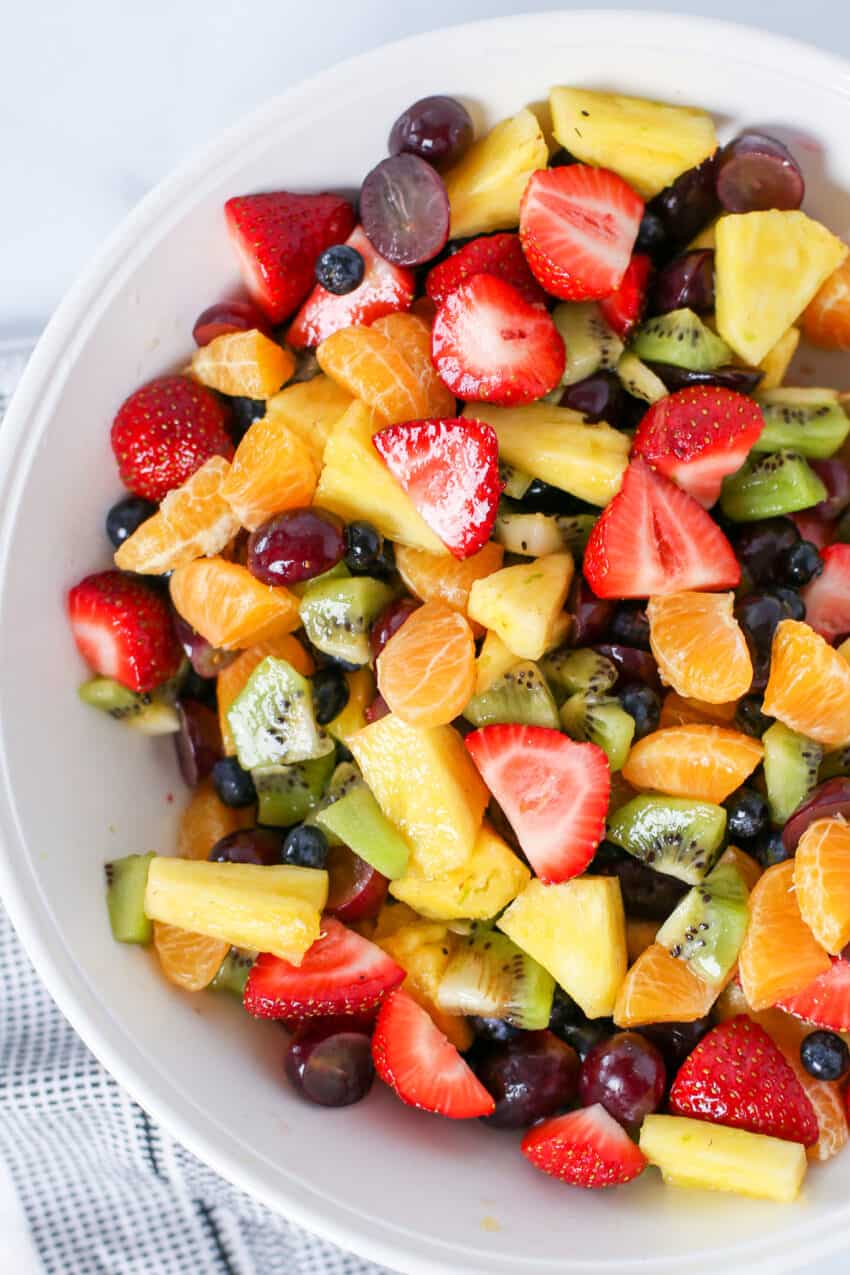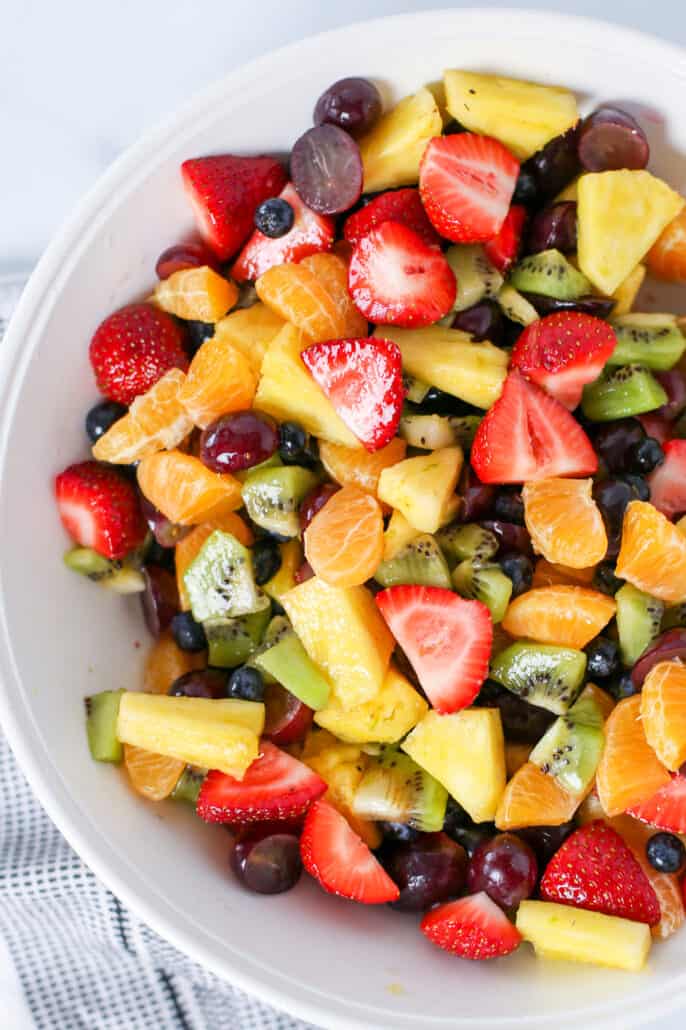 Having a go-to fruit salad recipe in our recipe index is long overdue. While we both regularly use variations of this recipe in our own homes for all types of meals, we've finally nailed down the perfect recipe, which includes a fruit salad dressing to take it to the next level.
The Key to Amazing Fruit Salad
The two key factors in taking your fruit salad to the next level are:
High-quality fruit
This fruit salad dressing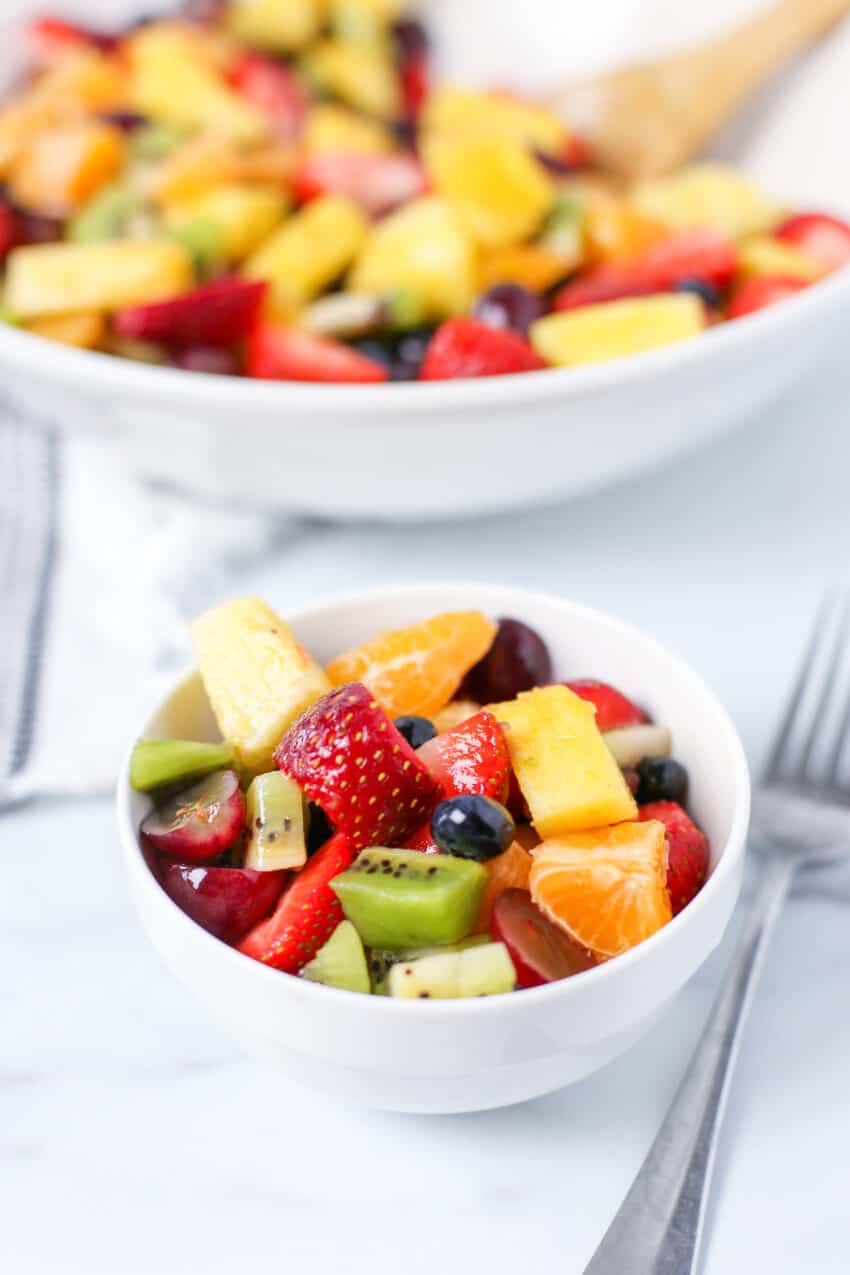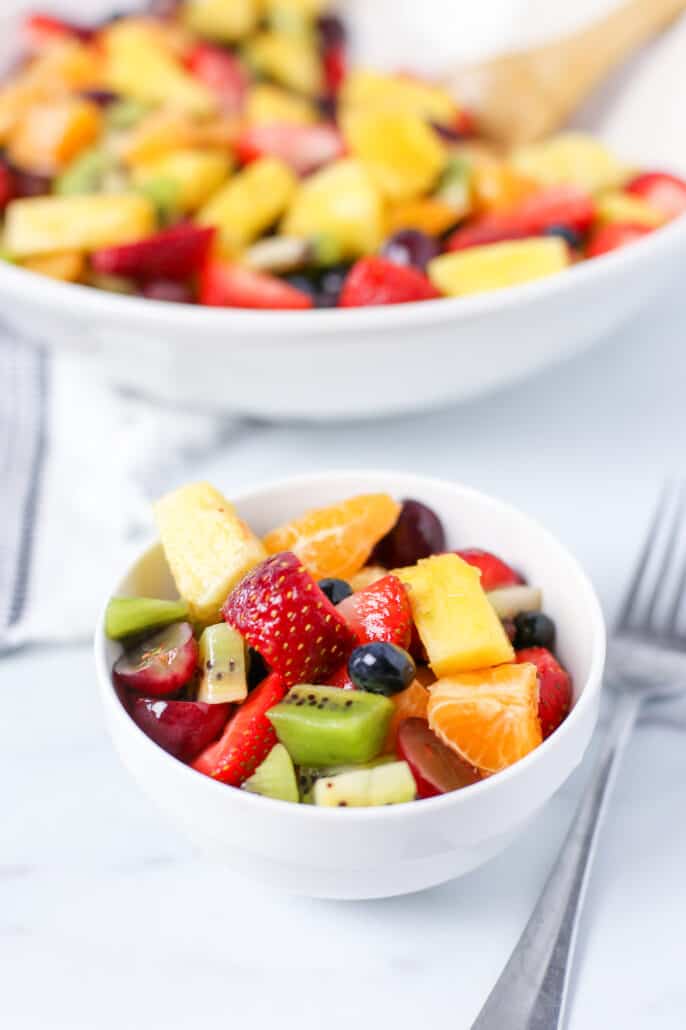 Tips for Picking High-Quality Fruit
Strawberries – Strawberries won't lie. You can tell by looking at them if they are good shape. Avoid strawberries with spots, molding, or lacking color.
Pineapple – To pick a good pineapple, smell the bottom. It should have that sweet pineapple scent to tell you it's ready for eating.
Grapes – Give grapes a gentle squeeze. They should be firm and plump with a nice bright color.
Blueberries – I've found that plumper berries tend to be sweeter. The small tight ones will make your eyeballs pop from sourness! Bigger the better in my opinion.
Kiwi – Look for some that are fairly soft when pressed. Those that are firm are sour and unripe. Small or large size won't matter. It's all about how they feel.
Mandarin oranges – Fresh are better than canned. The most reliable indicator of whether citrus fruits are sweet/bitter is their smell. Ripe citrus fruits have a distinct sweet aroma.
Limes – Don't worry, this is only in the dressing. You won't be eating lime straight up. 🙂 Ripe limes should be bright green. Also you can lightly scratch the skin and give it a whiff. If the fruit smells distinctly lime-ish, it's probably ready!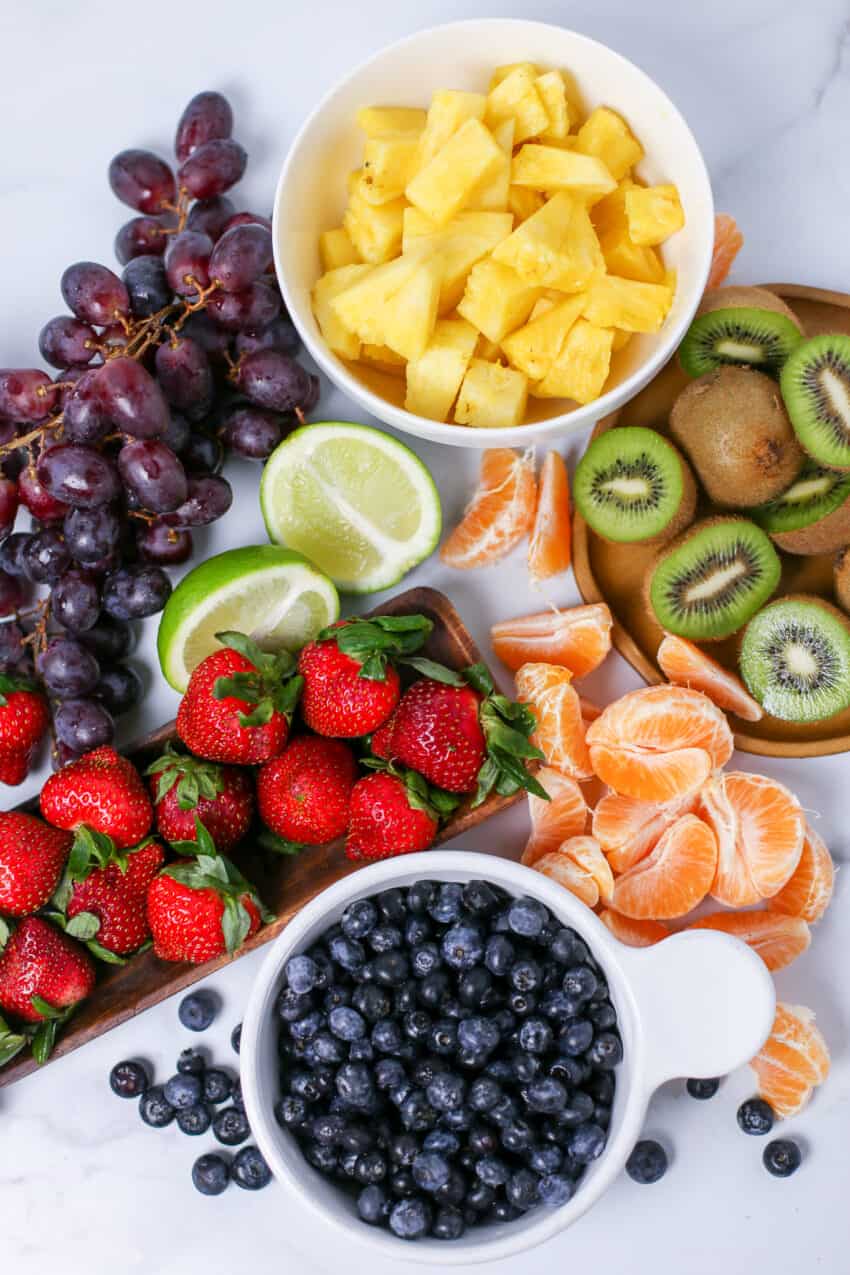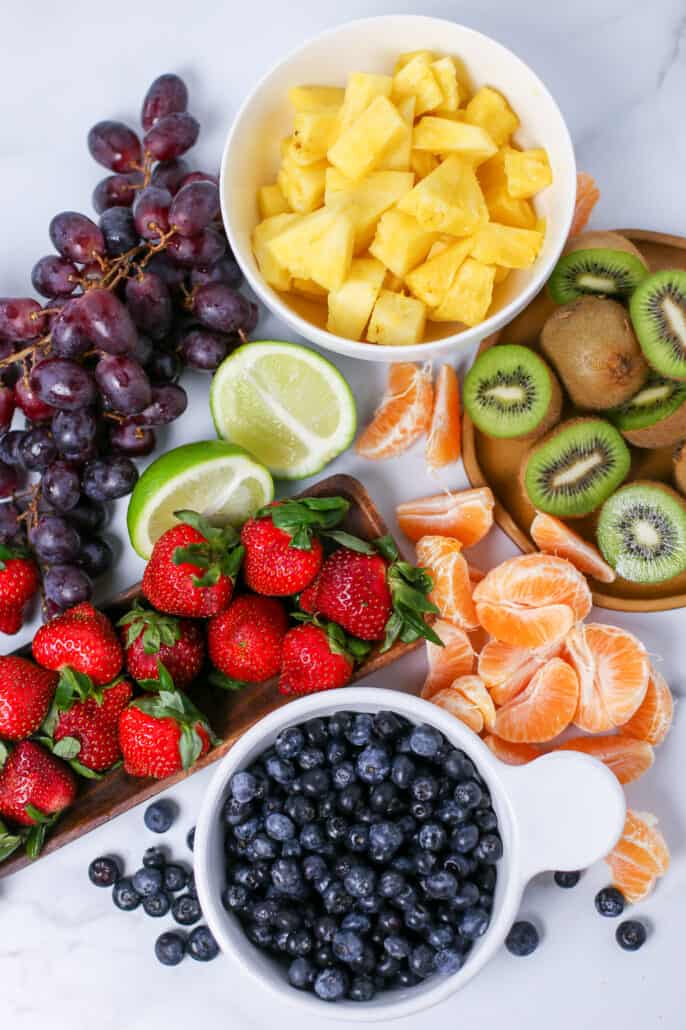 About the Fruit Salad Dressing
This simple fruit salad dressing is what will make your next fruit salad memorable. While most fruit salad dressings tend to be creamy or sugar-laden, ours is made from fresh, real-food ingredients.
Lime juice – Use real limes, not the bottled kind. This is your fair warning.
Lime zest – Use a microplane or fine grater to zest your lime before juicing.
Honey – Just enough to balance out the tartness from the citrus.
The flavors of the dressing pair perfectly with the combination of fruit. You get a hint of sweet, zesty lime in each bite but it serves as a background flavor rather than trying to be the star of the show.
Lastly, the acidity from the lime prevents the fruit from browning prematurely.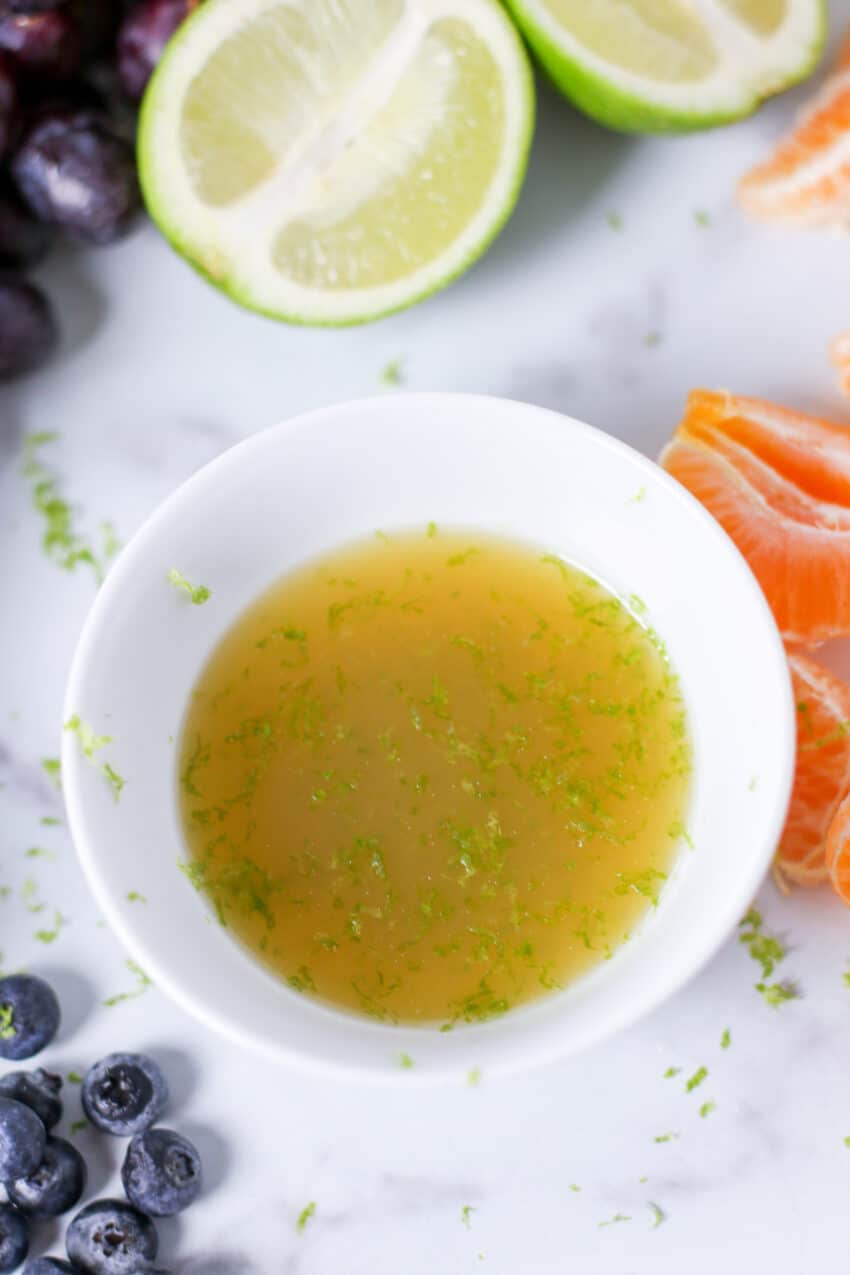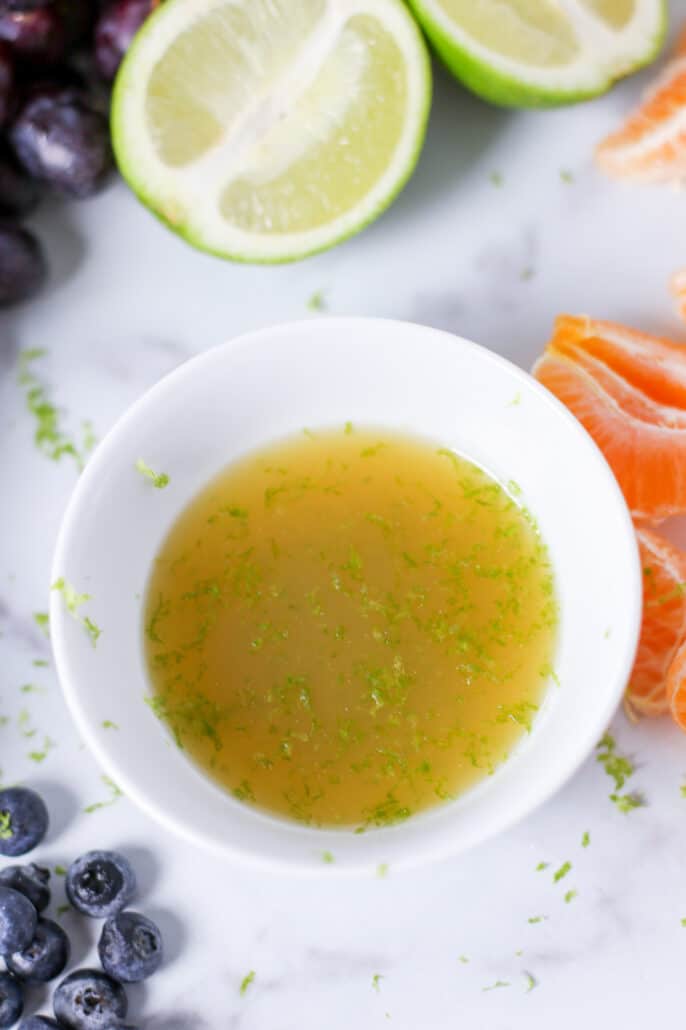 How to Make Classic Fruit Salad
There are only two steps to making this fruit salad.
The bulk of the work for this recipe is preparing the fruit. While this isn't hard, it can be a bit time-consuming. Put your favorite music or podcast on and enjoy working with your hands! Here are some tips for cleaning fruit:
Wash your hands with warm water and soap before and after preparing fresh produce.
Cut away the damaged or bruised areas before preparing or eating.
Rinse produce BEFORE you peel it, so dirt and bacteria aren't transferred from the knife.
Gently rub produce while holding it under plain running water. There's no need to use soap or a produce wash.
Use a clean vegetable brush to scrub firm produce, such as melons.
Dry produce with a clean cloth or paper towel to further reduce bacteria that may be present.
Sharpen your knife. This will make the slicing much easier.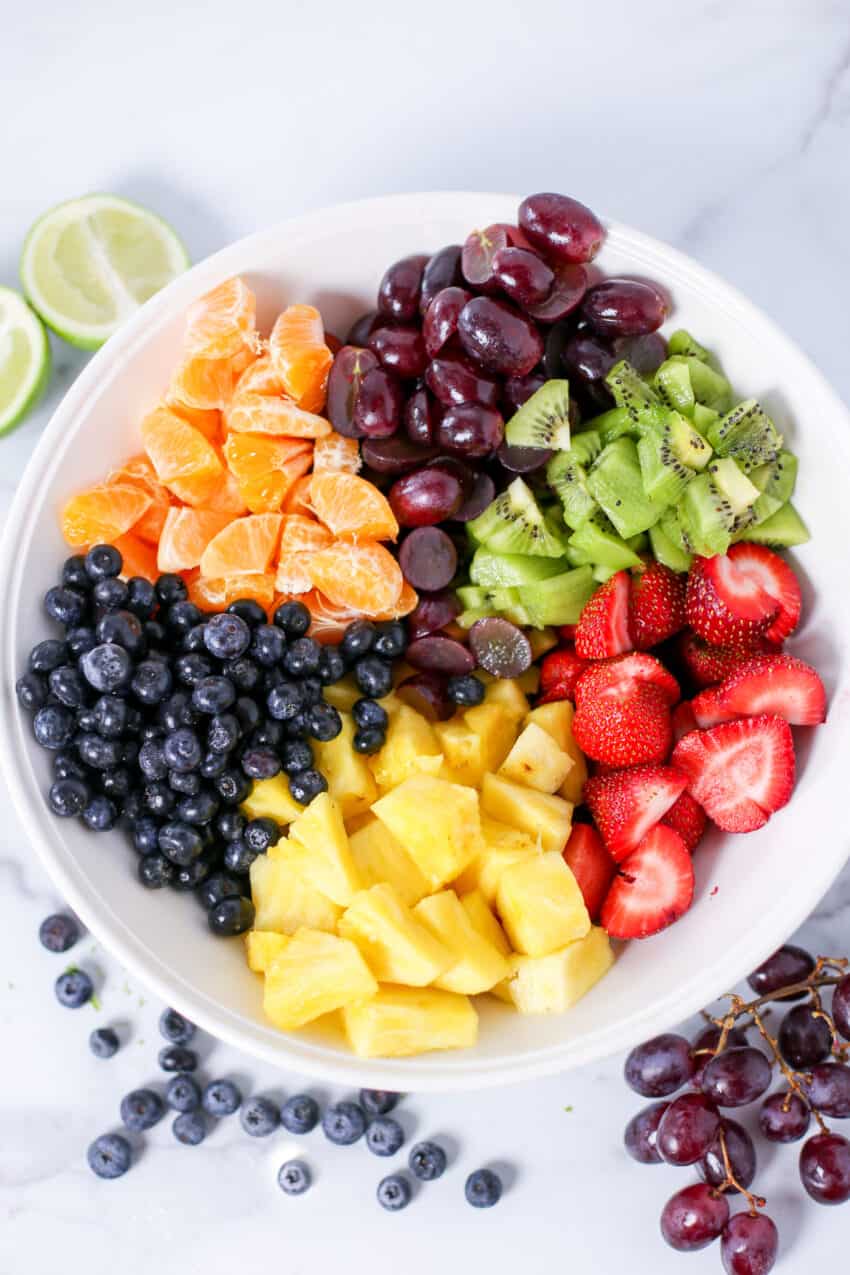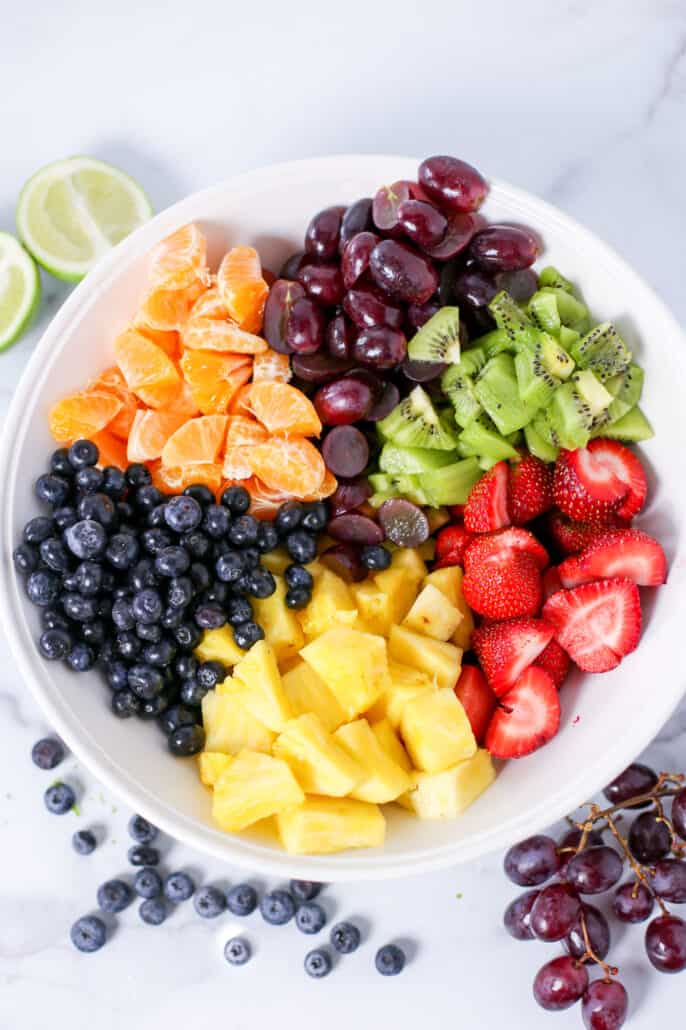 Make the Fruit Salad Dressing
Making the dressing is super simple. In a small bowl, you will whisk together the lime zest, lime juice, and honey. See the recipe for exact amounts.
After it's combined, just drizzle it over the fruit.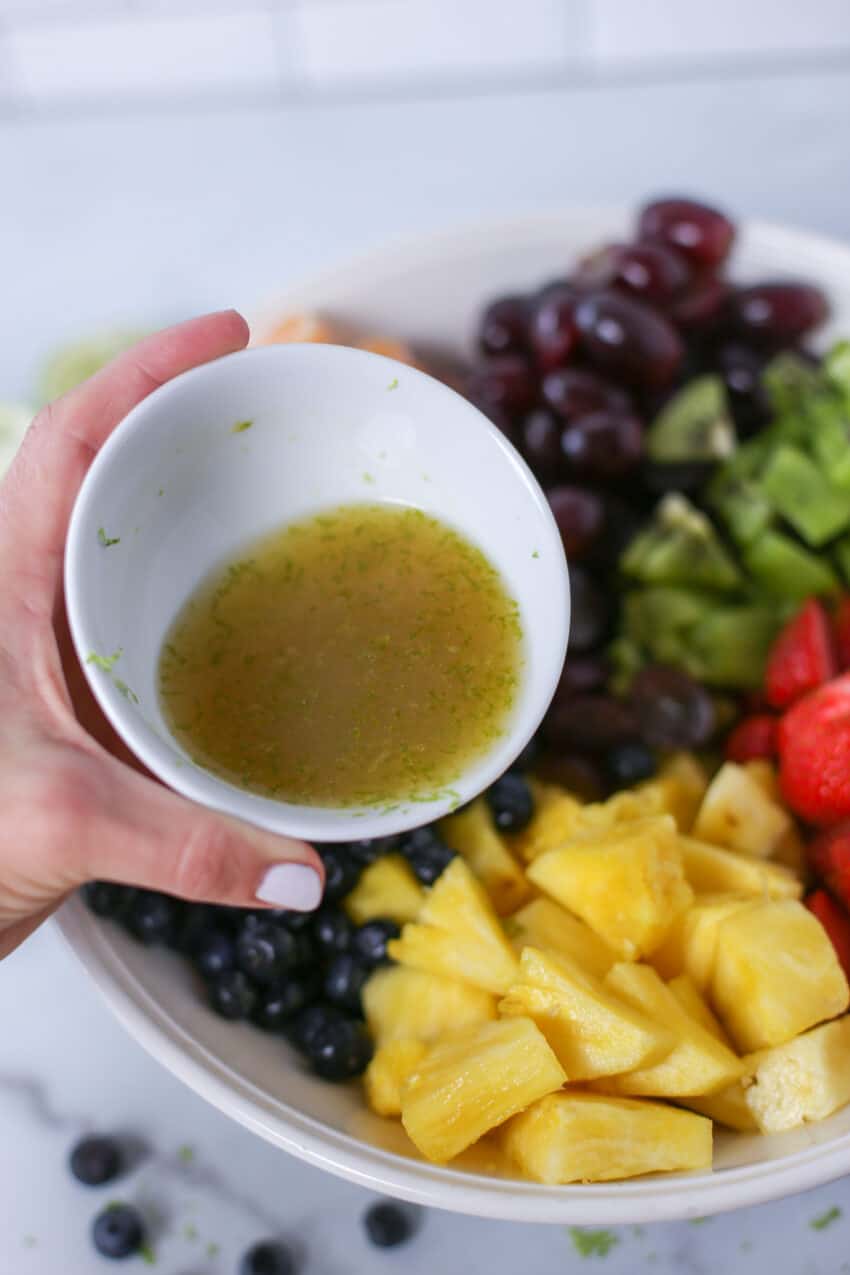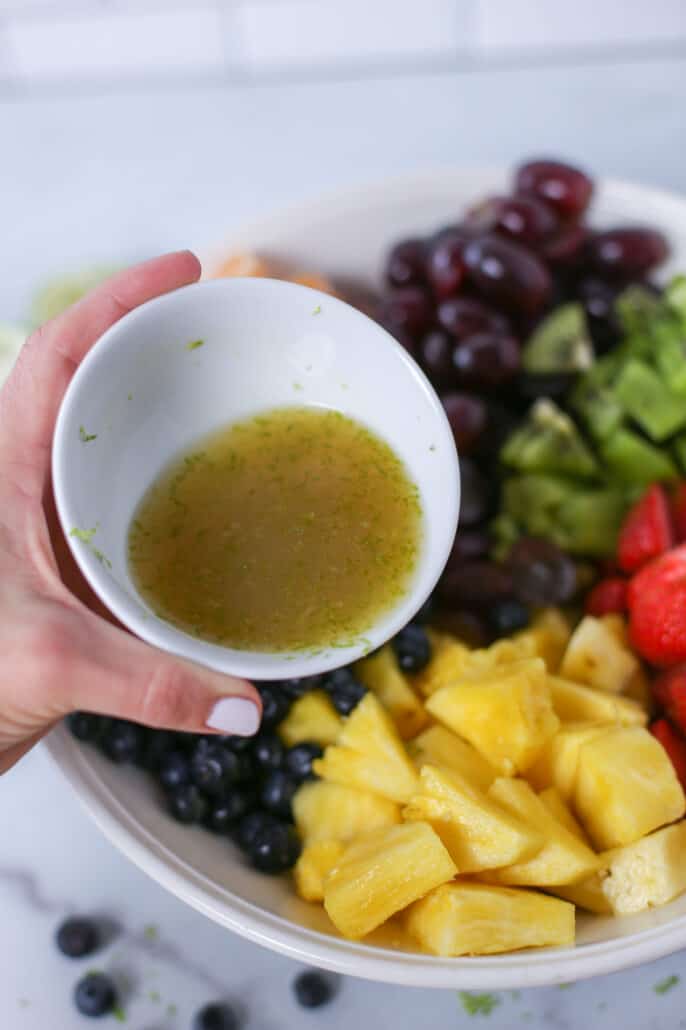 It's best to store fruit salad in an airtight container in the refrigerator. The texture is best within the first 24 hours but the salad will last 3 days in the fridge. After that, it gets too mushy. Here are a few containers we use and recommend. Air will dry out cut fruit so an airtight option will keep in moisture and help the pieces stay fresher for longer.
Adding Bananas to Your Fruit Salad?
If you're adding bananas to your fruit salad, we recommend doing that right before serving. Bananas will get mushy in the fridge overnight no matter how you store them.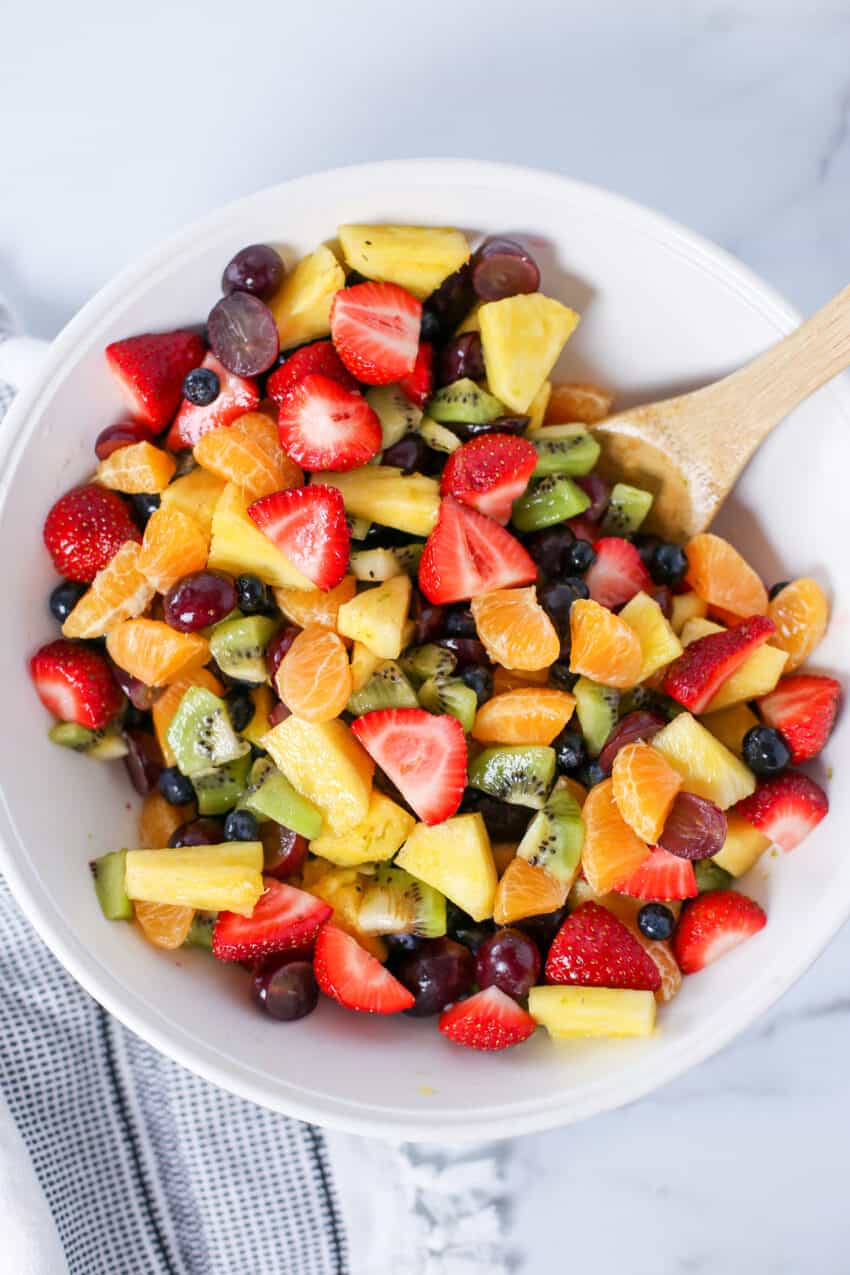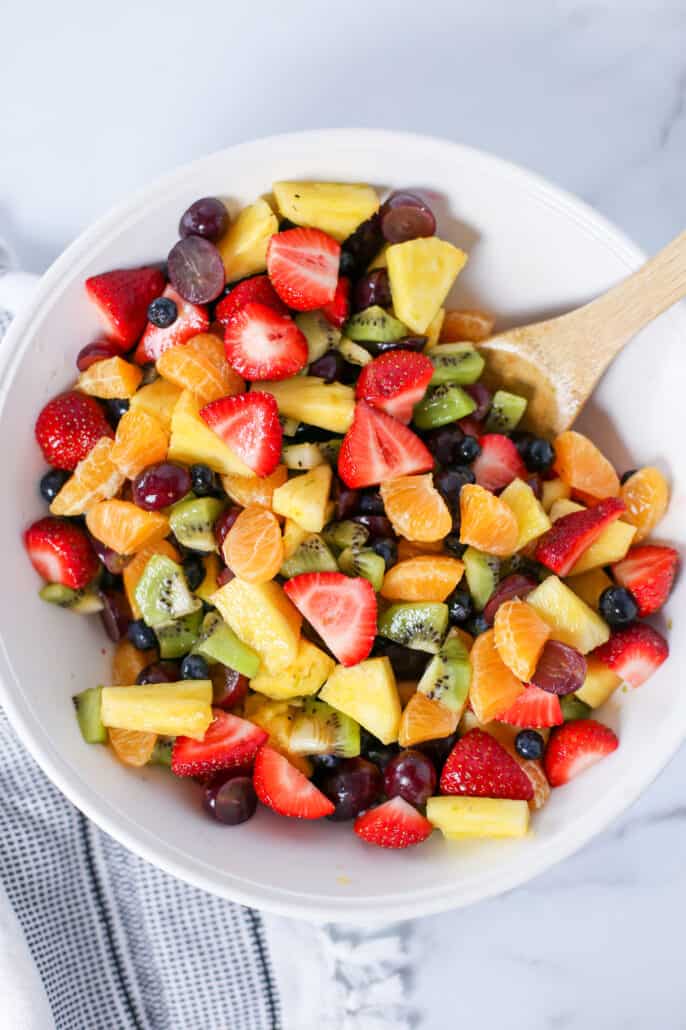 Can I Use Frozen Fruit in This Recipe?
While we are big advocates of using our freezers and frozen food to save time and money, this is a recipe that won't work well for that.
Since fruit has such a high water content, it won't play nice with freezing and thawing. We recommend sticking to using frozen fruit for smoothies.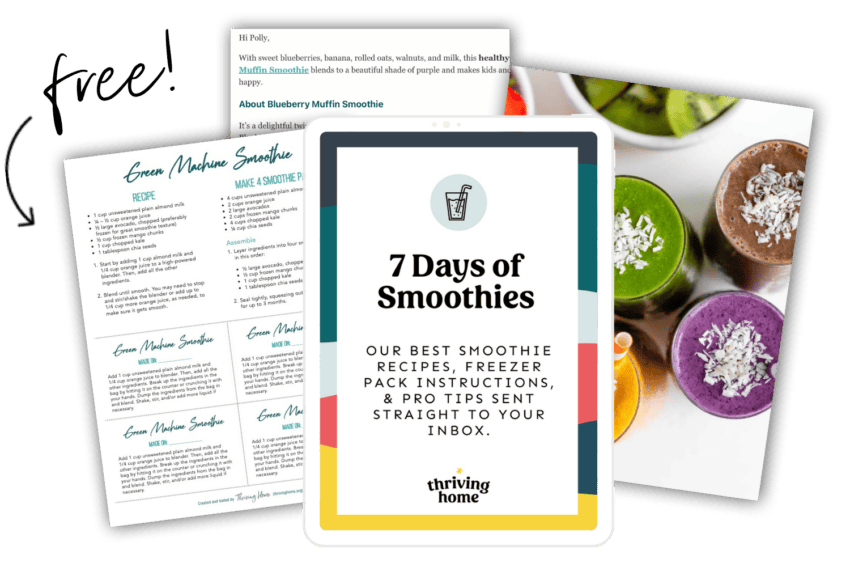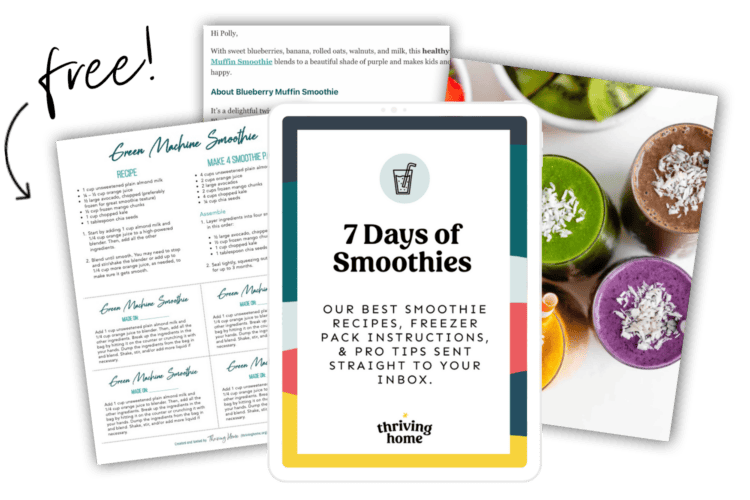 7 Must Have Smoothie Recipes
Get our best smoothie recipes, freezer pack instructions, & pro tips sent straight to your inbox.
Can I Make It in Advance?
Heck ya!
Fruit salad is a great side dish to make in advance. In fact, I even like it better that way. The flavors tend to meld together a little better and the fruit salad dressing has time to enhance the flavor as well. It's best to eat within 24 hours of making it, though.
As mentioned above, just store it in an air-tight container so the fruit doesn't dry out.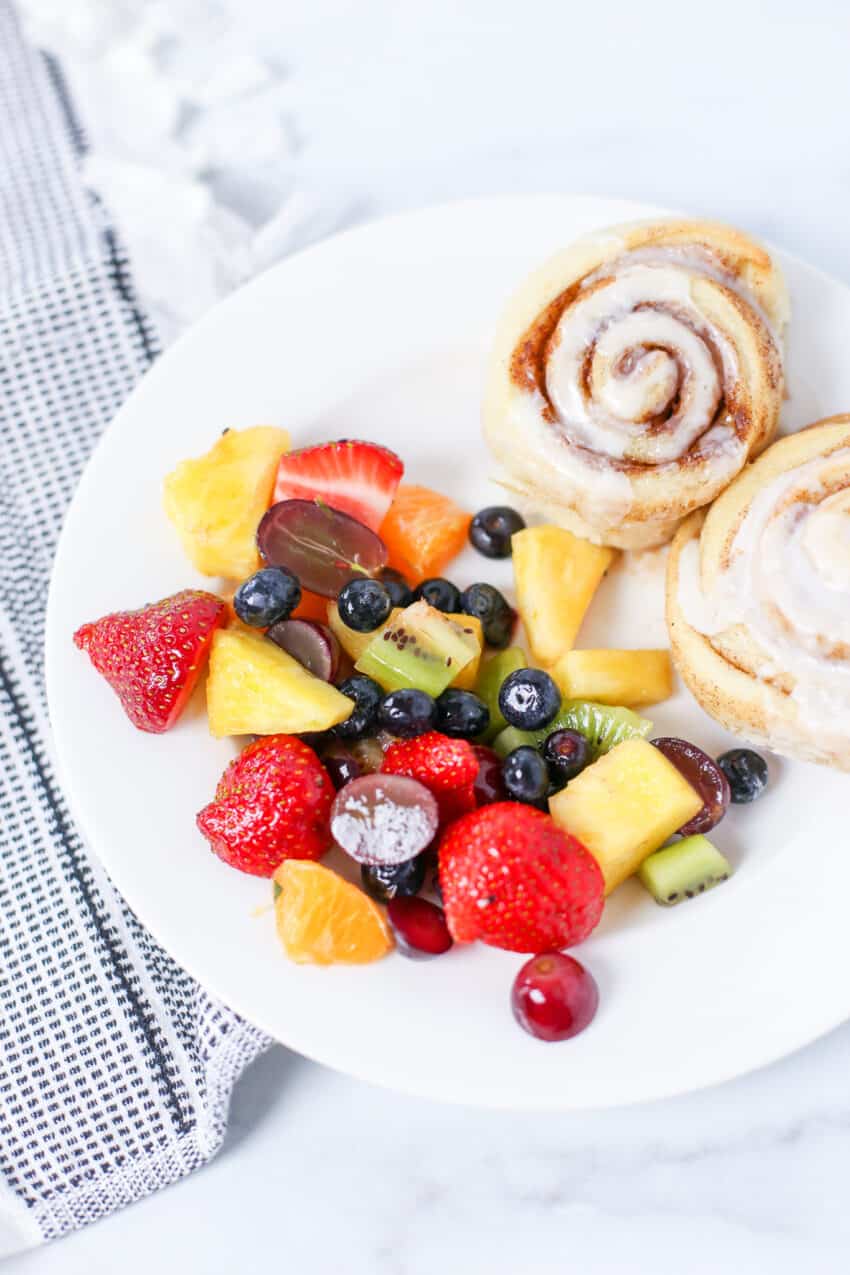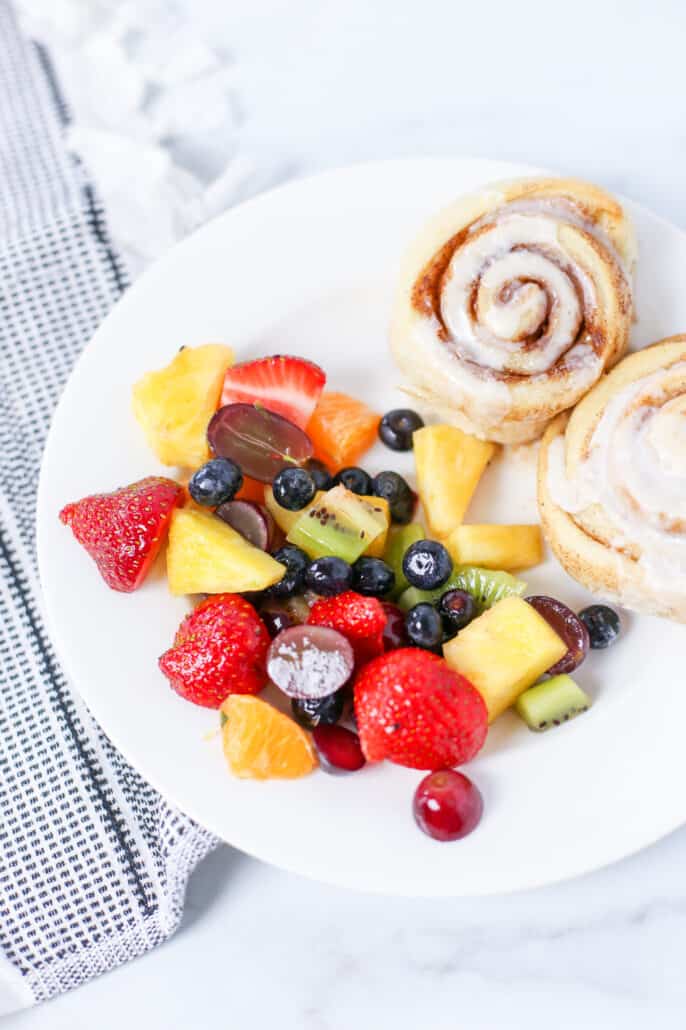 Did you make this? Snap a photo and tag us on Instagram at @thrivinghome so we can see your creations and cheer you on!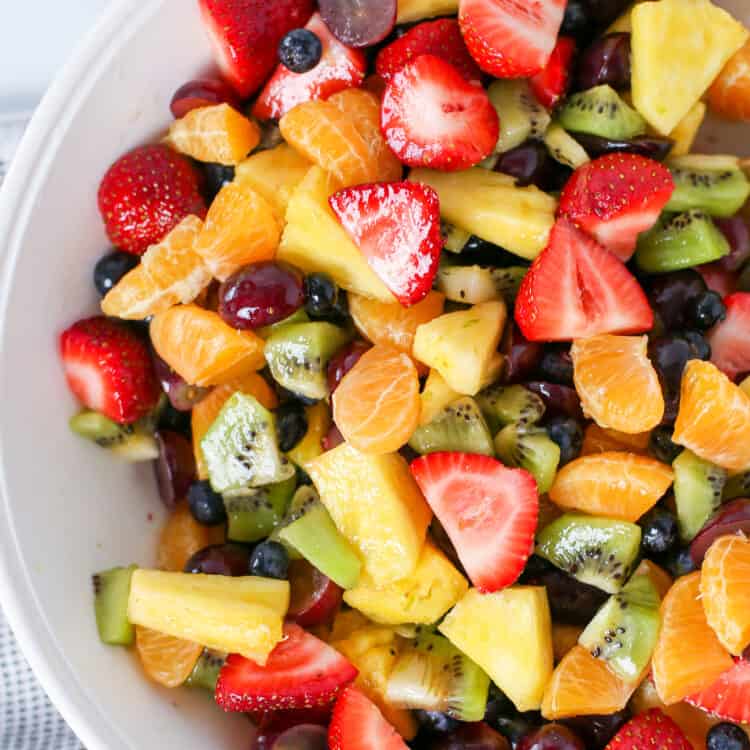 Classic Fruit Salad with Dressing
We're taking fruit salad to the next level with our one-of-a-kind fruit salad dressing. Make this classic side dish for your next gathering or simply to munch on through the week.
Prep:
15 minutes
Total:
15 minutes
Ingredients
2 cups

sliced fresh strawberries (about

1

pound)

2 cups

diced fresh pineapple (about

1/2

fresh pineapple; sub cantaloupe)

2 cups

seedless grapes, cut in half

1 pint

(2 cups) fresh blueberries

6

–

8

kiwis, peeled, cut lengthwise, and sliced (about

2 cups

)

4

clementines, peeled and segmented (sub: 2-3 cut up oranges)
Zest of

1

lime

2 tablespoons

lime juice (juice of one large lime)

2 tablespoons

honey
Optional: chiffonade of fresh mint leaves (here's how to do that)
Before You Begin! If you make this, please leave a review and rating letting us know how you liked this recipe! This helps our business thrive & continue providing free recipes.
Instructions
Rinse, dry, and cut up all the fruit as directed in the ingredient list.

Place the fruit in a large bowl.
Stir together the lime zest, lime juice, and honey in a small bowl.
Drizzle over the salad and toss to combine. Sprinkle a little chiffonade of mint over the top, if desired.