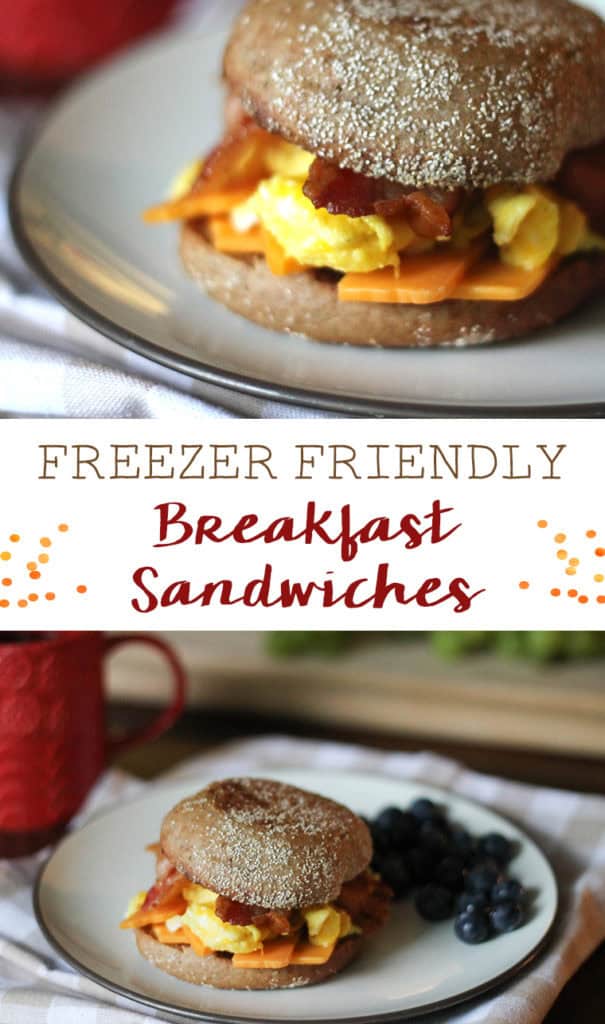 Disclaimer: This recipe was created in partnership with Frigidaire. But the opinions are all ours!
These simple breakfast sandwiches rival their fast food equivalent any day and make a healthy and delicious breakfast possible, even on the busiest mornings. The secret–why making them into a freezer meal, of course!
If you've perused our recipe index, you might have seen the cousin of these freezer friendly breakfast sandwiches, Fake-Out Starbucks Breakfast Sandwiches. While I do still loves those, we've updated our methods a bit and used a few different ingredients for these breakfast sandwiches. I must say, my crew liked them more. Probably something to do with the crispy bacon and scrambled (not baked) egg.
I double batched these a few weeks ago and have periodically pulled them out of the freezer for mornings that I don't feel like making anything or even for a quick lunch.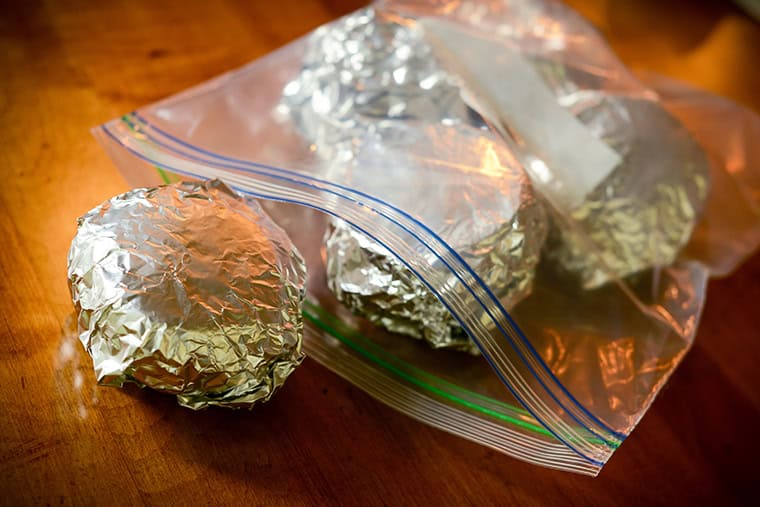 Here's how you make your own and reheat them as needed. And, if you're looking for more healthy, easy freezer meals, look no further than our extensive collection right HERE.
Print
Make-Ahead Breakfast Sandwiches
Yield:

6 sandwiches
---
Ingredients
6 English muffins (preferably whole wheat)
3 tablespoons butter, softened
6 large eggs
1/4 cup milk
pinch of salt
1/4 teaspoon pepper
6 slices cheddar cheese
6 slices bacon, fully cooked
---
Instructions
1) Cook bacon for 20 minutes in a 400 F degree oven or in the microwave, if you didn't purchase fully-cooked bacon.
2) Preheat oven to 350 degrees F.
3) Open English muffins and set on sheet pan with interior facing up. Spread a little softened butter on the insides. Toast in the oven for 5-10 minutes, until golden brown.
4) While muffins toast, scramble eggs with milk, salt and pepper. Gently cook over medium-low heat until eggs are set but still moist. Do not overcook.
5) Assemble sandwiches, topping with approximately one egg, one cheese slice and 1 slice of bacon each.
6) If eating immediately, warm in oven for about 3-5 minutes or microwave for 30 seconds, until cheese is melted.
Freezer Meal Instructions:
To Freeze:
Follow directions through Step 5. Then, wrap each sandwich in foil and place in a gallon-sized freezer bag and freeze.
To Prepare:
There are three options for thawing and warming these sandwiches.
Option 1 (preferred method): Thaw in refrigerator for 24 hours. Remove foil and wrap in a moist paper towel. Microwave in 30 second intervals, until warmed through (about 1-2 minutes).
Option 2: From frozen, remove foil and wrap frozen sandwich in a moist paper towel. Microwave for 1 minute and then in 30 second intervals, until warmed through.
Option 3: From frozen, place sandwiches (still wrapped in foil) in 350 degree F oven for about 30 minutes or until warmed through.