Whole Wheat Buttermilk Biscuits
Updated: 11/9/22
This post may contain affiliate or sponsored links. Please read our disclosure policy.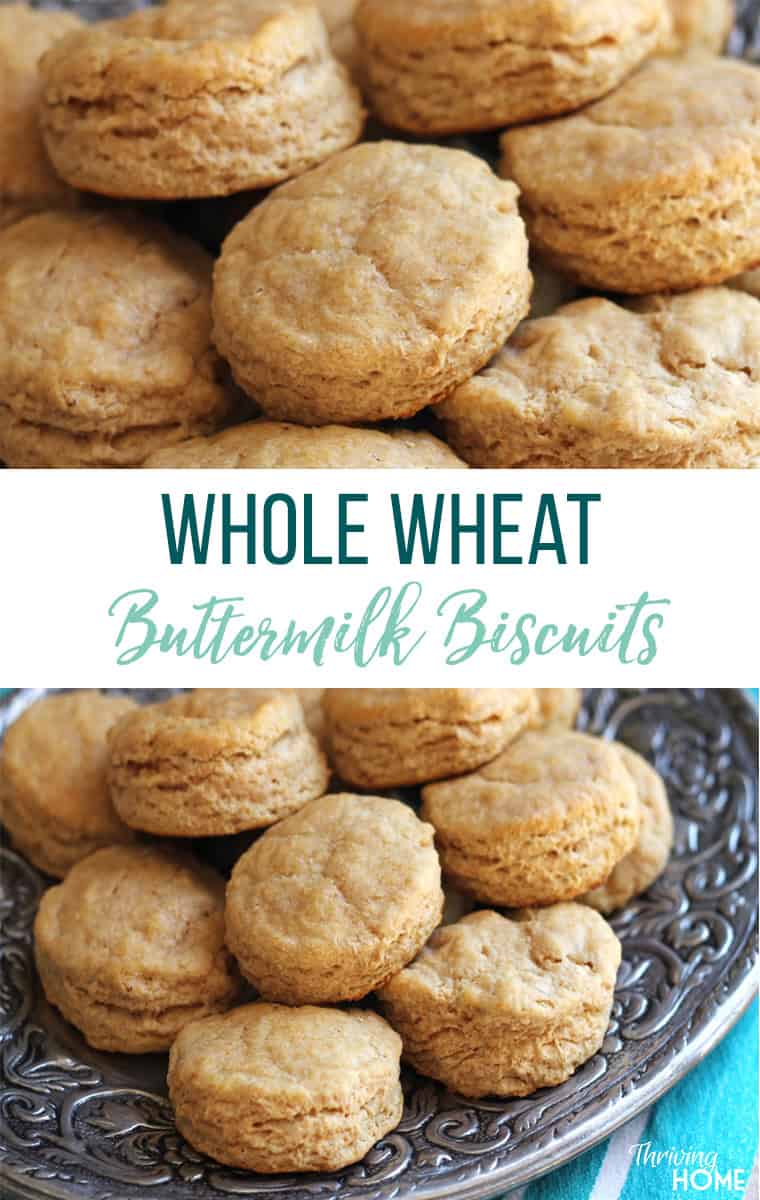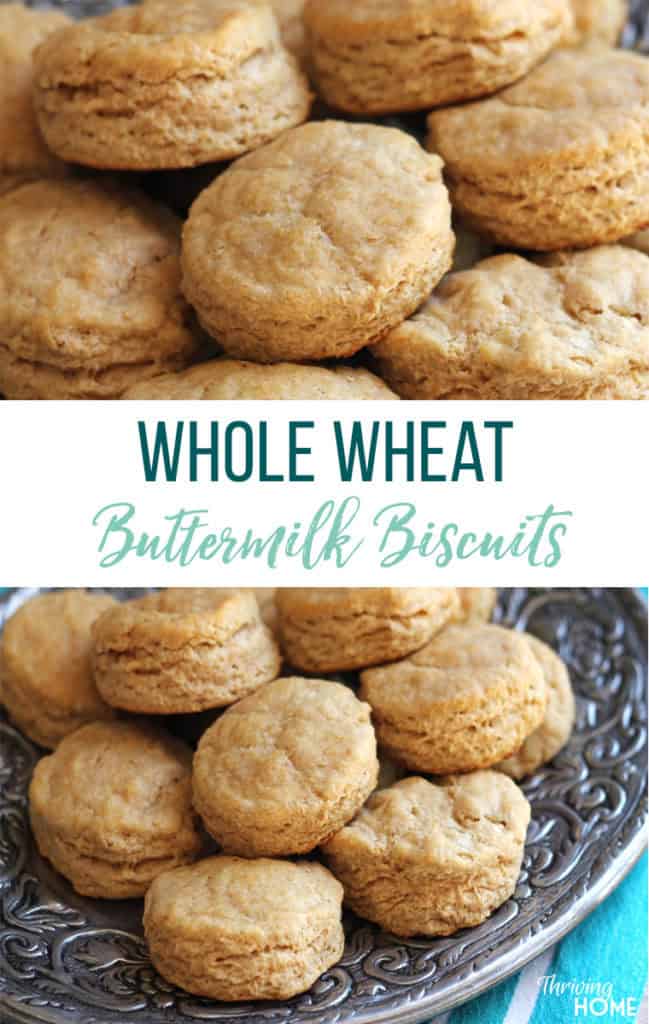 There's nothin' like a homemade biscuit straight from the oven. Are you with me? On holidays, I pull out the Crisco and white flour and make my mother-in-law's killer recipe. And my husband and kids get all starry-eyed at me when I do.
Why should I only get the starry-eyed look on holidays, I said. Why can't I be a biscuit mom regularly, I said.
I wanted to serve my family biscuits more often…but I had to feel a little better about it. I wondered: Is there a way to make them with all butter and nix the Crisco? (Yep.) Is there a way to even make them 100% whole wheat and still be fluffy and tasty? (And, another yep.) Say hello to your new friend, Whole Wheat Buttermilk Biscuits!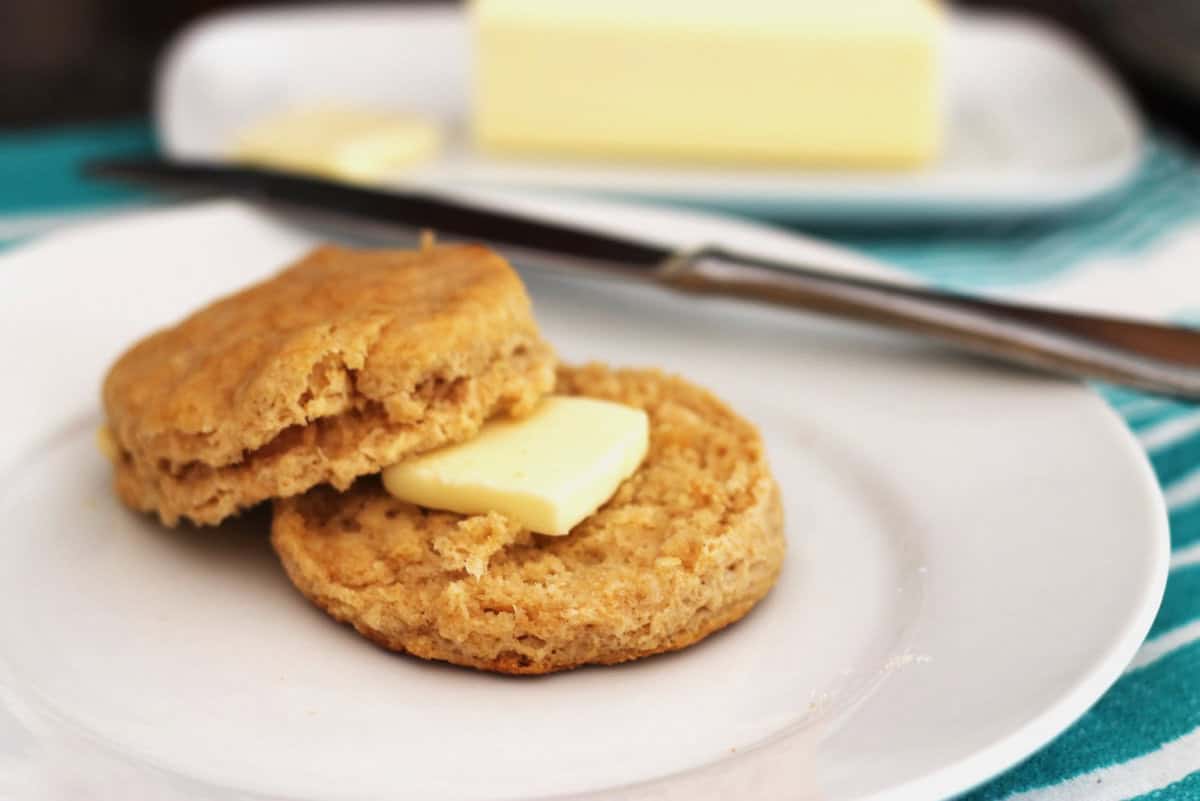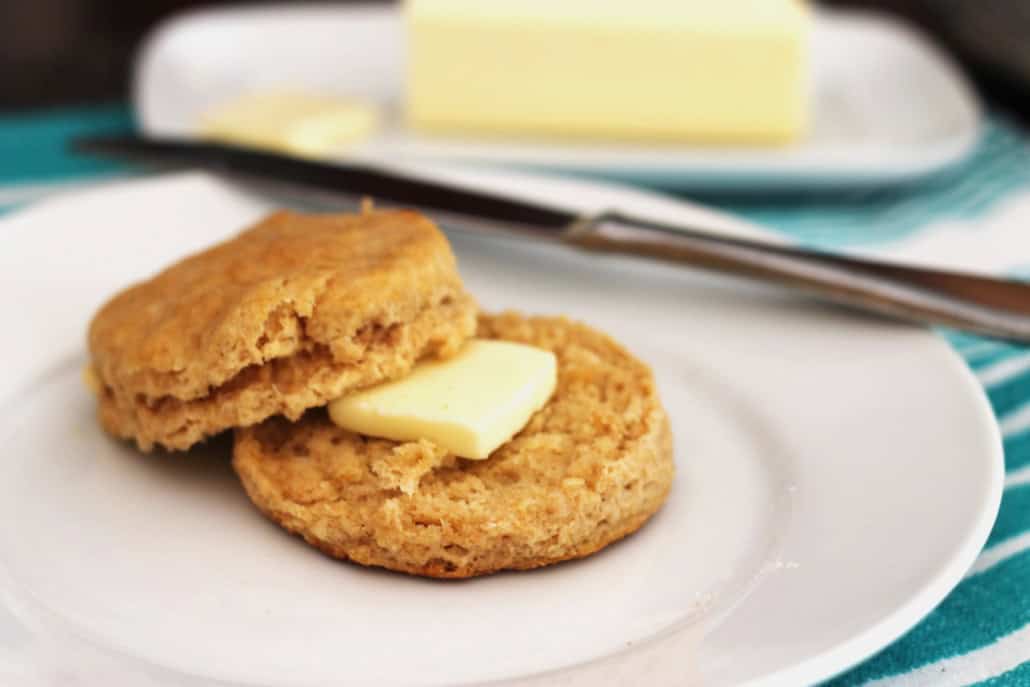 These 100% real food biscuits are quite easy to make and only require 5 ingredients and about 20 minutes to make. Hey, you can even double the recipe and freeze half of them for another meal. And then be all, "hey kids, yeah I'll just throw these biscuits I have on hand in the oven for dinner. No bigs." (Cue the starry-eyed look.)
Now, before you bake, I need to tell you the key to making whole wheat biscuits that aren't hard enough to give someone a concussion if tossed across the room. You MUST USE WHITE WHOLE WHEAT FLOUR!!! Repeat after me: white whole wheat flour. That's a specific variety of wheat that you can find in most grocery stores now. It's much lighter than traditional whole wheat.
If you spend much time browsing through our baked goods, you'll find that we almost always use White Whole Wheat Flour (instead of Whole Wheat Flour). We've found that White Whole Wheat Flour yields much fluffier/lighter tasting results. It works in most recipes as a replacement for whole wheat flour. Here is a bit more about the difference between the two. So, don't blame me if you use the wrong wheat and you turn out hard, dense biscuits, k? I warned you. 😊
OTHER RECIPES THAT USE WHITE WHOLE WHEAT FLOUR ARE: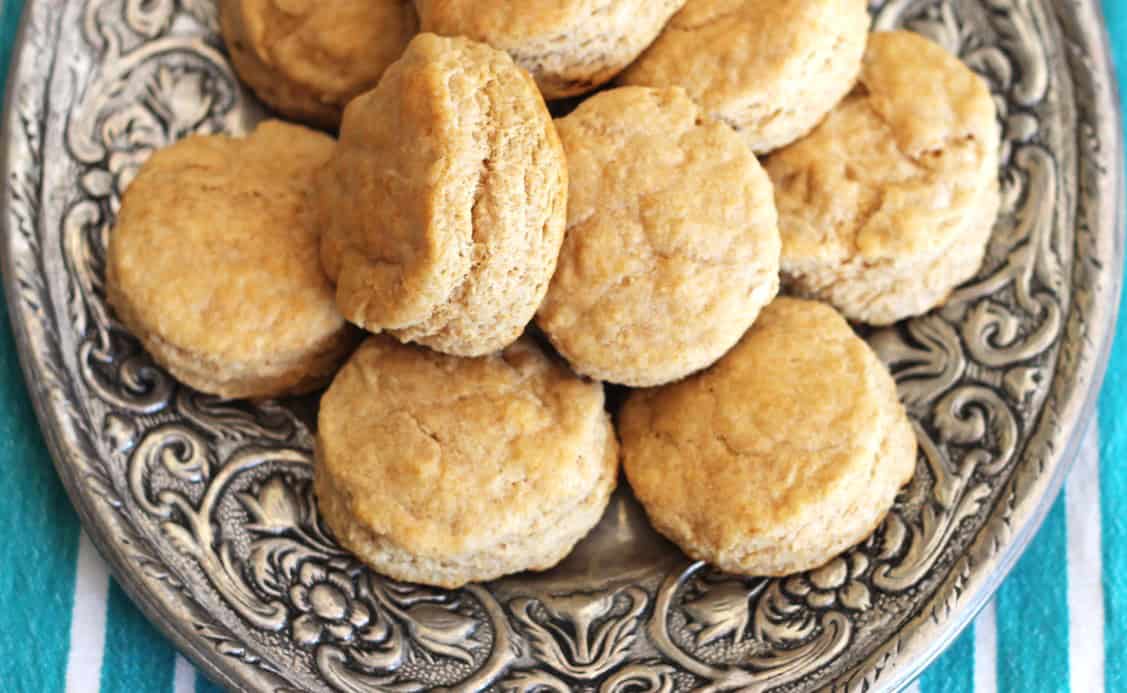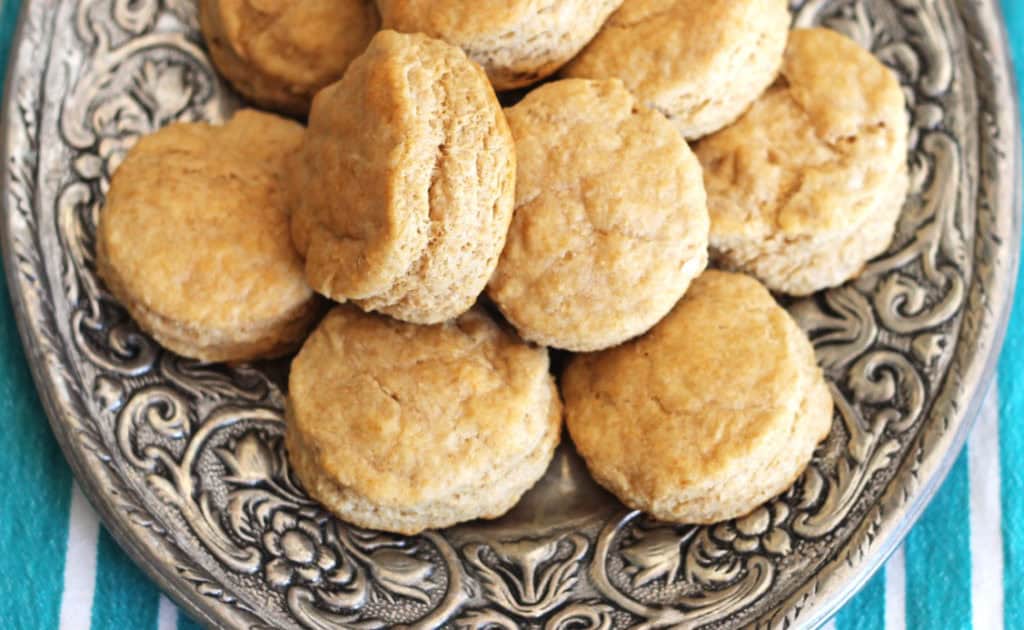 I served these Whole Wheat Buttermilk Biscuits with Roasted Chicken and Veggies and some cut-up fruit the other night and my kids slammed them down. Top them with some butter and a little honey (and serve much more often than just holidays), and your people may nominate you for wife-or-mom-of-the-year soon. Enjoy!
Did you make this? Snap a photo and tag us on Instagram at @thrivinghome so we can see your creations and cheer you on!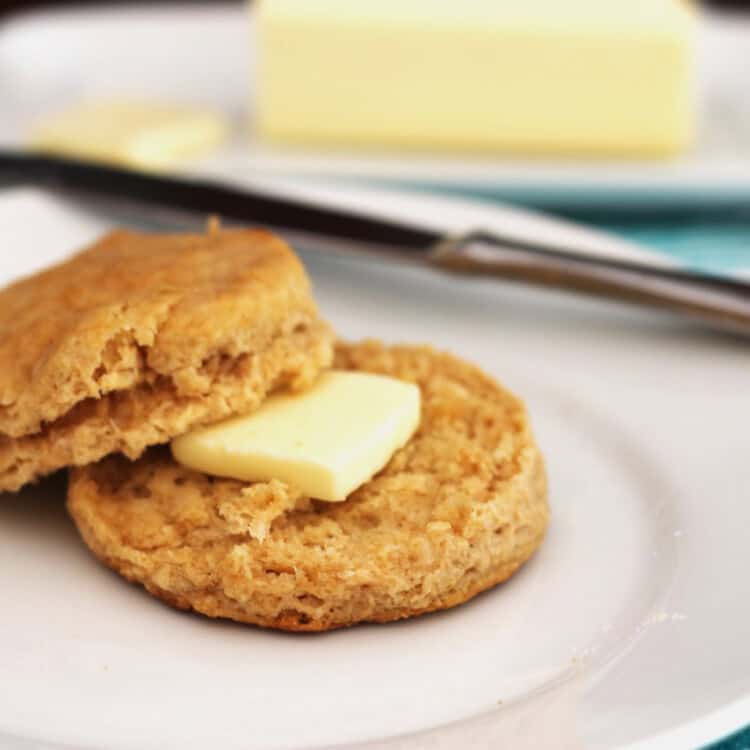 Whole Wheat Buttermilk Biscuits (Freezer Meal)
Whole Wheat Buttermilk Biscuits are the perfectly fluffy flavor additions to any meal. Easy freezer meal!
Prep:
10 minutes
Cook:
10 minutes
Total:
20 minutes
Ingredients
2 cups

white whole wheat flour (it's very important to use WHITE whole wheat flour)

4 teaspoons

baking powder

1/2 teaspoon

baking soda

1/2 teaspoon

salt

1

stick (8 tablespoons) cold butter, cut into small chunks

1 1/4 cup

buttermilk
Before You Begin! If you make this, please leave a review and rating letting us know how you liked this recipe! This helps our business thrive & continue providing free recipes.
Preheat oven to 475°F. Line a baking sheet with parchment paper or foil.
In a large bowl, whisk together the flour, baking powder, baking soda, and salt. Using a pastry cutter or fork, cut in the cold butter until it's the size of rice. Stir in the buttermilk until dough forms. Do not overmix the dough or it will become tough.
Sprinkle flour on a clean surface. Dump dough onto the surface and knead a few times. Sprinkle a little more flour on top of the dough and roll out until 1/2 inch thick. Use a biscuit cutter or glass to cut out biscuits.
Place on the sheet pan and bake for 10-11 minutes. They will not brown on top, but the bottom will be lightly browned. Serve warm with butter and honey or jam.
---
Notes/Tips
Freezer Meal Instructions:
To Freeze: Dust the cut-out biscuits with a little flour, place on sheet pan and flash freeze for about 2 hours until frozen solid. Toss biscuits into a gallon-size freezer bag, seal, and freeze.
To Prepare from Frozen: Set biscuits on a parchment or foil lined pan and thaw in the fridge or on the counter (if baking immediately). Bake according to directions.