Ham and Cheese Crescent Rolls
This post may contain affiliate or sponsored links. Please read our disclosure policy.
Our recipe for Ham and Cheese Crescent Rolls is next level. Crafted with homemade dough, each roll enfolds savory ham and melty mozzarella. This kid-favorite, big-batch recipe works well to make ahead and freeze, too.
Why You'll Love This Recipe
Homemade Dough: The crescent roll dough is easy to make in the bread machine and is worth the time. Similar to our Panini Bread, this recipe yields a delicious, fluffy result.
Sandwich Perfection: The ham and cheese are enfolded in a warm crescent roll. It's pretty much a ham and cheese sandwich turned up to 11.
Healthier Than Store-Bought: Not only is the dough delicious, but it's made with simple, recognizable ingredients. There are no additives or preservatives in crescent rolls, unlike store-bought ones.
Make Ahead: This kid-friendly freezer meal is a big-batch recipe. So that means you can eat some now and freeze a bunch for later. They are easy to reheat.
On-the-Go: Ham and cheese crescent rolls make a great make-ahead breakfast, on-and-go snack, or lunch.
As you can see, the ingredients are very simple.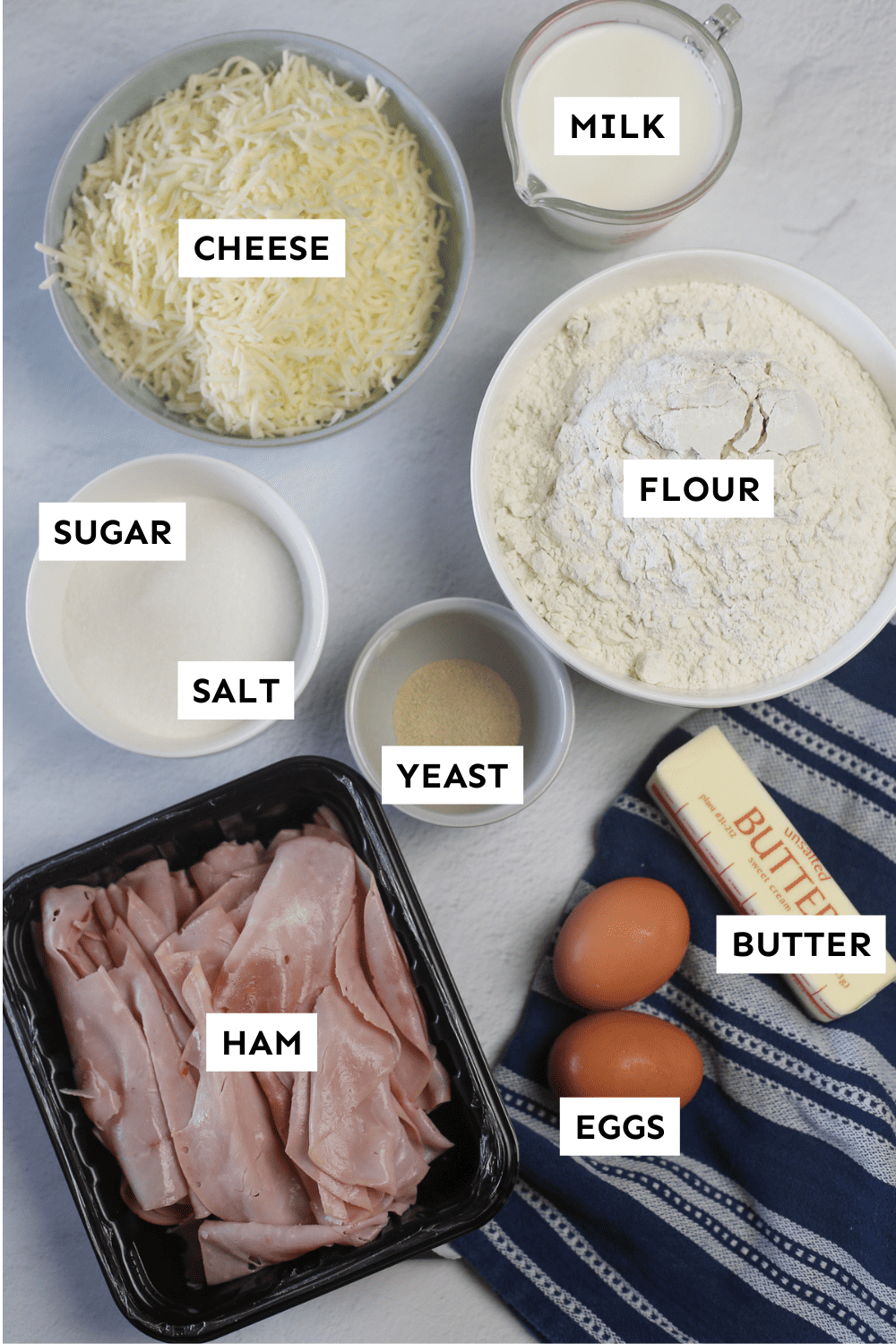 Ingredient Notes:
Ham – We recommend using uncured ham that's free from preservatives. Some brands we like are Boar's Head and Applegate.
Yeast – Use active dry yeast. While we do use quick-rise yeast in our Cinnamon Rolls and Bread Machine Dinner Rolls, I've found active dry yeast works best for this recipe since it doesn't need to rise ahead of time.
Note: Find our full printable recipe with ingredient amounts and directions at the bottom of this post.
Tip: Shortcut Idea
One of our long-time readers and friend, Tanya, tested this recipe using 3 dough balls from a local pizzeria. She said it worked great and was a time-saver!
If you don't have a bread machine, but still want to make your own dough, use our Whole Wheat Pizza Dough Recipe.
How to Make Ham and Cheese Crescent Rolls
Add Ingredients to Bread Machine
Carefully add the ingredients to the bread machine in the order listed. Select the dough cycle and let the bread machine work its magic.
My dough cycle runs for about 90 minutes. Some machines add in more rising time which is fine.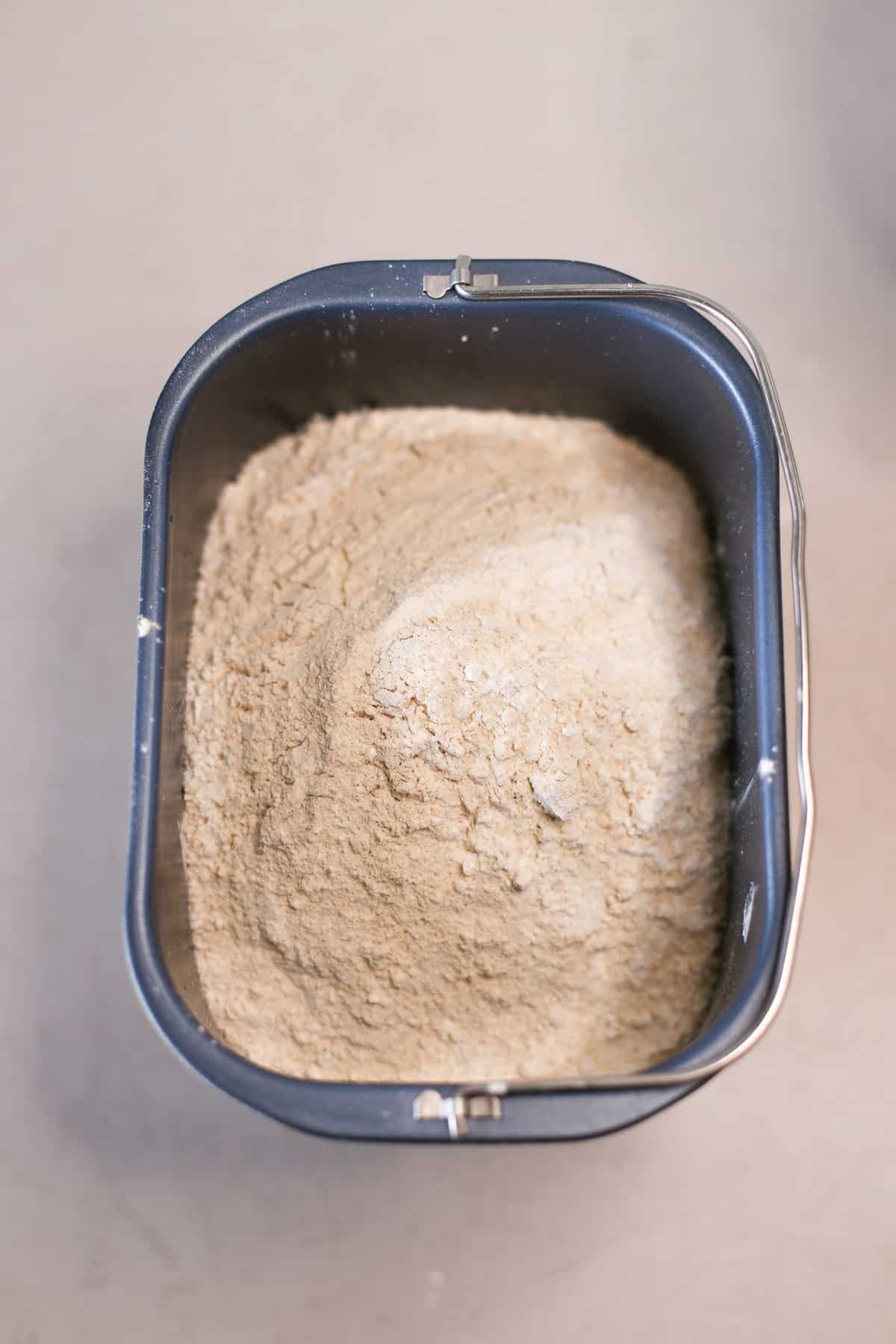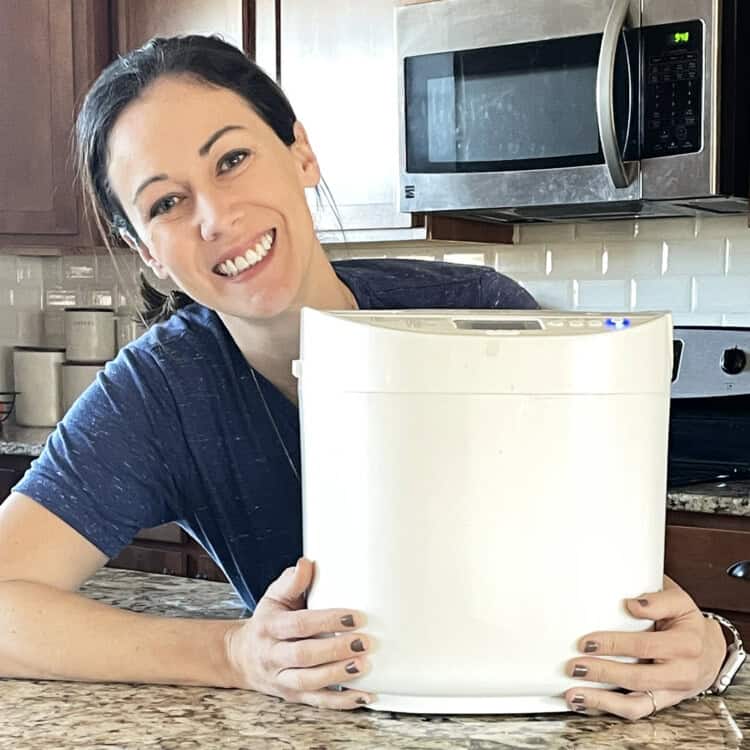 "What Bread Machine Do You Use?"
I don't need a bread machine with a lot of bells and whistles. I need a quality, reliable bread machine. I've found this Oster brand to work great for the recipes I use.
Bread Machine We Use
Roll Out the Dough and Add Cheese
Once the dough cycle is completed, divide it into 3 equal parts. If you don't do this, the circle will be way too big to roll up into little crescent rolls.
Roll out 1 part on a floured surface and add a layer of shredded cheese.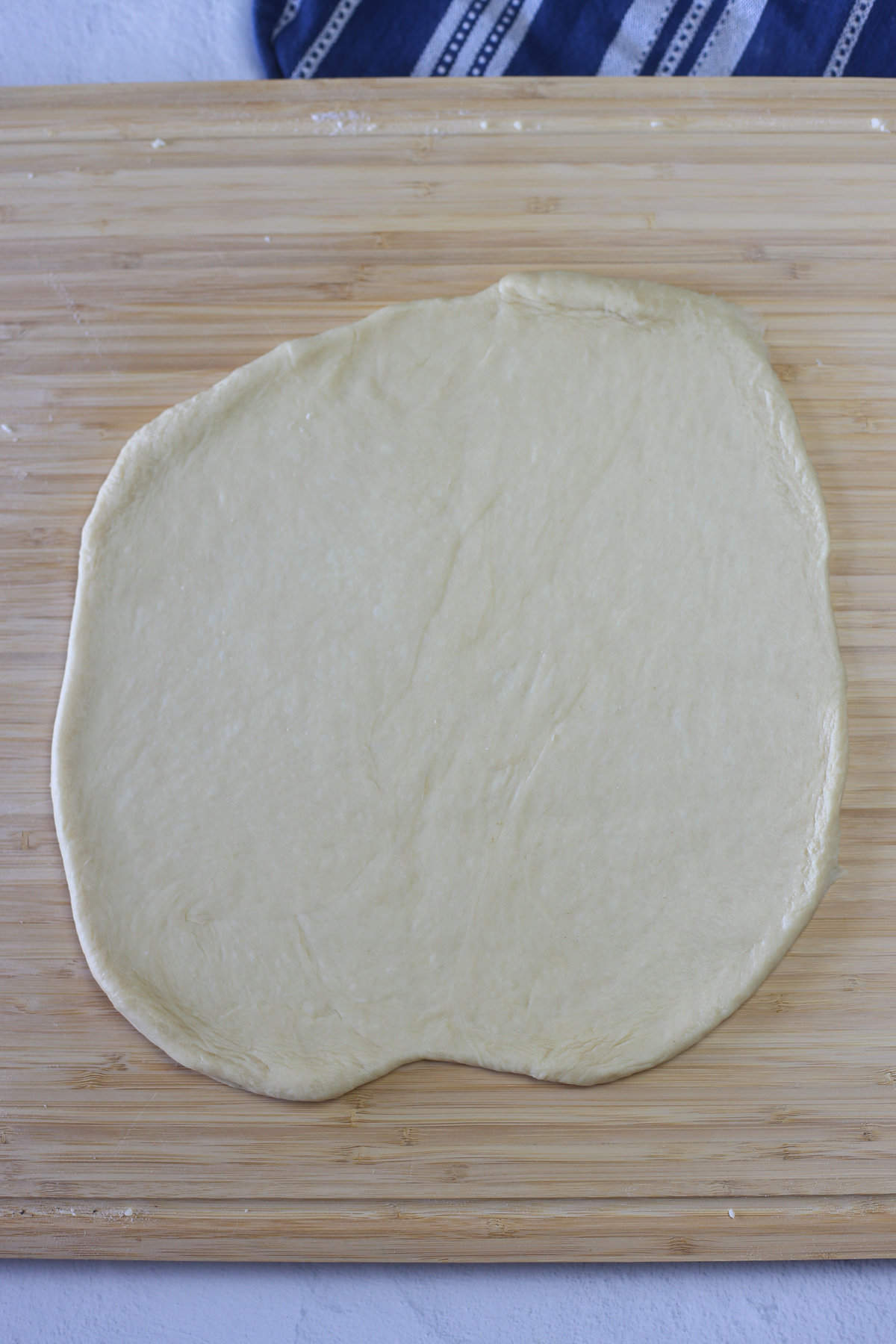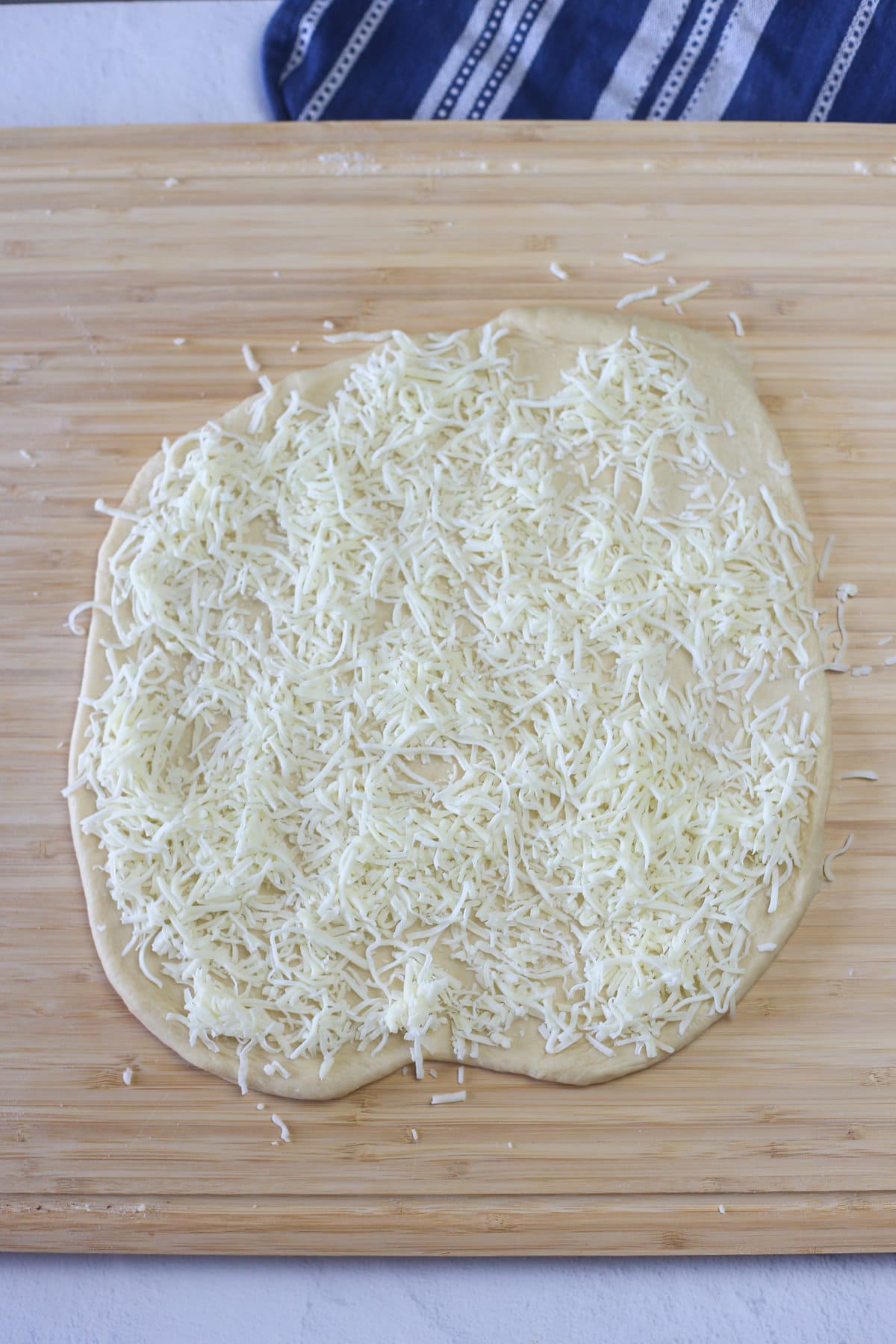 Add a layer of ham on top of the cheese. The ham pieces will overlap in order to cover all of the dough.
Using a pizza cutter, slice the circle up into triangles… like a pizza!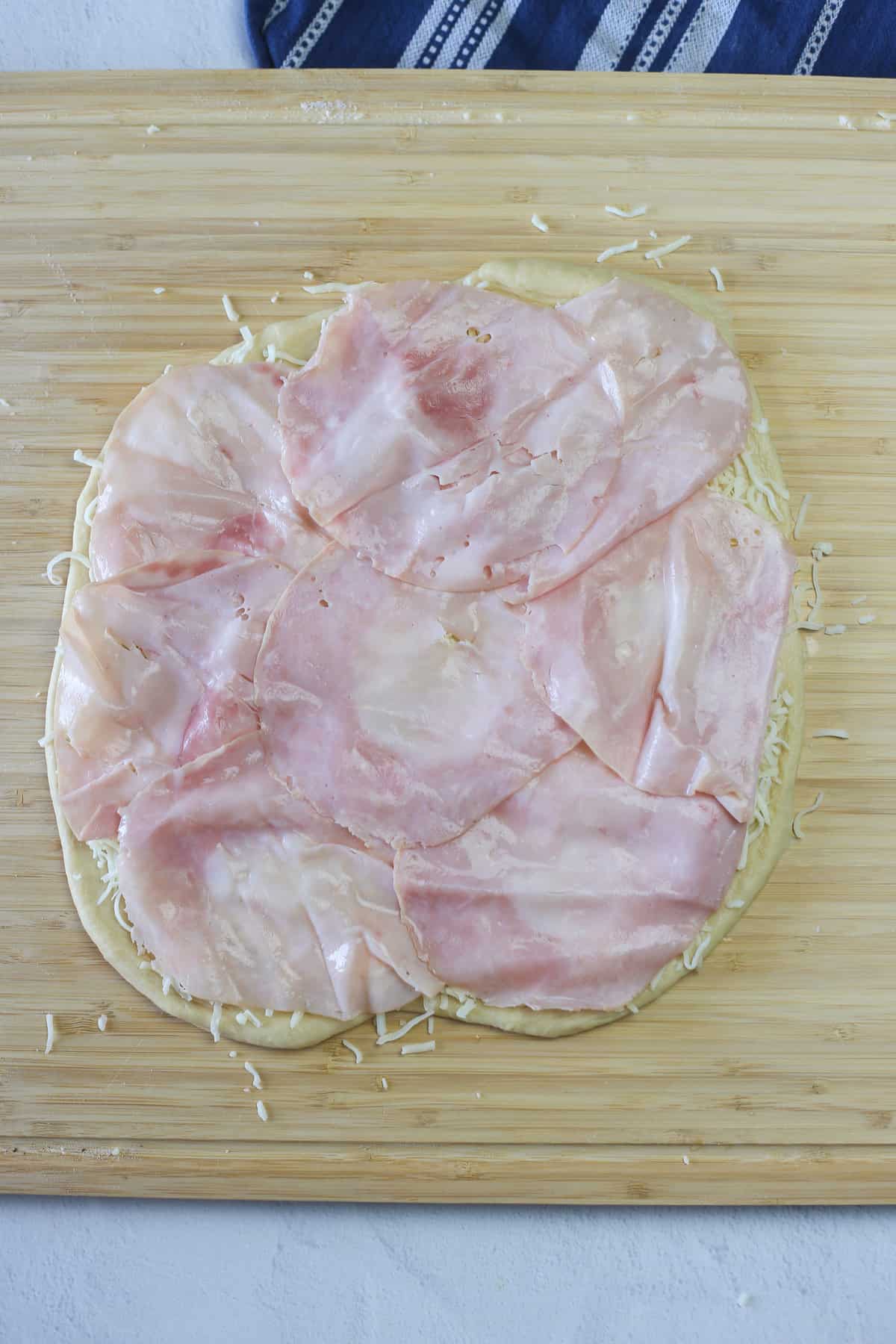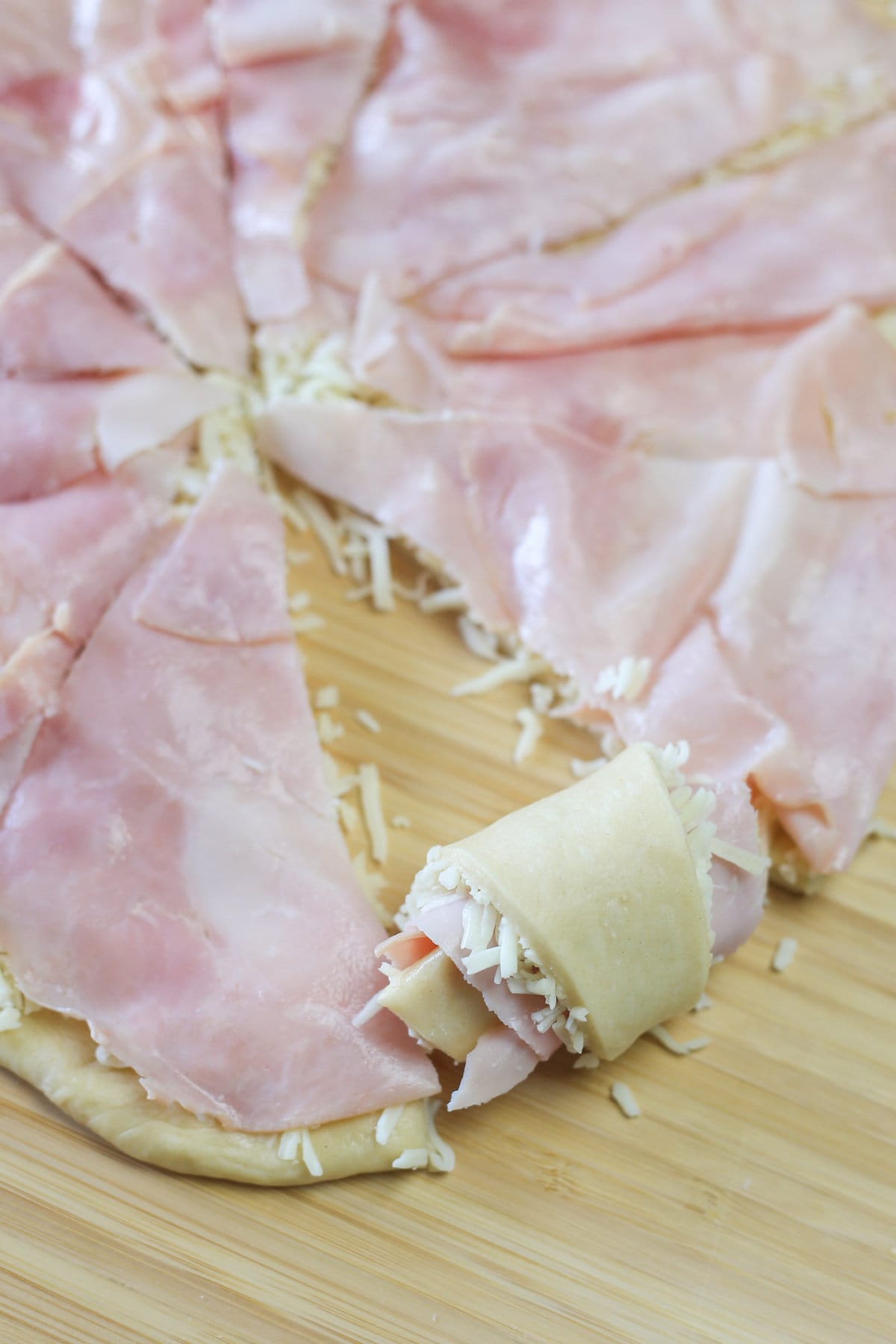 Starting at the larger end of the cut, begin rolling the dough forward.
Don't stress when a bit of the shredded cheese falls out. It's inevitable.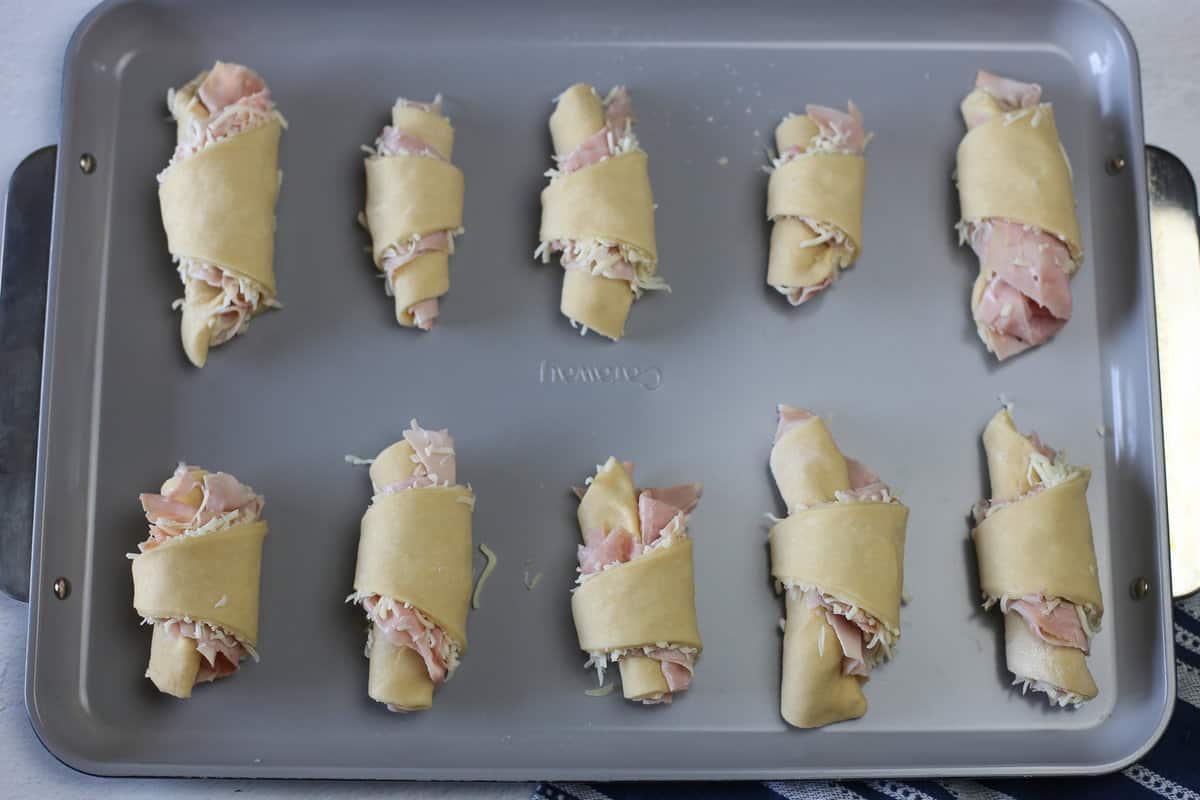 After shaping all of the rolls, brush them with a little butter and pop them in the oven for about 20-25 minutes.
When they start to brown on top, you know they are done!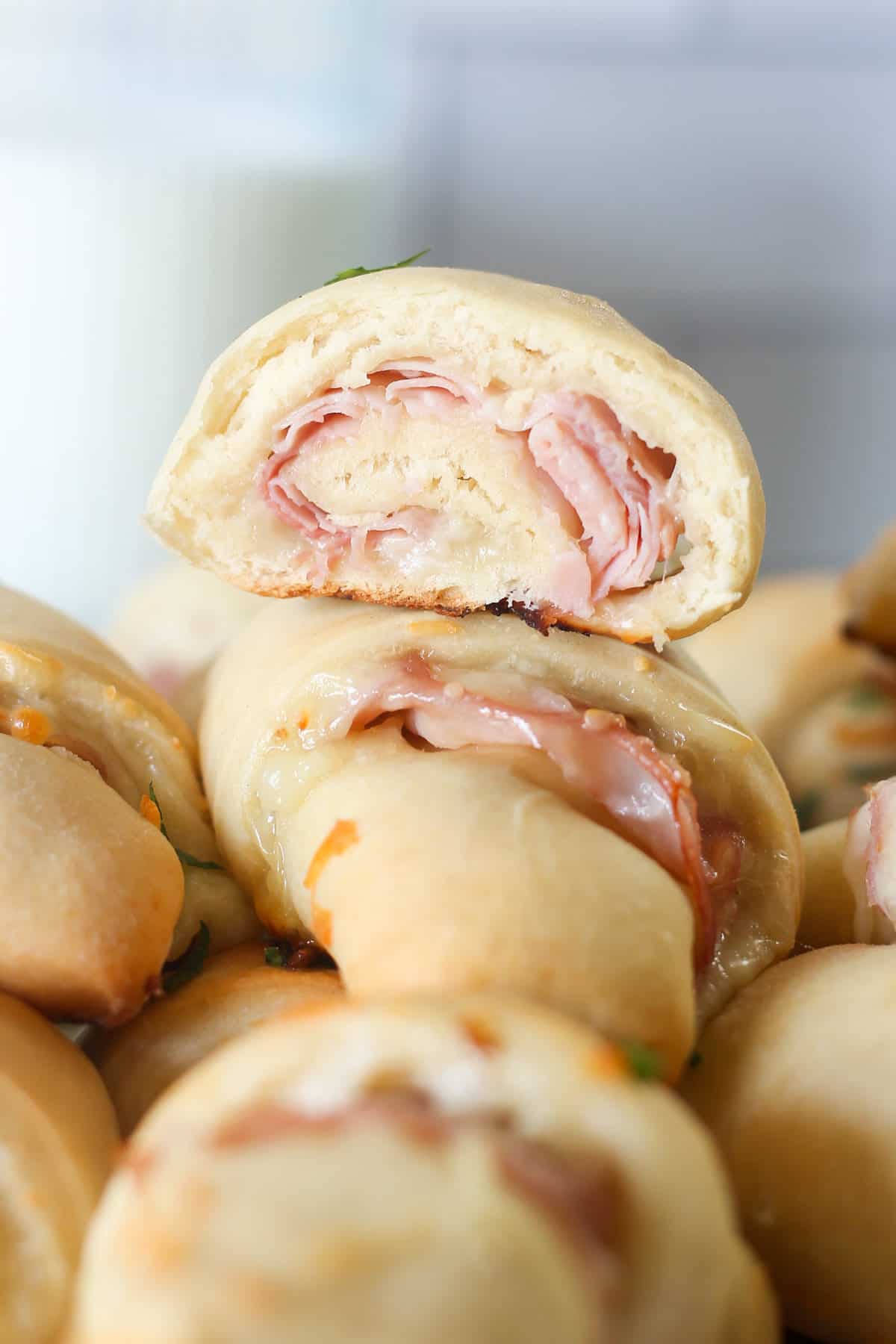 How to Freeze Ham and Cheese Crescent Rolls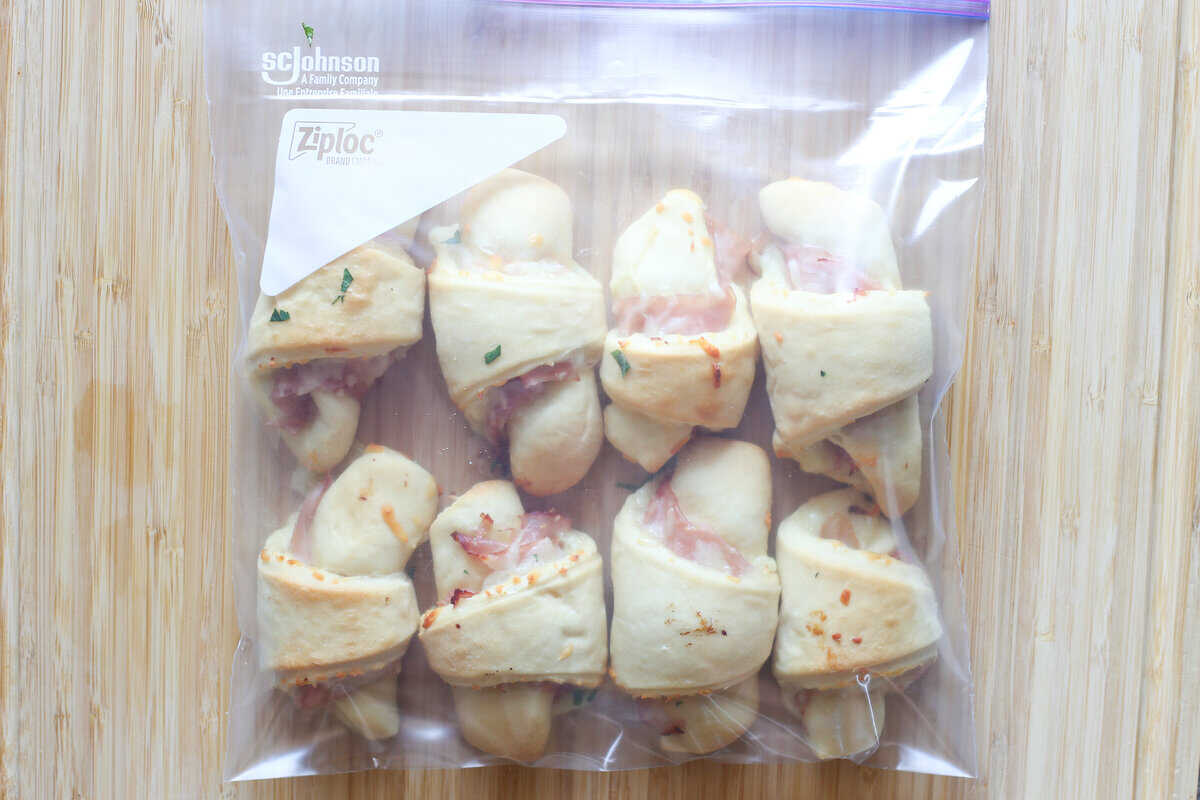 What pound setting should I use on my bread machine?
Many machines allow you to specify how big of a loaf you are wanting to make. (1 lb., 1.5 lb., 2 lb., etc.) Since you are only using the dough cycle, specifying this won't change how it is made in the machine so any size should work.
What if I don't have a bread machine?
I have tested this recipe using the canned crescent dough and it works. Just keep in mind that you will need 3 cans to replicate the amount of dough that this recipe will yield.

You can also purchase 3 medium dough balls from a local pizzeria and get similar results. Or if you want to make your own dough, use our Whole Wheat Pizza Dough Recipe.
What's the difference between crescent and croissant rolls?
Simply put, crescent rolls are a bit denser and more bread-like than croissants. Croissants have a shiny, flaky surface.
What is the best way to store Ham and Cheese Crescent Rolls?
Because of the ham and cheese, they do need to be stored in the refrigerator or freezer. You can store them in the refrigerator for 3-4 days or in the freezer for a few months.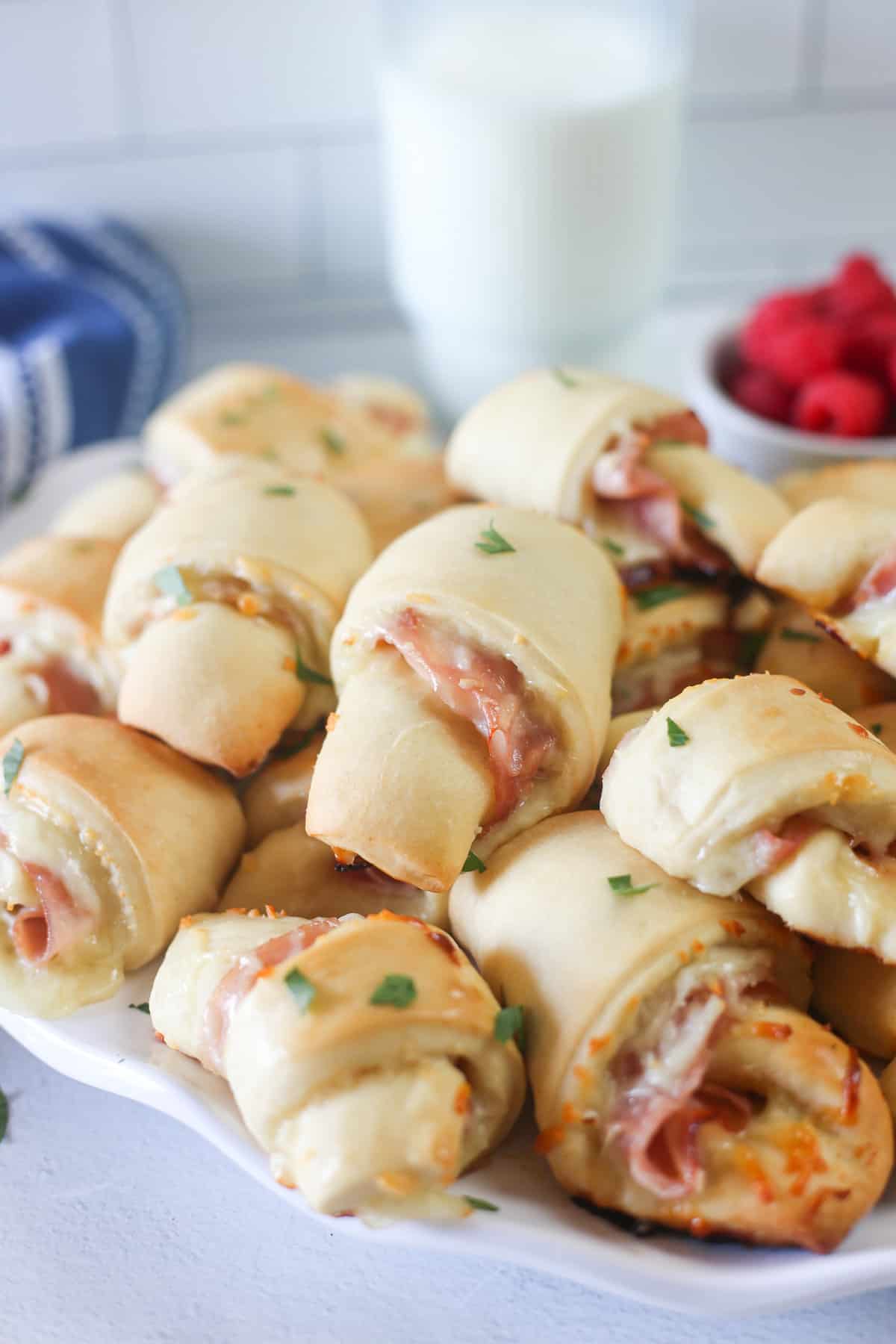 More Bread Machine Recipes
Did you make this? Snap a photo and tag us on Instagram at @thrivinghome so we can see your creations and cheer you on!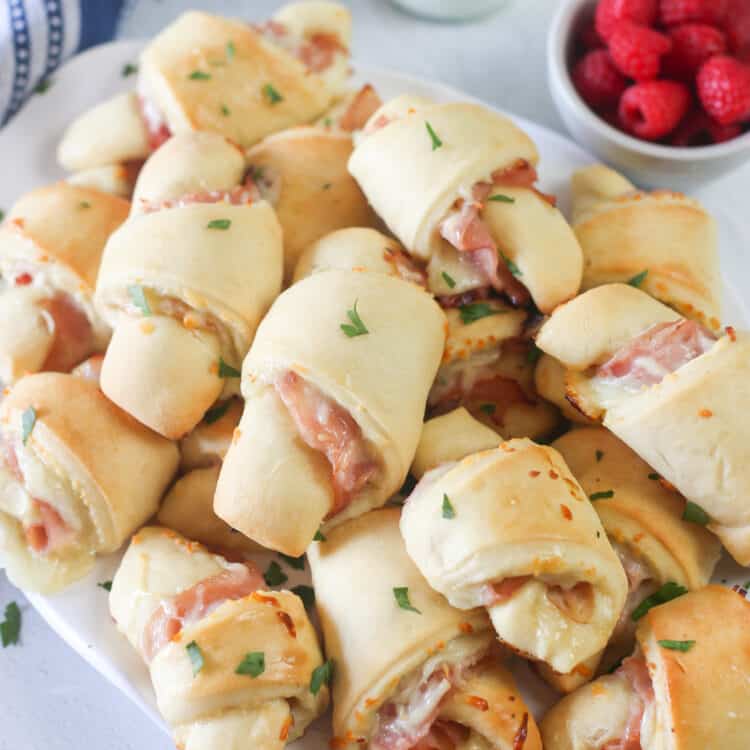 Ham and Cheese Crescent Rolls
This delicious combination of soft, buttery dough with deli ham and cheese makes this an irresistible meal. You'll have a hard time putting any away in the freezer.
Yield:
30

ham and cheese rolls

1

x
Prep:
2 hours
Cook:
20 minutes
Total:
2 hours 20 minutes
Ingredients
Dough:
1

cup

whole milk

1

stick (8 tablespoons) unsalted butter, softened and cut into small pieces

2

eggs, beaten

4

cups

all-purpose flour

1/2

cup

sugar

1 teaspoon

salt

2 1/2 teaspoons

dry active yeast
Filling/Topping:
1

pound

(16 ounces) deli ham

1

pound

(16 ounces) shredded mozzarella cheese

2 tablespoons

unsalted butter, melted
Before You Begin! If you make this, please leave a review and rating letting us know how you liked this recipe! This helps our business thrive & continue providing free recipes.
Instructions
Make It Now:
Prepare Dough: Add ingredients to your bread machine in the order listed. Run on the dough cycle. It should be around 90 minutes for reference.
Divide and Roll Dough: After dough cycle is complete, flour your surface. Divide the dough into 3 equal portions and roll into balls. Using a rolling pin, roll one dough ball into a circle that's about 1/4-inch thick (about the size of a medium pizza).
Add Toppings: Sprinkle 1/3 of the shredded cheese over the dough. Add a single layer of ham slices on top of the cheese. 
Cut and Roll: Using a pizza cutter, cut into about 10 pie-shaped pieces* by cutting straight lines through the dough. (Like you would cut a pizza.) Starting at the large end, roll up the dough. Place on greased baking sheet with the end side underneath the roll. Using a pastry brush, brush the top of each roll with a little bit of butter.
Repeat: Repeat these steps for your second and third balls of dough.
Bake: Preheat the oven to 350°F and bake for 20-25 minutes, until slightly golden brown on top. They are best served warm.
*Depending on the size of each dough ball, you may get a little more or less than this. The recipe yields 30 crescent rolls in all.
Freeze For Later: Bake as stated in recipe. Let cool completely. Place in air-tight, freezer bag or container, squeeze out as much air as possible, and seal. Freeze for up to 2-3 months for best quality.
Prepare From Frozen: Let the Ham and Cheese Crescent Rolls thaw at room temperature (for no more than 2 hours), in the refrigerator overnight, or using the defrost setting on the microwave. Warm up in the microwave before eating. 
---
Notes/Tips
There is no need to activate the yeast prior to adding it to the machine.
It works best to add the cheese before the ham. That way you'll lose less of the cheese when rolling them up.
We recommend using an uncured ham to avoid preservatives. We like Applegate and Boar's Head brands.
Shortcut for Dough: Use 3 cans of store-bought crescent rolls or 3 dough balls from a local pizzeria in place of the homemade dough.
Don't have a bread machine, but still want to make your own dough, use our Whole Wheat Pizza Dough Recipe.
Variations: Try other kinds of deli meat, like roast beef or turkey, and other kinds of cheese, such as shredded cheddar or Colby jack.
Add-In Ideas: To kick up the flavor a little, try sprinkling some dried Italian seasoning and/or garlic powder on top of the cheese before layering with ham.
We haven't tested this with gluten-free flour, but let us know if you do.