Bread Machine Hamburger Buns
This post may contain affiliate or sponsored links. Please read our disclosure policy.
With the help of a bread machine, you can make Whole Wheat Hamburger Buns at home. Follow our detailed instructions and pro tips for fluffy, moist, and delicious Bread Machine Hamburger Buns. A great staple to have in the freezer for grilling season!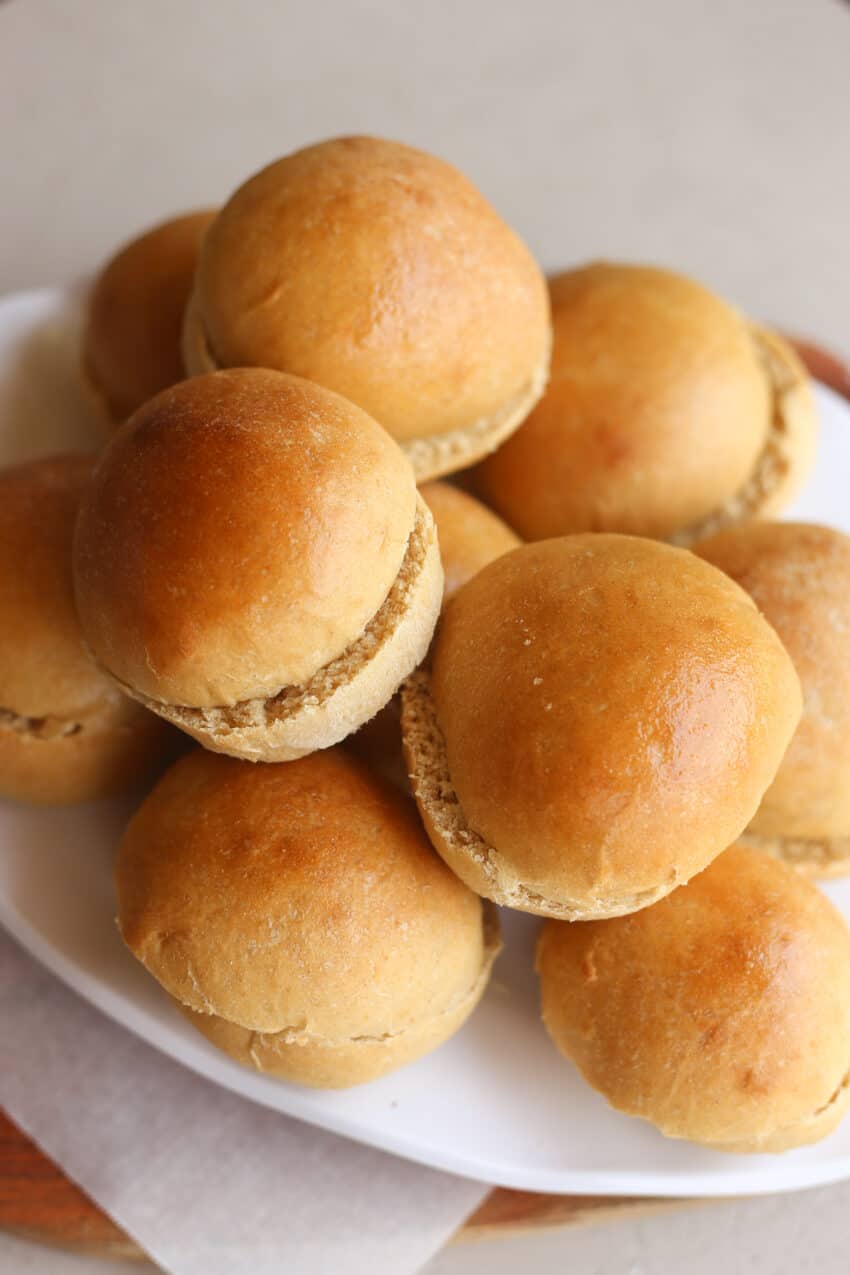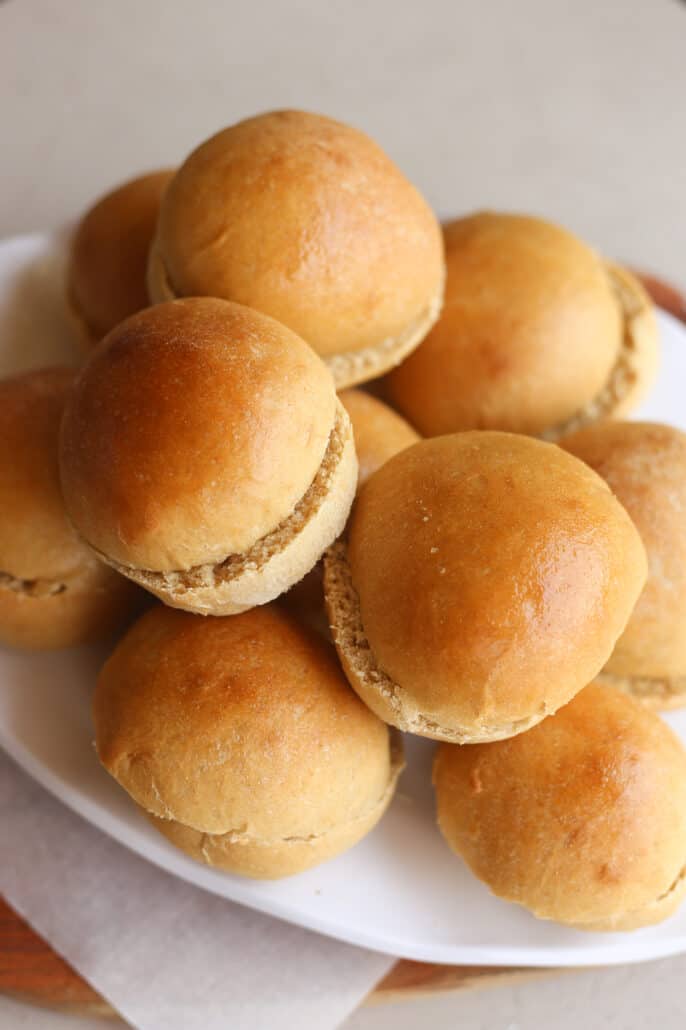 Why Use a Bread Machine for Hamburger Buns?
Delicious hamburger buns can be made without a bread machine. It's true.
But, you'll love the convenience of dumping ingredients into the machine, pushing a button, and having perfectly prepped dough ready for rolling and baking.
This is one of the many reasons I love using a bread machine for recipes like our Cinnamon Rolls, Dinner Rolls, and Panini Bread.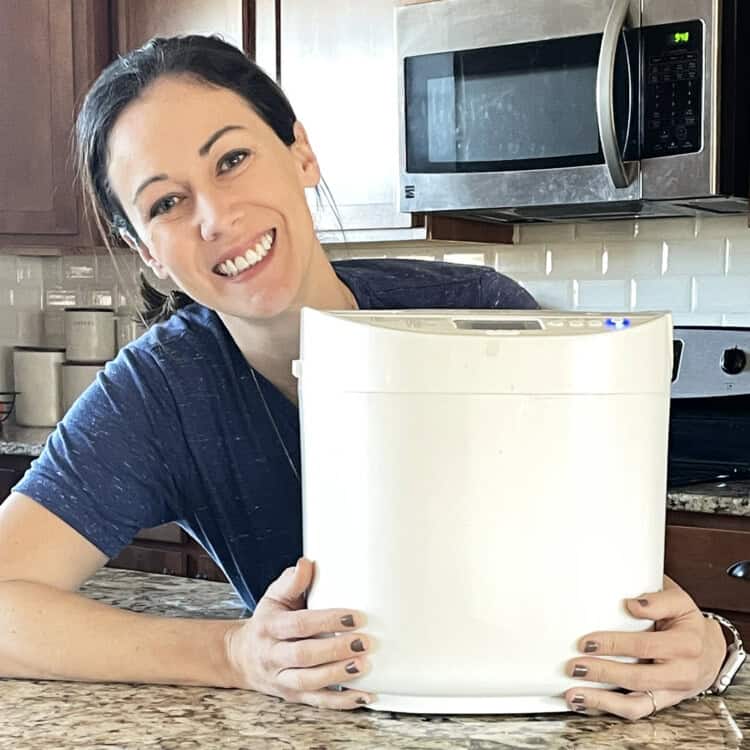 "What Bread Machine Do You Use?"
I don't need a bread machine with a lot of bells and whistles. I need a quality, reliable bread machine. I've found this Oster brand to work great for the recipes I use.
Learn More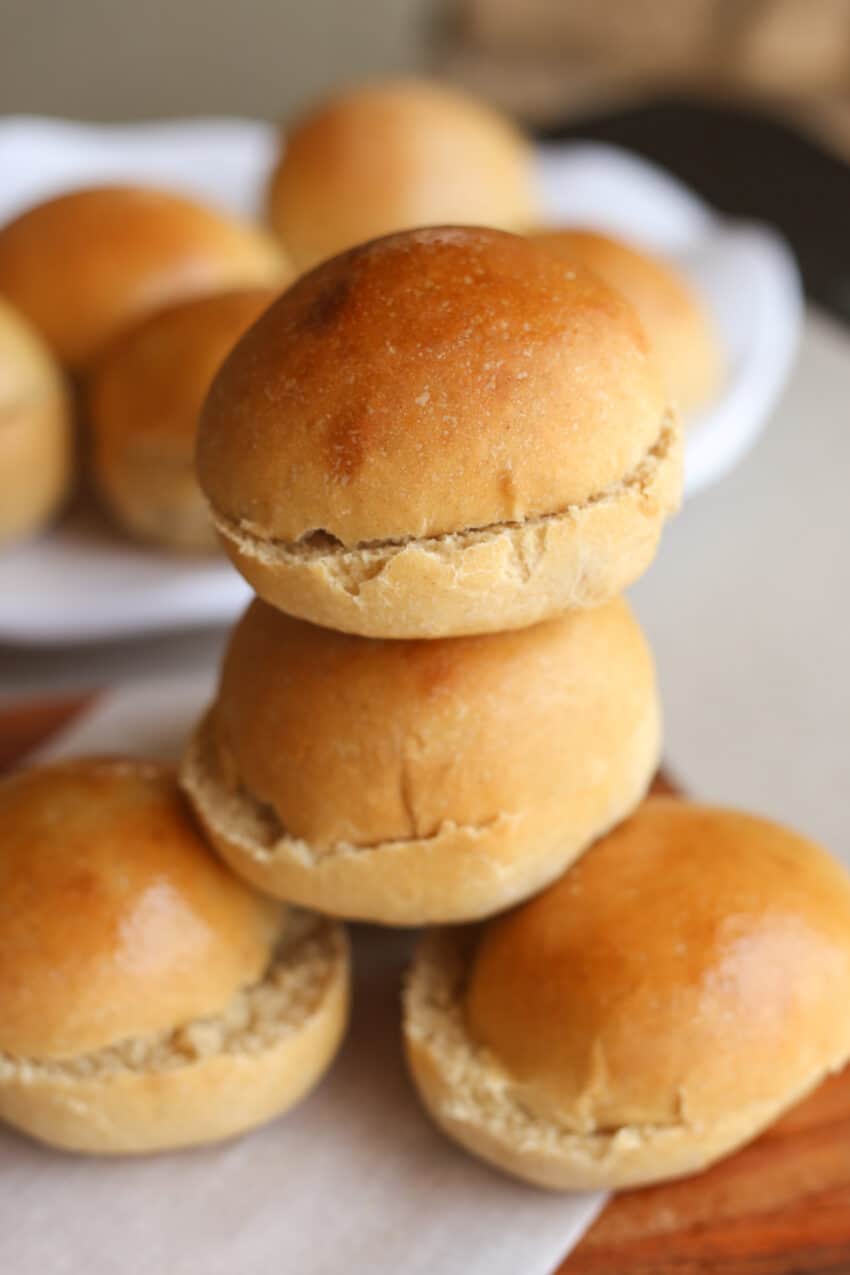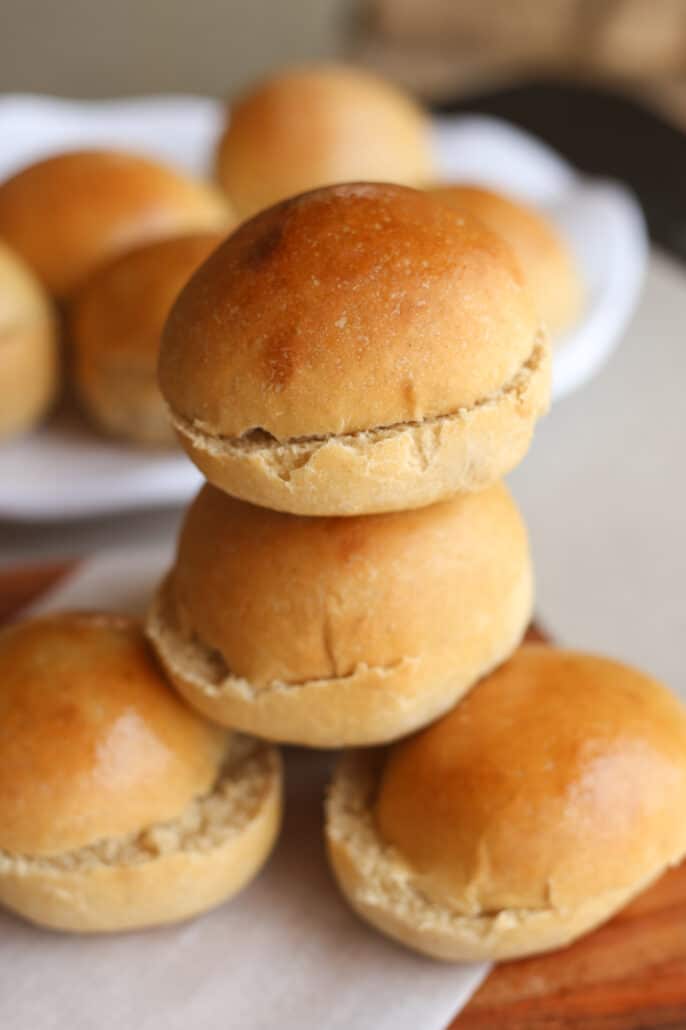 Ingredients in Bread Machine Wheat Rolls
Here is what you need:
Milk – I use whole milk.
Egg
Unsalted butter – If you have salted butter, it's ok. But when adding in salt, only use 3/4 tsp instead of the 1 teaspoon called for.
All-Purpose flour
White Whole Wheat flour – This is different than down the pipe whole wheat flour. White whole wheat yields fluffier results.
Sugar
Salt
Dry active yeast – Quick rise will work too. Dough will rise more quickly if using this though.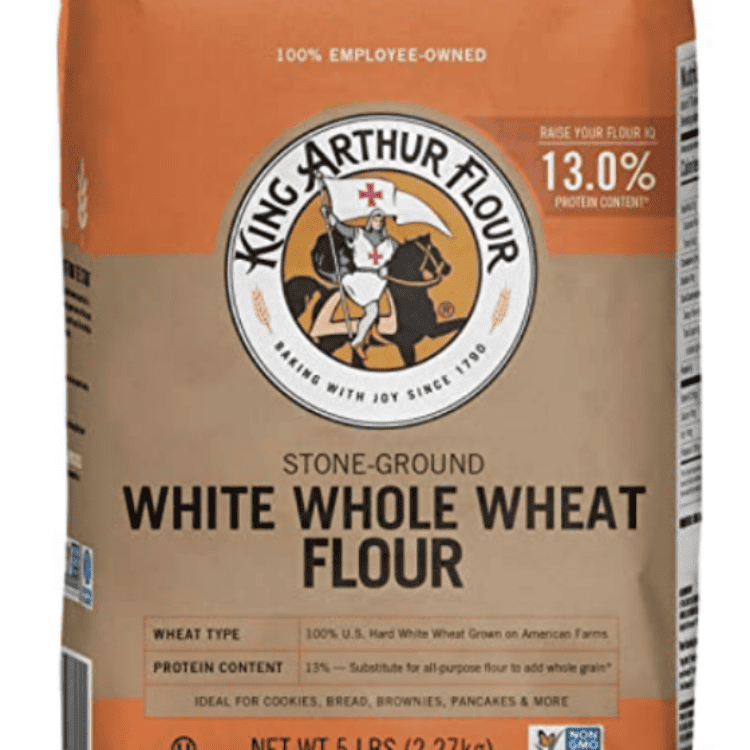 A Secret Ingredient to Success!
The secret to making a light whole wheat dough is using the white whole wheat flour variety, which is now available in most major grocery stores. Important: If you can't find that specific kind of flour, use half whole wheat and half unbleached, all-purpose flour instead.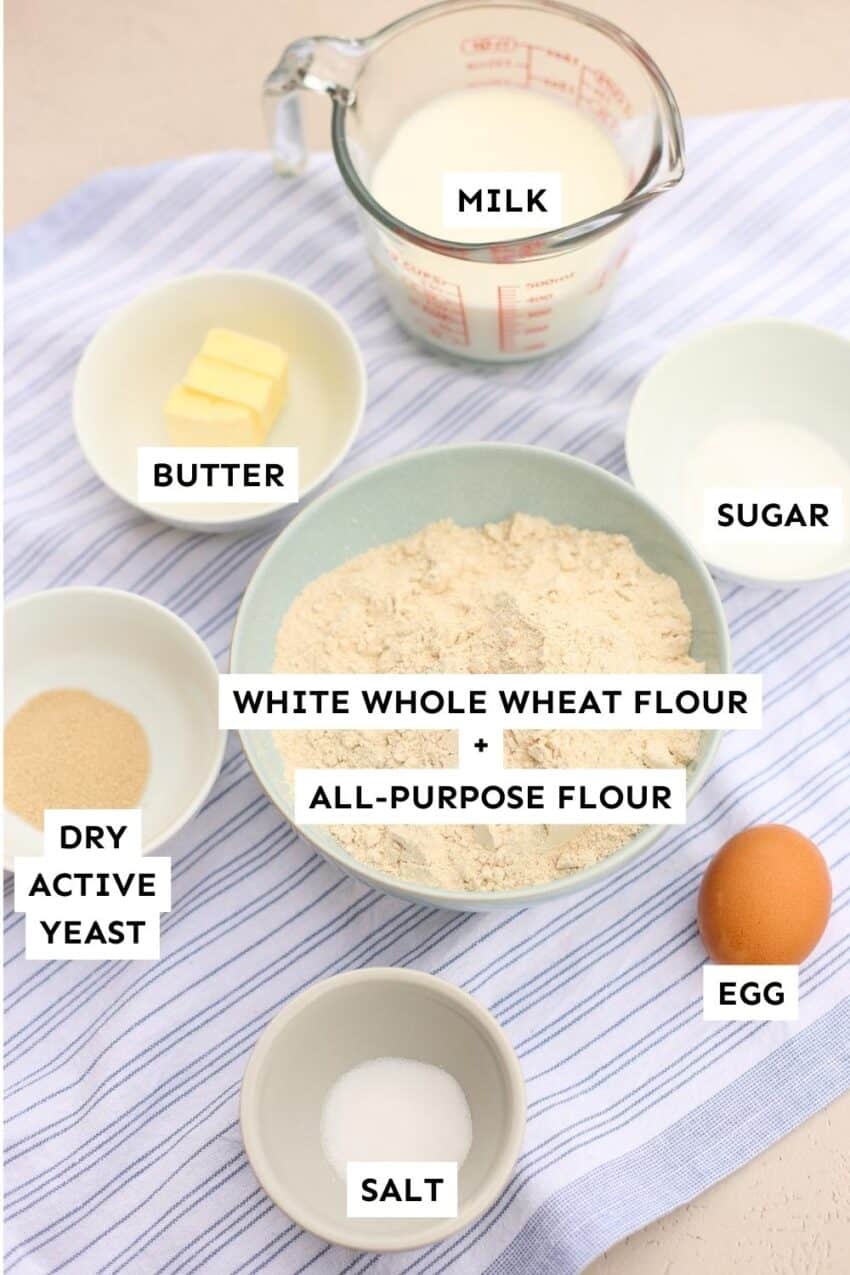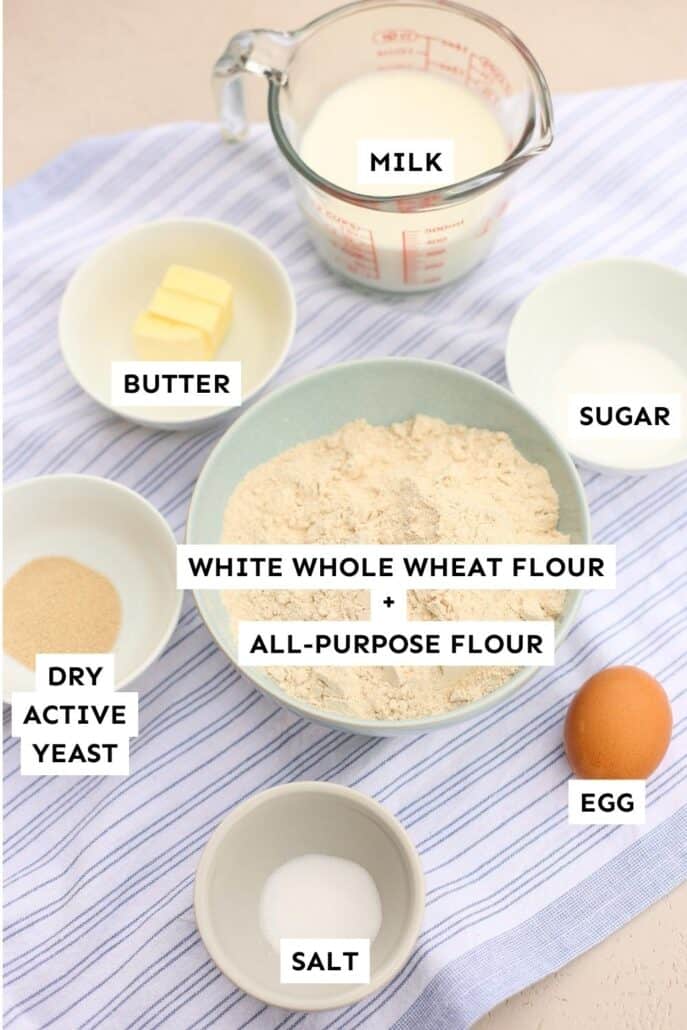 How to Make Bread Machine Hamburger Buns
Here's a step-by-step overview to scan before you get started. The full recipe is below.
Step 1: Make the Dough
There are 3 steps to making the dough.
Add the ingredients to the bread pan.
Run the dough cycle. Every machine is different but this should be around 90 minutes. Dough should be soft and puffy at the end.
Remove the bread pan and punch the dough down. (Kids love helping with this!) This helps air escape.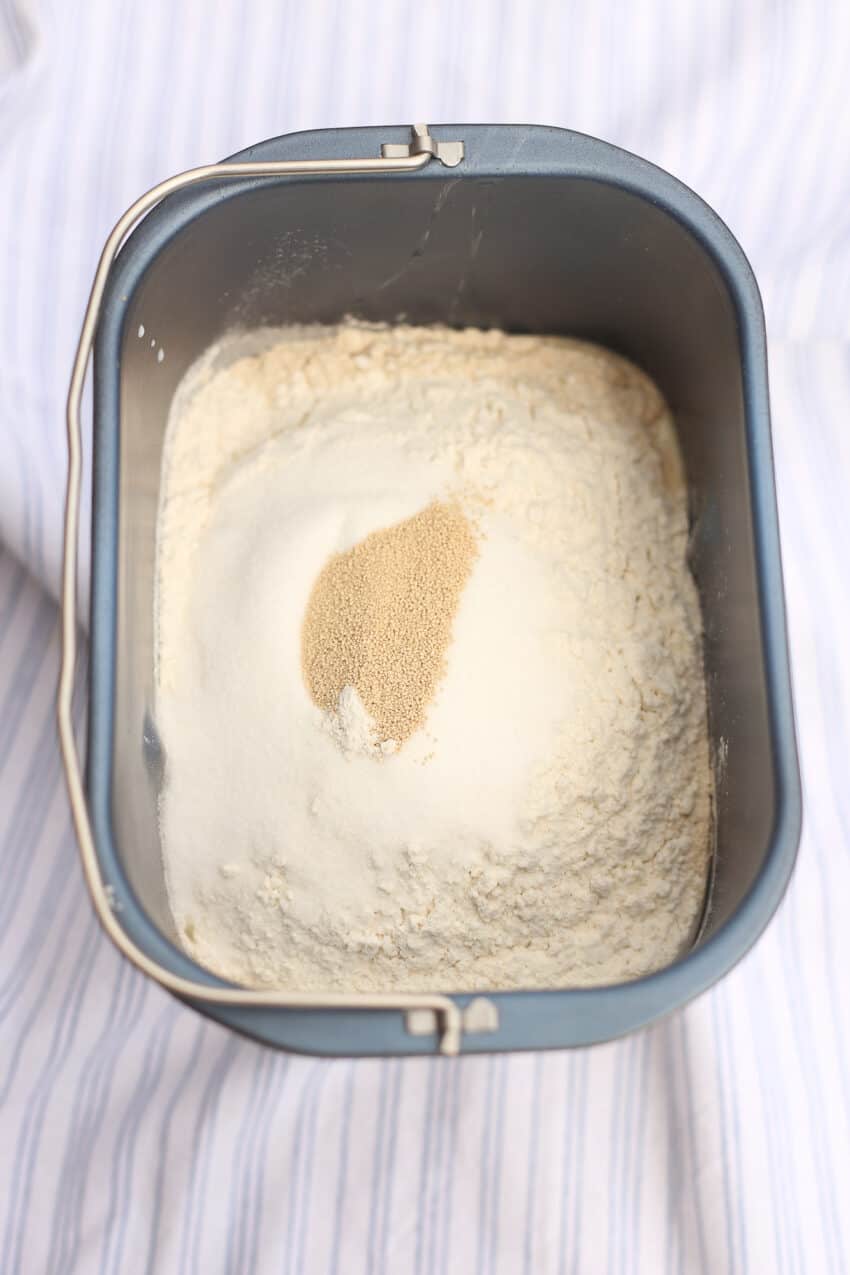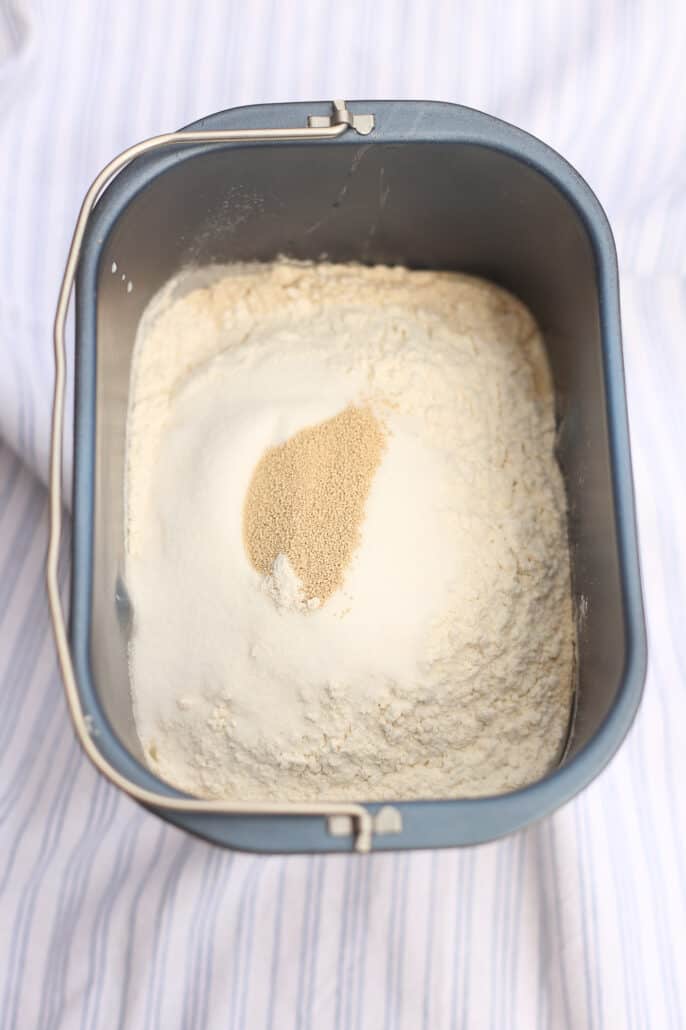 Step 2: Roll the Dough into Balls & Let Them Rise
Working with one bun at a time, round the dough into smooth, taut balls. Aim for them to be a bit larger than golf balls.
Tip: How to Make The Rolls Extra Smooth on Top
After rolling a portion of the dough into a ball, pull the outer edges up and towards the center of the dough, all around. Gently pinch the pulled edges together. Turn the ball over so that the seam side is facing down, unseen on your baking sheet.
Cover the dough balls loosely with plastic wrap or a tea towel and let them rise in a warm environment for about 1 hour until they are light and fluffy. They should double in size.
Timing will be a bit different depending on the temperature and humidity.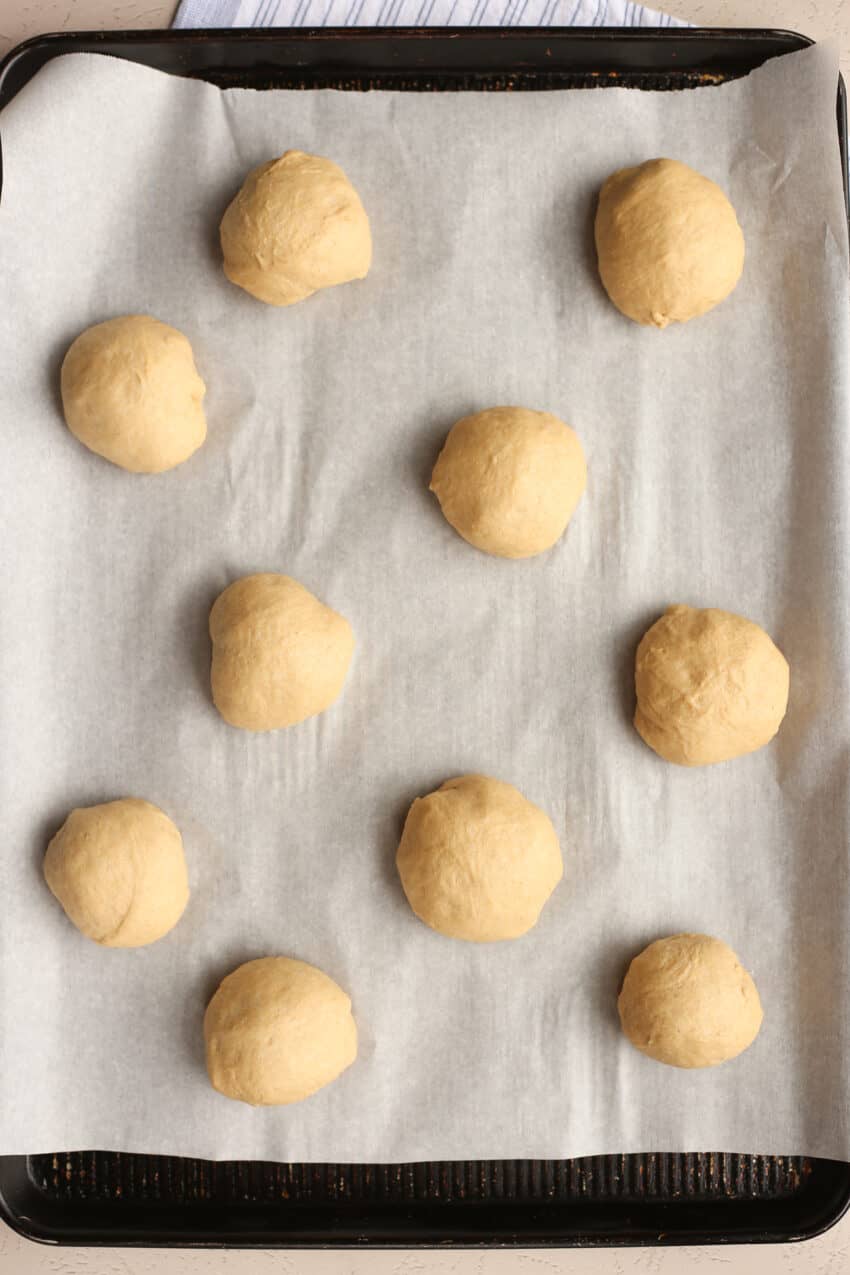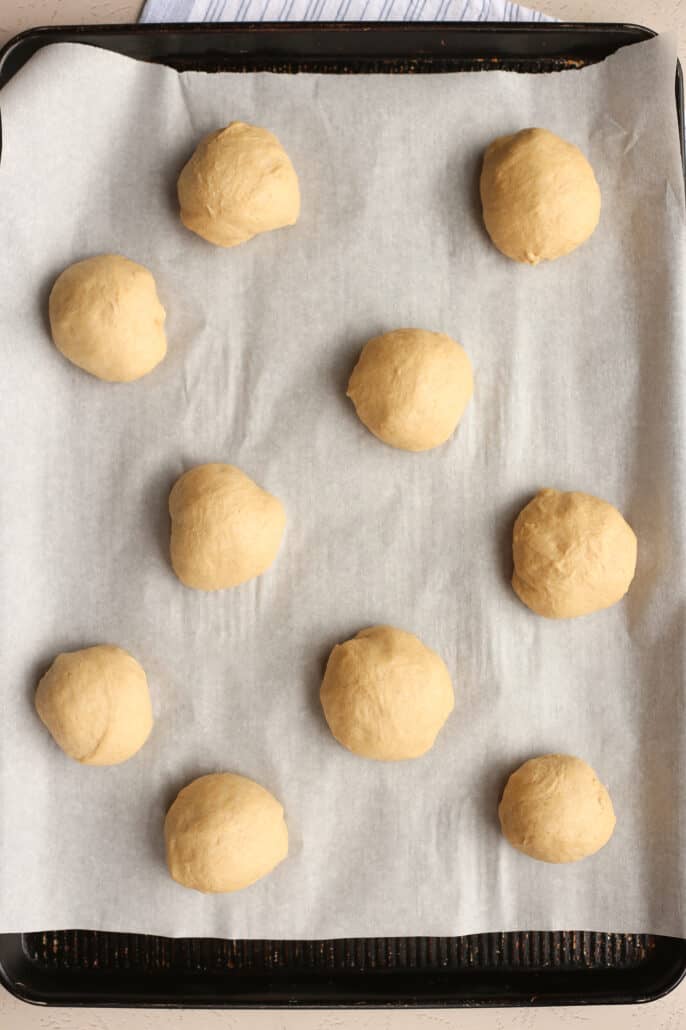 Step 3: Bake the Buns
Once the rolls have almost doubled in size, preheat the oven to 400°F.
Bake the rolls for about 13-15 minutes or until starting to brown on top. Remove and let cool a bit before serving.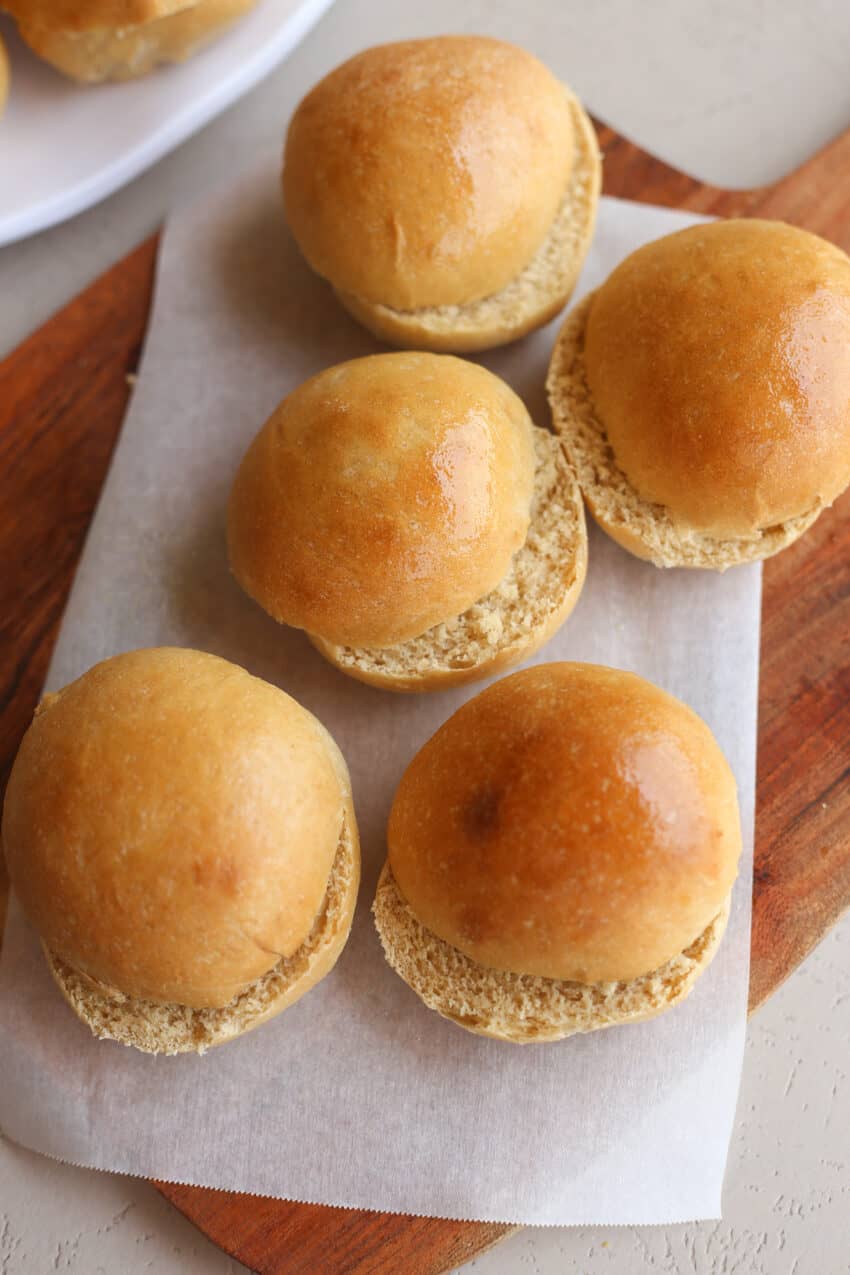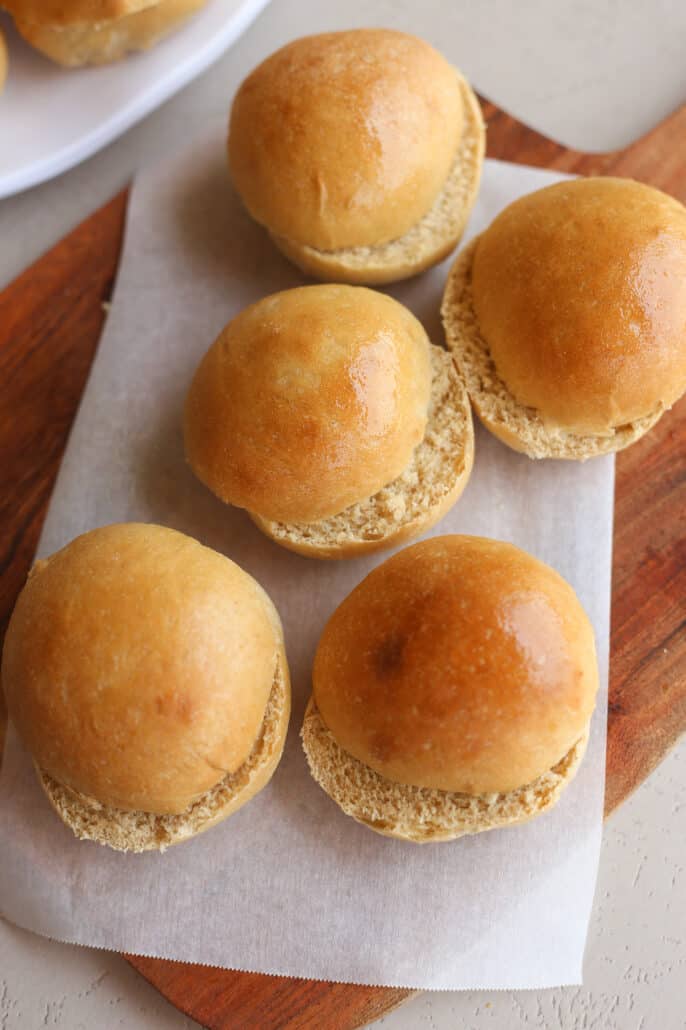 How to Make Hamburger Buns Ahead of Time
There are many times you may want to prep the dough ahead of time. Then you simply need to let them do their second rise on the counter and bake them.
To Prepare Dough for the Fridge:
After the dough is made and shaped into the rolls, cover tightly and refrigerate for up to one day.
A few hours before you need them, remove the buns from the refrigerator and allow to rise on the counter for about 1-2 hours before baking.
To Prepare Dough for the Freezer:
Follow the make-ahead instructions and instead of refrigerating overnight, freeze the rolls in a baking pan. Once frozen you can place them in a freezer bag. To prepare from frozen, let them thaw and rise for about 4-5 hours, then bake. I often do this for our whole wheat dinner rolls before a holiday meal or birthday dinner.
Can you freeze hamburger buns?
Yes, like most baked goods, hamburger buns freeze and thaw well. This is a smart way to cut down food waste.
To Freeze Baked Buns:
You can freeze the baked hamburger buns. This is a great option for the leftovers you don't eat. Simply place baked buns in a freezer bag, seal, and freeze.
To Prepare Frozen Buns:
Let rolls thaw at room temperature. You can also place them in the oven on low to reheat prior to the meal.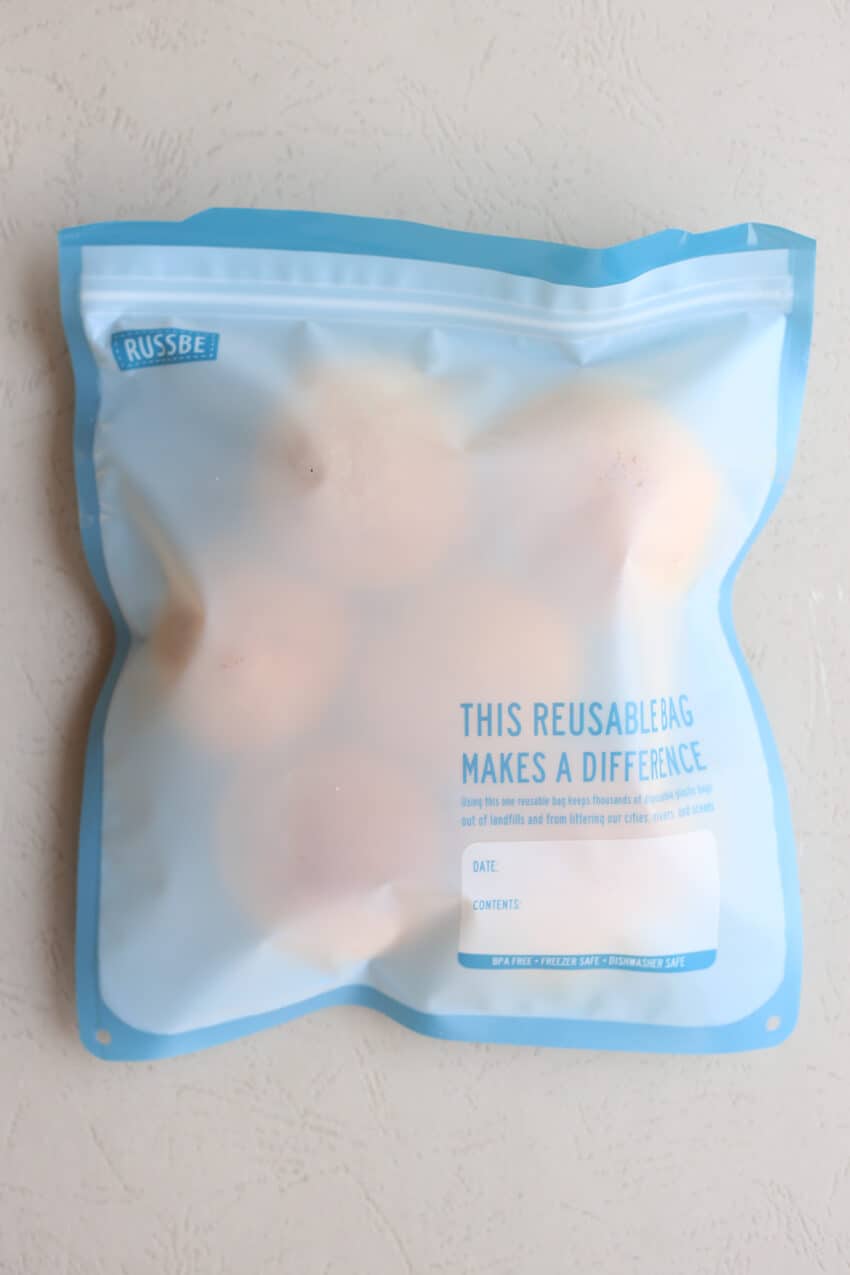 Burger Recipes
Here are some delicious burger recipes that our bread machine hamburger buns would be delicious with.
Bread Machine FAQ
What Pound Setting Should I Select?
Many machines allow you to specify how big of a loaf you are wanting to make. (1 lb., 1.5 lbs., 2 lbs., etc.) Since you are only using the dough cycle, specifying this won't change how it is made in the machine so any size should work.
What if My Dough Doesn't Rise?
There could be a few reasons for this.
Your yeast is expired. Check the date!
The environment isn't warm enough. I sometimes turn on my oven for 2-3 minutes to make it warm. Turn it off, place the dough in the oven, and let it rise in there.
Can I Use Quick-Rise Yeast?
Yep! This recipe was tested with Dry Active Yeast but I do know quick rise will work as well. Just keep an eye on the dough as it will rise faster.
Do I have to use whole wheat flour?
Nope. This recipe will work fine with using all-purpose flour as a substitute for the white whole wheat flour.
Did you make this? Snap a photo and tag us on Instagram at @thrivinghome so we can see your creations and cheer you on!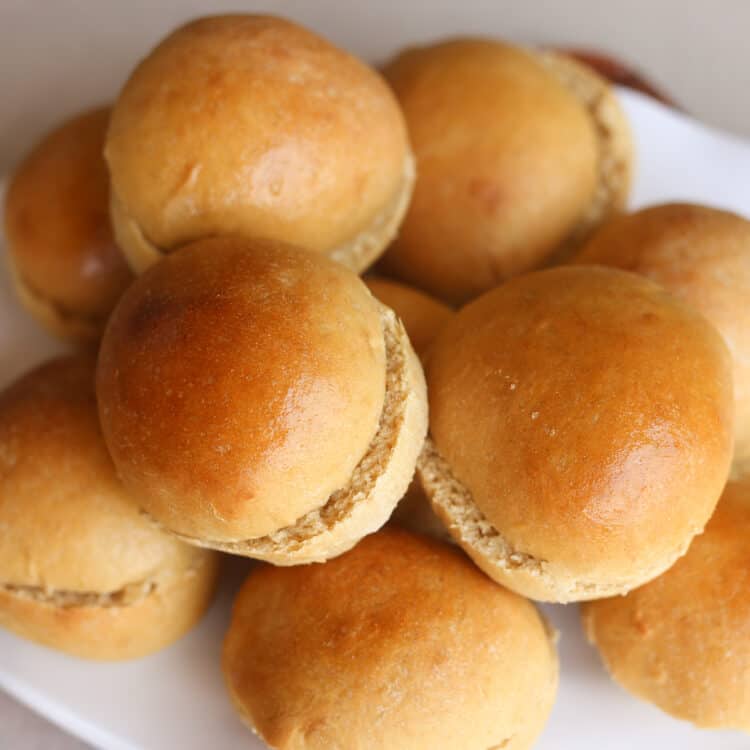 Bread Machine Hamburger Buns
Make the perfect, healthy hamburger buns using your bread machine. Made with whole wheat flour, these homemade buns are sure to impress!
Prep:
100 minutes
Cook:
15 minutes
Total:
1 hour 55 minutes
Ingredients
1

cup

+

3

tablespoons

warm milk

1

egg

2 1/2 tablespoons

butter

2

cups

white whole wheat flour

1 1/3

cups

all-purpose flour

2 1/2 tablespoons

sugar

1 1/2 teaspoon

salt

2 teaspoons

active dry yeast
Before You Begin! If you make this, please leave a review and rating letting us know how you liked this recipe! This helps our business thrive & continue providing free recipes.
Instructions
Make It Now:

Add ingredients to your bread machine in the order listed. Run on the dough cycle. It should be around 90 minutes for reference.
Punch the dough down and then remove from the bread maker.
Roll dough into balls (a little bigger than the size of a golf ball) and place on a parchment-lined baking sheet. Loosely cover with plastic wrap (or a thin dish towel).
Let dough balls rise in a warm atmosphere for about 1 hour. Timing will depend on humidity and temperature!
Preheat oven to 400°F and

bake for 13-15 minutes (watch carefully so they don't burn).

Freeze For Later: Bake rolls as stated in the recipe. Let cool completely. Place rolls in air-tight, freezer bag or container. Freeze up to 1 month for best quality.

Prepare From Frozen: Let rolls thaw on the counter or in refrigerator overnight.

To Freeze Before Baking: Follow the steps all the way up to baking. Freeze the rolls of dough on a baking pan.