20+ Birthday Dinner Ideas
This post may contain affiliate or sponsored links. Please read our disclosure policy.
Making a great meal can be one of the best gifts to someone you love. Here are 20+ birthday dinner ideas that will make someone feel extra special on their big day. Our ideas are approachable, yet still delicious. We've also included side dish ideas to help take the brainwork out of planning the meal.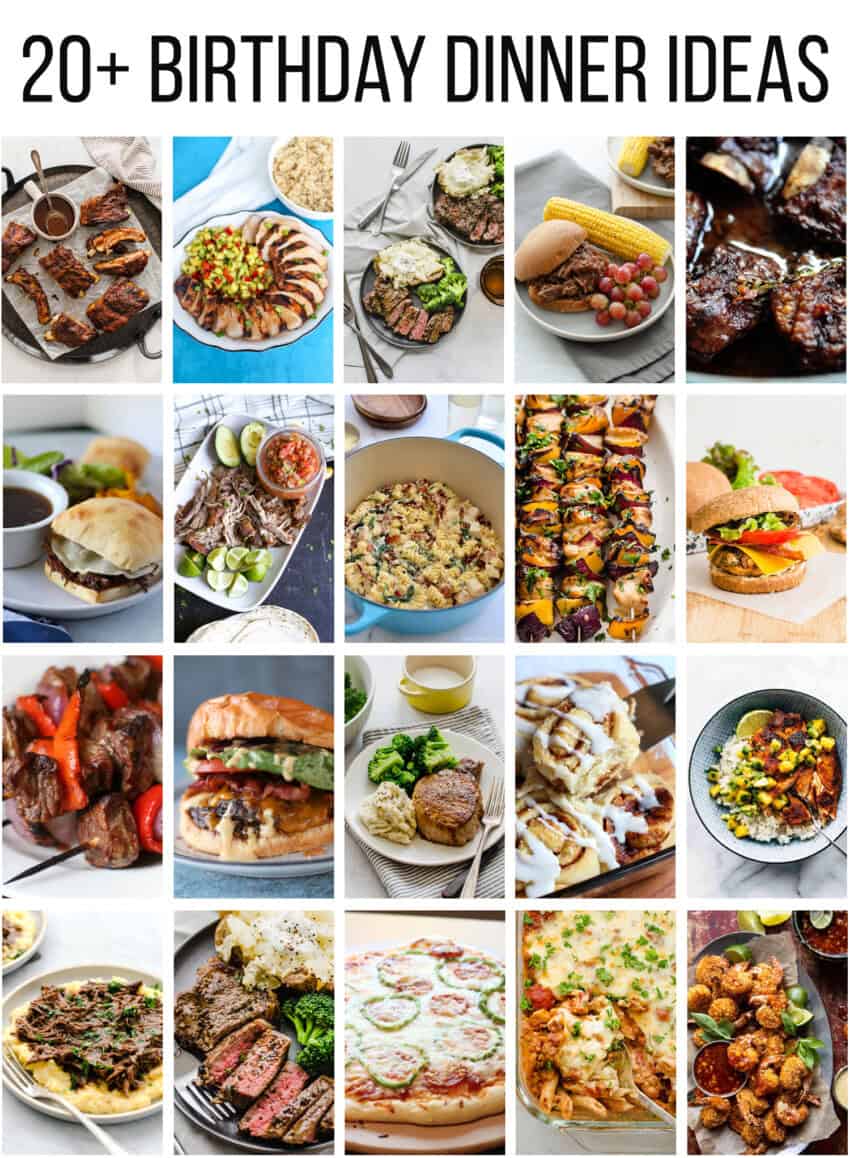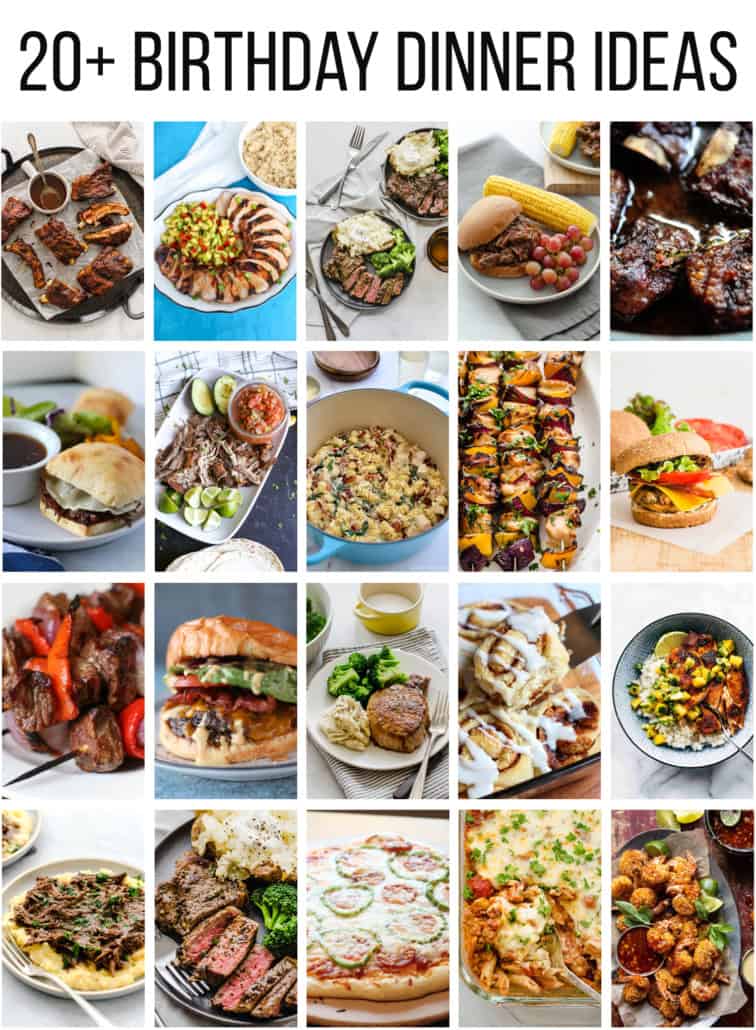 Small Ways to Make a Birthday Dinner Feel Extra Special
You don't have to throw a huge party or spend a lot of money to make someone's birthday dinner feel extra special. Here are a few simple ideas to add to your dinner.
Tape a few balloons to the back of the chair where the special person will sit. Streamers will work too.
Light a few candles in the middle of the table. Something about this makes a meal feel extra special.
Light a birthday candle and put it in the middle of their entree.
Have everyone at the table share one thing they appreciate about the person.
Play their favorite music while you eat dinner.
If it's an adult, have the kids decorate their cake. It will be beautiful in its own way. 🙂
Let the birthday boy/girl pick the dinner. Send them this list below to browse through!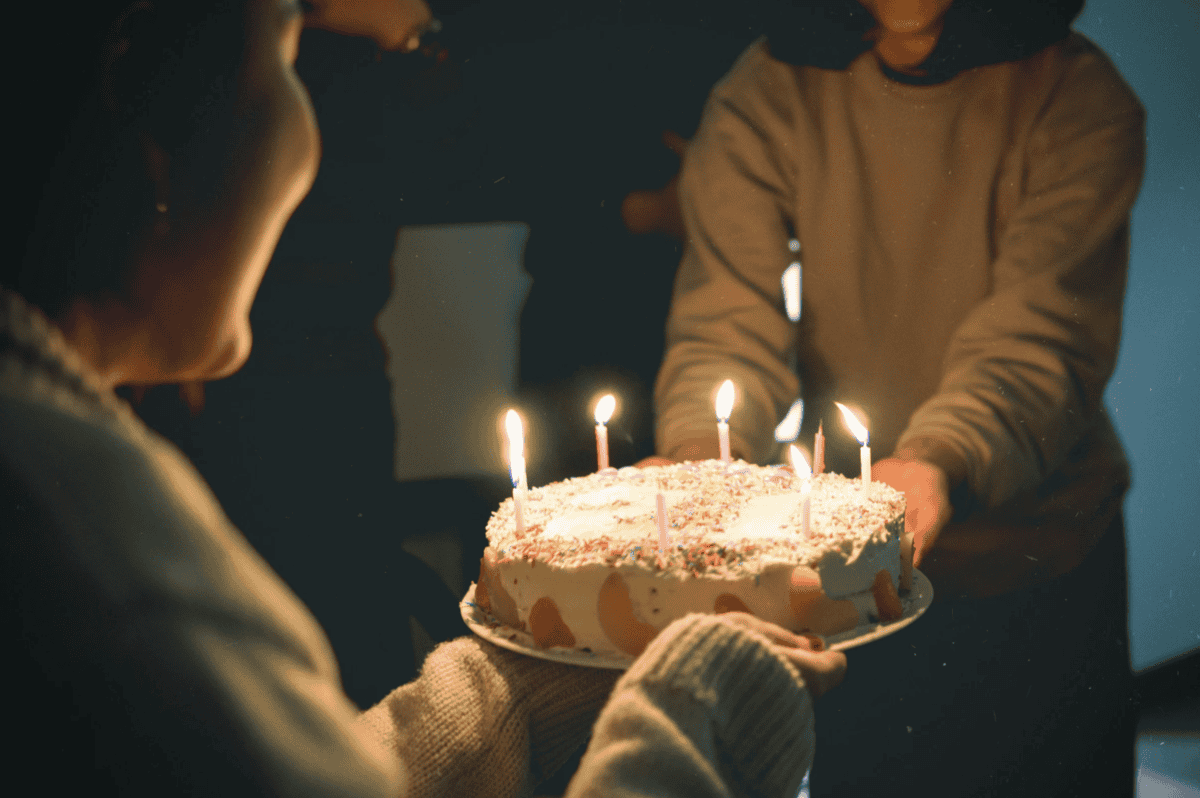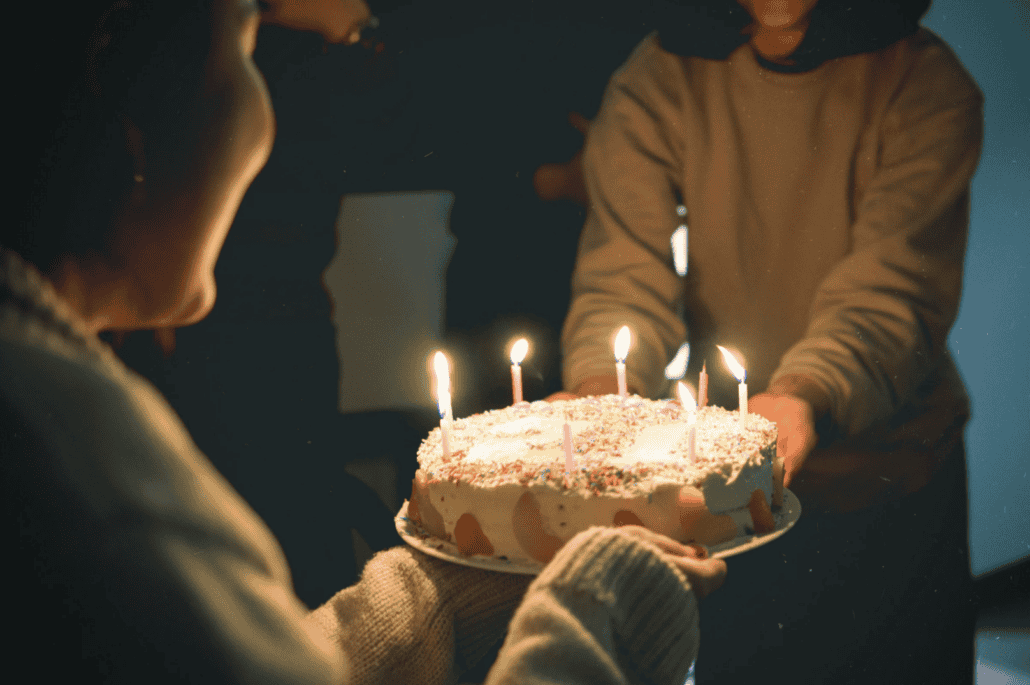 20+ Birthday Dinner Ideas
We'll bring the menu. You bring the gifts, candles, and fun!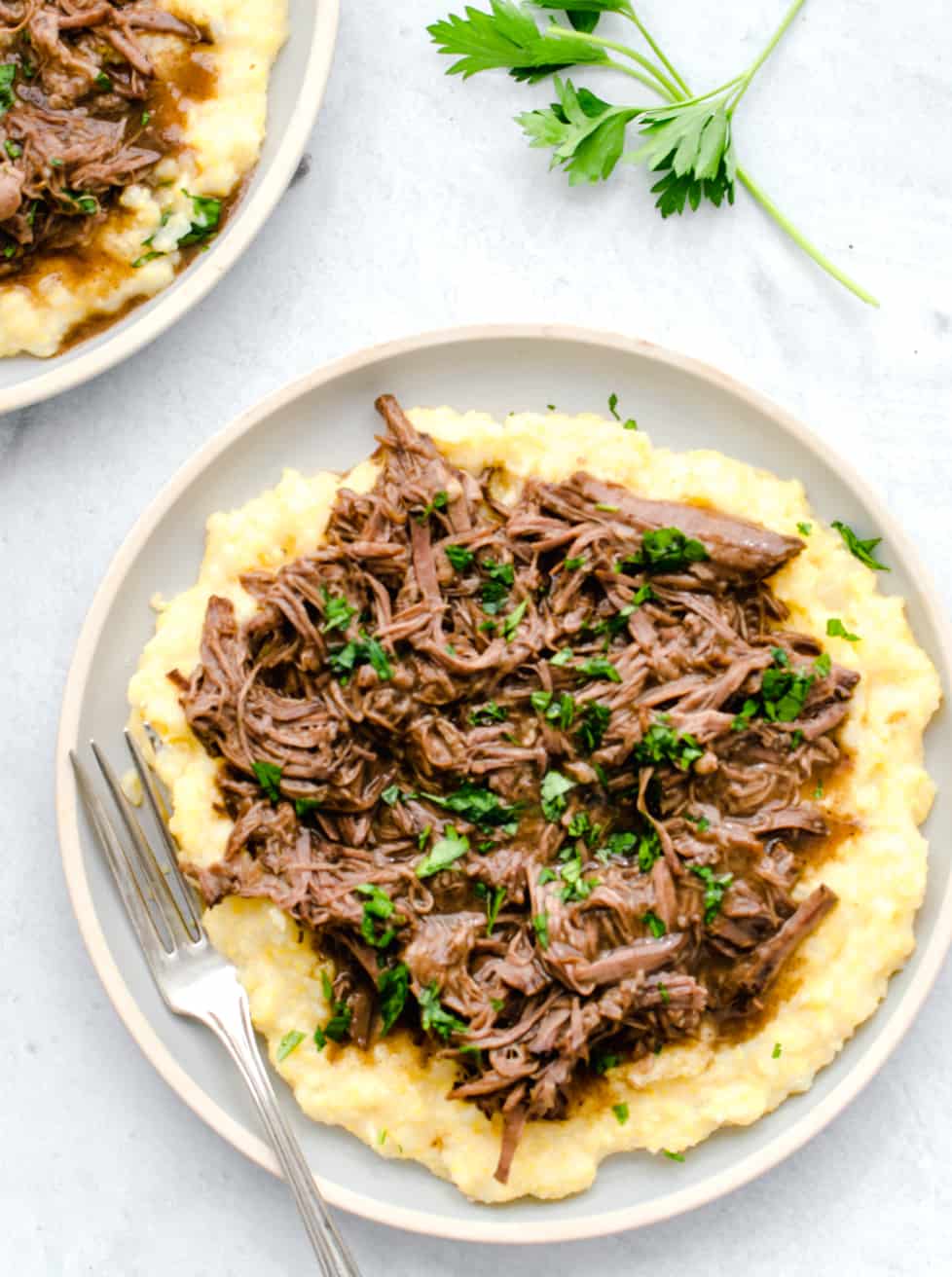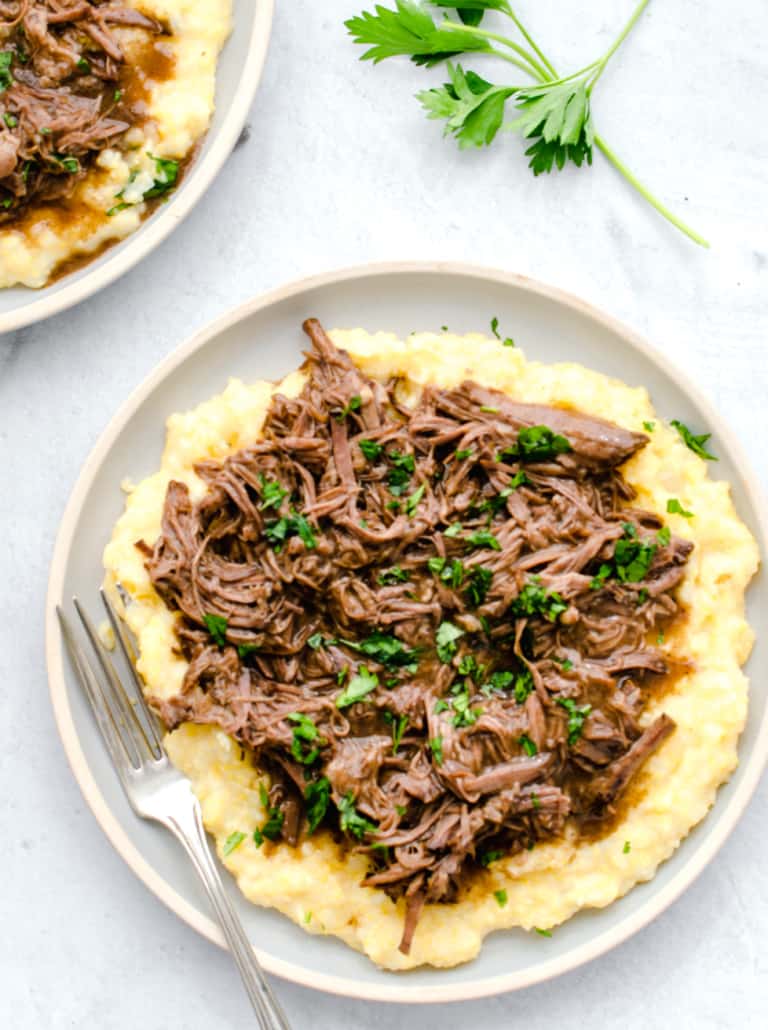 1. Slow Cooker Balsamic Shredded Beef – Serve over mashed potatoes or polenta with our Roasted Broccoli.
2. Perfect Grilled Steak – Throw everything on the grill, including Corn on the Cob, Asparagus, and these Gourmet Grilled Peaches.
3. Homemade Pizza Party – Make pizza dough, pizza sauce, and have everyone add their own toppings. So fun!
4. Hearty Baked Penne Pasta – Serve with Texas Toast (aka the best garlic bread ever). This meal feeds an army!
5. Shrimp Scampi Pasta – Restaurant quality but so easy to make at home!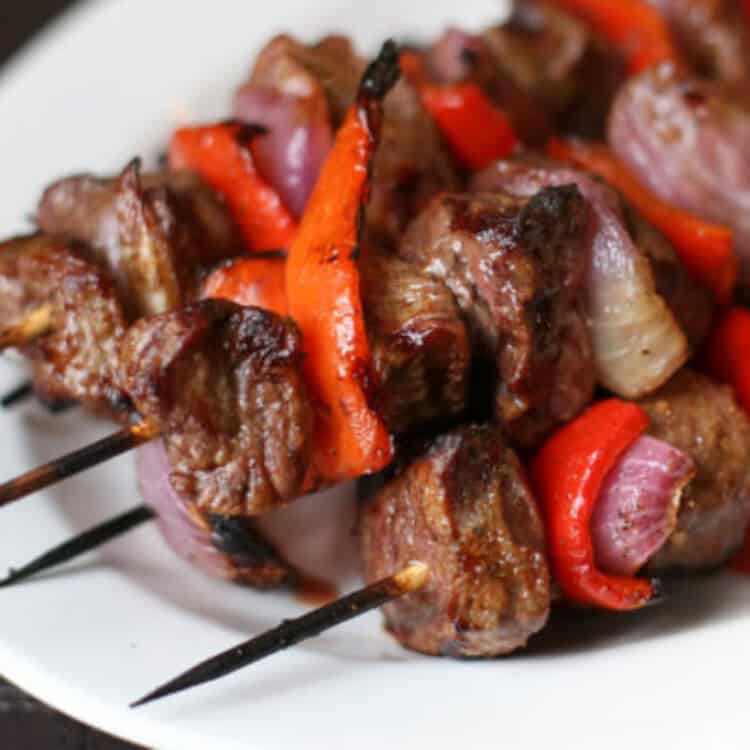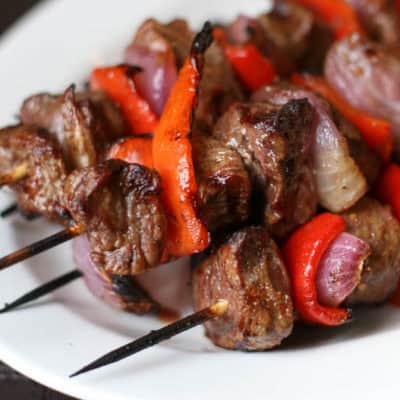 6. Sirloin Steak Kabobs – This marinade is to die for! Ultimate Bacon and Cheddar Stuffed Potatoes would be delicious with this. Could also make Honey Garlic Chicken Kabobs at the same time.
7. Smash Burgers – More casual but a total crowd-pleaser. Steak Fries or Maple Glazed Carrots would be the perfect side. Maybe some Chocolate Covered Oreos too.
8. Pan Seared Pork Chops – Easy to make and liked by all ages. Serve with Autumn Chopped Salad and Crockpot Cinnamon Applesauce.
9. Breakfast for Dinner – My kids request this for their birthday dinners. Make Cinnamon Rolls and our Fancy Egg Casserole or 5 Ingredient Breakfast Casserole.
10. Crispy Chicken Cutlets with Lemon Butter Sauce – A vibrant, silky sauce gets drizzled over the top of the crispy cutlets for an absolutely divine meal. Serve over Butter Noodles or with Creamy Lemon Pasta.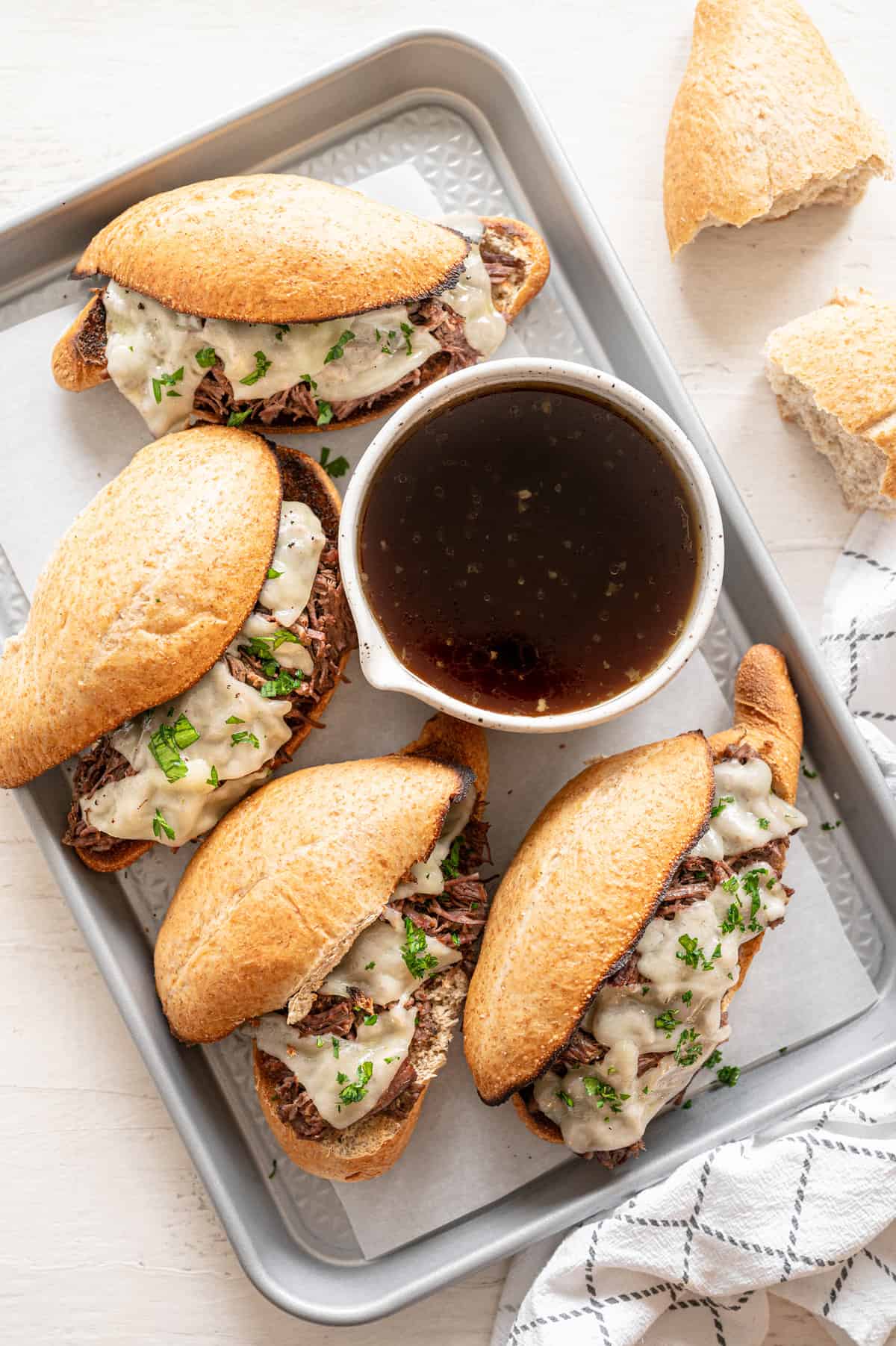 11. French Dip Sandwiches – Super easy and a fan favorite. Serve with Roasted Broccoli or Brussels Sprouts with Bacon.
12. Carnitas – My favorite meal to make for large groups. Serve with Pickled Red Onions and Avocado Salsa.
13. Creamy Tuscan Chicken Pasta – An easy pasta with big flavor! Serve with a fresh salad with Homemade Croutons and one of these Homemade Salad Dressings.
14. Honey Garlic Chicken Kabobs – Sweet and savory. Kids love this one. Could also grill Sirloin Steak Kabobs and Corn on the Cob at the same time.
15. Ultimate Grilled Chicken Sandwiches – So much flavor is packed into this marinade! Cucumber Tomato Feta Salad makes a good summer side dish.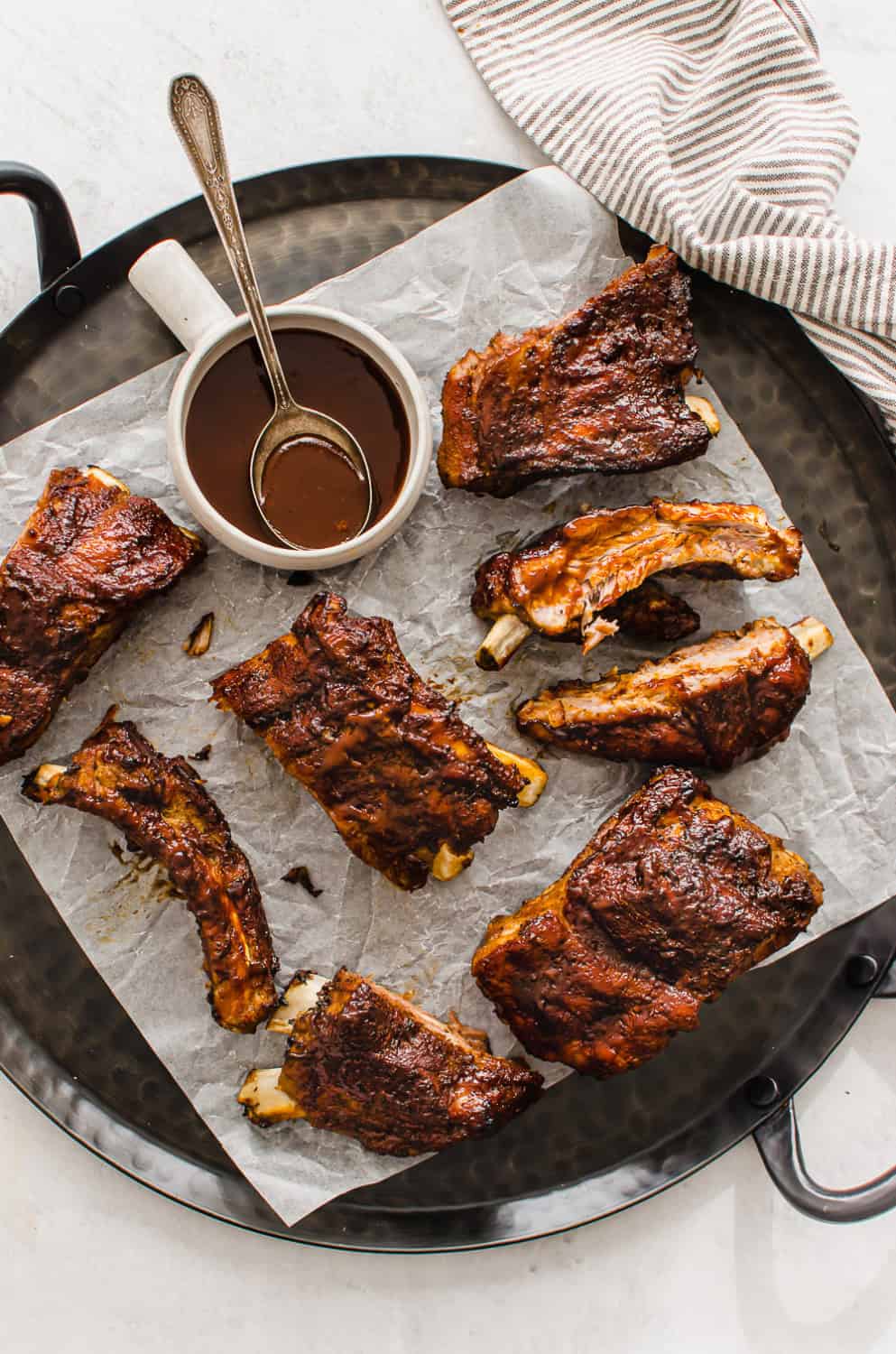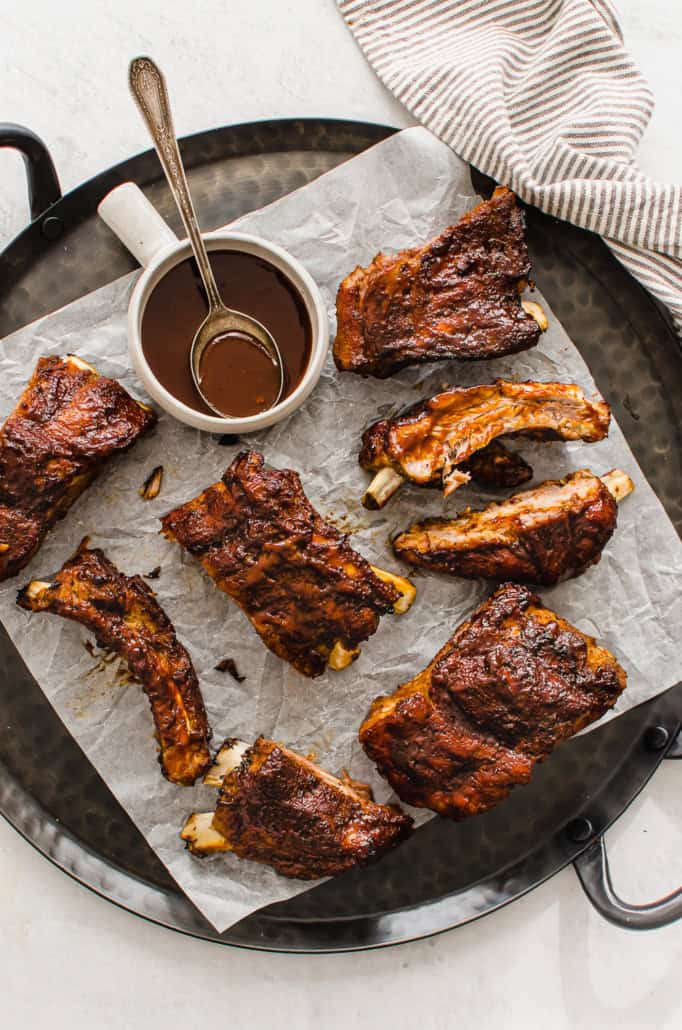 16. Easy Crockpot Ribs – Slow cooked until they fall of the bone. Serve with Maple Glazed Carrots, Baby Boiled Potatoes and our Grilled Peaches for a yummy combination!
17. Hawaiian Pork Tenderloin – An easy dinner that is a total crown pleaser. Serve with fresh Pineapple Salsa for a wow factor.
18. Pan-Seared Steak – Making a restaurant quality steak is easier than you think using this method. Top with homemade garlic herb butter and serve Crispy Smashed Potatoes on the side.
19. BBQ Shredded Beef Sandwiches – This recipe feeds a lot of people and has great flavor too. Serve with 5 Ingredient Coleslaw and 3 Minute Corn on the Cob.
20. Crockpot (or Instant Pot) Beef Short Ribs – A super easy, decadent recipe that results in a gourmet dinner! Serve over mashed potatoes with the sauce.
More Birthday Dinner Ideas
21. Taco Bar – If you need a more casual, buffet-type style meal, a Taco Bar would be a great idea. Serve with Mexican Chopped Salad, Pineapple Salsa and Guacamole.
22. Chicken Spaghetti – Comfort food to the max. I love this recipe! Serve with Honey Balsamic Brussels Sprouts.
23. Asian Turkey Meatballs – Would be a great appetizer or lighter dinner. Could serve with Fried Rice and/or Asian Slaw.
24. Crockpot Breakfast Casserole with Bacon and Gruyere – BFD for your BDAY! Guests will oooh and ahhhh over this gourmet casserole. It's packed with flavor & color and feeds a crowd. Make Bread Machine Cinnamon Rolls too.
Need more meal ideas that work for large groups? We have a great roundup of those as well. See 20+ Meal Ideas for Large Groups.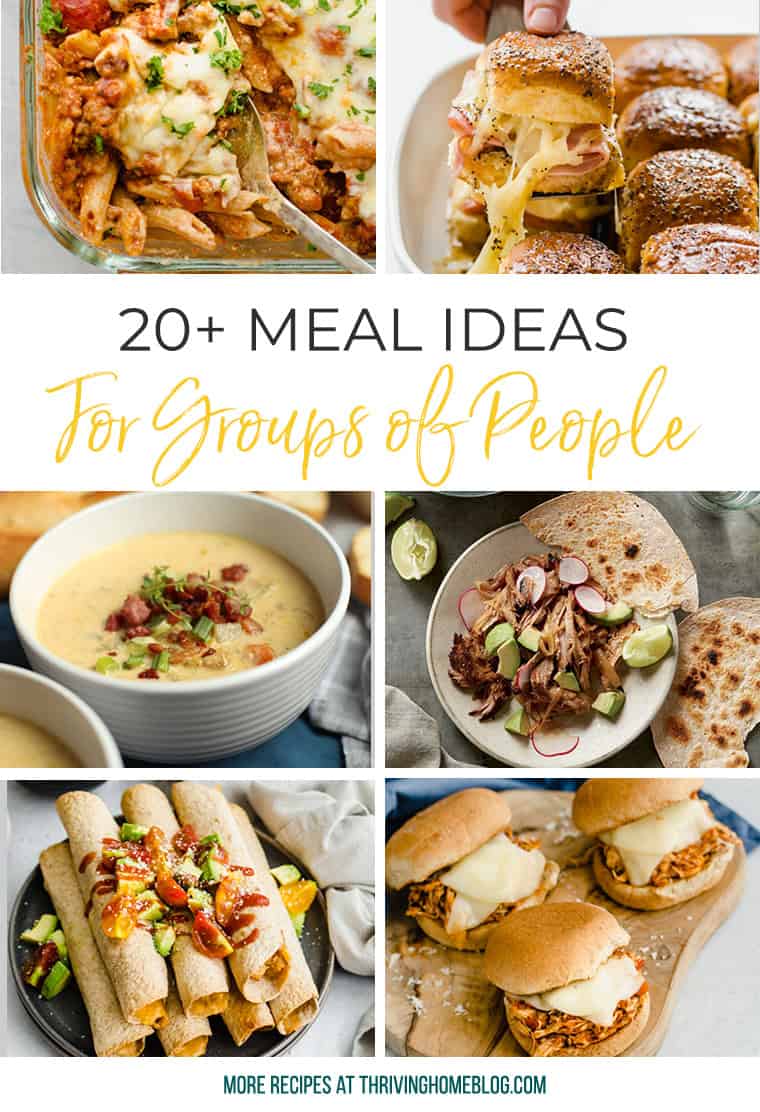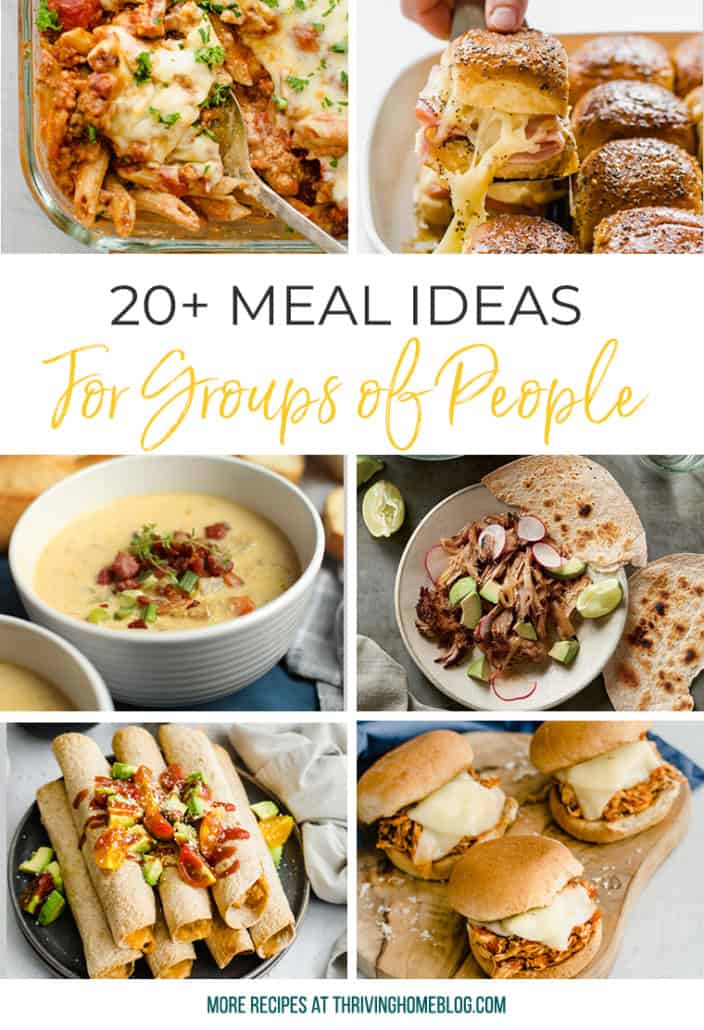 Did you make this? Snap a photo and tag us on Instagram at @thrivinghome so we can see your creations and cheer you on!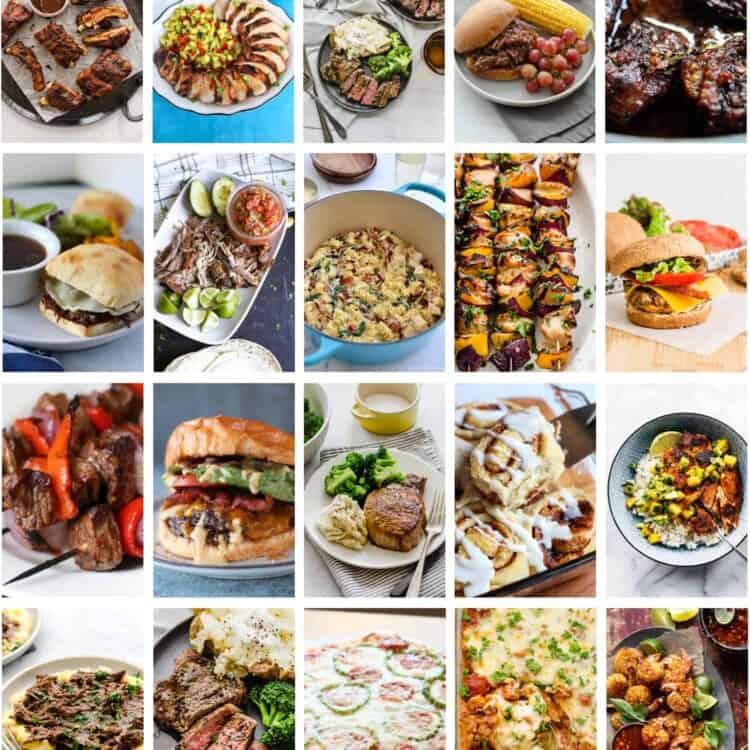 20+ Birthday Dinner Ideas: The Perfect Steak Dinner
Pan Seared Steak that's finished in the oven is one of the easiest yet impressive meals on this list of birthday dinner ideas. My son requests this every year.
This steak is delicious with our Twice Stuffed Baked Potatoes (make them ahead of time!) and Autumn Chopped Salad.
Prep:
1 minute
Cook:
12 minutes
Total:
13 minutes