This post may contain affiliate or sponsored links. Please read our disclosure policy.
There's no getting around the truth–this easy, crockpot French Dip Sandwich recipe is absolutely mouthwatering! Perfect to make on busy nights or for a group. As always, we'll show you how to prep this meal ahead for the freezer, too.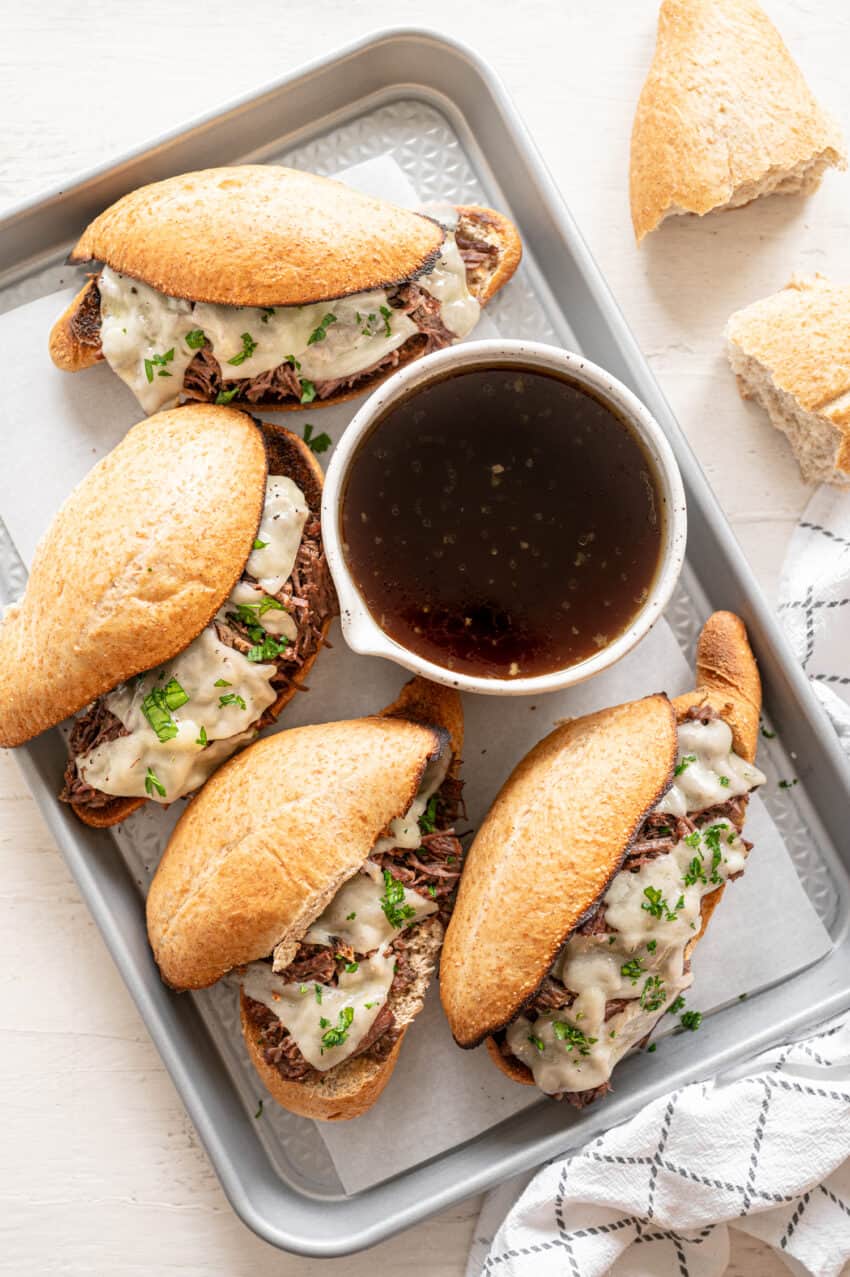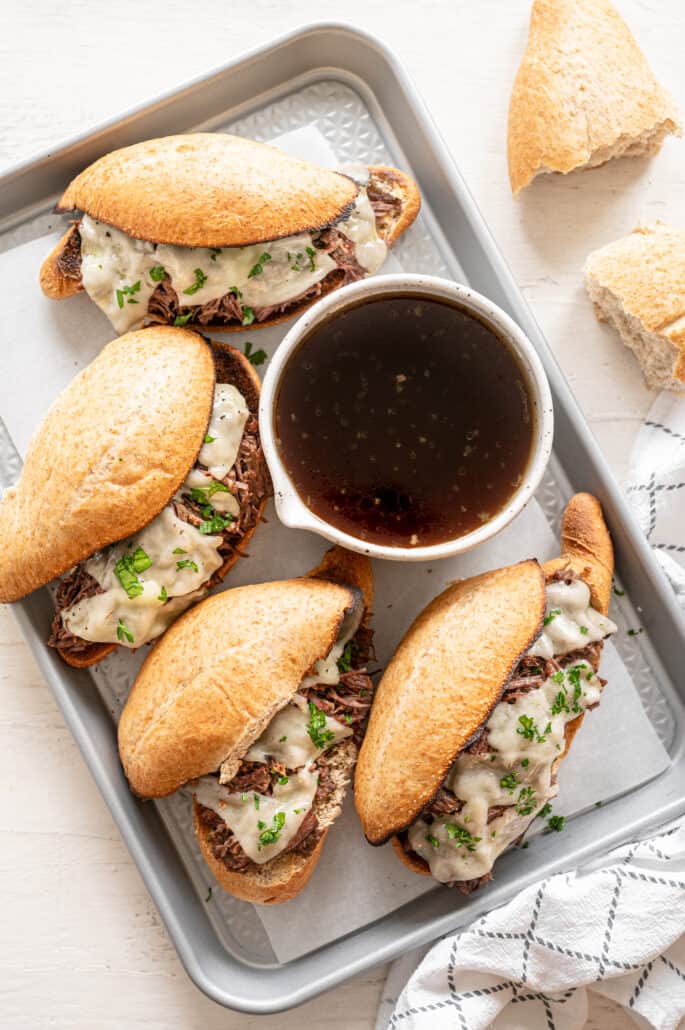 I make this easy crockpot recipe at least once a month for my family, because it's SO easy to throw together and everyone loves it. After slow cooking the roast and sauce all day, you'll end up with melty, flavorful, meaty sandwiches to dip in the savory juices left in the crockpot.
French Dip is a hot roast beef sandwich recipe in which the juices left behind from cooking the roast serve as a dipping sauce. This sandwich is typically served on a French roll or baguette and can include some melty cheese, like Swiss or Provolone, or cooked onions. Our version is super simple yet yields amazing results every time!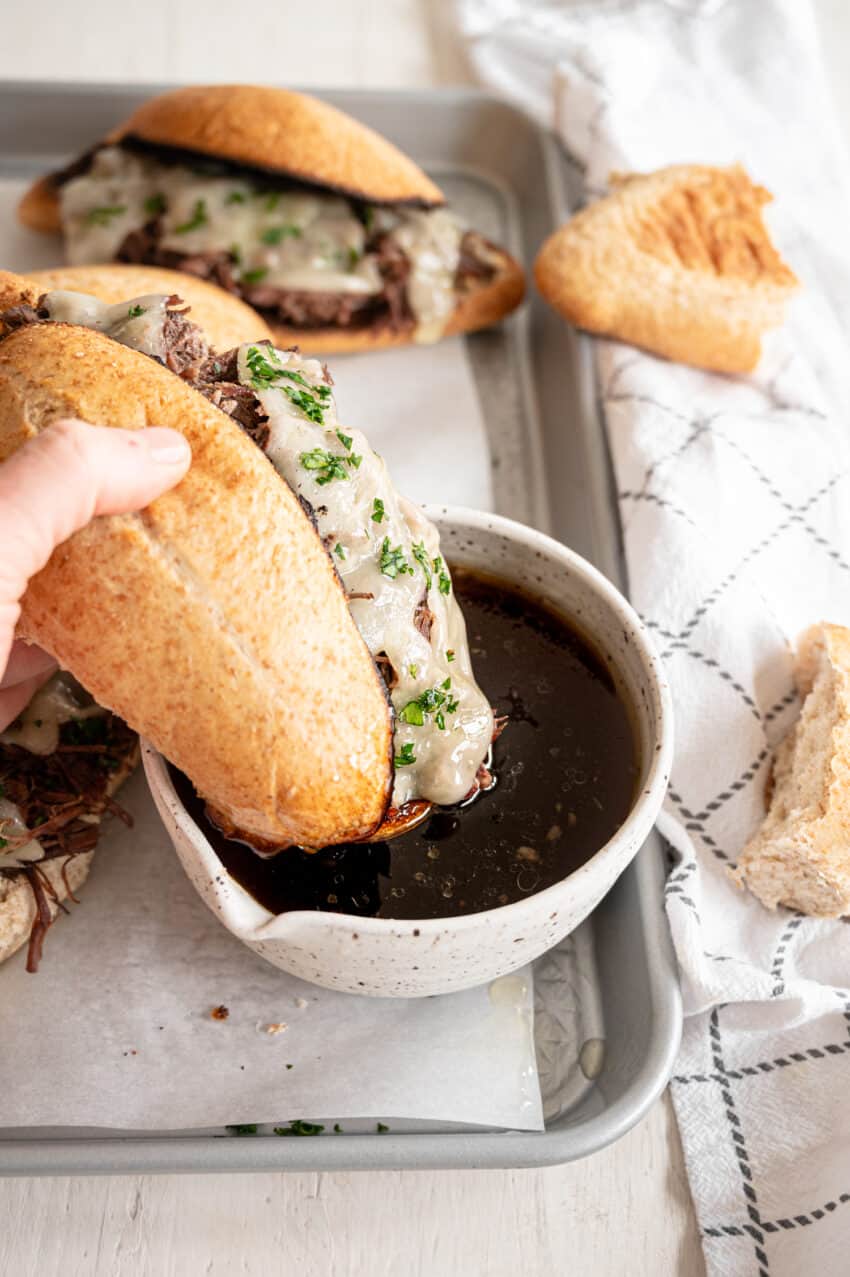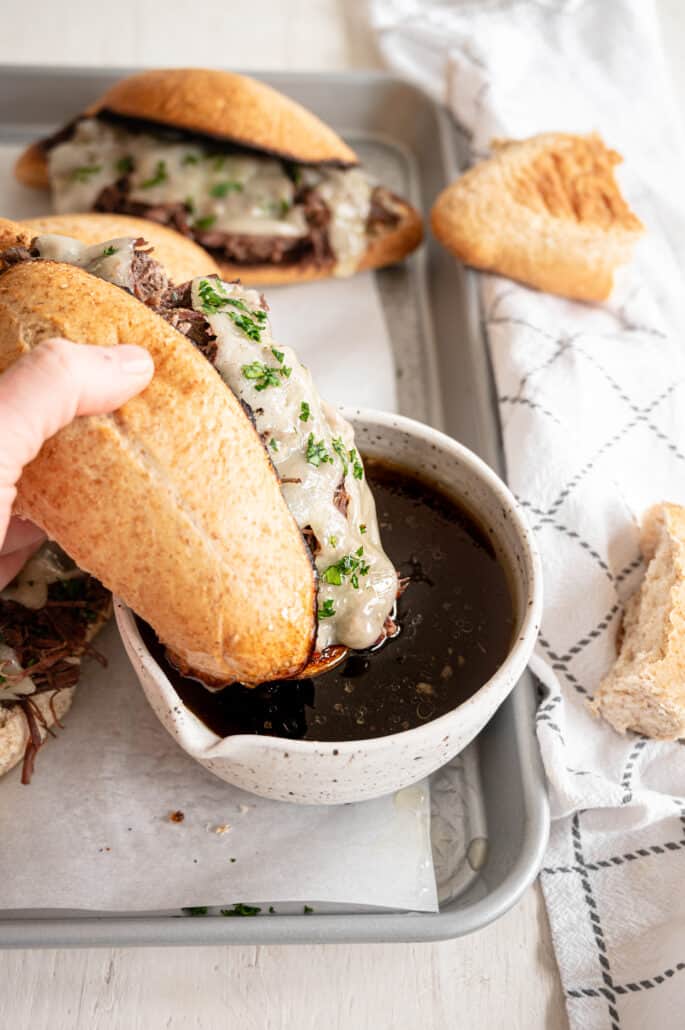 Video: How to Make French Dip Sandwiches
Take a peek at how easy it is to make this French Dip Sandwich recipe in the crockpot…
Gather up the following ingredients for this simple dump-and-go meal…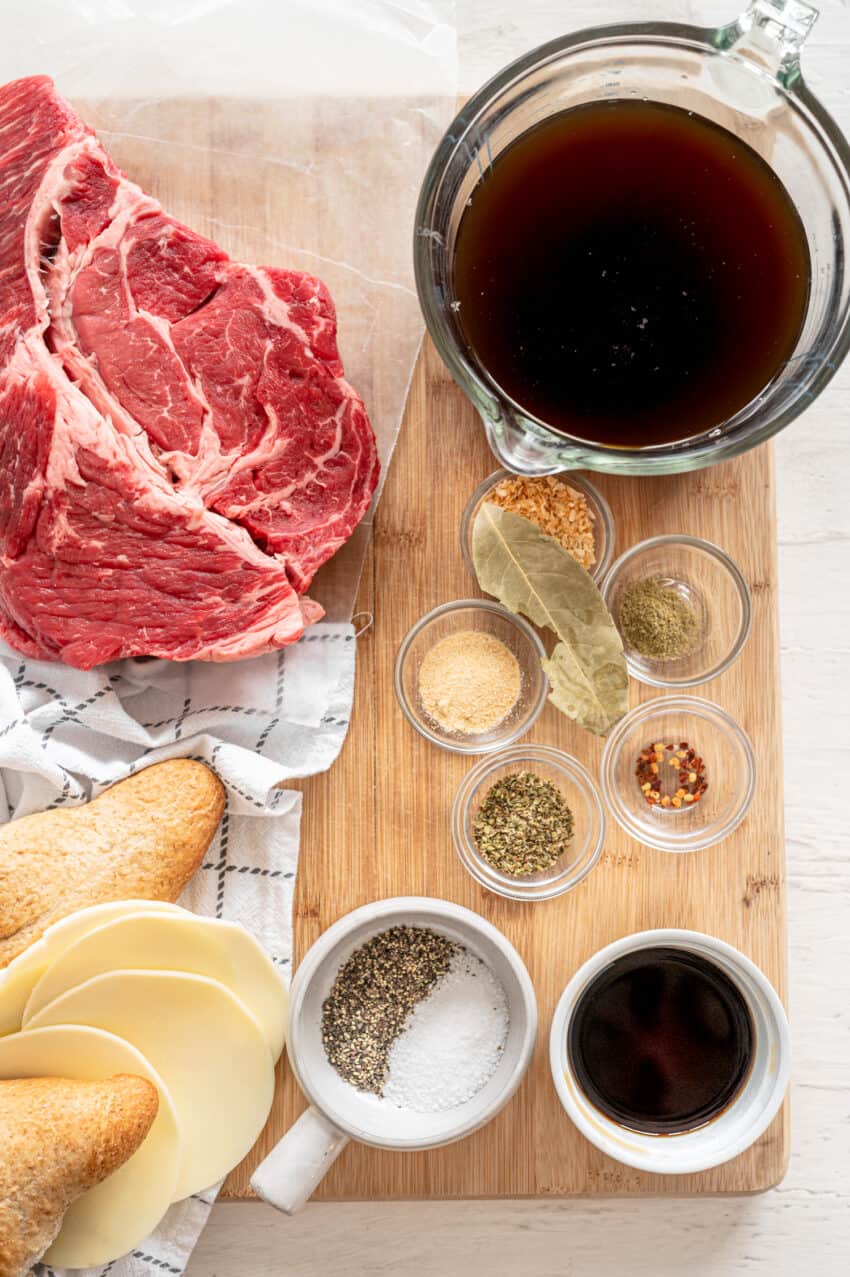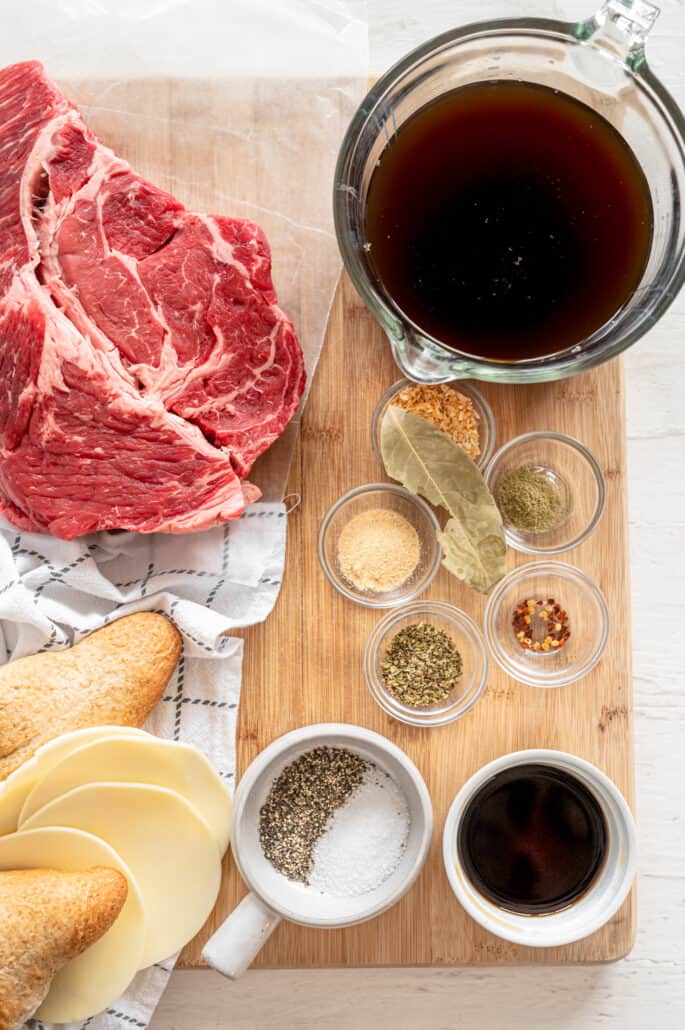 3 cups low-sodium beef broth
2 tablespoons low-sodium soy sauce (For gluten-free: Use coconut aminos or GF Tamari soy sauce.)
1-2 tablespoons dried minced onion (I personally like 2 T!)
1 teaspoon garlic powder
1 1/2 teaspoons salt
1 1/2 teaspoons ground black pepper
1 1/2 teaspoons dried oregano, crushed in hand
1/4 teaspoon ground thyme
1 bay leaf
Pinch of red pepper flakes
1 (approx. 2.5 lbs) boneless beef chuck roast, trimmed of excess fat
6 French steak rolls or ciabatta rolls (For gluten-free, either omit or use GF rolls.)
6 slices Provolone cheese (or 12 slices, if you want double the cheese) (For dairy-free, either omit or use DF cheese slices.)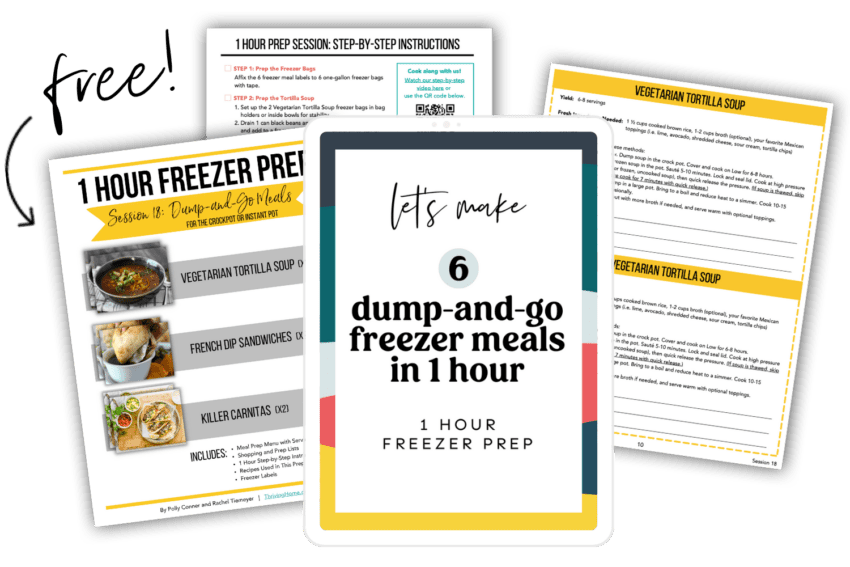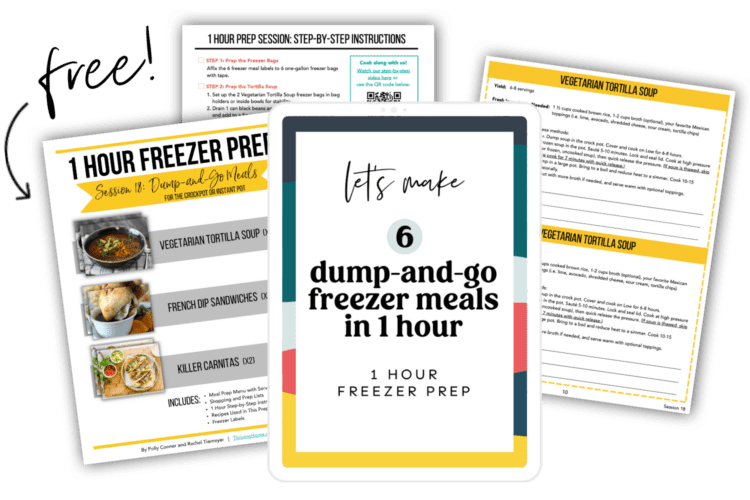 Try 1 Hour Freezer Prep Today!
Make 6 Dump-and-Go Freezer Meals in 1 Hour
Shopping & equipment lists
Step-by-Step instructions & video tutorial
Serving suggestions & dietary substitutions & more
Try Session 18 (a $6.99 value) for free!
Step-by-Step Instructions
Let's walk through how to make this French Dip Sandwich recipe together…
Season and Trim the Roast
Before getting started, go ahead and season both sides of the roast with salt and pepper and trim off any excess fat.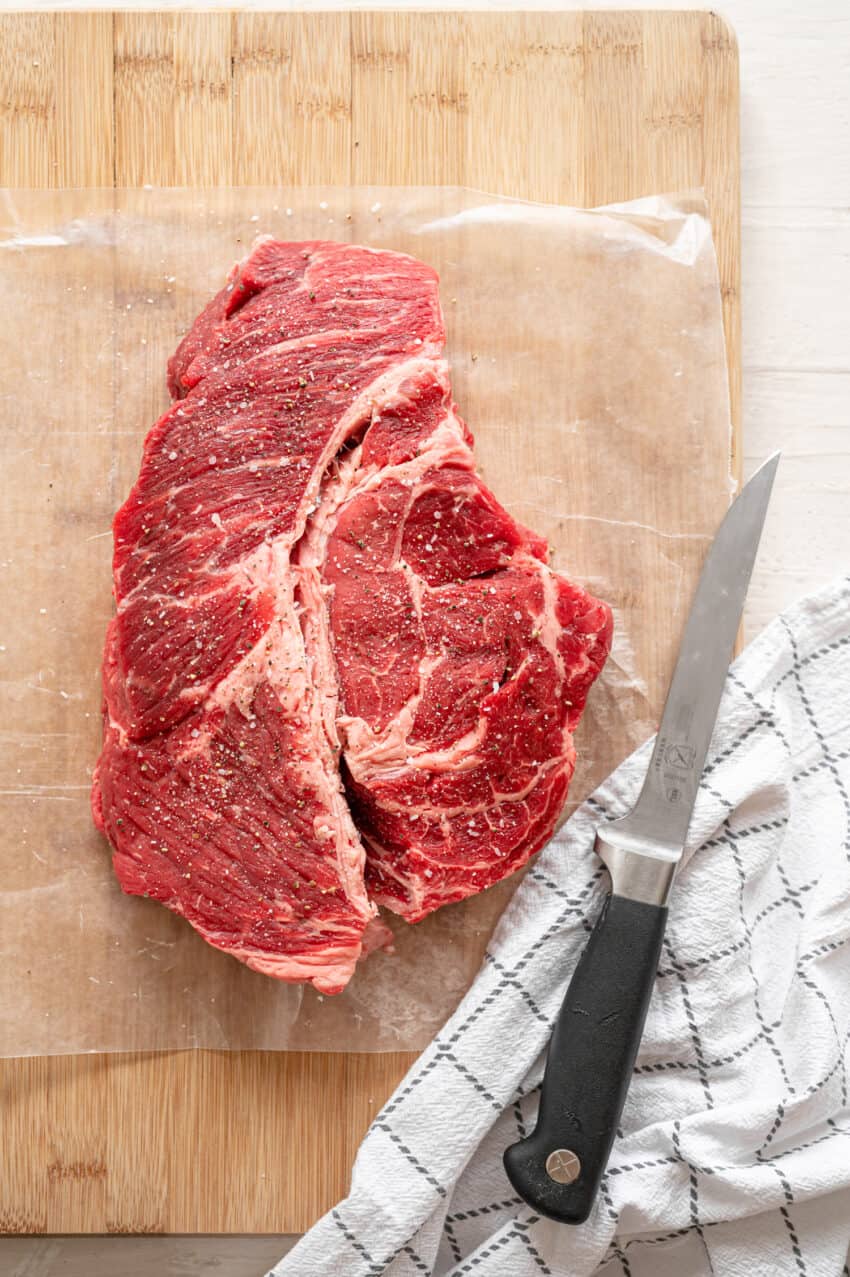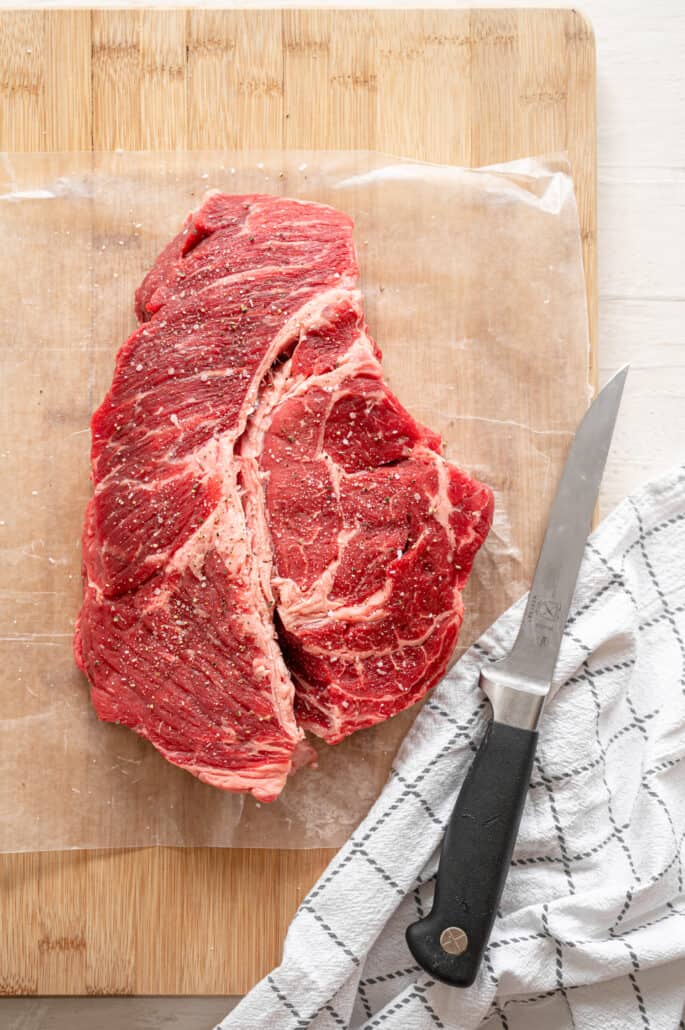 Cook Roast & Sauce in Crockpot
In the crockpot, whisk together the broth, soy sauce, minced onion, garlic powder, salt, black pepper, oregano, thyme, bay leaf, and red pepper flakes. Then, add in the roast. Cover and cook on LOW for 8-10 hours or HIGH for 4-5 hours, until the meat shreds easily.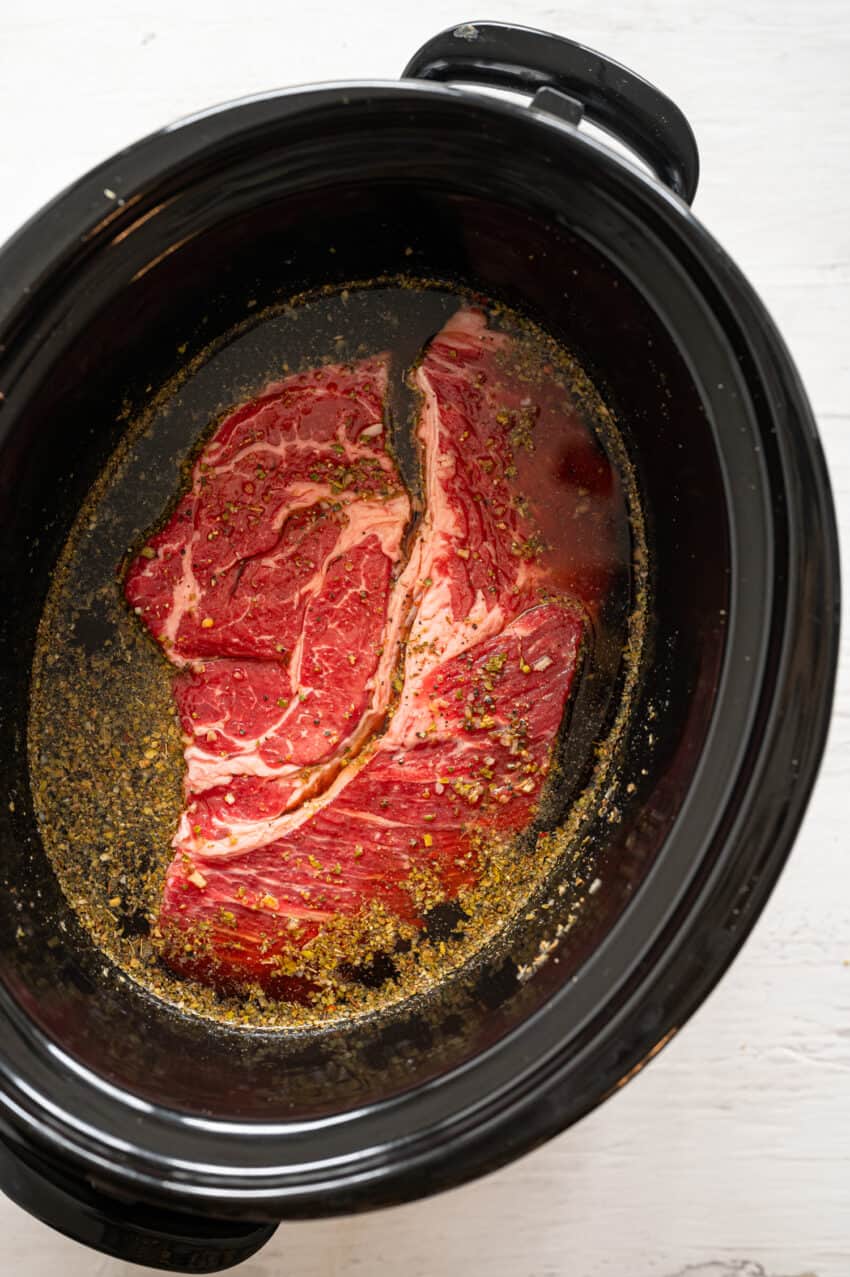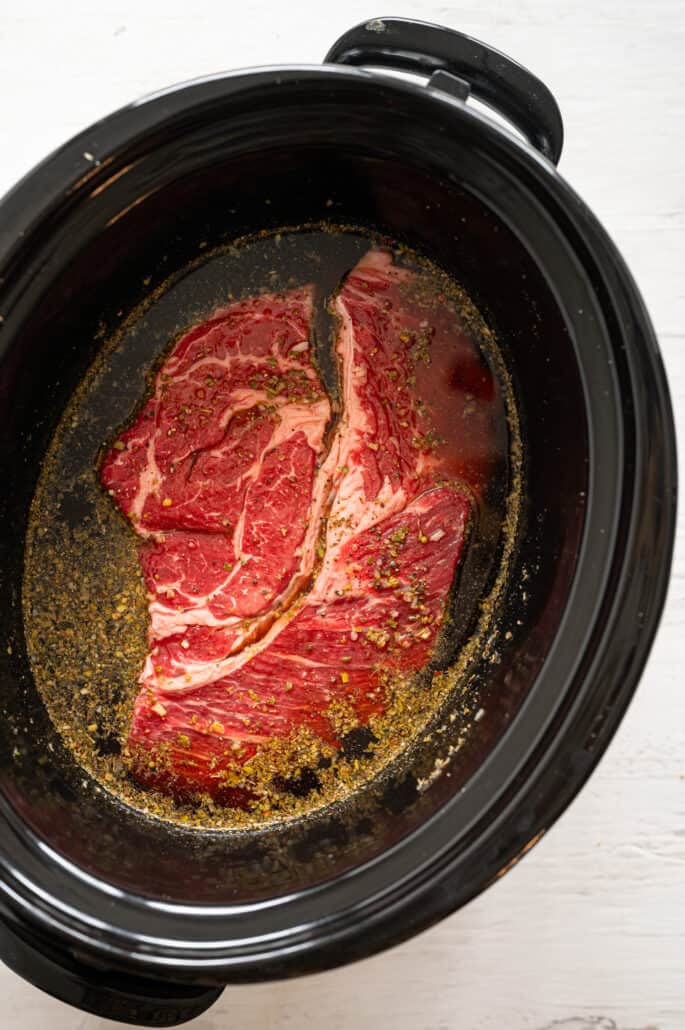 Transfer the roast to a cutting board and shred with two forks. Return the meat to the cooker and stir it into the au jus (leftover juice).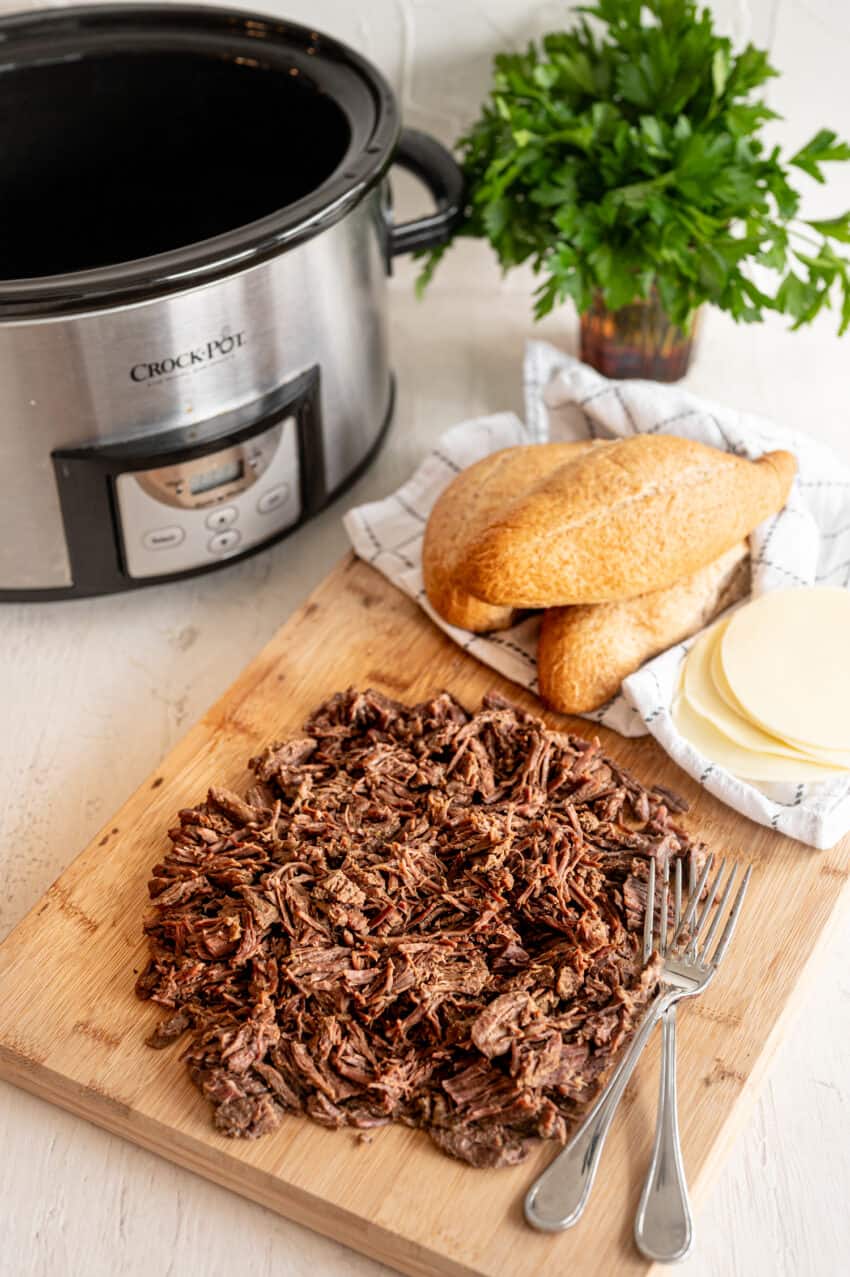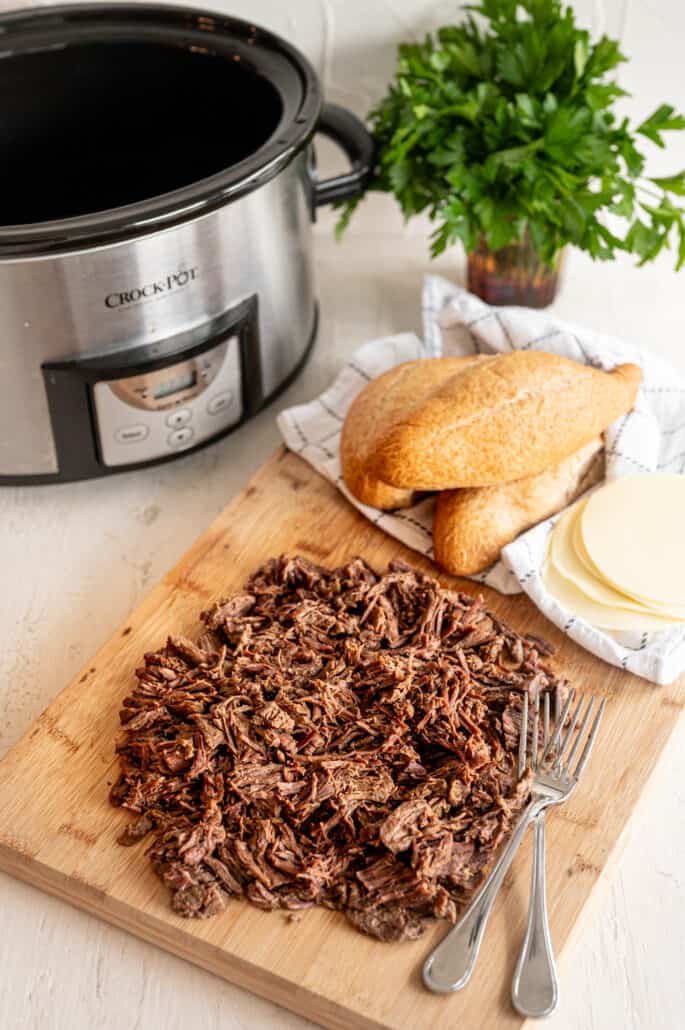 Optional: Position the top oven rack about 6 inches below the broiler. Preheat the broiler. Line a rimmed baking sheet with foil. Place opened steak rolls or ciabatta rolls on the baking sheet and broil 1-2 minutes until toasted inside. Remove from oven.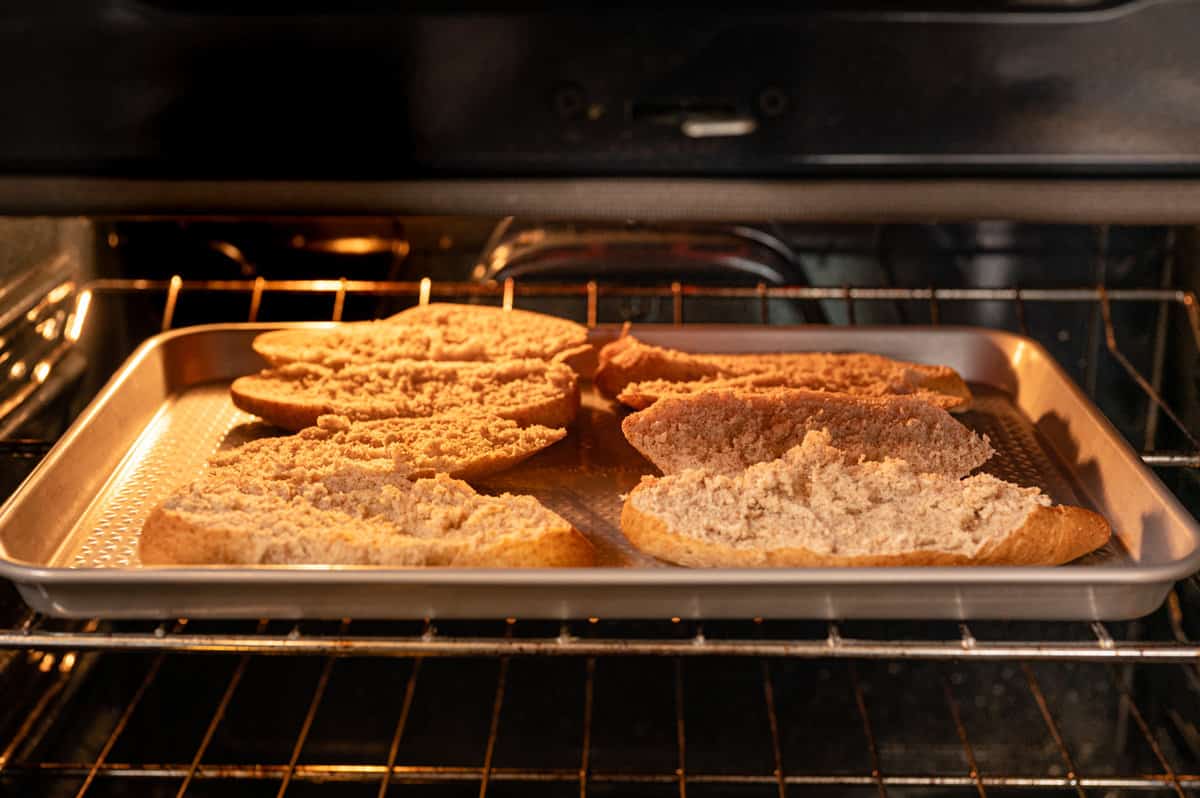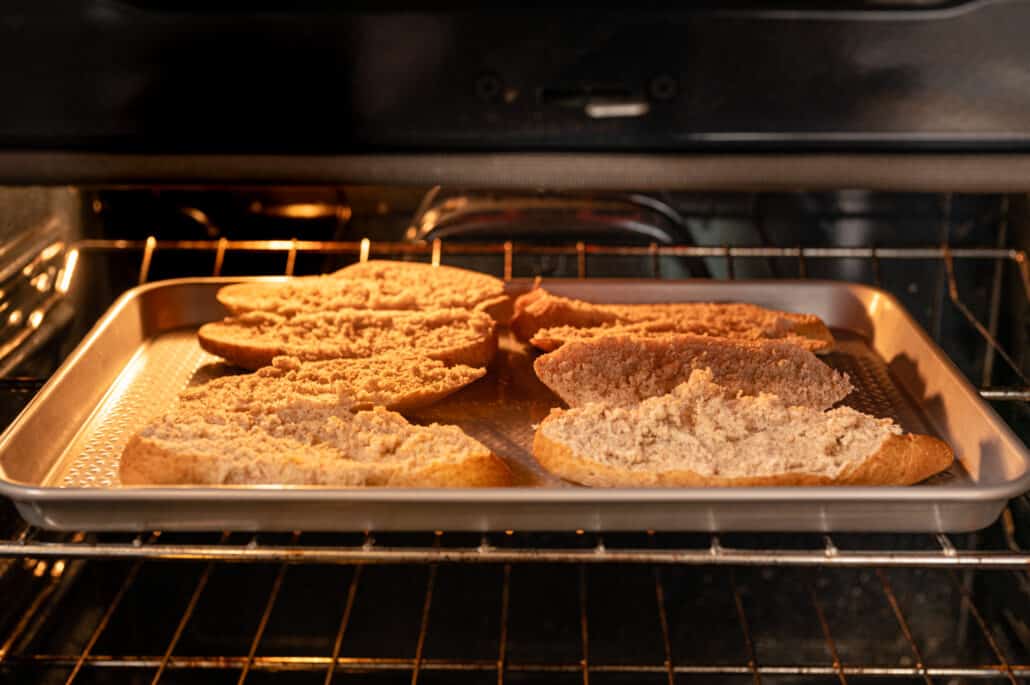 Build & Toast the Sandwiches
Using a slotted spoon, add a layer of the shredded meat (be sure to drain the liquid first) to the roll. Top with 1 or 2 slices of cheese. Optional: Place the opened up sandwiches back under the broiler for 1-2 minutes until cheese is melted.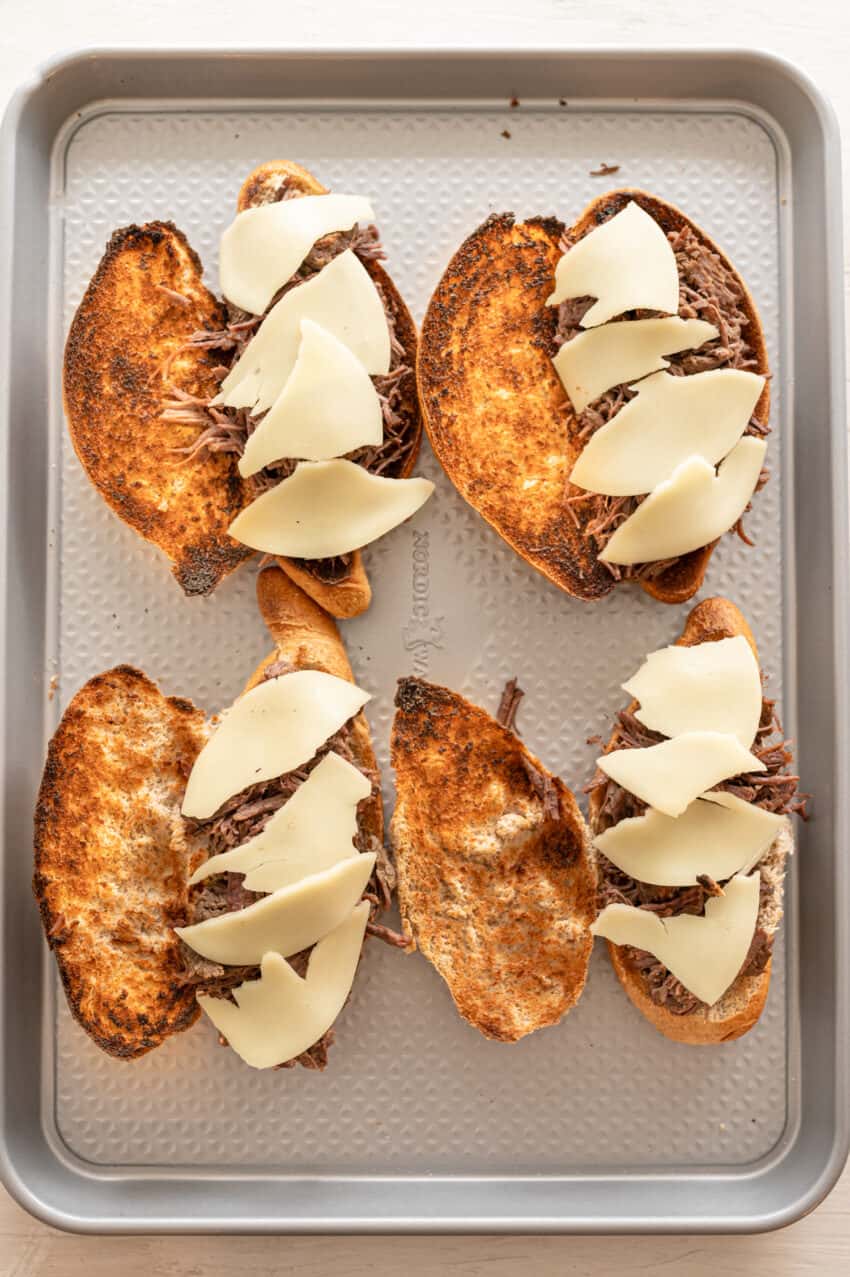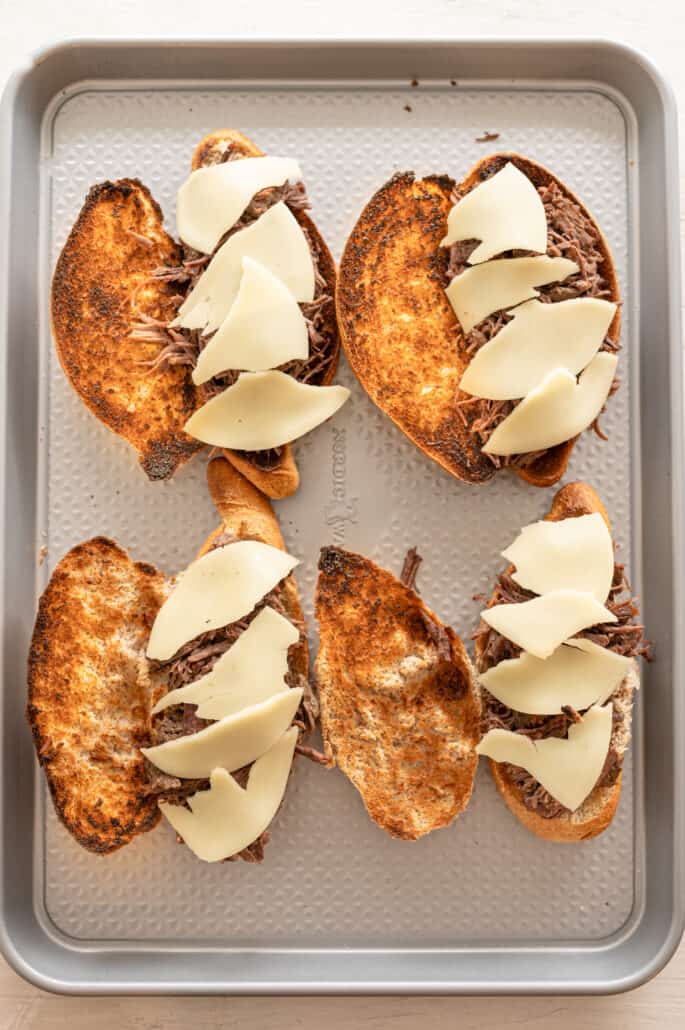 Serve each sandwich warm, with a small bowl of the juices from the cooker alongside for dipping.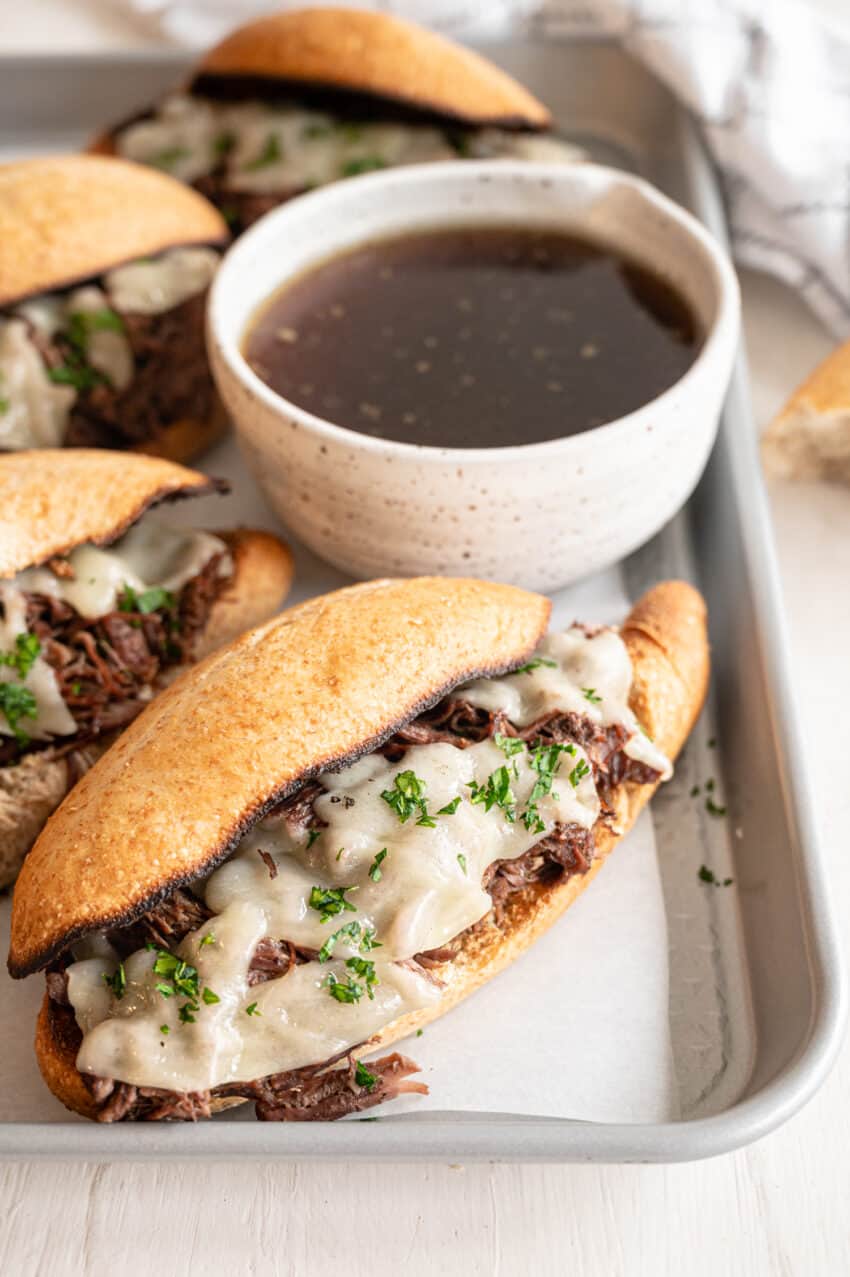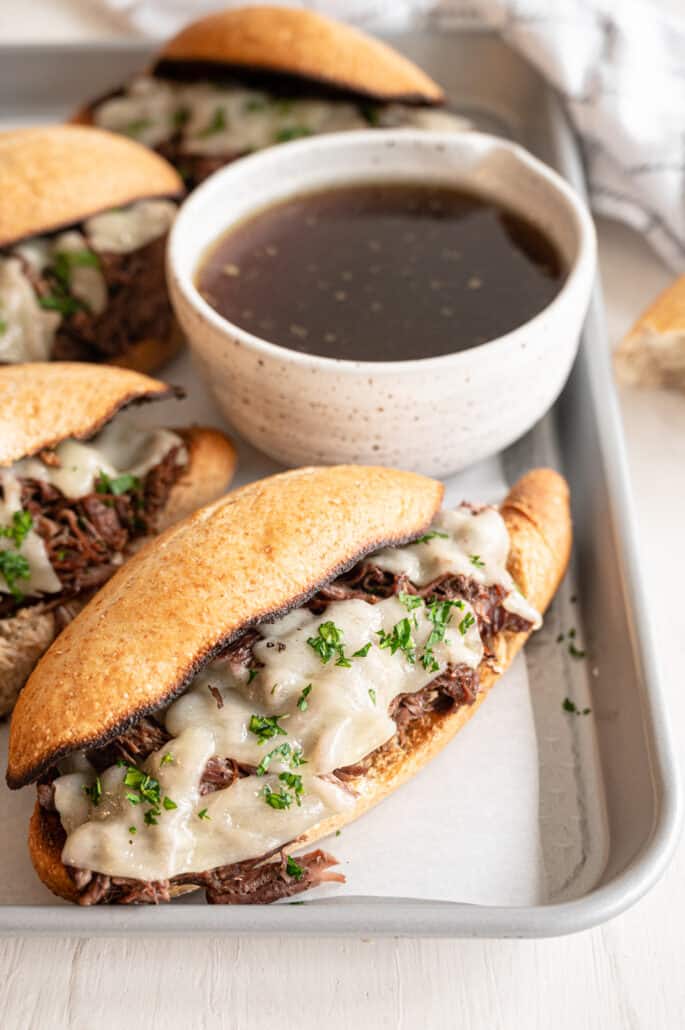 What to Serve with French Dip Sandwiches
Here are some ideas that would be tasty with this recipe!
How to Freeze French Dip
Like all of the freezer meals in our recipe index, this recipe provides freezing instructions as well! If you want to double this recipe and freeze one for later, here's how to make it into a handy freezer meal kit:
Freeze For Later:
Follow step 1 in the recipe below. Pour the sauce into a gallon-size freezer bag or container. Season the roast lightly with salt and black pepper and add to the bag/container with the sauce. Seal and freeze. Place the bread and cheese in separate freezer bags or containers. Seal and freeze alongside the roast.
Prepare From Frozen:
Thaw. Place meal in the slow cooker. Follow steps 3 through 6 in the recipe.
Alternatively, you can fully cook and cool the meat and juices. Then, freeze in an air-tight container.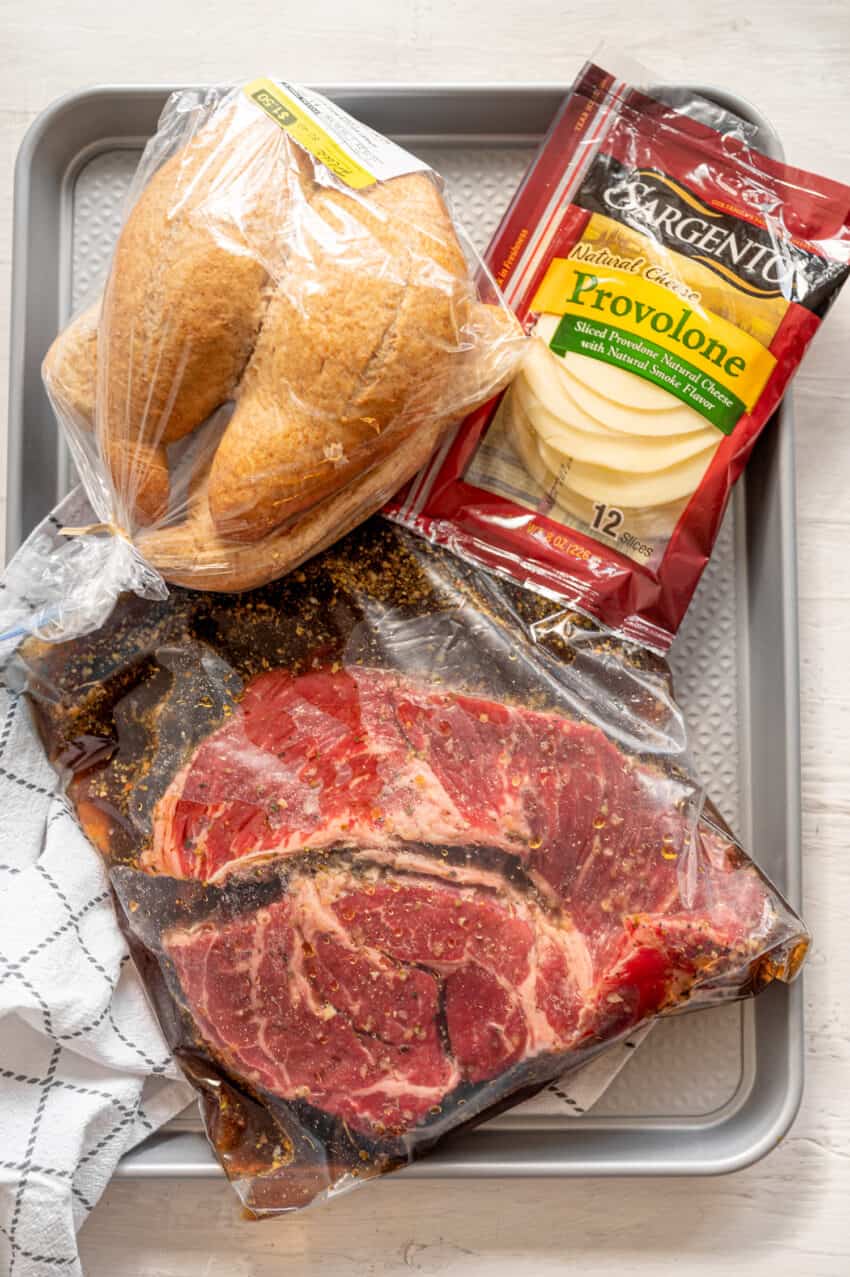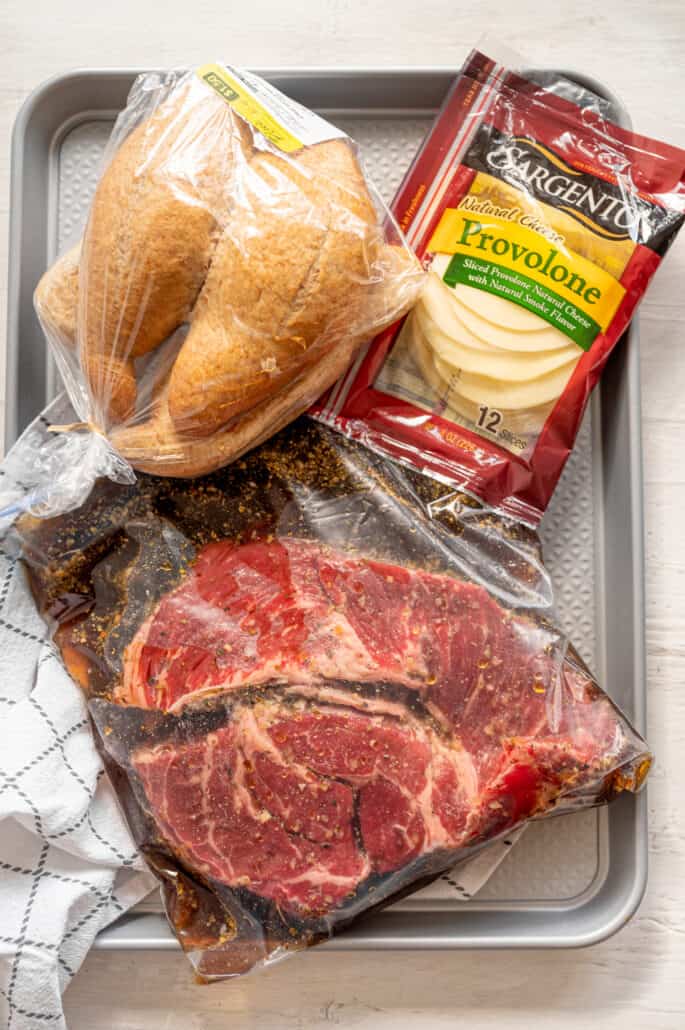 More FAQs About French Dip
Can I make French Dip in the Instant Pot?
For sure! Try our Instant Pot French Dip recipe. It's simple and tasty!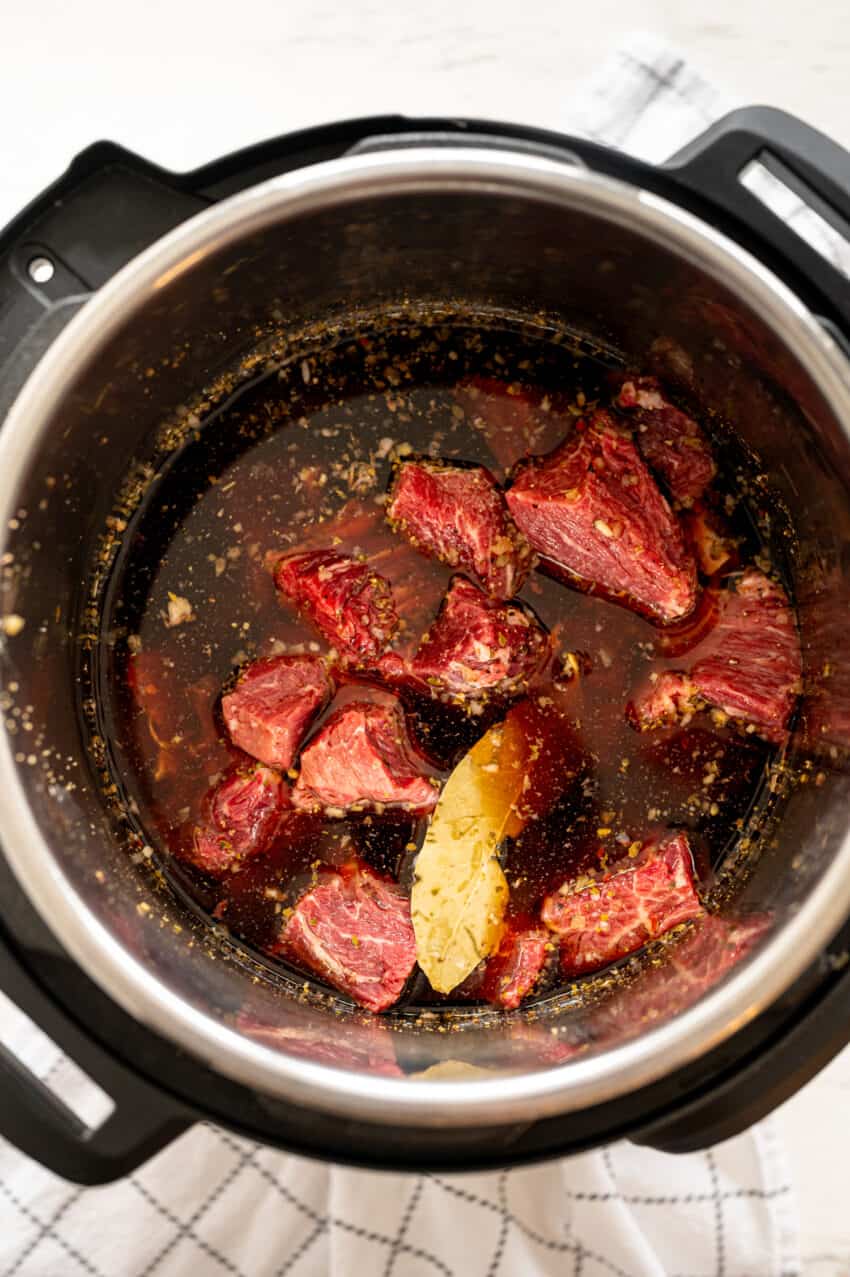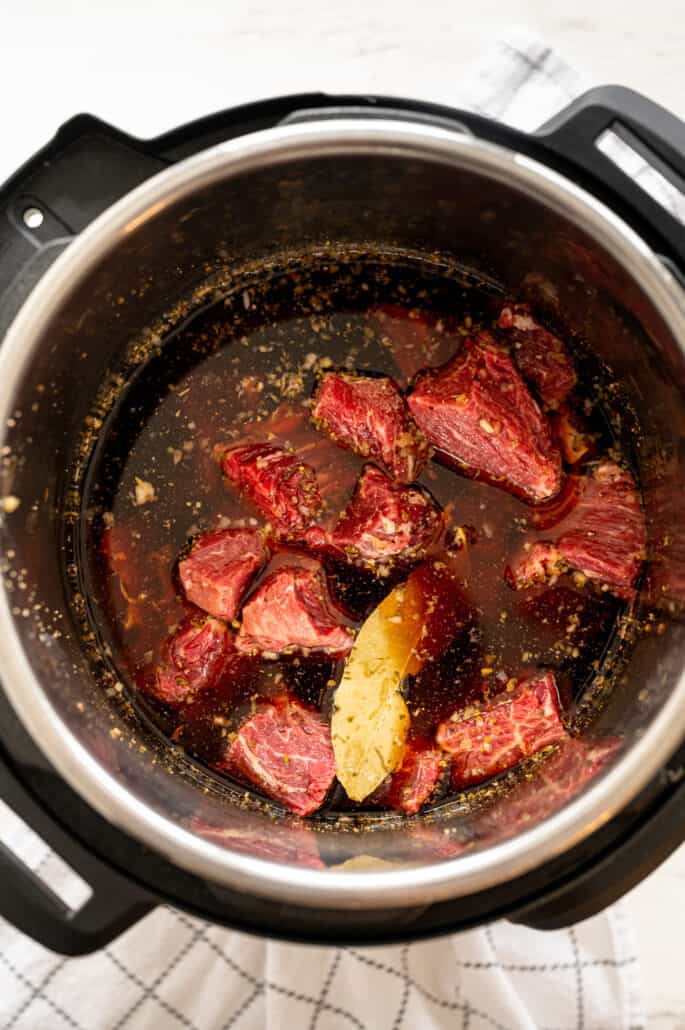 How long does the beef chuck roast cook in the slow cooker?
The roast for French Dip cooks on LOW in the crock pot for 8 to 10 hours or on HIGH for 5 to 6 hours. Be sure to grab our Crockpot Cooking Times Chart here…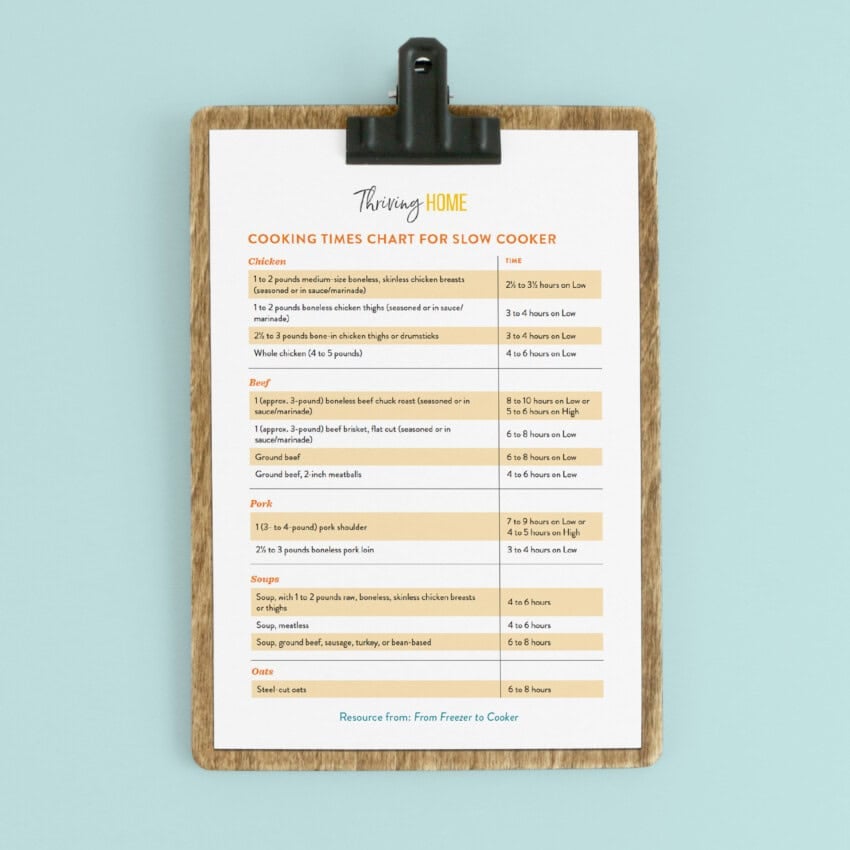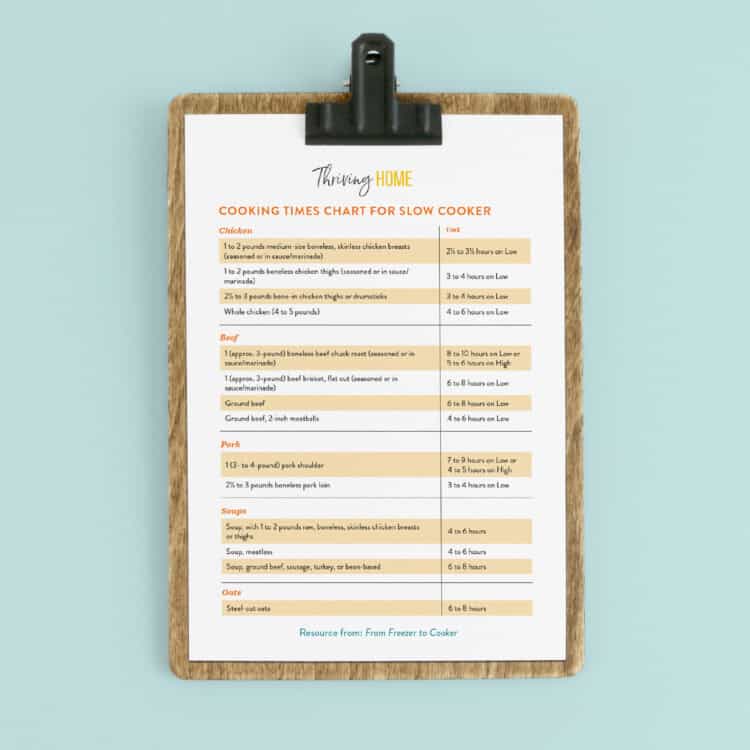 Slow Cooker Cooking Times Chart (Free!)
We spent years testing slow cooker timing for various recipes for our second cookbook. We put all our knowledge into one handy printable cheat sheet for you. Never overcook (or undercook) a crock pot meal again!
Download Now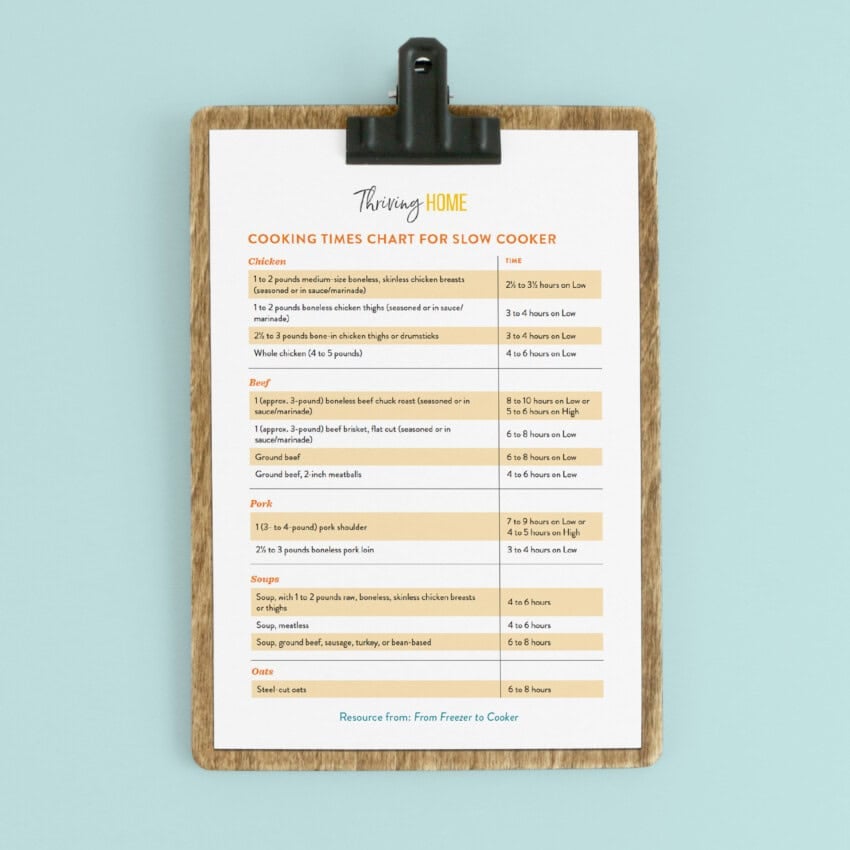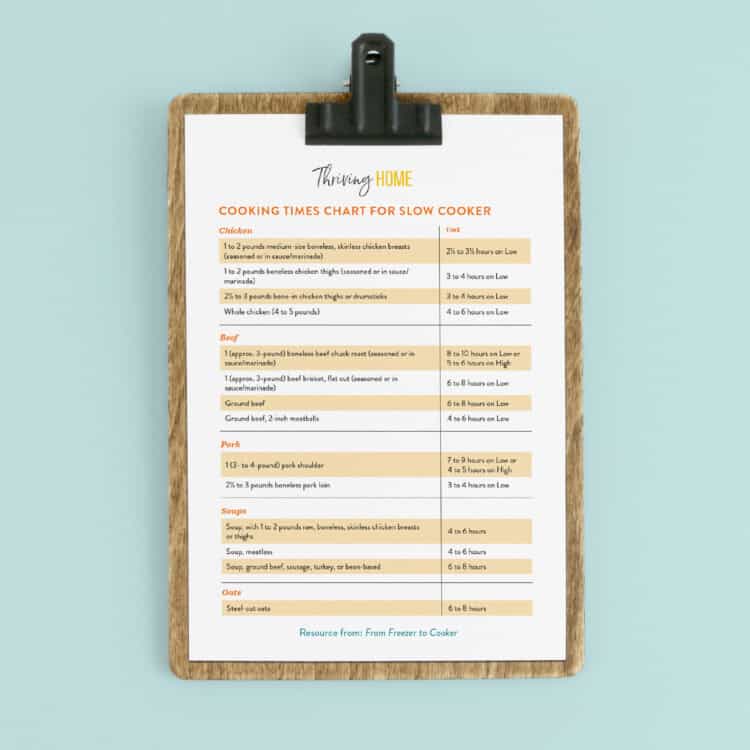 Is this a dump-and-go meal?
For the most part! You'll simply dump the meat and sauce ingredients in the slow cooker in the morning and come back to it at night ready and waiting for you. But, you will still need to shred the meat and assemble the sandwiches at the end. This just takes a few minutes.
What should I do with the leftover meat?
If you have meat that you didn't use in the sandwiches, score! Here are some ideas on how to use it:
Freeze it in the sauce and make the same recipe a few weeks down the road.
Serve the meat and sauce over mashed potatoes, mashed cauliflower, or polenta.
Make Baked Nachos. Add meat, cheese, and desired toppings over tortilla chips and bake.
Put the meat in wraps. Add sautéed bell peppers and onions. Yum!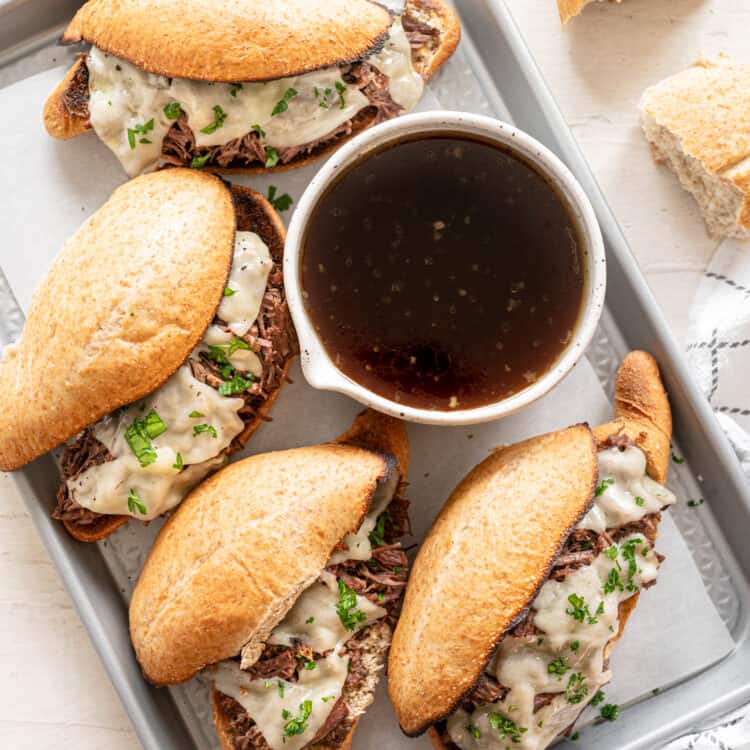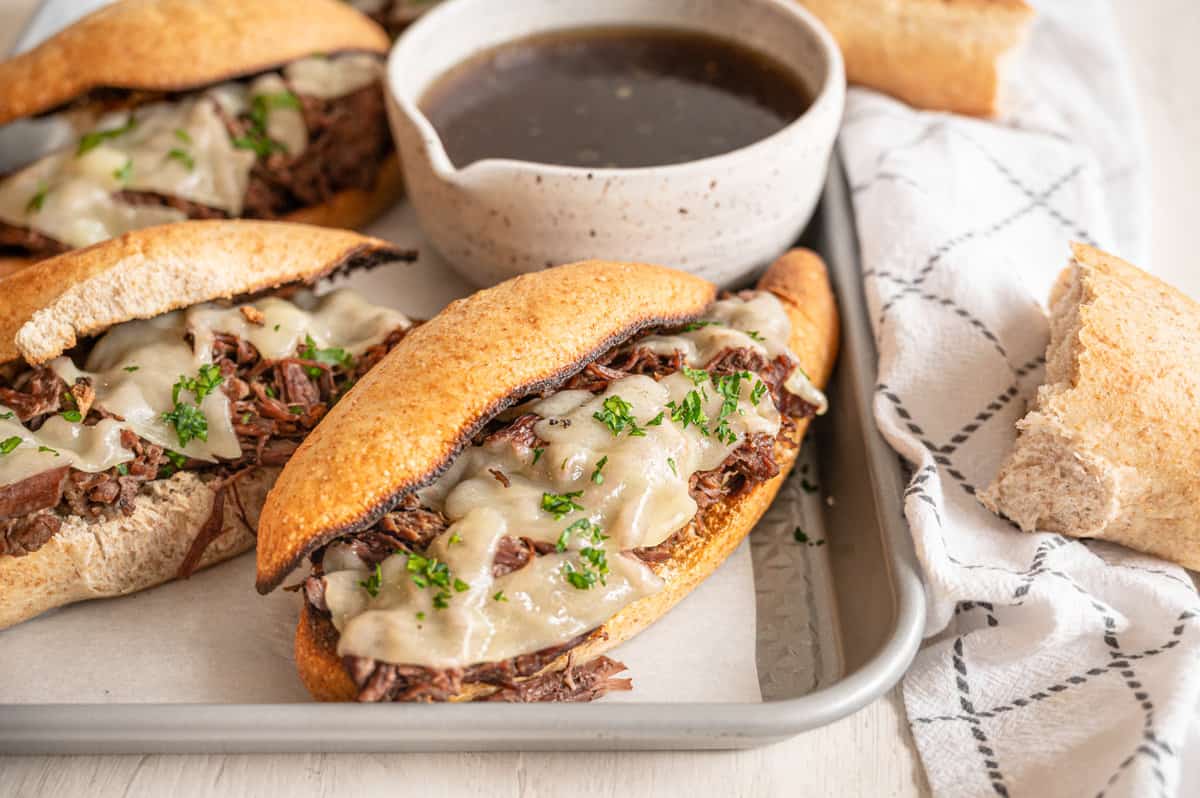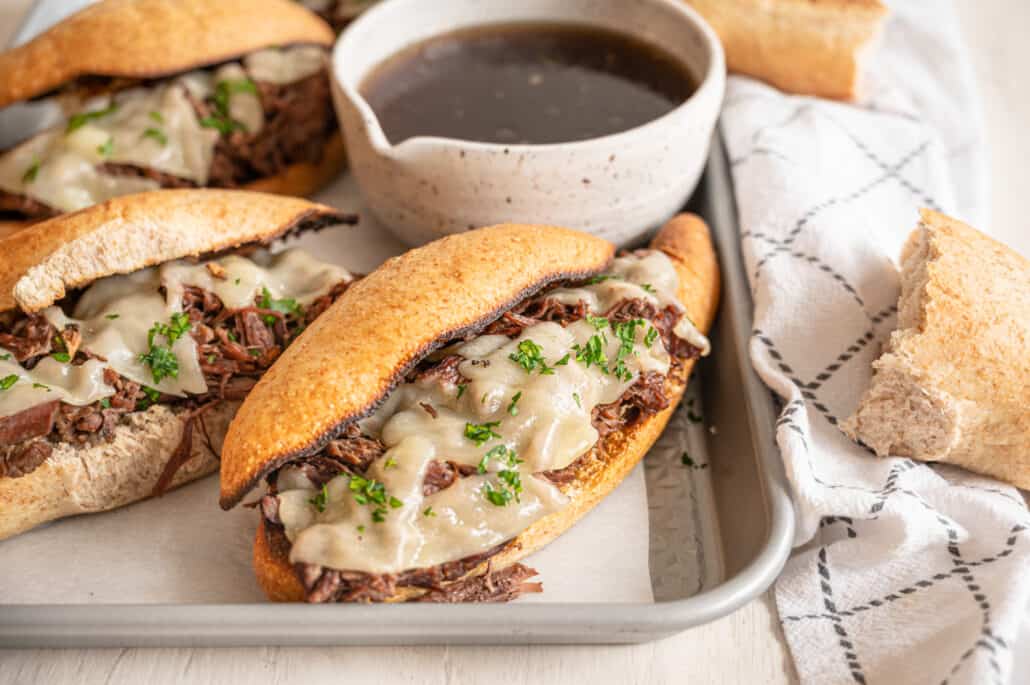 More Dump-and-Go Crockpot Meals
Recipes like this French Dip Sandwich are vital on busy weeknights! Here are some more we think you'll love.
Bonus: You can make each of these recipes ahead and freeze for later, too. Freezing instructions included!
Ready to make some gourmet French Dip sandwiches? Let's do this!
Did you make this? Snap a photo and tag us on Instagram at @thrivinghome so we can see your creations and cheer you on!
French Dip Sandwiches
Slow cooked shredded beef and au jus make the most delicious French Dip Sandwiches ever!
Prep:
10 min
Cook:
8 hours
Total:
8 hours 10 minutes