This post may contain affiliate or sponsored links. Please read our disclosure policy.
This steak fries recipe turns out perfectly crispy and seasoned, thanks to a few tricks including a secret ingredient. Plus, this oven baked method is healthier and less messy than frying!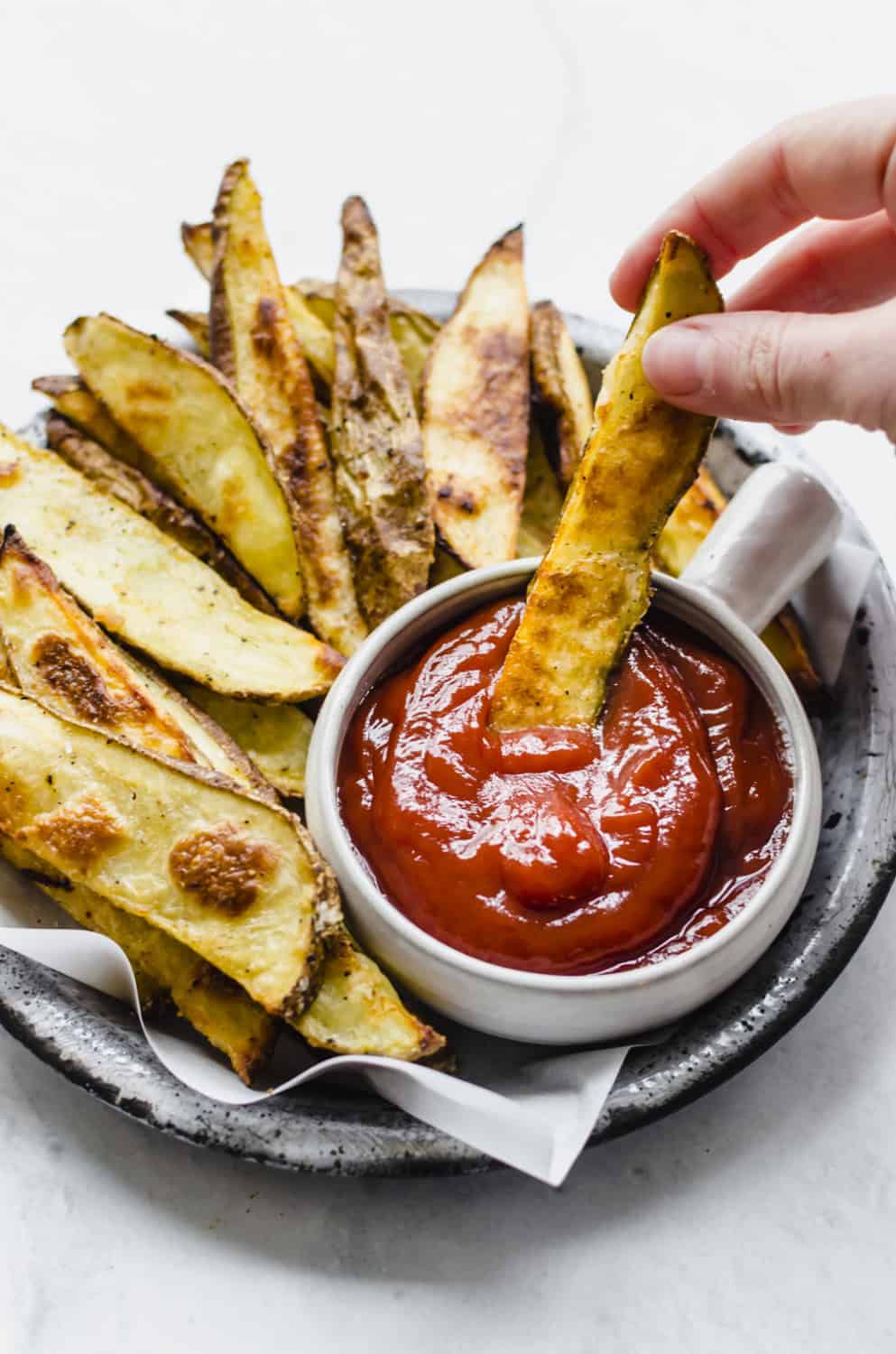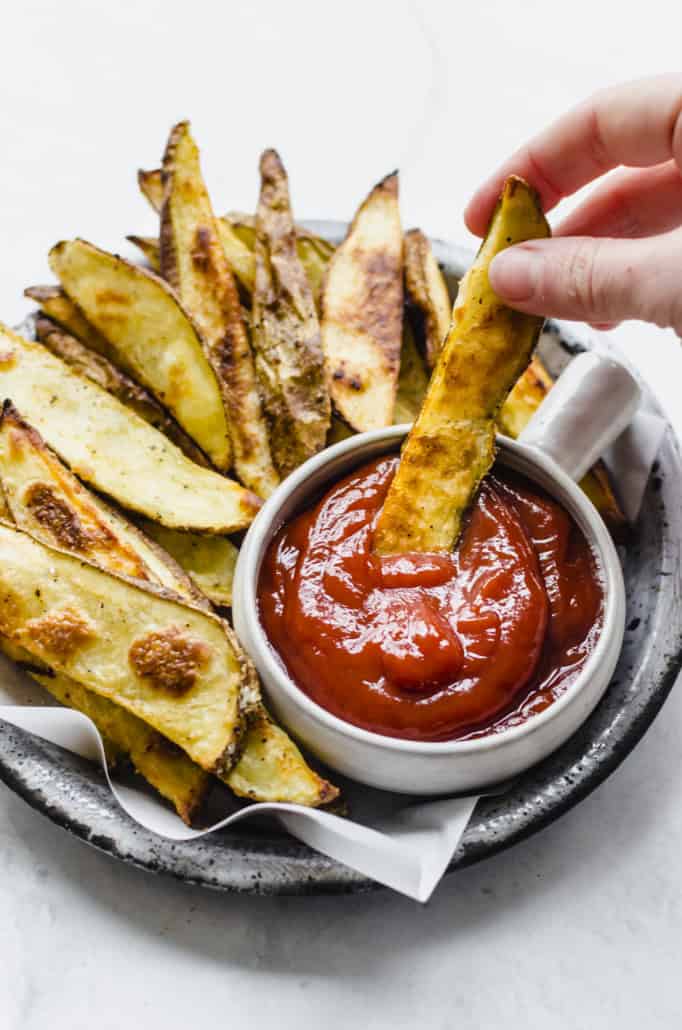 Once you learn this method for making these fries, you may never have to make a trip to Red Robin again! Not only do they taste like restaurant quality, but they are much healthier thanks to the oven baking method.
How to Make Steak Fries at Home
Plus, making homemade steak fries is not only cheaper and healthier than eating out, but they really are easy to make. Once you've done this a time or two, it will become like second nature.
Watch this short video tutorial to see how to make them…
Ingredients for Steak Fries
The ingredient list is pretty simple, but I've added one that really takes these over the top.
Russet potatoes – sliced into similarly-sized wedges
Avocado oil (sub: olive oil) – an oil with a high smoking point is important in this recipe; do not use extra virgin olive oil
Salt and pepper
Sugar (aka secret ingredient) – Just a little bit
Garlic powder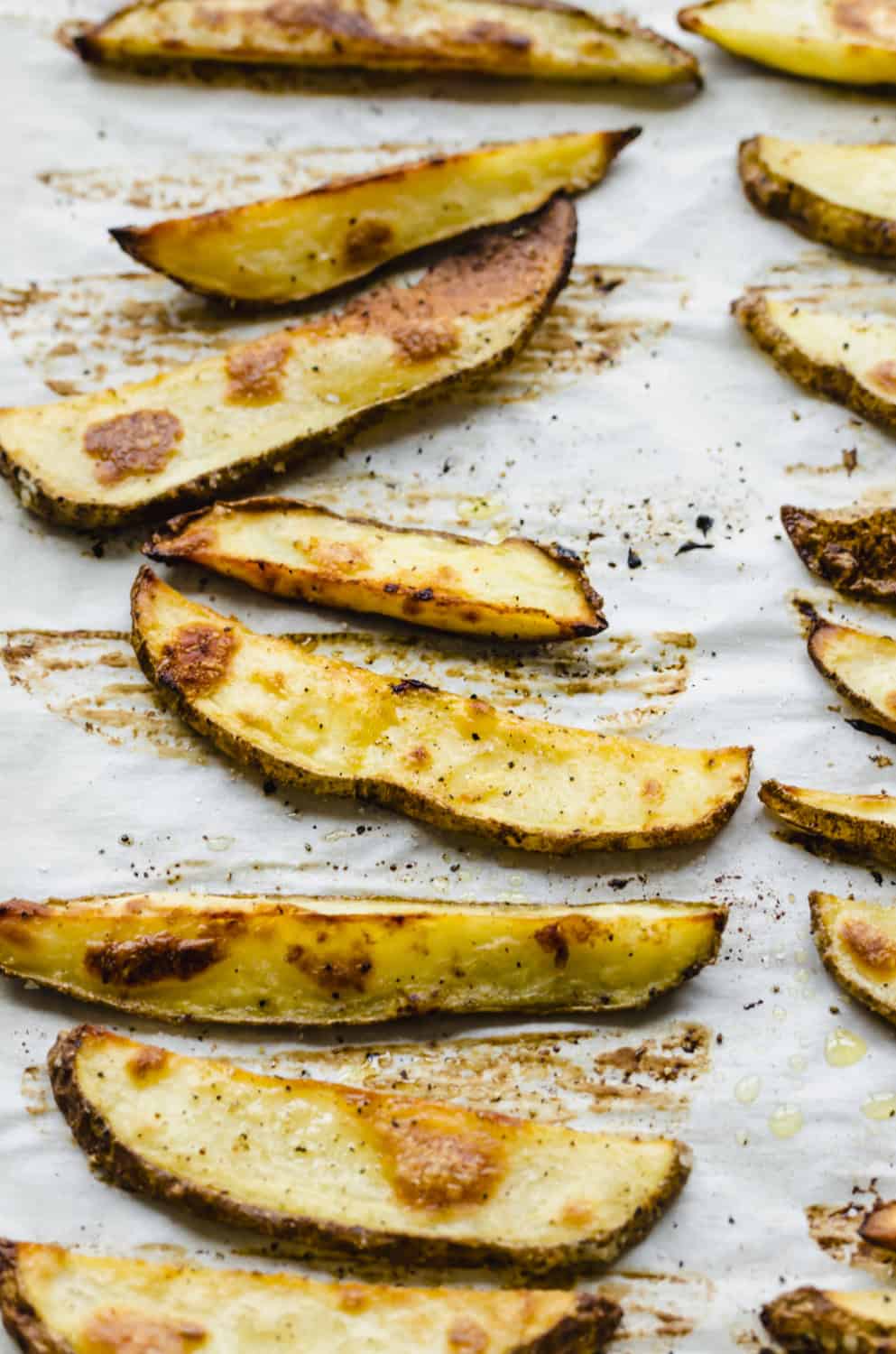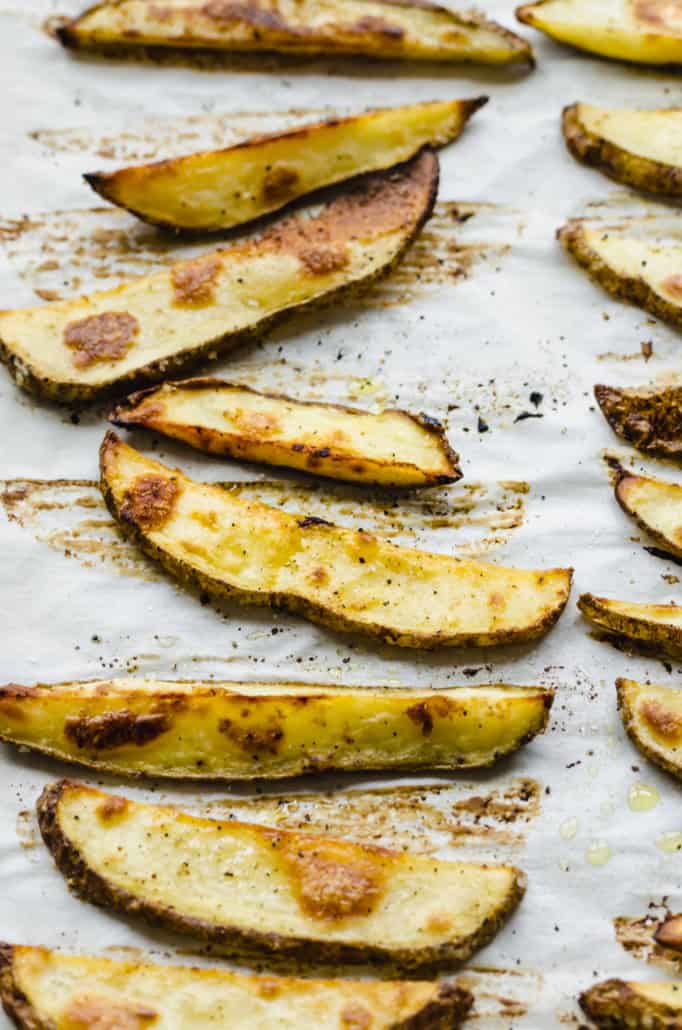 Tips for Making Crispy Oven Baked Steak Fries
Once you have your ingredients ready to go, here's how to ensure your oven baked fries turn out perfectly crispy.
1) Soak the cut potatoes in a bowl of water for 30 minutes or more. Then, drain and rinse them. This removes some of the starch from the potatoes.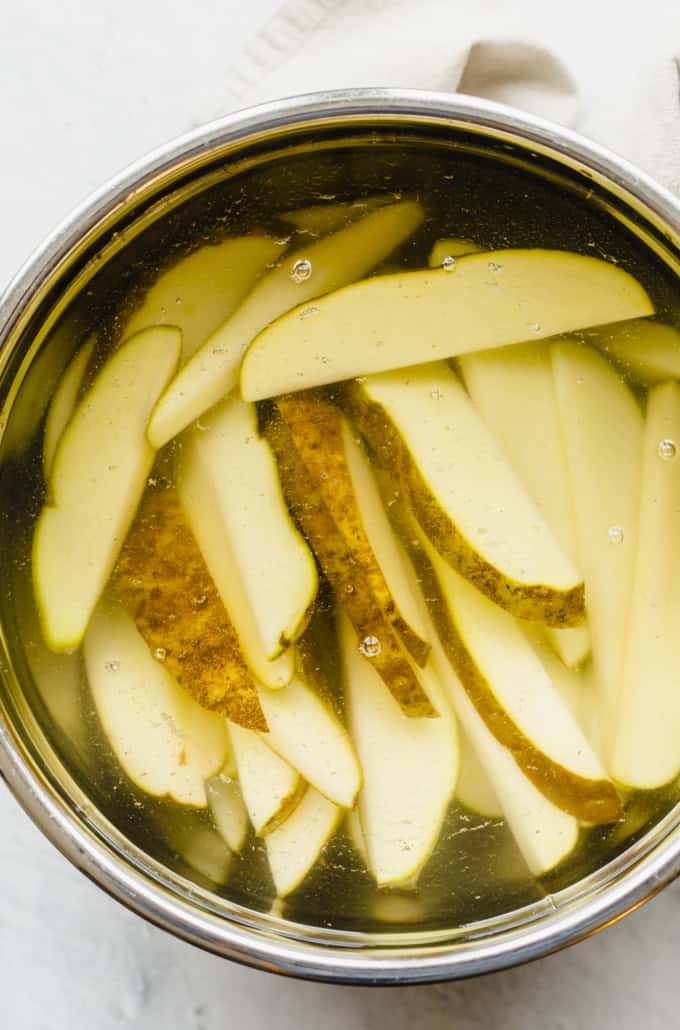 2) Dry the potatoes really well using a dish towel or paper towels.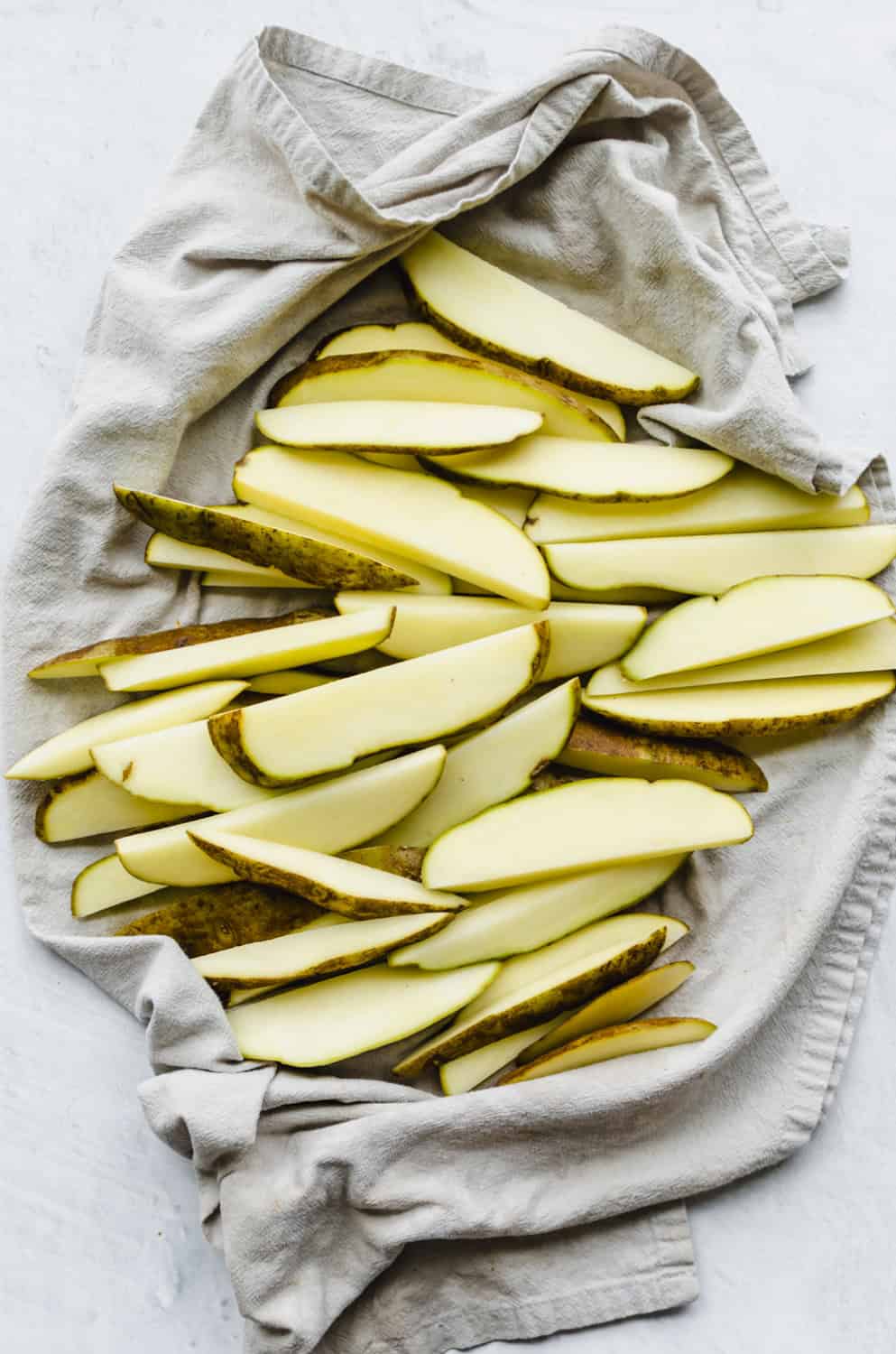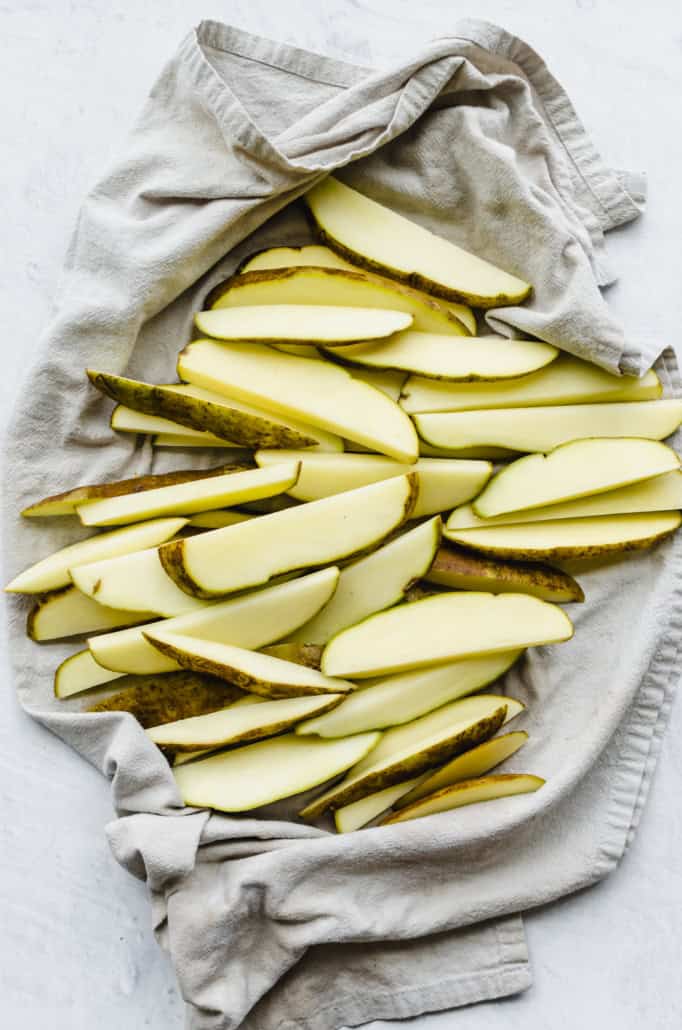 3) Season with our secret ingredient in this recipe! Believe it or not, just a little bit of sugar in the seasoning mix helps the potatoes to caramelize in the oven and produces delicious flavor. Be sure to season these fries well before they go in the oven and after (to taste).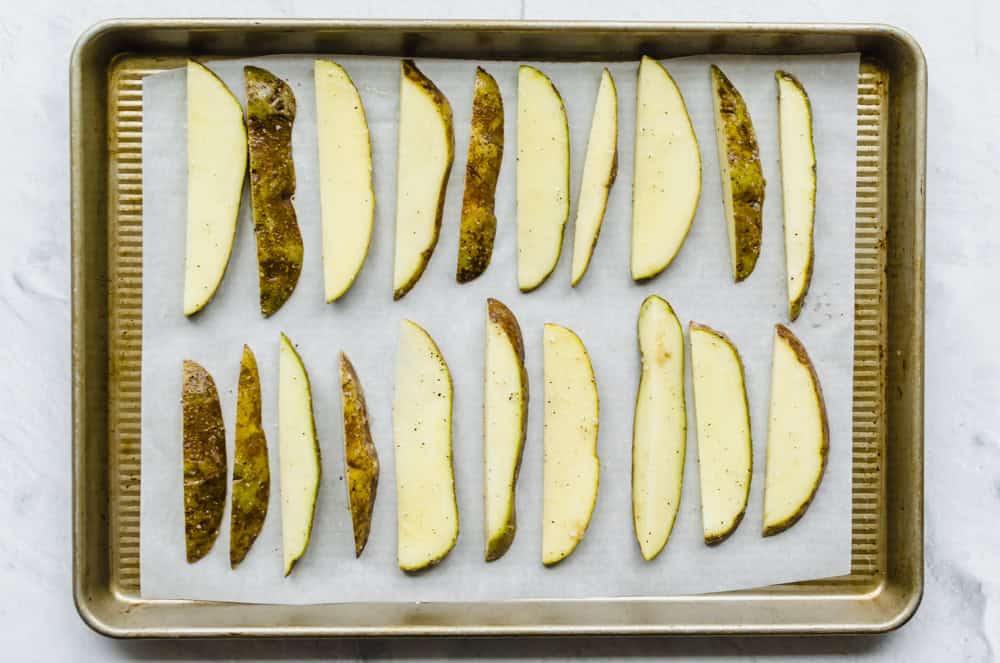 4) Make sure the potato wedges don't touch or over lap so they can get nice and crispy on both sides. Be sure to flip them halfway through the cook time. I've found that using parchment paper underneath makes for much easier flipping and clean up.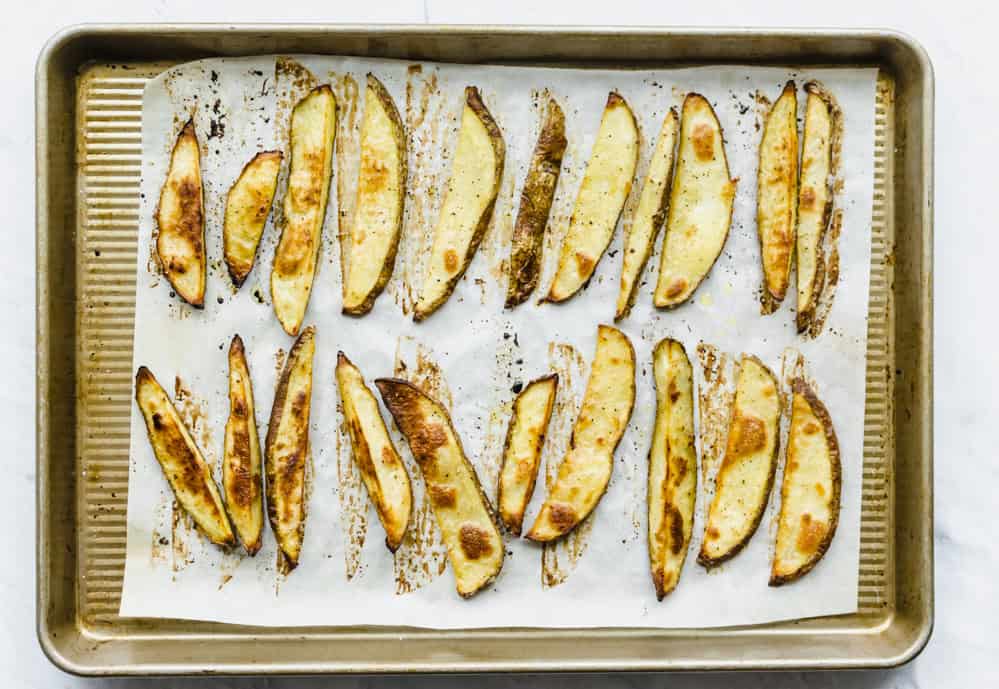 What to Serve with Steak Fries
Wondering what to serve with your amazing homemade taters? Try whipping up one of these tasty entrees.
Alright, it's your turn to make restaurant-quality (and much healthier) steak fries. You've got this!
Did you make this? Snap a photo and tag us on Instagram at @thrivinghome so we can see your creations and cheer you on!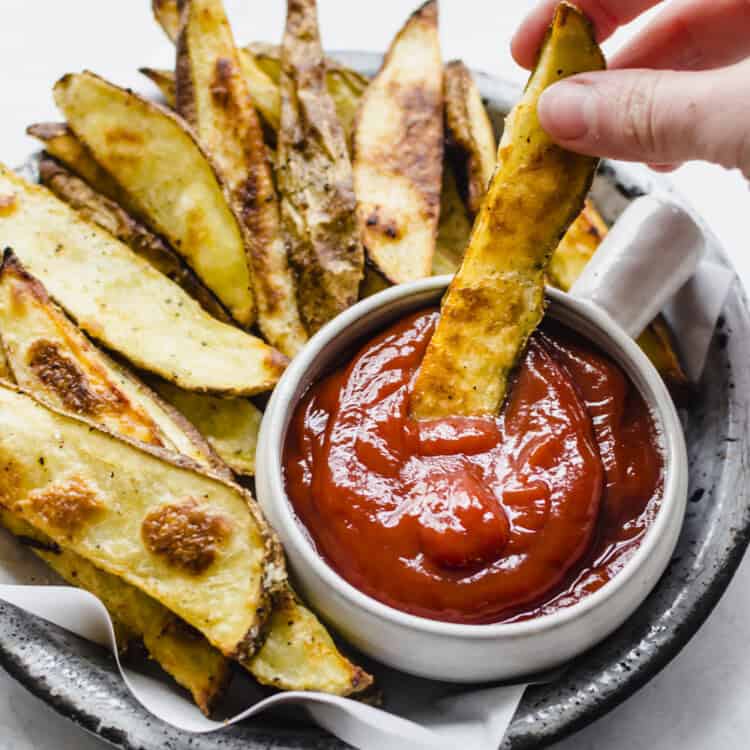 Oven Baked Steak Fries
Try your hand at these yummy, healthy oven steak fries. With just a bit of sugar added, you'll amaze your friends and family with how good these taste.
Prep:
15 minutes
Cook:
35 minutes
Total:
50 minutes
Ingredients
4

medium russet potatoes, scrubbed clean (no need to peel them)

1

–

2

tablespoons avocado oil (sub: olive oil)

1 tablespoon

sea salt
Ground black pepper, to taste

2 teaspoons

sugar (this addition makes a big taste difference!)

1 teaspoon

garlic powder
Before You Begin! If you make this, please leave a review and rating letting us know how you liked this recipe! This helps our business thrive & continue providing free recipes.
Preheat oven to 450°F. Line two sheet pans with parchment paper.
Cut potatoes in half lengthwise and then slice into steak fry wedges, about 1/4-1/2 inch wide each. (Just make sure they are all about the same size to ensure even cooking.)
Soak the fries in a large bowl of water for about 30 minutes or until you're ready to bake them. (This helps remove some of the starch and makes them crispier in the end.)
Drain the potatoes in a colander and then pat them very dry with a dish towel. (This is a VERY important step! They must be really dry.)
Rinse and dry out the large bowl and return the potatoes to it. Toss with enough oil to coat them, sea salt, a few cranks of fresh ground pepper, garlic powder, and sugar.
Spread out the potatoes in a single layer on the two sheet pans. Make sure none of the fries touch, so they can get nice and crispy all around.
Bake for 15 minutes. Then, flip the fries over with a spatula, and rotate the pans by moving the one on the top rack to the bottom and vice versa. We also recommend rotating the pans themselves 180 degrees, so the front is now in the back of the oven and vice versa. (Rotating the pans like this helps with even baking.) Bake another 10-20 minutes, until golden brown and crispy. Keep an eye on them, so they don't burn. 
Sprinkle a little more salt and pepper, as desired. Serve while hot with ketchup or our Avocado Aioli.