This post may contain affiliate or sponsored links. Please read our disclosure policy.
Simple and delicious. These tender Maple Glazed Carrots carry a hint of sweetness that is complimented perfectly by the savory caramelization that results from roasting in the oven.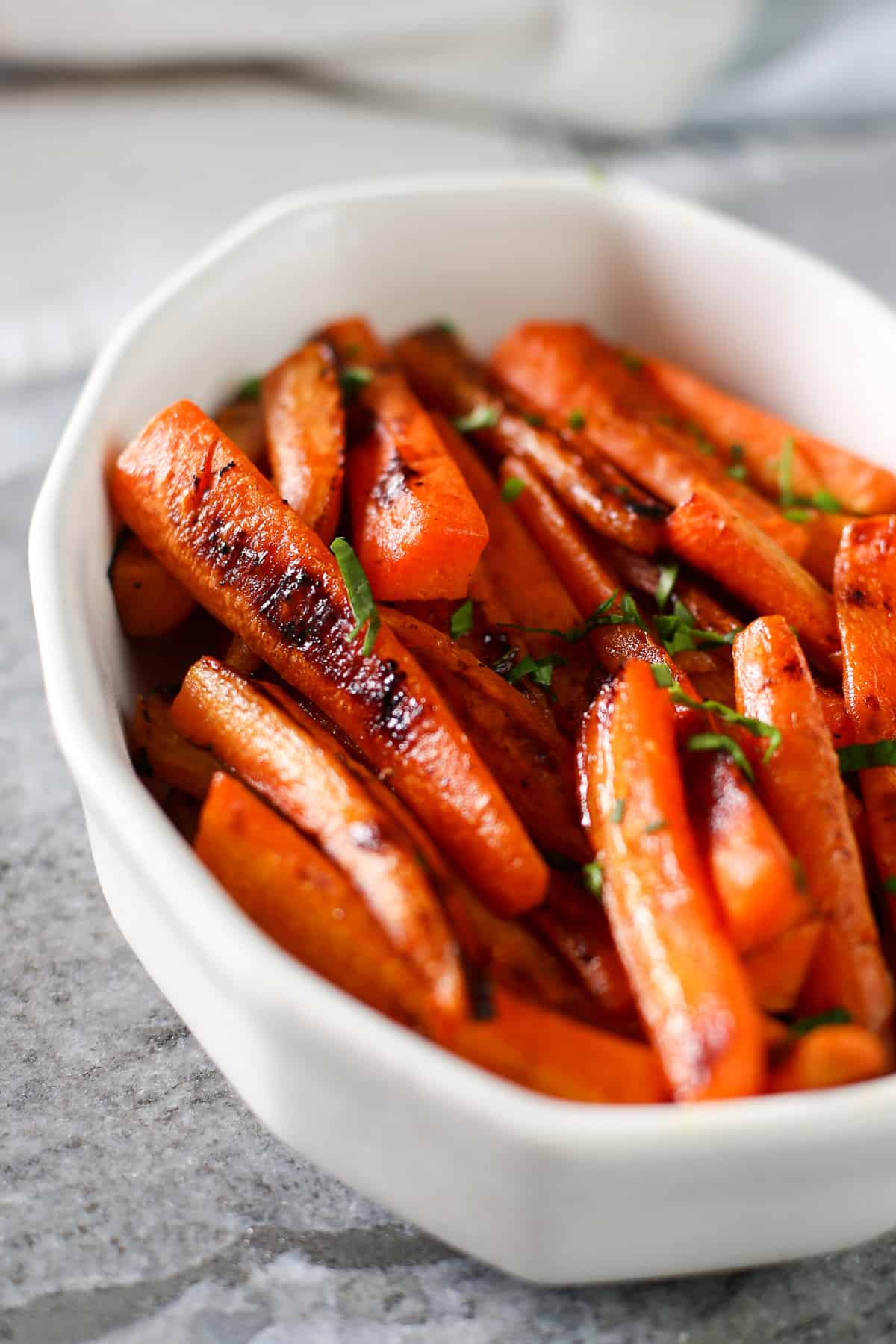 About This Recipe
Say goodbye to the overly soft, mushy carrots you might have grown up with. These bite-tender, slightly sweet, addictive carrots will become your new go-to recipe for both weeknight meals and holiday meals.
⭐️⭐️⭐️⭐️⭐️
"I'll be making these again and again and again. Thank you!" – Robyn
The Ingredients
The glorious thing about roasted vegetables is they don't need much doctoring up to be delicious. Similar to our 3-Ingredient Garlic Green Beans, there are only 3 main players in this recipe:
Carrots – I prefer whole carrots, freshly peeled. You will need to cut them up into similar-sized pieces but don't get too caught up on this being perfect. Tip: Let the carrots come to room temperature before tossing with the glaze. Otherwise, the butter will coagulate. Not a huge deal if this happens but it's a little harder to work with.
Maple Syrup – I love the subtle, warm sweetness that maple syrup brings. That being said, you could sub honey for the maple syrup and have similar, addicting results.
Butter – Since we are adding a hint of sweetness to this recipe, butter pairs better than oil when it comes to flavor. This will need to be melted down so just zap it in the microwave for 15-20 seconds.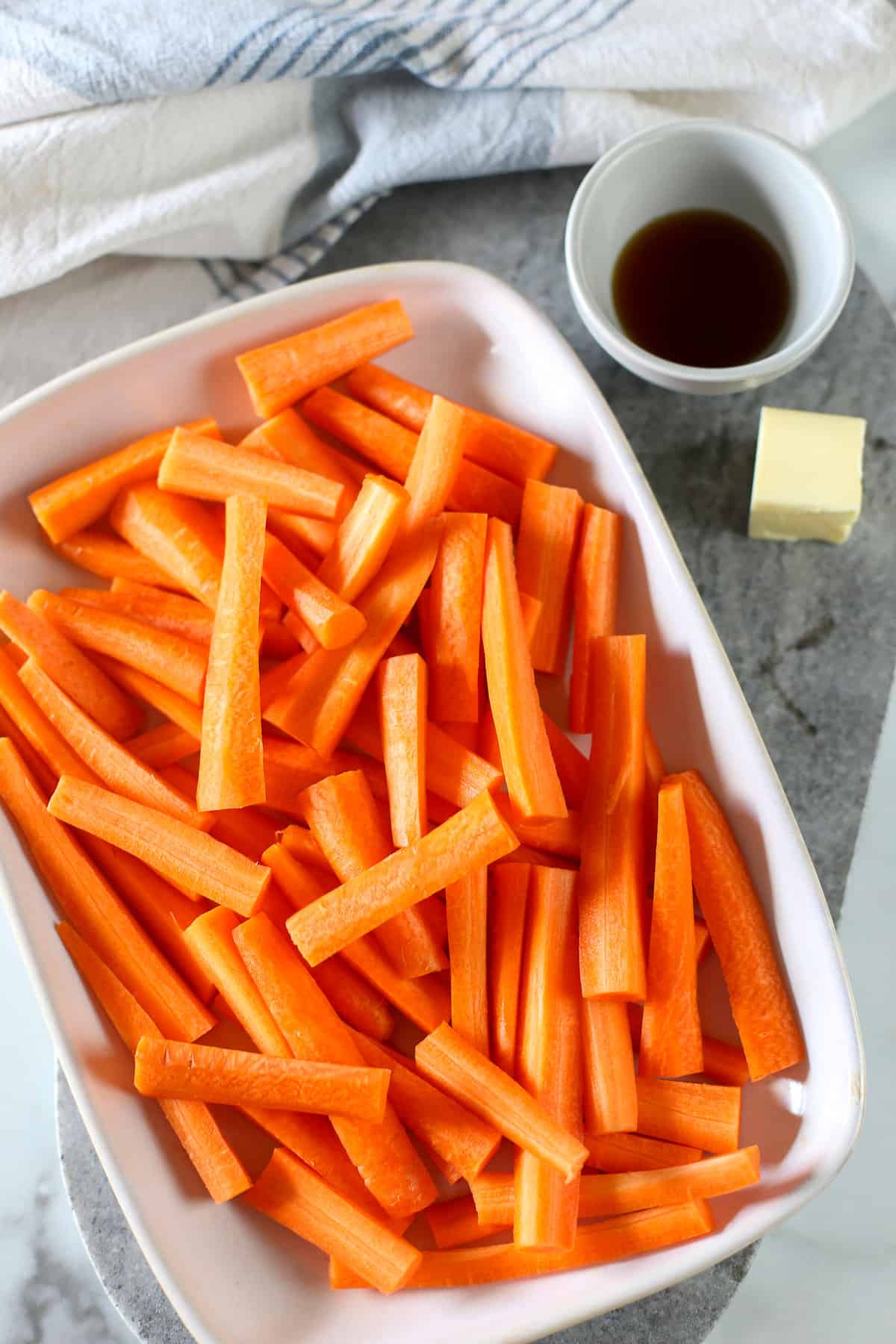 Safety Tip: Slicing Carrots that Want to Roll Around
Since carrots are round, they can be tricky to slice as they want to roll out from under your knife. Here are a few tips to safely cutting carrots:
Keep the tip of your knife touching the cutting board at all times.
Once you've cut the carrot in half, flip it face side down for the next cut. This way it won't roll.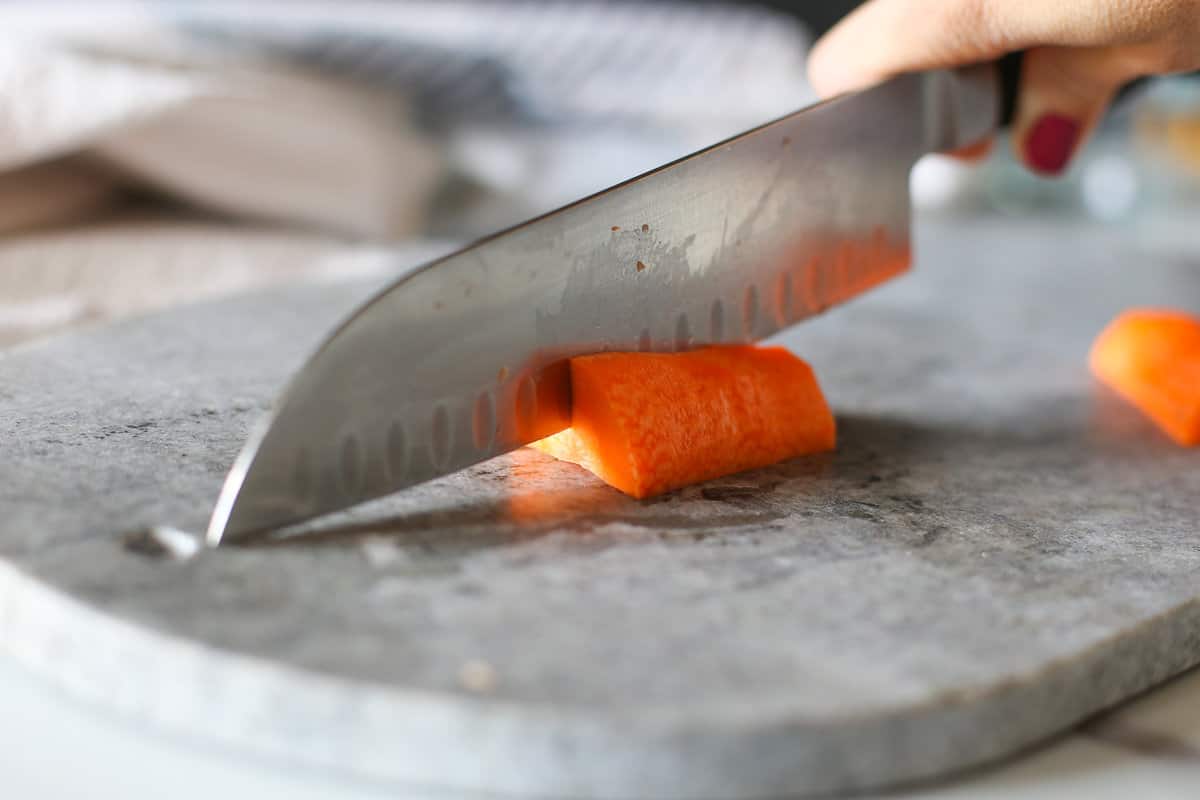 How to Make Maple Glazed Carrots
After mixing the glaze ingredients together, pour them over your sliced carrots and toss. If carrots are cold, the glaze will coagulate (harden up) but this won't affect the end result.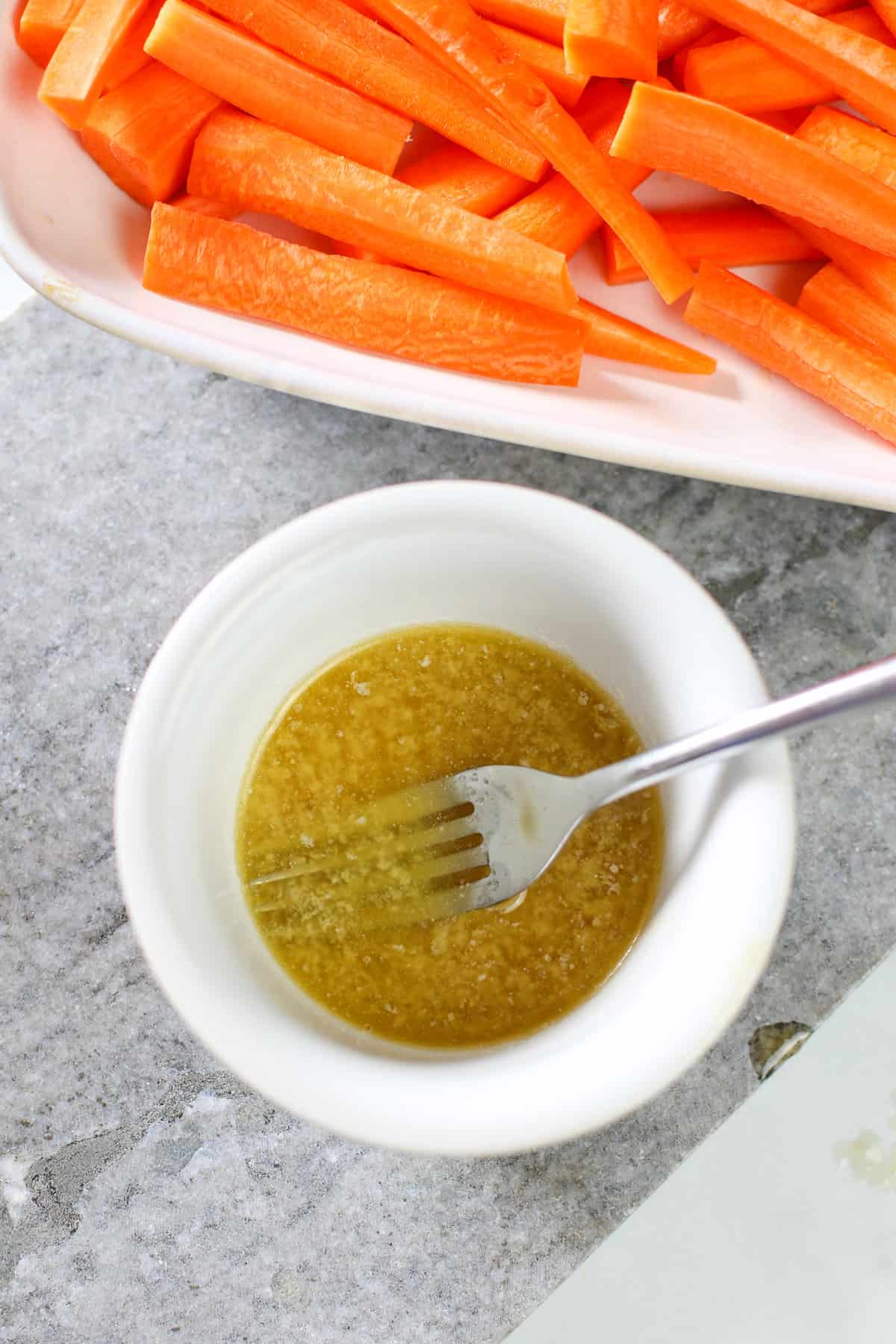 When it comes to roasting vegetables, keep in mind there is a lot of variation when it comes to timing. It often depends on the vegetables, how much moisture they still have, how big you cut them, and even the baking sheet you have.
Carrots cut this way were done around 15-20 minutes. I chose not to flip mine until the end because I love a good char. This is really up to you though.
More Roasted Vegetable Tips:
Spread the vegetables out. This allows them to roast more than steam.
Roast until you see toast. Roast vegetables until they are tender enough to pierce with a fork and you see some charred bits on the edges.
Reheat in an air fryer or toaster oven. If you microwave leftover roasted veggies, they become soft and mushy.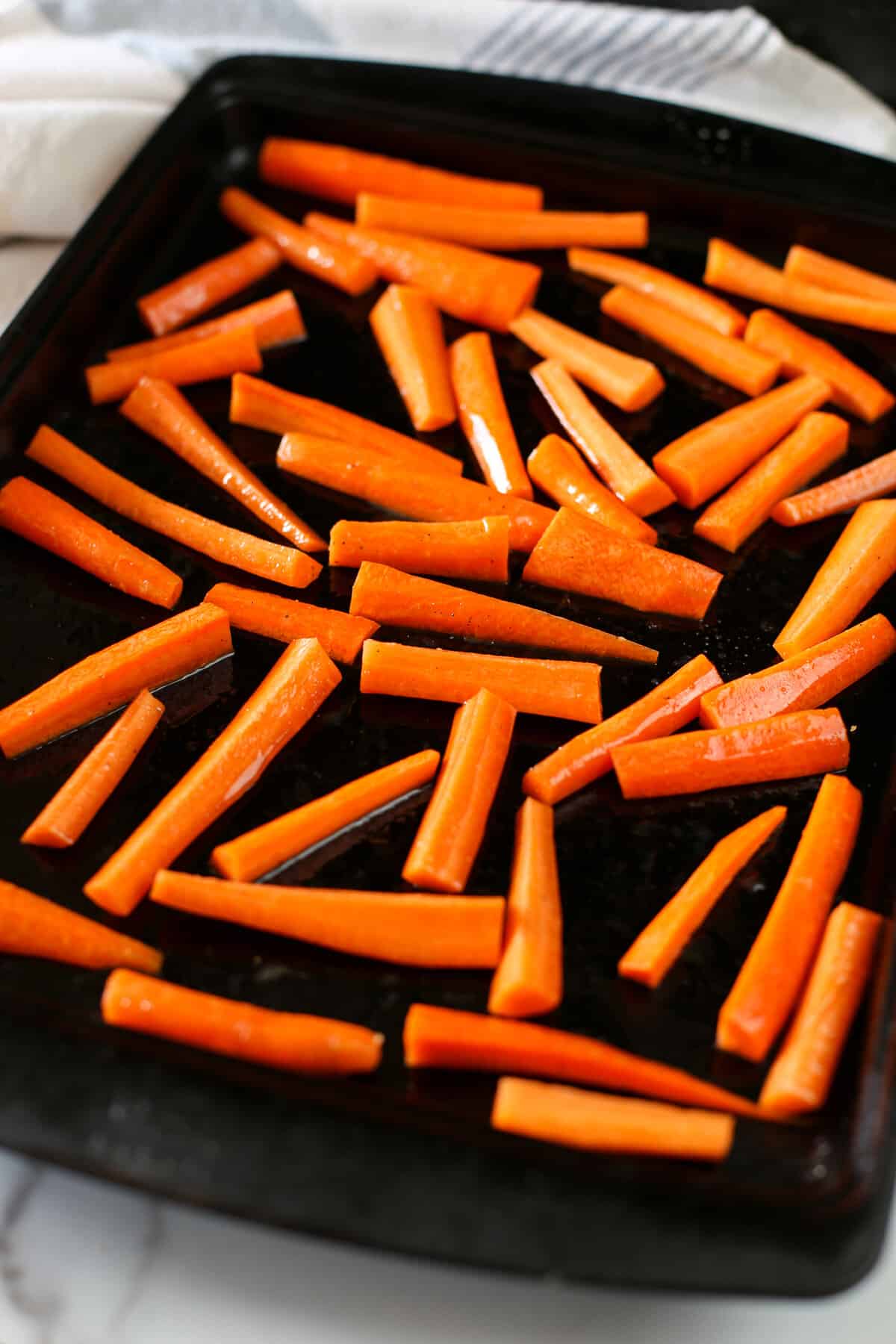 Can I make these in advance?
Yep! It's often helpful to make dishes in advance for something like an Easter Lunch or special meal.
You can peel the carrots and coat them in the maple glaze for up to 4 hours before you plan to roast them.
Can I freeze roasted carrots?
While we are big advocates of freezer meals, this recipe wouldn't work well to prep ahead for the freezer.
However, you could freeze them after they've baked. Just know that the texture will become much softer after freezing and thawing. But if that doesn't bother you, freeze away!
Can I use baby carrots?
Yes, baby carrots will work! Just slice them in half and follow the rest of the instructions in this recipe.
Fun Factoid About Baby Carrots
Little fun factoid of the day:
In the book, Salt Sugar Fat, I learned that the man responsible for popularizing baby carrots was a top executive for Coca-Cola.
After years of using his genius marketing strategies towards promoting a sugary beverage, he realized he was a major contributor to the health crisis in western countries.
In an effort to rectify the harm he had done, he set out to use the same marketing strategies to promote something healthy–the baby carrot. Very quickly, baby carrots became a regular item in homes, vending machines and other food venues.
Dinner Ideas That Pair Well with Maple Glazed Carrots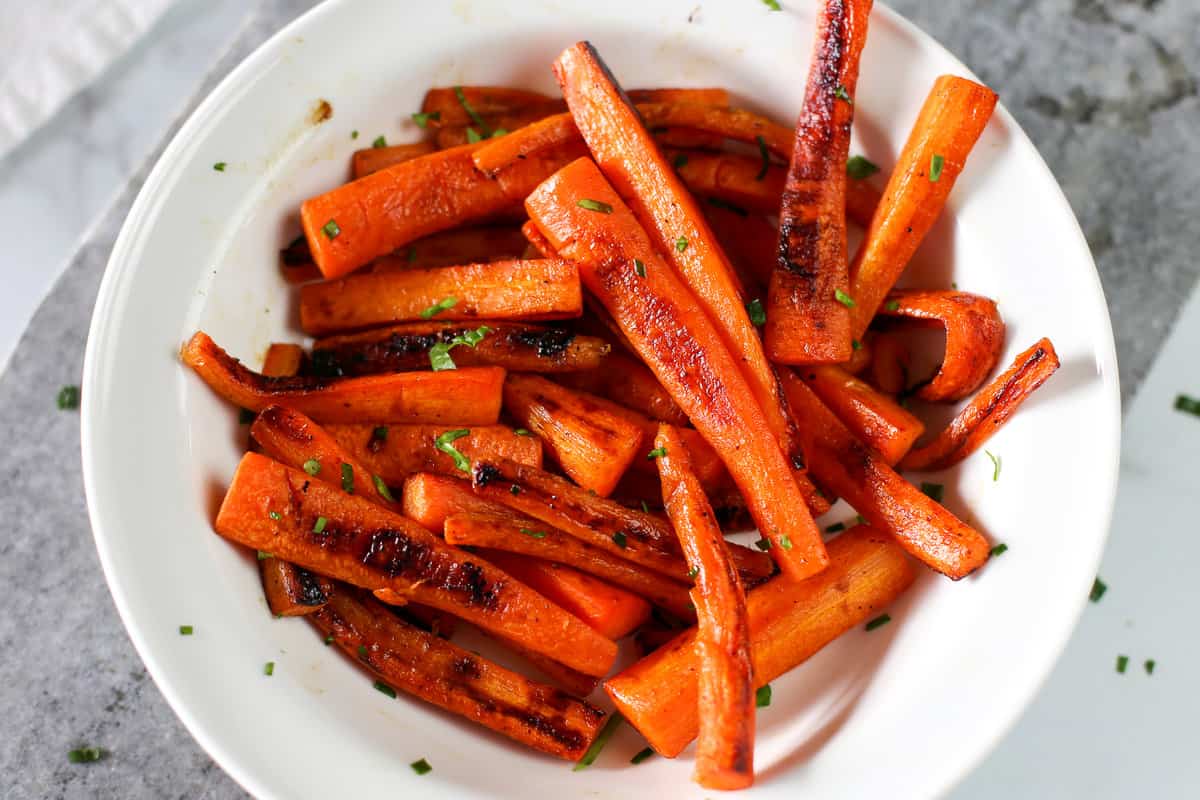 Did you make this? Snap a photo and tag us on Instagram at @thrivinghome so we can see your creations and cheer you on!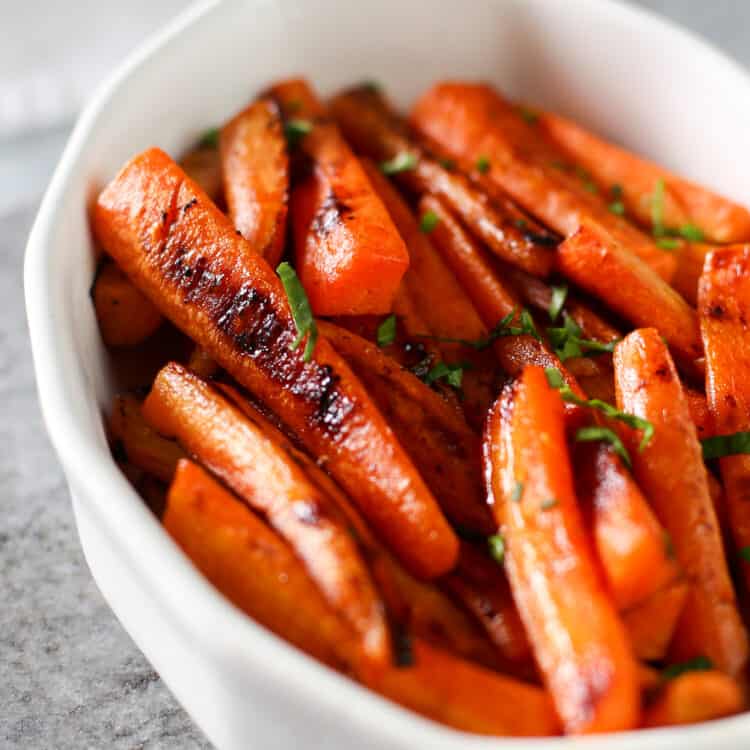 Maple Glazed Carrots
Simple and delicious. These tender Maple Glazed Carrots carry a hint of sweetness that is complimented perfectly by the caramelization from roasting in the oven. 
Prep:
10 minutes
Cook:
20 minutes
Total:
30 minutes
Ingredients
2 tablespoons

unsalted butter

1 tablespoon

pure maple syrup (not pancake syrup!)

1/4 teaspoon

salt
Pinch of pepper

1 1/2

pounds

(24 ounces) carrots, peeled and cut evenly into roughly 2-inch lengths*
Optional: Chopped fresh parsley, a little orange zest, and a squeeze of orange juice for topping
*It's important that the carrots are all about the same size for even cooking.
Before You Begin! If you make this, please leave a review and rating letting us know how you liked this recipe! This helps our business thrive & continue providing free recipes.
Instructions
Preheat the oven to 450°F. Grease a rimmed baking sheet with cooking spray or cover the bottom with parchment paper.
Add butter to a small, microwave safe bowl and microwave 20-30 seconds until fully melted. Stir in the maple syrup, salt, and pepper.
In a medium mixing bowl, drizzle the glaze over the sliced carrots and toss until they are fully coated. 
Place carrots on the rimmed baking sheet. Spread them out as much as possible, so they aren't touching.
Roast the carrots in the oven for 15 minutes, flip them and roast another 3-5 minutes, depending on how charred you like them.
Optional: Serve with fresh chopped parsley or orange zest and a squeeze of orange juice for some extra flavor!
---
Notes/Tips
 I like my carrots to have a good char on them which is why I don't flip for 15 minutes.