Make Ahead Easter Lunch Ideas (Menu Plan + Shopping List)
Updated: 5/15/22
This post may contain affiliate or sponsored links. Please read our disclosure policy.
Try these simple and delicious make ahead Easter lunch ideas. This free menu plan is complete with printable recipes and a shopping list. Couldn't be easier!
Hosting an Easter brunch or lunch doesn't have to induce stress. With the help of our easy Easter recipe ideas, you can enjoy time with your guests rather than slave away in the kitchen that day. This plan serves 8-10 people, likely more.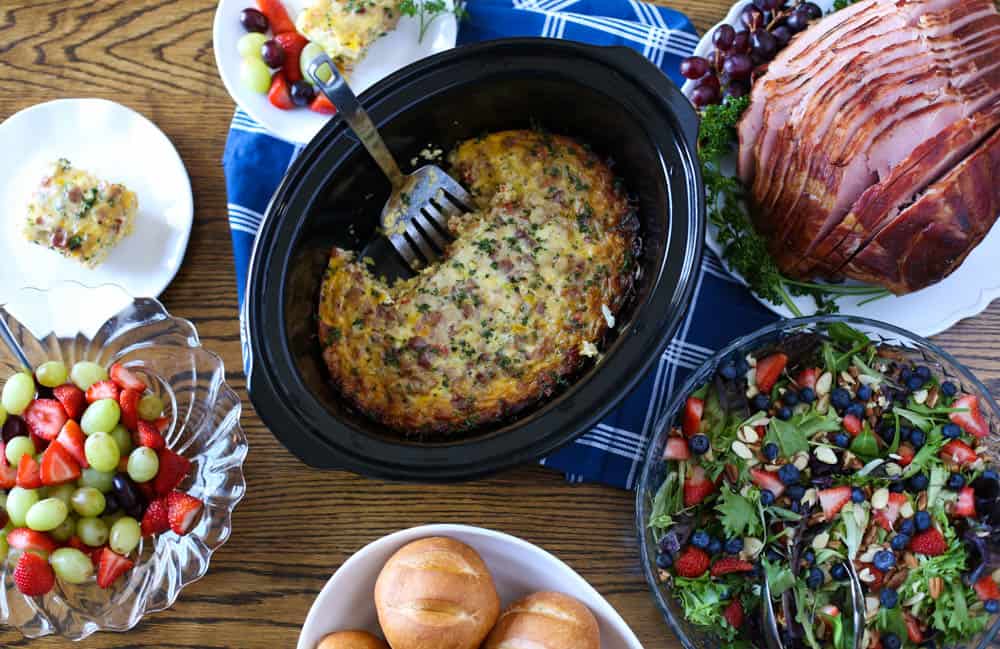 We've even created a free printable of all these make-ahead recipes and a complete shopping list for you. Snag it now or at the bottom of this article.
Easter Lunch Main Dishes
These two delicious main dishes will please all ages and feed an army.
Sliced Honey Glazed Ham
Get a fully cooked ham that is ready to be warmed the day of your brunch.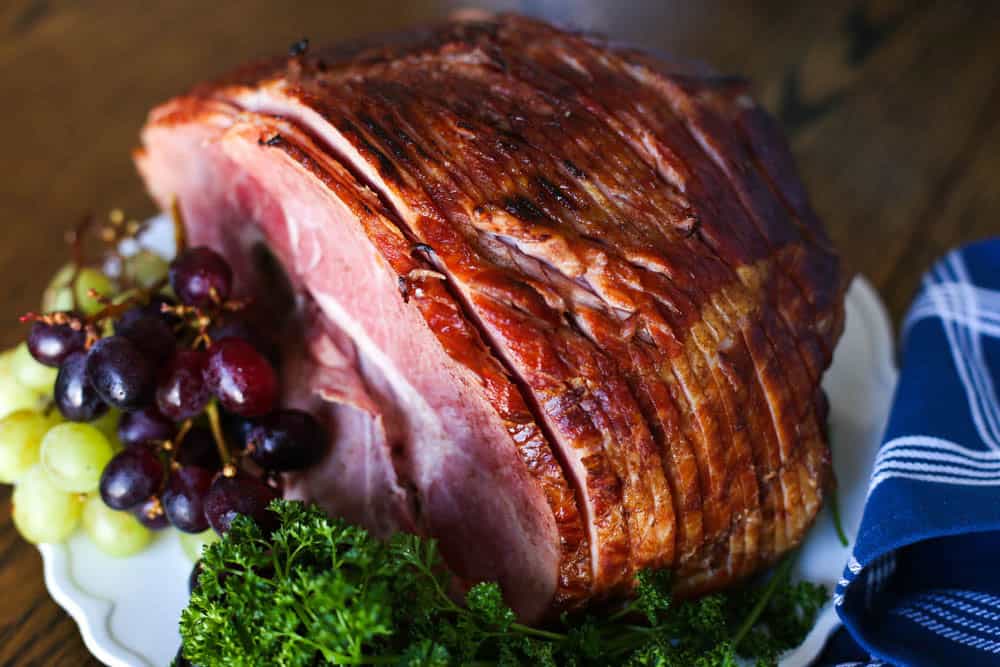 Watch this short video that shows just how easy it is to prepare a ham.
---
Guests will oooh and ahhhh over this gourmet Crockpot Breakfast Casserole at your next brunch or holiday gathering.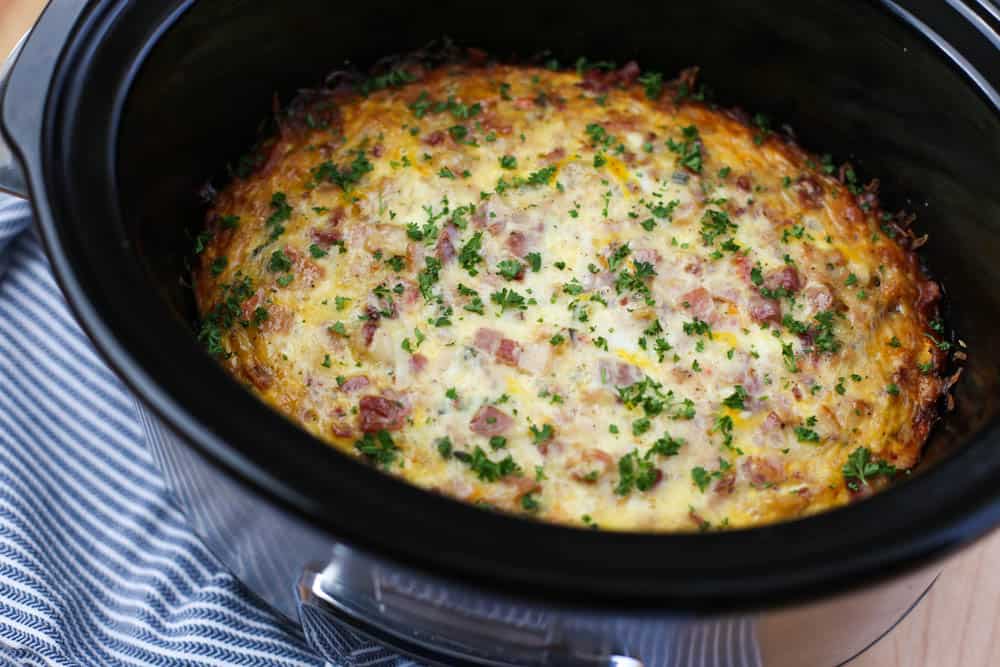 Its depth of flavor and beautiful color come from the bacon, onions, garlic, kale, roasted red peppers, and Gruyere and Parmesan cheeses.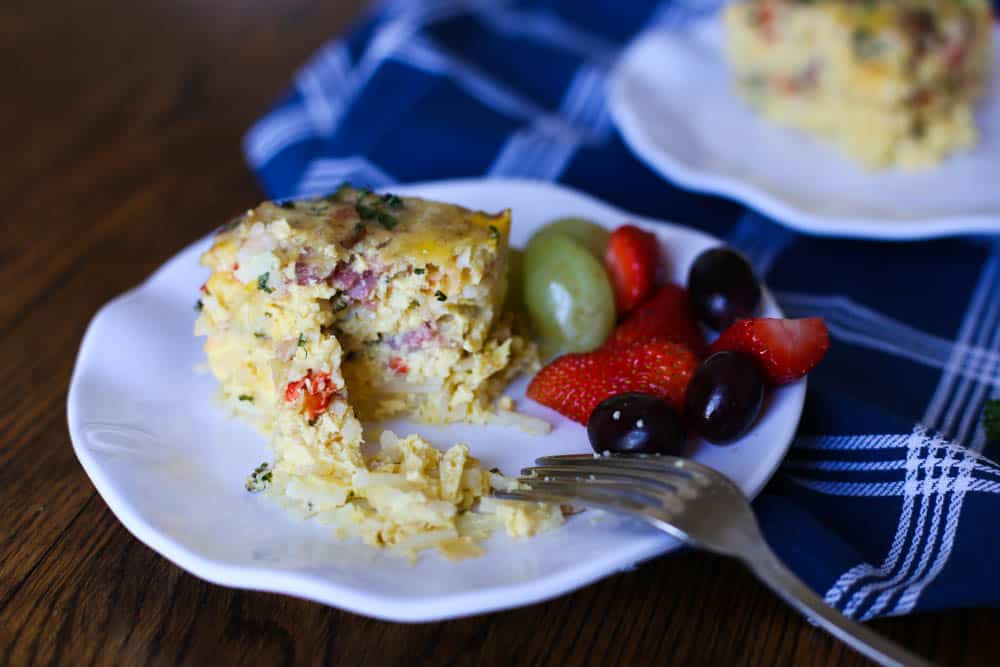 3 Easter Lunch Side Dishes
Keep your table colorful and your life simple with these make-ahead side dishes.
This Spring-inspired salad packs a flavor punch with every bite! Spinach, strawberries, bacon, feta, red onion, and more are topped with a mild, lemony, sweet dressing that's sure to please all ages.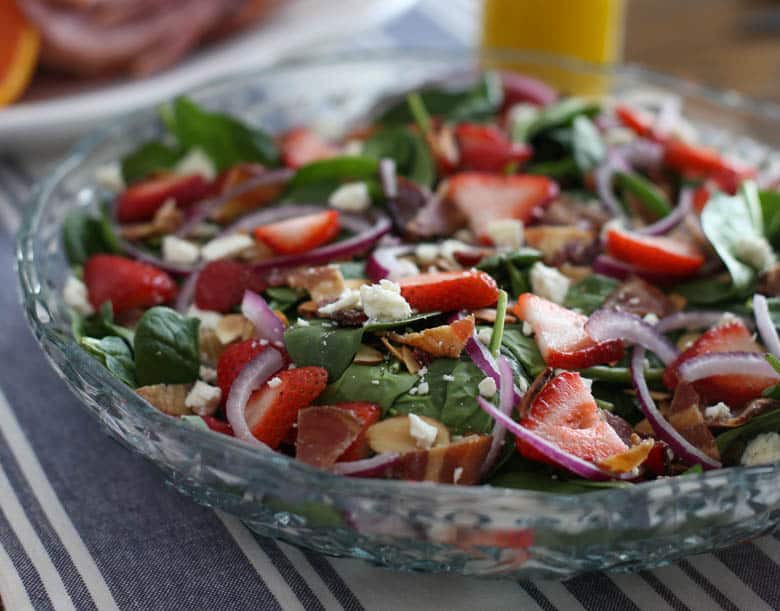 Put together the salad and the dressing (separately) the day before your event and store in the fridge.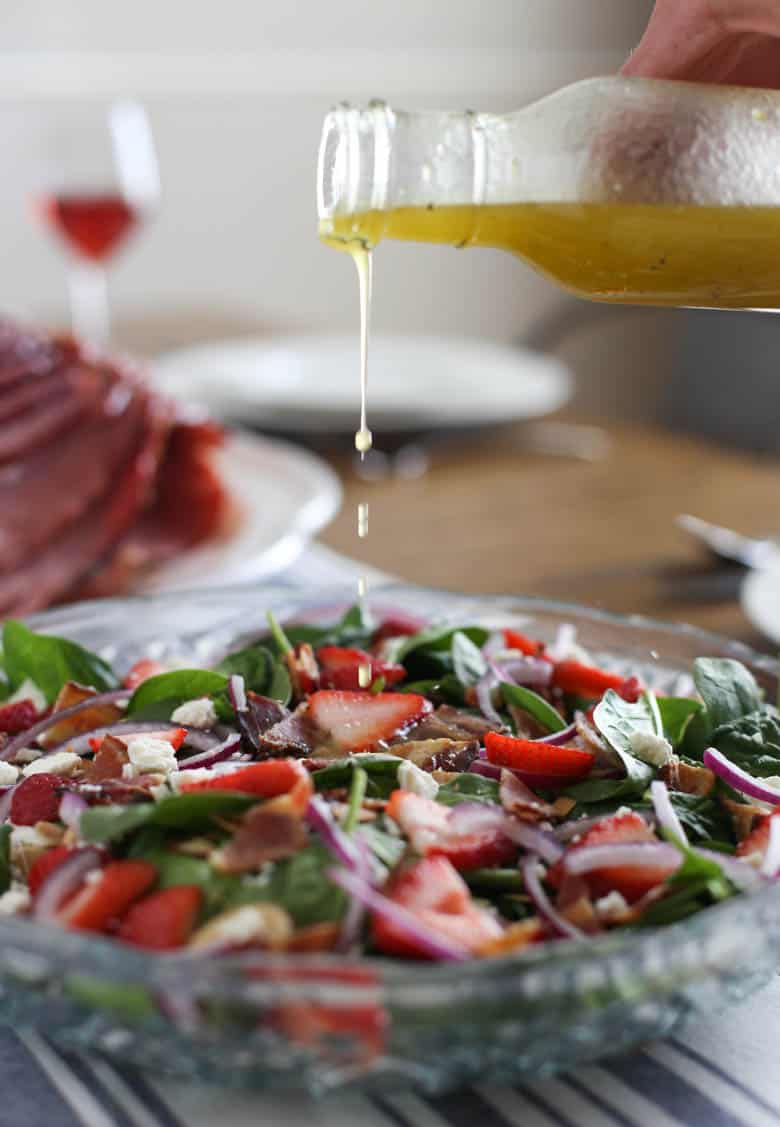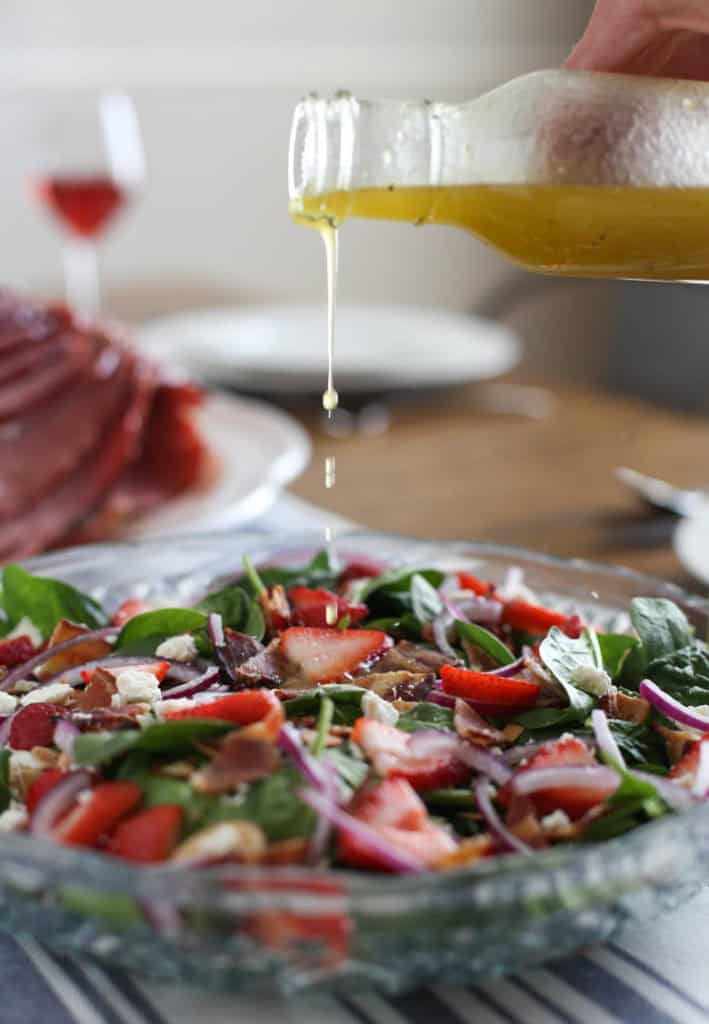 2. Fruit Salad
I've found that putting together a simple bowl of mixed fruit is not only a colorful addition to the table but always gets snatched up quickly by kids and adults alike. Ideas: grapes, sliced strawberries, blueberries, and/or chopped pineapple would be nice this time of year.
3. Dinner Rolls
Take it easy on yourself by buying dinner rolls in the bakery or frozen section of your local grocery store. We usually go for rolls which will quickly bake from frozen the day of your meal.
Easter Dessert Ideas
Easter brunch calls for light, fruity desserts and we've got just the (unique!) answer.
These are such a beautiful and fun dessert for a group, because they can be individualized. Prepare everything the day before and simply store the fruit and icing in the fridge.
The day of, just set out the chopped fruit, cream cheese frosting with butter knives, and sugar cookies. Let your guests do the rest of the work.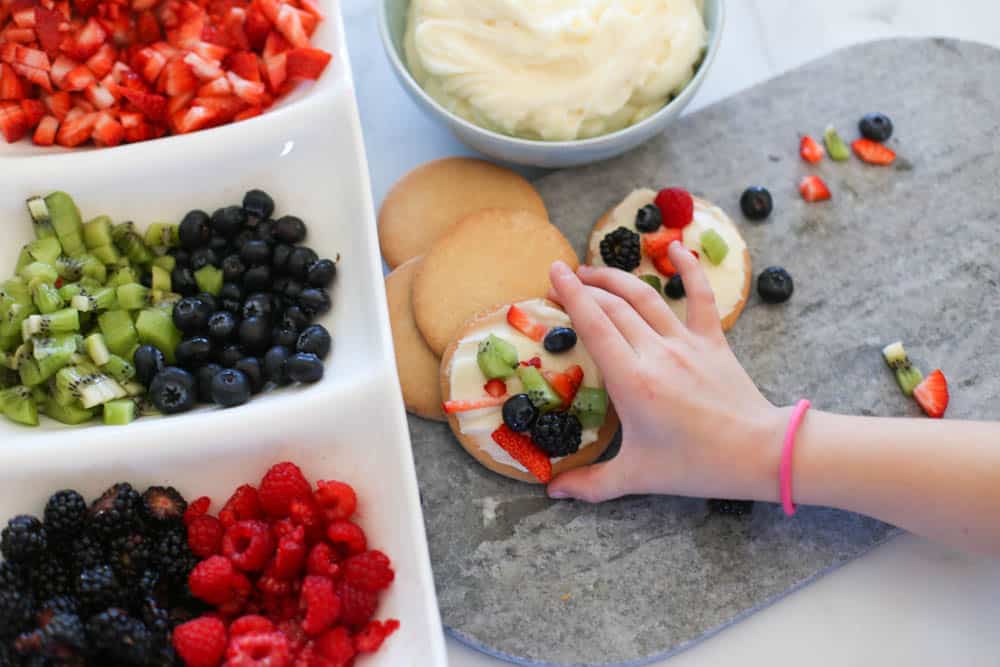 Other Dessert Ideas:
Printable Easter Lunch Recipes & Shopping List
To make your Easter celebration as painless as possible, we've created this free printable that includes the two main dishes, salad, and dessert recipes PLUS a shopping list for all four recipes.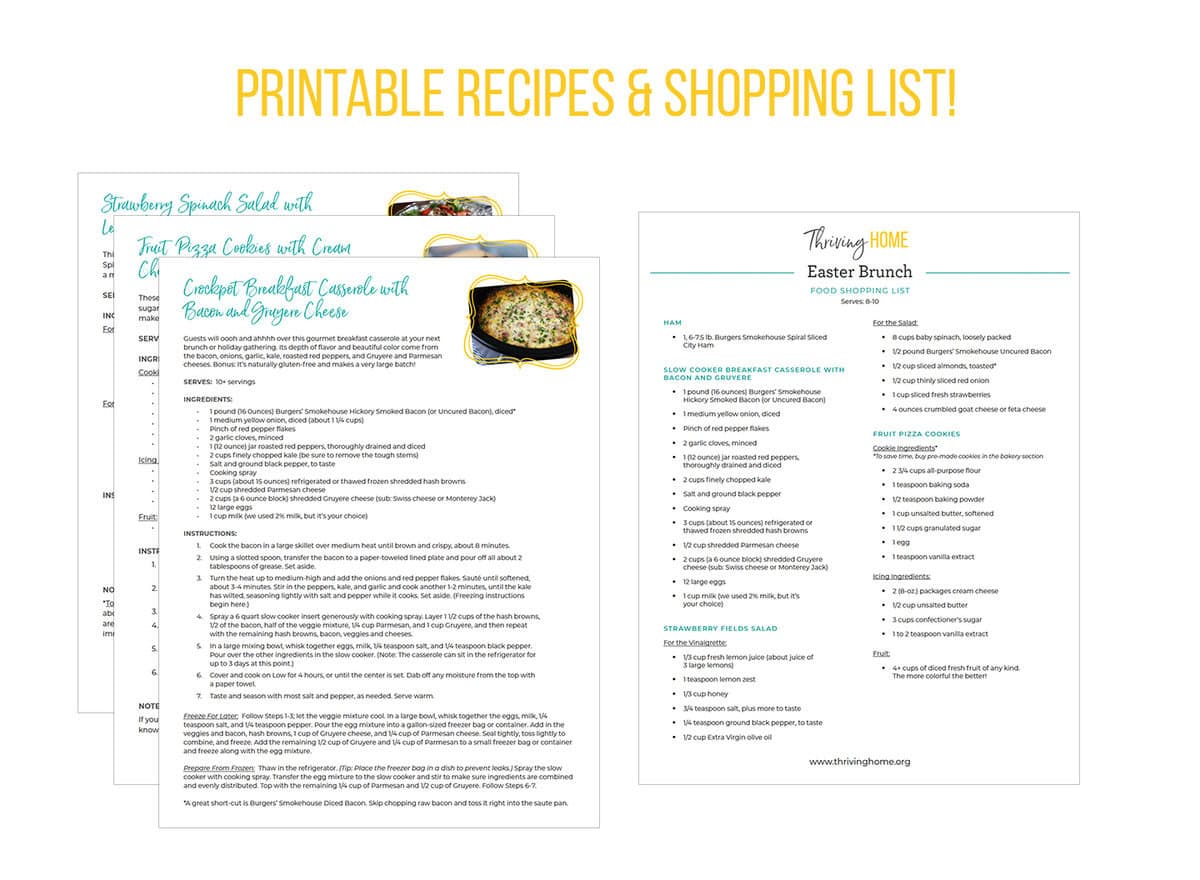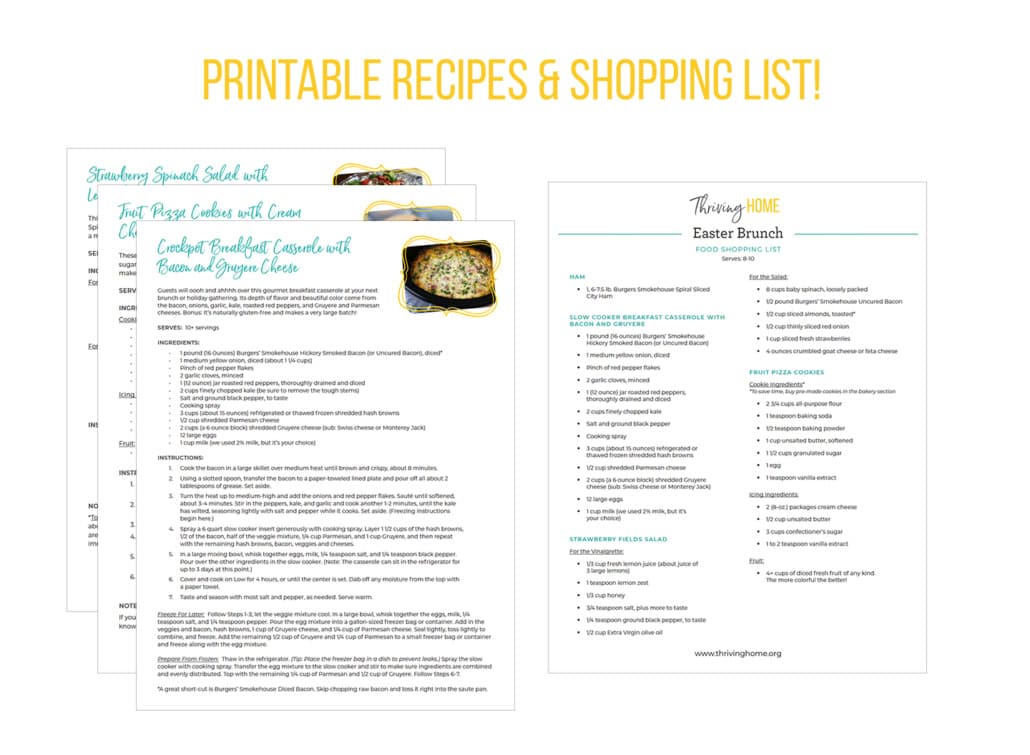 We hope you can relax and enjoy your Easter gathering with friends and family, knowing that most of the prep is already done!