This post may contain affiliate or sponsored links. Please read our disclosure policy.
What are the best teen Bibles? After years of working in youth ministry and parenting teens ourselves, we have narrowed down what we think are some of the top Bibles for teen girls and boys.
With our tips and recommendations, we hope to help you find an engaging and trustworthy teen Bible translation, as well as, help you encourage your teenager to begin reading it on his/her own. Hebrews 4:12 reminds us that "the word of God is alive and active." Pray that God would do what he promised in your teen and the Holy Spirit would give them clarity as they read His word.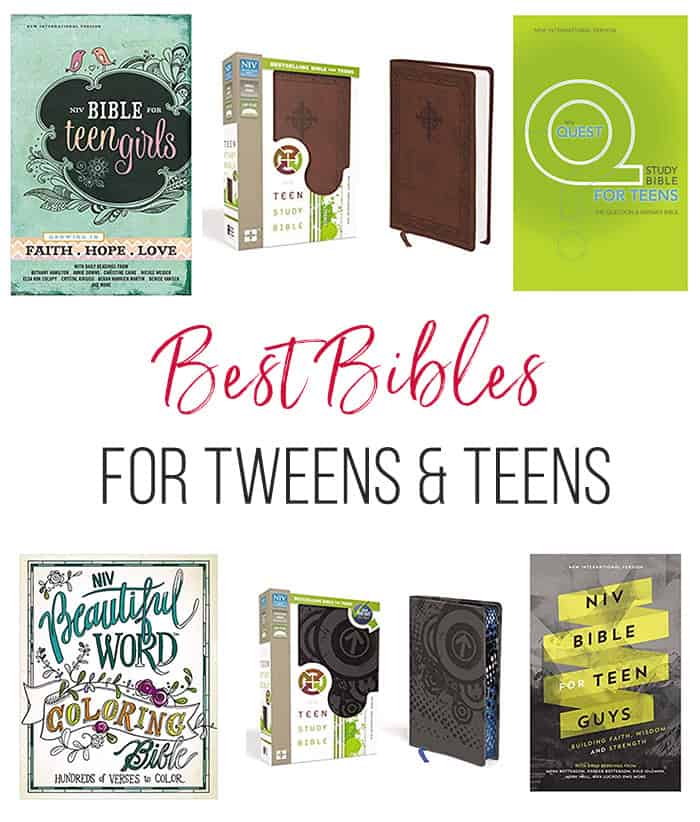 What Makes a Bible for Teenagers Good?
It's a difficult balance to engage teens without watering down God's Word to the point of being merely a motivational message. Although there are many different versions of the Bible to speak our teen's language, our choices only include ones like the NIV that remain closer to the original text.
While we feel it is important to have a version that is accurate in its translation, we do love the use of fonts, graphics and devotionals to engage teen girls and teen boys. Our picks are culturally relevant in this aspect while still remaining faithful to the original text.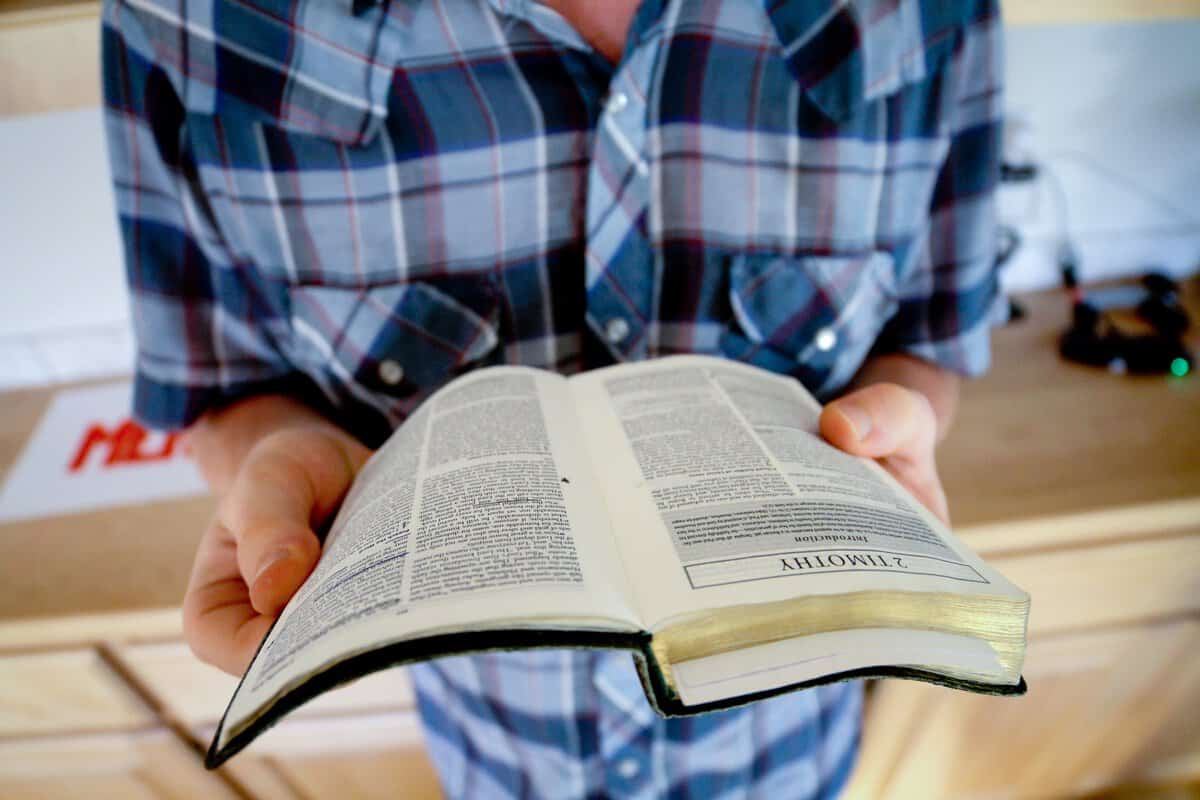 How Can Parents Engage in a Teen's Faith Journey?
With small children, you can read them the Bible and help set aside time for them to be in God's word. As your kids get into their double digits, though, you'll notice a shift. Ask your teen if they've read their Bible today, and there's a good chance you'll be met with eye rolls and sighs.
Just like they are beginning to develop independence in most life skills, this is also the age where they must start owning their faith. It's hard to know the right balance when it comes to spiritual guidance at this stage of parenting.
Here are a few ways to be involved in their faith journey without being "that" parent.
Be an example
According to research from Dr. Christian Smith's team at Notre Dame, the #1 predictor of a teen retaining his/her faith into adulthood is having parents who authentically live out their faith. Our teens are watching us closely and seeing if our words match up with our lives. This is why I always go back to questions like these:
Am I demonstrating a love for God's Word in my own life–maybe even studying it in front of my kids?
Am I showing my teen (and others around me) the love, patience, kindness, and grace that God shows me?
When I mess up as a parent, do I show humility and seek forgiveness?
Am I praying for and with my teen regularly?
At the end of the day, are we (imperfectly, of course) seeking God first? Is that what our kids see day in and day out?
Keep it front and center
Sometimes in the flurry of teen activity, the Bible gets buried under papers, clothes or even under the bed. Vacuuming is my safe excuse for being in my teen's room. It also grants me a little freedom to help pick up. Before I leave, I like to set the Bible in a visually appealing place, on a desk or nightstand. Please do not misunderstand my intent on this one. I am not snooping or prying. While ensuring mold does not grow in their space, I take the opportunity to non-verbally remind them God's Word is available to them.
Text them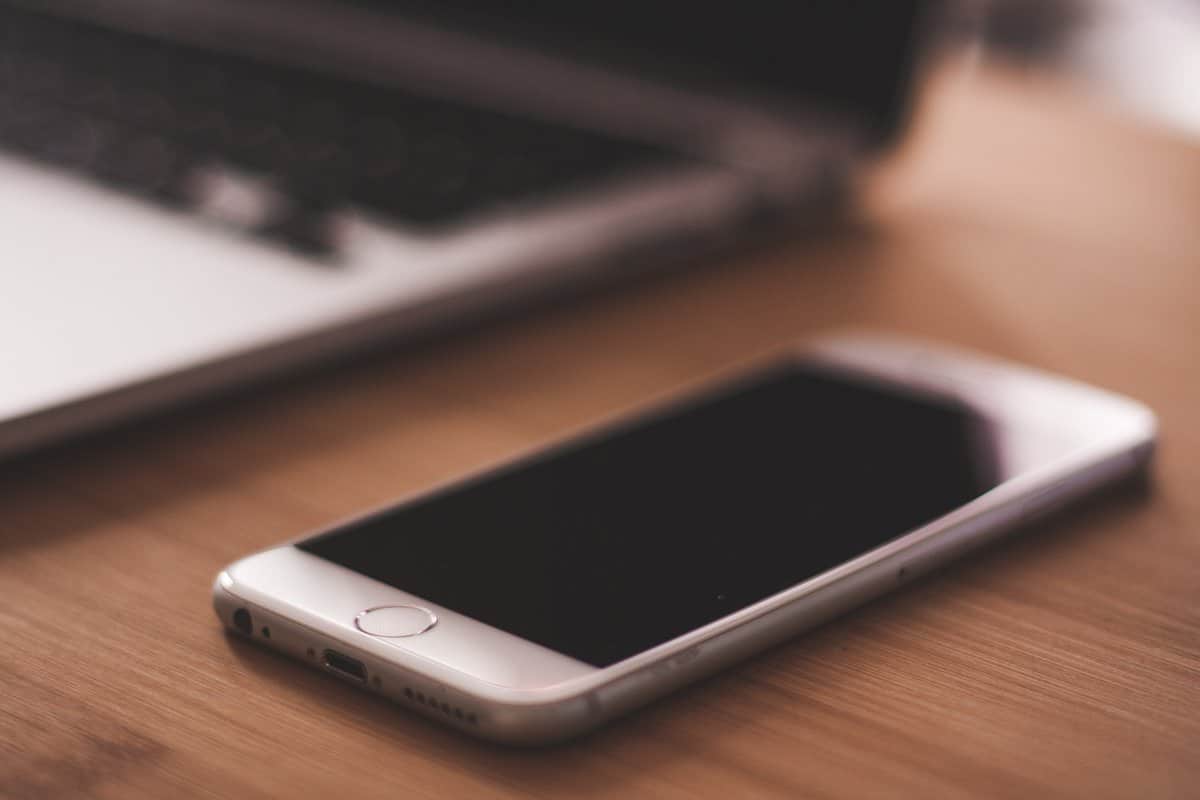 Texting is our teens' language and how they most often communicate. I love to use this avenue to occasionally send them an uplifting Scripture. Type in any verse in Google, then click on images. You will likely find tons of really cool, visually appealing designs of the verse. Send them one when it's appropriate. This is such a great way to encourage your teen without being preachy. Note the word occasionally – not daily and as unpredictably as possible is even more effective!
Bible app for teens
As the world continues to go paperless, I've noticed this even applies to bringing your Bible to church. A growing majority just have their Bibles on their phones. While I still firmly believe in owning paper books, I do know your teen is likely not going to tote a Bible to school and maybe not even to church. You never know when they are going to have something come up in their day where they want to turn to God's Word. Make sure they have a Bible app on their phone. Their phone is always with them and, with an app, the Bible will be too!
Here are two free Bible apps your teen could use:

Be there
It sounds cliché, but one of the best ways to help your teen grow in their faith is by simply being present. Teens are incredibly unpredictable, from emotions to schedules, you never know when they may want to talk or ask for life advice. Being a presence in their life that is engaged and a place where they know they are safe and loved will open the door for deeper conversation.
Best Teen Bibles
From study bibles to gender specific ones, we've vetted the best bibles for teenagers on the market.
Teen Study Bible (Top Pick)
A study Bible is one that offers commentary in the margins and articles from theologians to help your teen better understand what he/she is reading.
Our family owns and has used this study Bible for years and highly recommend it! The Quest Teen Study Bible is not specifically geared towards a gender, rather for any teen wanting to dig deeper into God's Word. It has over 7,000 side notes, 360 articles and plenty of teen insight. This would be our top pick for a teen really wanting to study and learn.
This bestselling study Bible comes in paperback, making it a little cheaper. May be more age-appropriate for younger teens. Check out all the extra features:
"We Believe" features unpack the Apostles' Creed to reveal the biblical foundation of faith
"Panorama" features keep the big picture of each book of the Bible in view
Topical indexes help with in-depth Bible study
Book introductions provide an overview for each book of the Bible
Bible Promises highlight Bible verses worth memorizing
Q & A's test your Bible knowledge
4 Full-color pages including a presentation page, plus information about the Apostles' Creed
8-page color map section
Biblical advice about friends, family, school, and other issues
8.8-point type size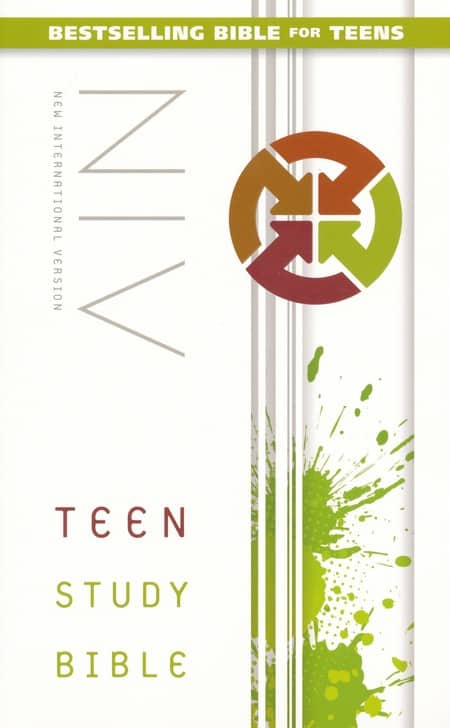 Teen Girl Bibles
This teen Bible is a #1 Bestseller on Amazon. With fun, pretty fonts and graphics, in addition to the complete text, this NIV Bible highlights the promises of God scripture verses. It features character profiles of women in the Bible, book introductions and even devo's by Christian authors. This is a Bible designed to help your girl grow in her faith.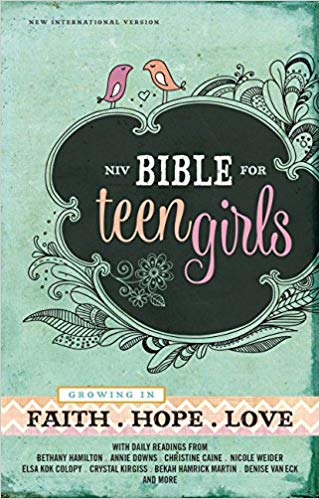 This Bible is such an amazing idea! Perfect for the artsy girl, this color Bible features the entire NIV Bible translation along with hundreds of verses to color and blank space to doodle. It encourages meditation on God's Word through scripture art. Purchase a set of colored pencils to go with this Bible for the perfect gift.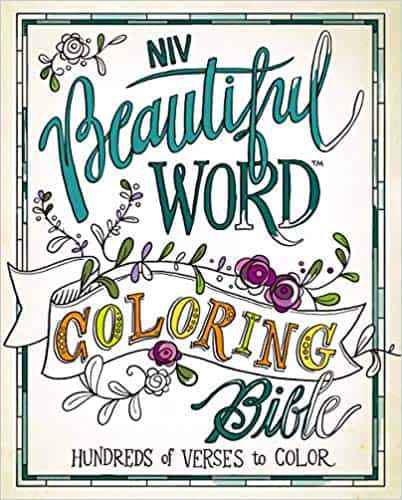 Packed with exciting features that help younger teen (or tween) girls better understand themselves and Scripture, this Bible version teaches girls that the Bible is real, relevant, and, best of all, that the story of God and his people is also their story. Check out all the fun features it includes:
Book Introductions—Read about the who, when, where, and what of each book.
Dream Girl—Use your imagination to put yourself in the story.
Bring It On!—Take quizzes to really get to know yourself.
Is There a Little (Eve, Ruth, Isaiah) in You?—See for yourself what you have in common.
Words to Live By—Check out these Bible verses that are great for memorizing.
What Happens Next?—Create a list of events to tell a Bible story in your own words.
Oh, I Get It!—Find answers to Bible questions you've wondered about.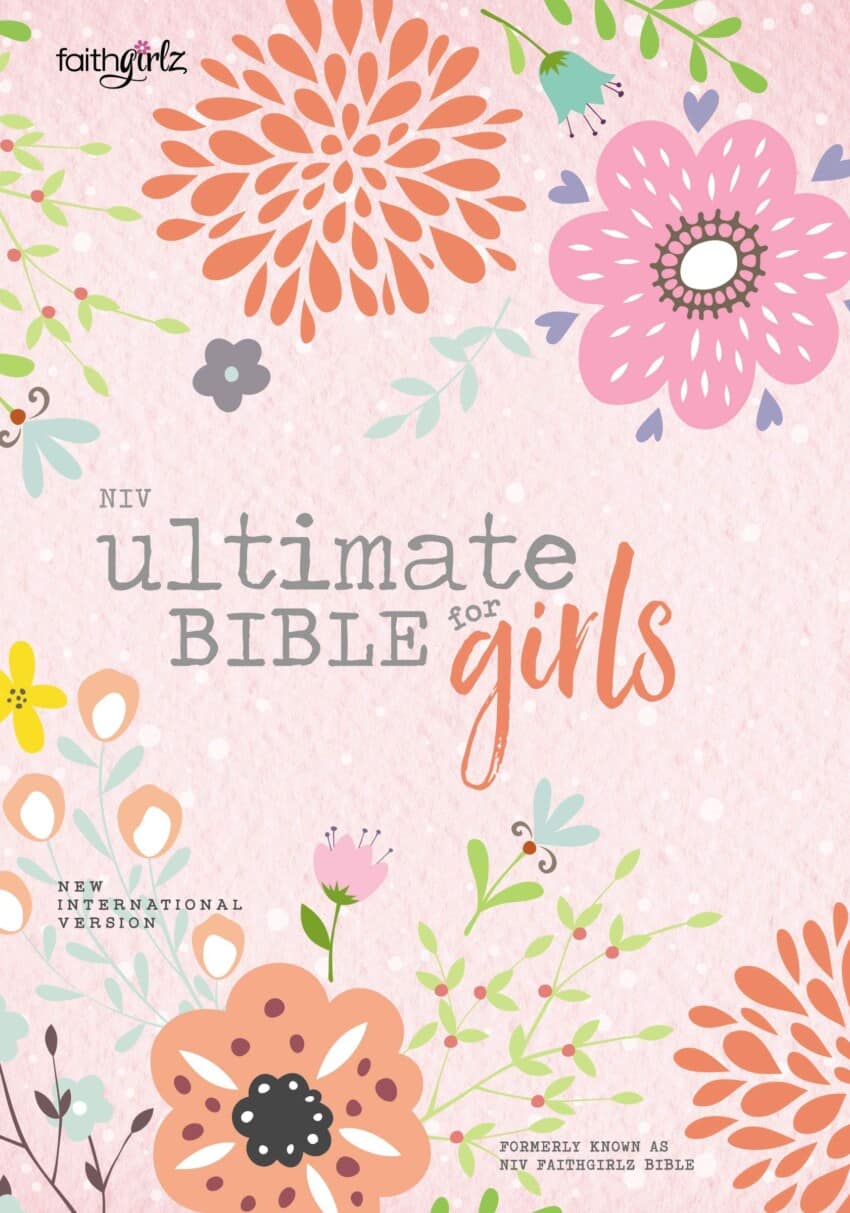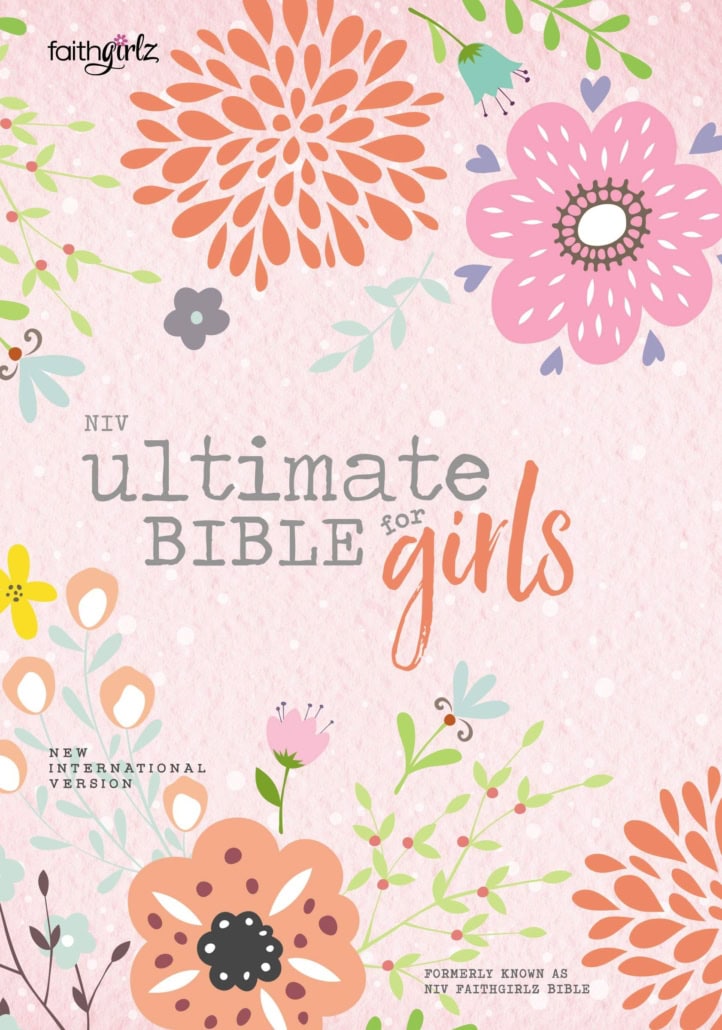 This Bible has a sleek design without all the girly fuss. Less than an inch thick, the print is still easy on the eyes. This original text is a great option for on the go, travel or someone who doesn't want a lot of the extras.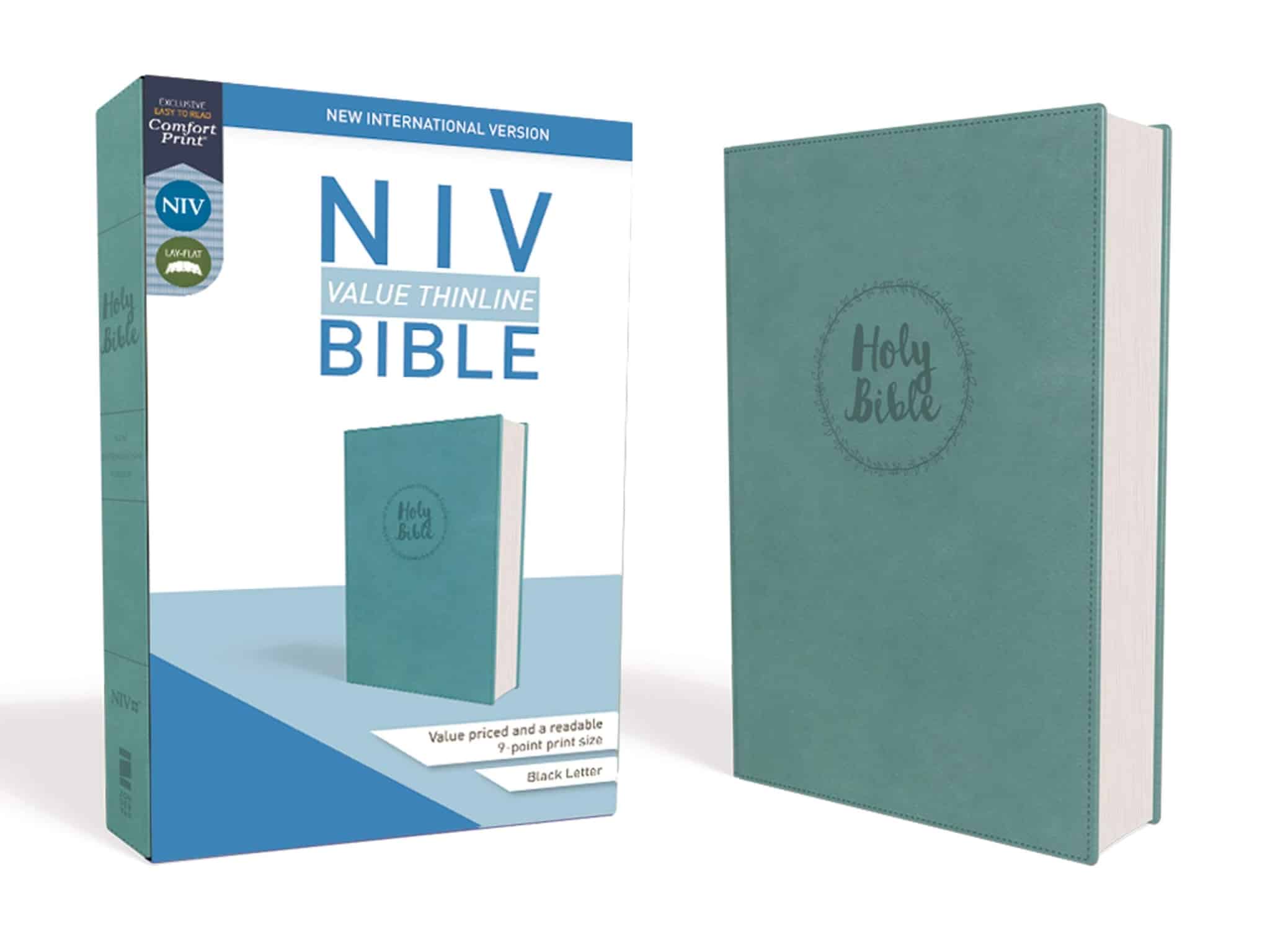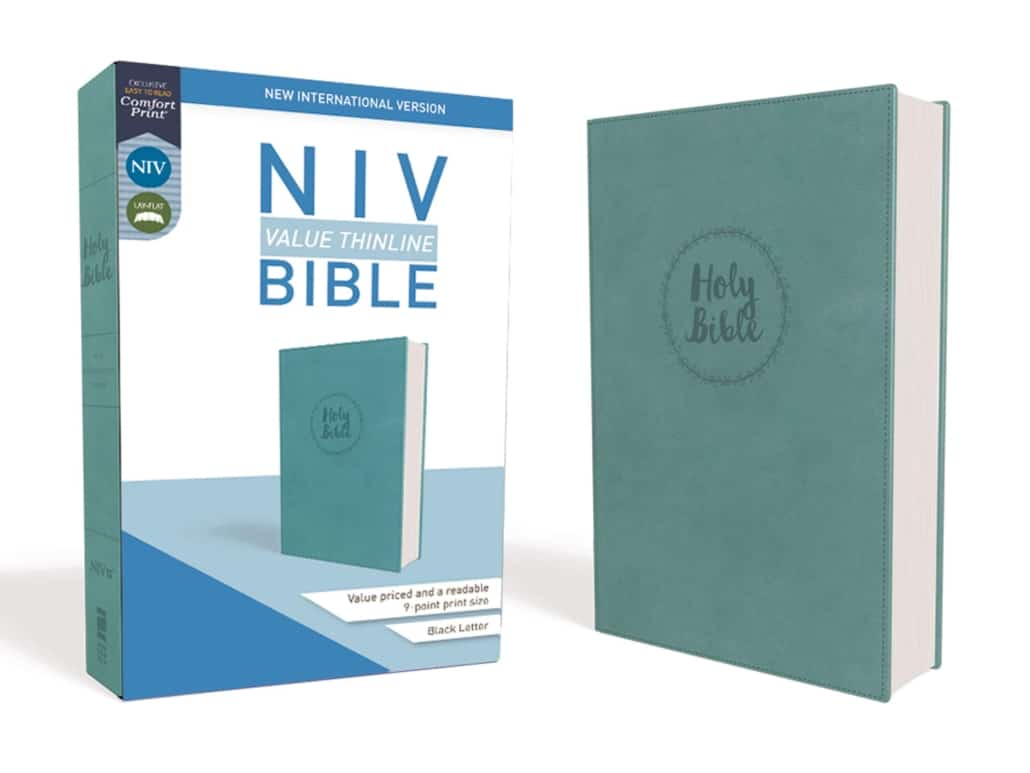 Bibles for Teen Boys
Finding a Bible specifically for a teen boy can be challenging, but we've narrowed down some good options for the teen guy in your life.
This teen Bible designed for boys is similar to the girl's version with book introductions and devos by Christian authors like Max Lucado. It also highlights the scripture promises of God. This Bible is designed to help your guy as he is learning to become a man of God.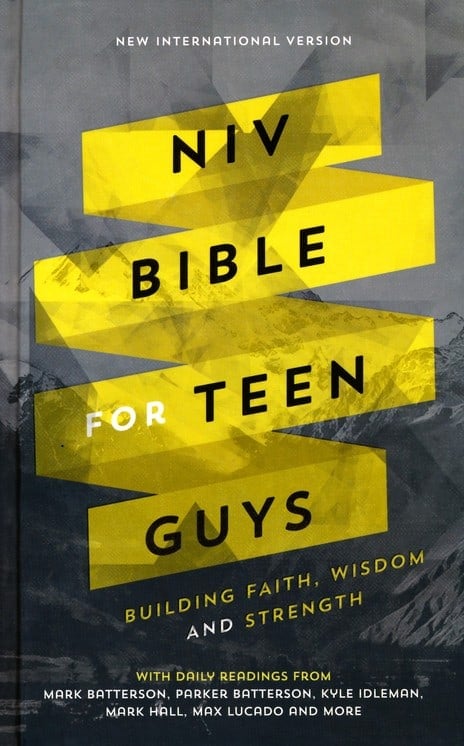 This Bible is designed for a little older teen with Biblical perspectives on cultural topics. With over 200 "Be the Change" articles, this original text Bible is packed full of Biblically based extras. A great feature is the Christianity and Belief's 101 which is sure to help your guy have a deeper understanding of his faith.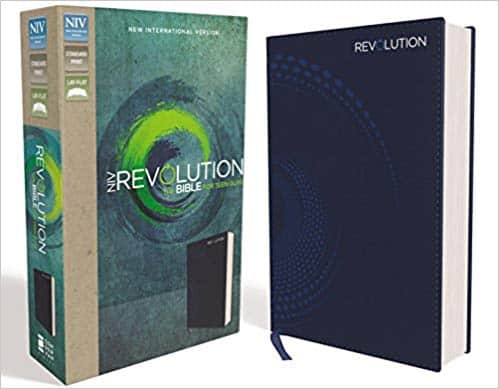 This is a great option for the guy who does not like a lot of fuss. Simple and compact, this is the perfect Bible to carry to church or a Bible study. Despite its simplicity, this Bible packs a lot of punch for its size. In addition to the complete text, this Bible includes maps, topical index, book overviews, Bible promises and advice perfect for the teen deepening his faith.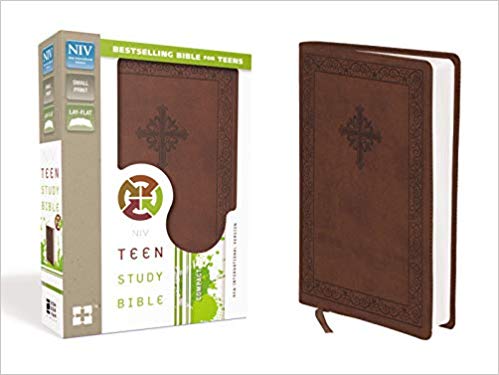 One last thing!
Parenting tweens/teens is a hard job. Thankfully God does not call us to do this alone. We have Him. When the parenting journey gets tough remind yourself this is His child, created in His image. Pray daily for their protection, relationships, and that God would draw them closer to Him.
One of my favorite quotes on prayer is by Dr. Peter Kreeft.
"I strongly suspect that if we saw all the difference even the tiniest of our prayers to God make, and all the people those little prayers were destined to affect, and all the consequences of those effects down through the centuries, we would be so paralyzed with awe at the power of prayer that we would be unable to get up off our knees for the rest of our lives."
Your prayers for your teen matter!
---
More Christ-Centered Resources for Families
You may also want to check out our very popular post about Best Children's Bibles for Every Age (and How to Avoid All the Bad Ones).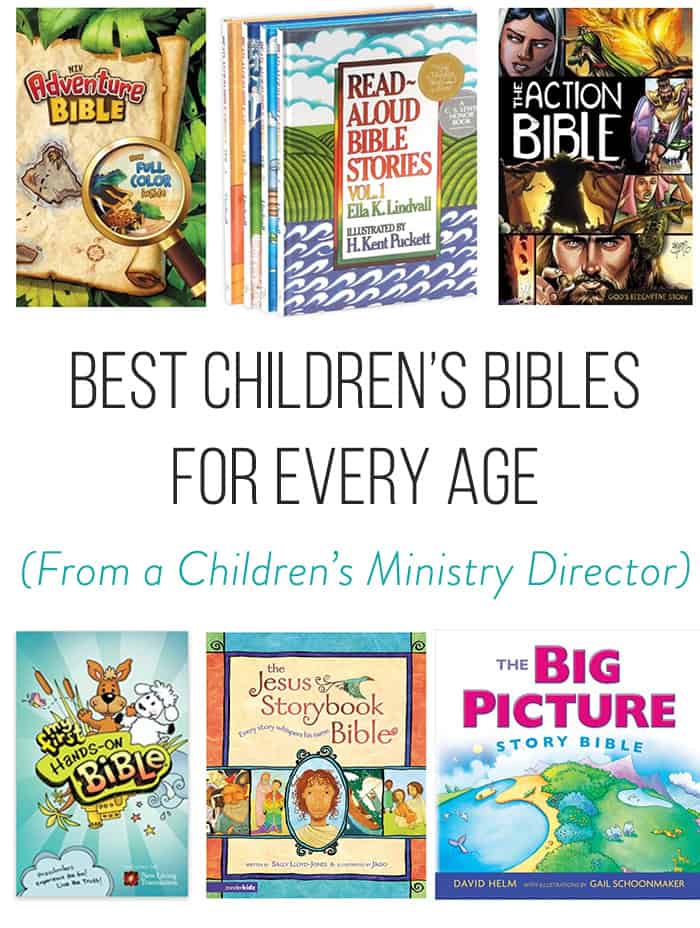 An easy-to-use devotional that will work for the whole family in just 5 minutes or so. Read full review here.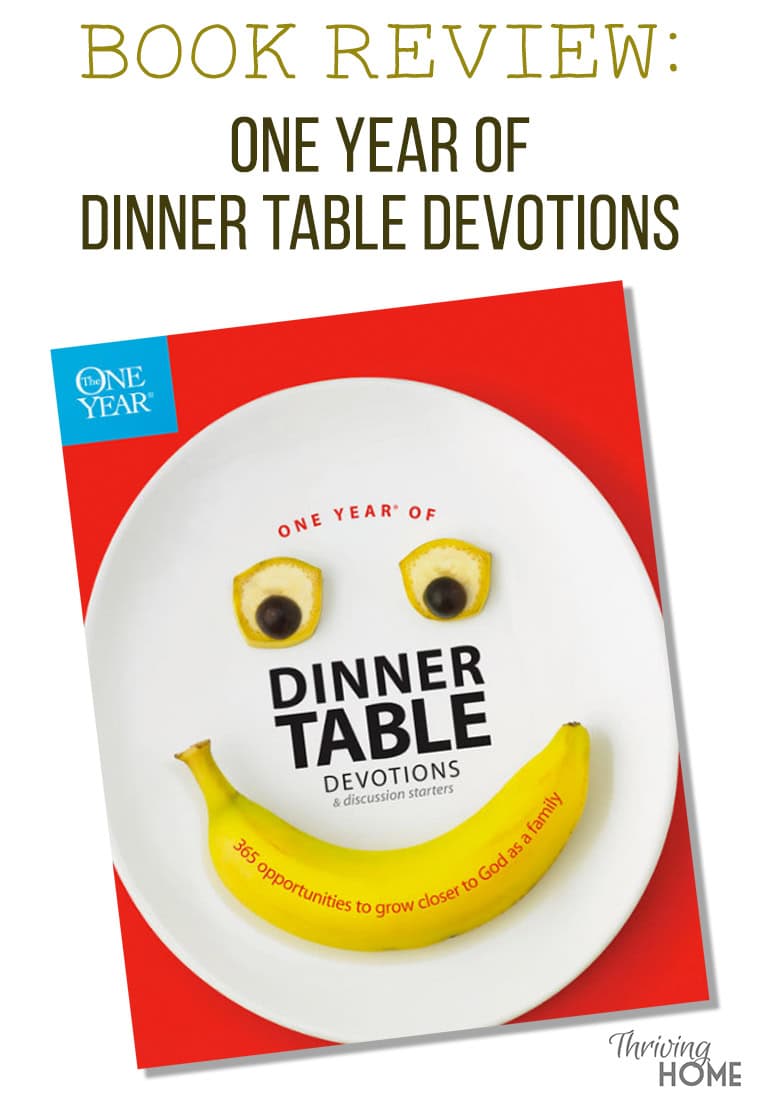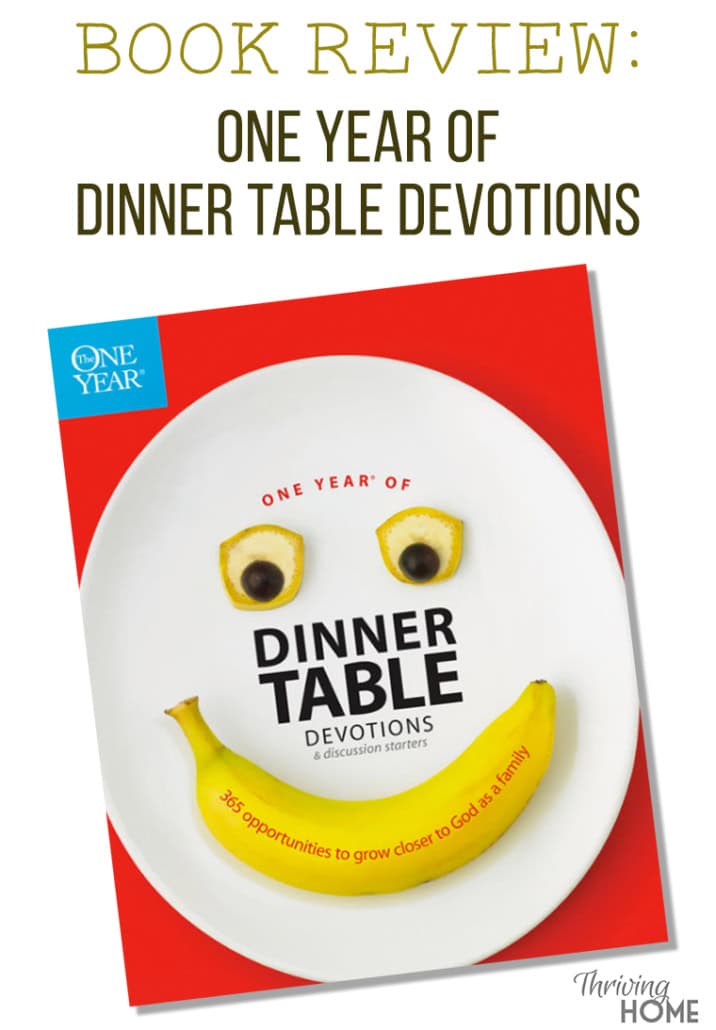 A review of some of our favorite devotionals for preschoolers and elementary kids.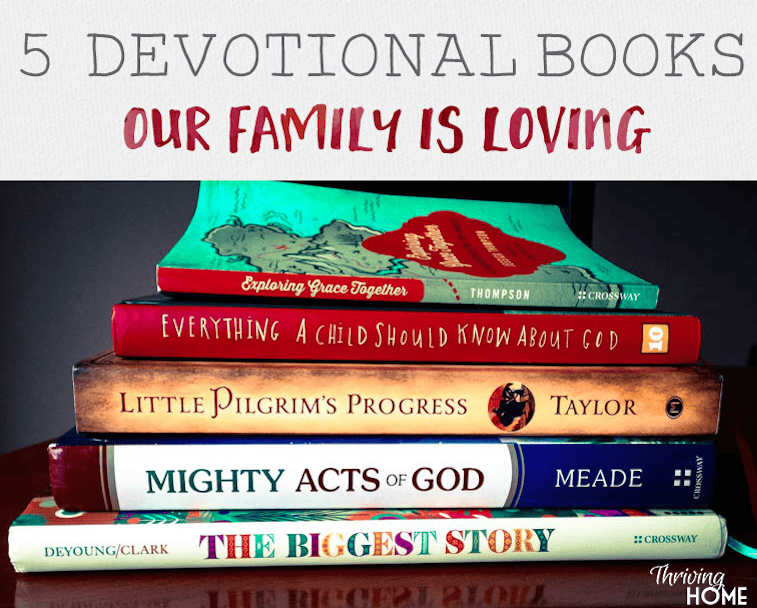 Resources for How to Talk to Your Kids About Sex
We've created a whole landing page with excellent Christian resources for talking to your tween and teen (and younger children) about Biblical sexuality and pornography. We hope you find it helpful.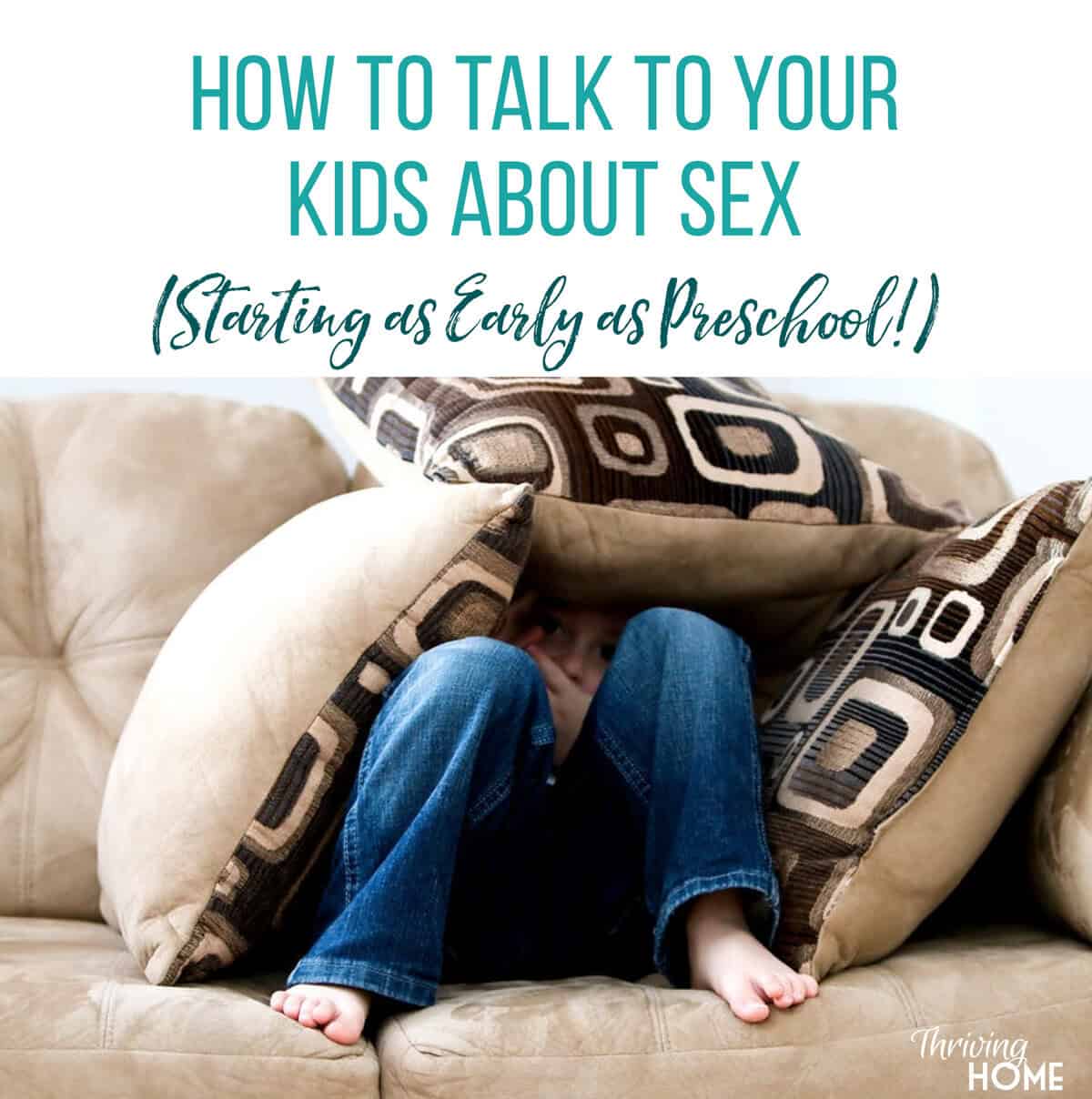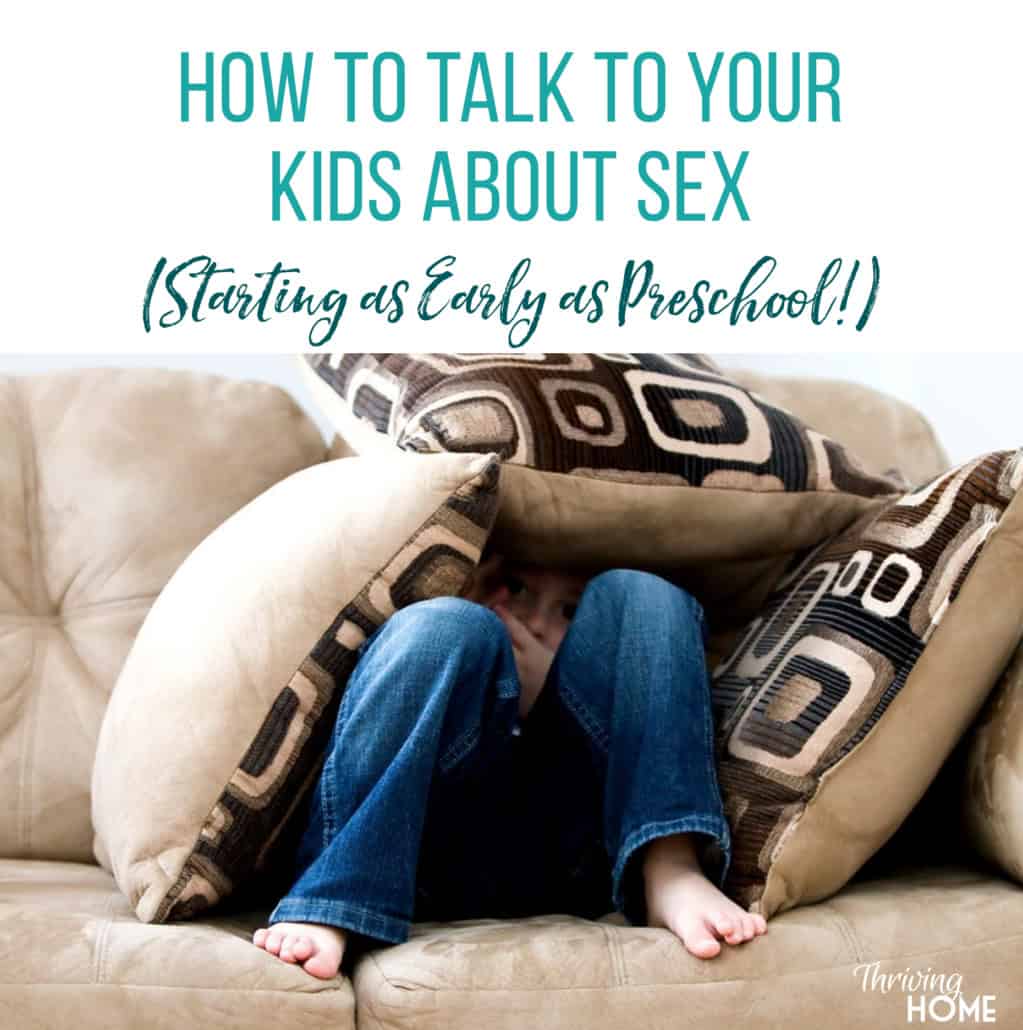 ---