This post may contain affiliate or sponsored links. Please read our disclosure policy.
My husband loves his smoker. One of the BEST things he makes on it is a Smoked Pork Shoulder, which he has fine-tuned through a lot of trial and error. So, I followed his steps, asked a gazillion question and am now sharing his delicious smoked pork shoulder (also known as pork butt) recipe and methods. Prepare to make the most delicious smoked pork you've ever had.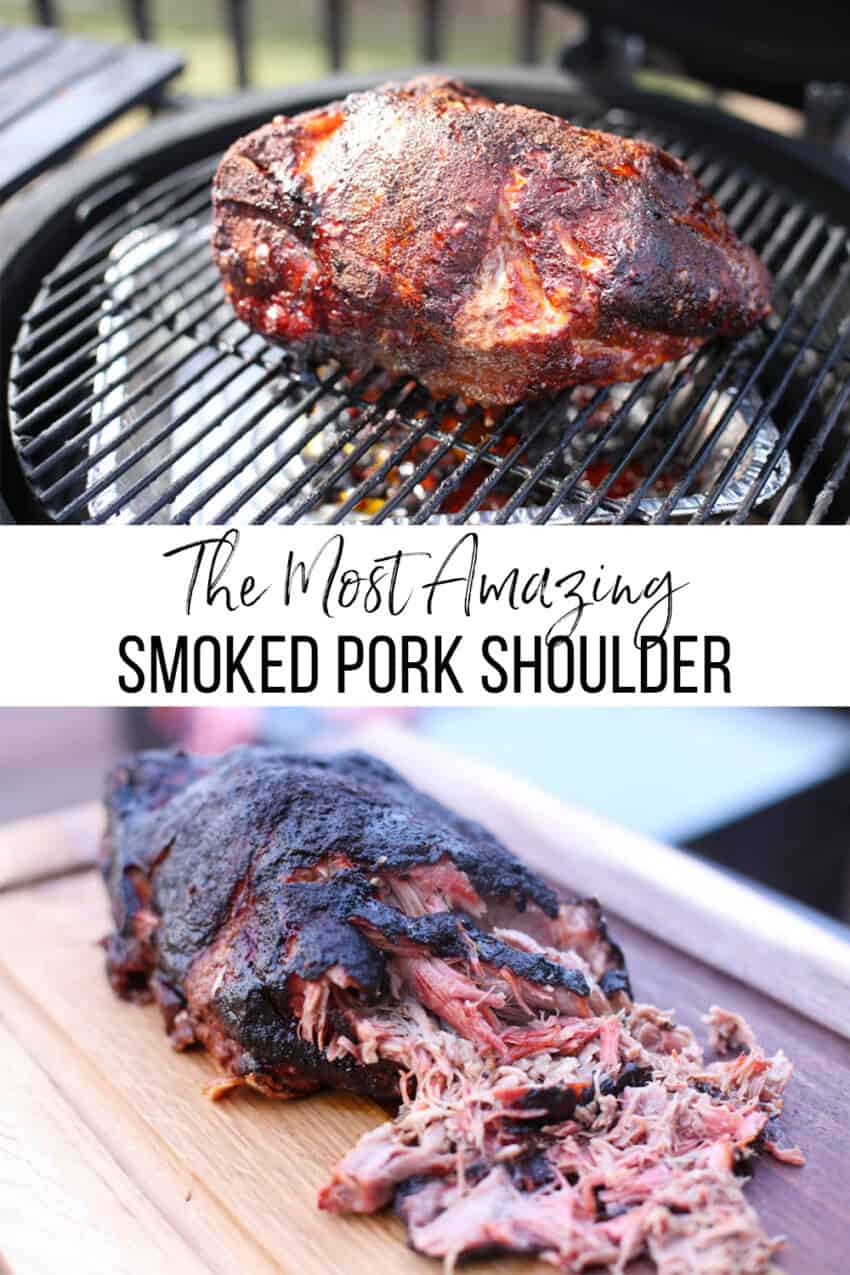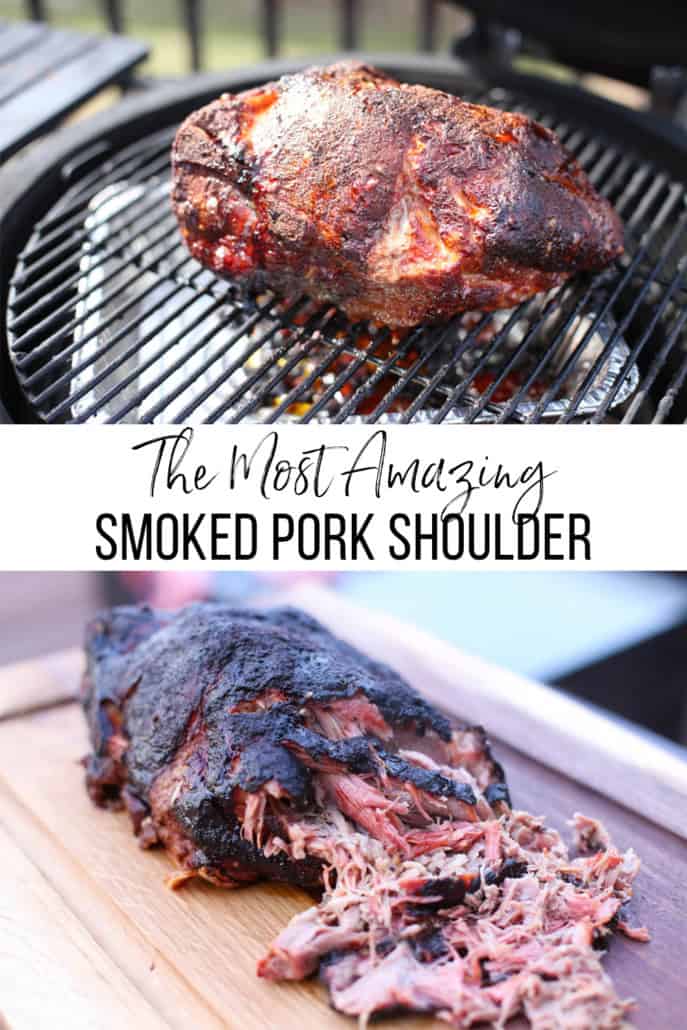 Note: We are a participant in the Amazon Services LLC Associates Program, an affiliate advertising program designed to provide a means for us to earn fees by linking to Amazon.com and affiliated sites. Read our full disclosure policy here.
While I'm a self-proclaimed freezer meal queen, my husband's domain is the grill. More specifically, the smoker.
Ever since he got his smoker, a Kamado Joe, he has been smoking all types meats. In fact, he and a group of his friends have an active text chain in which they exchange recipes they are trying, tips and tricks they have learned, and lively meat smoking banter.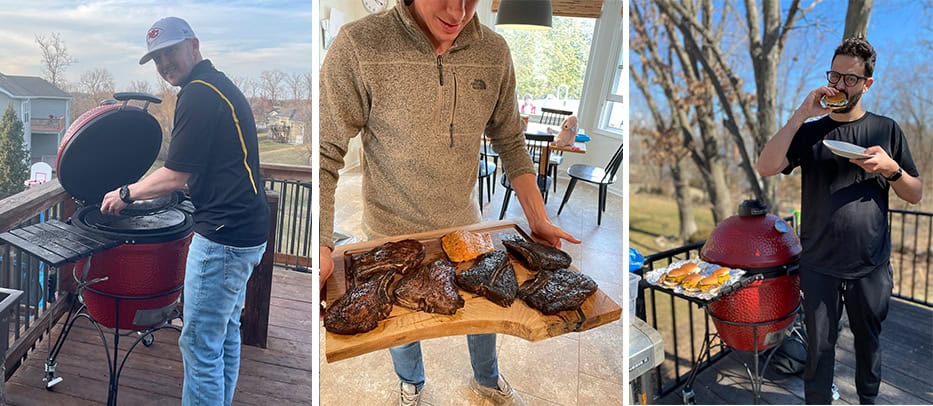 He and his friends have shared their collaborative knowledge and I'm glad to have a platform that can share all of the pro-tips they've learned. My hope is to build a small library of smoker recipes, and we're kicking things off with one of the easiest and most forgiving: Smoked Pork Shoulder (also known as Smoked Pork Butt).
This is a perfect recipe and cut of meat to start with.
It will work for any smoker. We use a Kamado Joe, but a Traeger will work.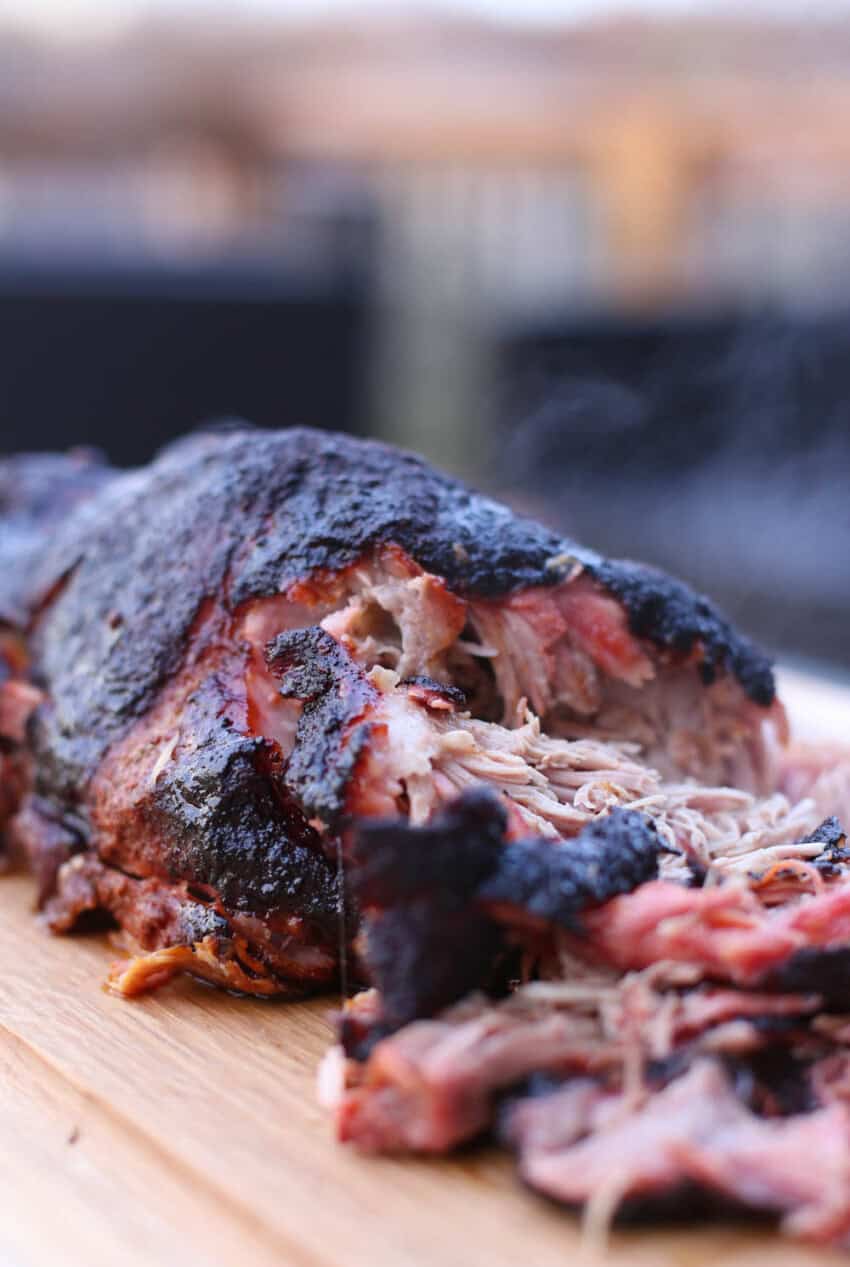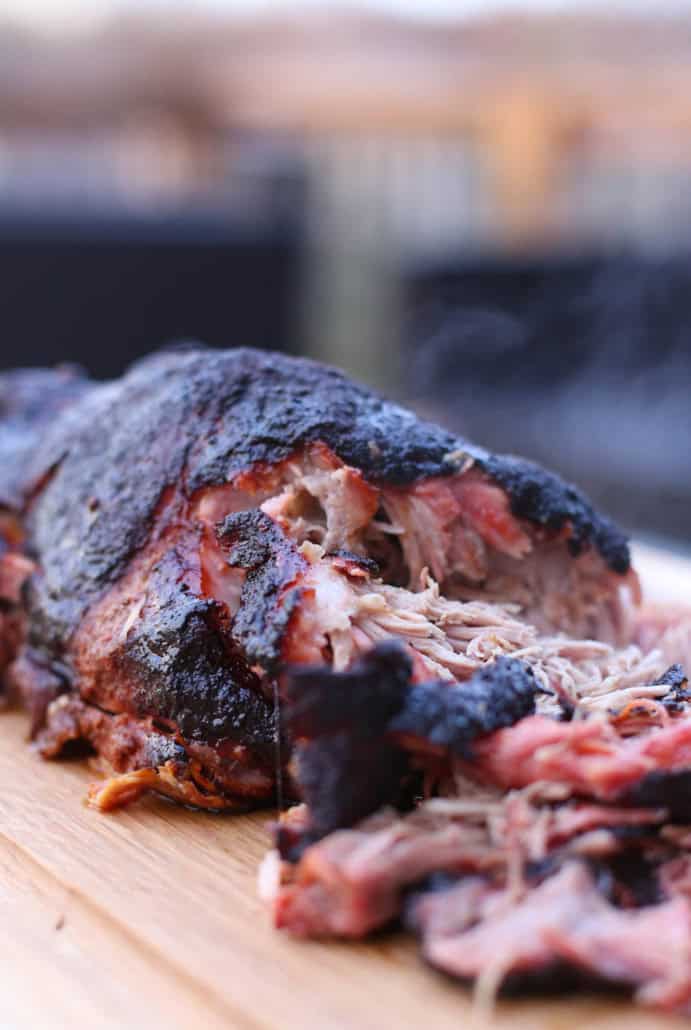 Equipment You'll Need for Smoked Pork Shoulder
Let's start off with what you'll need for this smoked pulled pork recipe: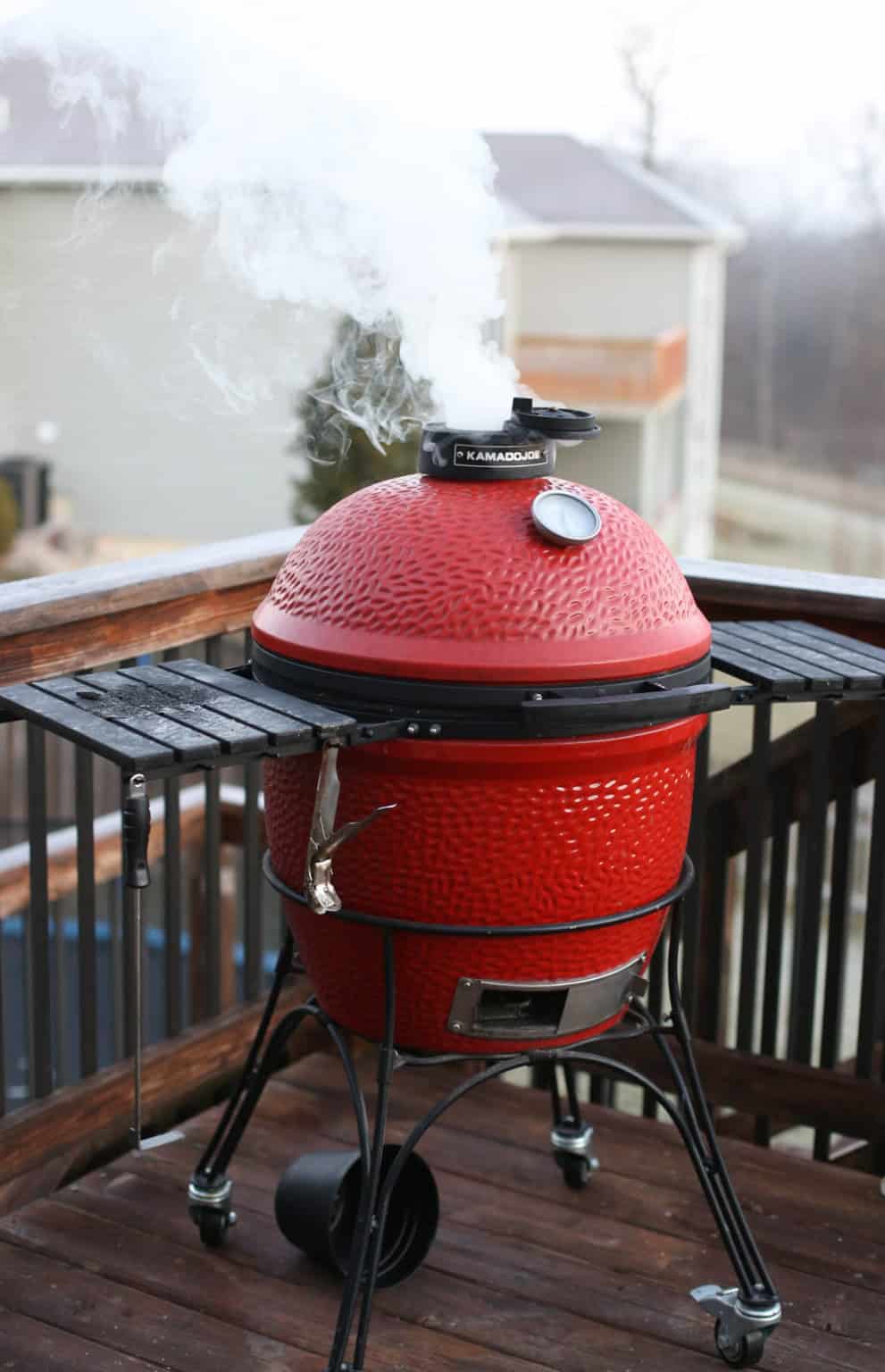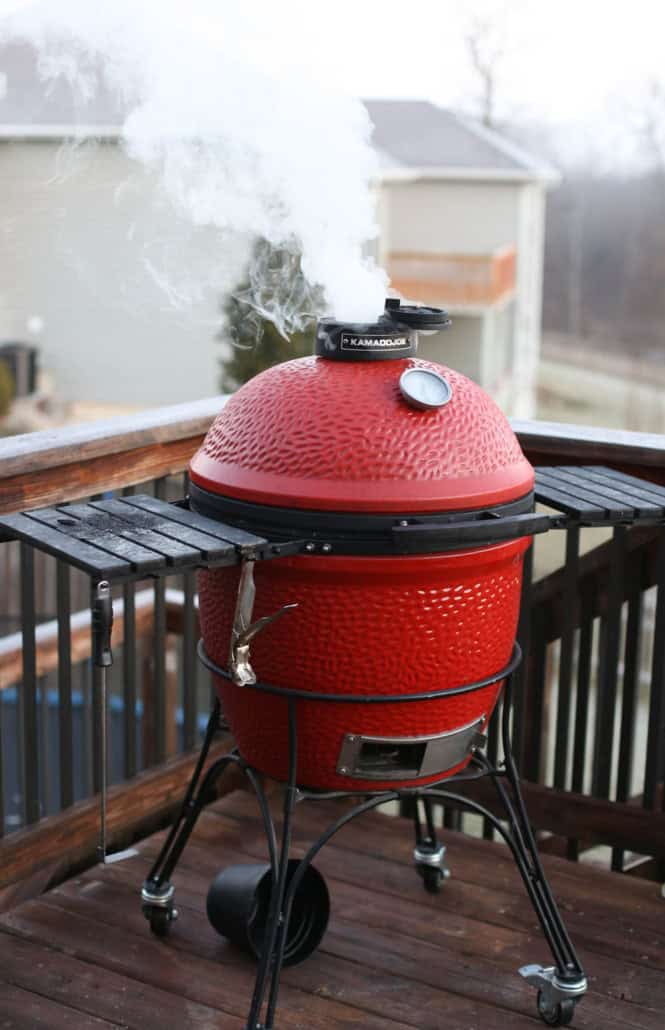 Is a Pork Shoulder the Same Thing as a Pork Butt?
Yes and no. They cook almost exactly the same way, so are interchangeable on most recipes. But technically, they are cut from different parts of the pig.
Pork butt and pork shoulder are frequently confused—and misleadingly named—cuts of meat. Both come from the shoulder of the pig, but pork butt is higher on the foreleg, while pork shoulder is farther down.

Cooks Illustrated
Should I Use Boneless or Bone-In Pork?
Again, both would work. But I asked a local butcher this question and he recommended a bone-in pork shoulder for the smoker. He said it adds flavor and moisture.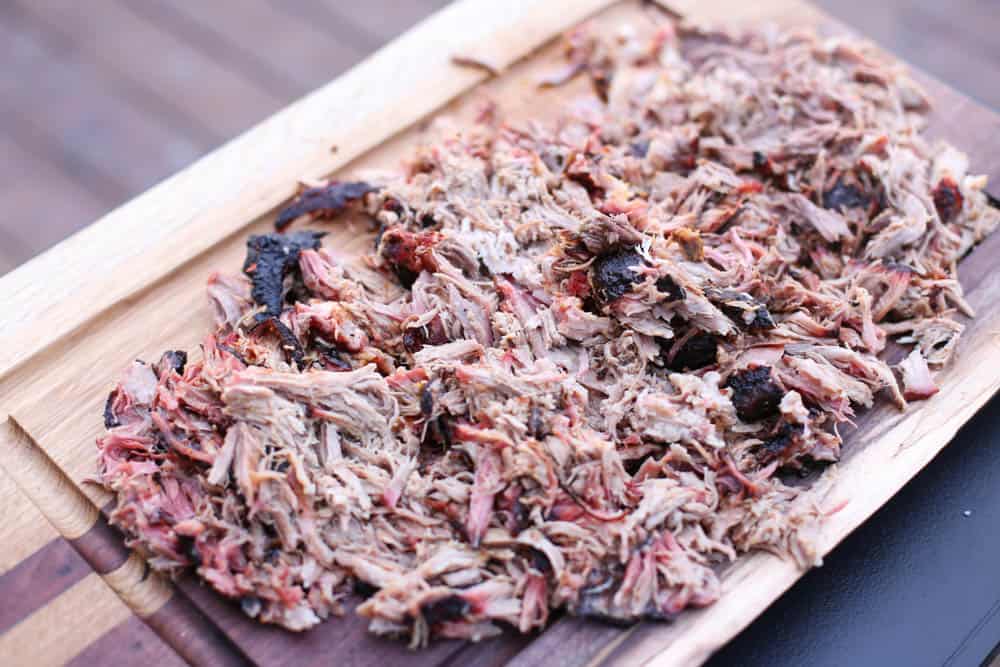 How Much Pork Shoulder Per Person?
Plan on serving at least 1/3 pound (and up to 1/2 pound) of smoked pulled pork shoulder per person. But, how do you know how big of a raw pork shoulder to buy to yield that amount?
According to Barbecue Bible, "When cooked and shredded, a bone-in pork shoulder will lose around 40 percent of its weight. For example, a raw 10-pound pork shoulder (or two 5-pounders) will yield about 6 pounds of finished meat, serving 12 to 18 people."
With that principle in mind, here's what you can calculate when buying bone-in pork shoulder:
10 pounds = 12-18 servings
8 pounds = 10-14 servings
6 pounds = 7-10 servings
Here's the thing, you can and should make extra, though! Especially since you'll work so hard on this delicious recipe. This smoked pulled pork stores well in the fridge as leftovers for up to 5 days, and it freezes well (if packaged the right way) for up to 6 months or so.
How Long to Smoke Pork Shoulder at 225°F
This is an important question, because you want it to be done when you're ready to eat! But, according to my husband, this is like trying to give a breakdown of jazz music. Ha, ha! The reality is, smoking pork shoulder is part art and part science. But, I tried to nail him down on some GENERAL times for you to go by for planning purposes.
If you're cooking your pork at 225-250°F, it will take roughly this amount of time from start to finish (includes preheating grill/meat prep, the cook time, and the cool/rest time):
6-7 lbs = 9ish hours
8-9 lbs = 11ish hours
10+ lbs = 12-14 hours
Just so you know, it takes about 30-45 minutes to preheat the grill and prep your pork. Then, it will take the majority of the day to smoke your pork until it reaches at least 190°F, and finally it will need to rest for 45-60 minutes.
Buckle up for this fun ride!
How to Prepare to Smoke a Pork Shoulder
As with most smoked meats, it starts with a great rub. Here is what is in the rub we used:
Brown sugar
Paprika
Kosher salt
Chili powder
Garlic powder
Onion powder
Dried mustard
Black pepper
Cayenne
Cinnamon
Mix it all together in a small bowl.
Now give your pork shoulder a good rub down. Make sure it's completely covered on all sides.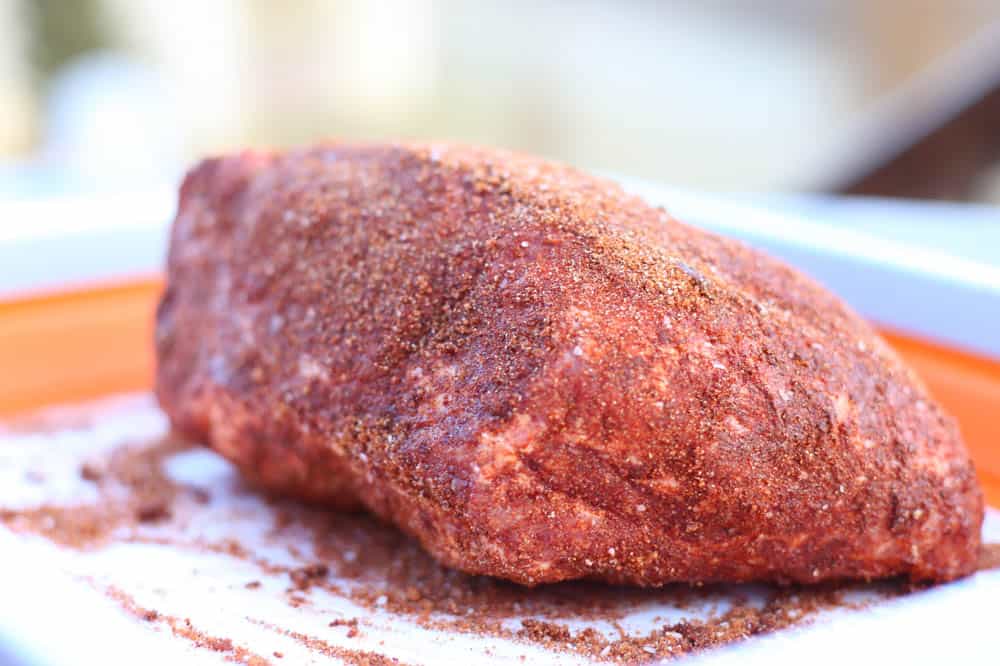 Give the Roast an Injection (Optional)
Your pork will still be tender and delicious, but if you want to take it to the next level, giving it a flavor injection is something you can do. Here is what is in the injection juice:
Meat Injection Juice:
1 1/2 cups 100% apple juice
1/2 cup 100% pineapple juice
1/2 cup sugar
6 tablespoons salt
Smoked Tabasco Sauce, to taste (roughly 1 tablespoon)
Inject the pork all over with the juice. Don't stress if you don't use it all. Just try to get a bit of liquid in every few inches or so. If you get squeamish with shots, you might want to have someone else do this!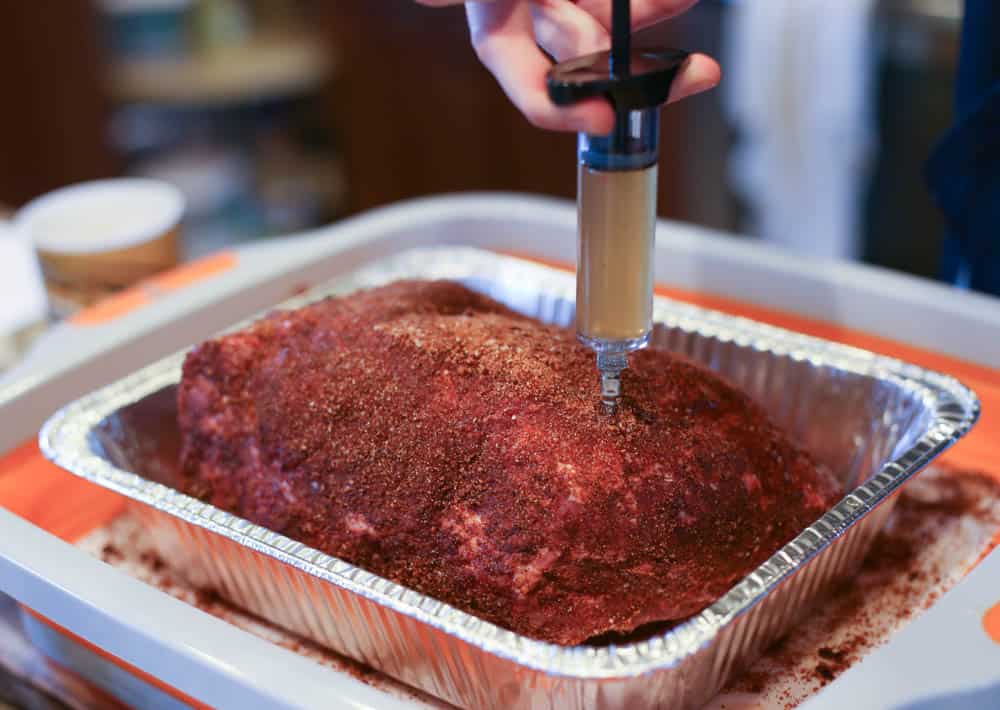 How to Smoke a Pork Shoulder
Now the fun part.
Hopefully you've preheated your grill to between 225-250°F. If not, be sure to do that!
Place your prepared pork shoulder on the pre-heated smoker. Be sure you have an aluminum pan underneath to catch the drips. Try not to leave the lid open too long or heat will escape.
Close the lid and don't peek for at least 6 hours! You'll want to monitor the temperature of the grill through the gauge on your smoker and keep it hovering between 225-250°F.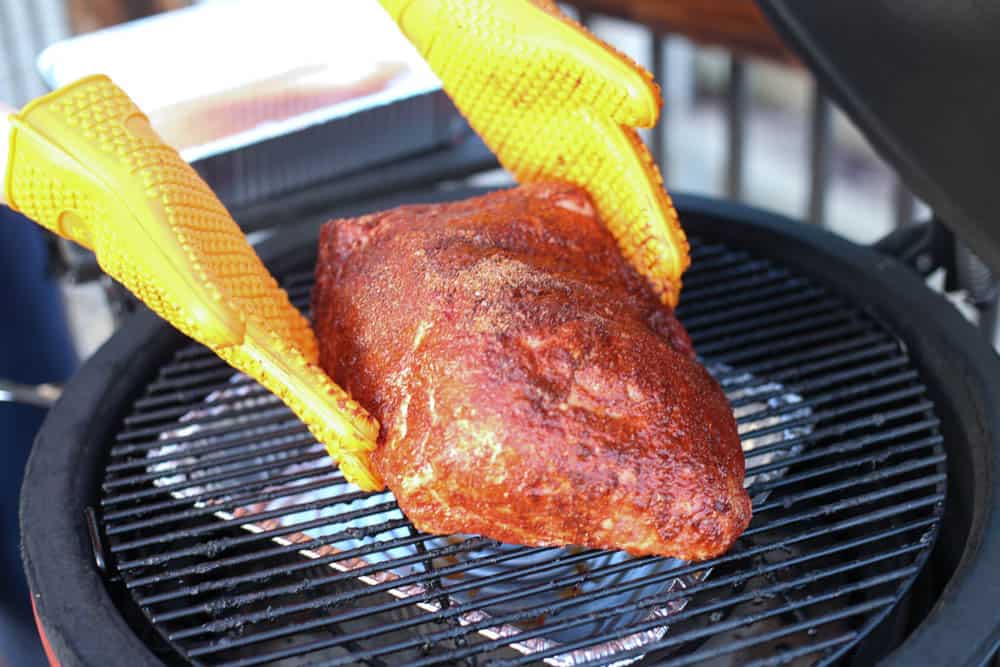 At around 6 hours in, use your meat thermometer to give it a quick temperature check. Be sure to check it in a few different spots. Since every cut of meat cooks a bit differently, this will help you know how close your pork is to being done.
It's ready to take off when it reaches an internal temperature of 190-195°F. That's your ultimate goal you're working towards. Depending on the size of your pork shoulder, this will likely take 8-10 hours.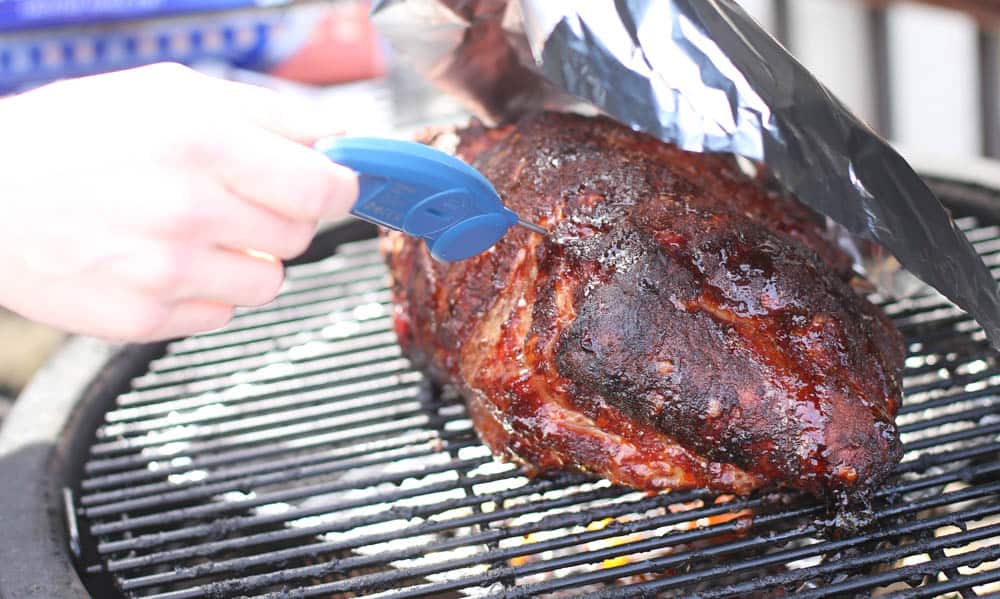 While you have the smoker open, drizzle some agave syrup over the pork. If you don't have any, you'll be ok, but this makes the outside SO delicious.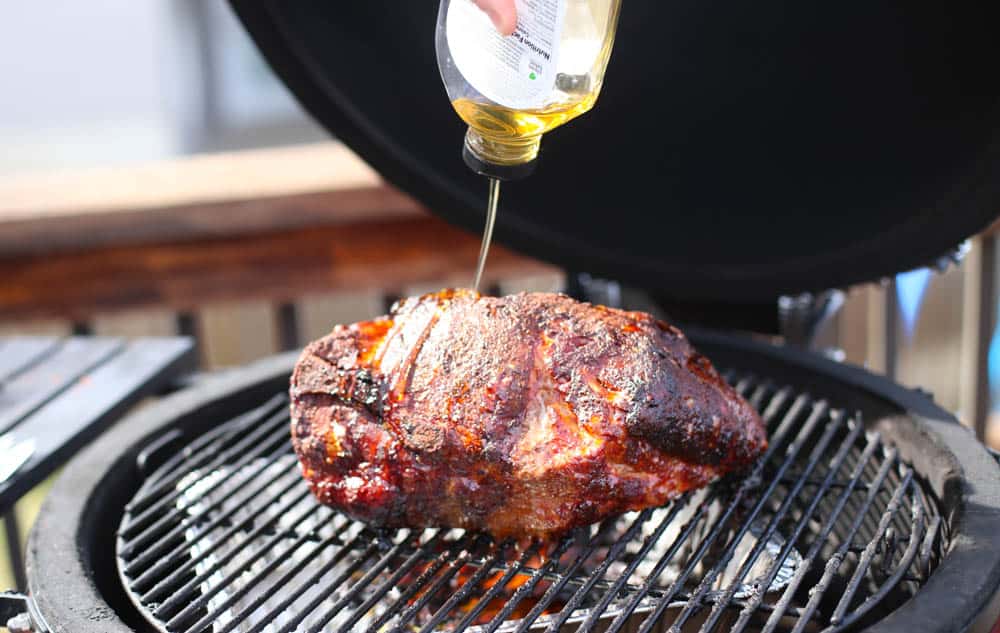 Next, tent the pork with some foil to protect the outside from getting too burned. Now close that smoker and give it a few more hours, until it reaches the desired temp of 190°F . Check with your meat thermometer as needed.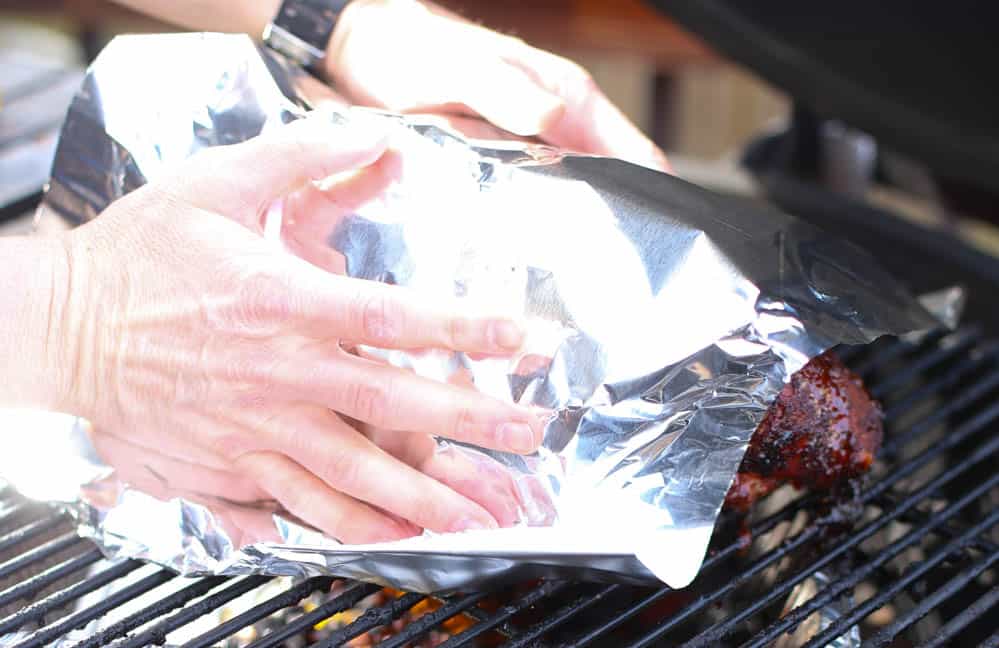 What If My Pork Isn't Done On Time?
The guests are waiting, the family is hangry and the pork hasn't yet reached at least 190-195°F+. Are there other options?
Fear not. You can still eat it if you need to take it off early.
If your pork shoulder in the 170-190°F range, you can still have a delicious dinner. While it may not be fall-part tender, you can serve it as sliced pork or burnt ends.
And, it's actually safe to eat pork if it reaches an internal temperature of 145°F internally according to the USDA. However, you really need it to get higher than that to break down the connective tissues in a cut of meat like this.
Allow Time for the Pork to Rest
When the internal temperature has reached at least 190°F, remove it from the smoker. This can be a little tricky. My husband likes to use his meat shredders to do this. You could also use a large spatula to help or even your heat-resistant gloves.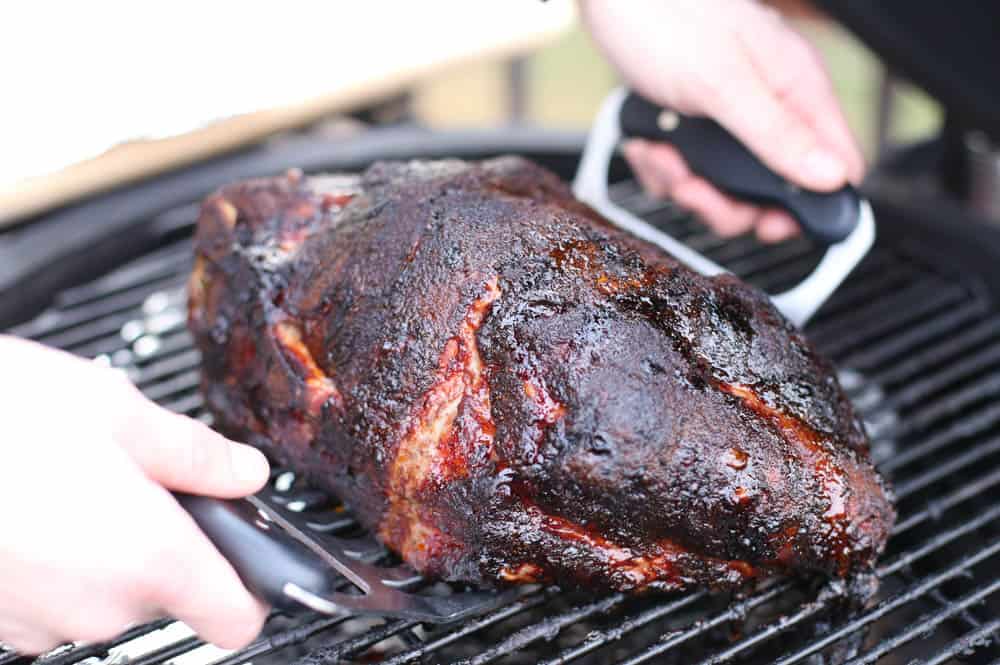 Wrap your pork shoulder in foil and let it rest for at 45-60 minutes. This allows the juices to distribute throughout the meat and the internal temperature to rise 5-10 degrees more, helping to break down the connective tissues even more.
Tip: My husband likes to wrap it up in a towel as well and put it in a cooler for safe keeping.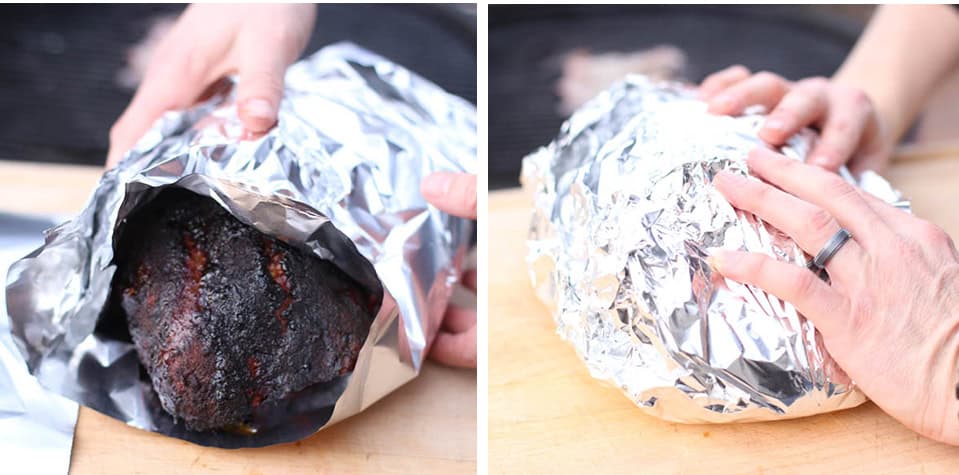 How to Serve a Pork Shoulder
Well first, you have to shred it up. Two forks will work fine but if you have your meat shredders, this will speed the process up. This is one of the most satisfying parts of smoking meats so don't rush it!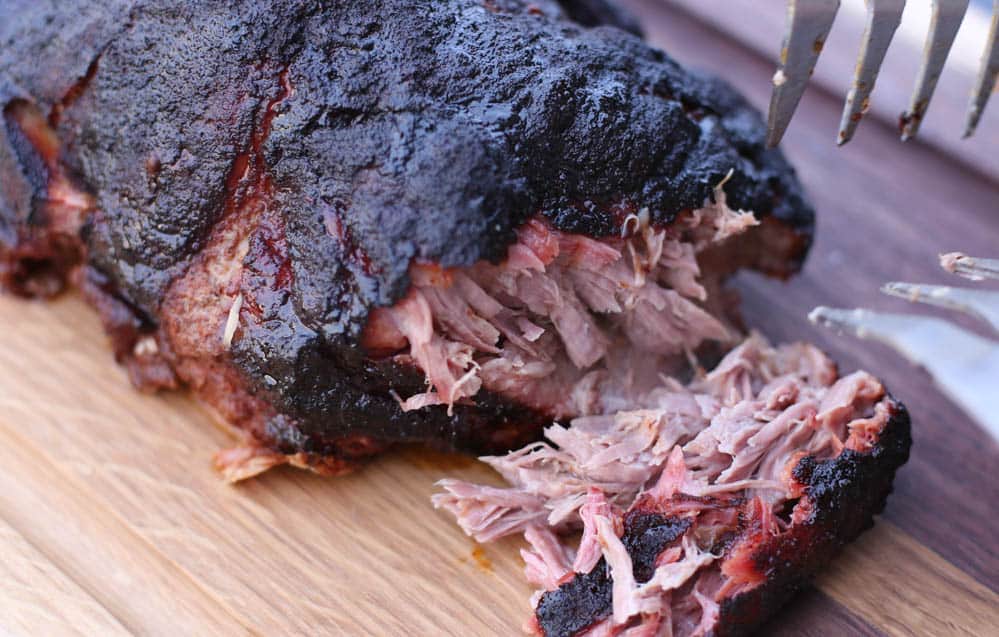 You can also sneak little bites as you shred the meat.
You can eat the shredded pork plain or turn it into a sandwich. Just be sure to provide some delicious BBQ sauce with it. Since BBQ sauce can be packed with corn syrup and other artificial ingredients be sure to pick one with the least amount of ingredients OR make your own Homemade BBQ Sauce.
Here are some side dishes that would go well with Smoked Pulled Pork: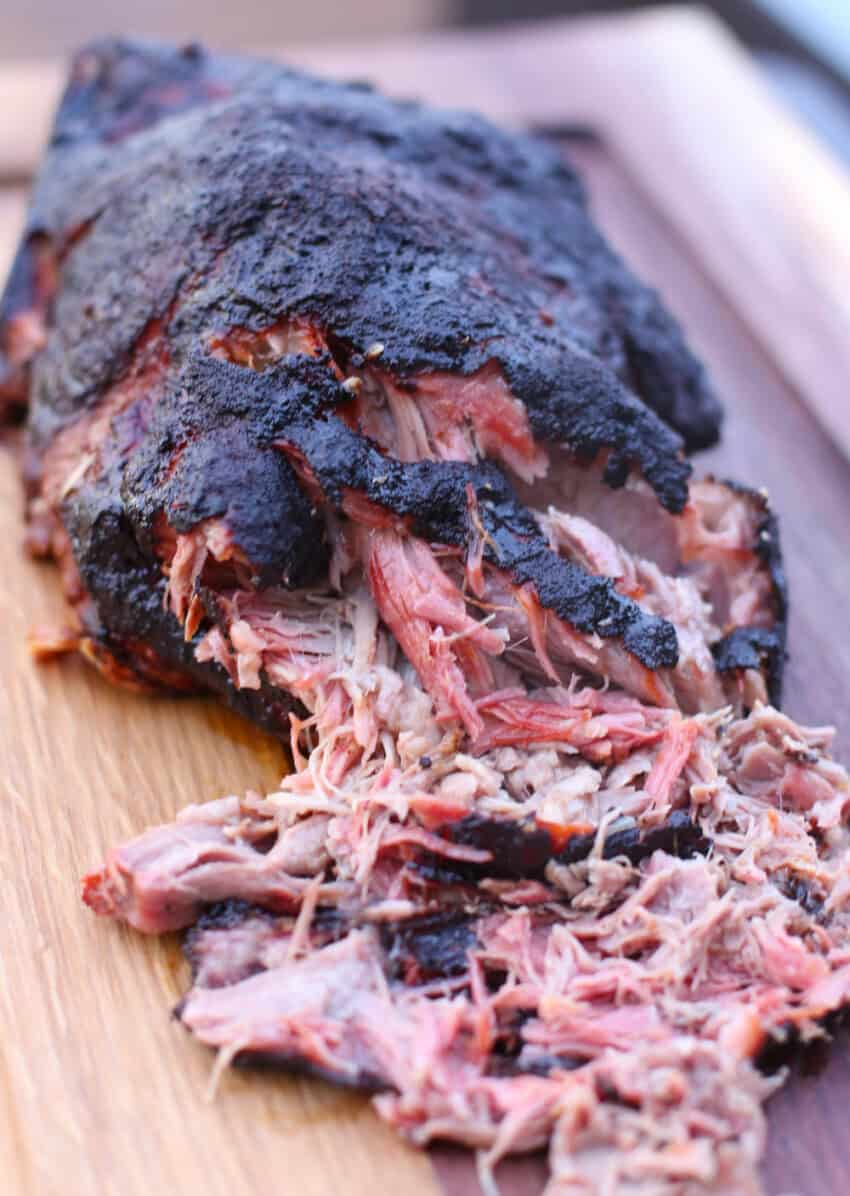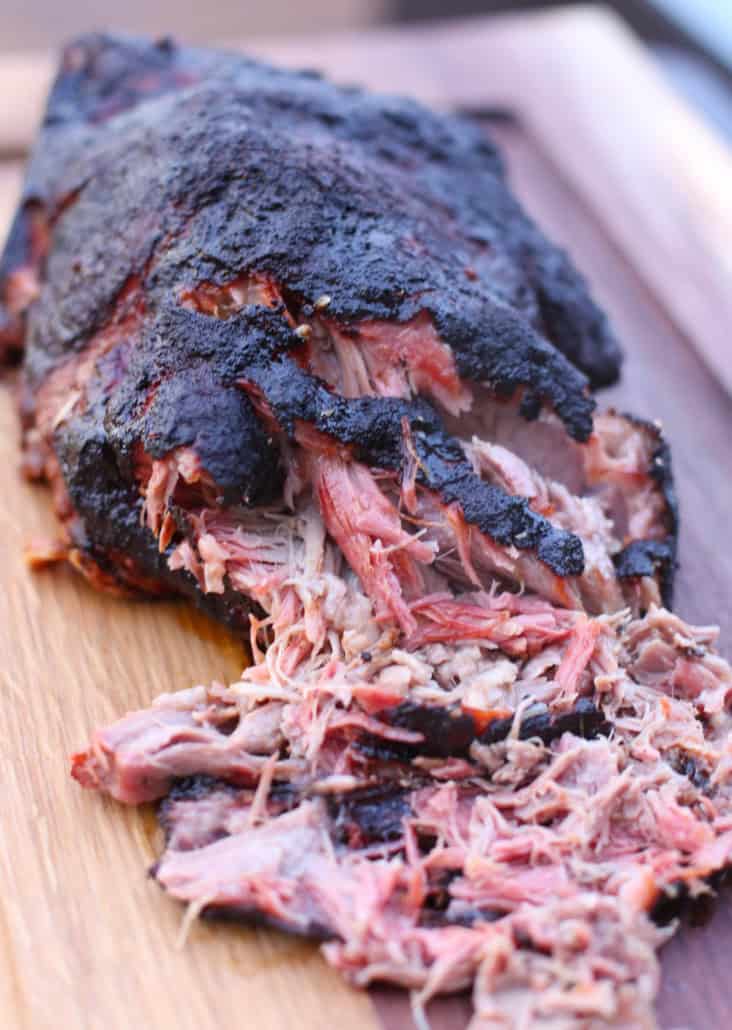 Can You Freeze Pulled Pork?
While this is a great recipe for groups of people, you'll likely have leftover pulled pork. Like, lots of leftovers.
After you have delivered some to your neighbors who have been smelling it all day, you can easily freeze it! You can freeze it in small portions to use later as a freezer meal for 1-2 people, or you can put it all in one big freezer container and make it another dinner down the road.
Since it's already fully cooked, just rewarm the meat for when you want to eat it.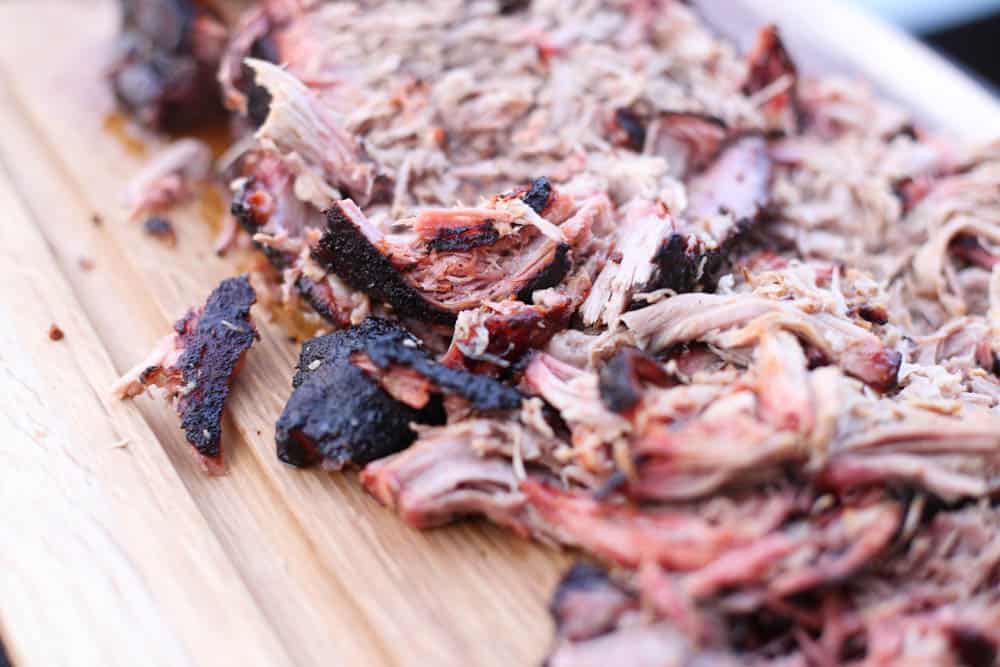 Tips & Tricks for Smoking Meat
Random tips from the chief griller in my home:
If your grilling temperature gets too high, close the vents and wait for it to lower to the desired temperature. If it get's too low, open the vents more and wait until desired temp.
Make sure you are going to have enough charcoal for the cook time. Error on the side of too much. If you run out, it's really difficult to bring the temperature back up. You can always bring it down though.
Read through the entire recipe and make sure to allow for time for the grill to pre-heat (about 30-45 minutes), meat to cook (roughly 8-10 hours), and meat to rest (45-60 minutes). Work backwards to estimate your start time. For example, if we want to eat at 6 p.m., the pork needs to for sure come off by 5 p.m. That means the pork needs to be in the smoker by 7:00 a.m. if we want to be on the safe side. Which means it needs to start pre-heating around 6:15 a.m.
If you know you'll be making the recipe again, just double the rub and save it with your seasonings. No need to make it twice!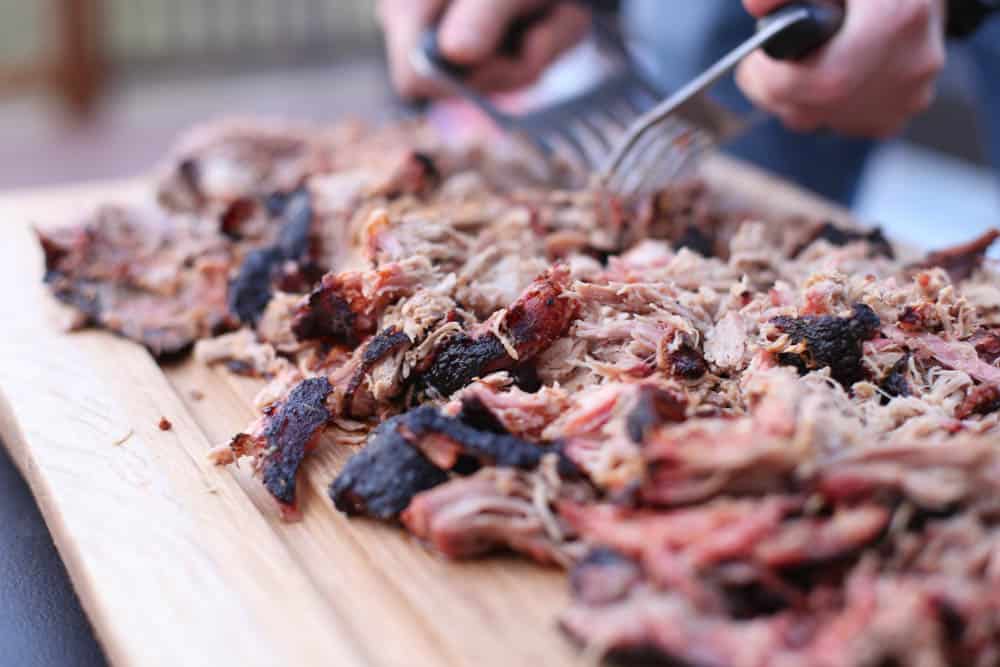 Did you make this? Snap a photo and tag us on Instagram at @thrivinghome so we can see your creations and cheer you on!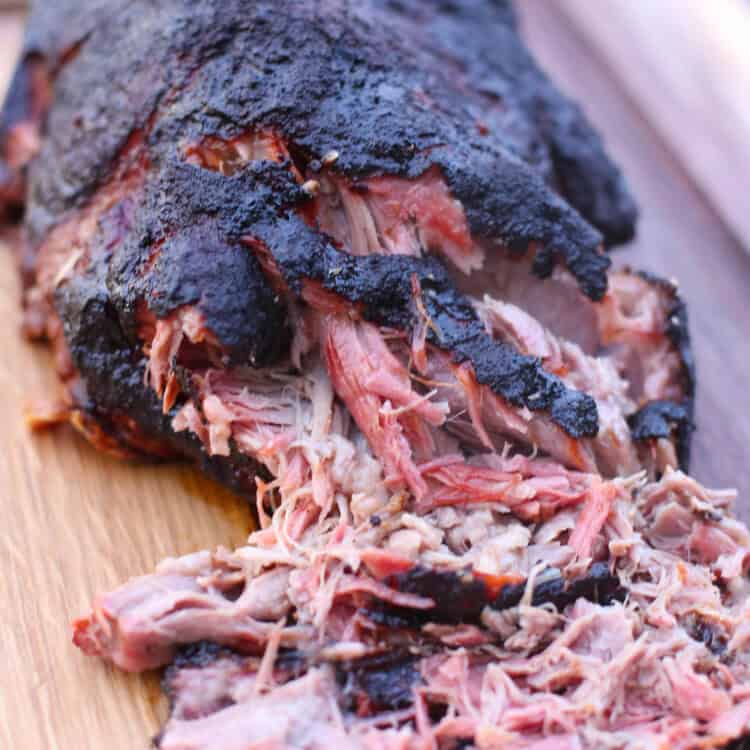 Smoked Pork Shoulder
Rubbed, injected, smoked? Prepare to make the most delicious smoked pork you've ever had.
Prep:
45 min
Cook:
9 hours
Total:
9 hours 45 minutes
Ingredients
Rub Ingredients:
1/4

cup

brown sugar, packed

2 tablespoons

paprika

2 teaspoons

kosher salt

2 teaspoons

chili powder

2 teaspoons

garlic powder

2 teaspoons

onion powder

1 teaspoon

dried mustard

1 teaspoon

black pepper

1/2 teaspoon

cayenne

1/2 teaspoon

cinnamon
Meat Injection Recipe (Optional):
1 1/2

cups

apple juice

1/2

cup

pineapple juice

1/2

cup

sugar

6 Tablespoons

salt
Smoked tabasco sauce to taste (roughly 1 tablespoon)
Other Ingredients:
7

–

10

pound

pork shoulder (bone-in preferred)
Roughly

1

–

2

tablespoons agave (Optional)
BBQ Sauce for serving
Before You Begin! If you make this, please leave a review and rating letting us know how you liked this recipe! This helps our business thrive & continue providing free recipes.
Preheat the grill to 225-250°F. (This will take 30-45 minutes.) If you have heat deflectors, make sure they are in. Add aluminum pan to the bottom to catch the juices.
Combine all the seasonings to make the rub. Rub all over the pork.
(Optional) Whisk together the meat injection juice in a bowl. Put the pork in an aluminum pan. Inject the meat with a little juice every few inches.
Transfer the pork to the preheated smoker.
Cook for 6 hours and then check the internal temperate to determine how much longer you will need to smoke it. Drizzle agave syrup across the top and tent with aluminum foil to project the outside of the meat from getting too burned. Continue to cook until internal temperature reaches 190-195°F+ or the bone just falls right out and meat shreds easily. The total cook time will likely be 8-10 hours, depending on the size of your pork shoulder. 
Remove from heat. Wrap pork in foil and then again in a towel. Let rest for 45-60 minutes. (My husband like to put his in a cooler so curious dogs and kids don't bother it.)
Shred the meat using two forks or meat shredders. Serve.
---
Notes/Tips
If you need to speed up your cook, you can bump the temperature up.
Want More Recipes for Groups of People?
We love sharing recipes that work well for large groups of people. Make sure to hop over and check them all out!