Bacon Wrapped Green Beans
This post may contain affiliate or sponsored links. Please read our disclosure policy.
Bacon Wrapped Green Beans make a great side dish for almost any occasion. They look fancy enough for a holiday meal or even a birthday dinner but they are easy enough to go as a side for a simple weeknight meal. Follow these easy steps to make your own!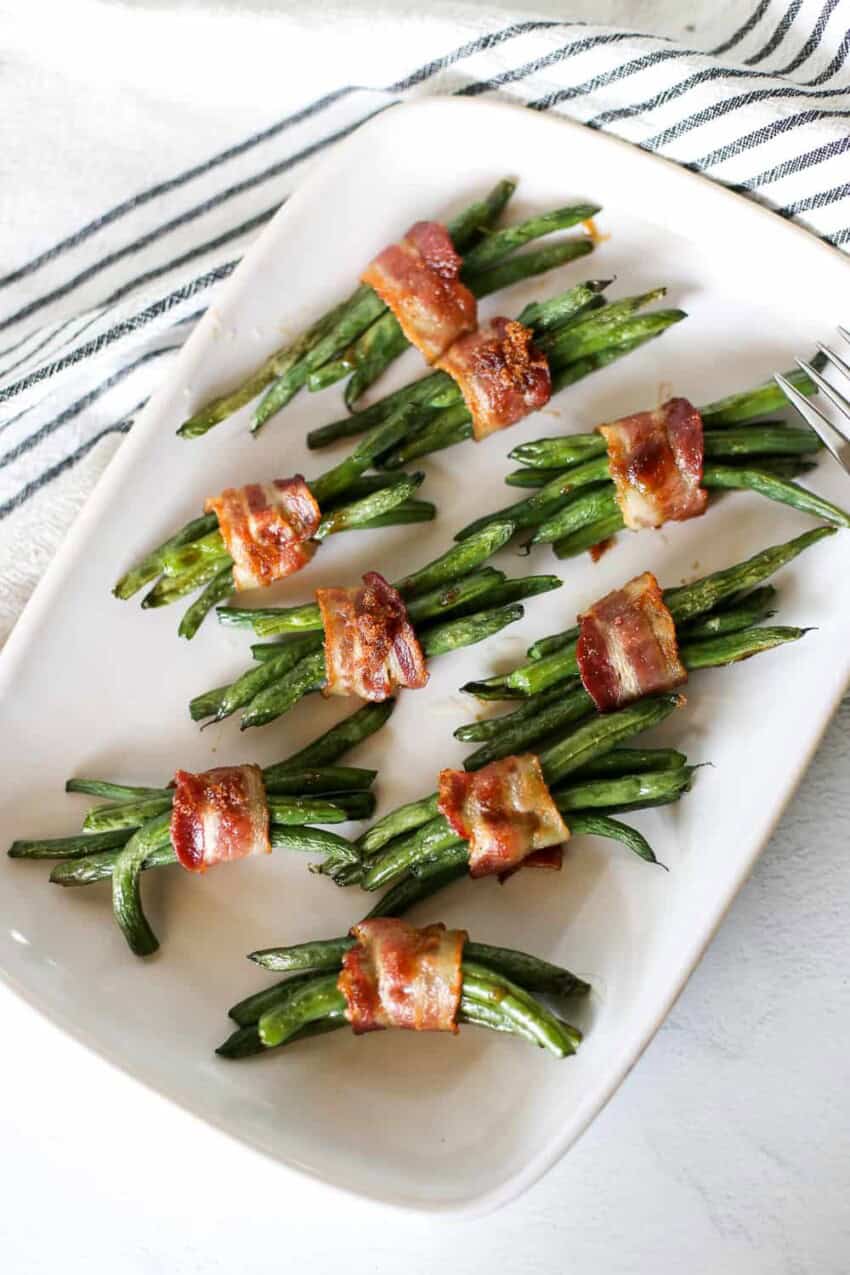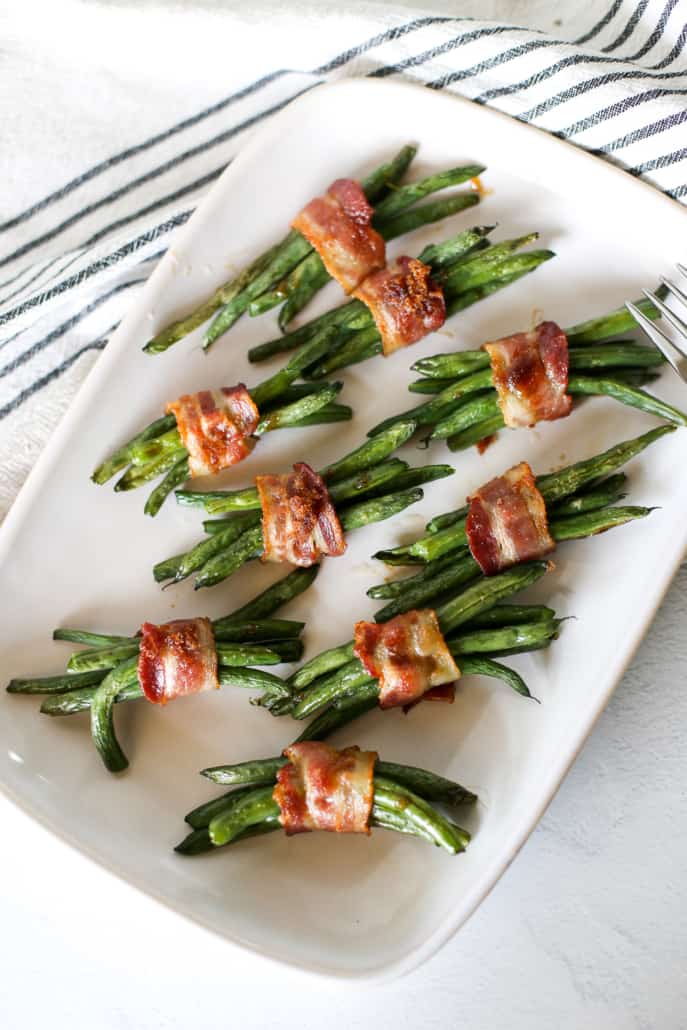 What Ingredients Do I Need for Bacon Wrapped Green Beans?
Like most of our recipes, the ingredients for this recipe are simple and recognizable. Here is what you'll need:
Fresh green beans – For this recipe, fresh is the only option. Canned or frozen won't work. The peak season for fresh green beans is May through September. But you can get them year round. Here are more tips about fresh green beans.
Bacon – Uncured bacon is the healthiest option. Be sure the bacon is NOT thick cut. Otherwise cooking time will take longer.
Salted butter – Unsalted will work fine too. The salted butter brought a touch more flavor though.
Garlic powder
Brown sugar – Dark or light works.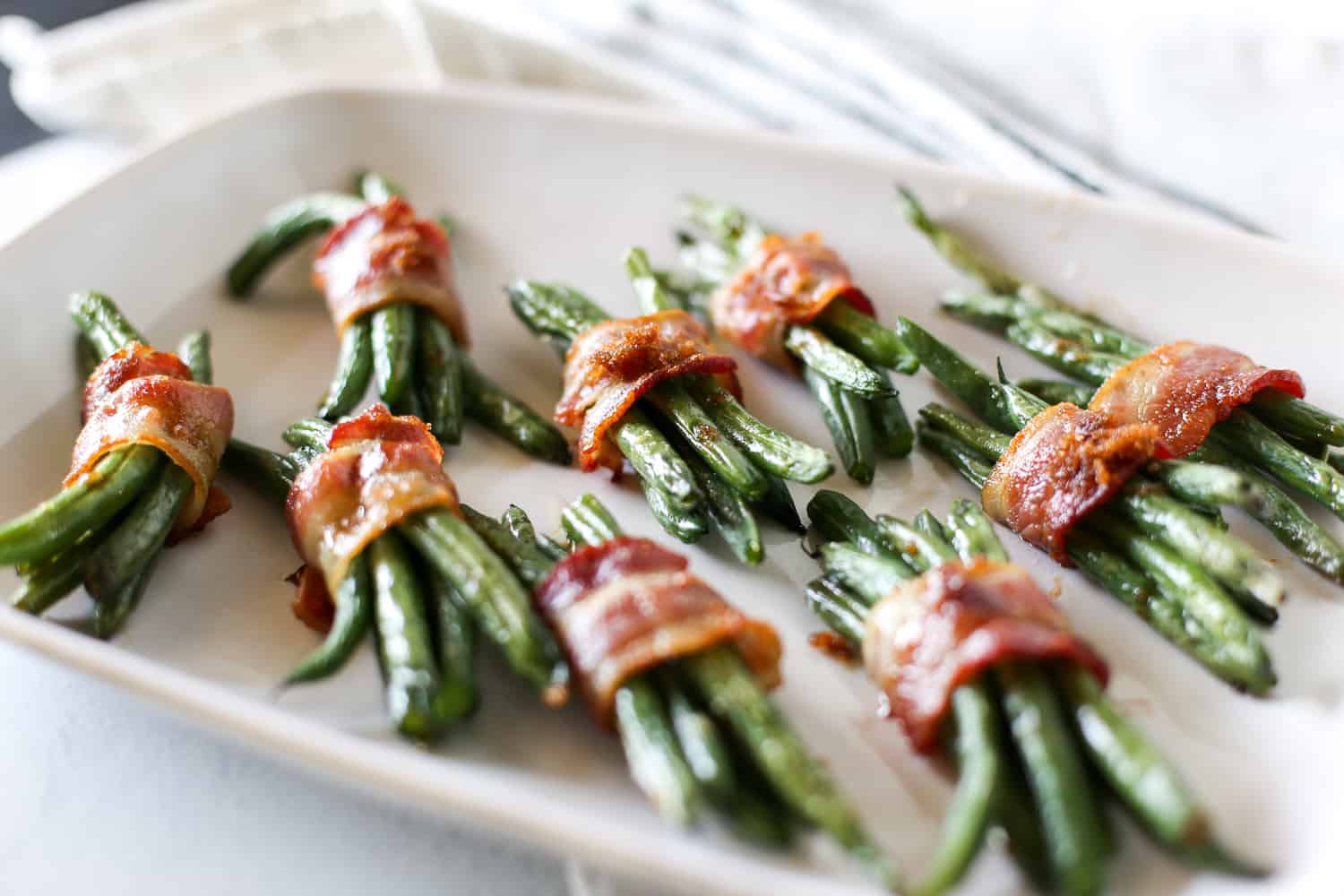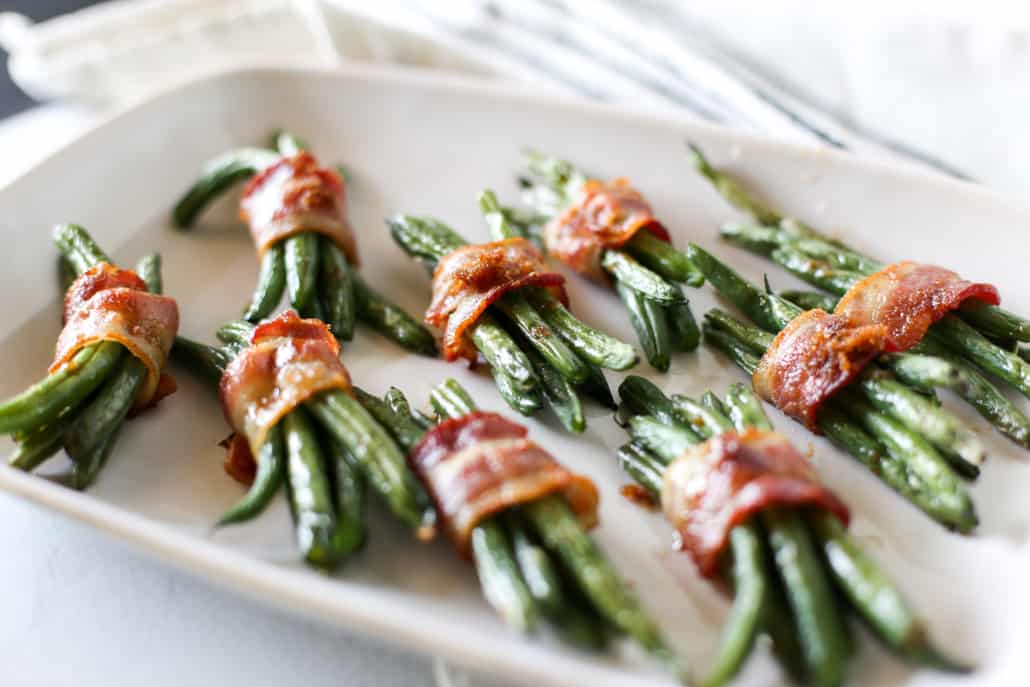 How to Make Bacon Wrapped Green Beans
While I wish you could simply wrap some bacon around green beans and throw them in the oven, we've found that they don't work out well. By the time the bacon is done cooking, the green beans are overcooked. Plus the bacon doesn't look crisp and it can look unappealing.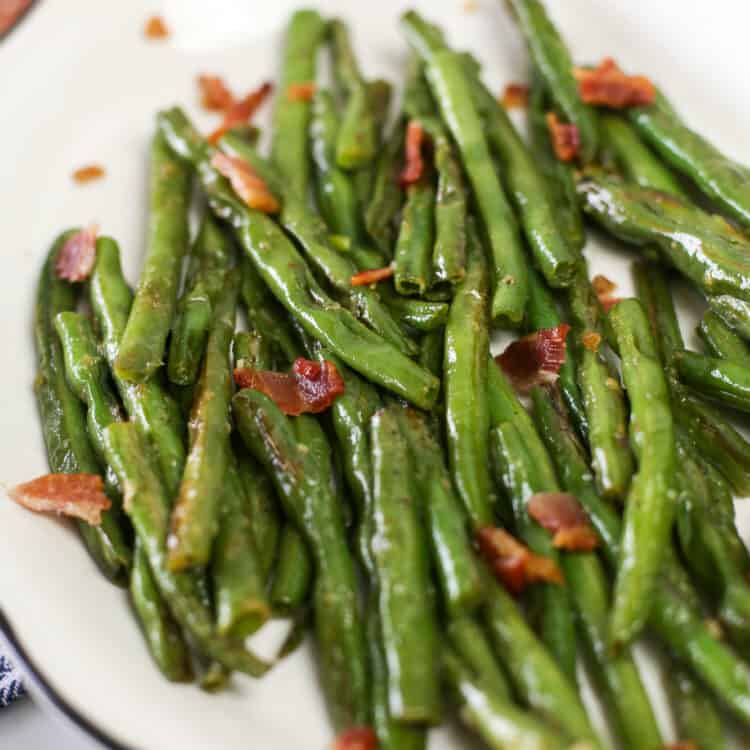 Try Our Garlic Green Bean Recipe!
If you like recipes like this, you will love our Garlic Green Bean recipe. It only has 3 ingredients and it's done in 15 minutes.
Garlic Green Beans
Don't worry, there are only 2 small steps to prep your ingredients for the oven:
Step 1: Partially Cook the Bacon
In order to not end up with gummy bacon at the end, you'll want to give it a jumpstart.
You'll want to partially cook it – just until the edges start to brown and it starts to shrink up.
In my original recipe, I had you cook the bacon in the oven for about 10 minutes. However, I find it easier to cook the bacon on the stovetop. That way you can keep a closer eye on it and cook it perfectly!
Once it's cool enough to touch, you'll want to cut each slice in half.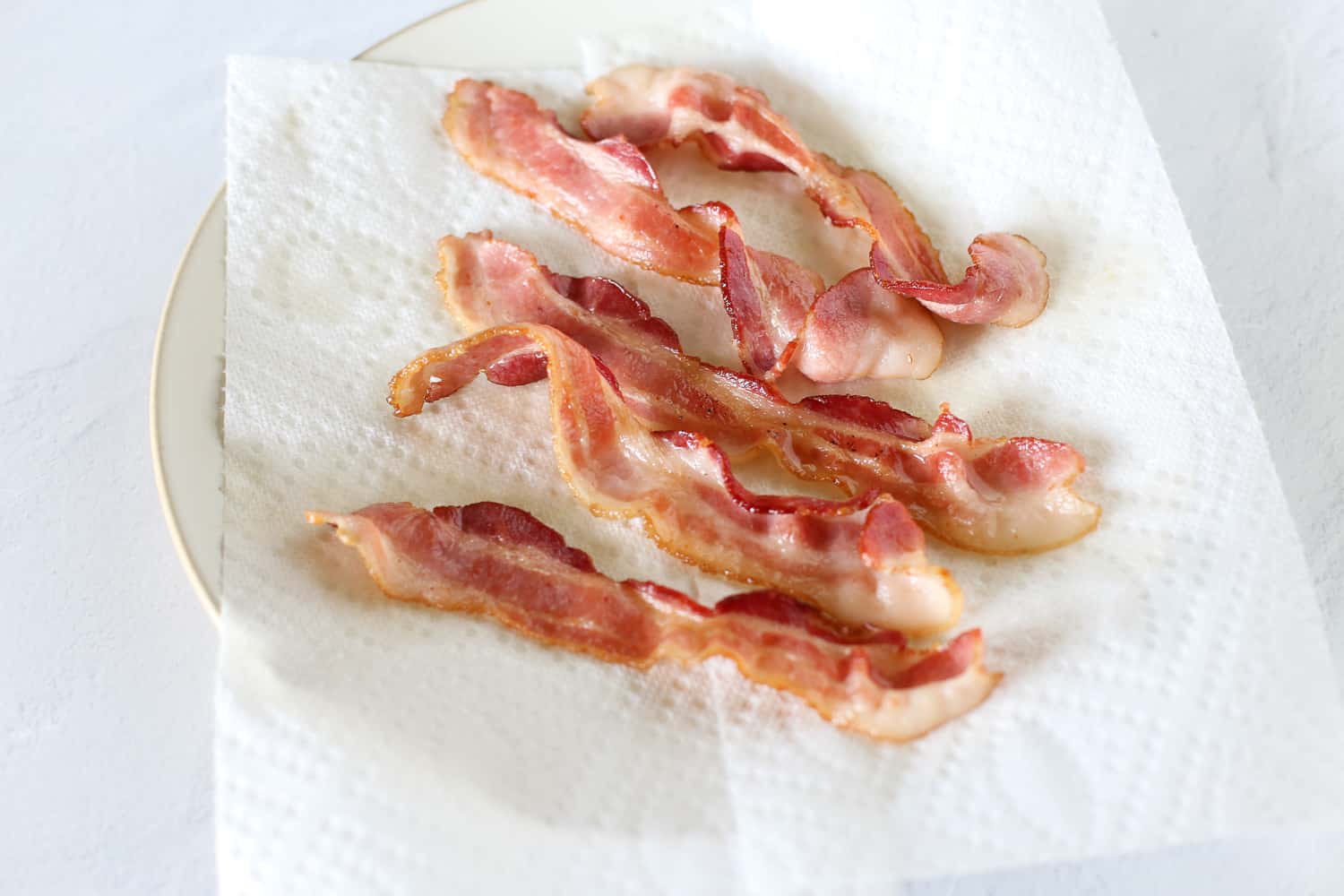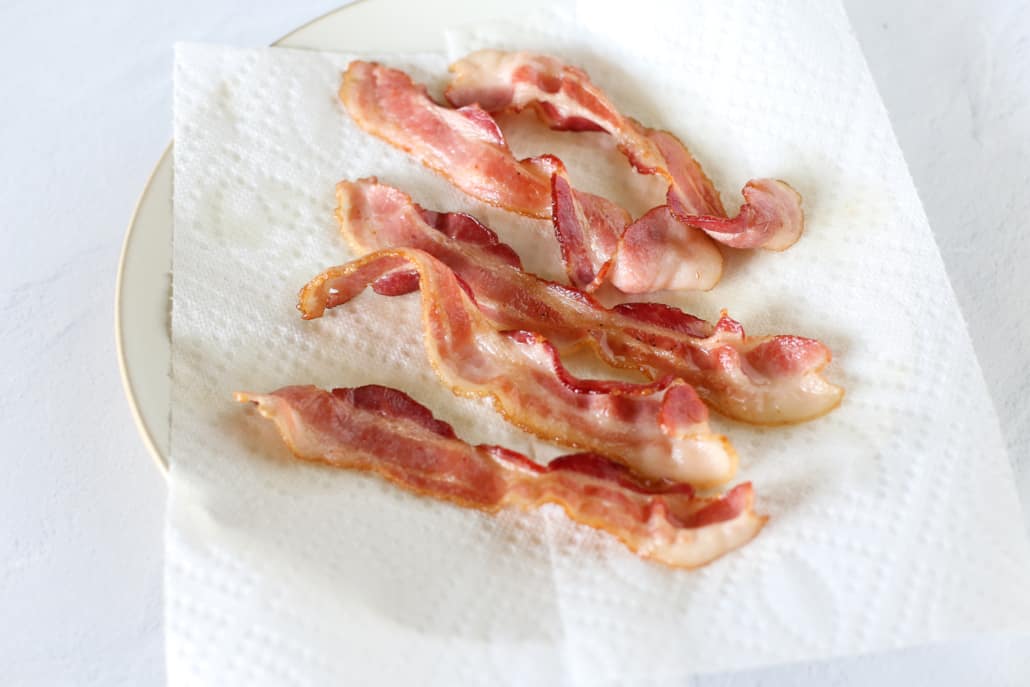 Step 2: Par Cook the Green Beans
To prep the green beans, start by snapping off the stems.
The only part of the bean that always needs to be removed is the tip of the stem end where the pod was once attached to the rest of the plant. There is no practical need to remove the tail end of a green bean. If you want them to look a little prettier, you for sure can though!
This is a great task to have kids help with by the way!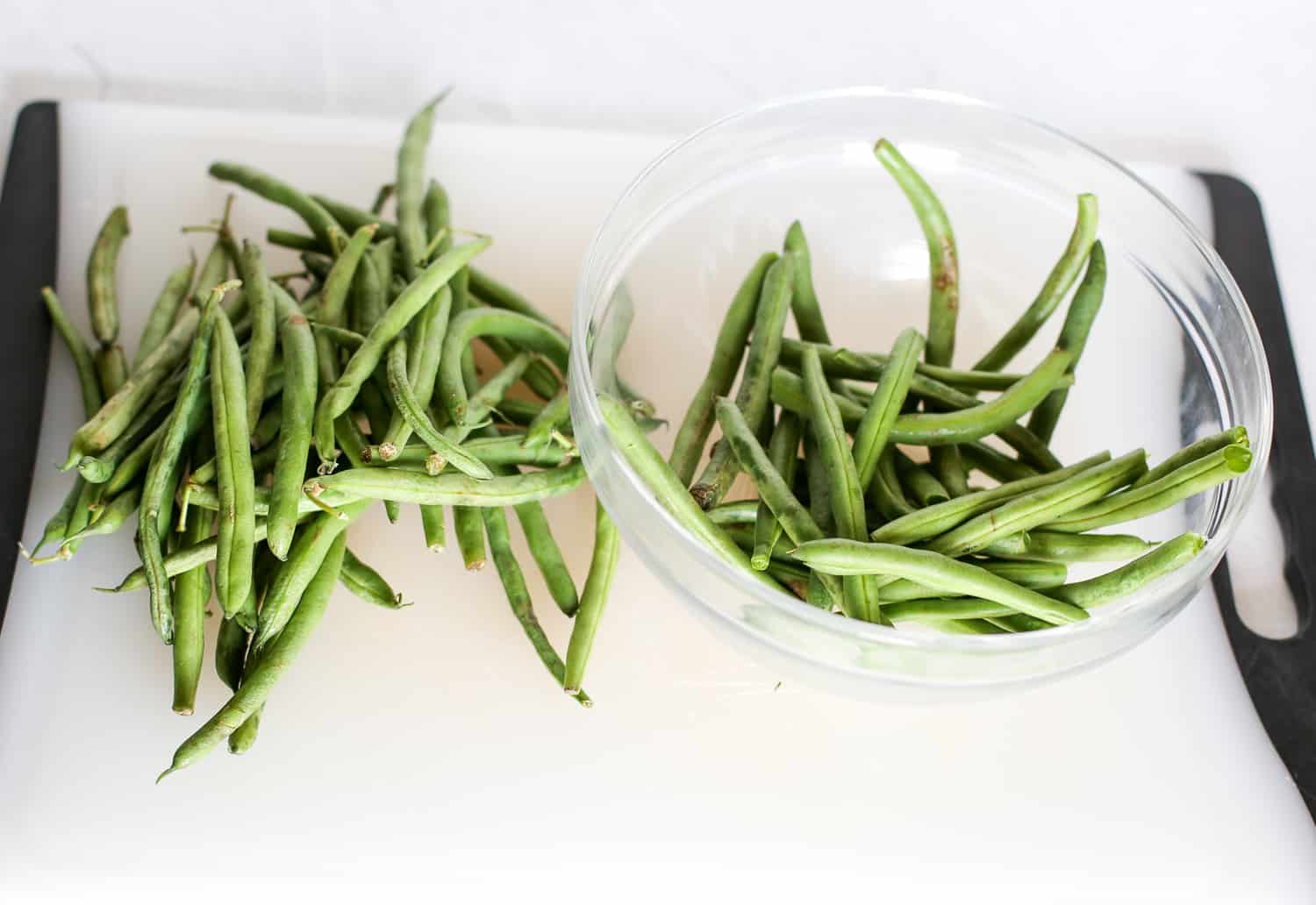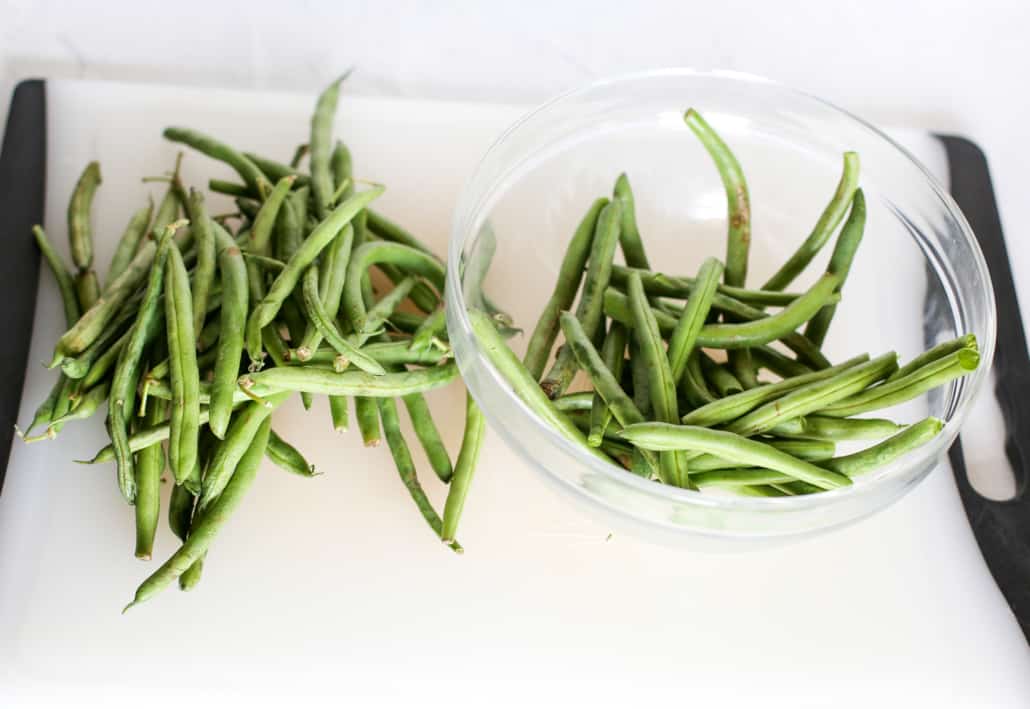 After beans are prepped, you will toss them into some salted boiling water. Let them cook for 1-2 minutes in the water and using a slotted spoon or tongs, remove the beans and put them straight into a bowl of ice water. This stops them from cooking.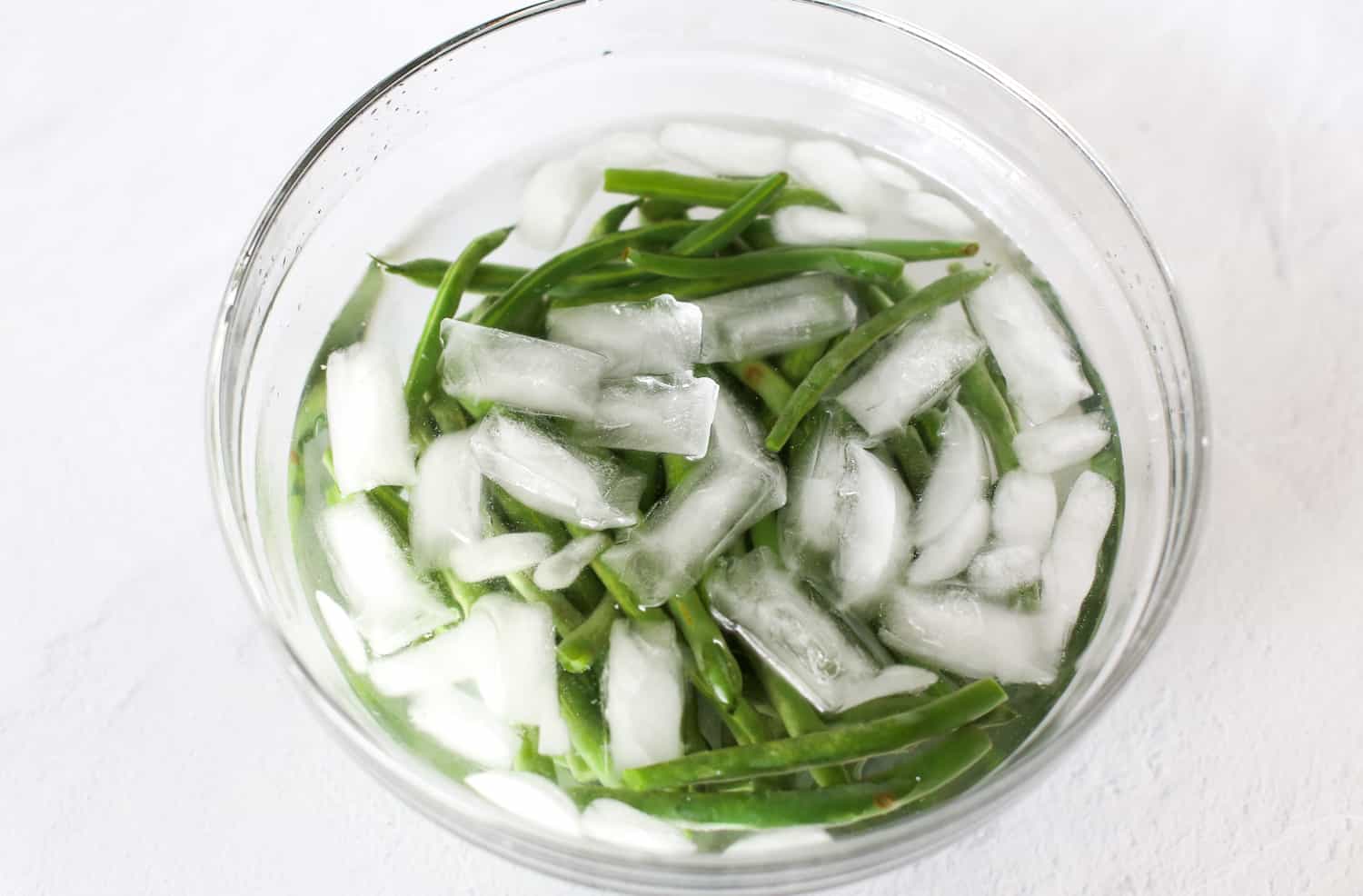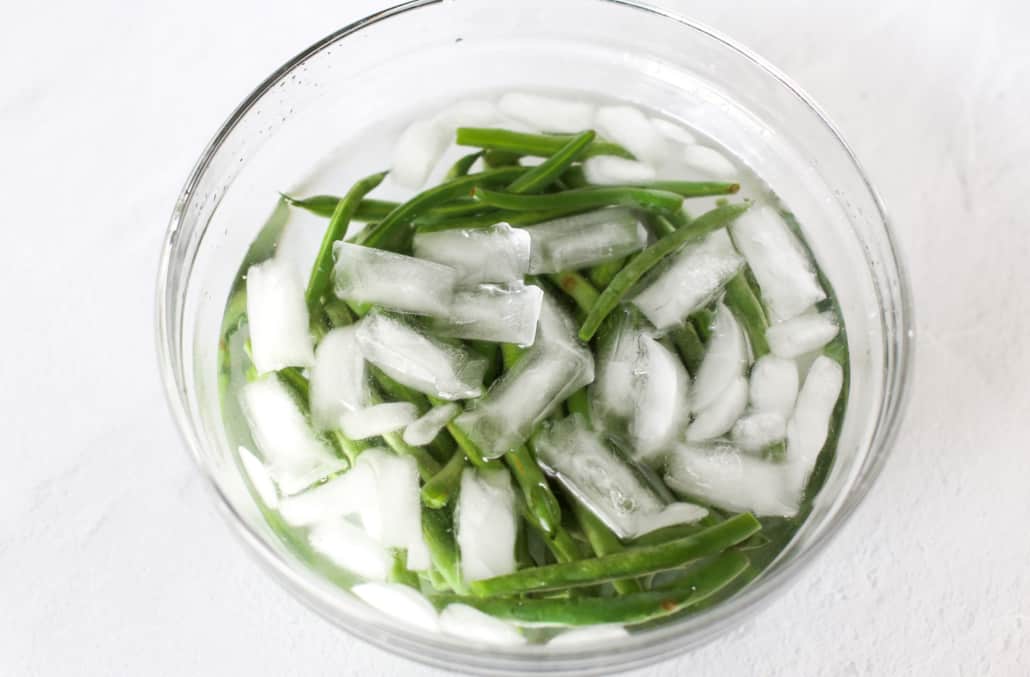 You'll want to dry off the beans before wrapping them in the bacon. A little trick I use is gently rolling them up in a hand towel.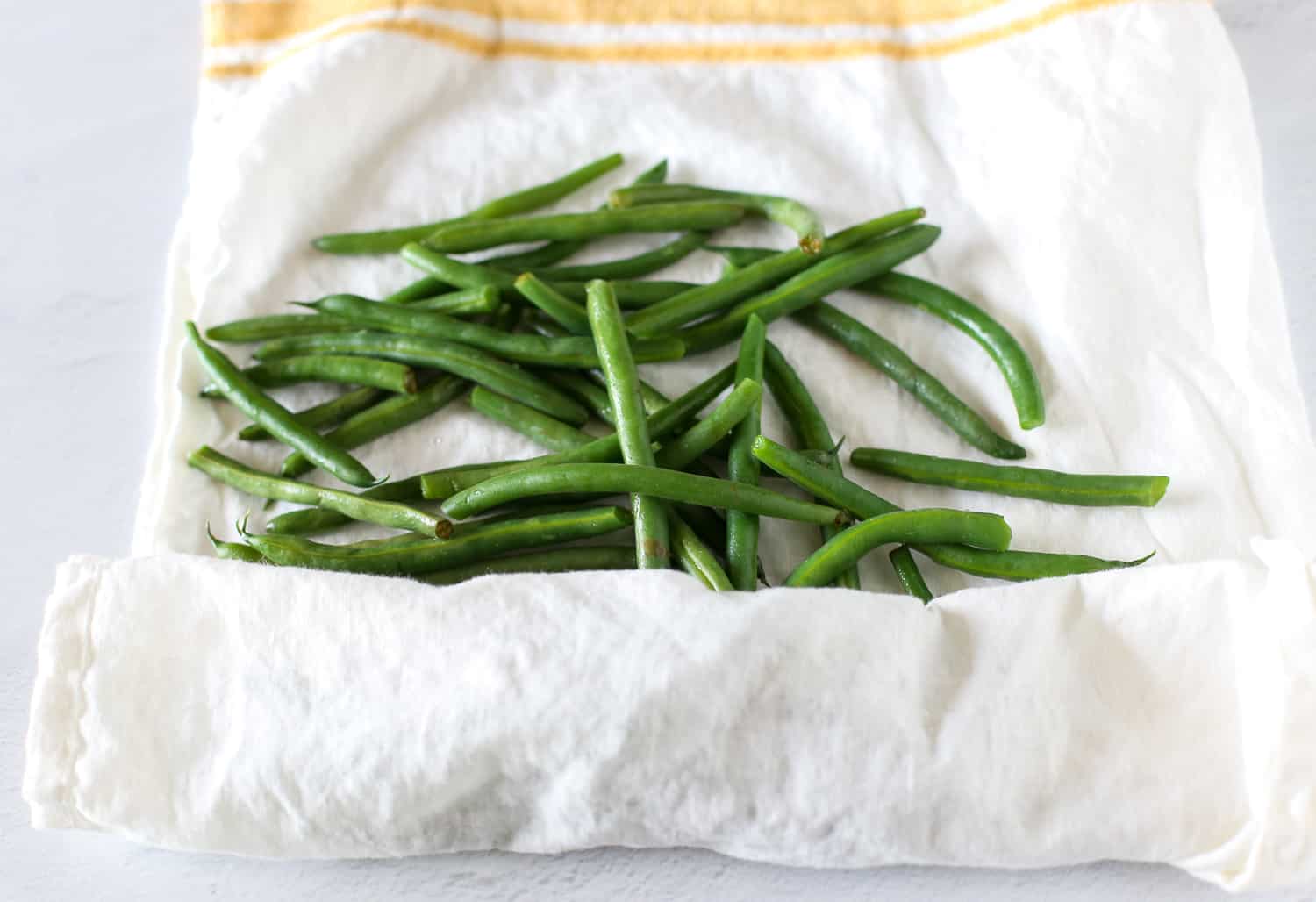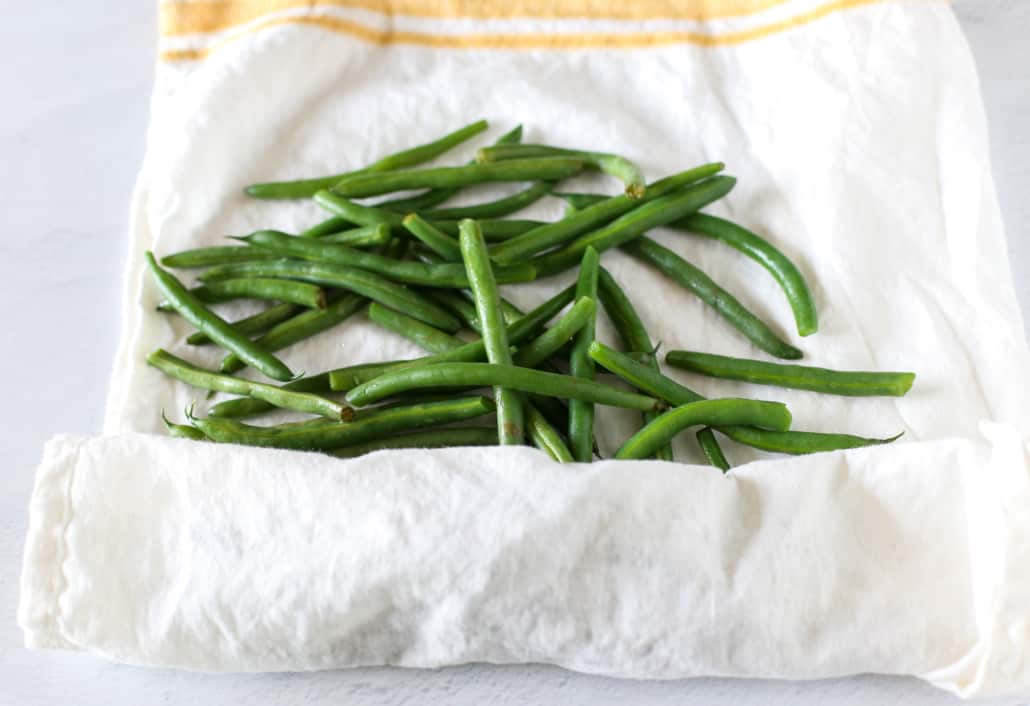 Wrap the Green Beans
After the bacon has cooled and the beans are dried off, you'll want to create small bundles of them (5 or 6) and wrap them in the bacon. Place the the bundle with the seam side down on the pan so it doesn't unravel.
Tip: If the half piece of bacon isn't enough to wrap around the bundle, remove a bean from it or use a toothpick to secure the bacon.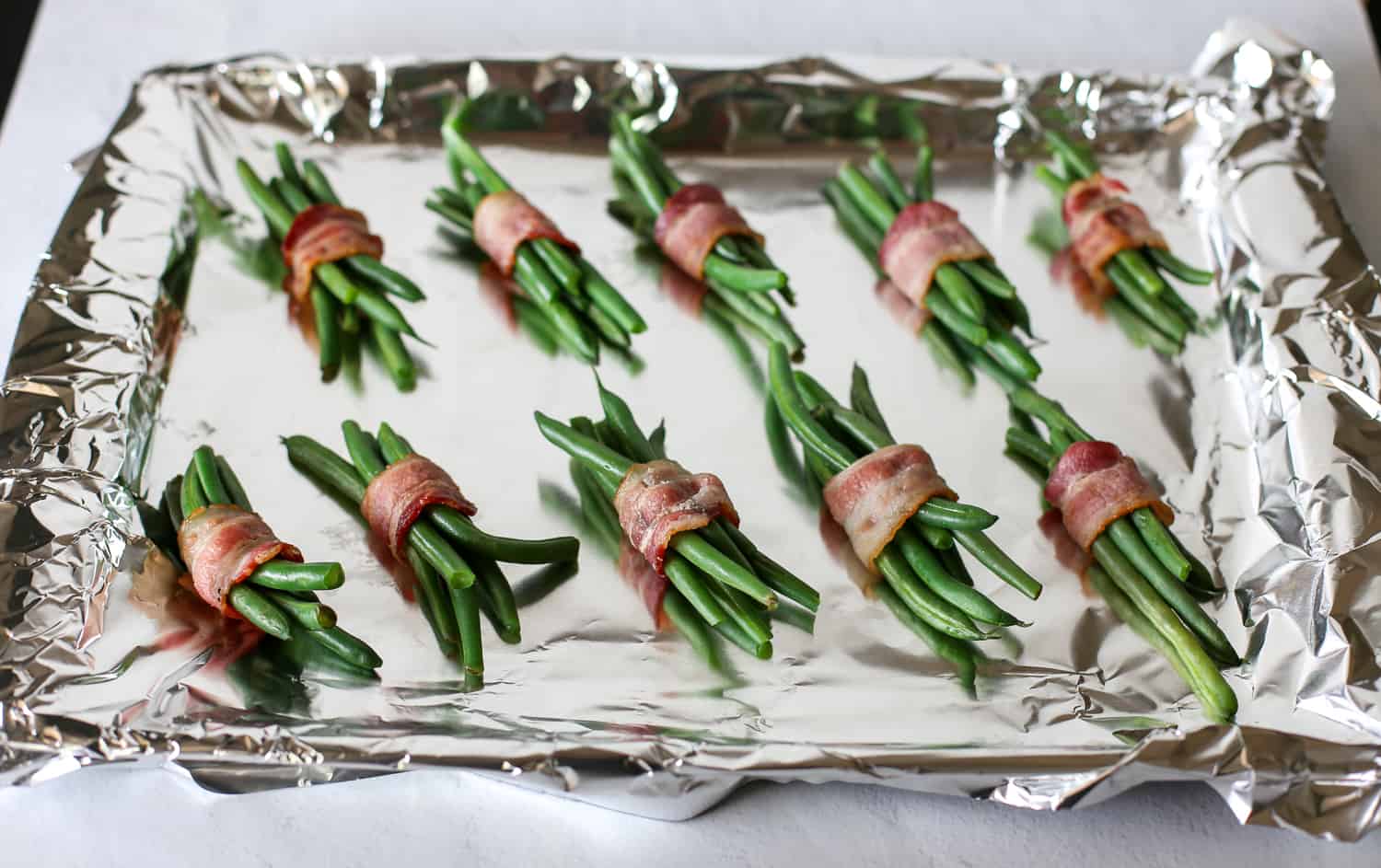 Add the Topping
As if the bacon doesn't add enough flavor, you're going to take Bacon Wrapped Green Beans to the next level by drizzling a butter mixture and brown sugar over the top before baking.
Be generous with the butter/garlic drizzle! It was easiest to do when using a pastry brush.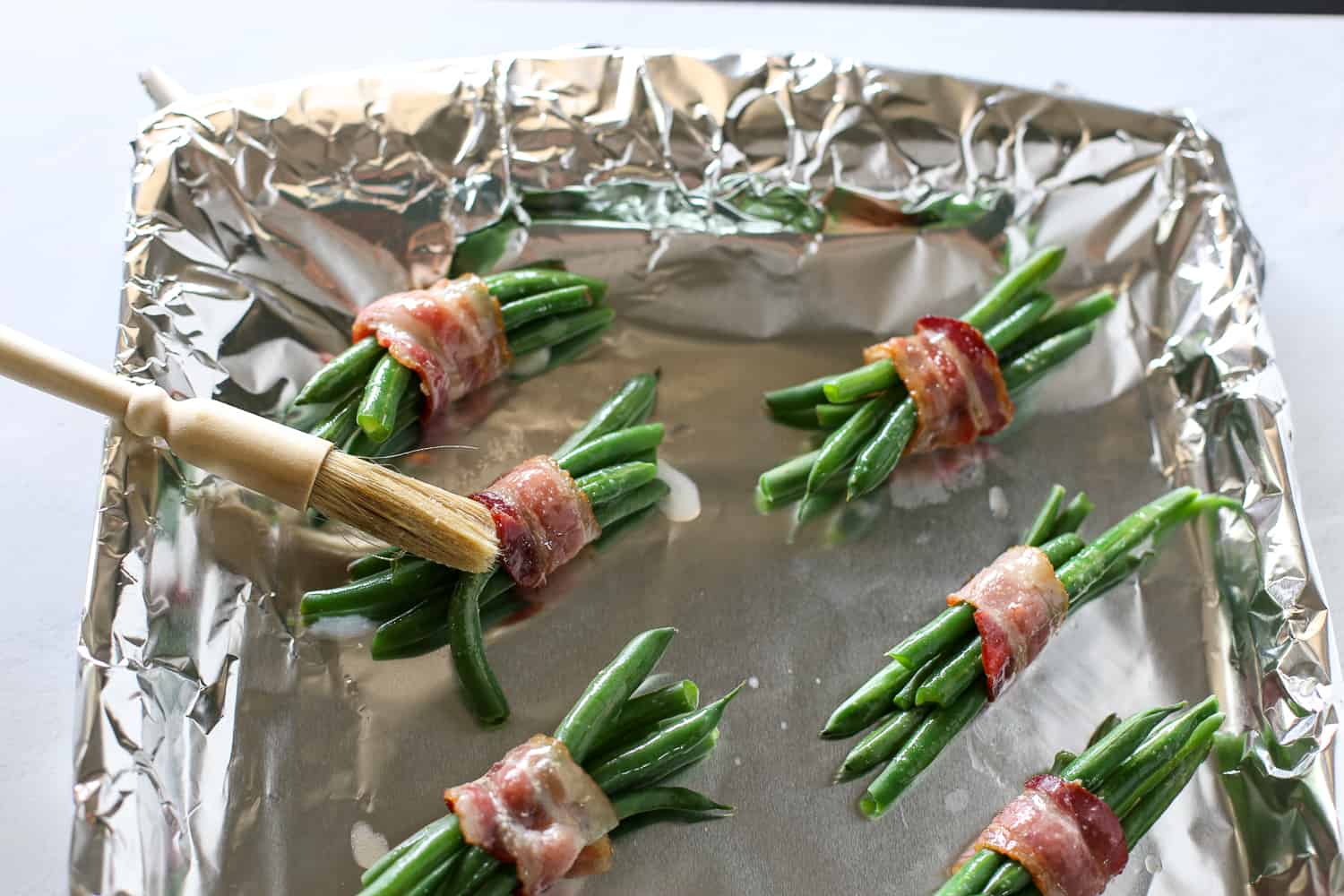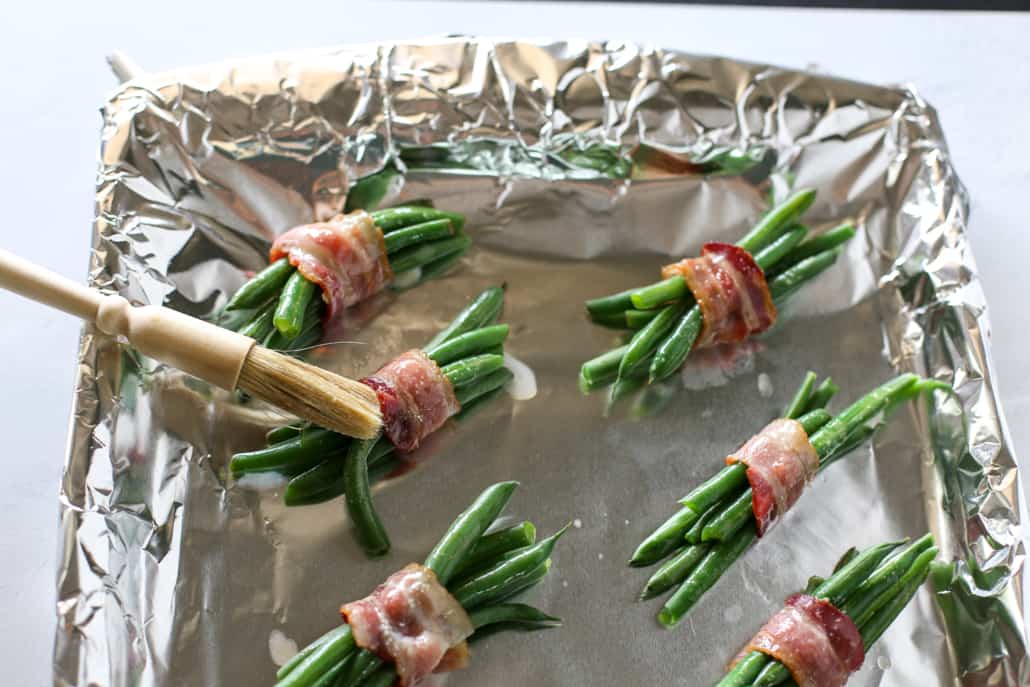 Sprinkle the brown sugar over the bundles and pop them in the oven!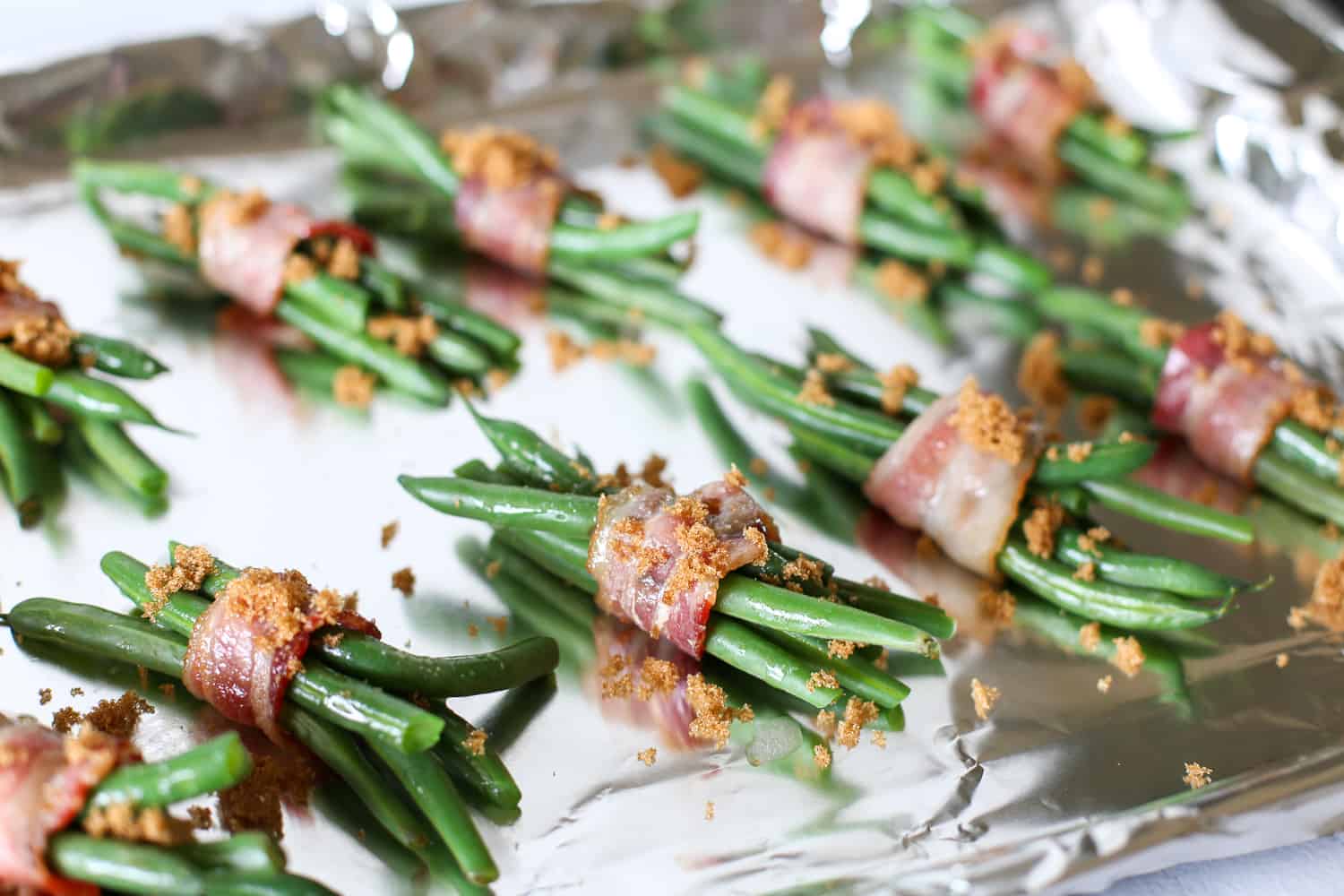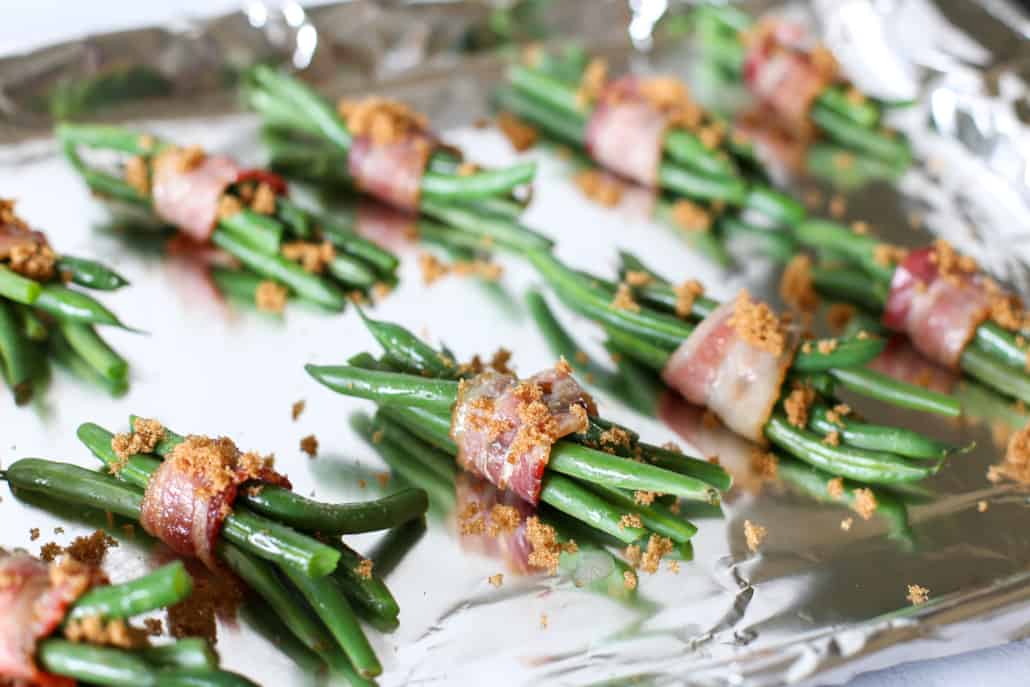 After they have baked for about 20 minutes at 350 degrees F, you will have glories little green bean bundles that are a total crowd pleaser.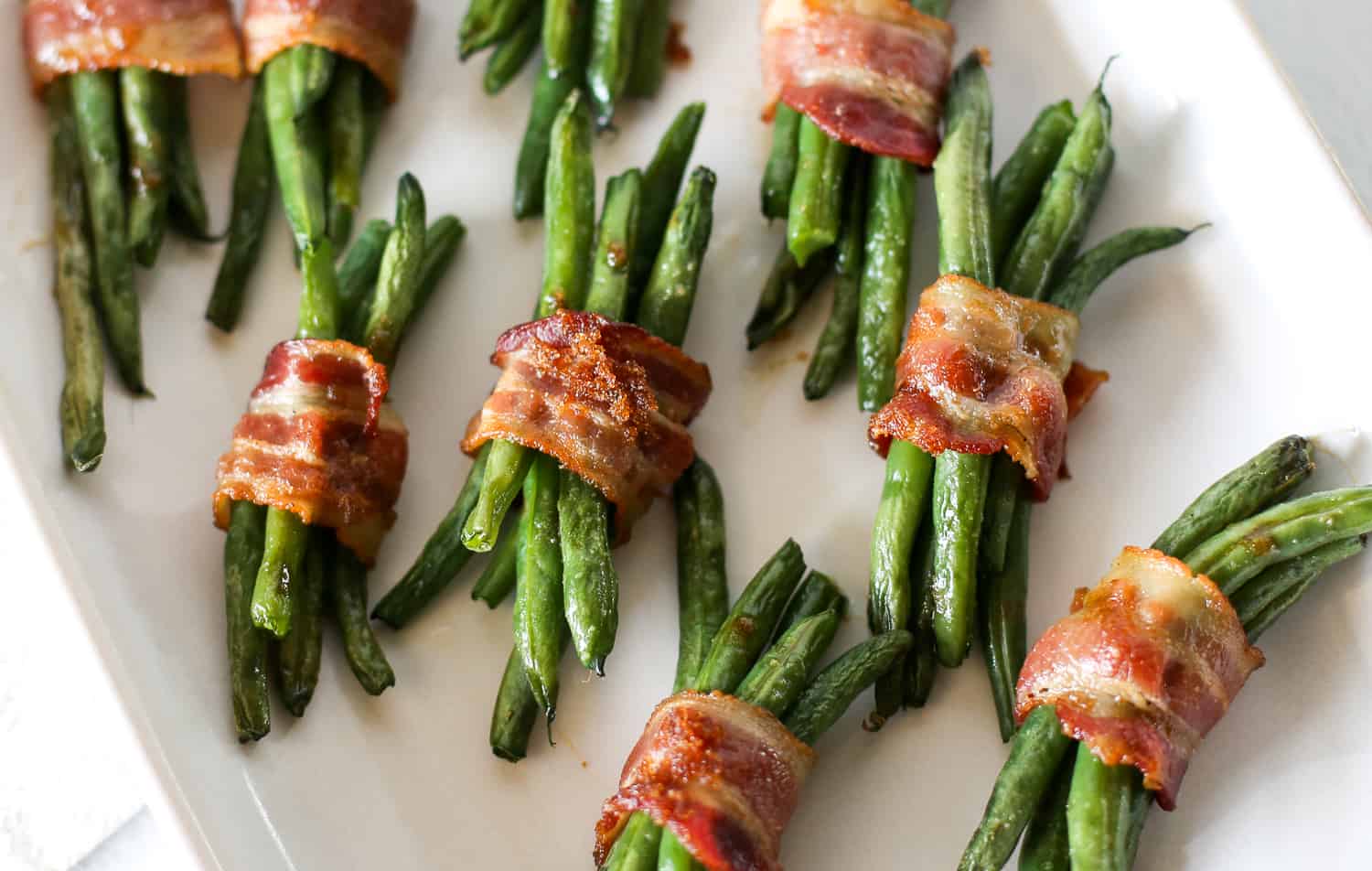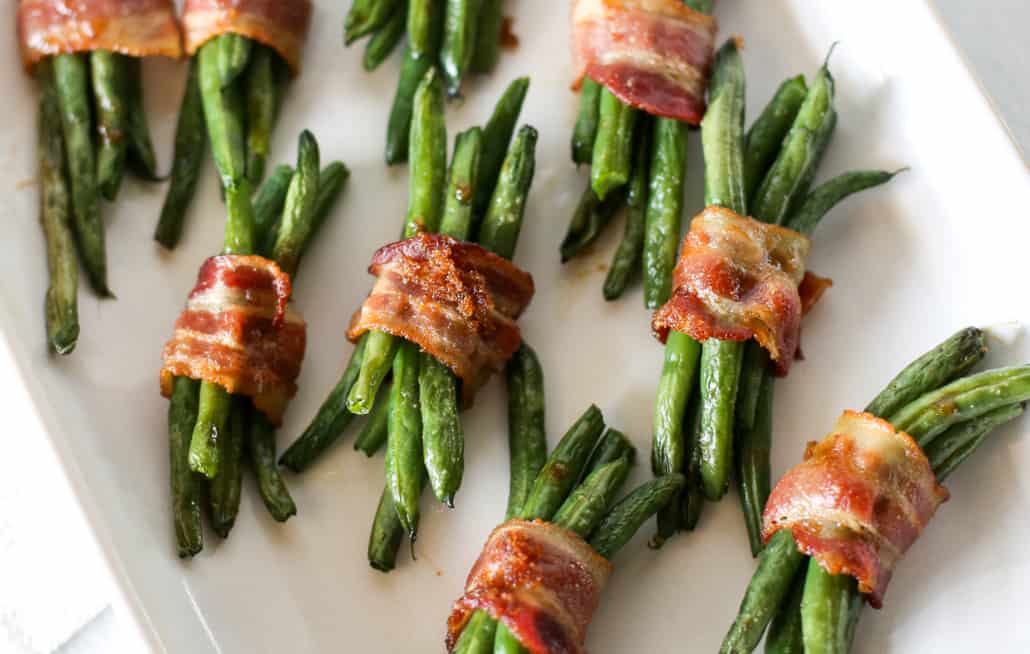 How to Prep Bacon Wrapped Green Beans Ahead of Time
Want to prep these ahead?
This can be done! Just assemble them right up until baking. They should be fine in the fridge for a day or two until you are ready to bake them. Once baked, they need to be served fresh though. They don't play nice when being reheated.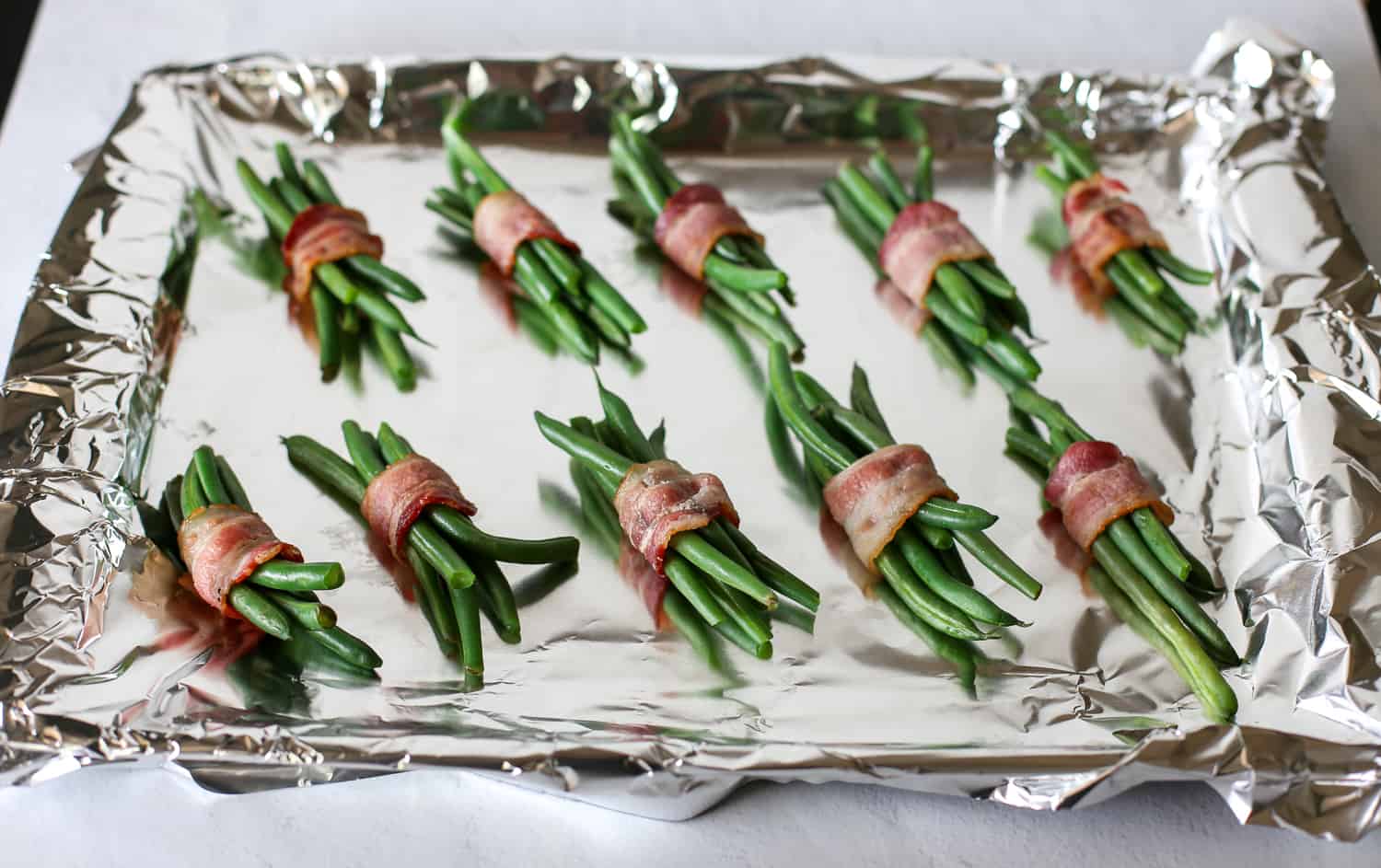 More Great Side Dish Ideas
Did you make this? Snap a photo and tag us on Instagram at @thrivinghome so we can see your creations and cheer you on!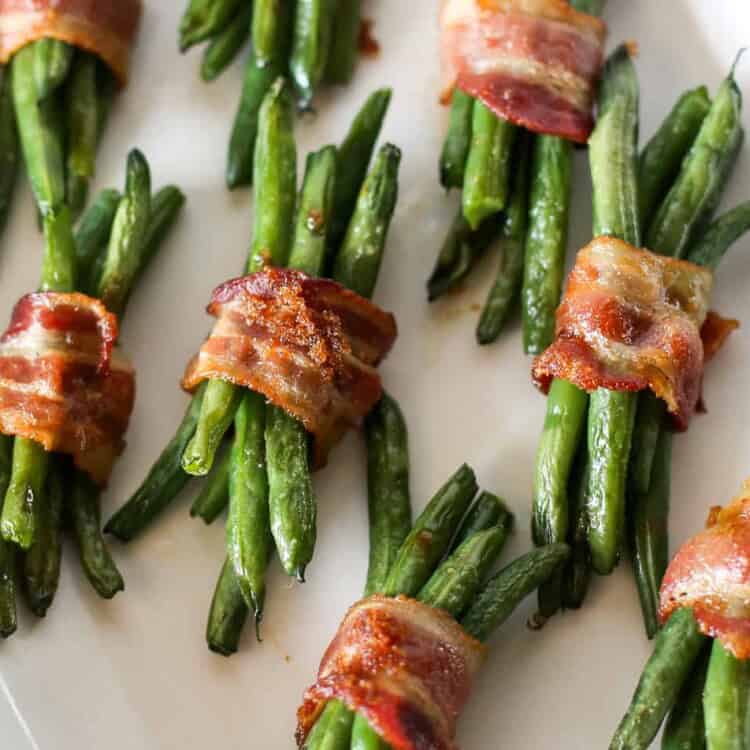 Bacon Wrapped Green Beans
Do you have a green bean hater in your house? Try this simple, no-fail bacon and green bean recipe. You'll convert everyone who tries them!
Prep:
10 minutes
Cook:
20 minutes
Total:
30 minutes
Ingredients
1

pound

fresh green beans, trimmed

5

–

6

slices of bacon (Not thick cut)

2 Tablespoons

unsalted butter

1/2 teaspoon

garlic powder

1 Tablespoon

brown sugar
Before You Begin! If you make this, please leave a review and rating letting us know how you liked this recipe! This helps our business thrive & continue providing free recipes.
Preheat oven to 350°F.
Par cook the bacon. If using the stove, preheat a skillet to medium-high heat. Cook the bacon in it for just a few minutes. Right until the edges start to get brown. Remove bacon from the heat and dab to remove grease. You can also par cook bacon in the oven. It will likely be done in 5-10 minutes. Don't over cook! Set aside. Once cooled, cut each piece in half. 
Bring a large pot of salted water to boil. Boil green beans for about 2 minutes, until still crisp and only partially cooked through. Drain in a colander and run cold water over them to stop the cooking process. You could also put them in a bowl of ice water. 
Wrap 5-6 green beans with 1/2 piece of bacon. Secure with a toothpick if necessary. 
Melt the butter and stir in garlic powder. Brush the butter mixture over the green bean bundles. Be generous! 
Sprinkle brown sugar evenly over the tops of the bundles. 
Cook 15-20 minutes until the bacon is done to your preference.
What goes well with bacon wrapped green beans?
Here are some ideas that bacon wrapped green beans would go great with!