Crockpot Breakfast Casserole with Bacon and Gruyere
Updated: 10/11/22
This post may contain affiliate or sponsored links. Please read our disclosure policy.
Friends and family will oooh and ahhhh over this gourmet Crockpot Breakfast Casserole, whether you serve it for a weekend brunch, a weeknight dinner, or at your next holiday gathering. Its depth of flavor and beautiful color come from the bacon, onions, garlic, kale, roasted red peppers, and Gruyere and Parmesan cheeses.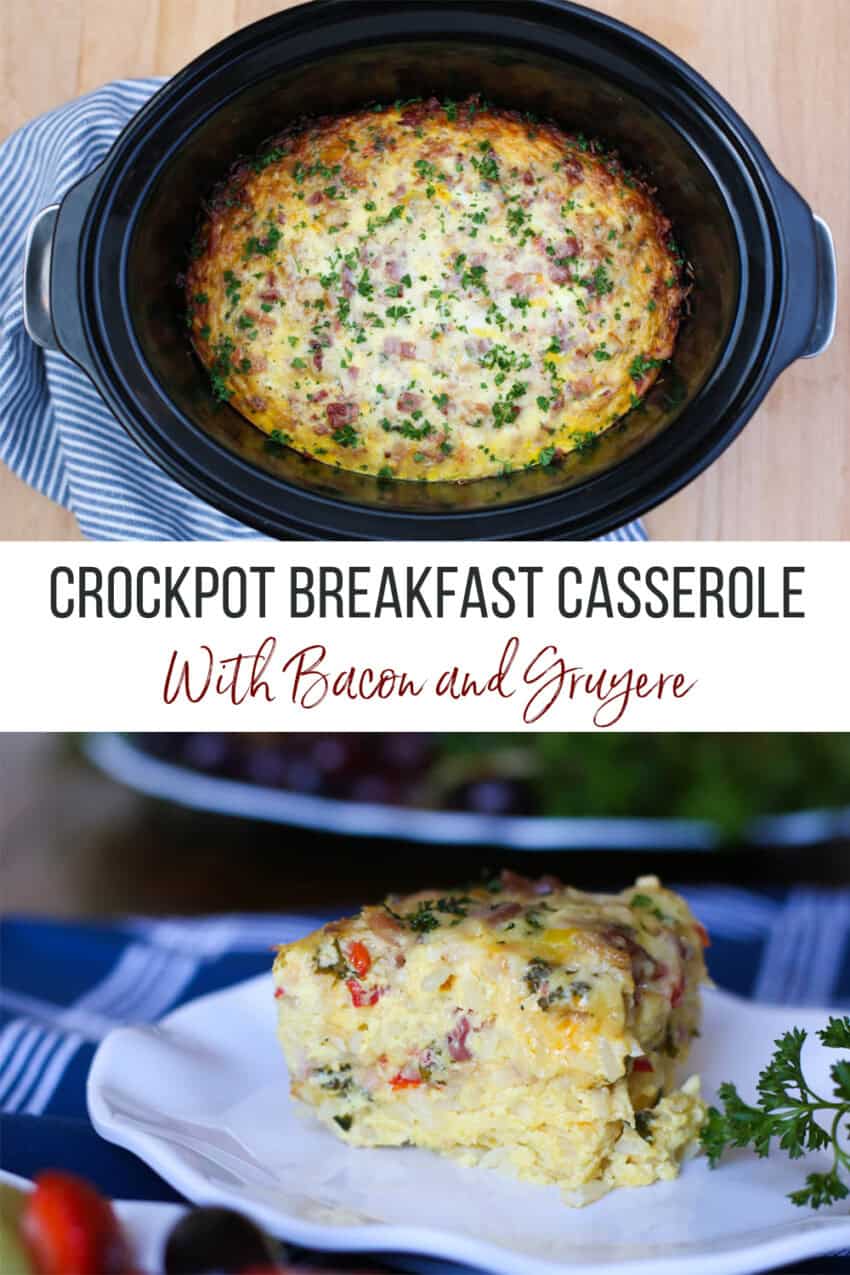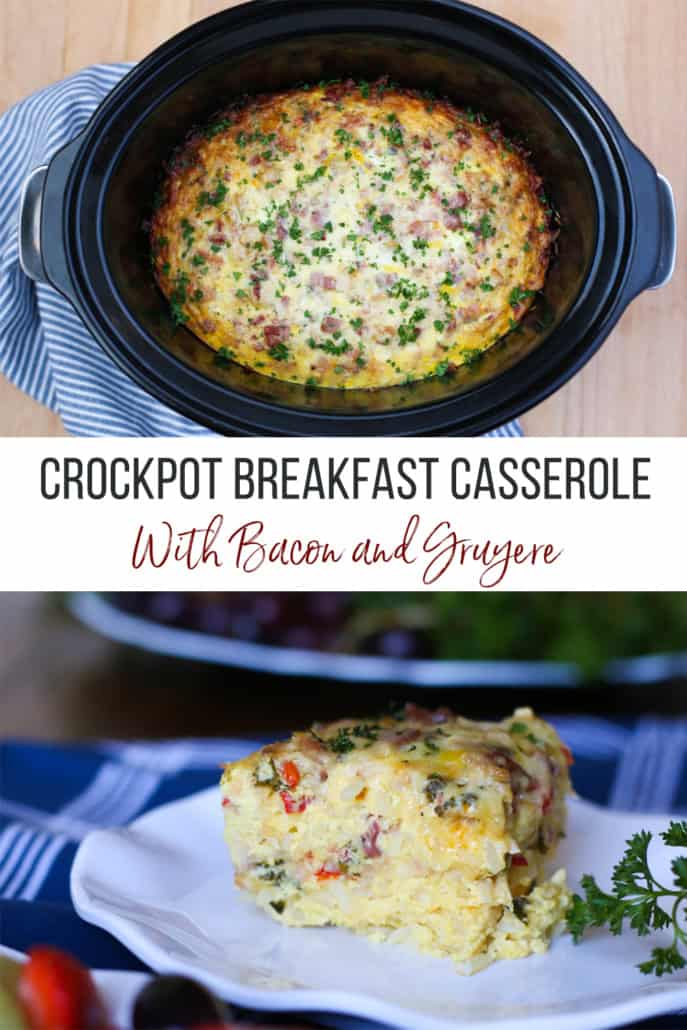 Why You Need to Make This Breakfast Casserole NOW
I cannot impress this upon you enough: MAKE.THIS.CASSEROLE. Our team and families here at Thriving Home couldn't get enough of it!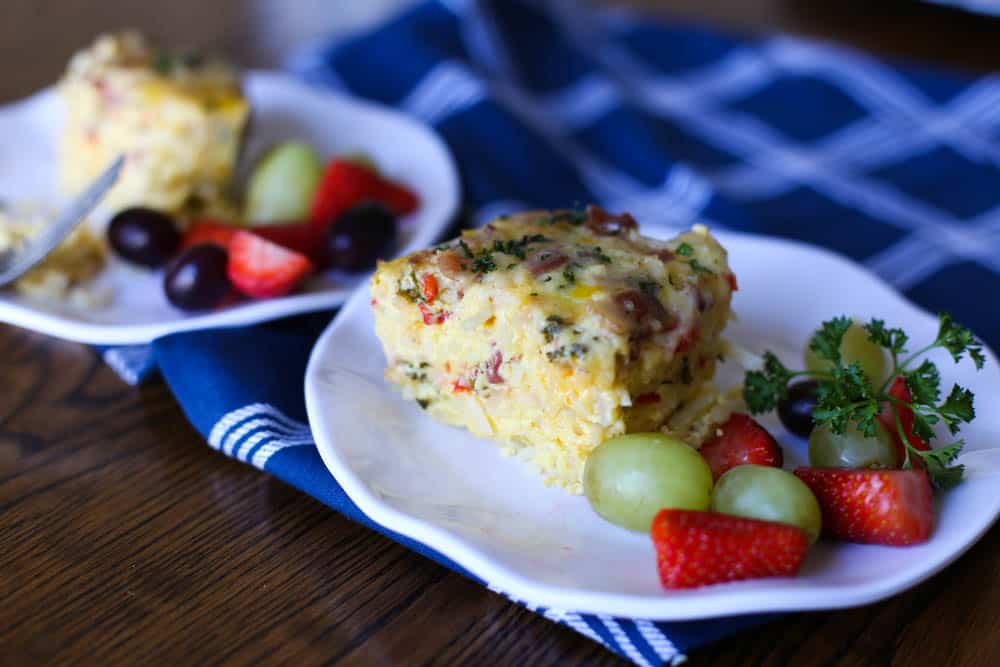 Here are just a few reasons why we're loving this make ahead Crockpot breakfast casserole…
Oh, the flavors and colors in this recipe! Forget the brown, mushy casseroles you've been scarred by in the past. This one will win over all your senses with its layers of tender hash browns, crispy bacon, gooey Gruyere cheese, pungent Parmesan, and bright red roasted peppers intermixed with sautéed onions and kale. It's a sight to behold, smell, and devour!
It's easy to make ahead for your next holiday gathering or when you host guests. Simply store it in the fridge for up to 3 days or in the freezer (using our instructions below) for up to 3 months.
Makes a BIG batch, serving 10-12 people. Great for serving to a crowd.
This recipe offers the perfect cook time for a brunch, like Easter, or a breakfast-for-dinner option. More on that below.
Reheats well. It's delicious as leftovers! Our family ate on this casserole for days, and I was able to take some to our neighbors, too. Like I mentioned, it feeds an army!
Gluten-free. If you're trying to avoid gluten, this casserole does so by using hash browns instead of bread.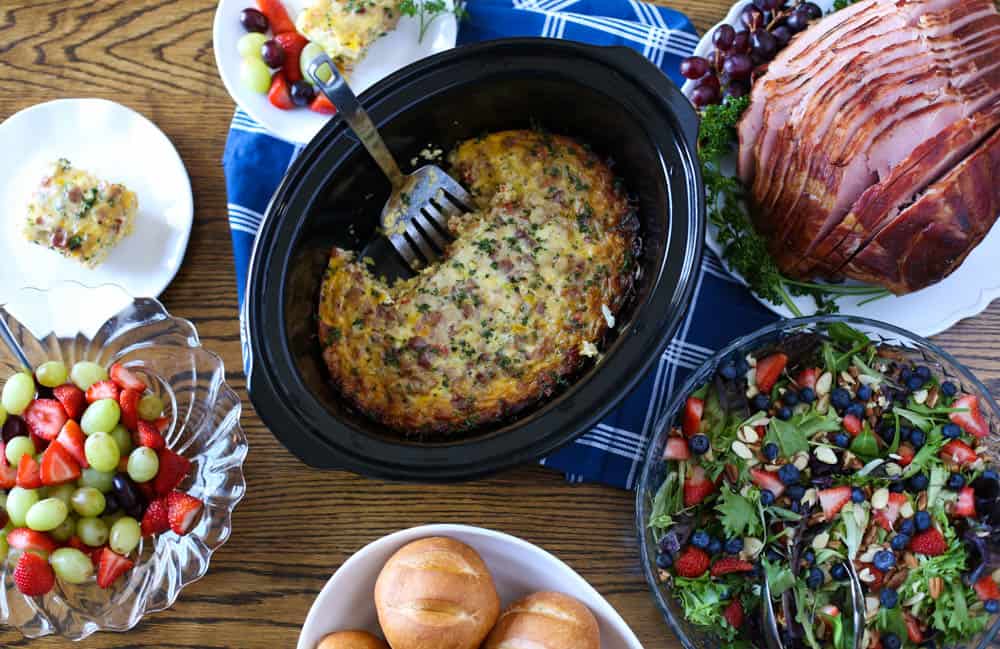 What Ingredients Do I Need?
Don't be intimidated by this ingredient list! You can find everything you need at Hy-Vee or your local grocery store.
Bacon – This is the #1 most important ingredient because….BACON.
Gruyere Cheese – This is perhaps the second most important ingredient, turning what could be a boring casserole into something gourmet! Gruyere is a hard light yellow Swiss that's known as a mild-tasting melting cheese. It adds savoriness without overshadowing the other ingredients. I bought one 6 ounce block and shredded it by hand. It just took a minute or so.
Note: You can substitute your favorite shredded cheese, if you don't have Gruyere. Cheddar cheese or Colby jack would work well.
Shredded Parmesan cheese – Provides another layer of flavor.
Roasted red peppers – Adds color and savoriness. Find a jar in the pickle aisle.
Kale – Adds amazing color and nutrition. You can't really taste it, though. You can substitute baby spinach instead.
Yellow onion
Fresh or frozen hash browns – Make sure they are thawed first.
Milk – Your choice of what kind but I used 2%.
Large eggs
Salt and pepper, red pepper flakes, and garlic cloves – Good seasoning along the way is essential to this recipe.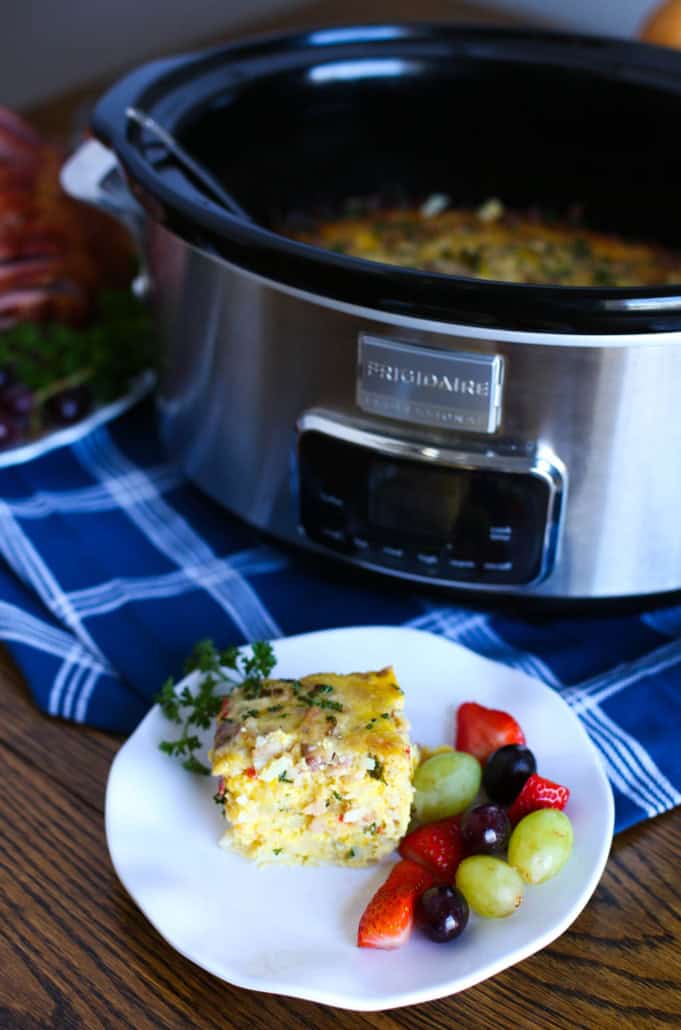 Video Tutorial: How to Make Crockpot Breakfast Casserole
Watch this short video tutorial to see how easily this casserole comes together!
How Long Should I Cook a Breakfast Casserole in the Crockpot?
We know you want a slow cooker breakfast casserole that takes all night to cook and is waiting for you in the morning. But, I want to let you in on a not-so-fun secret: you'll end up with an overcooked, burned breakfast casserole if you do. 🙁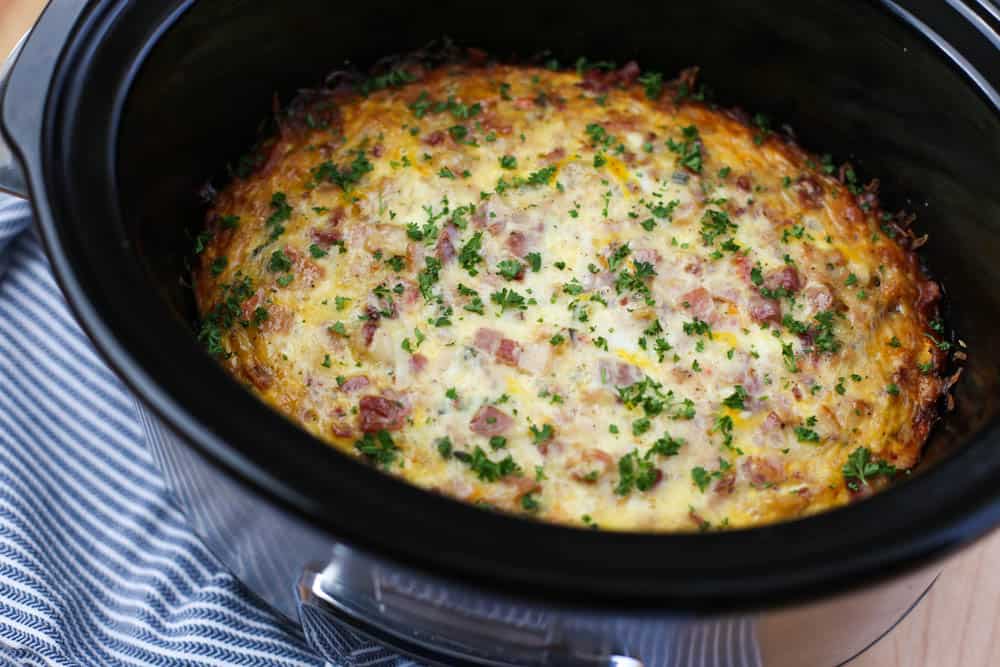 Here's the good news. We learned while testing recipe after recipe for From Freezer to Cooker that the perfect cook time for a crockpot breakfast casserole is exactly 4 hours on LOW. That means you can have it done just in time for a brunch or make it as a breakfast-for-dinner option.
This crockpot breakfast casserole also reheats well in the microwave in small portions, so don't be afraid to cook it ahead of time and eat it later.
How to Make Ahead and Freeze Crockpot Breakfast Casserole
Reduce stress and free up yourself to enjoy your next gathering by preparing this big batch recipe ahead of time. That way you can simply drop it in the slow cooker a few hours before you want to serve it.
You can either store the prepped, uncooked casserole in the fridge in the crockpot insert for up to 3 days. Or, you can freeze the prepped, uncooked casserole in a freezer bag or container for up for 3 months. When you're ready to cook it, thaw completely and empty the contents into the crockpot.
Be sure to follow our freezing instructions in the recipe below.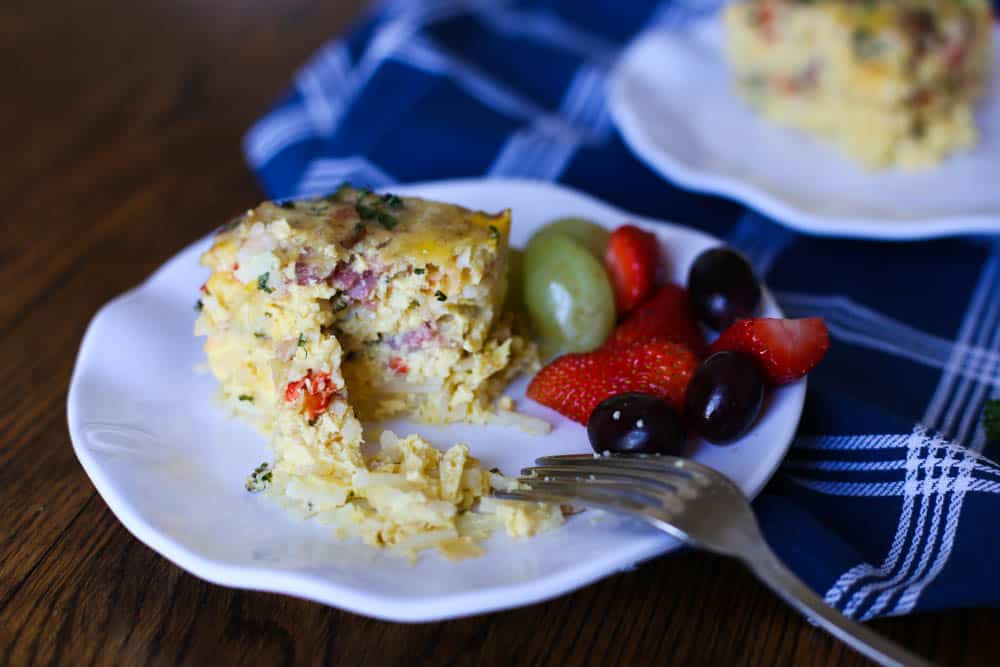 Did you make this? Snap a photo and tag us on Instagram at @thrivinghome so we can see your creations and cheer you on!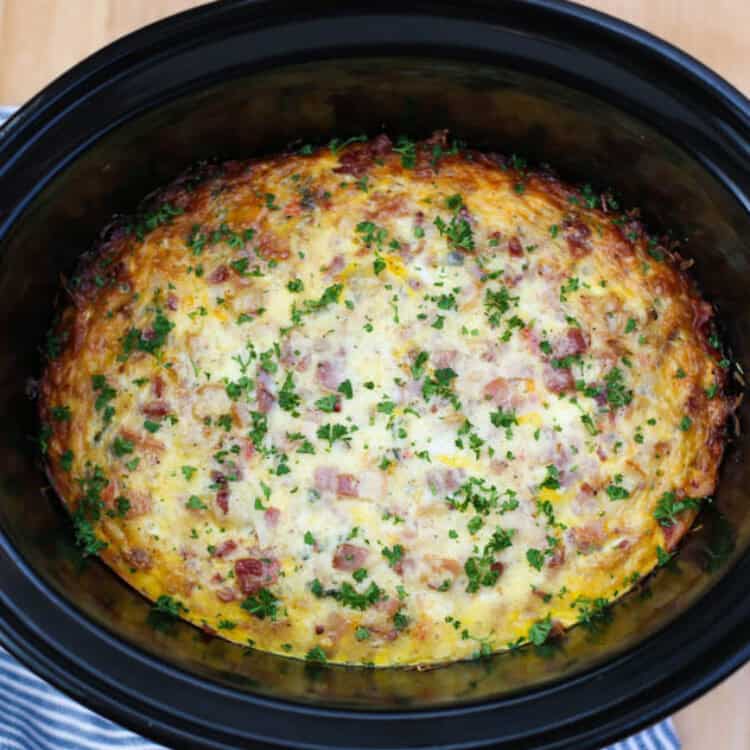 Crockpot Breakfast Casserole with Bacon and Gruyere Cheese
Guests will oooh and ahhhh over this gourmet breakfast casserole at your next brunch or holiday gathering. Its depth of flavor and beautiful color come from the bacon, onions, garlic, kale, roasted red peppers, and Gruyere and Parmesan cheeses. Bonus: It's naturally gluten-free and makes a very large batch! 
Prep:
30 minutes
Cook:
4 hours
Total:
4 hours 30 minutes
Ingredients
1

pound

(16 ounces) bacon, diced

1

medium yellow onion, diced (about

1 1/4 cups

)
Pinch of red pepper flakes

2

garlic cloves, minced

1

(12 ounce) jar roasted red peppers, thoroughly drained and diced (Sub:

1

–

2

diced red bell peppers, sautéed)

2

cups

finely chopped kale (be sure to remove the tough stems) (Sub: spinach)
Salt and ground black pepper, to taste
Cooking spray

3

cups

(about 15 ounces) refrigerated or frozen shredded hash browns, thawed (it's important to thaw them first!)

1/2

cup

shredded Parmesan cheese (sub: grated Parmesan cheese)

2

cups

(a 6 ounce block) shredded Gruyere cheese (sub: Swiss cheese, Monterey Jack, or your favorite shredded cheese)

12

large eggs

1

cup

milk (we used 2% milk, but it's your choice)
Before You Begin! If you make this, please leave a review and rating letting us know how you liked this recipe! This helps our business thrive & continue providing free recipes.
Make It Now:
Cook the bacon in a large skillet over medium heat until brown and crispy, about 8 minutes.
Using a slotted spoon, transfer the bacon to a paper-toweled lined plate and pour off all about 2 tablespoons of grease. Set aside.
Turn the heat up to medium-high and add the onions and red pepper flakes. Sauté until softened, about 3-4 minutes. Stir in the peppers, kale, and garlic and cook another 1-2 minutes, until the kale has wilted, seasoning lightly with salt and pepper while it cooks. Set aside. (Freezing instructions begin here.)
Spray a 6 quart slow cooker insert generously with cooking spray. Layer 1 1/2 cups of the hash browns, 1/2 of the bacon, half of the veggie mixture, 1/4 cup Parmesan, and 1 cup Gruyere, and then repeat with the remaining hash browns, bacon, veggies and cheeses.
In a large mixing bowl, whisk together eggs, milk, 1/4 teaspoon salt, and 1/4 teaspoon black pepper. Pour over the other ingredients in the slow cooker. (Note: The casserole can sit in the refrigerator for up to 3 days at this point.)
Cover and cook on Low for 4 hours, or until the center is set. Dab off any moisture from the top with a paper towel.
Taste and season with most salt and pepper, as needed. Serve warm.
Freeze For Later: Follow Steps 1-3; let the veggie mixture cool. In a large bowl, whisk together the eggs, milk, 1/4 teaspoon salt, and 1/4 teaspoon pepper. Pour the egg mixture into a gallon-sized freezer bag or container. Add in the veggies and bacon, hash browns, 1 cup of Gruyere cheese, and 1/4 cup of Parmesan cheese. Seal tightly, toss lightly to combine, and freeze. Add the remaining 1/2 cup of Gruyere and 1/4 cup of Parmesan to a small freezer bag or container and freeze along with the egg mixture.
Prepare From Frozen: Thaw in the refrigerator. (Tip: Place the freezer bag in a dish to prevent leaks.) Spray the slow cooker with cooking spray. Transfer the egg mixture to the slow cooker and stir to make sure ingredients are combined and evenly distributed. Top with the remaining 1/4 cup of Parmesan and 1/2 cup of Gruyere. Follow Steps 6-7.
---
Notes/Tips
*A great short-cut is Burgers' Smokehouse Diced Bacon. Skip chopping raw bacon and toss it right into the saute pan. 
More Recipes for a Crowd
If you're looking for more delicious recipes that feed a crowd, be sure to check out and save our most popular article, 25+ Slow Cooker Meals That Feed Large Groups.
Get ready to whip up one of the most memorable make ahead breakfast casseroles you've ever had!