This post may contain affiliate or sponsored links. Please read our disclosure policy.
If you need your oven for other purposes, our Crockpot Ham is here to save the day. After a lot of testing and research, we found the best way to slow cook a spiral ham and how to avoid a dried-out piece of pork. Serve with our 5-ingredient Pineapple Sauce or Cranberry Orange Sauce for an impressive yet easy meal for a crowd.
Disclaimer: This post was created in partnership with Hy-Vee (Columbia). 
About This Recipe
The crockpot and I have gotten well acquainted over the years thanks to all the testing we did for our cookbook, From Freezer to Cooker. Two things Polly and I quickly learned was that every slow cooker is a little different–some run hotter than others–and most of us overcook foods like ham and chicken in the slow cooker.
Armed with that knowledge, I did a lot of research and testing of this spiral-sliced ham recipe. I'll help you cook your ham in the crockpot in a way that it will turn out moist and tasty!
This recipe joins our Oven Roasted Turkey Breast and Bacon Wrapped Dates with Goat Cheese as being perfect recipes for a holiday meal.
The good news is that you won't need many ingredients (hurray!), making this an awesome recipe for hosting a crowd.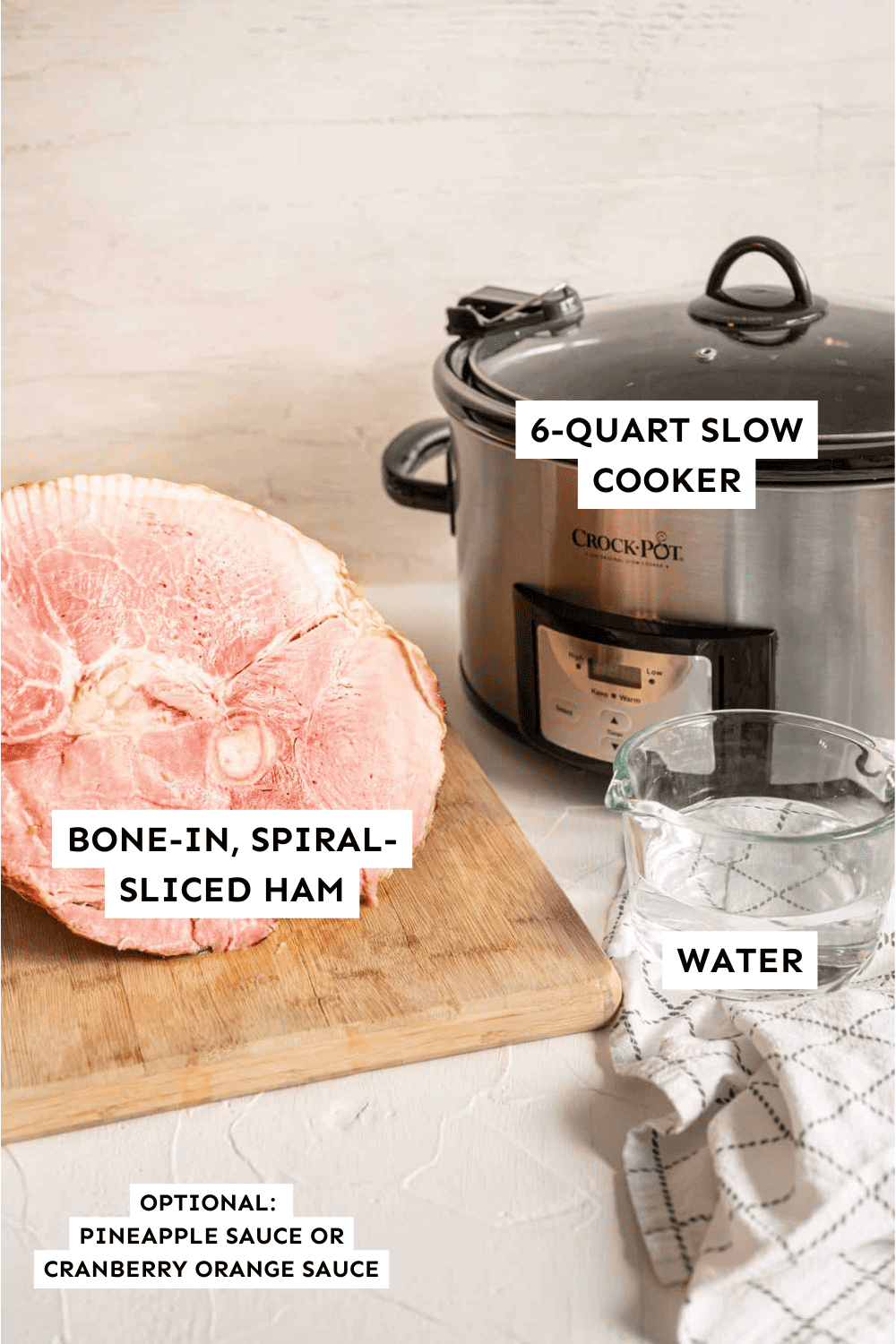 1 (7-8 pound) spiral-sliced, bone-in half ham* – You're looking for a fully-cooked ham (nearly all are in the grocery store) so that you can simply warm it to a safe eating temp in the slow cooker. We highly recommend getting a bone-in ham, as the bone adds flavor and helps keep it moist. If you can't find a ham that is 7-8 pounds, we have a hack to help you still cook it in your crockpot even if it doesn't fully fit with the lid on. Read on.
Water – This is key to keeping the ham moist while it slow cooks.
Optional: Pineapple Sauce or Cranberry Orange Sauce – Depending on the season, either of these easy-to-make sauces works well to serve on the side or use as a glaze to add a little extra flavor to the outside of the ham. See the recipe below for tips.
*The hams I tested had a brining solution in them that included salt and sugar like most store-bought hams do. So, I did not add any additional seasoning.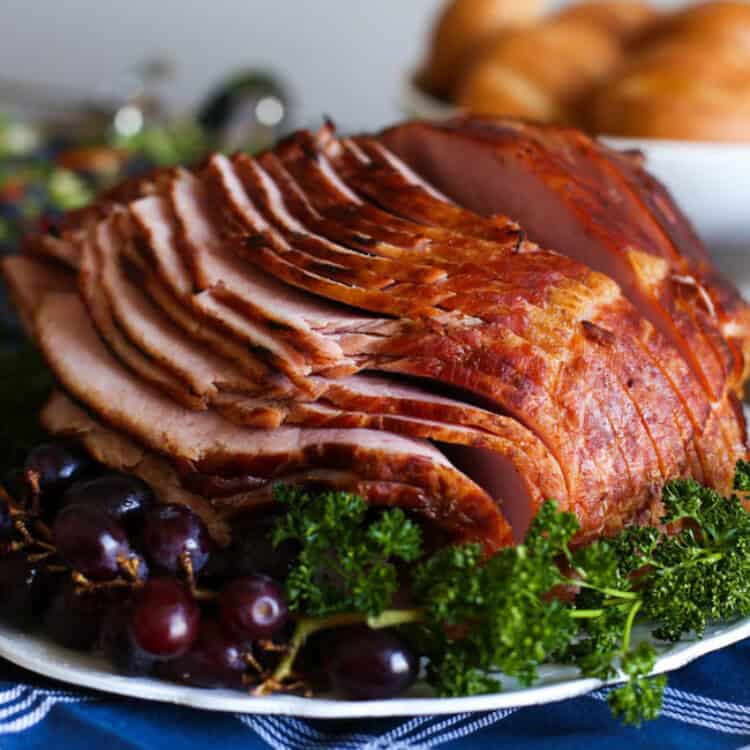 What Kind of Ham Should I Buy?
For this recipe, look for a ham that has all three of these attributes:
Be sure to get a fully-cooked ham not a raw ham. A raw ham will take much longer to cook.
I developed this recipe specifically for a spiral-sliced ham

, so it's easy to pull slices off at the end. However, an unsliced ham may maintain moisture better but will likely take longer to cook.

Lastly, definitely go for a bone-in ham

vs. boneless. The bone keeps the ham moist and adds flavor.

A boneless ham is more processed and can have an unappealing texture, in my opinion.
Where to Get Your Ingredients
We suggest grabbing these ingredients at your local Hy-Vee since they are well-stocked year-round. I found several ham options in January when testing this recipe, which I was pleased about.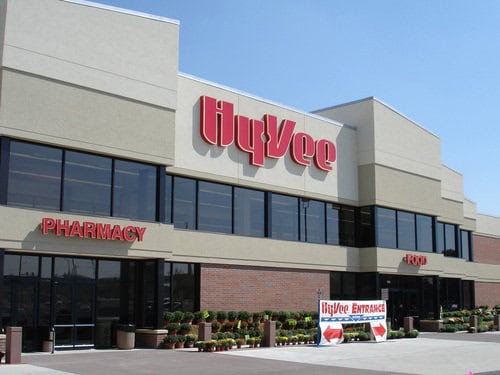 If making a big holiday feast sounds like too much, order one of Hy-Vee's catered meals to pick up. They have meal deals specifically for Easter, Thanksgiving, Christmas, and much more.
6-7 Quart Oval Slow Cooker – A large, oval-sized crockpot is necessary for slow-cooking a large ham like this. But, we have a tip in case your ham ends up being too big. Read on.
Meat thermometer – This is an essential tool for not overcooking and drying out your ham.
Large wooden cutting board – To use as a carving board.
Carving knife and fork – For slicing off pieces of ham to place on the platter.
Saucepan – To make the 5-minute Pineapple Sauce or Cranberry Orange Sauce.
Whisk
Gravy boat – Or a serving bowl with small ladle for the optional sauce.
How to Cook a Spiral Ham in a Crockpot
I tested slow-cooking a spiral-sliced ham (vs. a whole ham) in the crockpot to make it easier to carve at the end. But, here's what I found out over multiple tests. Spiral ham can dry out fast in the crockpot! Be sure to use our recipe and tips to get it right.
Place ham cut-side down into slow cooker.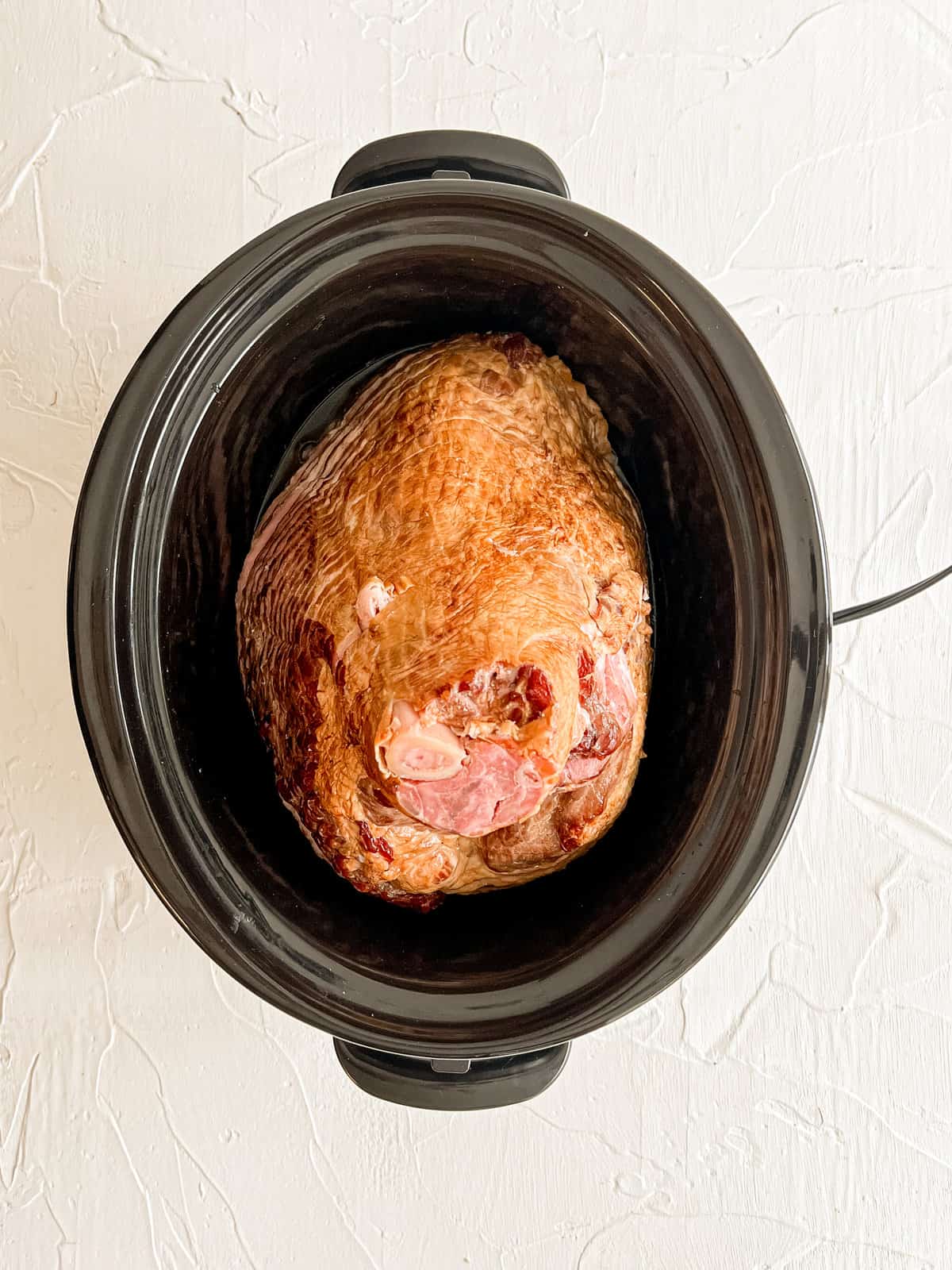 Add water, cover, and cook on LOW until ham registers 135°F in most spots. It will cook slightly unevenly, so you can turn the ham on its side halfway through the cook time (if it will fit another direction). This may help it cook more evenly.
What if My Ham Won't Fit in the Crockpot?
First, try to cut off any uneven spots on the top or bottom to see if it will fit.
If your ham is still too big and the lid won't fit on your crockpot, cover the top of the slow cooker insert tightly with heavy duty foil. Make sure it's sealed tightly. This works!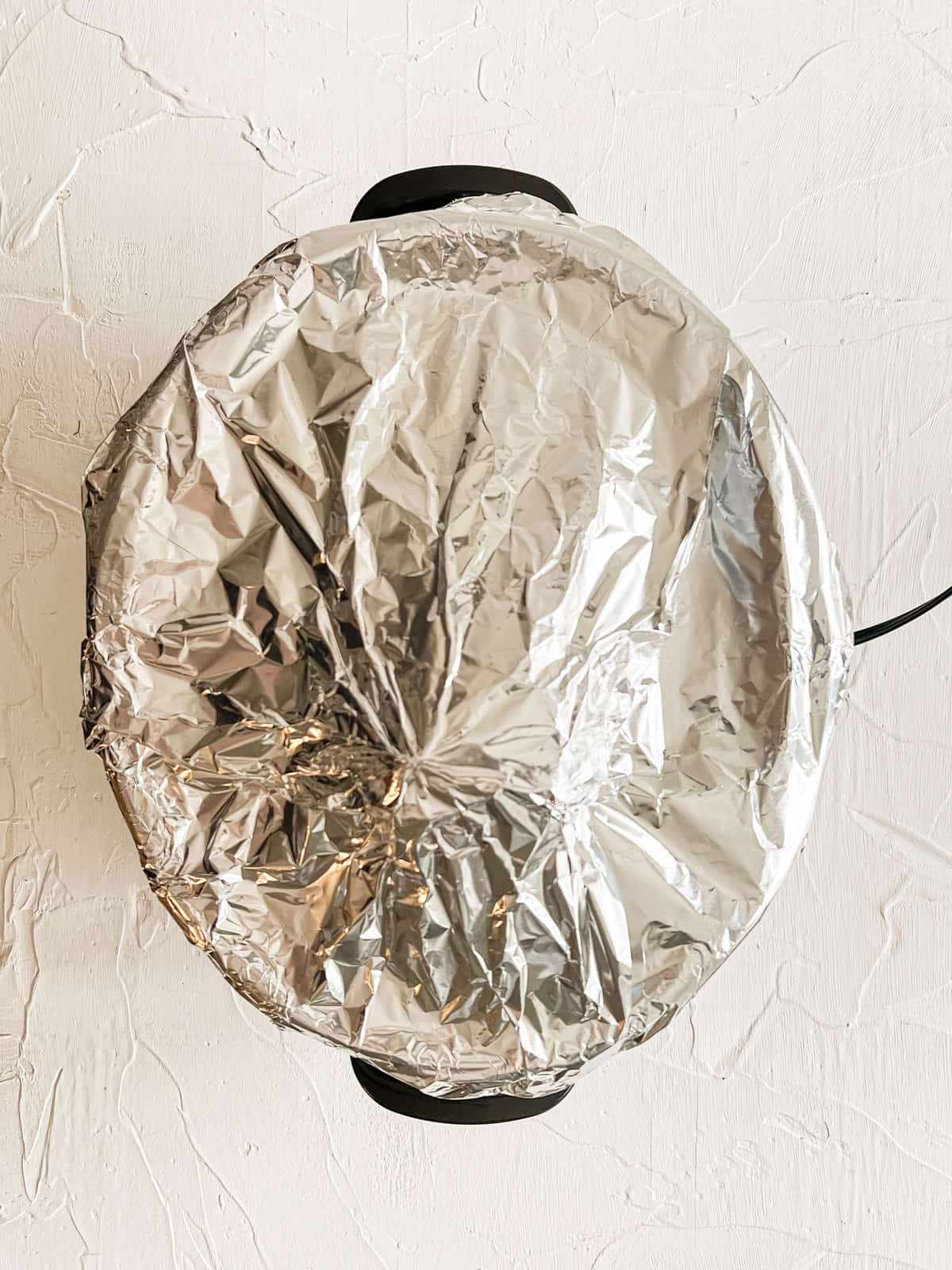 Depending on the size of your crockpot and ham, it will take anywhere from 2 1/2 hours to 3 1/2 hours on low. Start checking the internal temp at 2 1/2 hours every 10-15 minutes.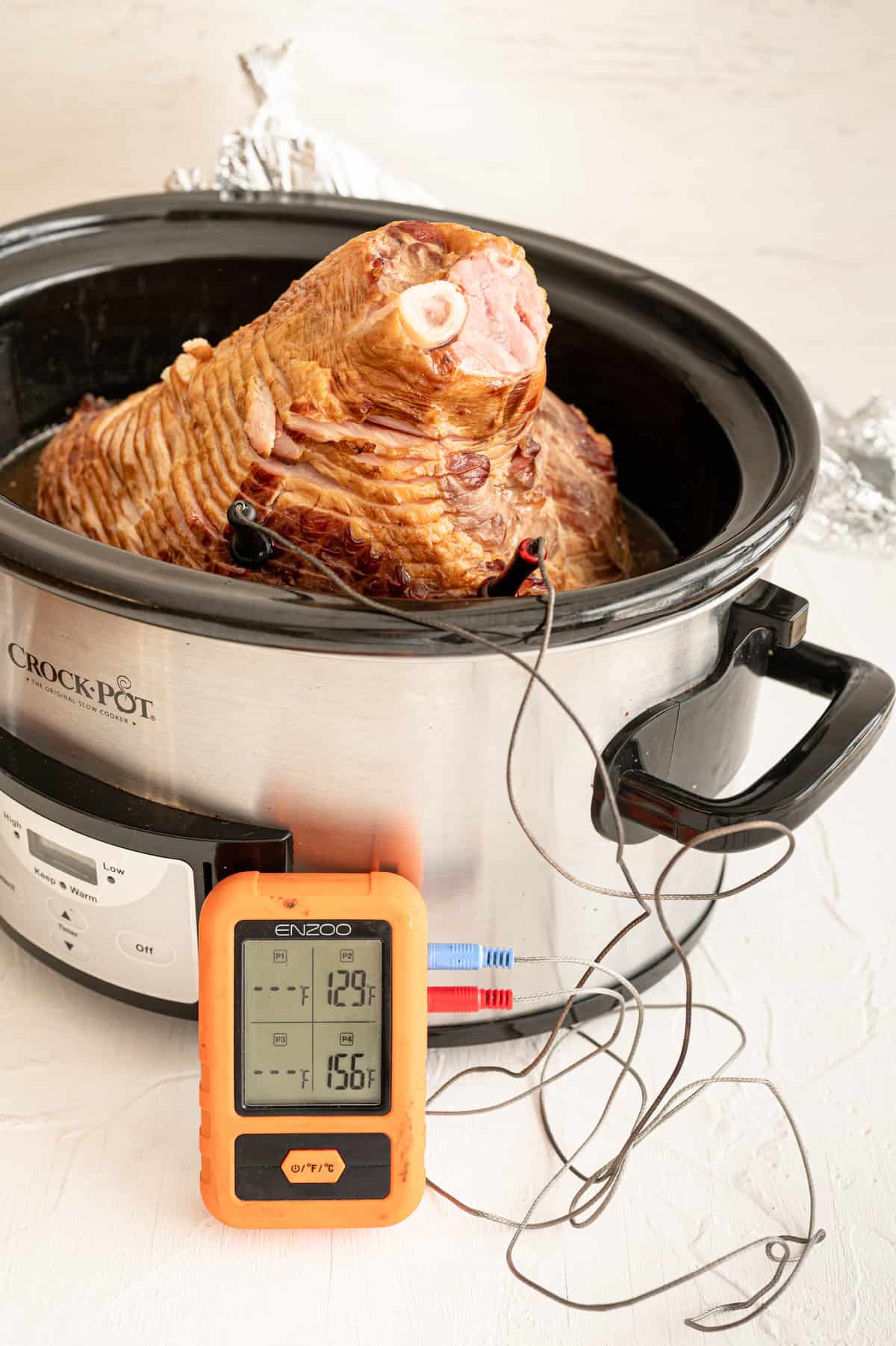 Use two forks or tongs to transfer ham cut-side down to a wooden cutting board, cover with foil, and let rest for 10-20 minutes. While it rests, make the optional Pineapple Sauce or Cranberry Orange Sauce, if desired. See the recipe below for how to apply either sauce as a glaze to the top.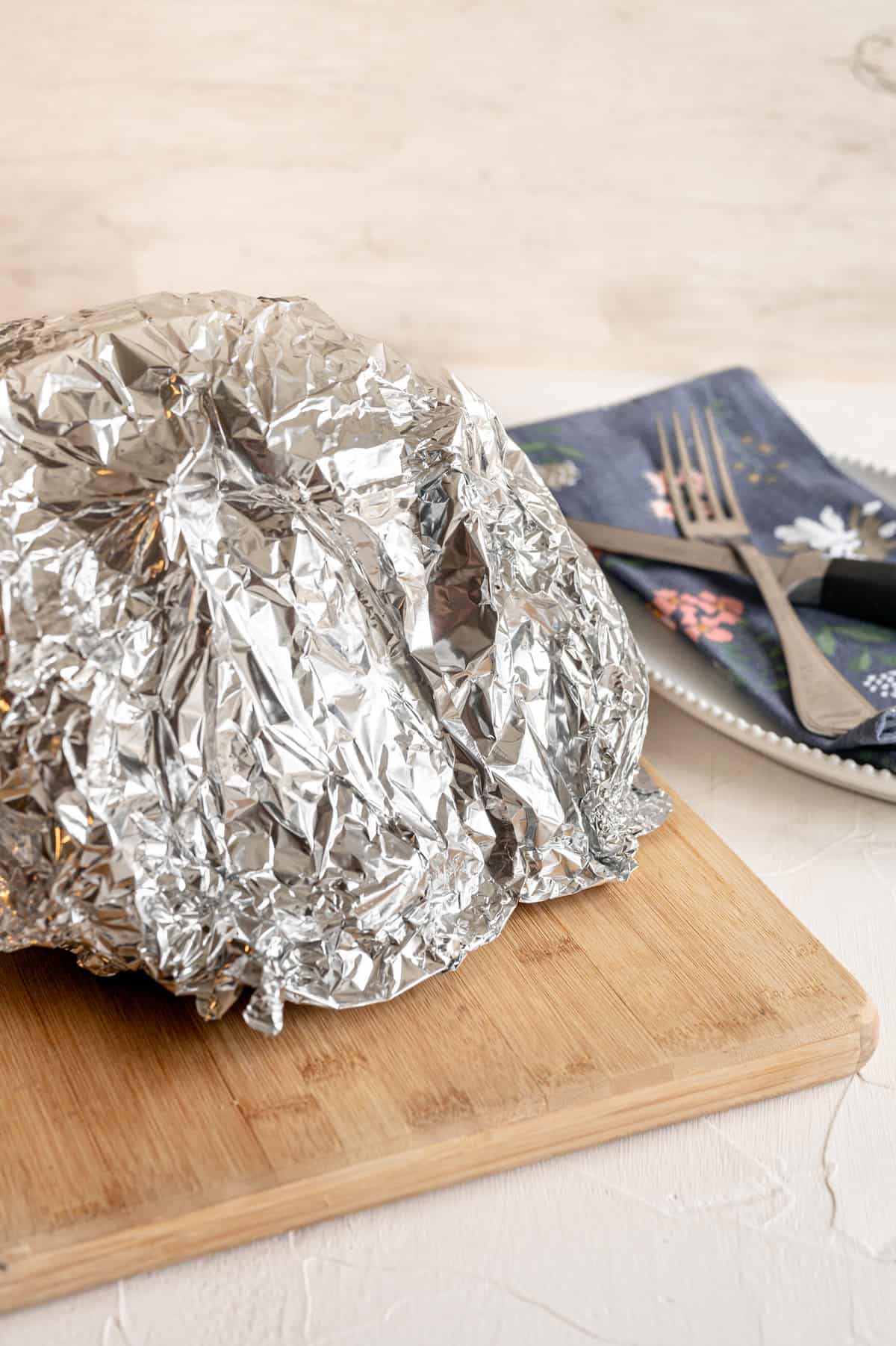 Cut off slices and lay them out on a serving platter. Serve with one of the optional sauces on the side.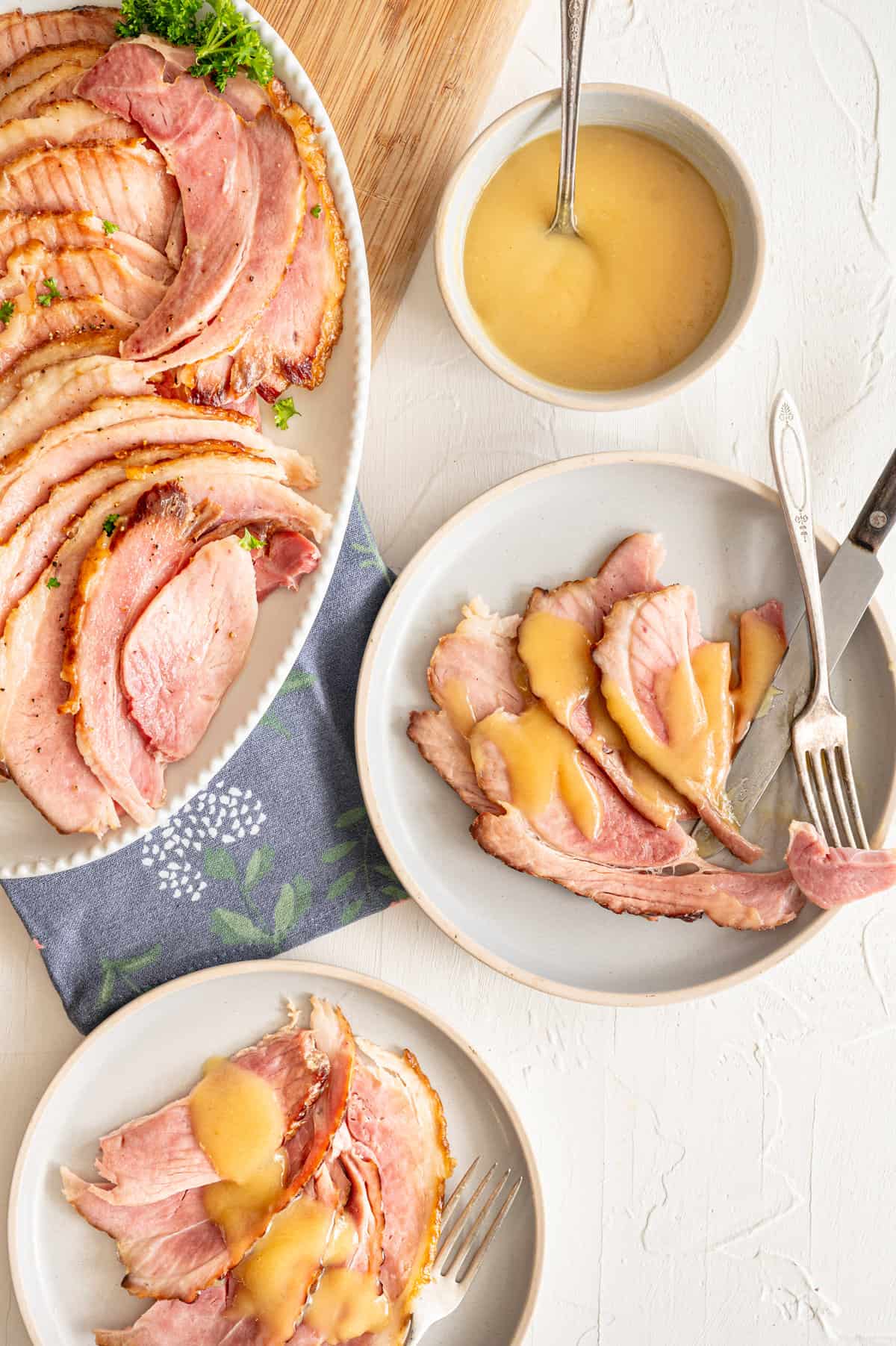 Tip: Be sure to save your ham bone to use in our Leftover Ham and Nine Bean Soup!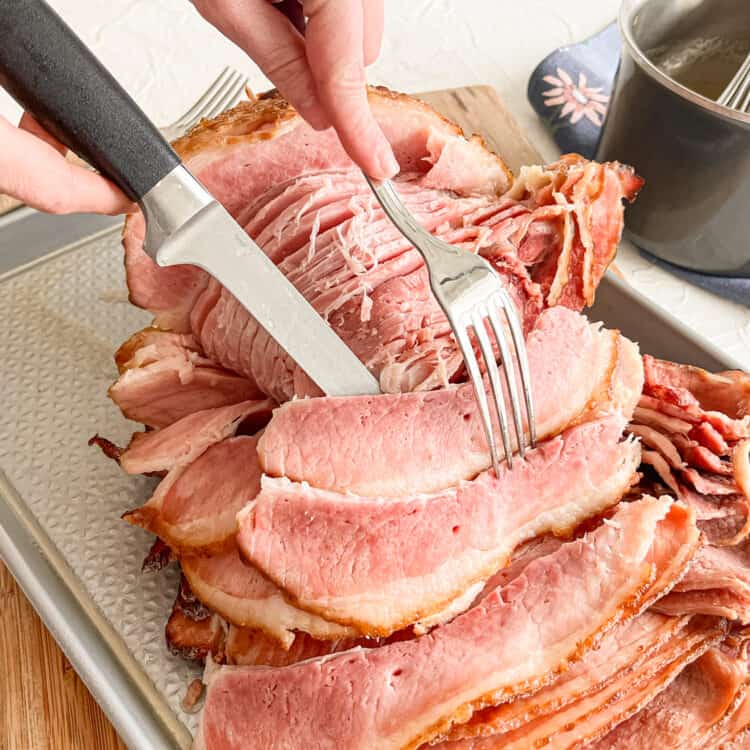 How to Cut a Spiral Ham
Slide a thin bladed knife around the center ham bone to release the slices. Make a knife cut starting at the center bone and cut towards the outer surface of the ham allowing slices to fall away. Remove chunks of ham, slice, and lay out on serving platter.
Can You Freeze Ham?
Uncooked or fully-cooked ham can be frozen. Be sure the ham is fully cooled, then wrap tightly with multiple layers of plastic wrap and/or foil or place slices in a freezer bag. Squeeze out any excess air. Freeze for up to 3 months for optimal taste and texture or up to 6-9 months in a deep freezer.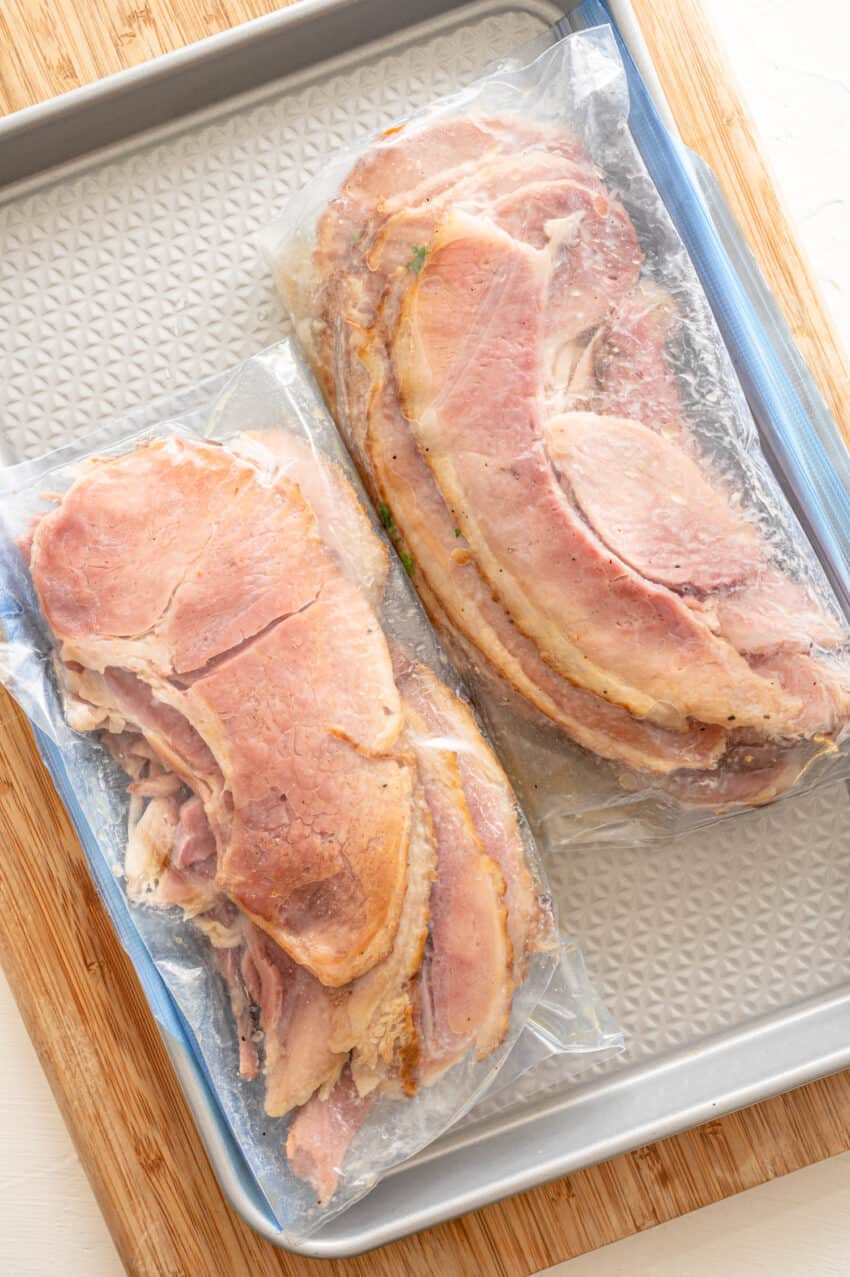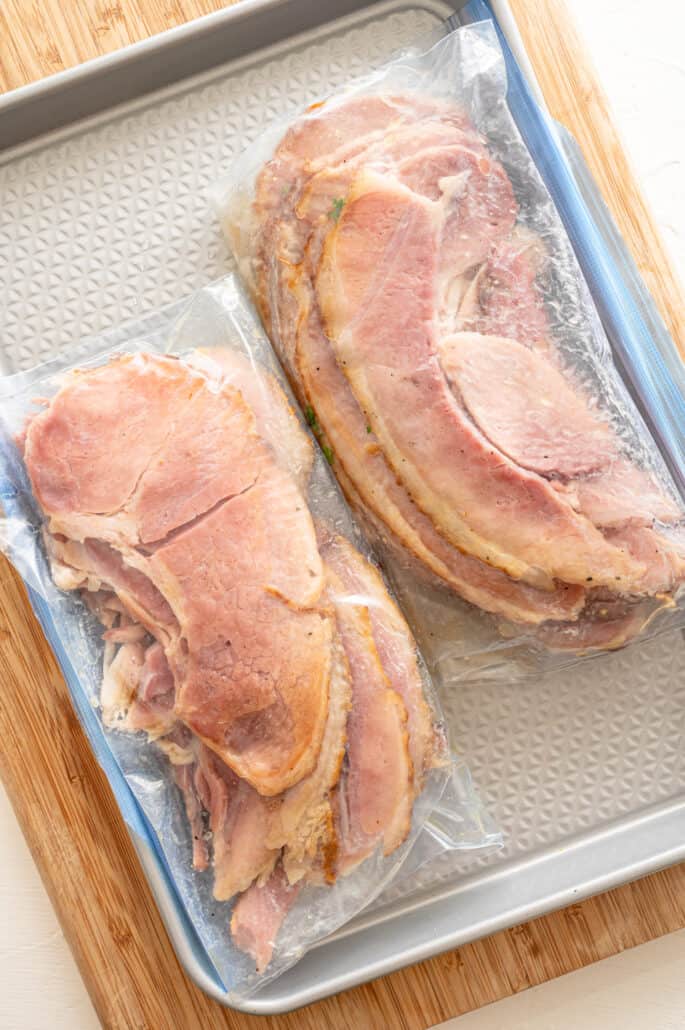 How long do I cook ham in the crockpot?
Cook your ham until it reaches 135°F internally. Then, let it rest for 10 minutes so it rises another 5 degrees. For a 7-10 pound bone-in, spiral-sliced ham, slow cook on low for 2 1/2 – 3 1/2 hours.
How long does ham last in the fridge?
Uncooked ham should be cooked or frozen according to the package expiration date. Leftover fully-cooked ham should be consumed or frozen within 3-4 days.
What internal temperature is ham done at?
According to the USDA, ham must register at least 140°F to be safe to eat. We suggest removing it from the slow cooker at 135°F because the temperature will rise at least 5 more degrees while it rests. This will help prevent overcooking and drying out the ham.
How much ham should I buy per person?
According to the USDA, "When buying a ham, estimate the size needed according to the number of servings the type of ham should yield:

1/4 – 1/3 lb. per serving of boneless ham. 
1/3 – 1/2 lb. per serving of bone-in ham."

I personally hate to run out of food and would probably err on the side of buying too much per person.
What to Do with Leftover Ham
Here are some recipes where you can use up leftover ham and even freeze these meals for later.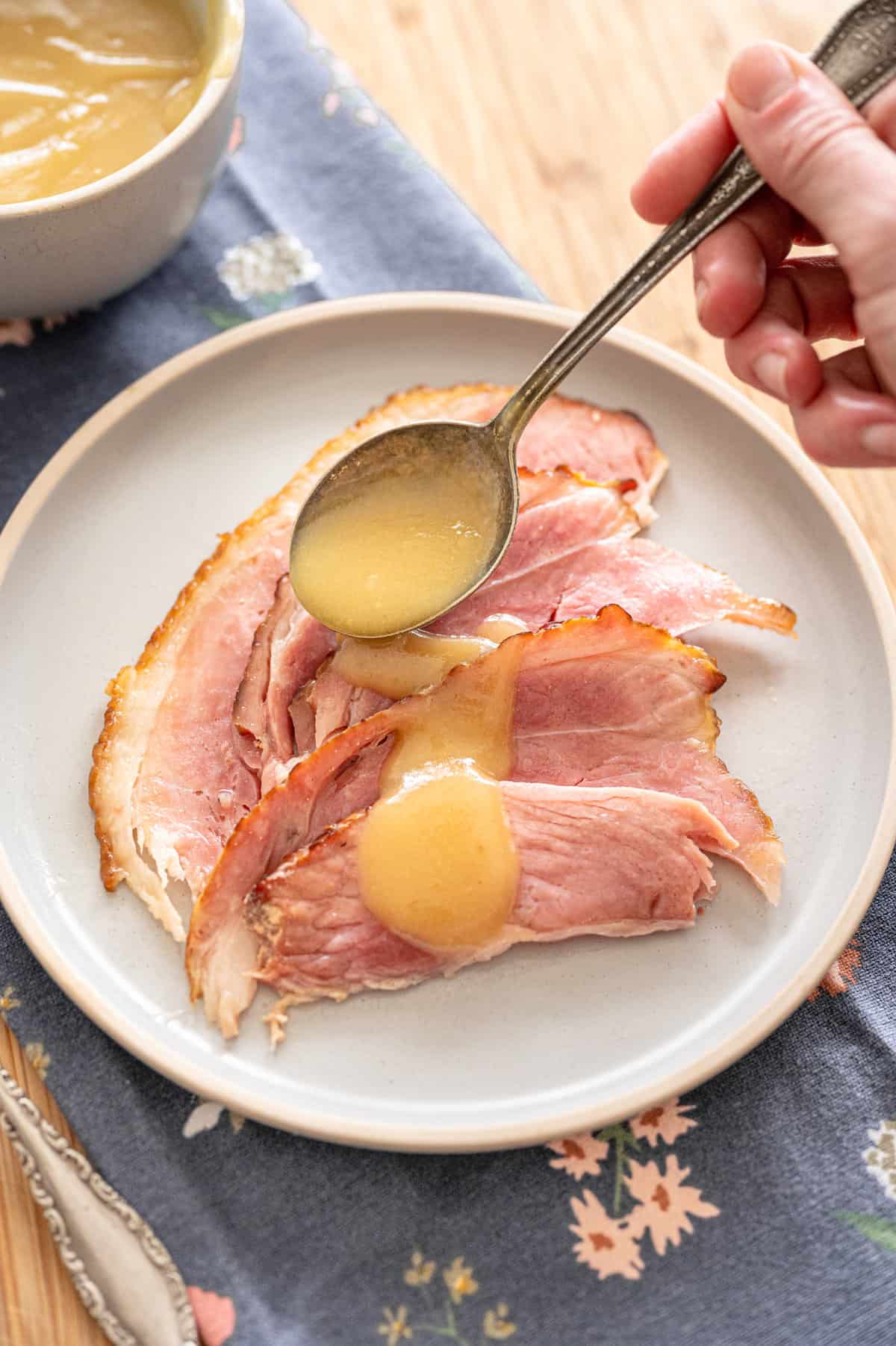 Did you make this? Snap a photo and tag us on Instagram at @thrivinghome so we can see your creations and cheer you on!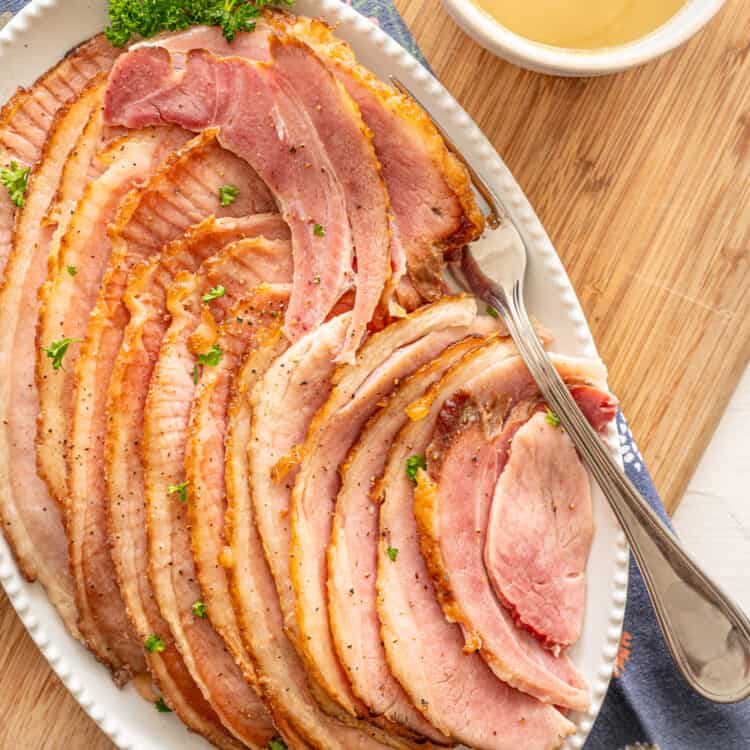 Crockpot Ham
If you need your oven for other purposes, our Crockpot Ham is here to save the day. Serve with our 5-ingredient Pineapple Sauce or Cranberry Orange Sauce for an impressive yet easy meal.
Prep:
5 minutes
Cook:
3 hours
Total:
3 hours and 5 minutes
Photography by Whitney Reist of Sweet Cayenne.