Bacon-Wrapped Dates with Goat Cheese
This post may contain affiliate or sponsored links. Please read our disclosure policy.
Few appetizers are simpler and will be gone faster than Bacon-Wrapped Dates with Goat Cheese. Just three ingredients create a complex-tasting hors d'oeuvre that will be the hit of any gathering.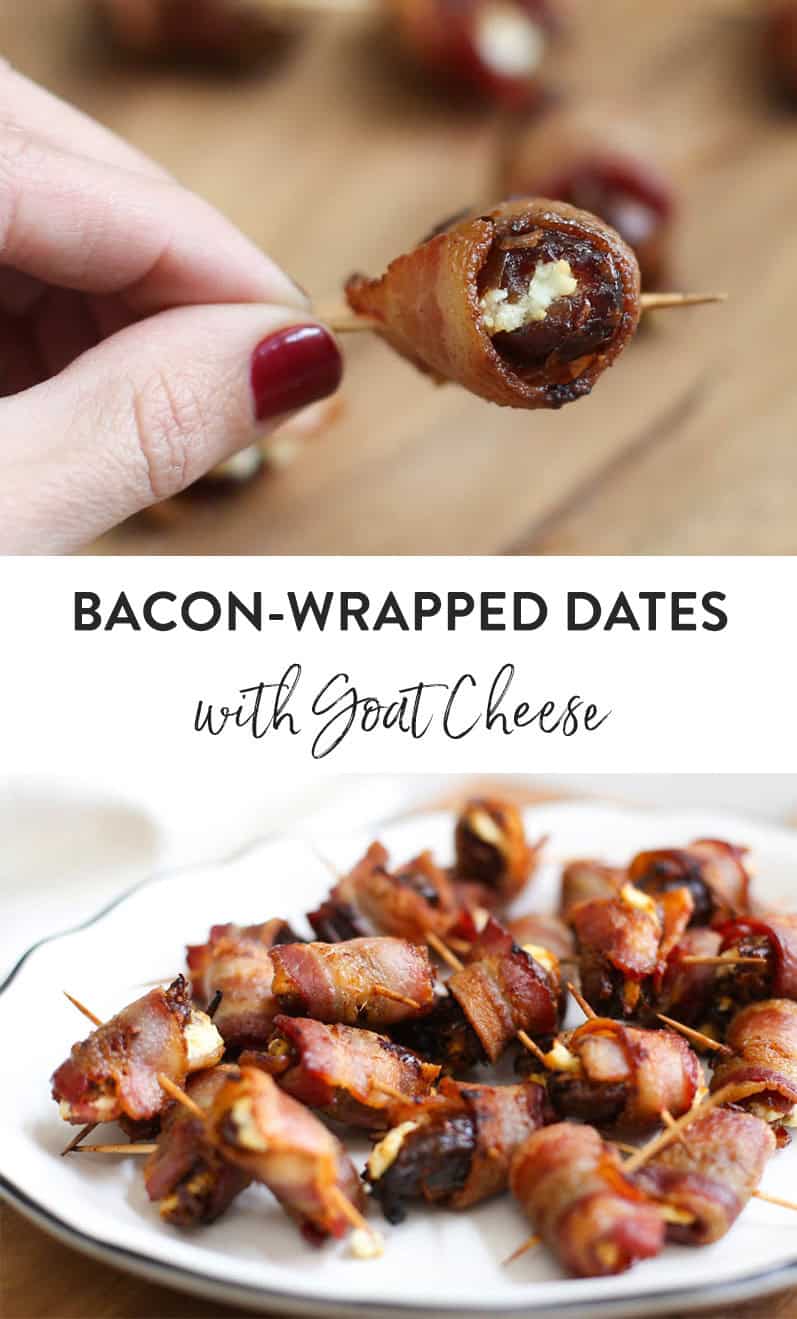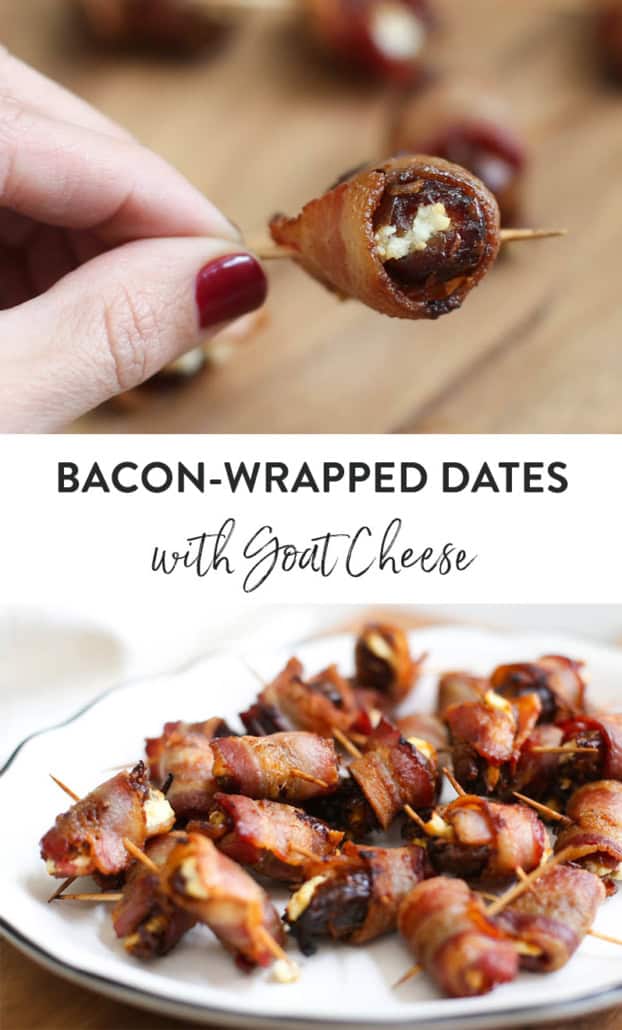 "Watch out!! Sooo delicious you will want to eat the whole plate! A little messy to assemble but this recipe makes it simple!" ⭐️⭐️⭐️⭐️⭐️ – Karen
Why Are Bacon-Wrapped Dates SO Addictive?
Hats off to the person who first thought to stuff a sweet and chewy date with tangy, creamy goat cheese and then wrap it in savory, salty, smoky bacon. Did you catch all the flavors and textures going on in this little finger food?
Sweet
Chewy
Tangy
Creamy
Savory
Salty
Smoky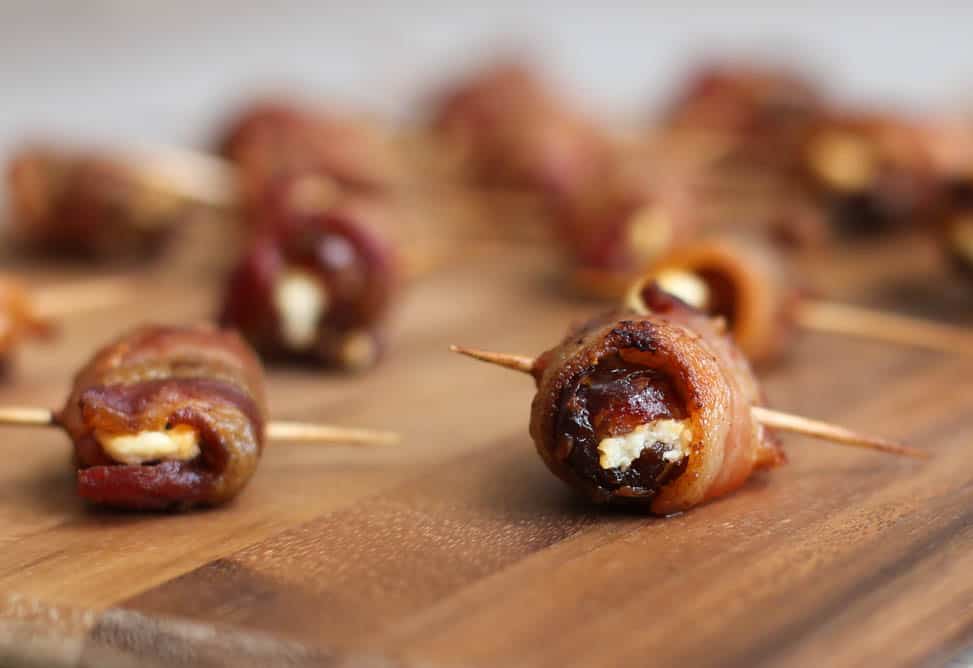 Here is a quick video tutorial of how bacon wrapped dates come together.
3 Tips for Success
There are a lot of bacon-wrapped date recipes on the internet, so we did a fair amount of research and testing to get ours just right. Here's what we learned are the keys to this amazing appetizer.
The kind of bacon you use is paramount to your success.
Look for thinner bacon, not thick-cut. The better quality of the bacon, the better your appetizer will turn out, of course.
The kind of dates you use makes a big difference, too.
I went into this recipe development thinking that the most expensive dates–the larger Medjool dates–would be the ones I should use. Boy, was I wrong! The large ones were far too sweet and too large to enjoy in one or two bites. They threw off the savory, salty, sweet balance of the dish, as well.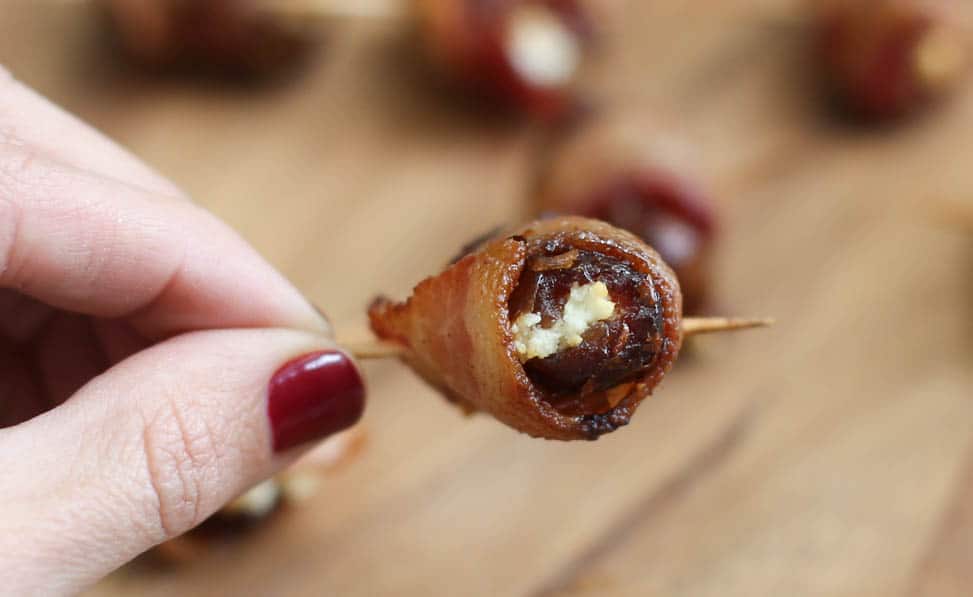 Look for two things when buying dates for this recipe:
Go with the smaller, cheaper dates. The small ones I found in my store are called Deglet Noor dates.
Be sure to buy pitted dates! This will save you a lot of time opening and pitting the dates by hand, which I've had to do before and is no fun.
Place the prepared stuffed dates on a baking rack in the oven.
There are many different methods for cooking the Bacon-Wrapped Dates with Goat Cheese, but I found this one to be the easiest and most consistent.
Prepare a rimmed baking sheet by covering it with foil and then placing a baking rack on top of it. Then, bake your prepared stuffed dates on top of this baking rack using our instructions below.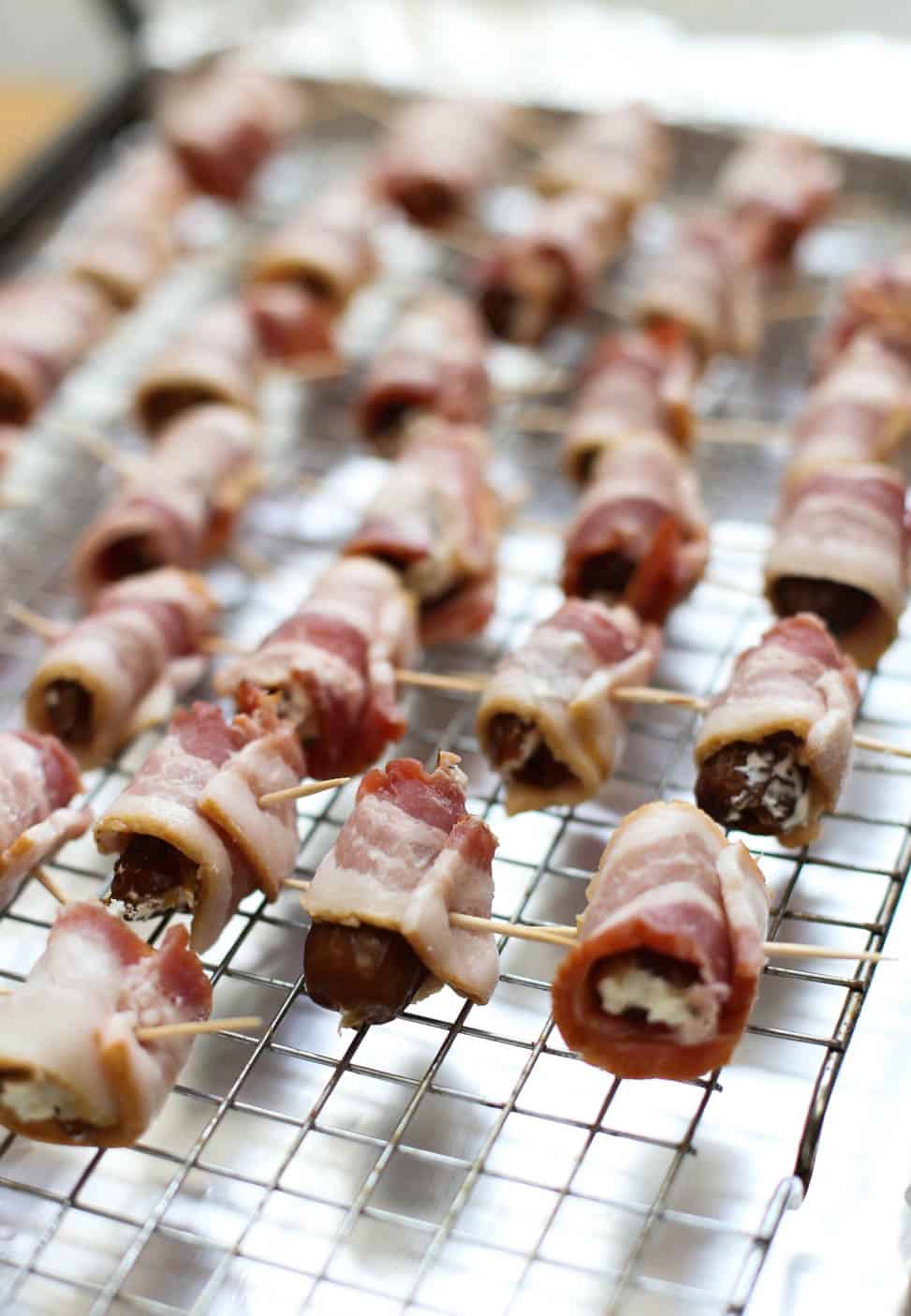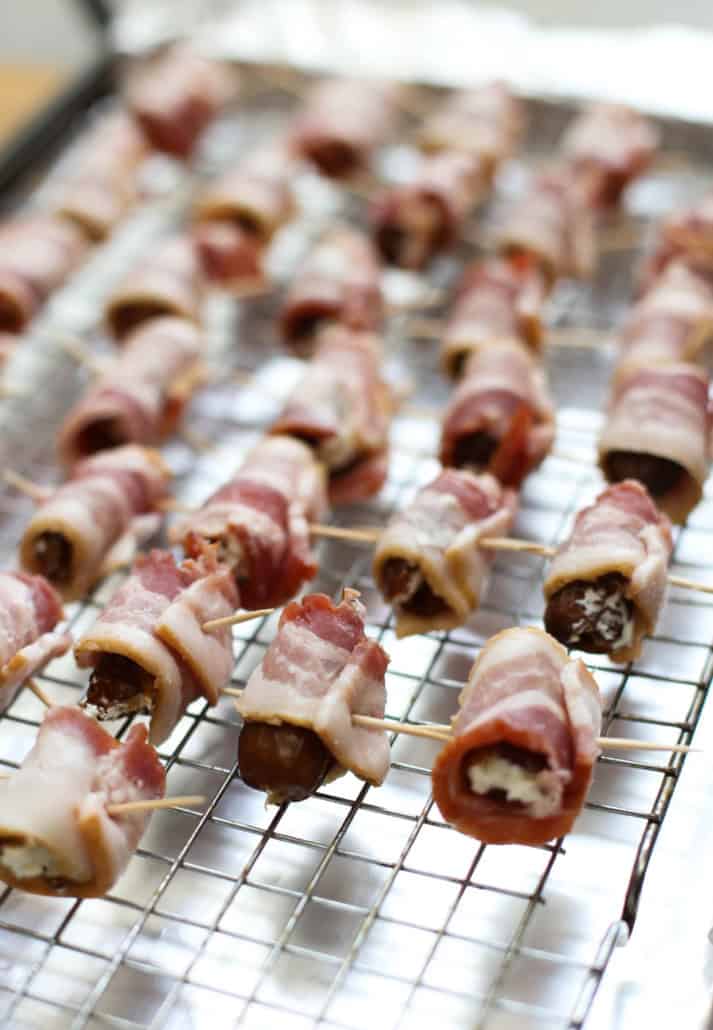 This method allows for the hot air in the oven to circulate all around the bacon-wrapped dates, making for even cooking. It also allows the grease to drop below. That way your bacon ends up crispy and evenly cooked! The clean-up is a cinch, too.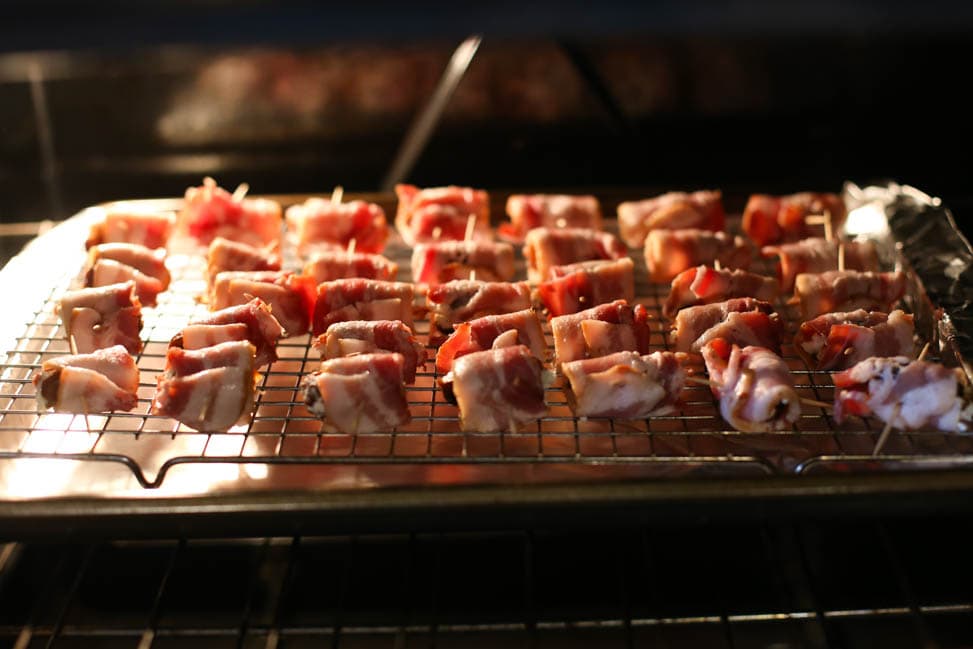 Can you make this dairy-free?
Yep, you sure can. Replace the goat cheese with one or two smoked almonds instead.
I had this version recently at a friend's house, and they were gone in minutes. The almonds add an unexpected crunch, yet lend creaminess as you munch. (See what I did there? #BuddingPoet.)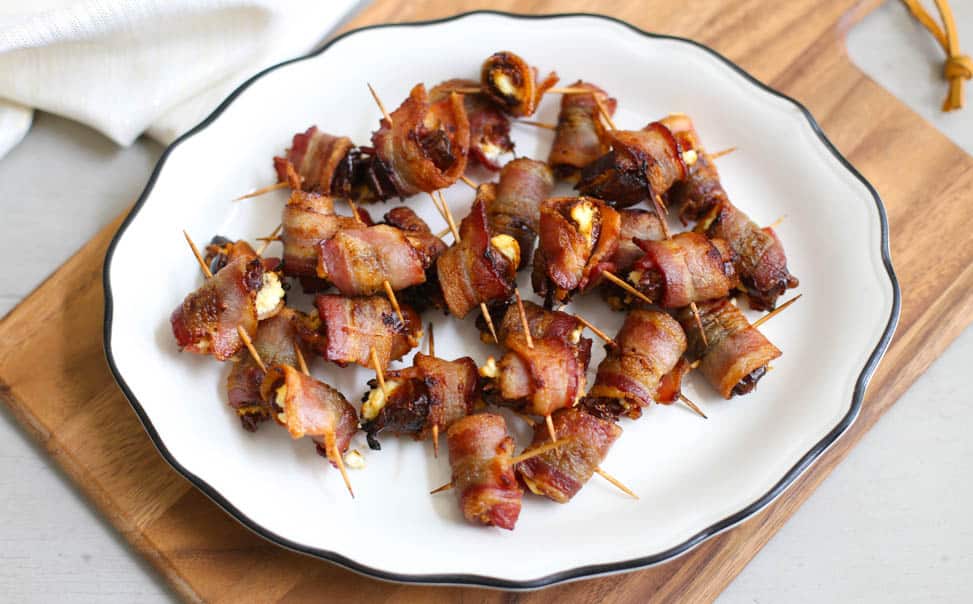 More Recipes for Entertaining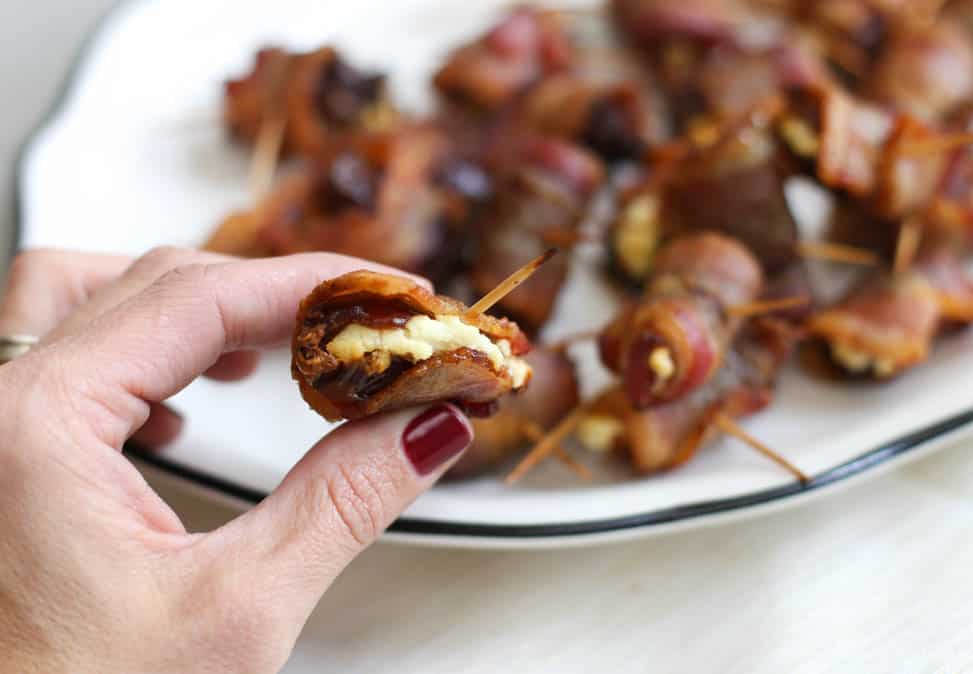 Did you make this? Snap a photo and tag us on Instagram at @thrivinghome so we can see your creations and cheer you on!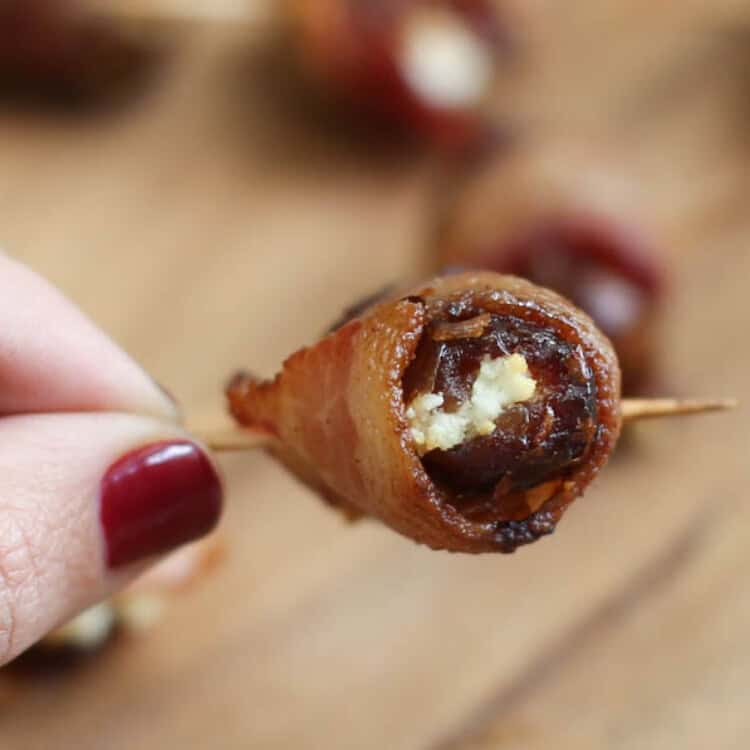 Bacon-Wrapped Dates with Goat Cheese
With just 3 ingredients, few appetizers are simpler and will be gone faster than Bacon-Wrapped Dates with Goat Cheese. Sure to be a hit at your next party!
Prep:
10
Cook:
22
Total:
32 minutes
Ingredients
8

slices (about

1/2

pound)

24

smaller pitted dates (

8 ounce

package)

4

ounces

goat cheese
toothpicks
Before You Begin! If you make this, please leave a review and rating letting us know how you liked this recipe! This helps our business thrive & continue providing free recipes.
Instructions
Preheat the oven to 425°F. Top a rimmed baking sheet with a baking rack. (Tip: For easier clean up, cover the baking sheet with foil.)
Pitted dates should have a small opening in them; if not, slice them open on one side. Smear a dollop of goat cheese inside each date and press the date closed around the cheese.
Cut the bacon slices into thirds. Wrap each date in a bacon piece tightly and secure with a toothpick.
Place wrapped dates on the baking rack. Bake for about 17-22 minutes, flipping them over halfway through so they cook evenly, until the bacon is browned and crispy. (Depending on the thickness of your bacon, cooking time can vary. Keep a close eye on them.)
Serve warm or at room temperature.
---
Notes/Tips
If your dates aren't pitted, slice them open lengthwise just enough to open them and remove the pits.
Make sure to buy thin-cut, not thick-cut bacon. You can roll out the bacon with a rolling pin, if it's not thin enough.
We found that the larger Medjool dates were too large and sweet for this recipe. We recommend the cheaper and smaller ones.