5 Pillars of the Perfect Charcuterie Board
This post may contain affiliate or sponsored links. Please read our disclosure policy.
A holiday appetizer or simple meal doesn't get easier than a Charcuterie Board! Anyone can pull this amazing spread together with our tips and tricks, including advice for pairing the perfect wine.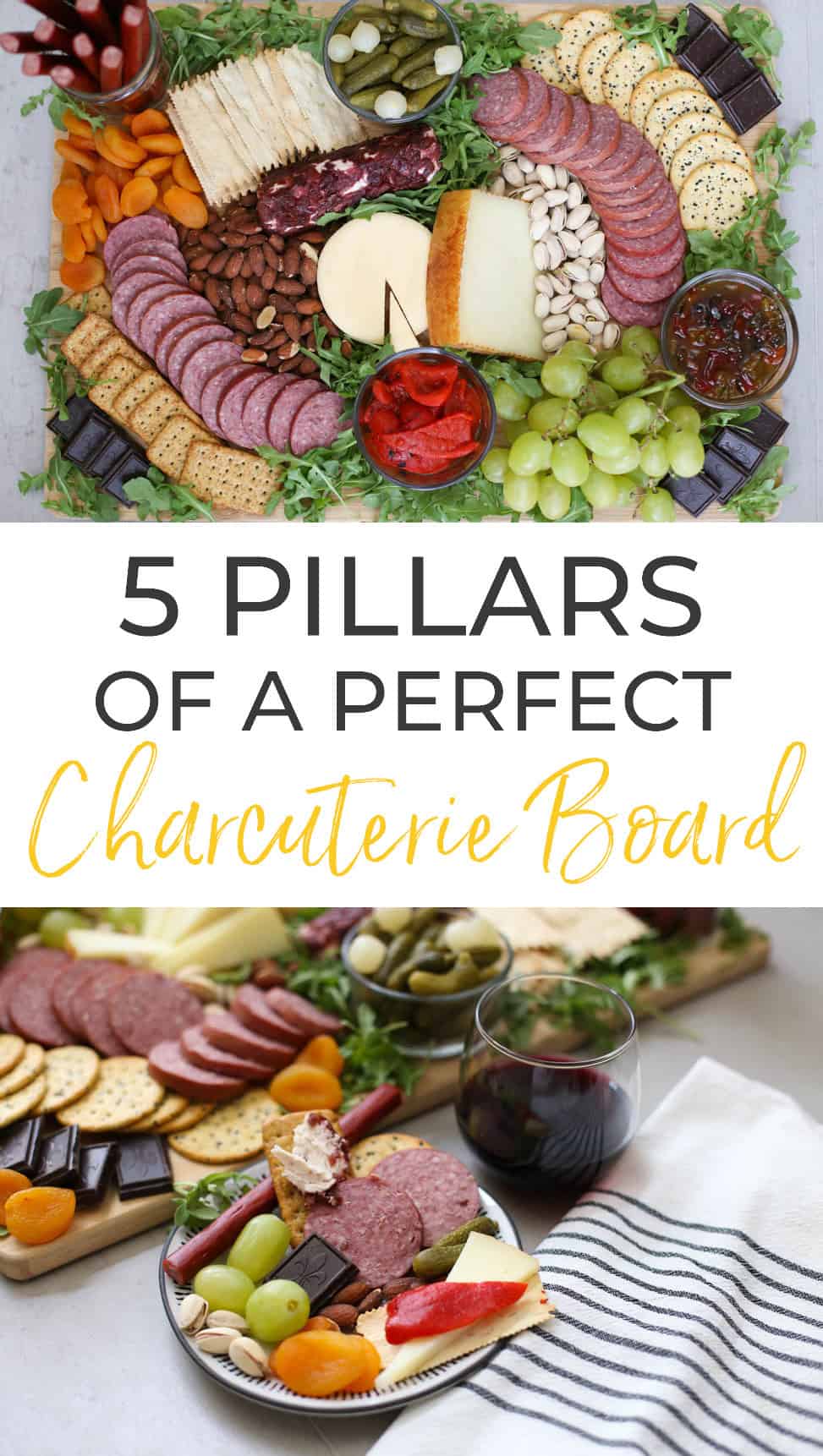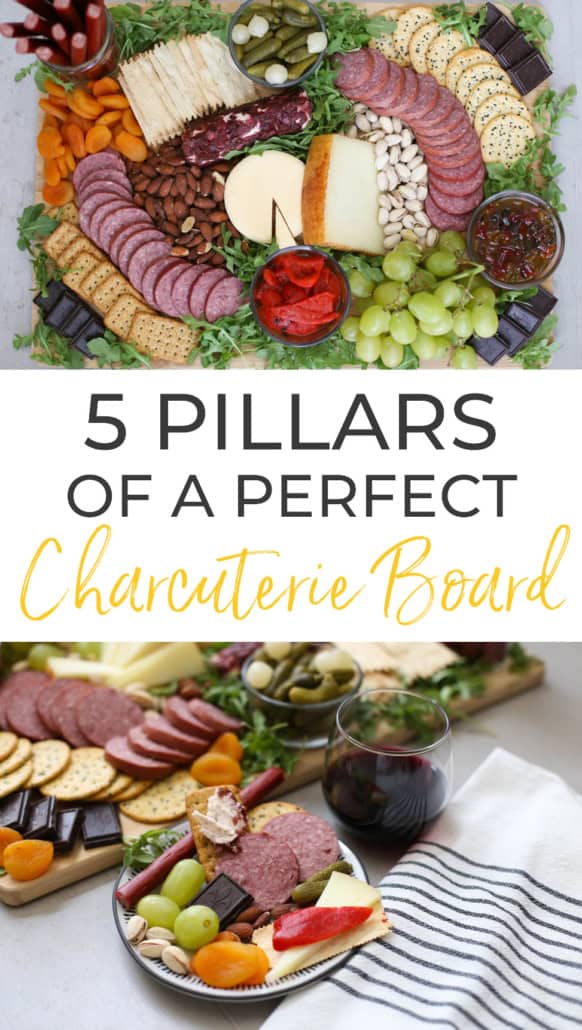 Created in partnership with St. James Winery and Burgers' Smokehouse. All opinions are our own.
What Is a Charcuterie Board?
Let's get some important business out of the way. How do you say "charcuterie", anyway? Say it with me like this: SHAR-KOO-TUH-REE. There you go. Consider yourself officially edjumicated. 🙂
Secondly, what does "charcuterie" actually mean? This French word is literally translated "cooked flesh". Umm, gross. Maybe don't tell your guests that part, k? When we say "charcuterie" today, we are usually referring to the act of preparing and arranging cold, cured meats on a board with cheeses, crackers, fruits, vegetables, and more.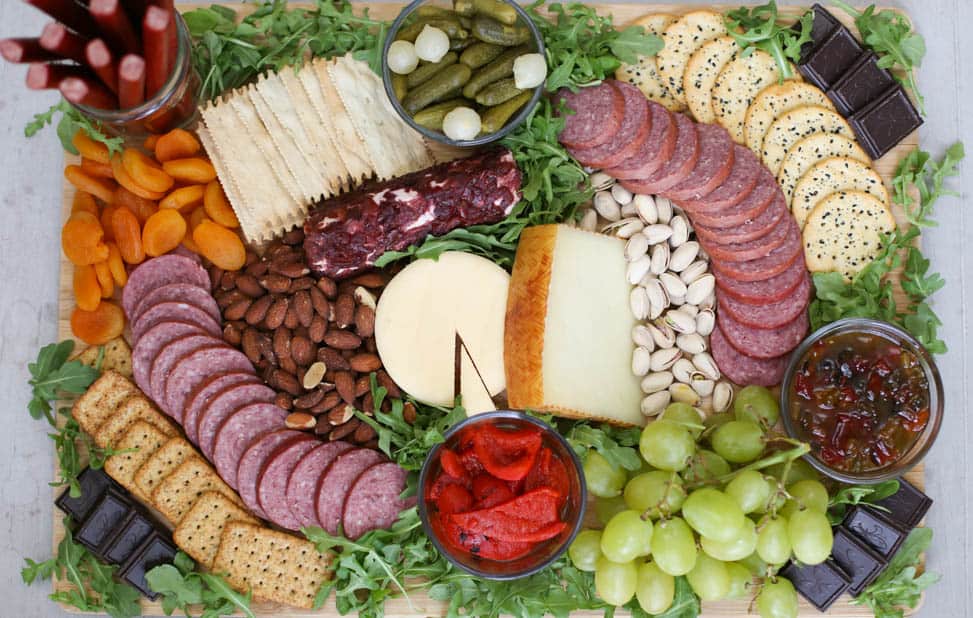 A Charcuterie Board works wonderfully for a holiday gathering or as an impressive appetizer because of the variety of options and how gorgeous it is! Seriously, you have a high chance of impressing all friends and family with a board like this.
A Few Starting Tips
Begin with a nice wooden cutting board. You choose the size for your group.
Think about including food items that offer a variety of colors, textures, flavors, and heights.
Utilize small ramekins or bowls to contain smaller items and spreads.
There's really no wrong way to build one, so don't be intimidated! Start with our pillars below, but feel free to get creative.
Don't forget to offer interesting and well-paired beverages, especially wine. Read on for our wine pick!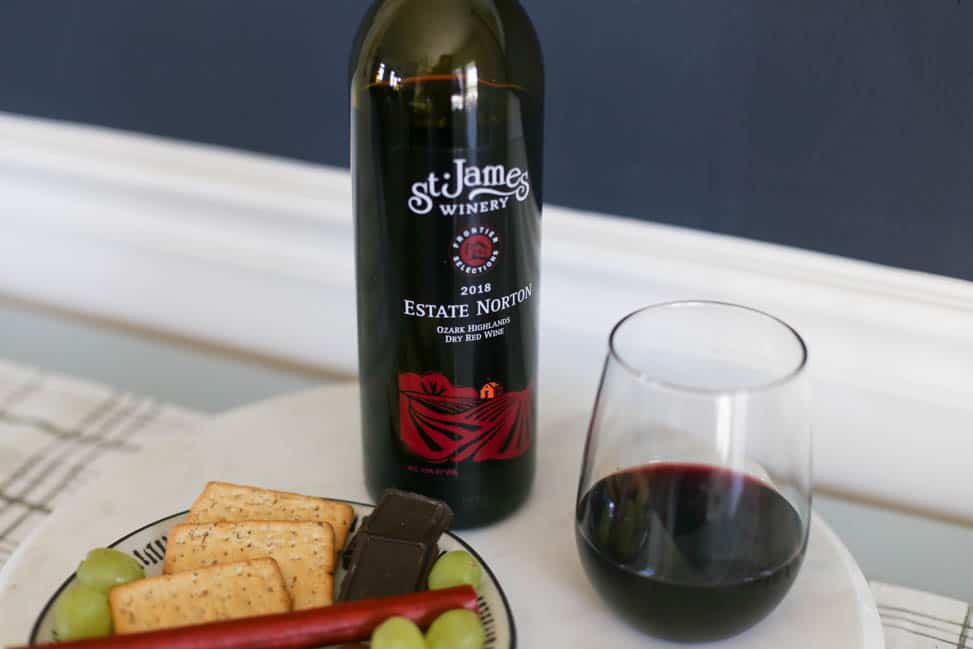 5 Pillars of a Perfect Charcuterie Board
Stick to the five basics below (and starter tips above), and you're well on your way to building an amazing Charcuterie Board that will wow your guests.
Watch how easily it comes together first…
Pillar 1: Choose Your "Charcuterie"
Pick your "charcuterie", aka cold cooked or cured meat. You'll build your board and wine pairings around this central part of your platter. We chose two affordable and very delicious smoked meats from Burgers' Smokehouse, which you can find at Hy-Vee and many other local grocery stores…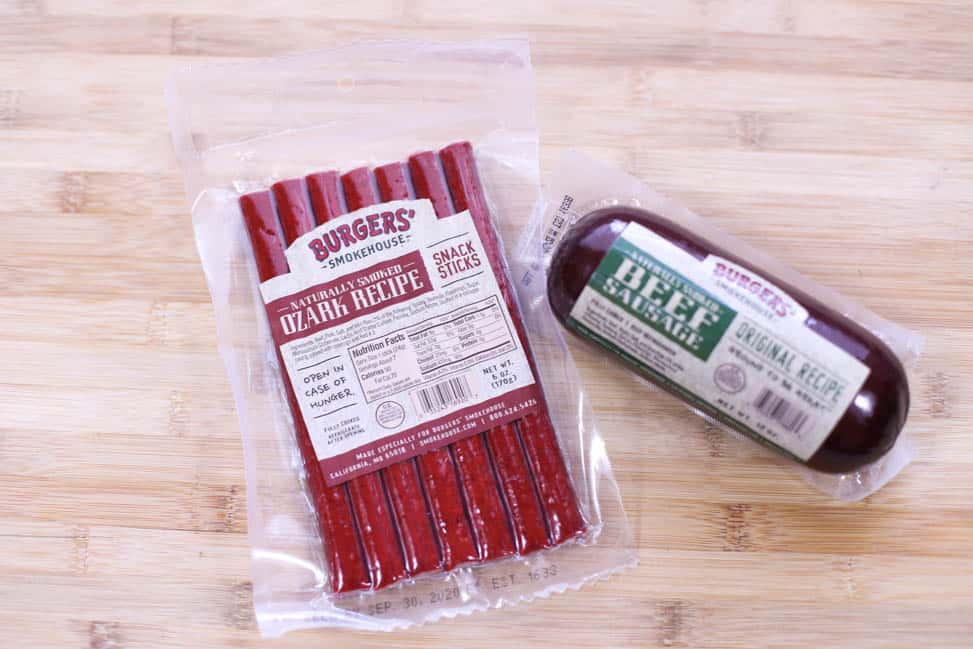 Just place a slice of this flavorful sausage on a cracker and top with your favorite cheese and perhaps a condiment like mustard or a fig compote. (Admittedly, I had a hard time stopping snacking on their summer sausage during our photoshoot. Yum!) Works great for holiday gatherings or summer hang-outs. Check out the variety of flavors here.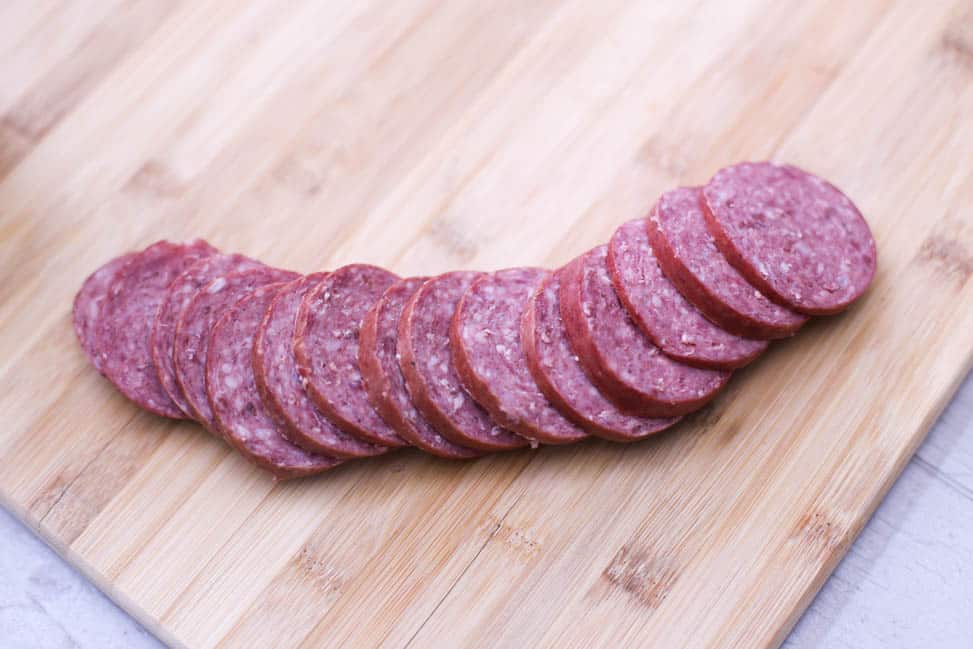 These snack sticks are so fun to include! They're easy to grab and all ages enjoy them. They also had height to the board, if you place them in a glass. Wouldn't it be unique and fun to gift this Sampler Pack to the jerky lover in your home?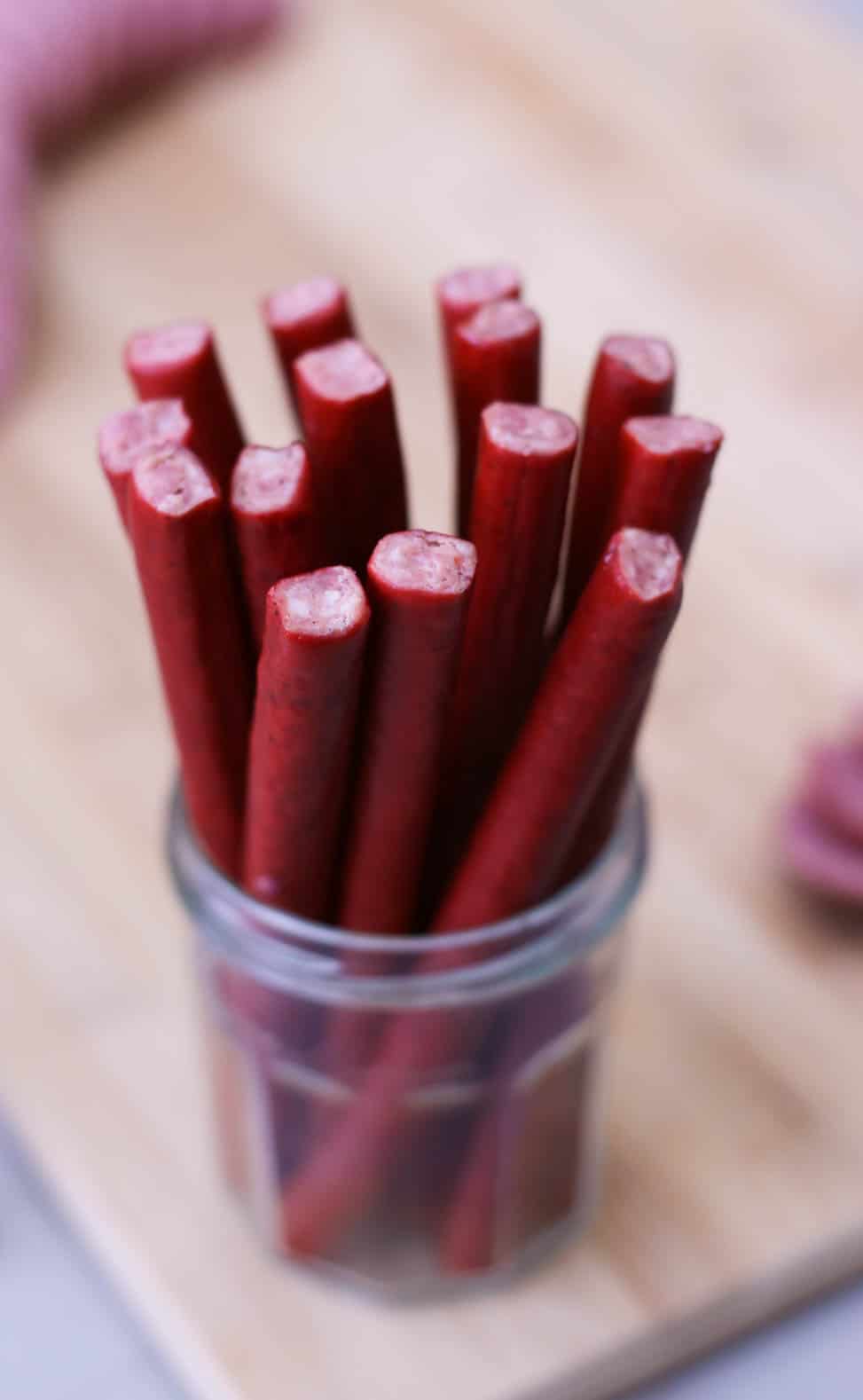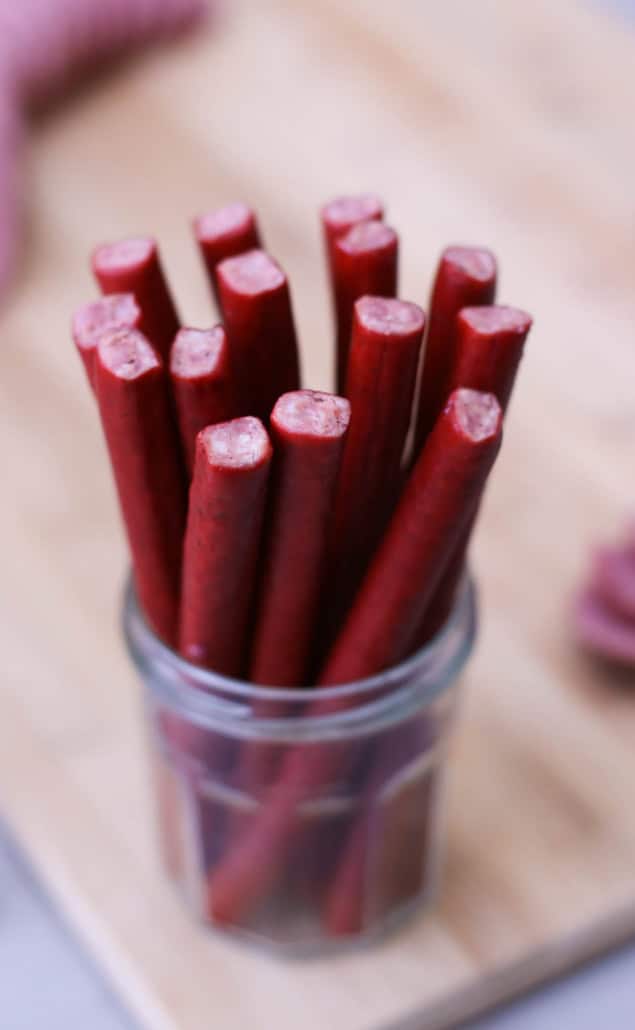 Pillar 2: Pick Your Cheese, Please
You typically want to shoot to include about three different types of cheese. Go for variety, picking ones from different regions and/or that have differing flavors and textures. Include a small cheese knife for easy cutting and serving.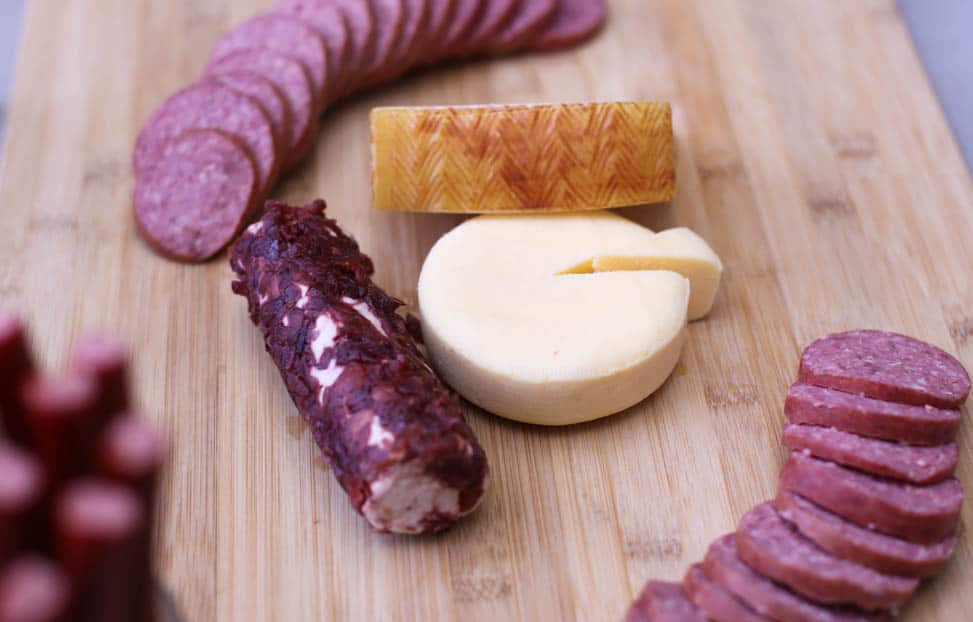 Here are some of my favorite cheeses that are easy to find and affordable:
Soft Cheeses:
Goat/Chevre cheese (pictured) – Soft, tangy, spreadable cheese from goat's milk. We used one rolled in cranberries to add color and texture to our board.
Brie – Soft cow's milk cheese from France. Creamy, buttery taste.
Semi-Soft Cheeses:
Manchego (pictured) – Semi-soft sheep's milk cheese from Spain. Fruity, nutty, sweet, tangy flavor.
Havarti – Semi-soft cow's milk cheese from Denmark. The taste is buttery, from somewhat to very sweet, and slightly acidic.
Hard Cheeses:
Aged Cheddar – Hard, sharp-tasting, cow's milk cheese from England.
Smoked Gouda (pictured) – Hard cow's milk cheese from Holland region. Buttery, smokey, pale yellow.
Pillar 3: Offer Assorted Crackers or Breads
It's imperative to include great vehicles for your meat, cheese, and condiments. Grab a variety of crackers and/or slice up a baguette. Fan them out around the board and you're almost there.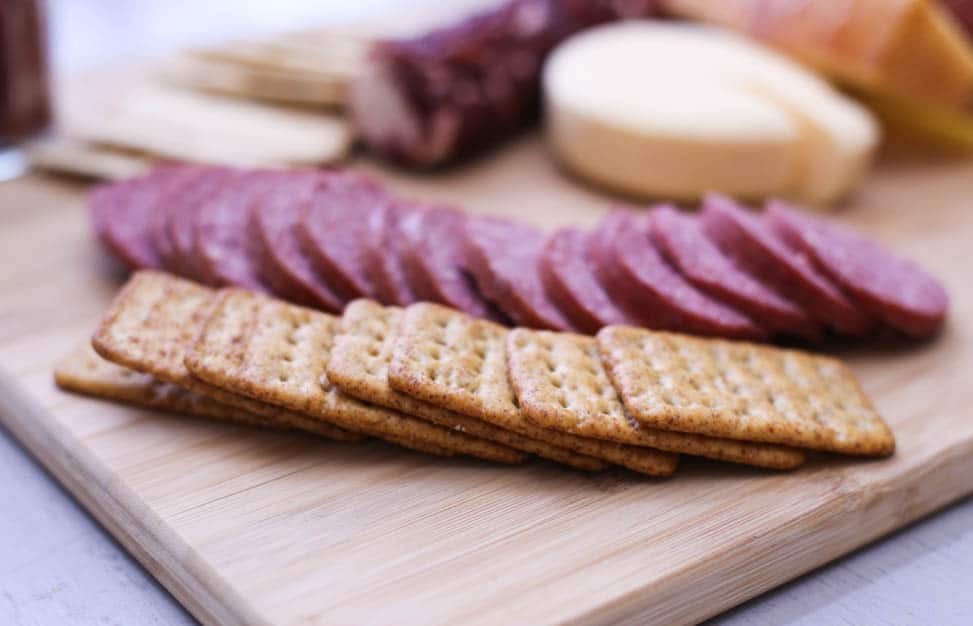 Here are a few ideas:
Multigrain, artisan, water crackers (pictured)
Small baguette, sliced thinly
Pita chips
Consider adding gluten-free crackers for those who have dietary restrictions.
Step 4: Add in Fruit, Veggies, and More
Here's where you can get super creative! Fill in the rest of the board with all kinds of colors, flavors, and textures from fruits, vegetables, nuts, spreads, and even candy. For mine, I tried to think about spreading out colors and textures around the board.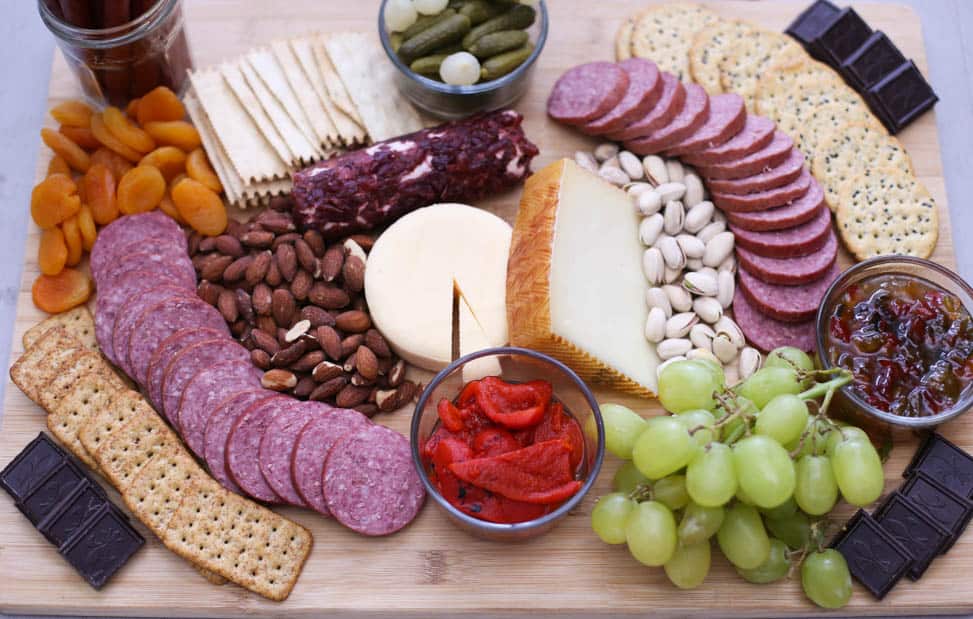 Give several of these fill-in foods a try. You might even have a lot of these on hand already!
Fresh and Dried Fruits
Grapes (pictured)
Dried apricots (pictured)
Fresh figs, sliced in half
Fresh berries
Vegetables
Baby Gherkins/Cornichons (pictured)
Olives
Pickled vegetables
Roasted red peppers (pictured)
Your favorite raw vegetable sticks
Spreads or Dips
Fig Compote
Apricot Jam
Orange Marmalade
Hot Pepper Jelly (pictured)
Mustards (there are so many interesting varieties on the market!)
Hummus
Nuts and Candy
Smoked or roasted almonds (pictured)
Roasted pistachios (pictured)
Squares of dark chocolate (pictured)
Chocolate-covered raisins
Step 5: Pair with the Perfect Wine
It's not a far stretch to say that the perfect wine paired with a charcuterie board is a sensual experience. The beauty, smells, and variety of tastes paired together really do fill your senses. Our team genuinely had so much fun enjoying our board along with a delicious local Missouri wine from St. James Winery called Estate Norton.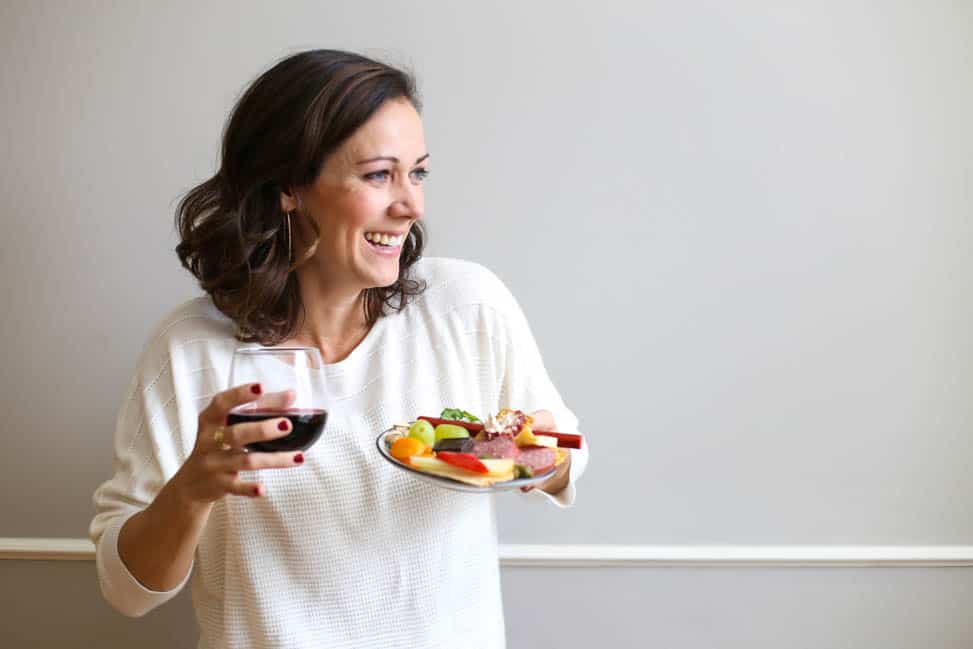 This full-bodied dry red wine is complex and rich with layered flavors of berries, vanilla and bittersweet chocolate. Peter Hofherr, second generation owner of the winery and vineyard explained why the Estate Norton works so well with a Charcuterie Board:
Often our Estate Norton is used for the wine match as it has hints of fig, tobacco and brambleberry in the taste profile. In addition, the Estate Norton is aged in American and French oak to give it the body and bigger profile it needs to match the contents of the charcuterie board.

– Peter Hofherr, St. James Winery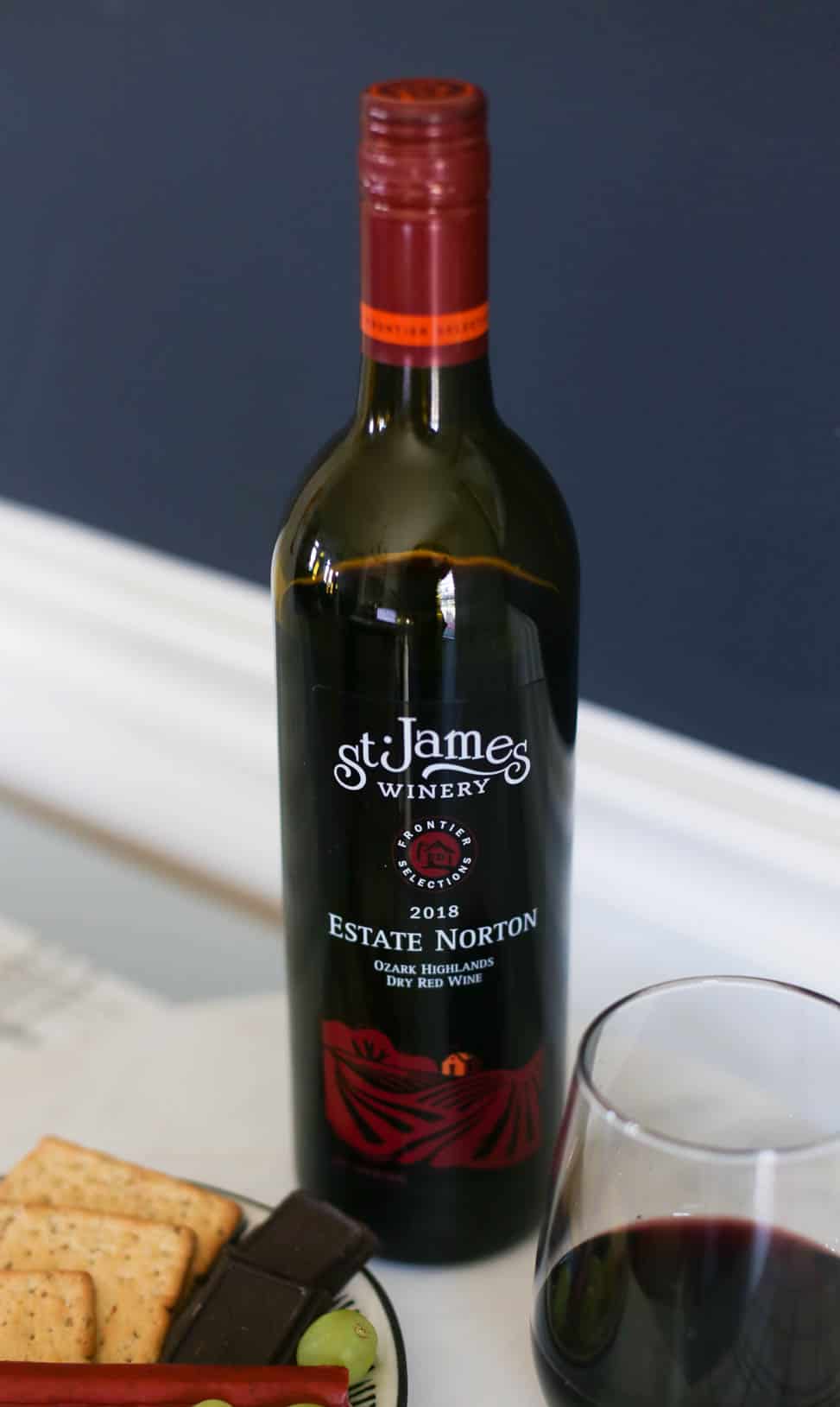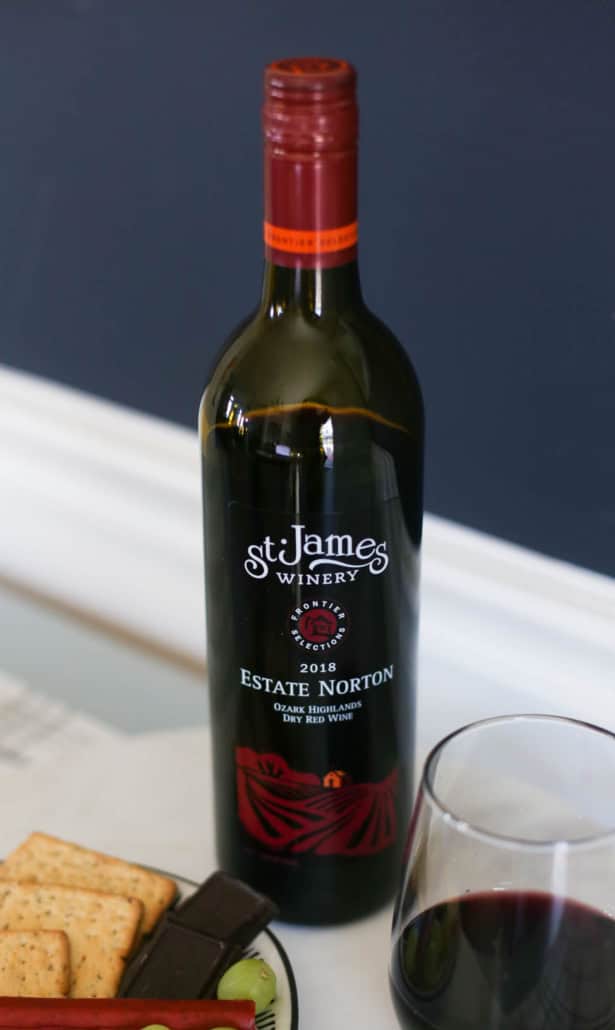 Being from Missouri, this wine and it's history has particular significance to us. The grapes are Norton, which is Missouri's State Grape. They are grown at St. James' vineyards, located in the Ozark Highlands. The American Oak, which this wine is aged in, is sourced from barrel makers that are within 50 miles of the winery, and the oak itself is from the Ozark Highlands. The Estate Norton truly is a Missouri made and grown product.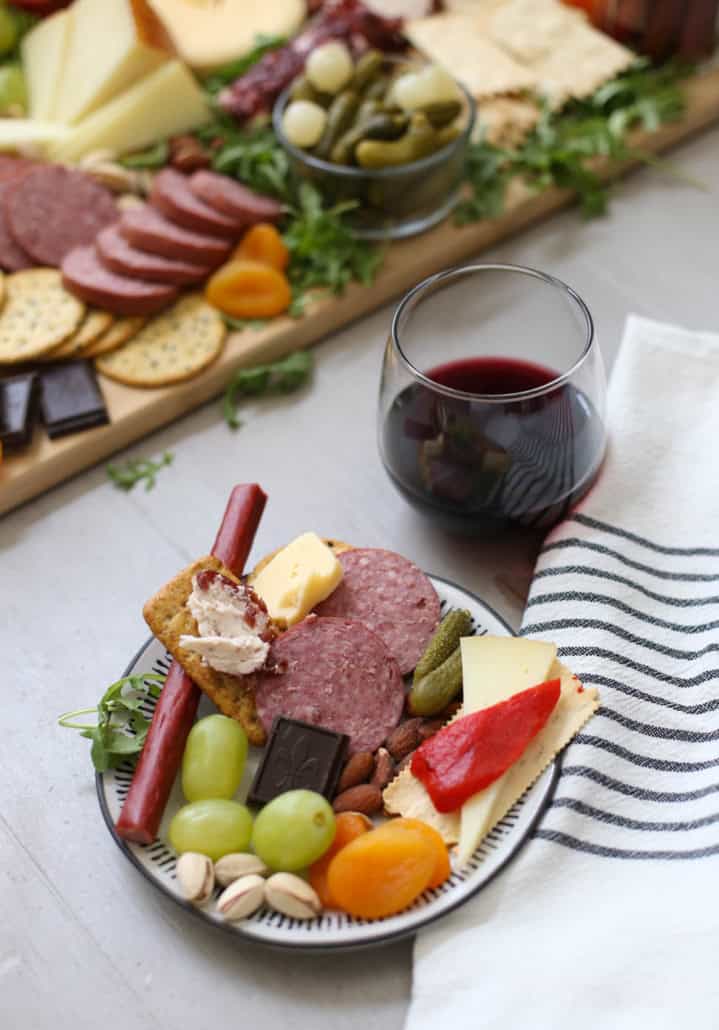 Grab a few bottles of Estate Norton at your local Hy-Vee or grocer, or find it online here for a genuine Missouri wine experience!
Bonus: Fill in with Greens and Get Messy!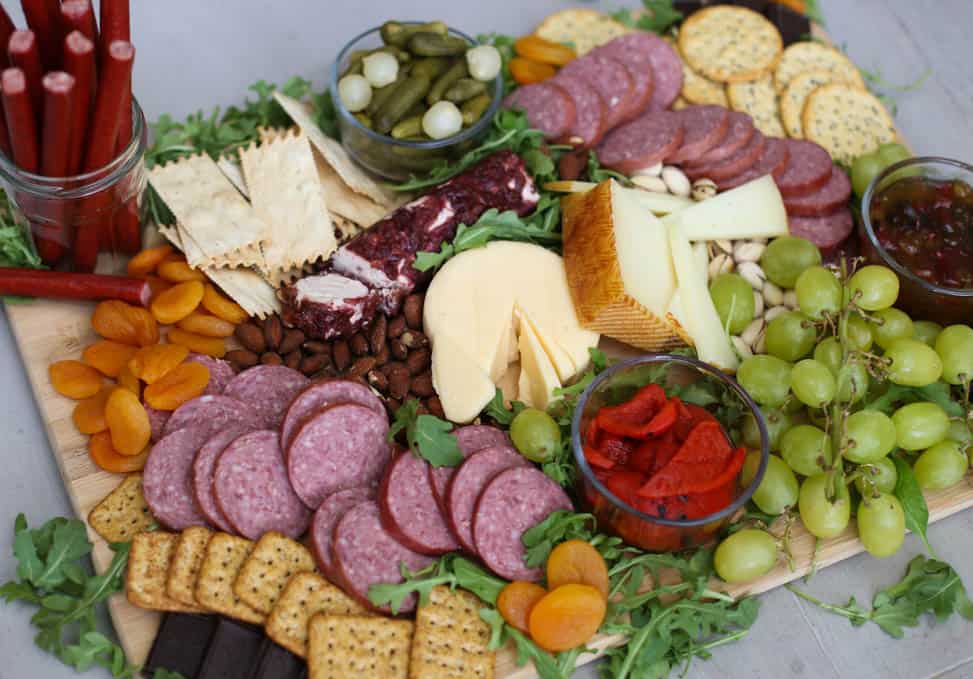 We found that our board looked much more appetizing and colorful just by filling in negative space with arugula leaves. And…the messier, the better. There's a danger is being too precise when laying out all the elements on a board. Don't be afraid to get in there and muss it up a bit for the sake of art!
Now you're armed and ready to take on any party that comes your way. No one will guess how simple your delicious Charcuterie Board was to pull together!
More Party Food Ideas
Looking for more appetizer ideas for a gathering? Here are some of our favorites: