Raspberry Crumble Cookies
This post may contain affiliate or sponsored links. Please read our disclosure policy.
This easy and delicious recipe will make you feel like a pro. The raspberry jam brings a fresh, flavorful punch to the soft and mild shortbread. The crumble topping adds some surprise seasonings that complement the fruit perfectly.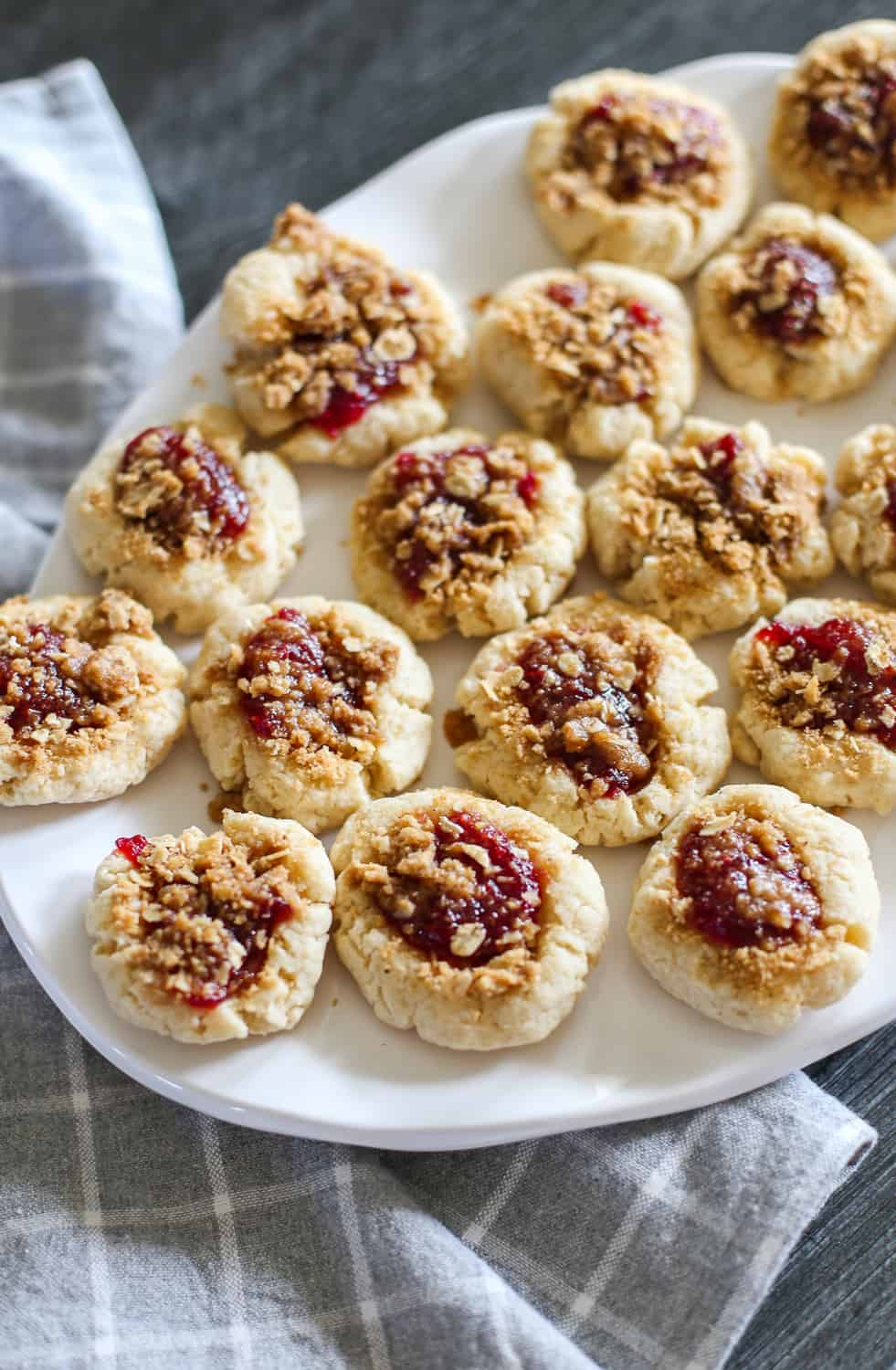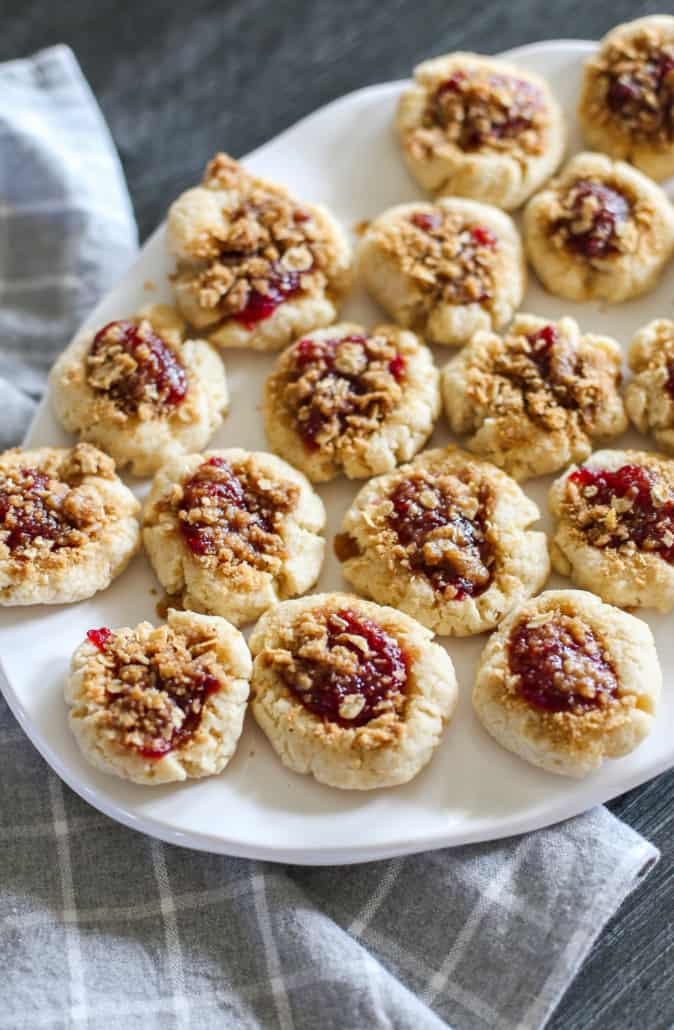 About the recipe
When a friend of mine served a blueberry version of this raspberry cookie recipe, I knew I needed the recipe AND needed to tell the world about it. But, when I made the recipe she sent me, I had a hard time getting the dough to come together, which is why I added a splash of milk to my version.
I also had a hard time finding blueberry jam, so raspberry it is! Any fruit jam will work for these though.
This cookie dough walks a fine line between being a shortbread and a soft sugar cookie–the perfect in-between, in my opinion. The sweet, tangy raspberry jam filling topping with the crumble topping that's full of seasonings like nutmeg, cinnamon, and ground ginger, makes for a truly unique taste experience. Trust me, you'll love these!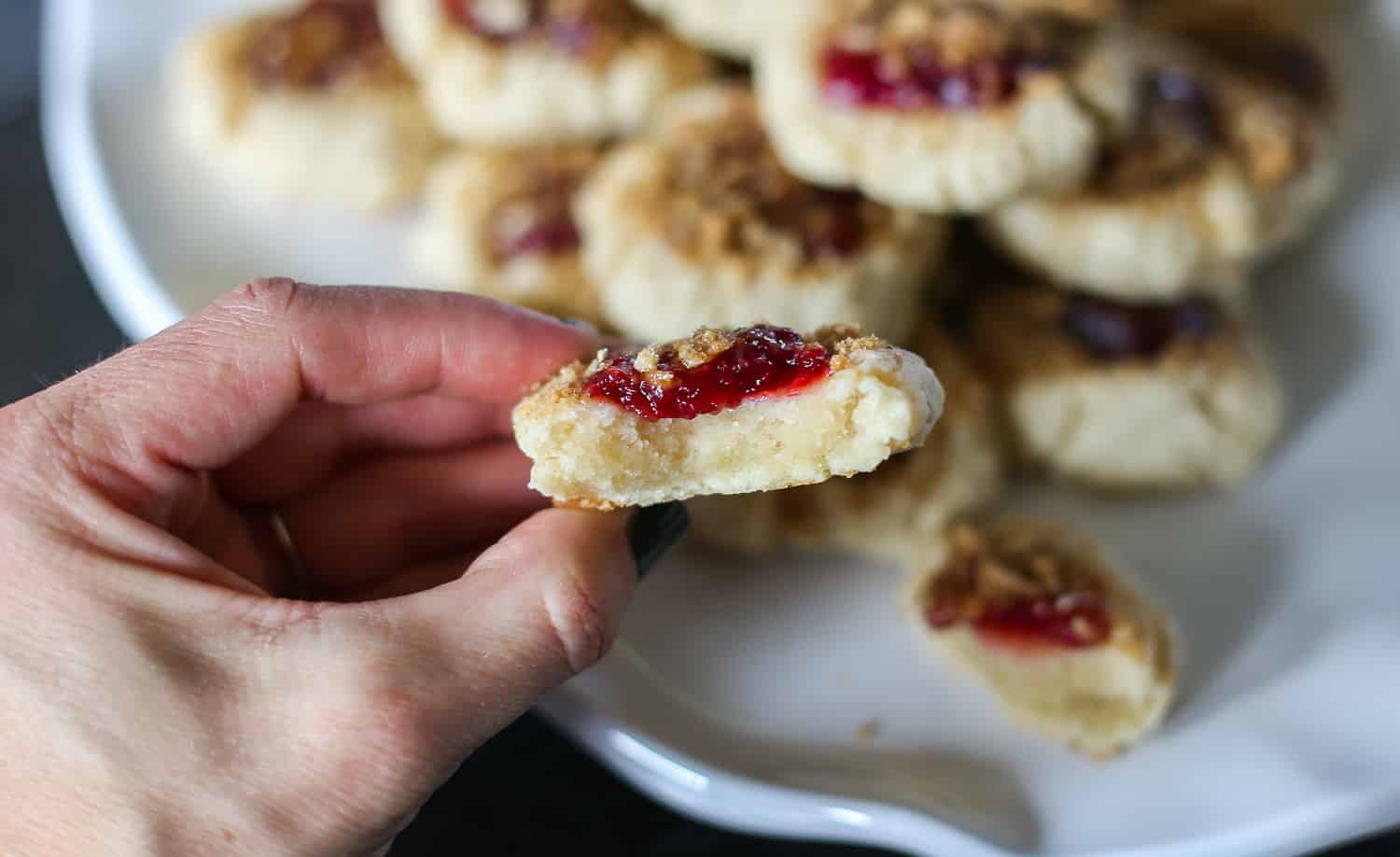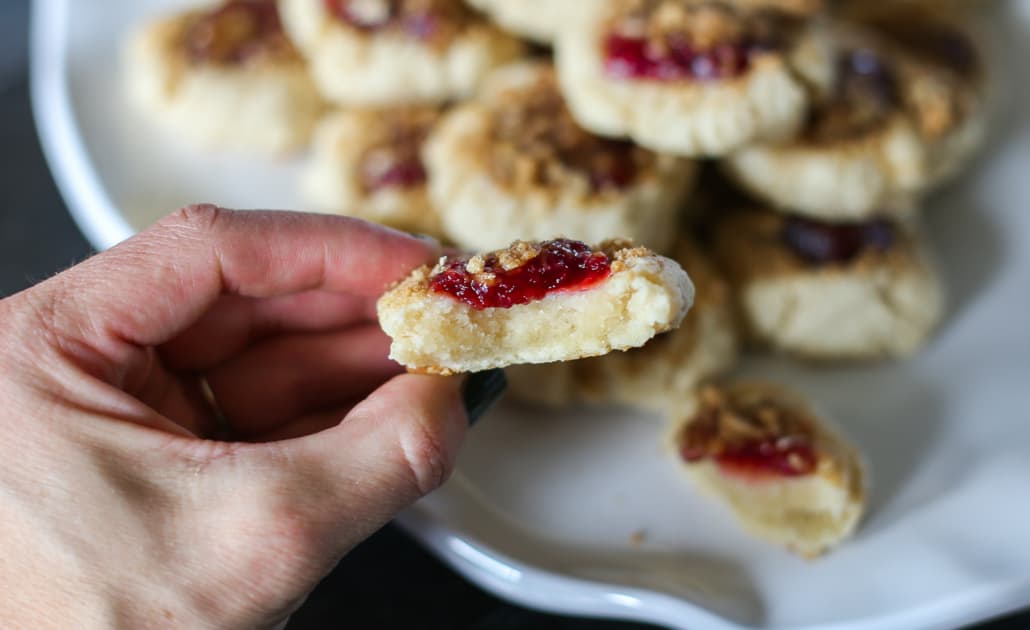 What ingredients do I need?
While I gravitate towards simple recipes like our Snickerdoodle Cookies (which are SO good), this Raspberry Cookie recipe has a longer list of ingredients. Don't worry, you probably have them all in your pantry. Here's what you'll need:
All-purpose flour
Brown sugar
Sugar
Old-fashioned oats – Quick oats will work, too.
Cinnamon
Nutmeg
Ground ginger
Salt
Butter – You'll need some at room temp and some cold.
Vanilla
Milk – I used whole milk, but you could use a non-dairy milk.
Raspberry fruit spread/jam – Or your fruit spread/jam of choice.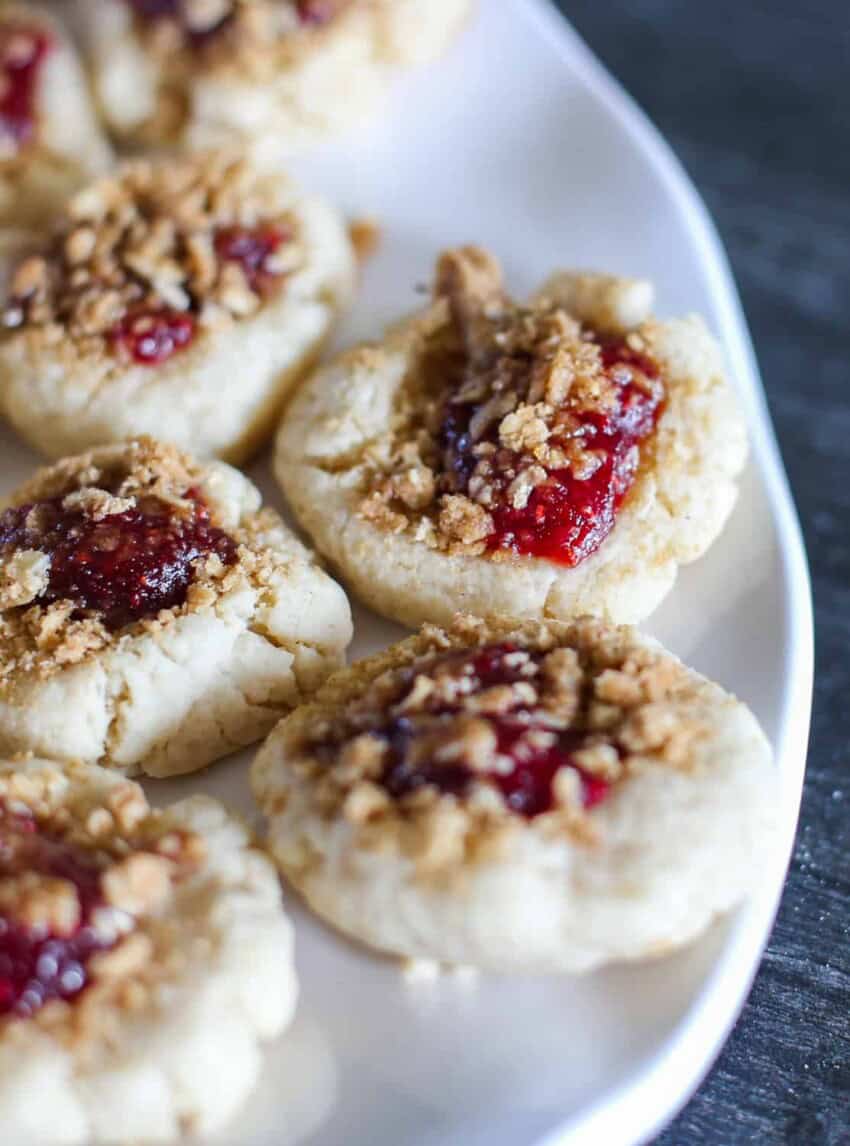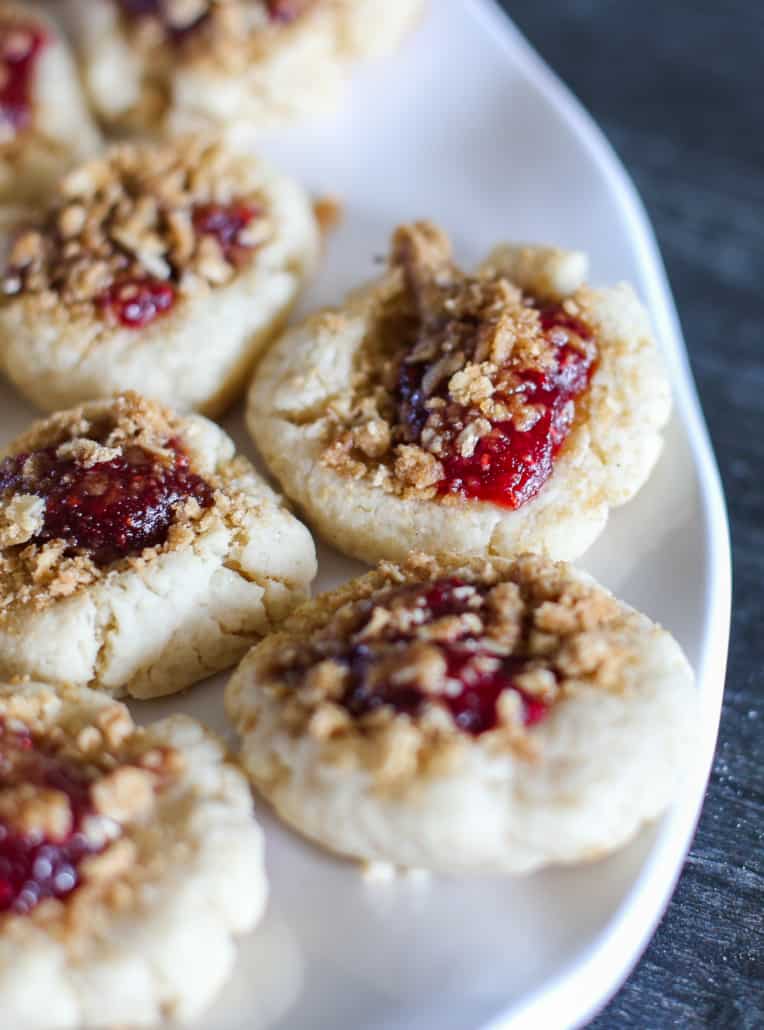 How long do they last?
Well, it depends on how fast you eat them!
I kid, I joke.
This cookie recipe is a great one to make ahead of time. This is one of the reasons I like to make it for holiday meals or groups of people. (Here are other recipes that work great for groups of people, if you want some ideas.)
Simply store them in an airtight container, and they will last for 3-4 days. Or, you can freeze them for at least 4 weeks.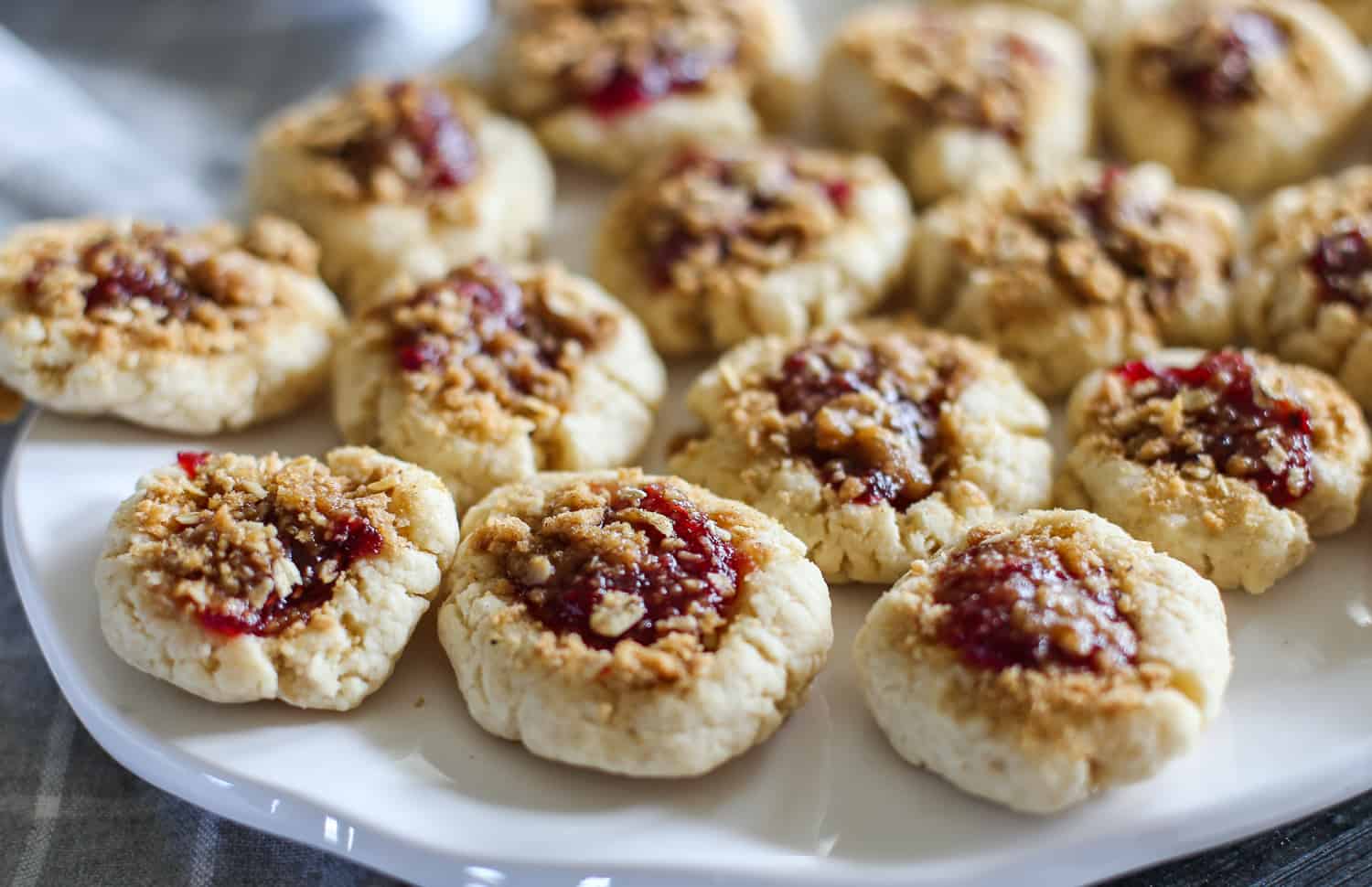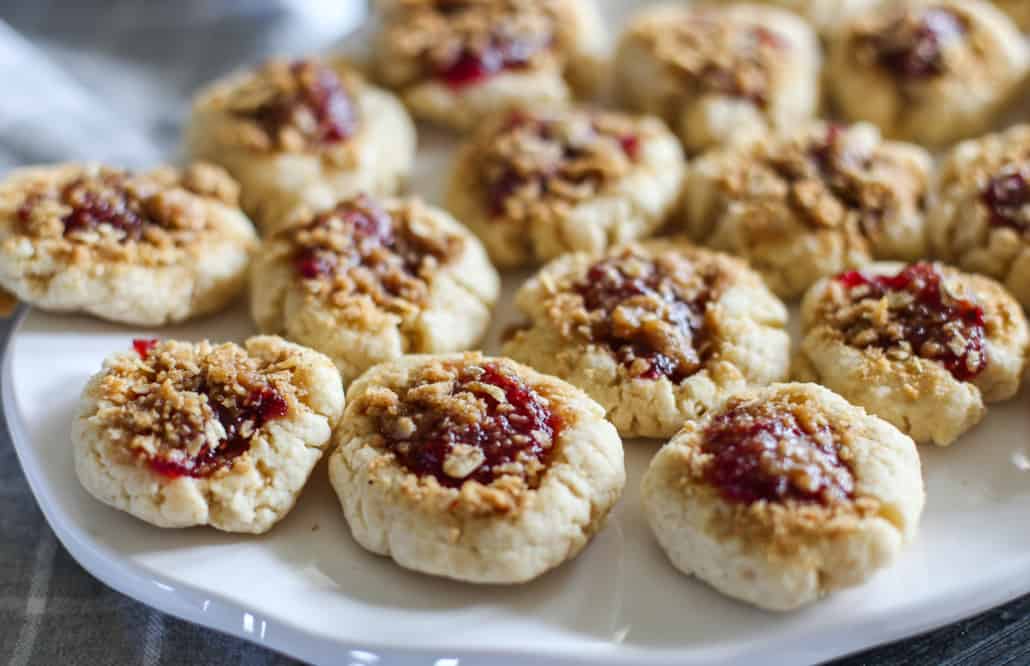 How to Make Raspberry Crumble Cookies
Step 1: Make the Dough
As you can see in the recipe below, the dough is super simple. It's keeping butter in business.
I found it easiest to scoop dough into my hand and roll it into a ball before pressing my thumb into it. It's not too sticky, so you shouldn't have to use extra flour. Since the dough hardly expands or rises, you don't need to place them very far apart either. Don't let my picture mislead you; they can be closer together!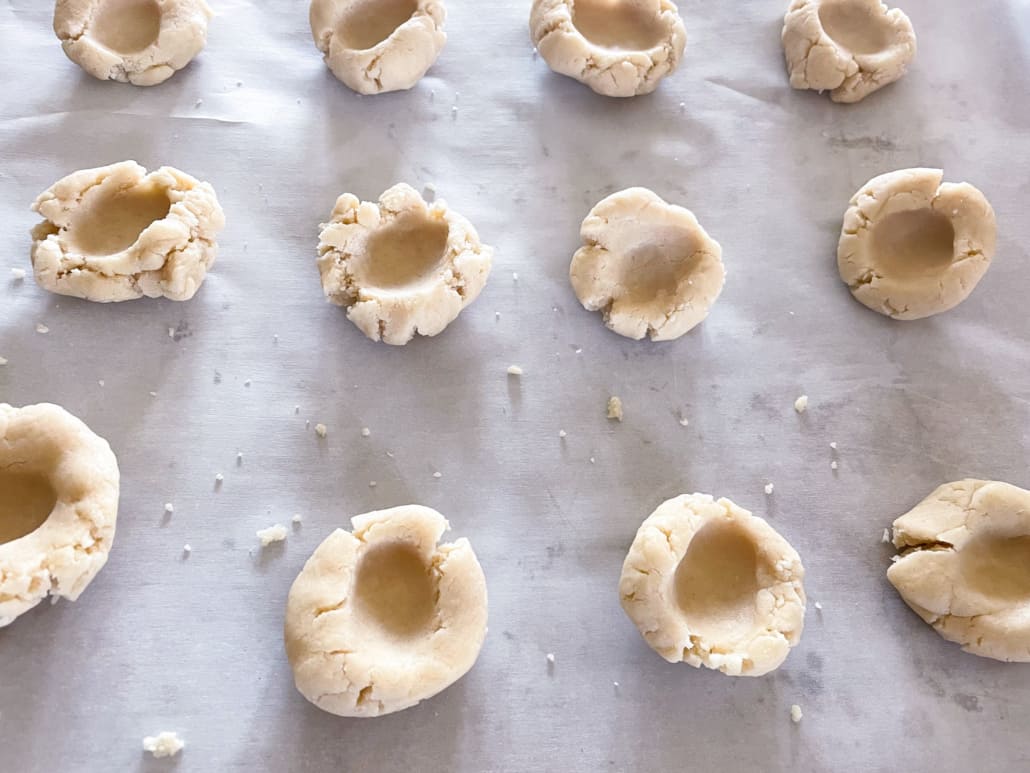 Step 2: Add the Fruit Spread
Add a small scoop of raspberry jam to each cookie. I found that 1 teaspoon was about right.
It's easiest to use two spoons for this task. One to scoop the jam and one to nudge the jam out of the spoon and into the cookie. It should sit nice and pretty in the nest you made for it with your thumb.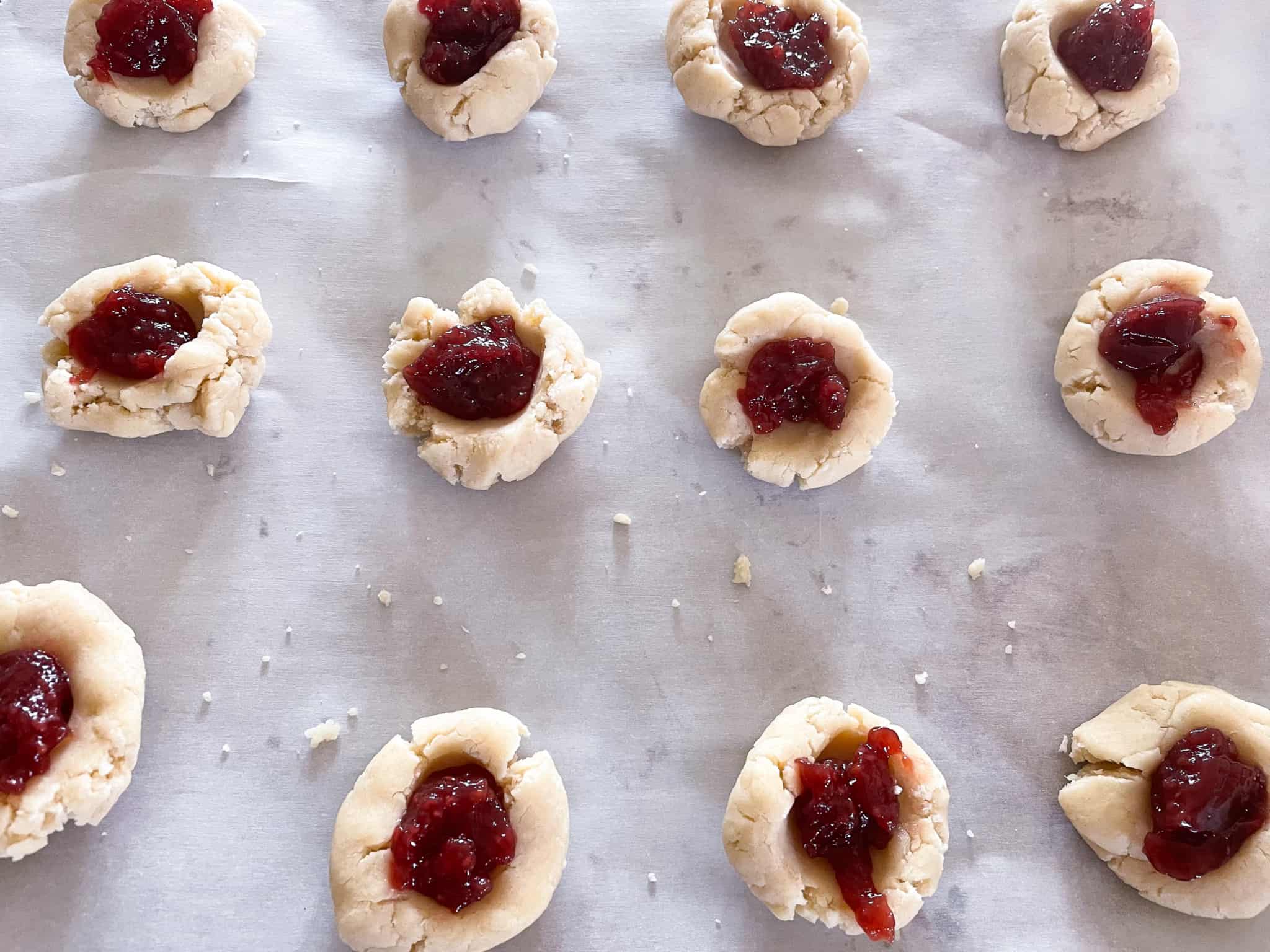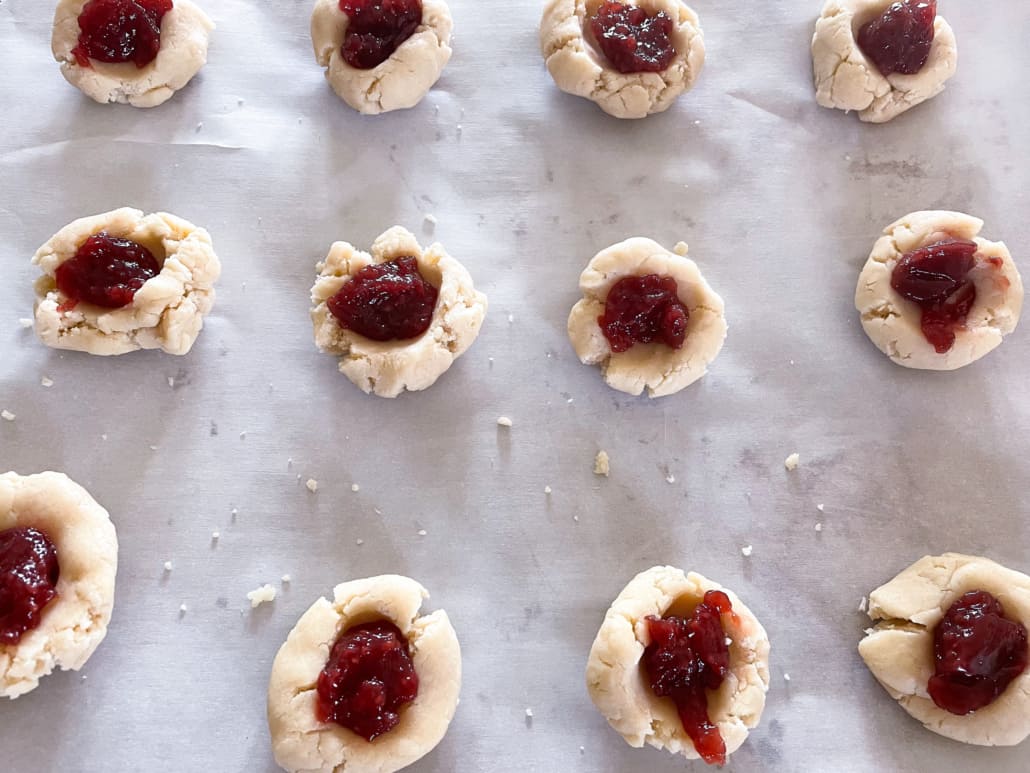 Step 3: Add a Crumble Topping
Don't you just love a crumble topping? I add it to a lot of baked goods, like our Pumpkin Spice Muffins and our Blueberry Avocado Muffins. It lends so much flavor and texture and makes the recipe look much fancier!
You'll make enough crumble topping in this recipe to be super generous with it. Don't be afraid to make a mess when you top the cookies with it. As you can see I didn't take my time on these when adding the topping.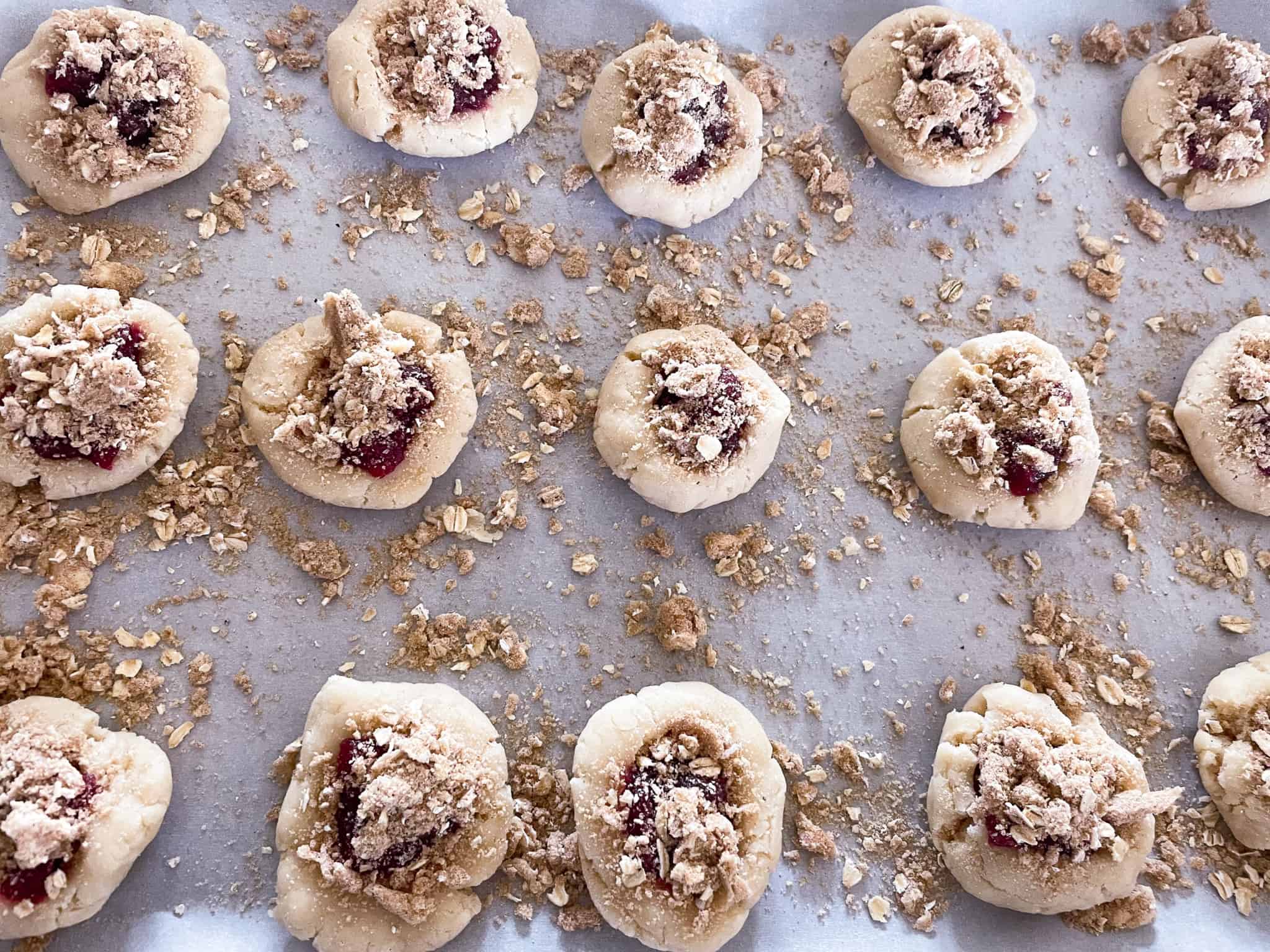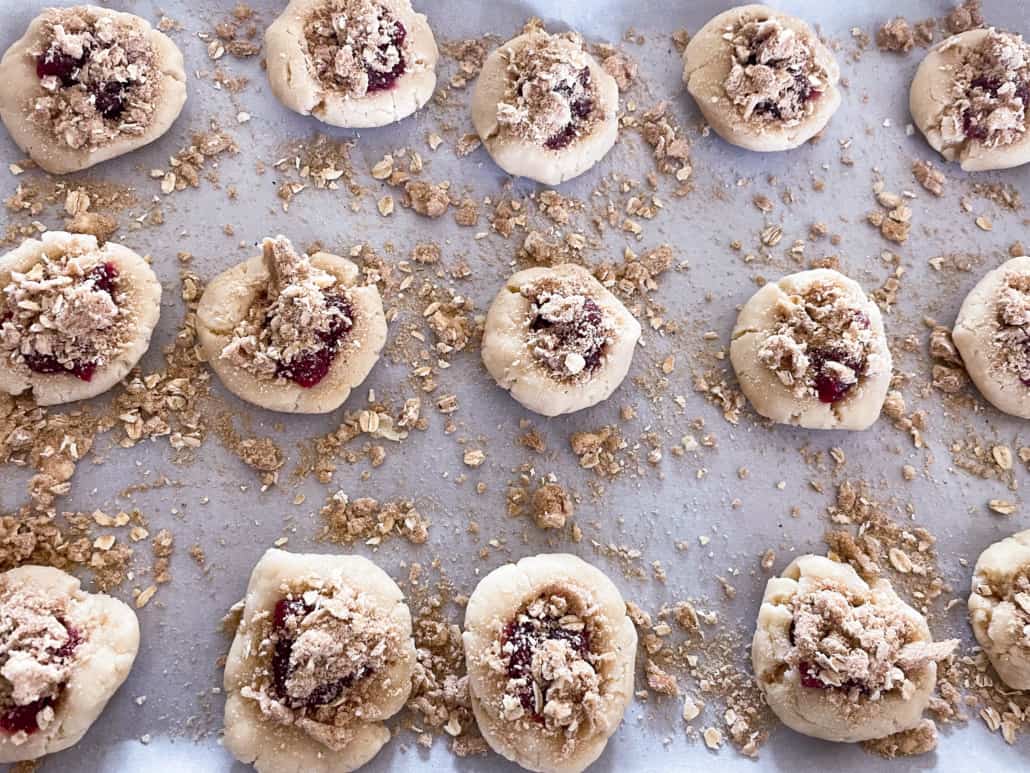 Step 4: Bake the Raspberry Cookies
Hopefully, you followed my recipe instructions below and preheated your oven by now.
Bake these little jewels up until their edges and the topping starts to brown up.
It's really important you let them cool for at least 10 minutes. I actually like them better when completely cooled. It allows the fruit filling to set. Plus, you can taste the fruit a little better!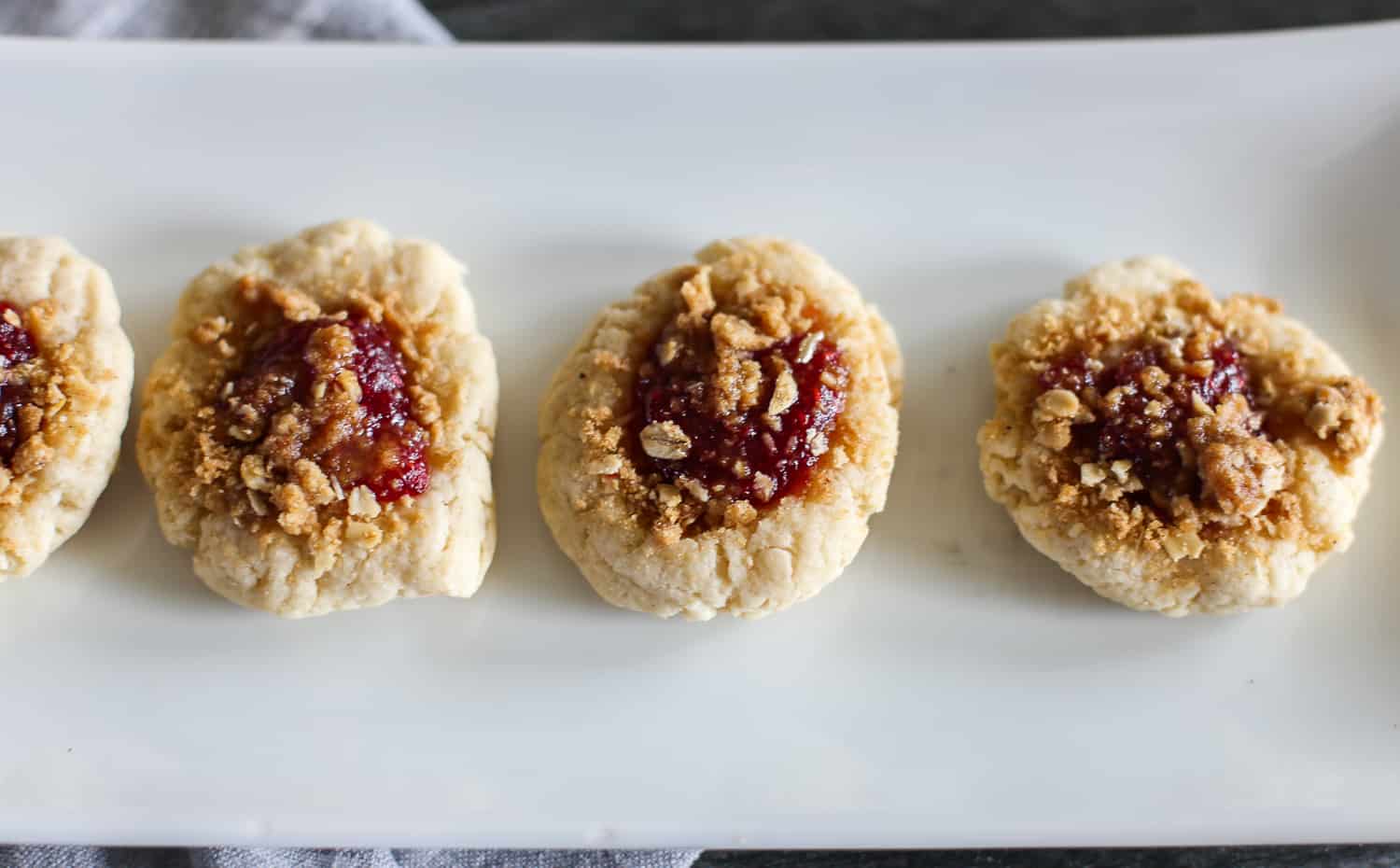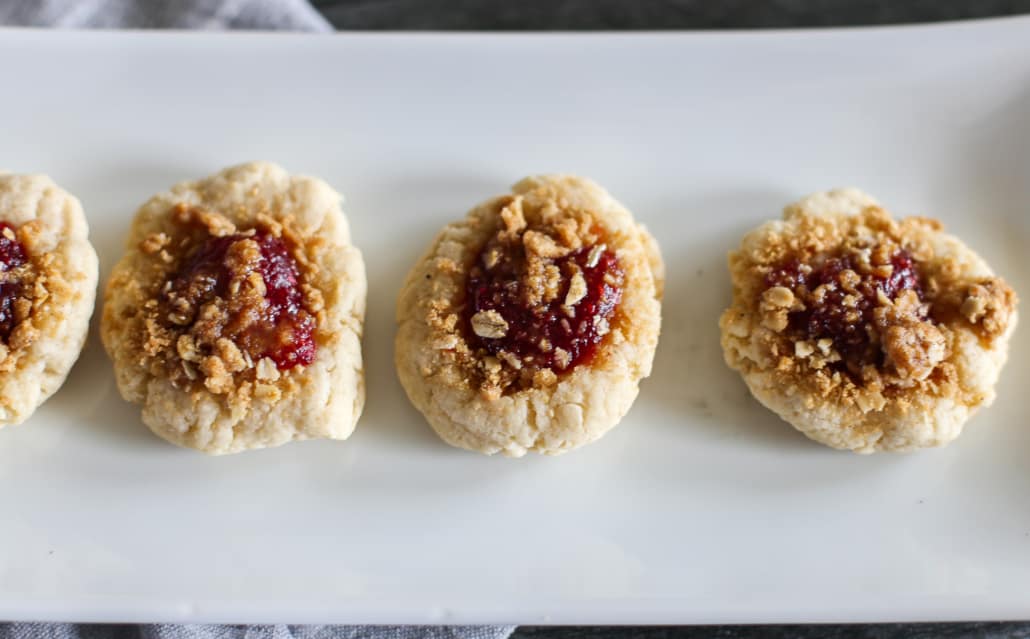 When to Serve Raspberry Cookies
These could be a great addition to a birthday dinner, Easter lunch, or any other holiday or celebration.
This would also be a great recipe for a new cook to try out!
More Cookies to Try
If you like these cookies, try one of our other yummy recipes.
Did you make this? Snap a photo and tag us on Instagram at @thrivinghome so we can see your creations and cheer you on!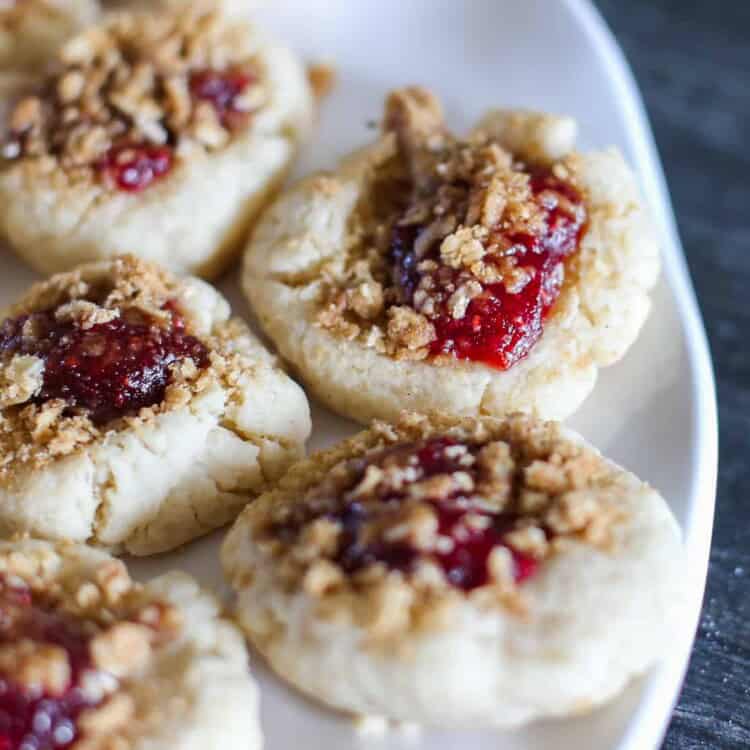 Raspberry Crumble Cookies
A soft shortbread topped with raspberry jam and a crumble topping creates the most delicious and addicting raspberry cookie you've ever had! 
Prep:
15
Cook:
15
Total:
30 minutes
Ingredients
Crumble Topping Ingredients:
1/4

cup

all purpose flour

1/4

cup

packed brown sugar

1/4

cup

old fashioned oats (quick oats will work)

1/4 teaspoon

cinnamon

1/4 teaspoon

nutmeg

1/8 teaspoon

ground ginger

1/4 teaspoon

salt

3 tablespoons

cold, unsalted butter, but into cubes
Cookie Ingredients:
3 1/2

cups

all purpose flour

1/2 teaspoon

salt

1

cup

(2 sticks) unsalted butter, room temperature

2/3

cup

sugar

1 teaspoon

vanilla extract

2 tablespoons

milk (I used whole milk, but it's your choice.)

1/2

cup

raspberry jam/spread (sub: your favorite fruit jam)
Before You Begin! If you make this, please leave a review and rating letting us know how you liked this recipe! This helps our business thrive & continue providing free recipes.
Instructions
Preheat oven to 350°F and line two baking sheets with parchment paper. 
Make the crumble topping. In a medium bowl, wish together the flour, brown sugar, oats, and spices, and salt. Using a pastry cutter or your hands, work the mixture together until all of the ingredients are combined and the mixture is crumbly. Set crumble topping aside.
In a stand mixer (or with a hand mixer) beat together the softened butter and sugar until light and fluffy (3-4 minutes). Add in the vanilla and milk and mix until combined.
Reduce the speed to low and gradually add the flour mixture. Mix only until the point that the dough starts to come together. It will appear crumbly but if you squeeze a handful, it should hold together. 
Using a small cookie scoop or spoon, scoop a heaping tablespoon on dough into your hands and give it a gentle roll to form a ball. Gently press your thumb into the center of the dough creating a little indentation and place it on the lined baking sheet.
Spoon a teaspoon of jam into each cookie.
Sprinkle the crumble topping over the tops of each cookie. 
Bake for 15-17 minutes until lightly golden around the edges. 
Let cool for at least 10 minutes before eating. 
---
Notes/Tips
Cookies freeze well. Since these have a soft topping, you'll want to freeze them flat on a tray before bagging.