Pumpkin Spice Muffins With Crumble Topping
This post may contain affiliate or sponsored links. Please read our disclosure policy.
This tried and true Pumpkin Spice Muffins recipe will quickly become part of your fall baking rotation. Imagine all the delicious flavors of autumn packed into a fluffy, moist, nutritious muffin. The sweet and slightly crunchy crumble topping takes these to the next level. Make extras and freeze these for an easy make ahead breakfast or snack.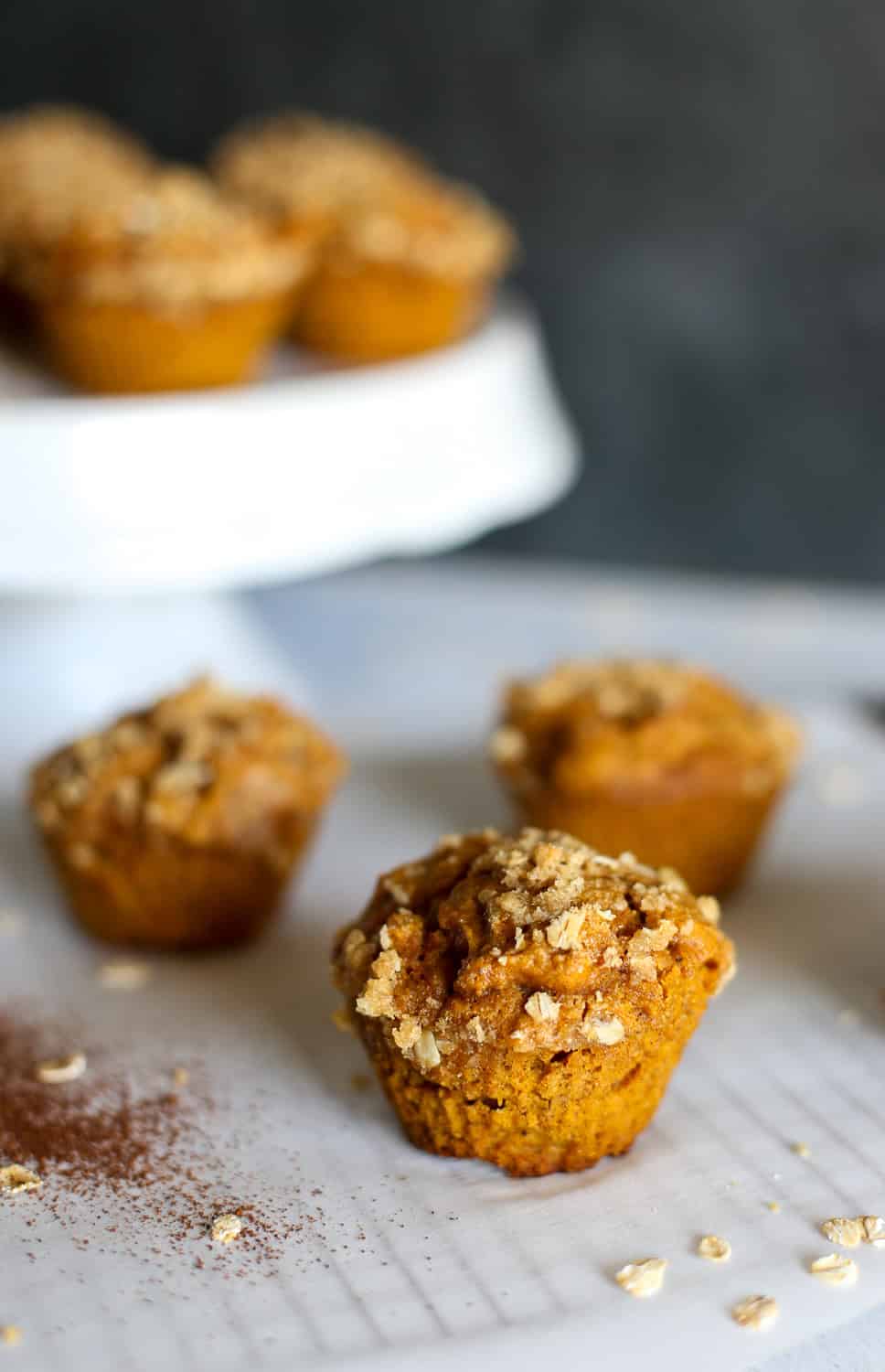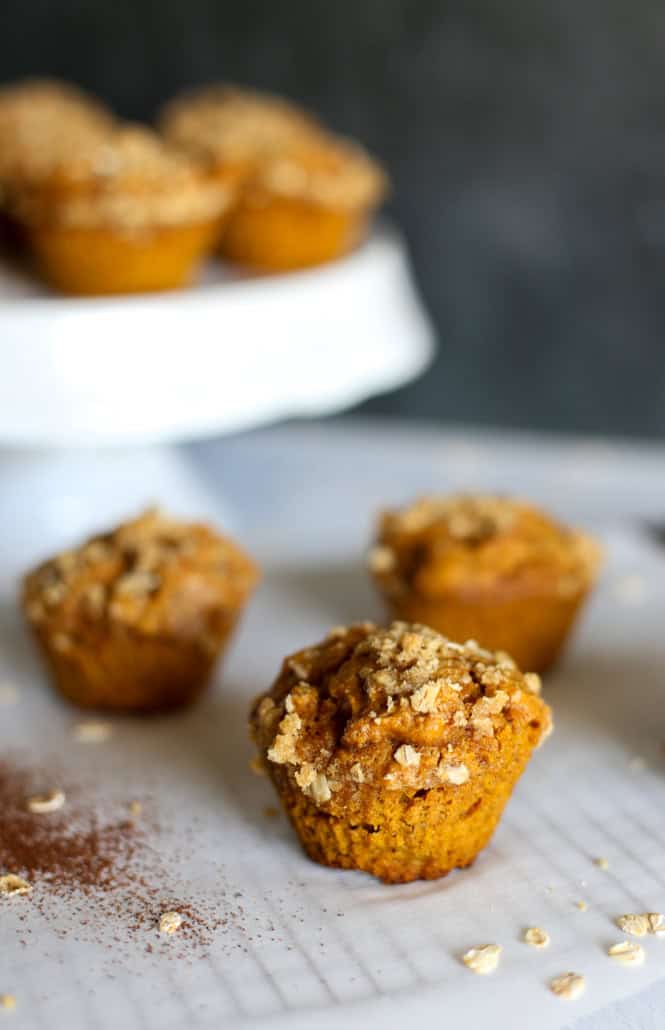 What's In Pumpkin Spice Muffins?
What makes these muffins stand out from other pumpkin muffin recipes is the complexity of flavor. It's got some powerhouse spices that are perfectly paired together. I love a pumpkin recipe that uses a whole can of pumpkin, too. It's such a waste to throw away unused pumpkin puree! Don't be intimidated by the list of ingredients you'll need either. You likely have these in your pantry!
Ingredients You'll Need:
Whole wheat flour and all-purpose flour (or use all white whole wheat flour)
Old fashioned rolled oats (quick oats work fine, too)
Spices: cinnamon, nutmeg, ground cloves, ground ginger
Baking soda and baking powder
Salt
Pumpkin puree (one 15 ounce can!)
Sugar
Oil (preferably avocado oil or melted coconut oil)
Unsweetened applesauce (a healthy substitute for some of that oil)
Eggs
Vanilla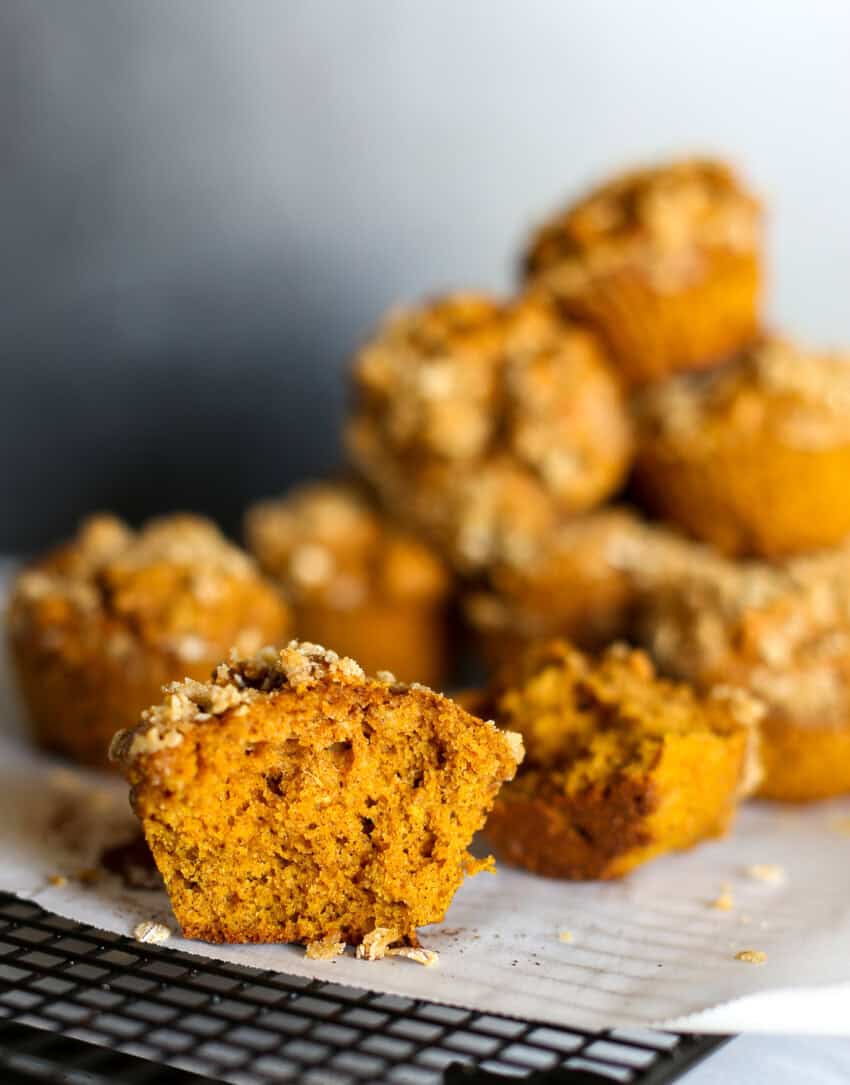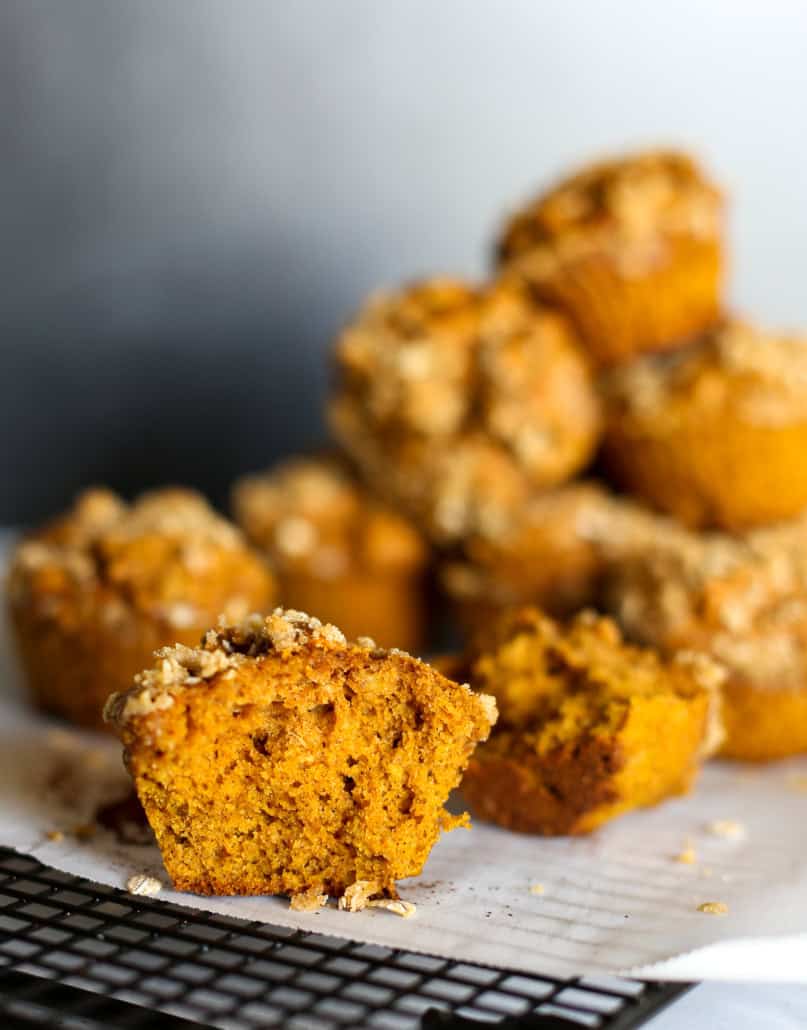 Note: We are a participant in the Amazon Services LLC Associates Program, an affiliate advertising program designed to provide a means for us to earn fees by linking to Amazon.com and affiliated sites. Read our full disclosure policy here.
How to Make Pumpkin Spice Muffins
As with most muffin recipes, you'll mix together the wet ingredients in one bowl, and dry ingredients in another. Then combine just until mixed together (don't over do it or they will get tough).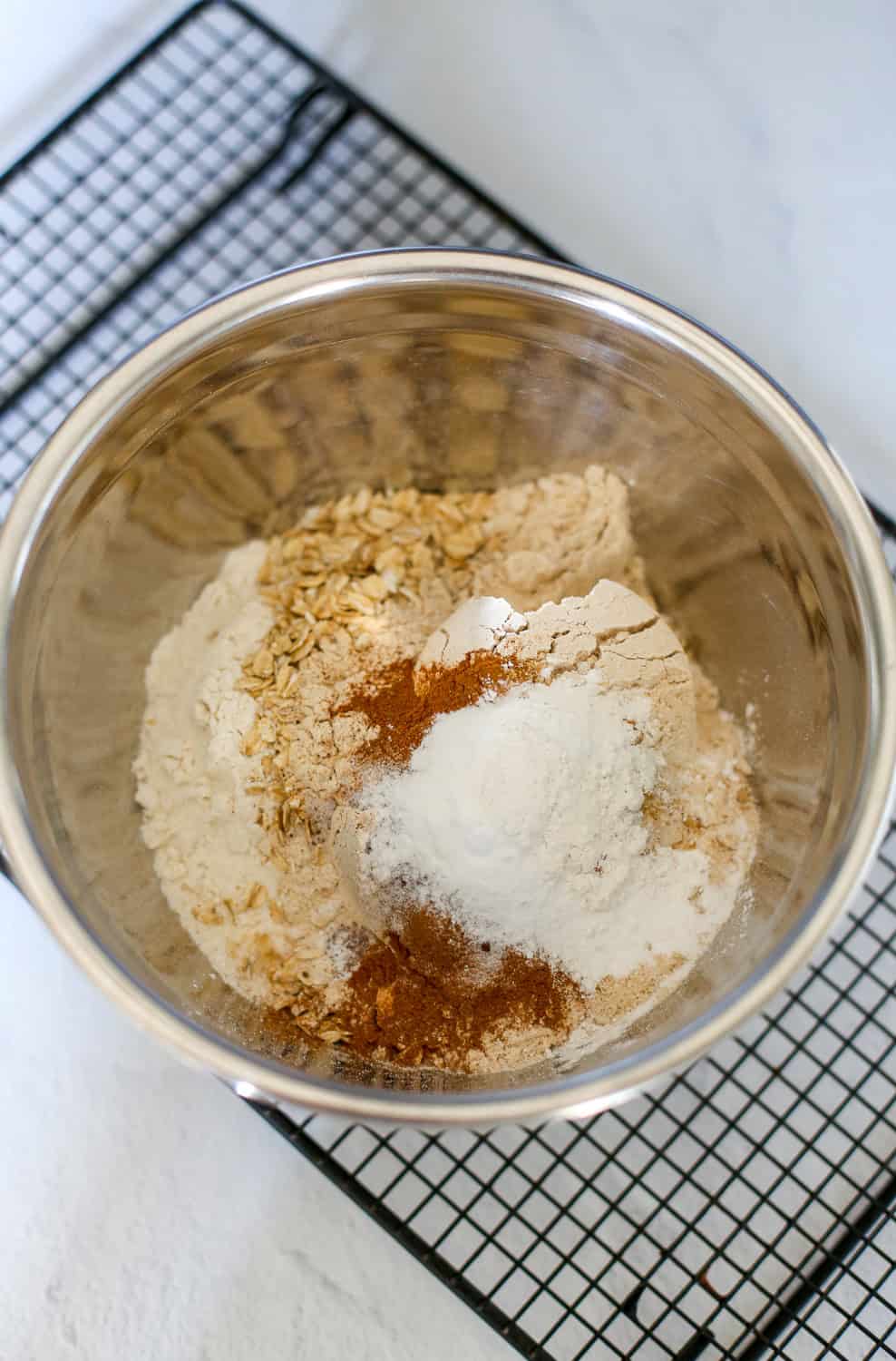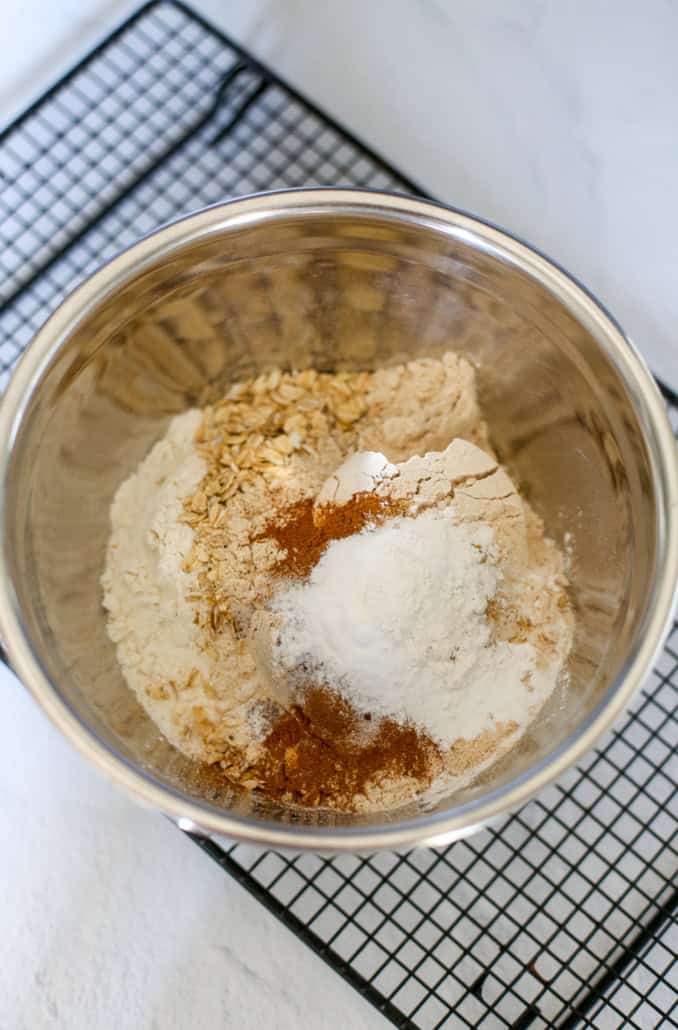 If you're using coconut oil, be sure to melt it first and drizzle it in as you're whisking the wet ingredients. That way it won't clump up on you.
Tips for the Crumble Topping
While the crumble topping on these muffins is entirely optional, I'd highly recommend including it. It adds extra flavor and texture which I think takes these muffins to the next level. One tool I use to make crumbling up that topping easier is a pastry cutter. It gets the butter mixed in quickly and it's just fun to use! If you don't have one, just use a fork.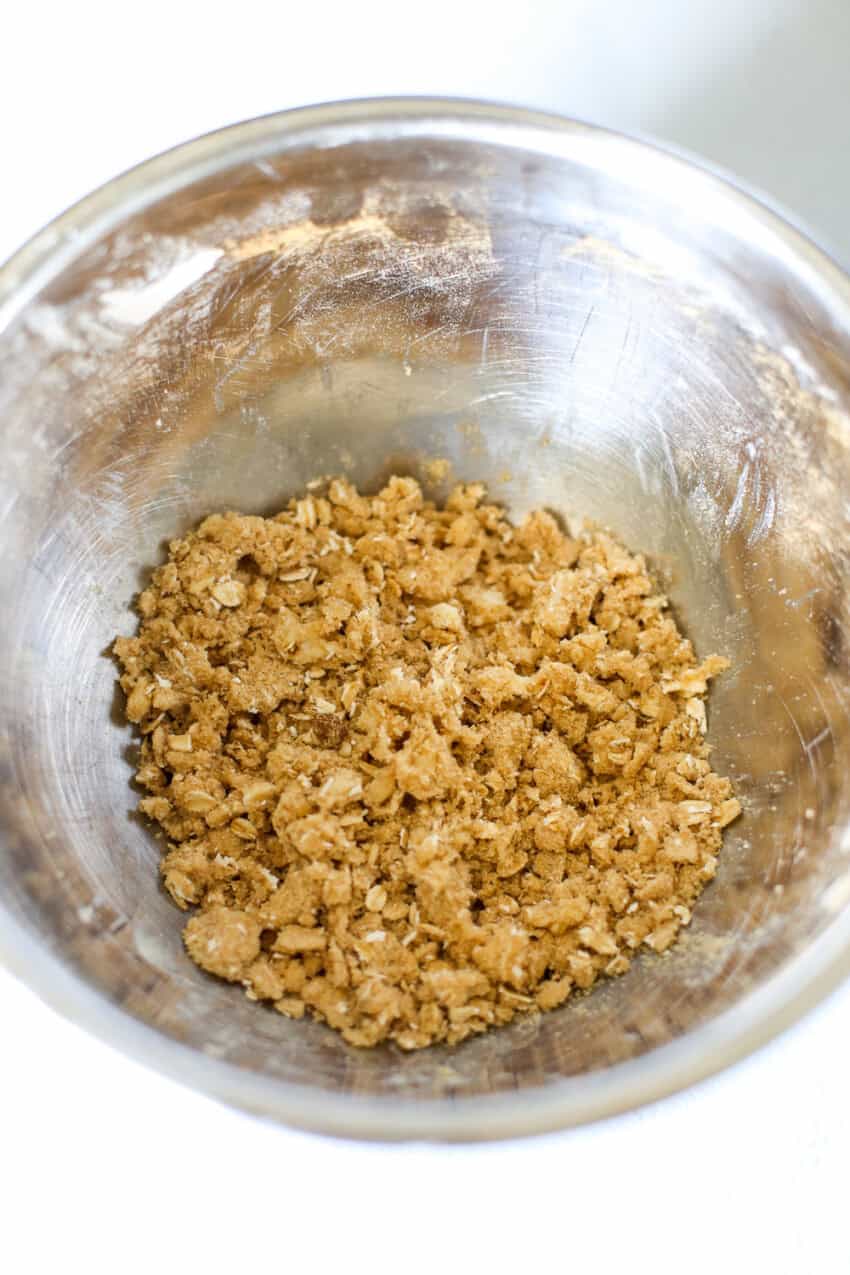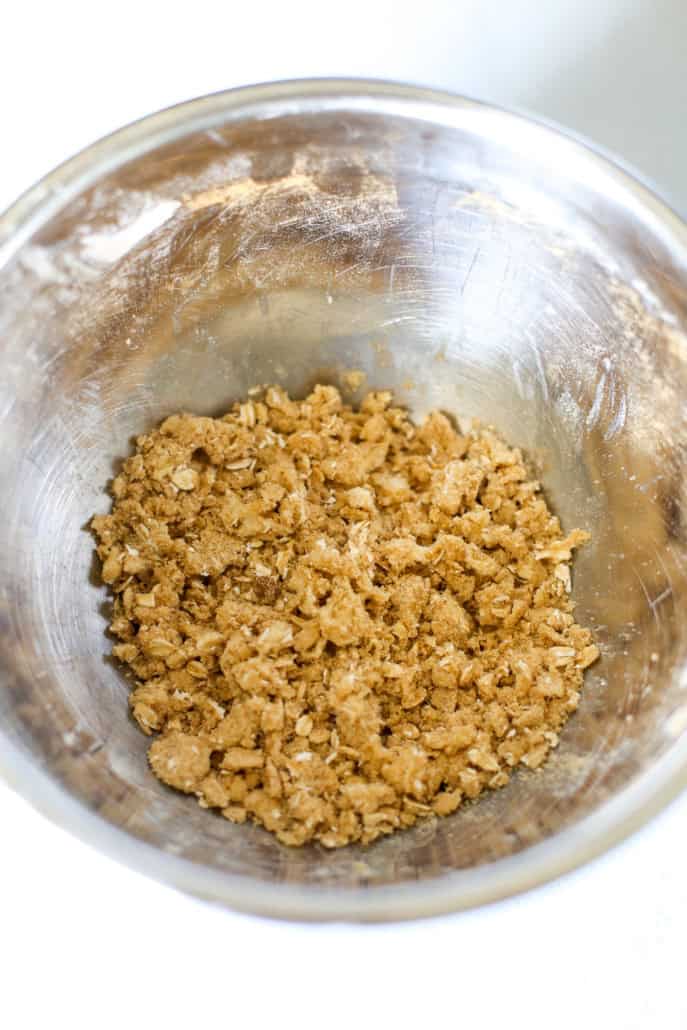 Baking Tips
I personally love using silicone muffin liners when I make muffin recipes. The muffins slide out of them so easily and they clean quickly in soapy water. If silicone liners aren't your jam, just use paper liners in a muffin tin.
While we give a fairly accurate baking time, it's important to know that your timing might be a bit different depending on your oven and your altitude. The best way to check is to give the middle of the muffins a gentle tap. If they don't sink in from the light pressure, they are done!
Let muffins cool in the muffin in for 10-15 minutes before trying to remove them.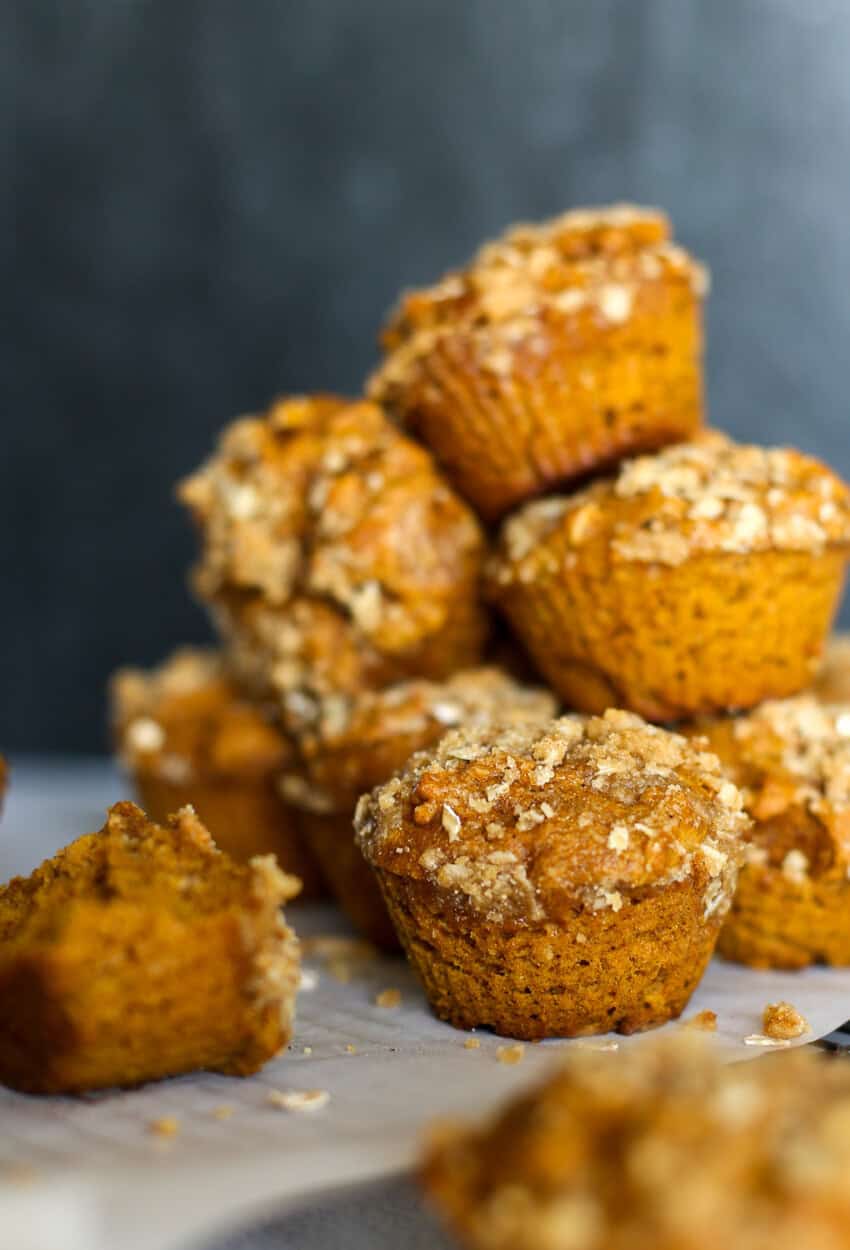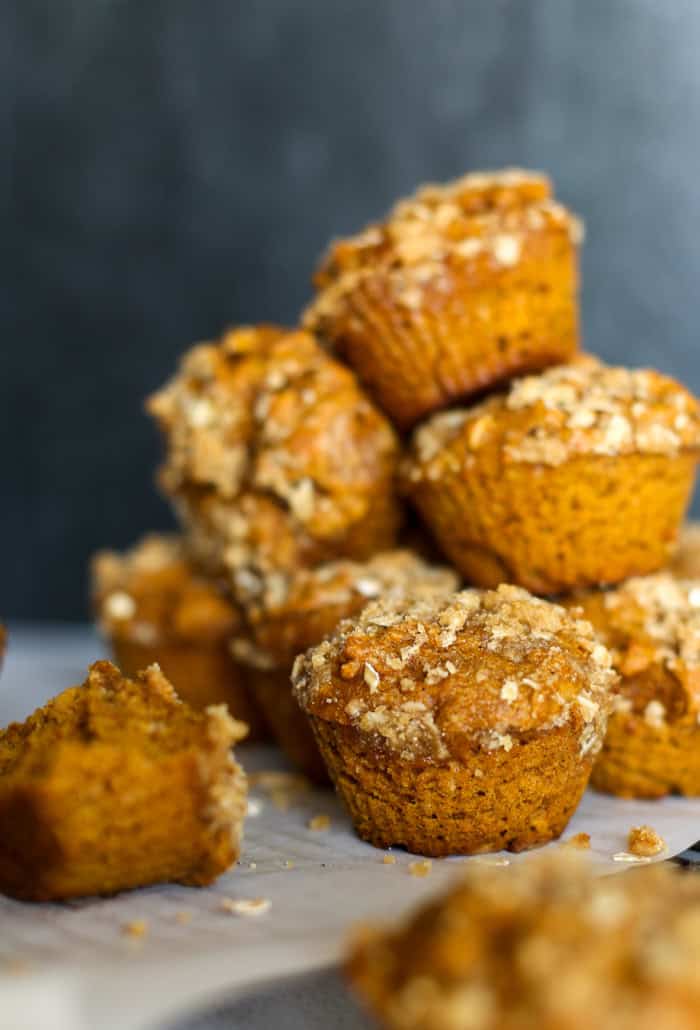 Can You Freeze Muffins?
Heck ya! Now that you've made a batch of delicious pumpkin muffins, you'll want to store them properly–whether at room temp or in the freezer.
How to Store Muffins at Room Temperature:
Here's a trick for storing muffins in an airtight container: surround them with paper towels! This will absorb some of that extra moisture, keeping your muffins in tip top condition longer.
How to Freeze Muffins:
While freezing muffins is pretty much second nature to some, it is worth mentioning for those who may not be enlightened on the subject. To freeze muffins, all you have to do is place them in an airtight container of some type and, well, freeze them. The less air exposure the better, which is why I like using plastic freezer bags. Separate layers with parchment paper if you have more than one layer.
Read this entire post on how to store and freeze muffins for more info!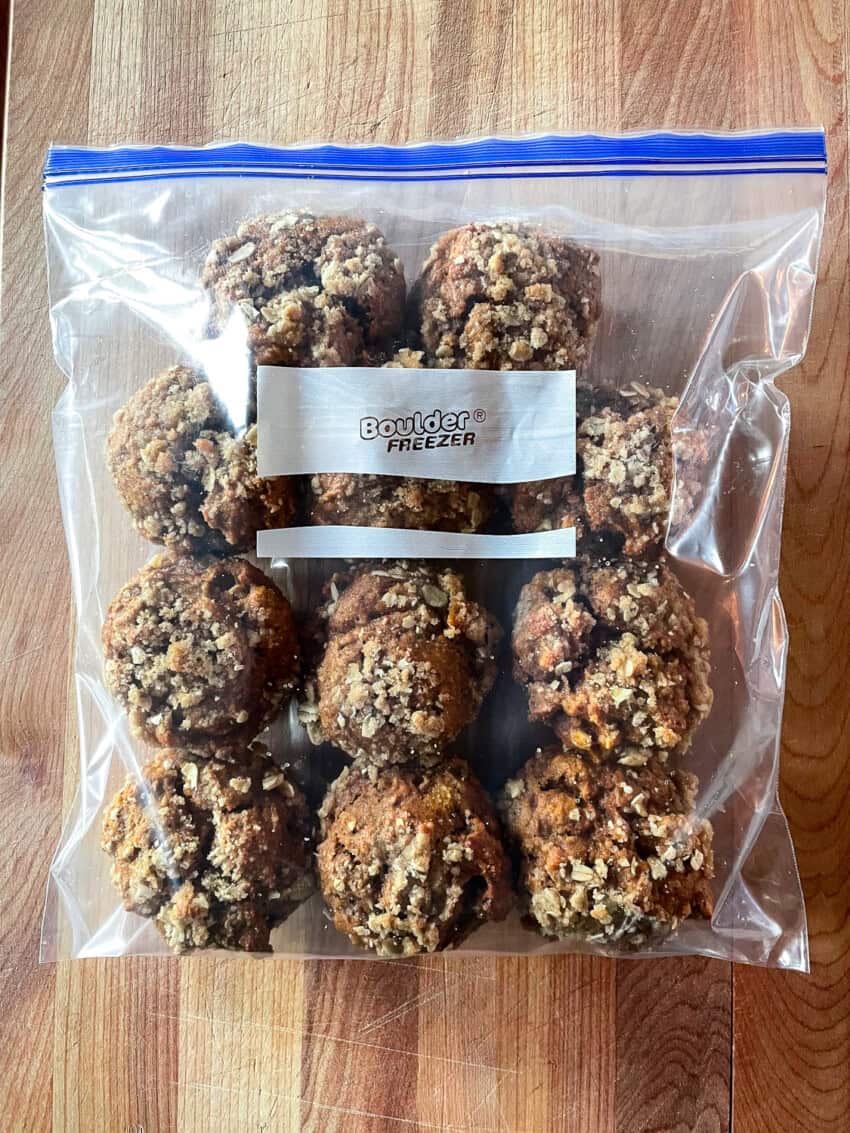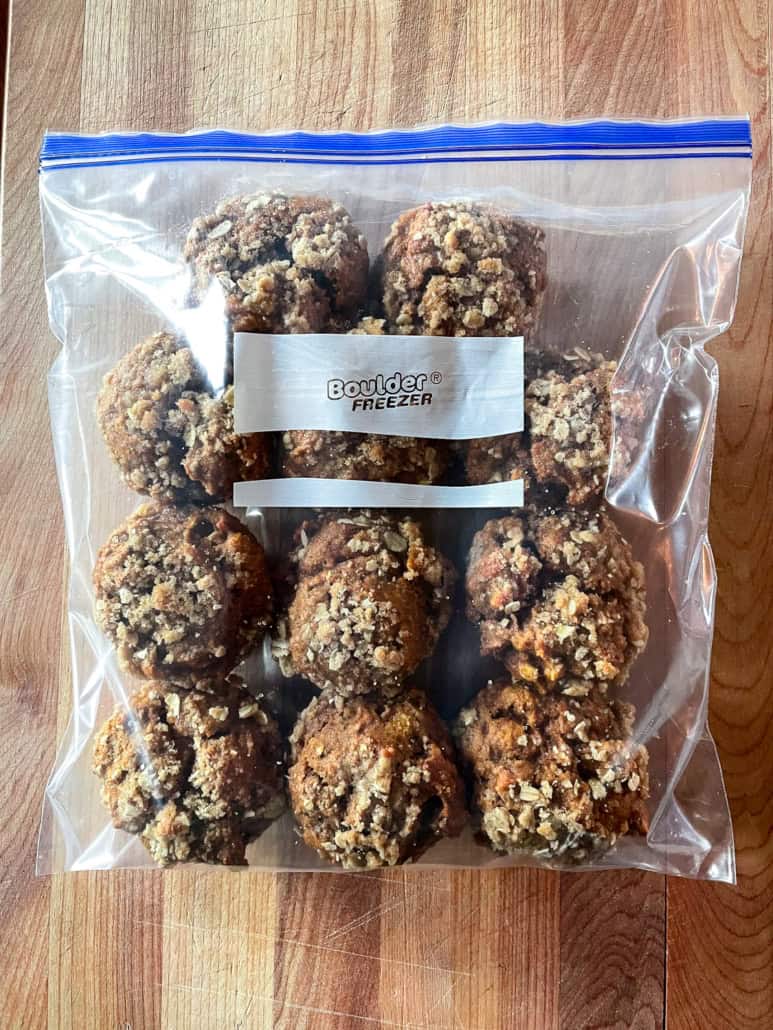 What to Serve with Pumpkin Spice Muffins
While these healthy muffins have enough nutrition to stand alone as their own breakfast, here are some great recipes ideas to serve alongside them: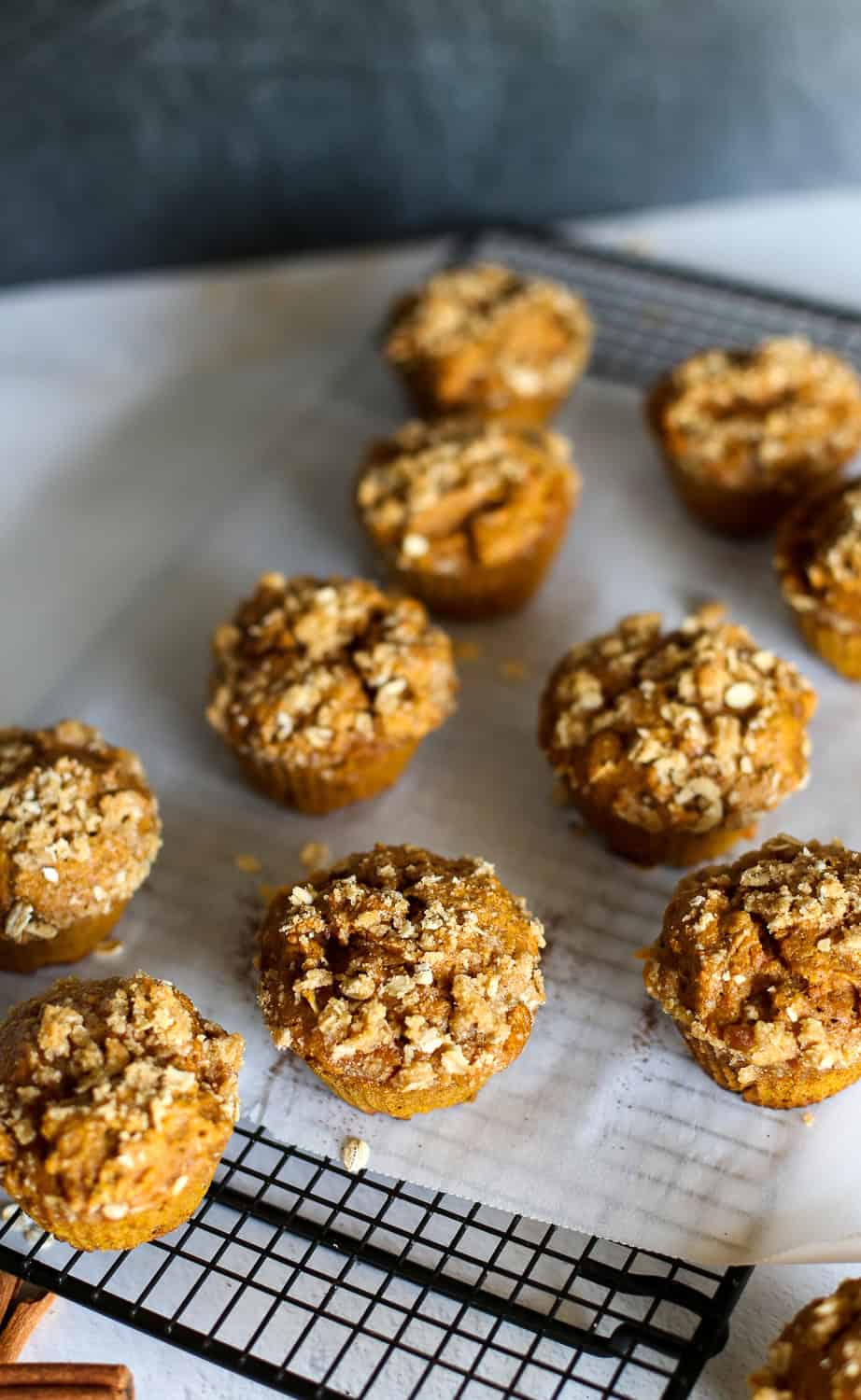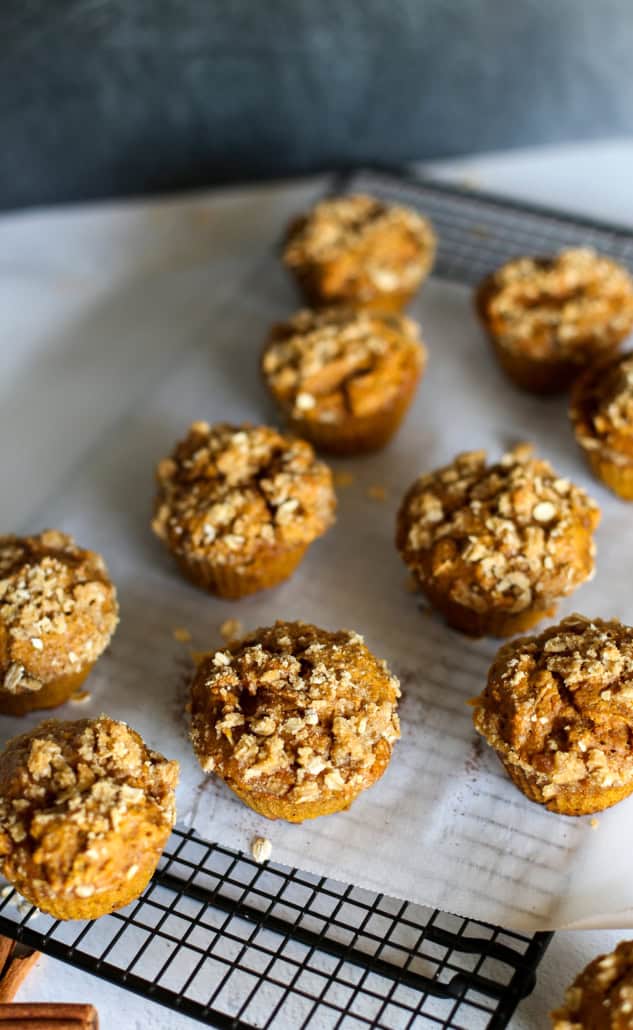 Did you make this? Snap a photo and tag us on Instagram at @thrivinghome so we can see your creations and cheer you on!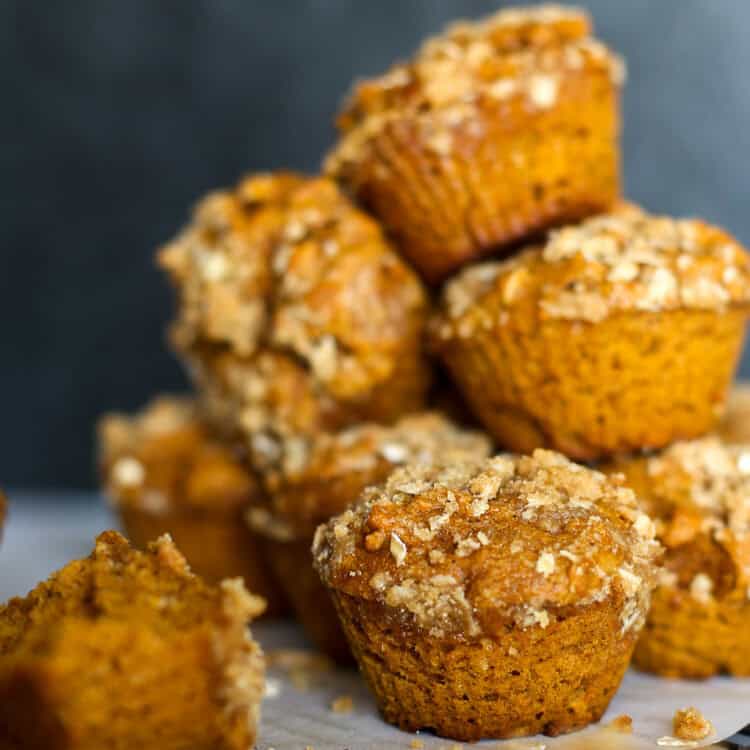 Pumpkin Spice Muffins With Crumble Topping
A delicious pumpkin muffin recipe. I love that this recipe uses the whole can of pumpkin. The crumble topping puts it over the top! Double this and freeze one batch for the future–you'll want lots!
Prep:
15 minutes
Cook:
15 minutes
Total:
30 minutes
Ingredients
Muffin Batter:
1 1/2

cups

whole wheat flour*

1

cup

all-purpose flour*

1/2

cup

old fashioned rolled oats (quick oats work fine, too)

3 1/2 teaspoons

cinnamon

1/2 teaspoon

ground nutmeg

1/4 teaspoon

ground cloves

1/2 teaspoon

ground ginger

2 teaspoons

baking soda

1 teaspoon

baking powder

1/2 teaspoon

salt

1 1/2

cups

(or one 15 ounce can) pumpkin puree

1

cup

sugar (use coconut sugar for a healthier alternative)

2/3

cup

avocado oil or melted coconut oil

1/2

cup

unsweetened applesauce

3

large eggs

1 teaspoon

pure vanilla extract
Crumble Topping:
*You can replace all the flour with white whole wheat flour, if you want to use 100% whole wheat. The white variety can replace all-purpose flour with very little textural differences.
Before You Begin! If you make this, please leave a review and rating letting us know how you liked this recipe! This helps our business thrive & continue providing free recipes.
Make It Now:
Preheat oven to 350°F. Grease 18 muffin cups or line them with paper liners. 
In a small mixing bowl, combine the flours, oats, cinnamon, nutmeg, cloves, ginger, baking soda, baking powder, and salt.
In a large mixing bowl, whisk together the pumpkin puree, sugar, oil, applesauce, eggs, and vanilla extract.
Stir dry mixture into wet ingredients; mix just until combined (do not over mix).
For the Crumble Topping: Add the brown sugar and softened butter to the same small mixing bowl from before. Stir until smooth and creamy. Add in the oats and 2 tablespoons flour and use a fork to stir until topping is crumbly.
Pour the batter into the prepared muffin tins until each one is about 2/3rds full. Sprinkle each muffin with crumble topping.
Bake in the preheated oven until a toothpick inserted in the center of a muffin comes out clean, about 15-20 minutes. To check for doneness, insert a tooth pick and if it comes out clean then muffins are done. (Freezing instructions begin here.)
Freeze For Later: Bake muffins as directed in recipe. Let cool completely. Then place in a gallon-sized freezer bag or container, seal tightly, and store for up to 3 months. 
Prepare From Frozen: Thaw muffins in the refrigerator or warm in the microwave.
Want More Pumpkin Recipes?
With YEARS of content and recipes on Thriving Home, it can be easy to forget about some amazing pumpkin recipes that we have shared over time. Here are our Top 10 Pumpkin Recipes that you simply must try!