10+ Must-Try Pumpkin Recipes
This post may contain affiliate or sponsored links. Please read our disclosure policy.
With 12+ years' worth of content, it can be easy to forget about some amazing pumpkin recipes that we have shared over the years. Since fall is in full swing, we thought it would be great to resurface some of these gems and get them back in the spotlight.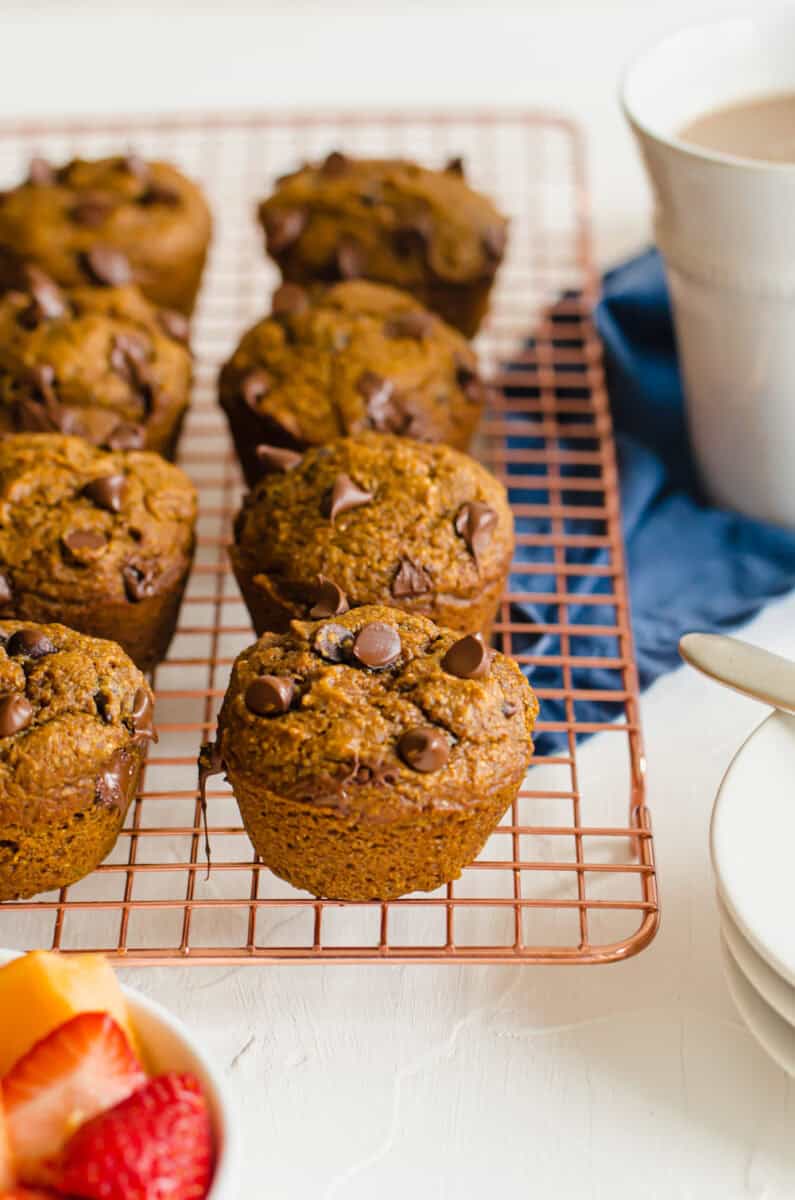 Why we Love Pumpkin Recipes
People love pumpkin recipes for several reasons, ranging from their delicious flavor to their association with cozy fall traditions. Here are some of the main reasons why pumpkin recipes are so beloved:
Flavor: Pumpkin has a naturally sweet and earthy flavor that many people find comforting and appealing. It's a versatile ingredient that can be used in both sweet recipes like our Pumpkin Chocolate Chip Muffins and Pumpkin Dump Cake and savory dishes like our Pumpkin Chili.
Health Benefits: Pumpkin is a nutrient-rich food that contains vitamins, minerals, and antioxidants. It's a good source of fiber, vitamin A, and beta-carotene, which have various health benefits.
Nostalgia: Many people have fond memories of enjoying pumpkin treats during their childhood, and the beginning of the fall season in general. Whether it's carving pumpkins, Halloween crafts, making apple butter, or enjoying pumpkin pie at Thanksgiving. Pumpkin recipes often evoke feelings of nostalgia and warmth.
Comfort Food: Pumpkin recipes are often considered comfort food. The flavors and aromas of pumpkin dishes like our Pumpkin Spice Muffins or Pumpkin Pancakes can provide a sense of comfort and coziness, especially during colder months.
How to Freeze Pumpkin Puree
To Freeze: Divide the pumpkin puree into small portions. Common sizes are 1/2 or 1 cup. Place the containers, bags, or trays in the freezer on a flat surface until the puree is completely frozen.
To Prepare: Thaw it in the refrigerator overnight or use the defrost setting on your microwave.
Keep in mind that the texture of the thawed puree may be slightly different from fresh puree, but it should still work well in most recipes.
Pumpkin puree can typically be stored in the freezer for 3-6 months.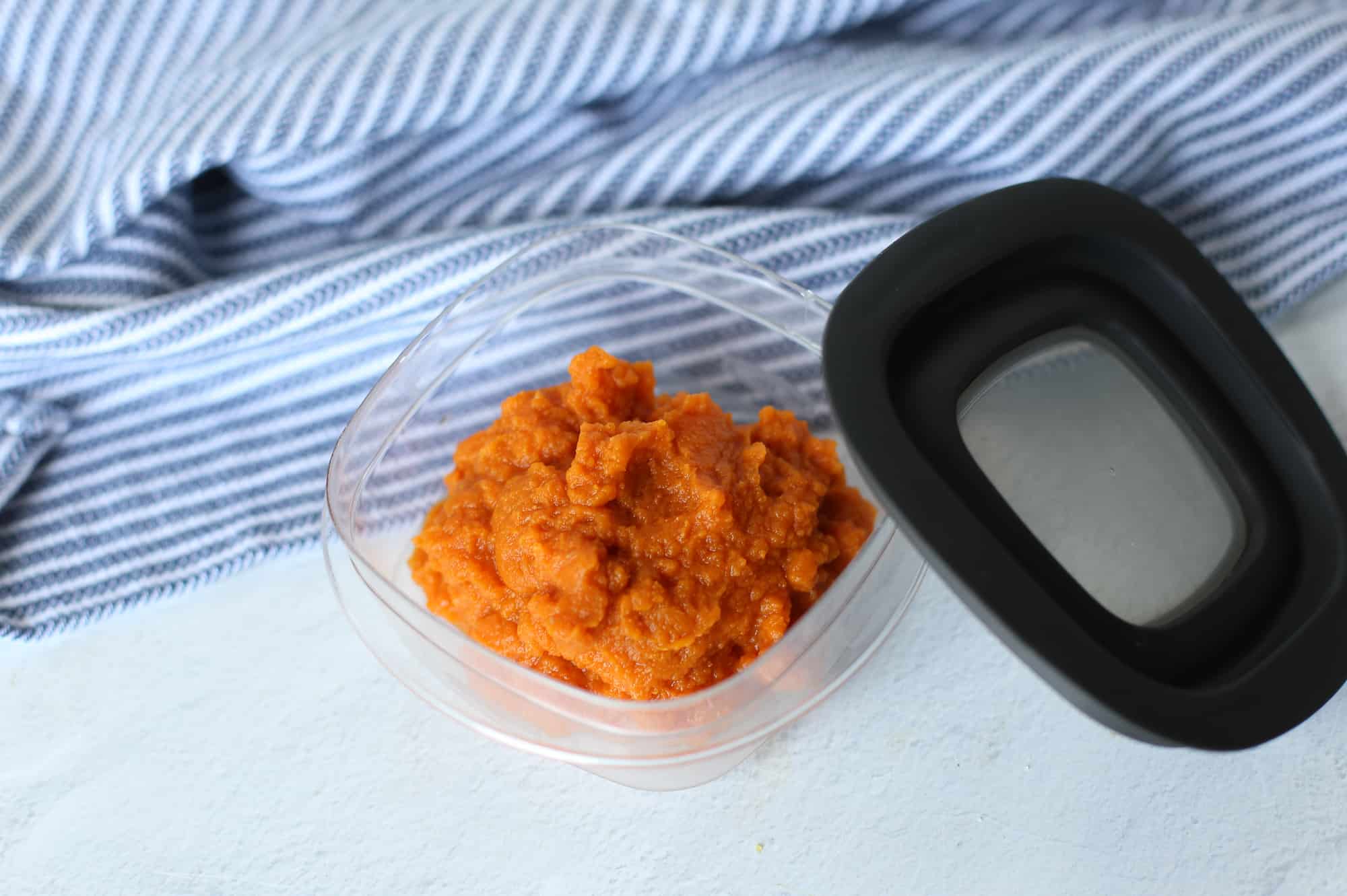 Top 10 Pumpkin Recipes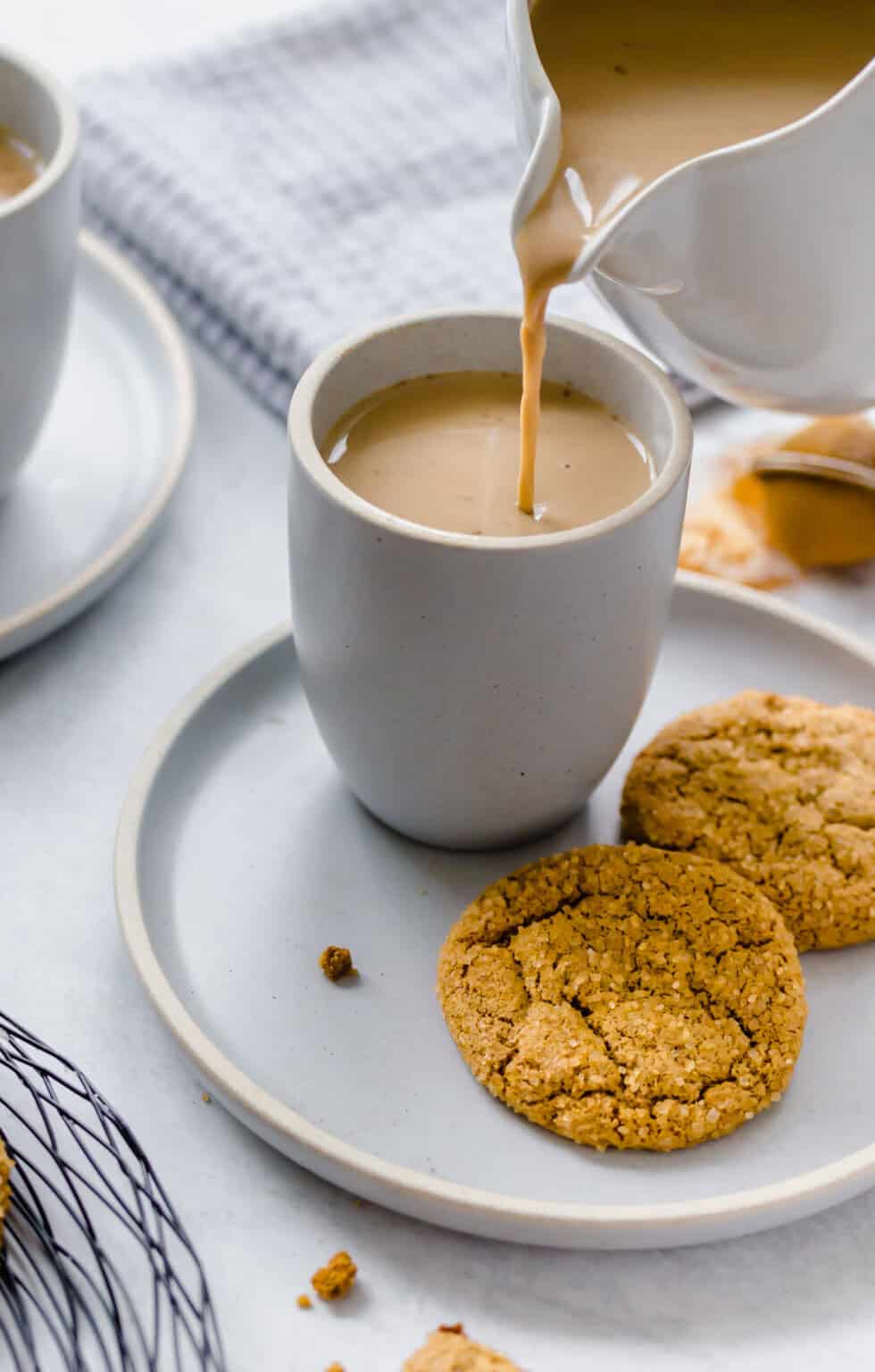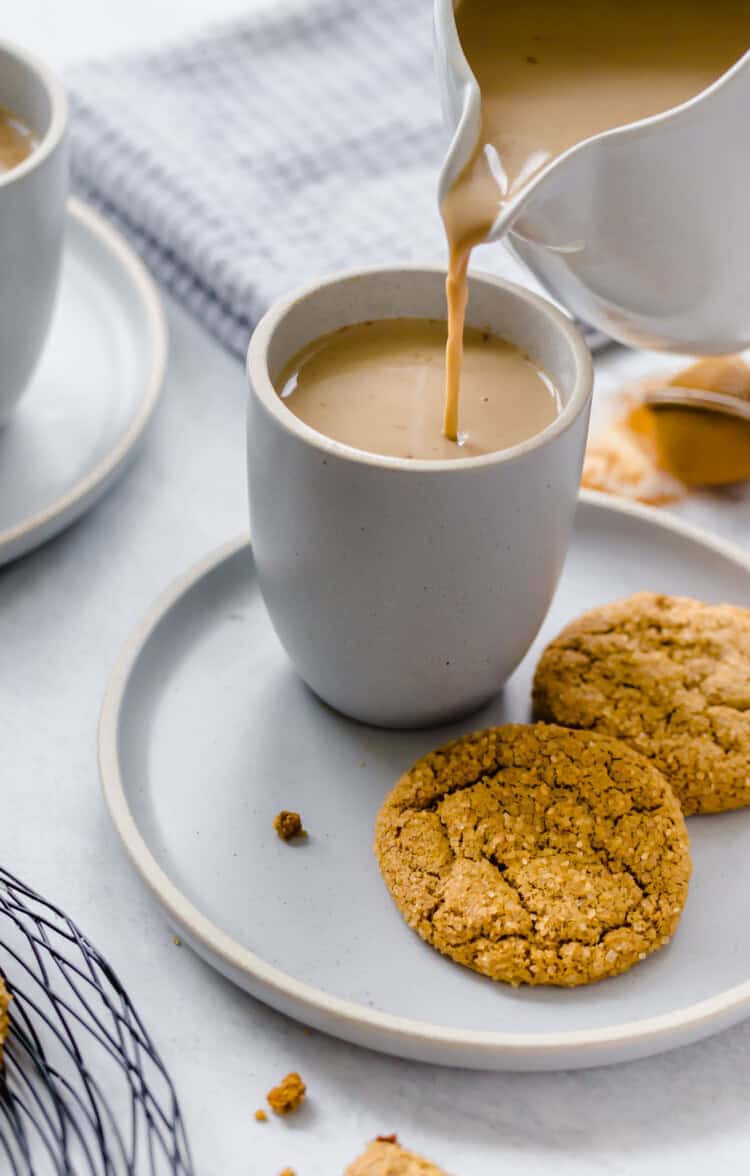 Crock Pot Pumpkin Spice Latte
This homemade Pumpkin Spice Latte recipe is EASY to make and is my go-to drink when entertaining in the fall or winter. It's made with REAL ingredients from your pantry and everyone is amazed that it's made in a slow cooker. Serve this with our Snickerdoodle Cookies, and you'll be in heaven!
Crock Pot Pumpkin Spice Latte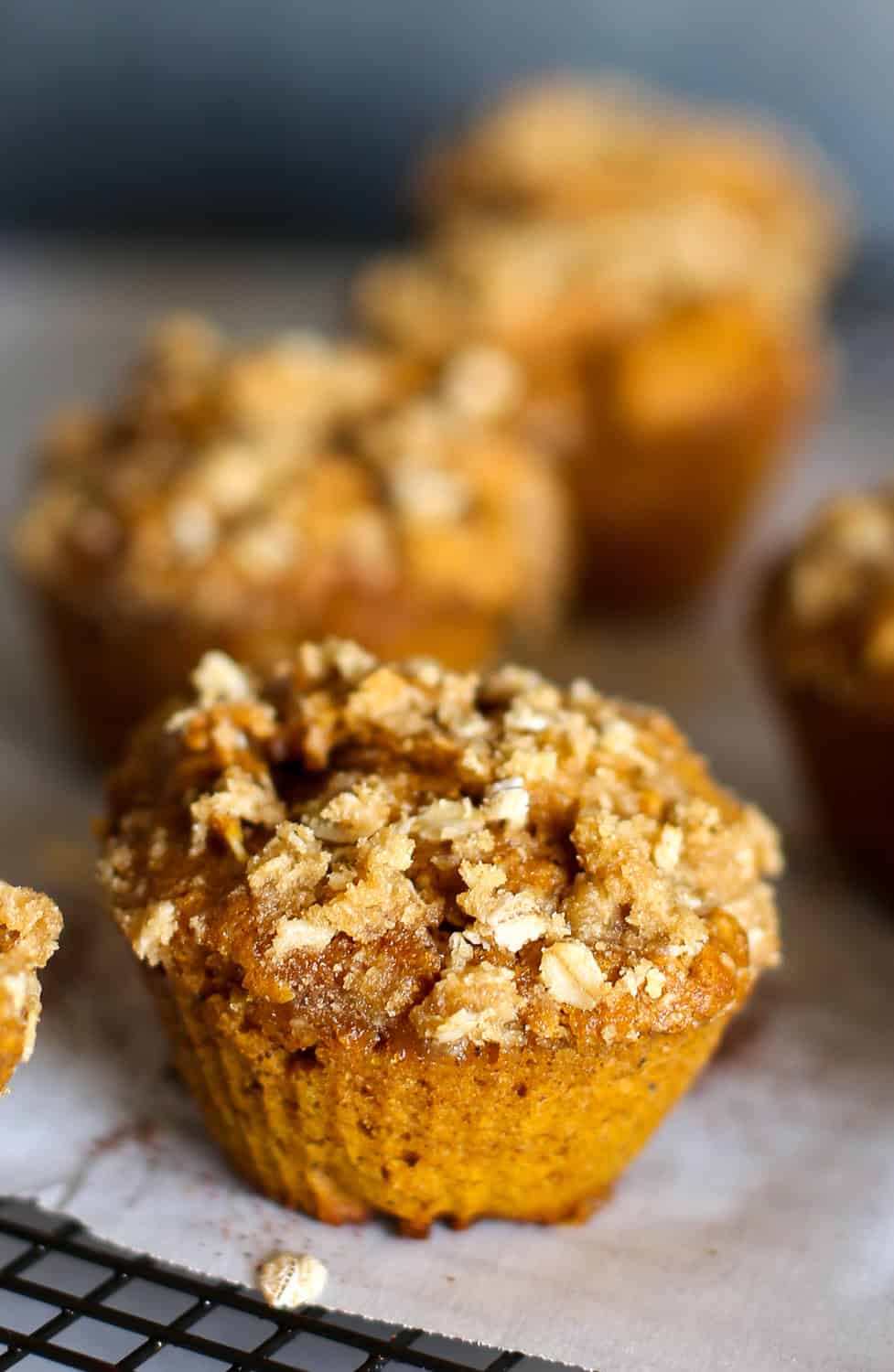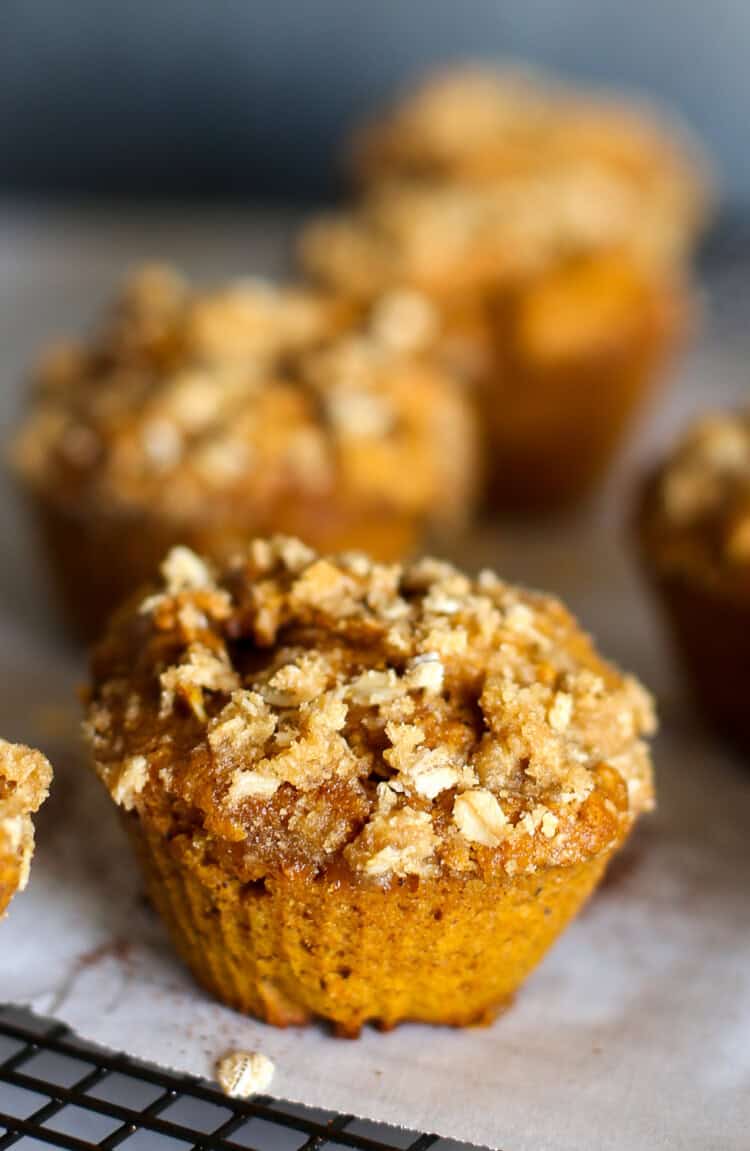 Pumpkin Spice Muffins with Crumble Topping
This tried and true Pumpkin Spice Muffins recipe will quickly become part of your fall baking rotation. Imagine all the delicious flavors of autumn packed into a fluffy, moist, nutritious muffin. The sweet and slightly crunchy crumble topping takes these to the next level. Be sure to read our tips about storing and freezing muffins to make them last longer.
Pumpkin Spice Muffins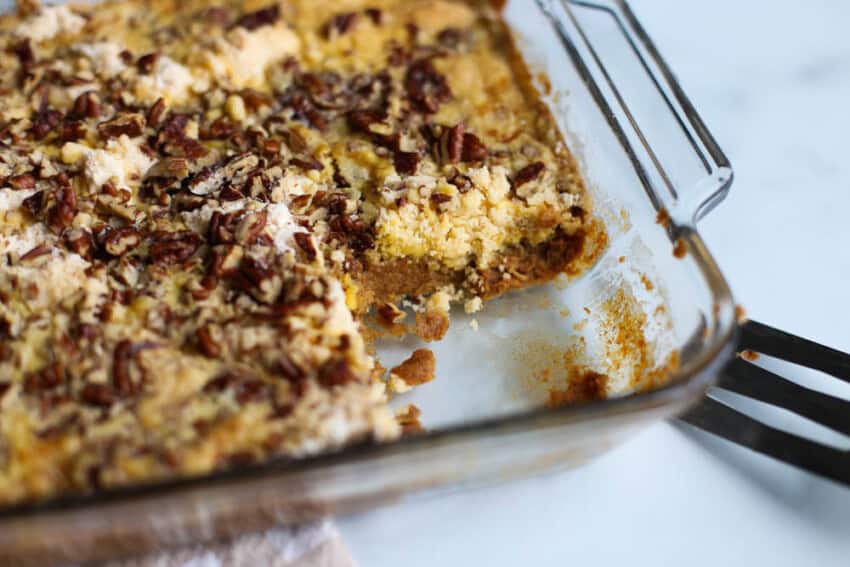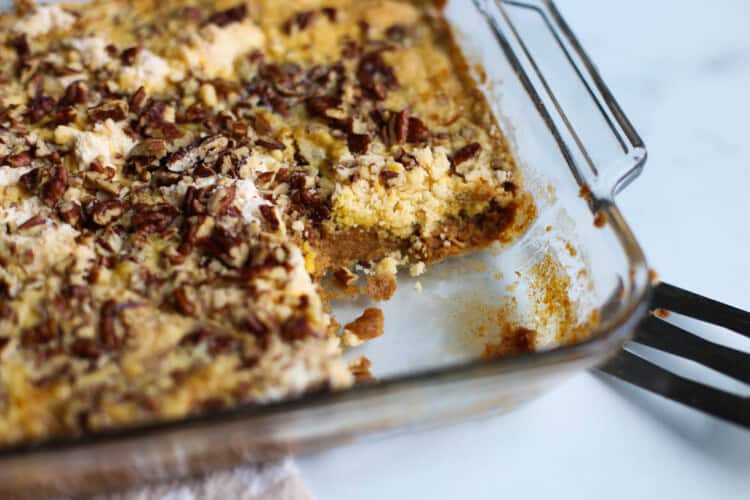 Pumpkin Dump Cake
Easy to make, this crowd-pleaser recipe goes a long away (serves 9-12 people). It is a delicious twist on classic pumpkin pie that almost any age will like. It's also a great make-ahead recipe. Perfect for holiday parties!
Pumpkin Dump Cake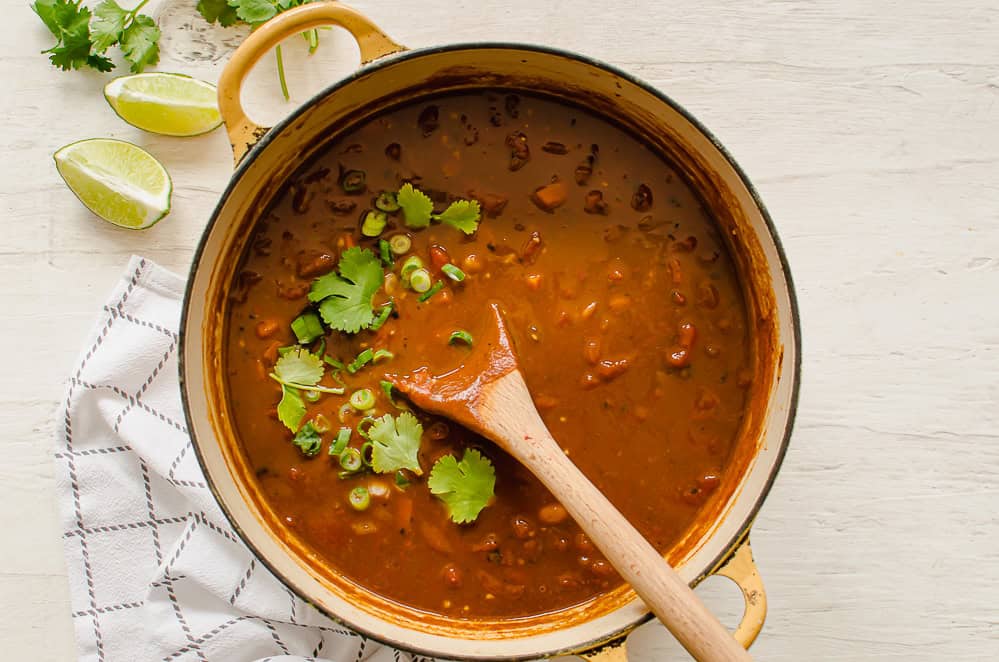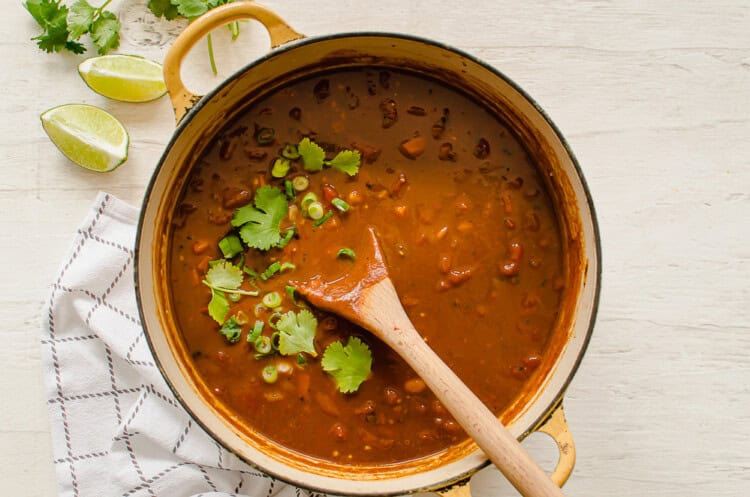 Want a super nutritious, flavorful recipe that can feed a crowd, won't break the bank, or doesn't take much time? This Pumpkin Chili recipe gets the job done. Even better, it only takes 20 minutes to make.
Pumpkin Chili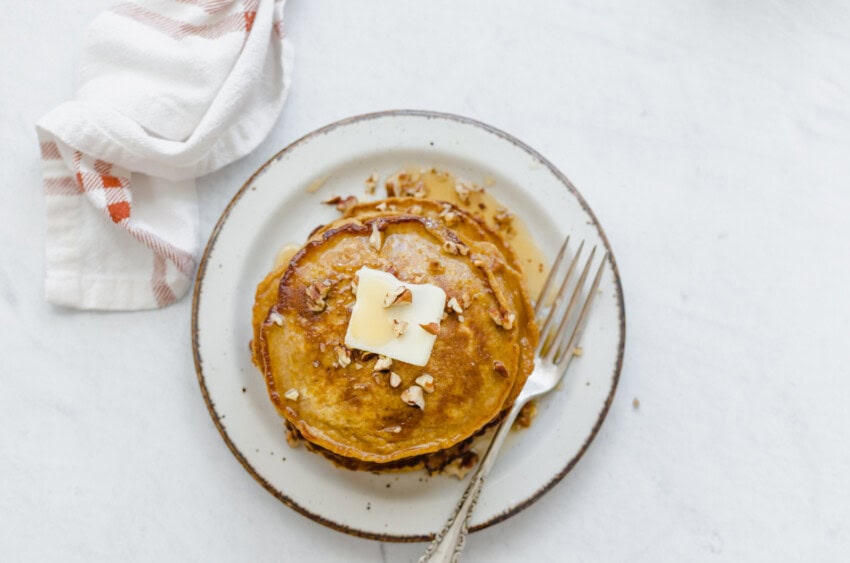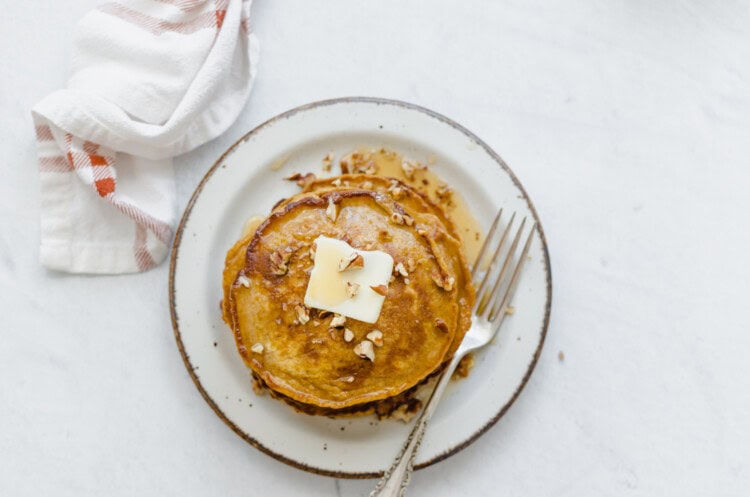 Whole Wheat Pumpkin Pancakes
These pancakes are a part of our family's regular breakfast rotation for good reason. They have sneaky vegetables (i.e. pumpkin this time) and 100% whole grain in them but retain their light, fluffy texture. We also have Zucchini Pancakes and Sweet Potato Pancakes, if you're looking for variations.
Whole Wheat Pumpkin Pancakes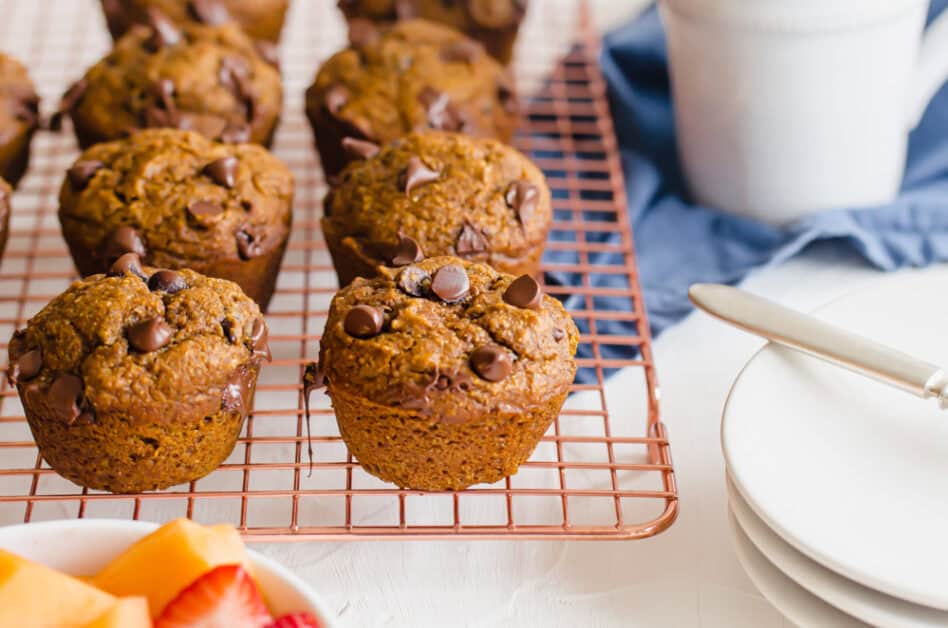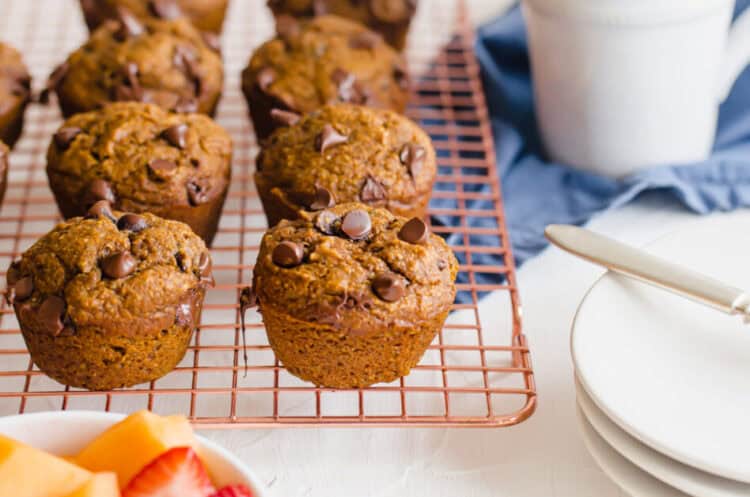 Pumpkin Chocolate Chip Muffins
These healthier Pumpkin Chocolate Chip Muffins are moist, sweet, and absolutely delicious for breakfast, snacks, or dessert. Plus, you can make a big batch and freeze them for later using our instructions.
Pumpkin Chocolate Chip Muffins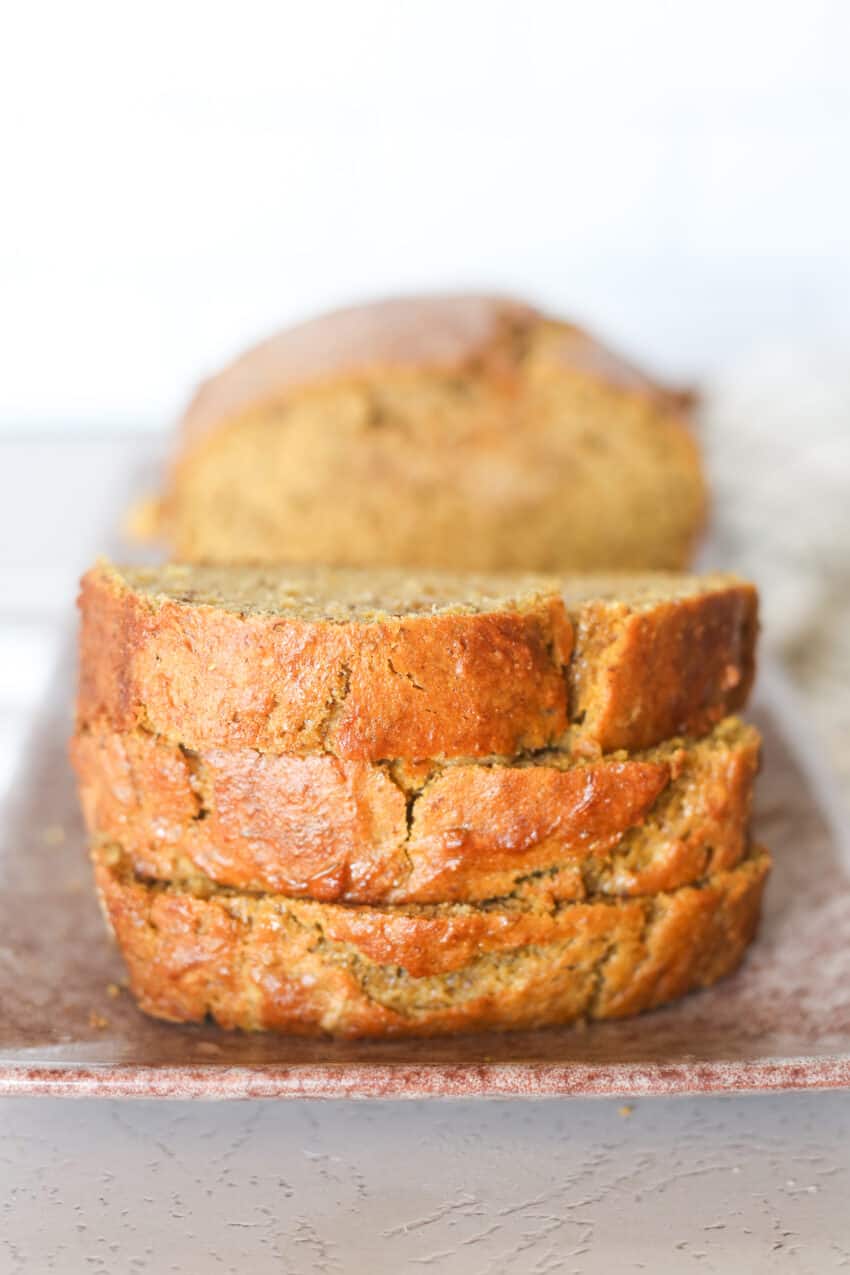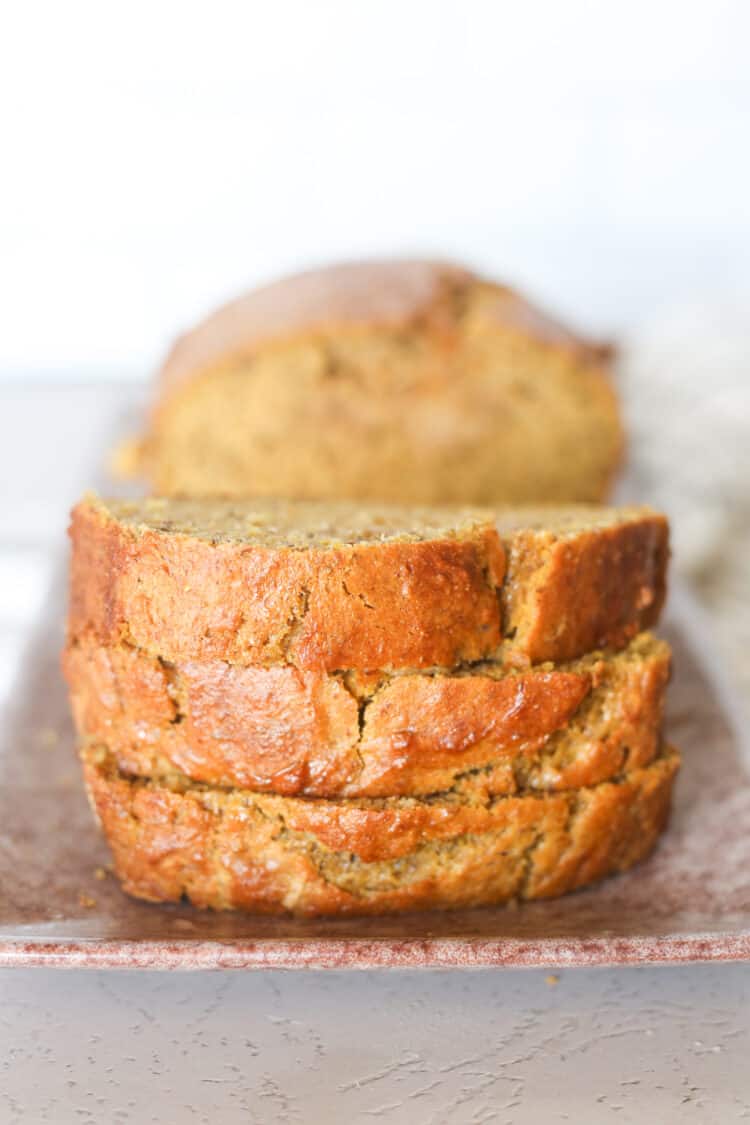 Pumpkin Banana Bread
Breakfast, snack, or dessert…this bread, mini bread, muffin, or mini-muffin recipe fits the bill. This bread is moist, and nutritious yet has enough good-for-you fat (from coconut oil) and sweetness to taste delicious!
Pumpkin Banana Bread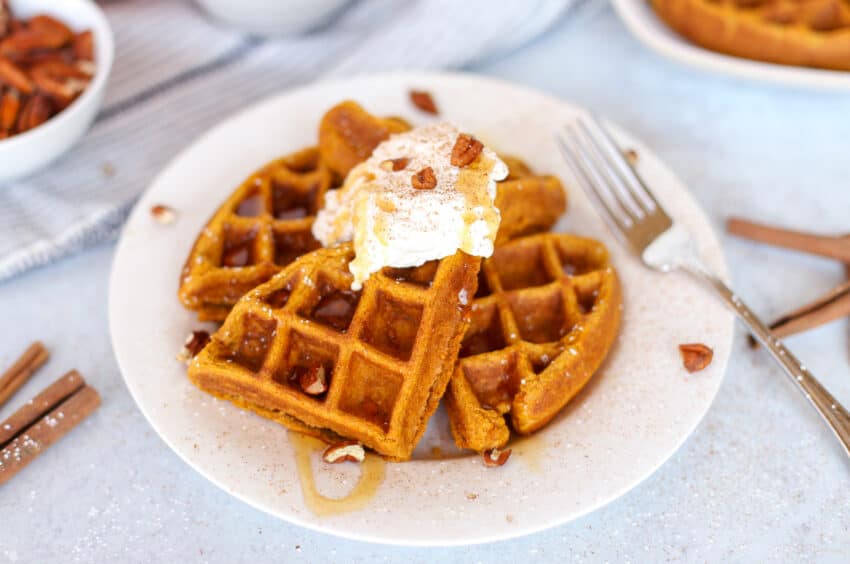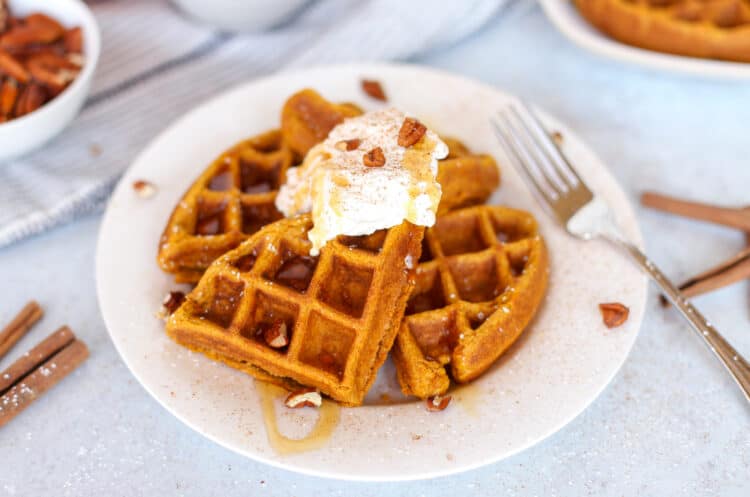 Whole Wheat Pumpkin Waffles
These healthier pumpkin waffles are delicious year-round but especially in the fall! Made with whole wheat flour and pumpkin puree, they make for a nutritious breakfast. We recommend doubling this recipe, so you can freeze a batch to use throughout the week.
Whole Wheat Pumpkin Waffles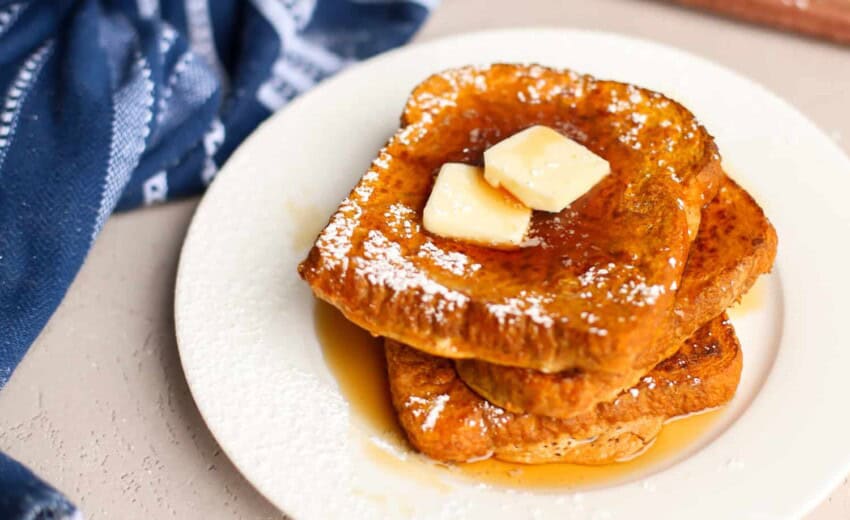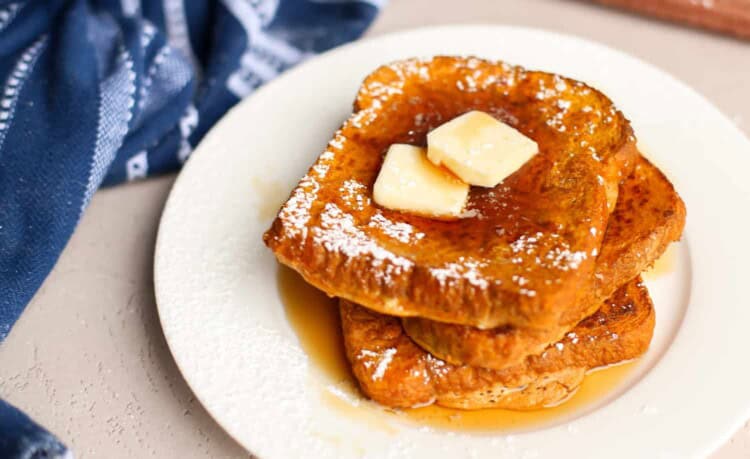 Pumpkin French Toast
Pumpkin French Toast is such a nutritious and hearty way to start your day. Like most of our easy breakfast recipes, we've included instructions for how to make french toast as an easy make-ahead freezer meal. Plus, you are sneaking in extra nutrition to a kid's favorite breakfast.
Pumpkin French Toast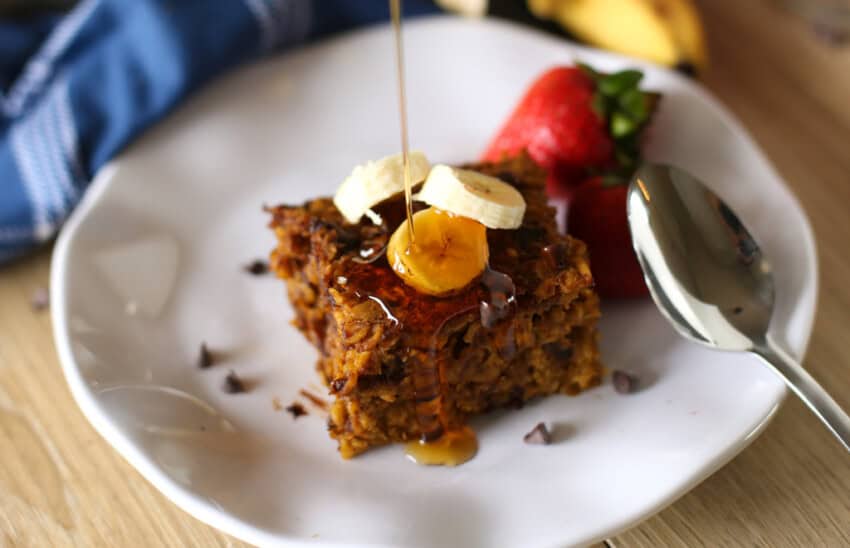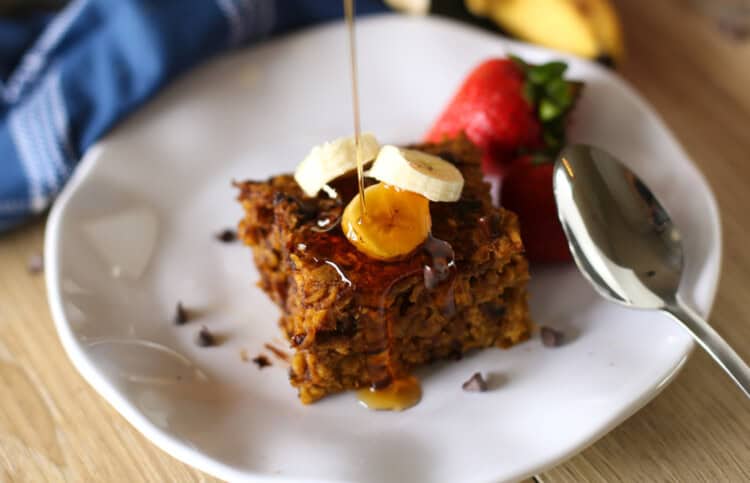 Pumpkin Baked Oatmeal with Chocolate Chips
Pumpkin Baked Oatmeal is a wholesome, warm, comforting breakfast for any day of the week. Kids love the sweetness and chocolate chips; parents love the sneaky pumpkin and other healthy ingredients. I feel great about filling my family's tummies with this first thing in the morning.
Pumpkin Baked Oatmeal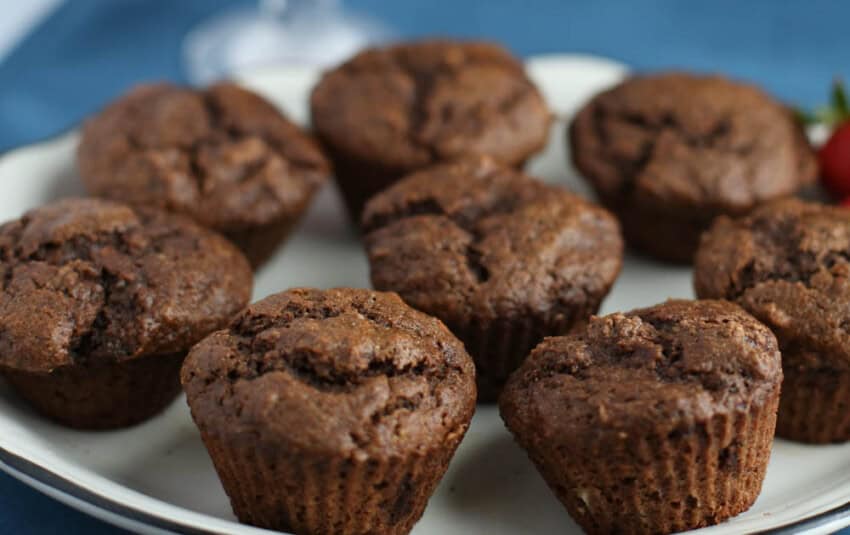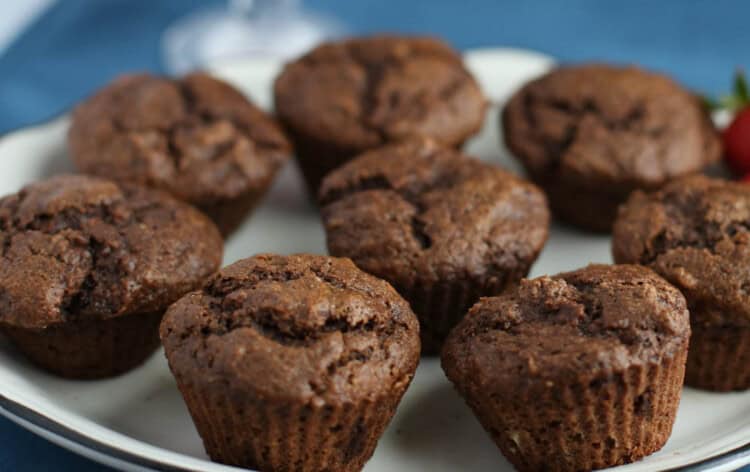 Chocolate Banana Muffins (With Sneaky Pumpkin)
These Chocolate Banana Muffins are not only moist and delicious, but they are packed with sneaky nutrition. They are a kid-favorite and freeze beautifully. Serve as an easy, make-ahead healthy breakfast.
Chocolate Banana Muffins
FAQs
Can you freeze pumpkin?
Yes! Don't throw away the pumpkin puree you don't use. Pumpkin puree can typically be stored in the freezer for 3-6 months.
How do I make pumpkin puree from scratch?
To make pumpkin puree from scratch, start by selecting a small, sugar or pie pumpkin. Cut it in half, scoop out the seeds and strings. Roast the pumpkin halves in the oven until the flesh is soft. Once cooled, scoop out the flesh and blend it in a food processor or blender until smooth.