Pumpkin Baked Oatmeal (with Chocolate Chips)
This post may contain affiliate or sponsored links. Please read our disclosure policy.
Pumpkin Baked Oatmeal is a wholesome, warm, comforting breakfast. Kids love the sweetness and chocolate chips; parents love the sneaky pumpkin and other healthy ingredients (like in our other kid-friendly sneaky recipes). This baked oatmeal is a big batch recipe, so feel free to cut it in half and freeze one for later.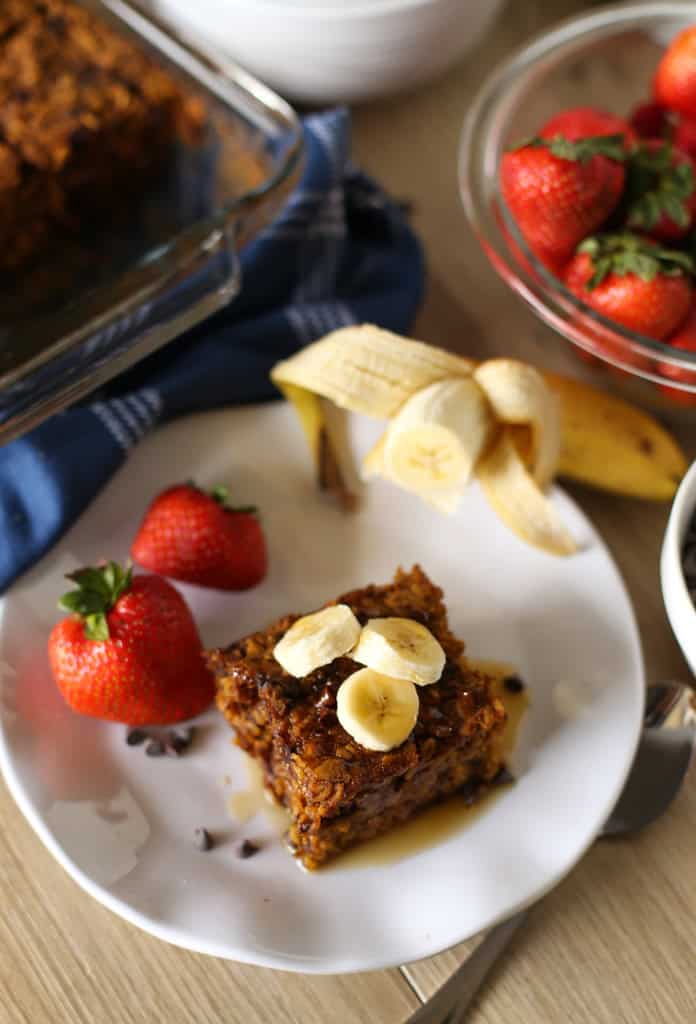 Why Baked Oatmeal?
We are baked oatmeal fanatics around here, as you may know. Both my kids and Polly's kids eat it by bushels. We love it because it's:
A fast way to make oatmeal in bulk.
Super comforting and delicious like our Oatmeal Pancakes.
Stores for days in the fridge or months in the freezer.
Filled with good-for-you ingredients!
I find myself making this one and the Brownie Baked Oatmeal repeatedly, while Polly probably makes the original Baked Oatmeal with Fruit recipe the most. But, all our baked oatmeal recipes are worth trying.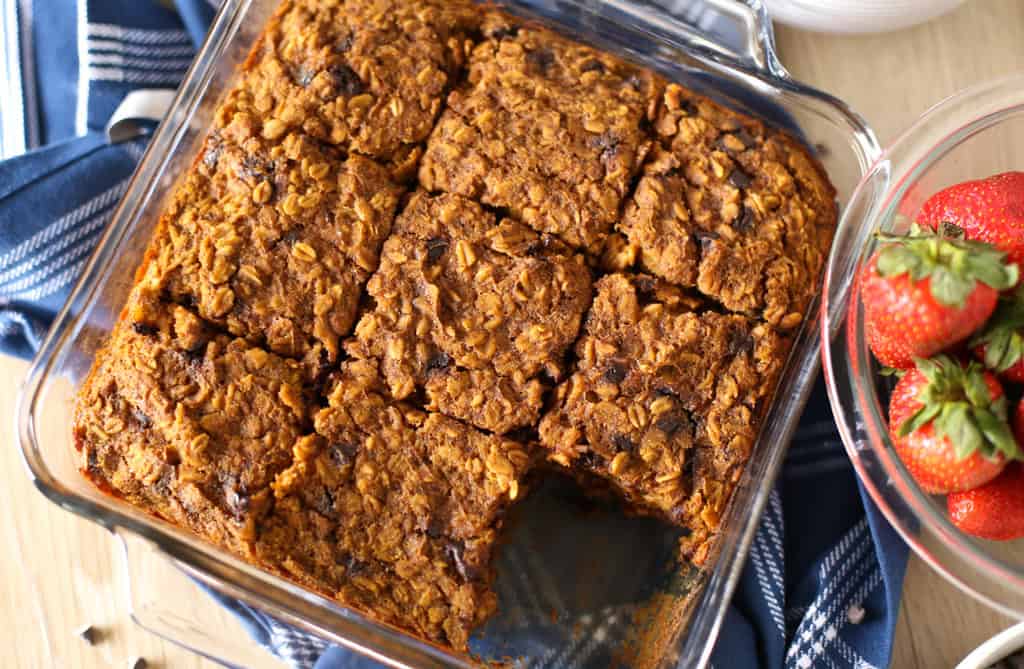 This baked breakfast treat is sweet but not too sweet, autumnal (I love that word), and packed full of sneaky nutrition with pumpkin, bananas, and whole grains throughout. You likely have all of the ingredients in your pantry! Here is what you will need to make it:
Milk
Eggs
Vanilla
Melted coconut oil or butter
Pumpkin puree – Use any leftover puree in one of our other top pumpkin recipes.
Bananas – If it's close to Halloween, use extra bananas to make Banana Ghosts!
Brown sugar
Salt
Oats (quick or old-fashioned will work) (Gluten-Free Option: Use gluten-free oats.)
Baking powder
Cinnamon
Mini chocolate chips
Tip: Store Overripe Bananas for Later
If you have more overripe bananas than you didn't use in this recipe, did you know you can freeze them? Here is the best way to freeze bananas for later. Now you'll be ready to make Pumpkin Baked Oatmeal anytime!
How to Serve Pumpkin Baked Oatmeal
After doing a deep dive into the Internet's best baked oatmeal recipes, I learned there is conflicting information on how to serve baked oatmeal. The two main beliefs are as follows:
Option 1: Serve it in a bowl
This is my personal favorite way to serve baked oatmeal. It makes it easy to pour milk on top and feels a bit more "oatmeal" like.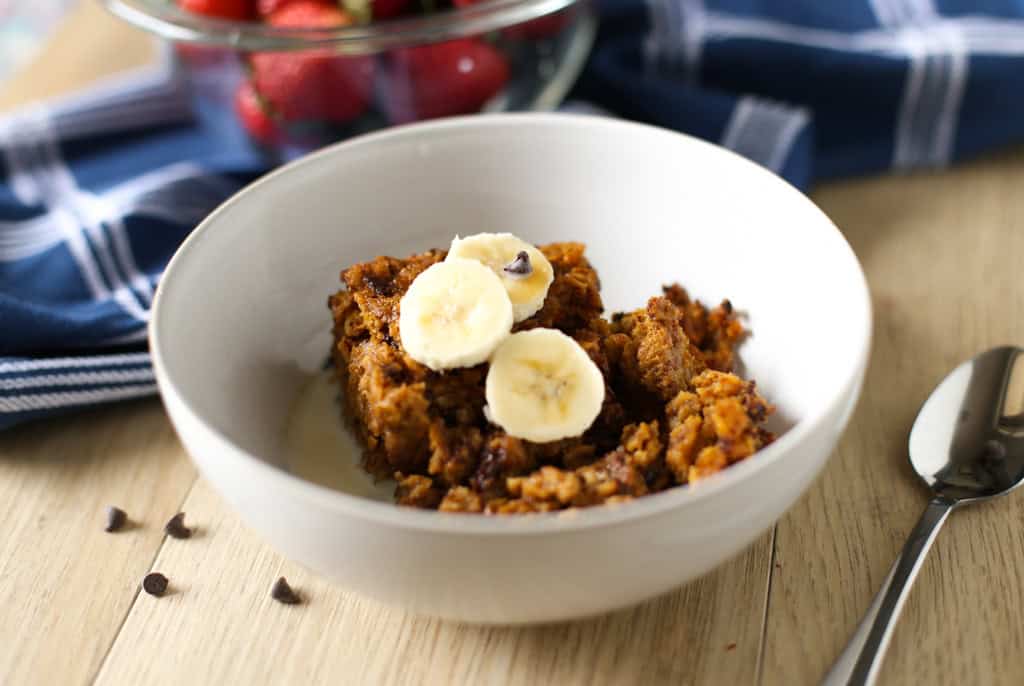 Option 2: Slice it up & serve on a plate
If the recipe holds together enough (like this one does), you can slice it up into pieces and serve it on a plate. The presentation is a bit prettier this way too which always helps my kids who are prone to judge a recipe based on how it looks.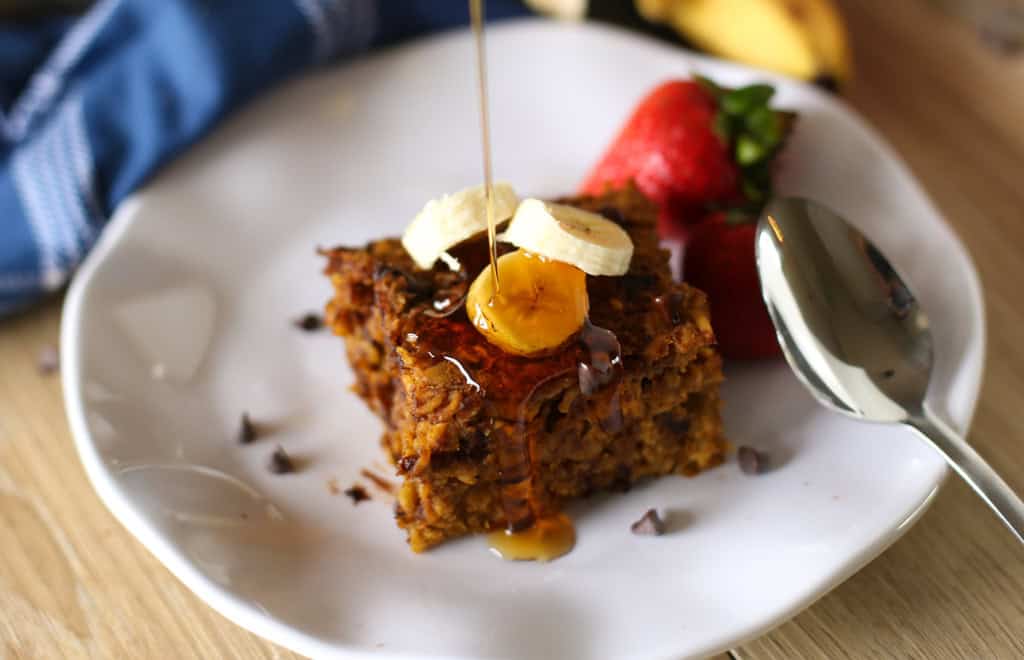 How to Freeze Baked Oatmeal
We are big fan of freezer meals. In fact, we've built a small freezer meal empire including cookbooks, 1 Hour Freezer Prep, and an index of tried and true freezer meal recipes.
So it shouldn't come as a surprise to you that we have freezer meal instructions for this recipe!
Freeze For Later: Put together the casserole either in one 9×13 inch casserole dish or two 8×8 inch casserole dishes (like what's pictured in this blog post), but don't bake it. Tightly wrap the dish in a few layers of plastic wrap or foil (or a tight-fitting lid) and freeze.
Prepare From Frozen: Thaw completely using one of these safe methods. Cook according to instructions.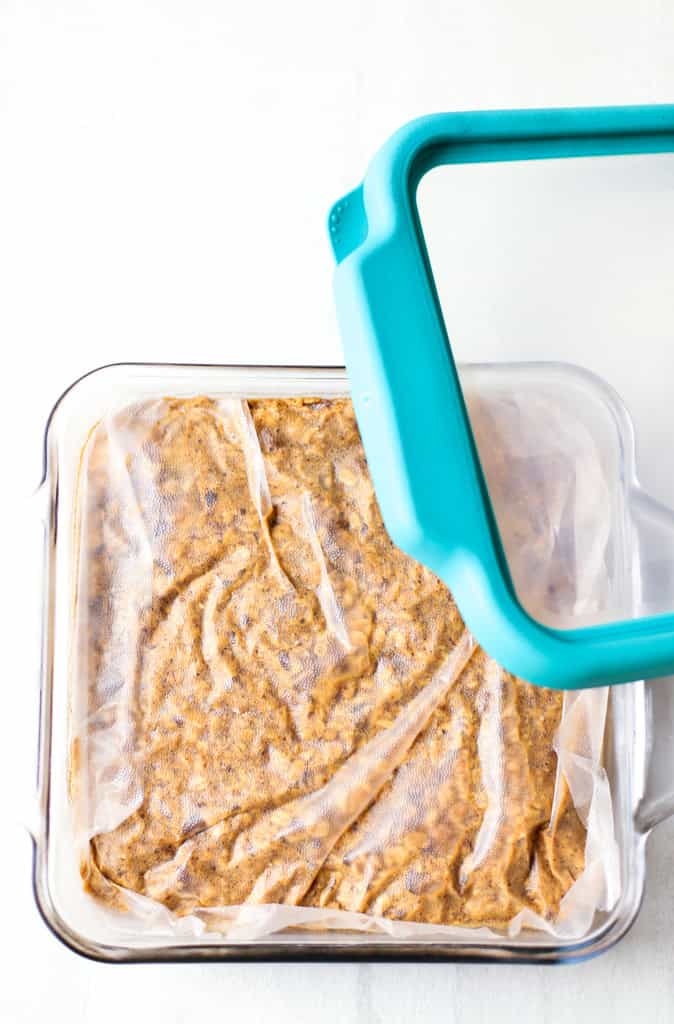 How should I store Pumpkin Baked Oatmeal?
Let it cool completely. Cover and place in the refrigerator for up to 3 days.
Can I use pumpkin pie filling instead of pumpkin puree?
Pumpkin pie filling contains added sweeteners and spices, so it will change the flavor and sweetness of your baked oatmeal. It's best to use plain pumpkin puree for this recipe.
What kind of oats should I use for Pumpkin Baked Oatmeal?
Rolled oats (old-fashioned oats) work best for baked oatmeal as they provide a nice texture. Quick oats can also be used if you prefer a smoother consistency.
Can I make Pumpkin Baked Oatmeal ahead of time and reheat it?
Yes, you can make it in advance and reheat it. Store it in the refrigerator and warm it in the microwave or oven when ready to eat.
More Baked Oatmeal Dishes You'll Love
If you enjoy baked oatmeal as much as our families do, give a few of these others a try. They all work well to freeze before baking, as well.
Did you make this? Snap a photo and tag us on Instagram at @thrivinghome so we can see your creations and cheer you on!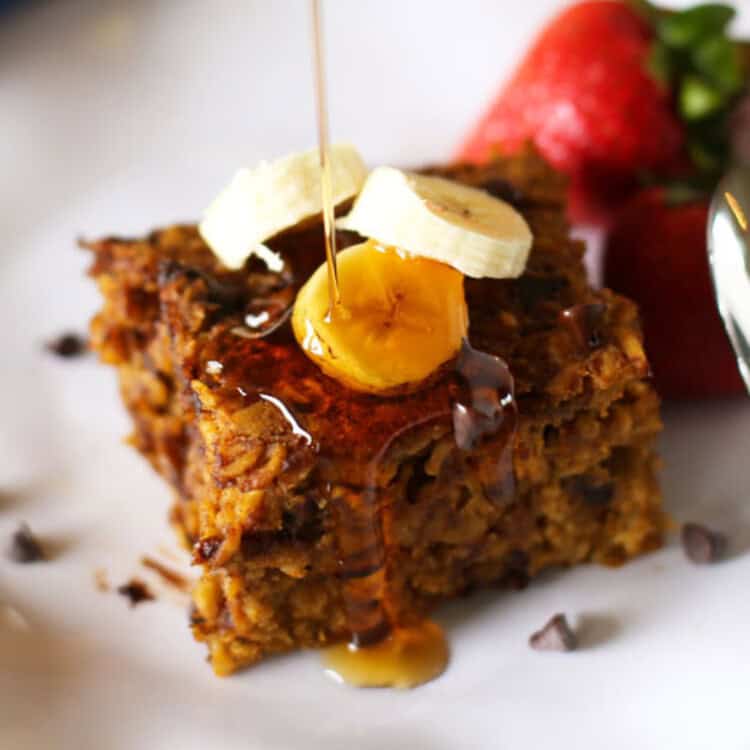 Pumpkin Baked Oatmeal with Chocolate Chips
Pumpkin Baked Oatmeal is a wholesome, warm, comforting breakfast for any day of the week. Kids love the sweetness and chocolate chips; parents love the sneaky pumpkin and other healthy ingredients. 
Yield:
10

servings (One 9×13-inch casserole or

two

8×8-inch casseroles)

1

x
Prep:
10 minutes
Cook:
45 minutes
Total:
55 minutes
Ingredients
2

cups

milk

4

eggs

2 teaspoons

vanilla

1/4

cup

avocado oil or melted coconut oil or butter

1

(15 ounce) can pumpkin puree

2

over-ripe bananas

1

cup

brown sugar

1/2 teaspoon

salt

6

cups

old fashioned rolled oats (sub: quick oats)

1/2

cup

ground flaxseed

4 teaspoons

baking powder

1 teaspoon

cinnamon

2/3 cup

mini chocolate chips
Before You Begin! If you make this, please leave a review and rating letting us know how you liked this recipe! This helps our business thrive & continue providing free recipes.
Instructions
Make It Now:
Preheat oven to 350° F. Spray one 9×13-inch casserole dish or two 8×8-inch dishes (like what is pictured in this blog post) with cooking spray.
In a blender, blend the milk, eggs, vanilla, oil, pumpkin, bananas, sugar, and salt. 
In a large bowl, stir together the oats, flaxseed, baking powder, and cinnamon. Pour the wet ingredients in to the dry ingredients and stir until well combined. Finally stir in the chocolate chips. Pour batter into greased casserole dish.
Bake for about 40-45 minutes for 9×13-inch dish (or 35-40 minutes for 8×8-inch dish), until the edges are set but middle is still a little soft to the touch. 
Let cool for about 5 minutes (it will continue to carry-over cook). Serve warm with a little milk on top.
Freeze For Later: Follow Steps 2 and 3. Wrap the dish with a few layers of plastic wrap and either a layer of foil or snap on a lid. Freeze.
Prepare From Frozen: Thaw completely. Cook according to instructions.
---
Notes/Tips
Try using Butternut Squash puree instead of the pumpkin. 
Throw a little baby spinach into the blender along with the wet ingredients for more sneaky nutrition.
I wrote this recipe to be big. It's a great meal for a crowd or for a hungry family. (All three of my kids will eat all of this within two days time.)