This post may contain affiliate or sponsored links. Please read our disclosure policy.
Oatmeal pancakes are hearty, flavorful, and full of grains that won't leave you hungry hours later. You'll never go back to boxed pancake mix after seeing how easy it is to make to make your own oatmeal mix at home.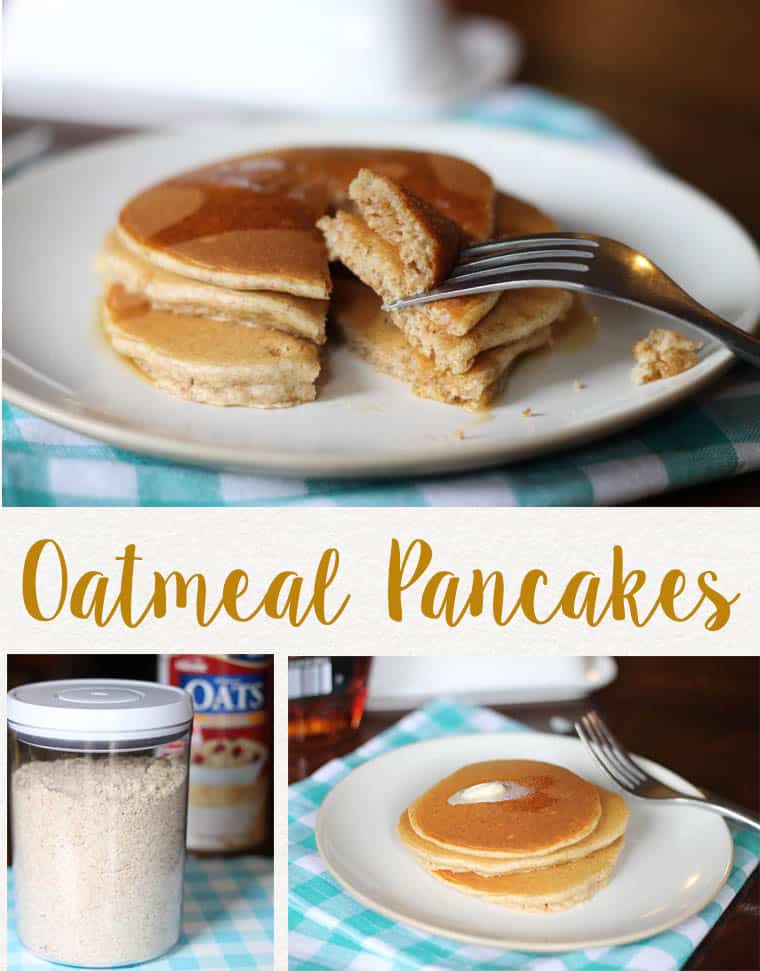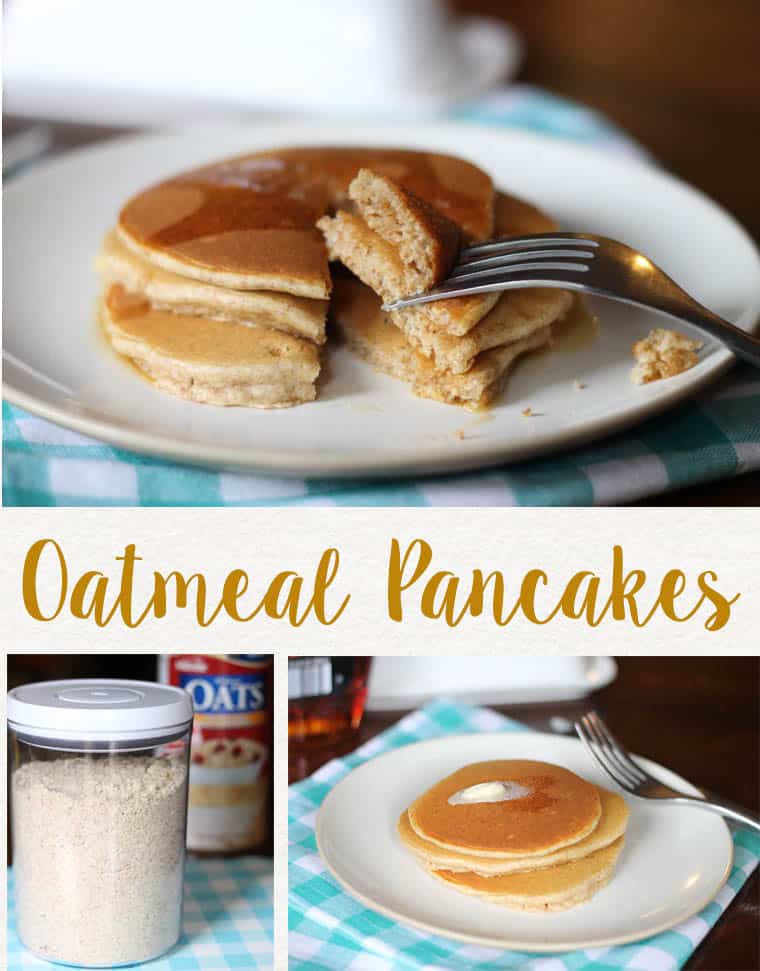 Why Oatmeal Pancakes are Amazing
Broadly speaking, making food from scratch usually tastes better and is healthier than packaged food. You're avoiding additives and preservatives and using real food ingredients.
Traditional pancakes are mostly a combination of refined flour and sugar. That means that while delicious, they're a simple carb that will cause your blood sugar to spike — giving you a quick burst of energy but leaving you hungry shortly after.
I am far too familiar with the sugar crashes of a high-carb breakfast. No fun! The good news is, adding a whole grain counters this problem. Oats are full of fiber and are a surprisingly good source of protein
The addition of blended up oats to the mix also gives these pancakes a hearty, yet still light and fluffy, texture.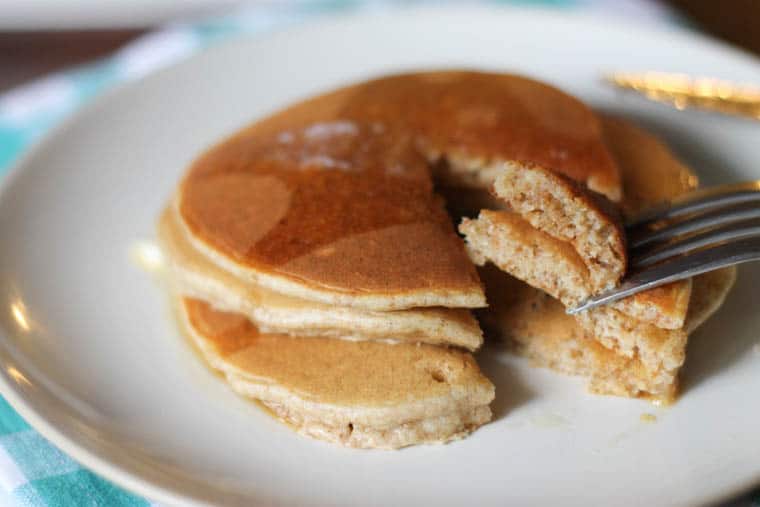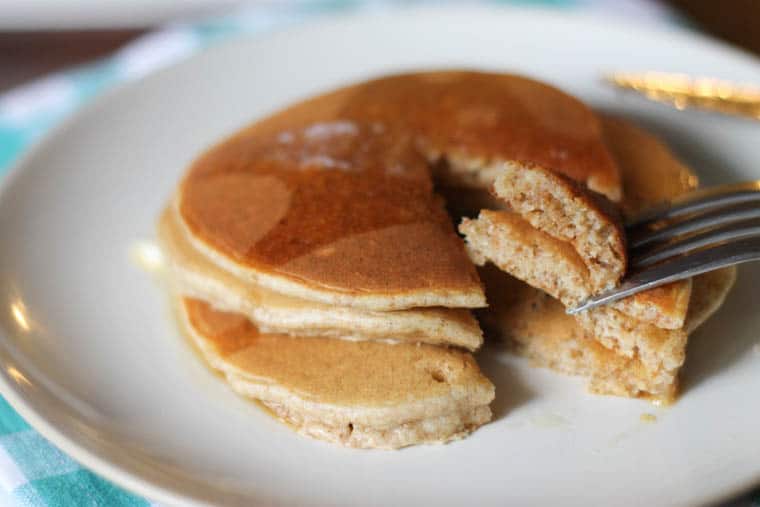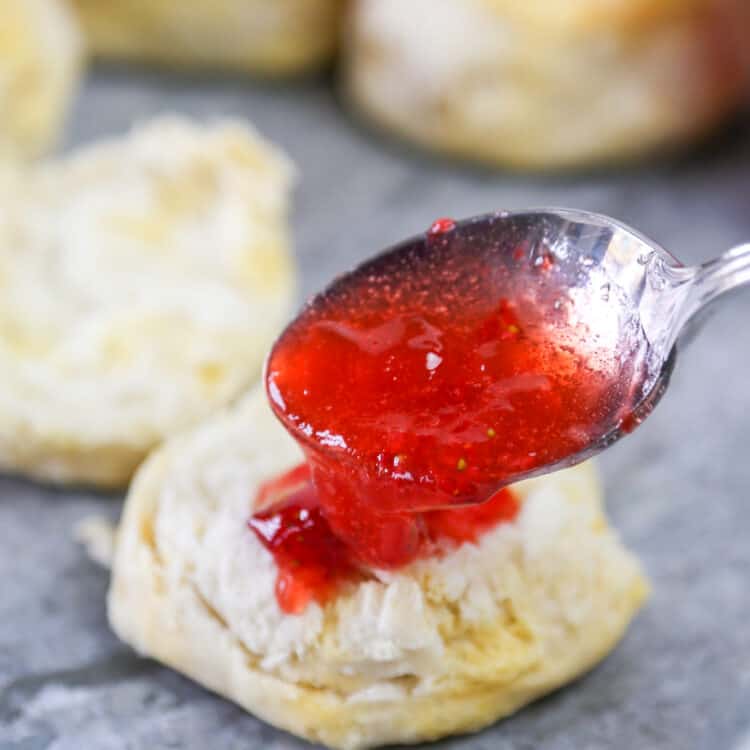 Top the Pancakes with Strawberry Freezer Jam!
If you want to take pancakes to the next level, add a scoop of our delicious freezer jam recipe.
Strawberry Freezer Jam
What's in Oatmeal Pancake Mix?
Here are the basic ingredients you'll need to make your oatmeal pancake mix:
Oats – quick or rolled work.
Whole wheat flour
All-purpose flour
Sugar
Baking powder
Salt
Baking soda
Vegetable/canola oil or melted coconut oil
This mix will make about 10 cups all said and done.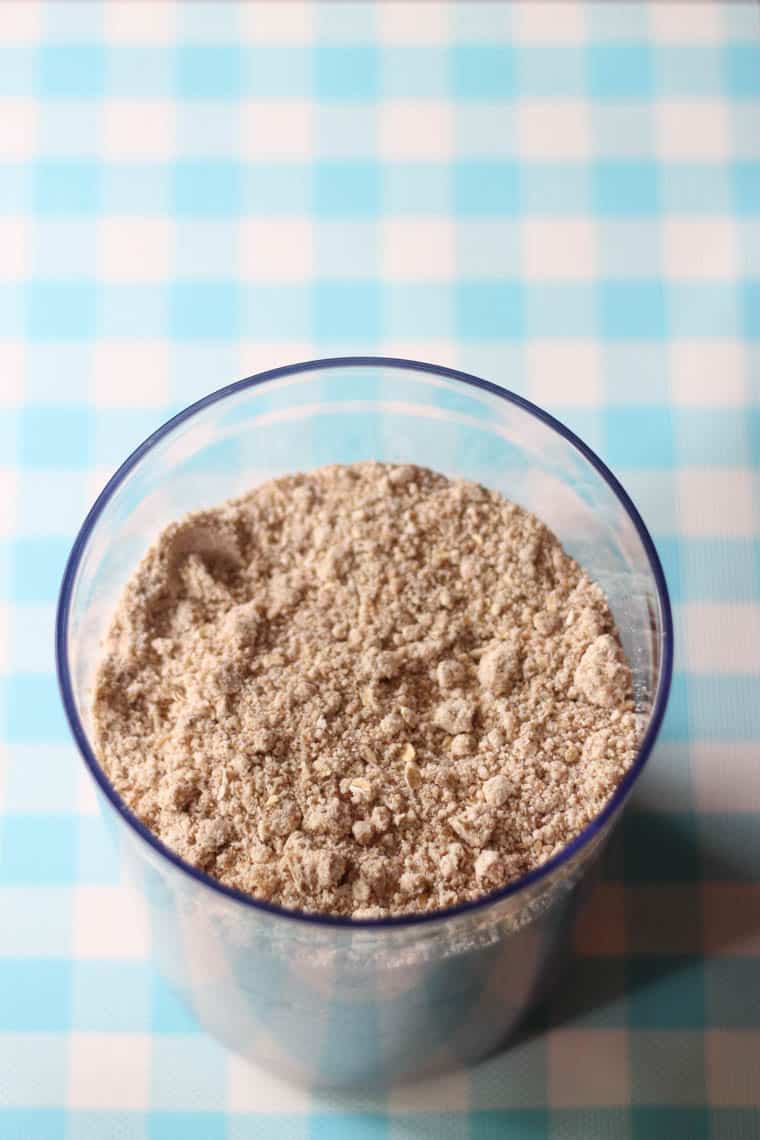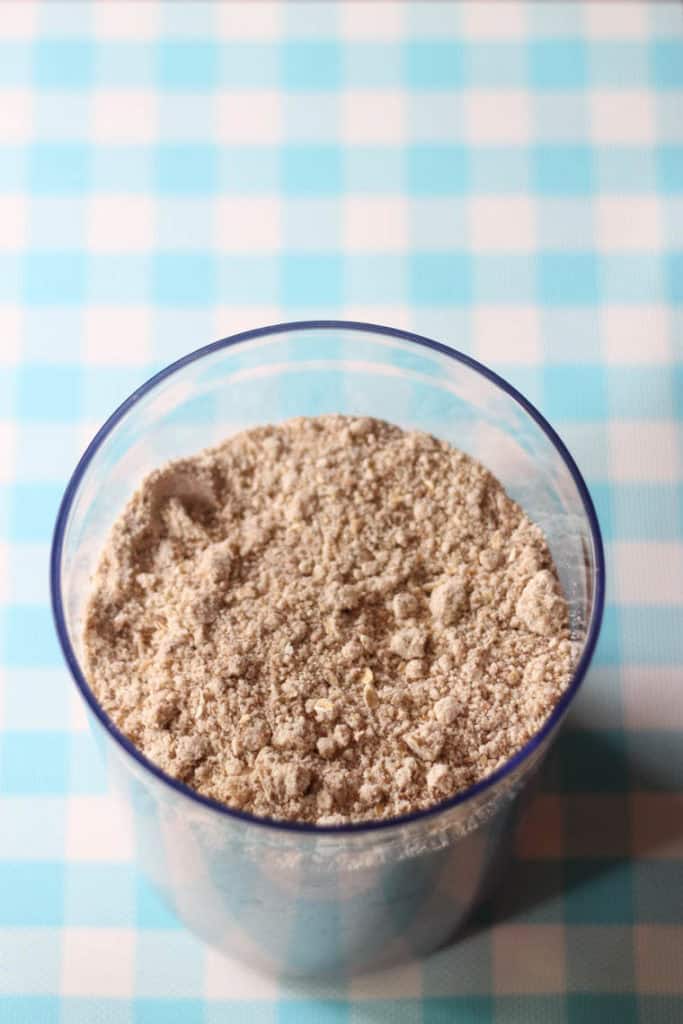 Do I need a food processor for the oats?
Yes.
Glad we had this chat.
OK, but for real, you'll need to blend up the oats in a food processor in order to turn them into a course, flour-like texture. That's what helps them blend into the mix so well.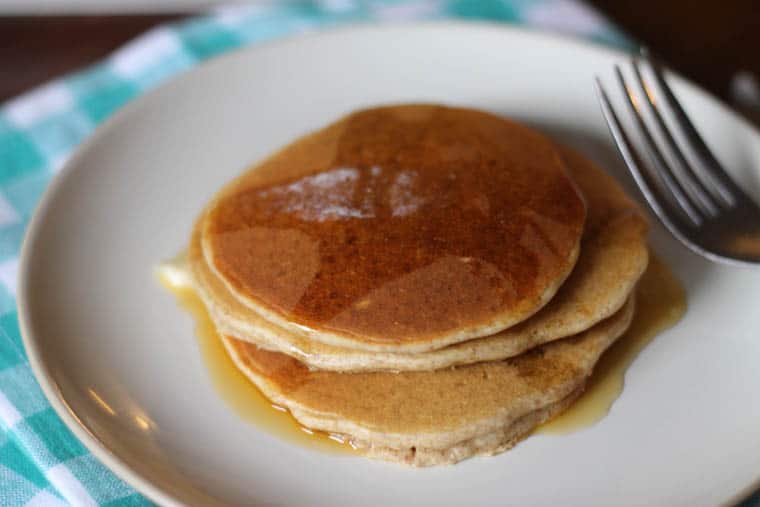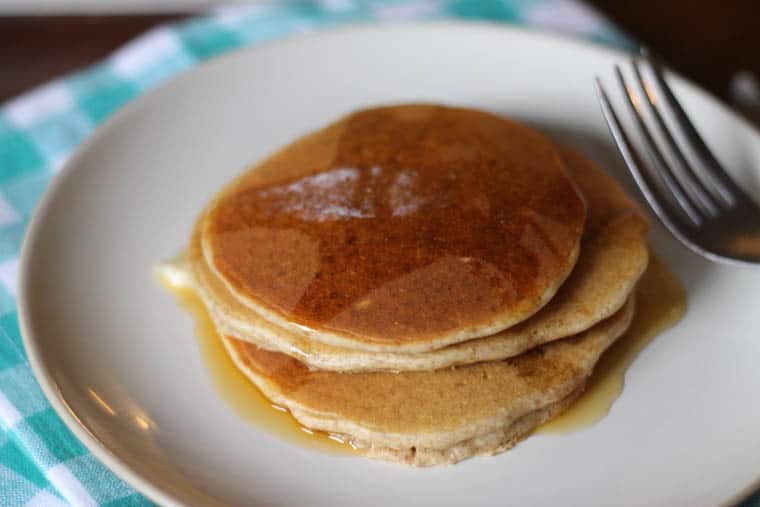 Can I Freeze Oatmeal Pancake Mix?
YES!
After making the mix, simply store it in an airtight container and stick it in your refrigerator or freezer. The mix will be great for 3-6 months (maybe even longer if packaged well.)
How to Make Oatmeal Pancakes
When you want to make some pancakes, whisk together 1 cup of mix, about 3/4 cup of milk and one egg. The mixture may seem thin at first but the oats will soak up the milk and it thickens as it stands. If it seems too thick, just add more milk. If it seems too thin, just add more mix. It's hard to mess up!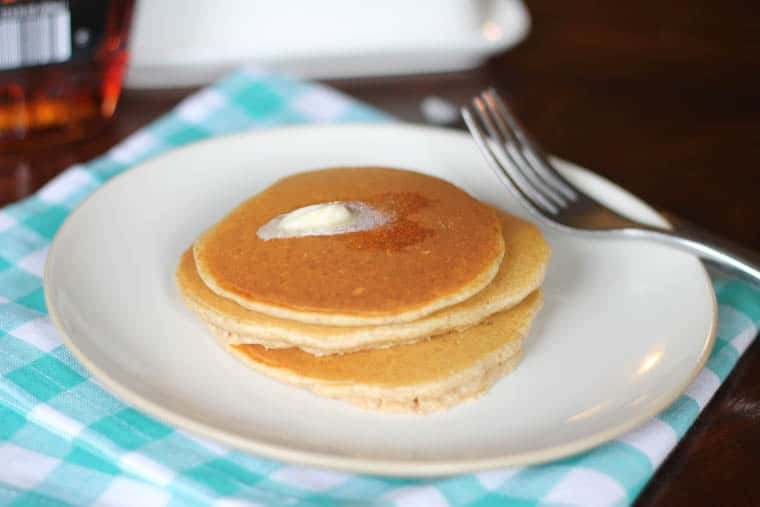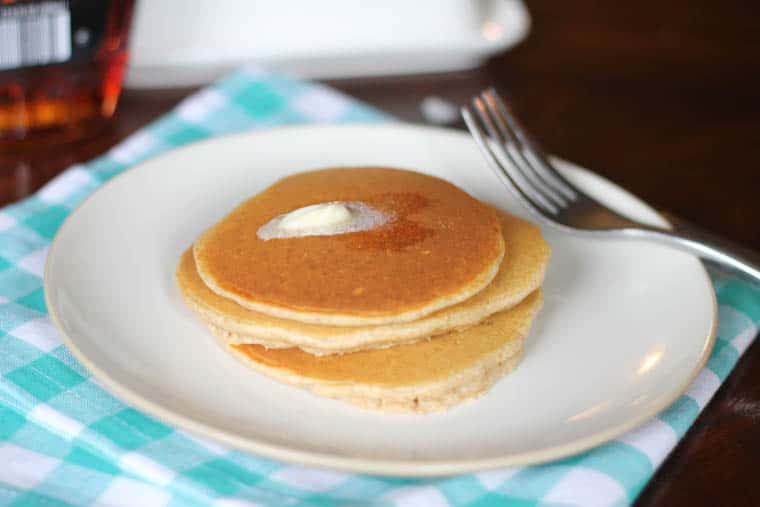 Pair these pancakes with one of our smoothies and you'll have one healthy & delicious breakfast!
Did you make this? Snap a photo and tag us on Instagram at @thrivinghome so we can see your creations and cheer you on!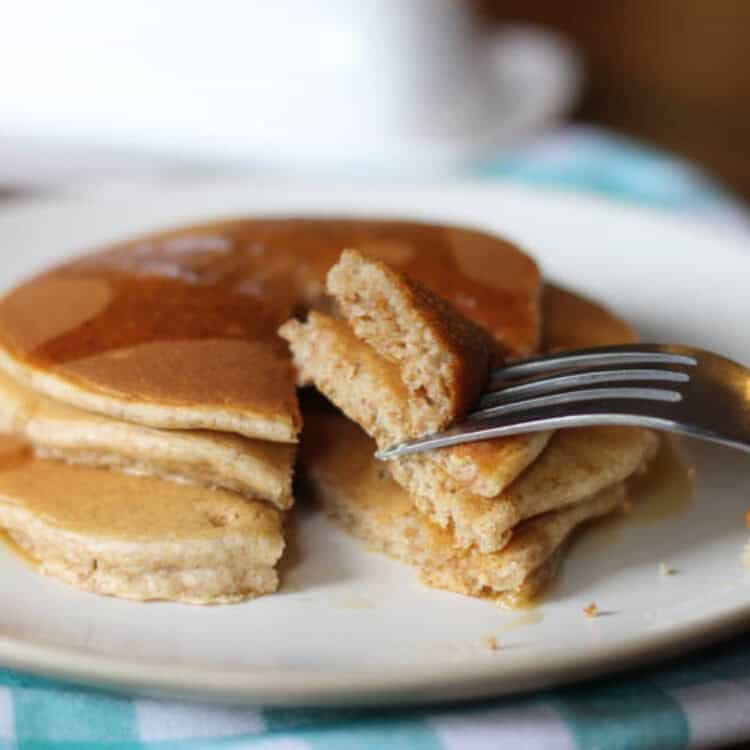 Oatmeal Pancake Mix
This oatmeal pancake recipe is packed with high quality ingredients that will satisfy all your hungry eaters. Make a batch to throw in the freezer and pull out for a fantastic homemade breakfast!
Yield:
about

10 cups

(enough to make

60

–

70

4-inch pancakes)

1

x
Prep:
10 minutes
Cook:
3 minutes
Total:
13 minutes
Ingredients
3 1/2

cups

oats

3

cups

whole wheat flour

2

cups

all-purpose flour

3 tablespoons

sugar

3 tablespoons

baking powder

1 tablespoon

salt

1 tablespoon

baking soda

1

cup

vegetable/canola oil or melted coconut oil
Before You Begin! If you make this, please leave a review and rating letting us know how you liked this recipe! This helps our business thrive & continue providing free recipes.
To make dry mix:
Grind oats up in a blender or food processor.
Mix all the dry ingredients together in a mixer with a paddle (or by hand).
With mixer on slow speed (or gently by hand), drizzle the oil into the bowl slowly while the mixer is running.
Store in an airtight container for up to two weeks at room temperature or indefinitely in the refrigerator or freezer.
To make the pancakes:
Note: 1 cup of dry mix will make about 6-7 four-inch pancakes.
Whisk together 1 cup of mix, 3/4 cup of milk and one egg. The mixture may seem thin at first but the oats will soak up the milk as it stands while the griddle preheats. Add more milk if too thick. 
Heat a griddle and drop the batter onto it. When edges start to look dry, give them a flip! Cook until desired consistency.
---
Notes/Tips
Freezer Meal Instructions:
To Freeze: Make the mix as directed. Place into an airtight container (or gallon-sized freezer bag) and freeze.
To Prepare: Pull out desired about of mix to make pancakes. Put remaining mix back in freezer.
Make sure to serve it with our perfectly cooked bacon!