How to Turn Pancake Mix Into Waffle Mix
This post may contain affiliate or sponsored links. Please read our disclosure policy.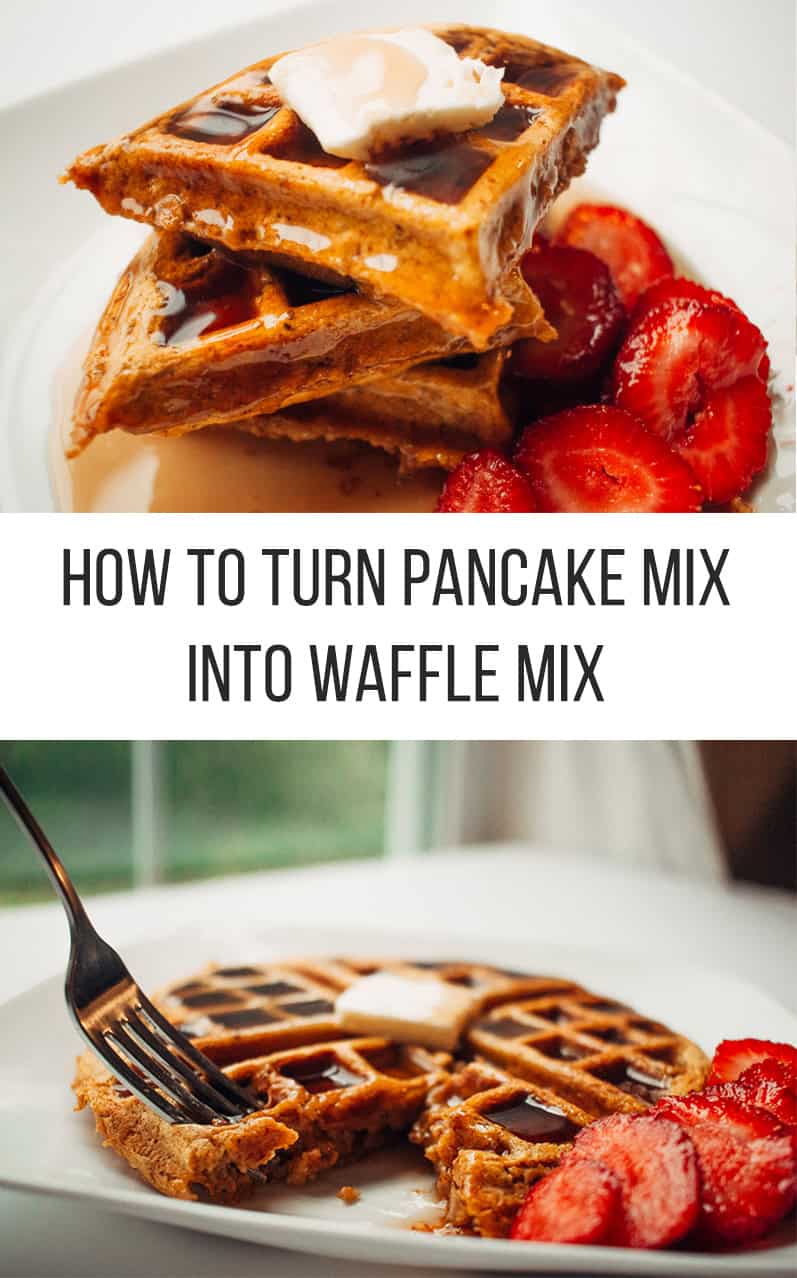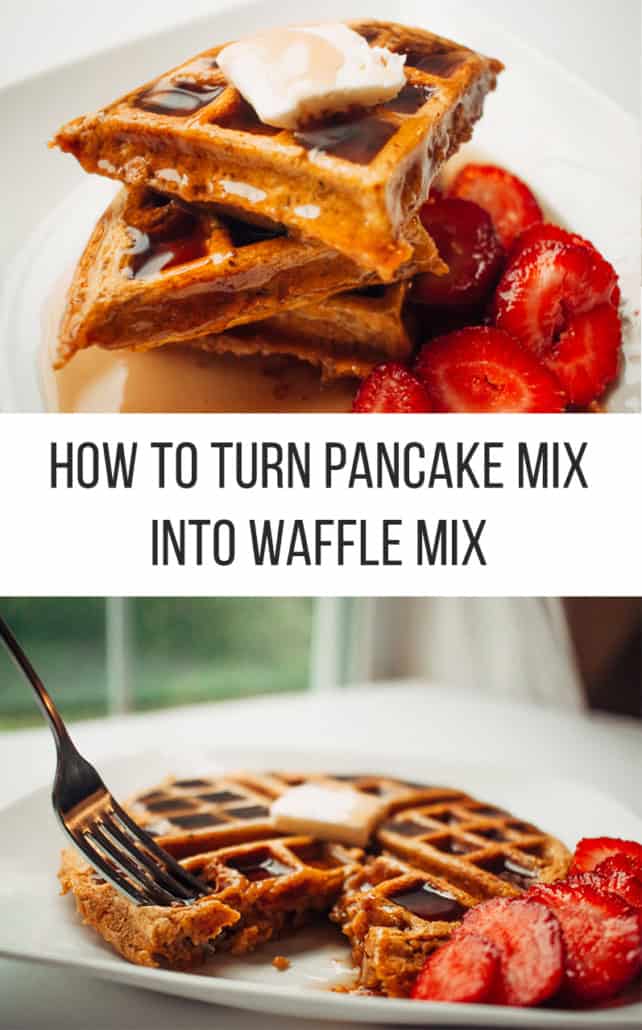 One of the most common recipes that I use from our recipe index is our Oatmeal Pancake Mix recipe. Ever since I stumbled on this recipe a few years ago, I haven't used any other pancake mix. My family loves it. I love it too. Not only does it have a hearty flavor and texture, but it is made with wheat flour and oats. It's delicious, filling and healthy. I always make a few batches and freeze them for an easy, healthy make-ahead breakfast.
Well, the other morning was a waffle morning. I don't know what made it a waffle morning. It just was. My husband suggested that we use our favorite pancake mix to make the waffles. I initially scoffed at his idea thinking it wouldn't work but immediately began to do a little research on how to transform a pancake mix into waffles mix.
Turns out, it is super easy. In order for pancake mix to take form and not stick as they become waffles, they just need a little extra fat in the mix. All I did was add a little oil (I used coconut oil) to the recipe and the waffles turned out beautifully!
How to Turn Pancake Mix Into Waffle Mix
To use your pancake mix to make waffles, you'll need to add a little extra oil to use it as a waffle recipe.
Here's the formula: For every cup of dry pancake mix, just add 2 extra tablespoons of oil.
So for example, since we usually use two cups of dry mix for our oatmeal pancakes, I added 4 tablespoons of oil to the batch.
With bellies full of waffles, we were all set to take on the day ahead!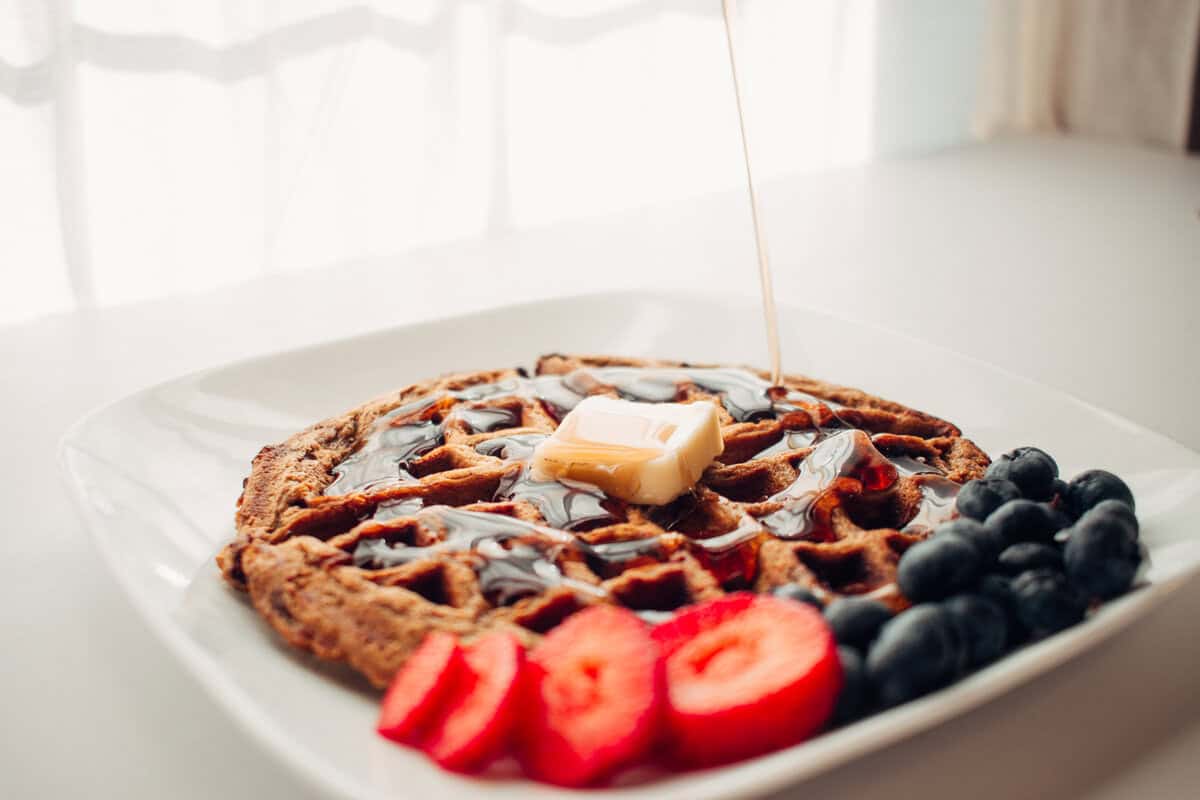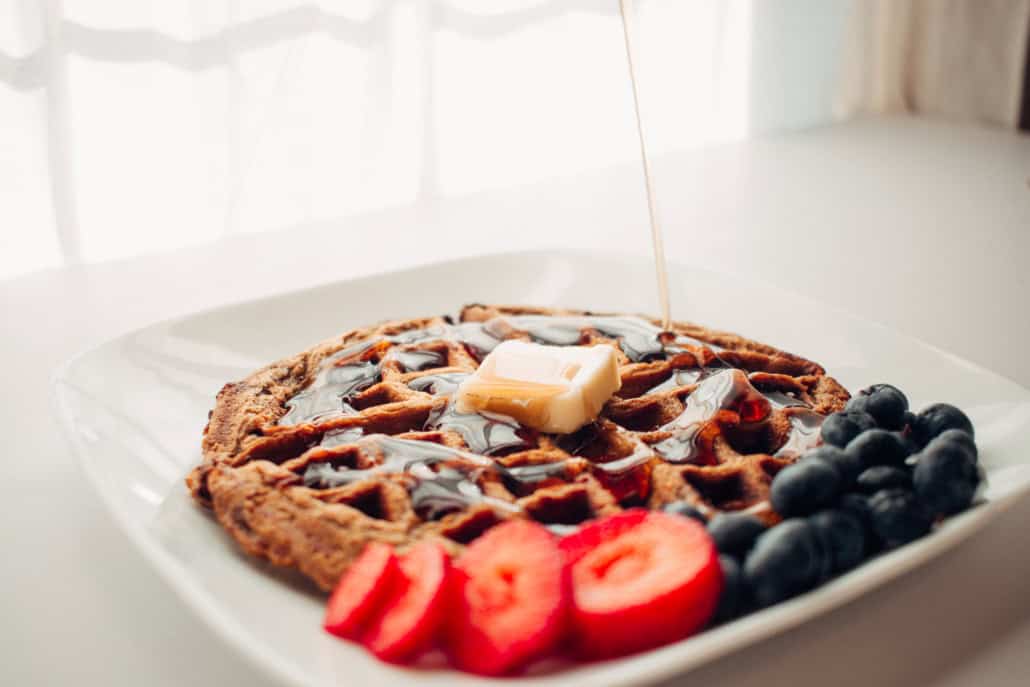 Since you are clearly in the waffle making business at the moment, here are a few tips to make your waffles AWESOME.
Note: We are a participant in the Amazon Services LLC Associates Program, an affiliate advertising program designed to provide a means for us to earn fees by linking to Amazon.com and affiliated sites. Read our full disclosure policy here.
Strike while the iron is HOT! If your waffles come out a little pale and soft, it could be because the waffle maker you're using isn't hot enough. It's important to preheat the waffle maker for at least 5-10 minutes. Yes, seriously that long! Also, pause for a couple minutes between batches to let the iron heat up again.
Opt for oil instead of butter. For crispier waffles, use vegetable oil or coconut oil instead of melted butter in your recipe. Unlike butter, oil doesn't have any water content, which adds moisture and hinders a crust from forming.
Freeze your extra waffles! To reheat, let them thaw and just pop them in the toaster oven or toaster. You won't even know they were frozen.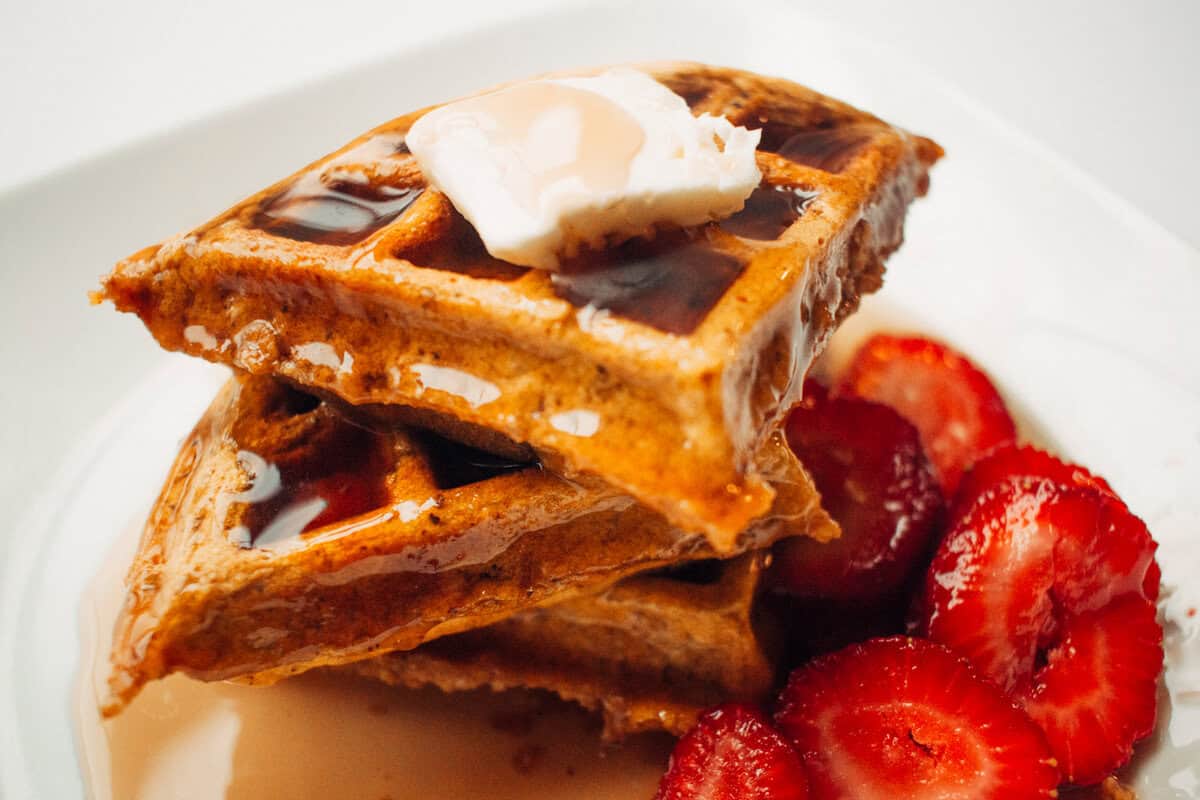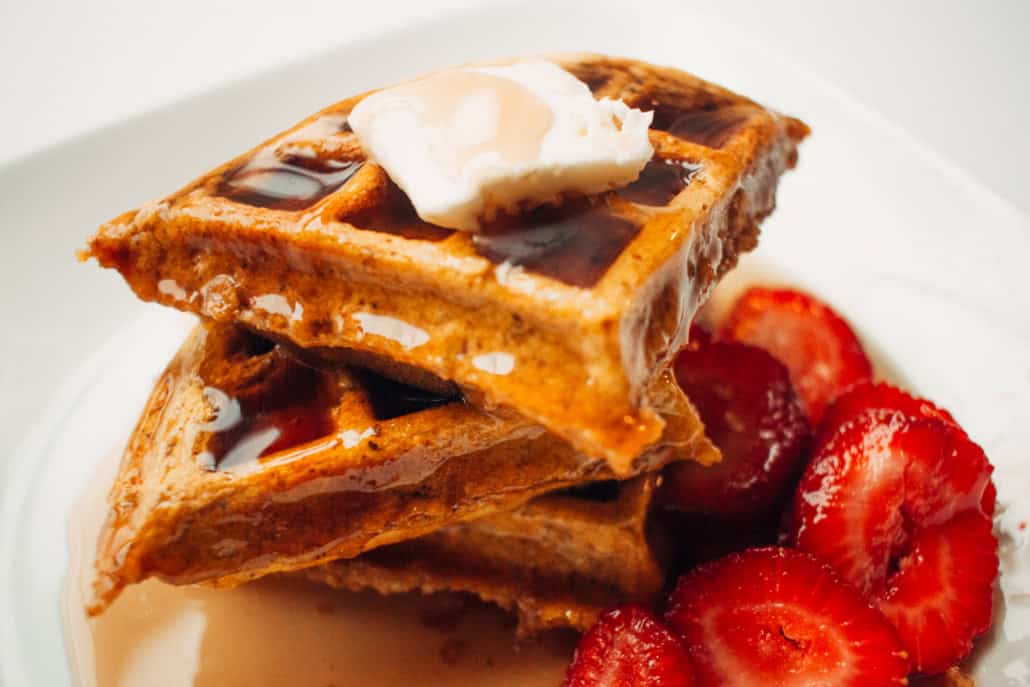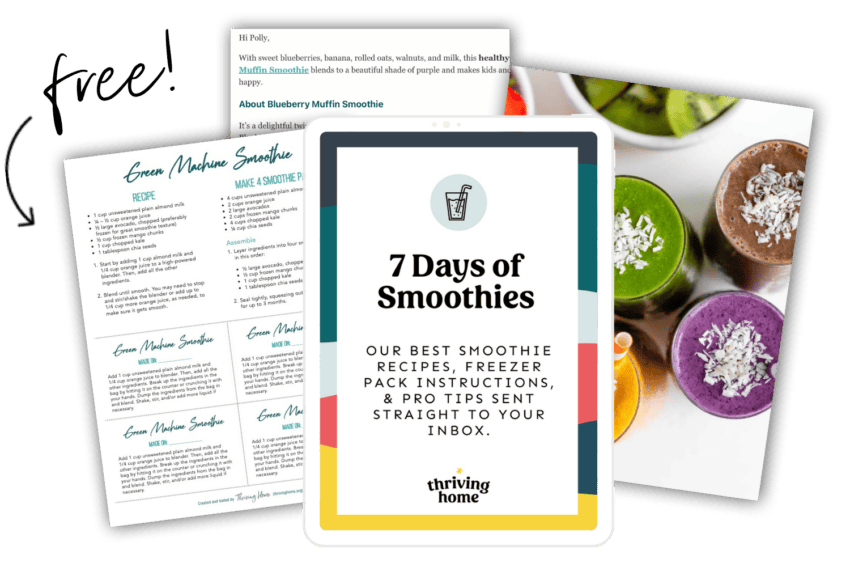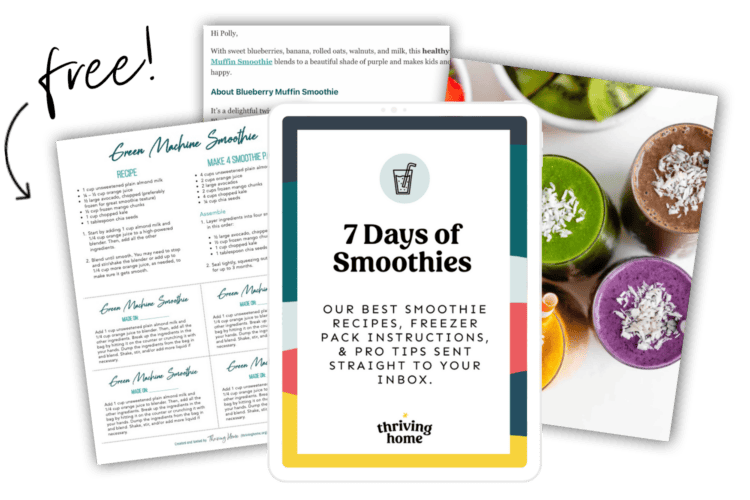 7 Must Have Smoothie Recipes
Get our best smoothie recipes, freezer pack instructions, & pro tips sent straight to your inbox.
Did you make this? Snap a photo and tag us on Instagram at @thrivinghome so we can see your creations and cheer you on!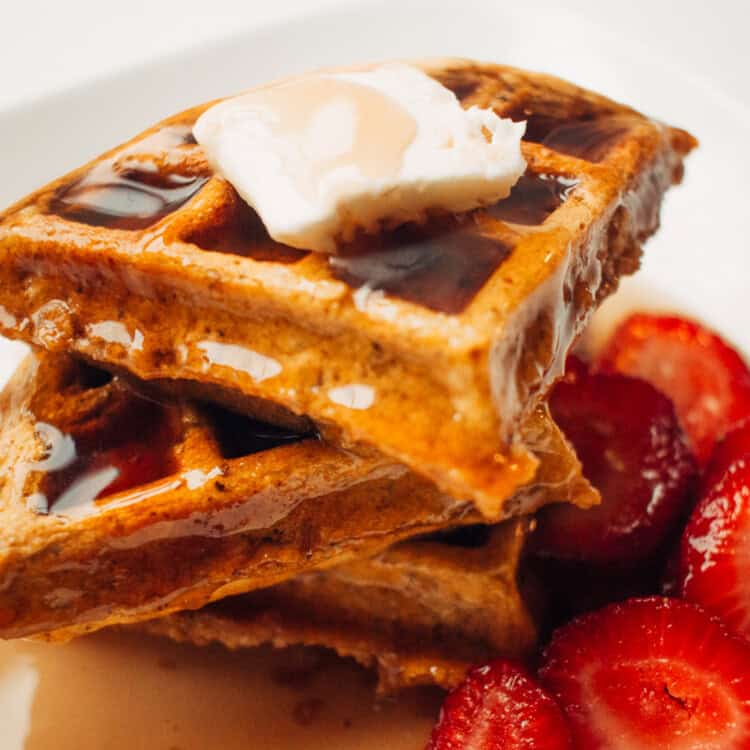 How to Turn Pancake Mix Into Waffle Mix
This is a simple way to transform pancake mix into waffle mix. You will have yourself a heart, filling, delicious mix!
Prep:
1 minute
Cook:
5 minutes
Total:
6 minutes
Ingredients
1

cup

of favorite pancake dry mix (Try our delicious and healthy oatmeal pancake mix!)

2 tablespoons

cooking oil (i.e. melted coconut oil, avocado oil, etc.)
The liquid or other ingredients listed on your pancake mix box/recipe (i.e. water, milk, eggs)
Before You Begin! If you make this, please leave a review and rating letting us know how you liked this recipe! This helps our business thrive & continue providing free recipes.
For each 1 cup of dry pancake mix, add 2 tablespoons of oil. Then, stir in the additional liquid/ingredients that are listed in the recipe or on the box until combined.
Add just enough waffle batter to cover the waffle iron and cook about 3 minutes or until done. (Check your waffle iron's instructions .)
---
Notes/Tips
Nutrition values calculated from 4 cups of pancake mix with 1/2 cup oil.
Want some other waffle recipes? Here are a few you might like:
Whole Wheat Pumpkin Chocolate Waffles
Double Chocolate Zucchini Waffles