This post may contain affiliate or sponsored links. Please read our disclosure policy.
This Baked Omelette is a high-protein, gluten-free, delicious breakfast to prep ahead for the week. Customize the add-ins to your liking and double the batch to freeze an unbaked one for later.
"Had this last week and it's in the oven again for tonight! Loved it that much! AND it was SO easy!" ⭐️⭐️⭐️⭐️⭐️ – Jen
Disclaimer: This post was created in partnership with Hy-Vee (Columbia).
Wait…You Can Bake an Omelette?
When you hear the word "omelette", you likely think of the stovetop egg dish and not of a casserole-style recipe. But, we're shaking things up and giving you an oven-baked version of this classic recipe.
You'll find that a baked omelette is just as easy and yields equally delicious results. Plus, it can make enough "omelettes" for the whole family or a group. You can even use slices of it to make Breakfast Sandwiches.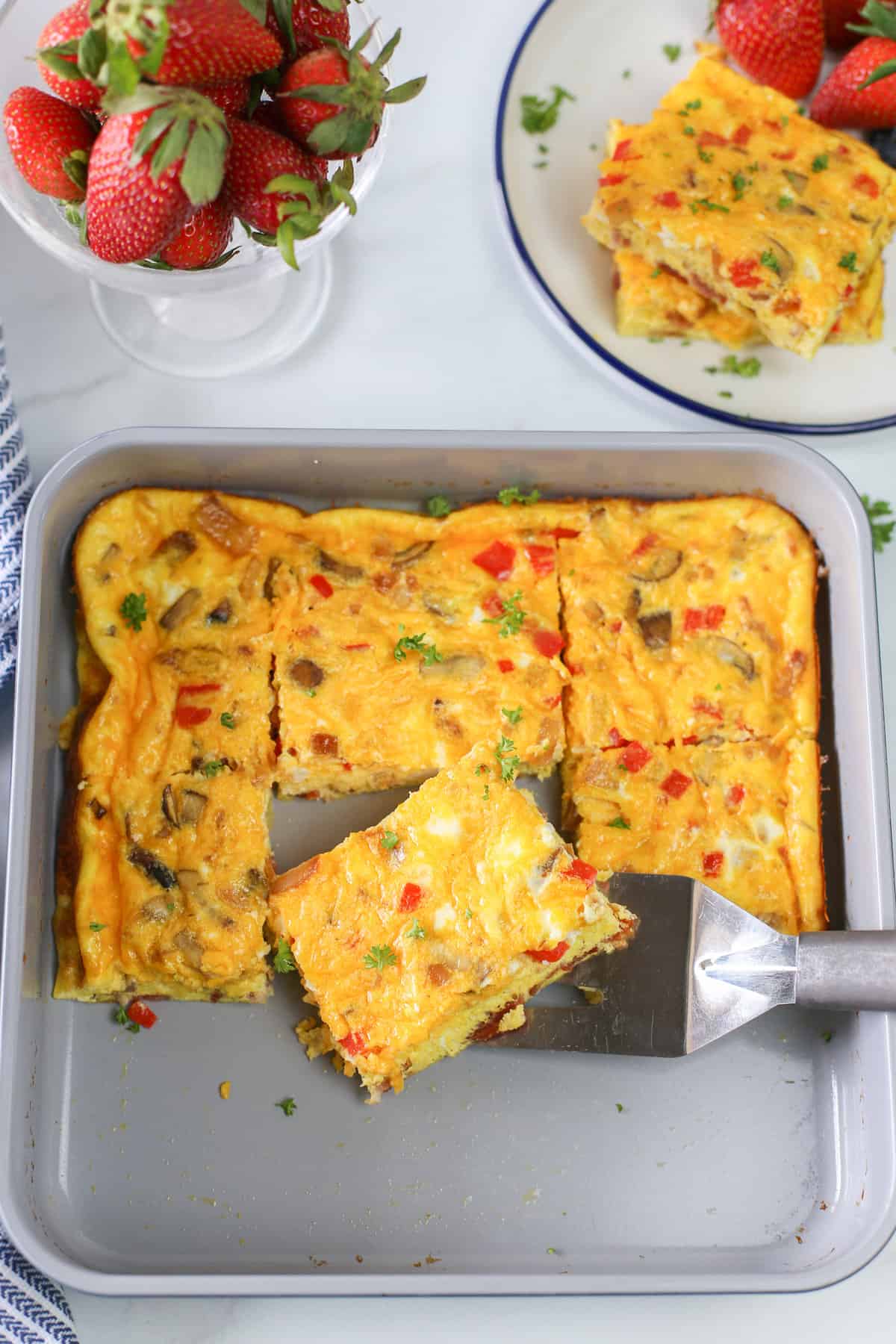 Where to Get Your Ingredients
We suggest grabbing the ingredients for this recipe at your local Hy-Vee, since they are well-stocked year-round. The employees are always so helpful, if you have any questions. Save time by ordering your groceries for pick up or delivery using Aisles Online.
One of the beauties of this recipe is that the ingredients are easily customized to your liking. As long as you keep the ratios in our recipe below, your Oven Omelette will come out moist and tasty!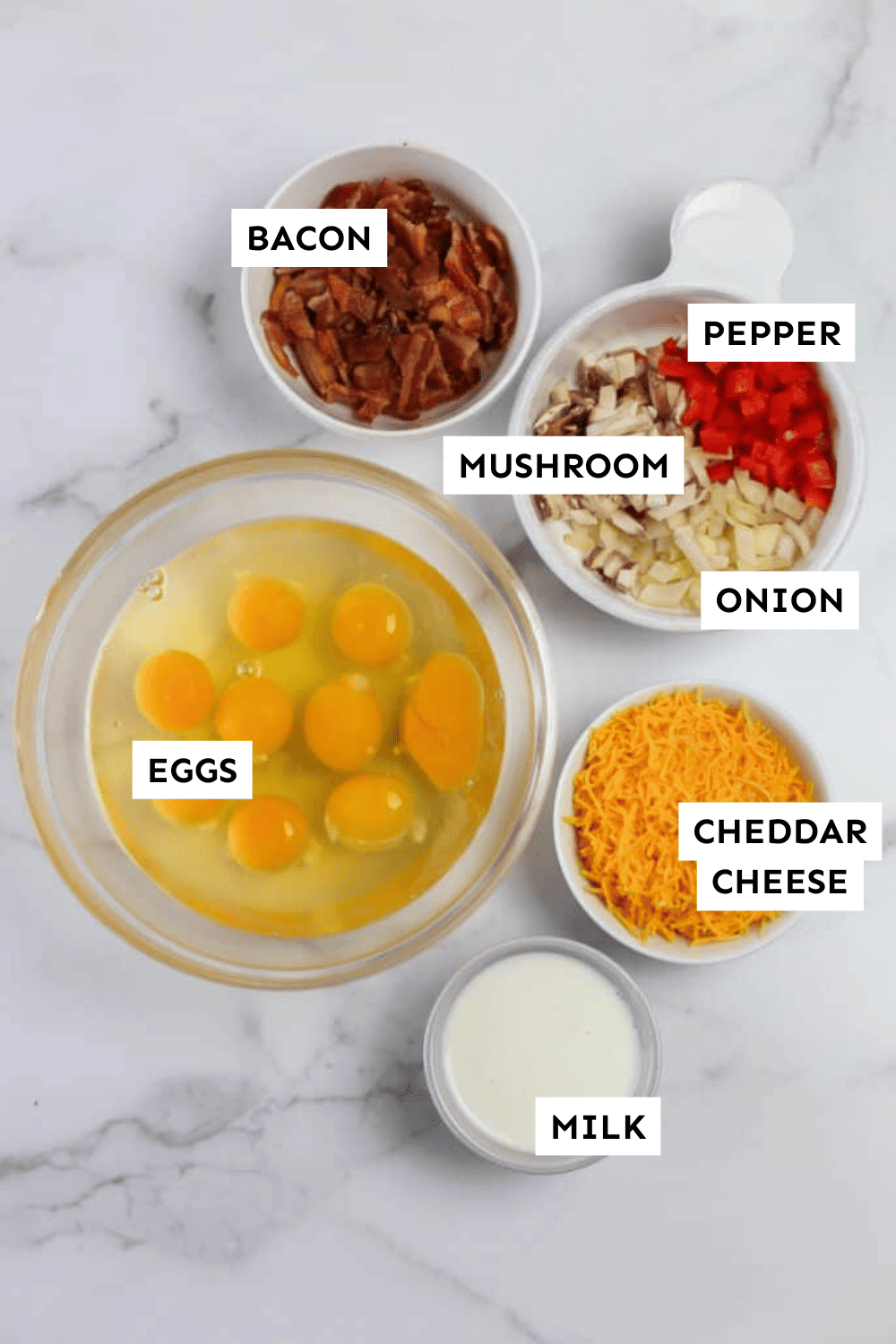 Here are the 5 main ingredients you will need from Hy-Vee to get started…
Eggs – We used large eggs in this recipe.
Cheese – While shredded cheddar is great, you can mix up the cheese you use. I've tested with feta, and it's delicious!
Milk – I've tested with 2% milk, half and half, and almond milk. All work!
Veggies – You can use none, one, or several vegetables in your omelette. Some veggies like chopped spinach, fresh herbs, or roasted red peppers can go straight into the egg mixture uncooked. However, most veggies will need to be sautéed in advance, so they won't turn out undercooked and crunchy. Here are some you will need to saute first:

Mushrooms
Zucchini
Asparagus

Cooked breakfast meat – Again, choose your own adventure. Or just add more veggies if you want to make it vegetarian. Here are some ideas: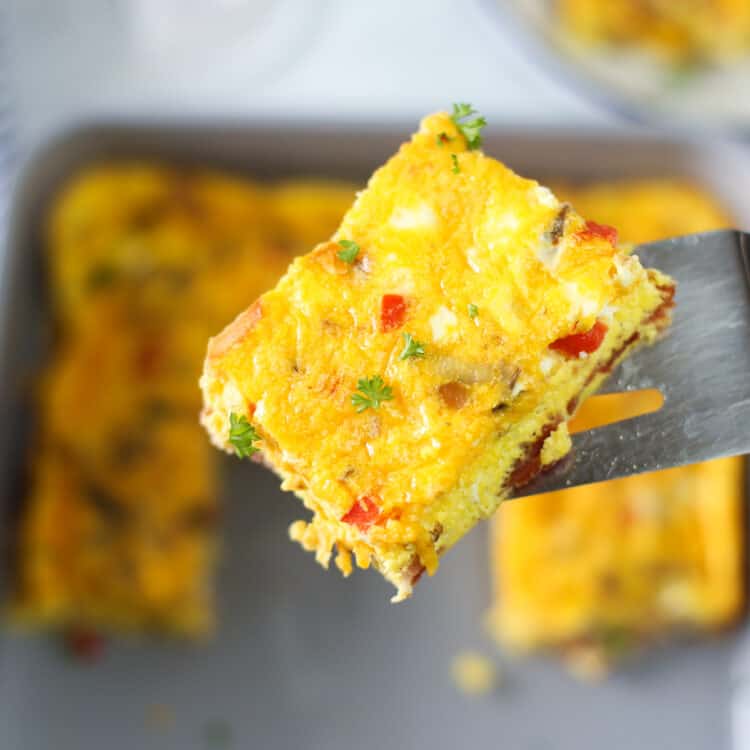 Tip: Cook Once and Eat All Week!
You can easily double this recipe and store the leftovers in the fridge for busy week mornings. It works perfectly as a grab and go breakfast.
See More Make Ahead Breakfast Ideas
How to Make a Baked Omelette
In a large mixing bowl, beat the eggs and milk until combined. Stir in cheese.
Now add your cooked and cooled veggies and meat.
Note: If you want to add spinach, this would be the time to do it.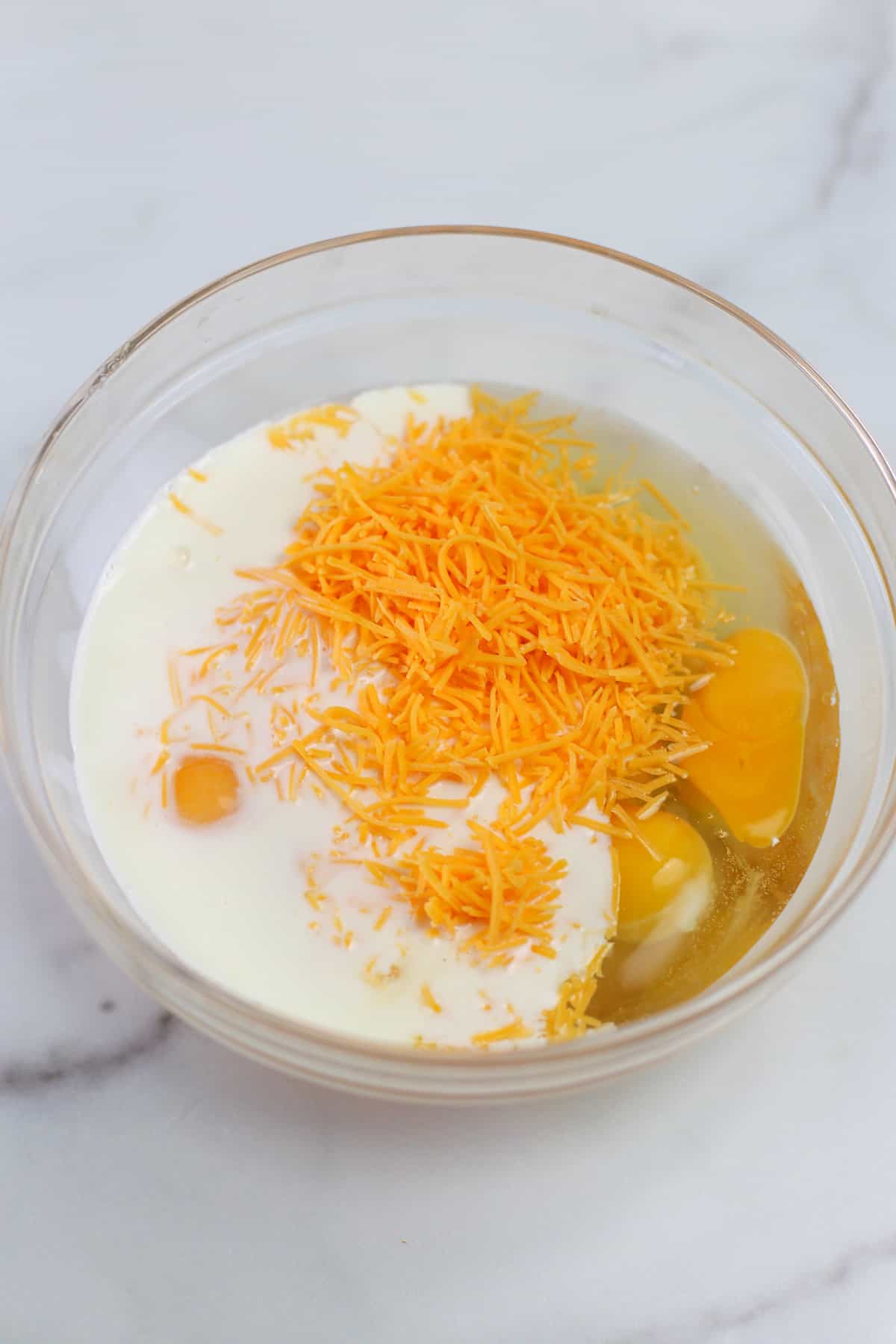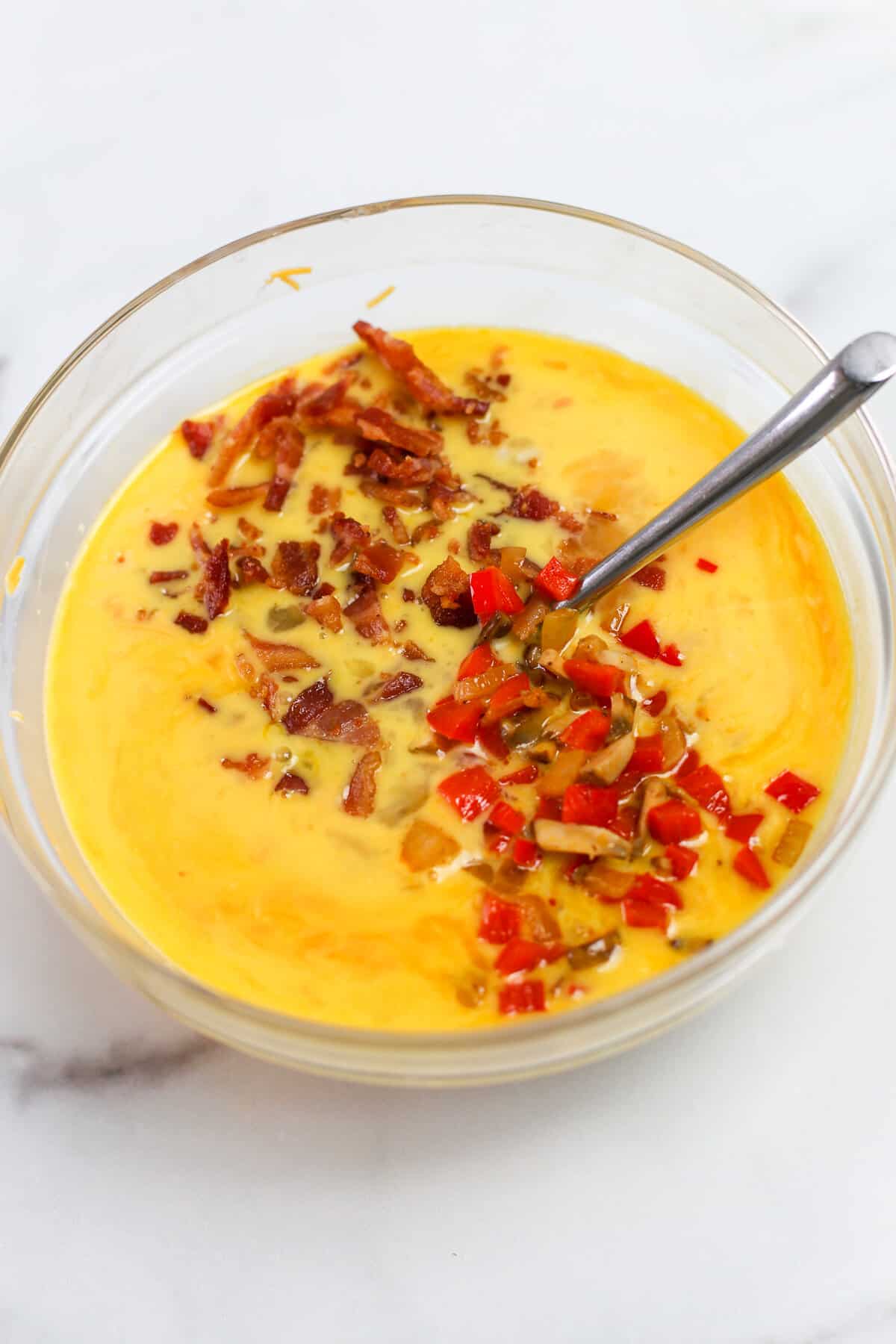 You will add your ingredients to a greased 9-inch baking pan. This can be glass or metal. If using glass, you might have to add a few minutes to our cooking time.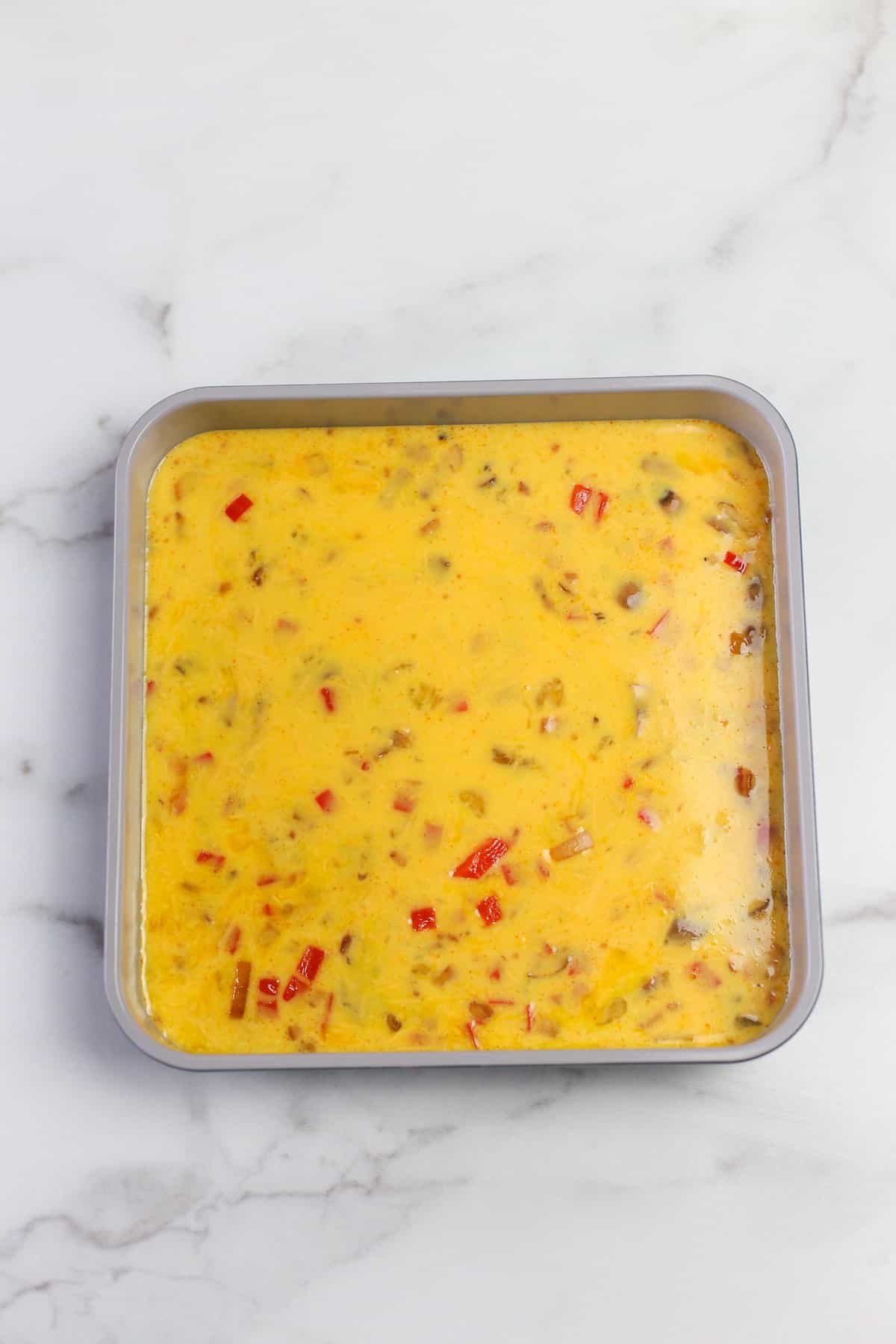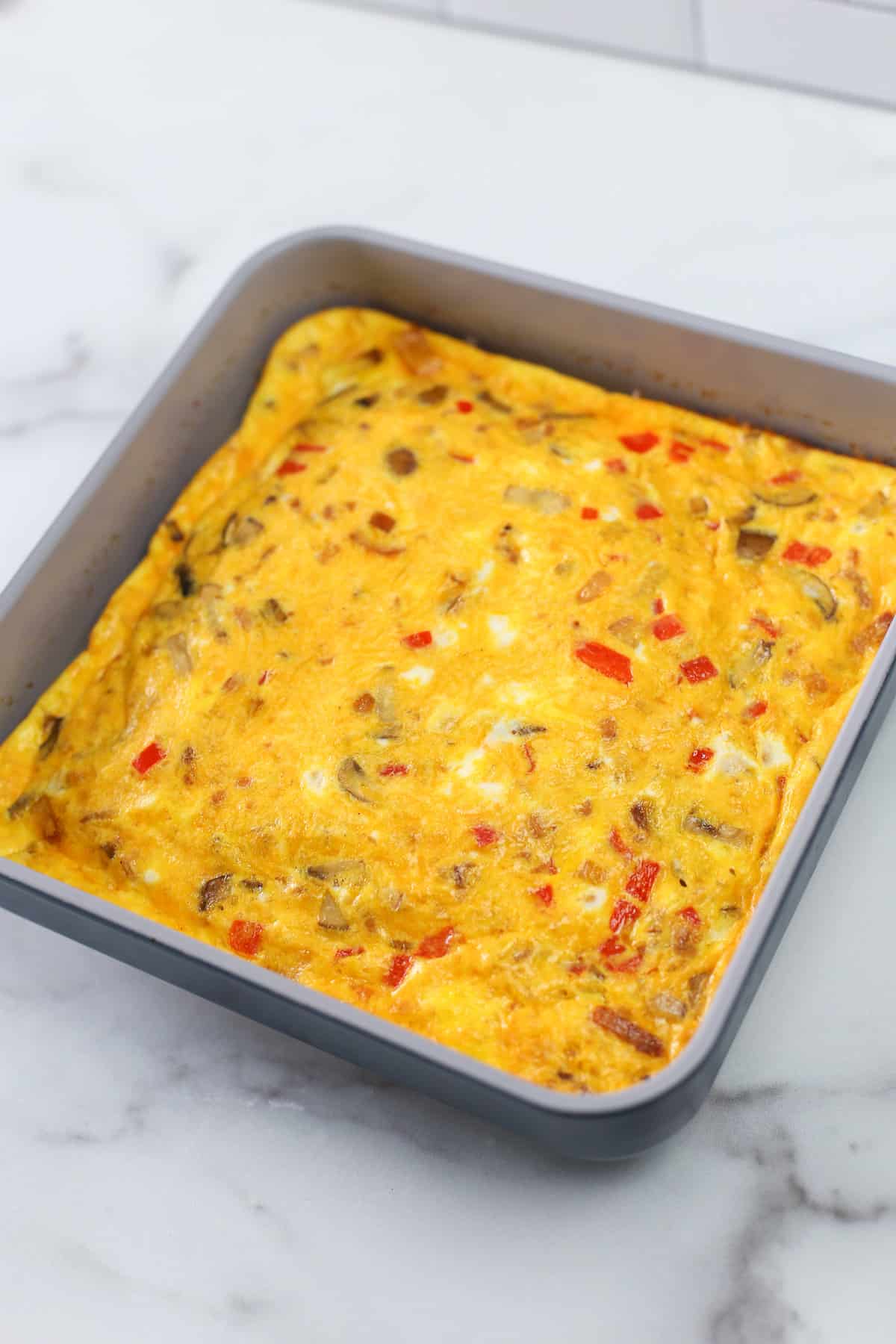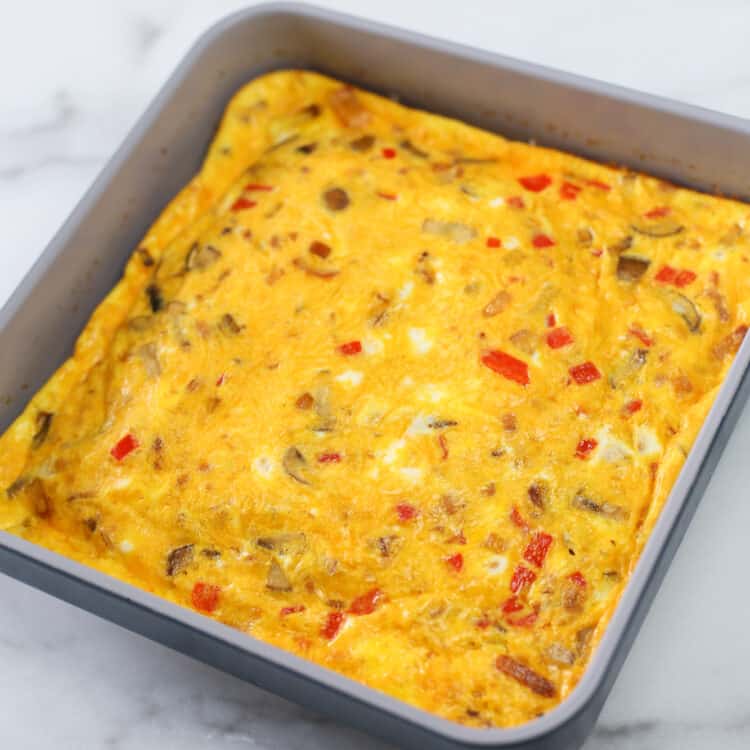 My Favorite Baking Pan
I can't say enough good things about our Caraway Bakeware. I didn't even have to use cooking spray for this recipe. The nonstick ceramic does all of the work for me!
Learn More About Caraway
While the oven omelette is its very best right out of the oven, it makes great leftovers too. Serve it with our Classic Fruit Salad or one of our 7 Smoothies for a perfectly well-rounded breakfast!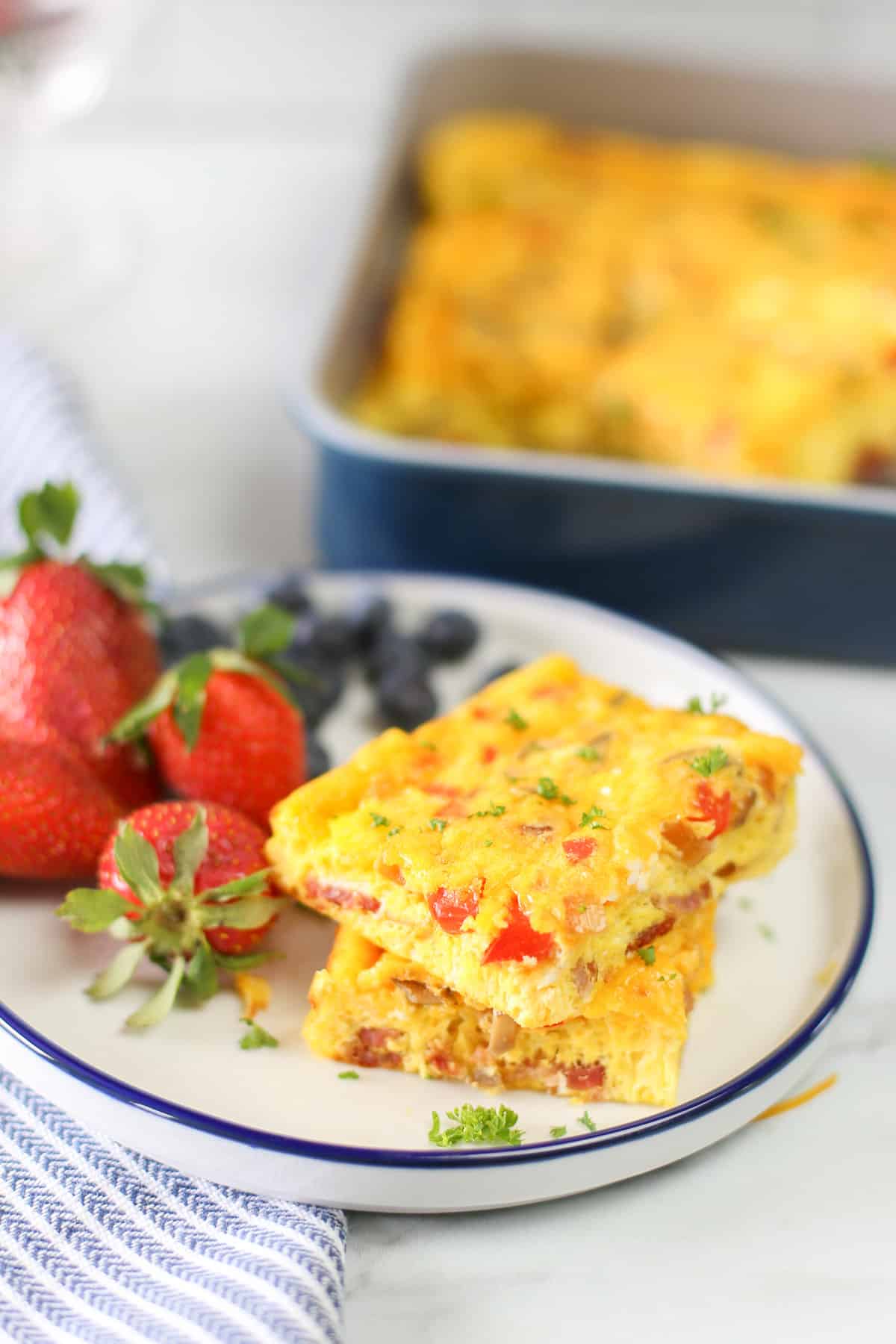 Make It a Freezer Meal
You've come to the right place if you're looking for make-ahead freezer meals.
Not only have we written two freezer meal cookbooks, but we also have some amazing 1 Hour Freezer Prep Plans that walk you through how to make 6 meals in one hour.
Like so many of our freezer meal recipes, this egg dish will work beautifully as a make ahead breakfast.
To Freeze:
Assemble all of the ingredients together in a freezer container or freezer bag. Do not bake. Seal and freeze.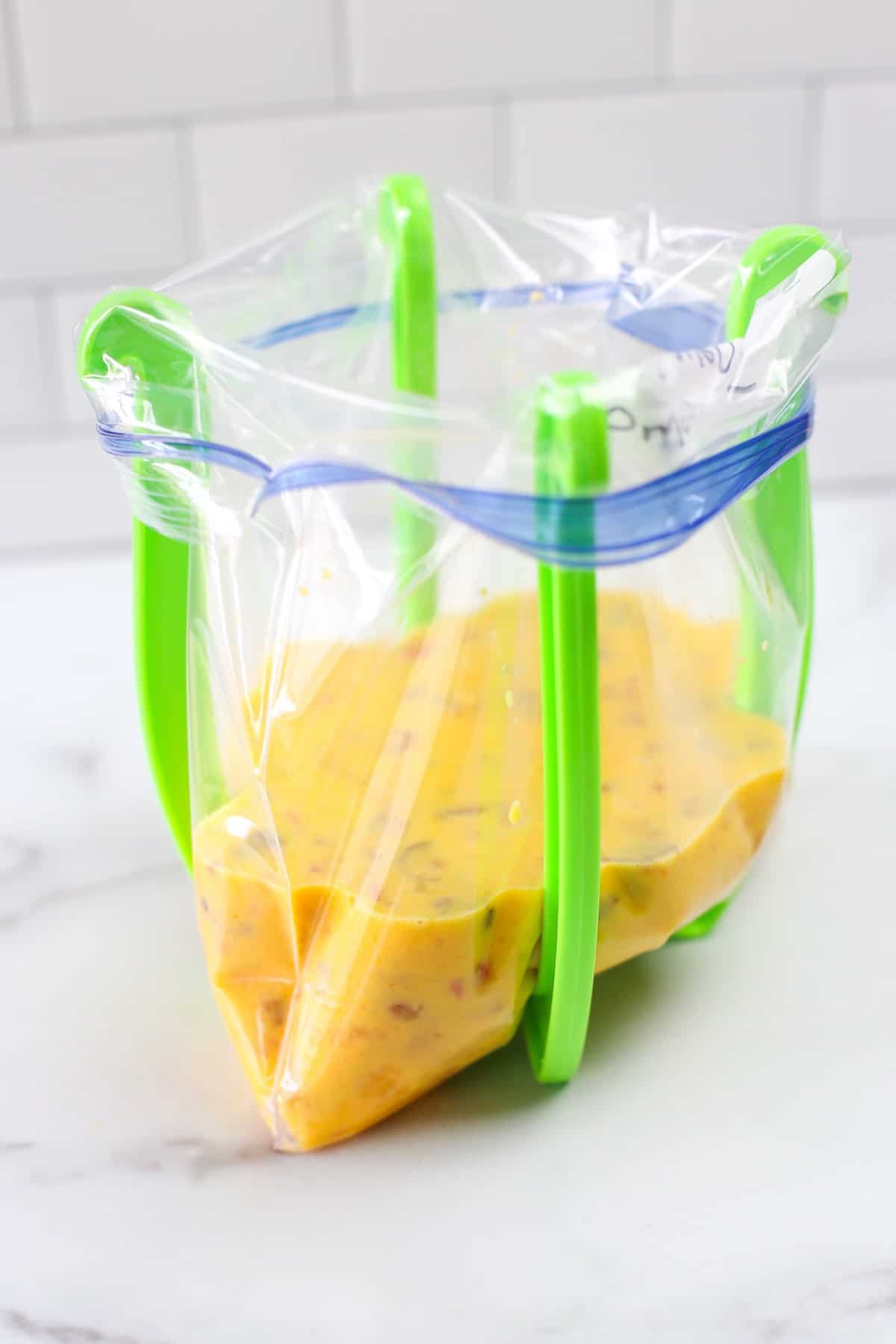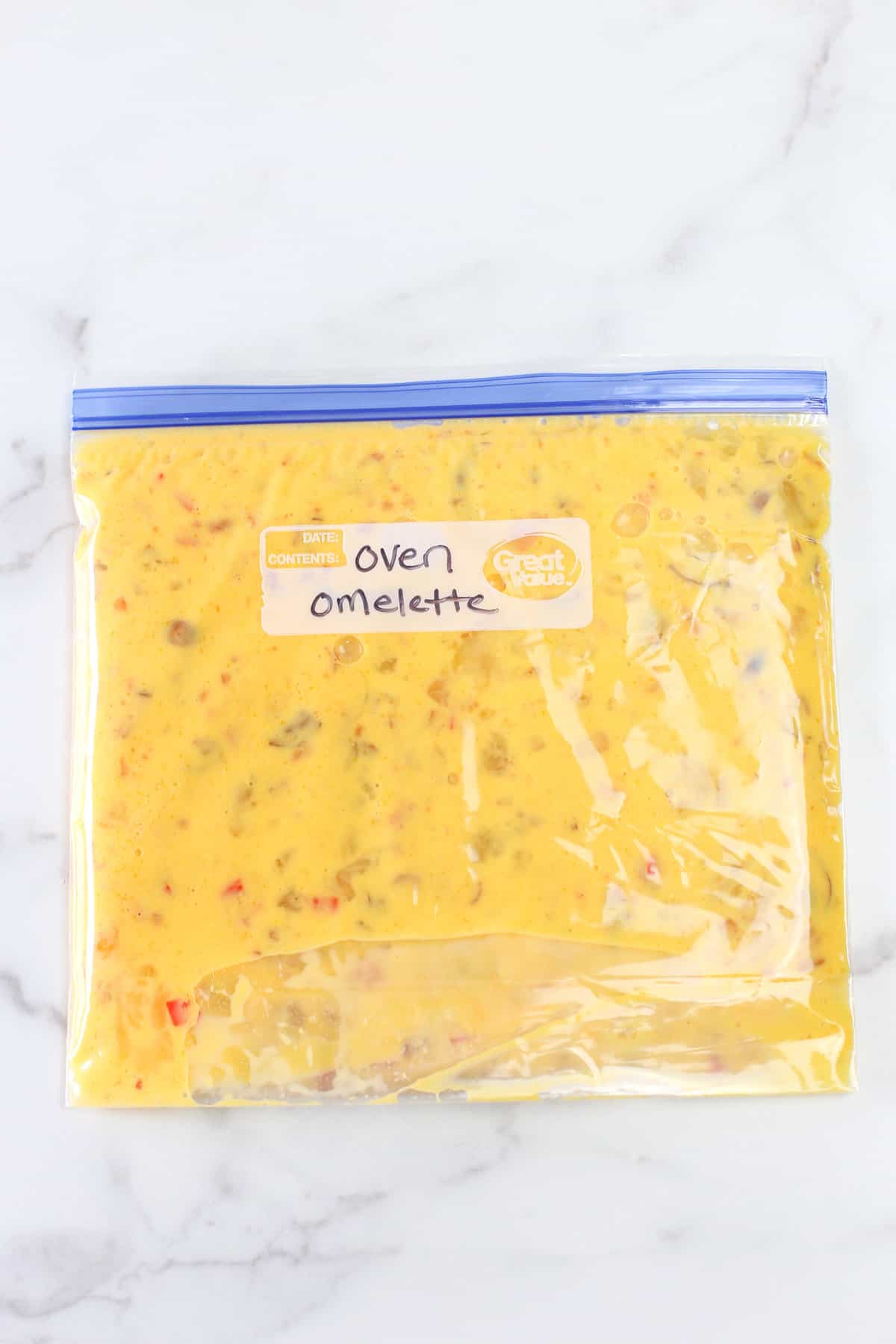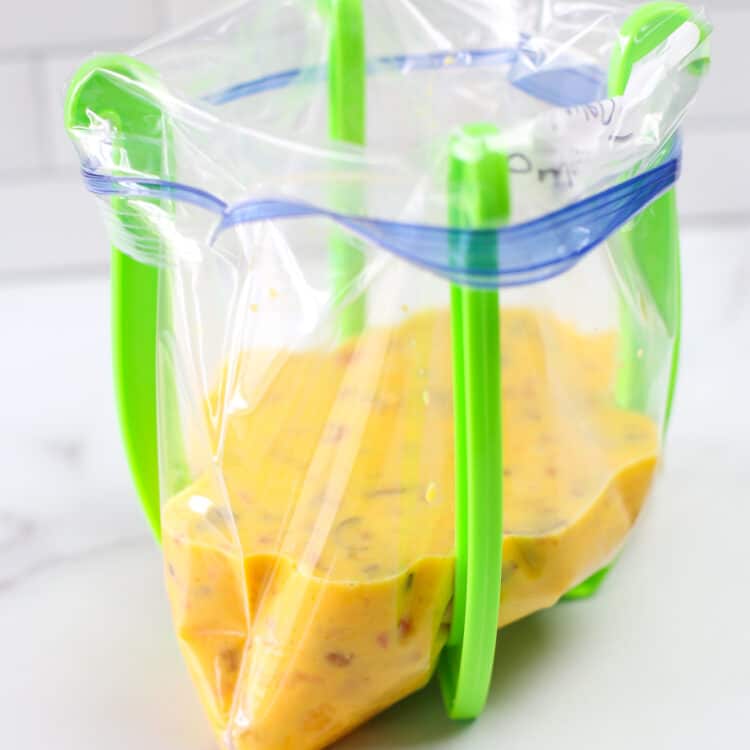 Bagwell Freezer Bag Stand
When a freezer meal recipe is large or has lots of liquid, I have found that this particular bag stand works best. It's more secure and less prone to slipping or tipping over. Check it out!
Learn More
Can I make this baked omelette without vegetables?
Absolutely! Just omit the veggies from the recipe and feel free to add more meat, if desired.
How do I make a vegetarian baked omelette?
To make this recipe vegetarian, simple leave out the cooked meat. Instead, add more sautéed vegetables like chopped bell peppers, onions, mushrooms, sweet potatoes, potatoes, etc. Or add fresh chopped spinach and herbs, such as parsley or basil, without sautéing first.
Can I make a baked omelette ahead of time?
Yes, a baked omelette is a great recipe to make ahead for the week. Once it's baked and cooled, cover and store it in the refrigerator for up to 3-4 days. When you're ready to serve, you can reheat slices in the microwave or a preheated oven.

More Make Ahead Breakast Recipes
See More
Did you make this? Snap a photo and tag us on Instagram at @thrivinghome so we can see your creations and cheer you on!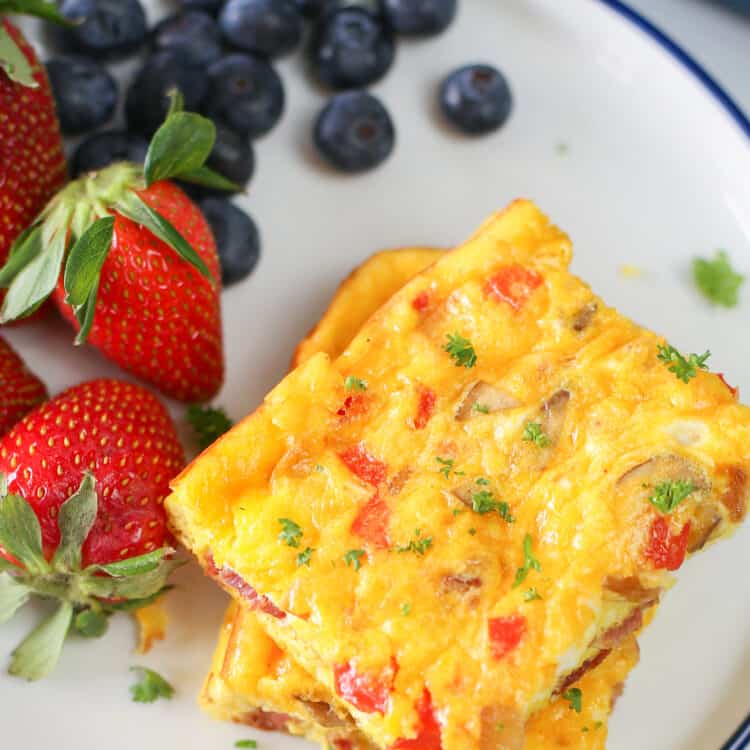 Baked Omelette
This Baked Omelette is a high-protein, gluten-free, delicious breakfast to prep ahead for the week. Customize the add-ins to your liking and double the batch to freeze an unbaked one for later.
Prep:
10 minutes
Cook:
20 minutes
Total:
30 minutes
Ingredients
Cooking spray

1 1/2 teaspoons

avocado oil or olive oil

1

cup

diced veggies, like bell peppers, onion, mushrooms, zucchini, kale, etc.

9

large eggs

1/2

cup

whole milk (sub: plain dairy-free milk)

1

cup

shredded cheddar cheese (sub: feta crumbles, shredded Swiss, Colby jack or pepper jack)

1/2

–

1

cup

cooked breakfast meat, like chopped deli ham, crumbled breakfast sausage, or chopped bacon

1/2 teaspoon

salt

1/4 teaspoon

pepper
Optional: fresh chopped spinach or herbs like parsley or basil
Before You Begin! If you make this, please leave a review and rating letting us know how you liked this recipe! This helps our business thrive & continue providing free recipes.
Instructions
Make It Now:
Prep: Preheat oven to 400°F degrees. Grease an 8×8 or 9×9 casserole dish with cooking spray. 
Saute Veggies: In a medium skillet, heat the oil over medium-high heat until shimmery. Add the diced veggies. Season lightly with salt and pepper. Stir occasionally until the vegetables are softened, about 4-5 minutes. Remove from heat and set aside. (This would also be a good time to cook the meat, if it isn't already.)
Combine: In a large mixing bowl, beat the eggs and milk until combined. Stir in cheese, veggies, and cooked meat. Note: If you want to add fresh chopped spinach or herbs, this would be the time to do it.
Bake: Pour egg mixture into the casserole dish. Bake for 20-25 minutes, just until eggs are set in the middle. Let cool slightly before slicing.
Freeze For Later: Follow Steps 2-3. Pour the batter into a gallon-size freezer bag or into a greased square casserole dish with lid. Seal tightly and freeze. (Tip: Freeze the freezer bag on a sheet pan. Remove pan once it's frozen.)
Prepare From Frozen: Thaw completely. Bake according to directions.
---
Notes/Tips
Dairy-Free Version: Use plain non-dairy milk (i.e. almond milk) and omit the cheese or use dairy-free cheese like Daiya brand.
Instead of sautéing the veggies, you can instead add them to a microwave-safe bowl and toss with oil. Cover with a paper towel and microwave for 4-5 minutes, until softened.
I don't recommend freezing this dish after baking, unless you cut it into slices to put on Breakfast Sandwiches. They freeze great!
My favorite baking dish for this casserole is the Caraway Square Baking Pan. If you want to freeze it in a dish and bake later, try the Oxo Freezer-to-Oven Dish.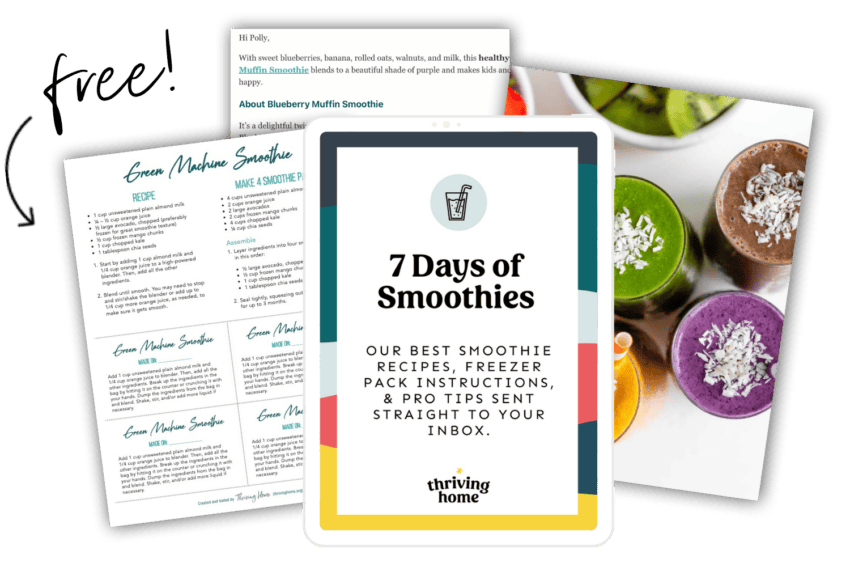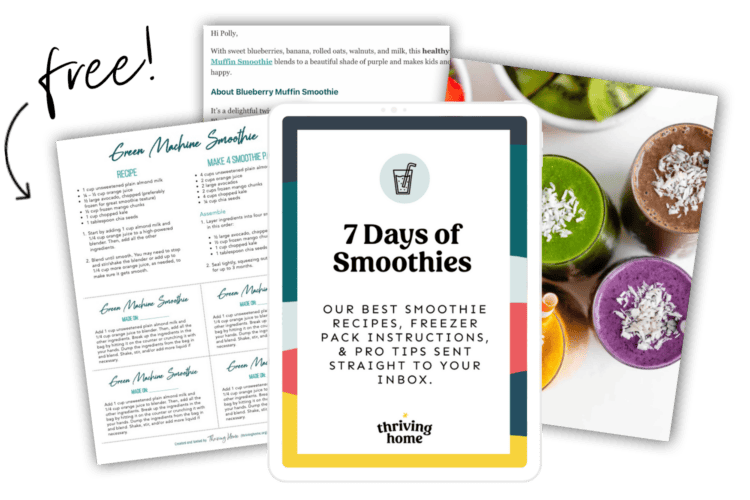 7 Must Have Smoothie Recipes
Get our best smoothie recipes, freezer pack instructions, & pro tips sent straight to your inbox.