This post may contain affiliate or sponsored links. Please read our disclosure policy.
Brownie Baked Oatmeal tastes and looks like dessert…but it's actually a fairly healthy breakfast (or lunch or dinner or snack). This recipe is a fan favorite!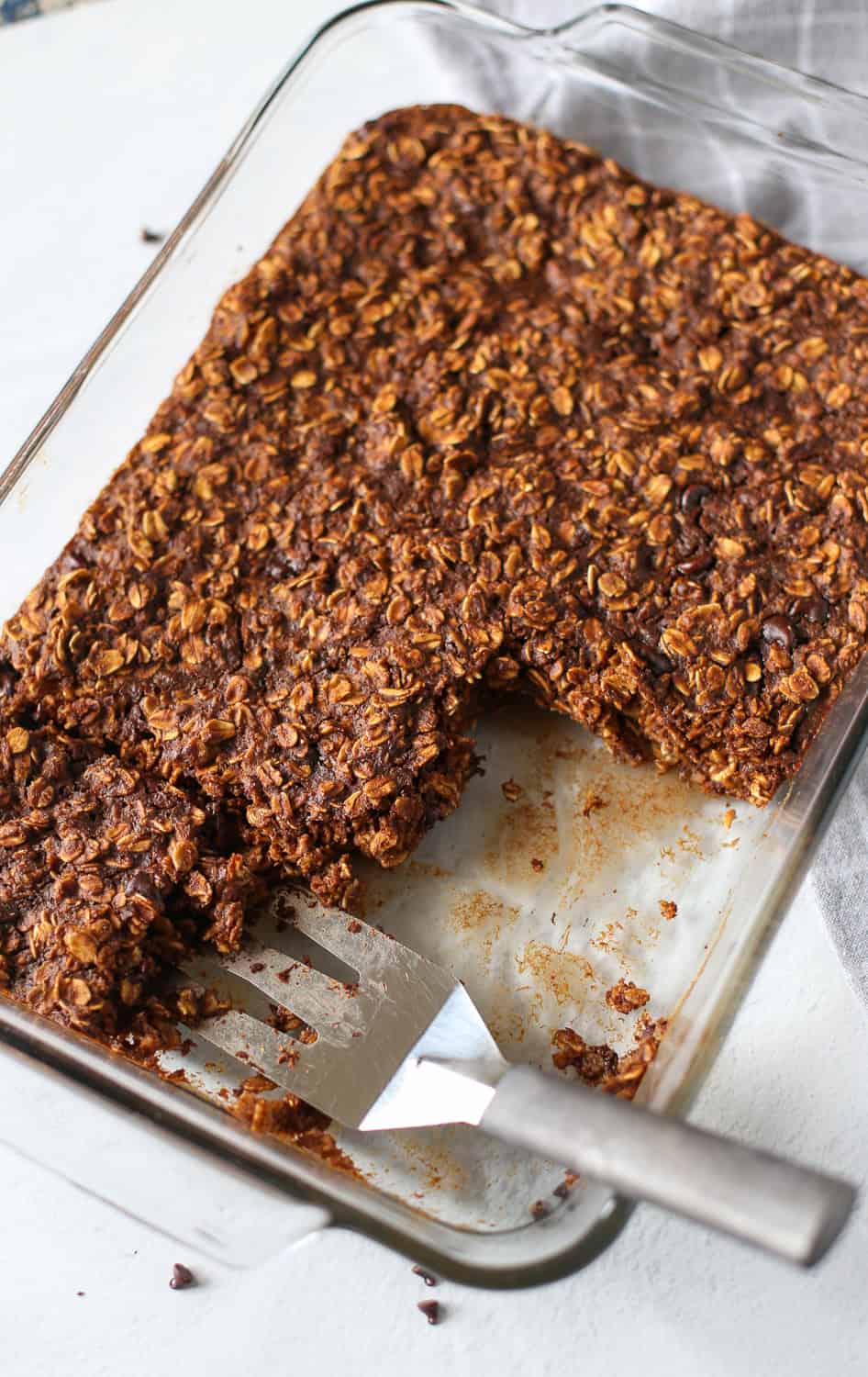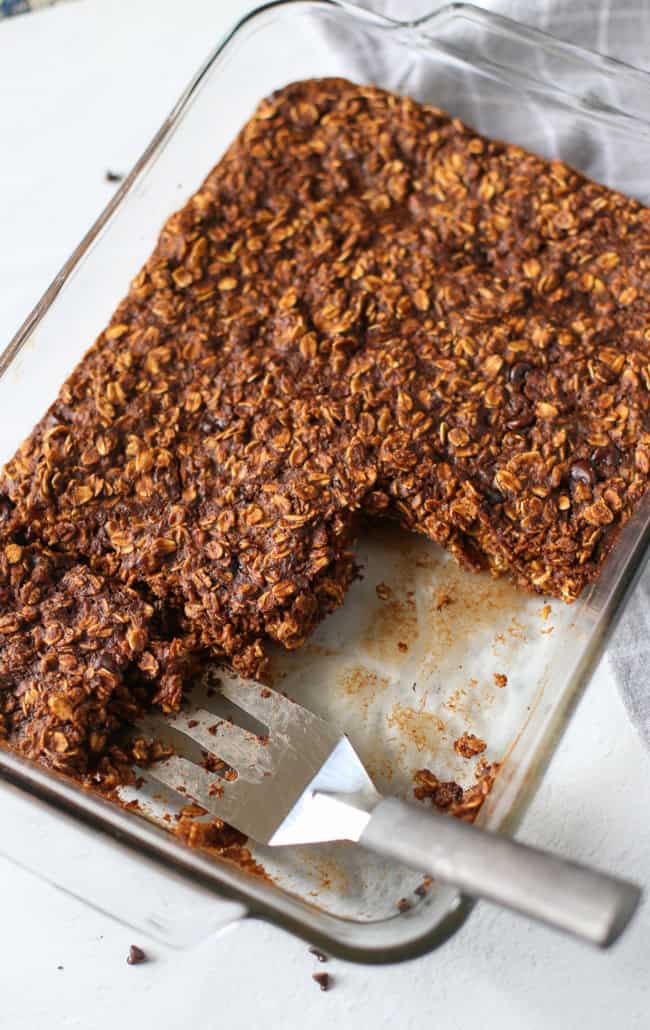 My kids and I developed this recipe many years ago, after testing several versions of this original one I made. My kids ask for this oatmeal all the time. I didn't even know they liked oatmeal very much until this came along.
Why Make Brownie Baked Oatmeal
As a mom, I'm always looking for breakfast options for my family that aren't filled with junk ingredients and that will keep us satiated all morning. This baked oatmeal does the trick! It's filled with nutritious, real food ingredients (keep reading) AND it tastes like dessert! Win-win!
Plus, you can double the recipe and freeze one for later, using our freezing instructions. We say this all the time, but making freezer meals is one of the best uses of your time in the kitchen.
Ingredients Needed
What is healthy about this Chocolate Oatmeal, you ask? Well, let's take a look at the ingredients and some of the benefits.
Oatmeal – fiber
Flaxseed – fiber, healthy fat
Eggs – protein
Milk – protein, calcium
Avocado oil – healthy fat
Pumpkin – vitamin A, fiber
Honey – all-natural sweetener
Cocoa powder – antioxidants
Dark chocolate chips – antioxidants
Other ingredients – baking powder, salt, cinnamon, vanilla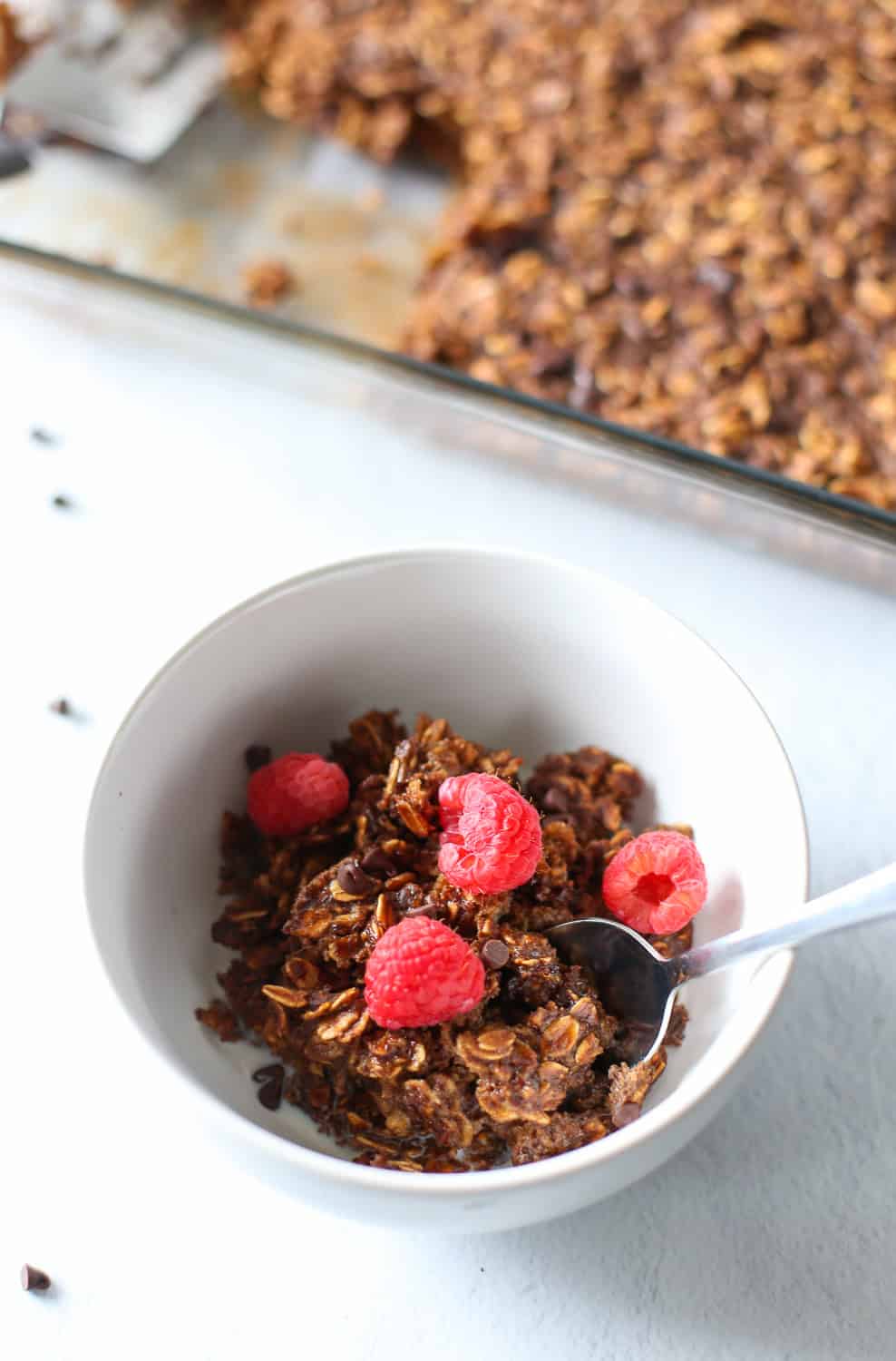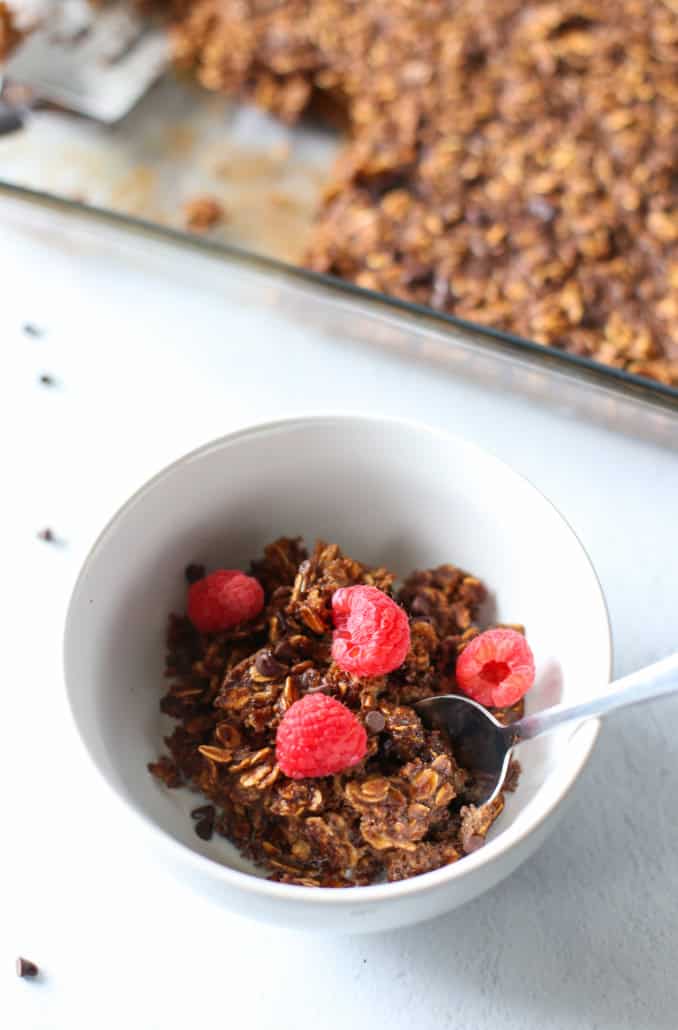 Instructions
This recipe takes about 30 minutes from start to finish. Here's how it goes…
Step 1: Combine the Dry Ingredients
In large mixing bowl, stir together the dry ingredients. (Note: Our pic is missing the cocoa powder. Oops!)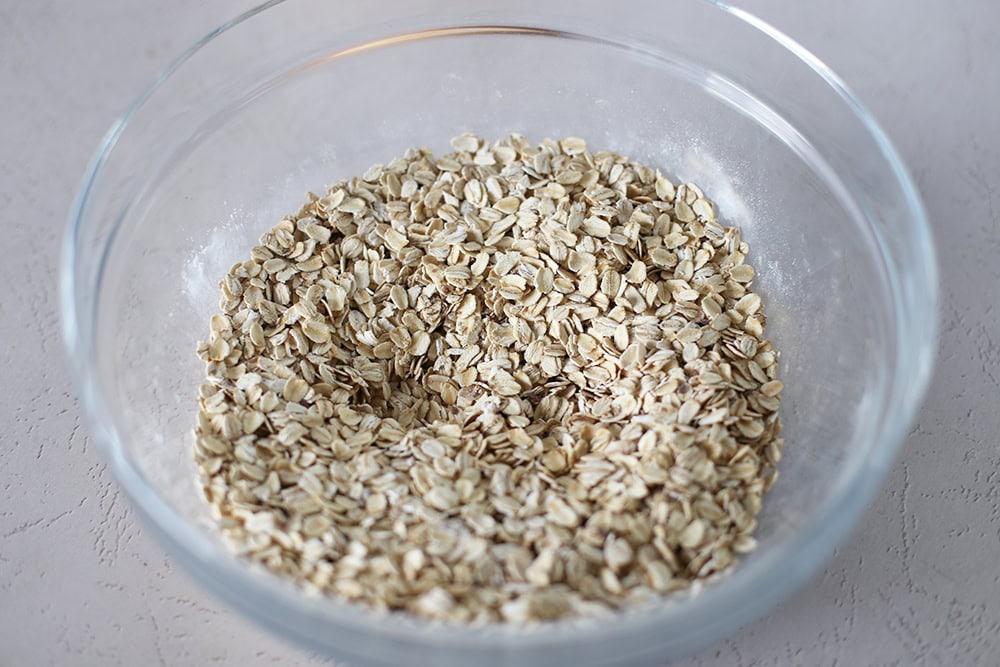 Step 2: Combine the Wet Ingredients
In another mixing bowl, whisk together the wet ingredients.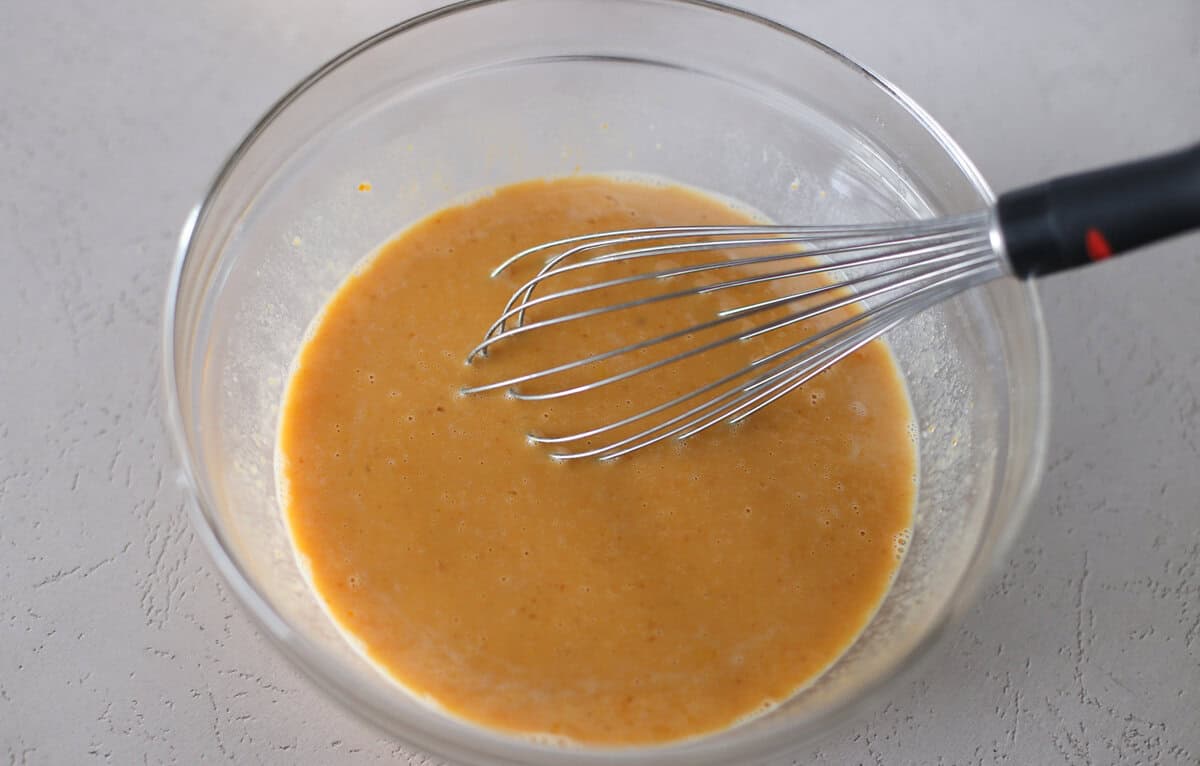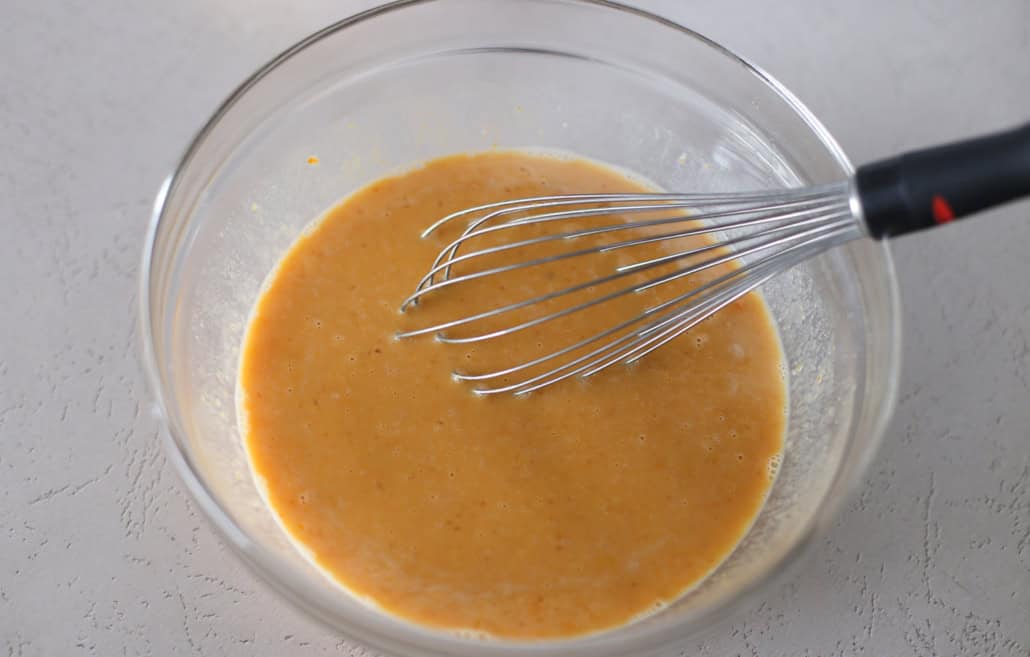 Step 3: Combine Wet & Dry Ingredients
Add the wet ingredients to the dry. Stir them together and then stir in the chocolate chips. (A spoon might work better than a whisk for this job. We got lazy. Hee, hee.)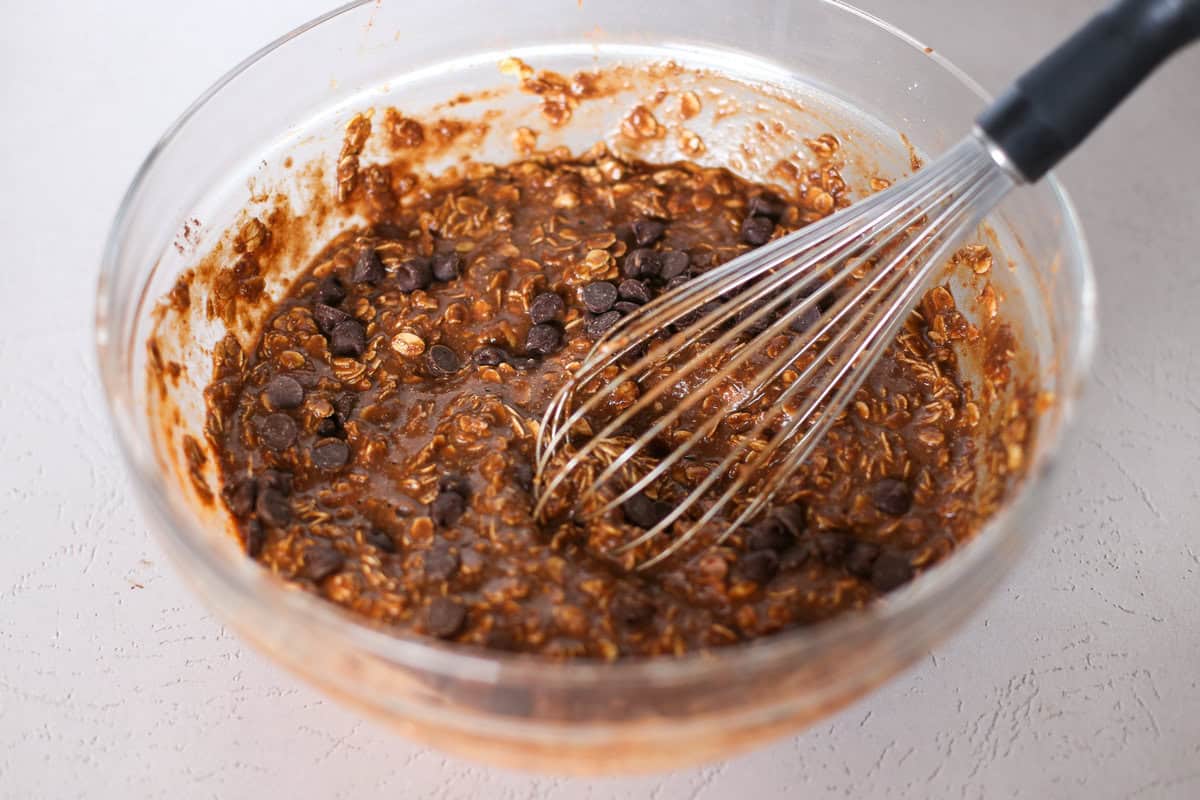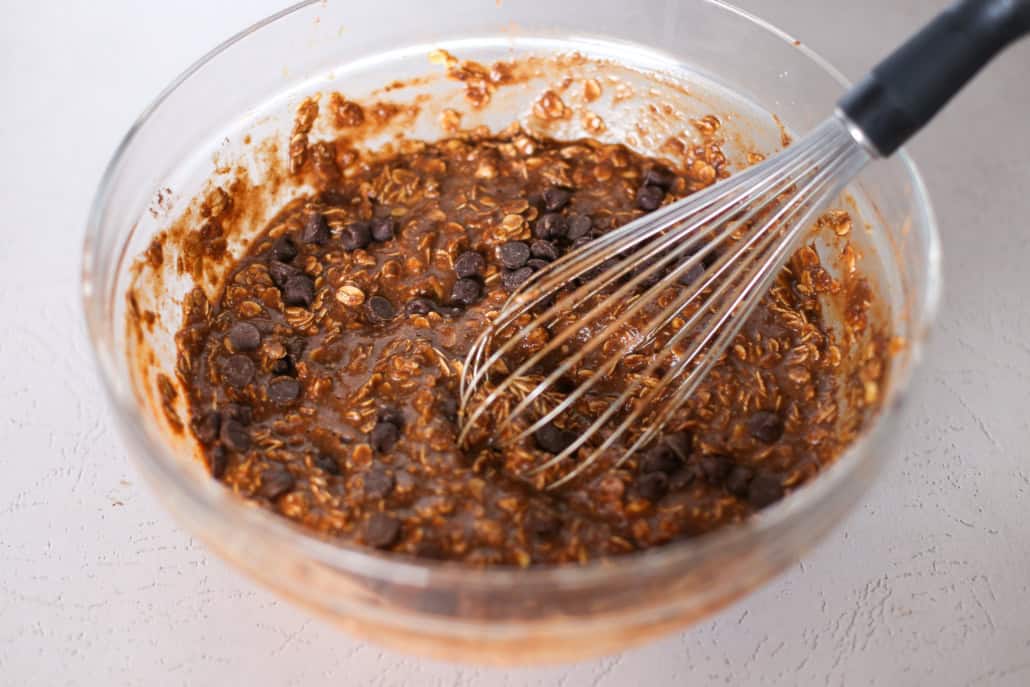 Step 4: Pour into a Baking Dish
Spread the batter in a greased 9×13 inch dish.
At this point, you can freeze this dish. Cover the surface with plastic wrap and pop on the lid or wrap the dish in a few layers of foil or plastic wrap.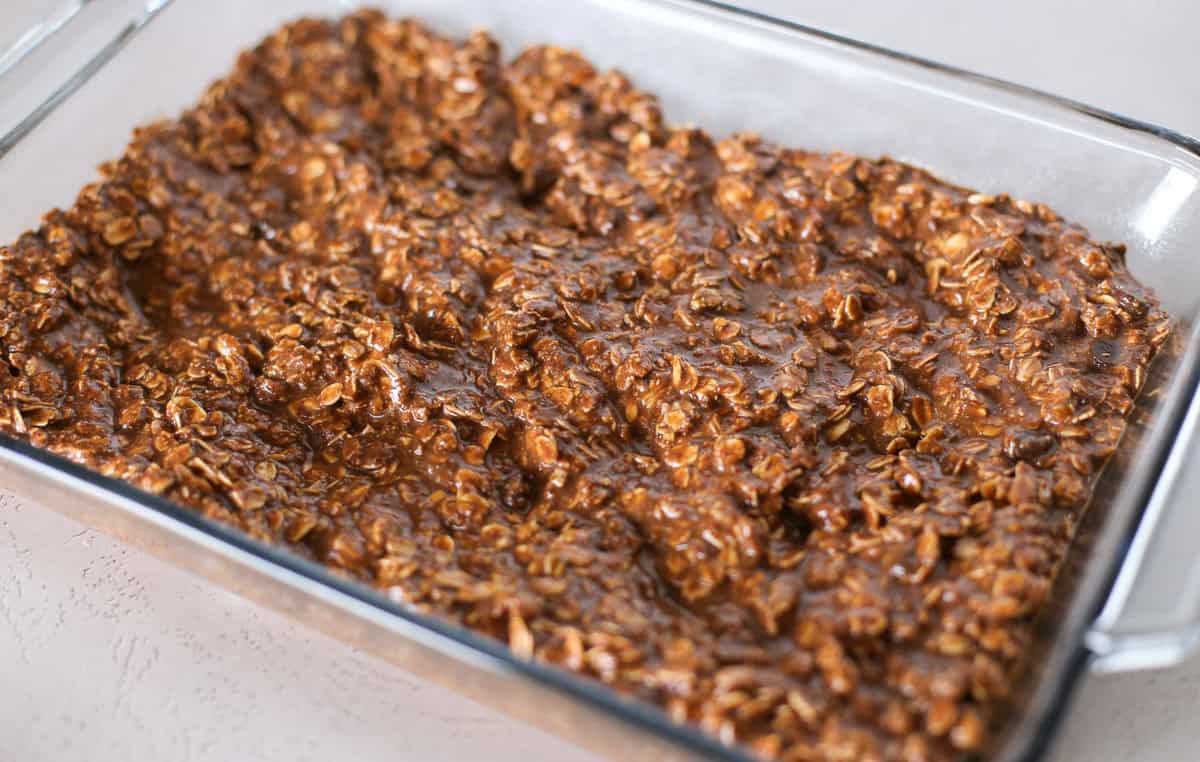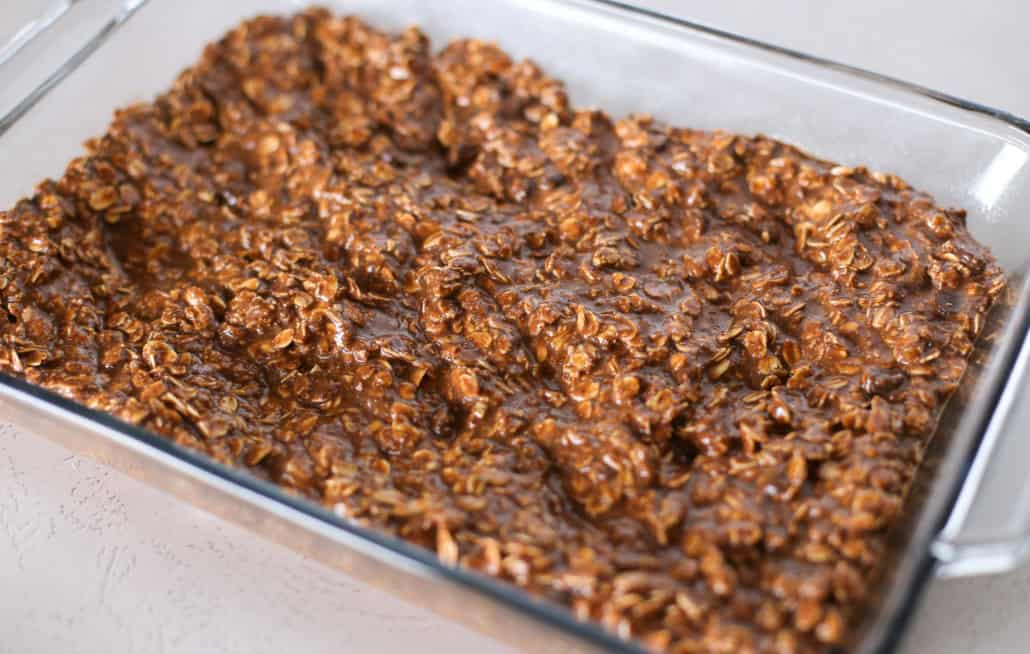 Step 5: Bake the Oatmeal
Bake for about 20 minutes or until the middle is just set.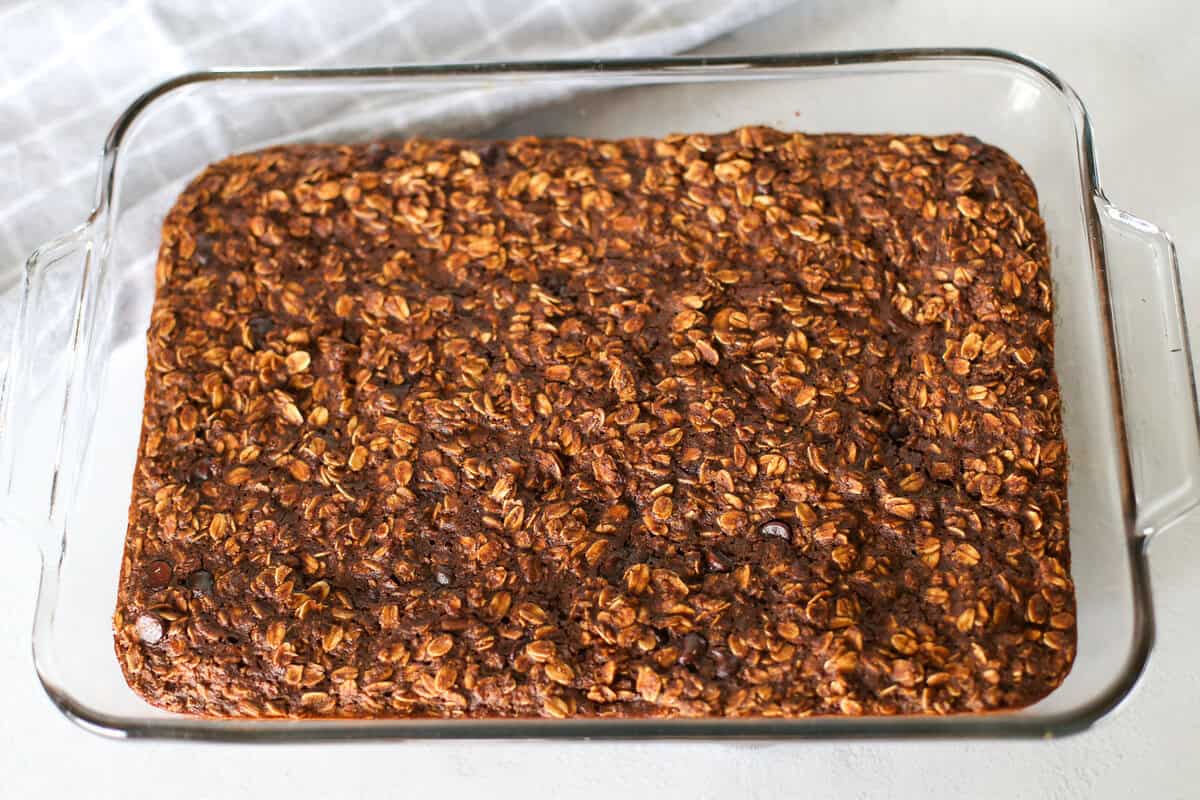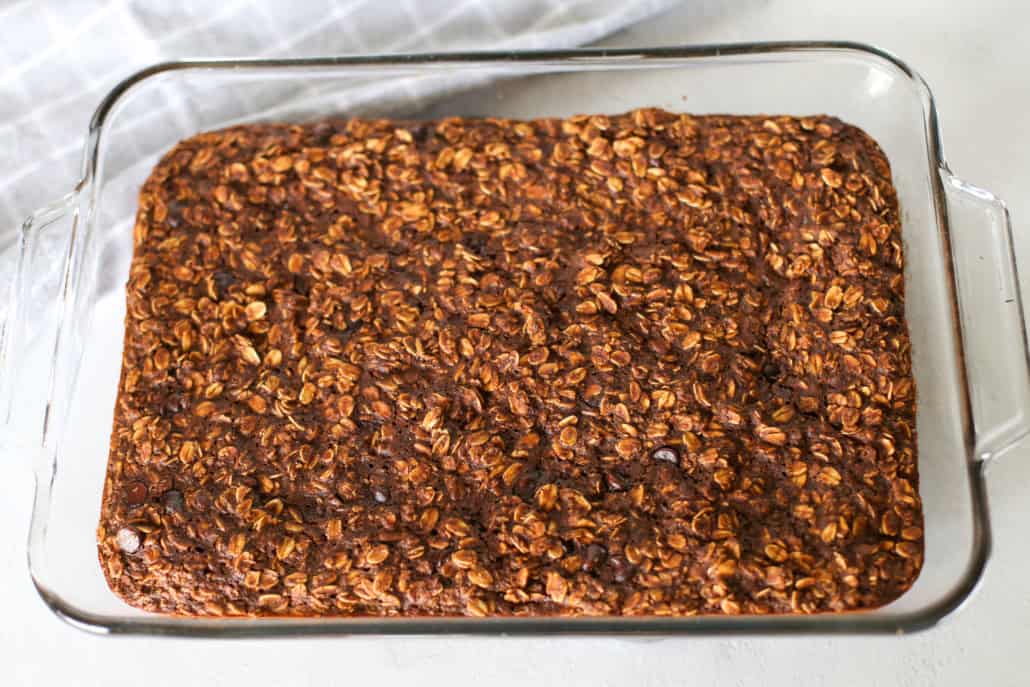 Step 6: Serve Warm
We love it served warm in a bowl with fruit (like banana, strawberries, or raspberries) and milk on top. Or you can eat it almost like a soft granola bar.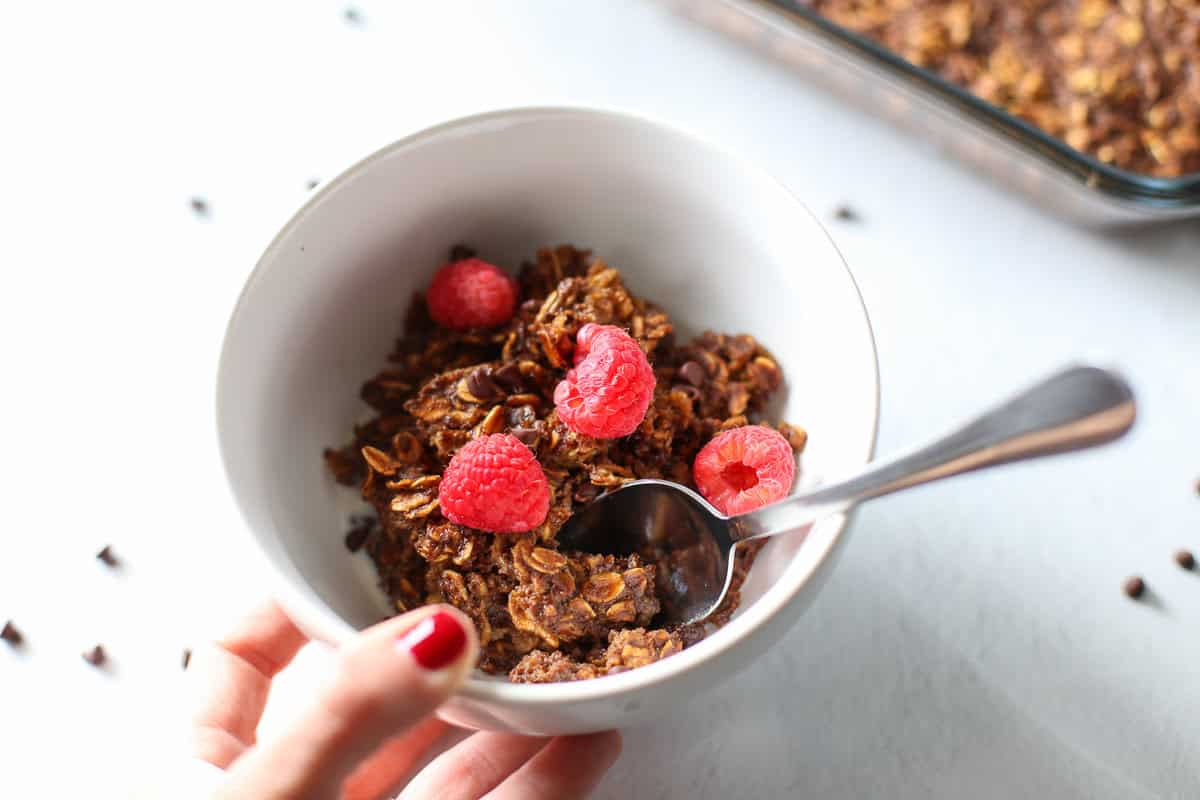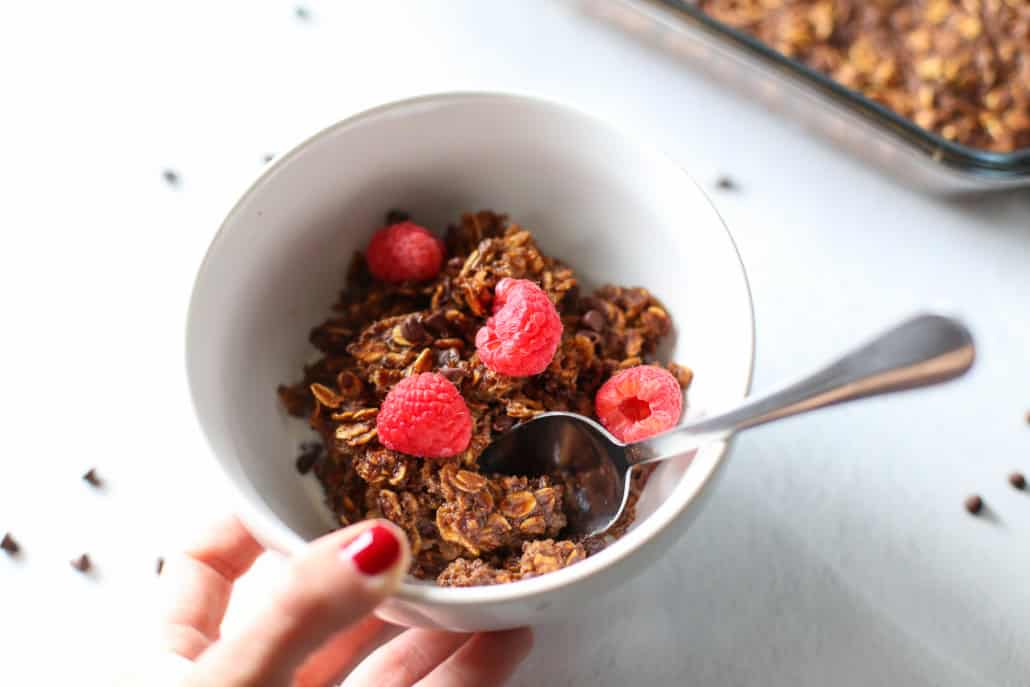 What to Serve with Chocolate Oatmeal
This sweeter baked oatmeal pairs well with a high-protein savory breakfast dish like these egg recipes.
More Baked Oatmeal Dishes You'll Love
If you enjoy baked oatmeal as much as our families do, give a few of these others a try. They all work well to freeze before baking, as well.
Can you prep Baked Oatmeal ahead of time?
Yes, you can prep baked oatmeal (unbaked) ahead of time and store it in the fridge for up to 5 days or in the freezer for up to 3-6 months. Thaw and bake per instructions.
You can also fully cook and cool the baked oatmeal ahead of time and store in the fridge for up to 5 days. Just rewarm individual portions in the microwave. Our readers have told us that they freeze fully cooked, individual portions of baked oatmeal in the freezer, as well, and rewarm in the microwave.
Can you use quick oats in baked oatmeal?
While you can use quick oats in baked oatmeal, it's best to use rolled oats because they give the dish a heartier texture. Quick oats or instant oats can result in a denser, mushier result.
Is baked oatmeal gluten-free or dairy-free?
Baked oatmeal can be made gluten-free or dairy-free with these substitutions:
Dairy-Free Option: Use dairy-free milk in the recipe.
Gluten-Free Option: Make sure your oats say "gluten-free" on the package.
Can I make this in an 8×8-inch square dish?
Yes, this recipe will also work in a smaller dish. Just cook it 10-15 minutes longer or until it's set in the middle.
Did you make this? Snap a photo and tag us on Instagram at @thrivinghome so we can see your creations and cheer you on!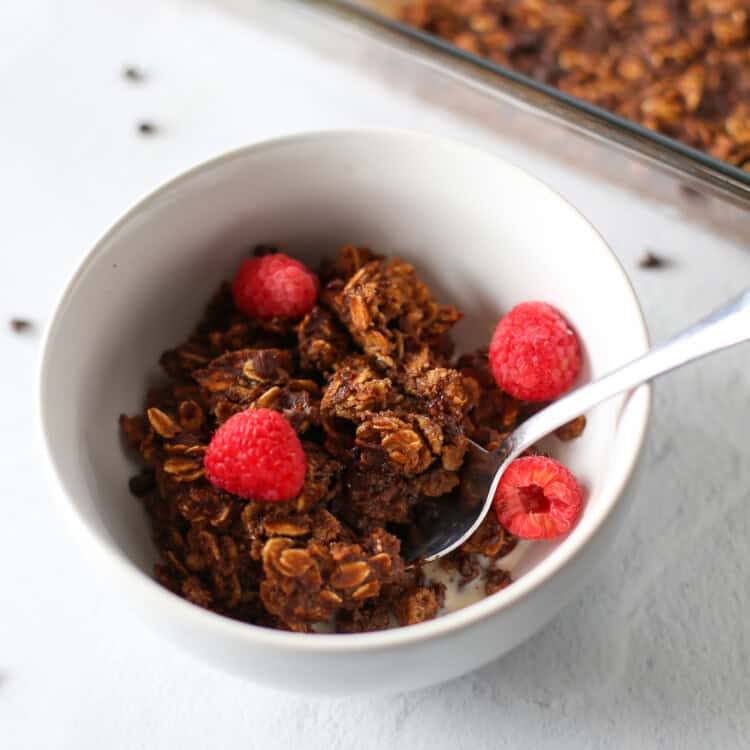 Brownie Baked Oatmeal
An easy and super healthy make-ahead breakfast that your family will love!
Prep:
10 minutes
Cook:
20 minutes
Total:
30 minutes
Ingredients
2 3/4

cups

old-fashioned rolled oats (quick oats will work, too)

1/4

cup

ground flaxseed (sub: more oats)

2 teaspoons

baking powder

3/4 teaspoon

salt

1/4

cup

cocoa powder

1/2 teaspoon

cinnamon

1/3

–

1/2

cup

honey (sub: pure maple syrup) (Note: I also replace some of the honey with liquid stevia to cut back on sugar sometimes.)

2 tablespoons

avocado oil (sub: melted coconut oil or butter)

1/2

cup

pumpkin puree

1

cup

milk (your choice)

2

eggs

2 teaspoons

vanilla
Optional:

1/4

–

1/2

cup

dark chocolate chips
Before You Begin! If you make this, please leave a review and rating letting us know how you liked this recipe! This helps our business thrive & continue providing free recipes.
Instructions
Make It Now:
Preheat oven to 350°F. Grease a 9×13 inch baking dish with cooking spray.
In a large bowl, stir together the oats, ground flaxseed, baking powder, salt, cocoa powder, and cinnamon.
In medium bowl, whisk together the honey, butter/coconut oil, pumpkin, milk, eggs, and vanilla.
Pour the wet ingredients into the dry ones. Stir until combined. Then, stir in the chocolate chips.
Pour batter into the baking dish. Bake for about 20 minutes (or until the edges are firm and the middle is still a little soft).
Serve warm in a bowl with your favorite cut-up fruit (i.e. bananas, strawberries, raspberries) and milk on top.
Freeze For Later: 
If you want to freeze this and bake later, prepare according to directions but freeze it before baking. Wrap tightly in a few layers of plastic wrap and one of foil and freeze.
Prepare From Frozen: When ready to eat, thaw in the fridge for 24 hours and baked according to directions.
---
Notes/Tips
Gluten-Free Version: Use gluten-free oats.
Dairy-Free Version: Use non-dairy plain milk like almond milk or oat milk. Use dairy-free chocolate chips, like Enjoy Life brand.