This post may contain affiliate or sponsored links. Please read our disclosure policy.
Pumpkin French Toast is such a nutritious and hearty way to start your day. Like most of our easy breakfast recipes, we've included instructions for how to make french toast as an easy make ahead freezer meal. Plus, you are sneaking in extra nutrition to a kid's favorite breakfast.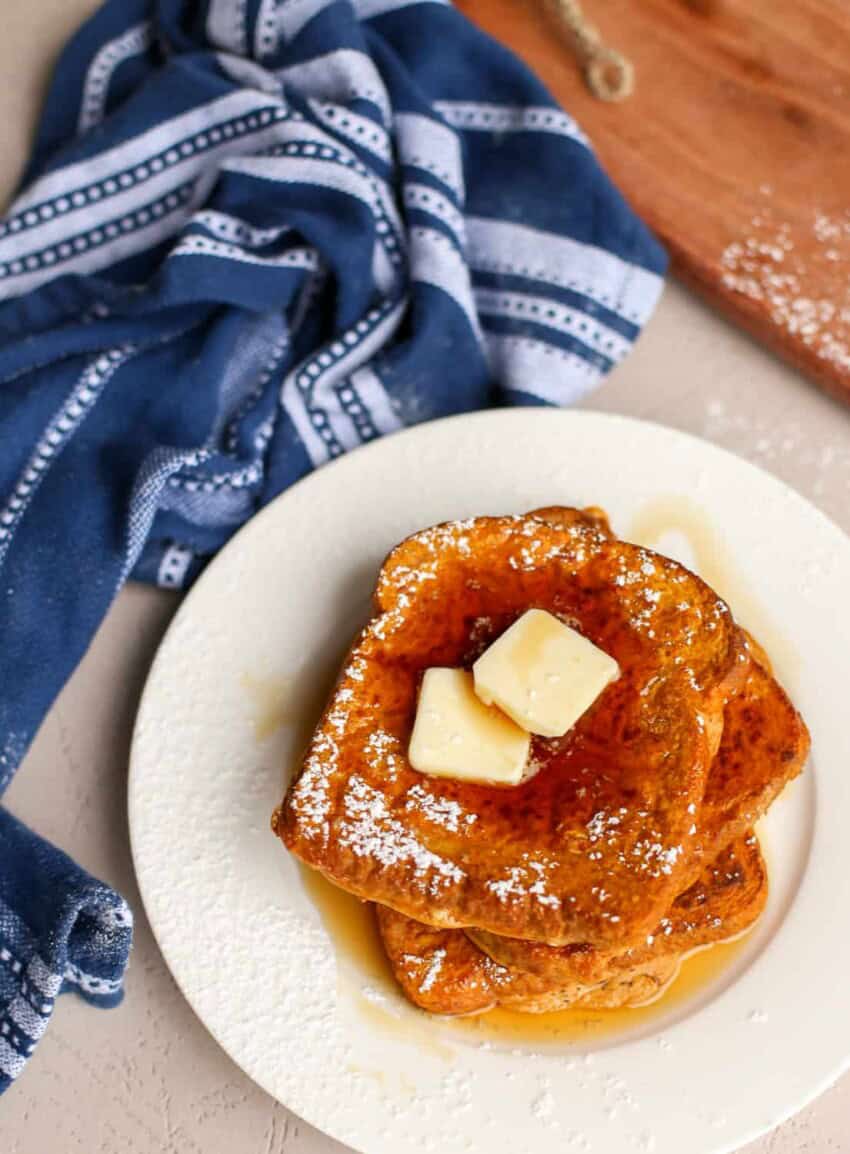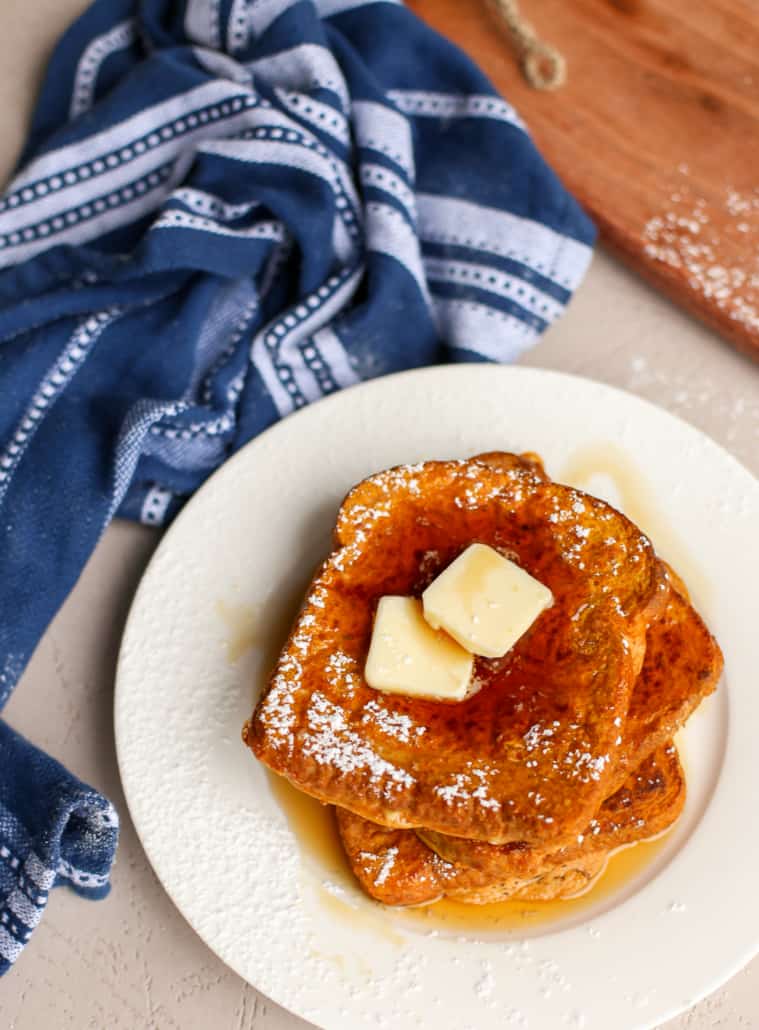 "This is such a great recipe and my picky 3-year-old loves it! ⭐️⭐️⭐️⭐️⭐️" – Samantha
Oh! How I love pumpkin in the fall…and french toast all the time. So does my family. That's why Pumpkin French Toast was born. The pureed pumpkin gives a hit of fall flavor without overwhelming the recipe.
Pumpkin French Toast is made of simple ingredients you likely have in your home.
Eggs
Milk
Pureed pumpkin
Cinnamon
Vanilla
Salt
Bread (I prefer to use whole wheat)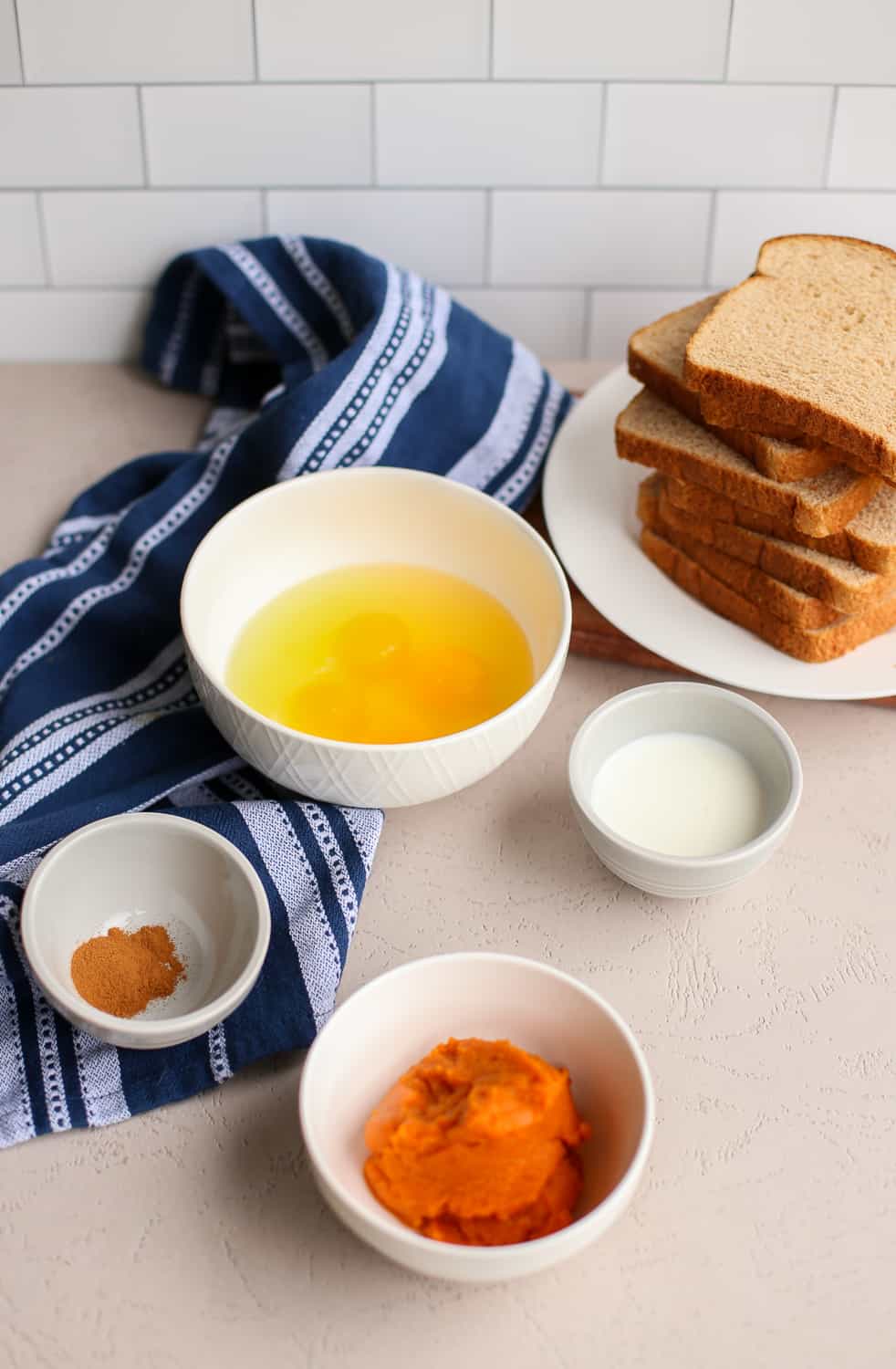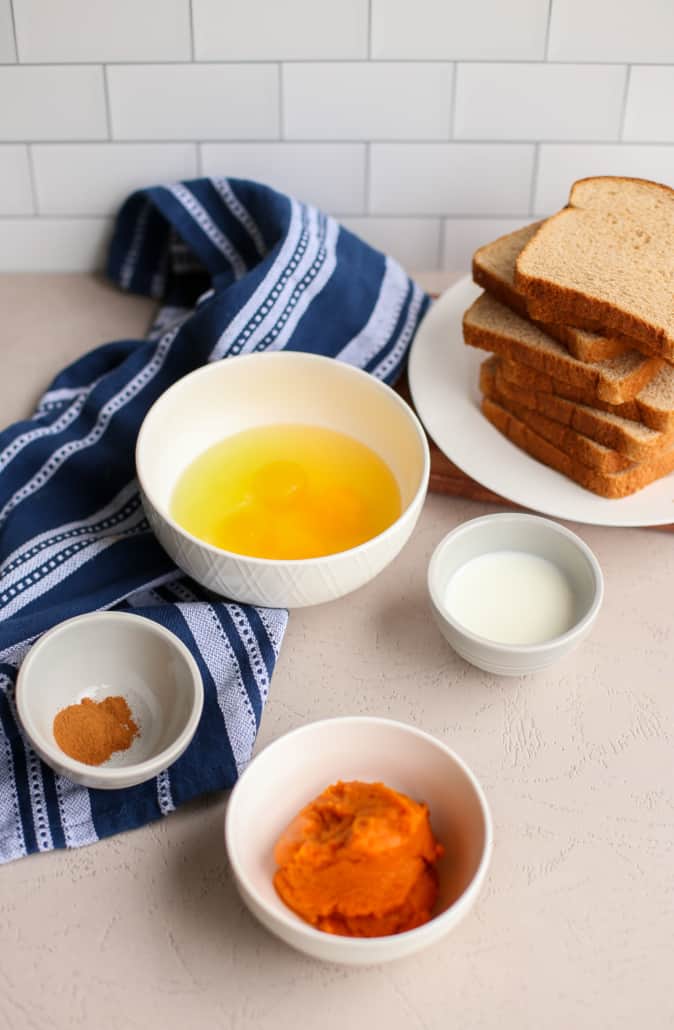 How to Serve Pumpkin French Toast
After you've cooked up your french toast (instructions below), serve it warm alongside other brunch or breakfast favorites like:
French toast is often served with maple syrup, but you can also try other toppings such as fresh fruits, powdered sugar, whipped cream, yogurt, or even a drizzle of chocolate sauce.
Get creative and experiment with different flavors!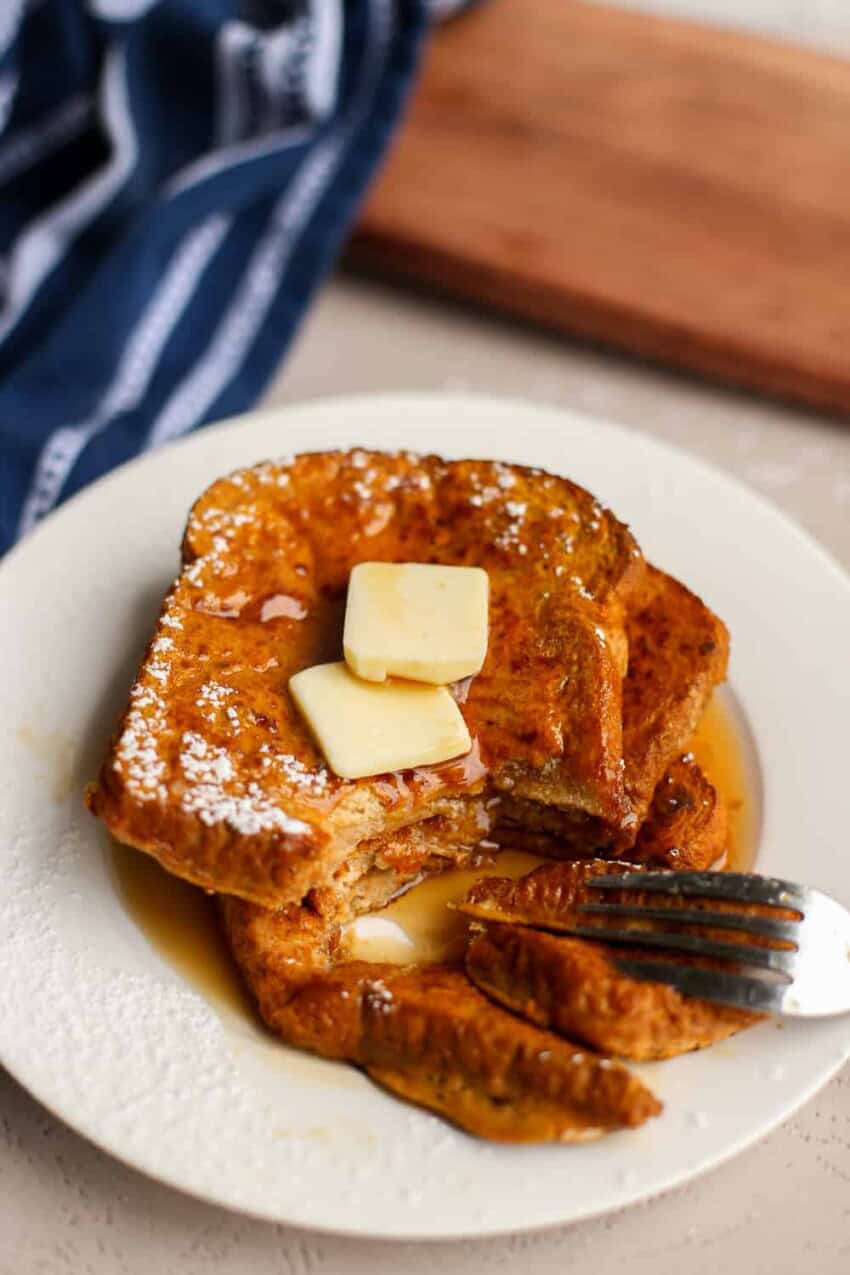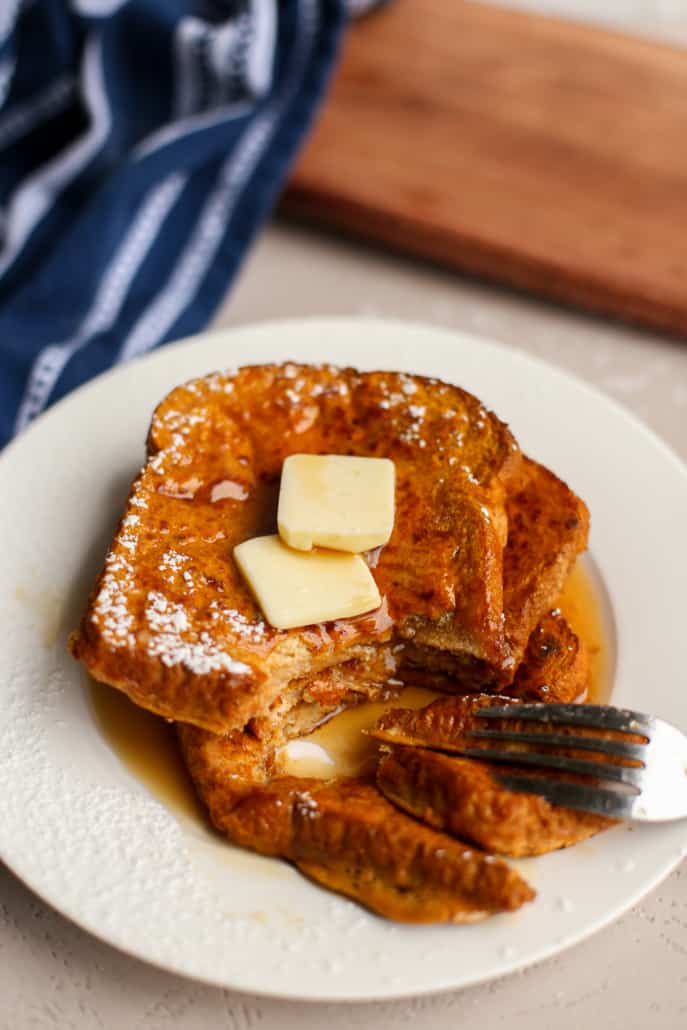 Can you freeze French Toast?
I know I say this all the time, but if you're going to make a mess and make french toast…double the recipe and freeze the extras! Making freezer meals is a huge time saver in the long run. Here is how to freeze a french toast recipe like this one:
To Freeze:
Make french toast as instructed in the recipe. Let it cool completely, and store in a tightly sealed freezer bag or container. Use parchment paper in between layers if necessary
To Prepare:
I prefer to use my toaster oven (or toaster) so the french toast doesn't get soggy. If you have a toaster oven, first microwave the frozen french toast for about 20 seconds. Then transfer it to the toaster oven and cook on the regular setting until warmed through. You can also microwave it from frozen until warmed though. It might be a bit softer this way but it will still be tasty!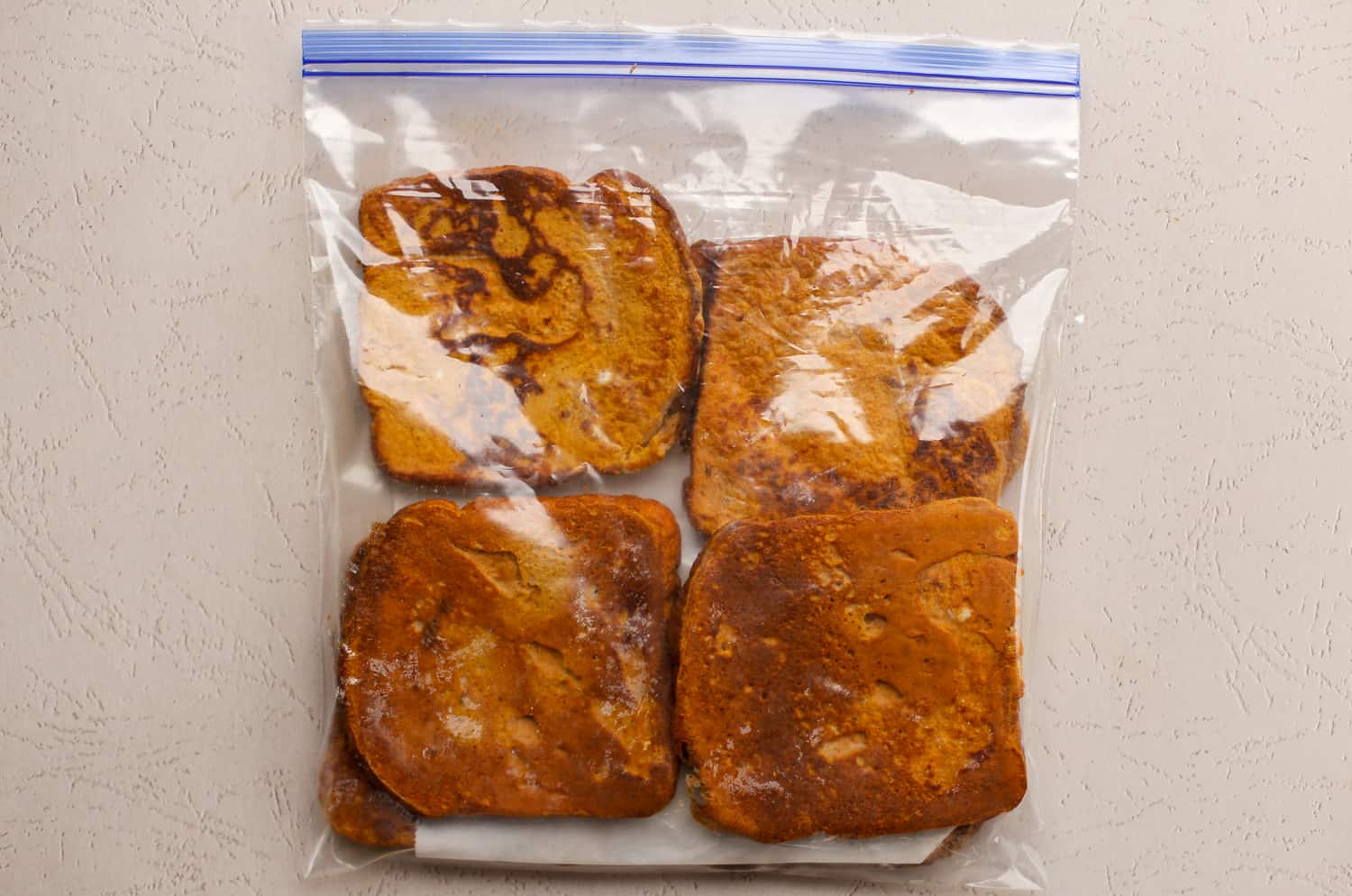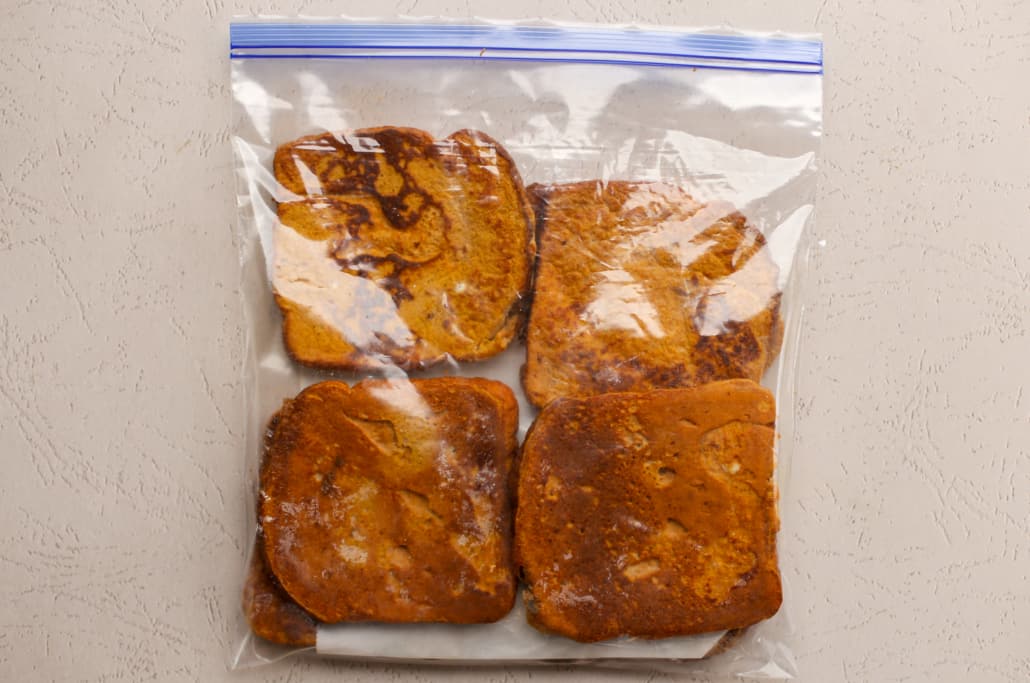 Tips for Great French Toast
Use stale bread if you can: French toast is traditionally made with slightly stale bread because it absorbs the egg mixture better without becoming too soggy.
Whisk the egg mixture well: You want the wet ingredients to be well combined.
Soak the bread adequately: Dip each slice of bread into the egg mixture, making sure both sides are coated. Allow the bread to soak for a few seconds on each side, but don't leave it in the mixture for too long, as it may become overly saturated and difficult to cook.
Preheat the skillet or griddle: Heat a non-stick skillet or griddle over medium heat and add a small amount of butter or cooking oil. Allow it to melt and coat the surface evenly.
Don't overcrowd the pan: Cook the French toast in batches, if necessary, to ensure that each slice has enough space to cook evenly. Overcrowding the pan can lead to uneven browning.
More Pumpkin Recipes
With YEARS worth of content and recipes on Thriving Home, it can be easy to forget about some amazing pumpkin recipes that we have shared.
See More
Did you make this? Snap a photo and tag us on Instagram at @thrivinghome so we can see your creations and cheer you on!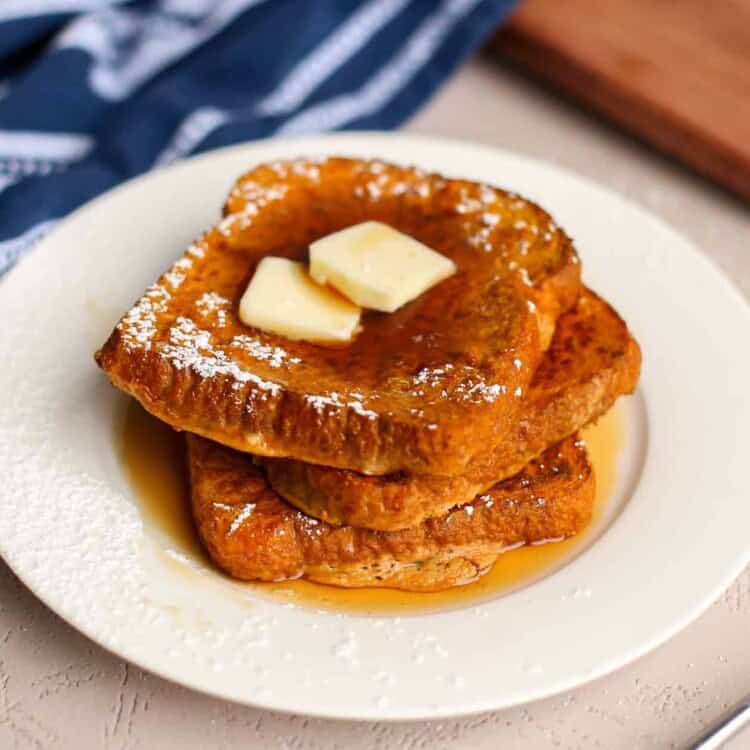 Pumpkin French Toast
Whip up a bit of fall into your french toast batter and enjoy some extra nutrition at the same time. This recipe is a family favorite in our house!
Prep:
10 minutes
Cook:
5 minutes
Total:
15 minutes
Ingredients
4

eggs

1/4

cup

milk

1/2

cup

pureed pumpkin (canned or fresh)

1/2 teaspoon

cinnamon

1 teaspoon

real vanilla
a pinch of salt

8

bread slices (stale is fine)
Serving suggestion: butter and real maple syrup
Before You Begin! If you make this, please leave a review and rating letting us know how you liked this recipe! This helps our business thrive & continue providing free recipes.
Instructions
Preheat a large pan or griddle over medium low heat.
Whisk egg, milk, pumpkin, cinnamon, vanilla, and salt in a shallow dish.
Grease the pan (I prefer organic butter or coconut oil). When a few water drops sizzle in the pan, it is hot enough to begin.
Dip bread slices, one at a time, in the batter, turning them over to get them completely soaked. Give them a minute to really soak in the goodness!
Cook the battered bread slices for about 2 minutes on each side. The french toast is done when both sides are golden brown and there is no more visible raw egg.
Serve with butter and real maple syrup.
Freezer Meal Instructions:
To freeze:
Make french toast, let cool completely, and store in tightly sealed freezer bag or container.
To prepare:
Toast on the "defrost" setting until warmed through. Or toast on regular setting and microwave in 10 second increments to warm all the way through.