Pumpkin Chocolate Chip Muffins
These healthy Pumpkin Chocolate Chip Muffins are moist, sweet, and delicious…and easily freezable. We pull them out of the freezer for snacks or for an easy breakfast.
Note from 9/2021: We retested, tweaked, and updated this older recipe. They are now more nutritious and tastier than before!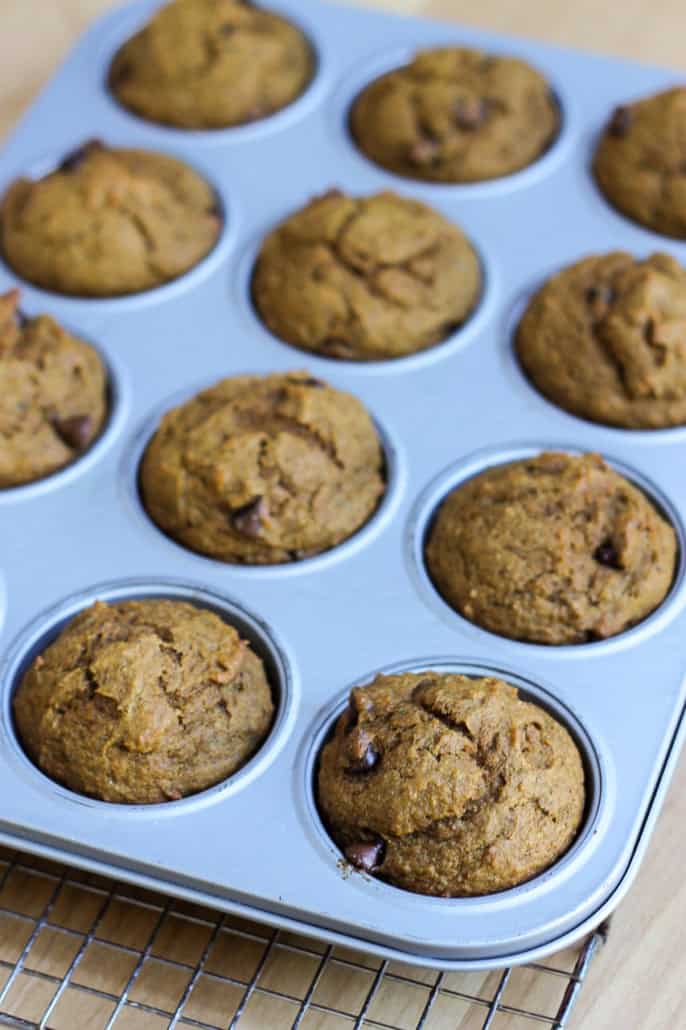 Note: We are a participant in the Amazon Services LLC Associates Program, an affiliate advertising program designed to provide a means for us to earn fees by linking to Amazon.com and affiliated sites. Read our full disclosure policy here.
It's the time of year when everyone wants a little pumpkin in their life, but I make these muffins year round. My kids LOVE them, so I double and freeze them for snacks and breakfasts regularly.
INGREDIENTS IN OUR HEALTHY PUMPKIN CHOCOLATE CHIP MUFFINS
What makes this recipe more nutritious than most (yet still moist and delicious)? Well, here's the line-up of ingredients…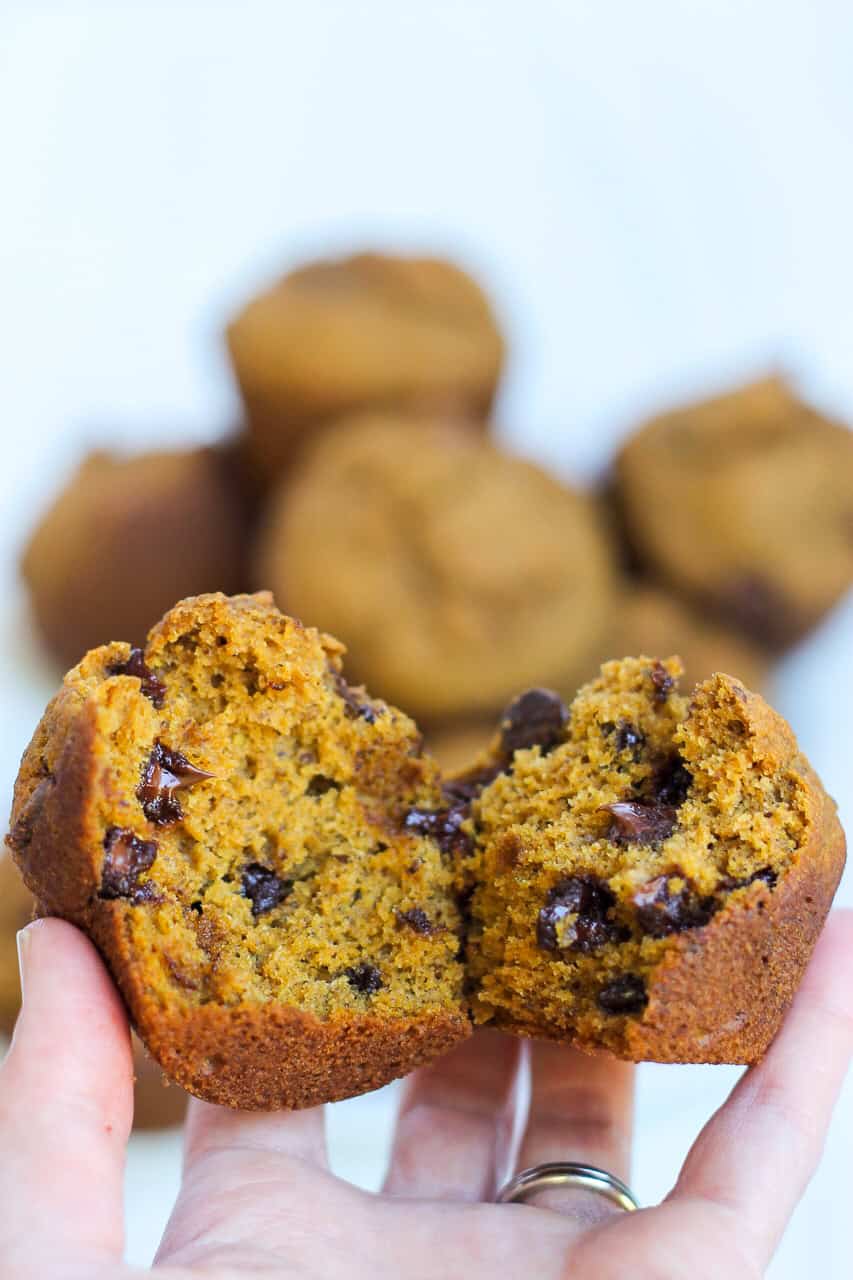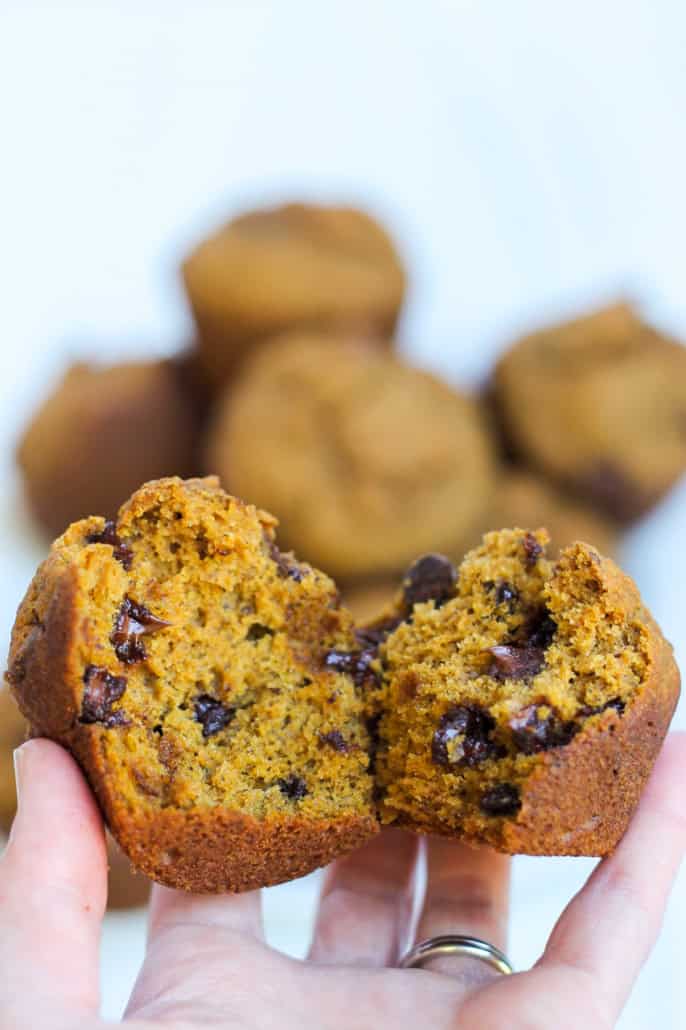 White whole wheat flour – Note the name of this is WHITE whole wheat flour, which is a special variety that you can now find in most grocery stores. I love baking with this 100% whole grain flour, because it's lighter than usual store-bought whole wheat (known as the red wheat variety). It's a great swap out for all purpose flour.
Ground flaxseed – This ground seed packs in omega 3 fatty acids and fiber that we can all use more of. Be sure to store in the fridge or freezer to give it a longer shelf life. Read more about the health benefits here.
Sugar – You need some sugar to make these irresistible, but I like to use coconut sugar as a bit healthier alternative. You can also reduce the amount of a sugar by 1/4 cup and still have some pretty darn tasty muffins.
Cinnamon – Because pumpkin and cinnamon need each other in baked goods. (It's a healthy co-dependent relationship, I tell you.)
Salt – A little salt in baked goods helps balance out the sweetness.
Unsweetened applesauce – For a little more moisture and all natural sweetness. You can substitute in more pureed pumpkin for this, if you like.
Large eggs – Three eggs add a lot of protein to these muffins and help give them "lift". I usually look for organic eggs from a local farmer, if I can find them.
Avocado oil – If you've been around Thriving Home for long, you know we love this neutral cooking/baking oil with a high smoking point. The healthiest version is the extra virgin avocado oil, because there are no chemical solvents used in the processing. Read more about it here.
HOW TO MAKE PUMPKIN CHOCOLATE CHIP MUFFINS

This recipe is so easy that your kids can help you or even make these themselves as they get older.
STEP 1: PREPARE THE OVEN AND PAN
Preheat the oven to 350°F. Grease 18-20 muffin cups or line them with paper liners. (You can make two batches back to back, if you only have one 12-cup muffin tin.)
STEP 2: MIX DRY INGREDIENTS
In a large mixing bowl, combine the flour, flax, sugar, baking soda, baking powder, cinnamon, and salt.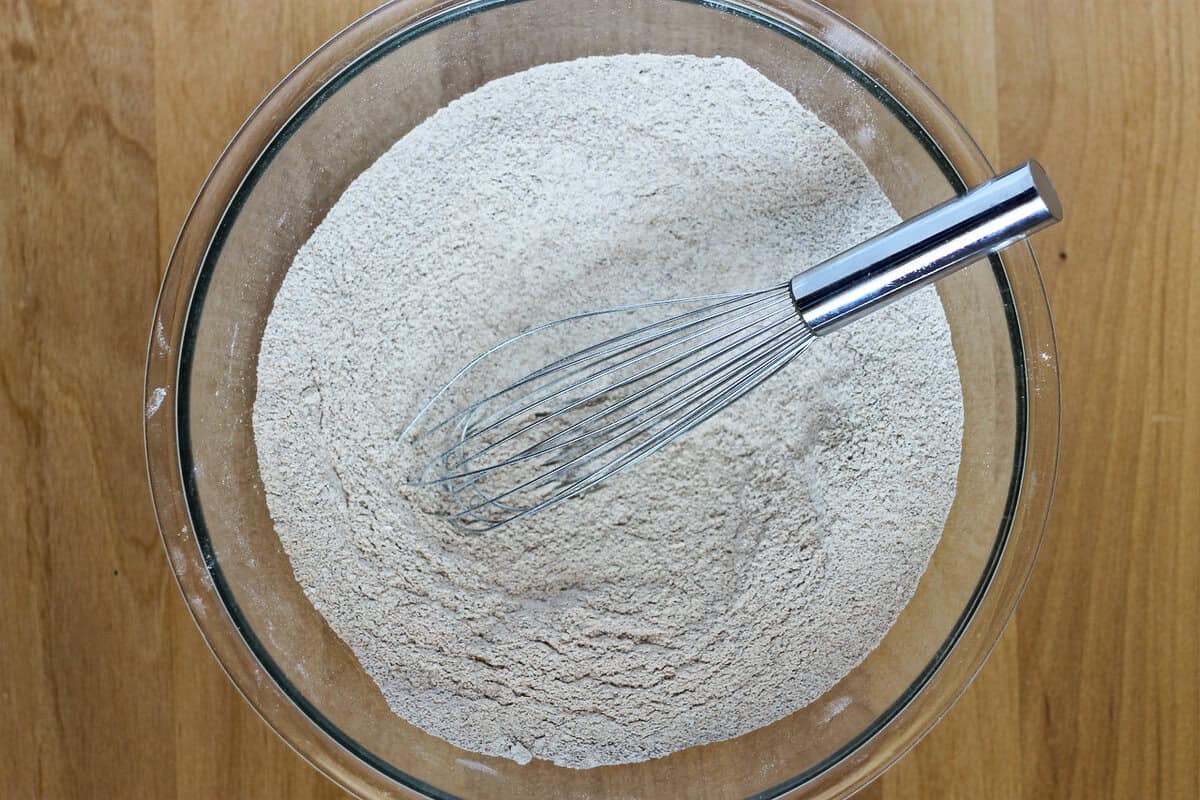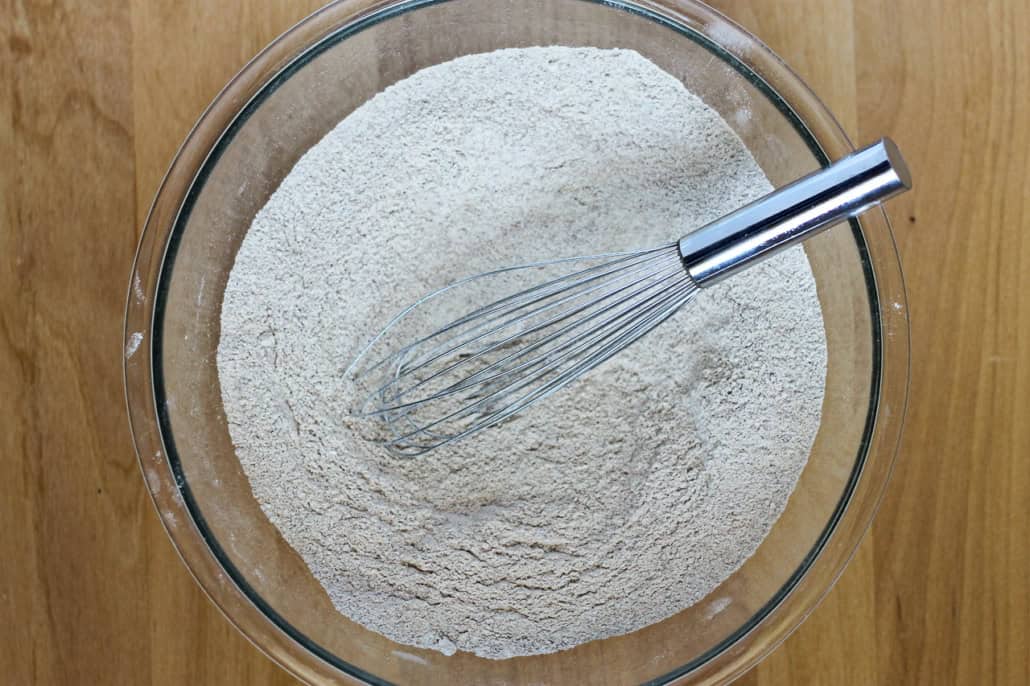 STEP 3: MIX WET INGREDIENTS
In another mixing bowl, stir together the pumpkin puree, oil, applesauce, eggs, and vanilla extract.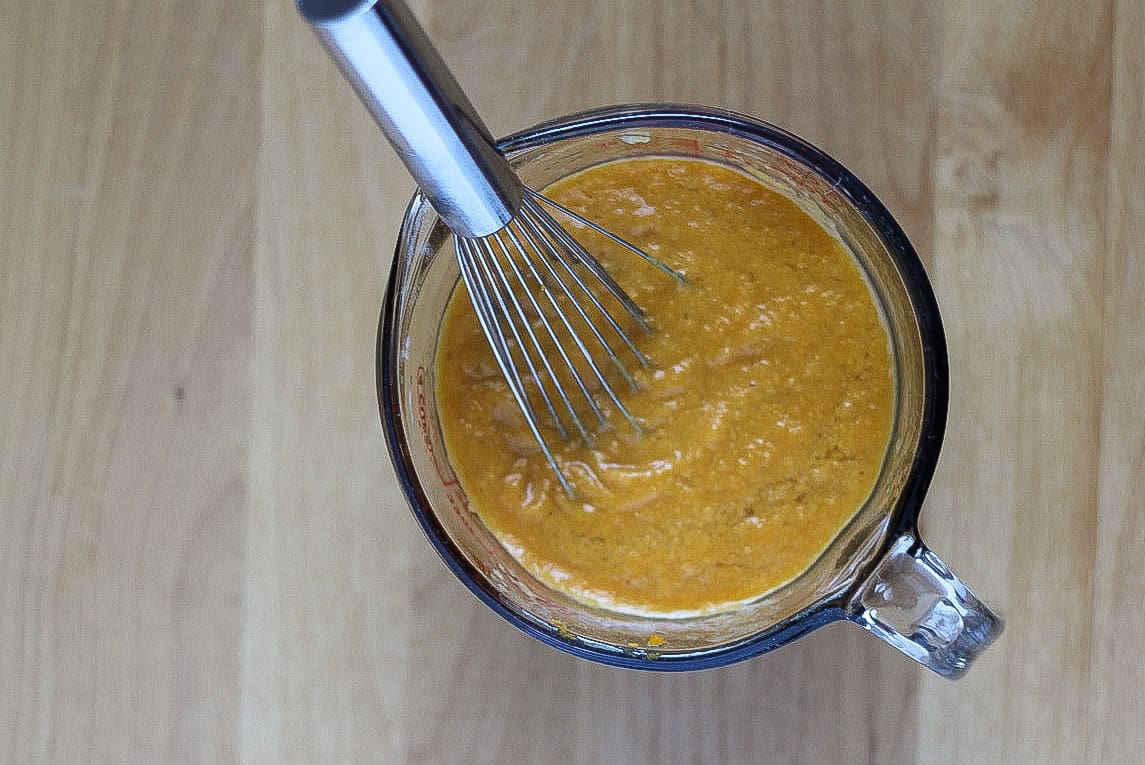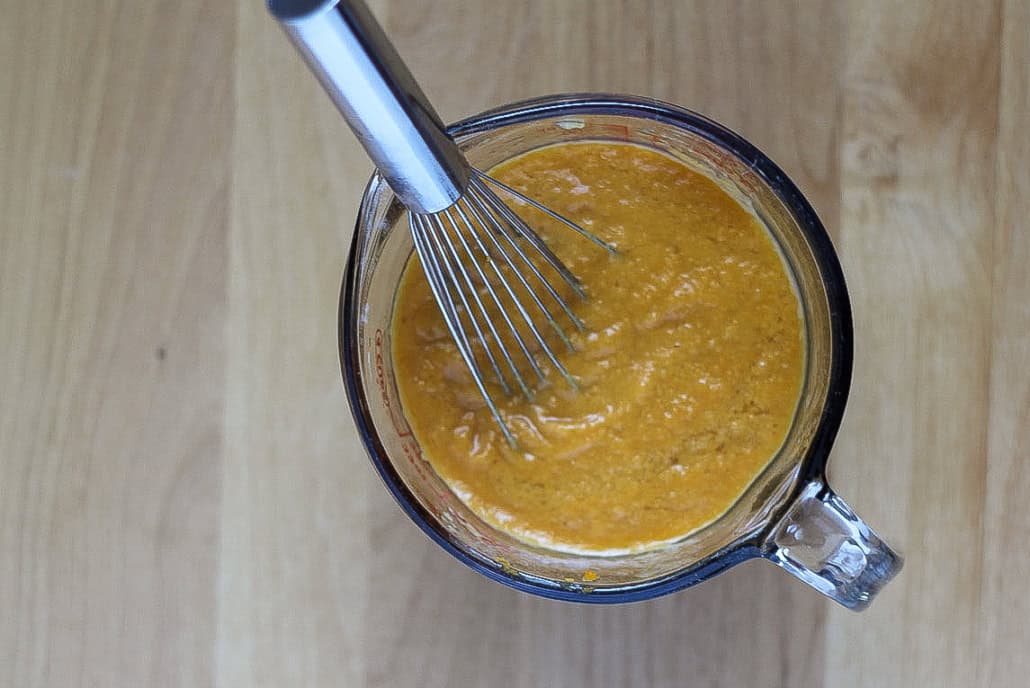 STEP 4: COMBINE THE DRY AND WET INGREDIENTS
Stir the wet mixture into dry ingredients. Like most muffin recipes, it's important to mix the wet and dry ingredients separately and then combine just until it comes together. If you over mix the batter, the gluten will develop stronger bonds and make the muffins tough. Lastly, gently stir in the chocolate chips.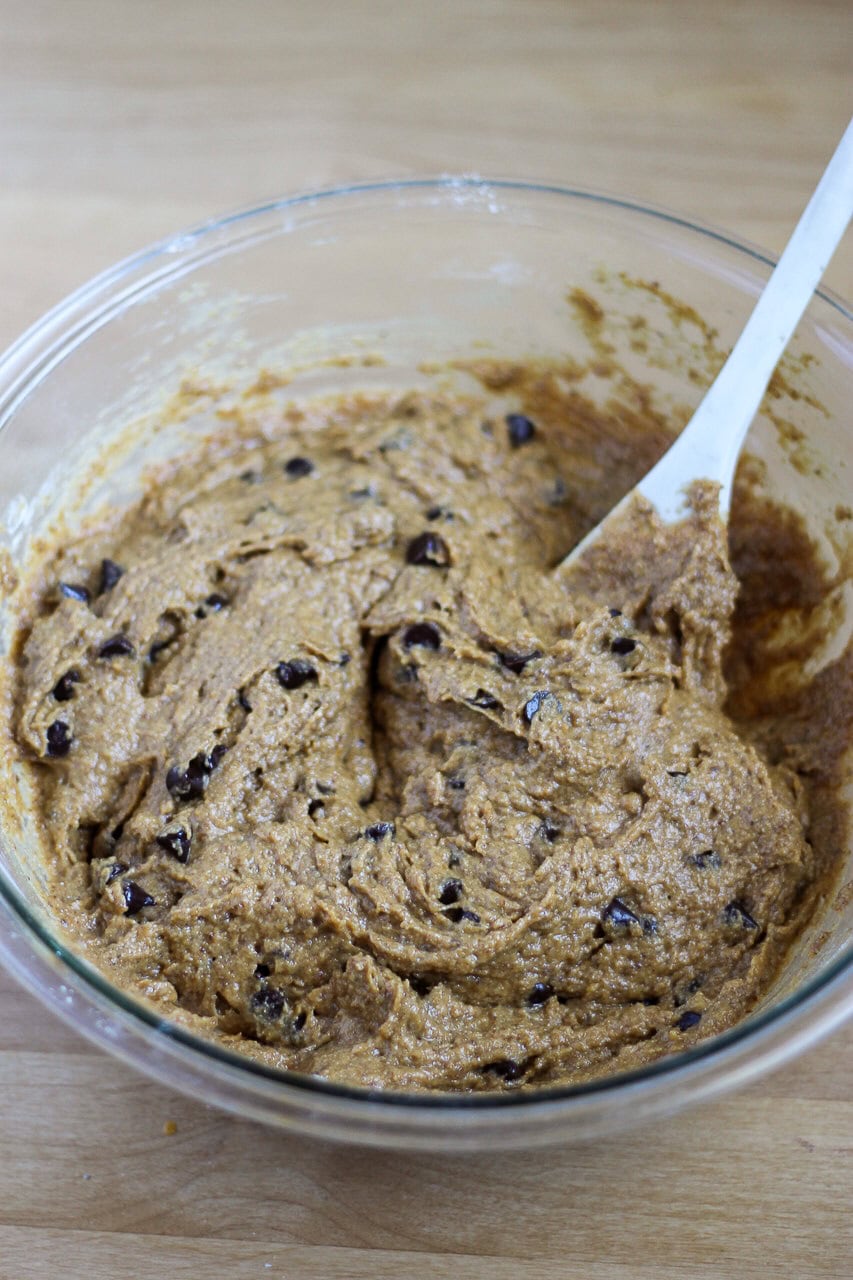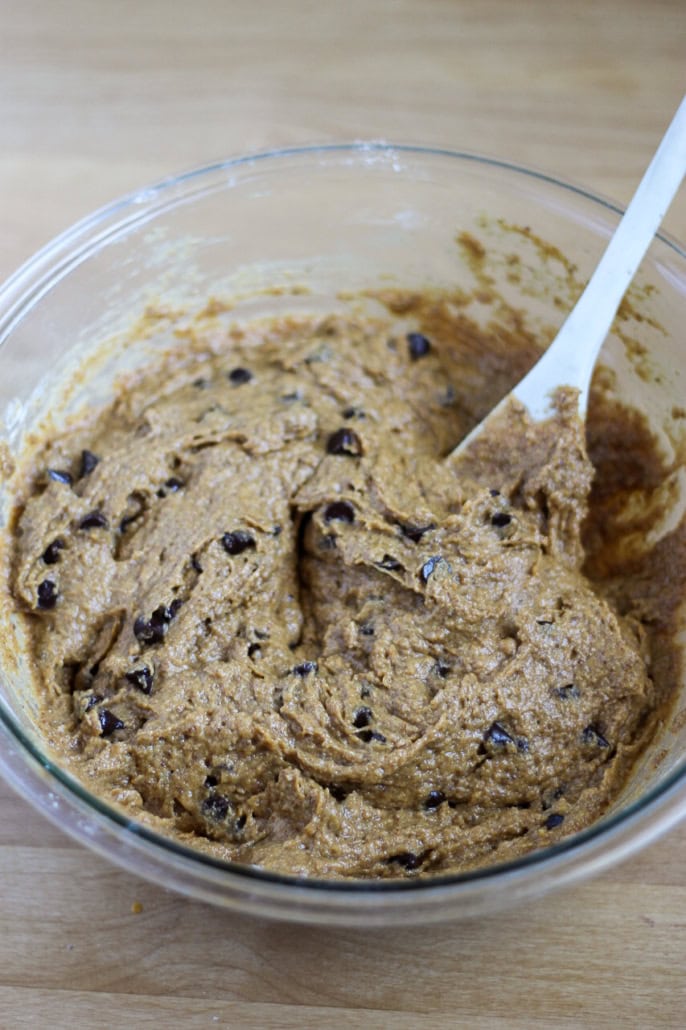 STEP 5: FILL THE MUFFIN TIN
Spoon the batter into the prepared muffin tins until each one is almost full–about 2-3 heaping tablespoons full. I use a small cookie dough scooper, but a spoon works just fine. You may want to wet your fingers to help the batter slip off the spoon.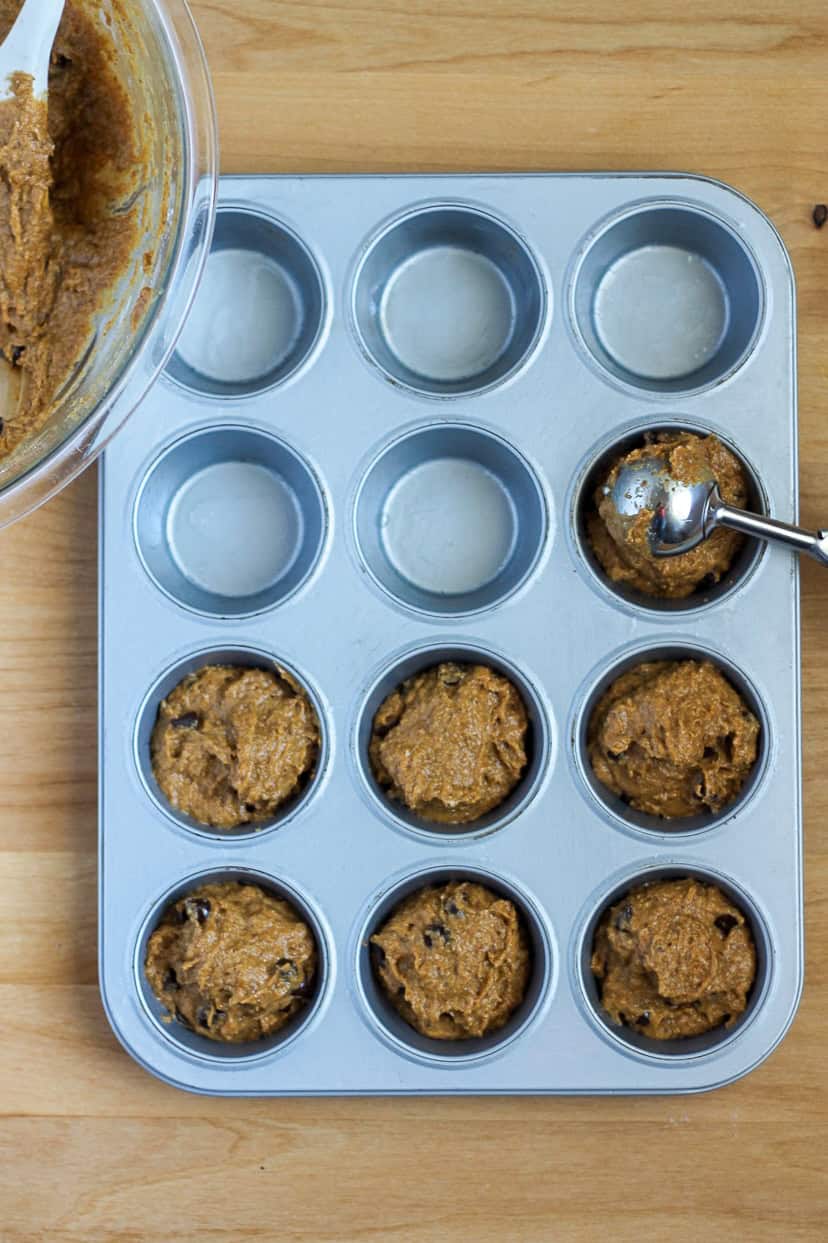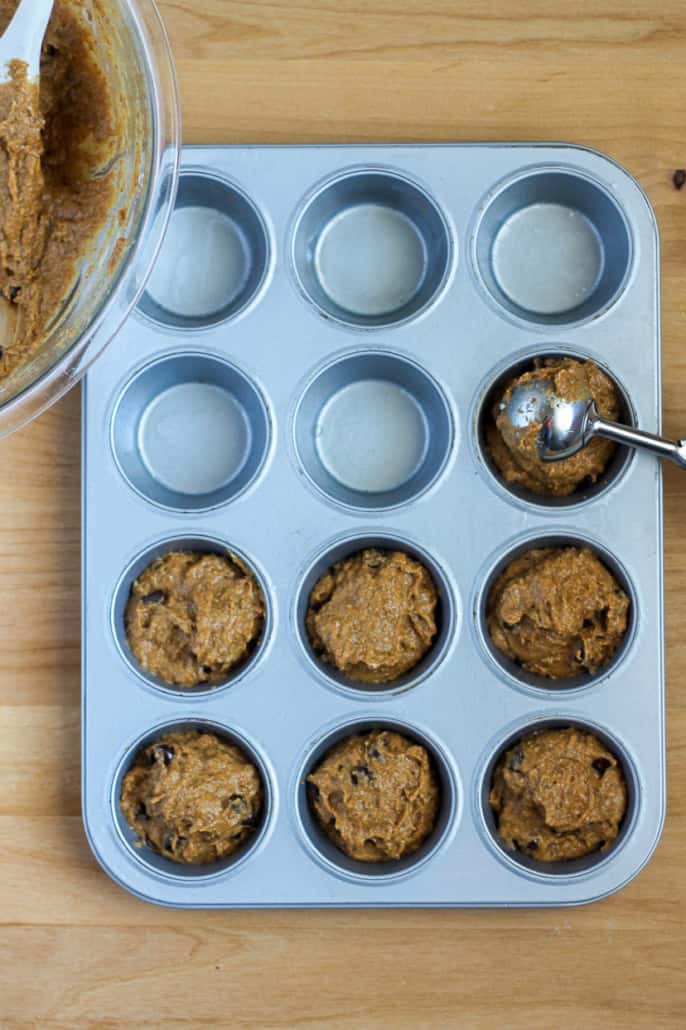 STEP 6: BAKE AND COOL
Bake in the preheated oven until a toothpick inserted in the center of a muffin comes out clean, about 18-20 minutes. Place on a cooling rack for 10 minutes or so. Then remove the muffins and let them cool even more on the rack.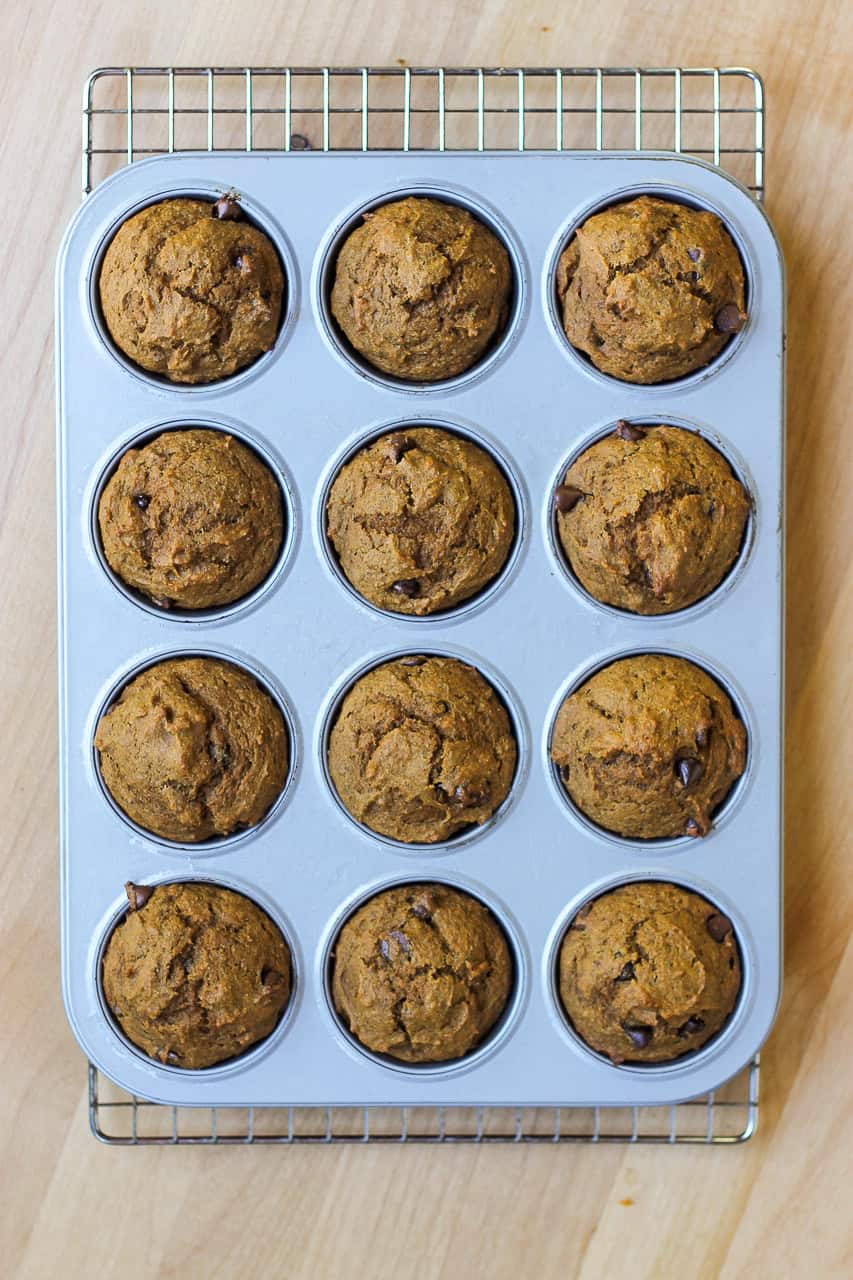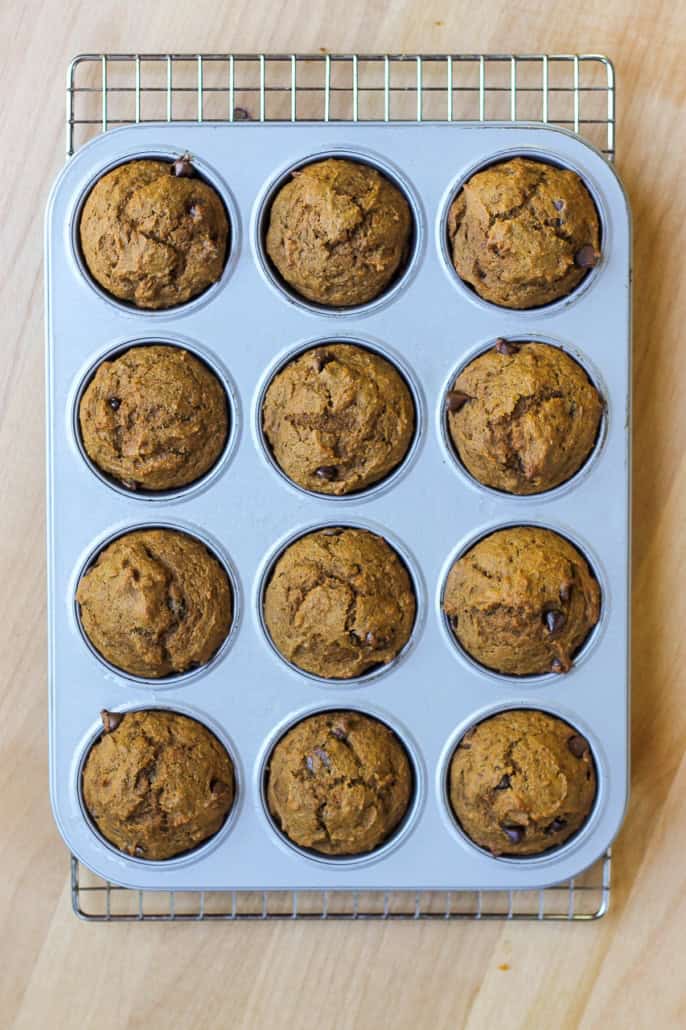 HOW TO FREEZE PUMPKIN MUFFINS
You know how much we love prepping foods and meals that can freeze for later. As we always say, the key is freezing anything the RIGHT way so that it comes out tasting fresh. Here's how to freeze these muffins the best way:
Bake as directed.
Let them cool completely. This is super important!
Place them in a gallon-sized freezer bag and seal tightly–squeezing out as much air as humanely possible. Reducing air exposure to the muffins is crucial to maintaining good texture. Tip: If you really want them to last a long time, wrap each one individually in plastic wrap first. But, I'd just suggest eating them quickly instead of going through that trouble, ha!
Store in the back of the freezer for up to 3 months.
Read this entire post on how to store and freeze muffins for more info!
CAN I MAKE THESE MUFFINS DAIRY-FREE OR GLUTEN-FREE?
It's incredibly easy to make these dairy-free. The only ingredient that has dairy in it would be the chocolate chips. Simply leave them out or use dairy-free chocolate chips like Enjoy Life brand.
If you want a gluten-free pumpkin muffin, be sure to try my gluten-free Coconut Flour Pumpkin Muffins. Don't worry, they still have chocolate chips in them and are super moist and delicious, too!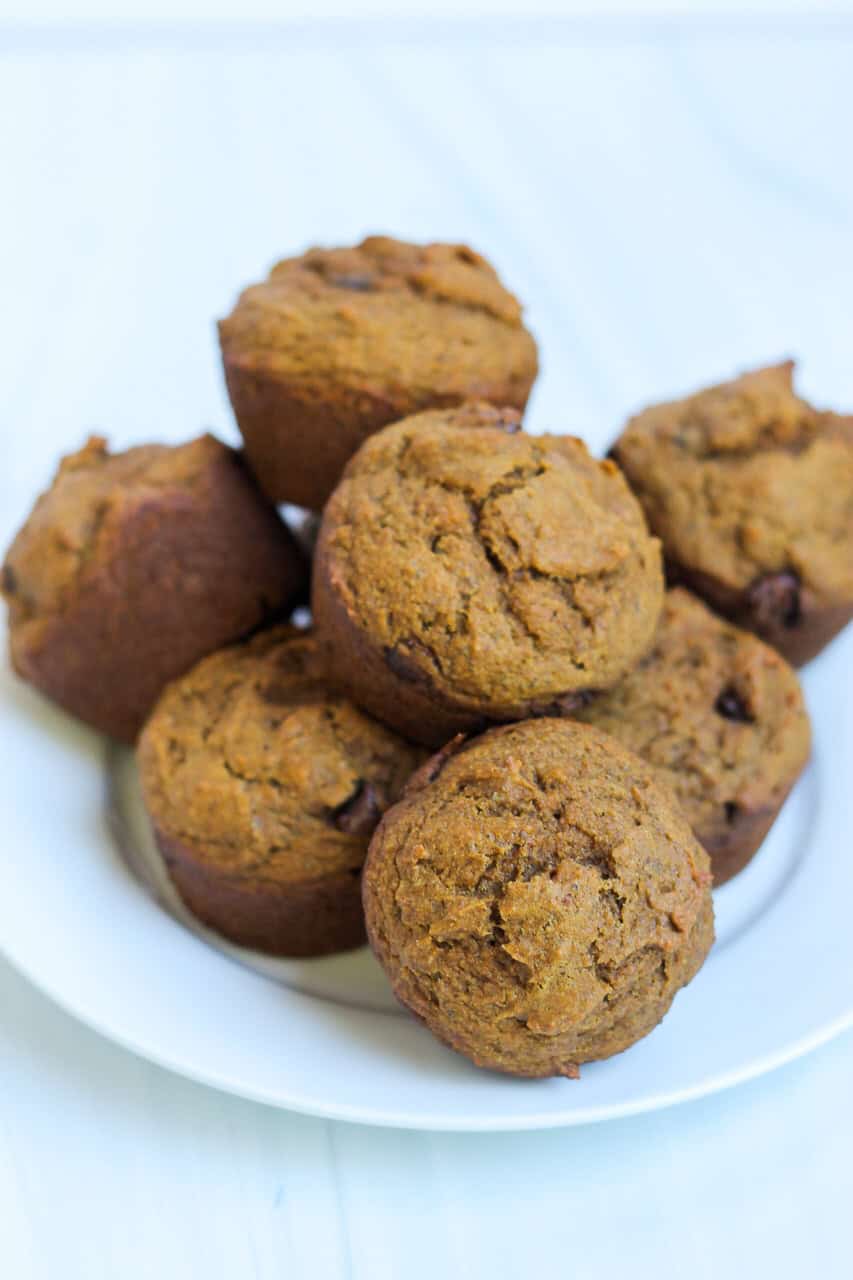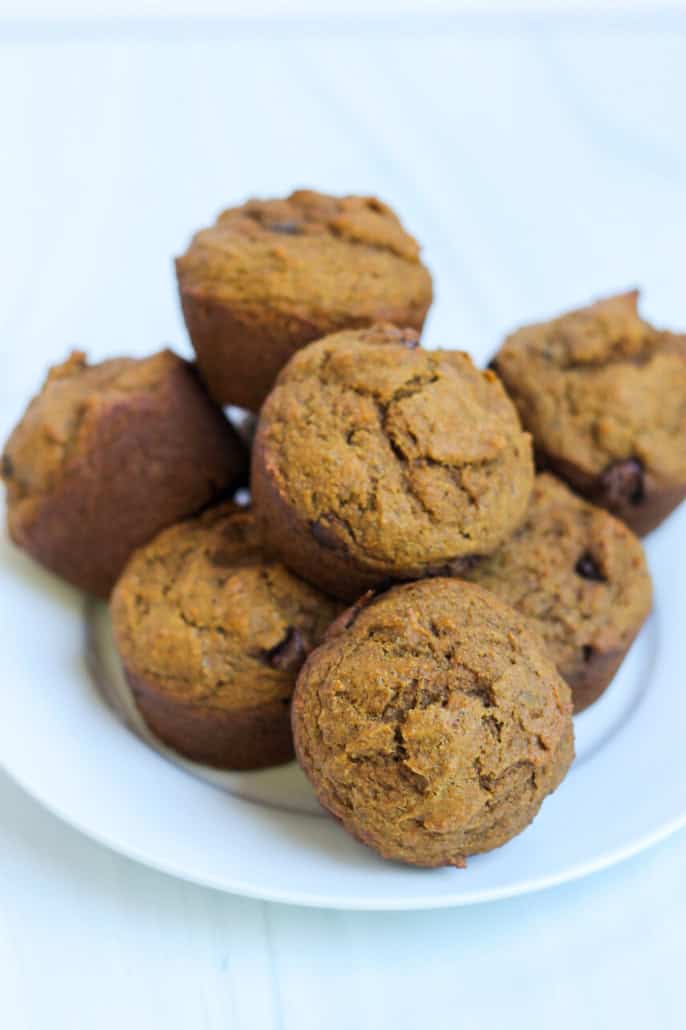 OTHER TASTY PUMPKIN RECIPES TO TRY
If you're a lover of all things pumpkin, then be sure to try some of these other favorite baked goods on our site.
Everyone in our family gave these healthier pumpkin muffins two thumbs up. I hope you enjoy them, too.
Did you make this? Snap a photo and tag us on Instagram at @thrivinghome so we can see your creations and cheer you on!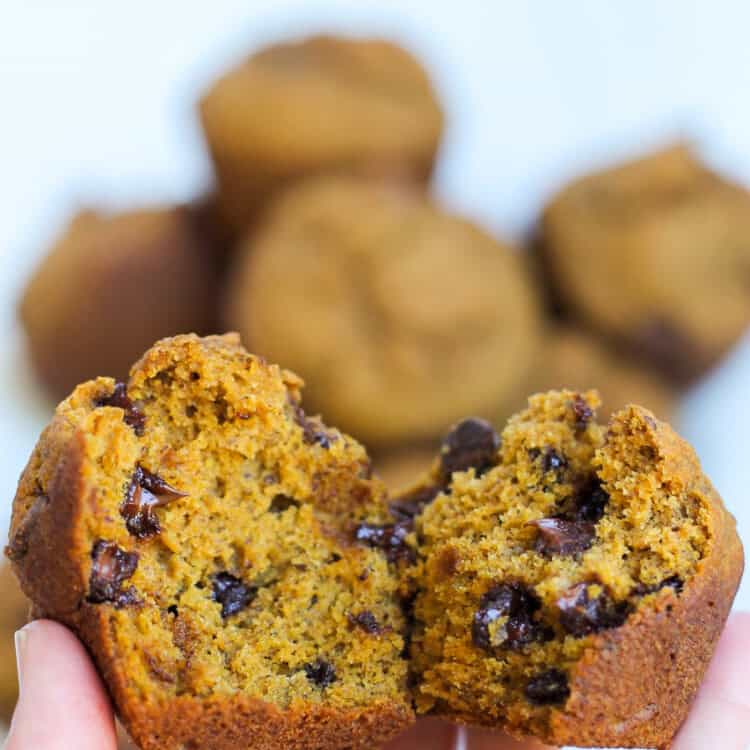 Pumpkin Chocolate Chip Muffins
These healthier pumpkin muffins are moist, sweet, and delicious…and easily freezable. We pull them out of the freezer for snacks or for an easy breakfast.
Prep:
15 minutes
Cook:
18 minutes
Total:
33 minutes
Want More Pumpkin Recipes?
With YEARS worth of content and recipes on Thriving Home, it can be easy to forget about some amazing pumpkin recipes that we have shared over the years. Here are our Top 10 Pumpkin Recipes that you simply must try!