This post may contain affiliate or sponsored links. Please read our disclosure policy.
This Healthy Zucchini Muffin recipe brings the warm, comforting flavors of traditional zucchini bread but packs in the nutrition without compromising the deliciousness. The muffins are freezer friendly and a family favorite.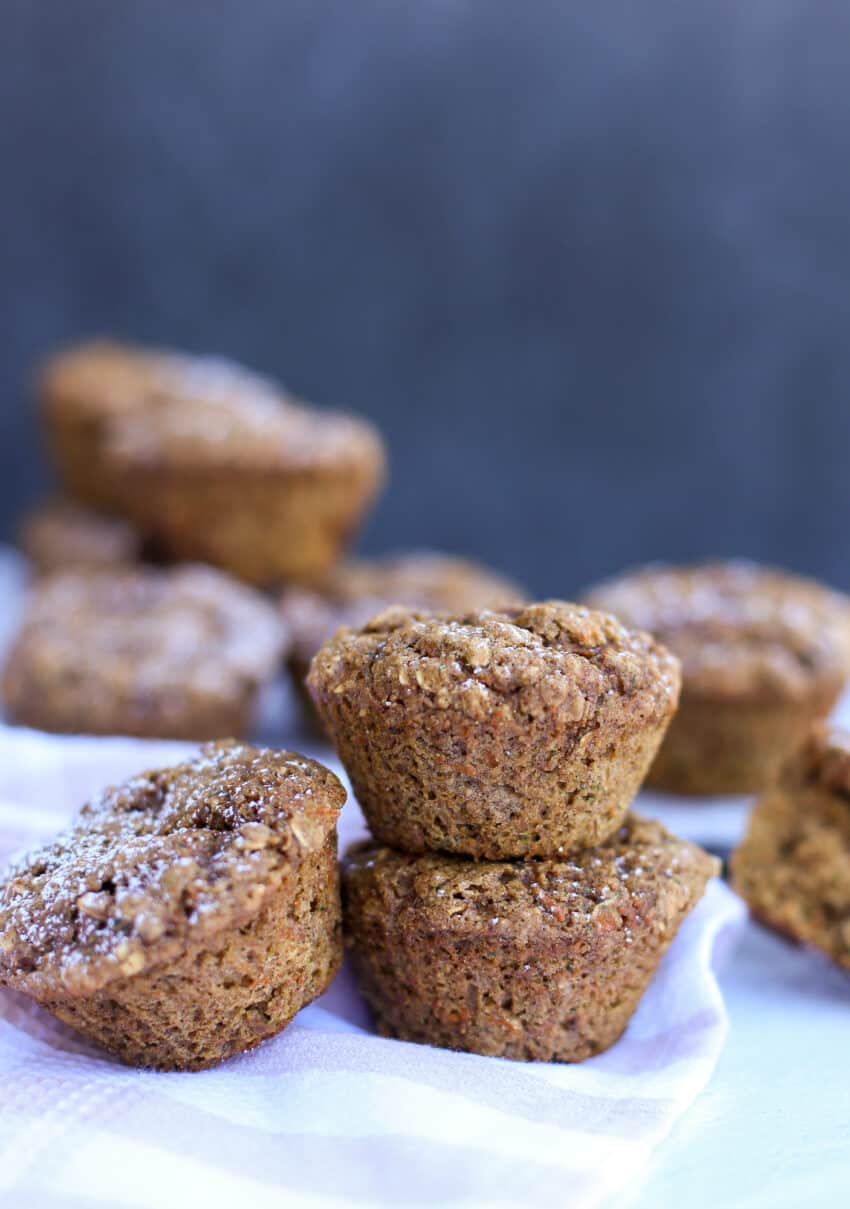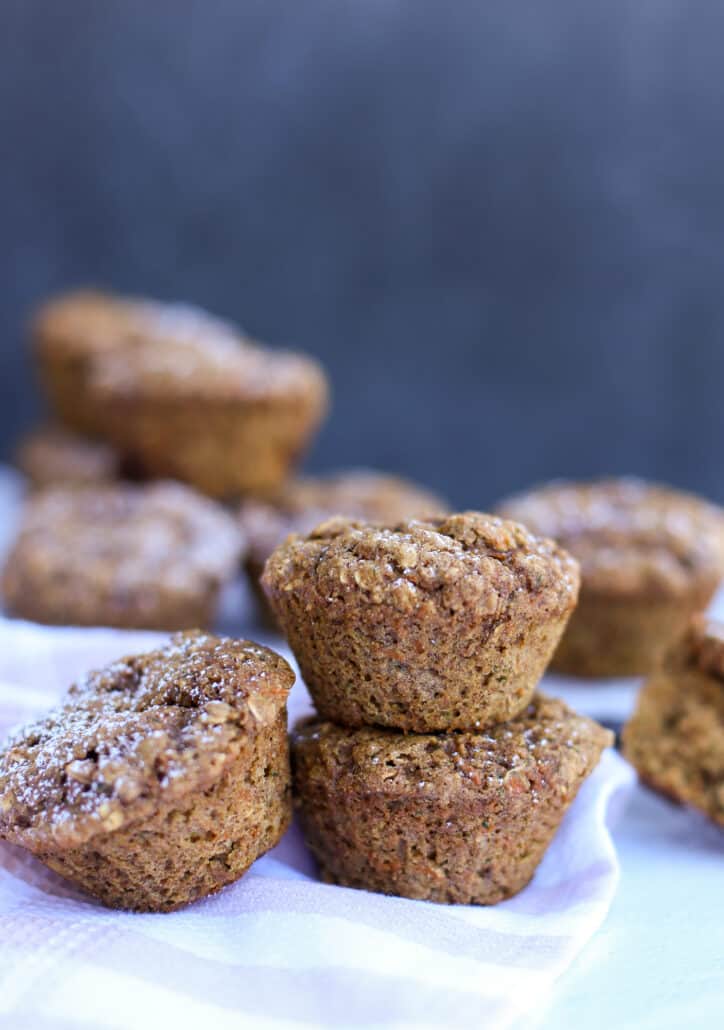 4 Reasons You'll Love These Healthy Zucchini Muffins
Now, before we get to the Zucchini Muffins recipe, let's look at some of the benefits of these healthier muffins, shall we?
Nutritious: Thanks to whole wheat flour, flaxseed, oats, zucchini, carrots, and bananas, you're getting lots of fiber, vitamins, and minerals. You'll also notice there's no oil in these. Top a muffin with peanut butter or cream cheese to add protein and fat, if desired.
Filling: Thanks to all that fiber, these are a hearty, satiating snack or breakfast. Send in lunchboxes, too.
Use Up Produce: Have zucchini, carrots, or bananas to use up? This is the perfect recipe!
Freezer-Friendly: Make a double or triple batch and freeze to have on hand for quick breakfasts, snacks, or lunches. We include directions below.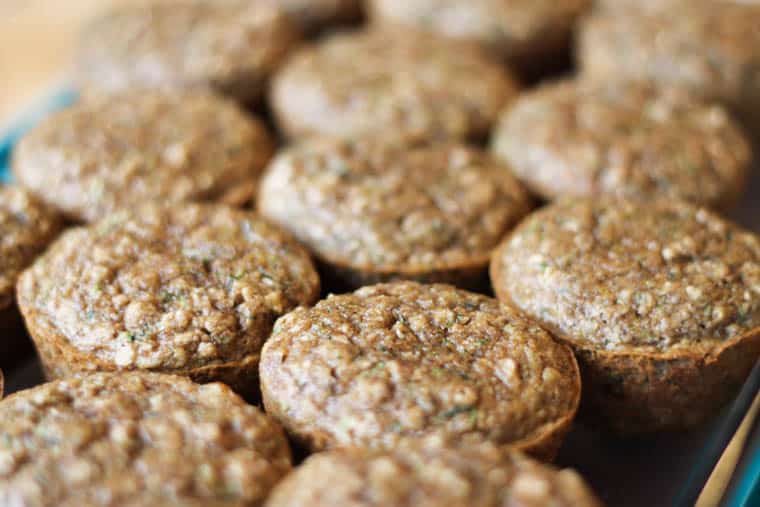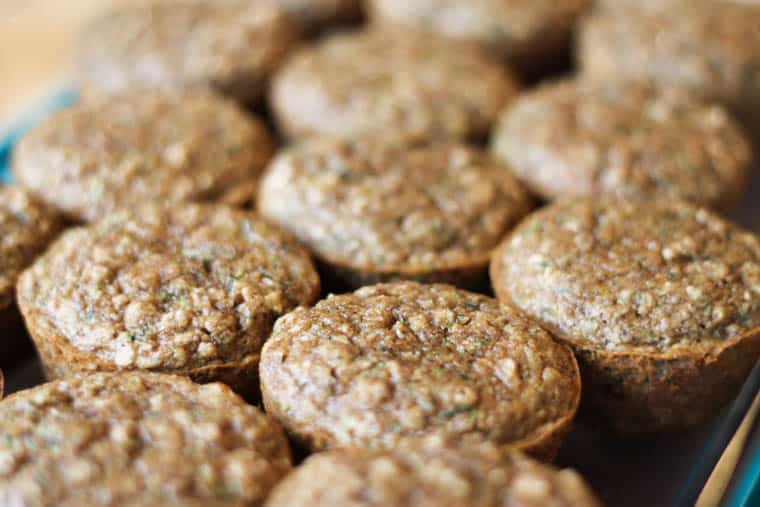 What Makes These Muffins Healthy?
While a typical zucchini muffin will just have zucchini bringing the nutritional punch, we've incorporated a slew of healthy ingredients into this recipe:
White whole wheat flour – Note the name of this is WHITE whole wheat flour, which is a special variety that you can now find in most grocery stores. I love baking with this 100% whole grain flour, because it's lighter than usual store-bought whole wheat (known as the red wheat variety). It's a great swap out for all purpose flour.
Ground flaxseed – This ground seed packs in omega 3 fatty acids and fiber that we can all use more of. Be sure to store in the fridge or freezer to give it a longer shelf life. Read more about the health benefits here.
Oats – Oats are a storehouse of essential vitamins such as thiamin, folic acid, biotin and minerals such as zinc, selenium, copper, iron, manganese and magnesium.
Zucchini – Zucchini contains Vitamin C, which is a powerful antioxidant and has anti-inflammatory properties.
Carrots – Carrots are good for your eyes, can lower your risk of cancer, the potassium in carrots can help keep your blood pressure in check, and can boost your immunity. (source)
Banana – Bananas contain fiber, potassium, folate, and antioxidants, such as vitamin C. All of these support heart health. (source)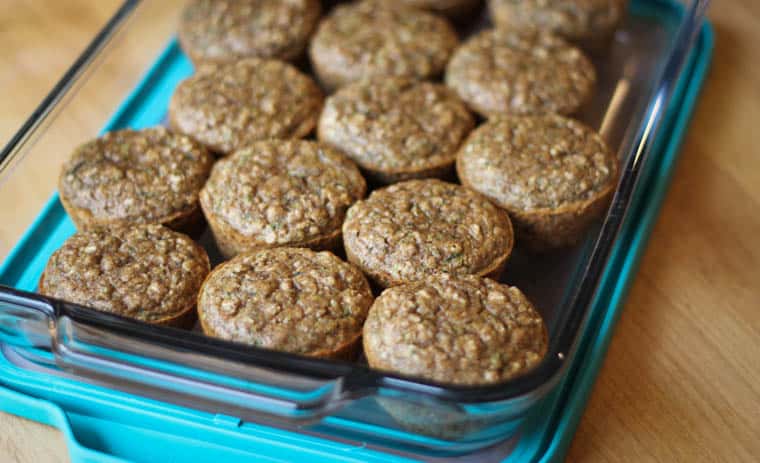 Here's what you'll need on hand to whip up this baked good:
Whole wheat flour (I like white whole wheat)
All-purpose flour (or substitute white whole wheat to make these 100% whole grain)
Dark brown sugar (or substitute coconut sugar for a little healthier option)
Cinnamon, baking powder, baking soda, and salt
Milk (I use plain almond milk personally to make these dairy-free)
Eggs
Vanilla extract
Grated zucchini and carrots (how to freeze zucchini)
Ripe bananas (can you freeze bananas?)
Optional: chocolate chips or walnuts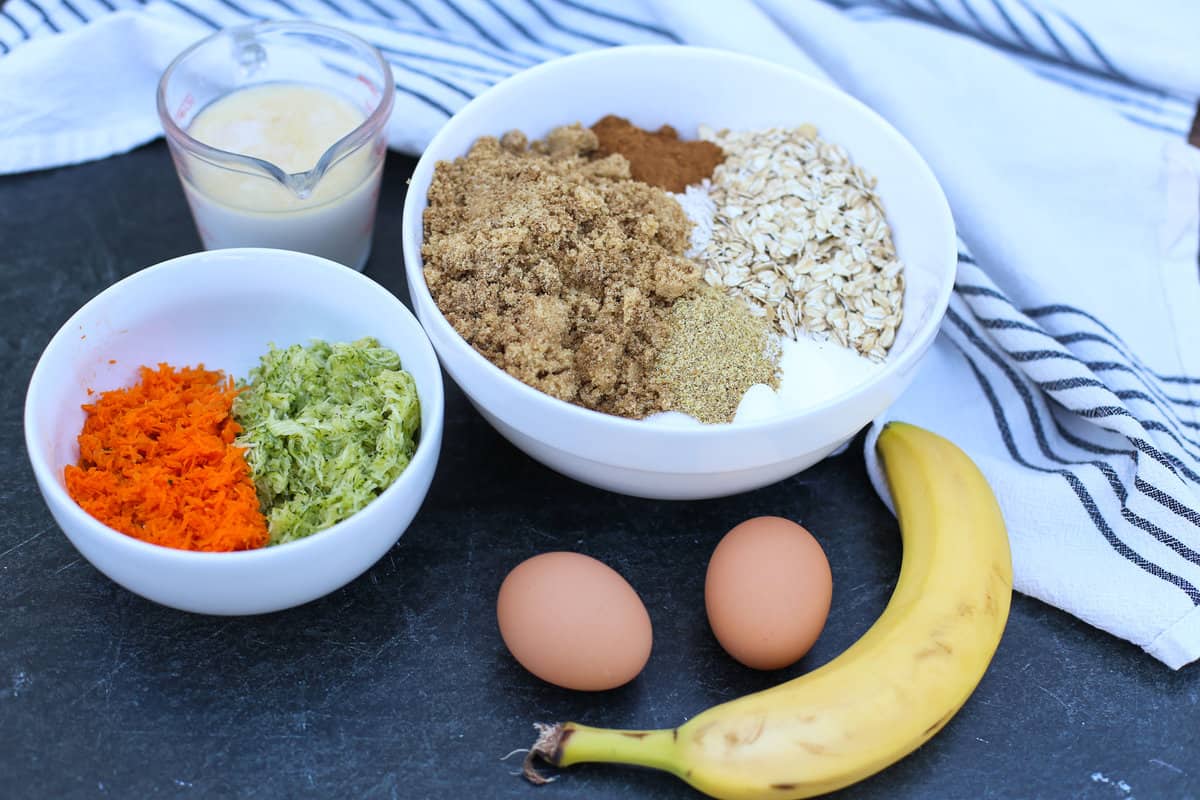 Zucchini Muffins Tips for Success
While a metal pan totally works, use a silicon pan or Silicone Muffin Liners, if you have them. After testing the recipe both ways, we found that baking in silicone yielded a moister result.
Use the toothpick method to determine doneness. When baking with produce, timing can vary a lot. I've had these muffins be done at 16 minutes one time and then 20 minutes another.
Have a picky eater? Blend up the wet ingredients (including the veggies). This helps hide the color of the produce.
Double the batch. These make a great grab-and-go breakfast so stock up!
Use a cookie scoop (linked below) to fill the muffin liners. Makes transferring the batter easy-peasy.
If you have more of a sweet tooth, add mini chocolate chips to the batter.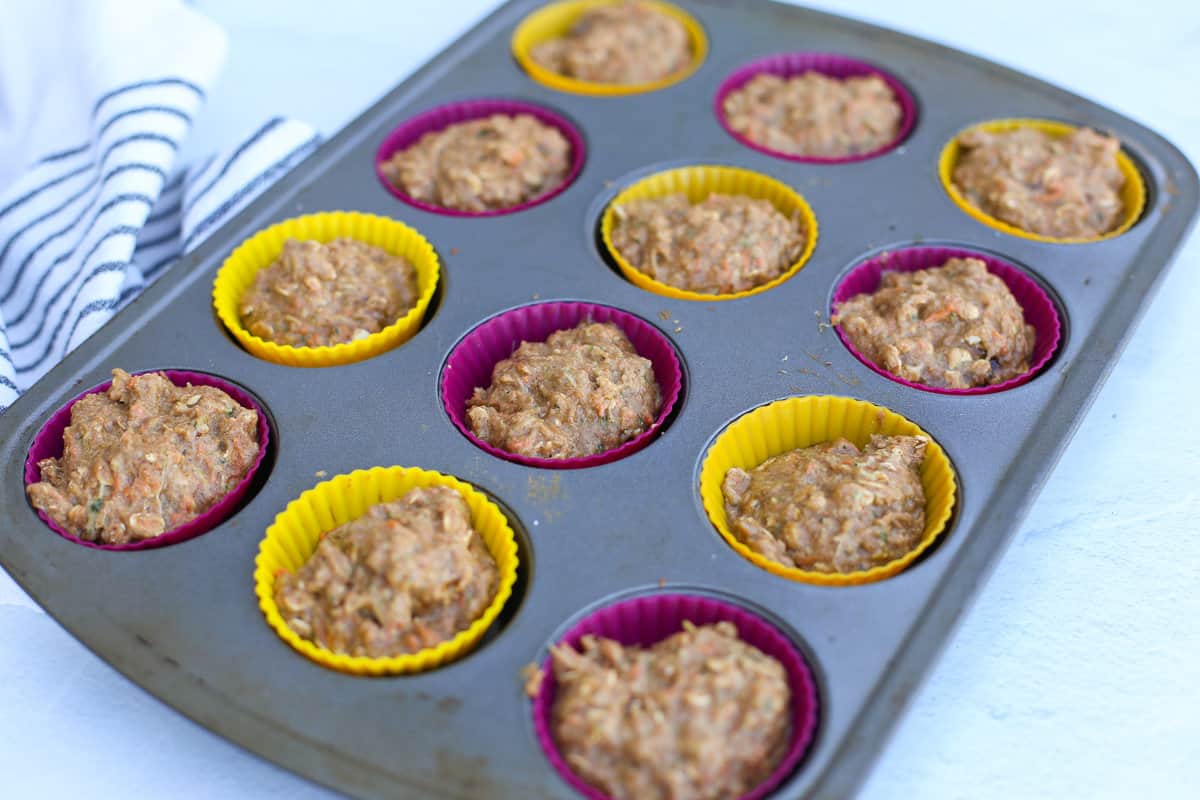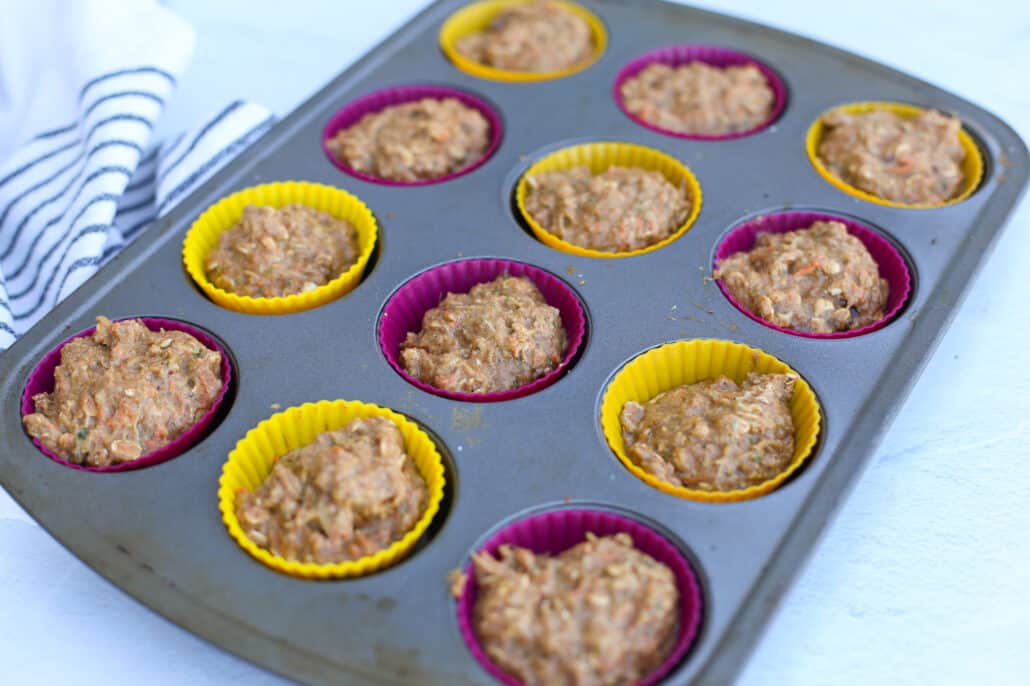 How to Freeze Zucchini Muffins
You know how much we love prepping foods and meals that can freeze for later. As we always say, the key is freezing meals the RIGHT way so that they comes out tasting fresh.
Here's how to freeze these muffins the best way:
Bake as directed.
Let them cool completely. This is super important!
Place them in a gallon-sized freezer bag and seal tightly–squeezing out as much air as humanely possible. Reducing air exposure to the muffins is crucial to maintaining good texture. Tip: If you really want them to last a long time, wrap each one individually in plastic wrap first. But, I'd just suggest eating them quickly instead of going through that trouble, ha!
Store in the back of the freezer for up to 3 months.
Read this entire post on how to store and freeze muffins for more info!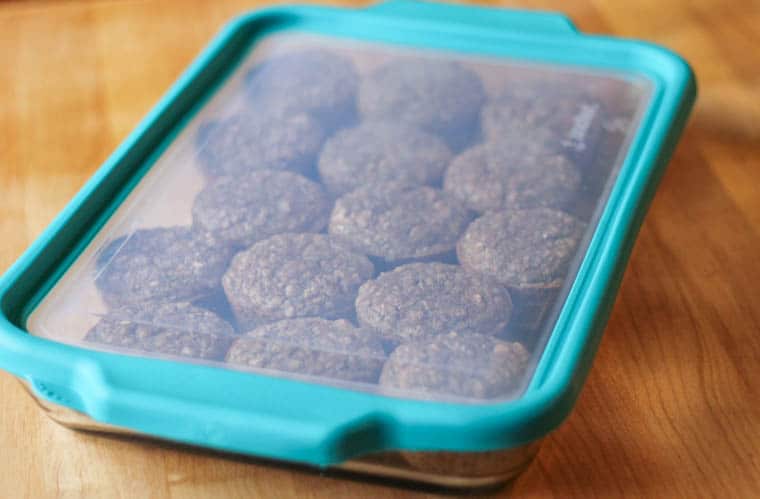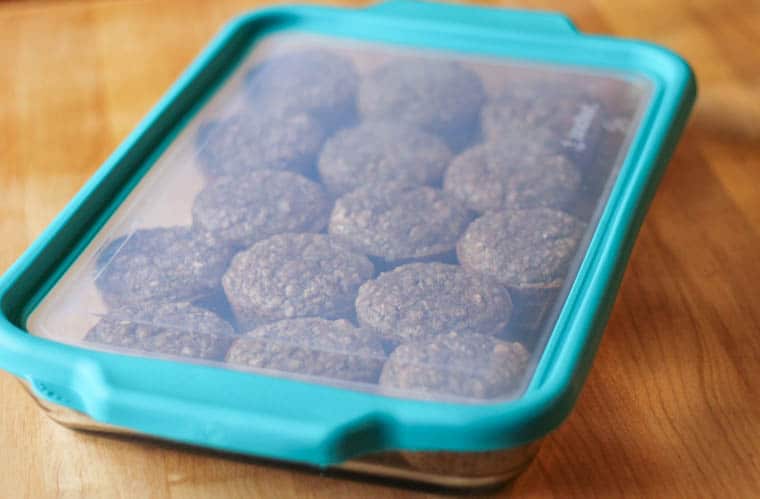 More Healthy Muffin Recipes
If you like these Zucchini Muffins, be sure to try some of other muffins that include fruits, veggies, and other healthier ingredients. They are delicious!
Did you make this? Snap a photo and tag us on Instagram at @thrivinghome so we can see your creations and cheer you on!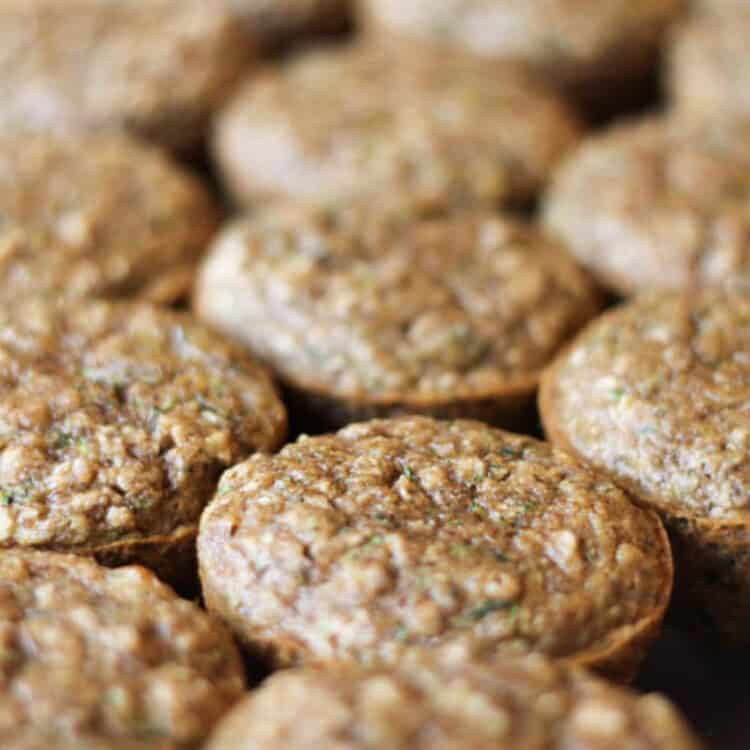 Healthy Zucchini Muffins
These healthier zucchini muffins are a great way to include some sneaky nutrition into a kid-favorite treat. Whole wheat flour, ground flaxseeds, oats, carrots, bananas, and, of course, zucchini are some of the star ingredients in these tasty muffins.
Prep:
15 minutes
Cook:
18 minutes
Total:
33 minutes
Ingredients
1

cup

whole wheat flour (I prefer white whole wheat flour variety.)

1/2

cup

unbleached all-purpose flour (sub: white whole wheat flour)

3/4

cup

ground flaxseed

3/4

cup

old-fashioned rolled oats

1

cup

dark brown sugar (sub: coconut sugar for a healthier alternative)

1 1/2 teaspoons

baking soda

1 teaspoon

baking powder

1/2 teaspoon

salt

2 teaspoons

cinnamon

3/4

cup

milk (sub: plain almond, oat, or soy milk)

2

large eggs, beaten

1 teaspoon

vanilla

1

cup

grated zucchini (about 1/2 a medium-sized zucchini)

1/2

cup

grated carrots (about 1 medium-sized carrot)

1

large ripe banana, mashed (if using previously frozen banana, drain off any liquid first)
Optional: 1 cup chopped walnuts or chocolate chips
Before You Begin! If you make this, please leave a review and rating letting us know how you liked this recipe! This helps our business thrive & continue providing free recipes.
Instructions
Make It Now:
Preheat oven to 350°F. Grease a 12-cup muffin tin* or line it with paper liners. 
In a large mixing bowl, mix together flours, flaxseed, oats, brown sugar, baking soda, baking powder, salt, and cinnamon.
In a separate bowl or a blender, blend together the milk, eggs, vanilla, grated zucchini, grated carrots, and mashed banana. (Tip: I often use my blender for this step, since it makes all the veggies and chunks "disappear" for picky eaters.)
Pour liquid ingredients into dry ingredients and stir just until ingredients are combined. Stir in nuts or chocolate chips, if desired. Do not over mix.
Fill greased muffin tins with 1/4 cup of the batter.
Bake for 16-18 minutes for one batch at a time (or 18-20 minutes if baking two batches at the same time), until a toothpick inserted in the middle comes out clean. Note: Silicone pans will take a few minutes longer to bake. 
Let cool on a cooling rack for 5 minutes in the tin. Remove muffins and place on the cooling rack a bit longer or serve warm with butter or cream cheese.
*If you have two muffin tins, feel free to use both. Otherwise, you'll have to bake the muffins in two batches.
Freeze For Later: Bake muffins as directed in recipe. Let cool completely. Then place in a gallon-sized freezer bag or container, seal tightly, and store for up to 3 months. 
Prepare From Frozen: Thaw muffins in the refrigerator or warm in the microwave.
---
Notes/Tips
Dairy-Free Version: Use dairy-free milk, like plain almond milk. Omit the chocolate chips or use a dairy-free brand like Enjoy Life Chocolate Chips.
Gluten-Free Version: Substitute 1:1 Gluten Free Baking Flour from Bob's Red Mill brand in for both flours. Use gluten-free oats.
For Less Sugar: Cut back sugar to 3/4 cup and don't use chocolate chips.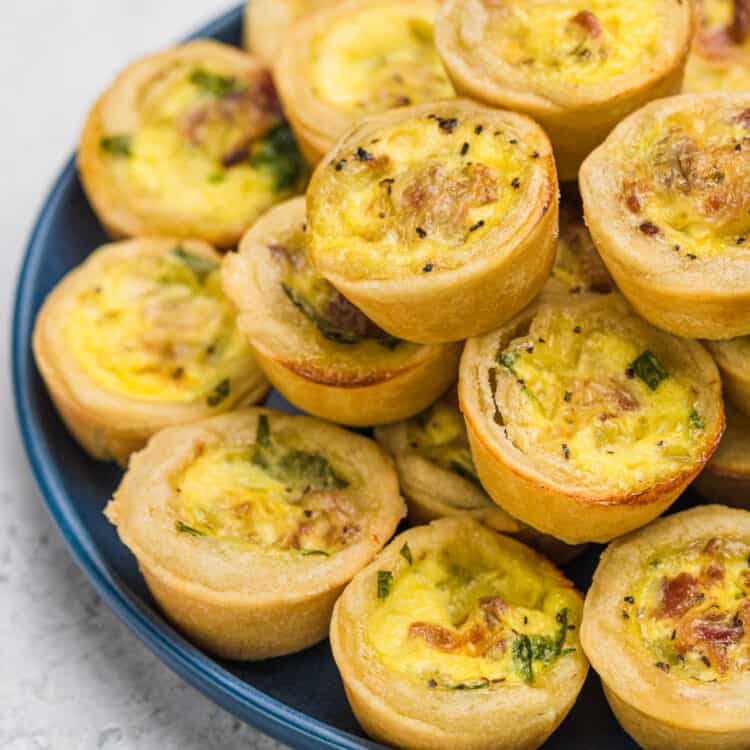 Want More Make Ahead Breakfast Ideas?
Foolproof make-ahead breakfast recipes that will help you start the morning the right way.
See Top 10 Make Ahead Breakfasts